Best Tool Chests Reviews & Price Comparison
last updated:
Apr 06, 2021
As any seasoned craftsman, handyman, contractor, mechanic, or enthusiastic DIYers can attest, the first step to reaching your full potential is always having the right tool for the job. And within easy and quick reach. The best tried and tested way of keeping your commonly used tools safe and organized is by using a heavy-duty, easy-to-use, portable, and durable tool box/chest.
Our Top 3 Picks
[srpshortcode id="15723″][/srpshortcode][srpshortcode id="15724″][/srpshortcode][srpshortcode id="15725″][/srpshortcode]
People's preference and taste for tool chests vary widely, which explains why the market is busting at the seams with a broad range of shapes and sizes, which understandably makes it daunting for the average homeowner or greenhorn to choose one that best meets their needs. To help with the decision, we've put together a list of ten of the best tool chests on the market currently.
10 Best Tool Chests
Craftsman 3-Drawer Toolbox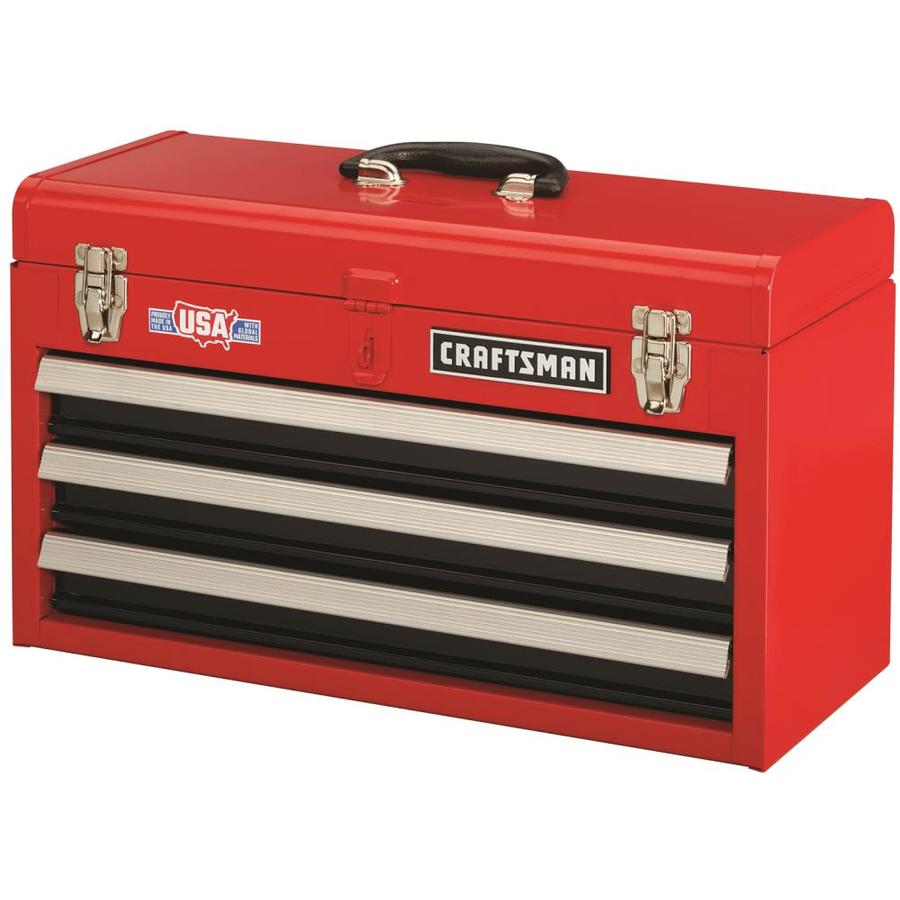 The Craftsman chest features the distinct red colour and perfectly epitomizes the high-quality construction and ease of use for which virtually all Craftsman's products are renowned. While it cedes ground in the battle for the title of the most spacious tool chest, it's nonetheless lightweight and highly portable and is, therefore, the perfect cost-effective option for stashing in RVs. An in-depth but brief review of the tool chest follows in the subsequent paragraphs.

It comes with plenty of room for storage, but as much as other high-end models. With a length of 23 inches, depth of 14 inches and height of 11 inches, it's a perfect fit for the extreme DIYer looking for a sturdy toolbox for safely keeping all their burgeoning collection of essential tools. It also weighs a paltry 19 pounds and is quite easy to carry around.

Expand to see more
You have a total of four compartments for storing all the tools and hardware you have. There is a spacious tray at the top for securely holding all the tools you use frequently and three additional drawers for those you want to keep safely locked up. That's right. In spite of its diminutive attributes, comes with an innovative lid-activated locking mechanism to help keep your tools from long hands when you're not minding their safety.

One minor drawback is that the drawers don't feature the near industry standard ball bearings, so don't expect them to slide out with as much ease. Still, they extend outward sufficiently to give you full access to all the tools at the back of the drawer. The tool chest similarly features heavy-duty construction quality and will gracefully withstand the rigors of the job.

Craftsman never disappoints when it comes to performance, durability, and ease of use as this option clearly demonstrates. It's perfect for enthusiastic DIYers and seasoned mechanics and other professionals. The superb construction quality, longevity, portability, security, and ease of use easily stand out.

High-end construction quality
Durable construction
Locks and unlocks easily
Spacious
WEN 73015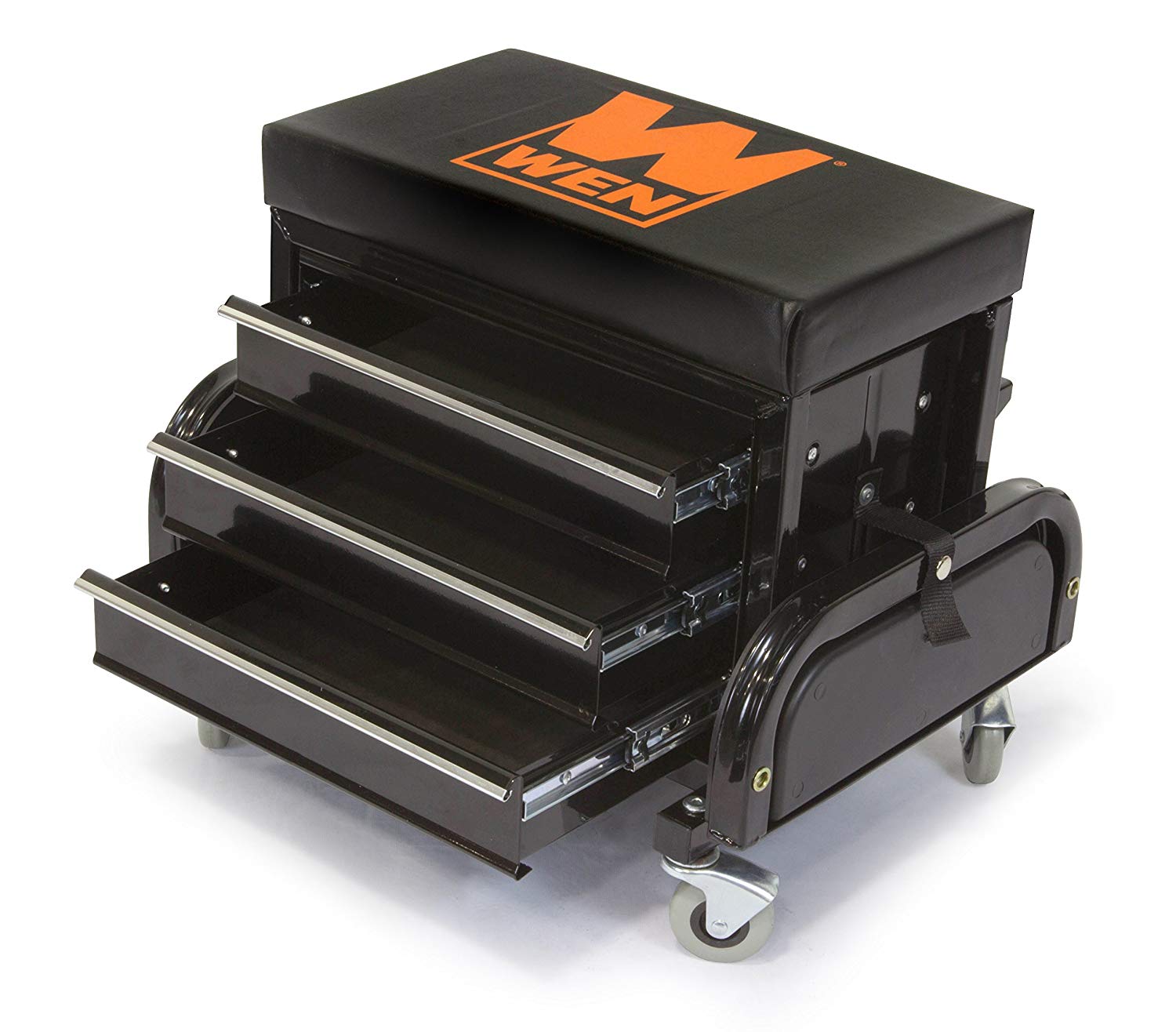 The Wen 73015 comes with an abundance of features beginning with the professional design of a vinyl-protected design to its excellent security and an ability to support up to 350 pounds of hardware. These and several more features explain why it's the all-time favourite of mechanics and other handymen around the world.
In addition to providing your valuable tools with superb security for those working in busy industrial settings, the tool chest also doubles as a comfortable seat. It features extra-absorbent vinyl-protected multi-layered padding to give you a place to rest your back in between tough projects. Back to its primary function, the tool chest features three robust and heavy-duty drawers, two magnetic trays, and another 16 storage slots for keeping
wrenches
, screwdrivers, nuts, and bolts, among several other smaller tools. The easy-to-reach slots ensure your commonly used tools are always within easy reach whenever the need arises. And there is a magnetic tray on both sides of the tool chest for safely and temporarily holding nuts and bolts.
Expand to see more
The fact that it can support up to 350 pounds of hardware means moving it from one site to another is going to be problematic, even for those individuals with upper body strength. To circumvent this problem, the manufacturer thoughtfully installs four 2.5 inch swivel casters to make moving around with all the hardware effortless and quick. The casters are additionally multi-directional and take away the time and effort from moving from one corner to another without throwing your back out.

For users looking for a highly portable, budget-friendly, spacious and sturdy option, the WEN 73015 is one of the better options out there. It has a comfortable and heavily padded seat that makes it ideal for those long and tiresome projects. And with its four casters, the tool chest slides effortlessly on all types of floors with minimal resistance.

Has a soft, padded, and comfortable seat
Plenty of storage space
Cost-effective
Not ideal for big hardware
Keter 5-Drawer Modular Organizer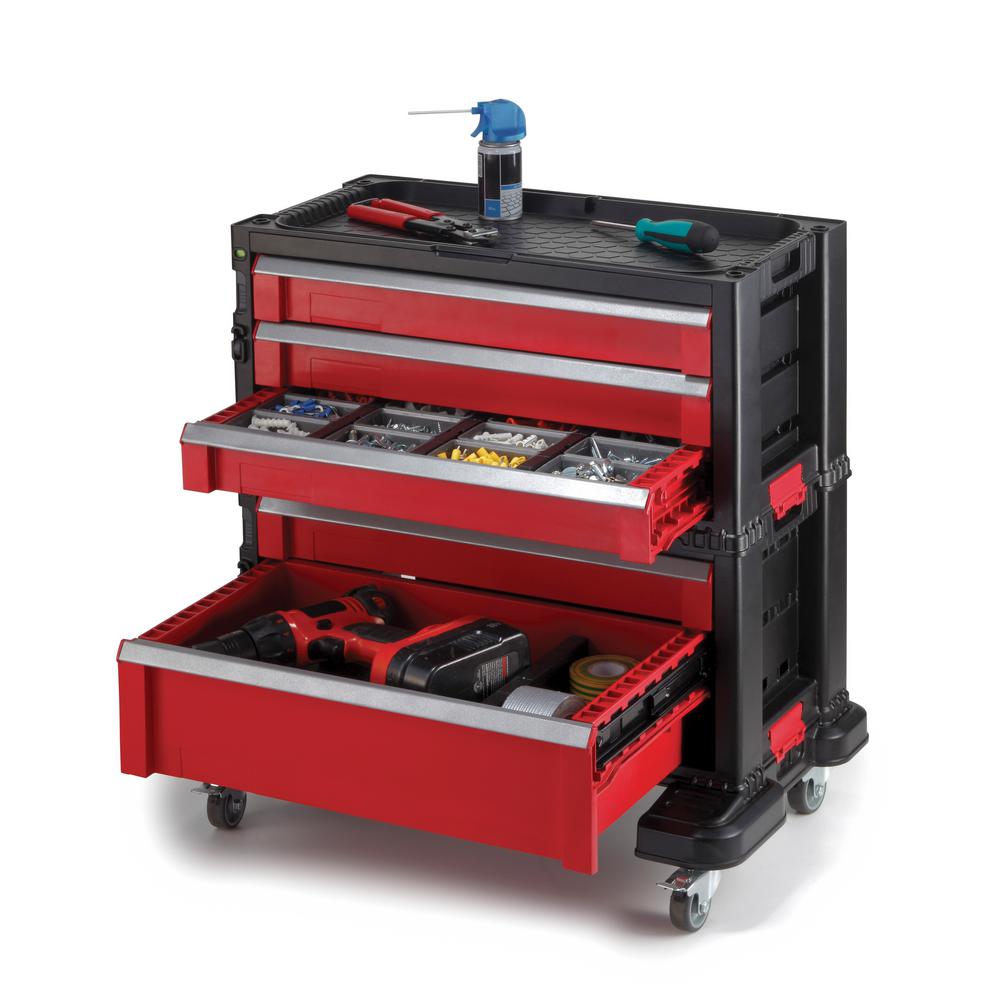 The sturdy construction and effortless portability of the Keter chest will immediately appeal to a user with several tools and is always on the move. It provides spacious storage for a wide range of tools, allowing the user to switch easily and quickly between different projects. Unlike our first pick, this model comes with deep compartments capable of accommodating anything from a screwdriver to a
reciprocating saw
and anything in between. And in light of the compartmentalization of the space, finding your favourite tools is a breeze.
It provides you with all the space you need to keep your tools and other hardware. You have the top tray, up to 16 compartmentalized and removable parts, and a large and deep bottom ideal for storing all those large hardware you will need during your project. To this add the convenience that dividers and small storage bins add to the mix, making the storage space highly customizable in accordance with the user's organizational preferences.
Expand to see more
The portability is nothing but impressive. Like our previous pick, it features four caster wheels for easy carting around the workstation. Also, it comes with ergonomically designed carry handles to make it even easier to take it from one site to another with little effort and lots of ease. The casters are removable to make for easy loading onto a truck or to allow you to set it permanently inside the workshop.

The construction of the tool chest from industrial-grade and long-lasting polypropylene resin means it can easily withstand the harshest working environments. The material is similarly lightweight. Another highlight is the central locking system that guarantees the safety of all your tools especially for the busy craftsman working in a busy environment.

This option is a perfect fit for the user who needs a long-lasting storage solution and carries some large tools with them. It's portable, versatile, cost-effective and easy to use. It definitely fits the bill to a T.

Portable
Rust resistant
Has several drawers
Ergonomic handles
A few issues with quality
Prone to flexing with excess weight
Viper Tool Storage V1804BLR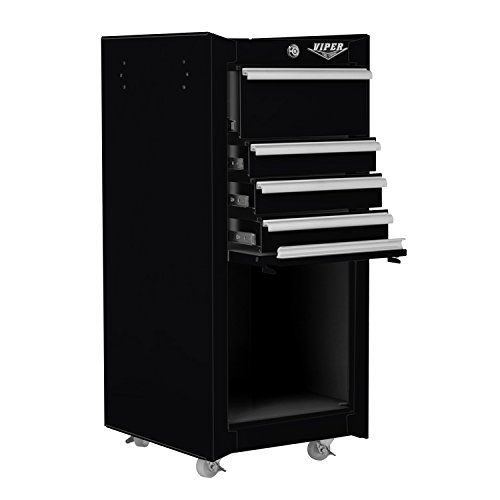 Viper Tool Storage Cart boasts an impressive 5,825 cubic inches of storage space, enough to hold the
smallest tool
to the largest and anything else in between. The unit also features sturdy construction and is surprisingly compact to fit in tight corners, freeing up most of the space for the actual projects. And despite its outstanding 100 pounds carrying capacity, it lags around on most floor surfaces with relative ease, which makes it a solid choice for the user who's always on the move.
The chest weighs just 89.8 pounds and has corresponding dimensions of 18.1 inches by 16 inches by 36.5 inches, which provide more than adequate space for storing all of your tools. In addition to the oversized compartment measuring 15.62 inches by 16.75 inches by 14.43 inches, the user also gets five drawers. Together, the storage compartment ensures you bring your favourite tools along to any project, keeping them safely within an arm's reach.
Expand to see more
All the drawers, with the exception of the large compartment, effortlessly glide outwards, thanks to the manufacturer's thoughtful use of ball bearings. There is also a lever release feature that allows the user to remove the drawers with lots of ease. Another instrumental feature is the tubular key cam lock for safekeeping all the tools within the drawers and compartments. The days of inadvertently losing your precious and expensive tools effectively come to an end with this cart.

As for mobility, it features four heavy-duty, low-profile 2-inch swivel casters together with a side handle that make it very manoeuvrable and controllable, especially in confined spaces. The casters work flawlessly and smoothly on both rough and smooth terrain. It also features fastidious construction with commercial-grade 18 gauge steel and boasts corrosion and scratch-resistant powder coating. Plus, you get a generous lifetime warranty to cover you against deficiencies in material and workmanship.

This is is the perfect choice for users with space constraints. It's compact but provides lots of space for storing all your commonly used hardware. Essentially, it's every craftsman's dream.

Available in several colours
Deep storage spaces
Compact and durable design
Locks securely
Absence of ball rollers on lower compartment
Excel TB2105X-Blue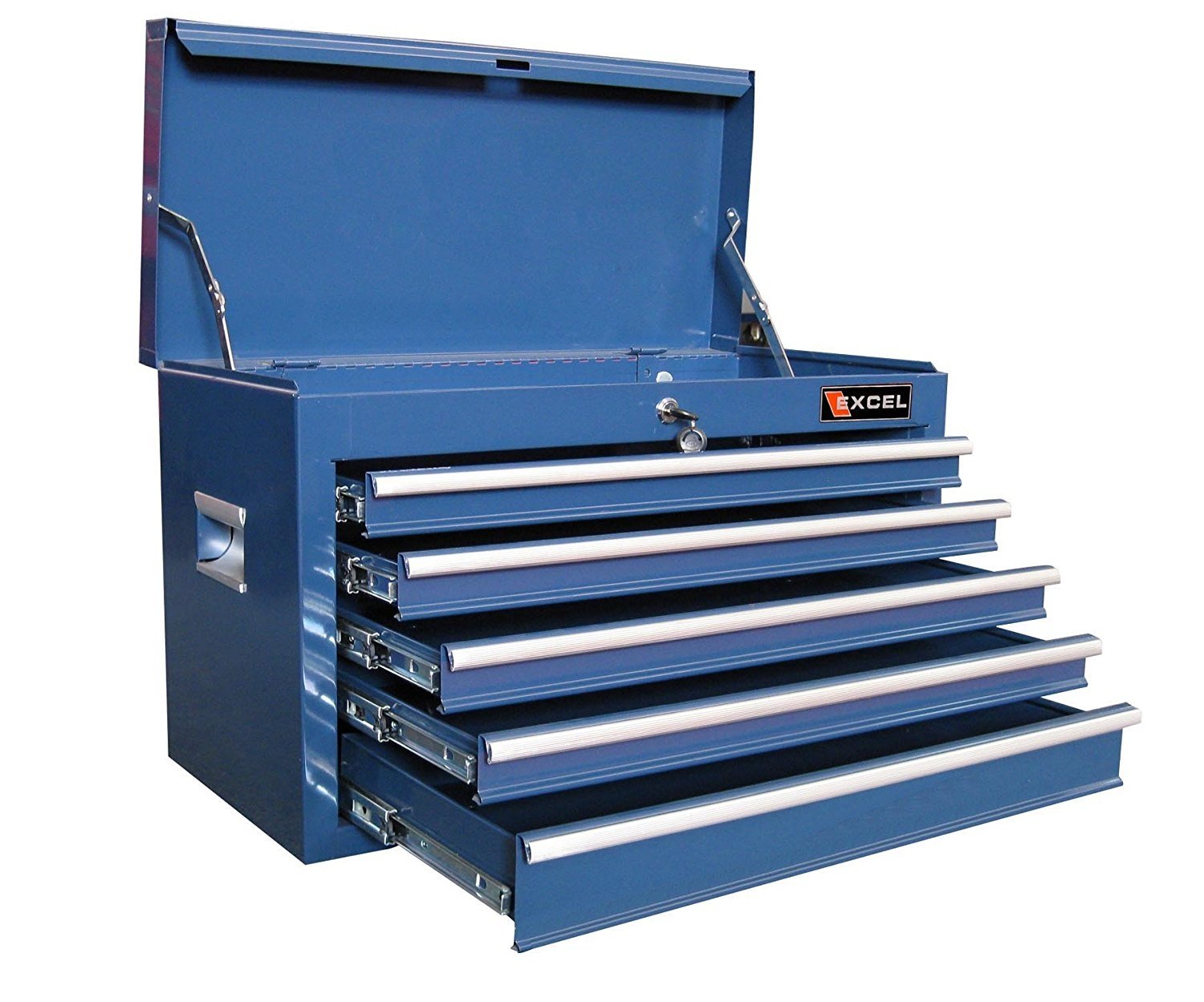 For the DIYers dabbling in light to medium-duty projects around the house and need a sturdy and spacious tool chest that doesn't hog all the space in the workshop or the garage, the Excel TB2105X-Blue would be an excellent choice. The toolbox is capable of holding an impressive 50 pounds of tools and features recessed and ergonomically designed handles making it incredibly portable, allowing for effortless lugging from one site to another without the risk of throwing your back out.
The toolbox offers the user five drawers, each featuring ball bearing slides to make it easy to pull out quickly. The tool chest also boasts a height of 16 inches, a depth of 12 inches, and a length of 26 inches and, as mentioned earlier, easily holds up to 50 pounds in weight. The top of the unit also easily flips up, revealing additional
storage space
.
Expand to see more
If you have valuable tools in the worksite, you'll be able to keep them safely and securely in the toolbox as it sports a useful
lock
. Even with rough handling, the likelihood of your tools falling out is non-existent. The TB2105X similarly features a sturdy construction quality and has a powder coating finish to withstand corrosion and rust. And since it features all-steel construction, it can stand up to rough handling in various settings. There are also the already mentioned ergonomic handles that make moving it from one site to another a cinch. In light of the box's compact design, it remains stable in all types of surfaces, especially the rough ones.
For users in search of a sturdy and cost-effective toolbox to use in various settings, we recommend that you take a second look at this option. It's very spacious, has a scratch resistant interior and exterior and features a heavy-duty locking mechanism perfect for thieves away. It might too shallow for large tools, but for small tools, the tool chest performs excellently.
Provides spacious storage
Durable construction
Rust and corrosion resistant
Easy to use
Dents easily
Problematic locking system
Seville Classics UltraHD Cabinet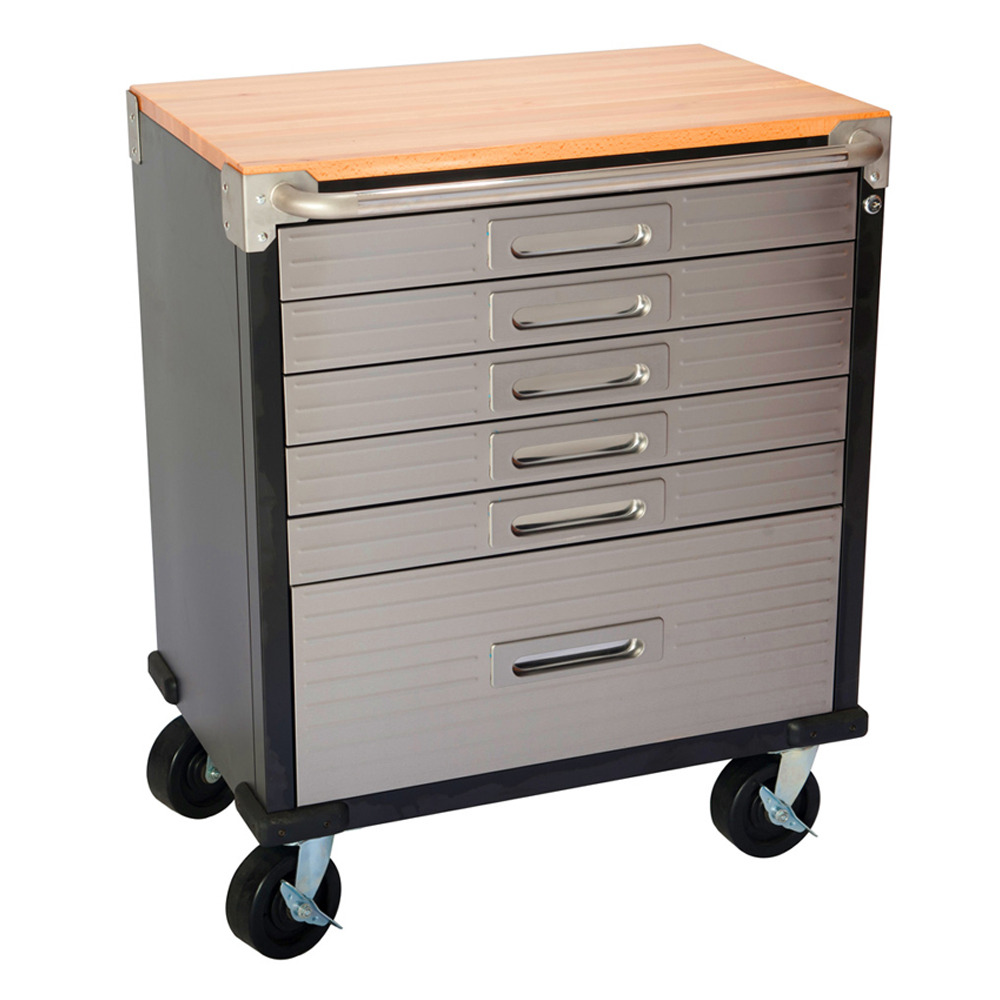 Seville Classics cabinet might not look the part, but it's a feature-rich tool chest that easily exceeds performance and durability expectations of the industry. It also comes with plenty of space and top-notch stainless steel construction. With a carrying capacity of 300 pounds and heavy-duty casters for exceptional portability, the tool chest can effortlessly handle it all. To learn more, continue reading.

The tool chest easily supports up to 300 pounds of hardware, thanks to its fastidious construction using industrial-grade stainless steel. The excellence of the construction means it can handle the rigors of the job and with proper use, should provide you with more than a lifetime of smooth and efficient use. Because of the use of steel, it weighs some 110 pounds, which is apparently on the heavy side. To make portability a non-issue, the toolbox sports four 2-inch wide casters. As a result, moving or carting it from one corner of the workshop to another shouldn't take any significant effort or time.

Expand to see more
As for storage space, you can use the wooden worktop to temporarily hold the tools you use frequently and keep them with easy and quick reach. Additionally, you have five spacious drawers for compact tools and a deep bottom compartment for the large and heavy tools that can't fit the other five drawers. All the drawers have rust and corrosion-resistant exterior finish and will be at home in all different types of environments, both friendly and harsh. There's also a powder coating that gives it a sleek and modern-looking look. And when you want to keep your tools from thieves, the unit has heavy-duty stainless steel doors you can always lock to add extra security.

No garage, warehouse, mailroom, or just about any workstation is complete without a heavy-duty and durable chest, and one of the best out there is this one. Both adept and greenhorn craftsmen will immediately appreciate the added security and convenience it offers.

Caster wheels for flawless mobility
Corrosion and rust resistant
Has a heavy-duty worktop
Bottom drawer is perfect for large hardware
Self-assembly
Scratches easily
WEN 74606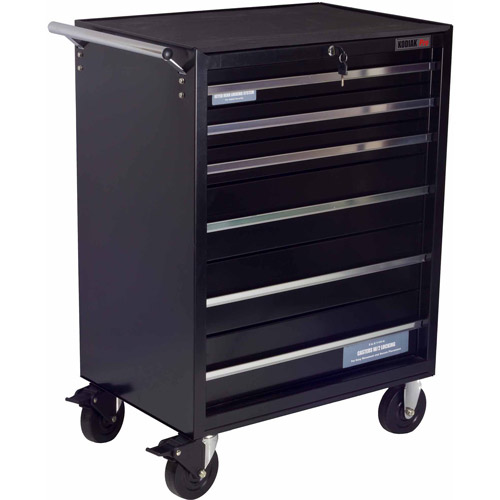 This is a perfect fit for virtually all industrial employees, mechanics, craftsmen, carpenters, contractors, and even enthusiastic DIYers.

For one, the WEN 74606 features heavy-duty construction so wear and tear, corrosion and rust are never a problem in all sorts of conditions, whether that's around the house or in the busiest workshops. It takes more abuse than those flimsy and weak variants on the market masquerading as a tool chest, promising you efficient organization and durability but failing to deliver anything even close.

Expand to see more
With the WEN 74606 you get 6 heavy-duty drawers each capable of supporting up to 100 pounds of hardware. The smaller ones are ideal for lightweight and compact tools while the other three deep ones are optimized for storing larger and bulkier tools. All 6 come with a self-locking feature to keep your tools from colleagues with long hands and have ball-bearing slides to effortless and quick access to all the tools, even those at the furthest end. It similarly comes with protective drawer lines for adding an extra level of protection to the most delicate and treasured tools.

In spite of its high carrying capacity for hardware, it is remarkably easy to move around the warehouse or workstation. It features 4, 2-inch casters that pair nicely with the detachable, ergonomically designed handle that together substantially enhance portability and manoeuvrability. Couple that with the unit's sturdy and robust construction with high-end 19 gauge steel. Plus, the brand offers the user a generous 12-month warranty with every purchase.

If you need roughly 7327 cubic inches of spacious storage space, this cabinet comes highly recommended. Whatever feature you're looking for in toolbox, you can rest assured the tool chest comes with it.

Small design
Easy to store and transport
Spacious
Long-lasting
Doesn't accommodate large power tools
Excel TB133-Red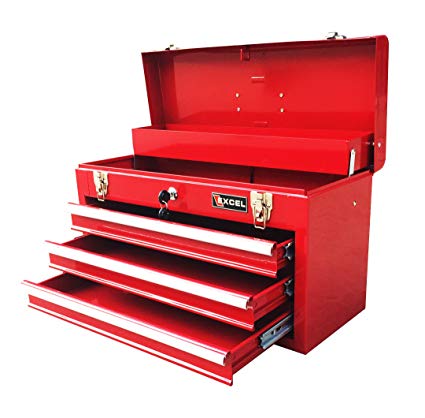 While small, the Excel TB133 comes with all the signature features of high-end models but at a fraction of the price.
You have at your disposal a total of five storage compartments; three drawers and two trays. While the former is ideal for considerably large and
bulky tools
, the latter two are optimized for the safekeeping of smaller tools such as wrenches, screwdrivers, and
nuts
and bolts. Your frequently used hardware, of course, go at the very top, so they're easily and quickly accessible whenever the need arises, which incidentally also makes it a versatile companion to bring to the job.
Expand to see more
Other highlights are the two steel latches and coded lock that has two keys for providing additional security against theft around the workplace. Also, besides the sturdy and long-lasting construction of the toolbox with a blend of aluminium and steel, all the drawers also come with ball bearing slides that provide for the smooth and quick sliding of the drawers in and out.

And instead of casters, and in light of the small and lightweight profile, the Excel TB133 comes with a padded and soft grip handle for efficiently transporting it from one site to another. Rather than bringing to the workpiece to it, you get to comfortably carry it to the workpiece, saving you lots of time and effort in the process.

It is without a doubt a handy place for safely and securely keeping all your prized tools, safeguarding them against misplacement and theft. It offers sufficient storage space, superb security, snugly grip, and several other convenience features. It's a must-have for the professional craftsman.

Very portable
Attractive design
Superb security for tools
Budget-friendly price tag
Not as durable as other high-end models
Milwaukee 46 in. 8-Drawer Chest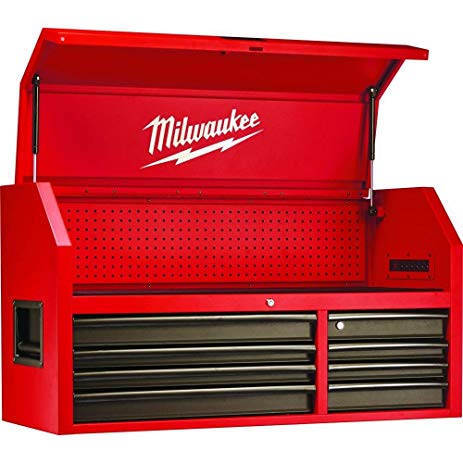 Going home with a chest tool that perfectly embodies quality, longevity, and dependability does not have to cost you an arm and a leg, as the Milwaukee 46 in. storage chest so clearly proves. As usual, the tool chest is packed to the brim with a litany of useful time and effort-saving features to make your work effortless and efficient.

It provides the user with a jaw-dropping 27, 223 cubic inch of storage space, more than enough for keeping your hardware organized, safe and secure. You can use the top lid area for keeping all hand and power tools in addition to the spacious and deep six drawers, all of which are optimized for holding a wide range of hardware.

Each drawer has a hardware supporting capacity of 100 pounds and features a high-quality drawer pull, drawer liners, and soft-closing drawer slides, of which the latter conveniently prevents the drawers from inadvertently closing or opening. Plus, you get two barrel key locks for securing the safety of your belongings and equipment from potential thieves.

Expand to see more
Like we mentioned in the introductory sentence, it combines a level of ruggedness and durability and cost-effectiveness that you just don't find with tool chests anymore. Its heavy-duty construction means it can easily support as much as 800 pounds of hardware without breaking a sweat, figuratively, of course. And to eliminate the likelihood of breaking your back in an attempt to drag all of that weight around, the manufacturer thoughtfully incorporates four equally heavy-duty casters to help with portability and transportation.

Unlike cheap, weak, and flimsy storage boxes, this one doesn't need overselling. It has all the premium features and specs at a fraction of the price of high-end models. We strongly vouch for it on the strengths of its spaciousness, ease of use, durability, and portability.

High-end construction quality
Has ball bearings for smooth opening and shutting of drawers
Lockable
Ergonomic handles
Best Choice Products Storage Box Cabinet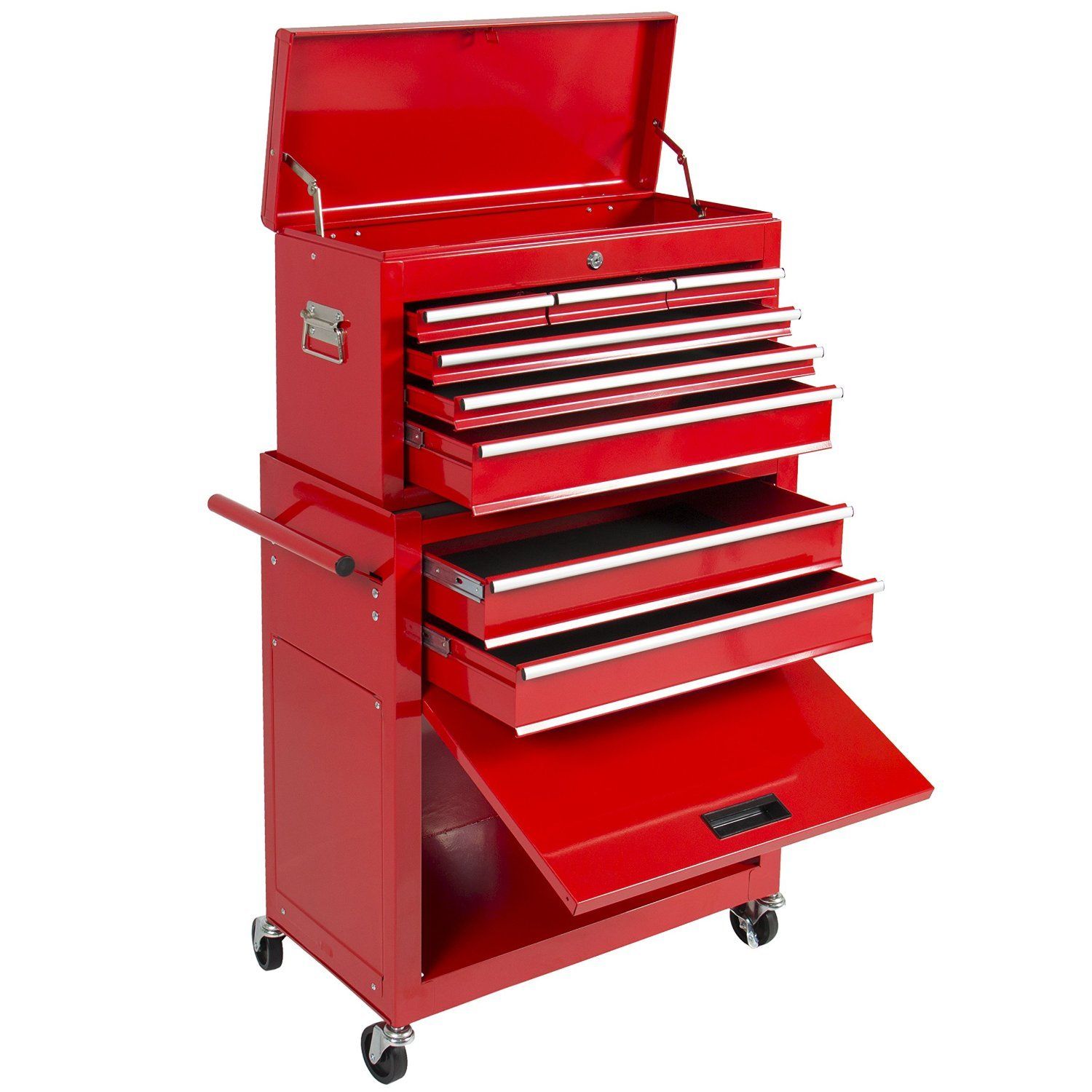 If it's space for keeping hand and power tools and other smaller tools, the Best Choice chest has plenty of that. It comes with a top box drawer, three smaller drawers, two trays, three large drawers, and to top it all off, one big bottom
cabinet
for all the large tools you have.
It does not just help you keep the tools properly organized and within easy reach but also safe and secure. There is a padded foam material mat that absorbs any oils and other liquids within the compartment that would otherwise cause rust and corrosion. Keep your valued hardware away from thieves by fully utilizing the key and lock design of the top unit.
Expand to see more
The high-quality construction and ease of using it is a far from cheap, off-brand units masquerading as tool chests on the market. The durable construction using industrial-grade steel makes it sufficiently rugged and sturdy to withstand abuse in extreme environments. The unit similarly has four omnidirectional casters that pair nicely with the ergonomically designed side handle to make the unit amazingly manoeuvrable and portable.

It effectively brings to an end the days of having to contend with working in a messy and disorganized workshop. It provides ample storage for all your hardware and has four heavy-duty casters for effortless portability. At its price, it's an unbeatable deal.

Perfect for electricians and mechanics
Organizes all tools
Cost-effective
Long-lasting construction
Criteria for Choosing the Best Tool Chests
Storage Capacity
Before splurging money on a tool chest, it would be incumbent to consider its capacity. Take stock of the number and design of hand and power tools you have and their weight, keeping in mind that heavy tools are likely to hog most of the space you have. For a weekend warrior or enthusiastic DIYers looking to indulge in the trade every once a while, and with the most collection of tools, a small to average-sized sized tool chest should suffice. If, on the other hand, you're a professional with a burgeoning collection of tools and you want to keep everything civilized and organized, a bigger one should do the trick.
Portability
It's much more comfortable and more convenient carrying tools and other hardware to a worksite than bringing the workpiece or project to where the tool chest is, which also is why you need a portable one. For exceptional portability, consider that the unit is both lightweight and has reasonable weight and that it comes with casters and ergonomic handles. For those that prefer a permanent installation, it would be prudent to invest in a big one, capable of safely storing all the big and little tools in your workshop. On the flipside, big/large options hog a lot of space, unless you work in a considerably large setting in which the size really doesn't matter.
Construction Quality
Toolboxes/chest primarily feature either an all-steel or all-plastic construction, and for reasons of durability and value, it's important to consider the pros and cons of both before making a purchase. Those made from steel or aluminium will considerably last longer and efficiently withstand adverse working conditions and abuse.
On the other hand, they're not only expensive but are also susceptible to rust and corrosion, which is why most come with a powder coat. Plastic chests, conversely, are relatively cost-effective but they lack the durability of steel or aluminium, and once it cracks or splits you can't weld it back together.
Additional Features
Extra features that may also influence your purchasing decision include the casters mentioned above for effortless portability and handles for easy and quick lugging around the garage or from one station to another. Also, others have a locking feature to help protect your tools from thieves. Additional features include a top work tray and electrical outlets, among others.
Frequently Asked Questions
Q: Do tool chests need cleaning and maintenance?
A: Like most tools, tool chests also necessitate cleaning every once a while to keep them in a tip-top condition. First off, it's prudent that you keep moving parts like the casters and slides lubricated adequately with a manufacturer recommended lubricant. Secondly, as dust and other debris accumulate in the compartments or drawers with frequent use, manufacturers recommend cleaning the parts with plain water and a mild detergent.
Q: What's the difference between slides and ball bearing slides?
A: Obviously, the former doesn't come with the ball or roller bearings. Consequently, it will take slightly more effort to open and close the drawers. With ball bearing slides, drawers open and close smoothly, with speed, and with minimal effort. It might sound trivial, but they enhance efficiency and ease of use.
Conclusion
You'll be deserving of a long, hearty pat on the back if you can find better or superior tool chests online that beat our selection in affordability, ease of use, safety and security, portability, and construction quality. In this brief, we present to you the best of the best. Provided you work within your budget and evaluate your reasons for buying a tool chest in the first place, any pick is the best pick.
Subscribe to our newsletter