Best Bench Sanders Reviews & Ratings
last updated:
Sep 21, 2021
While not an absolute staple item like a table saw or a cordless drill, a good bench sander is an excellent supplement to any power tool arsenal. It is a great way to add a level of convenience and functionality to your DIY garage. And, of course, if you plan on setting up a proper woodworking shop, making the investment in a quality bench sander is a necessity.
Fortunately, even the best bench sanders on the market won't pounce on your checking account all that hard – they're far less expensive than other woodshop necessities such as, for instance, a good miter saw or a good band saw. Many bench sanders also include additional sanding tools, like a belt sander, disc sander, a spindle sander, or even a grinding or sharpening tool to expand their functionality.
Our Top 3 Picks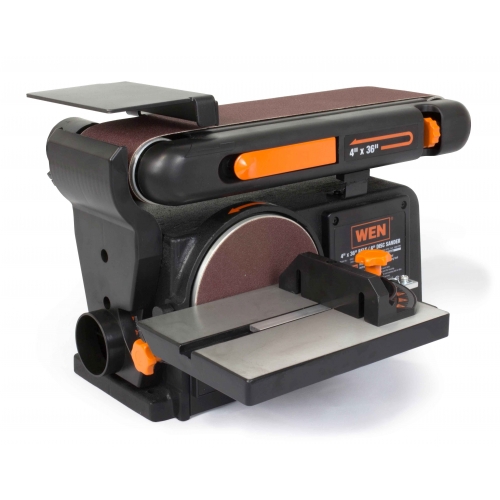 WEN 6502

Our rating
Best price
Price:

See Here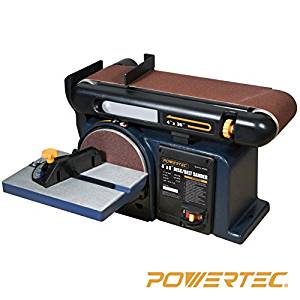 POWERTEC BD4600

Our rating
Popular choice
Price:

See Here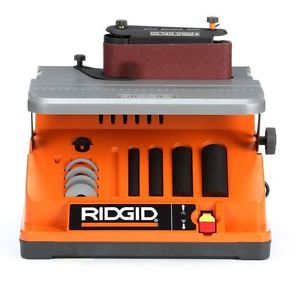 Ridgid EB4424

Our rating
Best spindle sander
Price:

See Here


In this article, we'll take a look at the 8best bench sanders currently available on the market, with our overall considerations based on key factors such as performance, durability/build quality, warranty, maintenance, and ease of use.
Distinguish between options with so many different products out there to choose from, each with its own key features and unique specifications, can be tricky, but we have streamlined the process for you with our buying guide of the best bench sanders.
8 Best Bench Sanders
1. WEN 6502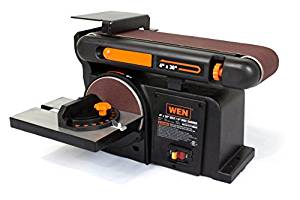 The WEN 6502 is hands down our top pick for the best bench sander for DIY'ers. Make no mistake here; this is by no means a commercial-grade tool. On the contrary, it's specifically designed and manufactured for light work and with DIY'ers in mind, most of which are assumed to have a rather limited amount of garage space.
Expand to see more
Key Features:
Two-in-one sanding machine includes both a 4-by-36 inch belt and a 6-by-6 inch disc


Adjustable belt tilts anywhere from 0 to 90 degrees


Sturdy cast iron base prevents any heavy vibrations


4.3A motor provides up to 3600 RPM


Tension release lever provides for simple changes between sandpaper grits


Affordable price
Price is the defining key feature of the WEN 6502. We don't know how they did it (it's not the first time that an imported bench sander has hit the shelves for under just over $100 bucks), but this one differs from all others in that it's a quality, reliable tool.
The belt and disc sanders are both your standard sizes, at 4" x 36" and 6", respectively, and the 4.6 amp motor registers in at 3,600 rpm - plenty of juice for light work such as touching up 2' x 4's, or smoothing out softwoods like pine and balsa. However, it will tend to bog down or even stall if you try and push its limits with heavier pieces (like 4" x 4" posts) or harder materials like walnut or maple. Most folks who work with premium materials or with larger pieces like full-size fence posts know they will need to make the jump up to a more powerful unit.
When it comes to stationary sanders, weight and construction materials make all the difference in the world in terms of vibration. Generally, bench sanders of this price range are made out of a light gauge steel or even plastic frame, but the WEN 6502 is full-on cast iron (though beware, they also make a steel base one for about $10 less… make sure to go with the cast iron). The tool is rock solid at a hefty 44 lbs, and exactly the kind of beef that you want to see in a good bench sander.
Overall, with such a price tag, you simply can't beat the WEN 6502, hands down. This is the perfect unit for average DIY'ers tackling light-to-moderate garage work - nothing more, nothing less. Easily our top recommendation based on performance, price, and the overall reviews it's gotten.
Price
Weight (with most tools less weight is usually better, but not with bench sanders - the cast iron 6502 weighs in at a robust 44 lbs)
Super-simple belt tension/paper swapping mechanism
2-year manufacturer warranty (not the best on the market, but can't expect anything more for a sub-$100 tool)
Not made for heavy work (it'll bog down/stall out if you beat on it too hard with heavy pieces like deck posts or 4x4 fence posts)
A little under-powered for hardwoods like maple and walnut
2. POWERTEC BD4600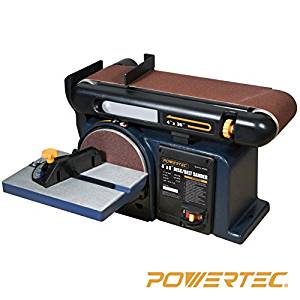 The BD4600 is another one of the more popular buys for online shoppers, second only to the WEN. It represents another fantastic overall value, but it can't quite match up to the 6502 price/performance combination.
Expand to see more
Key Features:
4"x36" sanding belt, 6" sanding disc, A belt with 0° -90° tilt including a work support, a disc work table with 0° - 45° tilt, a heavy duty miter gauge, and a dust port


Powerful 4.3 amp induction motor ensures dependable long-lasting high performance


Whisper quiet operation enhances focus and production


Quick release changing belt for smooth, easy transitions between grits


6-1/2" x 8-¾" Cast-Aluminum Disc Work Table Provides Ample Workspace
Our favorite feature about the POWERTEC is that is has a better miter gauge than the WEN. If you know you'll be sanding lots of angles into the edges of boards, you might want to look into this one because a quality miter gauge goes a long way in achieving quality results.
Like the WEN, the BD4600 is a standard-size benchtop sander with a 4" x 36" belt and a 6" disc. In terms of power, it has just a bit more juice, though, with a 4.6 amp motor that turns over at about 3,600 rpm. It's been know to perform slightly better on hardwoods than the WEN does.
Also, if you're looking for something bigger than a 4" x 6", the POWERTEC comes in 4" x 8" and 6" x 9" models as well, which is another really nice thing we like about it.
All in all, we'd only recommend this sander over the WEN if you plan on doing a ton of angle sanding and using the miter gauge a lot. It's still an incredible value, just not as jaw-dropping as the unbeatable 6502.
Great miter gauge for sanding angles
Simple/well-engineered tensioning mechanism
Comes in three different sizes if you're wanting a larger model
A little pricier than the WEN
Not as heavy at 38 lbs (prone to more vibration)
3. Ridgid EB4424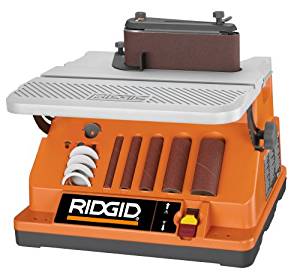 SThe Ridgid EB4424 is an excellent performing and very well-made bench sander, but it's not the standard belt/disc combo like the other two above. It's an oscillating/edge-specific sander, meaning you can't use it for sanding flat surfaces like the faces of cabinet doors, etc. It's a fantastic option if you'll be using it mostly for rounding edges or sanding curved pieces of wood.
Expand to see more
Key Features:
Two machines in one – combines edge belt and spindle sanding in one high-performance tool


Ball-bearing construction


Oscillating and rotary motion – for fast, burn-free finishes on edges, faces, contours, inside and outside curves


Tool-free conversion from belt to spindle


On-board accessory storage
The spindle sanding mechanism on the EB4424 is one of the best on the market for sanding edges and curves.The unit has a monster ⅜ HP motor, which is nearly double the power as the WEN and the POWERTEC, so don't have any qualms about it not being able to rip into even the most stubborn of hardwoods. Also, the 40 lb weight pretty much minimizes all but the slightest of vibrations.
In terms of price, the EB4424 isn't the cheapest option - it's more than twice as expensive as both the WEN and POWERTEC. If you're serious about your woodworking and know you'll need a good edge/spindle sander for ultra-high-quality results or curved pieces of furniture, you can't go wrong with this one.
Best edge sander on the market
The miter gauge is far better than the one on either the POWERTEC or the WEN - perfect for notching angles
Spindle sander is the best of the best for smoothing curved boards
Practically zero vibration
Entire table inclines for angled edge sanding
High-quality ball bearing construction
Can't rotate the belt sander into horizontal/inclined positions
4. Central Machinery Belt/Disc Combo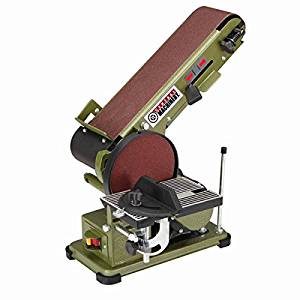 This best/disk combo from Central Machinery is another direct competitor to both the WEN 6502 and the POWERTEC BD4600, with a 4" x 36" belt sander and a standard 6" disc sander.

Expand to see more


Key Features:



Steel motor housing


Maximum speed: 1780 RPM (disc)/1150 FPM (belt)


Amps: 1.9 (no load), 8.6 (startup) 120V, 60 Hz Disc: 6" diameter Belt: 36" L x 4" W


Overall dimensions: 14" L x 19-7/8" W x 12-3/4" H


Weight: 41.56 lbs.


If there's one defining key feature of this bench sander over the other two picks, it's that it's got a tilting/inclining aluminum cast table on the disc sander - a nice option if you do a lot of angle edge sanding.

Otherwise, pretty much all the other features and specs are nearly identical, except for the fact that the motor on this one is even a little juicer at ¾ HP - don't expect it to stall out as the WEN does under heavy loads.

It doesn't get our overall top pick because it does not seem to be quite as well built and is prone to a few more technical problems and warranty claims.
Another reason this one didn't get our top pick is that it's just a bit pricier than the WEN. All in all, though, it is a good intermediate pick between something like the Ridgid edge sander and the WEN. The inclining disc sander table adds an extra element of functionality if you plan on doing angle edge sanding along with horizontal/vertical/inclined belt sanding for wide, flat faces.


Inclining disc sander table
Nice and heavy at just under 42 lbs
¾ HP motor is more powerful than the WEN
More vibration
A little more expensive
5. RIKON Power Tools 50-151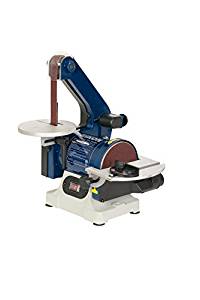 The Rikon 50-151 is a slightly different option than any others, with a fixed 1" x 30" vertical belt sander and a slightly smaller 5" disc sander.
Expand to see more
Key Features:
Belt Table Tilts from -0 Degree - 45 Degree


Belt Tracking Knob


Safety ON/OFF Switch


2" Dust Port Included
The narrow, fixed vertical belt sander comes with an inclining table that locks in at 45-degree angles, making angled edges an all but guaranteed perfect result every time.
The 1" belt sander makes the Rikon a popular choice for smaller hobby/craft-type projects but not the best option for general woodworking or furniture making. Also, the ⅓ HP motor will be severely underpowered for any kind of hardwoods or anything larger than a small board or 2' x4'.
Price-wise, there's nothing at all to bicker about this tool, as it comes at less than $110. For general woodworking, you'd be much better off going with something like the WEN, but for small craft projects like - home decorations, jewelry, toys, doll furniture, repair work, and more where 4" x 6" sanders are total overkill, this tool is one the most popular ones out there.
Well-built, even more so than the WEN
Great for craft/model/hobbyist projects on smaller pieces of material
Inclining belt sander table makes for perfect angled sanding on board edges
Not sufficient power for anything more than small material
Belt sander not wide enough for general woodworking (i.e. facing boards)
6. Porter-Cable PCB420SA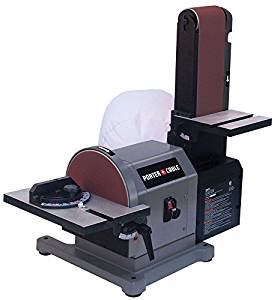 TThe 4" x 36" Porter-Cable 420SA is a well-built bench sander that has one of the better warranties of all the picks on our list and is a popular choice because of the larger 8" disc sander disc.
Expand to see more
Key Features:
Powerful ball bearing 3/4 HP induction motor provides power for small and large sanding operations on various materials


Separate aluminum tables for sanding disc and belt with miter gauge


Cast Iron base reduces vibration and helps keep the sander stable during use


Sanding belt tilts up to 90 degrees vertical, unsupported underside allows for sanding of curved workpieces


Dust collection system with included dust bag and adjustable port, keeps work area cleaner
The larger 8" disc sander is an excellent feature, as it gives you a full inch more sanding surface area to work with (for disc sanders, only half of the diameter is workable space).
The 420SA is a hefty, sturdy, well-built tool with a cast iron base and a powerful ¾ HP that'll be unlikely to bog down, no matter what kind of material you throw at. It is sturdier and more powerful than any other pick on our list.
The major downfall of this tool is its price of $300 or more, which may be more than many people are willing to pay for a sander that they may or may not get a ton of use out of. If you value construction quality over anything else, though, and are looking for a great warranty and a larger sander than the standard 4" x 6", this is a great option.
¾ HP motor is the most efficient, powerful one on the list aside from the Ridgid spindle sander - great for hardwoods or heavy-duty materials
2" larger disc sander
51 lb cast iron base eliminates virtually all vibration
3-year warranty
Great dust collection mechanism
Nearly double the price of our top pick
Takes up more space than the others
7. JET J-41002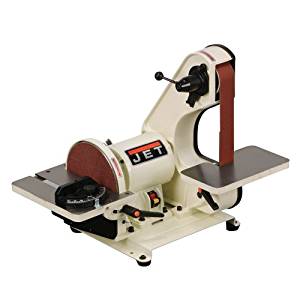 The JET J-41002 is by far the best performing and best quality sander on our list, but it's also the most expensive.
Expand to see more
Key Features:
Deluxe Miter Gauge: Turns and locks for common angles, 45 degrees both left and right


Heavy-duty: Has a steel base, rubber feet, and cast iron construction


Removable Platen: Allows for sanding, grinding, or finishing of outside curves or odd-shaped workpieces on the belt


Three-In-One: Abrasive belt unit does the work of a jigsaw, coping saw, or hand file while removing material and finishing


Easy Adjustments: Allows an operator to get into small openings, plus handle odd shapes and angles


The key feature here is quality, no doubt. If you're one of those who accepts nothing but the finest tools in your garage, you've no other choice than to go with this one.

The miter gauge is absolutely deluxe and is far superior to any of the others on here. Also, the single-phase ¾ HP motor is engineered to rip material off in the blink of an eye, even on stubborn hardwoods.

Of course, the price of nearly $500 may make this bench sander exclusionary for all but the most serious woodworkers. If you want to make a serious step up to nothing but the best, then this is the sander for you.

Top-grade, full-metal construction throughout
60 lb weight; zero vibration
¾ HP motor is powerful enough for just about anything
The price… that's about it
8. Rockwell RK7866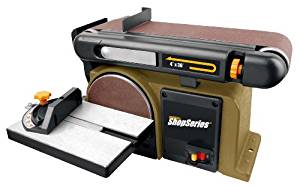 Concluding our list of the Top 8 best bench sanders is the Rockwell RK7866. Many people love this standard-sized 4" x 36" sander for its easy belt-changing ability.
Expand to see more
Key Features:
Horizontal & Vertical Sanding: The spacious 4" x 36" belt platform raises and lowers from 0-90° to accommodate almost any project


Bevel Edges: The sanding table adjusts from 0-45° for smoothing out beveled edges—you'll have the nicest picture frames in the business


Heavy Induction Motor: Powerful 4.3-amp motor provides plenty of power to sand down all your woodworking projects


Easy Belt Changes: Quick-release tension lever lets you easily change out sandpaper grits for different projects


Safety Switch: Prevents accidental starts so you can confidently leave your shop when you're done for the day and not have to worry


What's Included: Comes with: 1pc hex key, 1pc miter gauge, 1pc sanding disc, and 1pc sanding belt
The best part about the 7866 is the belt-changing mechanism; flip a lever, the belt pops right up, discard the old belt and put a new one on. Simple as that.
Spec-wise, this sander is nearly identical to the WEN 6502; it runs a 4" x 36" belt with a 6" disc sander on a 4.3 amp, 3,600 RPM motor. If it were cheaper, it'd easily get our nod for #1 pick.
Why? It's a well-reviewed tool, has a good two-year warranty, and has a sturdy cast iron construction. Unfortunately, it is $20-30 more, and thus it ends up in the #10 spot. If dust collection and ease of belt changing are really important to you, then you might want to consider going with this one.
Ultra-simple belt changing
Nice 41 lb cast iron frame
Dust collection is slightly better than the WEN
A little wobbly, doesn't seem to sit as flush and squarely on the table as the WEN
Rigidity of disc table leaves some to be desired
Criteria Used for Evaluation of the Best Bench Sanders
Weight
The best bench sander should be a heavy sucker; if it's under 30 lbs. and/or made of anything other than cast iron, you don't want it. That being said, weight and construction material were among the first and most important criteria used to evaluate the market's best bench sanders. Anything with a flimsy, lightweight frame (i.e., made out of plastic or aluminum) will be prone to a lot of vibration. And vibration is the enemy when it comes to benchtop sanding, whether you're using the belt or the disc.
Adjustability
Also, another thing we keep a keen eye out for is adjustability. The belt sander on any benchtop sander, no matter the size or brand, should be fully adjustable and used in vertical and horizontal positions or any inclined position in between. Often, when you're using a bench sander, you'll find yourself in some really awkward/strange positions, and you'll need to be able to adjust your belt accordingly to get to the surface or edge that needs sanding.

Miter gauges are also a must-have on any combination belt/disc benchtop sander. Sanding angles into the edges of boards is one of the most common uses for bench sanders, and without a properly functioning miter gauge (some of the ones we've used on disc sanders in the past are absolutely worthless), it can be borderline impossible to get consistent (and perfect) results.
Ease of Use
Ease-of-use is another key criterion used in the evaluation of any belt sander, although this one is a bit harder to quantify. The engineering of some tools, bench sanders included, is just not good and not well-thought-out. Plenty of tools in the past that are just uncomfortable, awkward, or downright painful to operate. Thus, we always make it a point to incorporate "user-friendliness" and general ease of use into the consideration of whatever tool we're operating or reviewing. Each of the top-10 picks above for the best bench sanders were simple to use, comfortable, and convenient to operate.
And, of course, the user-friendliness of the adjusting/paper-changing mechanisms falls into this same category of ease-of-use. Some products make it an absolute nightmare to do even the simplest of things like swapping out your belt or disc paper. Thus we made it a point to only pick products with smart engineering of the tension release mechanism to do routine tasks like sandpaper changing.
Power
Power is, of course, another thing that you want to look at when considering your benchtop sander options. For typical DIY choices, we look for something with a 110-volt power supply. Larger commercial or industrial sanders might have a 220-volt source (like the plug on your air conditioner unit, refrigerator, etc.); having an additional 220-volt wall plug professionally installed in a typical garage or workshop would be inconvenient and unnecessarily costly for a DIYer. A 4″ x 36″ belt sander can obtain plenty of power from a standard 100-volt outlet.
And speaking of power, with any good bench sander, you're going to want at least a belt that turns over at about 3,000+ rpm. Most standard-size home bench sanders will have a motor that produces about 3.5 amps, or about ⅓ hp. Our top-rated WEN 6502, for example, has a 4.3 amp motor that turns over at about 3,600 rpm. This is more than enough juice for it to do the types of things you'll need it to, and that you'd expect it to.
Warranty

Warranty is another factor that you have to take into consideration. The best bench sanders are relatively simply-made tools, and thus you would expect a good one to last a very, very long time. Anything with less than a 2-year manufacturer warranty is likely not worth wasting your money on, though really good products (like this Porter-Cable) will have a 3+ year limited warranty.
Dust Collectors
Also, you certainly don't want to overlook dust collection. We ensured that each pick on our selection of the 10 best had at least some sort of dust port or collection mechanism. Naturally, benchtop sanding is a mess that produces a ton of sawdust, so unless you prefer being covered head to toe, you're going to want something with a functional (a lot of the ones we've seen in the past are borderline useless) collection mechanism.
User Reviews
And lastly, nowadays, with the immense amount of online resources, the obvious thing not to forget about is the general customer reviews and feedback. These are the people actually out there, spending their hard-earned money on these tools and getting their hands dirty using them, so you can expect that they're going to be the ones that provide the best, most accurate overall information as to whether a sander is or is not a good performer and a good value price-wise. In addition to looking over actual manufacturer specifications, consumer feedback was one of our most important criteria when compiling the Top 10 list – every sander included has been very well-received by the general consumer market.
FAQs
1. What are bench sanders typically used for?
Bench sanders are a woodworker's tool, plain and simple; if a woodworking shop doesn't have a benchtop sander in it that's used well and used often, it's likely no woodworking shop at all.
As for what they're used for, bench sanders are typically used after the jointer/planer, wherein edges and faces on roughly milled lumber stuck need to be touched up before being worked with. Or, they can be used to sand down a board to a particular thickness, round edges, smooth surfaces, etc. – there's really no end to what you can do with a good bench sander, hence their criticalness to the woodworking shop.
Scribing is a really popular use for bench sanders, wherein you might need to, for example, sand out some oddly-shaped outlines on a cabinet edge for it to fit up flush against a bumpy brick (or other non-flat surfaced) wall.
Also, bench sanders are great for sanding angles into the edges of boards, and most will come with a miter gauge that allows you to set the exact angle you need for efficient, matching results on multiple pieces.
Compared to portable hand sanders, bench sanders are much more powerful and can rip through a lot more material at a time.
2. What are some key functional differences between benchtop sanders that I need to look out for?
Make sure that you can use the belt sander in both a vertical and horizontal position (99% of them out there are easily adjustable). Also, even though the belt sander will be used probably 9 times out of 10, it's always good to look for a combination belt/disc sanders – that disc isn't used often, but when you need it, it sure comes in handy.
Also, you'll want to keep an eye on size; a 4″ x 36″ belt w/ 6″ disc is by far the most common combination bench sander size for DIY applications. If you're into more high-volume work (like cabinet or large furniture making), you might seriously want to consider jumping up to something like a 6″ x 48″ belt with a 10″ disc.
3. What kind of sandpaper do I need to buy for my bench sander?
That's all depending on what you want your finished product to be. Benchtop belt sanders are commonly used for refinishing projects, where old paint or varnish needs to be sanded of boards. In this case, it's common to use a coarse grit paper like a 36-grit.
As far as finer grits, bench sanders aren't really used much for finish work, so rarely will you be putting a paper on them that's finer than about a 220-grit. That being said, a 220-grit sanding will produce a beautifully smooth, finished product in many different situations.
4. What's the difference between edge belt sanding and spindle sanding?
Sometimes you'll see combination bench sanders with a belt sander and a spindle sander. The spindle sander is a small-ish cylindrical sander that's most often used for smoothing edges on curved boards. If you have a use for it, it's irreplaceable as you can't sand a curved edge with a flat belt sander.
However, they're kind of an oddball item that most people won't really get much (if any) use out of. In the vast majority of cases, a combination belt/disc sander will be the more appropriate choice.
5. What's the size range of materials that I can use with a bench sander?
Again, this all depends on the size bench sander you've got. Some industrial behemoths are large enough to sand the entire surface of doors or standard 4′ x 8′ sheets of plywood all at once, though the typical 4″ x 36″ bench sander is obviously used for more commonly sized items like small-ish boards and 2 x 4's.
However, standard 4″ x 36″ belt sanders are commonly used to fix the old "stuck door" problem, wherein you might have to shave a fraction of an inch off the corner of a door to get it to open/close smoothly. You'll have to take the door off the frame, of course, but once it's off, you just pop the faulty edge on the belt and shave off material until it works right.
And truth be told, when it comes to flat surfaces of boards, there's no size limit (in terms of width or length) as to what you can or cannot sand with a bench sander. As long as you've got the space, you could potentially sand the entire surface of a 4′ x 8′ sheet of plywood with a small 4 x 36 belt sander.
6. Can I use a bench sander for metals and other non-wood materials?
You certainly can, but you might not get great results. Softer metals like copper or aluminum you could easily touch up with a belt (or disc) sander, but for heavier duty stuff like hardened steel, you'll likely need to use a grinding wheel.
Also, plastics such as PVC are easily sandable with a bench sander, so beware that they'll clog up your paper really quickly – much more so than wood.
7. Is a bench sander good for finish sanding?
Like we said earlier, not particularly – unless you consider the product of 220-grit sand as a "finished" job.
That being said, though, there are plenty of folks out there who have no problem using a fine-grit paper with either their benchtop belt or disc and can produce good results.
A professional furniture maker probably wouldn't use a 4″ x 36″ belt as his finish sander.
8. Are a belt sander and a bench sander the same thing?
There are portable (handheld) belt sanders, and there are benchtop belt sanders – a belt sander is just any sander that uses, well, a belt. So generally speaking, yes, when someone refers to a "bench sander," they're referring to a benchtop-mounted belt sander.
8. What's the difference between a bench sander and a portable hand sander?
We touched on this briefly earlier; the main difference between a benchtop belt sander and a handheld belt sander is that the benchtop will rip through material easier and quicker than the handheld one.
Any belt sander takes a lot of material off at a time, but the benchtop belts are even more powerful than the handheld ones.
Bottom Line
As we've said throughout this buying guide, the main things you're going to want to look for when selecting the best one for your needs (other than price, of course) is weight (a steel or cast iron frame), ease of use (simple adjusting, belt-tensioning/paper-changing mechanisms), reliability (warranty details) and performance (does the thing actually work well?)
Considering these factors, it was easy to give the cast iron WEN 6502 our #1 top pick for the best bench sander. Though there are certainly better products performance-wise on the market, you will not find a better, more reliable, more functional one than this one for the price.
The vast majority of DIY'ers aren't going to need a tool that costs as much as their mortgage payment; this little Wen has proven over and over again to be the best bench sander currently out there for price and value. Pick one up, pop it on your workbench, and start putting her to use.
Subscribe to our newsletter