Best Welding Gloves Reviews & Price Comparison
last updated:
Aug 01, 2018
As professional welders would attest, protection is of the essence whenever you're welding. Besides your eyes, the other critical body parts that need formidable protection are the fingers and hands. Irrespective of the type of welding you intend to embark on, you're bound to get seriously hurt if you don't don the right protective gear, and in the case of welding, that would be welding gloves. They are an inexpensive way of protecting your hands from all the sparks, heat, flames, and slag that are attendant of all welding projects.
Our Top 3 Picks
[srpshortcode id="16429″][/srpshortcode][srpshortcode id="16430″][/srpshortcode][srpshortcode id="16431″][/srpshortcode]
Expectedly, the skyrocketing incidences of burns resulting from the use of poor quality welding gloves have led to a proliferation of welding gloves on the market making it increasingly difficult for greenhorns and professionals alike to choose wisely. In your search, you want a pair that offer nothing short of the best protection for your hands. Additionally, it needs to be flexible, comfortable, and durable. To make the search easy, we'll walk you through the most essential factors to keep in mind and a thereafter an in-depth review of ten of the best welding gloves on the market currently.
10 Best Welding Gloves
1. Caiman 1878-5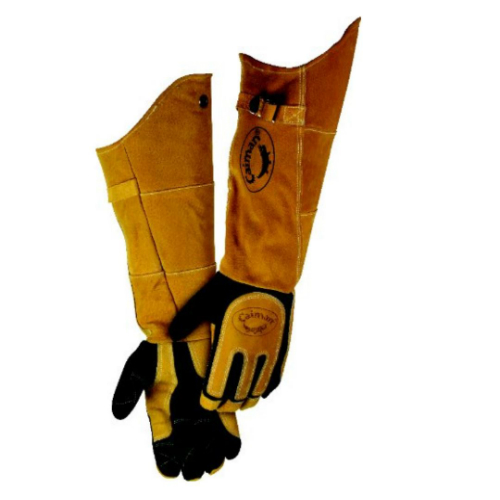 For welders looking for a pair of heavy-duty gloves for protecting their fingers, hands, and forearm from excessive welding heat, we have arguably the best gloves for you; the Caiman 1878-5. Because of their 21-inch length, they reach all the way up to the forearm, meaning that all these areas will under formidable protection. While they're designed specifically for overhead welding, the pair is incredibly versatile, and is equally ideal for TIG, MIG, and even stick welding.

They are no slouch when it comes to performance, considering that the pair features heavy-duty and long-lasting construction quality from pure Boar hide leather before a final lining of genuine American Deer Skin split palm. On top of this, the brand thoughtfully reinforces the pair with sturdy and thick padding underneath the boar hide before finishing off by stitching the pair of gloves with Kevlar thread. The result is a pair of extremely long-lasting and strong welding gloves the user can use confidently with the toughest overhead welding projects without worrying about the safety of their hands.

Expand to see more
They are similarly easy to use. They fit on the hand comfortably and securely like they were a second layer of skin, which makes them all the more a must-have for the welder who can't afford to worry about the possibility of them slipping off during use. By conforming to the natural shape of your hand and ensuring the fingers alignment properly, the pair substantially enhances comfort and dexterity, allowing you to work continuously with minimal hiccups. That's on top of the fact that they have a special strap for preventing them from slipping off in the middle of a project.

In all, the Caiman 1878-5 is a versatile, easy-to-use, comfortable, and cost-effective product that provides the best protection for the hands against the excessive welding heat. And they come with a generous 12-month warranty to cover against deficiencies in material and craftsmanship, which is never the case with Caiman products.

Comfortable design
Safe to use
Durable construction
Not ideal for detail-oriented work
Doesn't fit extra large hands
2. US Forge 400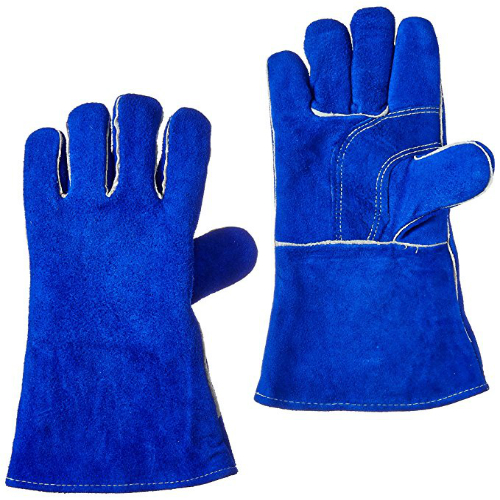 If you're looking for concrete reasons to purchase the US Forge 400, we have several but we'll start with two of the most imperative: superb protection for your hands and a budget-friendly price tag. They are additionally very comfortable to wear for protracted amounts of time, and always keep the hands dry and snugly all throughout your project. Now get ready for an in-depth but brief review of the welding gloves.

The US Forge has several options on the market but theis pair is their flagship product seeing as it's one of the toughest, most comfortable, secure, and easy to use, which explains why it's the best seller in many shops. That's no mean fete considering that the gloves compete against products from equally established and competent rivals. First off, the welding gloves have a deceptively simplistic, run-of-the-mill appearance that entirely bellies its volcanic performance.

Expand to see more
However, the gloves feature an all-premium leather construction and come with a cotton lining on the inside for maximum comfort and dexterity. Unlike our first pick, the pair is locked stitched, a fact that makes them superbly strong and durable, so that with proper care and use, they can easily last more than a lifetime of heavy use.

Aside from the incredible protection they offer against the excessive heat that comes with welding different materials, they offer superior comfort and ease of use. They fit the vast majority of hands to a T and leave minimal room for slippage. After the first few days of breaking into them, don't be surprised if you go an entire day without taking them off.

The pair comes in an attractive colour and is both lightweight and compact, with a paltry weight of 11.2 ounces and physical dimensions of 13 inches by 5.5 inches by 0.5 inches. As a result, you can slip them into your front pockets, pack pockets, or inside the toolbox and in both cases, they'll only take up a fraction of the storage space. And the best part is that they're surprisingly cheap.

Superb hand and finger protection
Affordable
Versatile choice
Highly portable design
Not ideal for stick/overhead projects
3. Miller 263343 Arc Armor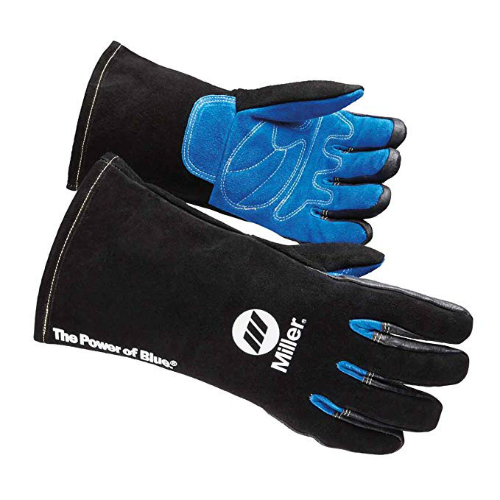 Not only is long exposure to high heat dangerous to your hands, it also dramatically reduces your productivity, keeping you from achieving your full potential as a welder. The Miller 263343 are one of the best ways of giving your hands the protection they need. The pair also offers excellent dexterity and comfort, allowing you to work safely and with confidence. Plus, they are cost-effective in spite of packing incredible hand protection features and specs.

They come with a legendary tough build. The high-end stitching of the product provides for reliable and durable use for several years to come, irrespective of the harshness of the working environment. There is no possibility of them tearing into two even with heavy use, as is often the case with cheap, off-brand models on the market. The parts of the hand that are most vulnerable to heat and susceptible to quick wear and tear, such as the palm and the back, come with double layer patches and feature high-quality construction using industrial-grade cowhide and pigskin leather.

Expand to see more
While they are multi-functional and can be used to undertake a wide range of welding projects both at home and on the construction site, they're more optimized for MIG welding. The insides are lined with pure wool to provide increased resistance to the heat of the flame meaning that throughout your welding project, your hands will remain comfortable and dry, no matter how long the projects take. And since the construction material is breathable and the pair of gloves come with pre-curved fingers and a wing-thumb design, they fit comfortably and easily into most adult hands, providing exceptional dexterity for undertaking complex welding projects with ease.

Only a handful of options come close to providing the level of protection, dexterity, and comfort that the Miller 263343 provide. It's an attractive model and durable model made from high-quality cowhide and yet boasts a soft, delicate tough against the skin. They fit snugly and easily and are breathable so hand movement is never compromised. And their hand protection against flames is exceptional, thanks in part to the Kevlar thread stitching.

Provide exceptional resistance to heat, flames, and sparks
Hardy construction
Offer comfort and flexibility
Budget-friendly pricing
Extra padding complicates use with torches
Not meant for TIG welding
4. Lincoln Electric Traditional MIG/Stick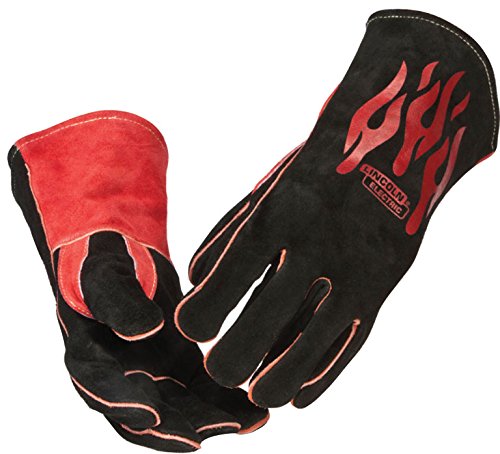 These comes jam-packed with several eye-catching features that are sure to appeal to the amateur and professional welder looking for the absolute best protection against flame and heat. However, none of the instrumental features surpasses the exceptional protection the pair offers your fingers, hands, and forearm against sparks and flames that accompany all welding projects. Like one of our previous picks, they feature heavy-duty construction from industrial-grade split cowhide leather, thereby offering enviable resistance against heat and flames, further making them the solid choice for MIG and Stick welding.

Aside from the use of commercial-grade leather, the pair also features additional padding for that extra strength. As the parent company so explicitly states, the pair is a one-time purchase and with proper care, maintenance, and use should easily last you more than a lifetime. To the industry-best construction and use of high-quality materials add a Kevlar stitching mechanism with welted seams and you have wrapped on your hands a heavy-duty and incredibly long-lasting pair of gloves that will provide you with several years of flawless and trouble-free use, no matter how demanding the welding project.

Expand to see more
It does not weigh down your hands with too much weight. At just 14.4 ounces and with corresponding dimensions of 13 inches by 7 inches by 1 inch, it takes up minimal storage space and fits with ease into a backpack, pants' pockets and the vast majority of
tool boxes/chests
. And they're a darn comfortable. The pair features additional padding at strategic points with the goal of preventing pain and strain and gives you superior control by featuring soft cotton lining that quickly and efficiently
absorbs sweat
, consequently enhancing fingertip sensitivity and providing for more accurate controlling.
For the value-conscious user in search of a heavy-duty pair of comfortable and cost-effective option to use on a wide range of projects, they comes highly recommended. They are also durable and very attractive with their signature black split leather and red flame pattern.
Superb resistance to heat and flame
Features durable Kevlar thread stitching
Extra padding on thumb for longevity
Very comfortable
It's not dexterous
The "one size" design doesn't fit all hands
5. John Tillman and Co Top Grain Leather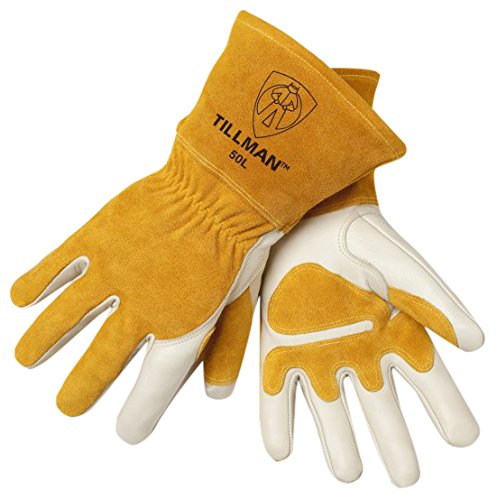 The John Tillman and Co gloves are designed with the professional welder in mind, aiming to provide them with a product that marries the longevity of welted seams with the robustness of Kevlar stitching. And in that endeavour, this pair over-delivers, meeting and easily surpassing industry expectations. In addition to giving welders a sense of security and the confidence for working productively, they also enhance dexterity and control, which in turn makes them an ideal choice for intricate or detail-oriented applications. Plus, they're a versatile choice that you can use to take on a wide range of projects besides welding, such as electrical tasks and soldering.

Every nook and cranny of this pair reek of high-quality construction and would be an ideal choice for the professional welder, enthusiastic DIYers and everyone in between who takes the safety of their hands and fingers seriously. For one, the construction of the pair from top grain cowhide leather means it can easily withstand the rigorous work of welding, protecting your hands from sparks and flames that would otherwise cause severe injuries.

Expand to see more
The parts of the gloves that are most vulnerable to heat and quick wear and tear during welding, such as the palms and the back, are reinforced with split leather and stitched together using a Kevlar thread. The result is a pair that effortlessly and effectively stand the test of time, providing you with years of superb protection. Whether it's MIG, TIG or Stick welding, the pair will earn your admiration by proving to be one of the best pairs the market has to offer, at an affordable price, no less.

To make the comfort and easy to use for long periods, the pair comes with fleece lining and a seamless forefinger. The result is unmatched comfort and dexterity while providing just enough room to allow your fingers to breathe in the heat of the moment, no pun intended. The pair also fits securely, thanks to the elasticity of its back.

They do more than protect your fingers and hands from sparks and flames. The pair also significantly enhances comfort and usability, allowing you to reach your full potential either as a greenhorn or professional welder.

Exceptionally dextrous
Superb heat, spark, and flame protection
Very comfortable and easy to use
Not ideal for overhead welding
Gets hot with prolonged use
6. Steiner 21923-L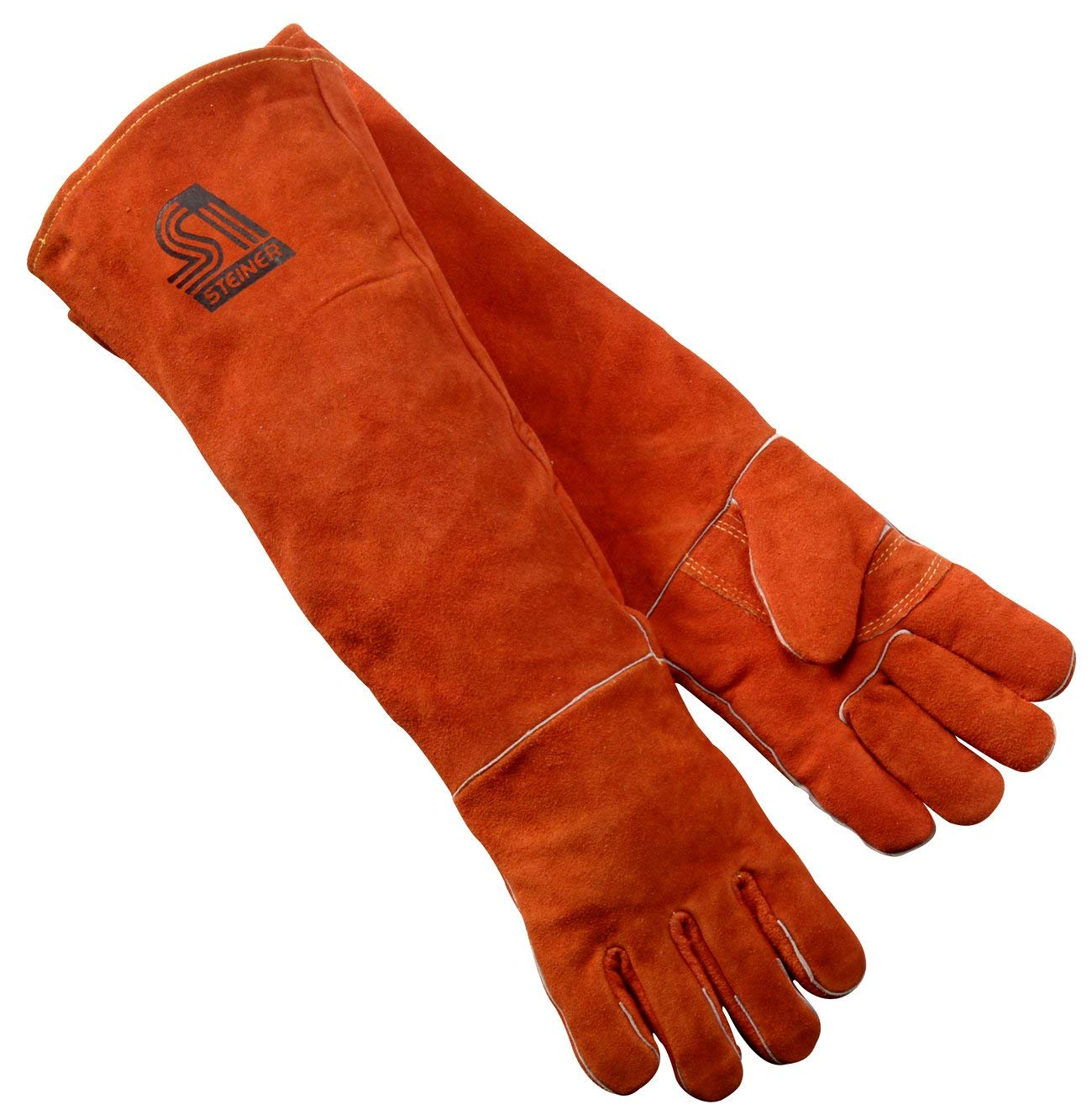 The Steiner 21923-L are optimized for use in an industrial or construction site setting where comfort, dexterity, and ease of use rank highly. They not only protect the hands and fingers but also the area up to the arm, a fact that makes them very versatile. Aside from welding, you can as well use them to do some light work around the fireplace where extreme heat can equally cause severe harm to you.

They are a heavy-duty pair of welding gloves that pull no punches in offering you industry-best protection against sparks and flame. The over-the-elbow protection is particularly helpful for welders who work in busy settings handling a wide range of welding projects. Like most flame-resistant option featuring on this list, the pair is constructed from select shoulder split cowhide leather, which might sound like unnecessary jargon to a novice but to a professional, it simply means the gloves offer the best protection. Being a brand that doesn't leave anything to chance, Steiner also throws a foam insulated back into the list of safety features, providing the user with an extra layer of security and safety.

Expand to see more
And that's not all. For comfort, both the pair come with a full cotton lining on the inside, which pairs nicely with the heavy-duty thumb strap and professionally welted seams. These features put the pair on a whole new level, separating it from the mediocre and flimsy products on the market masquerading as welding gloves. The excellence of the pair's abrasion and dexterity makes it a perfect choice for all types of welding activities, including general and detail-oriented. And because it comes with a shoulder split, it fits securely and easily into most adult hands and is just as easy to remove.

Whether it's MIG, TIG or Stick welding, the Steiner 21923-L should be your to-go welding gloves for that extra protection and insulation against sparks, heat, and flames. They're comfortable and lightweight and surprisingly cost-effective. They come highly recommended.

Palm and back features extra insulation and padding
Durable construction using split cowhide
Versatile choice
Provides over-the-elbow protection
Not ideal for small hands
7. Hobart 770440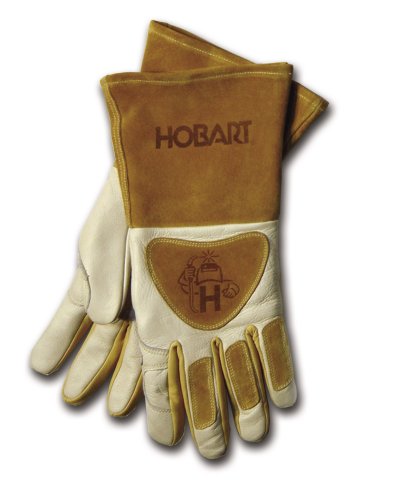 A combination of heavy-duty construction using premium natural grain leather, Kevlar stitching and form fitted design make the Hobart 770440 deserving of a spot on the list of the best welding gloves on the market. Like most high-end models, this pair perfectly balances performance and protection to provide the user with the best of both worlds, but at a fraction of the price commanded by the former.
It's, therefore, a suitable choice for the welder looking for the best protection, ease of use, and comfort without denting their pockets.
The construction of the Hobart 770440 from a blend of cowhide split and grain leather results into a product that easily withstands heavy-duty, prolonged use in the harshest
work environments
. Throw in the professional-grade Kevlar Thread stitching and you have around your hands one of the most long-lasting and rugged welding gloves ever made. The likelihood of the gloves ripping or burning with normal, everyday use is remote, at best.
Expand to see more
Another unique selling point is the ease of use and comfort. They come with protective knuckle patches, extra padding on the palms, a pigskin cuff and backhand all of which make for comfortable use and secure fitting on most adult hands. While the mentioned reinforcements make them a little thick, they offer unmatched protection and insulation against excessive heat and burns. They are however not too thick in a way that compromises dexterity; you'll be able to undertake all those detailed welding projects with high precision.

To conclude, these are a perfect choice for everyday welding, particularly overhead welding considering their 13-inch length. They offer excellent heat protection and insulation and fit comfortably and with ease. Even after years of use, they never lose their soft and delicate touch.

Thorough insulation for remarkable protection
Heavy-duty construction
Superior dexterity and comfort
Perfect for overhead and stick welding
8. Lincoln Electric K3109-M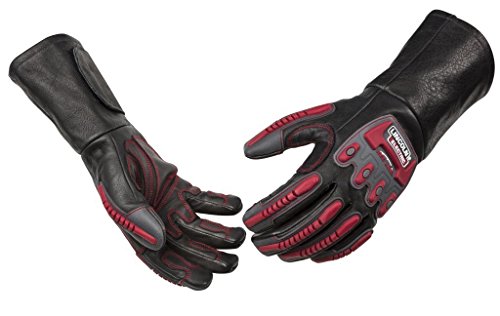 The Lincoln Electric K3109-M are a high-quality yet affordable pair that are perfect for heavy-duty projects both around the house and on the construction site. Like all other gloves on this leaves, it pulls all the stops to provide the user with the best protection for their fingers, while ensuring ease of use.

They feature professional and long-lasting construction quality using commercial-grade cowhide. For an even longer lifespan, the stitching is done with Kevlar thread and reinforced with superior knuckle protection, allowing the pair to gracefully stand up to the harshest and toughest working conditions. Additionally, the gloves sport extra padding around the palms to provide extra reinforcement, ensuring an even longer shelf life in the areas that are more susceptible to wear and tear. It will continue to provide your hands with the best protection even as it nearly the tail end of its useful life.

Expand to see more
They do not sacrifice dexterity and comfort just to keep your hands safe from flames and heat. They feature an innovative design that aims to enhance comfort and ease of use, which goes a long way in taking the time and effort away from the toughest and most demanding welding applications. The design ensures the gloves fit most hands comfortably and there is a silicone knuckle that ensures your fingers and the back of the hand are safe from high impact and injury. To top it all off, they sport a heat-resistant wrist guard and fastener for safely securing the gloves, preventing a situation where they would come off inadvertently in the middle of an operation.

You don't have to break the bank to afford a pair of these high-quality option, even though they boast a performance and durability level that easily holds a candle to its high-end counterparts. For all your welding tasks, these are the product to go with.

Cow leather offer superior heat resistance
Features sturdy Kevlar thread sewing for durability
Extra padding
Comfortable and fits securely
Size runs small
Long break-in period
Costly
9. US Forge 403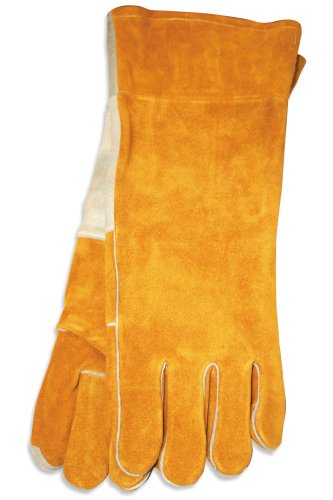 If it's a feature-rich pair of welding gloves that you're looking for, the US Forge 403 18-Inch Extra Length are the perfect fit for you. The model is oozing with features, all of which aim to provide you with the best protection in the industry.

Starting us off is the construction quality. It is a far cry from those of weak, run-of-the-mill variants you'll find on the market. The pair features high-quality construction using industrial-grade grain leather. The material does not only come with a soft and delicate tough for superior comfort and pliability but also provides top-notch protection against sparks and flames.

The pair comes with an extra inch in length to extend to excellent protection against sparks and slag to the forearms, making them an ideal choice for overhead welding. To make them even more pliable so they don't lose their dexterity even with years of heavy use, they conveniently feature a deluxe lining. Consequently, you'll be using the pair for several years on end with utmost comfort and with minimal effort, which is imperative for undertaking intricate projects.

Expand to see more
Like our previous pick, the product leaves no room for errors or vulnerabilities that would expose the hands and fingers to intense heat. The extra fortification of areas more prone to friction and reinforcement of the knuckle, palm, and the area on the back of the hand with additional pads will not only keep dangerous heat but also extend their lifespan.

Their beauty and one that we find particularly appealing is that they offer premium features, unmatched comfort, and off-the-charts performance at a fraction of the price of high-end models. You don't have to sell your liver to afford them. Plus, it comes with a ton of performance and convenience features.

Provides comfort and dexterity
Very safe
Lightweight and easy to use
Remarkable heat resistance
Budget-friendly pricing
10. NKTM Leather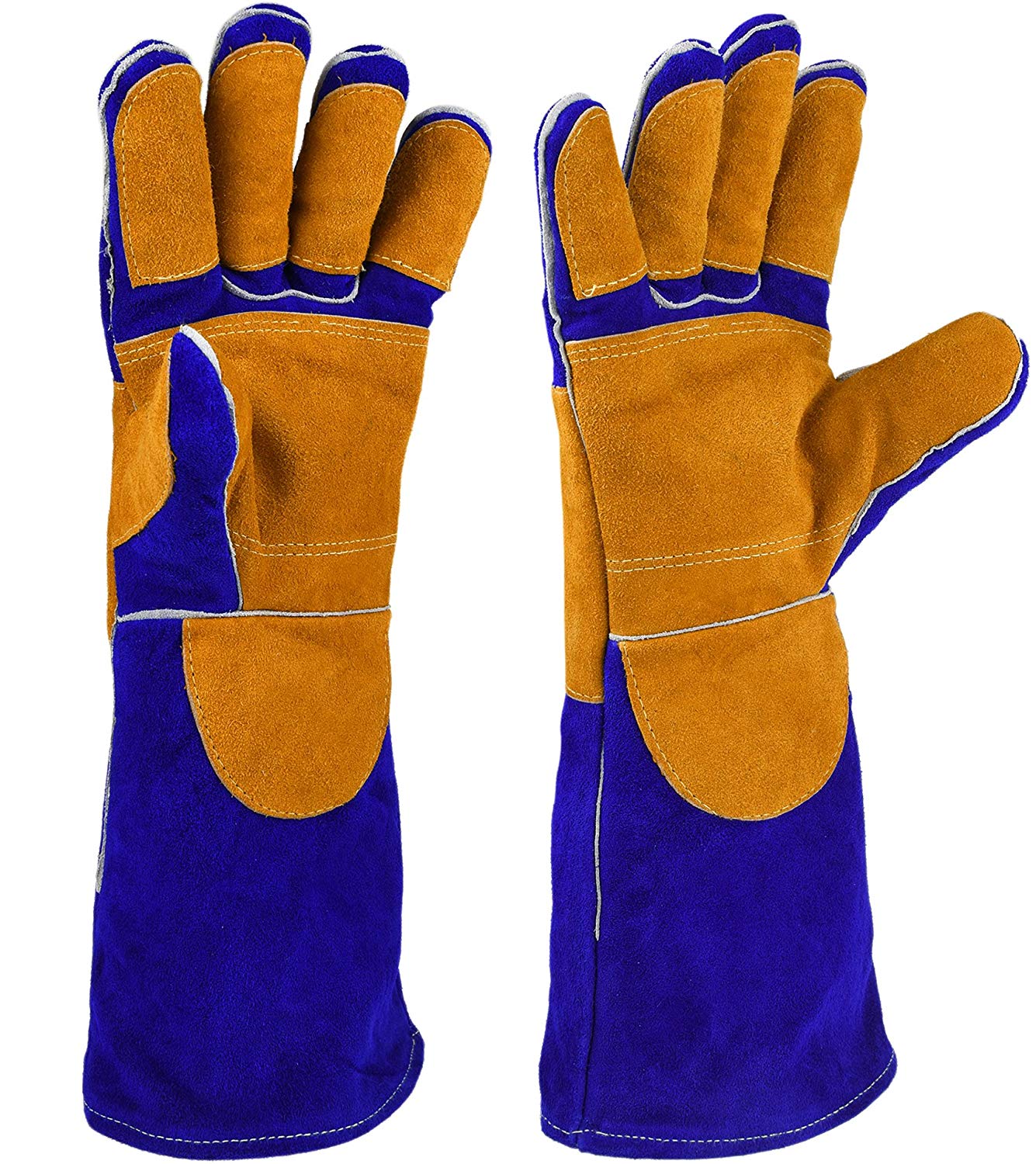 Rounding up our list is yet another superior quality and long-lasting pair: the NKTM Leather gloves. The tenth position should however not be construed as a sacrifice on quality or poor performance as is often the case with last items on a list. Contrary to such comprehensions, this pair offers excellent heat resistance and are remarkably durable, having been made from industrial-grade materials. They are a versatile selection that are ideal for a wide range of projects besides welding. You can also use them to work on the
fireplace
, stove, barbeque, and even gardening.
Like most other high-end options, they feature an all-premium cowhide leather construction that conveniently extends all the way up to the cuff. As a result, it's not only perfect for overhead welding where it'll be providing you with excellent protection against heat, sparks, and flames, but also for general construction works. The pair also comes with a cotton lining and canvas cuff both of which insulate the hands against excessive heat, absorb any sweating so the hands are always dry and comfortable.
Expand to see more
The construction quality will immediately resonate with professional welders and enthusiastic DIYers in search of a durable pair. The pair is durably stitched to eliminate any inadvertent exposures to extreme heat and sharp objects. Reinforcing the palms and other areas like the back that susceptible to wear and tear aims to provide an extra cushion when undertaking heavy-duty projects.

They easily fit into the vast majority of hands with minimal resistance and firmly so that there is absolutely no likelihood of them accidentally slipping off during work. They also feature a reinforced wing thumb design that makes it remarkable flexible and hence ideal for detail-oriented welding. They are similarly breathable and allow you to move your fingers easily. And like we mentioned earlier, they are a versatile choice and ideal for undertaking a plethora of other light-duty to heavy-duty projects besides welding.

If you were looking for a concrete reason to go with our tenth pick, now you have several. They are comfortable, cost-effective, offer outstanding dexterity and excellent protection of the hands from extreme heat, sparks, and flames.

Comfortable and dextrous
Cost-effective
Outstanding heat protection and insulation
Fits perfectly
Not ideal for stick welding
Stitching quality can be improved
Criteria for Choosing the Best Welding Gloves
Construction Quality
The primary objective ofthese type of gloves is to give your fingers and hands the best protection from sparks, flames, and extreme heat, and in this endeavour, we insist that you don't compromise. Welding gloves are made from a wide range of materials, all of which differ in their level of heat resistance, and therefore protection.
While elk skin is by far the best at resisting heat and a lot softer, it lacks the durability of other materials. Cowhide is the most commonly used material, and for good reasons. One, it's remarkably durable and secondly, its heat protection is exceptional. Additionally, it offers remarkable comfort and dexterity, making it an ideal choice for MIG welding.
The third material for consideration is deerskin. While it has a knack for adjusting to the natural contours of the hand, they have a considerably long break-in period of one week. Pigskin, like goatskin, offers remarkable resistance to oil and adverse weather conditions. Goatskin, however, trounces pigskin in dexterity.
Armed with this information, choosing a material that best matches your individual preferences should now be a walk in the park.
Performance
It's near impossible judging the performance of welding gloves by looking at them. The quality of the construction (read the material from which it is constructed), should provide some clues. You can also consider the litany of additional features the pair offers and try to gauge whether or not they'll enhance performance with respect to the type of welding you intend to embark on.
Kevlar stitching, for instance, is an indication of high performance, seeing as such products won't tear or split with ease, even with frequent exposure to heavy-duty projects. Features such as extra padding in the areas most susceptible to tear and wear like the palms and the back of the hand are yet another indication of superb performance. Another feature would be the presences of a strap for firmly securing it on to prevent the likelihood of the glove inadvertently falling off in the middle of an operation.
Ease of Use
Your preferred choice should be a cinch to use, seeing as welding is already a tough and demanding endeavour. They should fit your hands to a fit and offers the best dexterity. Figure out the size of your hands before ordering so there are no surprises when the package arrives. Keep in mind that some models run either small or large while there are others that will adjust to the size of the hand.
Also, consider the length of the gloves. A 12-inch model is perfect for stick welding while anything between 18 and 21 inches should be perfect for overhead welding. If you're not sure, go for a pair averaging 16 inches.
Frequently Asked Questions
Q: Which type is best for TIG welding?
A: TIG welding demands precision and free movement of the hands. With this in mind, welding gloves made from goatskin would be ideal. The thinness and pliability of the material make it suitable for the intricate and challenging task that's TIG welding.
Q: What are the advantages of wing thumb style over straight thumb style?
A: While it all comes down to personal preference, wing thumb style has the advantage of offering more comfort because of its ergonomic design. Also, the style has a level of softness to it that's lacking with straight thumb style gloves.
Conclusion
For a welder, whether professional or amateur, a pair of heavy-duty, durable, and comfortable welding gloves is a must-have. They protect the hands from sparks, flames, and extreme heat. If you were having a problem selecting one that best suits you, we hope this buying guide was of help.
Subscribe to our newsletter