Best Rivet Guns Reviewed & Tested
last updated:
Oct 23, 2018
Contrary to commonly held assumptions, the use of a rivet gun isn't confined to fabrication workshops, carpentry, construction, and automotive repair. Instead, a rivet gun is an indispensable extension of both any tradesperson's and seasoned DIYer's toolbox. A rivet gun takes the hard work and time out of joining metal or plastic sheets together, allowing the user to work more efficiently than they would with a MIG welder. Also in light of their versatility, affordability, and ease of use, rivet guns are quickly morphing into the go-to tool for driving rivets. Which why you need to exercise an abundance of caution when choosing your next one.
Our Top 3 Picks
[srpshortcode id="19009″][/srpshortcode][srpshortcode id="19010″][/srpshortcode][srpshortcode id="19011″][/srpshortcode]
Irrespective of the nature of metal or plastic sheets you intend to work with, you need a heavy-duty hand riveter to get the job in a fraction of the time and with the least effort. Obviously, there are several considerations to keep in mind and which will ultimately affect your decision. To help with the uphill task of choosing, we've put together a few criteria to consider followed immediately by our selection of ten of the best rivet guns currently on the market.
10 Best Rivet Guns
1. Astro Pneumatic Tool PR14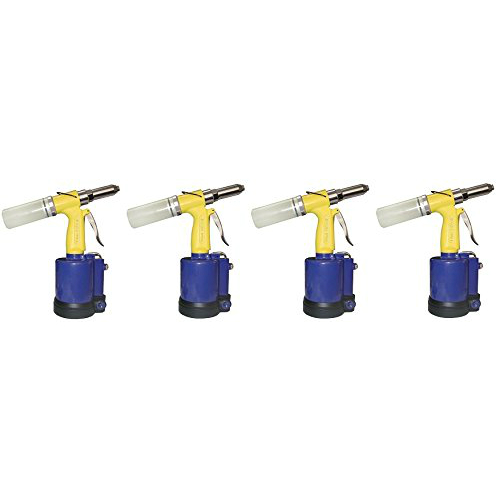 For the tradesperson in search of a powerful and versatile tool with up to 5 nosepieces, the Astro Pneumatic Tool PR14 is the right product for you. The durability, remarkable high speed, and a knack for superior performance at multiple angles make the rivet gun an all-time favorite among seasoned professionals and enthusiastic DIYers. Thanks to the incorporation of a heavy-duty quick-release air valve, the rivet gun is a cinch to use and will be the difference between completing various projects effortlessly and quickly and spending the whole day on a single task.

Onerous tasks require the use of commensurately rugged and high-performance tools, and one such tool is the PR14. It's a versatile workhorse that invariably delivers quick and efficient performance. Boasting between 90 and 120 PSI, it takes the time and effort away from driving various steel rivets into metal surfaces. Capable of enduring various loads, it is a perfect choice for tackling rivets with sizes ranging between 3/32 inches to 1/4 inches.

Expand to see more
With a pulling pressure of up to 2600 pounds and being a powerful, high-speed production tool, the rivet guns make short and quick work of clamping a wide range of dense and abrasive metals including stainless steel and aluminium and several more.

Aside from the it's powerful performance, it's also a cinch to use, as indicated earlier. It weighs a paltry 3.5 pounds and has an overall length of 10-7/8 inches. Coupled with its lightweight and compact design, accessing hard-to-reach spots will be a breeze. The ergonomic design of the handle enhances user comfort and contributes to the quiet and fast operation. To these features add the quick-release air valve that allows for the speedy return of the cylinder. In addition to performing astoundingly well at various angles, the rivet gun also allows you to safely store up to 3 nosepieces in the base.

Clearly, the Astro Pneumatic Tool PR14 is built to last and to provide fast and efficient performance for several years to come. It works quickly, quietly, powerfully and effortlessly, especially with backbreaking tasks.

Ideal for accessing confined, tight spots
Boasts an impressive 2400-pound pulling pressure
Versatile and easy to use
High-speed production
2. Dorman 743-100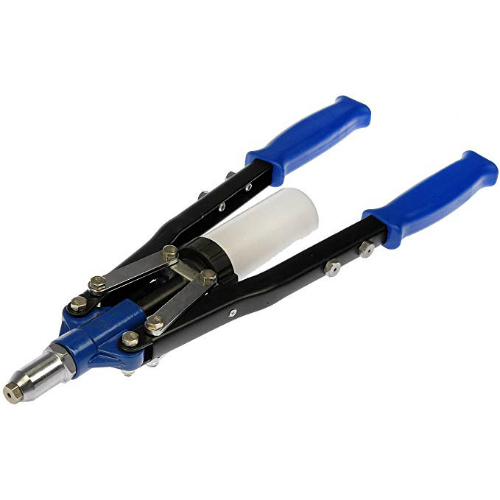 Easily considered the foster child of ingenious craftsmanship and superb performance, the Dorman 743-100 has everything going for it. If you're anything like us, you'll find the affordability, versatility, no-frills design, and usability of the tool irresistibly endearing. Coupled with the long-handles and their user-friendly design, the rivet gun is a cinch to use and will minimize fatigue and hand strain for which cheap, off-brand rivet guns on the market are renowned.

It comes highly recommended for the quick and effortless driving of various rivets, a fact that earns it approving nods from professionals and DIY enthusiasts alike. It features a smooth and easy squeezing action that demands little effort from the user. Minimal effort on the handles is quickly transformed into powerful rivet driving prowess on the other end, allowing the user to finish various projects quickly and efficiently. Squeezing on the handles with a little effort causes the nut to expand, so you don't have to exert too much effort.

Expand to see more
Its versatility is yet another feature that makes it immensely appealing to the vast majority of tradespeople, extreme DIYers, and everyone in between. Despite the fact that it optimized for installing window regulators, it is also a perfect candidate for completing a wide range of applications, thanks to its all-metal construction. Coupled with its resistance to corrosion, the unit is able to withstand extreme use for several years on end without the slightest drop in performance. To that add a generous limited lifetime warranty that covers for deficiencies in material and craftsmanship.

Additional features that enhance usability include the lightweight and compact design. The likelihood of suffering hand strain or fatigue is remote at best. Besides, it features considerably long handles for the much-needed additional leverage for fast and effortless completion of otherwise backbreaking tasks.

For individuals in search of a tool that works flawlessly, quietly, and exactly as advertised, the Dorman 743-100 is for you. And did we mention it's cost-effective?

Cost-effective
Boasts smooth squeezing action
Works efficiently and dependably
High-end construction for durability
Easy to use
Experiences difficulty handling large rivets
3. Stanley MR100CG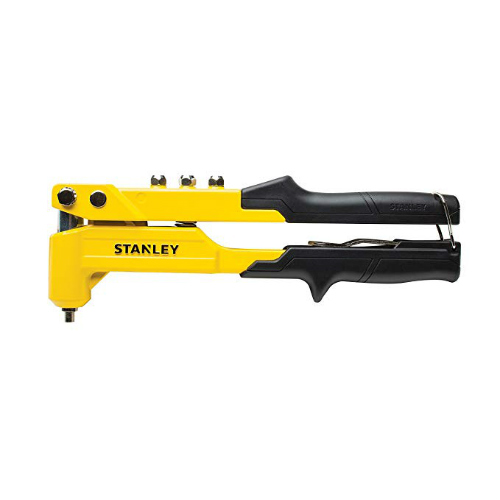 Filled to the brim with a barrage of innovative, time-, and effort-saving features, the Stanley MR100CG ticks all the right boxes. It should be up your alley if you're a value-conscious professional or DIY who needs the best bang for the buck. Its compatibility with a wide range of rivets and the industrial-grade construction and the accompanying limited lifetime warranty makes it an ideal choice for use in most marine applications. Expectedly, it is also a cinch to use. Read on for an in-depth review of these and several other eye-catching features.

A household name, Stanley Tools has several decades of experience and expertise under its belt that it intelligently harnesses to make one of the world's best rivet guns – the Stanley MR100CG. Considering its high-end construction from an industrial-grade die-metal cast, the tool is exceptionally resilient and durable. Which also explains its flawless and smooth performance at driving various sizes of stainless steel rivets used for marine applications. It can withstand extreme use for several years on end and its performance will always be exceptional, even when crucial parts start approaching the tail ends of their useful shelf lives.

Expand to see more
Because it features a heavy-duty removable ejector spring, it is remarkably easy to use. It's a versatile machine which, besides using 1/8 inch and 5/32 inch diameter stainless rivets, is also compatible with 1/8 inch, 3/32 inch, 5/32 inch, and 5/32 inch diameter steel and aluminium rivets.

To further simplify your work, the handles are long and ergonomically designed for providing optimal leverage and for easy squeezing, enabling you to finish your marine applications efficiently and with minimal effort. To these add the fact the handles are brightly colored to increase their visibility for easy identification in a toolbox. A hook on the handles conveniently keeps it in the closed position to facilitate hassle-free storage and transportation.

In all, the Stanley MR100CG is a high-end yet cost-effective rivet gun with all the right features for the quick and effortless completion of various marine applications. It's aesthetically pleasing and a cinch to use.

Perfect for demanding marine tasks
Provides perfect torque
Lightweight and cost-effective
Remarkably portable and easy to use
Works with differently sized rivets
Has a removable ejector spring
Not ideal for small rivets
Poor leverage
4. Astro Pneumatic Tool 1442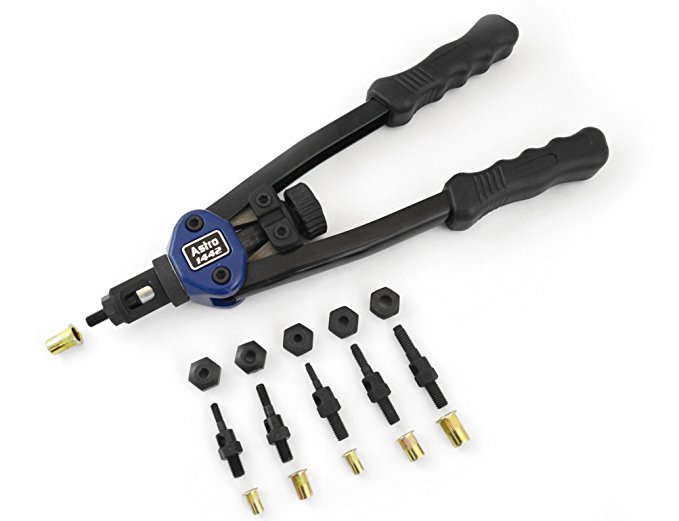 As was the case with our first pick, the Astro Pneumatic Tool once again proves it's a force to reckon with. It's an industry doyen that sets the benchmark for tool performance, efficiency, ease of use, and practicality. Our 4th pick, the Astro Pneumatic Tool 1442, is the continuation of that tradition. The tool offers outstanding dependability and versatility, packing a litany of auxiliary features to make it easy to work with rivet nuts and effortlessly drive them into various metal pieces. Continue reading for a comprehensive but brief review of the rivet gun.

It comes with a retinue of auxiliary features but the most outstanding is the torque multiplying hinges. As well as considerably maximizing leverage, the feature also drastically increases the pulling force. This, coupled with the dependability and compatibility of the rivet gun with rivet nuts, transforms it into an all-around machine ideal for working on a wide range of projects.
Expand to see more
Whether it is working with firewalls, undertaking off-road modifications, or working with body panels, the customizability of rivet nuts allows you to do it all.

It is also designed with the user's comfort and convenience in mind. You can, for instance, quickly and easily change mandrels and nose pieces with your hands, thanks to the novel "Tool-less Quick-Change Head" design of the machine.

Afterwards, you won't have to disassemble it as it features an innovative spring-loaded inner hex sleeve that automatically locks the rotation of the hand-installed mandrel. In addition to handling M4, M5, M6, and M8 metric rivet nuts, it is also adept at dealing with 0-24, 1/4-20, and 5/16-18 SAE nuts. The ergonomic design of the rivet gun, together with the rubber coating and ribbing of the handles minimizes hand fatigue and strain for extended use. However, it's a little heavy.

Individuals in search of a powerful tool that works efficiently and quickly, will immediately like the Astro Pneumatic Tool 1442. It accomplishes tasks its competitors struggle with and it's cost-effective.

Offers great bang for the bucks
Perfect for HTV's Adjustments
Cost-effective
Lightweight and compact
Difficulty adjusting pressure
5. Marson 39000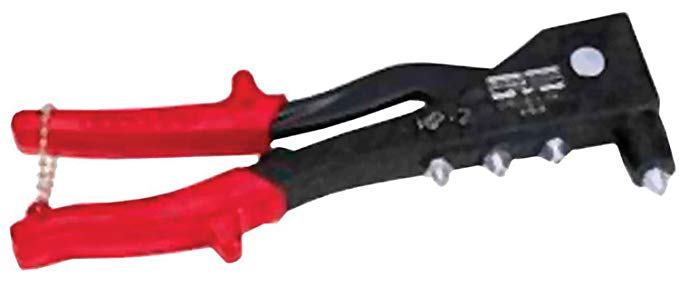 This tool comes with a slew of instrumental features and specs that take the time and effort away from completing the most onerous and nerve-breaking projects in your line of work. A few of the outstanding features include a performance-enhancing square shoulder fulcrum pin, comfortable and easy to use handles, long-lasting construction using high-quality materials, and a budget-friendly price tag. It's at this point that you roll up your sleeves for a brief but comprehensive review of the tool.

The incredible construction quality of the Marson 39000 will easily outlast several of its cheap, off-brand competitors masquerading as rivet guns on the market. As Marson's leading tool, it pulls no punches to provide you with nothing short of the best performance. For construction, the brand resorts to the resilience, durability, and dependability of high-strength aluminium alloy. Coupled with a high-quality corrosion-resistant coating, it remarkably takes on hardy, extreme use without the slightest performance hitch or glitch. Which brings us to the handle.

Expand to see more
Like the other half of it, the handles also feature commercial-grade construction quality. They are crafted from drop-forged carbon steel which implies that no matter how hard you squeeze them, there is no way they're going to break or bend, which makes it a suitable choice for driving rivets into tough or abrasive metal pieces. Additionally, the handles are slip-resistant and comfortable to use for prolonged periods, thanks to their thick cushion-molded vinyl grips.

It boasts unparalleled feature-richness. However, its unique selling point is the square shoulder fulcrum pin forged from cold-formed, heat-treated steel. It works by preventing pin rotation that can cause elongation of the engaging holes, thereby resulting in premature tool failure. The result is a long-lasting rivet gun with a prowess for setting steel and aluminium rivets ranging between 3/32 and 3/16 inches and stainless steel up to 5/32 inches.

In all, the Marson 39000 is a best-selling, performance-oriented, cost-effective, durable, and easy to use rivet gun. It's a solid choice for driving rivets in various surfaces in a quick and effortless fashion.

Easy to use
High-end construction for durability
Ergonomic handle for comfortable, non-slip grip
Cost-effective
6. Tekton 6555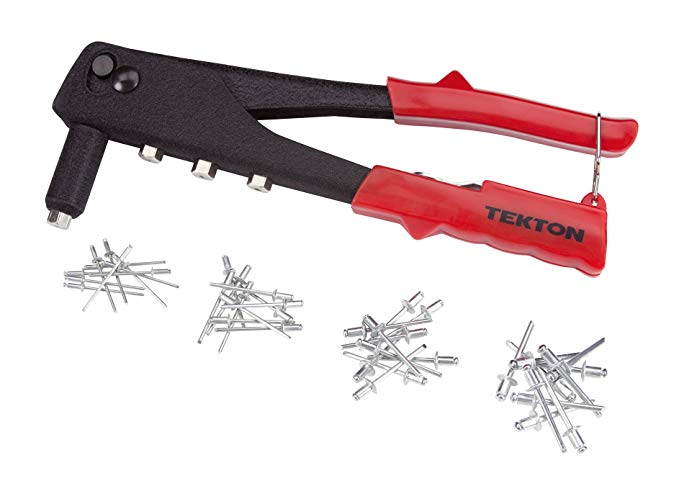 With the Tekton 6555 in the palm of your hands, fastening metal sheets and heavy fabrics can never be easier and quicker. The versatile and dependable tool outshines thousands of its competitors to earn a religious following among seasoned tradesmen and extreme DIYers with a keen eye for high-performance, ease of use, and affordability. Its ingenious design allows for the quick and easy changing of rivets while the all-steel construction gives the product the requisite ruggedness, sturdiness, and reliance to confidently take on the tough rivet driving applications in multiple industries. Besides auto body repair tasks, the rivet gun is also a solid choice for use in construction and ductwork.

DIY enthusiasts working on a budget but still want to sample premium features will like the Tekton 6555. It's an affordable choice that conveniently comes with 40 high-quality, rust-resistant aluminium rivets evenly distributed in the following sizes: 3/32 inches, 1/8 inches, 5/32 inches, and 3/16 inches. Despite being a cost-effective option, the rivet gun also comes with 4 rivet heads and a heavy-duty head wrench to get you started on your household projects. In light of the comprehensiveness of the package, you can start driving rivets within the first 5 minutes of receiving your package, sparing yourself the frustration of searching for rivet heads and a head wrench.

Expand to see more
Like its competitors, it features a hardy, fastidious construction quality. The use of rugged and sturdy steel means it can stand the test of time while the long-lasting black wrinkle finish keeps rust and corrosion at bay. And to turn an otherwise onerous task of fastening metal sheets, the rivet gun features a lightweight and compact design. To these add an ergonomic design and contoured plastic grips for enhanced comfort and ease of use. The slip-resistant handles minimize hand strain and fatigue and enable you to quickly finish even the most challenging overhead projects.

Working with dense materials of varying thicknesses require a high-performance, efficient tool, and the Tekton 6555 fits that bill perfectly. It offers exceptional service both within and outside of the domestic setting.

Versatile
Durable construction and sleek finish
Comfortable, slip-resistant handles
Budget-friendly
Comes with 4 rivet heads and head wrench
Handles require effort to squeeze
7. Tacklife HHR2A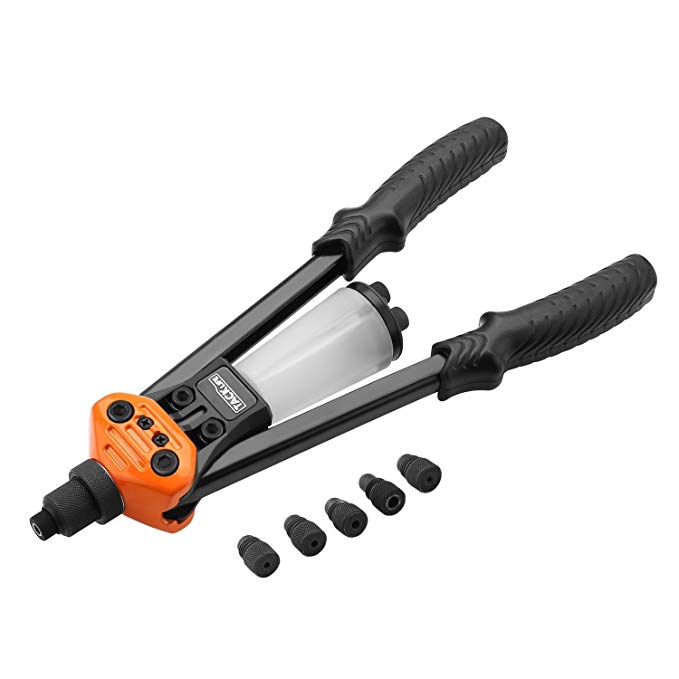 If you're looking for a heavy-duty, an all-around, and versatile tool for use on a multitude of fastening projects irrespective of the material density, then the Tacklife HHR2A is the machine for you. The exceptionalism of its leverage design and the effortless adjustability of its sleeve make it a must-have device. And like most rivet guns featuring on our list, the product features heavy-duty construction, has comfortable and easy-to-use handles, boasts effortless disassembly, and to top it all off, it's also compatible with stainless steel nails, iron nails, and regular rivets.

It comes with 5 replaceable nosepieces to get you started on your projects. These include sizes 1/10 inches, 1/8 inches, 5/32 inches, 3/16 inches, and 1/4 inches. Boasting an incredible pulling and hammering power, it makes short and quick work of pulling stainless steel nails and iron nails of sizes up to 3/16 inches. As for rivets, the gun works efficiently, smoothly, and quickly when pulling regular and aluminium rivets up to 1/10 inches, 1/8 inches, 5/32 inches, 3/16 inches, and 1/4 inches.

Expand to see more
Its superior construction quality guarantees that with proper use and maintenance, it should last more than a lifetime of every day, extreme use. The handles, for instance, feature high-strength carbon steel construction, the mandrels are made from chrome-molybdenum, while the rivets boast an all-stainless steel construction. Throw in the generous 24-month warranty and you have a high-quality, durable, and practical rivet gun you can use confidently and with peace of mind on the toughest fastening applications. But that's not all.

It's a cinch to use, too. The unit sports 13-inch long, U-design handles aimed at reducing effort by up to 40 percent. Further, you won't need any specially designed tools for removing and exchanging the nosepieces. To help keep your workplace clean to minimize accidents, the rivet gun has a durable PVC bottle for collecting all the spent mandrels.

The ingenious design, smooth and trouble-free performance, and ease of using the Tacklife HHR2A enables you to work effortlessly, efficiently, quickly, and conveniently. It's a perfect choice for carpenters, contractors, and builders, among others.

Provides great leverage
Exceptional construction quality
Comfortable and easy to use
Bundled with a generous 24-month warranty
Somewhat flimsy jaws
A little expensive
8. Malco 2IN1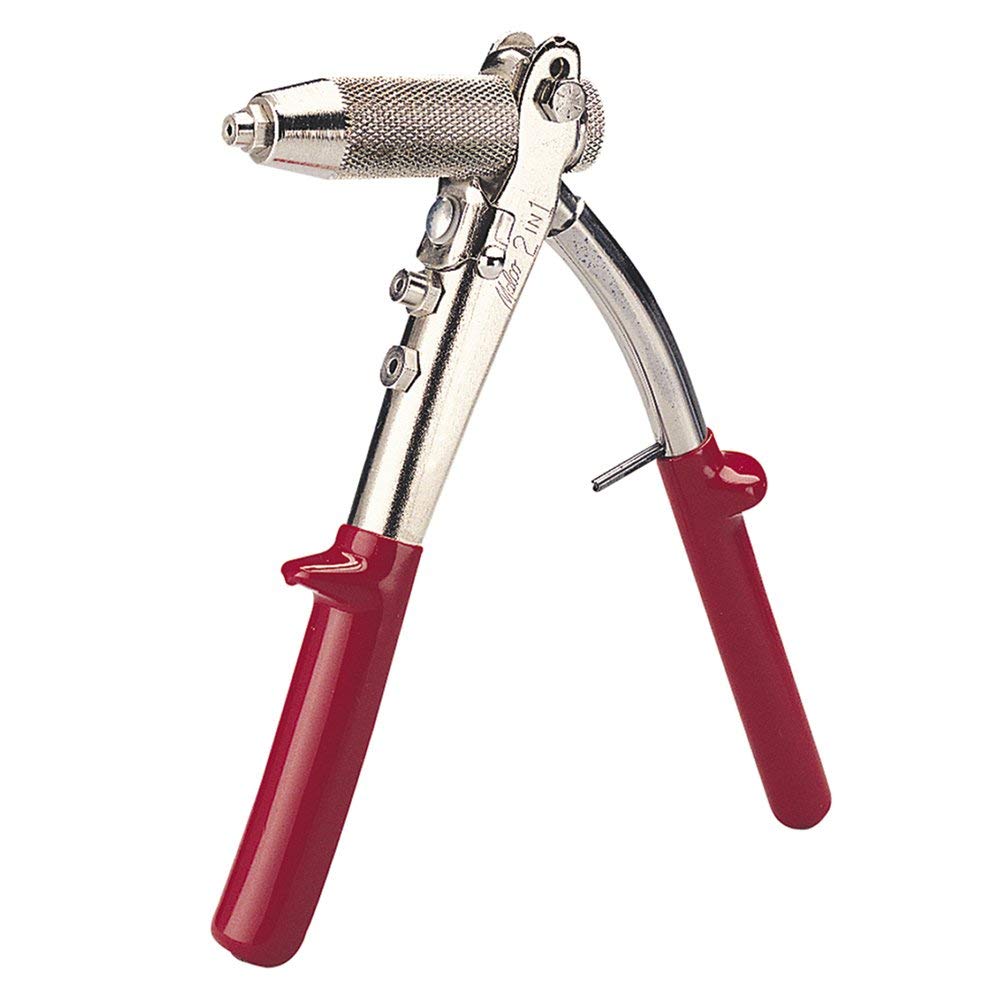 With a reputation for producing high-quality, functional tools, Malco Products pulls all the stops to leave its users with an indelible performance experience. The brand's flagship tool, the Malco 2IN1 Hand Riveter, is bursting at the seams with a litany of time- and effort-saving features to enable you to finish your fastening projects efficiently and with minimal effort. Some of the outstanding features include effortless one hand operation, high-end construction, and comfortable handles to minimize hand fatigue and strain.

Those working in carpentry, fabrication, and construction sites must have encountered the tool at one time or another. The rivet gun is nearly ubiquitous, easily recognizable by its trademark bright red handles. The construction quality is exceptional. The use of commercial-grade steel and the rust-resistant polish helps extend its useful life by several years. It also benefits from a long-lasting nickel-chrome coating that gives it a sleek, contemporary appearance.

Expand to see more
The superior construction quality aside, it packs a punch when it comes to performance. It comes with a 2-in-1 adjustment system that utilizes a single long stroke and a short ratchet action that make it remarkably easy and quick to set larger diameter rivets. A unique selling point though is the jaw-grip adjustment makes it both easy and quick to work with mandrels of various sizes, thereby making the stroke more efficient.

Convenience is another of its strong points. The bright red colors of the handles provide for quick identification of the product in a toolbox. For comfort, the machine has contoured, vinyl cushion grips with a spring return for eliminating hand exhaustion and strain, enabling you to work tirelessly for hours on end. To these add a lightweight and compact nose design that allows you quick and easy access to hard-to-reach and confined spaces. In between uses, the secure handle lock keeps the machine compact for easy storage and transportation. And the handle has space for storing the 3 nosepieces included in the package.

For one of the best performances in the industry, we highly encourage you to consider the Malco 2IN1 Hand Riveter. Its versatility, an ability to effortlessly handle stainless steel rivets, and an attractive price earn it a spot on our list of ten of the best rivet guns on the market currently.

Offers additional leverage for quick, easy performance
Affordable and easy to use
Works great with large diameter rivets
• Long-lasting construction quality
9. Arrow Fastener RHT300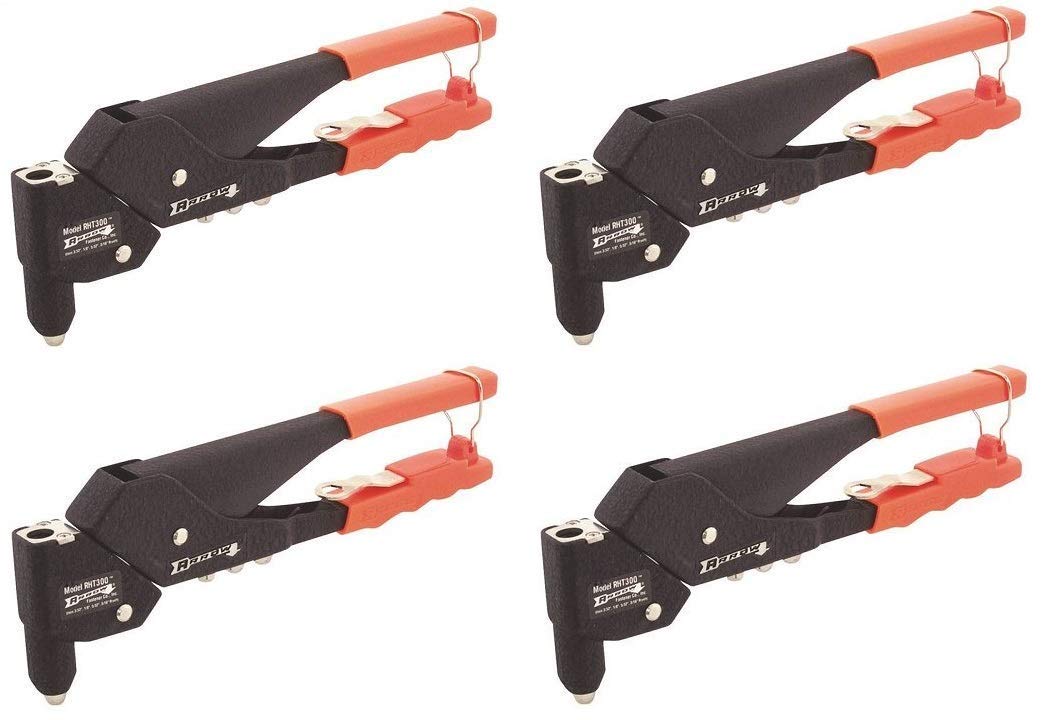 As far as workhorses go, very few options can hold a candle to the industrious Arrow Fastener RHT300. Whether you're working in the construction, building, carpentry, fabrication, or are an enthusiastic DIYer, the device will overwhelm you with its slew of instrumental features. And if you're anything like us, you'll love it the second you lay your eyes on it and sold the second you try it out. Powerful, durable, and comfortable, the rivet gun ticks all the right boxes and meets all the criteria professionals and seasoned DIYers prioritize when searching for a premium rivet gun.
Its versatility is not questionable. Aside from the already mentioned fabrication, carpentry, and construction industries, it's also a perfect choice for use for automotive, HVAC,
lawn furniture
, and gutters. Such versatility is facilitated by the durable all-steel construction that provides outstanding strength and resilience for weathering plenty of abuse throughout its useful life.
Expand to see more
Loading and ejecting rivets with it is a breeze, thanks to the innovative and intuitive design. To get you quickly started on your projects, the package comes with 4 nosepieces and a heavy-duty changing
wrench
. The sizes of the rivets are 3/32-inch, 1/8-inch, 5/32-inch, and 3/16-inch. Combine the spring-loaded handle with the game-changing 360-degrees swivel head and you have a tool that easily qualifies as the foster child of usability and practicality. To this add the extended nose design. Together, the two features make riveting in hard-to-reach or tight spots such as corners and angles a breeze.
Further, it is lightweight and compact, weighing just 1.5 pounds and featuring dimensions of 1 by 6 by 15 inches. Consequently, it enables the user to finish overhead fastening projects easily and quickly. Comfortable vinyl grips on the handles, on the other hand, ensure the rivet gun is a cinch to use for several hours on end with minimal discomfort. And it features a locking clip for easy and safe storage in between uses.
For occasional use around the house and on the work site, this cost-effective, easy to use, and powerful rivet gun comes highly recommended.
Ideal for use in tight spaces
Durable all-steel construction
Comfortable, anti-slip handle
Lightweight and compact
Pocket-friendly pricing
10. Astro 1423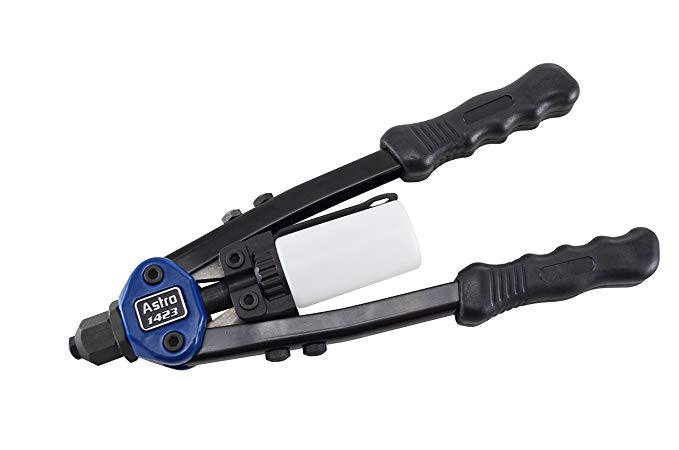 As Astro Pneumatic Tool, wax lyrically describes, their Astro 1423 is arguably one of the best hand riveters ever made. It oozes an abundance or power and versatility and effectively takes the hard work, time, and frustration out of setting large diameter blind rivets. For all intents and purposes, the tool is also remarkably easy to use. Despite featuring a considerably shorter stature compared to most of its competitors, the hand riveter boasts similar 1/4-inch capacity by cleverly and substantially increasing leverage with its distinct compound hinge design. The result is a machine that works efficiently, smoothly, quickly, and painlessly.

A second signature feature is the patented structure that considerably multiplies power and minimizes shock, allowing you to confidently take on the most onerous and demanding fastening tasks. As well as maximizing leverage, the short handle gives the user quick and hassle-free access to tight and confined spaces. As a result, using larger rivets in hard-to-reach spaces for performing tasks such as window regulators and hood struts is both effortless and quick.
Expand to see more
To these add the ability of the hand riveter to set steel, aluminium, stainless or copper pop rivets in the following sizes: 1/8-inch, 5/32-inch, 3/16-inch, 15/64-inch, and lastly 1/4-inch.

An additional feature is the first-rate construction. The construction of the jaws from high-quality chrome-moly steel makes the product both a heavy-duty and long-lasting option guaranteed to offer long-term service. The handles, conversely, are textured and provide a firm and secure grip to minimize the likelihood of slippage, thereby enhancing safe and efficient performance. The intuitive design also incorporates quick-release valves for fast operation. Adjusting the hand riveter and switching rivet diameter can be accomplished concurrently and easily thanks to the one-piece collect case.

In all, the Astro 1423 is a solid choice for tradespeople and extreme DIYers in search of a high-performance and quick-action hand riveter for accomplishing a plethora of fastening projects. Plus, it features a pocket-friendly price tag and gives you the best bang for the bucks.

Long-lasting construction
Boasts incredible versatility
Comfortable, slip-resistant handle
Powerfully and smoothly drives rivets
Not ideal for large hands
Not as long-lasting as similar models
Criteria for Choosing the Best Rivet Guns
Performance
For the best riveting results, you want a rivet gun that best matches the specific fastening project you intend to undertake. To this end, you'll have to consider a few features the most important of which is the size of the rivet. Check religiously to ensure that there is a perfect match between the pin size of the rivet gun and the pin you'll be using for the particular task.
Secondly, a model featuring a long, swivel head helps you work efficiently and effortlessly in hard-to-reach or tight spots without having to strain or compromise productivity. Being conversant with the amount of pressure your pins require to deform enables you to get a suitable choice capable of operating efficiently and smoothly at that air pressure with no hiccups.
Construction Quality
The material from which the rivet gun you're enamored of made is accurately indicative of its durability and quality. For long-term use, it's best to go with a model crafted from premium or heavy-duty, rugged materials and therefore capable of withstanding extreme, everyday use in multiple settings.
For professional use, different variations of steel are preferable as the material is renowned for its strength and resilience. Nevertheless, you don't want a tool that's bulky and heavy. The rivet gun needs to be both lightweight and compact and highly portable. In the same vein, confirm that the package contains additional accessories such as wrenches, nail cups, or nose pieces to make your work easy.
Affordability
For the vast majority of buyers, the price of a product is taken to be indicative of quality, performance, ease of use, durability, and versatility. Keep in mind though that the price is also affected by brand name. Products from more established and reputable brands will inevitably command a higher price compared to those from off-brands.
Occasionally though, you'll encounter rivet guns that don't conform to these rules. Some inexpensive models out there easily outperform and outlast their costly counterparts.
Frequently Asked Questions
Q: Do I have to wear protective gear when using a rivet gun?
A: The short answer is yes. As is the case with most, if not virtually all, machines safety supersedes all other concerns. It's a sure way of preventing work-related injuries. So go ahead and wear eye-protecting goggles, gloves for the hands, and a safety jacket. The same goes for those around you.
Q: Do rivet guns require any servicing?
A: For optimal performance, it's advisable to regularly service your tool. Identify and replace malfunctioning parts before they worsen and expose you to danger. If you're not sure, consult a professional.
Conclusion
As you may have gleaned from this review, there isn't a particular rivet gun that's the absolute best when it comes to driving rivets in metal surfaces, a fact that should preclude you from choosing with an abundance of caution.
All the models are the best the market has to offer, meaning that they are heavy-duty, durable, a cinch to use, comfortable, and will help you work efficiently and effortlessly. That we can guarantee. So, throw caution to the wind and pick away.
Subscribe to our newsletter