Best Hex Keys Reviewed & Compared
last updated:
Oct 03, 2018
A hex key is an indispensable extension of a home toolkit, and will frequently come in handy when you have to deal with various screws, bolts, and other fasteners around the house. Among other things, a hex key will be instrumental when you have to assemble a product such as an IKEA furniture, repair the bike or the motorcycle, install towel bars, and tighten handles on the doors or kitchen cabinets, among several other projects both around the house, in the garage, and the work site. The vast majority of them are user-friendly, cost-effective, constructed from industrial-grade materials, and boast pro-grade performance.
Our Top 3 Picks
[srpshortcode id="18442″][/srpshortcode][srpshortcode id="18443″][/srpshortcode][srpshortcode id="18444″][/srpshortcode]
In light of their usefulness and convenience, choosing a most suitable one from the market that's seemingly full to the brim with various sizes and models can prove to be quite a challenge. Greenhorns may not know the features to look out for. To help you make an informed decision, we'll be arming you with the most relevant and up-to-date info to remove the time, confusion, frustration, and effort away from the process.
10 Best Hex Keys & Sets
1. TEKTON Long Arm Ball End Hex Key Set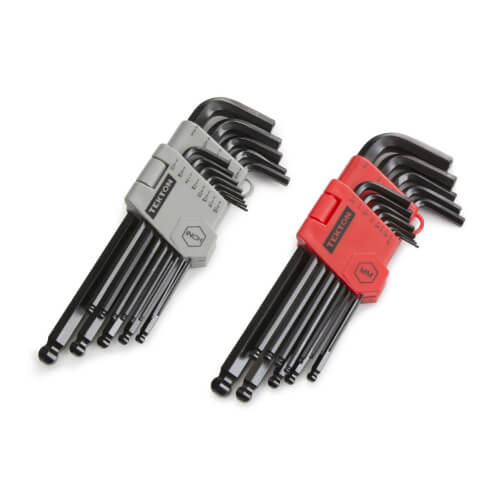 For the homeowner or professional looking for a high-quality hex key set at a pocket-friendly price, take a serious look at the TEKTON Long Arm Ball End Hex Key Wrench Set. Unlike hundreds or even thousands of other models on the market, the set is perfect for reaching tight and hard-to-reach spots, thanks to its ingenious construction. As well as featuring an easy-to-use case for quick and easy removal and replacement, you'll also love the fact that the set comes with a lifetime warranty, a clear indication of Tekton's confidence in the quality and performance of their product.

As Tekton's flagship set, it sure comes with several high points. The one that stands out the most though, is the excellence of its cases, each for metric and SAE sizes.
Expand to see more
The cases will amaze you with how tightly and securely they are capable of holding different wrenches, leaving minimal room for slippage or falling off, a fete only a handful of hex keys on the market can flawlessly replicate. Despite the tight grip, they leave enough room to ensure quick and effortless removal and replacement.

The set passes yet another baseline test by offering the user cases that fold open with remarkable ease, giving unhindered and stress-free access to smaller wrenches. For the professional or extreme DIYer out there keen on acquiring a hex key set that gives easy access to tight, confined, or hard-to-reach spots, this set will come in very handy. For one, they are considerably long, and for another, they feature a ball-end design that accounts for the ease of use. The set comes with 13 metric sizes and another 13 SAE sizes, all of which are covered by a generous lifetime guarantee.

Additional features include the high-quality and durable heat-treated chrome vanadium steel construction with a black oxide finish to rust- and corrosion resistance. The precise sizing of the ends of the keys, together with the fact that they are chamfered ensure they fit precisely onto the head of the fastener, minimizing wear and tear even with heavy-duty use.

Another highlight is the fact that the ball hex end is easy to manoeuvre around obstacles, thanks to its innovative design. And to top it all off, the set comes with a budget-friendly, and won't leave you with a dented pocket. Definitely one of the best the market has to offer.

Durable heat-treated steel construction
Rust resistant
Works smoothly and effectively
Heavy-duty, convenient storage case
2. Bondhus 20199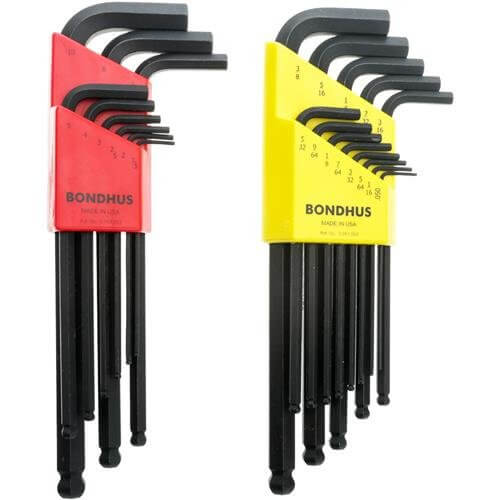 Like our previous choice, the Bondhus 20199 Balldriver pack is yet another high-quality, easy-to-use, durable, and efficient hex key set, coming from a brand that continues to doggedly push the boundaries on innovation. They are a little more expensive than our previous pick but that's the cost of durability and incredible value and the attendant peace of mind and confidence to take on a wide range of projects domestically and commercially.

The set will take its time aging gracefully, thanks to the high-quality construction. The fact that the product is made in the United States should give you a quality and performance assurance, seeing at it passes vigorous quality checks to meet domestic and international standards. The brand's use of proprietary Protanium steel means it'll stand the test of time and weather extreme abuse for several years to come without the slightest drop in performance. According to the manufacturer, the set is up to 20 percent stronger than competitor tools.

Expand to see more
Aside from the high-quality construction, the set also sports a ProGuard Finish that's up to 5 times stronger and more efficient in keeping rust and corrosion at bay throughout the product's lifespan. With proper use and care, it should last more than a lifetime. Another highlight is the brand's generous lifetime warranty that covers you against deficiencies in manufacturing and material.

As for performance, you're sure the set is no slouch. The set contains various pieces in several sizes that make it a versatile choice for tackling a wide range of projects. Couple the useful ball driver ends and the high-quality construction and you have a set that provides extra-high torque, enabling you to finish the toughest projects with minimal effort and time, which is more than you can say for the vast majority of tools on the market. Reaching blind and tight spots should also be easy as the ball driver L-wrenches allow angle entry up to 25 degrees for various sizes.

After a hard day's work, you get to safely keep all the pieces in the heavy-duty, patented Bondhex tool case. Each piece has a dedicated marked slot into which they slip easily and securely lock in place. Essentially, the Bondhus 20199 brings together all the features professionals look out for in a hex key set, all of you can sample at a reasonable, justified price.

Provides convenient angle entry up to 25-degrees
Quick and easy access to tight spots
Long-lasting construction
Very reliable
3. TEKTON Hex Key Wrench Set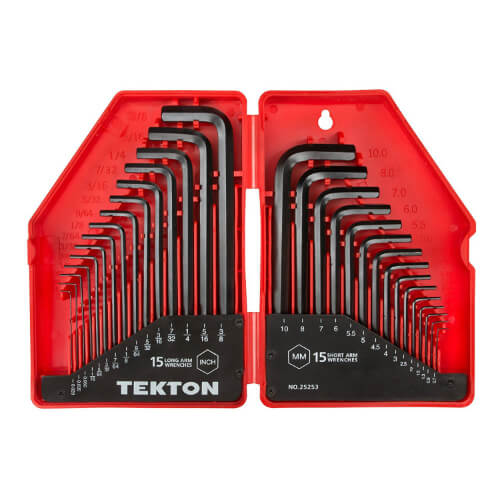 Like the Tekton set we reviewed earlier, this one a feature-packed model professionally and skillfully designed to inject convenience, speed, and ease of use into your line of duty. It comes with a versatile collection of 30 carefully assorted hex keys in inch and metric sizes. In light of its first-rate construction and user-friendly design, the set will make removing and installing socket cap screws in various applications remarkably easy and quick. Other signature features include the ability of the case to open fully flat and permanently etched markings on the wrenches for easy identification.

For professionals or enthusiastic DIYers looking a set for removing and installing a wide range of socket cap screws on various items will love the versatility of the set. It allows you to work on a wide range of equipment, automobiles, furniture, and several more.
Expand to see more
The package comes with 15 inch and 15 metric keys all of which feature long arm/short arm design to give you additional and easy reach to screws in tight and awkward sports. The design of the pieces also accords you extra leverage so you use a little effort to accomplish a lot within a short time frame.

The top-notch construction of the set from rugged and robust heat-treated steel means they'll consistently surpass industry performance expectations. the black-oxide finish, on the other hand, provides formidable protection against rust and corrosion.

The ends of the pieces are not only chamfered but also precisely sized so they fit into various fasteners with securely and with ease, thereby minimizing wear and tear on both pieces. The case opens flat so you can quickly and easily reach the wrenches and because of the visible markings on their sides, distinguishing them should be a breeze.

A high-value set that's also inexpensive is hard to come by. The TEKTON Hex Key Wrench Set, in addition to meeting those criteria, is also easy to use and has an assortment of versatile wrenches to help you accomplish various jobs.

A versatile collection of hex keys
Economical and high-value option
Convenient carrying case
Cost-effective
The smaller pieces are a little weak
4. Stanley STHT71839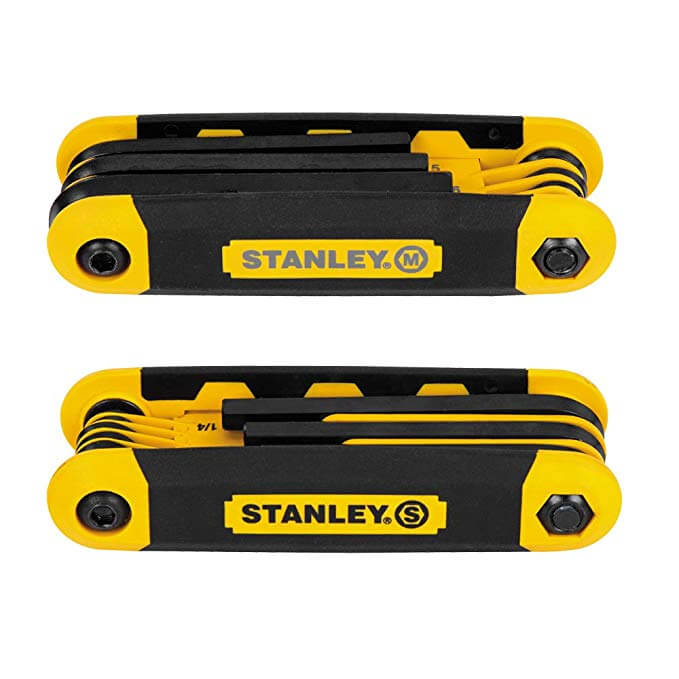 As well as being an industry doyen, Stanley is one of a handful of brands in the Tools and Home Improvement niche whose products embody quality, reliability, innovation, and value. One of its leading products, the Stanley STHT71839 set, is without a doubt a solid and prudent choice for homeowners and professionals searching for a cost-effective, flexible, high-quality, and practical hex key set for undertaking various projects here and there. Each and every nook of the tool reeks of top-notch construction, a fact that gives it a commanding and solid presence in the hand. To find out how the set stacks up against other brands' leading sets, keep reading.

The hex key set ticks all the right boxes, right from the quality of construction, convenience, durability, and affordability. Despite coming forth on the list, it easily holds a candle to the costly, high-end models on the market.

Expand to see more
For one, it features an all-composite construction, which is another way of saying it can easily, efficiently, and quickly tackle the most challenging projects and still hold its edge and integrity for the next several years. All the pieces come with rubber side inserts allowing them to securely and fittingly grip the fasteners. And because their edges are chamfered, they enter the fasteners smoothly and easily, leaving little to no room for an erosion of the pieces.

Additional features worth bringing to your attention are the fact that the pieces have size markings on them so you can easily identify the most suitable piece for the project and the two packs are collectively backed by lifetime warranty. Plus, the set is lightweight and highly portable.

If the durable construction, the space-saving foldable design, versatility of the inch and metric pieces, and the convenient storage case don't appeal to you, maybe the fact that the Stanley STHT71839 is cost-effective will. You'll never look back or look back once you have the set.

Industrial-grade construction
Space-saving foldable design
Versatile
Includes both inch and metric keys
Not ideal for heavy-duty projects
5. Dewalt DWHT70265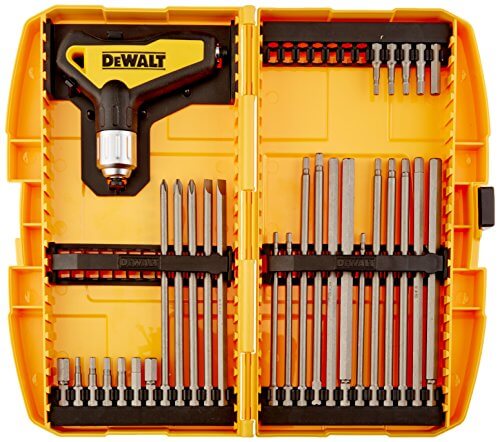 The top five picks would not be complete if we didn't include a set from DeWalt, a household name synonymous with high-quality, easy-to-use, long-lasting, and cost-effective product. The Dewalt DWHT70265 is an excellent choice, except for a few minor drawbacks here and there, but it still manages to continue DeWalt's tradition of excellence. As is the case with leading products from industry doyens, the hex key set is durable and professionally constructed, boasts an intuitive T-handle design, and versatile. The set houses 31 pieces and will be handy for efficiently and efficiently diagnosing and repairing a wide range of things around the house including but not limited to furniture, bikes, equipment, paintballs, and several others.

You'll love the construction quality of the hex keys the second you lay hands on it and it'll be sold the second you try the set on hex screws or bolts. The use of first-rate materials is almost entirely responsible for the set's superb performance.
Expand to see more
Even after years of extreme use, they still manage to fit securely and firmly into both
impact drills
and conventional drills or drivers. Because they fit to a T, they leave minimal room for slippage and minimize damage to the fasteners. Expectedly, all the 31 pieces have a rust-resistant finish or coating, further improving their lifespan.
As for versatility, the set contains 31 tools featuring different lengths. It has all the commonly used pieces so that your chances of missing a piece you need to complete a project, either at home or on the work site, are minimal. While the ratcheting handles work as advertised, the highlight is their ability to securely and smoothly work with both drills and drivers, further cementing the set's reputation as a versatile choice. The wrenches provide sufficient leverage for quick and efficient work. However, since they lack ball-ends, getting them around obstacles or in tight spots may prove to be a little troublesome.
Besides the lifetime warranty, the set also comes with a convenient storage case. It holds all the 31 wrenches securely and safely, guarding against accidental loss or misplacement. And because it opens fully flat, you have quick and easy access to any piece you want.
If your heart is set on getting a long-lasting, user-friendly and cost-friendly set, consider going with the Dewalt DWHT70265. It comes from a highly reputed brand and will enable you to complete your projects quickly and rather effortlessly.
Has a high leverage ratcheting T-handle
Convenient carrying case
Versatile
Compatible with both drills and drivers
Pieces fit loosely in T-handle
6. ARES 70164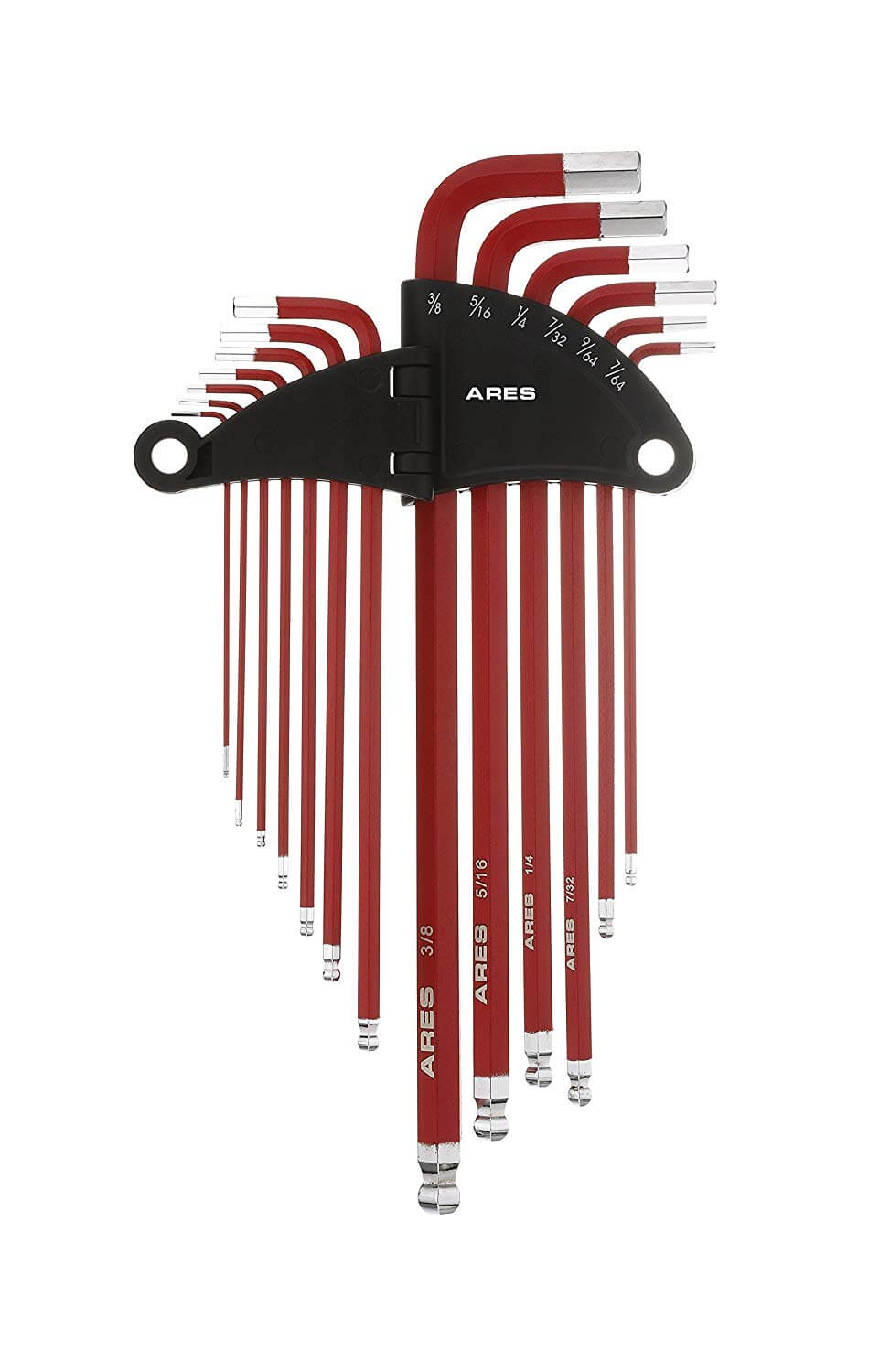 Despite the striking similarities between the vast majority of the sets on the market, Ares easily sets itself apart from its competitors by offering a premium set boasting a raft of distinct features. First off, the invaluable set is made from premium steel. Secondly, the set contains a versatile and carefully assorted collection of 13 long-lasting wrenches. Third, considering that all the tools sport long arms, accessing hard-to-reach spots and attaining high torque to enable you quickly and efficiently finish various projects around the house and on the job site. And in spite of the heavy-duty, rugged construction, using the pieces is a cinch.

With the set in your toolbox/chest, you have at your disposal a versatile choice containing 13 wrenches in various sizes, ranging between 0.05 and 3/8 inches. The versatility of the set means there isn't a single project - around the house, in the garage, or on the work site - that you can't confidently undertake. Whether it's working with caps on furniture or other equipment, it'll invariably come in handy, making it an ideal choice for emergencies.
Expand to see more
You also get a heavy-duty hinged case that securely and safely holds all the different pieces in their respective allocated slots, enabling you to store and retrieve the one you need with ease.

Capable of providing you with more than a lifetime of flawless, quick and efficient use, all the pieces feature heavy-duty construction with Premium S2 steel. Rust is never a concern with the chrome finish. The pieces also come with a textured finish and conspicuously red color for a firm, secure grip, and high visibility, respectively. The extra-long design allows for the application of more torque and each wrench has size markings on the sides for fast, accurate identification.

Reaching fasteners behind obstruction can be an uphill task with cheap, humdrum wrenches. For the ARES 70164 set, however, it should be a breeze considering they off an extra 25 percent range during use. That, coupled with the extra-long arm design, provide exceptional torque and easy access to remote fasteners. And of course, they come with a limited lifetime warranty.

Durable ball ends
Exceptional torque and extra-long design
Highly visible red colour for easy identification
Works reliably, effectively, and efficiently
7. Allen Wrench Hex Key Set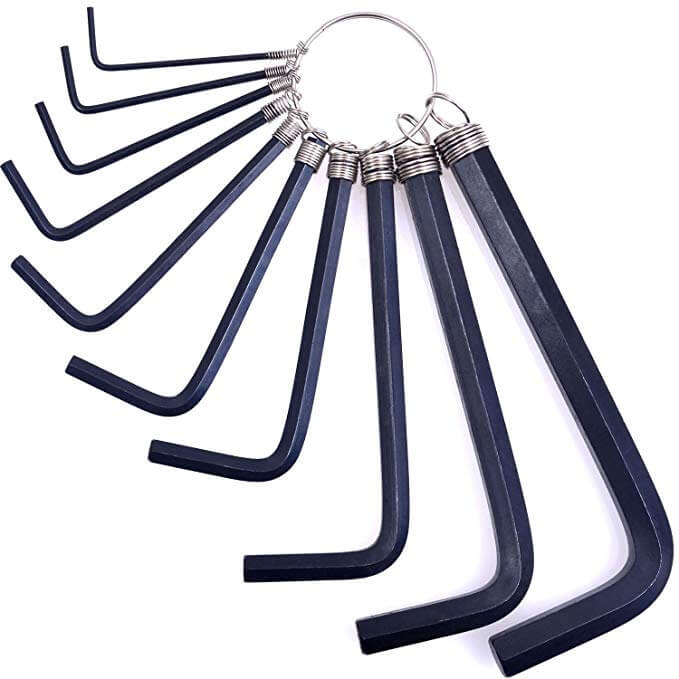 If the name didn't clue you in, this set is an industrial-grade set boasting pro-grade performance and remarkable versatility. Throw in the long-lasting black-oxide finish, carbon steel construction, the user-friendly design, and affordability and it becomes clear why it's in high demand. The hex key set is a must-have for cyclists, contractors, carpenters, contractors, and DIY enthusiasts.
The set comes with 10 wrenches, all in SAE sizes between 1/16 and 3/8 inches. They are all carefully picked out by the manufacturer to provide you with a versatile collection of some of the frequently used tools to make you an all-around user. The hex key set takes the effort and time away from a wide range of Allen wrench or hex key projects including but not limited to bikes, tool projects, building,
and furniture
, among several others.
Expand to see more
Even after several years of heavy-duty, everyday use, the set never gets to lose its advantageous edge – exceptional performance. And that's wholly attributable to the fact that it's crafted from premium quality carbon steel, a material that lends its legendary strength and durability to the set. The construction quality gives you the confidence to use it on a pesky and abrasive fastener, and easily apply high torque knowing that the chances of the wrenches breaking are very remote. And to perfect an already eye-popping construction quality, all the pieces feature a rust- and corrosion-resistant black oxide finish.

Unlike cheap, off-brand models on the market, you won't have to contend with losing any of the wrenches. The set comes with a convenient key ring for keeping all the wrenches together, guarding against misplacement and loss, a useful feature especially for professionals working in a busy industrial setting. In spite of its barrage of instrumental features and the attendant convenience and smooth performance, the hex key set is surprisingly cost-effective, even though its performance easily overshadows those of some costly models out there.

The set is not only a high-performance set, but also a durable, cost-effective, and convenient one. If any, or all, of these features appeal to you, then the set should be up your alley.

Cost-effective
Industrial-grade construction
Pro-grade performance
Easy to use
8. Bondhus 13390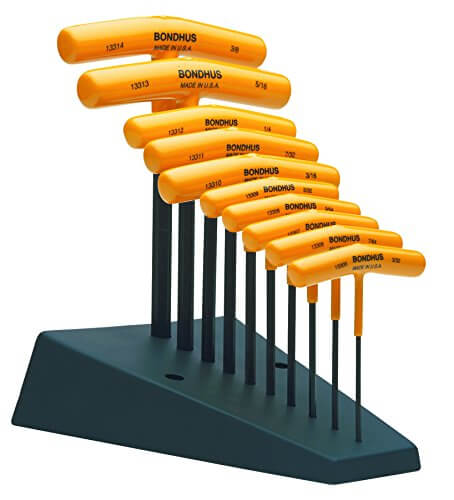 The Bondhus 13390 Set of 10 Hex boasts a litany of convenience and performance features that aim, and invariably succeed, at reducing the time and effort the user invests in a project. The most unique selling point of the hex key set though is the incorporation of thick, gently curved, and easy-to-use handles. The user-friendly design makes it remarkably easy to tighten or dislodge the pesky or stubborn fasteners. The pieces also feature a stable, whose unyielding stability eases storage and selection of the user's preferred wrench for a task. That aside, the set also boasts heavy-duty construction, rust-resistant finish, and intuitive design, and affordability.

Using the set in strict adherence to the guidelines the manufacturer spells out can provide you with more than a lifetime of smooth, efficient, and hassle-free service. That's because of the set's durable and professional construction from commercial-grade protanium steel. Even after several years of extreme abuse, and when the pieces start nearing the tail end of their useful life, the fastidious and hardy construction of the set means performance will invariably be spectacular.

Expand to see more
The set is similarly versatile, providing you with a sufficient collection of ten commonly used wrenches ranging from a low of 3/32 inches to a high of 3/8 inches with a stand for easy and quick accessibility. The wrenches are 20 percent stronger than standard ones and come with a lifetime warranty. The T-handles, forged from welded steel, have comfortable cushion grips for easy application of maximum torque. The ergonomic design of the handles makes inserting and
extracting screws
a breeze, and since the pieces have a ProGuard Finish that up to 5 times stronger than most brands, it's very effective at preventing rust and corrosion.
For veterans and novices who need nothing short of the best performance, the Bondhus 13390 comes highly recommended – and it's surprisingly inexpensive. And did we mention it's made in the United States?
Lifetime performance guarantee
Works smoothly, efficiently, as advertised
Durable
Versatile
Rust resistant
9. Stanley 85-753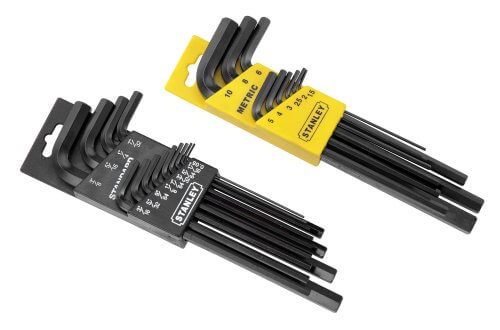 In your search for a practical and functional hex key set for hassle-free and quick reach to fasteners in tight or hard-to-reach spots, consider the Stanley 85-753 set. Don't let the simplistic, humdrum appearance deceive you because beyond it lies eye-popping performance, reliability, and ease of use. Among the outstanding features are the already mentioned ease of use, rust-resistance, durability, and limited lifetime warranty.

Like DeWalt's set above, it pulls no punches to provide you with an enjoyable, effortless, and efficient fastener insertion and extraction experience. And to that end, the set easily exceeds both industry and ANSI/ASME B 18.3 standards. Which is another way of saying that compared to this model, cheap, off-brand models on the market pale into insignificance. The construction quality is top-notch, expectedly. And all the pieces in the set come with a black oxide finish that resists rust and in turn, augments the set's lifespan.

Expand to see more
The set offers you 22 wrenches in two separate packages, a yellow and black one. The former has 9 metric keys with sizes ranging from 1.5 mm to 10 mm. The latter, conversely, comes with 13 SAE key with sizes ranging from 0.5 inches to 3/8 inches. It's a versatile collection. Not once will you need an option size that you don't already have.

The keys are long to enable you quickly and easily reach fasteners in tight spaces. They also come with chamfered edges so they fit perfectly, leaving minimal room for stripping. And they all come with permanent labels for easy organization and identification.

In all, the set ticks all the right boxes. The set is versatile, houses durable and perfectly fitting wrenches, and boasts a rust-resistant black oxide finish. It's everything you need at a pocket-friendly price.

Top-notch construction
Versatile
Comfortable and easy to use
Limited lifetime warranty
10. Titan 12710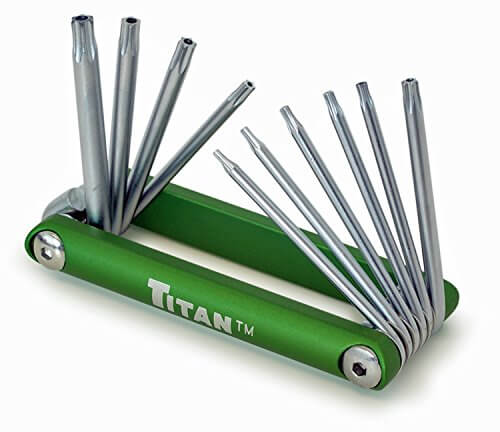 The high-quality construction and ingenious design of the Titan 12710 set allow it to overcome the performance limitations of normal hex keys. The keys in the set come with long arms and drilled tips that make them an ideal choice for reaching tamper-resistant security
screws
in tight and awkward spaces. To these impressive features and specs add the heavy-duty and rugged chrome vanadium construction, versatility of the 10 hex keys, corrosion-resistance, and the space-saving foldable design. And that's not to mention the budget-friendly price, which makes it the go-to tool for professionals and DIY enthusiasts on a budget.
The versatility of the set makes you an all-around tradesperson able to confidently take on a wide range of projects around the house, in
the garage
, and on any worksite.
Expand to see more
The set has 10 hex keys of the following sizes: T-6, T-7, T-8, T-9, T-10, T-15, T-20, T-25, T-27 and T-30. Carrying all ten from one project or workstation to another can be a real hassle. For convenience, the brand thoughtfully provides you with a convenient, corrosion-resistant aluminium holder into which they fold easily for easy storage and portability.

Days of shying away from inserting or dislodging tough or pesky fasteners will be well behind you once you get yourself the tough workhorse that's the Titan 12710 set. In addition to all the pieces featuring high-quality, heavy-duty chrome vanadium steel construction, they also come with drilled tips allowing you to use them on tamper-resistant security screws. Patently, they are tough and rugged, yet easy to use. The handles are ergonomically designed and the whole package is only 6.2 inches by 4.2 inches by 1 inch with a weight of 3.2 ounces – very lightweight and compact.

It might not exactly be a high-end option, but it provides the user with one of the best fastener insertion and loosening experiences. Also, it's cost-effective, very durable, a cinch to use, and versatile. We highly recommend it.

A cinch to use
Provides quick and effective performance
Long-lasting construction
Easy to identify in a toolbox
Criteria for Choosing the Best Hex Key Sets
Performance
The first essential consideration when shopping around for a hex key set is determining the extent to which it can do its job. In that regard, see if it wrenches are L-shaped, boast long arms, or have ball-ends. Long arms easily and efficiently reach fasteners in confined or tight spaces without the user having to strain.
A ball-end, on the other hand, allows the user to reach fasteners behind obstructions at an angle, usually not more than 25-degrees. Note that some equally high-quality and high-performance hex key sets have T-handles instead and considerably short, which is ideal when you have lots of clearance.
Ease of Use

Your preferred hex key set should be easy to use and comfortable, considering that dealing with tough and pesky fasteners is already hard enough. The design needs to be intuitive and user-friendly enough to enable you to apply optimal torque and reach the farthest fasteners without sacrificing comfort. To this end, ensure your product comes with ergonomically designed and comfortable handles.
The handles need to be thick and cushioned to prevent the user from contorting uncomfortably. And like mentioned earlier, the pieces need to reach fasteners in tight spots with ease. The construction design should not compromise portability and the handles need to provide sufficient leverage so the user uses minimal effort to get the job done.
Organization
A storage system goes a long way in keeping all your hex keys together and in one place, guarding against losing or misplacing any. The storage case needs to have trays into which all the pieces comfortably and securely snap into.
Instead of an organized set, some models come with rings or foldout sets. They all should be clearly marked with sizes or be color coded for easy and quick identification. Sliding the wrenches out when needed needs to be easy as well, and require very minimal effort.
Affordability
High-end hex key sets with a comprehensive and careful assortment of wrenches in both metric and SAE sizes feature prices ranging between $15 and $25. It's pointless paying more when there are quality options on the market with lifetime warranties, which is not to say that you need to compromise if you're working on a budget. Sometimes there is little correlation between price and quality.
Frequently Asked Questions
Q: Are L-shaped hex keys better than their straight counterparts with T-handles?
A: With regards to performance, the difference between the two models is minimal. However, L-shaped wrenches are easy to maneuvre around obstacles to reach fasteners in tight corners.
Q: Which one is the best hex key set?
A: No hex key set is the absolute best. Different sets serve different purposes and are optimized for different work situations. What's is suitable for repairing the motorbike won't necessarily be an ideal choice for installing towel bars.
Conclusion
After several hours of researching, we finally have a concise yet informative piece to help you, our esteemed readers, make an informed decision on your next purchase. The hex key sets we feature here are crème-de-la-crème, incorporating the most useful, energy- and time-saving features. They make it remarkably easy to work with different fasteners and will quickly prove their worth when you have to assemble that furniture from IKEA, repair the bike or the motorcycle, install towel bars, and tighten handles on the doors or kitchen cabinets, among other projects.
Subscribe to our newsletter