Best Electric Chainsaws Reviews & Editorial Ratings
last updated:
Jan 28, 2019
The chainsaw is the definitive go-to tool for cutting or trimming trees, brush, lumber, logs, shrubbery, and limbs, among others. When you're in the market for a new one or your first, it pays to proceed with an abundance of caution to find the right one that best addresses your unique needs. The modern electric chainsaw boasts incredible functionality, performance, ease of use, practicality, and convenience. Further, in a fierce competition pitting industry giants such as Remington, Worx, Black & Decker, and Greenworks against one another, choosing an ideal electric chainsaw can indeed be a nerve-wracking and daunting task.
Our Top 3 Picks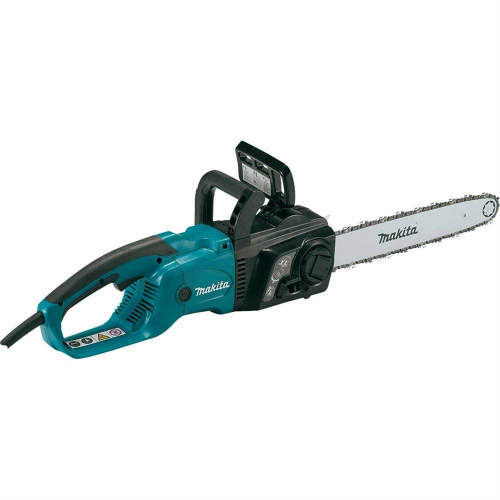 Makita

Our rating
Powerfull
Price:

See Here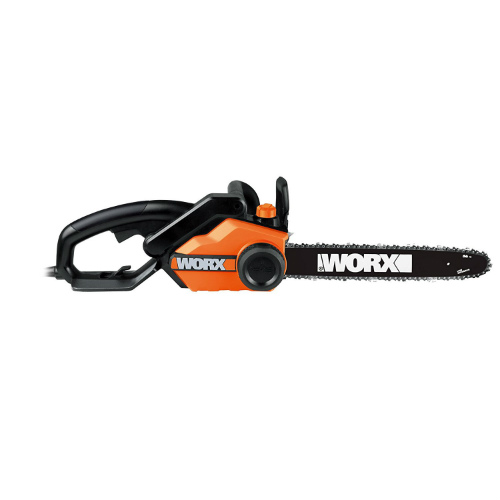 Worx

Our rating
Lightweight
Price:

See Here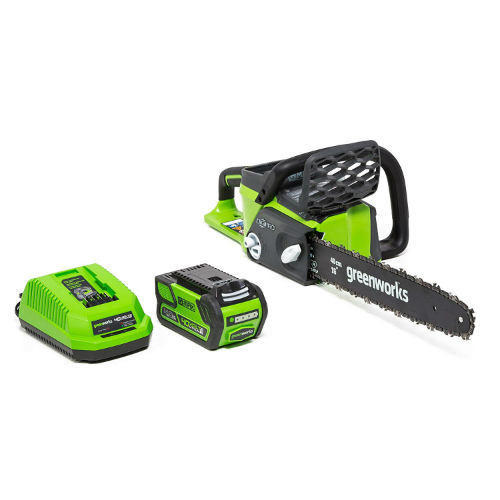 Greenworks

Our rating
Quiet
Price:

See Here


In this buying guide, it's our aim to make the process simple and quick by furnishing you with the information you need to make an informed choice. And we'll be doing that by walking you through a few of the most essential factors to keep in mind as you shop around and later on, present you with an in-depth review of 10 carefully picked out electric chainsaws. Let's get started, shall we?
10 Best Electric Chainsaws
1. Makita UC4051A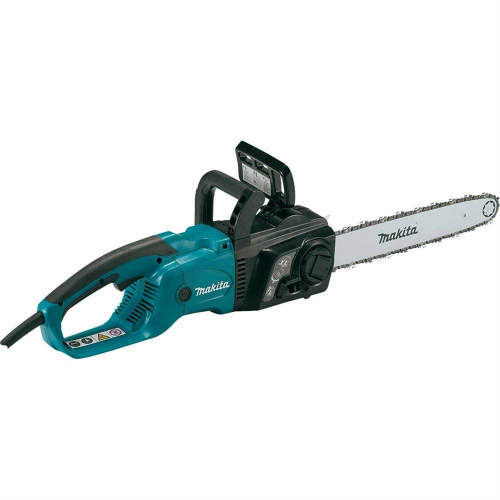 For more than a century now, Makita has diligently showcased its mettle by consistency releasing high-end, durable, dependable, powerful, reliable, and efficient products into the market. One of its leading electric chainsaws, the Makita UC4051A, effortlessly continues this tradition. It's a long-term investment built with high-end materials, a high-performance motor, and boasting remarkable ease of use. With a commanding presence in the handle, it lacks the flimsy and cheap feeling of low-quality, humdrum options on the market. If you want an electric chainsaw that cuts quickly, easily, accurately and is a breeze to maintain, let's introduce you to this device.

In a seamless fashion that its competitors are yet to master, it brings together a large metal spike bar and a high-performance motor to provide the user with superior performance. These features not only enhance productivity but also help take the time and effort away from felling trees and cutting branches, limbs, twigs, and shrubbery. A high-performance 14.5-Amps motor that effortlessly achieves maximum speeds of 2,900 feet per minute. These speeds equate to fast and efficient cutting and trimming.

Expand to see more
The ingenious design ups the ante by featuring a built-in current limiter designed to regulate power to prevent the motor from burning out in case of overloading. An electric chain break, on the other hand, does an amazing job stopping chain the second it comes into contact with an abrasive material. To allow you to cut and trim continuously for hours on end with minimal interruptions, the electric chainsaw features an automatic chain oiler while the large-capacity oil reservoir with a transparent makes it easy for the user to monitor the amount of oil remaining.

The Makita UC4051A is however not all performance-oriented. It makes your work easy by incorporating ergonomically designed handle with a rubberized grip. The resultant superior traction and comfort allow for effortless maneuvrability and control. The included large trigger switch provides for a smooth, hassle-free start.

Cuts powerfully and smoothly
Comfortable
Generous 12-month warranty
Easy to use
2. Worx 16-Inch with Auto-Tension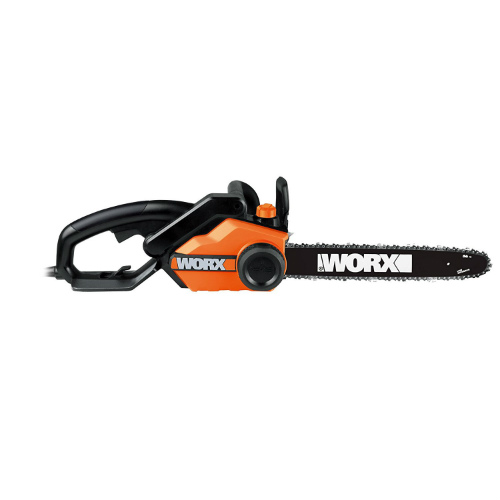 There is a reason the Worx hogs all the attention and is so highly rated and popular with homeowners. We can't recommend it enough to anyone looking for the best bang for your bucks. Among other things, it's expertly made to offer dependability, convenience, and affordability. Considering that it features well-balanced features and a pocket-friendly price tag to boost, it's a solid and perfect choice for the seasoned DIYer, the greenhorn just getting started with power tools, and everyone else in between.

It comes with a powerful 14.5 amp motor that works seamlessly in tandem with a 16-inch bar to deliver speeds of up to 12 metres per second. This is the kind of performance that closely rivals the volcanic power of gas-powered options. As a result, it powers effortlessly, quickly, and accurately through considerably thick tree trunks and power. While it can't hold a candle to our first pick with regards to performance, it's a versatile choice that'll dependably come in handy for completing various light- to medium-duty cutting and trimming projects around the house.

Expand to see more
With a bunch of convenience features, it is a cinch to use. For one, it's lightweight with a comfortable, easy-to-hold handle that facilitate easy maneuvrability and control. Secondly, the built-in chain brake enhances ease of use by protecting you from kickbacks in case of improper impact while the automatic, built-in oiler keeps the bar and chain lubricated at all times. A patented auto-tension system, on the other hand, prolongs the shelf life of the electric chainsaw and makes it easy to make repeat cuts.

It comes with a 30-day money-back guarantee and a generous 36-month warranty, all the more reason to consider getting yourself one. It cuts and trims like a high-end electric chainsaw should. You'll never look back.

Generous 36-month warranty
Budget-friendly price tag
Automatic chain tensioning
Lightweight, maneuvrable, and comfortable
3. Greenworks 16-Inch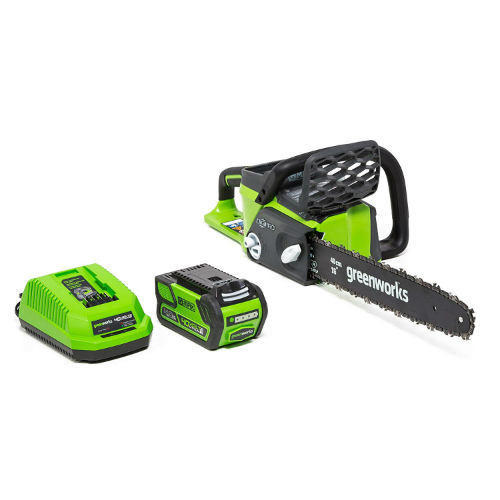 The one feature that sets the Greenworks device apart in a fiercely competitive industry is the innovative brushless motor. The feature offers manifold advantages. As well as substantially increasing efficiency, it also prolongs the shelf life of itw and minimizes noise levels to whisper quiet. A second feature has got to be the Lithium-Ion technology that also contributes to the off-the-charts performance. It puts the performance of this electric chainsaw at par with its gas-powered counterparts by increasing torque up to 30 percent. Unlike its competitors, it's easy to use as it vibrates up to 70 percent less.

It performs quickly and efficiently. That much is undisputable seeing as the brushless motor increases power, torque, and runtime. It's therefore capable of withstanding the attrition that comes with cutting or trimming chunks of knotted logs, which in turn further extends its useful life. The brushless motor offers lots of torque for running the 16-inch bar, enabling the user to tackle a plethora of light to heavy-duty trimming and cutting jobs around the house. The high-capacity 40V Lithium-Ion battery offers lots of juice and power for a continuous runtime. With a single charge, you can cut down trees, trim limbs or clean an average-sized yard without pausing.

Expand to see more
It comes with a convenient, time-saving push to start button, which a godsend considering how frustrating the energy-demanding process of pulling on a chord. Compared to an 18-inch bar, a 16-inch chain and bar provide superior maneuvrability and controllability. It also comes with a chain brake and low kickback chain to ensure safety while the automatic chain tensioning, automatic oiler, ion-lithium technology, lightweight design, and minimal vibration design ensure it's easy to use.

Being cordless and featuring an innovative brushless motor technology, Greenworks performs smoothly and powerfully, enabling you to cut quickly and easily. And of course, it's ultra-quiet and lightweight.

Safe to use and quiet
Durable brushless motor technology
Cuts powerfully
Charges quickly
Chain occasionally falls off
Requires frequent sharpening
4. Remington RM1425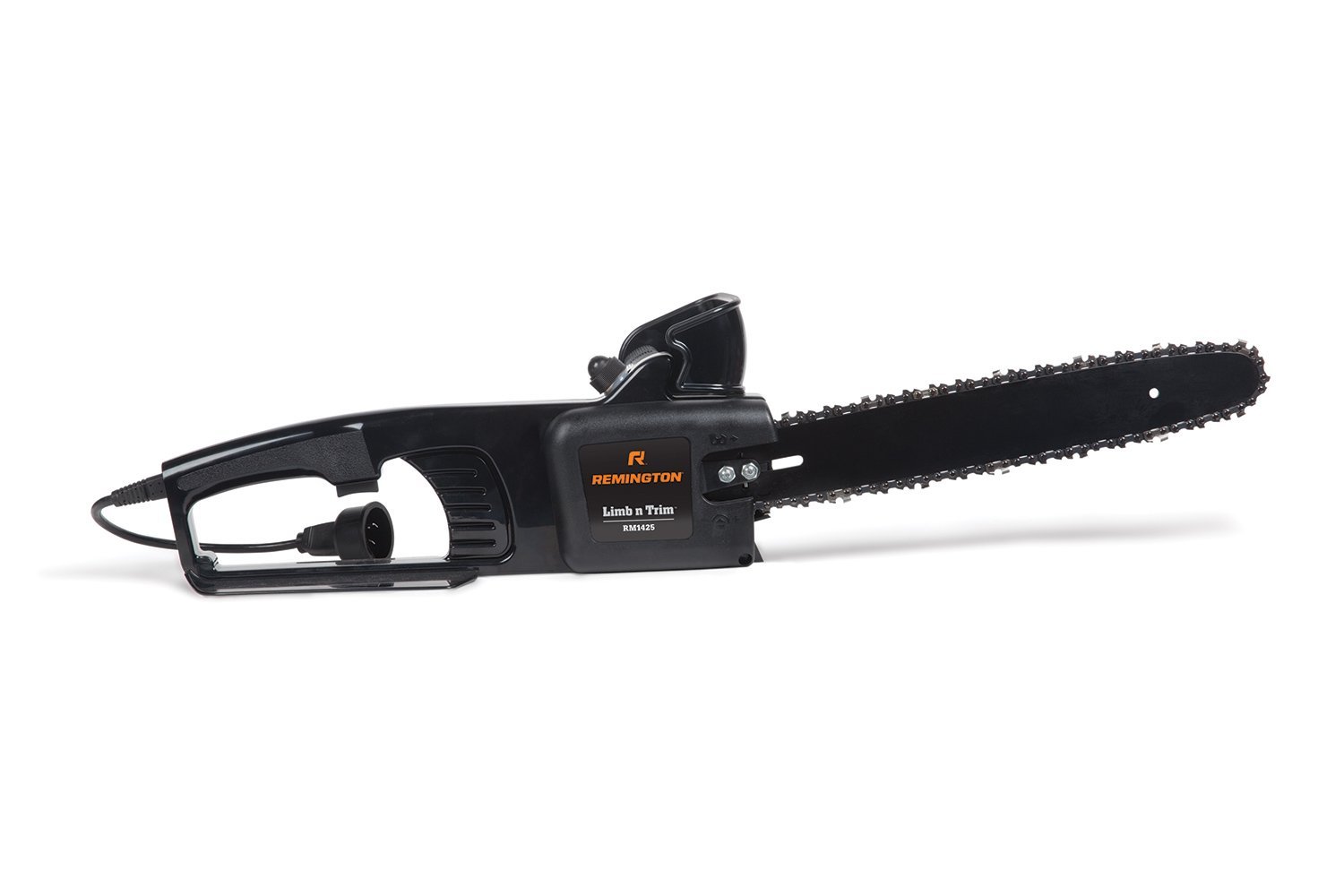 For hands-on homeowners with a small- to average-sized properties, this high-quality Remington RM1425 is all you need to maintain your lawn, yard, or garden. It packs a reasonably powerful 8-amp motor and incorporates a 14-inch low-kickback and easy-to-use bar and chain. Also on its long list of impressive features are a convenient push-button oiler and an external adjustment system for adjusting the tension on the chain, ensuring it performs optimally. Further, it starts in a snap and is remarkably light on weight. Throw in a generous 24-month warranty and now you have every reason to buy the heavy-duty Remington RM1425.

This commercial-grade device comes with a powerful 8-amp motor. It pairs nicely with the heavy-duty and durable 14-inch low-kickback bar and chain to offer one of the best cutting experiences. The combination makes short and quick work of smaller limbs and saplings. The length of the bar and chain and the lightweight design allows you to reach tight or hard-to-reach spots, meaning that you won't have to strain. As mentioned earlier, it has a convenient push-button oiler and an external adjustment system for making tensioning a breeze.

Expand to see more
Another feature that stands out is the rugged construction. The use of first-rate materials for construction significantly contributes to its performance, allowing to withstand extreme, everyday use. Also, because it weighs just about 6 pounds, is lightweight and boasts a comfortable handle, it's easy to maneuvre and use for hours on end without experiencing any significant fatigue or hand strain.

A wraparound handguard offers your hands protection from flying debris. And since Remington RM1425 uses a 40V battery, portability is never an issue. Unlike an electricity-powered model, you can use it as far away from a power outlet as you wish. Compared to its gas-powered competitors, vibrations are reduced to a bare minimum and it happens to be very quiet.

It is powerful and a cinch to use. Vibrations are considerably less and since it features a high-capacity battery, you can use it for hours on end without worrying about running out of juice.

Highly portable
Starts in an instant
Safe to use
Cuts efficient
5. Black & Decker LCS1020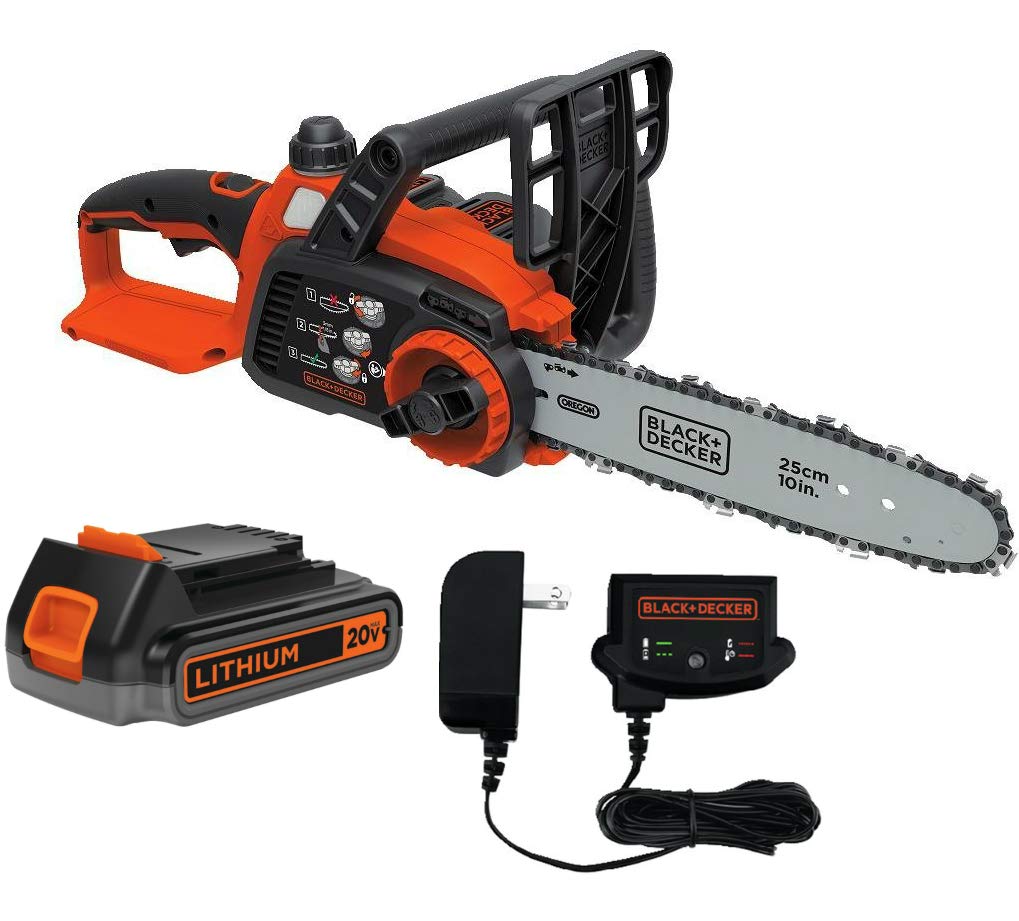 Black & Decker is a household name, renowned the world over for its functional and practical hand and power tools. Like an apple not falling far from the tree, its flagship electric chainsaw, the Black & Decker LCS1020, comes will all the nifty features we've come to expect from the brand. The cordless device has a high-capacity 20V Max lithium battery for a long runtime and longevity. It cuts smoothly and quickly and changing the tension on the blade doesn't necessitate the use of any specially designed tools. Also, because it's lightweight with compact handles, it's easy to maneuvre.

A high-performance motor, heavy-duty 10-inch long bar, and a high-capacity 20V Max Lithium battery come together to provide incredible speeds, efficiency, and dependability for quickly and effortlessly tackling a wide range of light trimming jobs. A versatile choice, this electric chainsaw will neither bog up nor struggle to go through brush, shrubbery, limbs, twigs, and branches. It even packs enough heft to quickly bring down small trees on your yard. Put anything up to 6 inches thick and watch the Black & Decker LCS1020 obliterate it in no time at all.

Expand to see more
The small footprint and lightweight design coupled with its uniform weight distribution make it highly maneuvrable and portable. And since it's not corded, you can reach the furthest corners of your property without using a power cord or having to drag a heavy power cable behind you. On the same vein, the low kickback bar & chain aims to keep you safe from serious injuries. As well as being ergonomically designed to ensure ease of use and comfort, the handle comes with a wraparound bale for protecting the hand from fast-flying debris. You can also take advantage of the fact that adjusting the tension on the blade is quick and doesn't require the use of any specially designed tools.

The LCS1020 is deserving of its spot on this list. It boasts convenience, ease of use, portability, effortless maneuvrability, and budget-friendliness. Essentially, it has most if not all of the features seasoned users look for in an electric chainsaw.

Portable and easy to manoeuvre
An ideal choice for light-duty trimming and cutting
Cuts perfectly
Inexpensive
• Easy to adjust the tension
6. Oregon 603352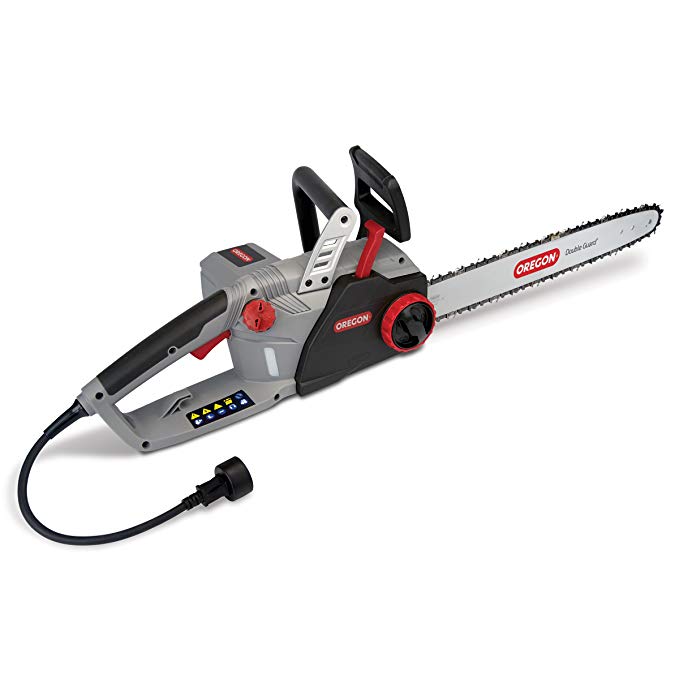 Every value-conscious homeowner needs the best bang for their buck, and this Oregon 603352 provides just that. It has a slew of nifty features that enable you to cut quickly, efficiently, and without investing too much effort in the endeavour. The handle is ergonomically designed with an over-mold and that ensures easy and convenient portability. Further, it features an instant start feature and is near-grave quiet; the trees won't see it coming. However, the features we've mentioned so far are the conventional conveniences nearly all electric chainsaws come with. The one unique feature that sets this device apart from its competitors is the exclusive self-sharpening system. Add this feature on its list of conveniences and all its competitors begin to pale into insignificance.

The 15-amp high power motor the Oregon 603352 comes with puts its performance on a whole new level. The ingenious design brings together the high-performance 15-amp motor and a sturdy 18-inch low kickback bar and chain. The result is a pro-grade performance. It effortlessly and quickly rips through thick and dense pieces of wood with great torque. The action will be over before the trees even realize what hit them. The exceptional ripping torque and power make short and quick work of various trimming and tree felling projects around your property, and it won't be fazed or spooked by the toughest of them.

Expand to see more
Its unique selling point is the built-in self-sharpening system. It takes up to 3 seconds to sharpen the chain and all you have to do is use the easy-to-reach sharpening lever. The exercise is both time and energy saving and a sharp chain cuts smoothly, cleanly, and accurately. It weighs some 12.9 pounds which admittedly is a little on the upper side. To offset this minor drawback, the ergonomic handle offers comfort and superior traction. The chain brake takes care of vibrations while changing tension on the chain is tool-less and that's on top of the automatic oiler. All these features are responsible for its sublime performance.

Hassle-free maintenance, lightweight, user-friendly design, self-sharpening system, instant start, quiet operation, tool-less chain tensioning system, and a generous 24-month warranty. These are all reasons that make Oregon 603352 a worthwhile consideration.

Self-sharpening
Comfortable with minimal vibrations
Quiet
Has safety-enhancing chain brake
Cost-effective
Not expertly balanced
Low capacity oil tank
7. Earthwise CS30116


Earthwise CS30116 may lack the bells and whistles of its top-of-the-range counterparts but when it comes to getting the job done, its results will never leave you disappointed. It comes with the features you'd find in a typical electric chainsaw. Performance-wise, it has a high-performance 12-amp motor for powering its 16-inch long bar and chain. Being electric, it's eco-friendly and goes a long way in helping the user live a simple, healthy life. Besides the 12-amp motor and 16-inch bar, other features worth bringing to your attention include tool-free tensioning, rubber overmolded handle, push start button, and a lightweight design.

This is a powerful machine, so you won't be doing the heavy lifting. Leave that to the 12-amp motor and 16-inch Oregon bar and chain. These two features are responsible for the machine's head-turning performance. These two transform it to an all-rounder perfect for clearing brush, trimming trees, and even stockpiling firewood. As we've come to expend from high-end yet cost-effective options on the market, you don't need any special tools to adjust the tension on the chain. Neither do you have to pause your cutting projects to oil the saw as the process is automatic. And because the oil tank is both transparent and high-capacity, monitoring the amount of remaining oil should be a breeze.

Expand to see more
The chain brake keeps you safe by minimizing incidences of kickbacks and owing to the high-end construction of a heavy-duty frame with ergonomic handle featuring a rubber overmold, using it is very easy. There is a handy push start button that gets the motor running reliably even when it's cold outside. And being electric, you won't have to put up with dangerous fumes or loud noises.

Earthwise CS30116 might be a no-frills pick but it comes with all the essential features. All you have to do is step up and show the overhanging branches, twigs, and limbs who is boss.

Has high-performance motor
Lightweight and maneuvrable
Comfortable
Easy to adjust chain tension
A cinch to use
8. Sun Joe SWJ701E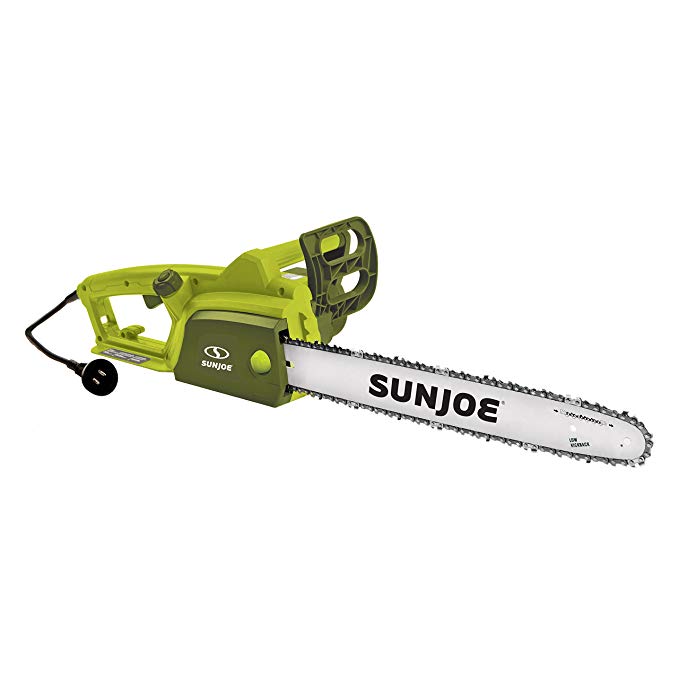 Sun Joe, like Black & Decker, doesn't need any introduction. But we will for the greenhorns reading this. It's an industry doyen that has, within a relatively short time, demonstrated its mettle by consistently producing high-quality, functional, cost-effective, and easy-to-use tools. And Sun Joe SWJ701E is no exception. With a high-power 14-amp motor and a pro-grade 12-inch bar and chain, this tool is indeed a cut above the rest. It comes highly recommended for extreme DIYers and professionals in search of an electric chainsaw capable of quickly and effortlessly ripping through tree branches, twigs, brush, shrubbery, firewood, and even logs.

Clearly a workhorse, SWJ701E will never leave you with a disappointed look on your face. The combination of a powerful 14-amp motor and an 18-inch long self-lubricating Oregon bar and chain is a potent one. And the only we know that is because this electric chainsaw doesn't struggle, even slightly, to rip through the kind of materials that force some cheap, off-brand models to bog up and give in. to further sweeten the deal, Sun Joe throws in tool-less tension adjustment and an automatic oiler, two features that take the hard work, effort, and time away from maintaining a picturesque yard, lawn, or garden.


Expand to see more
Now, it is not all about performance, reliability, precision, and power. It's also designed with the convenience of the user in mind. The electric motor starts in an instant the moment you press the start button. It's also easy to set it up and get it running because you don't have to deal with the messy process of handling gases and oils or choking on dangerous fumes. Boasting a paltry weight of 9.7 pounds and an adjustable ergonomic handle, kiss goodbye to issues like fatigue and hand strain. For safety purposes, it also incorporates a hand guard with kickback brake and a switch for eliminating the likelihood of inadvertent start.

Few options seamlessly and expertly blend power, performance, and precision like Sun Joe SWJ701E does. And that explains why it's earned its place on the list.

Cuts powerfully and effortlessly
Auto-oiler and tool-free chain tensioning
Offers the best bang for the buck
Easy to maintain
Chain is prone to slipping
Ambiguous user manual
9. WORX WG304.1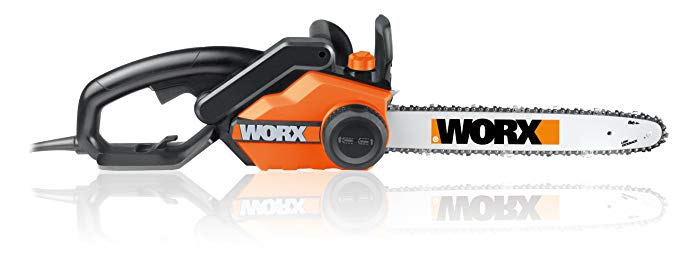 Another option that's guaranteed to leave you with a smile on your face is this WORX WG304.1. In case you're wondering, the only difference between it and its cousin we reviewed earlier is some 0.5 amps, which means it's more powerful and there a better choice for thick tree trunks and logs. Also, its bar is 2 inches longer than Makita which also makes it a better choice for tackling light to heavy-duty cutting and trimming projects around the house. An in-depth review of this workhorse follows next.

Built to make your work simple and easy, WORX WG304.1 sports a tool-less chain replacement, a staple in the industry by now. The chain adjusts its own tension, keeping it rightly tight provide you with optimal performance. You won't be wasting your valuable and precious time adjusting the tension on the blade all by yourself. The bar and chain, on the other hand, measures a remarkable 18 inches. The length substantially enhances usability, maneuvrability, and control, in addition to giving you access to stems, branches, shrubbery, brush, twigs, and limbs in hard-to-reach spots. The high-performance 15-Amp motor generates decent speeds of up to 12 metres per second or the equivalent of 2362 feet per minute.

Expand to see more
It'd be foolhardy operating it without expecting kickbacks. Considering how risk they are, it aims to keep you safe by incorporating a reliable chain brake for stopping the chain the second in makes an improper contact. The handle features a rubberized overmold and is additionally ergonomically designed to give you superior control and ensure your hands are comfortable during the entire exercise.

It may not be as powerful as some costly, top-shelf chain sawas out there but for every cutting and trimming around your property, it suffices. It's also cost-effective and has a generous 36-month warranty.

Durable construction
Starts in a snap
Powerful performance
Safe and comfortable to use
Long 36-month warranty
10. DeWalt DCCS690M1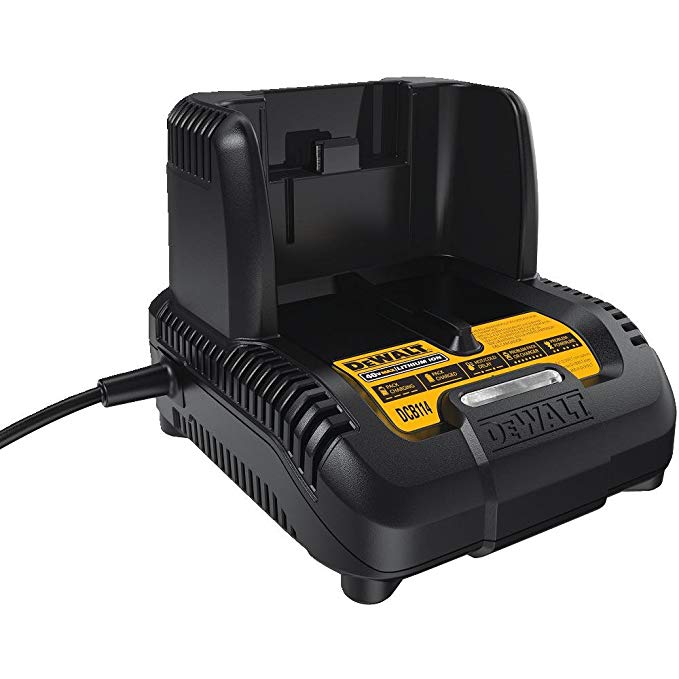 Our 10th and last pick, the DeWalt DCCS690M1, combines the exceptional performance of a gas-powered electric chainsaw and the convenience of a cordless model. The result is an electric device that offers unparalleled dependability, practicality, and functionality. Like all other DeWalt products, this chainsaw is built to be easy to use and because it packs a powerful motor, you'll use a fraction of the effort and time it takes other cheap, off-brand electric chainsaws to clear an area of shrubbery, twigs, branches, and limbs. And you won't have to dig deep into your pocket to sample the performance and convenience features of this option.

You'll be able to sample all the benefits of a brushless motor because DCCS690M1 is a high-performance one. Compared to a brushless motor, the former significantly improves and durability. Bring together the motor and the 16-inch Oregon chain and bar and there's no limit to the things you can do with this electric chainsaw. You'll be cutting thick and dense logs and chunks of wood as quickly as a gas-powered model and with the accuracy and ease of an electric model, which translates to a short completion time.

Expand to see more
As for convenience, it comes with the typical features you'll find in most of the previous picks. The first of such features is auto-oiling with LubriLink and LubriWell. A properly oiled
chainsaw
cuts smoothly and quickly, has a longer lifespan and requires minimal maintenance. You get to experience all three with this electric chainsaw. To the auto-oiler add tool-less tensioning system. You won't need any additional tools to adjust the tension on the bar and chain, a fact that also equates to speed and efficiency.
There are a few other additional features. The chain brake protects your hands from kickback while the variable speed trigger gives you superior control over operating speeds, allowing for accuracy. However, this device comes with its fair share of downsides. At 18.74 pounds, it's considerably heavy. Controlling and maneuvring it may be a challenge. Also, some users report some complications with adjusting tension on the bar and chain. Aside from these, the DeWalt DCCS690M1 works like a charm; quickly, efficiency, effortlessly, and is dependable.
Awesome power
Cuts quickly and effortlessly
Cost-effective
Has a variable speed trigger for superior control
Heavy
Difficulty adjusting tension
Selection Criteria
Performance
The two most important features that determine the performance of an electric chainsaw are motor and the length of the bar. The combination of a high-performance motor and long bar results to superior performance. Consequently, you should use these two features as a benchmark to help you select an option that best meets your needs. A model with a short bar is perfect for light- to medium-duty cutting and trimming tasks around the house.
If, on the other hand, you need something capable of felling thick, big trees, train your eyes on a more powerful device with a considerably long bar. To guide you, consider that an electric chainsaw with a bar ranging between 12 and 14 inches in length is perfect for light-duty jobs. One whose chain ranges between 16 and 18 inches is ideal for medium-duty projects while anything longer than 18 inches is suitable for thick logs and branches.
Convenience
This refers to the ease of using an electric chainsaw. Obviously, costlier, high-end models pack more convenience features than their cheaper, humdrum counterparts. If you need trouble-free, effortless performance, we recommend taking a look at an option with a tool-less chain tensioning system. All you'll have to do is use the provided tension lever and nothing else.
Another convenience feature is obviously weight. A lightweight option with proper weight balancing and an ergonomic handle is a cinch to control and maneuver, especially in tight, hard-to-reach spots. Some models have an automatic oiler feature. Couple this with the tool-less chain tensioning system and it becomes remarkably easy to use.
Safety
One last paramount feature to pay attention to before committing your money is the safety features the model comes with. No one wants to lose a finger while operating one. Humans are prone to errors but when it can be a costly or fatal one, it's prudent to take the necessary precautionary measures. Ensure your product comes with a safety lock for preventing it from inadvertently starting up.
A chain brake instantly stops the chain in case of improper contact and prevent kickback. Other safety features include a hand guard and overload protection.
Frequently Asked Questions
Q: Do I need to oil it?
A: Oil is necessary to lubricate the bar and chain. Some models have auto oiler feature while others come with transparent oil tanks to enable you to keep an eye on the level of oil remaining.
Q: Do they come with any safety features?
A: The vast majority of them do. Some come with comfortable handles to prevent hand fatigue and strain while others have a chain brake to prevent the likelihood of kickbacks. Also, it's highly recommended you wear the right safety gear like gloves, goggles, earplugs, an overall or long sleeved shirt, and boots when operating such a device.
Conclusion
Our list features some of the best electric chainsaws the market has to offer. They've been tried and test and come with a reputation for dependability, ease of use, high-performance, and safety.
They also closely tail their gas-powered counterparts in performance and longevity but have the advantage of effortless use and eco-friendliness. Should you elect to go with any our choices, you're in for the best time of your life.
Subscribe to our newsletter