Best Chainsaw Sharpeners Reviewed & Rated
last updated:
Oct 18, 2018
No seasoned woodworker, extreme DIYer, or outdoor enthusiast would ever consider their garage or tool chest complete if it didn't have a chainsaw sharpener. Compared to conventional time-consuming and energy-draining methods of keeping the chainsaw sharp and in pristine condition, the modern chainsaw sharpener has a lot going for it. Among these are practicality, versatility, high-performance, ease of use, and, for the most part, affordability.
Our Top 3 Picks
[srpshortcode id="18864″][/srpshortcode][srpshortcode id="18865″][/srpshortcode][srpshortcode id="18866″][/srpshortcode]
Understandably, misinformation, outright lack of information, and the ubiquity of chainsaw sharpeners conspire to complicate the search process, especially for greenhorns. To make it easy, we've put together a carefully curated list of 10 of the best chainsaw sharpeners currently on the market. Before that though, let's take a closer look at the features to consider before you commit your money.
10 Best Chainsaw Sharpeners
1. Oregon 520-120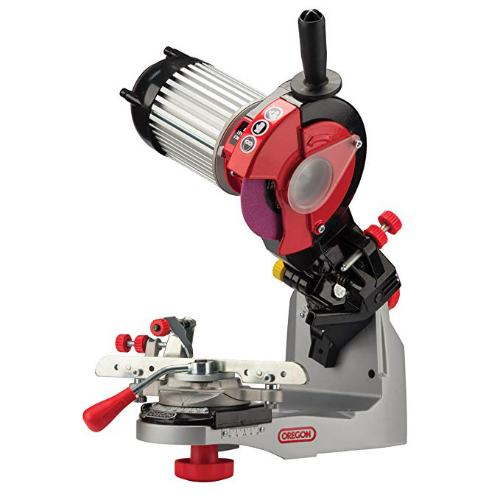 A poster child for versatility, the Oregon 520-120 is a perfect chainsaw sharper for heavy use by professionals. Considering its compatibility with a broad range of pitches such as 1/4-inch, 3/8-inch, 0.325-inch, and 0.404-inch, this tool is all that you need to keep your chainsaws sharp and in optimal condition for quick and effort performance. It also features a slew of several other noteworthy features that we'll discuss in great detail in the next few paragraphs. So this is the part where you start to pay close attention if you weren't already.

That the Oregon 520-120 is feature-packed is actually an understatement. It comes with a litany of instrumental features to take the time and hard work from keeping your chainsaws and chains in optimal working condition.

Expand to see more
First is the ease of installation. Compared to cheap, off-brand models flooding the market, this model is both quick and easy to mount on a worktable or tool bench, allowing you to meticulously go through the various chain sharpening and maintenance stages in one place.

The second outstanding feature is the versatility. It is adept at handling a wide range of chainsaw blades starting with low profile 1/4-inch, 0.404-inch pitch chain, and a 0.325-inch full profile. The thoughtful inclusion of a self-centering chain vise eliminates any possible errors I the sharpening process by helping with the accurate and effortless setting of the chain in position, locking it down, and sharpening it. To further add to the sharpening prowess, the sharpener comes with a dressing brick to smooth out light-duty tasks and quickly complete major ones.

The consistently uniform and quick performance is aided by its high-performance 0.4-HP motor providing maximum speeds of 3,400 rotations per minute and the 5-3/4-inch grinding wheel. The heavy-duty and rugged design of this model, together with its superior chain vise make it a perfect and solid candidate for heavy-duty, professional sharpening. Additional features include a generous 36-month warranty, two spare grinding wheels, and heavy-duty construction for durability.

If you're looking to save money and time on your next chainsaw and chain sharpening exercise, we highly recommend going with this option. With its improved chain vise, easy-to-use adjustment knobs, powerful motor, and heavy-duty design, it offers unbeatable value for the money.

A versatile choice for multiple chain sizes and sizes
Sharpens accurately, safely, and quickly
A cinch to use
Durable construction with a 36-month warranty
2. Timberline with 3/16″ Carbide Cutter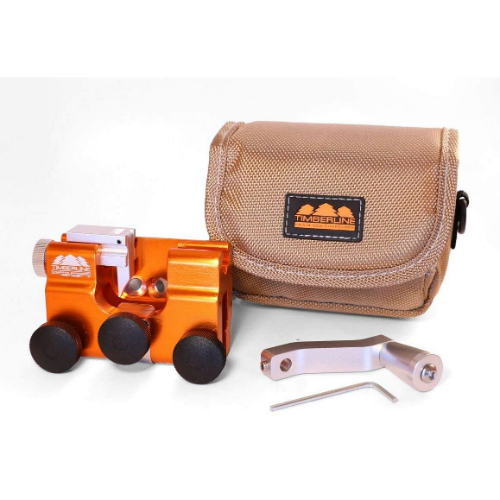 The ingenious design of the Timberline with 3/16″ Carbide Cutter coupled with its portability and ease of use deservedly earn it a spot on our list. It features a heavy-duty, high-quality tungsten carbide cutter that will leave the teeth of your chainsaw sharp in no time at all. Besides speed, the tool is also superbly efficient and precise, and in spite of its rugged and durable construction from pro-grade aluminium, it's both lightweight and compact and as a result portable and a cinch to use.

For the professionals and enthusiastic DIYers planning on working far away from a power outlet but have to keep their chainsaw sharp and performing optimally the entire time, this is the right product for you. Compared to standard versions that require the user to file individual teeth by hand, thereby spending several hours to get the job done, this model uses a rugged, durable, and high-grade tungsten carbide cutter to diligently sharpen one tooth after another with each pull of the chain.
Expand to see more
Because it clamps on the chain using the 3-position vise clamp, you won't have to take it off, meaning that you'll be working pretty quickly and with minimal effort. All the teeth are sharpened to similar angle and length for uniformity and accuracy.
In addition to ease of use and exceptional performance, it is also remarkably long-lasting, thanks to its high-end construction with high-grade aluminium. It can, therefore, withstand extreme abuse on a daily basis and not suffer any significant wear and tear. It files teeth easily and quickly, taking off an insignificant bit of material from the teeth as it sharpens them, prolonging its own lifespan and that of the chain. Plus, it comes with a confidence-boosting lifetime warranty to cover you against deficiencies in material and craftsmanship.
It's not the best out there but when you're far from a
power outlet
, the Timberline Chainsaw Sharpener with 3/16″ Carbide Cutter will invariably get the job done accurately, uniformly, and quickly. Besides being professional grade, the unit is also highly portable and will save you lots of time and effort in keeping your chain sharp.
Lightweight and portable
Easy to use
Sharpens chains evenly and swiftly
Comes with a lifetime warranty
Not ideal for heavy-duty use
Installation takes time and patience
3. STIHL 2 in 1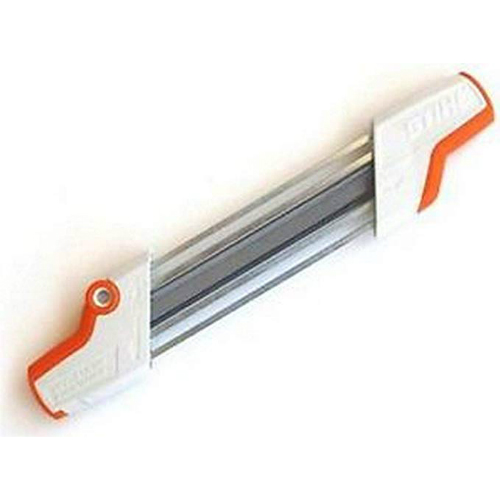 Accurate and consistent, the STIHL 2 in 1 Easy File Chain Sharpener, the flagship option from the reputable and customer-trusted STIHL brand, has all the features a user needs to keep their chainsaws in tip-top shape. The most outstanding feature though is its lightweight and compact design. With a paltry weight of 12 ounces and a slim profile, portability is never an issue. It'll fit securely and snugly in your pockets and take up minimal space in your workstation. For the professional or DIY enthusiast looking for a versatile, high-quality, cost-effective, and heavy-duty chain sharpener that works quickly and efficiently, the chainsaw sharpener would be your best bet.

In addition to sharpening the teeth of your chain, the STIHL is also adept at simultaneously reducing the depth gauge of the teeth, all with a single motion. Despite being a manual sharpener, the ease of using it is astounding.
Expand to see more
The gentle learning curve means both greenhorns and seasoned users should spend relatively the same amount of time to sharpen their chain. And for those who'll find the process to be difficult, the package conveniently contains a filing guide to meticulously walk you through the entire process.

Note that it is compatible with chains of sizes 1/4-inch, 3/8-inch, or 0/325-inch irrespective of their angle or depth. It comes with durable tungsten carbide files for quick and easy sharpening.

As mentioned earlier, the lightweight and slim profile of the chainsaw sharpener makes it easy to use and transport from place to place. Since it's not corded, it doesn't take up permanent space on the bench as you can easily store in between uses.

In all, the STIHL 2 in 1, like our previous choice, is a manual choice that's perfect for use away when or where electricity isn't readily available. It's cost-effective, takes up minimal space, and features easy-to-use handles.

Lightweight, slim profile and portable
Cost-effective
Perfect for outdoor use
Sharpens chains accurately and effortlessly
Necessitates using a vise
Works slowly
4. Oregon 30846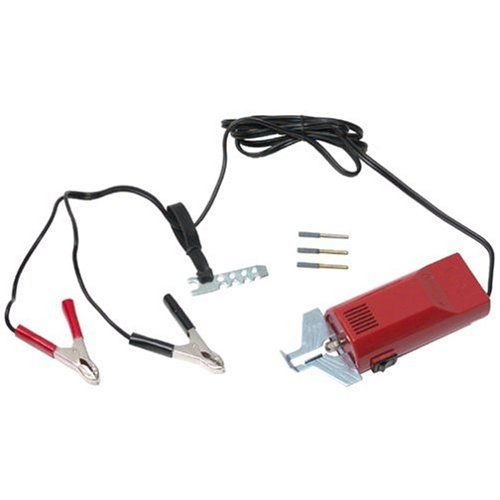 While it does not come with any distinguishing or standout features, the Oregon 30846 is one of the best chainsaw sharpeners you can find on the market. Used properly, it can mean the difference between spending a whole day felling trees in the woods and getting the job done in a fraction of the time, with minimal effort and accurately. The chainsaw sharpener is also compact and portable and is powered by a high-capacity 12-Volt battery that provides a remarkably decent runtime for continuous sharpening of your chainsaw. For users in search of a high-quality, durable, easy to use, on-the-go sharpener, take a closer look at this option.

The expertly designed and fastidiously constructed Oregon 30846 is all you need to keep your chainsaw in optimal working condition. It comes with two sharpening stones that take the time and effort away from filing a wide range of cutters of various sizes in accordance with their chain pitch length and depth. To enable you to work more efficiently, smoothly, and quickly, the chainsaw sharpener comes with a useful quick-adjust guide and a built-in depth gauge so you achieve uniformity.

Expand to see more
As was indicated in the introductory paragraph, this is a highly portable option suitable for on-the-go sharpening for those who'll be working far from a power outlet. The lightweight and compact design, coupled with the fact that it runs on a 12-volt battery mean you can take it literally anywhere your job or hobby takes you.
The high-grade construction and the high-impact motor house allows it to withstand the rigors of extreme use in various settings. The resulting durability means you'll be using it for the next several years without requiring a replacement. And compared to its full-sized counterparts, it does not take up permanent space on the bench or table. As a result, you can store it anywhere, whether that is the garage, workshop, studio, house, or inside your
tool chest
.
The excellence, versatility, usability, and portability of the Oregon 30846 all make it a great choice for sharpening the chainsaw. Given that it uses a high-capacity 12-volt battery, you'll be utilizing it wherever your work or hobby takes you.
Features quick-adjust sharpening guide
Grinds blades evenly and efficiently
Highly portable and affordable
Has extra sharpening stones
Lacks the power of electric models
5. Buffalo Tools ECSS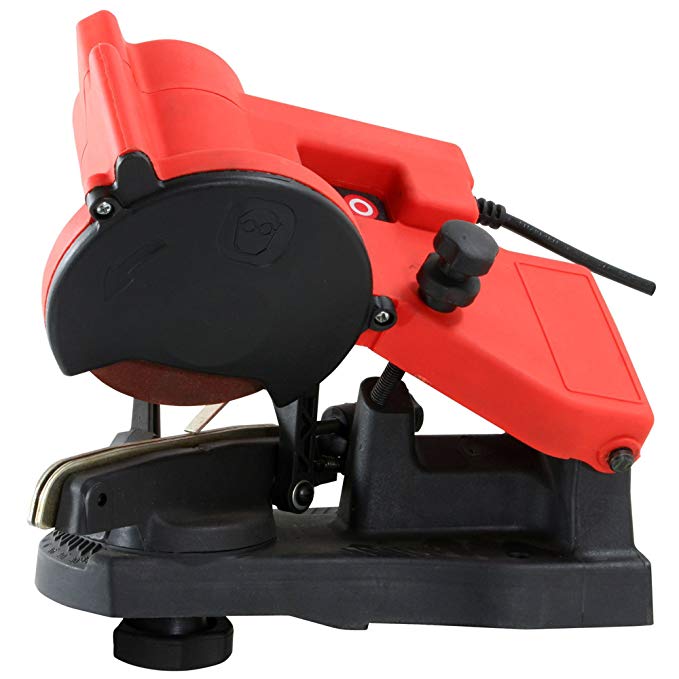 The Buffalo Tools ECSS is a perfect choice for the value-conscious homeowner keen on saving their time and money by quickly, accurately, and effectively sharpening their own chainsaws. Aside from requiring that you take the chain off, the tool is a cinch to use and mounts with the least effort on multiple surfaces including the bench, the wall, and the vise for a quick sharpening session. Plus, it outputs decent speeds, thanks to the incorporation of a high-performance and dependable motor.

Boasting a high-performance 85W motor and a heavy-duty 4-1/4-inch by 1/8-inch grinding wheel, the sharpener should be your go-to tool for sharpening your chainsaws, assuming you have more than one. The motor attains impressive speeds of 4200 rotations per minute, more than enough to give your dull chainsaw a new lease of life. And it's pretty easy to use, thanks in part to the no-frill and simplistic design.
Expand to see more
By using a rotating table, you'll be able to quickly set a most suitable angle before vise clamping the chain position and getting started with it. Compared to battery-powered models, there is no risk of it running out of battery as it plugs into any standard 120-Volt wall outlet for continuous and quick sharpening.

For convenience, it mounts with ease on the table, bench, the wall, or the vise, providing you with a stable platform that's also easily accessible. Like other high-end models out there, it adjusts easily and quickly to the vast majority of popular chain design. For safety purposes, it comes with a life-saving wheel guard for keeping loose clothing and other nearby objects from the grinding instrument. And of course it's both lightweight and compact, and the installation process in a breeze.

If you want to save time and money and sharpen your own chainsaws, the versatile and easy-to-use Buffalo Tools sharpener is at your disposal. It's powerful and reliable and is an ideal choice.

Easy and quick installation
Durable, superb construction
Efficient, quick, and accurate
Cost-effective
You have to dismount the chain
Slow
6. Granberg Bar-Mount Model# G-106B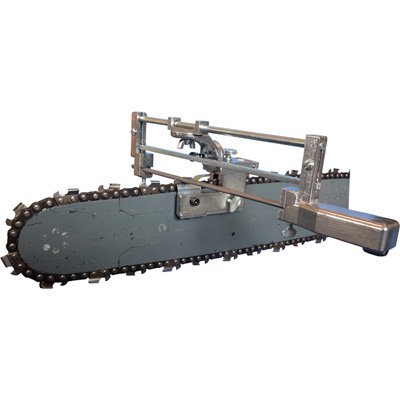 Despite being an entry-level, budget pick, the Granberg Bar-Mount sharpener has the excellent craftsmanship, outstanding quality, and dependable productivity of a pro-grade option. It also comes in a user-friendly and intuitive design to enable you quickly and effortlessly sharpen the cutters on the vast majority of normal sized chain pitch. To this add a reliable knack for filing various cutters to the same angle, depth, and sharpness. Coupled with the lightweight design and ease of installation, you'll be working quickly and with minimal hiccups. For the homeowner with eyes trained on acquiring a high-quality, versatile chainsaw sharpener, don't hesitate to choose this option.

The bar-mounted tool is renowned for sitting firmly and safely and attaching with remarkable ease and speed to the vast majority of size chains. It should also be up your alley if you want the conventional feel of a manual option, allowing you to come into close contact with the blade. Like high-end models though, it sharpens the blades uniformly and precisely, leaving it sharp and ready to roar to work.
Expand to see more
Capable of holding different file sizes, it's one of the most adjustable machines you'll ever come across. It comes with several easy-to-use knobs for micro-adjusting the depth gauge so it best suites the chain angle, thereby providing the most accurate results.

The construction quality is on a whole different level. The brand's thoughtful use of pro-grade aluminium and zinc-plated steel for construction means that it can easily withstand the test of time as well as rigorous, extreme use year in, year out. You, therefore, won't experience even the slightest drop in performance even as the product nears the tail end of its useful life, which is a far cry from the cheap, off-brand models flooding the market.

Its performance may not be at par with other top-tier tool but the Granberg Bar-Mount sure gets the job done quickly and accurately every time.

Lightweight and portable
Works accurately, efficiently, and quickly
Highly adjustable
Budget-friendly
7. Oregon 410-120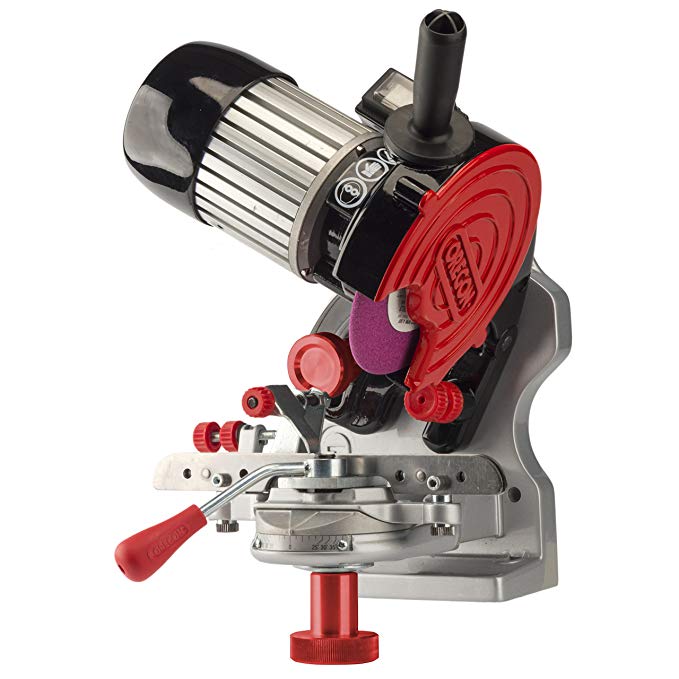 This is a beast that packs a punch beyond its deceptively simplistic, humdrum appearance. It's a solid choice for the professional or extreme DIYer who wants a taste of premium features without committing too much money. In addition to featuring a pocket-friendly price tag, the chainsaw sharpener is incredibly durable, powerful, and functional. These features, together with its long-lasting construction and versatility, make for reliable and powerful sharpening experience all year long.

The Oregon 410-120 seamlessly combines powerful performance and ease of use to provide the user with the best sharpening experience. Predictably, it mounts with remarkable ease and speed on any bench or wall, providing a stable platform for accurate sharpening. Included in the package are 3 grinding wheels for sharpening 1/4-inch and 3/8-inch low profile as well as 0.325-inch, 3/8-inch, 0.404-inch, and 3/4-inch pitch chains. To these add a heavy-duty dressing brick and a quick-check grinding template to guide the novices.

Expand to see more
There are several other standout performance features, the most notable being the built-in
light
. The feature gives the user a precise and accurate angle of cut at all times, significantly improving the accuracy of the results you'll obtain while drastically minimizing the likelihood of costly errors and mistakes. To keep you safe all through the process, the chainsaw sharpener features a one-way motor rotation that poses no risk to your or your colleagues whatsoever.
As you'd expect of a mid-range option, the Oregon 410-120 boasts heavy-duty construction by featuring an all-heavy-duty steel construction. As a result, it readily takes on tough and challenging sharpening projects without the slightest hesitation and remarkably withstands wear and tear. Heavy-duty aluminium lends its resilience and strength to the tool, which will translate to several years of flawless and trouble-free use. As for performance, the chainsaw sharpener comes with a powerful 0.4-HP, 140-Watt, 1.2-amp motor with speeds of up to 3,500 rotations per minute for quickly and easily finishing the toughest sharpening projects.
In all, the Oregon 410-120 should be your go-to chainsaw sharpener if you're looking for a product that works quickly, easily, and accurately and doesn't cost a ton of money, figurative of course.
Long-lasting steel construction
Very adjustable and versatile
Powerful and accurate performance
Easily to mount
8. Timber Tuff CS-BWM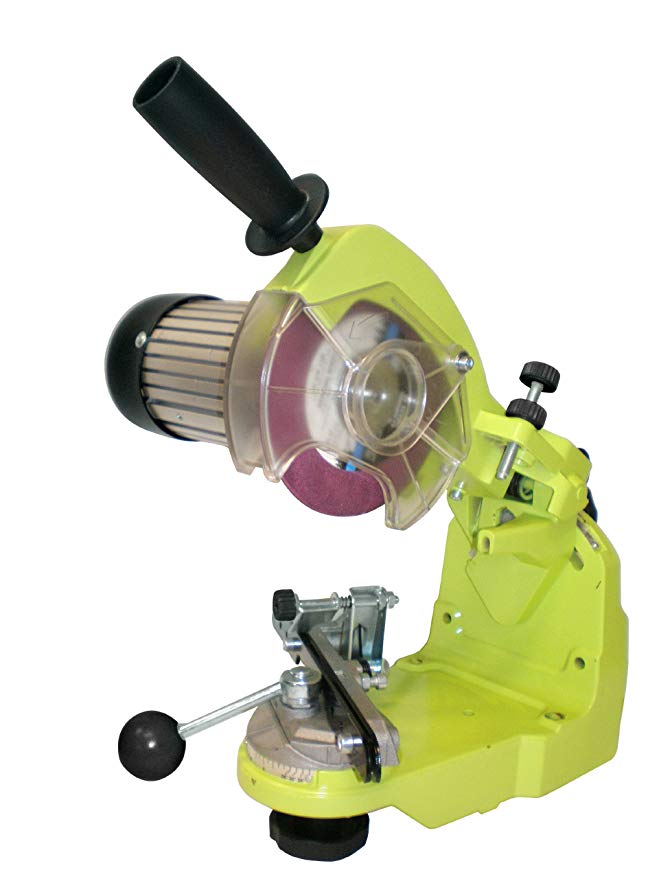 The Timber Tuff CS-BWM Benchtop is a captivating option, both in performance and ease of use. The high-end craftsmanship and versatility also easily stand out. Like other high-end models, it will irresistibly win you over with its plethora of performance and convenience features that take the time and effort away from quickly and efficiently sharpening various chainsaws. Because it's optimized for heavy-duty use, it might not be the ideal choice for use by greenhorns who're just beginning to master their way around a heavy-duty piece.

Like the vast majority of other options, the Timber Tuff mounts securely, easily and quickly on the workbench, offering you a stable and secure platform from you can accurately sharpen your dull chainsaws. Continuing a tradition of high-end, and high-performance tools from this industry doyen, it features a high-performance 110V, 60 Hz motor that provides remarkable speeds of up to 3600 rotations per minute.
Expand to see more
These eye-popping speeds translate into the quick and precise sharpening of your chainsaw, leaving it in optimal condition for whatever work you have in store for it. It sharpens a wide range of chains of sizes ranging between 1/4-inch and 3/4-inch. The factory-installed chain vise provides for easy setting and locking down of differently sized chains.
Among other things, it comes with an easy-to-read adjustment guide for the most consistent and accurate results. A see-through safety shield and a 15-watt built-in work light, on the other hand, gives you a clear line of view as you sharpen, minimizing errors and mistakes that can cost you dearly. Also included in the package are 3 grinding wheels of sizes 1/8-inch, 3/16-inch, and 1/4-inch for the perfect and uniform cuts.
As for construction, Timber Tuff spares no expenses to produce a heavy-duty, durable chainsaw sharpener. Virtually all critical operational parts sport outstanding construction quality using pro-grade materials for longevity. An additional feature is the protective plastic
blade grinder
guard.
Overall, among its litany of auxiliary features, the long-lasting construction, versatility, ease of use, and affordability easily stand out. Essentially, it's the poster child of accuracy, speed, and affordability.
Compatible with most chain pitches
Quick and accurate
Has a performance-enhancing overhead light
Rugged and sturdy construction
Questionable durability
Heavy
9. OrangeA Electric Sharpener with Grinding Wheels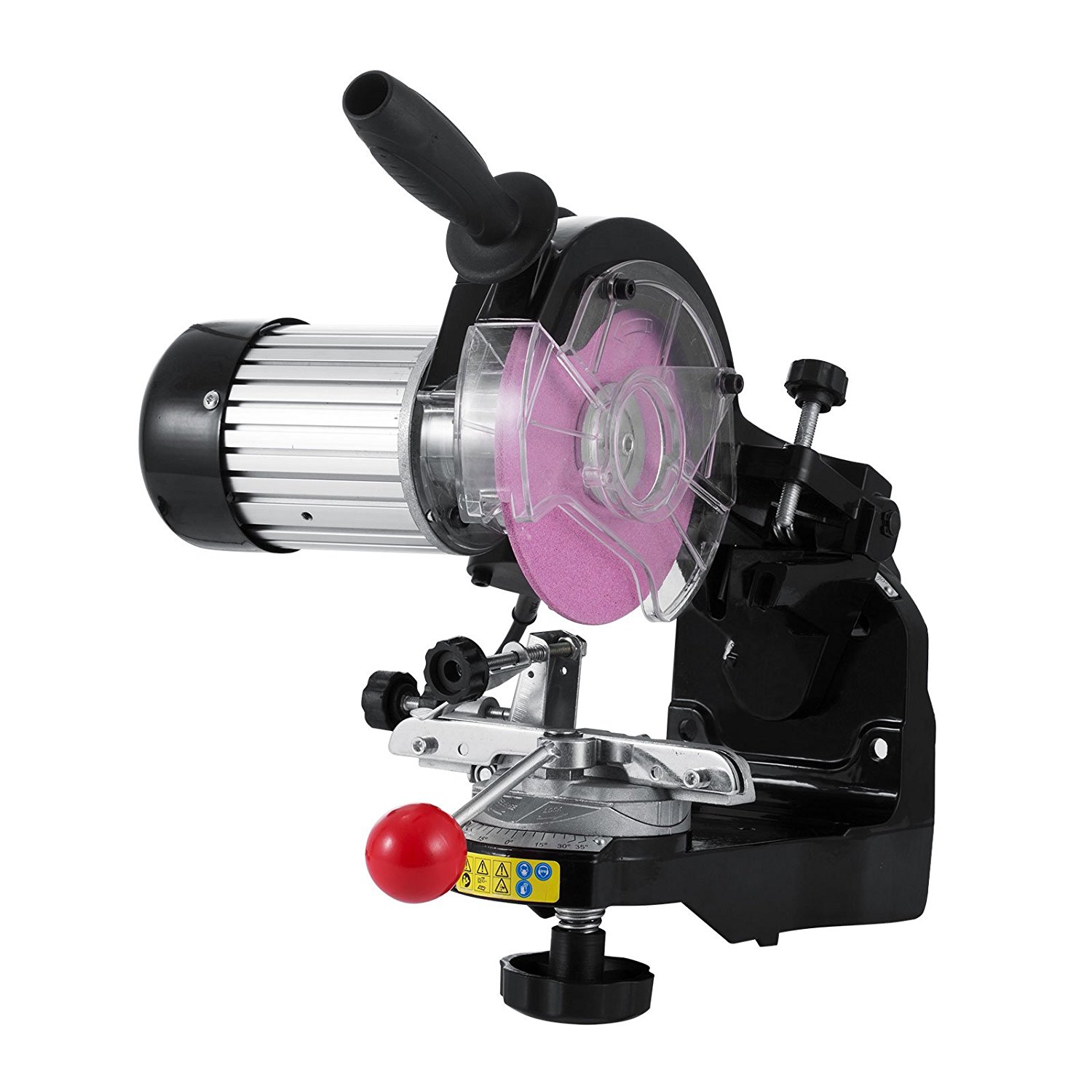 Described by some industry pundits as the chainsaw sharpener of the future, the OrangeA Electric sharpener has it all, and uncompromisingly brings you the best of all worlds. Whether it's the wall or the workbench, you can easily install it on the surface you perceive will contribute the most to your productivity.

Predictably, it's a cinch to use seeing as it offers an adjustable angle and incorporates a considerably large and ergonomically designed and therefore comfortable handle for use. To these awesome features add the versatility of sharpening a wide range of chains ranging between 1/4-inch to 3/8-inch pitch. Boasting speeds up to 3000 rotations per minute, the chainsaw sharpener also has lamp and disc guards and 2 grinding discs at 1/8-inch and 3/16-inch.

Expand to see more
While we've already covered all its unique selling points responsible for its pro-grade performance, we'll go over them in a little more detail to add meat to the bone. The fact that it has grinding wheels 1/8-inch and 3/16-inch qualify it for sharpening chains of any size between 1/4-inch and 3/8-inch, making it one of the most versatile chainsaw sharpeners in the industry. For accuracy and precision, it sports a highly visible and path illuminating work light while safety guards, well, keep you safe as you sharpen.
It houses a powerful motor that consistently outputs speeds of up to 3,000 rotations per minute, more than enough to make short and quick work of dullest chains in
your garage
. Because of the versatility of the tilting vise, it is inconsequential the size or type of chain you have – the sharpener will leave it teeth or blade uniformly sharpened and raring to go. Plus, it poses minimal risk of burning, hot spotting, or softening your chain.
A last unique selling point is the resilient, strong, and long-lasting construction. The use of pro-grade cast aluminium and the reinforcement of the hinges are not only indicative of an ultra-strong chainsaw sharpener but one that also meets or even exceeds performance and durability expectations.
The value-conscious user searching for one of the best yet cost-effective chainsaw sharpener doesn't have to cast their net too wide. It is solid, reliable, and will always get the job done quickly and efficiently.
Sturdy, durable construction
Powerful, quick and accurate
Easy to adjust
Offers great bang for the bucks
• Cost-effective
10. TruePower 01-0854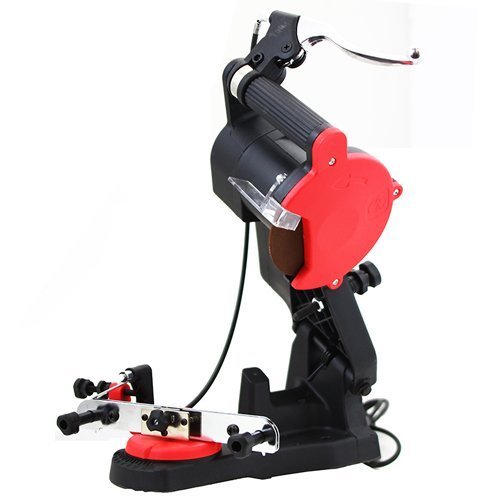 As we'll prove shortly, the 10th position is not always a preserve of products that are inferior in construction, performance, or convenience. Contrary to such expectations, the TruePower 01-0854 enjoys a solid reputation for volcanic performance in spite of its cost-effectiveness. The sharpener is both safe and easy to use and sharpens chains of various sizes and shapes with superb accuracy and speed. For these and several other reasons, the chainsaw sharpener is an all-time favorite among seasoned professionals, DIY enthusiasts and everyone else in between.

Like most versatile options, it is highly customizable and adjustable so it easily accommodates a wide range of chains. Thanks to a powerful motor, the chainsaw sharpener works quickly and is able to reach speeds of up to 4200 rotations per minute. It won't burn, hot spot or soften your blade, as is sometimes the case with cheap, off-brand models out there.

Expand to see more
The frame features high-quality construction while the blade is made from pro-grade carbide for first-rate performance throughout its shelf life. The implication is that it can take some serious beating before it gives up.

Despite the rugged, heavy-duty construction, it is surprisingly lightweight and compact, weighing just 6.5 pounds with dimensions of 14 by 10 by 7 inches. The ergonomic handle provides for effortless controllability and portability.

Well, that's the gist of it. Patently, it'll easily outperform some of its more expensive counterparts. We highly recommend it for occasional use.

Works safely and effortlessly
Durable
Provides for accurate sharpening
Cost-effective
Criteria for Choosing the Best Chainsaw Sharpeners
Power Source
You have between battery- and electricity-powered chainsaw sharpeners, each, of course, coming with its fair share of upsides and downsides. The former option is more labor-intensive and has a rounded file for accommodating a wide range of chain sizes and shapes.
The risk of disproportionately filing the teeth of the blade are quite high with this method. However, you can use it far from a power outlet, for instance in the woods and it's more economical. An electric chainsaw sharpener, conversely, offers infinite benefits besides speed, versatility, convenience, and affordability. Choose according to your needs.
Performance
Evidently, electric chainsaw sharpeners are considerably more powerful than their manual counterparts, and by extension work faster, more smoothly, and accurately. For the best sharpening results, a powerful model would be ideal. A powerful motor offers more speeds for the quick and effortless completion of a sharpening project. Further, your models should be compatible with a wide range of sized chains.
Chain sizes typically range between 0.325 inches and 0.404 inches. Of course, adjustable electric chainsaw sharpeners will be able to accommodate a plethora of chain sizes. Before committing your money, though, ensure your model is able to accommodate these chain sizes for versatility and to be on the safe side.
Construction Quality
We can't stress enough the significance of going for a high-quality chainsaw sharpener constructed from pro-grade materials. Among other things, they can withstand loads of abuse for months on end and not suffer any significant performance hitch, which is more than you can confidently say for their cheap, off-brand models crafted from flimsy materials.
A chainsaw sharpener capable of withstanding the test of time will be economical as you won't have to look for a replacement every few months.
Affordability
With power tools, the rule of thumb is that the most expensive product comes with the most performance and convenience features to take the time and hard work from the project. For the most part, that applies to chainsaw sharpeners, too. However, in some instances, the rule doesn't hold. Which is why the best-priced chainsaw sharpener is one that best matches the user's requirements. Plus, it beats sense investing lots of money on a high-end chainsaw sharpener you'll be using occasionally.
Frequently Asked Questions
Q: What are the most pertinent safety measures to take when using a chainsaw sharpener?
A: Considering the sharpness of the teeth of the blade, and the speeds at which they work, they can easily inflict a lot of harm and in the worst case scenario lead to the loss of the hand or even death.
To avoid these possible eventualities, make a point of working on stable and surfaces, wearing recommended safety gears, and ensuring that the machine is in top-notch condition before using it.
Q: How often do I need to sharpen it?
A: The frequency is dependent on a number of factors the most important being the density of the material you intend to cut and the extent. Cutting through clean, softwood necessitates sharpening every few hours. Should you, however, encounter sand or dirt, it's highly recommended that you sharpen the chainsaw sharpener instantly.
Conclusion
A sharp chainsaw cuts efficiently, quickly, and accurately. Plus, it exposes the user to the least danger compared to a dull one. To achieve this, you need to invest in a versatile, practical, powerful, easy-to-use, and heavy-duty chainsaw sharpener. Luckily, our list makes it remarkably easy and quick to choose one that best meets your unique needs without having to spend too much time on the research and analysis part of the process.
Subscribe to our newsletter