Best Steel Toe Boots Reviews & Ratings
last updated:
Jun 19, 2018
Although technology plays an important role in almost every aspect of life, certain tasks in industries, farms, and yards still require manual labor. On the same breath, employers and workers have a responsibility of ensuring safety at the workplace. Hard hats and protective gear are not enough for people who work in areas with hazards.
Our Top 3 Picks
[srpshortcode id="11693″][/srpshortcode][srpshortcode id="11694″][/srpshortcode][srpshortcode id="11695″][/srpshortcode]
Workers need to equip themselves with suitable steel toe boots to protect their feet from falling objects and ensure comfort while working. You need steel toe boots designed to handle the hazards of your workplace. Steel toe boots feature protective reinforcement on the toes and are designed to provide additional protection to the lower extremities. Here are some of the best steel toe boots on the market.
10 Best Steel Toe Boots
1. Caterpillar 2nd Shift Steel Toe Boot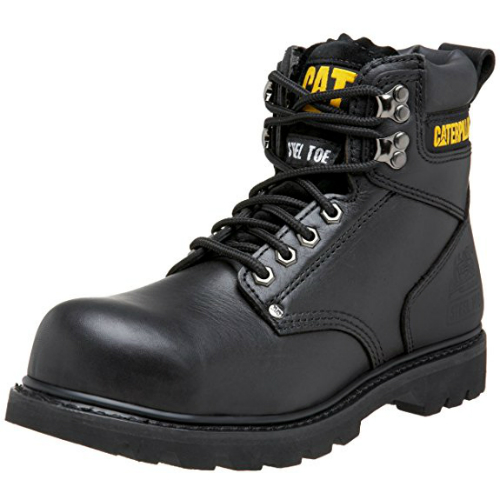 Caterpillar boots are designed to provide adequate protection to your feet and last for longer. These boots feature ASTM approved steel toes to protect workers from various potential hazards in the workplace. They are designed to protect the feet from falling, heavy objects.

Sturdy Construction

These boots are durable and feature sturdy slip resistant soles to prevent falls. This boot will provide all the traction you need on all kinds of terrain.

Expand to see more
Specifications and Features

Strong, durable and suitable for different work sites
Leather exterior
Synthetic rubber soles
6-inch shaft
1.25-inch heels
0.75-inch platform
Ankle cut
Steel toe box
Padded ankle
Oil resistant outsole

Value

Although the boot is relatively more expensive than other steel toe boots, it is durable and well worth the money.

Verdict

This boot is suitable for people who work around electrical heavy objects or electrical hazards. It is made of sturdy materials and is designed to last longer.


Full grain leather construction
Long lasting welt construction
Internal nylon mesh lining helps to absorb moisture
Insole designed to keep the feet dry and prevent odors
Rubber outsole is slip resistant and does not conduct electricity
Sturdy and lightweight
2. Timberland PRO Men's 6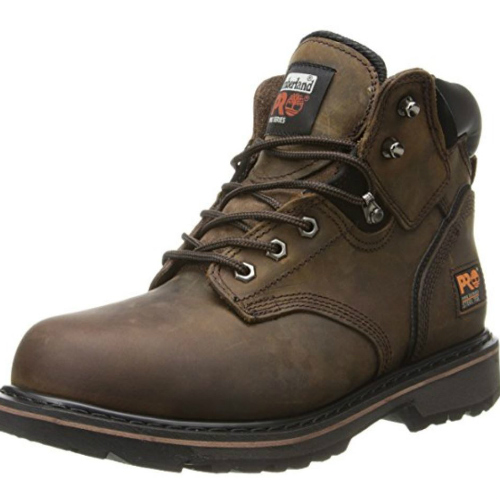 Timberland has gained a reputation for making quality and durable steel toe boots. The Timberland Pro Pitboss is as sturdy as it looks. This steel toe boot is made of durable and damage resistant leather. Its padded collar does not only provide adequate feet protection but it also enhances comfort. This boot is designed to leave a little extra wiggle room for your toes. The padded collar combined with the option of lacing up the boot as tightly or loosely as possible provides the perfect balance between sturdy and snug.

Shock Value

One of the key features of this boot is its excellent shock-absorption. It provides great protection to the feet when working around heavy objects and other hazards.

Expand to see more
Features and Specifications

Rugged leather uppers
Steel toe box
Padded top collars for enhanced comfort
Polyurethane midsoles
Fabric lining with antimicrobial properties for odor control
Cast metal top hooks
Removable polyurethane footbeds

Cost and Value

The price of this boot is fairly reasonable and average. It is well worth the money since a single pair will last you for years.

Verdict

These boots meet ASTM and OSHA safety standards and provides adequate protection against electrical hazards as well as falling objects. It is comfortable and can handle the rigors of various work sites.

Excellent shock absorption
Steel toe box comes with adequate wiggle room
Padded collar to enhance comfort
Durable leather exterior
Shoe laces allow users to control the fit
Not suitable for everyday use
3. KEEN Utility Men's Atlanta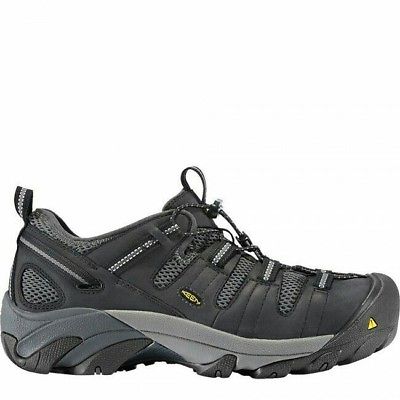 This steel toe boot comes with all the features that will help keep your toes protected in the workplace. It features durable leather, mesh for keeping out debris and enhancing ventilation and rubber soles to keep you upright even on slippery surfaces. This shoe is ideal for diverse environments, especially warm ones. It is every bit as practical as it looks.

Comfortably Cool

This shoe is well ventilated thanks to its mesh, which helps to keep your feet dry and cool. In addition, it provides adequate protection against falling objects.

Expand to see more
Adequate Protection

Although the boot's steel toe comes in handy in various situations, its rubber soles make it less likely for you to slip and hurt yourself. In addition, you can remove the footbed and glue your own insert in its place. This is a significant benefit especially for people with orthopedic needs or concerns.

Features and Specifications

Waterproof and mesh exterior
Shock-resistant rubber soles
1.25-inch heels
Weighs 20.8 ounces or 590 grams
Asymmetrical left and right steel toes
Contoured heel lock
Reflective webbing to improve safety

Cost and Value

Although you may have to dig deep into your pockets to buy these boots, the price is fairly
reasonable for such quality shoes; perhaps even on the lower end.

Verdict

This shoe provides great protection to the feet. Its mesh cover ensures adequate ventilation so
that you do not have to be bothered by moist and hot feet while working. These boots are ideal
for industry and construction workers as well as hikers. They are tough enough to protect the feet
against various hazards.

Outer mesh keeps the feet dry and clean
Removable footbed allows you to customize the boots to meet your needs
Sturdy and lasting leather exterior
Non-slip rubber soles prevent falls
May not be easy to lace up
May cause squeaky sounds when walking
4. Caterpillar Second Shift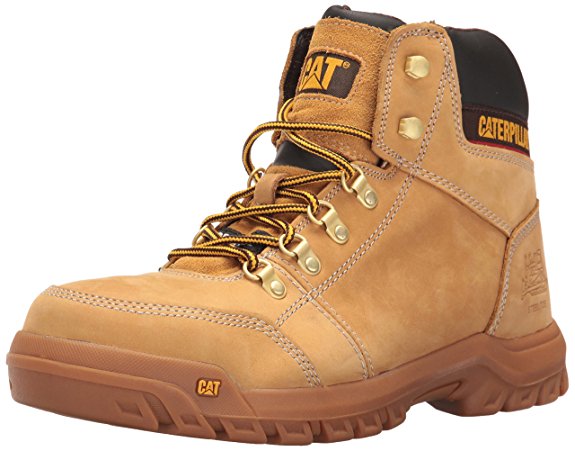 These heavy-duty steel toe boots could withstand heavy use in various workplace environments. The leather exterior helps to keep the boots tough and durable while the inner plush lining is designed to cool the feet in warm areas.

Perfect Balance between Strong and Soft

The tough all-leather exterior helps to ensure that the boots will not fall apart easily. In addition, the plush around the collar and soft insole lining helps to enhance comfort.

Expand to see more
Superior Traction

Its expected that this will be your boot of choice when you want to work around slippery surfaces, which is why it is equipped with slip-resistant rubber soles to provide excellent traction.

Features and Specifications

Tough leather exterior
Shock resistant rubber soles
Plush collar and tongue with logo
Hex shape grommets
Climasphere lining for temperature regulation
Removable, contoured insole
Slip resistant outsole
Welt construction enhances durability
6-inch steel toes

Cost and Value

This boot is available in a fairly wide range of costs. However, its almost a steal considering what it can do.

Verdict

This safety boot is built for a wide range of jobsites. In addition, it remains stylish on and off the job. It is suitable for those who are shopping on a budget, but want quality work shoes.

Slip-resistant rubber soles provide superior traction on slick terrain
Tough leather exterior is hard to break down
Plush collar and inner lining enhance comfort
Removable inserts allow you to customize the boot with your own inserts
May not be suitable for wide feet
May be difficult to find the right size for you
5. Reebok Work Soyay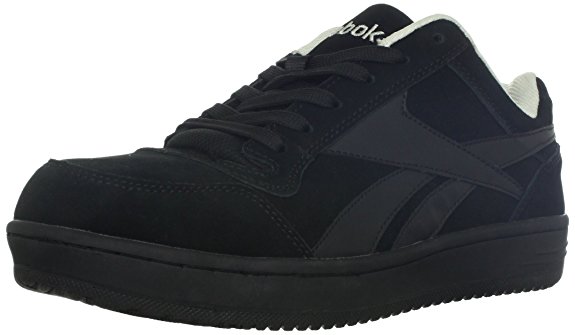 This boot has the charm and feel of a sporty work shoe as well as the efficiency of a shoe. Therefore, if you are going out with your friends after work, you can do so without having to change your footwear. The shoe provides excellent grip and protection against electrical hazards.

Beautiful Shoe

This shoe is ideal for people with active lives because it can be worn pretty much anywhere. You will not look out of place wearing this shoe to go to work or an evening out with a couple of friends.

Expand to see more
Protection from Electrical hazards

The rubber soles and sturdy construction of the shoes means that you do not have to worry about electrical shock; this shoe provides superior protection from electrical hazards.

Specifications and Features

No exposed metals on the upper
Nylon mesh to improve ventilation
Suede leather upper
Slip resistant outsole
Steel toe and electrical hazard protection
Lightweight midsole provides cushioned support

Cost and Value

As far as safety is concerned, this shoe is fairly affordable. It will give you the protection you need, which cannot be quantified with money.

Verdict

This work shoe can handle a wide range of workplace hazards. It is suitable for people who are looking for a work boot that looks good both on and off the job site.


Rubber soles provide superior traction
Does not conduct electricity
Beautiful, sporty appearance
Reasonably priced
Insole tends to fall apart easily
May not be the best option for wet or slick surfaces
6. Stanley Dredge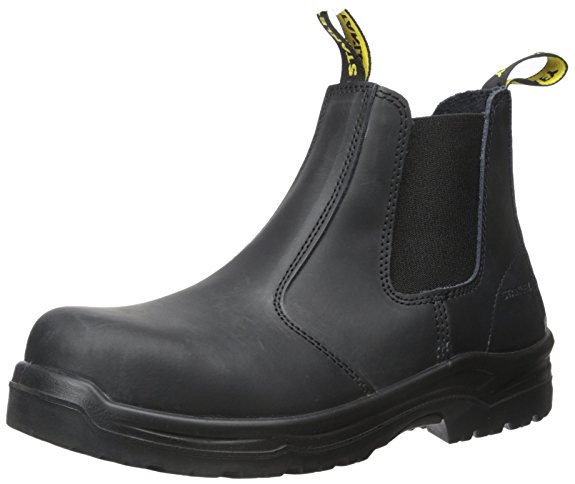 With this safety boots, you do not have to worry about using the laces to achieve a snug fit. All you need to do is to slip on the boots and go wherever you want to go. It is lightweight and features a tough leather exterior to ensure durability. In addition, the boot comes with rubber outsole that provides protection from electricity. This boot does a good job of keeping the feet dry by keeping unwanted moisture and liquids from seeping into your foot. The boot features a simple but effective design.

Especially Comfortable

This boot has the ability to keep out moisture and is designed to keep the feet as comfortable as possible. In addition, removable insoles and extra cavity allows you to customize the shoe for the perfect fit.

Expand to see more
Made of Quality Materials

Its all-leather exterior and rubber soles are durable and strong enough to protect the wearer from all sorts of hazards. In addition, rubber soles provide great traction to avoid slips and injuries.

Specifications and Features

Full grain leather
Synthetic rubber soles
Elastic side gores
Opening has pull-on loops
Moisture wicking lining
Removable insoles
Steel toes

Cost and Value

For what the boot offers, its price is really a bargain. There is nothing to lose when you try out the boots to see what a great deal it is.

Verdict

These work boots are suitable for people looking for quality and comfortable safety boots that can protect them from work hazards without feeling weighed down. If you are looking for a work boot that is both affordable and stylish, then this may be the best option for you.

Made of quality leather and slip-resistant rubber that resists wear, oil, and electricity
Removable insoles allow you to customize the shoes for a snug fit
Relatively lightweight
Easy to put on and off
Keeps moisture out
May be difficult to find big sizes
Not suitable for people who work around steel or metal shards
7. Thorogood 6-Inch Steel Toe 804-4200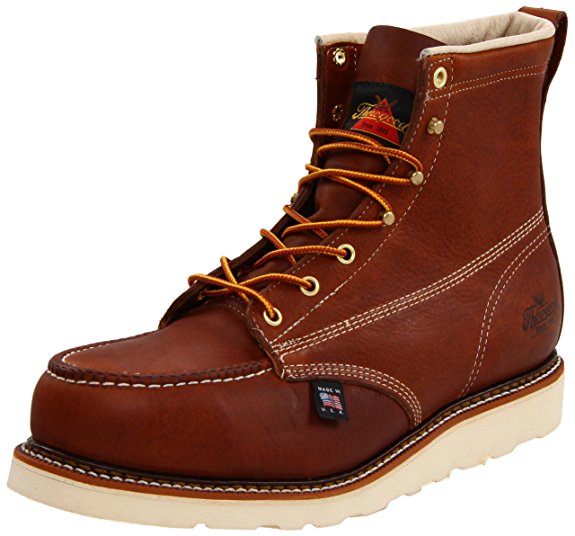 This safety boot has impressive qualifications. It is made entirely in the U.S. and provides the perfect balance between beauty and functionality. It is a comfortable work boot that features arch support and cushions to enhance comfort.

Highly durable

This work boot comes with durable steel toes that provide adequate protection from work hazards. The boot also features rugged leather exterior that guarantees long-term use and safety.

Expand to see more
Protection from Electricity

One of the most impressive features of this work boot is its rubber soles that do not conduct electricity. This helps to protect wearers from being electrocuted in the workplace. In addition, its storm welt construction helps to ensure that the boot does not give in even with frequent use.

Features and Specifications

Steel toe caps help to protect the feet from falling objects
Composite shank helps to protect the underfoot
Does not conduct electricity and provides superior protection from electrocution
High shock absorption
Durable storm welt construction

Cost and Value

These steel toe boots are quite affordable for the features they provide. They are ideal for both
indoor and outdoor use. Considering their durability, these boots are well worth their price.

Verdict

These shoes are suitable for construction workers looking for quality and affordable steel toe
shoes. They are flexible, stable, comfortable and help to keep the feet warm.

Crafted from tough, durable materials
Lightweight
Soft cushioning on the inside
Mark-resistant outsole has added traction to prevent slippage
Lightweight at only 1.5 lbs
Shock absorbing footbeds
Zipper may cause rubbing on the ankles
Leather may peel away with time
8. Carhartt CMF6366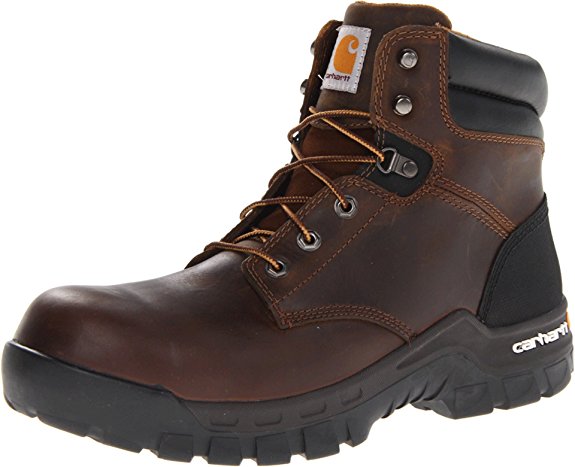 Having established a reputation for producing quality workwear, Carhartt is a popular and easily recognizable brand. Carhartt's composite steel toe boot is a classic example of comfort, functionality, and durability. With this product, you will not only see the quality, but you will also enjoy the performance.

Superior Shock Absorption

This a steel toe boot that comes with abrasion resistant help bumper. Carhartt is known for its comfortable work boots and you can feel just that the moment you wear the shoes.

Expand to see more
Highly Durable

This shoe will serve you for longer. It is made of all-leather exterior that is tough and easy to maintain. In addition, moisture wicking and soft inner lining helps to ensure that you work without fear of injuries or electrical hazards.

Features and Specifications

Well padded collar and tongue to enhance comfort
Lightweight
Tough steel toe for more protection
Sturdy construction ensures durability
Rugged flex
Rubber soles for improved traction

Cost and Value

These steel toe boots are quite affordable for the features they provide. They are ideal for both indoor and outdoor use. Considering their durability, these boots are well worth their price.

Verdict

These shoes are suitable for construction workers looking for quality and affordable steel toe shoes. They are flexible, stable, comfortable and help to keep the feet warm.


Provides secure fit
Fairly priced
Comfortable
Breathable
Provide excellent traction
Comes with a steel shank for enhanced stability
Oil, slip, and chemical resistant
Eyelet rings often pop out with ease
9. Wolverine Overman NT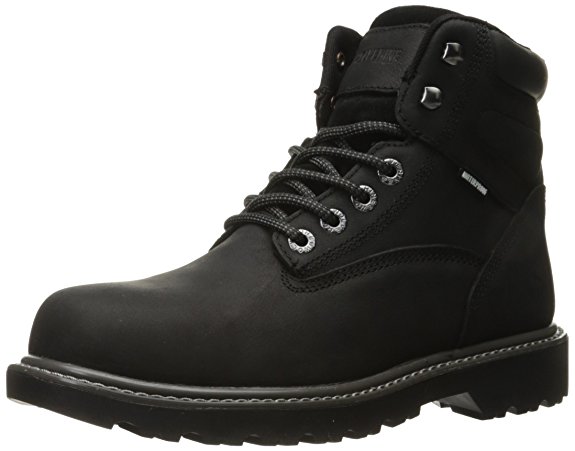 Wolverine is a renowned American brand that has gained a reputation for producing work boots that feature quality craftsmanship and superior materials. This boot is designed to withstand years of use in the toughest terrains.

Quality Materials

The Wolverine Overman NT 6 Inch Work Boot is definitely worth your attention. It features premium materials for adequate protection and without all the extra materials offered by other work boots. This is an ASTM rated steel toe boot with tough leather exterior to guarantee durability.



Expand to see more
Rugged and Comfortable

This is a strong, light, and comfortable work boot. You might like its superior shock absorption feature, which adds to its comfortable fit. Soft, removable insoles help to ensure that you can customize the shoes for the perfect fit.

Features and Specifications

Slip resistant sole for better traction
Rugged, lightweight and comfortable
Thin toecaps allow some wiggle room
Oil and water resistant outsole
Mesh lining to improve ventilation
Removable, full-foot footbed cushioning
Lightweight and durable midsoles
Durable nylon shanks

Cost and Value

These boots are comfortable, durable, and trendy; all the features that make it an ideal work boot.
Despite the price, this is a recommended boot for people looking for quality work boots.

Verdict

The market is full of work boots with various flaws. This boot is one of the best steel toe shoes
not because it does not have flaws but because it has almost everything you need in a work boot
including protection from falling objects and presentability.

Stylish
Full grain leather upper
Contour welt construction
Slip resistant soles
Shock resistant for added comfort
10. Timberland Pro Titan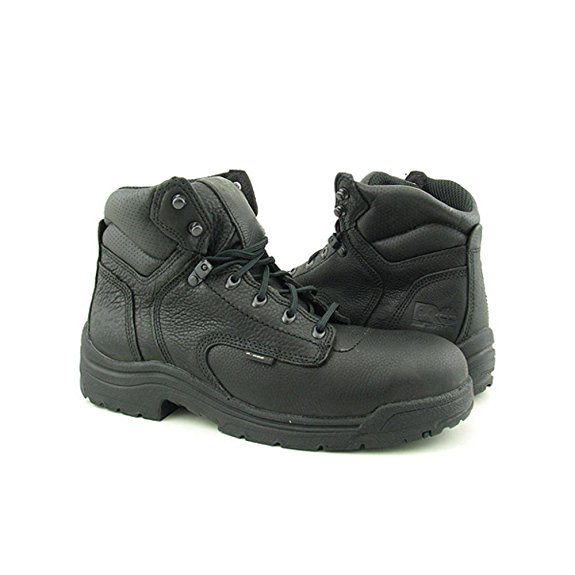 This shoe excels in cold climates. It comes with molded insoles to keep your feet snug and padded. This shoe is designed to keep your feet comfortable and warm in cold weather that might make other shoes become rigid.

Perfect for Cold Climates

The shoe is partially made of Vibram fire and ice compound that is fortified to remain flexible even in freezing weather. This helps to ensure foot health and gives you the freedom to move wherever you want.

Expand to see more
Perfect Balance between Practical and Comfortable

The boots come with generous arch support and soft insoles to enhance comfort. In addition, their soft cushion lining help to ensure that you wear them for as long as you want without feeling uncomfortable.

Features and Specifications

Strong laces
Full leather exterior
Firm rubber soles

Cost and Value

Although the shoe is relatively more expensive than other work boots, it is well worth the comfort of keeping your feet warm in freezing temperatures.

Verdict

This steel toe boot is suitable for construction industry personnel working in cold climates. They are also suitable for people working in factories, warehouses, and in the auto industry.


Bendable even in cold weather
Padded and comfortable
Highly durable thanks to its leather exterior
Suitable for wide feet
Criteria Used to Evaluate the Best Steel Toe Shoes
Steel Toe Box
Safety boots are generally heavier than conventional work shoes because of their steel toe boxes. However, this is an essential part of a steel toe boot. It is important to choose quality safety shoes because poorly built steel toe boots may cause the steel to dig into your toes. Workplaces may have various hazards including falling objects and liquid or oil spills. Steel toe boots help to protect the wearer from such hazards. All the shoes in the top ten list have steel toe boxes.
Midsole Plate
Another common source of injury in the workplace is a sharp object that may puncture your shoes and stab your feet. Shoes with midsole plates offer a higher degree of protection and lower the possibility of suffering such accidents. Most of the shoes in this list feature midsole plates to provide that extra layer of protection.
Reasonable Comfort Level

Work boots are not designed simply to protect, but also to be comfortable. Steel toe shoes are only effective if you do not end up with hurting feet at the end of the day. However, some steel toe boots focus more on safety and neglect the comfort aspect of work boots. The shoes in this list provide the perfect balance between comfort and safety.
Importance of Steel Toes
Steel toes boast of heavy and compact properties and are the traditional choice of protective work shoes. Although they may seem clunky and uncomfortable, quality steel toe boots are quite comfortable and provide a high degree of protection against falling objects and other workplace hazards. One of the most considerable advantages of steel toe boots is that they can bend under pressure without breaking.
Factors to Consider When Choosing Steel Toe Boots
Puncture Proof
This is an important feature to look for when shopping for steel toe boots because hazards are present in nearly all workplaces. Sharp objects including glass shards, debris, and nails in construction sites can cause significant injuries to workers. Steel toe boots could come in handy even when doing simple yard work at home. It is important to wear shoes that provide high levels of protection against sharp objects and other hazards in the workplace. Steel toe shoes feature aluminum, steel or Kevlar midsoles, which are highly flexible and provide penetration protection.
Slip Resistant
What good is a steel toe boot if it cannot protect you from oil and liquid spills? Falling or slipping over in the workplace can cause injuries that may put you out of commission. Therefore, workers should ensure that they choose work boots with superior traction and slip resistance. This is especially important for people who work in wet areas of slippery surfaces including warehouses, garages, and car washes. Steel toe boots with multi-directional treading provide incredible traction even when working in the most slippery surface. Some steel toe shoes are acid resistant to protect you from corrosive chemical spills.
Boot Construction
Although this may seem irrelevant, it is important to know about different boot construction to help you make better decisions when shopping for a steel toe boot. Boot construction refers to the technique used to make the boot. It determines the areas and features of the boot that stand out the most. Boot construction also determines a boot's flexibility, performance, and weight. With improving technology, more brands are increasingly using sophisticated boot construction methods to improve durability and comfort.
There are two main boot construction methods:
Cement construction
Goodyear welt construction
Cement construction results in highly flexible, lightweight and comfortable boots. In addition, cement-constructed boots easily mold to the shape of the feet and offer superior impact absorption. However, this type of boot construction comes with its disadvantages. Cement constructed boots are susceptible to delamination and once that happens, the boots cannot be re-soled
Goodyear welt construction is probably the most common and preferred method of boot construction. It involves using some form of a welt such as leather, rubber, or plastic to make a boot. The welt is usually stitched to the upper part of the boot as well as its sole. The welt acts like a strip that holds the entire boot together. One of the key advantages of this boot construction method is that it offers durability.
Excellent Fit
One of the basic rules in workplace safety is to wear proper fitting shoes. Tight-fitting shoes may cause discomfort and the development of blisters, corns, and deformed toenails. On the other hand, oversized shoes may rub your feet raw in certain places. Steel toe shoes are quite distinct from other types of work shoes because they are designed to withstand rigorous use in certain environments.
Conventional work shoes may be smaller at first, but often stretch out with time. Some people buy steel toe shoes with the mistaken notion that they will ultimately stretch out. The truth is that steel toe shoes never stretch out regardless of the number of times you wear them. Be sure to get steel toe shoes that provide a natural fit.
Boot Weight

Some people neglect to consider the weight of steel toe boots. If you need the right steel toe boot for work, then consider the weight of the shoes you want for your work environment. You may not want excessively heavy shoes especially if your job involves lots of walking or moving about the entire day.
Waterproof
This is an important feature to look for in work boots especially if your job involves getting down and dirty. During the rainy or wintry season, mud, snow, and gravel can ruin an otherwise beautiful day. What you need during such days are steel toe boots that will not let water in. Although you may not find waterproof boots in a wide range of colors, materials, and styles, they are designed to handle rough environmental and weather conditions. In fact, you may need shoes that are waterproof if you do a lot of yard work including mowing and clearing puddles. Using regular boots in wet and damp conditions could lead to soaking of the feet, which may lead to the development of blisters and infection by feet fungus. Treating these conditions can not only be expensive, but they can also be painful.
Insulation
The temperatures at your workplace can literally ruin your day. Whether it is too hot or cold, your feet will always adapt to the temperature at your workplace. Having reliable, rugged and supportive work boots can make the difference between having a good or bad day at work. If you work in colder climates or workplaces where temperatures tend to decrease such as freezer rooms, consider buying steel toe boots with extra insulation. It is quite difficult for people to work effectively when they are feeling cold. As such, cold feet can prevent you from doing your job and may lead to serious health complications. Therefore, it is important to ensure that your feet remains well insulated to prevent proteloss.
Breathability
If you work in hot climates or in work environments that tend to become hot quickly, it is advisable to choose well-ventilated work boots. High temperatures are likely to cause you to sweat from various parts of your body including your feet. If you wear poorly meshed shoes, air may not circulate throughout your foot, which may lead to excessive sweating, bad odor, and even infections. Be sure to choose breathable steel toe boots to ensure healthy flow of air throughout your feet and prevent excessive sweating and trapped sweat.
Electric Surge Protection
Many workplace tasks involve the use of electric equipment and components. Professionals who work around electricity such as electricians are likely to experience electrical shock at some point in the course of their duties. It is important for such professionals to look for work boots that come with electric surge protection to reduce the risk of electric shock. Such boots often feature non-conductive rubber soles or construction to ensure that wearers do not become part of electrical circuits. Steel toe boots with electric surge protection do not contain any metallic materials to ensure that they do not conduct electricity.
Comfort
It is important to have comfortable work shoes regardless of the type of work you do. Having comfortable work shoes ensures that you continue working without stopping every now and then to adjust the shoes. It is easy to underestimate the sensitivity of human feet until you are forced to work for prolonged periods with uncomfortable or unsuitable shoes. The last thing you want in the workplace is dealing with pain or discomfort in your feet. Comfort is one of the most important factors to consider when choosing steel toe boots.
Boots Care and Maintenance Tips
Caring for steel toe boots is not difficult or expensive. You just need to follow certain boot care and maintenance routines to keep your boots in the best condition possible. Here are some tips on how to care for your steel toe boots.
Keep your boots as clean and dry as possible. This is an important tip for keeping your steel toe boots in great shape. If you do not clean your boots regularly, dirt, dust, and mud would cause it to rot fast. Brush your boots regularly to remove contaminants.
Wash your shoes thoroughly on a monthly schedule to keep them clean. First, remove the shoelaces and insoles before removing clumps of dirt from the boots. Take a bucket of water and add boot cleaner. Use the solution to clean your boots. Scrub your boots gently making sure that you remove all the dirt without damaging the leather in the process. Use moderate amounts of dishwashing liquid if you do not have a boot cleaner. Avoid using bar soaps or detergents because they may cause your boots to dry or crack.
Rinse the boots with tap water and leave to dry in a well-ventilated room. Do not dry the boots in direct sunlight. However, you may aim a fan at the boots to make them dry up faster.
Apply waterproofing cream or wax at least once a month. It is advisable to do this after the monthly cleaning. You may apply the waterproofing cream twice a month if the boots are exposed to water often. One of the best ways to determine if your boots require waxing is to splash water on the boots. Wax your boots if the water does not bead up.
FAQ
Q: What is a safety shoe?
A: Shoes must meet certain OSHA standards to be classified as safety shoes. They should be resistant to heat, pressure, electricity, and cold. Such shoes often feature strong materials including leather exterior, midsole plates, steel toe boxes and bendable rubber.
Q: Does it have to be certified to be considered a safety shoe?
A: There are many ways to identify a work or safety shoe. However, the best way to determine is a shoe is safe for use on hazardous environment is if it is certified by the American National Standards Institute (ANSI) and/or the American Society of Testing and Materials (ASTM). Brands that are serious about selling safety shoes often get their shoes approved by one or both organizations. Most safety shoes have a note in the shoe explaining the certification or approval by the organizations.
Q: What are some of the important aspects of a steel toe boots?
A: This is relatively subjective, but the most important aspect for many people is the presence of the steel toe box. This feature helps to guard against serious and painful injuries in the workplace.
Q: Where can you wear these boots?
A: Although safety shoes are generally designed for workplaces with various hazards, they are useful for activities and environments where you risk hurting your feet. Some organizations recommend safety shoes when working around slippery floors and other work hazards. They could also be useful for camping and other outdoor activities such as hiking. You may also find the shoes useful if you are into carpentry, construction, and repair work. Safety shoes may come in handy even in situations where you are not required by law to wear them. Basically, if you work around risky objects or environments, you will probably want to wear steel toe shoes.
Q: What is the best way to clean the boots?
A: Safety shoes come with various features designed to enhance safety. However, like other types of shoes, safety shoes require regular maintenance. The maintenance procedure may differ depending on the material used to make them. However, the general maintenance process for safety boots is more or less the same. First, remove excess dirt and dust with a shoe brush, and then oil the shoes before buffing them. It is not advisable to wash steel toe boots in washing machines.
Subscribe to our newsletter