10 Best DeWALT Drills Reviewed & Rated
last updated:
Apr 06, 2021
DeWALT is a subsidiary of Black & Decker and is symbolic of high-end contractor grade power tools. Moreover, DeWALT tools are renowned workhorses that will serve the professional and any hobbyist looking for an exceptional device. They also happen to be reasonably priced, and thus you will be getting top value for your money.
Our Top 3 Picks
[srpshortcode id="19104″][/srpshortcode][srpshortcode id="19105″][/srpshortcode][srpshortcode id="19106″][/srpshortcode]
However, the market can be a confusing place. DeWALT makes quite a number of drills, and most are specialized units. Furthermore, they are available in different sizes and can be corded or cordless. As a result, picking the perfect gadget can be a challenging task. However, this guide will help you pick out the best appliance for you, and we have also included some recommendations.
10 Best DeWALT drills
1. DEWALT DCK290L2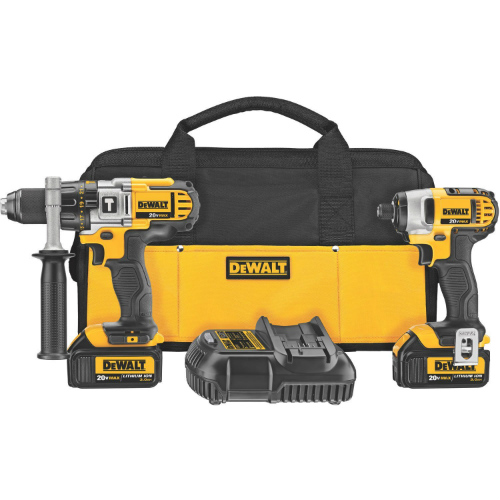 The DeWALT DCK290L2 tops our list of the best DeWALT drivers partly because it is a combo kit and the quality of the units. Included in the kit are an impact driver, a hammer drill, 2-20 volt lithium-ion batteries, a 30-minute charger, a side handle, a belt hook, and a contractor bag.

First, you will appreciate that the 20V batteries last 35% longer than other units allowing you to work for extended periods. The device is also ergonomically designed with a slim handle for comfort. As for the durability, these are designed to withstand wear and tear. Finally, these are manufactured in the USA as parts of DE Walt's commitment to building in America. Here they have more quality control, and thus you can expect to receive an excellent product.

Hammer Drill – The hammer drill is designed with power and efficiency in mind. The motor delivers 535 watts leading to superior performance. It also has a better grip than other units reducing slippage in high torque operations thanks to the ½" chuck with carbide inserts. Moreover, there is the patented 3-speed all-metal transmission that enables homeowners to select the correct speed for the job at hand.

Impact driver – For the impact driver, expect a 2,800 rpm which is 43% faster than some competitors. Also, it is a compact and lightweight unit that you can effortlessly maneuver and use in tight spaces. The ¼" hex chuck also accommodates 1" bit tips for better fastening in tight areas. Furthermore, it is pleasant to use as it lacks kickback.

Expand to see more
Product Features

Material: Steel
Cordless
Three-year limited warranty
Voltage: 20 volts

Who is it for?

The DCK290L2 is best for light and medium applications.

Affordable given the quality and that it is a combo kit
The hammer drill and impact driver have LED lights that increase safety when working in low-lit areas
They are durable to withstand job site abuse
2. DEWALT DCD791D2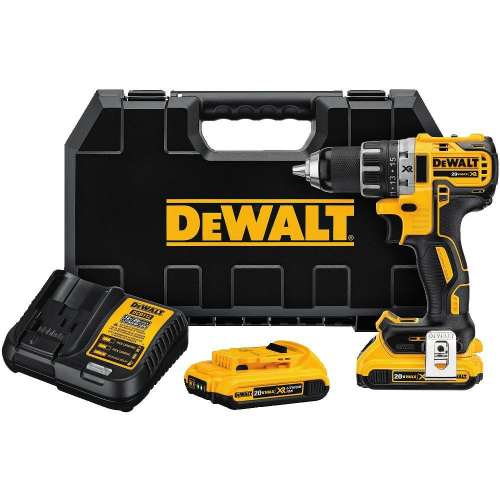 First, this is a cordless drill which increases the flexibility of people who tend to move when working. Furthermore, the unit retails with two 20V batteries that have a 33% more capacity than other batteries. Thus, there is no downtime as you can charge one battery as you use the other. The cells to have a battery gauge, and therefore your work will not be cut short by a low battery.

Another exciting feature of the DCD791D2 is the LED lights with a 3-mode system. It also has a spotlight for use in dark spaces and a shut-off (after 20 minutes) feature conserving battery life. The two variable speed settings, i.e., 0-600 rpm and 0-2000rpm is also quite neat. However, our best features were the brushless technology and the power.

Brushless technology – Seeing as the impact driver has fewer components to run, it has 57% more runtime before you have to recharge the unit or change batteries. Also, brushless units malfunction less and run smoothly and more efficiently with little maintenance.

Power – DeWALT measures the power of their drills in UWO (unit watts out), and the DCD791D2 has a 460 UWO which is perfect for light to medium duty tasks.

Expand to see more
Product Features

Cordless
Weight: 3.4 pounds
Dimensions: 16.2 by 4.5 by 10.1 inches
Voltage: 20V
Three-year limited warranty

Who is it for?

If your job involves tackling medium-duty or light tasks, we suggest you get the DeWALT DCD791D2.

The unit is lightweight at only 3.4 pounds and thus can be used for long hours with little fatigue
The DCD791D2 is a compact unit and can be used to work in tight spaces
The tool has a belt hook that makes hanging the power too easier
The drill is quite pricey, and the chuck is challenging to tighten
3. DEWALT DC970K-2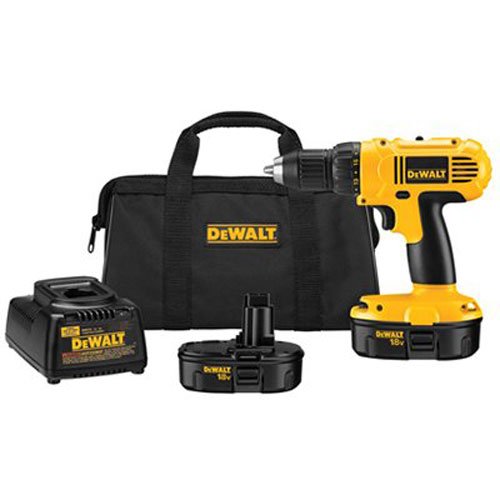 The DC790K-2 would have been the top drill on this DeWALT buying guide were it not for the lower power.
The DeWALT DC790K-2 retails with 2-18V batteries, a one-hour charger, and a contractor bag that makes it easier to carry your tools. You will also appreciate the fast charger that ensures there is no downtime. Moreover, the unit is cordless increasing your mobility and more so for those individuals who move when working. As for the power, expect 380 unit watts out, which is enough for applications such as cabinet installation, and framing. However, our best features were the compact size and the battery.
Battery
– As noted earlier, the DC790K-2 retails with 2-18V batteries, and each cell has a 1.2 ah. Couple this with the one-hour charger and downtime will be a thing of the past. You can expect the unit to serve you for a full day without having to swap batteries if you use it intermittently.
Compact and lightweight
– If you are looking for a drill or driver that works in closets and under cupboards and
in bathrooms
, we recommend you get the DC790K-2. At only 9-inches, it can fit into most tight spots and only weighs 4.7 pounds allowing you to work long hours without fatigue.
Some other fascinating features of the unit are the dual speed setting and the ½" chuck. With speed, you get the 0-550 rpm for delicate tasks and the 0-1,500 rpm for any difficult tasks. The ½" single sleeve, on the other hand, accepts most drill bits, and also gives a tighter grip, better bit retention, and increased precision.
Expand to see more
Product Features

½" single sleeve keyless chuck
Weight: 4.7 lbs
Power: 380 UWO
Runtime: 1.2 hours
Battery type: NiCAD

Who is it for?

The DC790K-2 is best for DIY enthusiasts and for use in tight spaces such as cabinets, and closets.

The slow start of the drill/driver ensures you put in screws well
Accepts most drill bits, and you don't have to worry about losing your chuck key
Great value for the money
If you are using the drill for commercial use, expect the chucks to fail eventually
4. Dewalt DCD771C2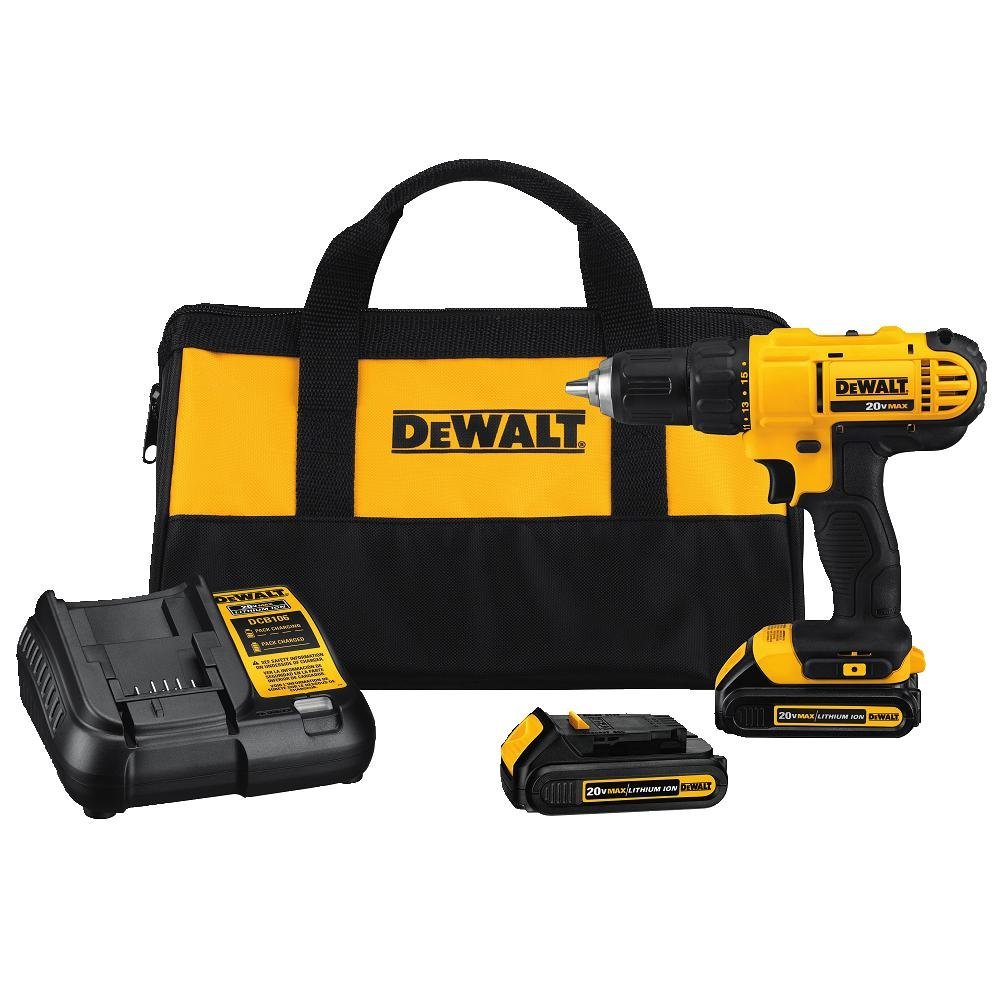 It is among the best consumer drills and one that you should get. First, this is a 20V cordless drill thus increasing your mobility. The 20V lithium-ion battery lasts longer than the 18V and is enough to last an entire deck-building project. If completely charged and unused, you can expect it to last for weeks.

Another fascinating aspect of this drill is the ½" single sleeve chuck with a better grip and strength. It's also a keyless chuck, and thus you don't have to worry about losing your key. Moreover, the automatic spindle-lock allows you to open and close the chuck effortlessly. There is also the LED light above the trigger, and though it seems like a gimmick, it is quite handy especially in low-lit areas. It also has an automatic turn-off feature 20 seconds after the trigger is released.

You can get the DeWALT DCD771C2 with a brush or brushless. We recommend the latter for lower maintenance costs but be prepared to pay higher upfront fees.

Powerful and compact – This Drill's power is 300UWO, but also happens to be compact and lightweight. It can fit into most tight spots and can be used for more extended hours with little strain.

Speed – The DCD771C2 has dual speed settings for a range of fastening and drilling. You can use the 0-450rpm for precision, and 0-1500rpm for demanding tasks.

Expand to see more
Product Features

Power: 300UWO
Dimensions: 13.9 by 9.9 by 4.2 inches
½" single sleeve keyless chuck
20V lithium-ion battery

Who is it for?

The DCD771C2 isn't a professional tool but is more than enough for tasks around the house.

It is affordable and great value for your money
Has a forward, reverse, and lock feature
It has an LED light for practicality
The charging mechanism could be better
5. DEWALT DCD996P2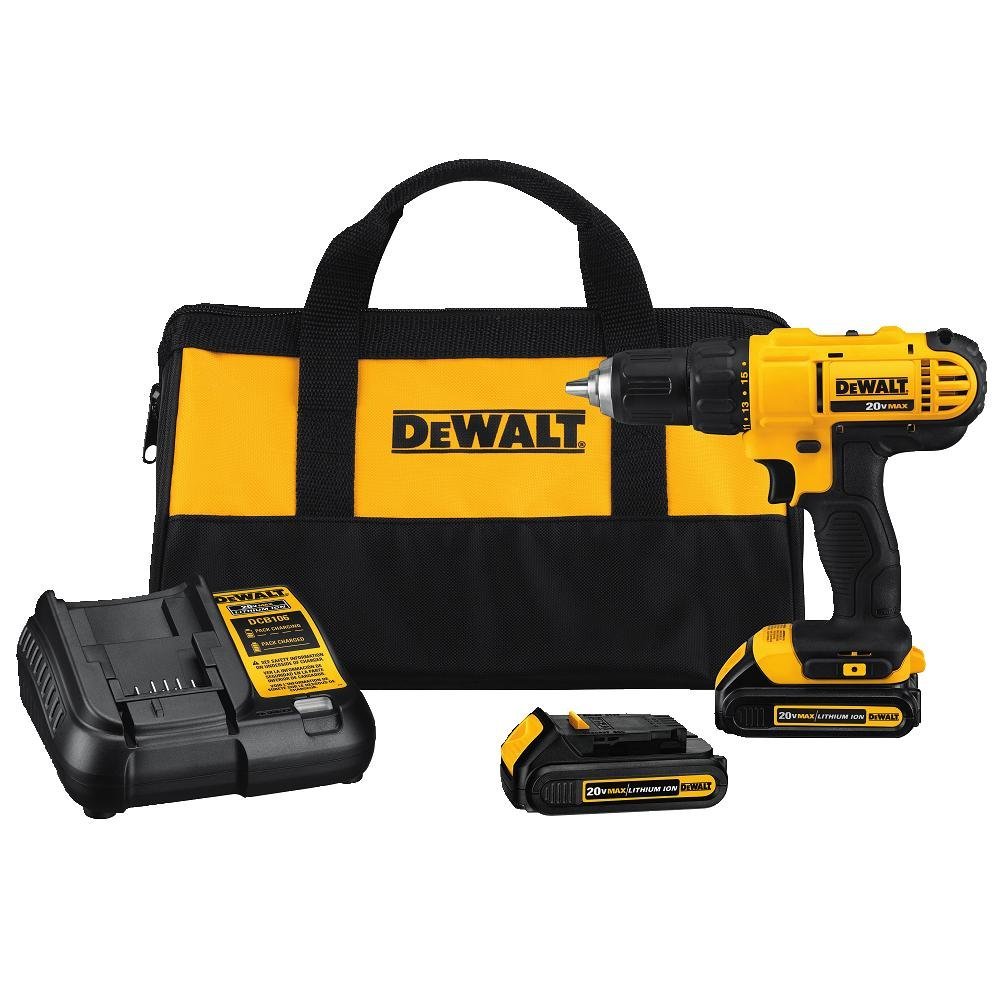 The DCD996P2 kit is one of the best DeWALT drill kits for a construction worker or mason who is looking to do some drilling. It packs a punch compared to competitors and will ease its way into any material. First, it is a cordless unit which increases the mobility. It uses any DeWALT 20V or 60V battery, but this influences the weight. With a 20V battery, the unit is only 4.37lbs which allows you to work for long hours with little fatigue.

We would also recommend you get the unit thanks to the ergonomic design. The handle is padded to provide a secure grip and to absorb vibration. The 360® side handle increases stability when using the unit. You can hold it at any angle and on any side. The three-mode LED is also a neat feature and has a spotlight mode that stays on for about 20 minutes before it shuts down.

Moreover, the DCP996P2 has 57% more runtime as it is a brushless unit. It also requires less maintenance as there are fewer components that can fail. However, it is pricey.

The battery is 33% more efficient than standard units and has a battery gauge, so you know how much runtime you are working with. With 38,500 blows per minute, it is one of the most robust hammer drills in the market.

Speed – We loved the 3-speed setting as it increases the range of operations. The first speed from 0-450rpm is best for driving more significant bits to make larger holes, say 2-9/16" holes. There is also the second speed from 0-1,300rpm which is best for medium-sized holes, and the highest speed 0-2,250rpm for ¾" and smaller jobs.

Chuck – The keyless ratcheting chuck is quite pleasant to use. First, you need not worry about losing your chuck key, and also has carbide inserts to harden and make it more durable.

Another remarkable feature is the 11 torque settings you can choose from. The first torque setting is ideal for light jobs, while the 11th is closer to hammer drilling.

Expand to see more
Product Features

38,500 BPM
2,250rpm
820UWO
20V battery

Who is it for?

The DCD996P2 is best for professionals, especially in construction and masonry.

Quite powerful
Has faster application speeds
Better runtime owing to the improved battery and brushless technology
6. DEWALT DWD210G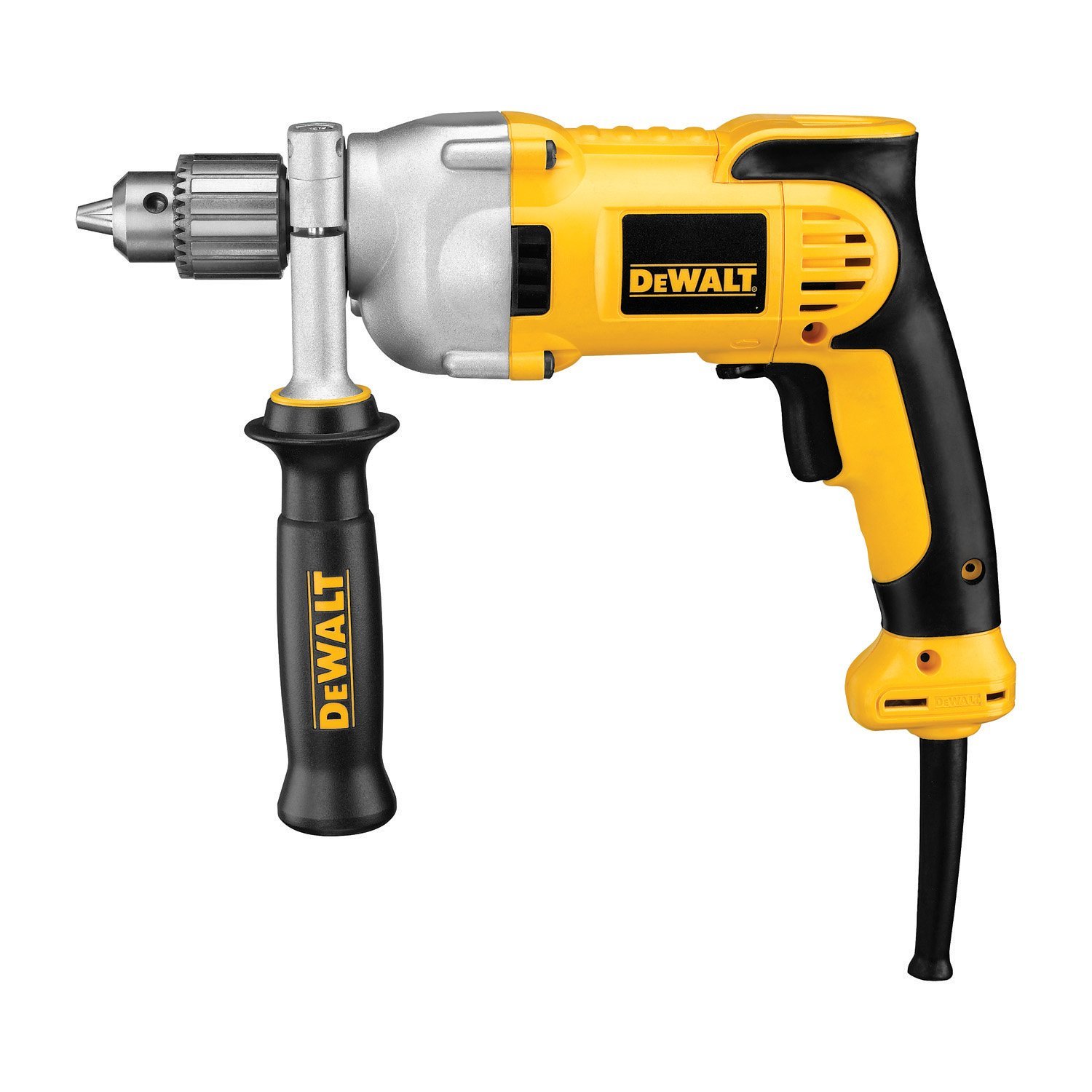 Another professional tool, the DeWALT DWD210G, is powerful and you can use it for a range of operations. It is a corded unit and thus requires an electricity supply which shouldn't be a problem in a construction site. Moreover, you need an electrical supply to get the higher torque that these tasks require.

The unit is made with safety and control in mind and has a pistol grip. The grips are padded increasing the comfort as the rubber absorbs the vibration. Moreover, it increases the control as you can use it on hard surfaces and be sure that it will not move. The unit has a 0-1,200rpm, and though it is not the fastest, it packs quite a punch. It also happens to be a lightweight unit at 4.9 pounds, and thus you shouldn't worry about fatigue. You can use it for long periods of time. Our best features though were the power and overload protection.

Power – With a 10-amp motor, you can drill through any surface from steel, plastic, and wood. This increases the range of operation where you can use the drill.

Overload protection – The drill has an overload circuit that keeps the gadget from overheating when under a lot of load. It disables the circuit, and you can restart it once it cools down.

Expand to see more
Product Features

Corded
Weight: 4.9 pounds
0-1,200 rpm
3-year warranty
½" chuck

Who is it for?

Owing to the power, we recommend the DWD210G for professionals.

The unit is top quality with a metal gear housing for durability
It is easy to use
Has variable speed and thus you can use it for various applications
Has a remarkable 3-year warranty, and a 90-day money back guarantee
Brushless technology and thus has more runtime, and easier to maintain
The lowest RPM on the unit is 400-600 and not 0, and it makes it difficult to work on fine tasks
7. DEWALT DW130V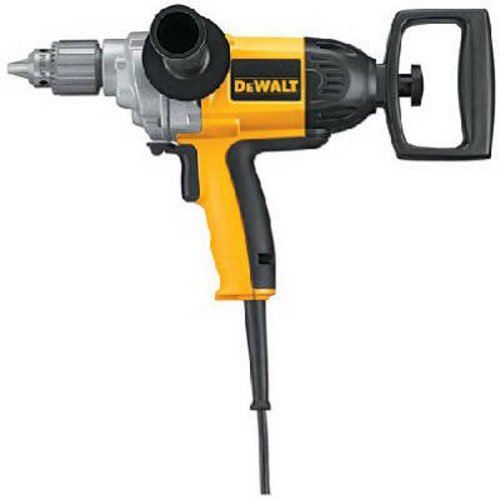 The DeWALT DW130V is not for everyone. It is a specialist tool and designed for rugged applications. Most people use it for the low RPM but high torque to drill into tough materials such as steel. With an rpm from 0-550, you can use this to drill through steel or any tough metals or to mix without making a mess. Furthermore, it has a massive torque at 600 UWO (DeWALT's method of power rating). This is way higher than most units on this list.

It also happens to be a corded unit as no batteries can support a 9-amp 120V motor. It features a ½" chuck and thus can accommodate most drill bits. The appliance is also reversible with an easily accessible switch. However, our best features were the weight and the handle.

Weight – The DW130V weighs 7.5 pounds. This can be a shortcoming for horizontal positions owing to the fatigue, but it is an advantage in a downward position as you don't have to apply that much force when drilling or mixing.

Handles – First, the all the DW130 handles are padded for a secure grip and comfort. However, what piqued our interest was the leverage they offer. The back spade handle can be put in a horizontal or vertical position while the side handle can be placed on the right, the left or on top. This increases the control you have over the tool.

Expand to see more
Product Features

9 amp, 120V motor
Weight: 7.5 pounds
Variable speed setting
0-550rpm

Who is it for?

The DeWALT DW130V is for professionals and for use on high torque operations such as drilling into steel.

The low rpm and high torque make this the best for rugged operations
The weight makes it a breeze to use on downward operations
The spade handle is removable so it can fit in tight spaces
It is quite bulky and pricey
8. DEWALT DWD112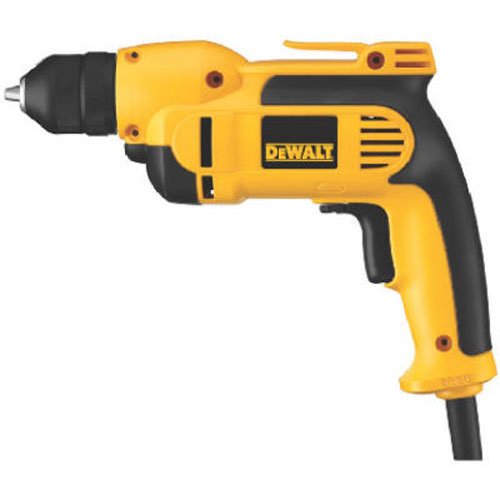 It is one of the favorite DeWALT drills thanks to the quality and performance of DeWALT drills, sports durability, and ease of use. It is a professional tool and reasonably priced and thus best for people on a tight budget.

The DWD112 has a plastic casing that will not break in the event of a fall and is a corded unit, and thus there is no chance of running out of charge. The appliance also has an ergonomic handle that is comfortable and padded to absorb vibrations. Moreover, it weighs 4.1 pounds and will not put that much strain on your wrist. You will also appreciate the 0-2,500rpm coupled with the variable speed as it increases the versatility of the drill.

Power – With an 8-amp motor, there are very few jobs the DWD112 cannot handle. It has a 1-1/8" capacity with a hole saw, a 3/8" capacity when drilling in steel, and a 1" capacity when drilling wood. It thus has the flexibility to work with different materials.

Chuck – The 3/8" ratcheting chuck makes it effortless to load a bit. Also, it is all metal and will hold up even in the harshest conditions. Finally, you never have to worry about losing your chuck key.

Expand to see more
Product Features

8 amp motor
0-2,500 rpm
3/8" ratchet
4.1 pounds weight

Who is it for?

This is for professionals on a budget. It is also a good backup drill.

Has an 8 amp motor that packs quite a punch
The all-metal chuck is durable and will last a lifetime
100% ball bearing build guarantees durability
The only flaw with this drill is the kit; it is a soft case, and unlikely to hold up in tough environments
9. DEWALT DCD985M2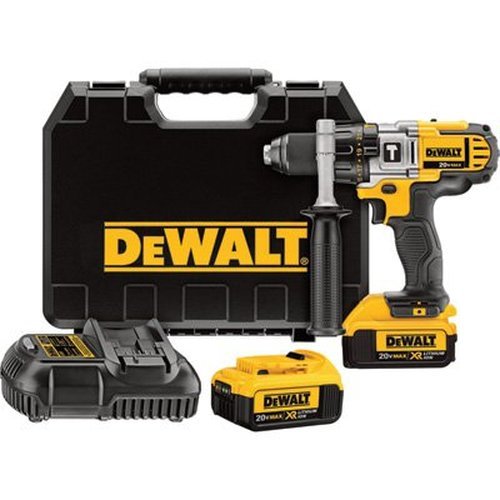 If you are looking for a
professional hammer
drill or driver, we recommend you get the DeWALT DCD985M2. This is a very versatile and durable unit. First, it is a cordless unit increasing the flexibility and uses the 20V 4.0ah batteries. The battery has a 33% longer runtime than the previous battery and adds no extra weight to the drill.
The DCD985M2 is a brushed unit, but it is heavy duty and can withstand some abuse. Another remarkable feature of this unit is the LED charge indicator as you will know the runtime you are working with and the
LED light
above the trigger as it helps illuminate dark spaces. What's more, the ½" all metal ratcheting chuck is lighter and doesn't lock itself down on you. Moreover, it features carbide inserts increasing the gripping strength. Finally, it is keyless, and thus you don't have to worry about losing the chuck key.
You will also appreciate the ergonomic grip. First, it is padded for comfort and is slim thus comfortable to hold. However, our best features were the versatility and the charger.
Charger
– The 30 min to 1 hour DeWALT charger communicates with the battery for cold or hot delays. As such, it will not charge the unit until it has reached the appropriate temperature.
Versatility
– You can use it for a broad variety of drilling, driving, or hammer drilling activities. First, there is the 3-speed all metal transmission which gives you a 0-575rpm in first gear, 0-1,350rpm in second gear, and 0-2,000rpm in third gear. You can use gear one to drill large holes, 2nd gear for medium duty tasks, and the 3rd gear is for light jobs. Should you change to hammer drill, you get a 0-9,775bpm in 1st gear, 0-22,950bpm in second gear, and 0-34,000bpm in third gear.
Expand to see more
Product Features

34,000BPM
2,000rpm
22 position clutch
20V battery
3-speed all-metal construction
535 UWO

Who is it for?

We recommend the DCD985M2 for professionals who are looking for a versatile unit.

Built like a tank and thus you can expect it to last
The light has a 20-second delay feature for those instances you need to see what you are working on before pulling the trigger
At 5.2 pounds, this unit is a bit heavy and will strain your hand
Also, the LED light will cast a considerable shadow above the chuck
10. DEWALT DCD760KL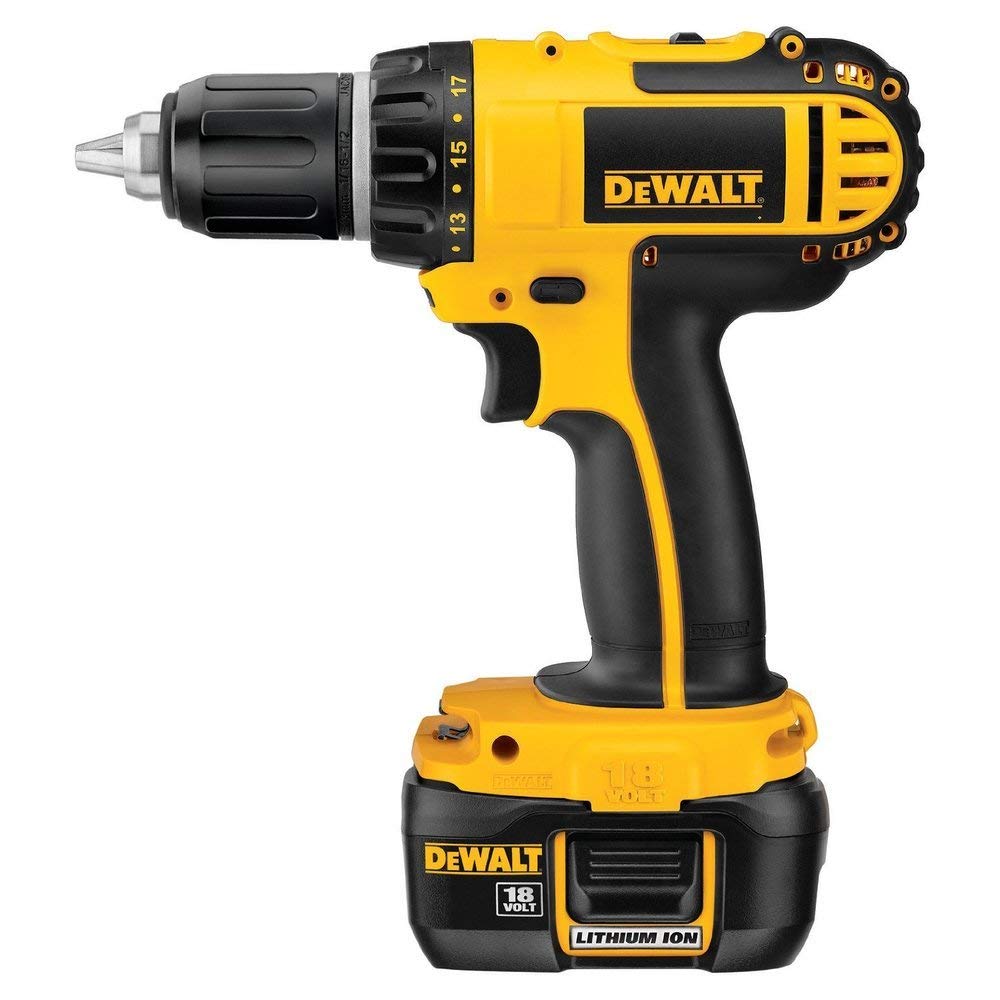 For a professional grade unit, the DCD760KL is one compact but powerful unit. It has a 350 UWO which is ideal for most applications. The max rpm is 1,700 which still happens to be higher than most devices. The DCD760KL uses an 18V lithium-ion battery which holds speed for longer and recharges quickly. Moreover, it retails with two batteries, and thus you don't have to worry about downtime. Nevertheless, our best features were the ergonomics and speed.

Ergonomics – The DCD760KL is designed with comfort in mind. Seeing as it is for professionals who will use it often, it is well balanced, easy to grip, and feels quite comfortable in your hand. It weighs 4.0 pounds, and though it is slightly heavier than other drills in its class, it is still lightweight. You can use for long periods without fatigue.

Speed – The DCD760KL has two-speed settings for easier use. The low speed is 0-500 rpm which is best for heavy duty applications. The 2nd-speed setting is 0-1,700rpm which is ideal for finer applications.

Expand to see more
Product Features

½" chuck size
Power: 350 UWO
Cordless
1700rpm
Dual speed settings
18V battery

Who is it for?

This is a professional grade unit, and best for jobs where you don't need the medium speed setting.

The unit is built like a tank
The two batteries and quick charging charger make this ideal for use on large projects
It is well balanced and thus ideal for overhead operations
It's quite pricey, and the light isn't positioned in a place that makes it useful
What to Consider when Buying a DeWALT Drill
The type of work and frequency
There are various drill styles, and each is for specific tasks. Thus, you should first determine the jobs you intend to handle, so you get the appropriate tool. Also, weekend warriors have different concerns from full-time professionals. As a specialist, ensure you get a professional grade tool.
One that can handle the bulk of work you will take on. I.e., a durable and reliable tool. If you are a DIY enthusiast, we suggest you get a consumer gadget as it is affordable. Finally, consider the frequency of use. You don't want to invest a small fortune in a device you will seldom use.
DeWALT Drill Styles
There are four primary DeWALT drill styles, and each is for a specific use. Some might have a VSR abbreviation, but that stands for variable speed reversible.
Standard drills – A standard drill is the most common drill and one that all weekend warriors or professionals should have. It handles most standard tasks from drilling holes to driving screws. They are all variable speed reversible and are famous for their quality and performance.
Impact drills – Also known as an impact driver, an impact drill are used to loosen lugs and bolts that are either over torqued or corrosively "frozen." They do so by stuttering the motion perpendicular to the pressure of the drilling. These are noisy and not for the homeowner, but rather for the specialist with a need for extra torque.
Right-angled drills – If you need to drill in a tight space, we suggest you get a right-angled unit. The main body is at a 90-degree to the drill chuck, and thus you can slip it into areas with limited access. We would not recommend it for a homeowner as you will infrequently use it.
Hammer drills – Finally, there is the hammer drill, which though similar to the standard unit, is different in that it rotates and stutters the motion parallel to the drilling pressure. Hammer drills are quite handy when working with dense materials.
Corded or cordless?
When purchasing DeWALT drills, you will have to decide between a corded and cordless unit. Each has its own strong points and drawbacks, and so the decision is yours.
Corded – These are ideal if you want extreme power since only a corded electrical supply. Moreover, there's seldom a shortage of electricity supply at a job site allowing you to work uninterruptedly. However, it lacks flexibility as it connects to an outlet.
Cordless – Cordless drills, on the other hand, are more flexible, and you can now use them for more extended hours thanks to battery improvements. However, they lack the power of a corded unit and can be limiting when batteries run out of charge. Nevertheless, expect DeWALT batteries to run longer between charging sessions.
Power and Size
The power of a DeWALT drill is concurrent with the voltage and also determines the size. For cordless units, expect a voltage between 9.6V and 20V. Other than the size of the drill, consider the chuck too.
You will almost certainly happen upon drills with 3/8" and ½" chuck. We recommend the 3/8" chuck for a homeowner or DIY enthusiast and the ½" chuck for professionals. Also, DeWALT also has ¼" chuck units, but these are somewhat a rarity. Nevertheless, they are ideal for lighter and more detailed work, and people love them owing to the less arm fatigue.
FAQs
How long do DeWALT batteries last?
How long the battery lasts depends on the battery you are using. With an average 18V lithium-ion battery, you can expect it to operate for around 12 hours or more if you are using the 20V battery. This is enough to last you a full workday and have enough to spare if the tool is used appropriately.
Lithium ions are quite efficient and quick to charge. When storing them, ensure they are fully charged. Failure to do so might result in the tool going into hibernation mode which is an expensive mistake as you have to get another battery.
NiCd batteries on the other hand though quite efficient cannot provide the same power as Li-ion batteries. Storing them too is different as they have to be on a charge as they lose some significant power when stored off a charger. You can expect the unit to lose about 20% of the energy in the first 24 hours, 7% to 10% on the second day, and 1% every day after that. Also, ensure you give the battery about 2 hours before recharging it for it to cool down to room temperature. Not following this procedure could damage the batteries.
How do I maintain my DeWALT drill?
Though DeWALT drills are rugged and can handle most difficult tasks, you still want to ensure you are taking the appropriate care so that they last longer.
First, always use sharp bits. They not only go through surfaces faster but also puts less strain on the device. Moreover, ensure you keep your tool in a dry place as they don't go well with water. Moisture will rust the chuck and inner components and reduce their lifespan.
Keep them from overheating. Some DeWALT drills have overload protection for such occasions. If yours is one of the few without the feature, always allow it to cool down to avoid damages.
Finally, clean your drill after extended use, and ensure you keep it off the ground as grass clippings and dust can work their way into the casing damaging the delicate components.
Why is DeWALT the market leader in drills?
For more than 70 years now, DeWALT has been making contractor tools, but it isn't until 1992 when they started making drills. However, what makes them the best is that they have some of the best warranties in the market. A 3-year limited warranty, a 90-day money back guarantee, and a one-year free maintenance contract.
Conclusion
If you are in the market for quality drills, we recommend you pick one above. Ensure you get one that fits your needs (consumer or professional), and that is within your budget. Finally be sure to leave a comment on what you think of our DeWALT drill buying guide.
Subscribe to our newsletter