Best Welders Reviews & Editorial Ratings
last updated:
Sep 11, 2018
Eventually, things break from wear and tear, and it is up to you to fix them to extend the lifespan. Whether you are a DIYer or a professional, a welding machine is quite crucial if you are to engage in any metal work. As a homeowner, you would save time and hundreds of dollars by having a personal welding machine, and it is somewhat a requirement to have one as a specialist.
Our Top 3 Picks
[srpshortcode id="17778″][/srpshortcode][srpshortcode id="17779″][/srpshortcode][srpshortcode id="17780″][/srpshortcode]
However, picking the right welder will not be a walk in the park. If you are looking for recommendations, you can select any item on this list, but you can also check the guide to ensure you get top value for your money when buying a welding machine.
10 Best Welders
1. Hobart 500559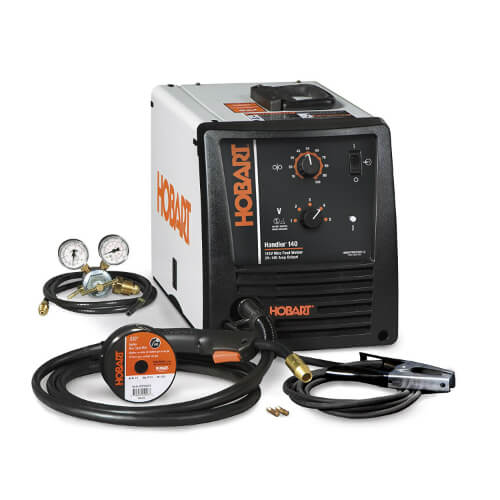 The 500559 is the most popular flux-cored and MIG welder by Hobart Handler and for good reason. It appeals to the DIY enthusiast first by how lightweight it is. At 57 pounds you can transport it anywhere with much ease. Also, it is ready to use out of the box, and there's very little learning required to handle it appropriately.

It can be used for household tasks as well as moderately challenging auto body tasks. The device is cost-effective given the features and has the 5/3/1 Hobart industrial warranty. Our best features though were the usability and the power.

Power – The output of the 500559 is 140A. The duty cycle is 20% at 90A and is more than enough for any household task. However, what's more, fascinating is that this device runs on 115V and thus you can use it anywhere there is an outlet.

Usability – Another reason to get this machine is that it can work with both thinner and thick metals. The MIG welder will allow you to join thin stainless steel and aluminum metal, while the flux-cored function will enable you to work with thicker metal up to ¼ inch.

Some other fascinating features are the five voltage settings and the infinite control of the wire feed speed that enables you to make exceptional adjustments. As for the voltage settings, you can adjust them depending on the gauge of the metal you are welding.

Expand to see more
Product Features

Industrial cast aluminum wire drive system with a 40-700 IPM wire feed speed range
20% at 90A wire feed speed range
A chart to aid in choosing voltage and a five-position voltage control
5-foot gas hose
Weight: 57 pounds
10 FT. MIG gun

Who is it for?

The Hobart Handler 500559 is for light work and small projects. Beginners and hobbyists will love it as it is easy to set up and use.
The device is made of durable, sturdy steel and thus superior build quality
Lightweight and thus easier to handle
Uses standard household current and thus you can connect it to any outlet
The voltage control selector increases the scope of metal gauge you can weld
Has a thermal overload system to protect people from an electric surge
Affordable
The device is only for small to medium tasks, and the power cord is only 5 foot long
2. Millermatic 211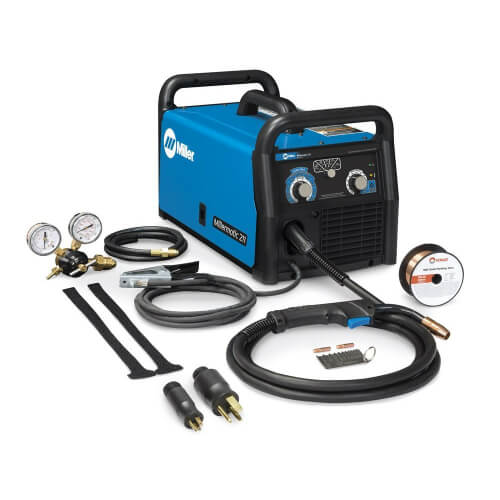 First, this is a rather pricey MIG welder but one of the best. Therefore, if you have the extra cash to spare, we suggest you get one. The Millermatic 211 is a compact but rather powerful unit. The output power is between 30 and 230A depending on the metal gauge you are working on, and the 40% duty cycle at 150A is enough to handle any household task or auto-body repairs.

Also, you will appreciate the multi-voltage plug that enables you to work anywhere. Select the required plug and connect it to the power cord and you are ready to go. However, what piqued our interest is the versatility and the auto-set-feature.

Versatility – At 38 pounds, this happens to be one of the lightest items on this guide. It is thus portable to any job site or moving it around the house or compound. Also, you can weld thin 18-gauge aluminum metal and 24-gauge mild steel or 3/8 inch steel thanks to the flux-cored welding. Also, it can operate on any DC from 110V to 240V.

Auto-set feature – The advanced auto-set feature enables you to set the diameter of the wire and thus automatically adjust the wire speed and bottom knob. As a result, the process is accurate, more straightforward, and gets rid of the guesswork.

You will also appreciate the fan-on demand as it only operates when necessary and the automatic gun-spool detect that detects when a spool gun is connected removing the need for a switch.

Expand to see more
Product Features

Weight: 38 pounds
40% duty cycle at 150A
Output power between 30A and 230A
New cast aluminum drive system

Who is it for?

Though professionals and hobbyists can use the Millermatic 211, we recommend it for professionals. Also, we would advocate this if you are searching for a portable device.

It is smaller and lighter compared to welders with the same capacity
Easy to use that novices can work with it
Has a smooth start thanks to the smooth start feature
Has a quick select drive with three grooves; 2 for distinctive solid wires and one for a flux-cored wire
Happens to be pricey, and the fan gets faulty over time
3. Lincoln Electric K2185-1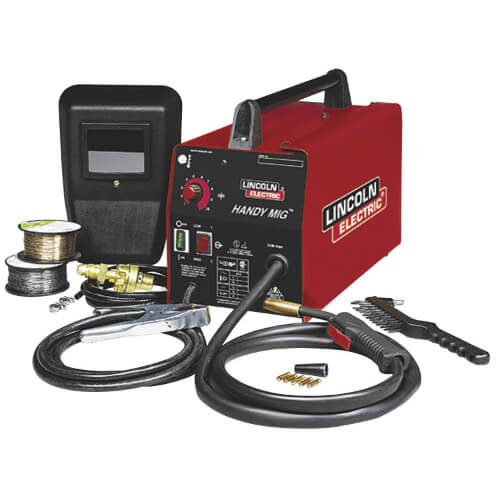 If you are a novice, you might want to invest in a device that isn't too pricey, but with the appropriate features to help you tackle most beginner tasks, The Lincoln Electric K2185-1 is one such unit. First, it is an affordable unit which increases its appeal among beginners and hobbyists. Also, weighing 46 pounds, it happens to be lightweight and portable. It features a handle on the top to help you pick it up.

It is a diverse machine that works with flux-cored and MIG. You can repair thin 24-gauge steel with the MIG while the flux-cored allows you to weld thick 1/8-inch steel. Our best features though were the power and cold contactor safety.

Cold contactor safety –This nifty addition ensures that the wires are ever cold until you squeeze the trigger. It adds increases the convenience of using the tool.

Power – First, this device can connect to any house outlet as it requires a 115V voltage outlet. The max output amperage is 88A, has a 20% duty cycle at 70A, and has a wire feed speed range from 0 to 300IPM. The device to has four different voltage settings that enable you to work on metal of varying thickness. The chart on the inside tells you which setting is appropriate for certain metal thickness.

Expand to see more
Product Features

Weld thickness: 24ga to 1/8 inch
115V input voltage
Wire feed speed: 0-300IPM

Who is it for?

The K2185-1 is for beginners. First, it is affordable (something beginners are looking for), but at this price range, it lacks the features of premium welders.

Affordable
Has a long life expectancy with the appropriate maintenance
There are tons of extras; from 6 contact tips to 3 pounds of and a chipping brush
Works with 115V household outlets and it is easy to take from location to location
Can only be used with household outlets, and can only weld thin metal
4. Hobart Handler 210 MVP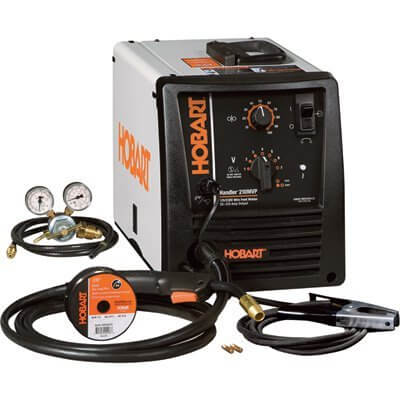 Hobart Handler products are legendary, and the company is renowned in welding circles. The Hobart Handler 210 is a great example of what to expect from this company and is arguably one of the best MIG welders in the market. It is an MIG and flux-cored welder and the only unit by Hobart Handler that can fit in a portable case and handle 210A run. The input voltage required is 115V or 230V and can be used in both household and industrial setups, and the usability is unmatched.

You can use the 210A to weld thin 24-gauge metal all the way up to thick 3/8 inch metal. Also, the infinite wire feed speed control enables you to get max control and increases the accuracy resulting in high-quality work. Our best features though were the adaptability and built-in contactor.

Adaptability – The capacity to change from 230V to 115 enables you to work in different environments. It can be used around the household and in an industrial setting.

Contactor – First, you can consider this a safety feature as it makes the wire electrically cold when you aren't using it. However, the most significant advantage is that it increases convenience by easing use.

Expand to see more
Product Features

Power source flexibility (115V and 230V)
Sloped control panel
Weight: 90 pounds
Has four position voltage control at 115V and seven at 230V
10 ft MIG welding gun

Who is it for?

We recommend the Hobart Handler 210 for DIY enthusiasts. However, professionals can still use it for simple tasks.

You don't have to worry about running out of wire as it works with 4" and 8" reels which are plugged in using the spool runner
The unit is ready to use out of the box
You can use the tool anywhere with the dual voltage input ability
You can produce clean welds every time owing to the spool runner
It lacks an inverter and thus can't be used with a generator
At 90 pounds, it isn't easily portable
5. 2018 AHP AlphaTIG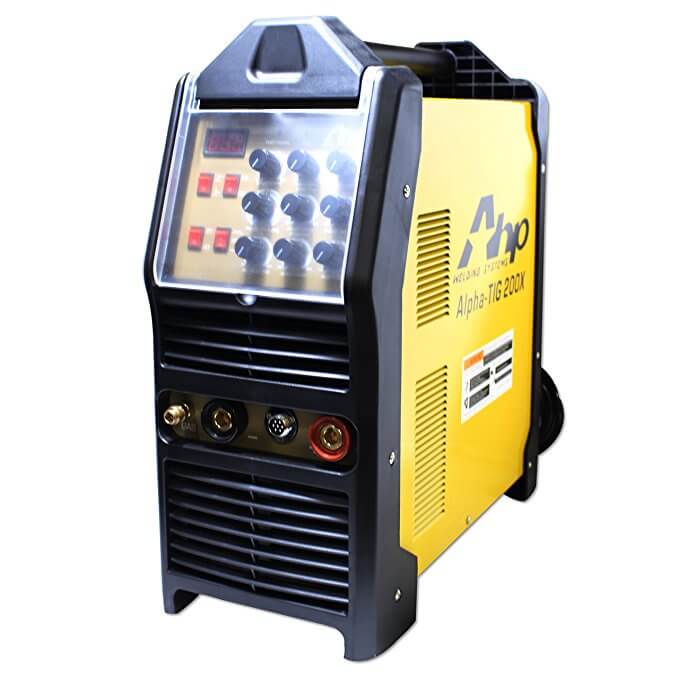 TIG welding is somewhat of a fine art. It is clean and leaves no waste or splatter and as a result the most aesthetically pleasing. Being a delicate process, it is slower and thus needs a lot of patience, and a reliable TIG welding machine. We recommend the AlphaTIG 200X as it offers unrivaled performance at this price point.
The AHP AlphaTIG happens to be a combination TIG and Stick welder. It can also handle both AC and DC currents and has adjustable output frequency (more on this shortly). It can use both 110V and 220V input and thus ideal for Industrial and household projects.
Also, at 69 pounds, it is portable. It can join metals between ¼," and 3/8: and the thin rod combined with outstanding precision makes for clean welds. Our best features were:
AC/DC capability
– The welder can use both AC and DC currents and thus ideal for use with
a generator
. The DC is enough when welding steel, but you will need the AC when welding aluminum. AC cleans oxidation off the metal, and welds at the same time. You can change the currencies using the IGBT tech on the unit.
Advanced inverter tech and adjustable output frequency
– You can lower the output of the unit to 10A which enables you to narrow the focus. On the other hand, the inverter tech, i.e., the pulse modulation tech regulates the system's uptime resulting in less power loss.
Expand to see more
Product Features

Input: 110V/220V
AC/DC capability
Uses IGBT technology

Who is it for?

All TIG welders require experienced operators. If you are a DIY enthusiast with the requisite skills, we implore you to get this unit. It will also work wherever smooth finishes are required.

It is affordable and ready to weld out of the box
Despite being affordable, it is a solid unit
User-friendly and has a three-year warranty
Has an upgraded flow metal regulator to monitor the performance
The accessories leave a lot to be desired, and the regulator isn't precisely calibrated
6. Hobart 500551 EZ-TIG 165i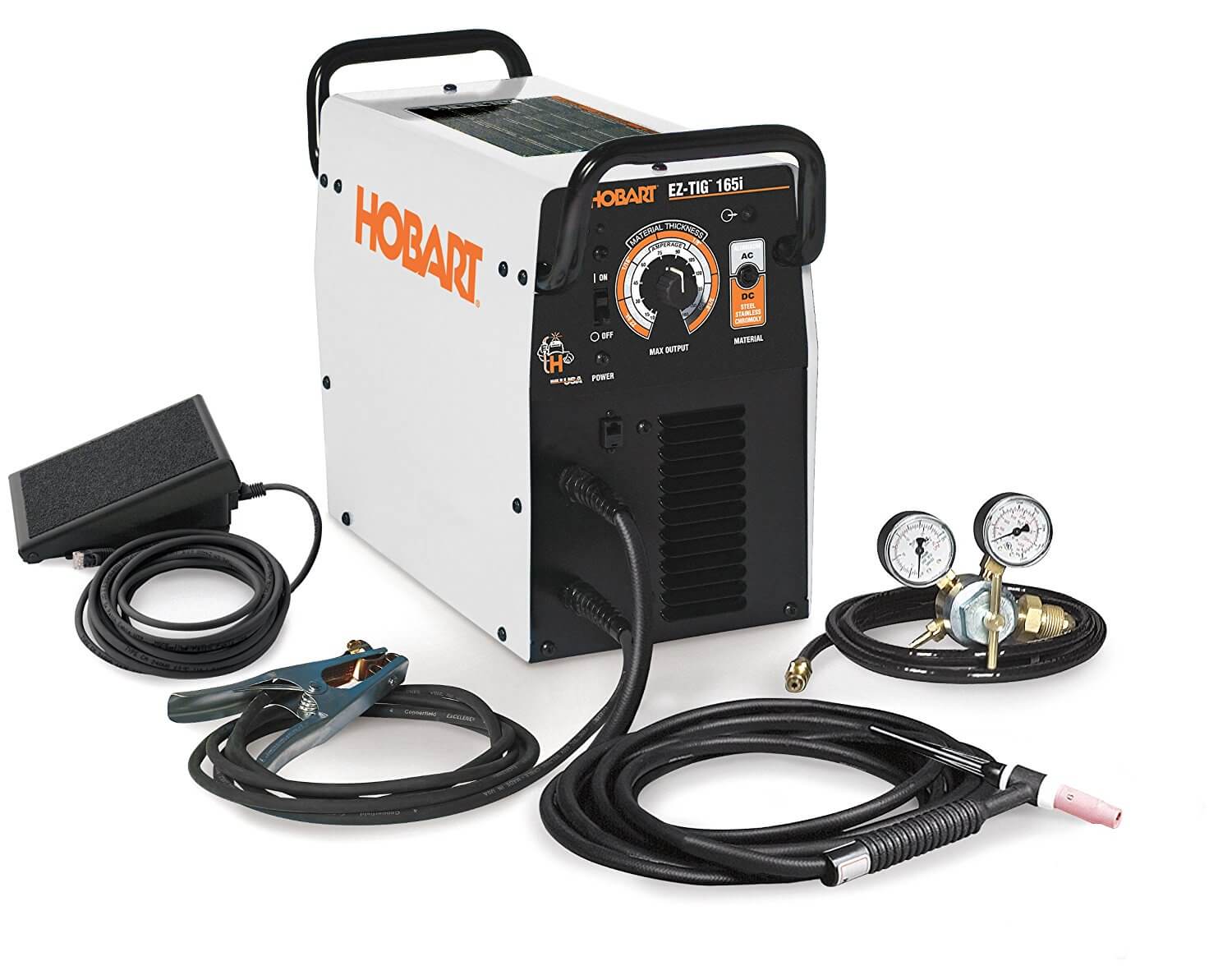 If you are a DIY enthusiast, the price tag on this device might put you off. However, the 500551 EZ-TIG is a worthwhile investment and will give you good consistent results. The device is quick to set up and easy to learn thus even a novice can use. The machine is manufactured in the USA where Hobart can exercise quality control.
Out of the box, you get a TIG torch, a foot controller, a manual, a hose and
a clamp
. You will appreciate the generous length of the power and work cables at 12 ft each. Also, at 60 pounds, this unit is portable, and you can carry it to a worksite. To enhance transportability, the set has two sturdy carrying handles and also happens to be easy to store as it is compact. Our best features were the control interface, and the HF start feature.
Control interface
– The 500551 is made with simplicity in mind. It is already challenging to learn how to use a TIG welder, and any features that make the machine simpler are welcome. You can control everything with a dial and a switch that are clearly labeled.
HF start feature
– This feature prevents contamination with the non-contact arc start.
Expand to see more
Product Features

Weight: 60 pounds
Compact at 26.8 * 13.7 * 20.8 inches.
Amperage age: 0-165A
20% duty cycle

Who is it for?

We recommend the Hobart 500551 for anyone with limited storage space, and with the extra money to spend.

Can weld materials between .81mm and 4.8mm
Has AC and DC capability allowing you to weld aluminum and steel
The auto-post-flow feature provides excellent shielding for welding amperage reducing the waste
The unit automatically cuts out, if the unit overheats, also, the fan will automatically turn off when not needed
Happens to be quite pricey, and comes with a cullet body of 3/32 inches
7. 2017 EVERLAST PowerARC 160STH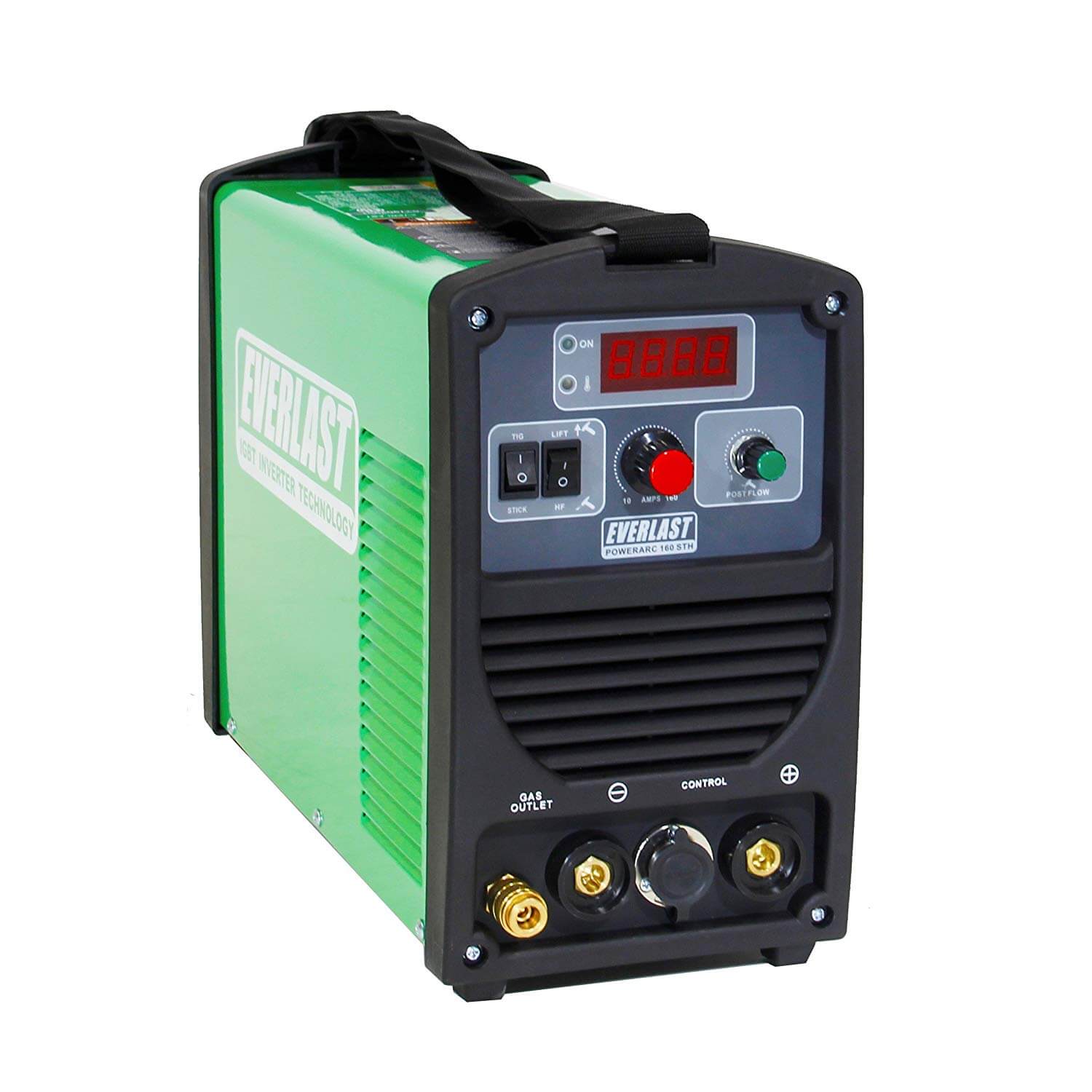 As a novice, we recommend you get a welder that fits your skill level as you improve. The PowerArc 160STH is one such device, and you will appreciate it. It is a compact unit and quite affordable for beginners. Also, the minimal controls give you more control without having to concern yourself with too many dials and switches.

It also happens to be a combination TIG and stick welder. The duty cycle is 35% at 160 amps but will increase as you increase the power. This is enough to handle simple projects around the house.
Our best features though were how light the tool is, and two starts.

Lightweight – This item weighs 36.9 pounds and thus one of the lightest TIG welders. It thus happens to be quite light and highly portable. If you need a mobile device that can handle light tasks, you will appreciate the 160STH.

Two starts – The powerARC 160STH has an HF and lift start. To work without the pedal (best for beginners), use the lift start as it engages as you lift the welder away from the material.

The HF start is ideal for when you are working in bad weather, say a windy day, and it happens to be easier.


Expand to see more
Product Features

Weight: 36.9pounds
Uses an IGBT inverter
DC output
Combined TIG and Stick welder

Who is it for?

The Everlast PowerARC is for beginners. It is designed to be easy to use with few controls. Professionals can use it too for light work.

Quite affordable
The inclusive gas regulator helps newbies regulate the gas without using the foot pedal
It is a combination machine, and you can quickly switch between stick and TIG welding
Can work with both 120V and 220V allowing you to work in the household and industrial settings
It has no AC output which can hinder you when working with aluminum
The plastic case is pretty much worthless, and the gas regulator is a burden for professionals
8. Hobart 500570 Stickmate 160i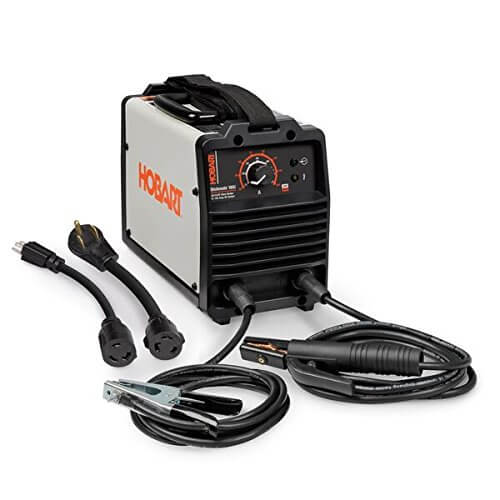 Hobart is renowned for manufacturing quality products. It happens to be quite affordable, and we advocate it for anyone who is on a budget. At about 15 pounds, the 500570 is a lightweight item and highly portable. If you are ever on the go, you will appreciate the transportability of this device. However, being lightweight doesn't imply a compromise in the quality of the item. It still packs a punch.

It also happens to be a rugged and robust unit that you can expect to last long. Our top features were the adjustability of the amperage and the hot start technology.

Adjustable amperage – The adjustability of the amperage results in cleaner results as everything is precise. You can adjust it by as low as 1 amp increasing the precision.

Hot start feature – This is pre-heating on the weld start, and it makes electrode priming simpler by preventing it from sticking when cold. It is best when welding under challenging conditions.

This unit can weld metal up to 5/32 inches thick and can work with both 120V and 240V input voltage. As a result, it can be used in both industrial and household settings.

Expand to see more
Product Features

Weight: 15 pounds
Output range: 0-160 amps
Reliable hot-start technology
Uses both 120V and 240V
10 ft. electrode cable, 10 ft. work cable, and 6.5 ft. power cord

Who is it for?

We recommend this for people on a budget or DIY enthusiasts and hobbyists.

It is affordable, ranking among the cheapest units on this list
The hot start feature allows you to weld with a short arc; it also enables you to get started quick and easy
It happens to be quite portable, and you can use it on the go
The arc self-stops once you disconnect the current
Has a built-in LED display
The device is no longer made in the USA, therefore, there is a compromise on the quality
9. Amico Power - DC Inverter Welder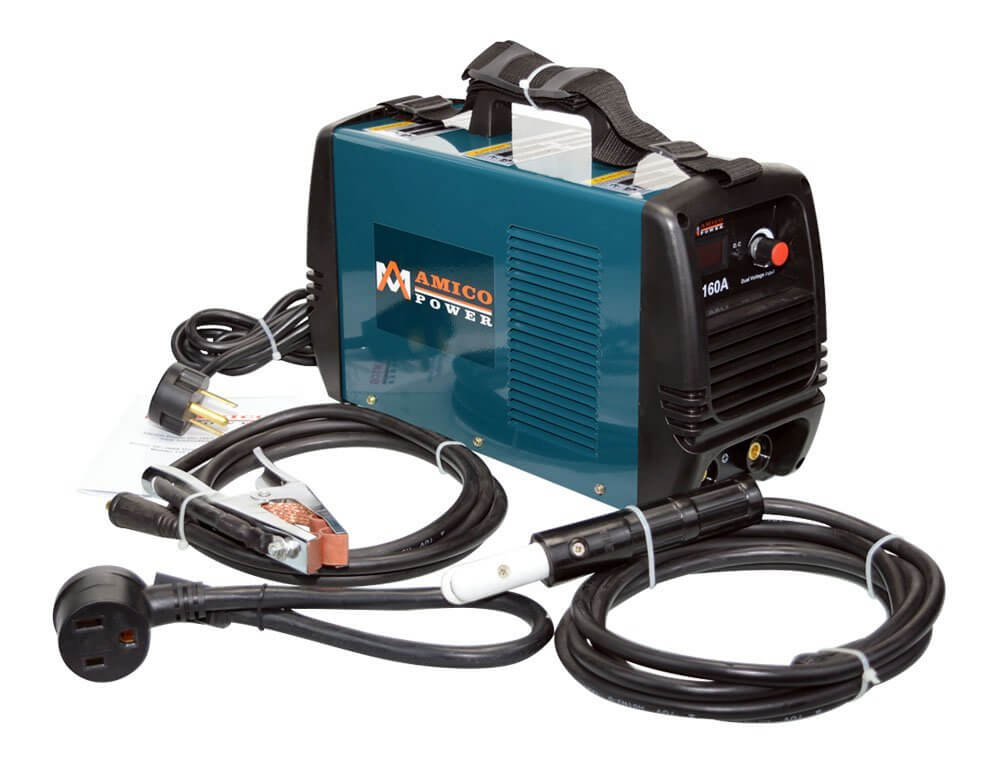 If you are on a limited budget or you are a beginner, or you are looking for a device that can handle some light work around the farm, we suggest you get the Amico Power 160A. It happens to be the least expensive unit on this list, but one that can hold its own against premium products. It uses 115V and 230V input and thus ideal for both household and industrial use. The output ranges from 5 to 160 amps and is suitable for light industrial applications.
It can handle most household tasks though. The 60% duty cycle is pretty impressive too. What stood out for us were the portability and
LED meter
.
Portability and flexibility
– First, this unit weighs 16 pounds. You can virtually take it anywhere with you. It is easy to handle. You can even use the unit while holding it if there is no flat space to place it thanks to the handle. Other features such as the clamp, the electrode holder, and the 10 ft. cable with a plug, increase the flexibility.
LED meter
– It allows for better adjustability of the output. You can even create your settings and use them as required.
You will also appreciate the wide range of applications. Thanks to the high power, it can weld both thin and thick metals.
Expand to see more
Who is it for?

This works only for light tasks. It will suffice for any hobbyist, but we wouldn't recommend it for professionals.

This machine happens to be quite affordable and thus perfect for a beginner or people on a tight budget
It has enough power to rival premium welders
It is compact, and you don't have to concern yourself with storage
The ETL listing assures you that it is a safe unit to use
The output is in DC only, and you might have trouble welding aluminum
Also, more weight is on the back which is a bit unbalancing
10. EVERLAST PowerARC 200ST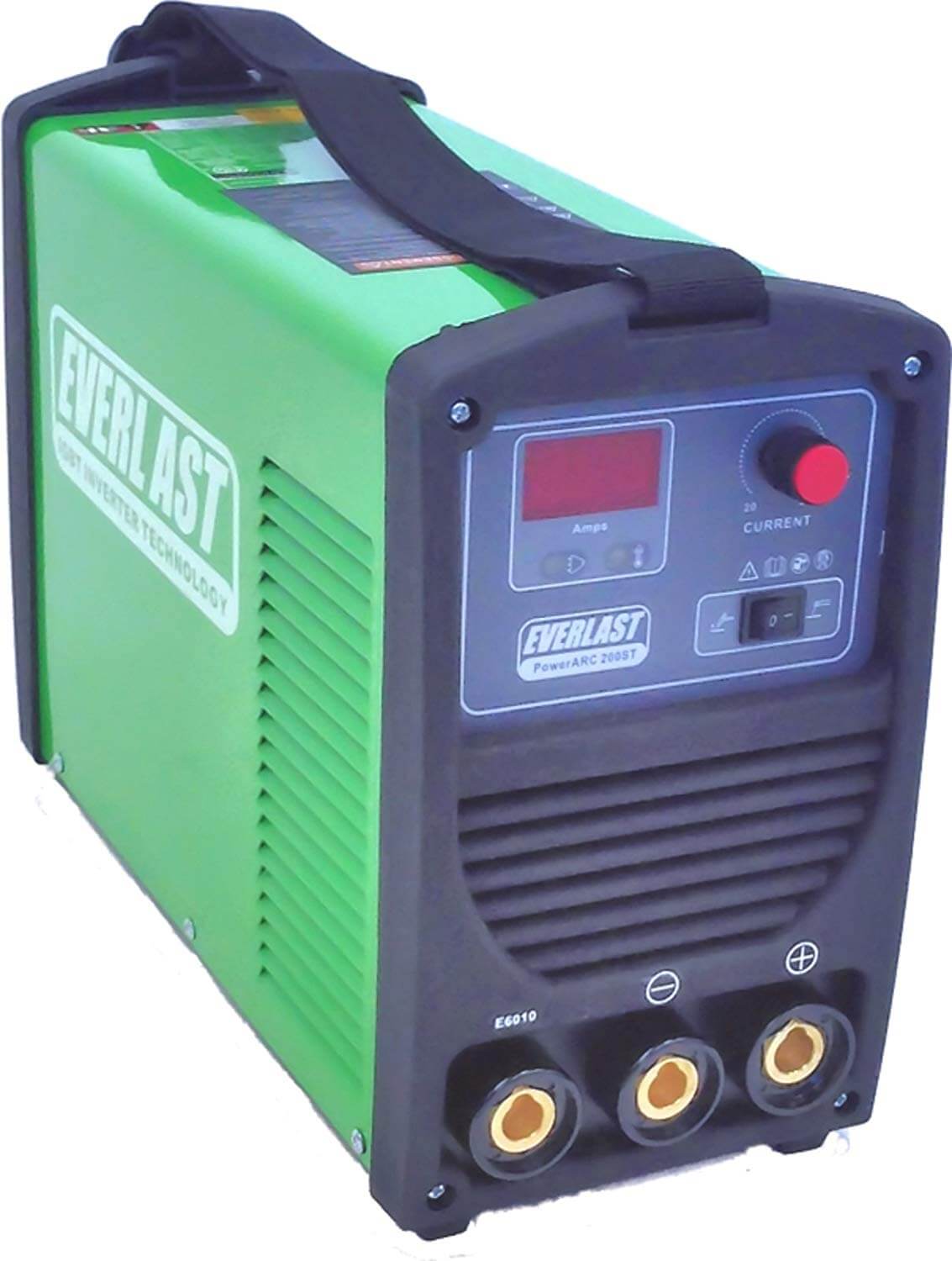 Everlast is renowned for their welding machines, and the 200ST is a testament of the quality and dedication that the company puts towards manufacturing their product. It is made with the professionals in mind and packs some power to enable you to handle the demanding tasks. First, it is a combination TIG and stick welder which we are sure you will appreciate. You will also love the lift feature that engages when you lift the rod from the material. It is also lightweight at 30 lbs and thus portable.

You can also purchase the unit to benefit from the 5-year warranty on parts and labor. However, other than power, our other best feature was the E6010 capability.

Power – The output of this unit is 200A DC which enables you to weld even the most robust material.

E6010 welding capability – The 200 ST has a dedicated E6010 port that allows the unit to be used on construction sites, shipyards, pipelines, or any other sites that need E6010 and cellulose-based welding rods.

You will also appreciate the digital display and the autoregulated arc force control.

Expand to see more
Product Features

Inputs: 110V and 220V
Inverter type: Analog
Digital display
Weight: 30 pounds

Who is it for?

The PowerArc 200ST is for professionals. The 200A DC output is for welding industrial grade material, and using it at home or on the farm will be overkill.

At 200A output, it has enough power to weld material of any thickness
Can use household 110V or industrial 220V
Dedicated E6010 port
It is a DC output device only, and welding aluminum will be difficult
What to Consider When Buying a Welder
A welding machine is a long-term investment, and often you get what you pay for. Though there are instances where buying a cheaper device allows you to test and learn the basics, investing in the appropriate machine can save you a lot of agony and money down the line, and there is nothing like too much information when purchasing a welding machine. However, here are some of the few things to consider.
What type of work will you be handling?
Before going out to purchase a welder, always ask which projects it will be used for six months or a years' time. The idea here is to get a device that is versatile enough to handle all the projects. A great welder will complete all tasks and minimize limitations. Also, ask if you plan to use it for a broad number of projects or some few tasks. For many projects, you are looking for a device with a longer duty cycle.
It also wouldn't hurt to know the type of materials you plan on welding. There are two broad categories namely thin metals and higher gauge materials. If you plan to tackle simple tasks, i.e., weld thin metals, a 110V to 115V MIG welder will do the job. However, if you plan to join heavy gauge metal, you will find that this will not suffice, and you need a more versatile machine.
Types of welders
Regrettably, no single welding machine can handle all tasks. Understanding the three types of welders will help you narrow down your choices.
MIG Welders
MIG (metal inert gas) welders are the most popular as they are inexpensive compared to TIG or stick welders with the same features. They are also extremely easy to learn which endears them to hobbyists and DIY enthusiasts and are versatile to handle a variety of jobs. Also, if you are looking for a welder that you can hold with both hands, we implore you to get a MIG. The filler metal is fed through the torch freeing one both hands to steady the device.
The wire feed also increases your speed by about four times compared to TIG or stick welders. It also happens to be quite easy and neat to clean MIG welding as there are no impurities to chip away thanks to the inert gas that shields the metal.
Nonetheless, this device has one shortcoming since you have to purchase inert gas and other materials, unlike other methods.
TIG Welding
Also known as tungsten inert gas welding, TIG welders are for professionals. They require some level of expertise and need training to master. First, a TIG welder involves the use of a foot pedal to control the welding, and you have to feed the filler rod which is separate from the rod and thus requires the use of both hands.
However, nothing rivals the quality of a TIG welder. You don't have to concern yourself with splutter, and it is unlikely that you will distort the material as you are using a non-consumable tungsten electrode. Finally, it can weld any metal at any thickness.
Stick Welding
Stick welding is popular and cost effective as it doesn't require an inert gas to shield it. Instead, the electrode has a flux that covers and protects the weld. However, the flux must be removed after welding. It is also convenient as you can move from one workpiece to the next by changing the filler metal. Finally, by using a consumable filler metal, it works anywhere and is quite simple.
If you don't the trouble of finding the best welders, below are some recommendations.
FAQs
What is duty cycle?
A duty cycle is the minutes, in a ten-minute period, that the machine can operate before it requires you to shut it down and is in percentage. That is a 50% duty cycle at 150A means the device can run for 5 minutes of continuous welding before requiring a rest of 5 minutes. Failure to comply with these requirements stresses the welder's power generation system and can lead to welder failure.
How do you maintain a welder?
You will have to adopt a holistic maintenance approach if you want to keep your device in top condition. We recommend you outsource for expert services, but here are a few things you can do. Blow your welder regularly, at least once every six months, to prevent overheating and erratic performance. Also, load bank test to ensure your output is accurate, and inspect the cables to ensure that all connections are done correctly. Poor connections lead to excessive resistance. Also, replace any parts that are excessively damaged.
We also implore you to inspect the gun every 3 to 6 months and don't use it to hammer things as you might loosen the connections on the inside. Finally, clean the cable twice a week and ensure it is securely connected.
Can fumes from welding hurt me?

The fumes can be harmful depending on the material you are welding, and the amount of time spent. Galvanized metal can be especially hard on you. We implore you to purchase a helmet or an exhaust system if there will be excessive welding.
Why does the welding rod stick to the metal?
One reason is you might be using too low amperage. Also, it can be because you let the metal get too close to the parent metal. We implore you to increase your amperage or increase the arc length.
Conclusion
Welders come in many shapes and sizes, but we have done our best to give you the top devices in the market. There isn't a do all be all welder, and that's why we broke it down to the three best in each category. These welding machines are top of their class, and the guide can help even experts break a tie between two top units.
However, the final decision is yours. In conclusion, if you feel there is something we have left out, feel free to comment below.
Subscribe to our newsletter