Best Electric Planers Reviewed & Rated
last updated:
Mar 12, 2019
Electric planers are a staple for home improvement projects. You'll be hard pressed to find an alternative way of efficiently, easily, and quickly shaping, shaving, and levelling various woodworking projects. If you're anything like us, you'll immediately love how they easily and accurately they work, quickly removing material from a wide range of surfaces, leaving them even, smooth, and ready for use. Where conventional methods fall short, electric planers easily step in to offer the user unmatched accuracy, enabling you to fine-tune your workpiece to your specific requirements.
Our Top 3 Picks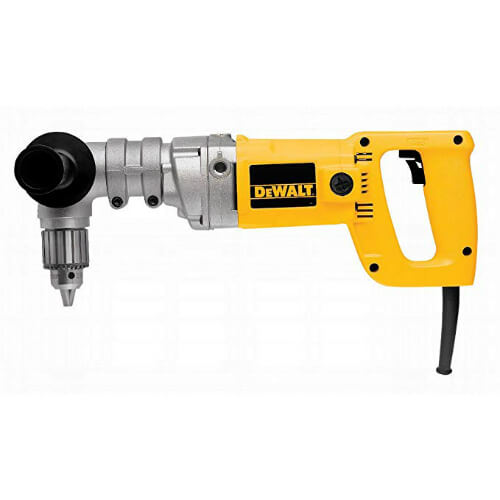 Dewalt

Our rating
Quality
Price:

See Here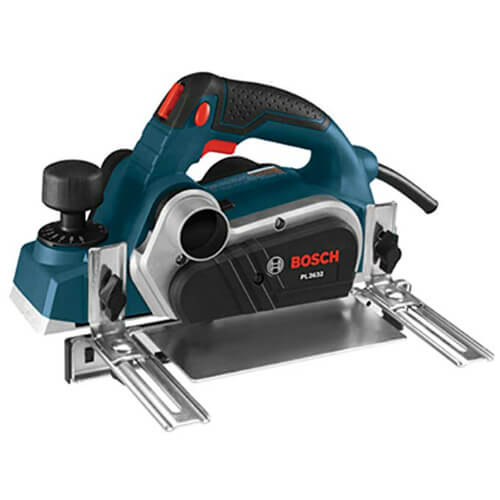 Bosch

Our rating
Powerfull
Price:

See Here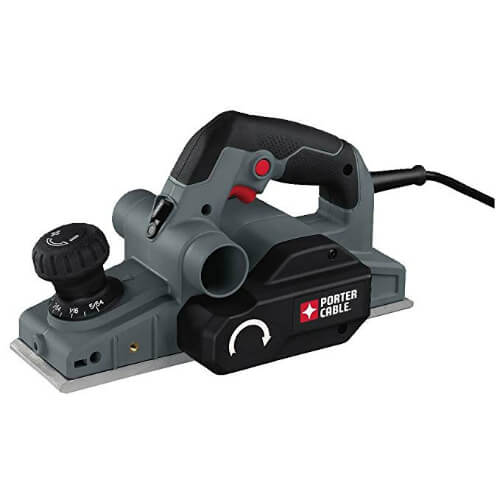 Porter-Cable

Our rating
Durable
Price:

See Here


As is usually the case with all value-conscious users, we take it your eyes are trained on acquiring the best electric planer the market offers for perfectly smooth surfaces. Whether you're a greenhorn or a seasoned woodworker, our article aims to make it easy to choose the best or most suitable electric planer out there. We'll first walk you through the most essential considerations to keep in mind as you window shop around and immediately after that present you with in-depth, holistic reviews of 10 of the best electric planers currently on the market. Let's dive in, shall we?
10 Best Electric Planers
1. DEWALT DW680K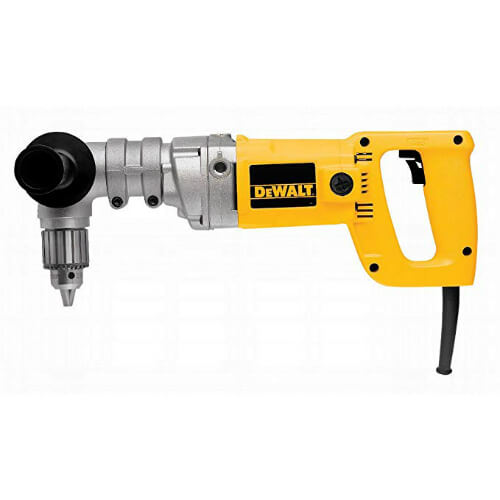 A serious woodworker needs an equally no-nonsense, heavy-duty, and high-performance electric planer for resurfacing and straightening wood stock. Arguably one of the best the market has to offer is this DEWALT DW680K. As you would expect, it's feature-rich. Besides the high-performance motor that generates speeds of up to 15000 RPM, the tool also features a cutting capacity of 3/32 inches, a user-friendly height adjustment knob, a kick stand, a heavy-duty poly-V belt, among several other performance-enhancing and convenience features. It's also compact and lightweight and easy to maneuvre. If we like, you'll love it.

A poster child of quality, top-notch performance, and ease of use, the DEWALT DW680K comes with all the essential features you'd expect from a high-end electric planer. First off, it comes with a high-performance and reliable 7-amp motor that provides speeds of up to 15000 RPM, enabling it to quickly and effortlessly power through the toughest projects, invariably producing high-quality, consistent results. To solidify its lead, it also features a cutting capacity of 3/32 inches in a single pass. Fewer passes on the material substantially contribute to the smooth, even finish in the toughest of workpieces.

Expand to see more
The tool's construction using high-end materials and the poly-v drive belt makes it immensely durable but also easy to use. A versatile choice, it's compatible with large resharpenable high-speed steel blades, enabling you to confidently and easily undertake edging and framing projects. In the same vein, it works wonderfully with a reversible carbide blade and coupled with the precision-machined shoe bottom and side, you'll be able to achieve military-grade accuracy and complete several intricate applications.

For convenience, you can easily fine-tune the cutting depth using the Calibrated Depth Adjustment Knob. In addition to being lightweight and compact with an ergonomically designed handle, the inclusion of a rubber-coated knob ensures a firm and secure grip. Additional features include the rabbeting fence and the durable carrying case for easy portability, storage, and transportation.

In sum, if you want dependability, versatility, and flawless performance, DEWALT DW680K should be your first pick. Considering that it's a reference model, the industry is its stomping ground.

High-quality construction yet lightweight
Comfortable and easy to use
Accurate with two reversible carbide blades
Offers exceptional value
A tad expensive
Dust collection can be better
2. Bosch PL2632K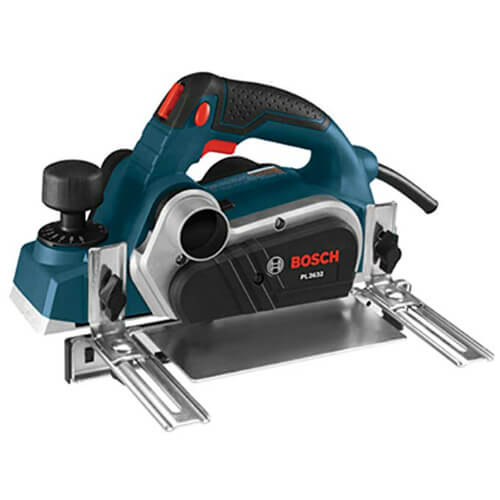 This option is yet another high-end electric planer with a slew of nifty features optimized for providing you with the best all-around performance. Like the DeWalt above, it works powerfully and efficiently, letting you plane
hardwood
with ease and speed. This top-shelf tool is competitively priced is surprisingly powerful, packing a powerful 6.5-amp motor that delivers exceptional speed for accurate, easy, and quick stock removal. It also sports a bunch of safety and comfort features to ensure planing various wood stocks isn't as laborious or arduous as it once was.
An epitome of versatility, the electric planer comes equipped with a high power 6.5-amp motor with speeds of up to 16500 RPM. It's faster than our previous choice and this means it takes minimal time to remove stock from a wide range of materials leaving them with a high-quality, smooth finish. A unique selling point that sets it apart is the dual blade system that ensures compatibility with high-steel blades that are up to 30 percent more durable than traditional carbide blades and works remarkably with softwoods and hardwoods.
Expand to see more
Another feature that enhances it's flawless performance is the dual-mount fence. It offers the user non-flexing guidance and stops the faces of your workpiece from marring. The fact that the aluminium front and rear shoes are precision-machined also guarantees accuracy, enabling to confidently undertake more detailed, intricate woodworking projects. In spite of its power and efficiency, the electric planer weighs a paltry 6.3 pounds and features an ambidextrous lock-of release button to stop it from accidentally starting up.

Other features include the dust ports whose location on both sides of the unit allows it to work with large shaving bags. A handy lock-on button, on the other hand, provides for extended use. If you're looking for value for money, we highly recommend going with this one. It's reasonably priced, powerful, and easy to use, even by greenhorns.

Works powerfully and smoothly
You can switch the dust port
Long-lasting construction
Removing the fence is a cinch
Unreliable depth control
Heavy
3. PORTER-CABLE PC60THP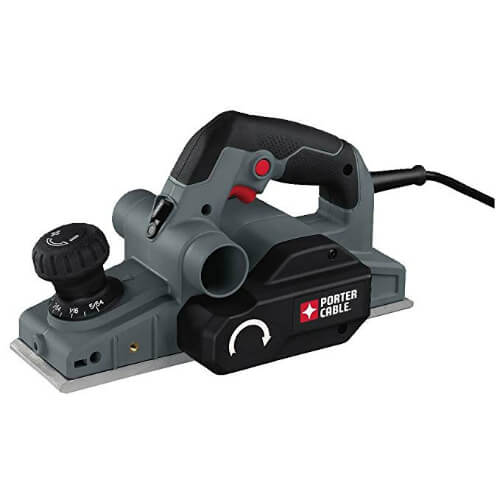 Deeply embedded in the DNA of Porter-Cable's products are the most essential qualities seasoned woodworkers look out for before committing their money. Its flagship electric planer, the PORTER-CABLE PC60THP, expertly and seamlessly blends reliability, power, longevity, and precision, effectively putting its performance at par with other industry giants
like DeWalt
. It's an affordable option with a ton of features for smooth and quick shaving off wood from different workpieces. Its heavy-duty, high-speed steel blades aggressively plane tough wood, even those nail-embedded pieces lying around your workshop. Speeds are impressive and it's a cinch to use, too.
For tough, nail-embedded wood stock, all you need is a heavy-duty 6-amp motor to efficiently, quickly, and effortlessly get the job done. The motor attains up to 16,500 RPM no-load speeds, more than enough to smoothly cut through hard materials, removing material with lots of ease and speed. On top of that, the electric planer offers the user 10 positive steps for superior control and accuracy, and they're also easy to adjust using the provided over mold depth knob. Adding to the tool's accuracy and versatility are the cutting depth of up to 5/64 inches and the considerably large 11.5-inch shoe, the latter of which guarantees exceptional control, balance, and finish quality.
Expand to see more
Like our previous pick, the PC60THP comes with dual side dust extraction, making it a flexible choice that will invariably keep your workplace clean and conducive. You also get to choose a depth level that best matches your workpiece and together with the 3 chamfering grooves for options on edge chamfering, provide the best results every time. Other outstanding features are the 0.47-inch max rabbit depth that removes more material with every pass and the generous 36-month warranty.

For an exceptionally smooth finish, we recommend going with this option. The high-speed blade, large shoe, and overall design substantially enhance accuracy and control.

Offers the best bang for the buck
A cinch to use
High-quality construction
Powerful
Small capacity dust bag
Corded
4. WEN 6530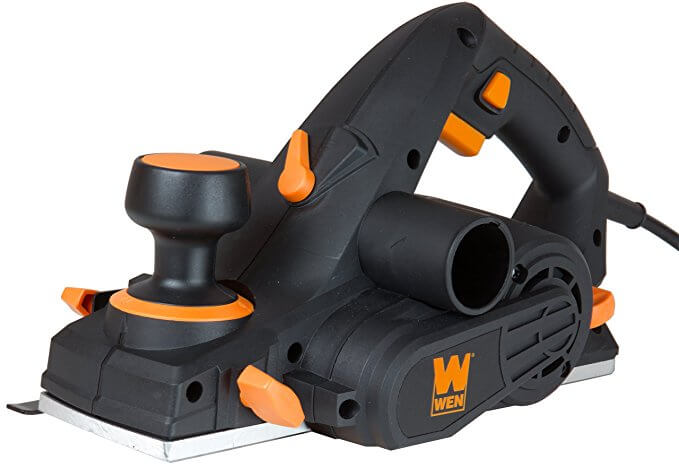 An all-around performer, WEN 6530 is a perfect choice for rabbeting, chamfering, and making various alterations on your workpieces. Despite being an entry-level electric planer with a budget-friendly price tag, it's still powerful, portable, and offers immense reliability. The package includes the most essential accessories such as a dust bag, kickstand, and parallel fence bracket all of which contribute to its industry-best performance. And since it's lightweight, at 6 pounds, and compact, it's remarkably easy to manoeuvre and use for extended periods.

The WEN 6530 comes with a high-speed, 6-amp motor providing heart-stopping speeds up to 34,000 cuts per minute, more than enough for the quick, efficient, and accurate processing of various wood stocks. The heavy-duty motor is capable of effortlessly toiling for hours on end, even when faced with tough industrial-grade applications, removing material quickly for a flat, smooth finish. A perfect choice for planing large bars and planks, it boasts a cutting width of 3-1/4 inches and up to 1/8 inches in cutting depth.

Expand to see more
Further, it features 16 positive stops with increments of 1/128 inches between 0 and 1/8 inches. For additional convenience, it comes with a reversible dust chute that attaches quickly and easily to either side of the planer. A simple, easy-to-reach button lets you change the directional aim of the sawdust for optimal dust collection and ease of use. And in between uses, you can choose to use the kickstand to prevent the blade from inadvertently coming into contact with the workpiece.

The versatile WEN 6530 planes away chips, splinters, and misshapen edges and easily fits and squares boards. A parallel fence allows you to cut materials accurately and carefully while the included V-shaped groove is perfect for flattening sharp post corners.

The tool is cost-effective yet powerful, reliable, and durable. With its 24-month warranty, you have the confidence and peace of mind to give every project your best shot.

Budget-friendly
Offers powerful and smooth performance
Versatile and highly customizable
Lightweight
Not ideal for heavy-duty use
5. Makita KP0810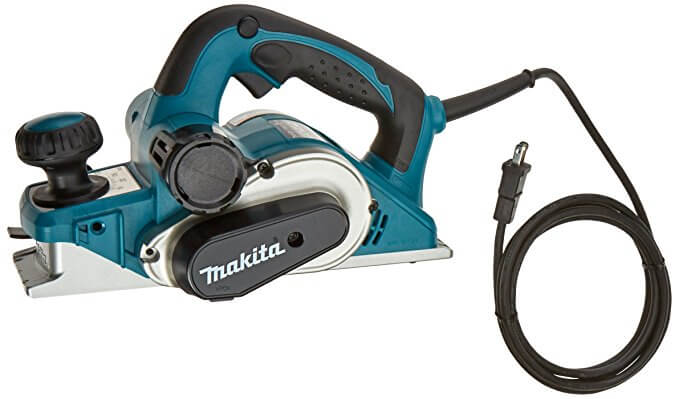 While most cheap, off-brand options on the market compromise on one or two aspects of performance or convenience to keep costs down, Makita KP0810 goes all the way. It pulls all the stops to provide users with top-shelve performance, always performing exactly as advertised. It brings together power, cutting capacity, and ease of use to ensure ground-breaking performance. As well as being versatile and easy to use, it's also pocket-friendly as you don't have to break the bank to have a taste of its premium features.
The Makita KP0810 perfectly embodies Makita's commitment to
innovative technology
and best-in-class engineering. An ideal choice for construction framing, window and door installation, and fine woodworking, the unit comes with a 7.5 amp motor capable of delivering exceptional cutting and planing prowess. It yields maximum speeds of 16,000 RPM, enabling you to quickly and easily remove stock from your workpieces. On top of that, add the fact that it comes with double-edge carbide blades and an ability to plane up to 3-1/4 inches wide and 5/32 inches deep in one pass.
Expand to see more
It sports an all-ball-bearing construction with a rigid die-cast aluminium for durability. In spite of that, it weighs just 7.3 pounds. The resultant high power-to-weight ratio pairs nicely with the ergonomically-centred balance and user-friendly handles for comfort and ease of use. Like our immediate previous choice, this model also features a spring-loaded stand to keep the blades from contacting the workpiece in between uses while the easy-to-use depth adjustment knob ensures accuracy. Makita understands that no one would enjoy working in an environment choking with wood chipping. And so this model also comes with a multi-directional chip ejection mechanism to keep your workplace neat and clean.

For seasoned professionals, greenhorns and everyone else in between on the lookout for a high-performance, comfortable, and easy-to-use electric planer, this Makita KP0810. It's also a durable and versatile and perfect choice for planing.

Smooth and powerful performance
Works accurately
High-end construction for durability
A solid choice for heavy use
Not ideal for light-duty projects
Doesn't come with a case
6. Bosch 1594K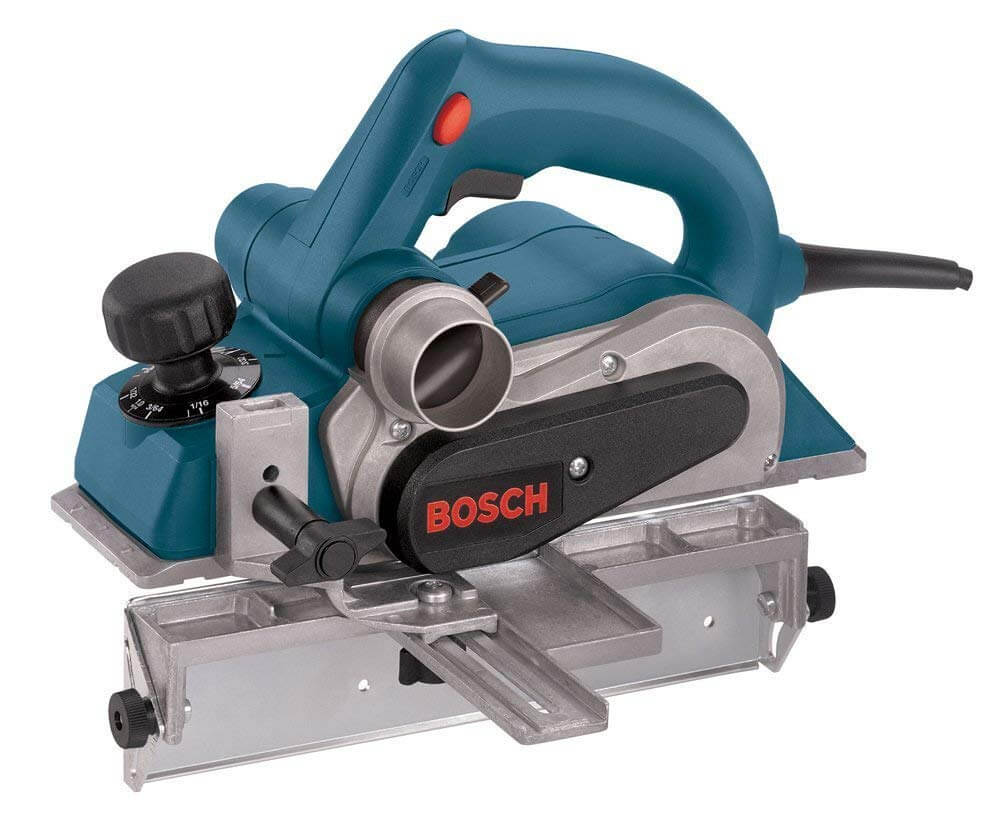 Bosch yet again demonstrates its mettle with its other leading option, the Bosch 1594K. This model has a lot in common with its bigger cousin yet manages to create carve its own path. It also comes with high power, reliable motor that reliably delivers exceptional speeds for quick and accurate material removal. As you'd expect, it leaves behind a smooth, high-quality finish in a single pass. It also boasts remarkable flexibility and practicality and is both safe and comfortable to use for extended periods.

As we've all come to expect from Bosch products, this option delivers quick stock removal for a smooth, high-quality, and ready-to-use finish. The spectacular performance is wholly attributable to the fact that it houses a high power 6.5-amp motor that dependably keeps the versatile two-blade Woodrazor system running at speeds up to 16,500 RPM. Because of the ingenious design of the fence and the fact that it's easy to adjust, you get superior, accurate results every time.

Expand to see more
Other additional features worth pointing out are the chip ejection that works flawlessly, keeping your environment clean at all times. The chip ejection is also multi-directional for your convenience. The depth adjustment knob works like a charm without the slightest indication of chattering or bogging down. It makes it possible to achieve the depth you want while the spring-loaded park rest stand prevents the blade from ruining the workpiece in between uses.

You even get to start-up in the middle of a workpiece and given the inclusion of a lock-off release button, you don't have to worry about the Bosch 1594K.

It is a versatile, multi-purpose electric planer. It's a perfect choice for domestic and industrial, on-site applications.

Versatile with its fence and ratcheting adjustment knob
Cost-effective
Powerful motor for heart-stopping performance
Has a switchable exhaust port
Heavy
The exhaust port is prone to clogging
7. Makita KP0800K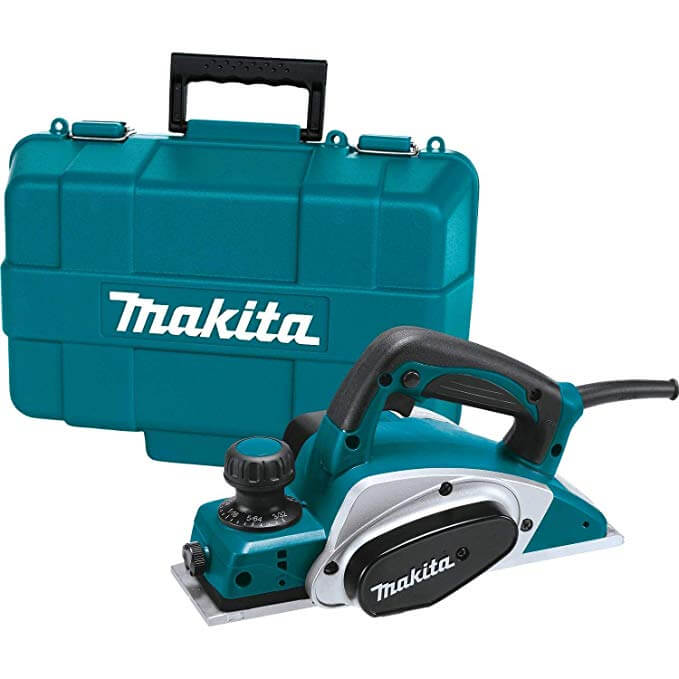 Hands down one of the best options currently on the market, Makita KP0800K is bursting at the seams with a plethora of instrumental features. Despite coming 7th on our list, few electric planers on this list can hold a candle to it. It's superior in every aspect, especially with regards to power, cutting capacity, and ease of use. It's also perfect for a wide range of planing projects right from light-weight tasks around the house to the heavy-duty, professional-level projects such as construction framing, window and door installation, and detailed woodworking. To understand how it stacks against other industry stalwarts, continue reading our detailed review.

Like most options on this list, it has a 6.5-amp motor for delivering incredible power output from the beginning to the end of a planing project. Speeds peak at 17,000 RPM and coupled with the two-blade cutter head, it makes short and quick work of removing stock, leaving the stock with a smooth, flawless finish. It sports heavy-duty, durable, double edge carbide blades for ever superior performance. It is capable of planing to a depth of 3/32 inches and a width of 3-1/4 inches in just one pass.

Expand to see more
As for durability, Makita KP0800K comes with a rugged and robust die-cast aluminium housing with an all-ball bearing construction. To ensure accuracy, it incorporates a precision-machined aluminium base. It takes things up a notch by keeping weight at a paltry 5.7 pounds in spite of the heavy-weight construction. The unit similarly sports even weight distribution and comes with comfortable rubberized front and rear handles that guarantee a firm,
slip-resistant grip
.
The handle also dampens vibration to minimize fatigue and hand strain while the spring-loaded stand raises the base, keeping the blade from your wood stock. Because of the handy blade setting system, installing a new blade takes no time and the lock-on button provides for continuous operation.
Makita KP0800K is not only functional but also practical, affordable, and easy to use. You can never go wrong with it.
Generous 12-month warranty
Lightweight and easy to use
Feature-packed for effortless performance
Durable
8. DEWALT D26676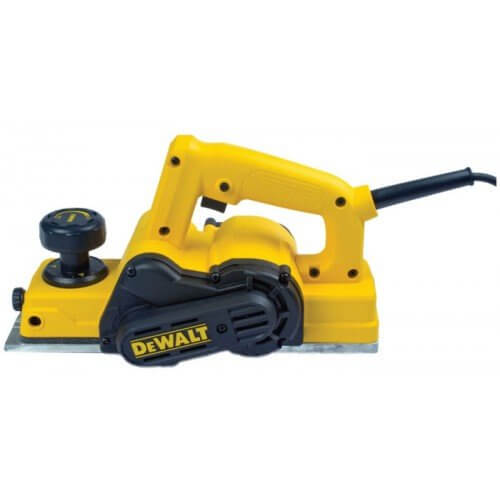 DeWalt is a household name and many woodworkers swear by it. It has a solid reputation for making of the industry's leading power and hand tools and as this DEWALT D26676 proves, it has mastered the art of perfecting an already excellent design. This electric planer ticks all the right boxes. It's powerful, easy to use, practical, and built with industry-best materials for an out-of-this-world performance and longevity. If you want to end up with a flat, smooth, and high-quality finish, don't look any further than this option.

One of the outstanding features is the pocket-friendly price tag. It has a choke full of time- and effort-saving features but goes for a fraction of the cost of some high-end models even though the difference in performance is minimal at best. For the value-conscious woodworkers on the look out for a device that offers excellent value for money, you'll be making a mistaking passing up DEWALT D26676.

Expand to see more
Performance-wise, it has a high-performance motor which supplies a tremendous amount of power for effortlessly planing the toughest of wood. The tool boasts up to 35,000 cuts per min for quickly removing all types of material, leaving your wood stock with a smooth, even finish. These cutting speeds are equivalent to 17,000 rotations per minute. Whichever way you look at it, the implication is the same; it works quickly and effectively. Couple that with the fact that it has reversible carbide blades, a calibrated adjustment knob, precision machined back and front aluminium shoes with a groove in the front shoe, kickstand, drive belt- poly v, and ergonomic handles, it's performance is nothing short of exceptional.

To seal the deal, the device comes with a generous 36-month limited warranty. You'll be hard-pressed to find a better deal elsewhere. Believe us.

Generous 36-month warranty
High-quality, long-lasting construction
Easy and comfortable to use
Compatible with reversible carbide blades
9. DEWALT DW734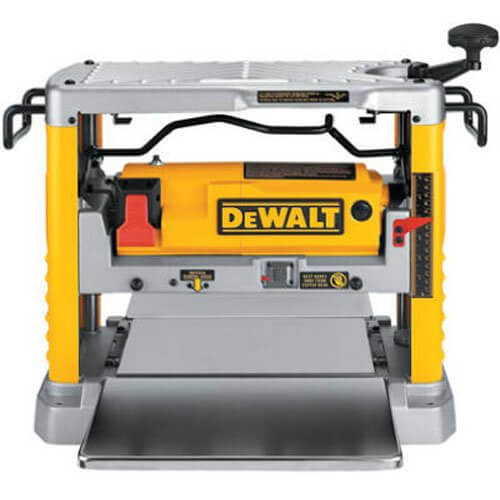 If you're looking for an option specifically designed and engineered for heavy-duty planing on an industrial site, check out this DEWALT DW734. The hardy, fastidious construction and ingenuity of its design lock out greenhorns and other budding woodworkers. It's a no-nonsense beast that powers effortlessly and quickly through the toughest and roughest wood stocks, leaving them with a high-quality, smooth, and flat surface in no time at all. Believe it or not, it's a cinch to use too, in spite of its beastly, volcanic performance.
First things first, the electric planer comes with a three-knife
cutter
head and a powerful, 15-amp motor. It manages decent speeds of up to 10,000 RPM, meaning that it takes the time, effort, and frustration away from planing rough and tough stock. You get to quickly and easily create custom materials with it, too. And that's just a tip of the iceberg. To these features add the fact that it boasts 96 cuts per inch and that should clearly put things into perspective for you. Essentially, the performance of other electric planers pales into insignificance to that of this bad boy.
Expand to see more
With regards to convenience, the DEWALT DW734 utilizes very sharp knives that you can reverse and even dispose of. They are 30% more durable and therefore economical and thanks to its ingenious design, changing the knives is quick, straightforward, and easy. To help keep your work place clean and free of chips and debris, the unit has a high-capacity, easy to use dust and debris management system.

Additional facts to keep in mind are that it weighs a mind-blowing 80 pounds with a cutting depth of 1/8 inches, a depth capacity of 6 inches, and width capacity of 12-1/2 inches. And it's very accurate with a 36-month limited warranty.

Without mincing words or boring you with unnecessary spiel, this DEWALT DW734 is exceptional in every way. It packs spectacular features and cuts smoothly, quickly, and accurately.

• Planes powerfully and accurately
Easy to use
Perfect for planing various wood types
Big capacity feed
Difficulty getting 1/32th or more one pass
10. Makita XPK01Z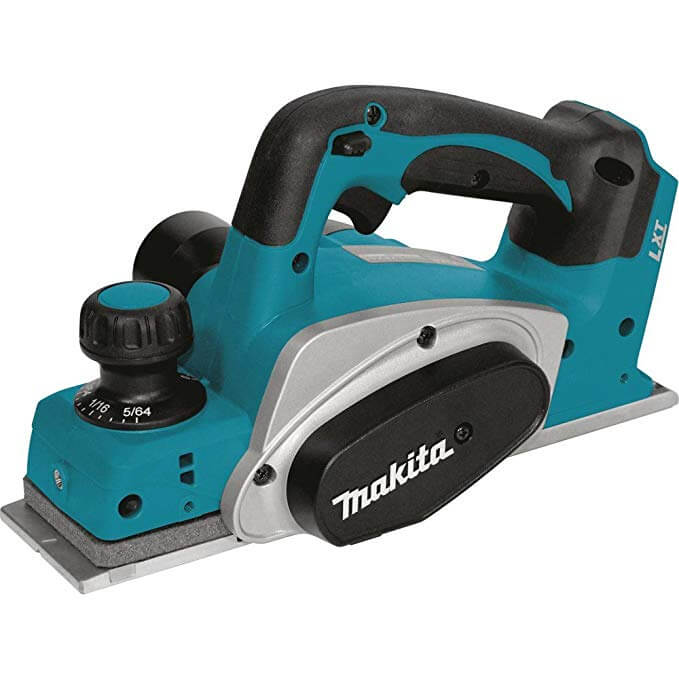 Like all the options on our list, Makita XPK01Z will be up your alley if you're looking for convenience and reliability. It offers you the speed and capacity of a corded planer and the convenience of a cordless model, as Makita aptly puts it. As a result, it works really quickly, accurately, allowing you to remove stock from various surfaces efficiently and perfectly. It runs off a high-capacity and long-lasting 18V Lithium-Ion slide-style battery. The battery charges quickly and runs for long, meaning you get to spend more time working and less time waiting for it to recharge.

Makita's power tools have a reputation for exceptional and smooth performance and this electric planer is no different. It comes with a powerful, high-performance motor that delivers speeds of up to 14,000 RPM, meaning that it takes minimal time and effort to remove stock. Handymen prefer the electric planer to its competitors because unlike them, it's capable of planing up to 3-1/4-inches in width and 5/64 inches in depth. In a single pass. The two features that contribute substantially to this heart-stopping performance are the 2-blade cutter head and the double-edge carbide blades. But that's not all.

Expand to see more
It also comes with a click depth adjustment knob featuring a high-contrast, easy-to-read scale. The settings range from 0 to 5/64 inches, enabling you to precisely adjust the depth while the precision machined aluminium base is designed to increase planning accuracy. As for ease of use, the electric planer sports a spring-loaded stand that raises the base, preventing the blade from ruining the workpiece. Other features that stand out include a lightweight design, a high power-to-weight ratio, perfect weight balance, rubberized soft grip for comfort, and electric brake for maximum productivity.

In sum, you're looking at one of the best options on the market. Makita XPK01Z ticks all the right boxes and performs exactly as advertised; flawlessly, accurately, quickly, and efficiently. If it sounds like the kind of electric planer you're looking for, don't hesitate to reward yourself with one.

Powerful, reliable performance
Leaves an accurate, smooth finish
Lightweight and easy to use
Versatile and customizable
Criteria for Choosing the Best Electric Planers
Performance
With regard to electric planers, performs entails lots of aspects ranging from motor power, speed, cutting depth and width, and of course the cutting blades. The best electric options seamlessly balances all these features for the best performance.
For everyday home improvement projects, a 7-amp motor should suffice. For heavy-duty industrial projects, though, a motor with a rating of more than 10-amps should do the trick. Powerful electric planers with speeds north of 15,000 RPM ensure uniformity and consistency in cuts. Also, consider the cutting depth. An electric planer with depth control adjustment ensures versatility, enabling you to work accurately with several pieces, both soft and hard.
Cutting Blades
Closely related to the performance is the design and construction of the cutting blades. You want a model that's compatible with dual blades for quick and efficient material removal over the tool's lifetime. The average option has speeds of around 15,000 RPM. To be able to withstand that level of extreme abuse, it should be made from industrial-grade materials to ensure durability and the best performance.
Most manufacturers prefer to use high-strength steel or carbide because of the materials' ability to withstand heavy-duty use. To get the most out of your blade, you can consider going for one that's reversible or easy to sharpen.
Convenience
Besides being high-performance, an electric planer also needs to be easy to use. The depth control knob mentioned earlier makes it possible for the user to choose a cutting depth that best matches your workpiece. Also, while a long cord still limits portability by keeping the machine tethered, it eliminates the need for an extension cord.
Planing wood generates lots of dust and debris and so if your model has a dust control or collection capability, the better as it'll keep your environment clean and conducive at all times. Ergonomically designed handles keep your hands comfortable and provide a firm, slip-resistant grip.
For workshops that are space constrained, it'll be ideal to go for an option that will fit easily or rearrange the place to get the necessary space. On the same vein, consider the weight of the tool vis-à-vis the project you want to undertake.
Affordability
One last consideration to pay attention to is the price of the planer. The differences in price between various models are wide. Two of the most important determinants of price are quality and features.
As a general rule of thumb, high-quality and feature-packed electric planers cost more because they also offer heart-stopping performance. They are also more durable and considerably easier to use. By deliberately going for a cheap model, you'll be foregoing these and several other features.
This is, however, not to say that you should break the bank to afford features you'd otherwise not use or don't need.
Frequently Asked Questions
Q: How different is an electric planer from a jointer?
A: They are as different as day and night. A planer is engineered for creating smooth and even wood surfaces and to cut your workpiece to the right thickness. A jointer, on the other hand, is for flattening and smoothing out the four corners of a workpiece, which is mostly wood.
Q: Do I have to wear protective gear when using one?
A: It's highly recommended that you do. You don't want to take chances with your eyes, ears, and hands, do you?
Conclusion
Our carefully curated list features only the top-rated electric planers currently on the market. Their in-depth reviews and the section on factors to consider together should make it incredibly easy to select an electric planer that best matches your wood planing projects.
Our picks are efficient, accurate, easy to use, powerful, affordable and incredibly durable. The ball is back in your court.
Subscribe to our newsletter