Best Safety Harnesses Reviewed & Compared
last updated:
Sep 27, 2018
A safety harness happens to be the most crucial gear in the fall-protection but one of the most under-considered. We presume that one harness will work just as good as the next without taking into account the broad range of features on each item. The features exist to help you select the appropriate gear for a particular industry.
Our Top 3 Picks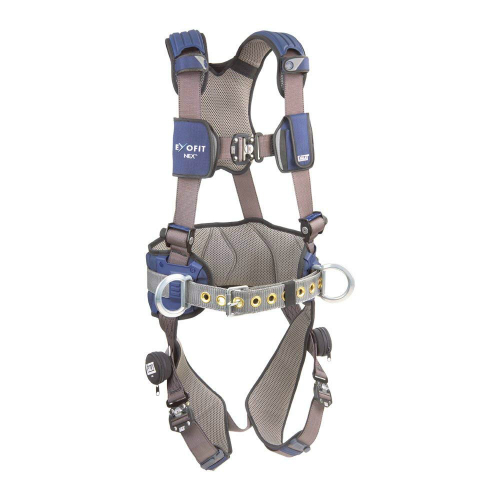 3M

Our rating
Quality
Price:

See Here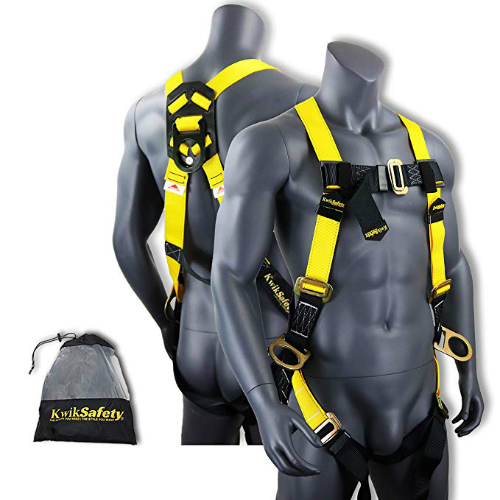 Kwik

Our rating
Affordable
Price:

See Here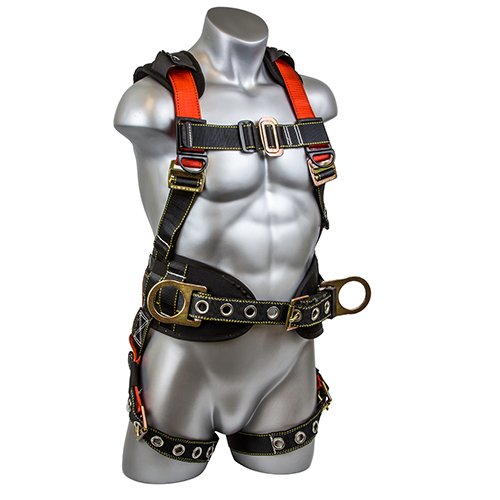 Guardian

Our rating
Durability
Price:

See Here


Harnesses have come a long way from a set of rudimentary straps to carefully designed safety gear that makes working at heights a much safer undertaking. Also, although we talk of them as if there was only one brand, there are designed for different industries. We recommend you take the time to consider if the harness is best suited for you, and you mull over the units below if you are looking for any recommendations.
10 Best Safety Harnesses
1. 3M DBI-SALA ExoFit NEX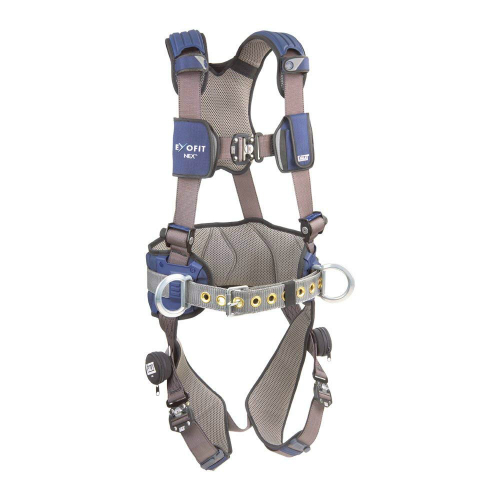 The DBI-Sala is a professional grade and one that is made with speed, efficiency, safety in mind. The modern work environment requires workers to be fast to increase efficiency and the DBI-Sala ExoFit NEX is designed to be no-tangle and fast to wear.

First, you will appreciate the aluminum side D-rings as they reduce the weight of the gear. Also, it has more D-rings on the hip for better positioning and increased convenience and freedom. However, our best features were the in-built reflective material and the integrated trauma straps.

Integrated trauma straps – The straps help minimize the suspension trauma by providing a continuous loop for post fall. You will also appreciate the revolver vertical torso adjusters that are simple and fast to adjust. They will eliminate the loose ends that can get caught in machines and will also lock into place and prevent any slippage.

Reflective material – You can use the DBI-Sala ExoFit NEX in environments where high visibility is required. It makes it an all-around harness that can be used in various industries.

Expand to see more
Product Features

Weight: 6 pounds
Material: polyester
Aluminum side rings
Memory-fit web lock

Who is it for?

The 3m ExoFit NEX is a professional grade harness for persons in the construction industry.

You will appreciate the rip-stitch impact indicator as they enable you to assess the damage to the harness at a glance
The duo-lok quick connect on the chest, and leg straps make it a breeze to strap yourself as it allows one-handed operatione
The hybrid shoulders, the backs, the legs, and hip padding increase the comfort and durability of the items
The molded lanyard keeper holsters snap hooks easily but will also breakaway in the event of a trip hazard
Features a built-in pocket to hold a phone and other personal items
Happens to be quite pricey, and the tool belt may be too small for some individuals
2. KwikSafety THUNDER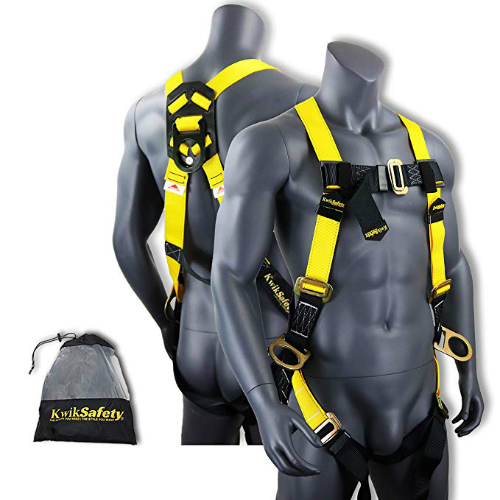 The industrial KwikSafety harness is a sturdy unit that features a minimalist design so as not to get in your way when clambering on rooftops. It is lightweight and can be used for extended periods of time with very little fatigue. You will especially love the strength and ergonomics of this unit but more on this later.

The industrial unit is used for fall arrest and travel restraint. In the event of a fall, you are supported by the dorsal attachment and the design will direct the load through the shoulder straps to prop you around the thigh. It also puts the fall angle at within 30-degrees to vertical to reduce the post-fall trauma.

Furthermore, it features some bright colors and thus can be used in environments that require high visibility.

Strength – All the items, from the buckles, the D-rings, the fasteners, the webbing, and stitching are designed to hold. The D-rings have a minimum breaking strength of 5000lbs/22KNwhile the adjusting buckles have a stamping steel material with a minimum breaking strength of about 4000lbs/18KN. T
he webbing is designed to be tangle-free and comfortable. The synthetic material used has strength, aging, heat resistance, and abrasion characteristics with a tensile strength of about 6000lbs/27KN while the structural stitching has a strength of about 4000lbs/18KN.

Ergonomics –Other than being a proper fit piece of equipment, the Industrial KwikSafety has "no-loose-ends" straps with pass through allot steel buckles. They reduce the carried weight and the energy needed to adjust the bands throughout the working day.

Expand to see more
Product Features
Weight: 3.1 pounds
ANSI and OSHA compliant
100% polyester webbing
Who is it for?
Great for
carpenters
, construction workers, tower climbers, and window cleaners.
Affordable
It is easy to get in and out of which increases the productivity of your workers
It is lightweight which allows you to use the product for extended periods while still heavy duty to carry the load
Retails with a small bag to put it in
The straps are difficult to adjust for first-time users
3. Guardian Fall Protection 11173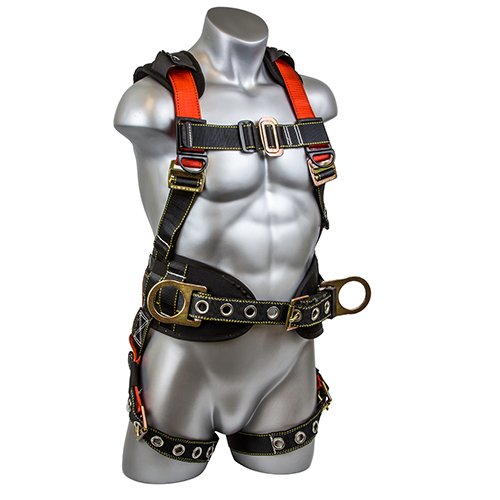 We would recommend you get the Seraph for it meets all ANSI and OSHA standards for fall protection. However, it also retails with some of the best bells and whistles at an unbeatable price. First, there is the3 D-rings, two side D-rings for positioning, and the standard dorsal D-ring on the back.

It happens to be light enough to wear throughout the day but is also tough to accommodate weights up to 250lbs. It has 6 points of adjustments, that allow you to get the right fit and the buckles are all made of steel and thus can withstand any abuse.

The impact indicator on the back also happens to be a nice touch as it will pop out informing you of any damage to the harness. However, our best features were the shoulder straps and the rollers.

Shoulder straps – First, the shoulder straps are padded to increase comfort, and they are stretchable. Seeing as your shoulders will bear most of the burden when carrying weights, the straps being stretchable is an added advantage. Furthermore, they are removable for those instances where you want to reduce the weight.

Rollers – These increase the agility of the D-rings and serve to reduce the wear and tear around the contact points.

Expand to see more
Product Features
Weight: 5.5 pounds
3 D-rings
6 points of adjustments
Stretchable shoulder straps
Who is it for?
The Guardian Seraph is for persons in
window cleaning
and the construction business.
Excellent quality at an unmatched price
The unit is made of heavy-duty webbing, which increases its durability and couples that with a degree of softness increasing the comfort
The tongue buckle waist and leg straps make it easy to get in and out of the harness
The gear has two lanyard keepers on your shoulder straps to keep your lanyard from dragging behind and tripping you
The waist is padded increasing the back support
Has a cradle belt to increase comfort on the bottom side
There are some concerns with the sizing of the product
4. Protecta 1191209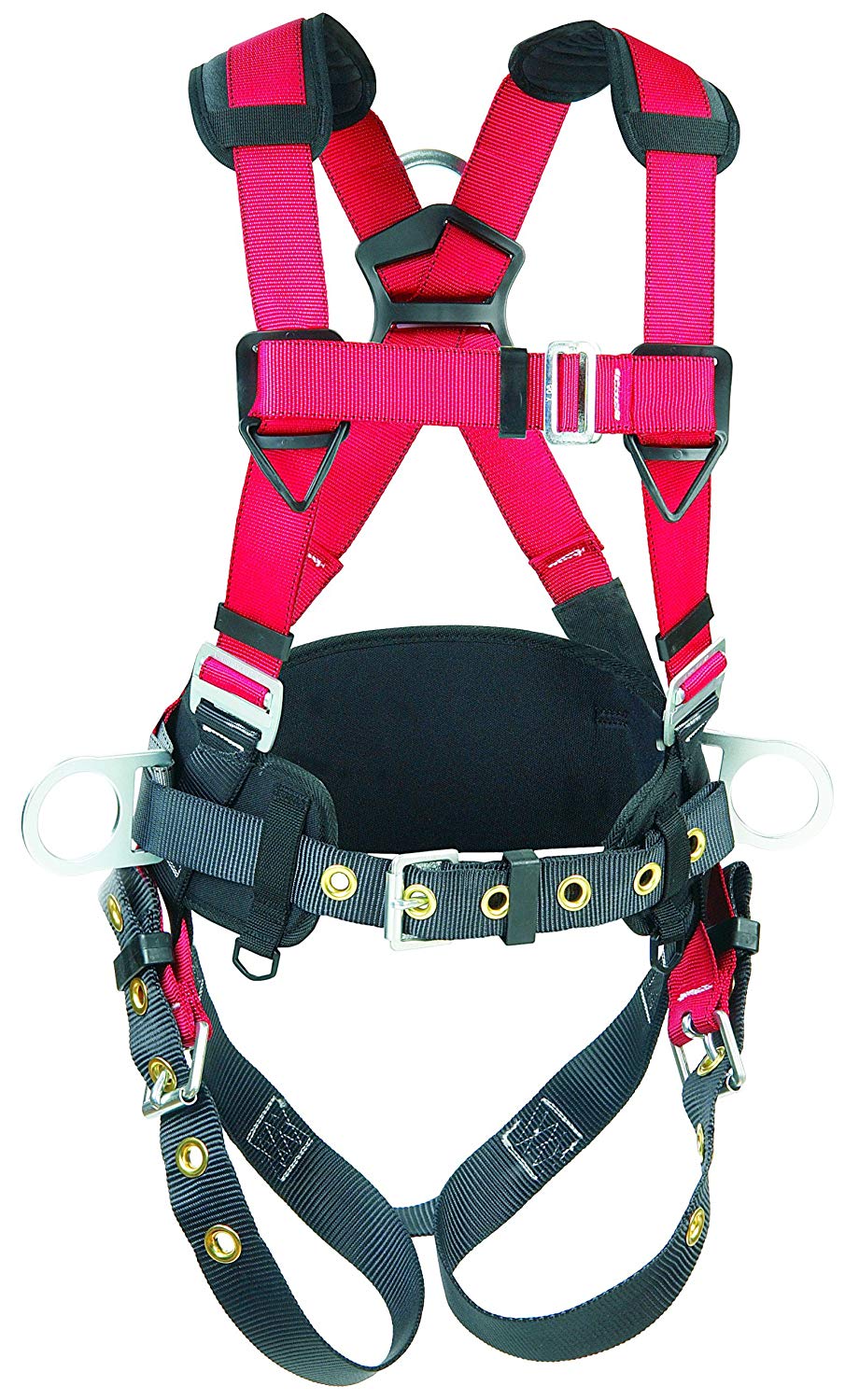 If you are in the market for an aesthetically pleasing harness, we recommend you get the Selecta Pro. It features these updated colors that increase the appeal. However, there is more to it than meets the eye. It has an improved fit, and is quite comfortable which results in lower fatigue of your workers and increased productivity.

The unit has 3 D-rings; one dorsal ring that attaches to your fall arrest system and that keeps you upright for added safety. It also has some side D-rings on the belt for better positioning.

The fastenings also allow you to accommodate some equipment with four equipment rings. As for the shoulder pads, they distribute the weight over a larger area and reduce the strain. However, we loved the impact indicator and webbing most.

Impact indicator – Though this might seem like a standard feature on safety harnesses, it is quite handy as it allows you to inspect the equipment at a glance and assess the damage.

Webbing – The 3M Selecta Pro is made of lightweight but strong webbing which enables you to work for long hours with little fatigue. The webbing too increases the durability and the longevity.

Expand to see more
Product Features
Parachute torso adjusters
Material: polyester and nylon
Weight: 5.12 pounds
Who is it for?
The Selecta Pro is for individuals in areas with low traffic owing to the
bright colors
. It also works well for people in construction and electrical fields.
The item features protected labels to protect them from the elements
The tongue buckle leg straps make it easy to get into and out of the garment
Has built-in lanyard keepers to hold your lanyard and avoid trip hazards
Has back lumbar support and the parachute torso adjusters allow for a perfect fit.
The shoulder straps slide up and down which is quite frustrating
5. Guardian Fall Protection 1703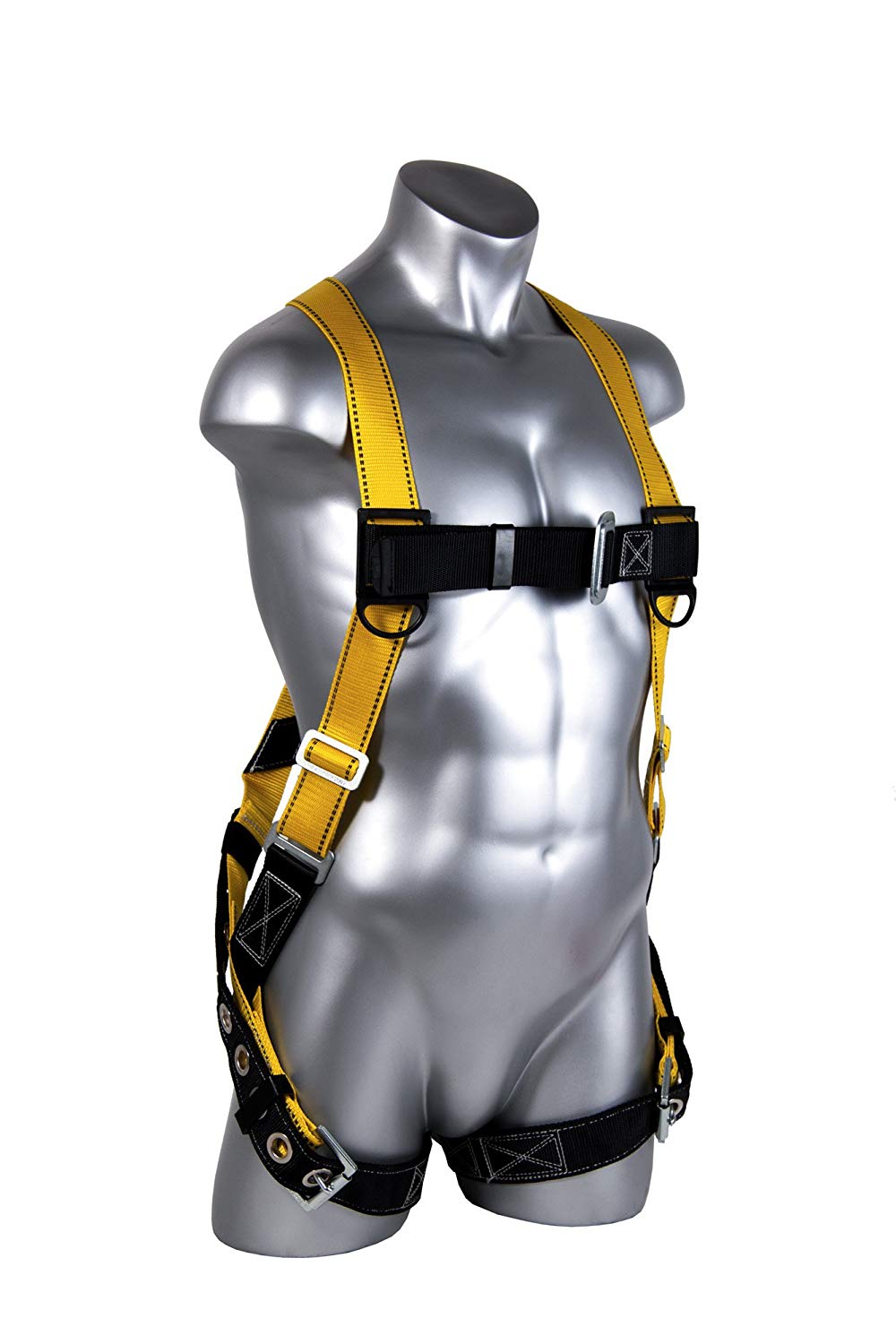 For light tasks or jobs that don't require tools, we recommend you get the Guardian Velocity. It is an economy harness but one with some pretty amazing features. First, there is the webbing wear indicator. Yes, it is a common feature, but only in premium products. It is a rarity in economy harnesses, and it is a welcome addition. It informs you that the webbing has been damaged and that it should be taken out of service.

You will also appreciate the finished webbing ends as they keep the endings form sustaining damage. Remember the endings are the most vulnerable part of a harness and the finished ending increases the life. The gear to has a back D-ring to connect to your fall arrest system, and that will keep you upright in case of a fall. However, our best features were the identification and the dual lanyard keepers.

Lanyard keepers – Again, this is an economy harness and features such as lanyard keepers are sacrificed for it to retail at such a low price. However, the Guardian Velocity still has the double keepers to hold your lanyard and avoid trip hazards.

Personalization – You can personalize your gear with identification tags without running the risk of ruining the webbing.

Expand to see more
Product Features

100% polyester
One back D-ring
Weight: 2.76 pounds
Worker capacity range: 130 to 420 pounds

Who is it for?

The Guardian Velocity is for weekend DIYers. It lacks the extra features required by professionals.

The gear is 100% polyester and only weighs 2.76 pounds
It is thus lightweight and can be used for extended hours
Affordable
It is well designed, and the clasps and buckles are superb so getting in and out of the equipment is a breeze
Has tongue buckle belts
Doesn't include a belt to hold tools
6. Miller Revolution Full Body Harness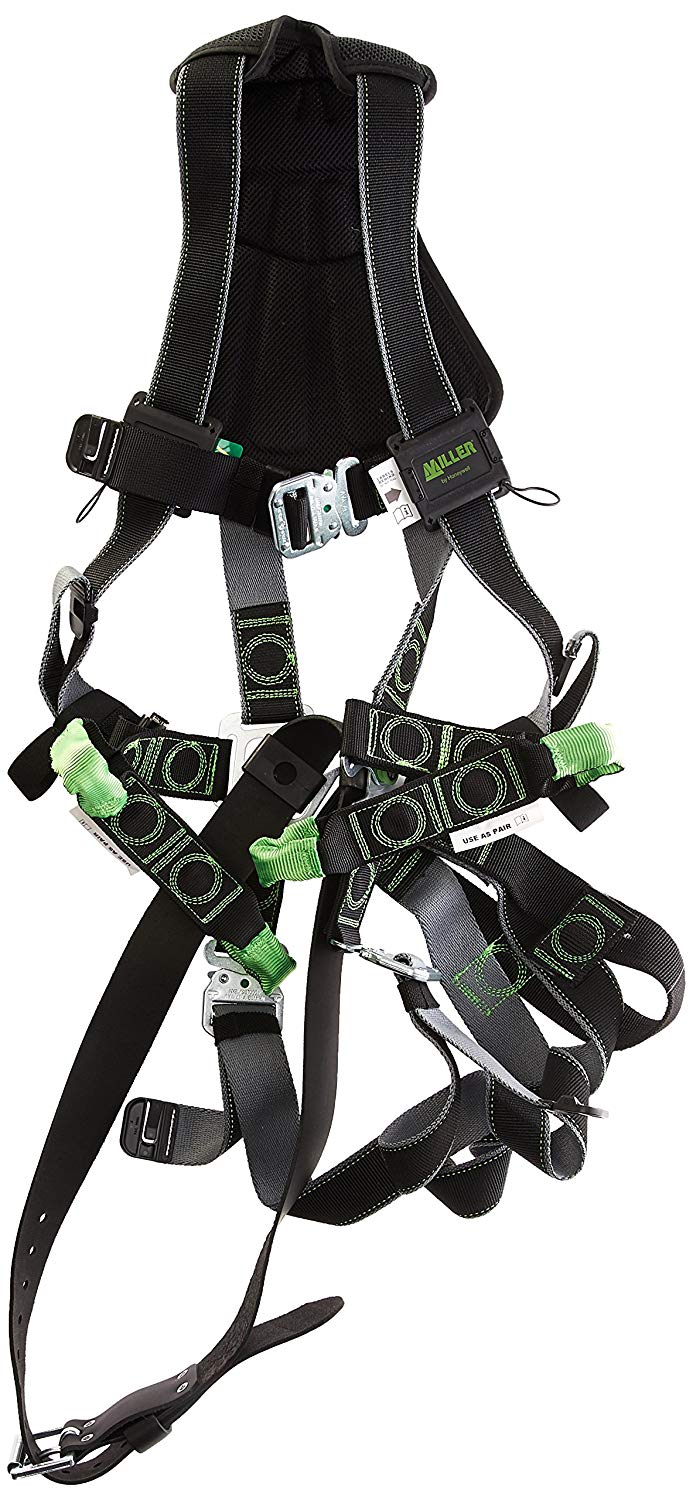 The Miller Revolution harness is a professional harness and one that requires a generous budget to afford. However, it will exceed all your expectations in areas of comfort, compliance, safety, and durability.
First, there is the back D-ring that attaches to your fall arrest system. It is vital as it ensures you are back in an upright position to avoid any fall trauma. Furthermore, it is over-sized to prevent any false connections. You will also appreciate the suspension loop as it helps reduce the pressure on the limbs veins and arteries. There is also the semi-flexible Ergo armor back shield that serves to minimize the effect from self-retracting lines and snap hooks. However, our best features were the webbing and the pivot link connection.
Webbing
- First, the Miller Revolution harness is 40% stronger than ANSI and OSHA requirements, has been tested to 7,000lbs/31KN and are chemical resistant. Therefore, you are assured of superb quality. The inside of the harness is made of a soft textured material that increases the comfort, while the outside is made of durable polyester to enhance the durability.
Furthermore, the equipment features a knitted mesh membrane to optimize the air circulation.
Pivotlink connection
– Owing to the unique rotary design, you can adjust the upper and lower torso independently which increases the comfort of the unit. It also has an accessory system to attach
tool belts
, tool holders, and pouches.
Expand to see more
Product Features

Weight: 5.4 pounds
Worker capacity range: 400 pounds

Who is it for?

The Miller Revolution harness is for professionals probably in the construction or petrochemical industry.

The unit has a removable belt which increases the convenience
It features a clip-on design on web-finials to organize the webbings reducing hazards
Happens to be quite pricey and bulky
7. Hunter Safety System X-1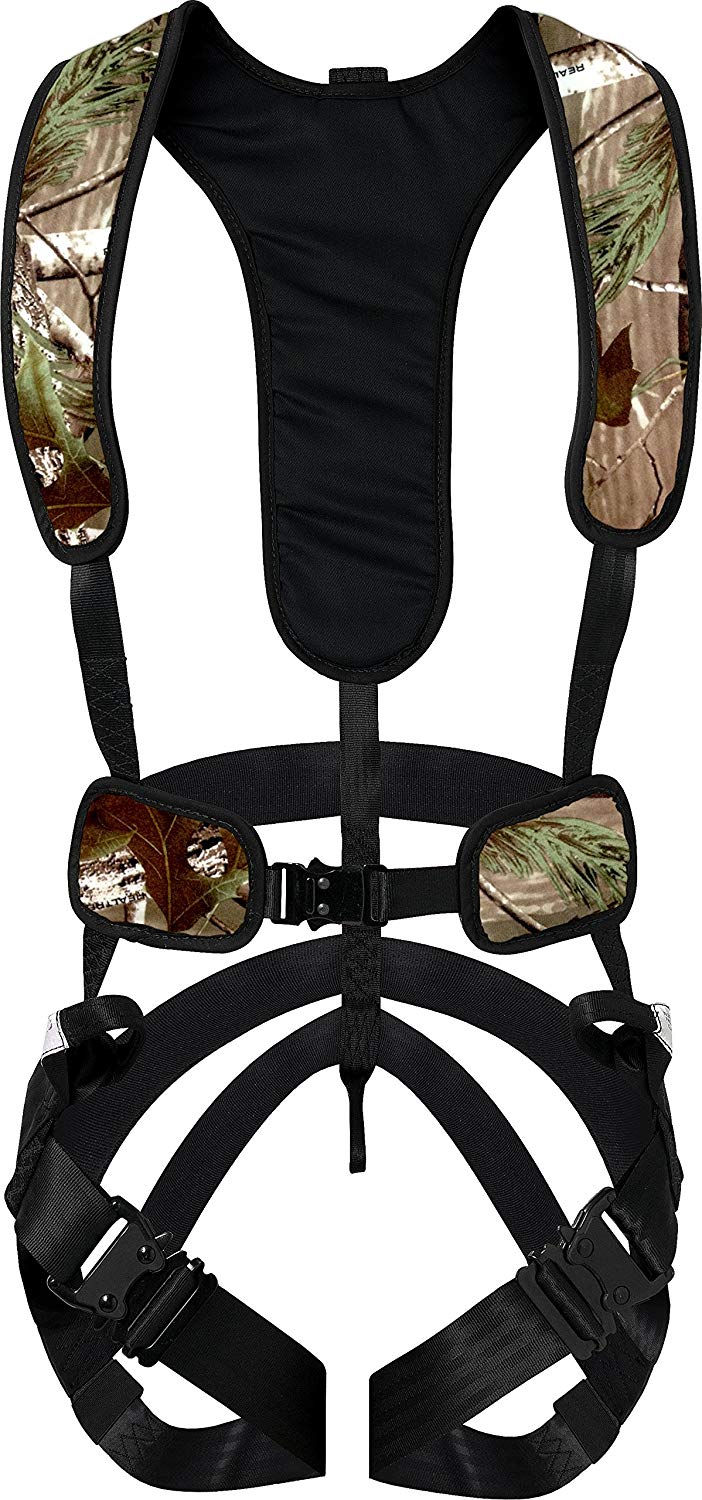 Designed for hunters and tree loggers. The Hunter Safety system surely is a unique product. It is safe and made of quality items to last a lifetime. There are no dangerous dangling straps or confusing weave-through buckles. Also, the straps are put on your stomach and not on your chest. It increases the safety in the event of a fall as it will not get into your neck. Also, the Hunter Safety is double and triple stitched to increase the durability.
You will also appreciate how silent it is, thanks to the brushed material, and the camouflage that increases the stealth. It also happens to be versatile enough for all season use as it can be worn over lightweight clothes or under cold weather wear. However, our top features were the comfort, and the suspension relief strap.
Comfort
– The Hunter Safety is only 2.5 pounds which increases mobility as you can wear it all day with minimal fatigue.
Suspension relief strap
– First, you will appreciate that this serves as a deer drag. However, it is meant to attach to
your tree
to protect you in case of a fall. It has four sewn in areas (impact indicators) that will break in the event of a fall and cushion the fall.
Expand to see more
Product Features

Weight: 2.4 pounds
5-year warranty
Includes a harness to attach it to a tree.

Who is it for?

This is a beginner safety harness meant to introduce people into safety harnesses. It is also perfect for working on trees.

It is affordable
It includes some loops to attach a waist liners belt should you need one
Meets all industry standards set by the Treestand
Manufacturers Association
For gear that is supposed to be silent, the metal belt buckles tend to make noise when hit with other hunting equipment
8. Fall Tech 8595A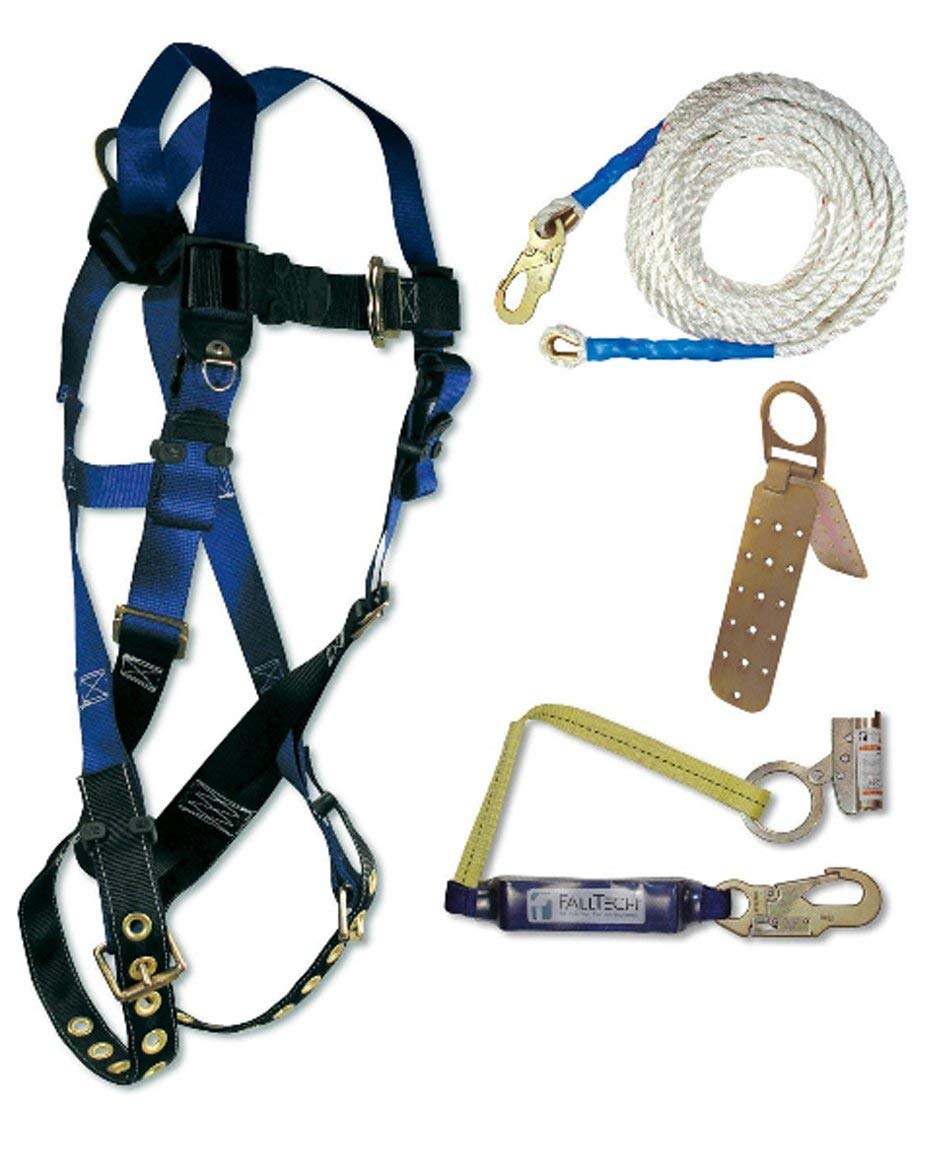 If you are looking for an option and your equipment needs are uncomplicated, we recommend you try out the 8595A by Fall Tech. It comprises of a harness and a roofer's kit which are all packed in a neat 5-gallon bucket.

The set comprises of a 7016 universal full body harness with 5 points of adjustment that enables you to get the right fit, 9-position tongue buckle leg straps, and a back D-ring that will connect to your fall arrest system. The webbing of the gear is heavy duty at 6,300lbs. It also features a paired mating buckle that's adjustable on the front torso. Our top features thou were the shock absorbing lanyard, and the 7410 roof anchor.

Lanyard – The shock absorbing lanyard has an integral shock absorber which is coupled with a self-tracking design that eases the vertical movement on a rope lifeline. Also, the lanyard will rock onto the lifeline at the beginning of a fall.

Roof anchor – First, it is designed to work with most roof peaks which increases its versatility. It also happens to feature some heavy-duty allow steel construction that increases the durability of the unit and can be used repeatedly provided it is attached with screws. It is rated at over 5,000 lbs, and this is a robust unit and has holes marked for either use with screws or nails to ease installation.

Expand to see more
Product Features

Weight: 16.55 pounds
5/8" 50' vertical lifeline
3' lanyard

Who is it for?

The 8595A is perfect for construction professionals, especially roofers.

It is well within the affordable range
Also includes a lifeline with three strand construction that increases the durability
It is comfortable and gets the job done
It only has D-rings on the back which can be limiting
9. Warthog Comfort MAXX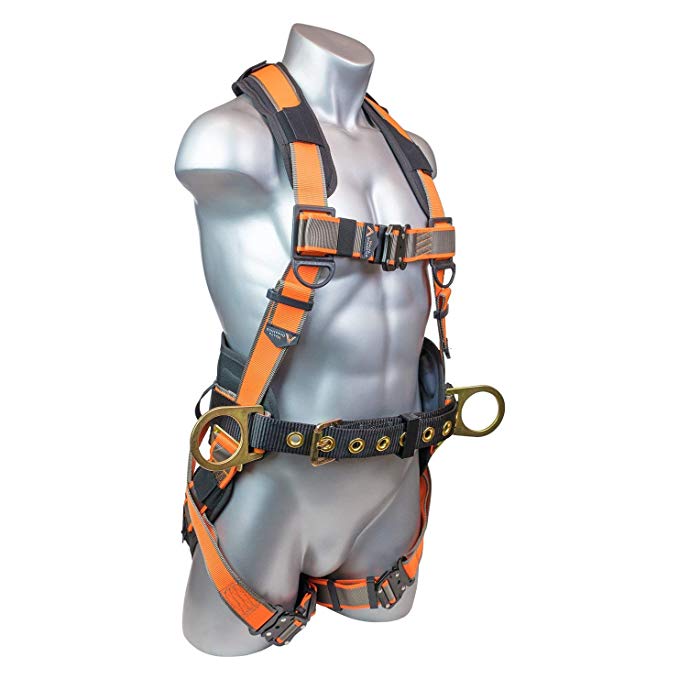 If you are looking for a high visibility harness, we would recommend you get the Warthog MAXX. It features a bright Orange color which will keep you safe when working in areas with traffic or other low light areas. You will also appreciate the reflectivity as it increases your safety. The gear meets OSHA and ANSI standards and has a capacity range between 130 and 320 pounds.

You will also appreciate the dorsal D-ring as it attaches to your fall arrest system and keeps you upright in the event of a fall. The rings are made of alloy steel that for durability and longevity. The gear also has some side D-rings that help with positioning and thus increases your mobility. However, our best features were the breakaway lanyard, and the comfort and functionality.

Breakaway lanyard – In the event of a fall you want a unit that will break your fall and not bring you to a sudden halt as it will cause trauma. The breakaway lanyard has several stitchings that will slow down the fall without causing suspension trauma.

Comfort and functionality – The gear has five adjustment points that enable you to fit it appropriately. Also, there is the flexible and comfortable waist belt that allows you to work for extended hours. You will also appreciate the fall indicator as it will enable you to assess the damage at a glance.

Expand to see more
Product Features
Weight: 6.11 pounds
Side positioning D-rings
Breakaway lanyards
Who is it for?
The Warthog MAXX is ideal for working on roadsides, construction,
and roofing.
It is easy to get in and out of thanks to the quick connect chest and leg straps
It meets OSHA and ANSI requirements
Has a limited lifetime warranty
The belt is removable for those situations where the weight will be a problem
Seeing as it is quick to get on and off, it can easily unstrap at a touch
10. Peakworks Fall Protection V8001000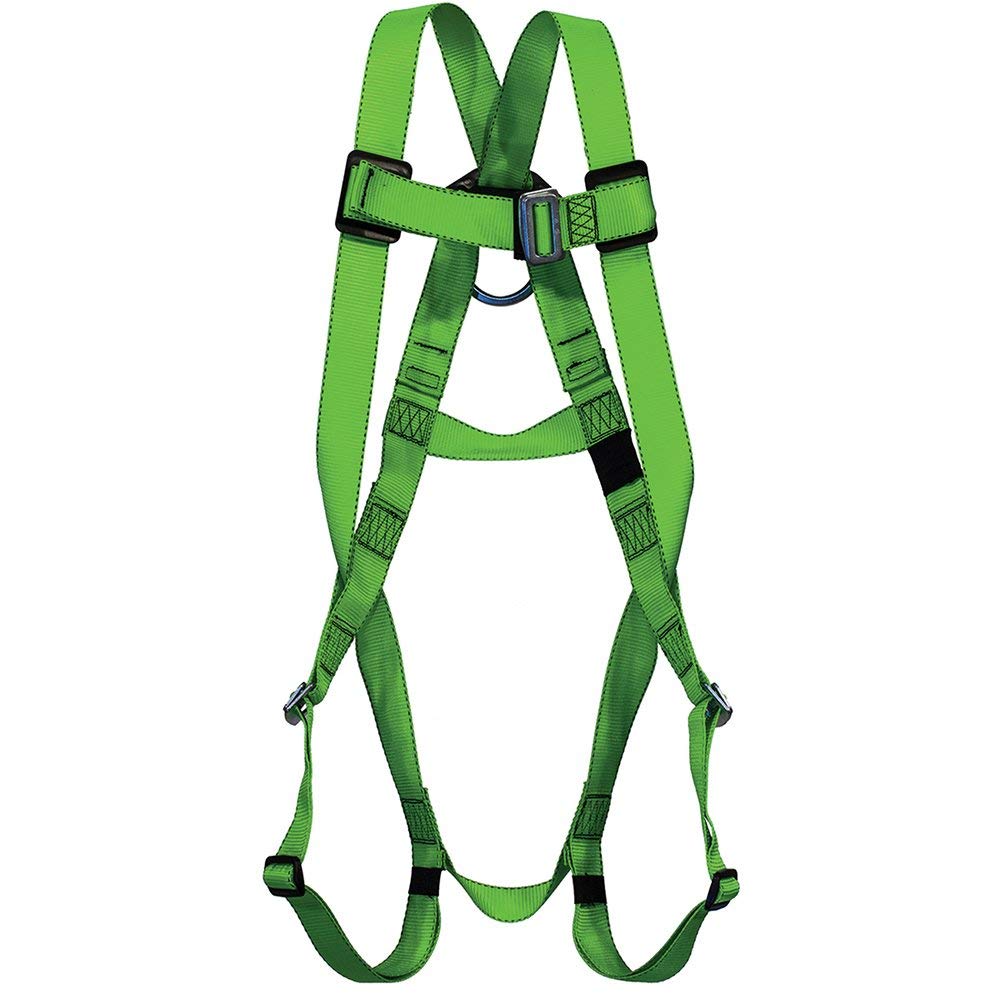 If you happen to be on a tight budget, we recommend you try out the Peakworks harness. It is a simple piece of gear but one that meets all ANSI requirements. However, it lacks the bells and whistles that are found in premium harnesses.
However, despite being an economy option, it still has some nifty features that you will love. First, it has three adjustment points and thus it is comfortable to wear and get out off. Couple that with the quick connect buckles on the chest and the leg straps and you have one lovely unit.
Also, it has two lanyard keepers which are a rarity at this price point. They offer better storage for your lanyard
which protects
you from trip hazards. The D-ring is on the back to keep you upright in the event of a fall. However, our top features were the weight, the Hi-Vis colors, and the fall indicator.
Fall indicator
– The Peakworks harness has a fall indicator that will enable you to assess the damage before donning the gear.
Lightweight and Hi-Vis
– if you know you will be working for extended periods of time, you will appreciate how lightweight it is at only 2 pounds. Also, the high visibility allows you to work in low light areas or by the roadside.
Expand to see more
Product Features

Weight: 2.0 pounds
Color: Green
Material: polyester webbing.

Who is it for?

The Peakworks harness is for individuals on a limited budget, for people looking for Hi-Vis gear, or individuals who wish to wear the equipment for long hours.

It is inexpensive; owever, what's more, pleasing are the features on this harness and at this price point
It lacks the bells and whistles that add convenience and comfort
Things to Consider Before Purchasing a Harness
Type of work
Knowing exactly how and why your workers will need harnesses enables you to pick the right equipment for them. First, ask yourself whether they are for sporting or professional activities as a harness for recreational use differs from one for professional use.
A seat harness is used in rock climbing and has unique features for carrying specific gear such as carabiners, anchors, and belays. Yes, you need equipment in the construction and other professional industries, but the features on the harness will be different to accommodate the equipment.
Moreover, you ought to consider the type of work you will be using the harness for. Different jobs call for different material, different connection points, and features. Below are some specialty safety harnesses that you should know.
Construction harnesses – These are designed to carry extra weight on the padded belt. They are thus made of a stronger material and will be tough compared to the rest. They also have more D-rings that enable you to position yourself better when working.
Welding safety harnesses – These are built to resist arc and the heat from a welding torch. They feature a non-conductive and fire retardant material which standard harnesses do not have.
High visibility harnesses – You will need a set of these if you will be working near traffic or areas where high visibility is required. They feature materials that increase your reflectivity, and visibility.
Crossover safety harnesses – These are popular with ladies and have a D-ring on the front side. They are attached to a ladder and used when ascending or descending.
Comfort and ease of use
If we are honest, we are more likely to don harnesses appropriately and use them for extended periods of time only because they are comfortable. In the past, harnesses were quite rigid and uncomfortable, but comfort has now become the primary consideration when designing harnesses.
Investing in user-comfort guarantees that your employees will wear it appropriately since an improperly worn harness is useless. One way manufacturers increase the comfort is by adding padding. It helps maintain the shape of the gear, thus wearing it will be a walk in the park. It also adds an extra layer of protection in case of a fall, and in the fall suspension.
Size
There is no one size fits all safety harness. Yes, the equipment is adjustable (more on this later), it isn't adaptable to a point where it is appropriate for all body types. A safety harness should be snug but not tight.
Ensure that the shoulder straps sit on the shoulders and not on your stomach. The D-rings should be between your shoulder blades, and you should be able to slide a flat hand, not a fist, between your leg and your leg strap.
Weight
There are instances where you have to take into account the mass of the harness. If the climbing will be prolonged or rigorous, the bulk becomes a factor, and you need a lightweight product to reduce the fatigue.
Manufacturers now design harnesses with lightweight seats and padding for such instances. Furthermore, they rely on lightweight aluminum parts over the heavy steel parts.
Webbing
Webbing has come a long way from the earlier days of the harness. Now it offers some unique features in that they can be water resistant, paint resistant to maintain the aesthetics, and even stretchable for greater ease of movement and versatility.
FAQs
Do safety harnesses have an expiration date?
Initially, manufacturers used to include the expiration date of the harness, but now only a few do. Also, OSHA required that a harness is taken out of service after five years, but this stipulation was scraped. Now with the proper care, a harness can serve you for well over a decade. Most manufacturers will incorporate an inspection requirement which we recommend you adhere to.
However, full body harnesses must be replaced if they have been involved in a fall. It doesn't matter how pristine-looking they are since most of the fall-arrest features have been damaged. We also advise you to inspect any gear before work. Regular inspections and observing the manufacturer's instructions could save a life. We also recommend you conduct an annual documented examination by a professional, to ascertain the conditions of your harnesses.
At what height should you use a safety harness?
The height requirements for fall-protection are application specific. For general purposes, OSHA requires that you provide safety harnesses at 4 feet; 5 feet in shipyards and 6 feet if you are in the construction industry. If you are in long shoring operations, you need to use harnesses at 8 feet, 10 feet for steel erection activities and 30 feet for deckers.
What is fall clearance?
This is the minimum vertical distance a person needs in case of a fall. It shouldn't be confused with the distance between a worker and the ground or the closest object as there are other issues to consider. Fall clearance includes deceleration distance, the height of the individual, and the lifeline used. By and large, the right calculation could make the difference between a safely arrested fall and a grave injury.
What is a swing fall?
This is the pendulum-like motion that happens when the connector is not above the individual and is horizontally away from the anchorage.
How do you inspect the harness?
A safety harness comprises of various parts, and you should inspect each for damage. For the webbing hold it in your hands at about 6 inches apart, and bend it in an inverted U to create some tension. The tension makes it easier to spot damaged fiber or cuts. Inspect the entire webbing by following this procedure.
You should also inspect the D-ring and the back pad. The D-ring should be free of cracks, distortion, breaks or any rough edges. Also, it should pivot freely and check for broken stitching. Inspect your buckles as well for any wear, cut fibers, or broken stitching at the buckle attachment.
As for the tongue buckles, their, shape and motion should be free of distortion. It should move freely in its socket, and it should overlap the buckle frame. Check for any sharp edges or broken gormets as these are signs of damage.
Conclusion
Safety harnesses are just part of a larger fall arrest system and cannot function individually. However, they are a crucial component, and you should put in the extra effort to ensure you get the best harness for yourself or your workers. If you want recommendations, try out the gear on this list. Finally, feel free to leave a question, a comment, or a compliment below.
Subscribe to our newsletter