10 Best Tap and Die Set Reviewed & Rated
last updated:
Feb 26, 2019
Though these sets are not popular in most garages as you can purchase bolts and nuts with ease, they are still a great armory addition for any home mechanic. Tap and dies are used to create screw threads in a process known as threading. The die creates the male portion, e.g., the bolt of the mating pair, while the tap creates the female piece. However, forming threads using the tap is known as tapping.
Our Top 3 Picks
[srpshortcode id="21910″][/srpshortcode][srpshortcode id="21911″][/srpshortcode][srpshortcode id="21912″][/srpshortcode]
Tap and die sets can also be used to clean threads through a process called chasing. However, this results in the removal of material from the tap or die leading to weaker threads. Therefore you are advised to invest in chasers which are unique taps and dies for cleaning threads.
But why purchase a tap and die set?
First, it allows you to create new threads in holes say on your automobile or new bolt holes to attach your trailer hitch to your vehicle frame. It also enables you to develop bespoke bolts something that can be extremely useful. Finally, you can repair and remove old bolts.
Despite the many advantages of a tap and die set, picking a unit is challenging seeing the many varieties in the market.
10 Best Tap and Die Set
1. IRWIN Tools 26377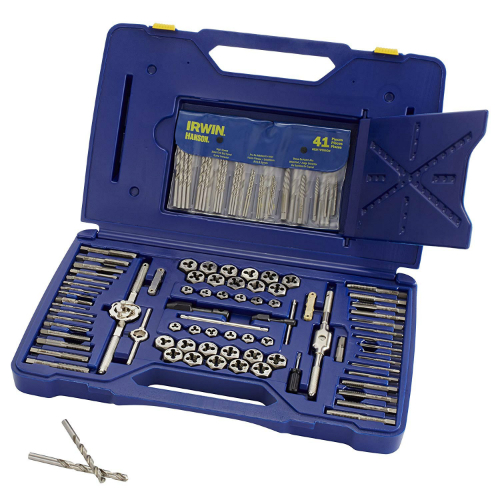 The Irwin 26377 is one of the best in terms of variety, and as such, it tops our list of the best tap and die sets. First, it has 117 pieces which increase the versatility allowing you to handle tons of operations. Though taps and dies should not be for repair, the 26377 taps and dies are great for rethreading fasteners and thus stand out from the rest. Moreover, they are made from carbon steel and will withstand any level of abuse. However, our best features were versatility and the case.

Versatility – The 26377 is designed to handle any operation a mechanic could handle. First, it has 10 SAE taps and dies and 16 metric taps and dies allowing you to work on American and European automobiles. Moreover, the 26377 includes six machine screw taps and dies and two pipe taps and dies. There are also steel drill burs in the set for pairing with the various taps. The included wrenches also make threading a walk in the park.

Case – The Irwin 26377 case is durable and organized to accommodate all the taps, drill bits, wrenches, and dies. It will save you time when picking out a component and will protect your pieces from damage and loss.

Expand to see more
Product Features

117-pieces
The parts sit in place, and you don't have to lock them in
Material: Carbon Steel

Who is it for?

Given the many components included, we recommend it for anyone who is on the hunt for a variety of taps and dies. It is also ideal for people who are on a generous budget.

It is quite versatile thanks to the many parts
The quality is unrivaled and can withstand abuse
It is well organized
It is pricey, and there have been complaints about Irwin quality control as the finish could be better
2. GEARWRENCH 3887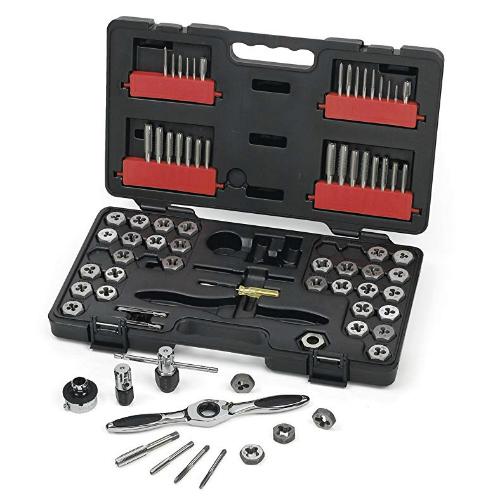 We also recommend the 3887 taps and die set thanks to its durability. First, this set has 75-pieces increasing versatility. All the pieces are made of carbon-steel and thus are durable as they can withstand any abuse. It also happens to be a combination set with SAE and metric taps and dies.
Another exciting feature of the 3887 happens to be the blow-molded case. It is durable, holds all the pieces in position for transportation, and ensures that they are well-organized saving time. However, our best aspects were the ratcheting lever and productivity.
Productivity
– The 3887 has both plug taps and taper taps. The variety increases productivity, as all you need is readily available.
Lever
– The 3887 lever includes a patented twist
lock
guide reducing the walk back. It also ensures that the die is ever centered. Moreover, it has an auto-locking feature, so tap adaptors are safe to remove, and the caps are spring loaded for quick release of a large tap adapter. Moreover, you can get into confined spaces with the use of a 3/8" drive extension.
Finally, it is a 5° ratcheting wrench and reducing the time consumed and the need for hand over hand turning.
Expand to see more
Product Features

Extendable with a 3/8-inch drive
5-degree ratcheting lever
75-pieces
Combination set

Who is it for?

The GearWrench 3887 is a professional tool, and you will find it enjoyable to own. It is also great for anyone on the hunt for a combination set.

It is reasonably priced, and you are getting more than you paid for
It is resourceful with a wide array of taps and dies
The parts are durable
One shortcoming of the 3887 is the poor durability of the housing
3. Best Choice 40-Piece Set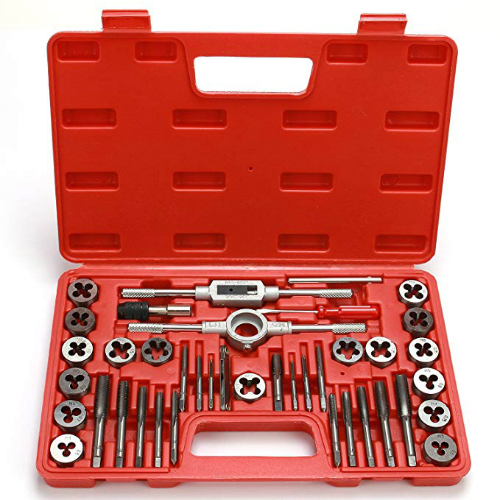 The Best Choice set is an entry-level kit for anyone getting into the automobile repair industry. It is half the size of our two top picks which means you will be missing some pieces. However, it is affordable as it costs a fraction of the price of our top picks. Moreover, all the items are
GCR15 steel which is industrial grade, and thus you can expect longevity.

Additionally, the Efficere threads and chases as well, thanks to the computer numerical controlled machined teeth. The teeth are also heat treated to a 60HRC hardness increasing the durability.
Included in the set I an adjustable handle tap wrench, a T-handle tap wrench, and an adjustable die wrench. There 17 taps and 17 dies, a screwdriver, and a thread pitch gauge. Nonetheless, our top features were the robustness and tapered design.

Tapered design makes it easy to start threading, and it prevents over threading. Moreover, it minimizes capping, and delamination of tablets and the increased space at the opening allows air to escape faster.

Robustness – The Efficere cuts through any material effortlessly. It cuts through carbon steel, copper, brass, stainless steel, and many more.

Expand to see more
Product Features

Pieces: 40
SAE kit
GCR15 steel

Who is it for?

As mentioned earlier, the Best choice is an entry level kit and best for beginners. Moreover, all the taps and dies are in SAE and thus is best for people in the United States.


The parts are durable as is the finish
The customer service is immaculate
They are affordable
Include a durable carrying case
Well, it is an entry level set, and thus many pieces are missing; furthermore, it is limiting as it is SAE only
4. Neiko 00916A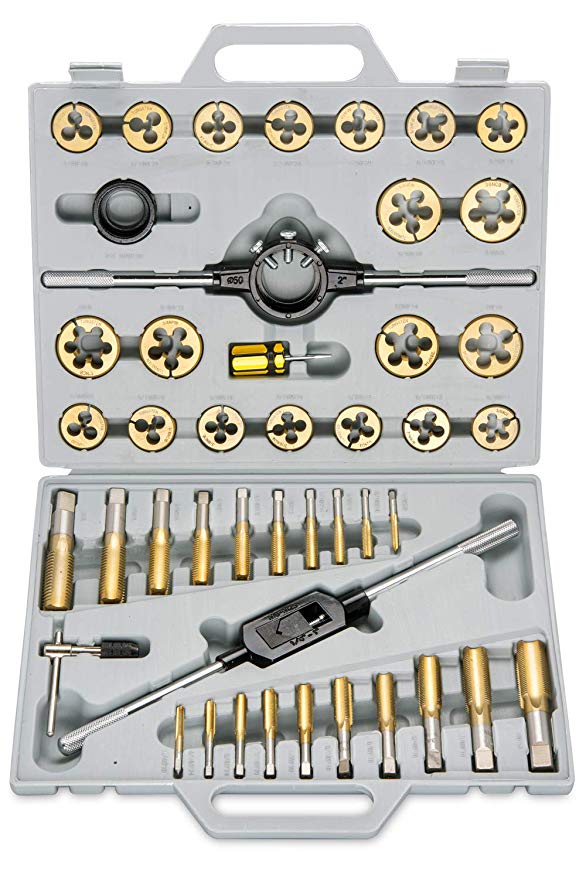 Following on our list of the best taps and dies set is the Neiko 00916A. This is one of the best units in the market right now though it has some shortcomings. First, it has 45 pieces and thus not as versatile as our top picks given there are missing parts.

The Neiko 00916A happens to be an SAE kit and thus best for use in the USA. Also, other than the screwdriver, thread pitch gauge, and adjustable die wrench, and T-handle tap wrench, there are 10 UNC dies 10 UNC taps, 10 UNF dies and 10 UNF taps. You will also appreciate that you can use.

The Neiko 00916A also happens to be the industrial grade alloy steel used in construction. Though alloy-steel is not as strong as carbon steel, the tools are coated with titanium.

Titanium edges – The Neiko's unique selling point is that it has titanium cutting edges that will hold sharpness longer (up to 20X times longer) compared to other taps and dies. Moreover, it is durable and allows you to repair as well as make new cuts. Other than increasing the strength, the titanium coating reduces brittleness.

Identification – The 00916A is easy to identify as each unit is engraved with the appropriate sizes.

Expand to see more
Product Features

Piece: 45
Material: alloy steel
Ten coarse and fine dies and taps


Who is it for?

The Neiko 00916A is a professional grade set, but you can use it on small and large projects given the durability.

They are durable, and you can expect them to last
It includes a blow molded case that will hold the pieces in position
They are easy to identify
It is a pricey kit given that there are few parts in it
5. TEKTON 7560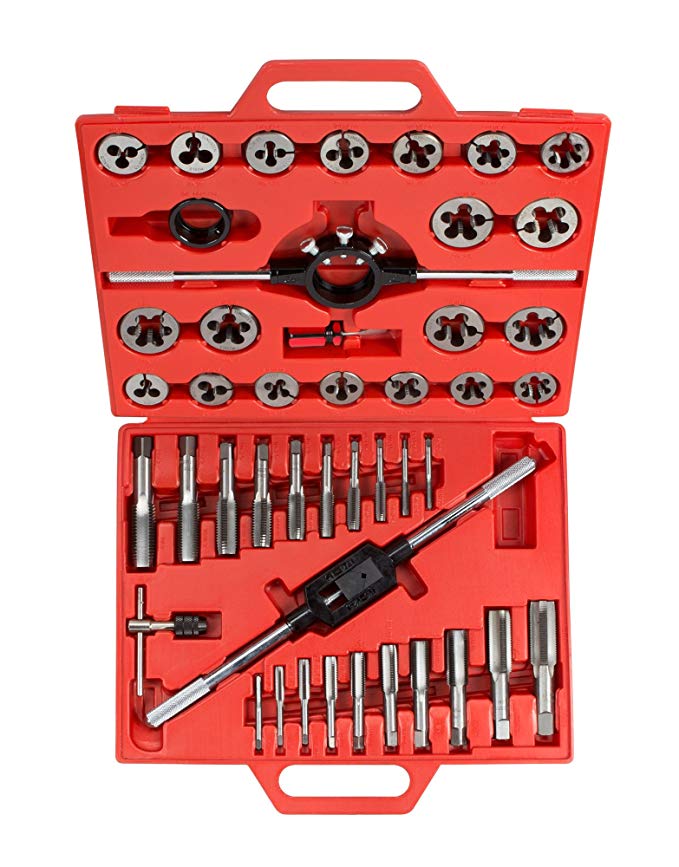 The Tekton 7560 focuses more on quality over quantity. Thus, you are getting fewer pieces but of unmatched quality. The set has 45 parts so you might find it a bit limiting, but the sizes included are the most common, and you can still handle an extensive range of applications. The taps and dies are hardened tungsten alloy steel, and thus you can expect them to last and cut various metals. Some of the material the 7560 can handle include but is not limited to mild carbon, alloy steel, cast iron, bronze, and aluminum brass.

nother fascinating feature of the Tekton 7560 is that it can cut and chase lightly damaged material. The set includes 20 taps and 20 dies (10 of each coarse and ten fine), and wrenches from ¼-inch T-handle, the ¼-1-inch adjustable handle, and the 2-inch T-handle die stock. Finally, there is the storage case that enables one to keep taps and dies organized and simpler to transport. However, our best features were the tapered design and the plug taps.

Tapered design – The tapered plugs allow you to start quickly and they result in a broader opening; thus air escapes easily.

Plug taps – The 3-, 4-, 5-, and 6- flute plug taps and dies make it easier to hand thread.

Expand to see more
Product Features

Pieces: 45 – 20 taps and 20 dies
Material – Tungsten hardened alloy steel
¼" tap wrench
¼ - 1-inch T-handle tap wrench

Who is it for?

The Tekton is a high-quality set, but we recommend it for the occasional user, hobbyists, and for light use.

The taps and dies are durable.
They are available in SAE or metric
It Includes a storage case.
The handles are rugged and offer a solid grip
6. GEARWRENCH 82812 114 Piece Set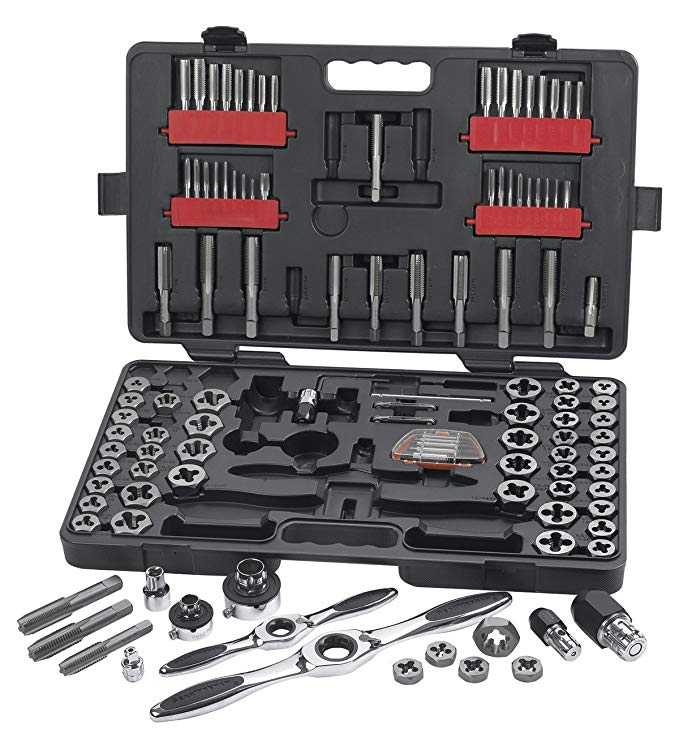 From the 117 Irwin Hanson set, we have another large kit; the 114 GearWrench 82812. The package has 48 die and 48 taps allowing you to handle nearly any threading operation for a home-based or even a small pro shop. You will also appreciate that it is a combination set with both SAE and Metric units and thus you don't have to struggle with a conversion chart.
Another fascinating feature of the 82812 is the twist lock guide system that reduces any back walk while ensuring that the die guide is ever centered. However, our best features were the ratcheting wrenches and the extension adaptors.
Ratcheting wrenches
– The GearWrench 82812 includes a 7.5-inch and a 14-inch ratcheting handle. The former allows you to get into tight spaces with ease while the latter is for areas with space. Moreover, they have a 5-degree ratcheting arc again for when you are in tight spaces, and they happen to be reversible. You will also appreciate the ergonomics, seeing as the smooth chrome surface, rubber insert, and oval shape of the 82812 makes it easier to use.
Adaptors
– The 82812 has multiple adaptors that you can use to reach tight spots. The wide selection is better than trying to fit all adaptors into one universal unit. Moreover, the
ratcheting wrenches
will hold the adaptors and will only come off when you intentionally remove them.
Expand to see more
Product Features

Pieces: 114 (48 dies and 49 taps)
Material: carbon steel
5-degree ratcheting angle

Who is it for?

We recommend the GearWrench 82812 for home-based mechanics and small pro shops.

The taps and dies are carbon steel for longevity
There set increases versatility thanks to the wide variety of taps and dies available
Includes a durable storage case, easing portability, and organization
They are time-saving
Have a lifetime warranty
Includes screw extractors
Quality control could be better seeing as there are users who have received damaged tools
7. GEARWRENCH 3886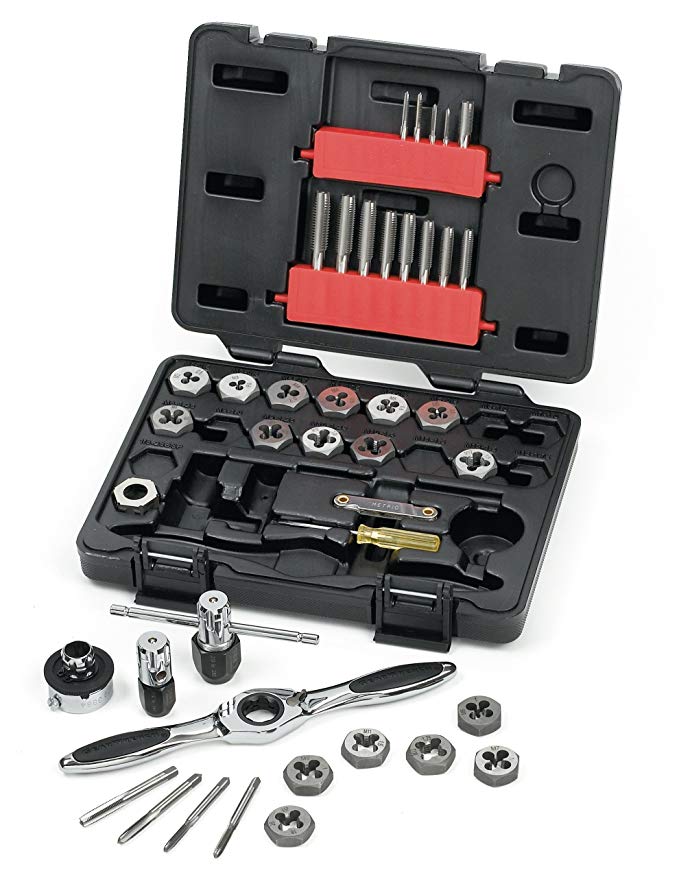 Next on the best set list is the 3886 by GearWrench. It has what it takes to top this list only that it is a 40-piece kit and thus it is missing some pieces. However, it has all essential taps and dies to get you through common jobs.

First, the 3886 pieces are all made of carbon steel, and thus you can expect quality. Also, they are stored in a sturdy blow-molded case so transportation will be a breeze, and it will be time-saving as it is organized. Another fascinating feature of the 3886 is that all taps have their distinct index holders. However, our best features were the ratcheting handle, and the plug and taper taps.

Plug and taper taps – The GearWrench 3886 incorporates taper and plug taps, so you always have what you need. The taper plugs are especially useful as they offer a smooth start, and they prevent tap walk.

Ratcheting handle – First, it is easy to use thanks to the smooth finish, the oval shape, and the rubber inserts that provide a better grip. Furthermore, it has a 5-degree ratcheting arc which allows you to work in tight spaces.

Expand to see more
Product Features
Pieces: 40 – 17 taps and 17 dies
A metric set
Lifetime warranty
5-degree ratcheting angle
Who is it for?
The GearWrench 3886 is a metric set, and thus we recommend it for mechanics or
plumbers
on the hunt for a metric kit.
The ratcheting handle is reversible
They are durable as they are carbon steel
They are reasonably priced given the quality
Includes a large and small tap adapter, and a large die adapter
The die adapter works on round and hex dies
The set only has 40 pieces, and thus it is limiting
8. ABN Metric and SAE Standard Tap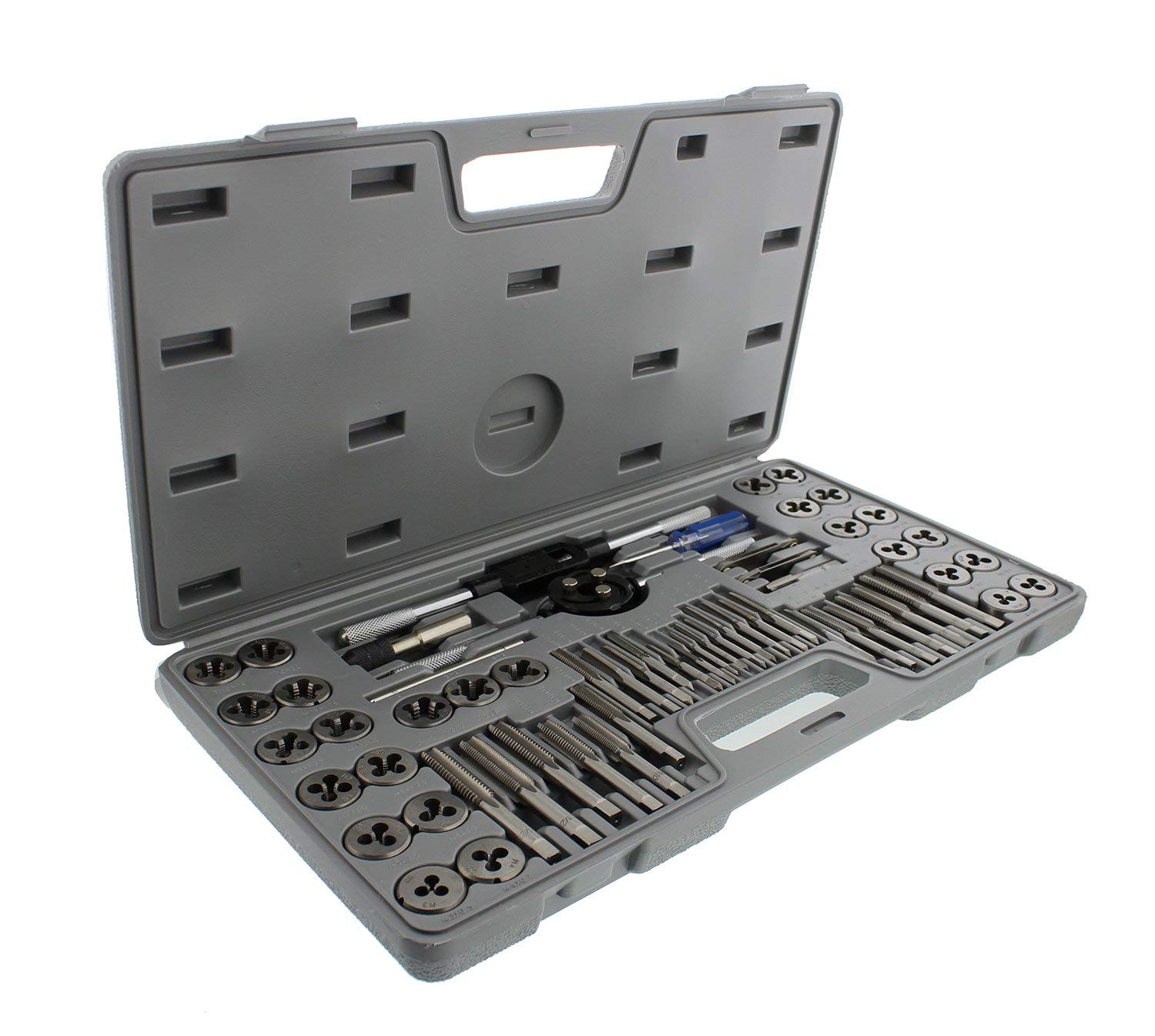 The ABN set is an entry-level kit and one we recommend for home-based users. The set has 60 pieces, and though it does not offer unmatched versatility, it has the most common sizes allowing you to handle everyday tasks. The taps and dies are great for not only-cutting, but renewing threads too.

You will also appreciate the quality of the unit as they are made of hardened alloy steel and thus will withstand abuse. Furthermore, the set has a blow-molded case to keep your tools organized. It saves you time as you know where the different pieces are, and you can tell the missing parts should you spot an empty slot. The case eases transportation of the pieces and storage. However, our best features were that it is a combination set.

The ABN set has both SAE and Metric units increasing the versatility and saving you the time you would have used with a conversion chart.

Expand to see more
Product Features
Material: hardened alloy steel
A combination set
Pieced: 60
Who is it for?
We recommend the ABN kit for beginner mechanics or
woodworkers
as it is an entry-level set. However, it works for a small professional shop too.
It is an affordable unit and worth more than you will pay for it
You can use it to renew lightly damaged threads
The ABN tap and die set is limiting, and the quality does not allow you to cut tough metals
9. Bosch B44718 40-Piece Set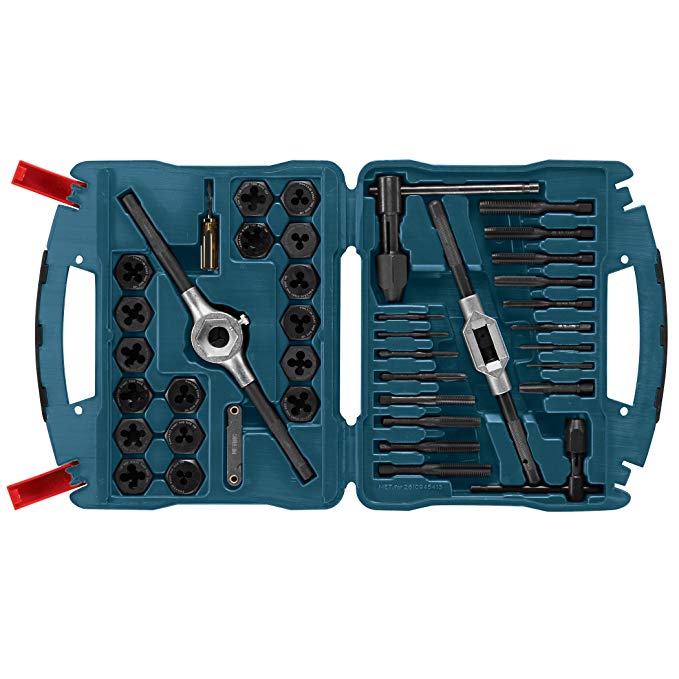 The B44718 is more than an entry-level kit but rather a professional unit. However, it has very few components, and it is pricey which places it lower on this list. However, if you are willing to pay the higher price for the fewer parts, it is worth considering.
First, the unit is hardened carbon steel, and thus it can handle demanding applications. You can cut aluminum brass, bronze, and even steel. You will also appreciate that this is a general purpose unit and thus it can make threads on metal,
wood
, and plastic with ease. Moreover, it includes various assortments from stubby length, jobber and extended length, and a ½" reduced shank. However, our best features were the accuracy and the shanks.
Accuracy
– The Bosch B44718 has rolled threads which have more precision than machined threads. Moreover, the no skate tip reduces the bit walking for better results.
Shanks
– The Bosch has 3 shanks; the black oxide shank which is excellent for general purpose work and also happens to be corrosion resistant, the titanium shank which is fantastic for heavy duty work (anything involving metal), and finally cobalt shank which is also a heavy-duty unit but one for extremely hard or abrasive materials.
Expand to see more
Product Features

Material – Carbon steel coated with black oxide
Pieces: 40

Who is it for?

The Bosch B44718 is a professional grade unit, and we recommend it for pros. The pieces are also durable and thus great for heavy-duty work.

Seeing as the taps and dies are made of carbon steel, you can expect them to last
You have an assortment of tools increasing versatility
You can work on a wide range of materials
The markings are laser-etched, and thus they will never fade
It is pricey given the few pieces in the set
10. Neiko 00908A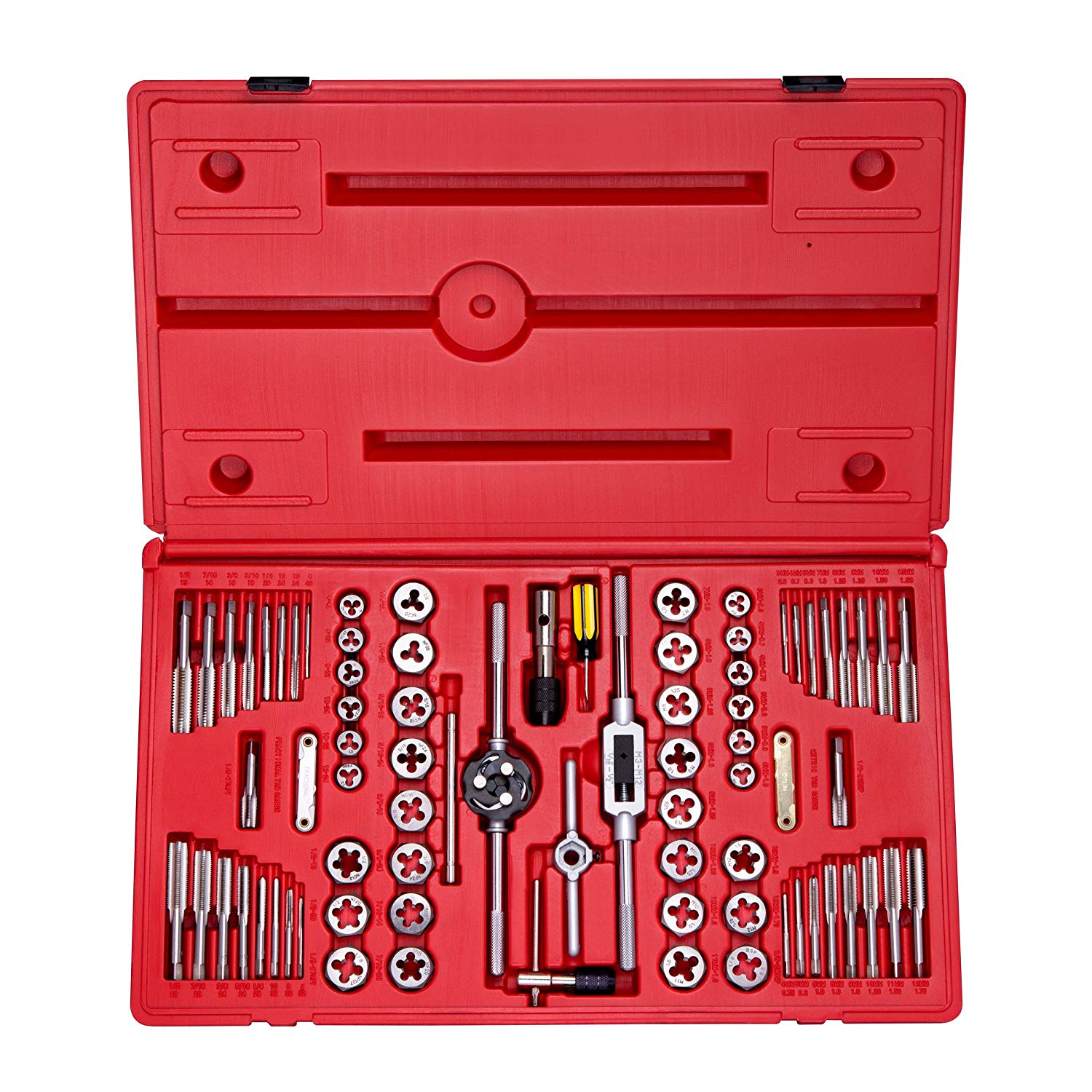 Winding-up on our list of the best tap and die pieces is the 00908A from Neiko. Neiko is renowned for the quality of their tools, and it should not be a wonder that there is a second entry on this list. First, the kit has 76 pieces which though is a not an extensive range, is still enough to handle most commonplace applications.

The set has 34 taps and 34 pieces, and they are available in coarse, fine, and national pipe designation. The result is that they are easy to use in various jobs. You will also appreciate that this is a combination set for those odd jobs. Moreover, there is the blow-molded case with clips that will keep your tools organized. Order increases your productivity, alerts you to missing pieces, and it is easy and safe to store and transport the parts. However, our best features were the quality and the ease of identification.

Ease of identification – All 00908A pieces have their sizes engraved on the side, so they are easy to identify on a job site.

Quality – The 00908A pieces are alloy steel, and though it is not the strongest, it keeps it from being brittle.

Expand to see more
Product Features

Pieces: 74
Material: Alloy steel
A combination set with coarse and fine taps and dies

Who is it for?

Despite it being a Neiko, the 00908A is still an entry-level tool. We also recommend it for persons who deal with odd jobs thanks to the SAE and Metric mix.

It is one of the best value money can buy
They will stay sharp for quite a while
The alloy steel cannot make cuts on steel and other tough materials; the case could be better
Tap and Die SetSelection Criteria
Quality
When investing in a tap and die set, you should always assess the quality of the items. You want a set that will last longer and not only get you through the next task. As such we recommend you invest in high carbon steel items. Though this is not the best quality, it is an excellent compromise between quality and price.
High-speed steel is unmatched and can handle demanding situations, but it is not readily Alloy steel, on the other hand, though affordable lacks durability. Threading requires robust taps and dies, and carbon-steel is durable and has a long life. As for the cutting surfaces ensure they are titanium tipped.
Quantity
You should also stop and consider the number of components in the set. However, a kit with more parts is not necessarily better than one with fewer pieces as the quality would be low; and that's why one should be in apposition to assess the quality. Moreover, different sets have different components. Taps and dies could turn differently making a huge difference, and some include ratchets to reduce time.
However, there are instances where manufacturers include parts with little value and inflate the price. Be sure to read through the components list and ascertain you are getting value for your money. Also, consider the diversity and invest in a kit with a wide assortment so you can have the right tap or die when you need it.
Measurement
The type of measurement of the tap and die will depend on your region. Sets are available in metric which European and SAE which is for users in the USA. SAE measurements are made in inches while metric is in millimeters. Therefore using a metric set on cars or other objects that are in SAE will be difficult. If you are working on an American automobile ensure you invest in an SAE and metric for European vehicles. However, you can purchase a dual kit for resourcefulness.
Storage Case
Unlike most other tools, a tap and die case is an integral part of the set since you are dealing with many components. Ascertain the holder is not only durable but keeps your parts organized and safe. Organization is crucial as it saves you the time you spend rummaging for a specific piece.
Price
Finally, consider the cost of the unit and invest in one that is within your budget. How much you spend on the kit will also depend on the frequency of use. You don't want to spend a fortune on something you will rarely use. You don't have to spend a fortune on a set as there are instances where you will be paying for branding and marketing, but often you get what you pay for.
FAQs
Why are threads ground off at an inclined angle?
The inclined ground off threads are designed to take off the load from the cutting edges. When cutting internal threads, you want to avoid chipping of the cutting edges so the devices can last longer, and if you are to cut full threads from the beginning, you would be exerting a ton of pressure on the tap edge. An inclined ground off thread distributes the load, and you can thread little by little.
Why do taps have flutes?
A tap without a flute will not have cut threads as it will not have any cutting edge. The flutes are ideal as they create space for chips. The flutes should be generously-sized as too small flutes can result in can destroy threads and break taps. As for dies, they are shaped like petals creating space to accommodate chips.
Why is horizontal tapping difficult?
The short answer is gravity. The chips will drift to the lower end resulting in more friction and thus chip jamming or misalignment. Often, tapping should be a vertical operation and but horizontal tapping cannot be avoided. In such instances, we recommend you get a particular tap or have oil holes to avoid chip jamming.
Why should dies be adjustable?
Taking a closer look at dies, they are not complete but have a space that might look like a defect. However, they are so prepared as the conditions can change, and so you can minutely adjust the thread size.
Why are there different standards in the world?
Taps and dies are available in different unit of measure namely SAE or metric seeing as different countries designed their standard indispensable unit of measure as they developed.
Wrapping Up
There are many tap and die sets on this list, and I believe we have something for everyone. For commonplace jobs, we recommend you get the 40 or 45 kits such as the GearWrench 3886. However, we suggest some of the larger kits as you might come across odd jobs. The Irwin 26377 happens to be our top pick and is fabulous for home mechanics and professionals.
Subscribe to our newsletter