6 Best Brush Cutters Reviewed & Tested
last updated:
Sep 07, 2021
Homeowners, landscapers, and farmers are all at war with shrubbery, weeds, and grass which overtakes the property ruins the aesthetics and strangles plants intended for the area. Armed with the right equipment, both amateurs concerned with their own lawn and garden and professionals can keep unwanted undergrowth in check. For most residential customers, this means investing in a string trimmer but heavier growth calls for a brush cutter that replaces the string with a metal blade.
Our Top 3 Picks
[srpshortcode id="19883″][/srpshortcode][srpshortcode id="19884″][/srpshortcode][srpshortcode id="19885″][/srpshortcode]
Often, the first pick when considering a tool to clear shrubbery and grass too thick for a string trimmer is the four-wheel rotary mower. When vegetation isn't too thick, they are an excellent pick but even the best machines are overwhelmed by dense vegetation or uneven terrain. In addition, a mower may not be able to access all the places that need clearing.
A brush cutter comes into its own in such situations. Given that it is light and useable for long hours, small to get into tight spots, and maneuverable for any terrain, it is an indispensable tool for any serious gardener or professional. What should you look when you choosing the right brush cutter?
Below is a guide and some recommendations to help you make an informed decision about the powerful machine you need to help you do the job.
10 Best Brush Cutters
1. Remington RM2700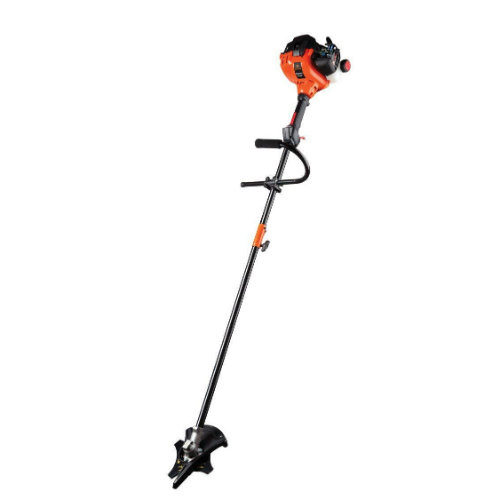 Tall weeds on your property may attract insects and pests you don't want. To keep brush and foilage under control, the Remington RM2700 brush cutter may do the job you need. It incorporates all the features of brush cutters with few of the drawbacks.

The Remington RM2700 is a 2-cycle/stroke unit that operates at 27cc unit at 8,000 RPM to outpower tough weeds. Its Quick Start technology lives up to its name, as starting requires pushing a button rather than pulling a string. The process removes all air from the carburetor and engine for fast ignition, and then the stop switch returns to its home position to make it easier to turn the cutter on.

The unit is easy to manage for most jobs. It has a full-crank engine that provides greater power, less vibration, and longer equipment life. As for safety, you need not worry about rocks ricocheting and hitting you as the set includes some guards. However, to prevent any danger to your eyes or arms, wear safety glasses and protective clothing.

Many customers who reviewed their purchase of this unit had a few complaints at first, but most grow to love it once they got used to the starting process, the weight, and changing the blade.

What Stands Out

The ergonomics are great. Many gas tools are heavy and bulky. However, this unit is an exception to this rule as it weighs 9.9 pounds which is lighter than most electric options. It features a double harness for better weight distribution on your shoulders and has a curved handle that makes it comfortable to operate for hours. Its padded bicycle handlebars allow better control and comfort whether you are left-handed or right-handed.

The Remington RM270 is attachment-ready. Equipped with a long, straight shaft, the unit performs many other yard functions by adding attachments. You can turn it into a blower, an edger, a cultivator, and more by purchasing the right head. What's a plus is that the extra parts need not be from Remington, so you have plenty of choices with this attachment-ready tool. However, the unit does come with a bump head for trimming, a brush cutter with an 18" cutting path, and 2-cycle oil.

Expand to see more
Product Features

• 27cc 2-cycle engine full crank engine
• Lightweight design
• Straight shaft for trimming under bushes
• QuickStart Technology
• 8-inch cutting width
• Converts to string trimmer with bump head (included)
• Accepts additional attachments to turn into a blower, pole saw, edger, cultivator, and more
• Backed by a 2-year limited warranty

Warranty

2-Years

Who is it for?

Given that it is a 2-cycle piece of equipment, it is great for medium undergrowth. With its versatility, many homeowners will opt for the Remington RM2700 as it is priced below $20 at many locations.

Affordable
The 8- and 18-inch blades and a straight shaft enable you to get into tight spaces
It is maneuverable and versatile
Affordable
Seems heavy to users
The Bumper head leaves a lot to be desired
Hard to change blades as the nuts are too tight and blades bend under pressure
2. Husqvarna 324L 4-Cycle 18" Cutting Path Gas String Trimmer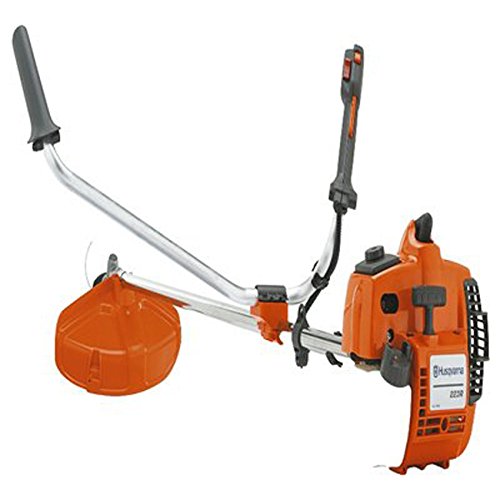 Buying a budget brush cutter can be self-defeating if it doesn't do the job. The Husqvarna 324L 967055801 is a bit more than the average homeowner might want to pay, but it is a solid piece of equipment, especially for heavy-duty tasks. First, it features a 1.1HP, 25cc engine with 6,600 torque and 9,000 max power speed. The unit weighs 9.9 pounds, but before adding attachments and fuel.

Another fascinating feature about this unit is that it's ergonomically designed with standard double harnesses to distribute the weight and features angled handlebars for better control and comfort. Also, you can swap the blade for a bumper head to trim grass and weeds. The grass bevel gear gives you high torque and ensures the cutting equipment is parallel to the ground for top cutting performance.

Nevertheless, here is what we loved most about this unit:

What Stand Out

The cutting path is generous. With an 18-inch cutting path, you can clear large areas in less time. However, it still allows you to get close and into hard-to-reach areas for better results.

An air purge system facilitates starting. Starting a gas-powered engine is a bit difficult as you need to pull the rope twice or more before the engine can run. However, the air purge system removes air from the engine and carburetor for better ignition. Couple this with the smart start, and you will start the unit with minimum effort.

Expand to see more
Product Features

• 25cc 4-cycle engine, which powers the 18-inch (cutting width) trimmer head
• Trimmer engine runs on unleaded gas, so no mixing of fuel and oil required
• Tapping the trimmer head against the grass activate the Tap 'N Go line release feature
• Easy to replace the trimmer line - the T25 trimmer head is designed for simple and easy line reloading
• Translucent fuel tank allows visual monitor of fuel level as you work
• Conveniently remove unwanted air from the carburetor and fuel system using the air purge primer bulb
• String trimmer is backed by a 2-year limited for residential use. Maximum power speed- 7000 rpm. Power output- 0.9 hp
• Fuel capacity: 16.91 fl oz.

Warranty

2-year

Who is it for?

At $340, this unit makes light work of large lawns and properties.

The auto-return switch makes it easy to start the machine once it's turned off
It is light and maneuverable
It is powerful and chews everything on its path
The unit is confusing to assemble, and the manual offers no guidance
Poor support as dealers don't want to honor warranties if product was not bought there.
3. Makita EM2650UH 4-Stroke Brush Cutter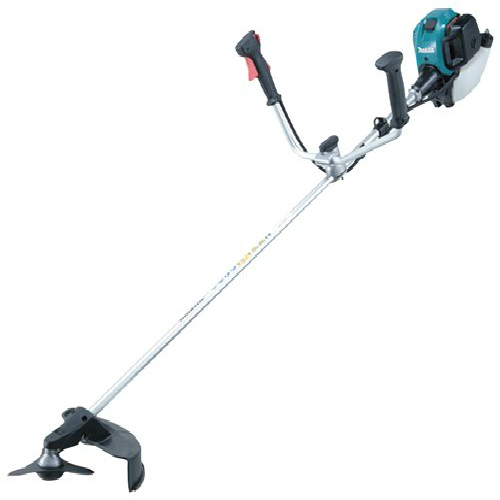 If you are looking for a fuel-efficient but powerful engine, the Makita EM2650UH has an MM4 (managed mini 4) stroke engine to eliminate the mixing of oil and gas.

Some fascinating aspects of this tool include the mechanical automatic decompression engine, and the heavy-duty dual-stage filter. The former makes it easier and quicker to start the engine by getting rid of the air in the carburetor and engine, while the former leads to longer life. Nevertheless, the large sealing areas in the filter are replaceable, and the apparatus allows for tool-less filter access, and thus they are easily accessible.

As for the performance, you will never lack in power thanks to the 1.1hp, 25.4cc engine. Moreover, this is a 4-stroke engine and packs quite a punch. You will also love how light this appliance is, as it weighs 12.1 pounds. It also includes a harness with shoulder straps and a waist belt to distribute this weight evenly. The bicycle/horn handlebars, on the other hand, result in more maneuverability, better gripping, and better balance.

What Stands Out

Another fascinating feature is that the unit features a steel drive shaft that lessens vibration. Consequently, you can expect longer equipment life and a better user experience.

The Makita EM2650UH also has Multi-Position Lubrication. When working on rugged terrain, there are instances where you have to incline the tool. The multi-position lubrication allows you to bend the tool at an angle and for long periods of time.

An oil level view window makes checking the oil and replacing it a walk in the park.

Expand to see more
Product Features

• Multi-position lubrication system enables engine to be inclined to any angle for continuous operation.
• Mechanical Automatic Engine Decompression allows quicker, easier starts.
• Includes brush cutter blade for cutting small trees and heavy brush
• Compact design with less weight (only 12.1 lbs.).
• Commercial duty dual-stage air filter with large sealing areas is replaceable and easily accessible
• Oil filling port and drain plug are easily accessible with oil level view window for easy checking and replacing of oil.
• Steel drive shaft for less vibration and longer equipment life.

Warranty

!-year general product limited warranty, 2-year warranty on emission-related components, and 30-day return/ replacement guarantee.

Who is it for?

We recommend it for homeowners with more demanding tasks or tough overgrowth. It currently retails on Amazon for $481.

It is fuel efficient and uses about 50% less oil than a comparable option
It is quiet
It is compatible with other blades should you lack a Makita blade replacement
The 9" cutting blade allows you to get close to obstacles and into tight spaces
The blade the unit retails with isn't aggressive enough, given the hefty price of this unit
The blade is dull, although it will do well enough for most homeowners
4. Echo SRM-410U Professional Brush Cutter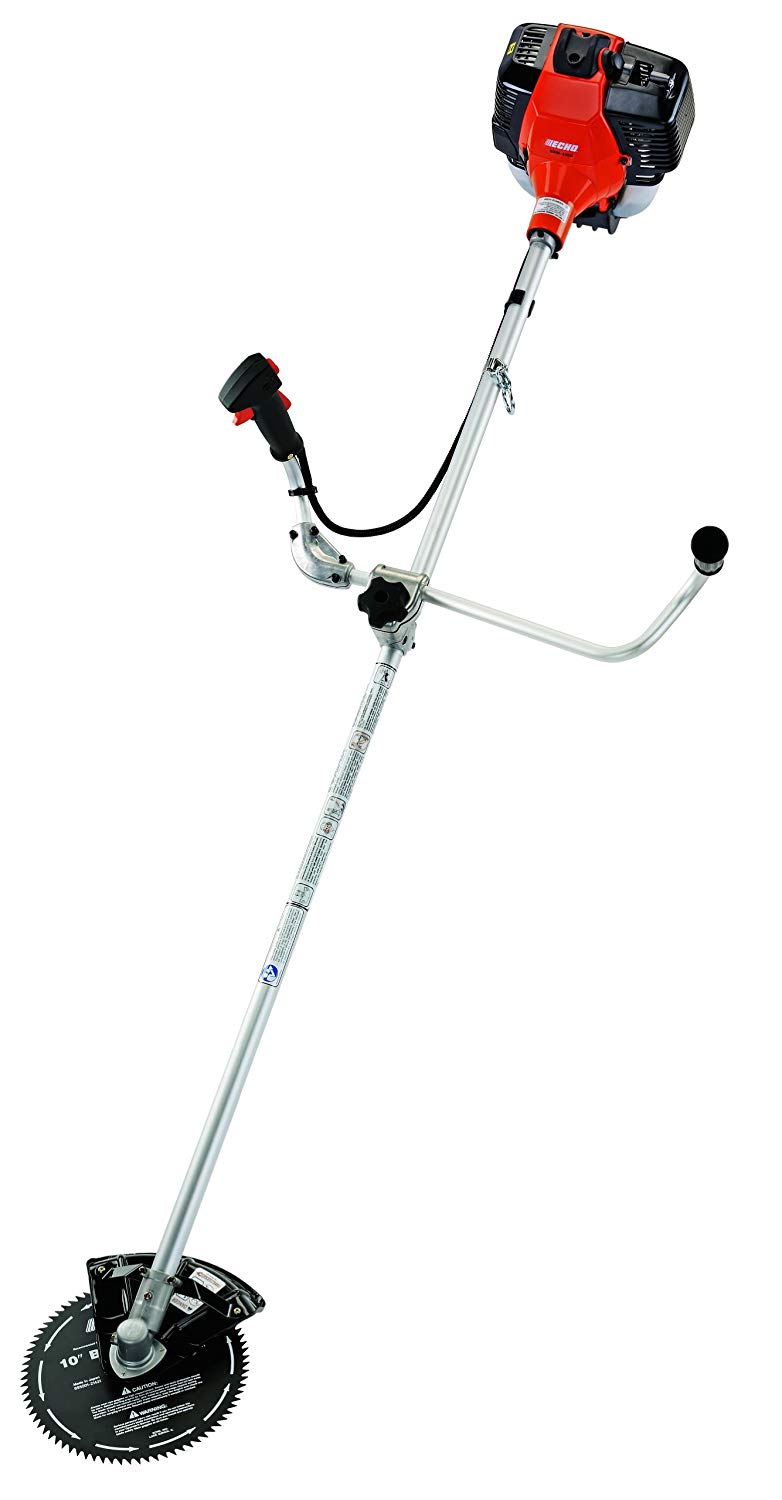 IIf you are looking for a powerful, comfortable, stable machine, and the price isn't your top concern, the Echo SRM-410U is a tool for heavy-duty tasks, and you can expect it to last.

The SRM-410U is a bit bulky at 18 pounds, but this shouldn't be a problem for professional landscapers; the heft is a worthwhile tradeoff given the quality of the unit. The brush saw features a 10" cutting path with an 80-tooth blade that makes quick work of any weeds or brush. It also allows you to get close to trees without damaging the back, while the 60.2" steel driveshaft enables you to reach tight spots, especially between trees and crops.

Another fascinating aspect about this unit is the power, given that it features a 42.7 cc power boost engine. Furthermore, unlike other brush saws that feature flimsy plastic guards, you can expect to be safer with the Echo tool as it features a metallic guard. The commercial-grade air filtration is top of the line, and the gear case is heavy-duty metal with a sealed bearing.

What Stands Out

When working in a residential area, you want a unit with low noise levels. For a product with a 2-stroke engine, the Echo SRM-41U is remarkably quiet thanks to a spark-arresting low-tone muffler.

For safety reasons and fuel efficiency, the centrifugal clutch keeps the head from spinning whenever it is idling and when starting.

Expand to see more
Product Features

• Tank size: 33.8 fl oz
• 10" cutting path
• 80-tooth brush blade and metal shield
• 42.7cc professional-grade, 2-stroke engine
• 60.2" steel drive shaft
• Commercial-grade air filtration
• Large 33.8 fl oz capacity see-through fuel tank
• Offset U-handle with stop switch and throttle lock-out

Warranty

2-Year commercial / 5-Year consumer

Who is it for?

We recommend the Echo SRM-410U for professional landscapers and farmers. It is especially ideal when dealing with thick brush. On Amazon, prices start at $645 plus shipping.

It is powerful, and clearing overgrowth is a breeze
Features a vibration-reducing mounting and thus pleasant to use
Easily maneuverable owing to the offset u-handle
The harness distributes weight evenly to the shoulders
Happens to be quite pricey
Bulky
5. Husqvarna 336fr Bike Handle Pro Brush Cutter with Line/Brush and Saw Blade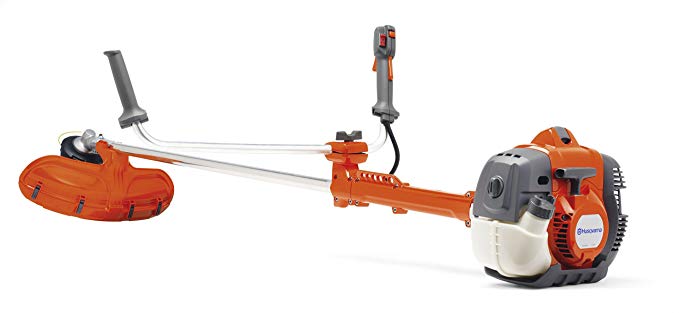 If you are in the market for a versatile option to meet all your weed and brush clearing needs, consider getting the 36FR. This tool has accessories that allow it to double as a string trimmer, brush cutter, and brush saw. It is designed to be comfortable and safe for the user.

First, this tool features a bevel gear with high torque, whi8le keeping the blade parallel to the ground for enhanced performance. Its smart start feature aids effortless starting by purging air from the carburetor and fuel system, which also promotes fan efficiency during the workday.

An air purge effectively removes air from the carburetor and fuel system for the sake of effortless starting and fan efficiency throughout the workday.

The quality of this tool is excellent. Starting with the commercial-grade air filter that will lower the cost of service and reduce the wear and tear to the chromium-plated cylinder bore, which increases durability, you can tell this tool is built to last.

What Stands Out

For comfort, the Husqvarna 336FR features a Balance 35 harness that distributes the tool's weight across your shoulders. Moreover, the adjustable U-shaped handle increases the maneuverability of the unit.

Thanks to the efficiency of the X-torq efficiency, you can expect to use 20% less fuel than any comparable unit. Moreover, it is eco-friendly as it lowers harmful emissions by close to 60%.

Expand to see more

Product Features

• Weight: 15.4 pounds
• Motor has 1.9hp with 34.6cc displacement:
• X-Torq engine provides raw power and excellent fuel economy
• Reduced exhaust emissions
• 17-inches cutting width
• Adjustable 58.4" shaft l
• Delivered with balance 35 harness
• Adjustable and ergonomically designed handlebar for best comfort
• Comes with trimmer head, grass blade, and saw blade.

Warranty

1-year extended

Who is it for?

We recommend this unit for homeowners looking for the flexibility of being able to use all three tools. Priced at $612, it is great for large lawns and heavy-duty work.
The unit packs quite a punch with a 1.9hp motor and a 34.6cc displacement
It is easier to start as the stop switch returns to the start position whenever you turn the tool off
It is versatile
Long-lasting as it is built to last
Great fuel economy
The tool is a bit bulky at 15.4 pounds without the attachments
Quite pricey
6. Chikura Multi Powerful Brush Cutter Trimmer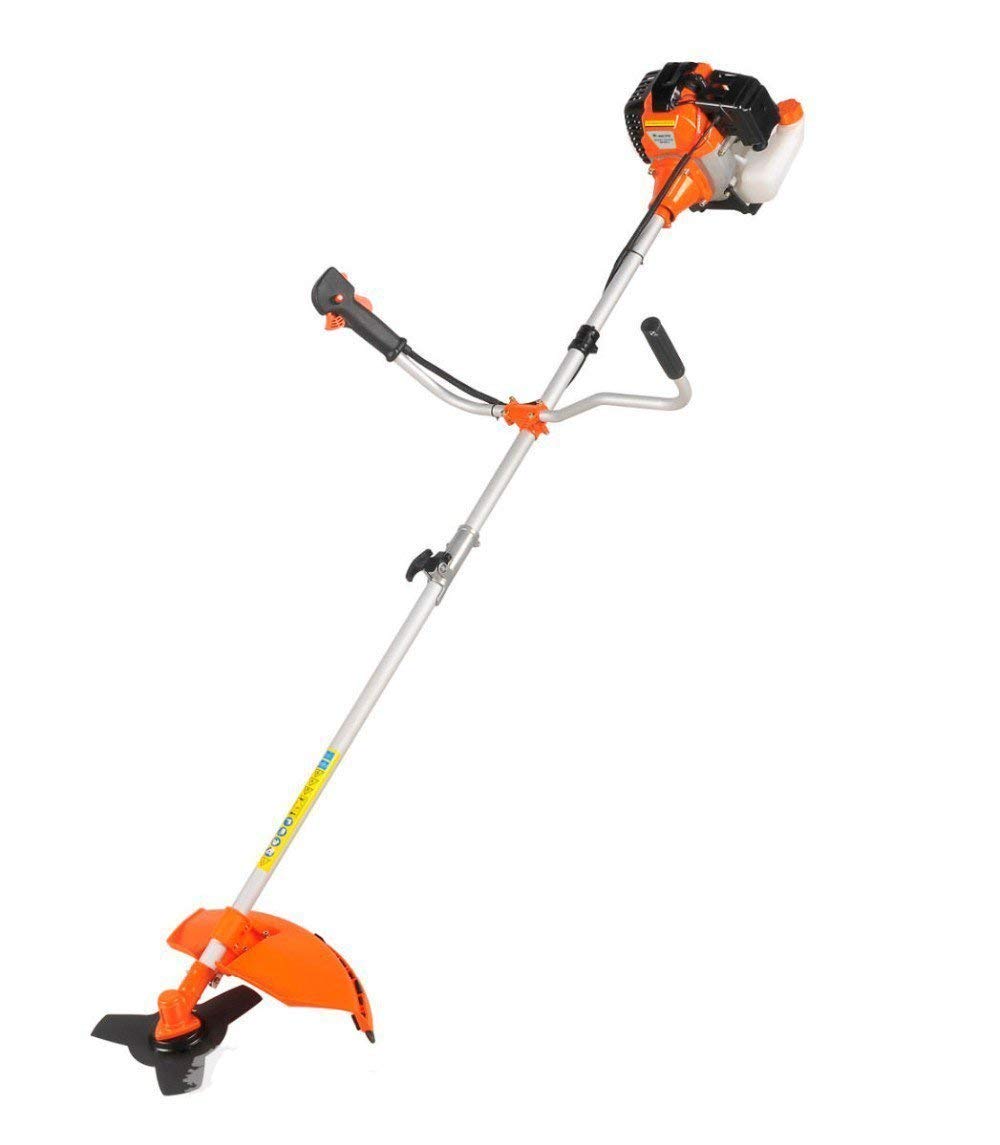 For a brush-cutting option that can handle both light and heavy-duty tasks, we recommend the Chikura 52cc unit. Weighing in at 28 pounds, it is easy to move around while cutting weeds, brush, and even small trees.

Though the Chikura is small, it has a quick-start 52cc 2-stroke gasoline engine and good quality blades that stand up to a variety of tasks.
The comes come with a harness to distribute the weight evenly, and the grip is narrow, so it is comfortable if you use it for an extended time.


What Stands Out

The Chikura is tops in versatility as it can be a trimmer with the included bump head or a brushcutter with the two blades included (3T blade and 40T blade). You can even expand it to be a hedge trimmer, lawnmower, or pole saw.

The split shaft allows you to attach other accessories makes it easy to store and transport.

Expand to see more
Product Features

• 52cc 2-stroke engine
• Weight 28 pounds
• 4-in-1 multi-functional capabilities
• Compact bike handle
• Easy to control
• Durable

Warranty

1 year limited

Who is it for?

Given the weight, this unit might be best for professionals, but its versatility widens the appeal to anyone who wants a versatile tool. Priced at $260, it is reasonably priced for all it offers.


It is quite resourceful owing to its compatibility
It is durable, and it will be around for a while
Thanks to the straight shaft, you can get rid of weeds in inaccessible places
It is heavy and thus limiting as you ought to rest often
It's also pricey
Best Brush Cutters: Criteria for Selection

Power tools to clear brush and vegetation fall into three groups: string trimmers, brush cutters, and clearing saws. String trimmers, often called "weed wackers," are light-duty tools that do the job with nylon cord and might cost from $30 up. Brush cutters have metal blades, are more heavy-duty, and prices start around $150. Clearing saws are even more heavy-duty and often include multiple blades such as knife blades, chisel blades, mulcher blades, chainsaw blades, and even smasher blades. Our buying guide will focus on the intermediate group of products, the brush cutter.
Below are some features to consider when purchasing a brush saw.
Engine
Several types of motors are common in brush cutters: 2-stroke gas, 4-stroke gas, or electric. For a large area with tough weeds, gas units may be a better choice. When possible, choosing electric is ideal as you need no fuel and utilize a renewable resource with rechargeable batteries and no emissions.
A gas motor of at least 25 cc's or an electric one with 40 volts can hand most, but more cc or volts are bet for a large, touch protect.
Design of Shaft and Handles
Brush cutters feature either a bent shaft or a straight shaft (the shaft is the part that connects the head to the motor). A bent shaft allows you to get closer to the work area, but the design can lead to more mechanical issues. Alternatively, a straight shaft works better with attachments as there is a direct line to the power source.
Ergonomic handles with soft, spongy grips allow for multiple grip positions (including for overhead use), reduce operator fatigue, and allow easy access to the control.
A brush cutter with anti-vibration technology and padded handles will protect you from the numbing motion. Excessive vibrations can wear you out before the job is done or if you have arthritis.
Warranty
Buying from a reputable manufacturer that offers a longer, more inclusive warranty makes sense.
Blades and Accessories
When investing in such a pricey tool, consider the blades and compatible accessories available with the unit and the cost of replacement. Many come with blowers, line trimmers, and other handy gardening tools like hedge saws or have the attachments are available from the manufacturer or a third-party site.
When buying a brush cutter, it pays to buy a well-rated model from a reputable company as low-quality products often have trouble with the accessories.
Our guide to the best brush cutters takes all these factors into account.
FAQs
1. If you need to trim your yard and clear weeds, do you need two tools for this?
Should you decide to pick dedicated tools, you will need a string trimmer and a brush cutter. The trimmer will be excellent for garden maintenance, and a brush cutter can handle brush, tough weeds, and even small trees but aren't ideal for garden maintenance. Some brush cutters have attachments that make them useful for multiple tasks. However, some brush cutter are heavy and vibrate as they work, which can make them uncomfortable to use for a long time.
2. What is the difference between a brush saw and a string trimmer?
Though these two seem similar, and the terms are used interchangeably, there are some dissimilarities. String trimmers use nylon cord to do the job and are only ideal for cutting light brush and weed. The wire spins at a high rate, slicing through the weeds or grass at the height at which you're holding it. However, it cannot handle woody stalks or dried brush as it tends to be less powerful.
Clearing saws, the third alternative, are exceptional as they gnaw through heavier material effortlessly. Nevertheless, they are not for yard maintenance but rather dealing with overgrown areas.
3. What type of motor is best?
Electric motors usually cordless, are eco-friendly, quiet, and efficient. Both operation and maintenance are a breeze.
Gas tools tend to be more mobile and the best pick for large lawns. They are more powerful and the best option when dealing with dense undergrowth and dead weeds. However, they are bulkier, challenging to use, and require regular maintenance.
When purchasing a gas tool, you can expect a 2-stroke or 4-stroke engine. A 2-stroke engine, which runs on a mix of gas and oil, is easy to maintain, and although it is smaller, it has more balance, while a 4-stroke engine which is bulkier but more robust for those demanding tasks. Moreover, it runs coolerand quiter and is the best pick for extended operations, but it is unbalanced and tends to cost more. A gas-powered product should have at least 25cc.

4. What fuel should I use in a brush cutter?
The fuel you use will depend on your brush cutter engine. Most tools use a 2-stroke engine that should always run on a mixture of petrol and quality 2-stroke oil. Check the manufacturer's manual for the mix details and use a measuring bottle to get the right amounts. The 4-stroke engine, brush saw only requires unleaded petrol to run.
5. How powerful a motor do you need?
When purchasing a gas tool, you can expect a 2-stroke or 4-stroke engine. A 2-stroke engine, which runs on a mix of gas and oil, is easy to maintain, and although it is smaller, it has more balance, while a 4-stroke engine which is bulkier but more robust for those demanding tasks. Moreover, it runs cooler and quiter and is the best pick for extended operations, but it is unbalanced and tends to cost more. A gas-powered product should have at least 25cc.
For an electric brush cutter, you can get a 20 volt, a 40 volt, and occasionally a 60 volt or 80-volt. A 40-volt tool is excellent for small to medium yards, while 60 or-volt units are perfect for more substantial property. For cordless models, you should have at least one 2.0-Ah to complete a small job.
6. Do I need protective equipment when using one?
The short answer is yes. Ensure you have safety glasses and a visor, hearing protection as these are loud machines, protective trousers and work boots. Don't forget to get some quality gloves too.
7. How do you safely use a brush cutter?
Brush cutters can be heavy and vibrate during use, but they are safe to use. Here are few simple reminders when using a brush cutter.
First, read the manual and proceed to ensure that the safety guards and any other safety devices are working correctly. Be sure to have all the appropriate gear you'll need.
Second, ensure that all loose parts are tightened, the tank is full (for gas engines), and the muffler is in remarkable condition due to the noise the unit may make, especially with a 2-stroke engine.
Third, before starting to cut, clear the space of rocks, metal, glass, and other debris that might turn into a projectile. Tell other people to vacate the work area.
Fourth, if refueling is needed before the job is completed, wait for the engine to cool down before adding gas. Follow the manufacturer's direction if your unit is cordless and needs a battery swap.
Fifth, switch off the engine before clearing a clogged cutter.
Finally, maintain a solid grip and secure footing whenever you are using the tool.
Best Brush Cutters Wrap Up
Stronger than string trimmers, brush cutters are great for reaching into areas where a rotary mower cannot access. They are great for uneven terrain and tough weeds that would bog down a four-wheeler. Moreover, with the appropriate accessories, they can be used as string trimmers for garden maintenance.
The produced we have reviewed in our guide to the best brush cutters will make your work a walk in the park.
Read also about the best irrigation systems.
Subscribe to our newsletter