In a
Hurry? Editors choice: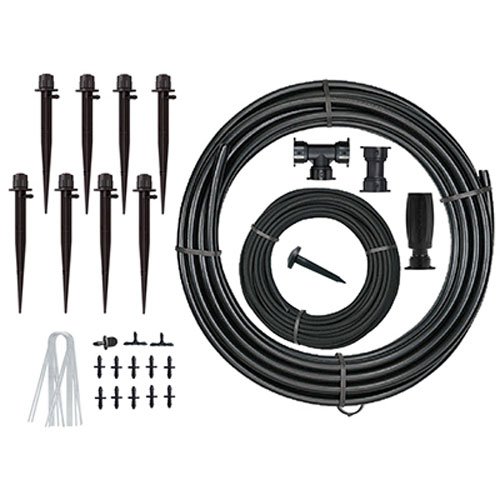 Test Winner: 1. Orbit 69525 Complete Drip Irrigation Watering Kit
Best Irrigation System for Gardens Reviewed
last updated:
Sep 24, 2021
A green, lush flowerbed or bountiful garden is every homeowner's dream, and the open secret to keeping these areas picturesque and productive is regular watering. For a small area, people might use a watering can or hose for watering their garden in the early morning or evening to supplement moisture from the rain. To sufficiently irrigate a big plot or several plots around the property, moving hoses or sprinklers around can be a burden and investment of time many gardeners do not have. Automatic garden irrigation systems require minimal effort and time investment to keep plants healthy and productive. For your convenience, we have assembled a list of the best irrigation systems that will deliver water to your garden all season long.
Our Top 3 Picks
[srpshortcode id="19265″][/srpshortcode][srpshortcode id="19266″][/srpshortcode][srpshortcode id="19267″][/srpshortcode]
The ideal garden irrigation system uses a network of hoses, emitter nozzles, sprinklers, and tubes that deliver the right amount of water to each plant so as to prevent overwatering or underwatering. This approach is better than sprinkler systems that spray water upward as some of the water is wasted as it runs off the land it rolls unto. Also, this approach gets plants' leaves wet, an undesirable effect with tomatoes or other plants that do not like water on their leaves. Drip systems get water to the roots automatically when set on a timer. Unlike a traditional sprinkling system for lawns, garden irrigation systems are not planted deep in the ground.
To choose the right type of irrigation system that will do the job while saving water, you can rely on our carefully curated list of 6 of the best irrigation systems that will help you decide on the best brand.
6 Best Irrigation Systems for Gardens
1. Orbit 69525 Complete Drip Irrigation Watering Kit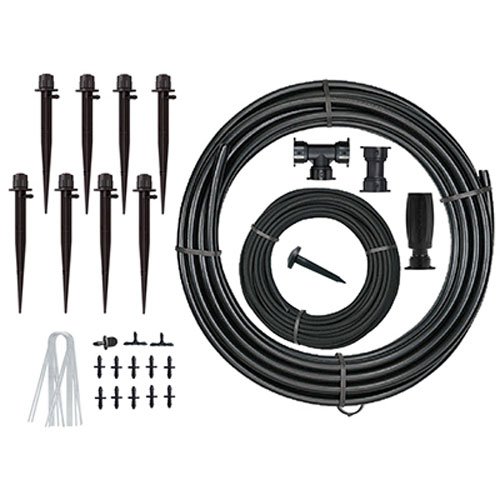 Key Features:
Easy to use: all-in-one drip system installs in as little as 15 minutes, so you can start watering your plants right away


Saves up to 70% more water over traditional spray heads, making your system great for saving water in drought conditions


Simple stake and micro-bubbler placement allows for direct watering of your plants, not landscape or weeds


Flexible tubing allows for easy and worry-free installation around trees, shrubs, flowerbeds, and other existing landscaping features in your yard
Covers up to 250 square feet, allowing you to set up a drip system that will meet the needs of your flowerbeds, potted plants, and gardens


Kit contains ¼" and ½" tubing, 8 micro-bubblers, faucet adapte3r, tees, clamps, and couplers, and hole punch kit
Expand to see more
The Orbit 69525 is a perfect choice for the value-conscious homeowner in need of a high-quality and dependable irrigation system for keeping their plants healthy and green all through the season. It's easy on the plants and provides uniform coverage of the whole garden, taking excellent care of all your trees, shrubs, and flowerbeds. Plus, it has a useful water-conservation feature that ensures water is supplied to where it's needed, helping you spend less on water than before and waste less.

The Orbit 69525 is remarkably easy to use. The installation process is a breeze, lasting just about 15 minutes and the simple design of the system eliminates the need for calling for professional installation. Without any prior experience, a novice can get the system up and running in record time by following a few simple steps.

1. Attach the 3-in-1 faucet adapter and 1/2-inch drip tubing to your hose faucet.
2. Lay out the 1/2-inch drip line using our best-selling 1/2-inch stakes.
3. Next, place the micro-bubblers near your plants, punch holes in the 1/2-inch drip line.
4. Use 1/4-inch couplings to run 1/4-inch drip lines directly to the micro-bubblers.

With coverage of up to 250 square feet, for $38, the Orbit 69525 is arguably one of the best irrigation system money can buy. It installs in a snap, helps you conserve your water down to the drop, and keeps your trees, shrubs, and flowerbeds green and healthy and thriving.

Connectable to several units
Clear, helpful instructions
Focused delivery of water to plant roots
Impressive coverage
Water-efficient
2. Rain Bird GRDNERKIT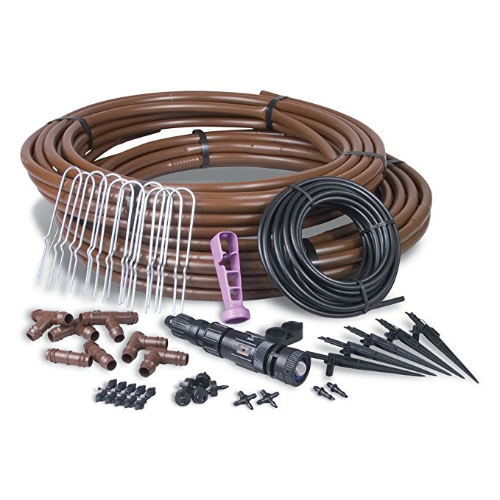 Key Features:
Precise Drip watering for green, healthy plant growth with low water usage and fewer weeds


Simple installation without the need for digging or plumbing skills


Waters root zone of plants with emitter devices for better health and water savings up to 40%


Includes installation tool to simplify insertion and removal of small barbed fittings and drippers/emitters


Conforms to your landscaped area and individual plant needs
Easy to extend with additional connectors, tubing, and devices


50-piece kit with instruction manual Includes everything to water a garden up to 75 sq. ft: includes spot watering emitters, 1/4" distribution tubing, stakes, and fittings, 1/2" emitter and distribution tubing, stakes and fittings, plus regulator and faucet connection kit


For automated watering, add a reliable Rain Bird professional-grade hose end timer (Amazon ASIN B006JZ514U sold separately)
Expand to see more
The Rain Bird GRDNERKIT perfectly showcases the brand's unwavering commitment to the production of high-end, easy-to-use, reliable, and cost-effective products. Like our previous pick, this option is easy to use and install and provides maximum watering efficiency by saving up to 65 perfect of your water and other related costs.

Boosting a coverage of up to 75 square feet, it is the epitome of watering efficiency as it provides for the efficient irrigation of the root zone of your garden plants, shrubs, trees, flowers, and vegetables. The design helps conserve your water by up to 65 percent, and because the water doesn't reach weeds and other unwanted growths, they get to wither on their own, making weeding remarkably easy and quick.

As for installation, you won't be required to do any digging or plumbing. Attaching it to a hose is a breeze with the provided multi-purpose Faucet Connection Kit that also filters sediment, regulates pressure, and prevents the backflow of water, providing for efficient and smooth performance. According to the brand, the Rain Bird GRDNERKIT is highly flexible, requires zero maintenance, and is capable of making sharp, tight turns for quick and easy installation. And since the system is clog-resistant, it gives you peace of mind and the confidence to use it flawlessly for several years on end.

If you can't stand the back-breaking method of watering your garden plants by hand, it's high time you upgraded to the more efficient Rain Bird GRDNERKIT. It installs with ease, conserves your water by up to 65 percent, and minimizes weeding.

High-quality, durable construction
Water efficient
Compatible with standard faucets
A cinch to use and install
3. Rain Bird DRIPPAILQ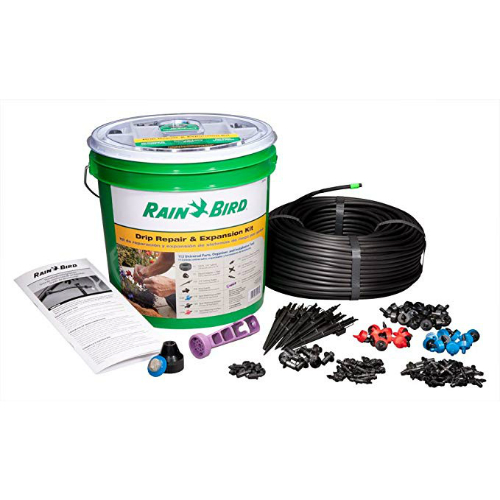 Key Features:
Convenient and portable storage dispenser includes 250 ft. coil of ¼ in. tubing


Parts organizer tray filled with 112 universal drip irrigation devices: emitters, tees, couplings, plugs, stakes, faucet adapter


Includes 40 pressure compensating, self-piercing emitters: (10) 0.5 GPH, (20) 1.0 GPH, and (10) 2.0 GPH


Patented Emitter Installation and Removal Tool makes it easy to work with spot watering emitters as well as ¼ in. barbed fittings


Troubleshooting guide provides tips on system maintenance, suggesting where common problems may occur, and showing how to correct them by adjusting flow or fixing clogs and breaks


Expand to see more
Cost-effective and efficient, the Rain Bird DRIPPAILQ is all you need to keep the plants in your garden thriving and healthy without putting in too much effort or time. Installation is quick and easy and, in light of its flexible garden hose system, ensures all your plants receive an adequate and equal amount of water, providing for healthy, even growth all year long. Plus, it's a versatile option that not only helps with even water distribution but also with repairing, expanding, and adjusting the flow to new plants.

With 250 feet of 1/4-inch tubing, it ensures that water reaches each plant, shrub, and tree in your garden. Also, it comes with pressure-compensating emitters with varying flow rates in addition to fittings, stakes, and the brand's patented installation tool that takes the time and effort away from working with barbed fittings. The working of the Rain Bird DRIPPAILQ may sound complex, but it's pretty straightforward. And in case you get overwhelmed, you can always resort to the provided Troubleshooting Guide for straightforward directions.

The system also gives you value for your money by enabling you to fix clogged or damaged sections of the system, breathing life into old models. You can remove old devices and plug holes and replace them with new, functional ones. In the same fashion, it provides for easy and quick cutting and splicing tubing with couplings. The result is an increased and reliable flow of clean water to all the plants, shrubberies, and trees in your garden.

In all, the ease of setting this $40 system and its functionality make it the go-to irrigation system for the vast majority of value-conscious homeowners. It's budget-friendly, high-quality, boasts impressive coverage, and is a perfect choice for expanding, repairing, and adjusting an existing irrigation system. And that's on top of its efficiency and durability.

Highly portable
Exceptional quality
Comes with universal components for versatility and compatibility
Works automatically and smoothly
4. Raindrip R560DP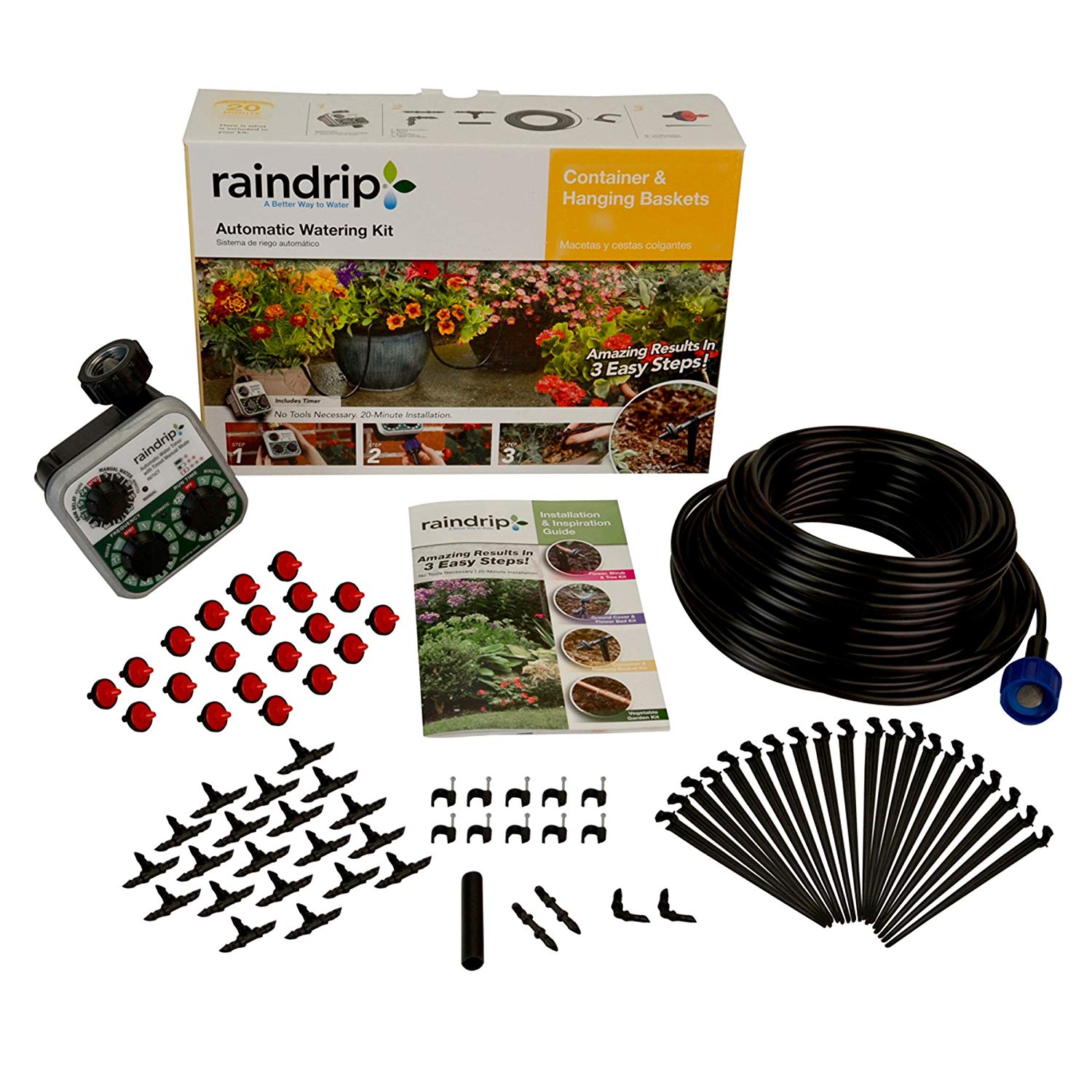 Key Features:
The innovative design includes hose thread and snap-in connections that install quickly in 3 easy steps
Water up to 20 plants with this kit


Precision watering system delivers just the right amount of water slowly and precisely right where your plant needs it – at the root zone


One-time setup is easy, and the timer automates the process. No more dragging the hose around!


It's easy to customize and expand your system. Additional tubing, feeder lines, and fittings allow you to fit your system to your planting design
Expand to see more
The Raindrip R560DP pulls no punches to provide the user with the best garden irrigation performance. Despite its budget-friendly price around $30, it has all the requisite features to make for flawless, hassle-free performance, including a heavy-duty timer and supply tubing.

With the threads for which a hose is renowned, hooking up, expanding, and customizing the drip watering system is effortless without specialized tools. Pairing the system up with other associated Raindrip products is easy.

The model is crafted from high-quality, long-lasting linear, low-density polyethylene. Included UV inhibitors help resist the elements. The Raindrip R560DP is not only weatherproof but also capable of withstanding wear and tear from sudden and adverse weather changes.

Like other premium options on the market, the system saves your water by up to 70 percent while ensuring all your plants have all the water they need to grow healthy and green without waste. The system directs water to the root ball of the trees, plants, and shrubs in an ingenious design that cuts down on water wasted on run-off and evaporation.

The efficiency, affordability, and ease of use the Raindrip R560DP bring into your garden are just hard to ignore.
Superior quality
Water efficient
Cost-effective and economical
Easy to install and use
5. Koram IR-D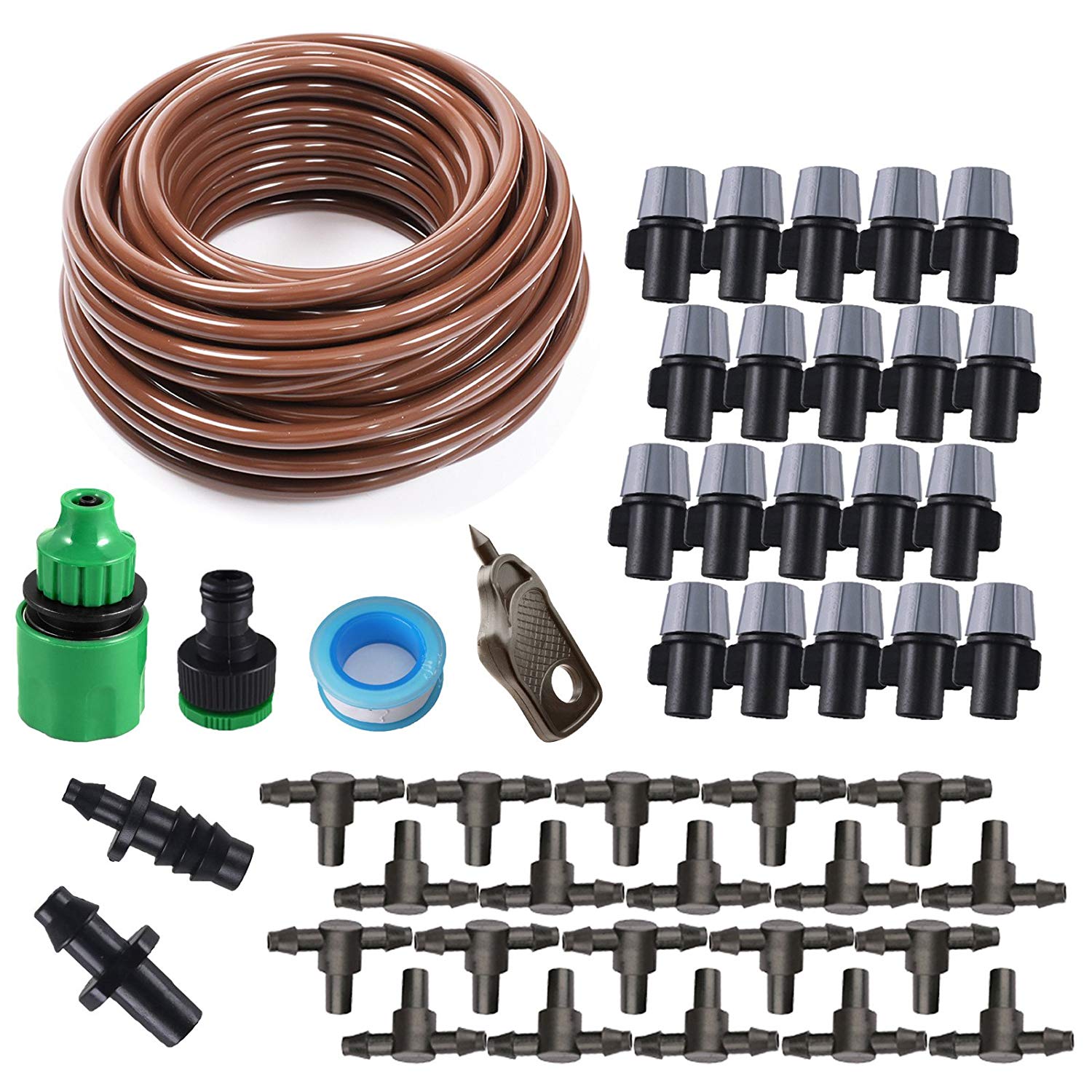 Key Features:
Precision drip watering system delivers just the right amount of water slowly and precisely at plants' roots


Up to 65 percent water savings compared to manual watering.


Every nozzle can be adjusted individually, so each plant receives its customized watering according to its precise needs


Simple installation without digging or plumbing skills. Simplify insert and remove small barbed fittings and drippers


Waters up to 40 plants. It can meet the water demand of different plants at one time. 0-70 L/Hour ( adjustable )


Provides 2 kinds of faucet connector ( threaded Faucet Connector & universal Faucet Connector ), so you do not need to worry about the facet connecting
Expand to see more
Boasting all the hallmark features of a high-end option, the Koram IR-D kit is all you'll ever need to keep your garden healthy and your plants thriving from one season to another. The package includes all the accessories you need to set up the irrigation system and get it up and running in no time at all.

This model also features superior construction quality. and use of high-end, UV-resistant garden hose materials that resist corrosion, even if you leave it out all year.

Compared to other kits on the market, the Koram kit is substantially more economical as it is less than $12. It also works slowly and accurately, delivering or directing the water to the plants that need it while starving off weeds and other unwanted plants, further making the weeding remarkably easy and quick. Yet, it saves up to 65% of your water, making it an ideal choice for use in drought-stricken locations.

A unique selling point is the ability to customize water delivery to each plant in the garden by simply adjusting the drip emitter head. As a result, the likelihood of over-or under-watering a plant is minimal, thereby helping plants grow to their full potential.

As for convenience, it takes a few minutes to install it. You won't have to do any digging or be a plumbing professional.

Outstanding quality
Water efficient
Highly customizable and easy to use
Cost-effective
Requires some digging
Adapter not included
No instructions
¼" feeder line not powerful enough for many uses
Replacement parts hard to find
6. Flantor Garden System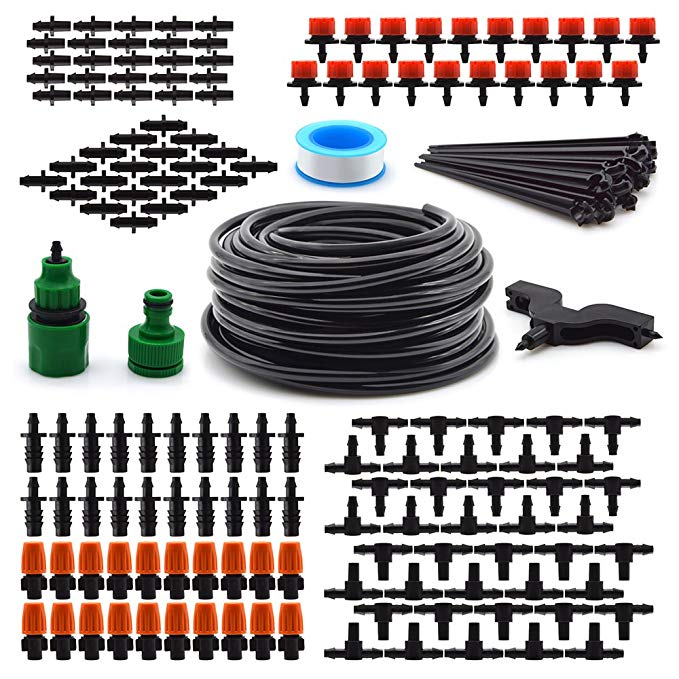 Key Features:
Water all your plants at one time by turning on the tap


Water your plants every day automatically (need a timer NOT INCLUDED) when you are on a business trip or traveling


Every nozzle can be adjusted individually to meet the water demand of different plants at one time


Simple installation without digging or plumbing skills


Easy installation with a manual with pictures


Expand to see more
The Flantor Garden System will provide the vegetables, flowers, and shrubs in your garden with enough water by simply turning on the tap or by installing a timer (not included) to do so automatically.

Its streamlined installation procedure requires no plumbing or digging skills, and should the process prove to be complex, you can always refer to the instructions manual.

The included 50 feet 1/4-inch blank distribution tubing ensures the water efficiently reaches all the plants in the garden, even the ones far removed from the nearest faucet. With all the accessories properly connected, so there are no leaks in the system, water is evenly distributed directly to the roots of the plants and not to the entire landscape, including unwanted plants such as weeds.

The Flantor is highly customizable as it's easy to adjust each of the nozzles to meet the water requirements of the specific plant. At $16, getting this system is a no-brainer.
Innovative and intuitive design
Streamlined installation process
Works automatically
Very efficient
Criteria for Choosing the Best Irrigation System for Gardens
Your garden determines what you need in an irrigation system. Your size and type of garden, the crops you want to group, the type of soil, and the slope of the land all need to figure into your selection. These factors also indicate the cope of your system and impact how many kits you need to buy to water the area.
The systems utilize tubing with holes at certain intervals and a series of nozzles called emitters that may be packaged in a kit that works with garden hoses.
Needs of Your Garden
Garden size: A small garden might be well served with a single kit, whereas a larger one may need more tube or emitter nozzles to expand the system or even separate systems.
Soil type: Soil can be clay, sandy, silty, peaty, chalky, and loamy and have varying nutrient contents and drainage characteristics based on the type. Ideally, a garden should include all of these types, so it should be able to hold enough water to hydrate your plants. If not, your system must compensate for the soil with larger emitters or in-line tubing with closer emitter spacing.
Plant types: Some plants take more water than others at different points in their growth cycle. Radishes, Swiss chard, celery, kale, leeks, and mustard, for example, need consistent water throughout their life cycle. Carrots, beets, turnips, parsnips, and sweet potatoes need steady water while their roots (or bulbs) are growing. Others like broccoli, cauliflower, lettuce, cabbage, and Brussels sprouts need focused watering while their leaves or heads are developing. Good planning will allow your systems to meet the water needs of many plants.
Flow Rate: The amount of water that flows into the garden comes through the nozzle or irrigation emitter. There are several types of Individual emitters that serve the water needs of each plant
Micro-spray Sprinklers are installed beside taller plants to spray them with water.
Point-source Emitters are installed near the plant root so they can receive a pre-determined amount of water that does not touch their leaves.
In-line Drip Emitters are a special hose with holes at particular intervals such as 6″ or 12″. The plants receive their water through the holes as the water drips out.
Basin Bubblers are small, low-pressure sprinkler-style nozzles staked into the ground and connected to the drip system's main hose that sprays water in a 360-degree pattern, hitting all the plants around them
The emitters should have the right flow rate and have pressure compensation built in to adjust the water pressure.
Other useful features might include a self-flushing feature to keep the line free of blogs, built-in check valves to prevent water from backing up, and automatic times to turn the valves on and off.
Construction Quality
An irrigation system should feature high-quality, durable construction to effectively withstand the punitive outdoor environments and the attendant sudden and sometimes extreme weather changes. All the accessories making up the system including but not limited to tubing, plugs, garden hoses, and sprinklers should not be fazed by rust, clogging, or extreme elements like UV.
n a similar vein, ascertain that the model comes with a warranty to give you peace of mind and the confidence you need to use the irrigation system to its full potential. In addition to being indicative of the construction quality and performance of the irrigation system, an extended warranty also provides sufficient cover against material and deficiencies in craftsmanship.

Performance
Aside from construction quality, a second essential consideration is obviously the extent to which the irrigation system is able to do its job. It beats sense investing in a model that doesn't adequately, if not fully, meet your needs. Before committing your money, rigorously evaluate the performance capabilities of the model you're enamored with, as well as individual plants water needs. Versatile, high-quality models work efficiently with no hiccups at all irrespective of the setting.
Similarly, its pressure and the attendant flow rate should be able to disperse water to further plants without any loss in performance.
Convenience
If you have neither the time nor effort to water your plants each morning or evening with a watering can, then you need an irrigation system that is easy to use. The irrigation system should be user-friendly to take the time and hard work away from the process while still ensuring the water needs of your plants are adequately met. To this end, you may want a system that works automatically so long as the tap is turned on. A timer feature can be of tremendous help here. A second convenience is the ease of installation.
A streamlined procedure enables even inexperienced gardeners to get the irrigation system up and running in no time at all and minimizes referring to the instruction manual. Ideally, there should be no digging or plumbing required and if it's necessary it should be to a bare minimum. Other models have LED lights that help you monitor how well the entire system is working though they tend to be expensive.

Frequently Asked Questions
Q: Are irrigation systems worth it?
If it's done properly, this watering system can add value to your home, not to mention a beautiful and lush garden that'll be the envy of your entire neighborhood. It's also more water-saving in comparison to the sprinkler system thanks to drip irrigation, which doesn't spend much water per individual plant.
Q: Is drip irrigation better than a sprinkler system?
The sprinkler systems are more expensive and can cost up to $20,000, including all the work you have to do in your yard, like digging up canals in your lawn, while the irrigation watering system is better for smaller areas, and can water the soil with less water without washing away the mulch.
Q: What are the disadvantages of sprinkler system irrigation?
As mentioned above, there are high costs of setting it up. If your local weather is mostly dry you'll also have to consider the operating costs like water and energy. The good thing is that you can set up automatic watering on both of these systems.
Q: How do I maintain my irrigation system?
The simple design of irrigation systems means they don't require as much attention as you'd think. The only dangers to look out for are clogging and leaking, both of which affect water delivery. Frequently soaking the emitters in a solution of water and vinegar should stop magnesium or calcium from building up. For leakages, ensure the components and accessories are tightly put together.
Q: How difficult is the installation process?
Irrigation systems are relatively simple, and the installation process is therefore straightforward. Manufacturers usually provided detailed instructions to guide the user through, and typically it should last more than half an hour.
Conclusion
A good garden irrigation system is convenient, easy to use, and versatile. Not only can it save you tie, but it can also save you money as it directs water to the right place. Irrigation systems, unlike in-ground sprinkler systems, are a good tool for water conservation.
Our picks offer the best irrigation systems for watering your plants, shrubs, and flowerbeds and are worth your consideration.
Subscribe to our newsletter