Best Irrigation System for Gardens Reviewed
last updated:
Jun 30, 2020
A green and lush flowerbed, garden, or is every homeowner's dream, and the open secret to keep your lawn it in a picturesque state is regularly watering it. Traditionally, people would walk around in the wee hours of the morning or evening watering their garden with a watering can, but in the modern era, people have neither the time nor the effort to water plants individually. This is where the advanced irrigation system a.k.a. sprinkler system for gardens enters the scene. Unlike its conventional cousin, an irrigation system requires minimal effort and time investment from you as they work automatically, which essentially makes them a godsend and, therefore, a must-have, especially if your local weather is more desert-like.
Our Top 3 Picks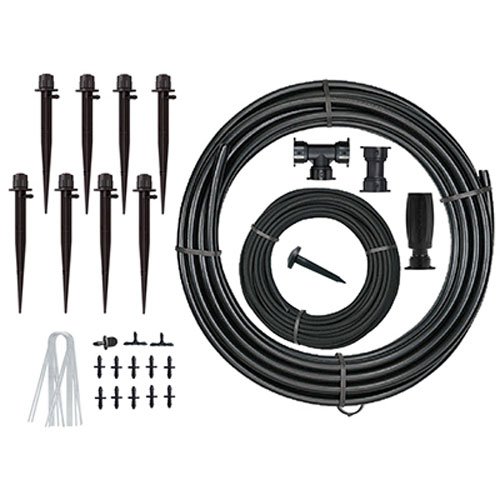 Orbit

Our rating
Focused
Price:

See Here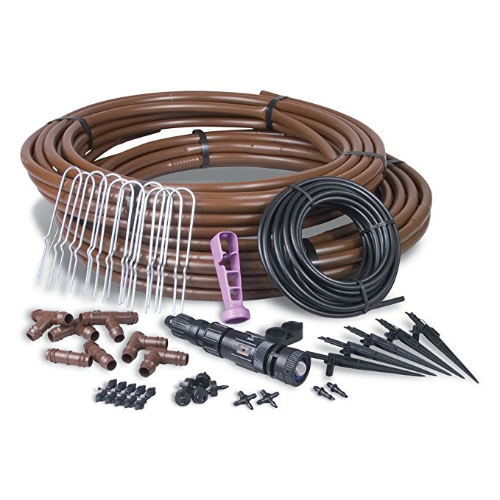 RainBird

Our rating
Quality
Price:

See Here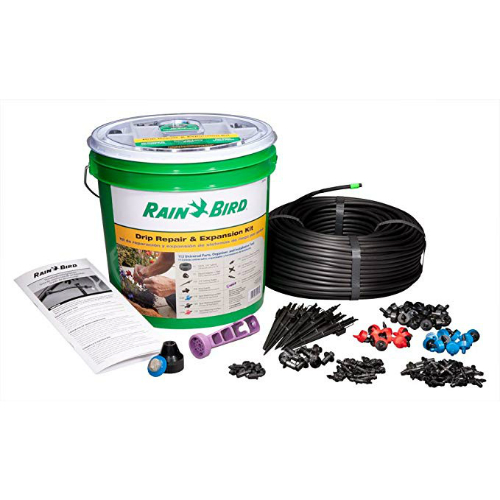 RainBird

Our rating
Portable
Price:

See Here


If online customer comments and reviews are anything to go by, choosing an irrigation system can be quite a headache considering there are several types of irrigation systems on the market. To stop you from incessantly scratching your head while trying to decide among the different models, we've put together a carefully curated list of 10 of the best irrigation systems on the market currently.
10 Best Irrigation Systems for Gardens
1. Orbit 69525 Complete Drip Irrigation Watering Kit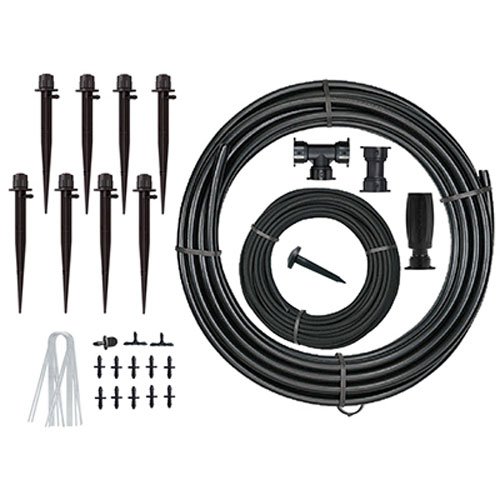 The Orbit 69525 is a perfect choice for the value-conscious homeowner in need of a high-quality and dependable irrigation system for keeping their plants healthy and green all through the season. It's easy on the plants and provides uniform coverage of the whole garden, taking perfect care of all your trees, shrubs, and flowerbeds. Plus, it has a useful water-conserving feature that ensures water is supplied to where it's needed, helping you spend less water then before.

Expand to see more
Compared to cheap, off-brand models on the market masquerading as garden irrigation systems, the Orbit 69525 is remarkably easy to use. The installation process is a breeze, lasting just about 15 minutes and the simple design of the system eliminates the need for calling for professional assistance. Without any prior experience, a novice can get the system up and running in even less time, so you won't waste any more time impatiently perusing through the user manual trying to understand what goes where.

If you're looking to save up on water and direct the precious resource where it's needed most, this option should be up your alley. It conserves water by up to 70 percent, which is clearly a far cry from the performance of conventional spray heads. It's, therefore, a perfect choice for individual plants during droughts when each and every drop counts. Further, because it features the innovative stake and micr0-bubbler system, you'll be efficiently directing the water only to the plants and not the landscape or the weeds, which further contributes to the water conservation measures mentioned earlier.

With a coverage of up to 250 square feet, the Orbit 69525 is arguably one of the best irrigation system money can buy. It installs in a snap, helps you conserve your water down to the drop, and keeps your trees, shrubs, and flowerbeds green and healthy and thriving.

Connectable to several units
Clear, helpful instructions
Focused delivery of water to plant roots
Impressive coverage
Water-efficient
2. Rain Bird GRDNERKIT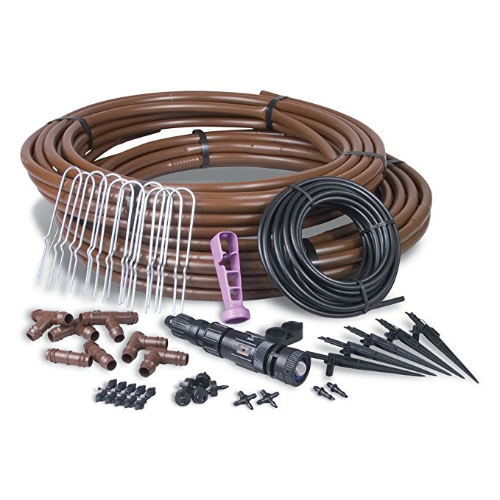 Rain Bird is one of those brands you can always count on to deliver, and they've never failed. Their leading irrigation system, the Rain Bird GRDNERKIT perfectly showcases the brand's unwavering commitment to the production of high-end, easy-to-use, reliable, and cost-effective products. Like our previous pick, this option is easy to use and install and provides maximum watering efficiency by saving up to 65 perfect of your water and other related costs. Unlike the first pick though, the rigidity of this model's garden hose makes it difficult to snake around the garden, which means its coverage may not be as even as needed.

Expand to see more
Boosting a coverage of up to 75 square feet, it is the epitome of watering efficiency as it provides for the efficient irrigation of the root zone of your garden plants, shrubs, trees, flowers, and vegetables. The design helps conserve your water by up to 65 percent and because the water doesn't reach weeds and other unwanted growths, they get to wither on their own, making weeding remarkably easy and quick.

As for installation, you won't be required to do any digging or plumbing. Attaching it to a hose is a breeze with the provided multi-purpose Faucet Connection Kit that also filters sediment, regulates pressure, and prevents the backflow of water, providing for efficient and smooth performance. According to the brand, the Rain Bird GRDNERKIT is highly flexible, requires zero maintenance, and is capable of making sharp, tight turns for quick and easy installation. And since the system is clog-resistant, it gives you peace of mind and the confidence to use it flawlessly for several years on end.

If you can't stand the back-breaking method of watering your garden plants by hand, it's high time you upgraded to the more efficient Rain Bird GRDNERKIT. It installs with ease, conserves your water by up to 65 percent, and minimizes weeding.

High-quality, durable construction
Water efficient
Compatible with standard faucets
A cinch to use and install
3. Rain Bird DRIPPAILQ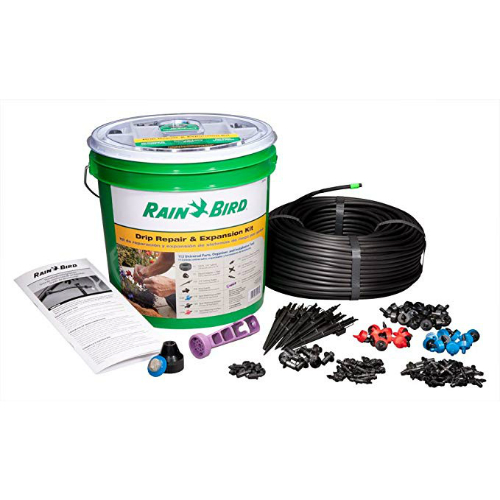 Cost-effective and efficient, the Rain Bird DRIPPAILQ is all you need to keep the plants in your garden thriving and healthy, and without putting in too much effort or time. Installation is quick and easy and in light of its flexible garden hose system, ensures all your plants receive an adequate and equal amount of water, providing for healthy, even growth all year long. Plus, it's a versatile option that only helps with even water distribution but also with repairing, expanding, and adjusting the flow to new plants. If you're anything like us, we'll be immediately impressed with the performance of this irrigation system.

Expand to see more
With a remarkably long 250 feet of 1/4-inch tubing, it ensures water reaching each and every plant, shrub, and tree in your garden. Also, it comes with pressure compensating emitters with varying flow rates in addition to fittings, stakes, and the brand's patented installation tool that takes the time and effort away from working with barbed fittings. The working of the Rain Bird DRIPPAILQ may sound complex to greenhorns out there but in actuality, it's pretty straightforward. And in case you get overwhelmed, you can always resort to the provided Troubleshooting Guide for straightforward directions.

The system also gives you value for your money by enabling you to fix clogged or damaged sections of the system, breathing life into old models. You can remove old devices and plug holes and replace them with new, functional ones. In the same fashion, it provides for easy and quick cutting and splicing tubing with couplings. The result is an increased and reliable flow of clean water to all the plants, shrubberies, and trees in your garden.

In all, the ease of setting it up and its functionality makes it the go-to irrigation system for the vast majority of value-conscious homeowners. It's budget-friendly, high-quality, boasts an impressive coverage, and is a perfect choice for expanding, repairing, and adjusting an existing irrigation system. And that's on top of its efficiency and durability.

Highly portable
Exceptional quality
Comes with universal components for versatility and compatibility
Works automatically and smoothly
4. Claber 8053

If you want to water the plants, shrubs, and
fast growing trees
in your garden without lifting a finger or putting too much time in the endeavor, the Claber 8053 Oasis would be your best bet. It's versatile and programmable, allowing you to water up to 20 plants simultaneously, keeping them thriving and healthy even when you travel away from home. Further, it works automatically, which eliminates the likelihood of forgetting to water the plants, risking their lives. The package comes with a 6.6-gallon polypropylene plastic reservoir, a 33-foot PVC garden hose, 20 drippers, and 20 spikes; everything you need for quick and straightforward installation.
Expand to see more
Properly installed, the Claber 8053 Oasis takes away the pressures of keeping your plants watered for the next 40 days, during which you could be away on a business trip, holiday, or visiting folks upcountry. It consistently delivers a perfectly calibrated amount of water to all your plants and because it's not dependent on faucets, the likelihood of the system leaking water or suffering electrical hitches is non-existent. The fact that it's powered by one 9V battery means it can run flawlessly for the entire year, saving you the pain of pain hefty electrical bills.

Expectedly, installation is a breeze. The entire process takes very few minutes. And thanks to the intuitive and user-friendly design, the Claber 8053 Oasis is a cinch to use, meaning professionals, seasoned DIYers and everyone in between should set it up, get it running efficiently and smoothly, and even diagnose and repair any problems that crop up in the course of normal, everyday use. The brand takes ease of use a step further by incorporating LED lights to help you monitor the operation of the system.

Overall, the Claber 8053 Oasis is a high-end option packing all the necessary features and specs that make for flawless and dependable operation. To top it all off, it comes with a generous 24-month warranty.

Perfect for drip irrigation
High-end construction
Generous 24-month warranty
Susceptible to overflowing
5. Raindrip R560DP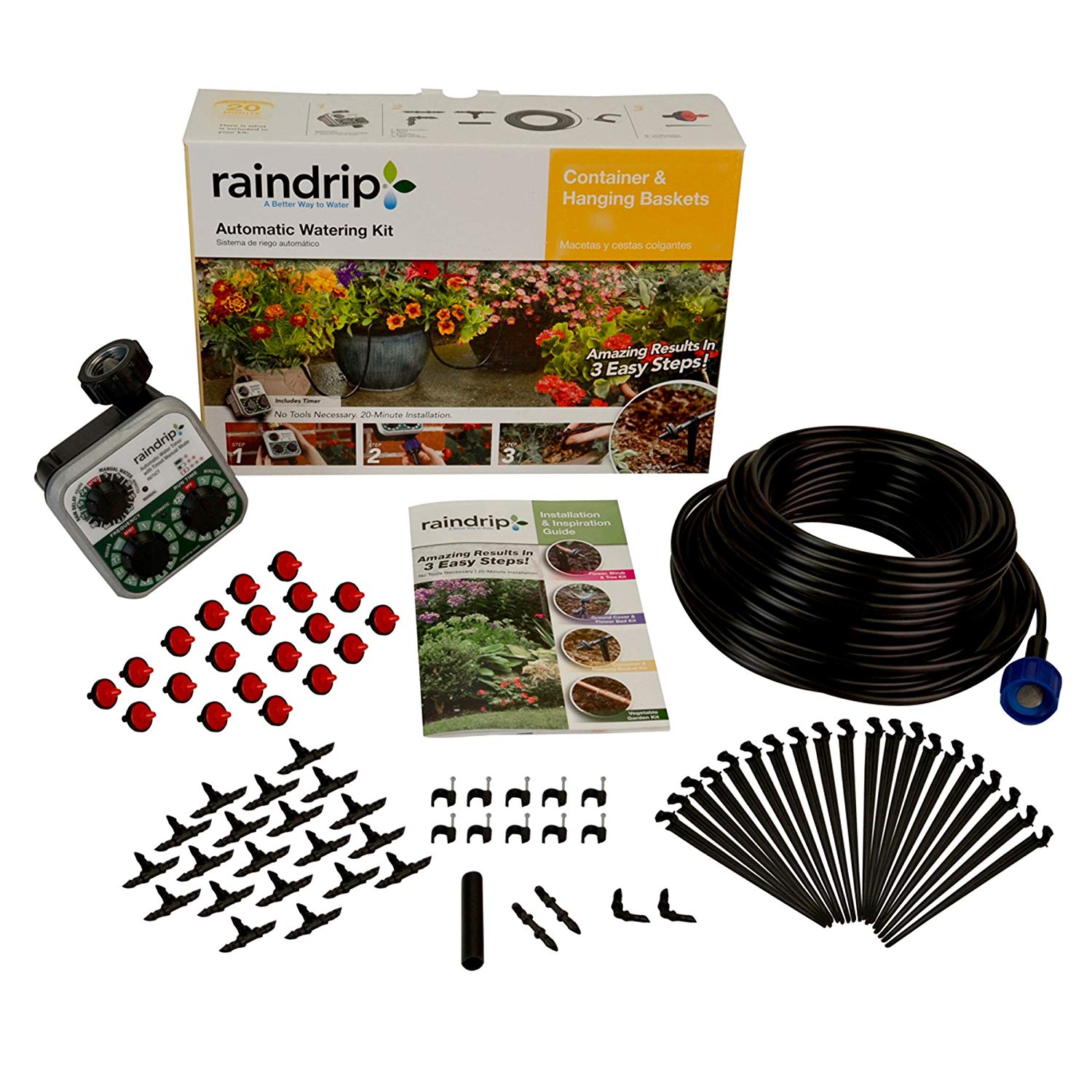 The Raindrip R560DP is an industrious work that pulls no punches to provide the user with the best garden irrigation performance. And despite its budget-friendly price, it packs all the requisite features to make for flawless, hassle-free performance. As well as coming with a full installation kit, it also has heavy-duty timer and supply tubing so that hooking up and starting your irrigation is both quick and effortless. The only hurdle you can encounter - if you can call it that - during the installation process is attaching the garden hose, which can never be a problem at all to an adult.
Expand to see more
Featuring the threads for which a hose is renowned, the timer and supply tubing makes installation remarkably easy and effortless. It further simplifies the process of hooking, expanding, and customizing the drip watering system, in turn eliminating the need for using any specialized tools during the installation process. Another highlight of the irrigation system is the ease of pairing it with other associated Raindrip products.

Being a high-end option, the brand manufacturer spares no expense to provide the user with the best quality. The model is crafted from high-quality, long-lasting linear, low-density polyethylene. Thanks on top of the inclusion of UV inhibitors for resisting the repercussions of the elements. As a result, the Raindrip R560DP is not only weatherproof but also capable of withstanding the loads of wear and tear that come with sudden and adverse weather changes.

Its efficiency is yet another reason to give it some serious consideration. Like other premium options on the market, the system saves your water by up to 70 percent while ensuring all your plants have all the water they need to grow healthy and green. Water saved translates to money saved and the system accomplishes this by directing the water to the root ball of the trees, plants, and shrubs in an ingenious design that cuts down on water wasted on run-off and evaporation.

The efficiency, affordability, and ease-of-use the Raindrip R560DP brings into your garden are just hard to ignore. If you want a way of watering up to 20 plants simultaneously, you now have several reasons to get this system.

Superior quality
Water efficient
Cost-effective and economical
Easy to install and use
6. Koram IR-D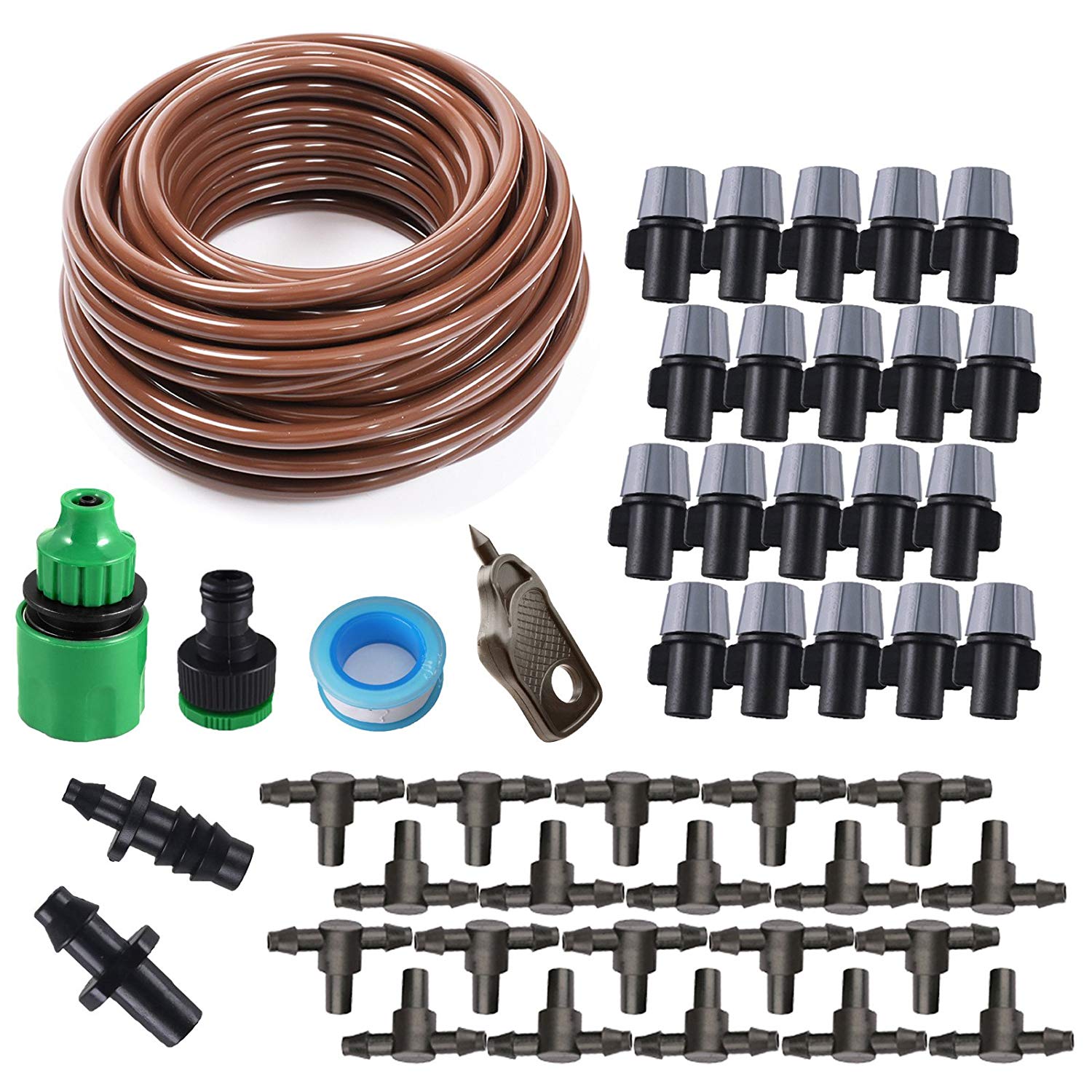 Boasting all the hallmark features of a high-end option, the Koram IR-D kit is all you'll ever need to keep your garden healthy and your plants thriving from one season to another. It spares you the trouble and cumbersomeness of using watering cans. The package includes all the accessories you need to set up the irrigation system and get it up and running in no time at all. And like most options, it helps you save a copious amount of water and money, preventing you from digging too deep into your pockets to keep the garden lush and green.
Expand to see more
Like the previous product, this model also features commensurately superior construction quality. The use of high-end, UV-resistant garden hose materials for construction provides unparalleled resistance to corrosive materials and agents. As a result, you can confidently leave it out all throughout the year safely buried or on the surface without worrying about it wearing out as fast as low-quality, cheap models do.
Compared to conventional garden watering solutions, the Koram kit is substantially more economical. It saves up to 70 percent of your water, making it an ideal choice for use in drought-stricken locations. It also works slowly and accurately, delivering or directing the water to the plants that need it while starving off weeds and other unwanted plants, further making the wedding remarkably easy and quick.
A unique selling point is the ability to customize water delivery to each plant in the garden by simply adjusting the drip emitter head. As a result, the likelihood of over- or under-watering a plant is minimal, thereby helping plants grow to their full potential.
As for convenience, it takes a few minutes to install it. You won't have to do any digging or be a plumbing professional. Plus, it's a versatile choice you can use for agriculture, lawn, garden,
greenhouse
, and even the swimming pool. We can't recommend it enough.
Outstanding quality
Water efficient
Highly customizable and easy to use
Cost-effective
7. Carry360 Misting Cooling System

There are thousands of options on the market but only a handful of them come close to replicating the efficient, dependable, and flawless performance of Carry360 Misting Cooling System. It's a perfect choice for the homeowner looking for affordability, versatility, and a system capable of working with minimal human supervision so that keeping the garden and the plants in it don't hog all your time and attention. You'll also like the fact that this irrigation system, compared to its counterparts mushrooming all over the market, features long-lasting, rugged construction and therefore won't crumble or clog as easily.

Expand to see more
It comes with up to 20 high-quality and durable mist nozzles that are expertly designed to give you the easiest time when watering your lawns and gardens. Each boasting a pressure range of between 220 and 280Kpa and prowess for dispersing some 2.5 liters of water every minute, this irrigation system should be your go-to tool for watering several plants, shrubs, and trees in large gardens. The pressure and water distribution capacity of the irrigation system is remarkable for a system that costs less than $10. Its reliability and ability to keep the garden and its plants well-watered and healthy is legendary. You won't have to lift a finger to keep the system working from day to day.

With a spray diameter of between 1.2 and 1.8 meters and compatibility with 1/2-inch and 3/4-inch male thread water faucets, the installation is a breeze. You don't require any plumbing or digging skills and the entire process, expectedly, lastly just a few minutes. After installation, you won't have to contend with flooded lawns as the efficiency of the system helps preserve water and money, making it an ideal choice for agriculture, lawns, gardens, patios, greenhouses, and swimming pools, among others.

If you prioritize durability, ease of use, and affordability in an irrigation system, you'll fall heads over heels for this option. It offers you these benefits and several more to help keep your plants healthy, green, and thriving.

Heavy-duty construction
Works efficiently and flawlessly
Budget-friendly
Compatible with 1/2 and 1/4-inch faucets
8. Flantor Garden System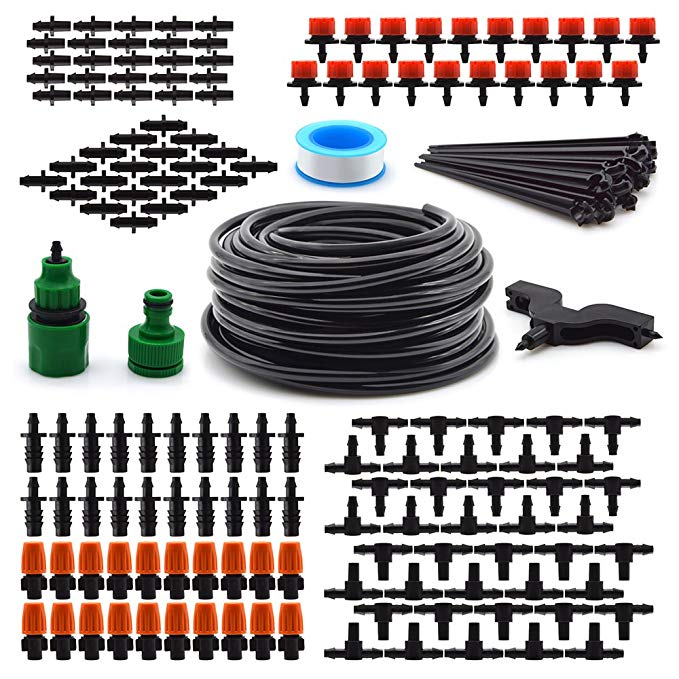 Water is to plants what food is to humans which means that it's vital for the healthy growth of the plants, vegetables, flowers, and shrubs in your garden. The innovative and intuitive design of the aim aims to take the time and effort away from ensuring your plants are well watered and is a godsend for the homeowners with little time on their hands. As with virtually all other options on this list, the system features a streamlined installation process and has all the nifty features to keep your plants from dying.

Expand to see more
For most homeowners, the only stumbling block to acquiring an efficient, automated irrigation system is the complex installation process. Its streamlined installation procedure eliminates such bottlenecks through the simplicity of its design so that both greenhorns and experienced have the easiest time getting the system ready. You don't require any plumbing or digging skills and should the process prove to be complex, you can always refer to the instructions manual.
It works automatically so that even the most forgetful or busiest of us don't run the risk of starving off all the plants in their garden. The included 50 feet 1/4-inch blank distribution tubing ensures the water efficiently reaches all the plants in the garden, even the ones far removed from the nearest
faucet
. With all the accessories properly connected so there are no leaks in the system, water is evenly distributed directly to the roots of the plants and not to the entire landscape, including unwanted plants such as weeds.
As mentioned earlier, the system works automatically. And it's highly customizable considering that it's easy to adjust each of the nozzles to meet the water requirements of the specific plant. Moving forward, there'll be over or under-watering.
Innovative and intuitive design
Streamlined installation process
Works automatically
Very efficient
9. Orbit 69500

Another practical and functional option that deserves a spot on our list is the Orbit 69500 92-Piece Drip Kit. And we didn't have to use abracadabra to pick it out as it packs all the hallmark features of a great irrigation system. For instance, it's efficient, dependable, a cinch to use, affordable, and best of all, works smoothly as advertised. While it's cost-effective, there is no correlation between that and its performance. It stacks up pretty well against other industry giants, helping you keep your plants sufficiently watered even in your absence.
Expand to see more
The Orbit 69500 comes with 92 assorted tools and all work efficiently in tandem to ensure your plants not only grow healthy but also thrive. Whether you decide to leave it lightly buried underground or lying on the surface of the soil all year long, the robust, long-lasting construction of the system enables it to gracefully withstand adverse weather conditions and loads of wear and tear. As a result, it won't come as a surprise if it smoothly serves you for the next several months, if not years.

If you're anything like us, you'll find the water efficiency of the kit irresistible. The system only waters the roots of the plants you want to be watered and therefore conveniently cuts down on water wastage. It's a perfect choice for use in areas most susceptible to drought or by eco-friendly homeowners keen on preserving the precious resource.

Expectedly, you won't break a sweat installing it. In the package, you'll get 1/4-inch fittings, heads, accessories, and a useful installation guide to diligently walk you through the installation process. Thanks to the inclusion of a handy, refillable case, organizing al the fittings becomes a very effortless endeavor, even for novices.

If your current system is not adequately meeting your needs, consider going with the versatile Orbit kit. Among other things, it's highly customizable, versatile, durable, cost-effective, water-efficient and the installation process is a breeze.

Cost-effective
Versatile assortment of components for flawless performance
Long-lasting and efficient
Perfect for various settings
Not as effective as other models
10. KINGSO 82ft Micro Drip Irrigation Kit

Our last pick, isn't much different from the other irrigation systems. Like them, it's a versatile option that features the time- and effort-saving automatic watering and can cut down water wastage or usage by up to 70 perfect. Also, it's easy to install as the package comes with all the accessories and materials needed and it's highly customizable to meet the individual needs of plants. Together, these features and several more we'll be discussing shortly make it one of the best to consider for purchase.
Expand to see more
The 82 feet dripper allows you to easily cover every nook and cranny of the garden or lawn, thereby directly supplying all the plants, flowers, and shrubs with water all at the same time. Unlike traditional methods, you have to move around with a can and bucket full of water hunching down to individually water the plants. Further, you can individually adjust every dropper to meet the water requirement of different plants. With a spray diameter of 0.3 metres and an adjustable flow rate of between 0 and 70 litres an hour, the irrigation system beats several other irrigation systems when it comes to performance and dependability.

The system works automatically which means that all you have to do, after installing it, it connecting it to the nearest faucet and turning on the taps. And because of its watering efficiency, it saves as much as 70 percent of your water compared to conventional methods, making it an ideal choice for use on the garden, lawn, greenhouse, and even the patio.

Few options we can think of share the efficiency, reliability, ease of use, affordability, and durability of the KINGSO system. If you need your plants to grow healthy and thrive without spending too much, it's your best bet.

Highly customizable
Easy to install
Saves lots of water and money
Superior construction
Criteria for Choosing the Irrigation System for Gardens
Construction Quality
An irrigation system should feature high-quality, durable construction to effectively withstand the punitive outdoor environments and the attendant sudden and sometimes extreme weather changes. Every nook and cranny of the irrigation system should be crafted from industrial-grade materials for pro-grade performance against the background of the vagaries of weather conditions. All the accessories making up the system including but not limited to tubing, plugs, garden hoses, and sprinkler should not be fazed by rust, clogging, or extreme elements like UV.
In a similar vein, ascertain that the model comes with a warranty to give you peace of mind and the confidence you need to use the irrigation system to its full potential. In addition to being indicative of the construction quality and performance of the irrigation system, an extended warranty also provides sufficient cover against material and deficiencies in craftsmanship.

Performance
Aside from construction quality, a second essential consideration is obviously the extent to which the irrigation system is able to do its job. It beats sense investing in a model that doesn't adequately, if not fully, meet your needs. Before committing your money, rigorously evaluate the performance capabilities of the model you're enamored with, as well as individual plants water needs. Versatile, high-quality models work efficiently with no hiccups at all irrespective of the setting.
Similarly, its pressure and the attendant flow rate should be able to disperse water to further plants without any loss in performance.
Convenience
If you have neither the time nor effort to water your plants each morning or evening with a watering can, then you need an irrigation system that easy to use. The irrigation system should be user-friendly to take the time and hard work away from the process while still ensuring the water needs of your plants are adequately met. To this end, you may want a system that works automatically so long as the tap is turned on. A timer feature can be of tremendous help here. A second convenience is the ease of installation.
A streamlined procedure enables greenhorns to get the irrigation system up and running in no time at all and minimizes referring to the instruction manual. Ideally, there should be no digging or plumbing required and if it's necessary it should be to a bare minimum. Other models have LED lights that help you monitor how well the entire system is working though they tend to be expensive.

Frequently Asked Questions
Q: Are irrigation systems worth it?
A: If it's done properly, this watering system can add value to your home, not to mention a beautiful and lush garden that'll be the envy of your entire neighborhood. It's also more water saving in comparison to the sprinkler system thanks to the drip irrigation, which doesn't spend much water per individual plant.
Q: Is drip irrigation better than a sprinkler system?
A: The sprinkler systems are more expensive and can cost up to $20,000, including all the work you have to do in your yard, like digging up canals in your lawn, while the irrigation watering system is better for smaller areas, and can water the soil with less water without washing away the mulch.
Q: What are the disadvantages of sprinkler system irrigation?
As mentioned above, there are high costs of setting it up. If your local weather is mostly dry you'll also have to consider the operating costs like water and energy. The good thing is that you can set up automatic watering on both of these systems.
Q: How do I maintain my irrigation system?
A: The simple design of irrigation systems means they don't require as much attention as you'd think. The only dangers to look out for are clogging and leaking, both of which affect water delivery. Frequently soaking the emitters in a solution of water and vinegar should stop magnesium or calcium from building up. For leakages, ensure the components and accessories are tightly put together.
Q: How difficult is the installation process?
A: Irrigation systems are relatively simple, and the installation process is therefore straightforward. Manufacturers usually provided detailed instructions to guide the user through, and typically it should last more than half an hour.
Conclusion
The time is ripe for ditching the back-breaking, time-consuming, and energy-draining watering can work for the more efficient, easy to use, convenient, and versatile irrigation system. The irrigation systems, unlike the sprinkler system, are also water efficient and will save up to 70 percent of your water and, by extension money.
Our picks also meet these criteria, and irrespective of your choice, adequately watering your plants, shrubs, and flowerbeds will be effortless, quick, and hassle-free moving forward.
Subscribe to our newsletter