10 Best Self-Propelled Lawn Mowers Reviews
last updated:
Sep 27, 2021
For most people, the home tends to be a place of peace and tranquility. A place where they can escape the chaos of the outside world, their jobs, traffic, and other stressful factors. However, for the home to successfully carry out this mandate, it needs to be clean and neat. This applies to both the internal environment and also the immediate outside surroundings. This is why almost every home you visit has a well-trimmed lawn.
If you are looking to imitate that on your lawn, then you need the right equipment for it. A self-propelled lawn mower may be an ideal pick in that regard. Like the name suggests you just need to turn on and engage the mower. It moves forward on its own. However, you still need to manually turn the mower to whichever direction you would like for it to go.
Our Top 3 Picks
[srpshortcode id="20229″][/srpshortcode][srpshortcode id="20230″][/srpshortcode][srpshortcode id="20231″][/srpshortcode]
As with everything else in the modern era, there seem to be some endless options to choose from. Nonetheless, if you consider a few factors, you will take the guesswork out of the equation and get what is right for your needs. Also, the number of options will be dramatically reduced to a few viable ones after you do this.
10 Best Self-Propelled Lawn Mowers
1. Honda HRR216K9VKA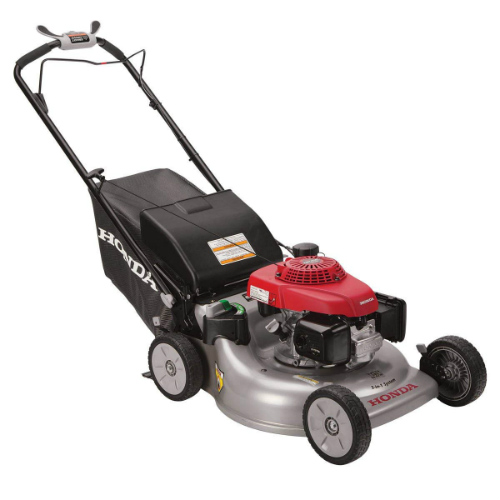 In first place is an edition by Honda. It comes as a standalone tool with which you don't need to attach any additional parts. The bag is attached, but you can always toggle between the mulching and bagging modes as required. If you are an environmentalist, you can write off this model as it is powered up by gas. As a result, it is bound to give off environmentally degrading fumes. If this isn't a deal breaker for you, then there are lots of useful features that make choosing this worth it. They include:

Easy control – The Honda features variable speed between 0-4 mph. This is controlled using the operator's thumbs on the handle and is especially useful when the lawn needs a lot of maneuvering. You can slow down whenever you come across an obstacle such as a tree or flower bush. You can also increase the speed to a walking pace if you are mowing in a straight line.

Safety features – Most lawn mowers keep spinning their blades even after you've let them go unless you switch them off yourself. With this model the moment you let go of the flywheel lever the engine shuts off. This way even if something forces you to let go of the handle, you are sure that the blades will stop spinning.

For comfort, while handling the device, you get foam grip handles. The wheels are pretty standard at a size of 8 inches and are common in a lot of other lawn mowers. Another impressive feature is that it has six height adjustments for cutting grass. Although it uses pull start over the more convenient and more comfortable push start button, not many parties have complained about it. Almost all parties are of the opinion that it takes only one try to turn it on.

Expand to see more
Product Features

Comfortable foam grip handles
8-inch wheels
6-position cutting height adjustments
Micro-cut twin blades
Zone start safety system
Variable speed

Who is it for?

The Honda HRR216K9VKA is relatively highly priced. For the average person, it will need you to dig a little deeper into your pockets for you to purchase this.

Nevertheless, it is a quality piece of equipment that will significantly benefit your lawn and make it easier to maintain. If the price doesn't bother you go ahead and buy this Honda.

Easy to start and use
Uses fuel economically
It is possible to use without the self-propel feature
Folds down for storage
Easy to maintain
2. Troy-Bilt TB330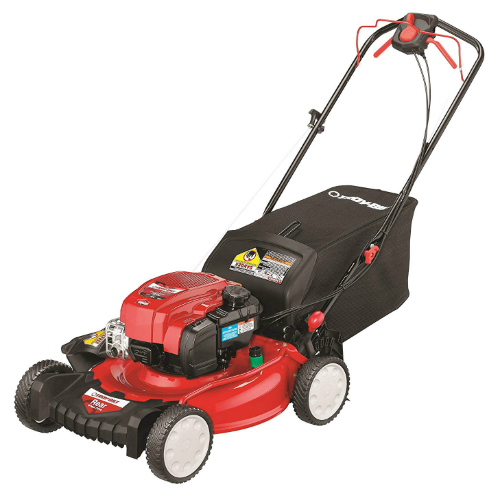 In the second place, you get the Troy-Bilt TB330. It features a rear drive system and 8-inch wheels both on the front and at the back of the machine. This ensures that it can handle just about any terrain you put it one without a struggle. The 163cc engine is started similarly as that of the Honda placed above it; by pulling the start chord. The manufacturer decided to include a rake bumper on the front of the mower. This serves to lift strands of grass and to position them upright so that the blades cut evenly. You also get some impressive features when you buy the TB330. Examples include:

Variable speed control – There are four speed options to choose from, and the interface for changing them is on the handle. A user can vary the pace at any moment depending on the circumstances of the lawn and how he/she feels.

Three options for cutting – In addition to speed you can control whether you are mulching the grass, bagging it so you can dump it later or discharging through the sides of the mower. Each of these has its benefits and situations where it is appropriate to use.

Once you buy the TB330, you have a warranty that covers you for three years. Also, you get an adjustable ergonomic handle that makes the gadget easier to handle.

Expand to see more
Product Features

Adjustable handle
8-inch wheels
163cc Briggs & Stratton Engine
Speed drive control
Rake bumper
Integrated deck wash

Who is it for?

The Troy-Bilt TB330 is also highly priced. If you have the extra funds, this tool will work great and give a return on investments in a relatively short time.

Great for tight spaces
Easy to clean the underside due to the presence of the wash port
Easy to assemble
The speed control is very responsive
Some users have complained that the bag comes off often; however, this is easy to fix with tools at home
3. Troy-Bilt TB220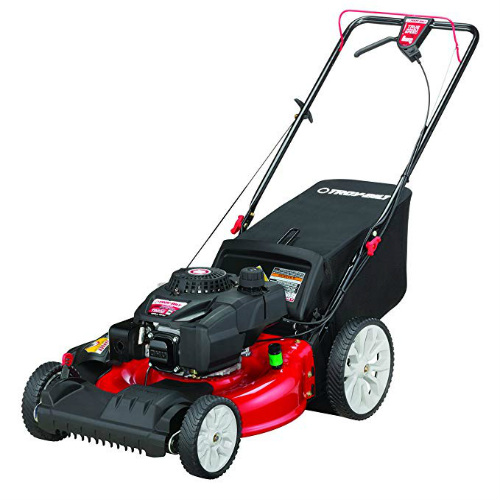 Troy-Bilt has featured yet again on our list for their second and last installation. The front wheels on this unit are seven inches while those at the back are significantly bigger at 11 inches. If you compare the TB330 and the TB220, you realize that they more or less have similar features. The engine is less powerful but not by much. It sports a 159cc OHV engine. Also, this might be attributed to the reduction in price, the 220 has a warranty of only two years with the 330 getting the additional year. Even with these comparison points, it would be hard not to notice the great features of the 220. They include:

Multiple cutting settings – You can choose from some height settings that will allow you to control how much of your grass is left. These range 1.25 to 3.75 inches off the ground. Also, you get to choose either mulching, bagging or side discharge.

Tri-action cutting system – The manufacturer understands that you don't want to spend more time than is necessary on one strip of grass. This is usually necessary if the mower doesn't cut the grass in one go. The TB220 doesn't suffer from this problem. The tri-action system ensures a cutting efficiency that is unmatched.

The rear wheel drive in the TB330 which is reputably better is switched out for the less powerful front wheel version on the 220. That said the traction is quite impressive and more than enough to handle small and medium sized lawns.

Expand to see more
Product Features

159cc OHV engine
3-in-1 mulching capabilities
Adjustable handle
7 inch front wheels and 11 inch back wheels
Front wheel drive system

Who is it for?

If you have a small or a medium sized lawn, this would be an excellent addition to your yard maintenance kit. Performs up to standard and is significantly cheaper than the TB330. If you want to save some money, this falls right on the medium pricing range.

Light and easy to assemble
Easily adjustable speed
The handle is ergonomically designed, and hence very little hand fatigue is experienced
The bag can store a tremendous amount of grass reducing the need to empty it often
The front-wheel drive might not be as powerful as rear-wheel drive mowers
4. Honda HRX217K5VKA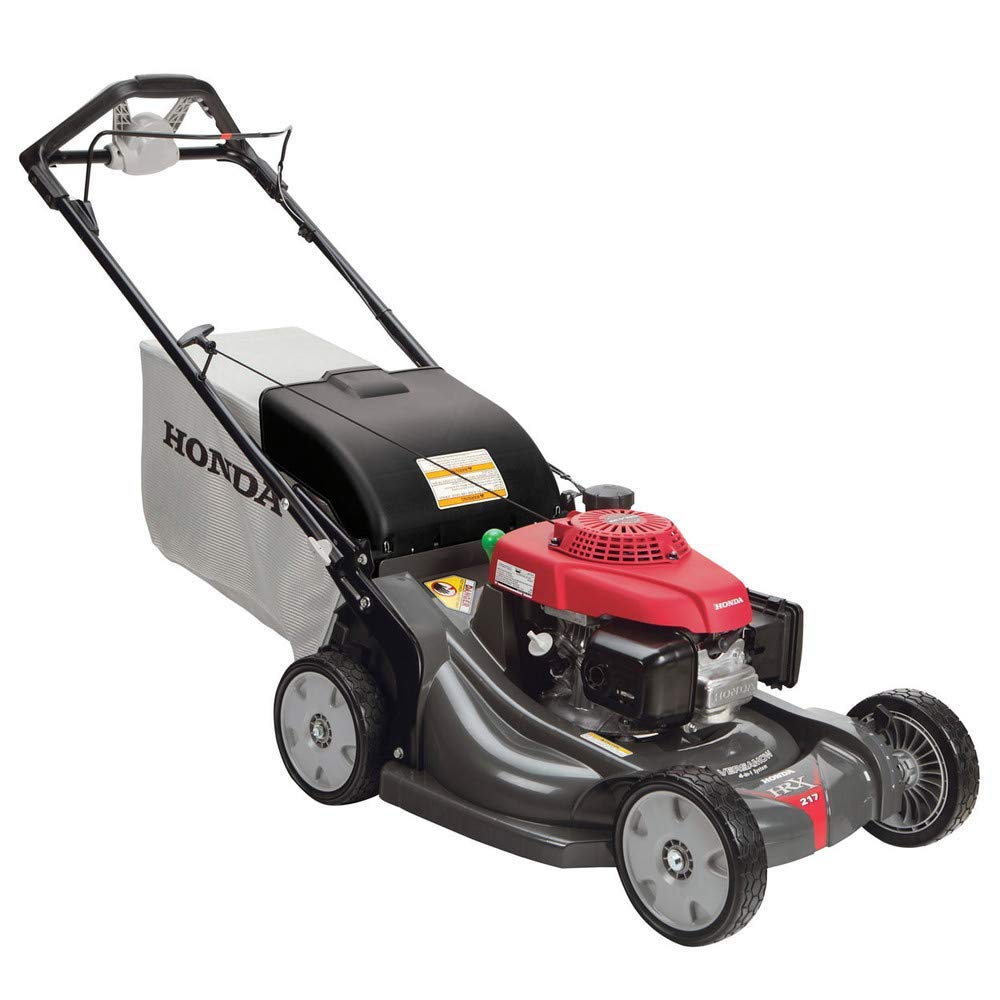 Honda is known for its well-crafted machines, and this mower sits right at the top alongside other quality self-propelled mowers. This gas-powered gadget features a pull start system, and on most occasions, you won't be required to pull more than once. The speeds with which you can mow vary anywhere from 0 mph where you will have to push the mower manually, all the way to 4 mph. However fast or slow you want to walk while mowing, this gadget will cater to that need. The adjustable speed control is in the form of a knob and is thus easy to control for most of the general population. Here are some impressive features that have to be highlighted.

Twin-blade microcut system – Once the grass is cut it is reduced into the smallest form of mulch possible by the twin blades. You can choose to leave it on the ground where it will be barely visible, or you can decide to bag it and dump it somewhere else. Additionally, you can choose a hybrid of the two and dump some of the grass while mulching the rest using the controls.

Powerful engine – The four stroke engine powers a rear-drive system that can handle medium to large sized lawns with ease. What's more, you get a five-setting automatic transmission.

Adjusting the height of the blades and therefore the height of the grass is one of the most problematic areas you will encounter when using it. Each wheel has a lever that helps you do that which is rather inconvenient since other models use one button to control the mower's height. Nonetheless, for most people, this might not be a deal breaker.

Expand to see more
Product Features

Twin-blade microcut system
Adjustable speed control
Rear-drive system
Pull start system
2.5 bushel bag

Who is it for?

While most people would describe this unit as a beast, the price is not consumer friendly. You would need to have a significant amount of money stashed up to be able to afford this. Being that expensive, you would expect this mower to be able to handle big projects, and it does so well. If you can afford the Honda mower, you are unlikely to go wrong if you make the purchase.

A powerful engine that can handle more significant loads of work
High performer when producing mulch
Easy to control
Wheel adjustment is tough
5. Snapper XD SXD21SPWM82K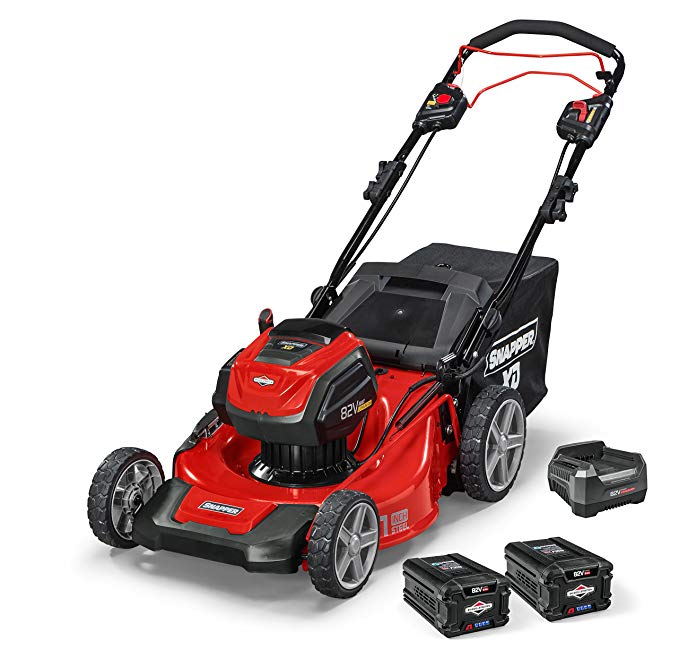 In fifth place, we have our first battery powered option. The unit ships with two batteries and a rapid charger. With a fully charged set, you get 45 minutes of run time before you have to recharge the batteries. You get the three
grass
discharge modes that other top models feature: the mulch, side discharge, and the bagging option. Also worth noting is that this mower uses the push start feature where you push a button, and it roars to life. It is, therefore, easier to start up than its predecessors on our list. Here are some features that most people looking to buy this gadget would have to take note of.
Load sensing technology
– Depending on the patch of grass that you are mowing the mower will adjust the power of the blades to match it.
Seven cutting heights
– This is quite a range, and what's more you can adjust all these using a single lever.
There is also a control lever that allows you to adjust to the motion speed that you are comfortable with.
Expand to see more
Product Features

3-in-1 steel mowing deck
Compact storage capability
Push start button
Seven different cutting heights

Who is it for?

You get to conserve the environment while at the same time keeping your lawn neat. You have to pay quite the pretty penny to own this gadget but as you will find it is worth every cent.

Made of durable materials
Batteries charge in a short amount of time
Easy to assemble
Environmental friendly
The battery life is not enough to handle large lawns
6. Powerworks MO60L512PW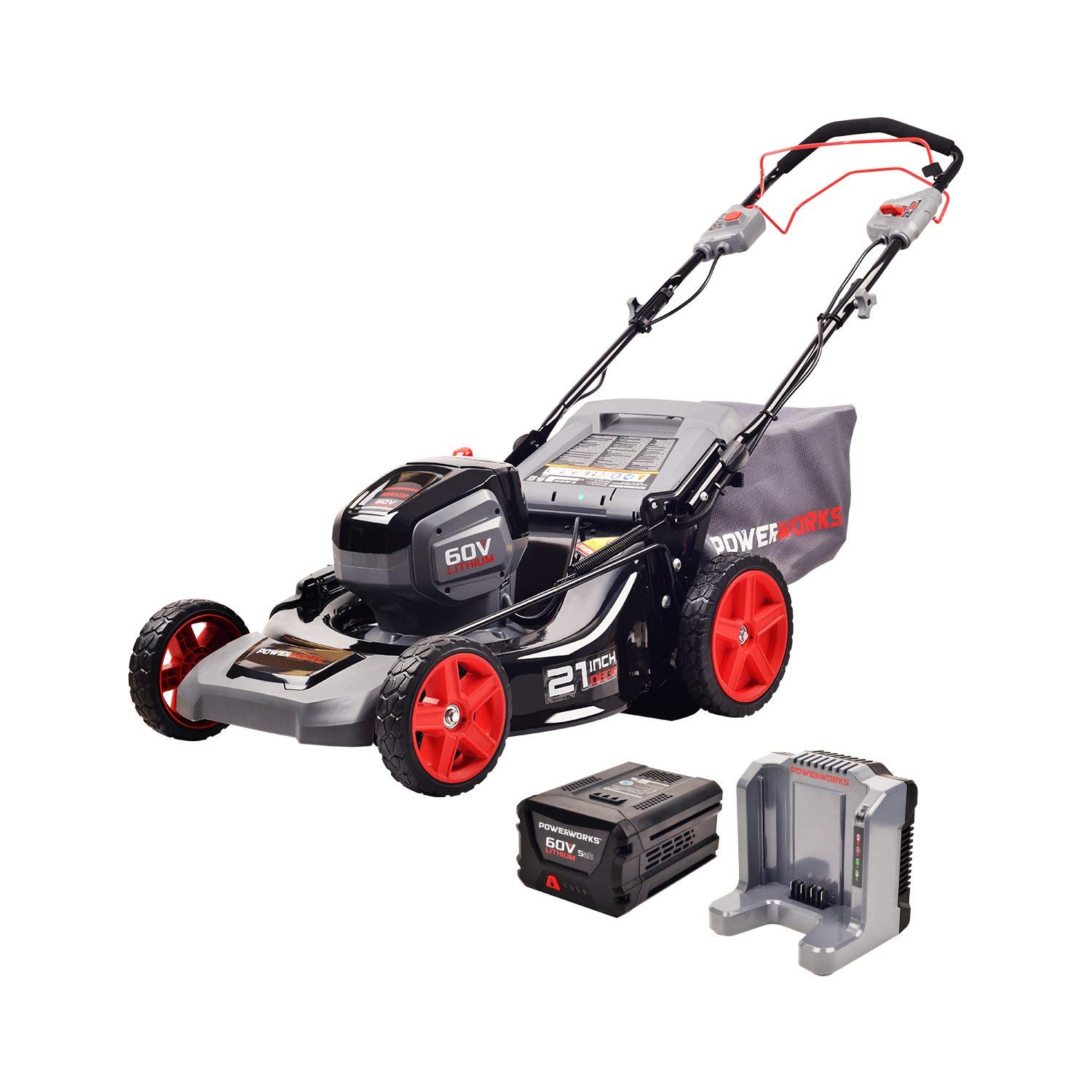 Powerworks comes in with this battery powered mower. Similar to the Snapper mentioned above you get a total of 45 minutes run time on a single charge. If storage space is a problem, you'll be glad to know that this tool stores vertically.

Consequently, it takes up less space in your shed or garage. The torque is rather impressive and is on par with most gas-powered mowers. As such you won't have to worry about sloping lawns or maneuvering over difficult terrains. Here are some key selling features of the Powerworks mower.

Seven position height options – You can cut your grass extremely short, or you can leave it with a bit of height on it. Either way, after you move the mower over it, the lawn will look neat and pristine.

Warranty – If you are looking for a comprehensive warranty on your tool this is one of the best out there. You get a four year coverage on the mower itself and a two year one on the batteries. This way you are assured that any damage that happens to the mower within that period will be catered for by the manufacturer.

The batteries require a maximum charge time of 2.5 hours, and you'll be set to go.

Expand to see more
Product Features

5Ah battery
Self-propelled
60V brushless motor
7-position height adjustment
Stores vertically

Who is it for?

This is yet another expensive gadget. Nonetheless, once you get it on your lawn, you won't be disappointed with the results.

Environmentally friendly
Quiet in operation
Handles are adjustable to accommodate the height of the user
Long battery life
Takes up as little storage space as possible
Easy to use
The battery is big and heavy
7. Remington RM410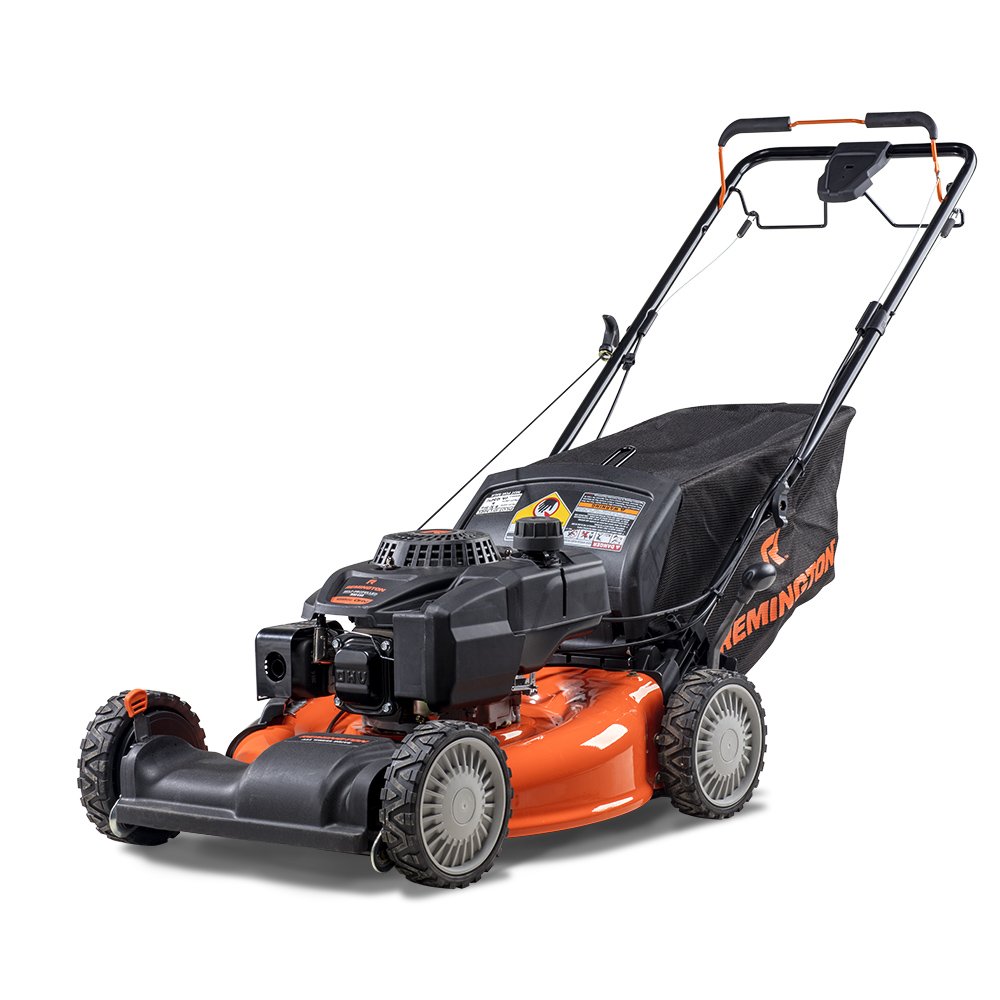 The Remington RM410 is a powerful gadget that you can depend on for
lawn maintenance
. It runs on a 159cc OHV autochoke engine by that is powered by burning up gas. You can, therefore, expect some fumes to be emitted while the mower is in use. As is now common for most gas-powered lawn mowers featured on this list, you will be expected to pull the start cord. While this may be strenuous, it is not likely to be a deal breaker. You get a two year limited warranty for each purchase which should be enough to prove the tool's worth and durability. Here are some of the RM410's best features.
All-wheel drive
– The drive system is quite flexible. You can choose to use front-wheel drive independently, back-wheel independently or if the terrain is too steep you can select the all-wheel drive mode. Add that to the 8-inch front and back tires, and you have a mower that you can use on whichever lawn you like.
Comfort grip
– The handles are designed to put as little strain on the user's hands as possible. Also, the handle's height is adjustable so that whoever uses the mower experiences less stress on his back.
The dual lever adjustment allows the user to choose the height of the grass that he would like to leave.
Expand to see more
Product Features

159cc OHV engine
Adjustable handle
3-in-1 mulching capabilities
All-wheel drive
8-inch wheels

Who is it for?

This is an excellent tool with moderate pricing that can handle just about all lawn terrains. This ticks all the right boxes, and almost everybody can afford it.

The all-wheel drive can handle all terrains
Easy to use
Solidly built
Adjusting the speed might be a bit difficult
8. Remington RM310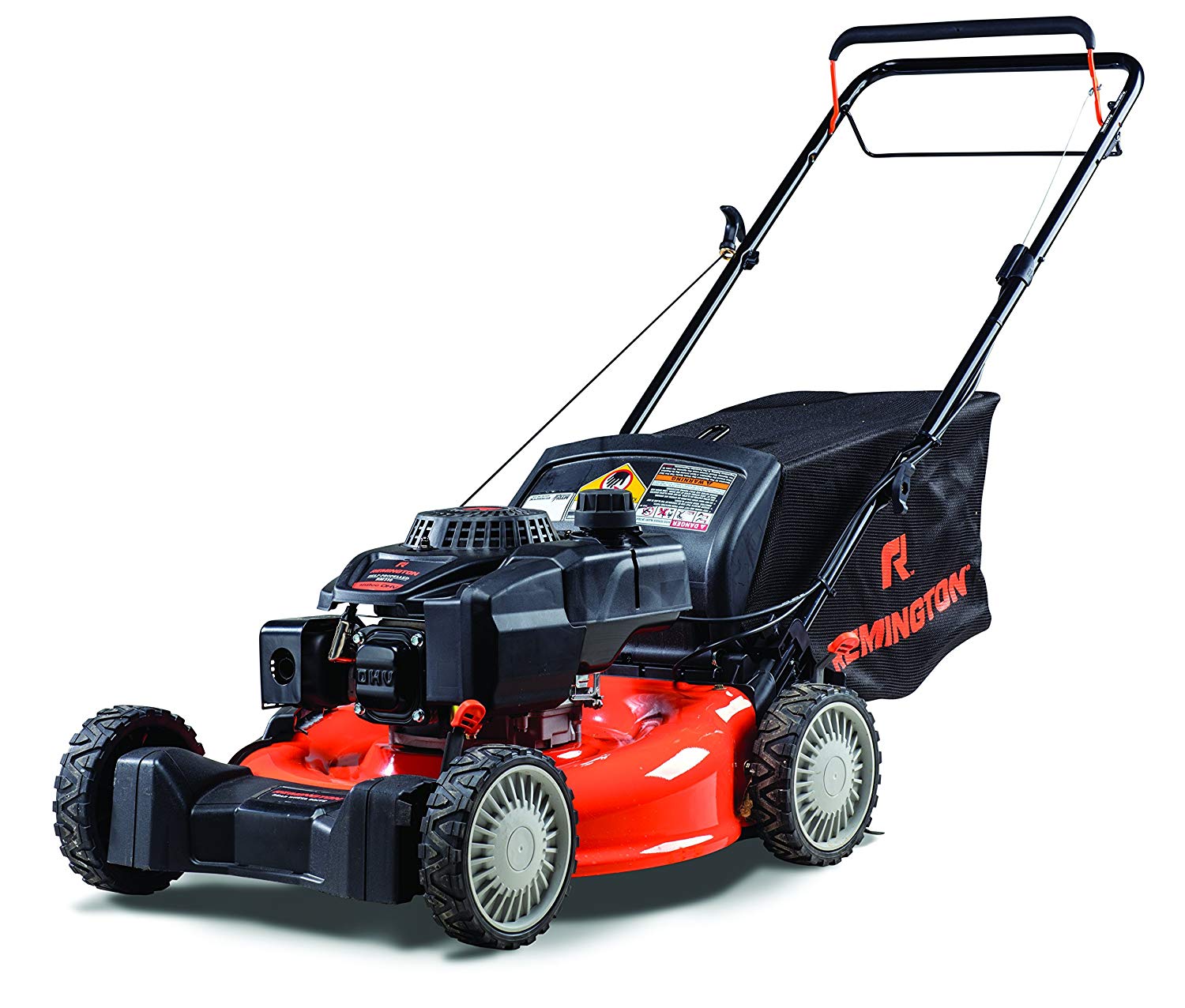 The RM310 features a lot of similarities with the RM410. However, there are a few critical differences that would justify the reduction in pricing. This model has the same 21 inch deck as the 410 and is also similarly carried by four 8-inch wheels.
Another similarity would be the fact that they both spot the same 159cc OHV engine. The adjustable handles and comfort grip are included to optimize each user's experience.
Rear wheel drive
– This is neither as flexible nor as powerful as that of the RM410. However, it is still a pretty powerful drive system. In comparison to a front-wheel system, this takes the cake. Most people report this as adequate to handle their home lawns with ease.
Surecut blade
– We didn't mention this feature in the 410, but it is still there. The blades will lift and cut giving out a fine
mulch
. This way even if you leave the mulch on the grass there will be no visible or apparent clumping.
The deck is rust resistant so even when it comes into frequent contact with wet grass degradation due to rust is still unlikely.
Expand to see more
Product Features

Rear wheel drive system with variable speed
Surecut blade
Rust resistant deck
159cc OHV engine
3-in-1 discharge

Who is it for?

The RM410 as we mentioned is reasonably priced. The RM310 has a lower pricing point making it even more available to the larger population. There isn't a good reason not to go out and buy this option.

Easy set up
Handles wet grass quite easily
Uses gas and is thus not environmentally friendly
9. Husqvarna LC121FH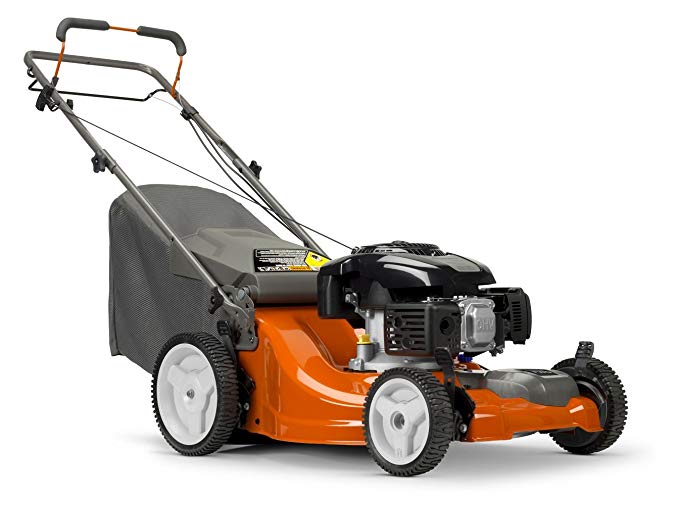 This edition by Husqvarna falls in ninth place, and there are a couple of reasons for this. As you will have deduced from the name this device is gas powered and is turned on by a pull mechanism. You also get to adjust the handle according to your height. The soft grip handle is likely to make mowing easier on your hands. You get the following key features when you purchase this gadget.

Front-wheel drive – The self-propelling mechanism is centered on the front wheels. You will probably know by now, that this is the least powerful option of the three drive modes available. Nonetheless, this is more than enough for flat terrains. Most American homes possess flat lawns, and hence this tool could serve quite a multitude.

High rear wheels – The wheels on the back are a bit higher than those found on most other models. This will help boost control and ensure better maneuverability on your grass.

The four point height adjustment system ranges between 1.25 inches and 3.44 inches which again is underwhelming due to other models possessing 6 or more height options. The four are still more than enough, and some believe six or seven are overkill. It just depends on your tastes and preferences.

Expand to see more
Product Features

Soft grip handle
3-in-1 discharge capability
Front wheel drive
21 inch cutting width

Who is it for?

This tool is for everybody with a flat lawn, and best of all it falls within the affordable range for a lot of the population.

Easy to set up
Most times the mower starts on the first pull
Well made with quality materials
The tool only has one drive speed
10. Ryobi 40-Volt Brushless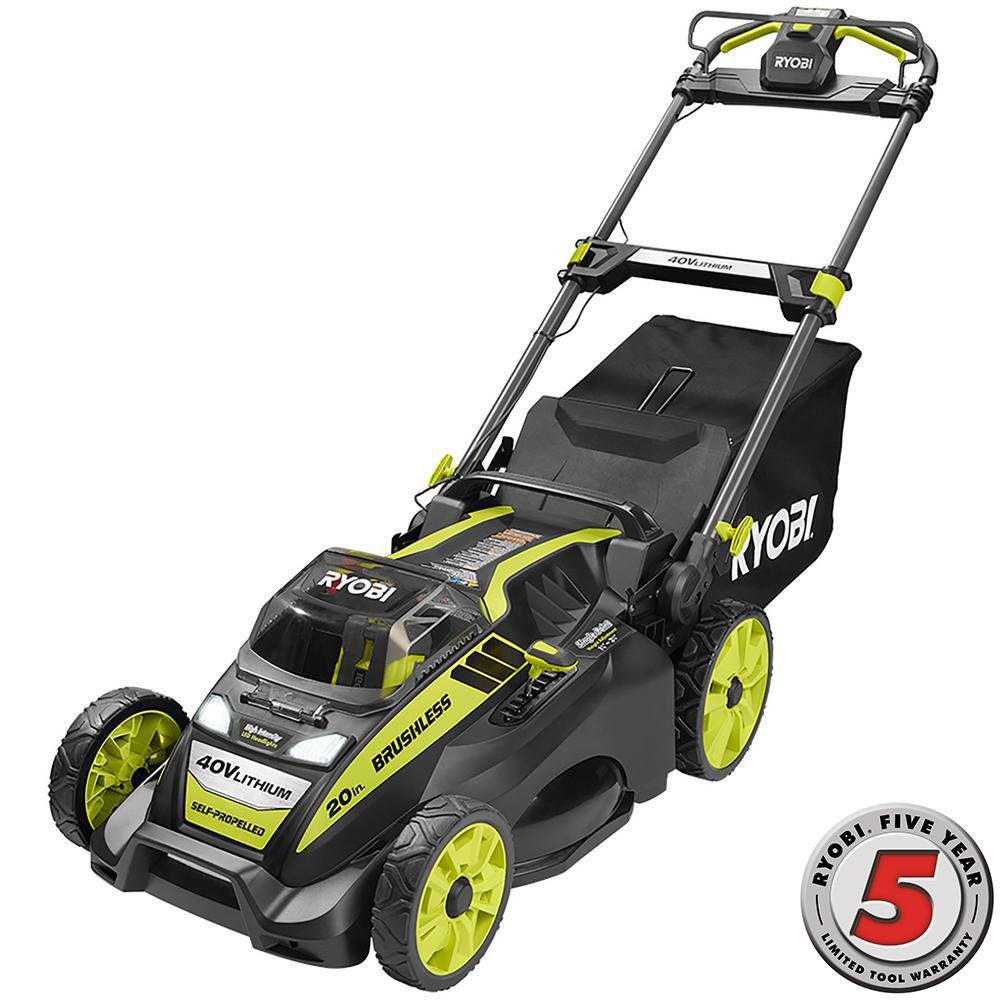 In the last place is a Ryobi battery powered mower. The biggest reason why this tool came in last is that not a lot of people have used it. Therefore not many people can give an opinion on how well it works. Nevertheless, the features list by the manufacturer and the small number of people who have used it all say good things about it. It runs on a brushless motor. Some of the Ryobi's more impressive features are as mentioned below:

Rear-wheel drive – If other tools that use this drive system are anything to go by this tool will be able to handle relatively rough terrain pretty well. Small hills won't be too much of a hassle and you as the user will just need to give direction and follow behind.

Load sensing technology – The mower can sense and detect the power needed to cut a particular patch of grass. It then responds by adjusting the blades to the optimum power required.

If you have any other Ryobi gear, you will be pleased to know that the battery and charger work on all other Ryobi gadgets.

Expand to see more
Product Features

5.0Ah 40-volt battery
Seven position height adjustment
20-inch deck
2-in-1 discharge capability
Load sensing technology
Rear-wheel drive

Who is it for?

This tool will most benefit those who are already using Ryobi equipment. The gadget is quite pricey and having a spare battery already in hand could save you some extra cash. If money is not an issue, go ahead and buy this gadget.

Reduces damage to the environment
Great runtime on a single battery charge
Easy start up with a push of a button
5-year warranty
You might need to buy a second battery for large lawns
Things you should Consider Before Buying a Self-Propelled Lawn Mower
The drive system
This is similar to the drive systems you find on cars namely front-wheel drive, rear-wheel drive and all-wheel drive. Each of these has some benefits over the others. As for the front wheel drive, it is usually the cheapest of them all. However, if the terrain of your lawn consists of hills and obstacles the mower might struggle a bit prompting you to push or add more effort.
The rear-wheel drive is more powerful and thus can handle difficult terrain quite well. They are also more expensive than their front-wheel counterparts. Regarding maneuverability and power, the all-wheel drive is the best. However, observations from past consumers who have compared the two have brought about the conclusion that the disparity between the all-wheeler and the rear-wheel drive is not that significant.
Read also about best irrigation.
Safety features
You have to remember that this tool has spinning blades underneath. Accidents may happen and lead to injury of the user or any party person close by. Safety features like the "safety blade override" may prevent such accidents or reduce the severity of injuries caused.
Speed options
Remember the mower will be moving forward all on its own. You should have the option to either reduce or increase the speed at which it is moving. Of course, this will be at the discretion of the user. If your mobility is limited, you can opt for slower speeds and vice versa.
Wheels
On this front, there is a lot to consider. First off is the size. Bigger wheels usually portend that the mower has better mobility that some of its competitors. Also on that note, you will have to check whether the front wheels are swiveling. This will give you added controls on those tight turns.
Power source
Some are powered by electricity while others are powered by gas. With all the damage human beings have done to the o-zone layer it would be wise not to do any more. Electric lawn mowers may be a good place to start as they don't cause much pollution. However, some individuals will still choose gas powered mowers and they have every right to. Note that the fuel burners are often more powerful than electric mowers.
Quality
Everything from the body to the blades and also to the tires should be of top-notch quality and durability. You want a tool that stands the test of time. Otherwise, you might find yourself in the market for a mower more often than you need to.
Price
You need to assign a budget for buying your mower. One that will ensure that you get a quality tool without burning a hole into your pockets. If it can fit all the above considerations to your liking and still fit well into your budget that would be ideal. However, you might need to sacrifice some of your previous needs so you can pay a reasonable price. Either that or you might have to save for longer to buy the one you want.
Now with that over and done with you can get to the various options available. From research, we have come up with a list of 10 self-propelled lawn mowers that would be ideal for most of the population. They are some of the favorites that people have used and given good reviews for. They also have the best features you can find on such mowers.
How to Take Care of Your Self Propelled Lawn Mower
✓ Read and understand the user's manual before you do anything with the mower. This is inclusive of the assembly. If you don't do this, there is a chance you might damage the gear or worse cause yourself injury while using it.
✓ Clean your mower after every use. As we have established most mowers, come with a washout port to make them easier to clean. However, this is not always the case. Even so, those that don't have a washout port also need cleaning before storage. This will tend to go a long way in helping to prevent
✓ Change your oil. Remember that mowers use engines. Just as you would need to maintain your car engine by changing the oil every so often, you also need to do so with your mower. As a result, your engine is less likely to seize up on you as you are trying to mow.
✓ Sharpen your blades regularly. As is usual for all blades under constant use they tend to dull after a while. This makes the mower less effective in cutting grass. You can avoid this by sharpening them once or twice each season. This also happens to increase the overall lifespan of your mower.
FAQs
Can you push your self-propelled lawn mower?
The whole point of having such a mower is to reduce the need to push. However, some options come with the option of turning the self-propel feature off. In these cases, you can decide to push your mower.
How easy or difficult that will be is determined by its weight. Other will struggle on some terrains. A front-wheel mower is more likely to struggle in hilly terrain, and this will also make it necessary for you to push. But if you're looking for something more lite, you might want to check the brush cutters we've reviewed.
Do self-propelled mowers move backwards?
Some of them can move backwards while some of them can't. Most people don't have a problem with having to turn the mower so they can get to those hard to reach areas. If this, however, is a deal breaker for you, you can choose to check all potential mowers for that feature and only pick out the gadget that can move in reverse.
What makes these devices so different from other types of electric options?
For one the self-propel feature may be a difference. Not all electric mowers can move forward without having to be pushed. Also, not all self-propelled mowers are electric. Some are gas powered and use a pull start lever. Almost all electric mowers use the push start system with the press of a button.
Conclusion
Once you have gone through this list, picking out an options will be as easy as pie. For people with previous experience using the mowers do tell us about your experience with them. For the rest all the best as you choose a model that is right for you.
Subscribe to our newsletter