Best Bib Overalls Reviews & Ratings
last updated:
Sep 18, 2018
Certain work environments require premium products to ensure that work goes smoothly and bib overalls fall squarely in this category. They help fight frigid wind chills during winter and fall while still keeping you cool during the warm months. Furthermore, they are flexible and is becoming a fashion statement.
Our Top 3 Picks
[srpshortcode id="18054″][/srpshortcode][srpshortcode id="18055″][/srpshortcode][srpshortcode id="18056″][/srpshortcode]
However, not all bib overalls have the same level of detail, and we intend to showcase the best products. There is a bib for every work environment. From water-repellant dungarees to extremely multi-functional bibs with utility pockets. Therefore, ensure you know what you are looking for before making a purchase.
10 Best Bib Overalls
1. Carhartt Men's Quilt Lined Zip Overalls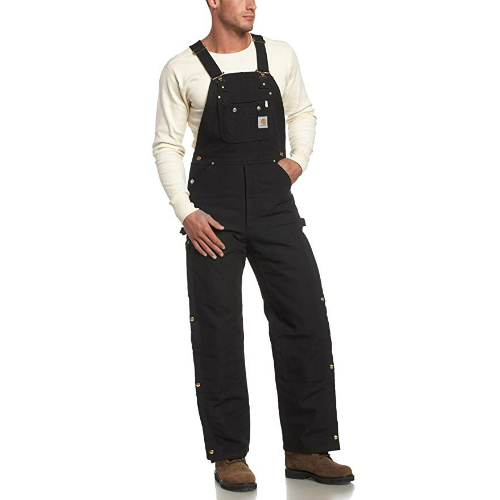 If you reside in the Midwest, say Chicago, and you are in the market for a bib overall, we recommend you get the R41. Though they are imported, which is something most of us dislike, these bib's quality is unmatched. They are 100% cotton, water resistant and designed to ensure that working with them will be a breeze.

First, the R41 straps are Carhartt's, and though they might be a pain at first, they eventually become second nature. They hold well, and you don't have to adjust them whenever you are working, and the garment is made of a durable and sturdy material. The area from the hip to the shin bone is double knee with a cleanout at the bottom. The double knee design increases the durability if your tasks involve a lot of kneeling, while the clean out space allows you to insert some knee padding.

Our best features though were the ankle to thigh zipper and the pockets.

Zipper – If you have worked with the Carhartt R01 or any earlier version, you realize what a pain it was to get them on and off. Since the zipper only ran from the ankle to the knee, you had to unlace and remove your winter boots to get the bibs on or off. Well, this isn't the case with the R41 as the zipper runs from the ankle to the hip. Putting them on or getting them off will be a walk in the park. Moreover, the zipper has some flaps to protect you from the wind chills.

Pockets - First, the garment has some hammer loops and side pockets on both sides to store any equipment. Also, the side pockets have rivets that add style and class. However, it is the bib part where Carhartt truly outdid themselves. The pockets can accommodate any phone, while the smaller ones can hold personal effects such as cards, a pack of smokes, a flashlight, etc.


Expand to see more
Product Features

100% cotton
Zipper fly
Machine wash
Two large and lower front pockets.

Who is it for?

The R41 is for individuals in mildly cold weather, and who will be generating body heat. Though it is insulated, it is not enough to keep you warm in frigid weather.

Has a Cordura kick panel that not only increases the durability, but also keeps the garment from getting wet, and creeping to the cotton bit
Has adjustable front elastic suspenders
Protective wind flaps
Affordable
They aren't the comfiest, and despite being water resistant, they aren't waterproof
2. Dickies Men's Painters Overall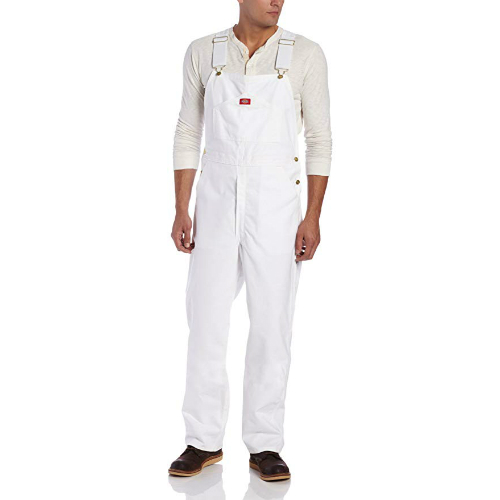 Painting
is and will always be a messy job. Yes, professionals and proficient hobbyists can know the tricks to prevent a lot of paint from getting on their clothes, it remains impossible to eliminate all errant drops and splotches. However, you can stay clean with the appropriate gear. We recommend you get this option.
Dickies is renowned for the quality work wear they design, and the Dickies painters bib overall is a testament to this. They are durable and feature triple-stitched seams to reinforce the garment. The gold buckles too are light and unobtrusive, but can withstand the weight, and can handle the abuse. However, we loved the comfort and the pockets on the clothing most.
Comfort
– The Dickies dib overall is 100% cotton; and though cotton is famous for its coziness, it isn't strong neither breathable. However, there is a difference and it's called dill. The dill is results in a light and thin overall, but with unmatched strength. Therefore, it is not only comfortable but breathable and can withstand abuse.
The adjustable elastic shoulder straps enhance comfort too. Since your neck and shoulders will bear the burden of tools and personal effects, having a flexible shoulder strap that will cushion against movement is a nice touch.
Pockets
– there's plenty of room to store your tools on the Dickies. There are 2 front and back pockets, below the right front pocket there are two skinny pockets and one below the hammers loop. Then there is the bib pocket to hold personal effects, and a tiny pocket to hold a pencil or flashlight.
Expand to see more
Product Features

Eight pockets and two hammer loops
100% cotton
Machine wash
Triple stitched seams

Who is it for?

This is a painter's garment.

The pockets increase the convenience as you have your tools at hand
The buckles slide effortlessly over the strap thus making adjustments will be painless
They are comfortable and look quite sharp; yes, they will come in contact with paint, but you can bleach the cotton to have it looking clean again
Affordable
They fit well and quite comfortable to wear
The strap design could be better; it keeps on sliding over to the most extended length
3. Walls Unlined Bib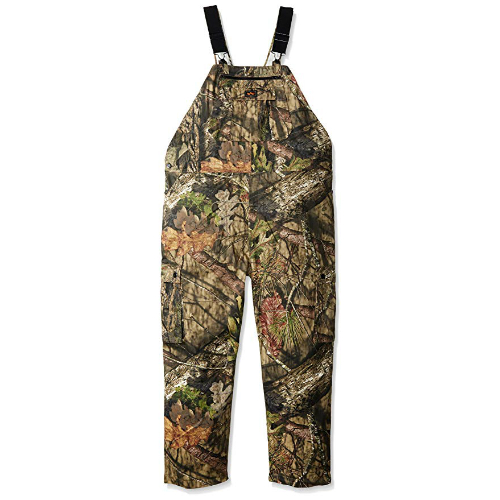 If you are looking for a bib overall for use outdoors, say when you go hunting, and one that can serve as work wear too, we recommend you get the Walls Country bib. The mossy oak pattern helps keep you hidden when out in the wild and will keep you warm as well. The garment runs about a size larger and thus will fit well above tour pants. It is designed with flexibility and mobility in mind and thus features some elastic features that enable you to move freely. However, our best features were the comfort and quality.

Quality – First, the bid has reinforced stress points that allows them to hold for longer. You will also appreciate the heavy-duty zipper that will last you several years before it gives in. Furthermore, the zipper has a storm flap to protect you from the wind chills.

Comfort – You need a unit that you will be comfortable in even when working long hours, and the Walls is one such garment. Despite having heavy-duty polyester insulation, it is still breathable and comfortable. Moreover, the diamond quilted lining increases comfort by preventing the padding from bunching up.

Expand to see more
Product Features

Machine washable
100% cotton
Reinforced stress points

Who is it for?

This is for the outdoors person who will appreciate the camouflage. Also, it will do for anyone on a budget.

Inexpensive but with some impressive features
Waterproof and allows you to go out or work in wet conditions
The fabric is stiff when you take it out of the box, and we suggest you don't wash it if you want to keep it that way; however, you can wash it if you want a flexible feel to the fabric
Has scuff guards that prevent damage to your boots
Has quick release buckles
Figuring the appropriate size is difficult
4. Key Apparel High Back Bib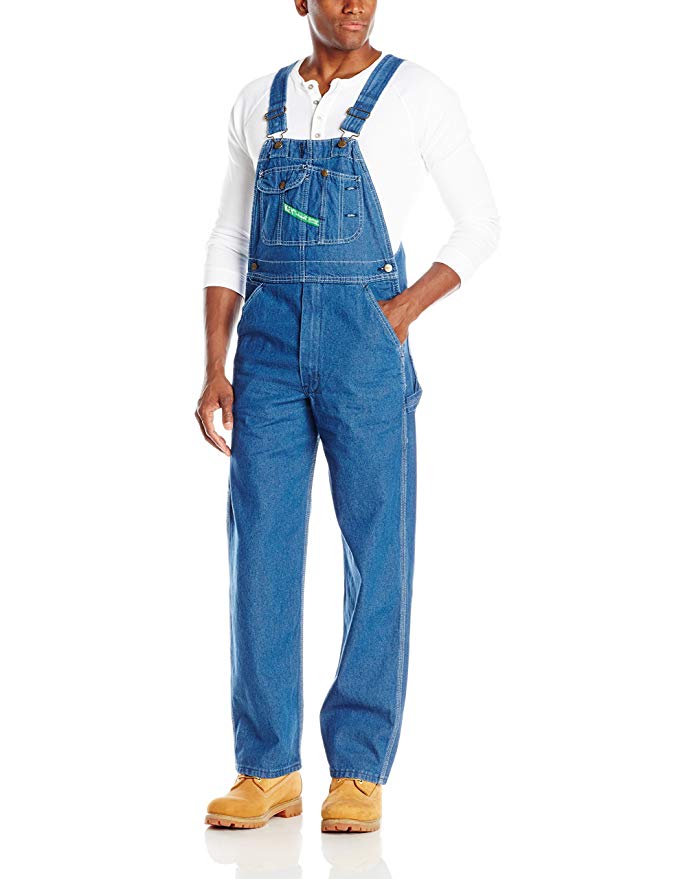 If you reside in a relatively warm area, and you are looking for a bib overall for some light work, we recommend you get the high back by Key Apparel. Key Apparel is famous for their quality garments, and the high back is just one of the many that show the quality and dedication of the company.
First, you will appreciate the triple needle stitching that enhances the robustness of the garment. The adjustable shoulder straps allow you to adjust them for the perfect fit. Furthermore, seeing as they are high waist, they eliminate the need for bulky belts and are thus more comfortable to work in. We advise you to get two sizes larger, if you are a size 38, get a size 42 as it will fit well over your trousers. What we loved most though is the front flap pocket, and the soft denim material.
Material
– The high back is 100% cotton, and though cotton is not renowned for its breathability, these high backs are quite comfortable to work in. You don't need the initial wash to break it in, and you can use it right out of the box. Furthermore will not shrink when you wash it. Expect the same quality down the line. Finally, the bottom is reinforced to allow it to handle abuse.
Front flap pocket
– Though this might seem like a standard feature, it is one you will not find on most bibs. It holds your phone and other personal effects securely, and you don't have to concern yourself with them falling over, even when you bend. There is a side pen holder for a carpenter's pencil. You can use it to store
a flashlight
too.
You will also appreciate that the high back is a zipper fly and not button and that it can withstand some abuse.
Expand to see more
Product Features

100% cotton
Machine wash
Diamondback construction
Triple needle stitching

Who is it for?

First, we recommend the High Back for people in warm areas as they are unlined. They are also suitable as a casual dress or when you are working in the shop or garden.

You don't have to worry about your phone falling out thanks to the flap on the front pocket
It is soft, and you can wear it straight out the box
Has a decent price
There are some few concerns with the buttons; they are plastic and break apart easily
5. Carhartt Women's Crawford Overalls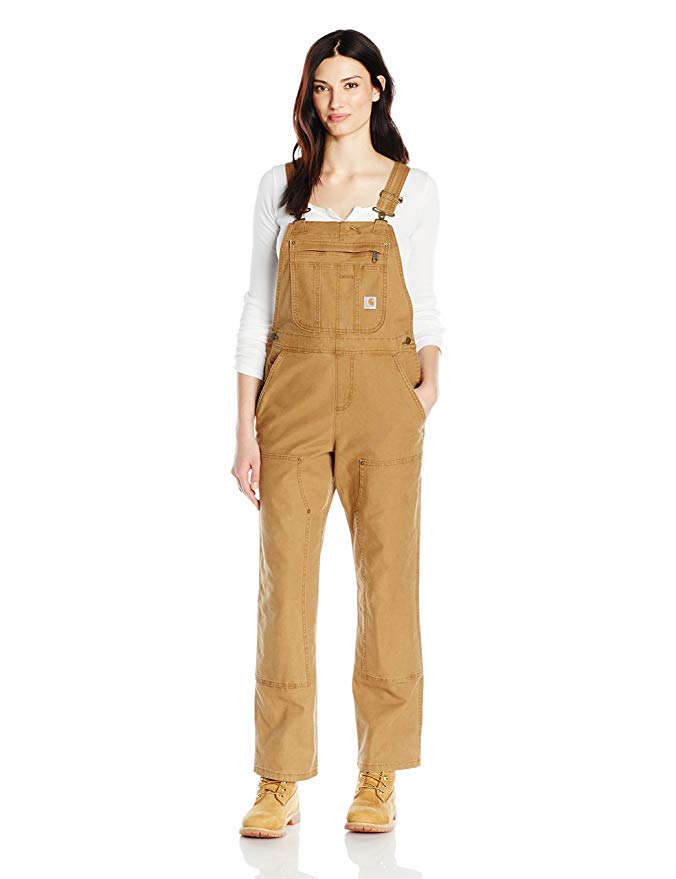 If you are in the market for a lightweight product, we recommend you get the women's Crawford. Carhartt is renowned for designing quality bibs, and though the Crawford is different from the rest, it still is a quality item. Made of 98% cotton and 2% spandex, it is soft, and there is no need to break it in like most Carhartt bibs. You can wear it straight out of the box.

We also appreciated the bib pocket, as it has a secure zipper closure that keeps your phone and other personal effects safe. You need not worry about your phone falling out. However, our best features were the double knees and the rugged flex technology.

Double knees – The knees section is one of the areas that suffer most abuse. As such, it needs to be reinforced to withstand the wear and tear. The double knees design ensure that the garment can handle endless kneeling without sustaining any damage. Also, it has a cleanout where you can add knee paddings for comfort.

Rugged flex technology – Bib overalls and especially Carhartt bibs are famous for being rigid. Well, the women's Crawford is a bit different all thanks to the rugged flex technology. It eases movement as the garment stretches and moves with you throughout all activities.

Expand to see more
Product Features

98% cotton & 2% spandex
Machine washable
Large bib pocket with zipper closure

Who is it for?

The Carhartt Women's Crawford is for light tasks such as gardening or simple tasks around the shop.

Quite light, and fit perfectly
The rugged flex technology eases movement and increases the comfort of the garment
The adjustable straps enable you to adjust the length of your bibs; also, the hooks are Carhartt's and can withstand abuse
Affordable
Unlike other Carhartt dungarees, the women's Crawford isn't built to the same standards
The hammer loop isn't enough to holster a hammer
6. Berne Original Washed Insulated Bib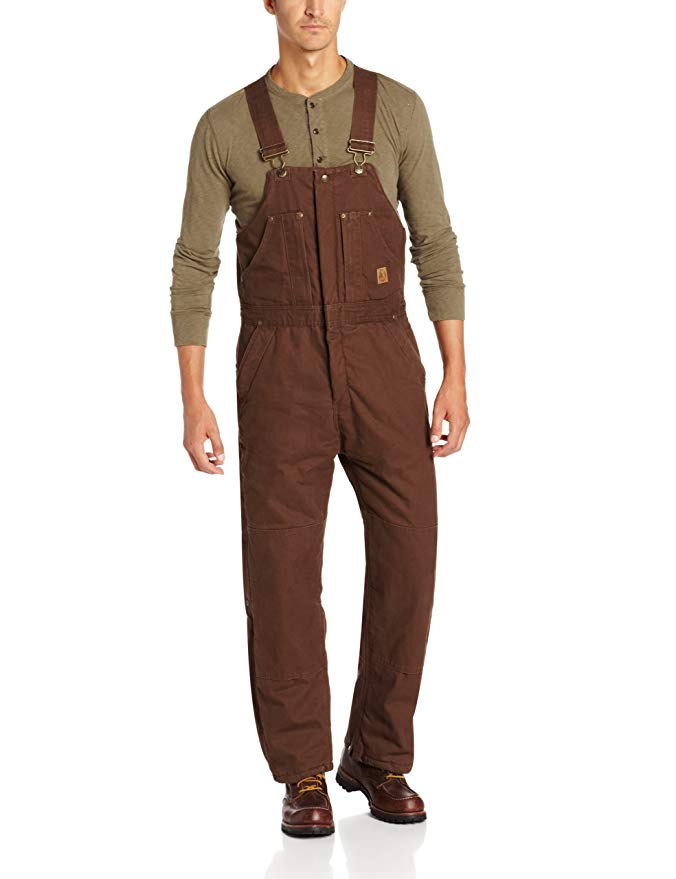 The Berne Men's Original washed is ideal for working in cold weather. The first thing you will notice is the high back. It comes up higher than most bibs and keeps gusts out. The unit is durable (abrasion resistant), with double knees for durability, and triple-needle stitching to help it withstand stress.
The reinforced knees allow the garment to withstand stress, and the washout at the bottom can hold knee pads for comfort. The bib is 100% cotton and thus comfortable and breathable. However, our best features were the full-length zippers and adjustability.
Full-length zippers
– The zipper on the Berne Men's original runs from the ankles to the waist and getting it on and off is a walk in the park. You don't have to remove your
winter boots
which is quite convenient. The zipper also incorporates storm flaps both on the inside and outside to protect you from the winter chills.
Adjustability
– The Berne men's original enables you to get a customized fit with the adjustable straps and leg snap holders. You don't have to concern yourself with getting a perfect fit.
Expand to see more
Product Features

100% cotton
Zipper closure
Machine washable
Nylon hem and reinforced knees

Who is it for?

Since it is insulated, we recommend it for people residing in cold areas. However, it is best for individuals who will be generating body heat and will not be seated by a machine.

The garment has a nylon hem at the bottom to prevent water from creeping up the bib
It's comfortable to use thanks to the elastic straps
It is packed with utility pockets and has a hammer and a tape measure loop
The material cannot withstand heavy duty tasks and isn't ideal for use in an industrial setting
7. Refrigiwear Men's HiVis Softshell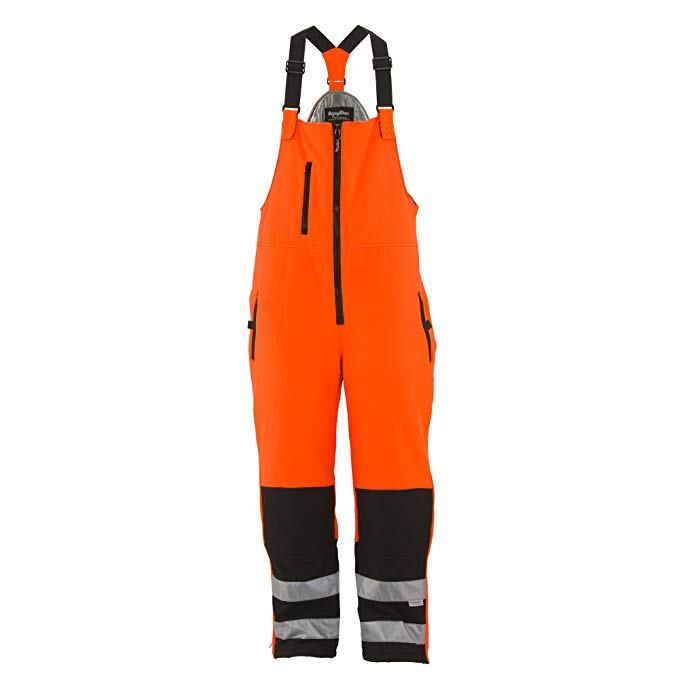 There are instances where you will be working in low light areas, and though a safety jacket might protect you from motorists and other workers, it will not keep you warm in the cold weather. The Refrigiwear, on the other hand, will ensure people see you and keep you warm.

Other than the high visibility, you will appreciate the durability of this garment. It has heel reinforcement patches to curb wear and tear, and scuff resistant knee patches that can withstand the stress. Still, we appreciated the comfort and high visibility most.

High visibility – There are instances where being warm isn't enough. You need warm and highly visible clothing. The Refrigiwear meets these two demands as it is ANSI E class compliant. It features highly visible colors for other people and motorists to spot you and has 2" heat-bonded silver tape for reflectability.

Comfort – The Refrigiwear is designed with comfort in mind. First, it is water repellant, and thus you don't run the risk of getting wet. Moreover, the breathability is unparalleled, and perspiration can escape instead of getting trapped inside. Consequently, the breathability keeps you from getting colder. Finally, the microfiber shell can stretch while still covering your core areas. It thus increases mobility and comfort.

Expand to see more
Product Features

ANSI E class compliant
2" reflective tape
Comfort rated to -20®F

Who is it for?

We recommend the Refrigiwear bib for persons who will be working in low light areas. It increases your visibility while keeping you warm.

The heavy-duty Y-back suspenders can handle abuse and are easy to adjust to get the perfect fit
The garment is heavy duty, and you can use it around equipment without wear and tear
The internal silver twill lining reflects body heat to keep you warm
Has a zipper pocket on the chest to keep a phone and other personal effects
They are sized a bit smaller than advertised; you might want to get a size or two bigger if they are to fit correctly
They are also quite pricey
8. Bulwark Flame Resistant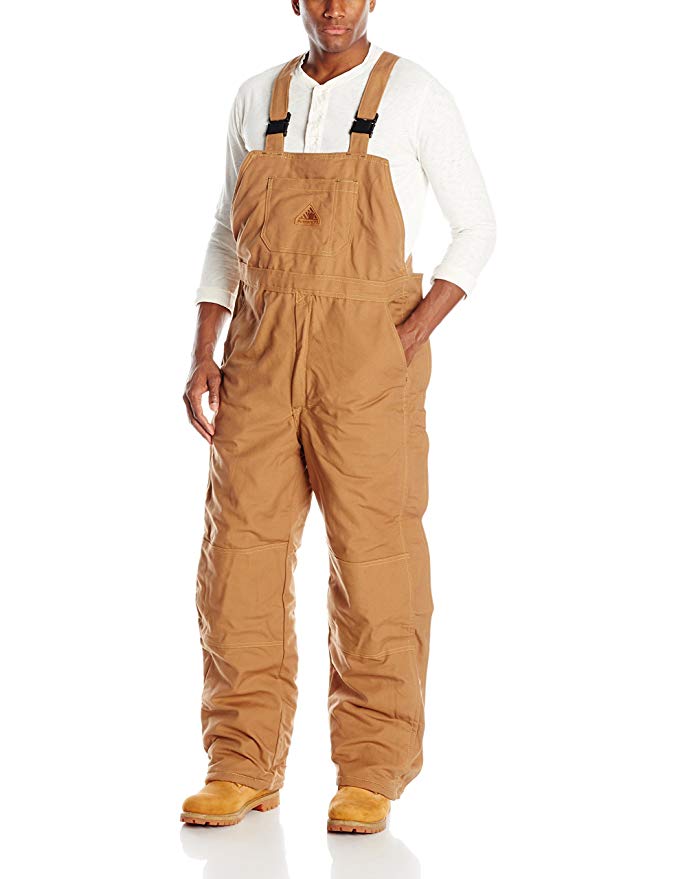 If you have the cash to spare, we would recommend you get the Bulwark Excel. This attire is for professionals who are in a hazardous occupation such as
welding
, electrical, and oil work as it is fire resistant. It is 88% cotton, and 12% nylon; the cotton increases the comfort of the unit, while the nylon makes the unit water repellant. You will also appreciate the quality as it increases the durability.
The reinforced knees can withstand abuse but are still ultra-soft. The heavy-duty straps can handle pressure, and they are quick release in case of an emergency. Even so, our best features were the numerous pockets and the fire resistant feature.
Fire resistant
– Cotton is considered the best material to manufacture clothing. It is comfortable, and as such it is used to produce the Bulwark Excel. However, it is flammable and not ideal for use in flame cutting and petrochemical industries. Nonetheless, Bulwark has managed to make it fire resistant through an ammonia cure flame process. The process creates a high molecular weight polymer in the cotton making it fire resistant. The result is a comfortable fire resistant bib.
Pockets
– Moreover, the overall has a nice touch with the many utility pockets. The garment has a watch pocket and two hip pockets and piece-rule pockets. The hip pockets are large enough to hold a phone without it sticking out. It also has a large bib pocket with a pencil stall and two set-in front pockets. Finally, there are the two loops to hold a
tape measure
and a hammer.
Expand to see more
Product Features

88% cotton and 12% nylon
Arc rating: APTV 56.6 calories/sq cm
Zipper closure

Who is it for?

The Bulwark Excel is for use in areas that involve ferrous metals, areas with flame cutting and welding. You can also use it in petrochemical industries and for electrical work.

Quite heavy duty and warm
Water repellant
The garment fits as advertised
Nonconductive buckles
9. Refrigiwear Lightweight Insulated Econo-Tuff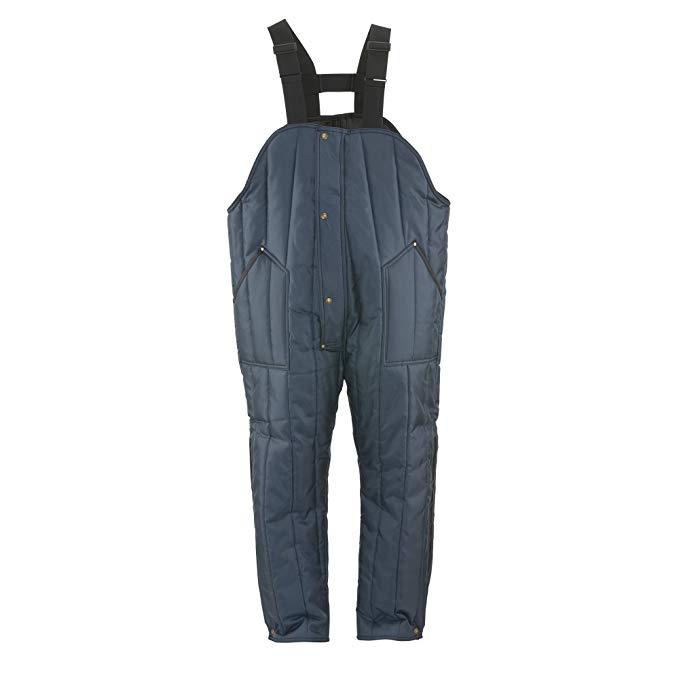 If you work in cold environments but one that doesn't need heavy duty clothing, we recommend you get the Econo-Tuff. It is insulated to work in cold areas such as a meat-packing plant. We appreciated how lightweight it is but more on this later.

The Econo-Tuff has a high front and back that provides extra coverage for your core area protecting your vital organs from the cold. Moreover, the two pockets are insulated to keep you warm. You can also use them to keep personal effects. Something else that caught our eye is that these are durable although they aren't heavy duty. The 200 denier polyester protects against rips and snags while keeping out the elements.

Lightweight – First, the Econo-Tuff has very few pockets and thus accommodates very few tools. The result is that you have little weight to carry around. Also, it's only made with 6 ounces of polyester fiberfill which will keep you warm but is quite lightweight.

Suspenders – These ensure you get a comfortable fit, and at 2 inches, they are quite durable. The also spread the weight of the overall to a greater area.

Expand to see more
Product Features

200 denier outer shell
Two insulated pockets
2-inch adjustable suspenders
Lightweight
Knee-high zippers
High front and back

Who is it for?

The Econo-Tuff is for persons working in frigid areas and don't need the convenience of utility pockets.

They are quite warm and leave enough room underneath for pants
They have knee-length zippers and thus are easy to put on and off
They are pretty easy to move around in
Happens to be quite durable thanks to the denier outer shell
Lacks pockets which can be infuriating, and also doesn't fit as advertised
It runs super big
10. Carhartt Duck Bib Unlined R01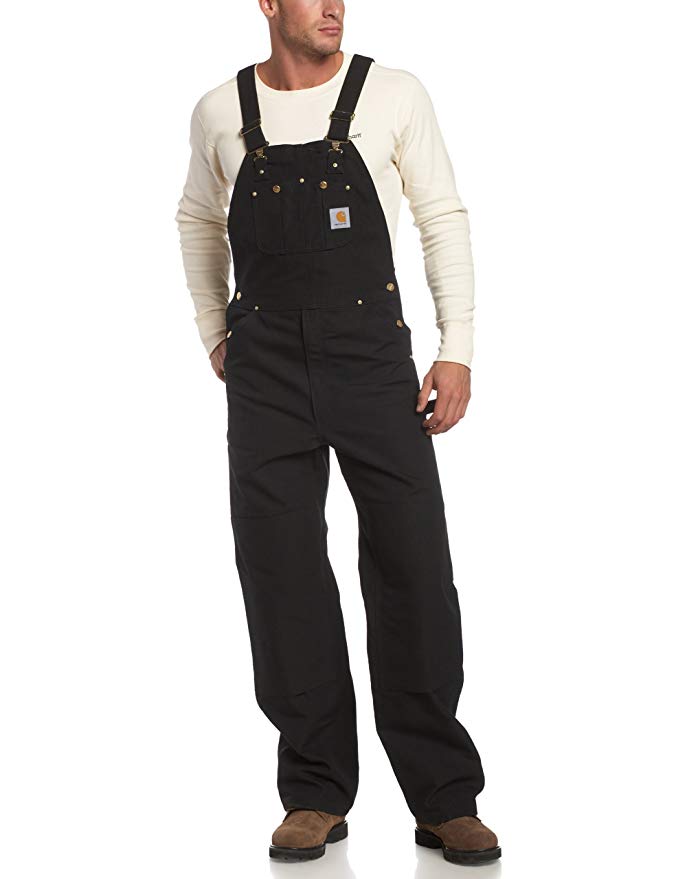 They take a bit of washing to break them in, but it is to be expected for items with such quality. These are designed for hard work in cold weather as the duck bib will keep you warm. Also, the triple-stitched seams can withstand abuse.

You will also appreciate the suspenders as they are elastic reducing the strain on the shoulders. Seeing as the shoulders bear the bulk of the weight, the elasticity eases the burden. Even so, our top features are the double knees, and the quality.

Double knees – Though this is somewhat of a standard feature, it is still one that we appreciate. Seeing as the area around the knees handles most of the abuse, the double knees increase the robustness of the area and enable it to withstand the abuse. Also, it features a washout where you can add knee pads for comfort.

Rugged – Much like most Carhartt bibs, the R01 is a rugged attire. It is made of 12 ounces of 100% cotton which is quite weighty. However, you can expect the attire to serve you for a couple of years. It is also machine washable, so you don't have to worry about it shrinking.

Expand to see more
Product Features
100% cotton
Doubles knees
Triple-needed stitching
Multiple tool pockets
Who is it for?
This garment
is for hard work out in the cold. Not freezing cold though as it is unlined.
They are heavy duty and stiff so they last longer and you will appreciate how they smell out of the box
They fit perfectly but ensure you get two sizes bigger
This is merely a flaw and not exactly a deal breaker, but they will take several washes before you can break them in
What to consider when comparing the various bibs
Sizing
We recommend you pick a bib that is 4 or 6 inches larger than your waistline. The reason behind this is you will be wearing the garment above your pants and perhaps a shirt, and bibs that are the same size as your normal clothing will not fit you. Also, watch the inseam length and ensure it matches with the waist size.
Insulation
There are instances where you will be working in harsh conditions, say winter, and you want insulated gear. On other days, you might be working in milder conditions, and unlined bibs will do. Some garments include insulation in the chest part and back, while some stop only at waist level. Moreover, some have lightweight insulation for those mild days, while others have heavy padding for those exacting winter days.
Fabric
Your work environment will influence the material used to manufacture your unit. If you plan to work in a wet environment, we recommend you get a heavy cotton bib overall. These are water-repellant but are stiffer. However, it is a worthwhile tradeoff.
You can also purchase a washed cotton duck garment that super comfy but isn't water resistant. Often people prefer the comfort of the washed cotton duck over the water resistance of the rigid cotton duck.
Durability
A premium product should withstand wear and tear for a couple of years before you have to get a new one. However, it will take a trained eye to spot a quality garment but here are a few things to consider. Make sure you go for triple stitching, heavy bartacks at stress points.
The reinforced bartacks ensure that the unit can withstand any undue pressure. The zippers to are an indicator if the clothing is durable or not. Heavy-duty zippers will last longer, and though they are tough when zipping, it is a worthwhile tradeoff. Smooth running zippers, on the other hand, are quick to zip but will not serve you for long. You can also check for reinforced knees.
Pockets
If you intend to carry tools, we suggest you get a garment with pockets. There are some utility pockets to keep your personal effects, while other units have hip pockets and hammer loops to carry tools. You can also purchase a unit with pockets above along the zipper so you don't have to zip or unzip every time you want to reach something in your jean pockets.
Shoulder straps
Nothing is as frustrating as having to adjust your shoulder straps when working. We recommend you get a unit that is comfortable to use.
FAQS
What is the difference between waterproof, and water-resistant?
The two terms, waterproof and water-resistant, are used interchangeably but are entirely different. The properties of a water-resistant garment are different from those of a waterproof bib. Water-Resistant clothing is a high-quality material in construction. It is made of higher grade materials and can withstand small quantities of water. You can use it outdoors when there are light showers or in environments where there is a slight likelihood that it will get wet. However, it isn't impermeable only that it takes longer for the water to seep in and get to you.
A waterproof bib, on the other hand, is impermeable to water. We recommend you get such an overall if you work in wet environments or you intend to work outdoors in the rain. Whatever you do, don't confuse the two,
Do bib overalls shrink after washing?

Sadly yes. Most bibs are made from cotton which shrinks when you wash it, and we recommend you keep washes minimal. Instead, only clean the zippers and wipe off any dirt. Nonetheless, the shrinking of bibs isn't meant to scare you off, but to get you to exercise caution when making a purchase. Pay particular attention to the materials of the bib you are purchasing and understand the cleaning instructions.
How do you clean insulated bibs?
Ironically, this is a frequently asked question despite the manufacturers providing all the required cleaning information on the product's label. If you get a bit of mud on the garment, we implore you to wipe it off instead of cleaning it. The zippers though should be clean at all times for longevity.
However, if you get some grease on them, spray some citrus cleaner and hand wash to agitate the grease before you machine clean.
How do I get the right size bib?
We pointed out that you should start with getting a garment that is 4 or 6 inches larger, but here are some extra tips. First, they should be one size larger than your inseam measurement as the hanging length tends to change as you adjust the shoulder straps. Also, the fit of soft denim and lightweight fabric is more forgiving than that of heavy duty fabric.
Conclusion
Bibs have come a long way from the 1700s when they were only designed for durability. Yes, they are still durable but feature some improvements and diversity that enables you to work in different environments. The bibs on this guide are our top picks, but let us know if there is anything we might have missed.
Subscribe to our newsletter