10 Best Tire Inflators Reviewed & Compared
last updated:
Sep 12, 2018
Not so long ago if the tire of your car deflated and you had no spare, you would have had to call a tow truck. It is pretty unlikely that you would lack a spare tire in your car. Other scenarios do come into play here for instance if your spare, like the tire you're trying to change out, similarly doesn't have the required PSI to perform optimally. This has been known to happen once in a while due to temperature changes in the environment. Worse off you may never notice it until such a time that you need to use the spare.
These scenarios seem to require of drivers that they have a tire inflator on hand. Otherwise, they may find themselves stranded in the middle of nowhere with no choice but to call and wait for help. However, some of you being the proactive human beings that you are would want to prevent this from happening and thus decide to get yourself a tire inflator. This is nonetheless not a process whereby you walk into a store buy an inflator and walk out. It requires a little bit more finesse in the way you carry it out.
Our Top 3 Picks
[srpshortcode id="17883″][/srpshortcode][srpshortcode id="17884″][/srpshortcode][srpshortcode id="17885″][/srpshortcode]
You need to do research first and foremost so you can understand what you are looking for and whether that is the best inflator for the make and model of your car. After all the models of inflators out there are so numerous it might prove difficult to pick and choose. Also if you happen to select the wrong model, you will have in effect lost some of your money not to mention you are likely to incur more losses when you try to use it.
To assist you on the journey we have compiled a list of the tire inflators we feel are the best for different people's needs. Nevertheless, if you want to know if a particular model would be best for you, there are specific criteria that you would have to measure against. You will find these criteria below our reviews.
10 Best Tire Inflators
1. Kensun AC/DC Rapid Performance Compressor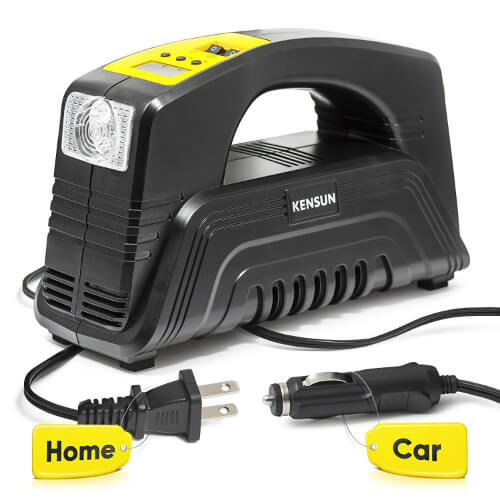 Our first pick has to be this unit by Kensun as it encompasses most of the features that ought to be in an inflator. While an inflation time of 5 to 5.5 minutes isn't the most impressive this air compressor makes it up to users in other ways. For example, there is the white
LED torch
light in the unit that may come particularly handy if you're stranded in the dark. How else are you supposed to the tire valves if you can't see? That being said there are some features which we would have done a disservice if we didn't highlight. Here they are:
AC/DC adaptable
– This means that you can inflate your tires while the inflator is attached to your AC socket at home. However, the manufacturer understands that from time to time these sockets may not be available. You may be on the highway or some isolated road with no buildings in sight. With the Kensun you can keep the engine running plug the device into the cigarette lighter socket/DC socket, and you can go about the process of refilling your tires.
2 attachment nozzles
– in our daily lives we may encounter some other installations that need inflating. Take for instance your son or daughter's bicycle or their basketball. You might even be using an air bed. The extra attachment nozzles are precisely for these reasons. When the need arises, you can attach the right nozzle and inflate that soccer ball.
When using an AC connection, you can expect to inflate a tire in about 5 minutes. This is slightly better than when you use the DC connection from your car, but the difference is only thirty seconds. For some this is negligible. Regarding periods of use the unit can only work continuously for thirty minutes at 35PSI. The unit also has a gauge and will indicate the pressure on an LCD that is easy to understand.
As a result, owners of this inflator should make sure that the pressure in their tires is in check before leaving the house. After all, all these potential hazards could occur if the tires are not at their optimum.
Expand to see more
Product Features

Digital pressure gauge with an LCD
LED torch light for work in the dark
AC and DC socket adapters
23-inch hose
2 attachment nozzles for other inflatables
Maximum inflation time of 5.5 minutes

Who is it for?

As compared to most of the other units to feature on our list this is a bit higher priced than others. It is nonetheless still well within the budget limits of a lot of people. That said it is a worthy buy and set to give a return on investment whenever a tire needs to be inflated.

The cord is long enough for most usage scenarios
The gadget is easy to use
Very lightweight and as a result very portable
The LCD screen is not as visible as it should be
2. Campbell Hausfeld AF011400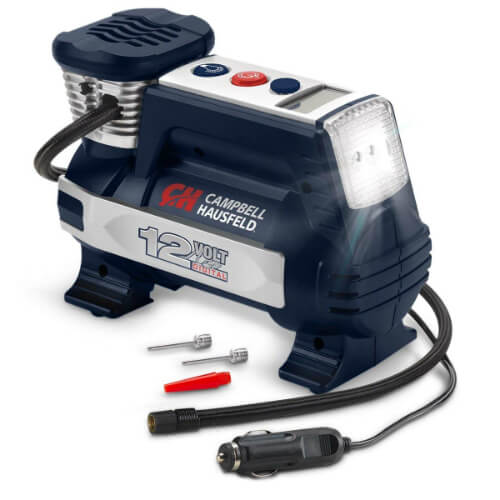 Holding it down in second place is the Powerhouse by Campbell Hausfeld and not for nothing. There are very few buttons on the interface, so even without a manual, it should be easy to learn how to use it. Nonetheless, it completes the job and is small enough not to take up much of your trunk space.

You can use it for any number of vehicles inclusive of motorcycles, ATVs, trucks, cars, etc. Like its predecessor on our list, it also comes equipped with an LED light because you might have to use it in the night time. Users can choose to use this inflator using their home sockets when it's convenient, or they can decide to use their car's DC connector. All the same, the Powerhouse has some features that seem a bit more interesting than the rest, and here they are:

Quick inflation time – The powerhouse uses a motor to do the inflating. The manufacturers have put in quite a powerful motor ensuring that the user can go from a fully deflated tire at 0 PSI to a fully inflated one at 35 PSI in under 4 minutes. In effect, this tool will ensure that you don't have to spend long periods of time on the roadside. After all the longer you are there, the higher the risk of something terrible happening.

Cooling fan – The fact that this tool has a motor running non-stop while inflating means that the Powerhouse can heat up quite a bit. It might even get to a point where it is difficult to handle. Thankfully the manufacturer thought of this beforehand and decided to do something about it. Enter the cooling fan in the unit. This will ensure that the device can work continuously for about 30 minutes without malfunctioning. Given that each tire should take less than 4 minutes that is more than enough time to get the job done.

Campbell Hausfeld ensured that this inflator is light and easy to carry since you will have to move it from tire to tire. You only need to put in the PSI level required for the tire to connect the valves and turn the device on. As soon as the desired PSI level is reached the Powerhouse unit shuts itself off.

If by any chance you are wondering what the correct PSI level for your car is it is usually indicated on the inside of the car on the driver's side for most models. However, this is only there on newer models.

Expand to see more
Product Features

Digital user interface
Automatic shutoff
LED light for night use
4 minute inflation time
Built-in fan
Sports needle and inflation nozzle

Who is it for?

The price for this unit is a bit less than that of the Kensun. Nonetheless, some people might find the difference negligible as it is just over a few bucks. However, it is still a pretty capable piece of equipment and one that also has some benefits over its predecessor on our list.

The unit is robust and well built
Inflates tires in very little time
Very compact design
The power cord has a long reach
The digital display is easy to read
Some users consider it to be very noisy
3. JACO SmartPro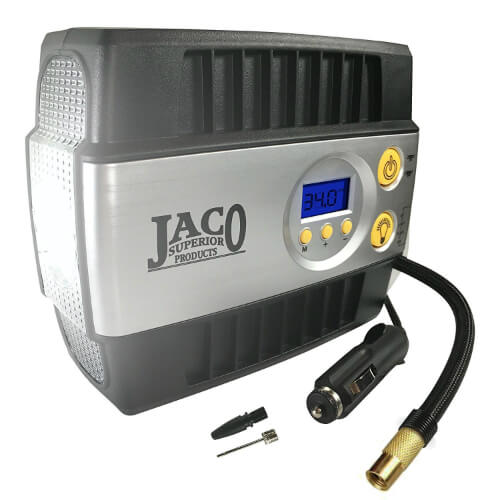 The JACO SmartPro features a gauge that will allow you to check the tire pressure any time you feel it might not be exactly right. It is recommended that you should do this every day before you leave the house, so you don't spend the day driving around in less than ideal conditions. The SmartPro can measure up to a level of 100 PSI with precise accuracy.
It needs energy to run so for that the adapter that comes with the gadget easily plugs into your car's DC socket. As long as your vehicle comes with a battery, you can inflate any number of tires within reason. The air hose has a woven design and is built to ensure that no air escapes while the user is trying to pump up the pressure on their tires. While this is all well and good, some features of the JACO should be highlighted as they stand a notch above the rest. They are as follows:
Built-in LED
– While for most of us this may not be an impressive feature there is a good reason for it to be included here. This is because of the 3
lighting modes
as the off mode is not worth considering.
One is
the flashlight
mode as expected. The second is the flashing red mode, and this might come in handy when warning other drivers that there is a stationary vehicle on the road. Also, there is the third light mode which is the SOS that would signal for help if ever at any one time you find yourself in need of it.
A twist connect nozzle
– Honestly speaking holding the nozzle in place while you're inflating a tire may be quite the hassle, mainly if your fingers are not used to that kind of strain. The SmartPro ensures that you won't have to strain unnecessarily when your tires need that extra pressure. You twist it in, and it holds itself in place till you twist it out.
The JACO allows one to inflate tires up to a limit of 45 PSI for standard car tires. When it comes to bike tires, it performs much more optimally giving out at a maximum of 100 PSI.
Regarding a warranty, the SmartPro comes backed by a 12-month guarantee. So if yours doesn't perform the way it should you can have it repaired at no extra cost within the first year of use. It also comes with a bag for secure storage and transport.
Expand to see more
Product Features

Smart pressure technology
Built-in LED with 3 working modes
10' power cord
Hands-free twist connect nozzle
2 adapters for other inflatables
Built-in air gauge

Who is it for?

JACO has pulled in all the stops in the making of the SmartPro. With the features it has you might be thinking that the price is high. Well, it's not. The pricing can only be described as moderate given that there are some others to feature on our list that are priced lower.

Easy to use
Very portable and lightweight
The digital gauge backlight is very handy when you're trying to measure pressure at night
Very quiet when working
The unit only plugs into a car socket and hence may not be much use in the house
If used for a long time it may overheat and blow a fuse
5. Viair 00088 88P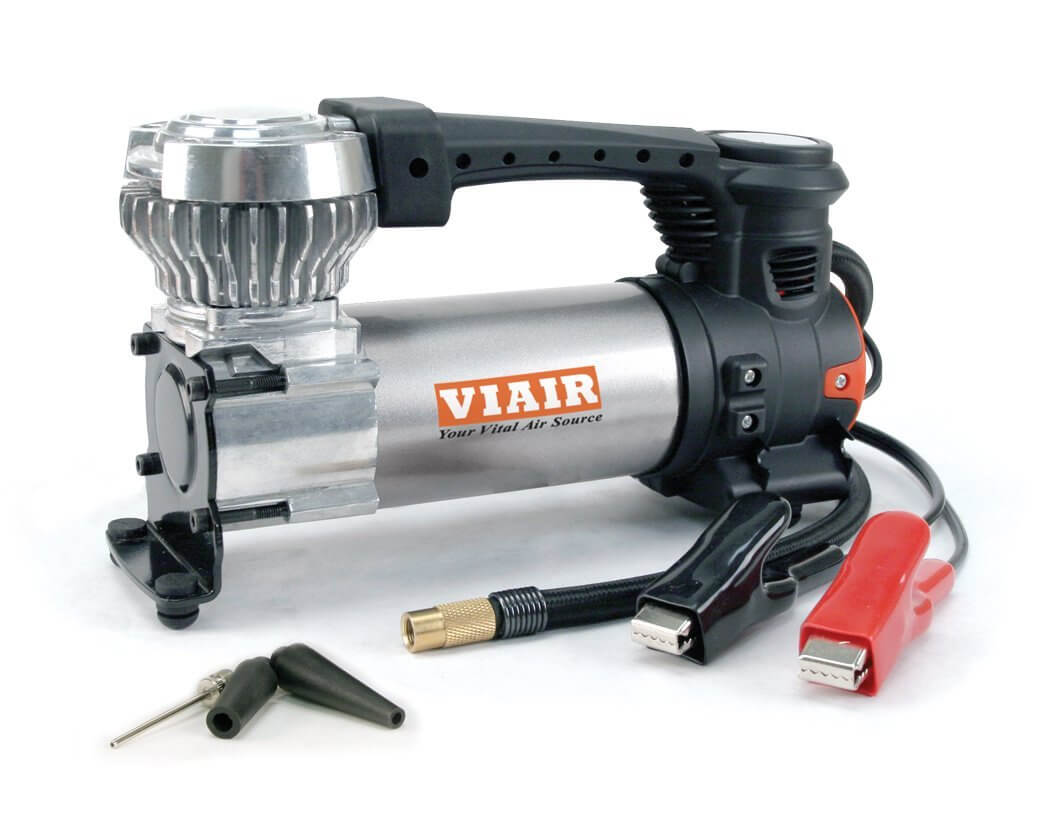 This unit by VIAIR is another that uses a direct battery connection so that it can work. The logic behind this is that most air compressors and inflators have a ton of energy requirements. When attached directly to a DC cigarette socket they might end up being too much to take and may cause damage to the car. Connecting it directly to the battery makes sure a fuse is never blown.

If anything, it is a pretty solid bit of equipment with some of its features being pretty outstanding. Here they are:

Twist-on nozzle – Once the nozzle has been twisted into place by the user all that is left is to pump in some air. This process is hands-free hence likely to be less strenuous.

Built-in air gauge – Before you embark on filling up your tires, you need to know the pressure. Some inflators may require of you that you buy a separate air gauge, but this unit doesn't. It already has its own, so you don't need to buy an extra piece of equipment.

A recommendation that comes with this unit is that whenever you are using it, you need to keep the engine running. This is because it can potentially drain the battery and so you might end up stranded for another reason.

Expand to see more
Product Features
Twist-on nozzle
LED light
Built-in air gauge
Alligator clips for direct attachment to a car battery
Who is it for?
The very first consideration is how much it will cost, and this one falls on the pricier side of the spectrum. It has been lauded as the best value compressor out there by some of its users. It is fast and efficient, and as such, it is worth every penny spent on its purchase. If it fits snuggly into your budget, this is an excellent choice.
The device features solid construction
Easy to use
Quick to inflate tires
The gadget is relatively quiet when in use
No carry case, so it's not as easy to store as some others
6. P.I. Auto Store - Premium Compressor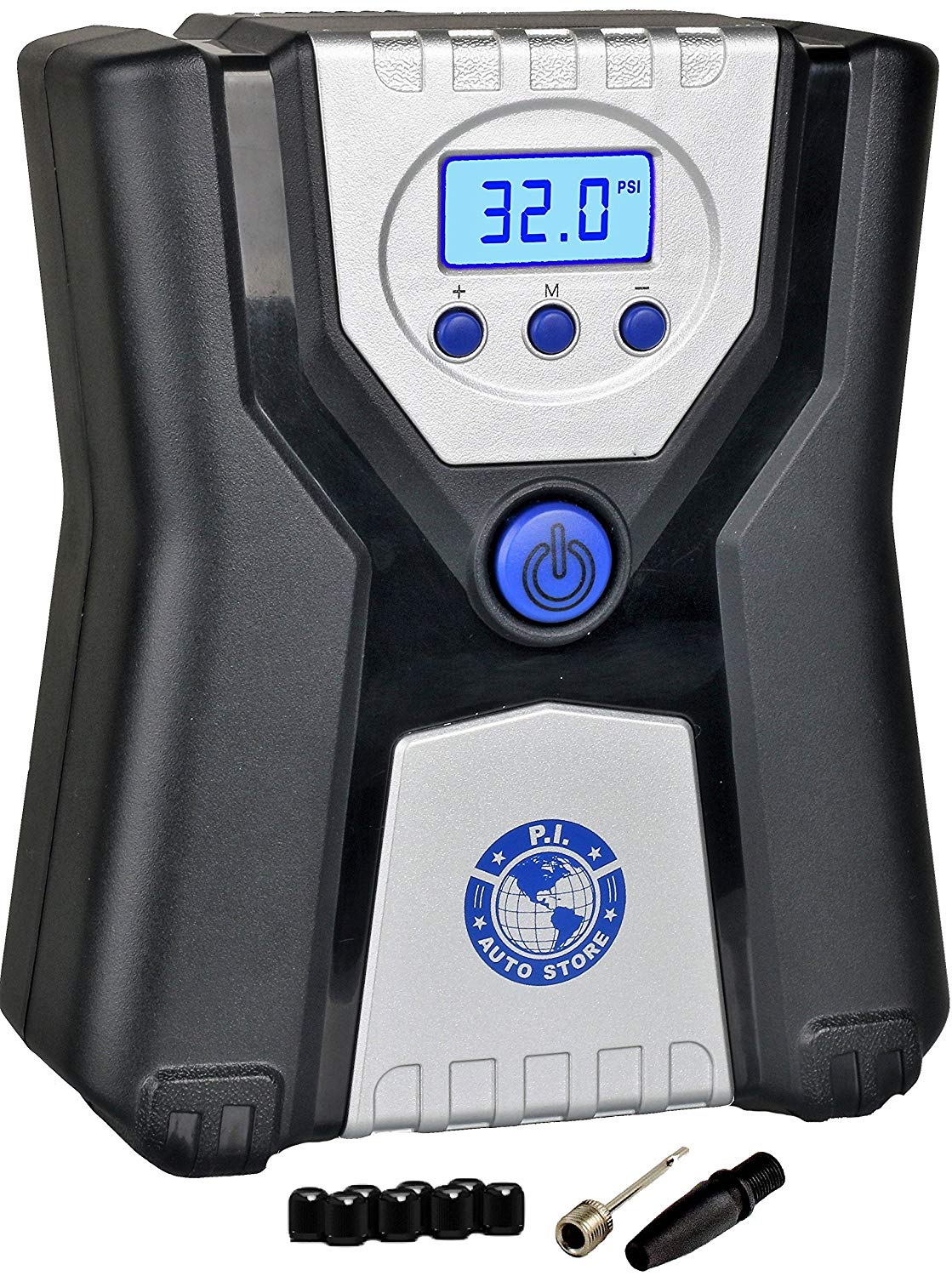 If ease of use is a defining factor for you then the P.I. Auto can be a great start. Usually, a 5 minute period is all that is needed to turn a flat into a fully pressurized tire.

Connect it to a 12V DC socket that is generally located on the dashboard of your car. After that setting, the right PSI and connecting it to the tire valve should be a walk in the park. Some of the unit's more remarkable features are as follows:

Large LCD – while this may not be all that important to some it is worth noting that the unit also has a pressure gauge. At the very least it could be quite useful to know what PSI your tire is operating at before going ahead to inflate it. The LCD needs to be legible and clear to make this easy, and that is just what the large LCD has been placed there for.

Money back guarantee – The product is pretty solid not to mention it has some advantageous features.

The manufacturers are backing their product up with a money back guarantee so that if the user is not satisfied, they can get their money back and return the product.

Users can also use it for other inflatables in the house. Examples would include kid's bicycles, a motorcycle or even a basketball. The unit ships with adapters for these kinds of usage scenarios.

Expand to see more
Product Features

Air pressure gauge
Big LCD screen
12V cigarette lighter plug
13-foot reach
Compact design

Who is it for?

The most outstanding thing about this gadget is the price. It is very affordable and hence if you need an inflator and you are pressed for cash you can get this one. It still provides a lot of value for the price you pay.

Comes with a carrying case
Easy to set up and use
Instructions are easy to understand
The air gauge is pretty accurate with its measurements
The unit might be a bit slow in filling up large tires
7. VIAIR 85P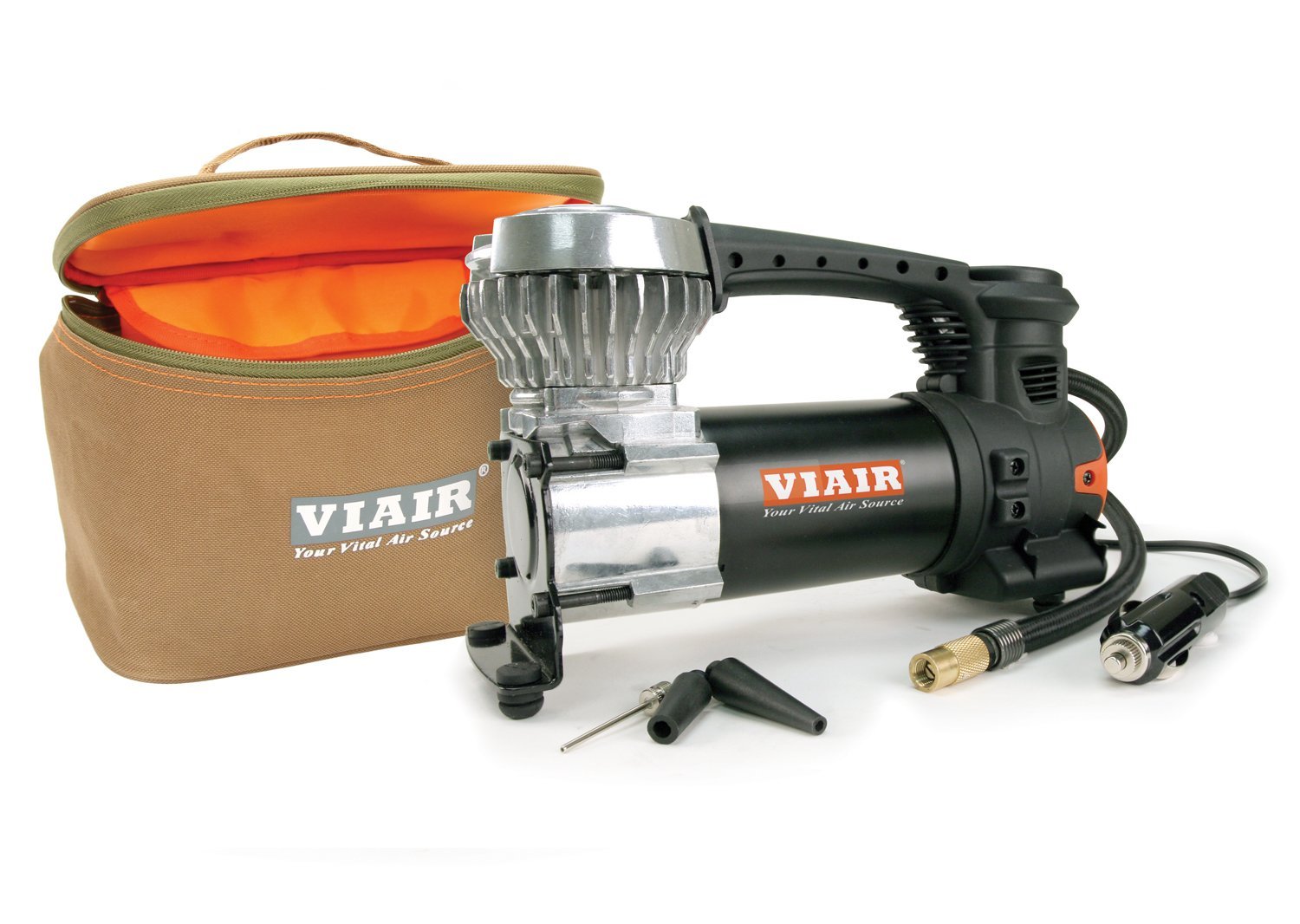 Here is yet another edition by VIAIR to feature on our list. When you look at a lot of the compressors by VIAIR, they all seem to feature the same basic design. What differs are the features and the capabilities of each one in relation to another.

As such you can expect this to be quite similar to the 88P. Nevertheless, some of the 85P's features will likely be more useful than others. As such they deserve an honorary mention, and here they are:

Easy to read tire gauge – You want to know the current pressure available in your tire before you can top it up. If you don't, you might risk inflating more than necessary which can be just as dangerous as a flat. For this, the gauge comes in handy and is quite visible and easy to read.

Inflation time of fewer than 5 minutes – To be specific it's 4 minutes and 30 seconds for bigger tires.

That being said with this unit you can only use it on a tire that is either 31 inches or less.

The cigarette lighter socket is more than enough to power this unit up and keeps it running for quite a while. However VIAIR like with most of their other compressors advice that you keep the engine running while doing this.

Expand to see more
Product Features
In-built air pressure gauge
In-built LED light
DC socket adapter
Screw-on
tire chuck
Who is it for?
If your vehicle uses tires that are less than 31 inches, then this unit could be quite useful to have in your trunk. You won't have to pay exorbitant prices as this one falls in the moderate pricing range.
Quiet while in use
It fills up tires relatively fast
Easy to use and attach to tires
Comes with a storage bag
The unit can get rather hot when used continuously
8. EPAuto 12V Compressor Pump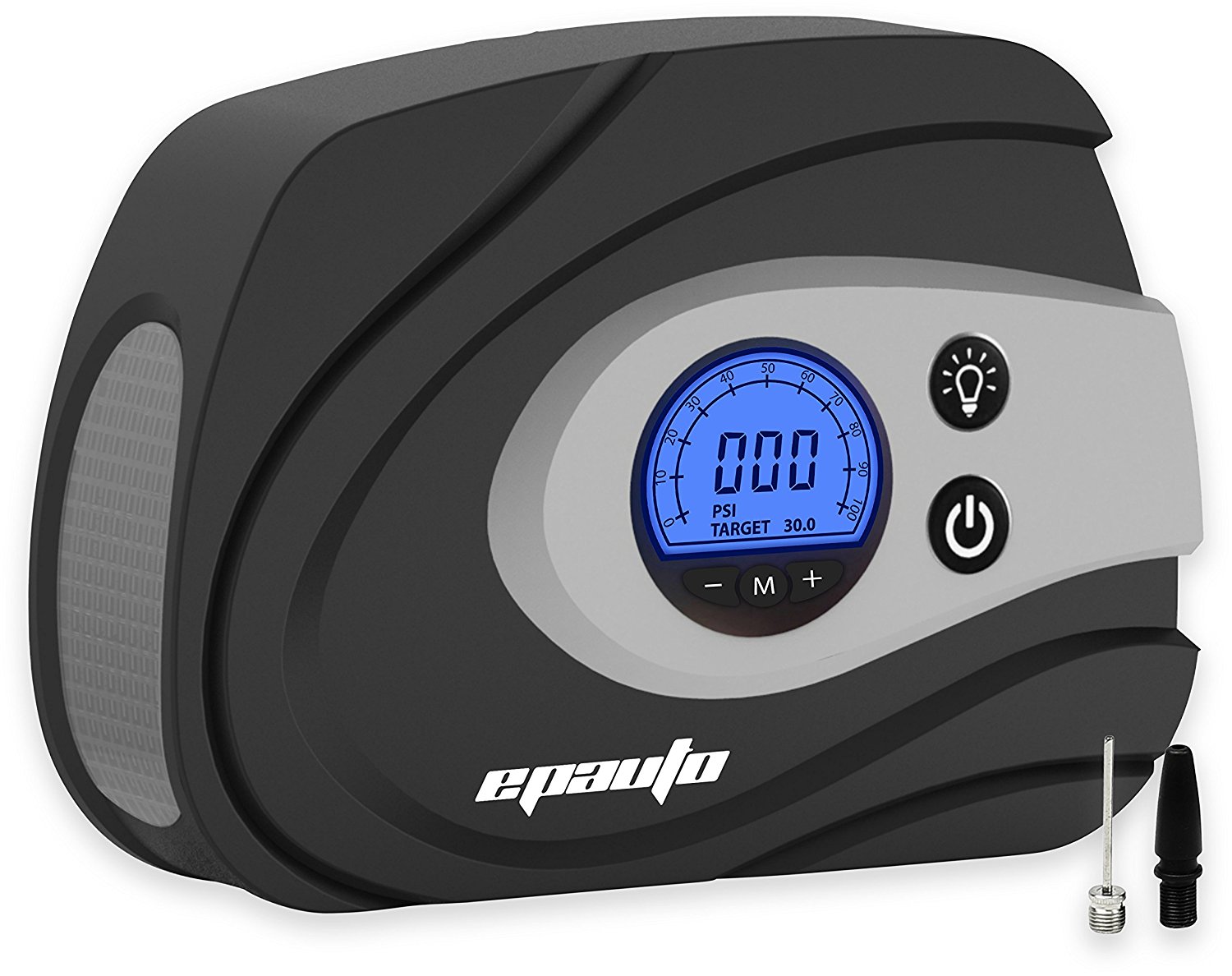 This unit by EPAuto features one of the more compact designs of any inflator. A thing to note is that it won't be able to handle big tires such as those found on trucks. All the same, the larger population of people don't own trucks, and hence they can make full use of this gadget. Some of its more impressive offerings may include:

Auto shut off – You don't need to hover over the unit as it is inflating your tires. Just set the required PSI, and it will shut off automatically when it gets there. This makes it all the easier to set up and use.

Visible Display – The LCD features 3 display units that are PSI, KPA, and BAR. These make it easier to keep an eye on your tires and the pressure in them.

Basketballs and other inflatables are not left out seeing as though the unit comes with adapters that you can use in such cases. Also, it works with regular car 12V-DC sockets so you can expect it to be there for you when you need it in the middle of the road.

Expand to see more
Product Features

Adapter for balls and other inflatables
DC socket adapter
LCD
Auto shut off when it gets to desired pressure
Bright torchlight for use in the dark

Who is it for?

The price is quite affordable, but you have to consider the fact that if your vehicle is bigger than most, (truck size), this unit might not be able to help you.

Quite affordable
Fills up tires in a relatively short amount of time
The nozzle can be attached quite easily to tire valves
The unit can be loud and noisy when in use
9. Astro 3018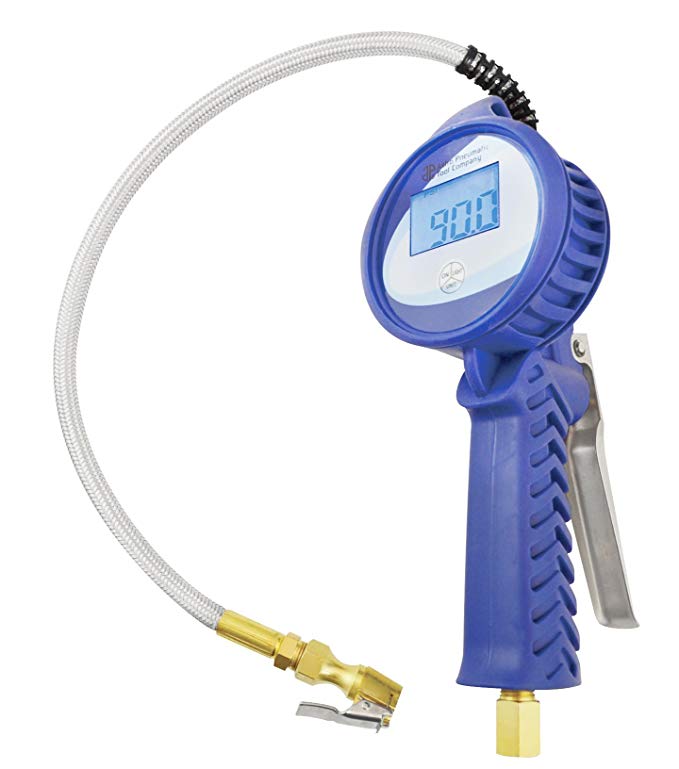 In 9th place, we have the only inflator that does not require a connection to a car battery or
a socket
of some sort. This particular inflator will be good to go so long as you pop some AAA batteries into it. Even with it being so different from the rest of the fray it still manages to pack some really lovely features into its small body. Here are some of the outstanding ones.
Rubber sleeve
– Most inflators don't seem to consider the comfort of the user in their designs. Astro has made theirs different by making sure the rubber sleeve they put in is comfortable to handle.
Backlit LCD
– whichever situation you might find yourself in you can rest assured that if you need to check the pressure, the LCD will be visible enough. It also outputs very accurate PSI measurements.
The chuck
locks on
to the tire valve and consequently no air will ever leak out.
Expand to see more
Product Feature

Lock on air chuck
Durable steel braided hose
Backlit LCD screen
Rubber sleeve for comfort
Battery powered design

Who is it for?

Astro priced this gauge and inflator very highly, but when you sit down to look at the features, you find that it is worth it. The fact that it works independently is a big plus and one that makes it easier to use. If you don't want to connect your inflator to a socket or car battery this mode is the one for you.

The rubber grip handle makes it less strenuous to use
The unit shuts off when not in use to save battery life
The gauge is precise in its measurements
The rubber can sustain damage over time
The hose may get damaged if you continuously bend it; However, this is only after long periods of use
10. VIAIR 45043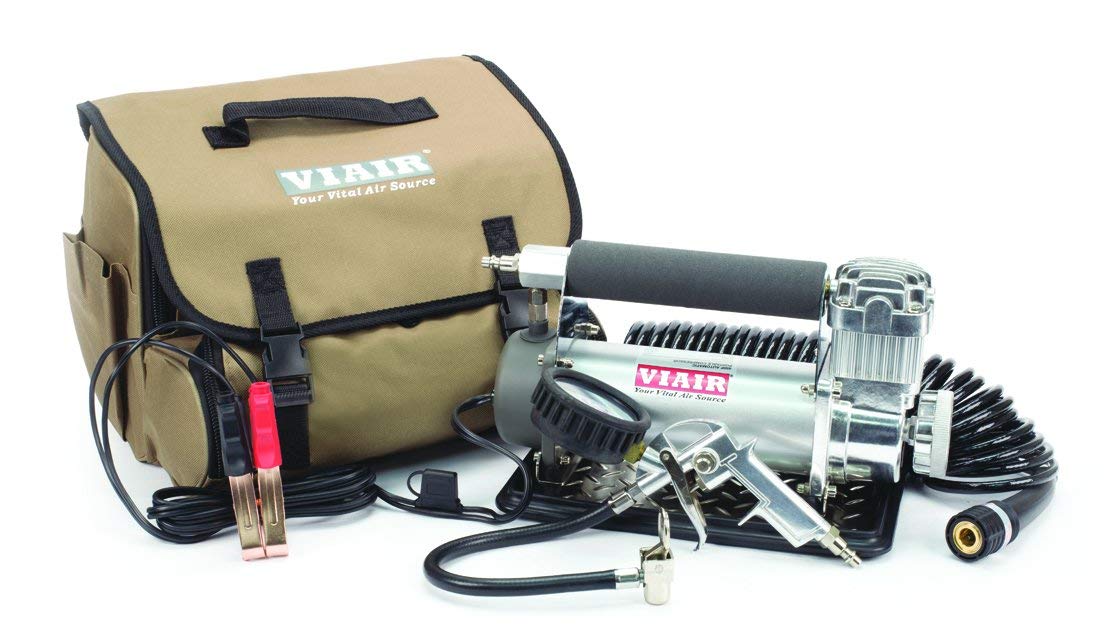 This unit comes in the last position not because it's not as good as the rest of them. Quite contrary as it can handle even tractor tires which is something that isn't possible with some of the others highlighted on our list.
Pricing, however, is a big issue with regards to the VIAIR 45043. Its most impressive features are as follows.
Quick connect inflation hose
– Attaching the hose on the tire valve won't require the user to strain. It is a speedy and easy process and from then on inflation is only a matter of pressing some buttons.
Deluxe carry bag and anti-vibration tray
– The unit can get damaged if it gets bumped around in the trunk of your car. The manufacturers know that this is an expensive investment and as such, it cannot be allowed to get damaged easily. They have therefore included the anti-vibration tray and other features so that your unit remains intact even in extreme conditions.
For you to use it, you will have to attach it straight to your car battery with the
heavy duty clamps
. Also if not in use the compressor will automatically shut down.
Expand to see more
Product Features

Automatic shut-off function
Vibration protectors
A zippered carry bag
Pressure gauge

Who is it for?

If you have a lot of extra change to spare, then this is the one for you. The price is almost 4 times that of the others touted as expensive on our list. For off-road and vehicles with big tires and high PSI requirements, you will find that this unit is adequate.

The unit and its constituent components are well made
The bag makes carrying the inflator around convenient
Isn't noisy when put into use
The unit can run continuously for almost an hour
Relatively quick in filling up tires
The fact that you will have to hold the handle while using may get tiresome after a while
4. Slime 40026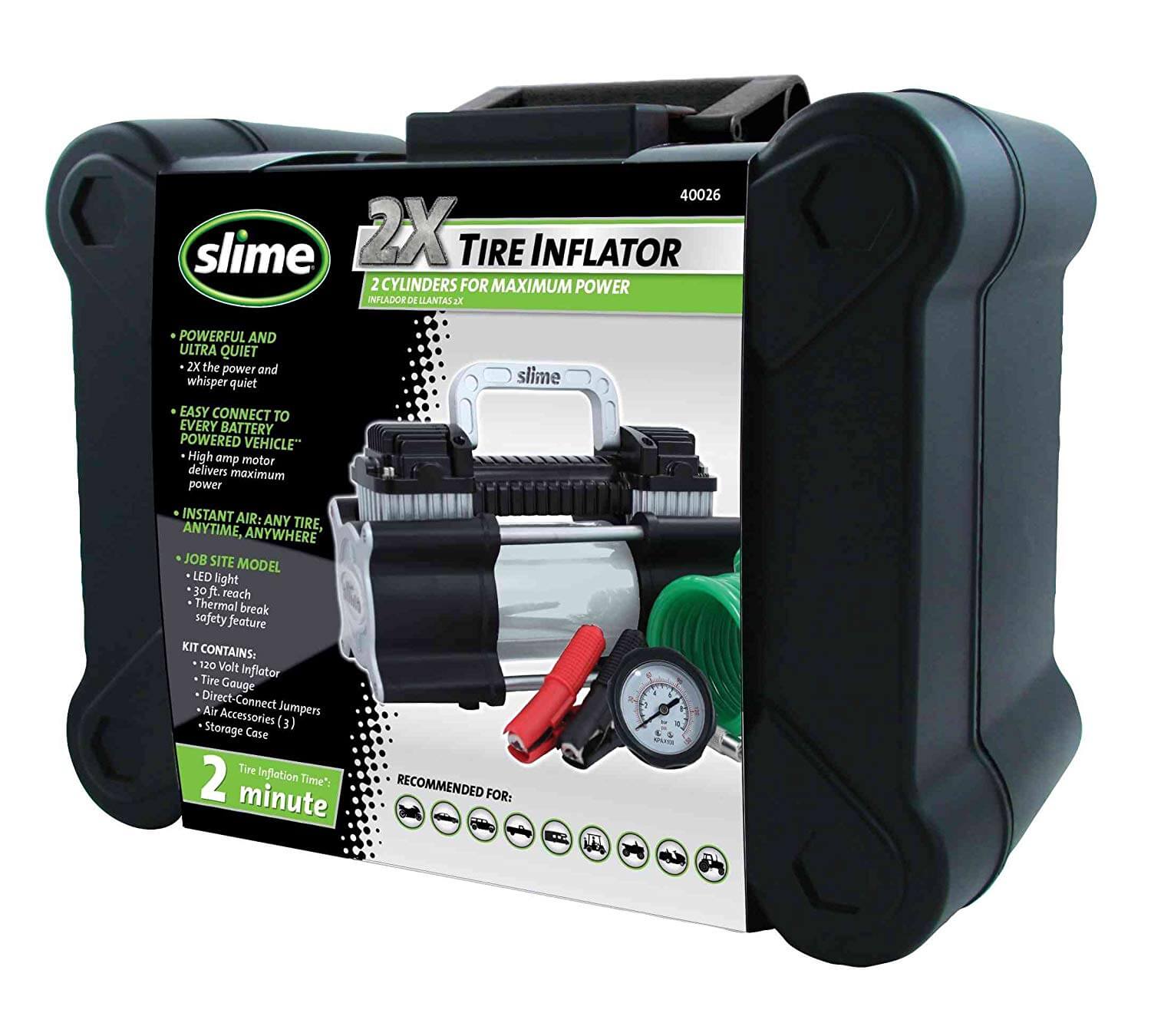 Regarding power, this Slime unit comes unmatched by the others on our list. They have even tried to indicate that in the name by using '2X.' They are implying that it is about twice as powerful as most other models out there. However, it could also be because they use two cylinders in the inflator's construction. Most powerful inflators tend to be very noisy as they are pushing themselves to the max. The Slime differentiates itself by being very quiet despite handling a significant caseload.

While the construction is durable, it can get damaged by other heavy materials you put in your trunk. To prevent this from ever happening this tire inflator ships with a sturdy carrying case for storage. It protects the inflator at the same time makes it easy to carry by hand. Also to that effect the inflator also has an aluminum locking and folding handle. It is one of the most impressive inflators out there, and the features highlighted below make it more so.

2 minute inflation time – The dual cylinders we mentioned earlier clearly aren't just for show. They put in the work and ensure that a tire goes from 0 PSI to full in the least time possible. If your time is running out this will make sure that you don't waste any more of it.

Thermal break feature – Most inflators are likely to overheat when used for extended periods of time. When this happens, various internal components of a gadget can get damaged with examples like blowing a fuse and such. This is likely to cause more losses in the future and Slime will have none of this. Their gadget as soon as it gets to 90 degrees will switch off to allow it to cool off for a while.

Under typical use scenarios, this is unlikely to happen such as when you use it with an SUV.

Expand to see more
Product Features

Twist connect air hose
2 minute inflation time
30-foot reach
Bright LED for night use
30-foot reach
Pressure gauge
Thermal break feature
Adapters for use with other inflatables

Who is it for?

The pricing is relatively high though it's still cheaper than some. However, for the power, it provides and the fact that it will more than likely help you save on time makes it all the more worth it. Anyone looking for a powerful yet compact unit would find this one matches all their needs and even goes to add a few useful and unique features.


The unit works fast and is hence time-saving
Compact and portable
Simple to use
The unit is quiet when in use
The gauge may prove a bit difficult to read
Things to think about when buying an inflator
Portability
This is something that should be at the forefront of all your consideration. After all, you will need the inflator everywhere you travel by your car right? You, therefore, have to make sure that it fits in your trunk.
Not only that you also need to account for the possibility that you might need to carry some more luggage in your trunk. So at the very least, the inflator should take up the least space possible.
Durability
It is entirely possible that your inflator might get knocked about when it's in your car. Not all the roads are smooth sailing. Also since they are more than likely to find a home in your trunk some other things you put in, there might cause damage to the inflator. You don't want this to happen as the gadget might give in when you need it. Just as a preventative measure you should get a unit that can take a tumble without breaking apart.
Your vehicle and the tire sizes it uses
Some of the inflators on our list are particular to various size cars. As such some can only inflate tires for small vehicles, others can handle SUVs and trucks and yet others can handle even the tires on a tractor. It all depends on the vehicle or vehicles you own and the PSI requirements. Also, this may affect the overall pricing of the unit. You don't need to spend to spend all your money buying the strongest inflator there is if yours is a small saloon car.
How long inflation takes
It goes without saying that when a tire deflates it is an inconvenience. If you were heading for an appointment somewhere, you are bound to be late. Also if these things happen to you in an "unsafe" area, you are likely to want to get the task of filling up your tires done as quickly as possible. The truth is various inflators have different capabilities in this regard. Therefore you as the buyer have to make sure you understand exactly how many minutes you will have to wait as the inflator is doing its job.
Ease of use
These gadgets are there for your convenience. It makes no sense for a person to buy one that he can't make heads or tails out off. The buttons have to be visible and well labeled. The measurements used have to be something that the user can understand quite quickly. Also, it should be simple enough to attach to a tire when the need arises. Anything that complicates this process more than that should not be considered.
However, this is all dependent on your capability as a user as some might have an easier time with gadgets than others.
FAQs
What does PSI mean?
PSI is something used to measure tire pressure and stands for pounds per square inch. The higher the force in the tire the higher the pressure. Overall PSI will show the pressure exerted on a tire by the air inside it.
How many PSI does it take to inflate a car?
Different cars have different requirements. As stated before most new models of cars have a sticker on the driver's door showing these requirements.
How does a person know if he needs to put air in his tires?
A gauge will come in handy in showing you whether your tire needs inflating or not. You check the PSI on the gauge against the recommended PSI, and if it falls short, you need to add some pressure. Also, there are some physical tells such as when your tire is visibly deflated.
Conclusion
The wise car owner is always prepared with a few tools that might be needed. Just like he has a spare tire in the case, he ever needed one he should also have an inflator on hand. This is because tires that fall short of the PSI requirements can cause accidents and have even been known to mess up your car's efficiency in using fuel. An inflator should thus be in the trunk of your car at all times.
Do get back to us via the comments section and tell us what you think of our list.
Subscribe to our newsletter