Best Storage Benches Reviews & Comparison
last updated:
Apr 06, 2021
Storage benches are an amazing solution to many parts of the home. They can aid in complex things such as keeping the entryway tidy and in simple things such as easily taking off shoes and putting it on. Storage benches also act as additional bedroom storage and aid in ensuring the living room remains aesthetically appealing at all times. They are likewise great for keeping clusters hidden when you have guests arriving all of a sudden and you need to clean in a haste.
Our Top 3 Picks
[srpshortcode id="13285″][/srpshortcode][srpshortcode id="13286″][/srpshortcode][srpshortcode id="13287″][/srpshortcode]
That said, storage benches come in many materials and styles. They could be made from traditional wood or even from a variety of materials like rubber, plastic, and also wood. Many of them come with clever tricks for storage like hydraulics and dividers, which helps to ensure organizing is easy and gaining access to the things stored is not difficult.
Essentially, the best storage benches make the ideal storage solution when you want to store magazines blankets, kid's toys, pillows, hats among a host of others. An additional benefit is the fact that they also function as footrests and tables. Thus, what are the best in this category?
Selecting the appropriate bench is sometimes almost impossible but the review below will aid you in pinpointing some of the most versatile and recent designs to help you make a choice. So, regardless if you want a storage bench for your outdoor or interiors pleasures, leather or wooden materials, you should your ideal choice below.
10 Best Storage Benches
1. SONGMICS 43 Folding Bench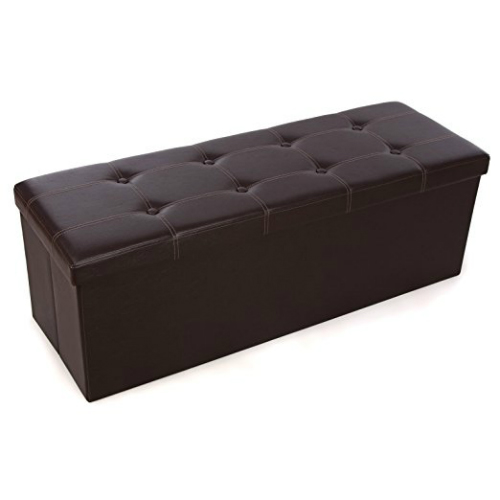 This Ottoman Bench is a great addition with its multi-purpose function. Serving as a chair and also a storage space, you can effectively utilize your living space. The bench comes in different colors, which helps in matching color for your home background. It is available in black, beige, white, brown, green, and grey (we prefer the brown). It is also relatively lightweight with a total weight of 21 lbs. which means carrying the bench is easy.

Moving on, we found the piece quite comfortable to sit on since its surface is made of faux leather that has a sofa sponge filling.

On the part of weight accommodating, the chair can easily support up to 660 lbs. which is roughly 3 adults. Another excellent quality of the faux leather surface is the waterproof quality which prevents water from seeping into the foam filling and also makes it easy to wipe the surface clean. And following that feature is the concealed storage space which the bench provides. The volume of the space offered by the bench is up to 120 liters, and that should easily cater to a wide range of uses such as storing books, toys, shoes, clothes, and more. The bench, lastly also folds flat which makes it easy to store and move around when necessary. Hence, portability is yet another advantage.

Expand to see more
Features

It is easy to assemble
Collapsible design
Available in different colors
Has a hidden storage compartment
Waterproof faux leather surface
Supports 660 lbs.
Can fold into a flat shape when it is not needed
Comfortable sofa sponge filling on the surface

Price

This bench comes at a relatively low price with features which meet most situations. In other words, for the price at which it comes, it offers a lot of excellent features including a large storage volume with support for 3 adults sitting on the surface.

Conclusion

With its leather and sofa sponge surface, sitting on the bench is comfortable. It is also very easy to maintain the faux leather and the spacious storage offers room to easily organize any area of the home. Additionally, the price is reasonable and that ideally make it an exceptional choice to invest in.

Can be assembled very quickly and easily
A waterproof surface design
Storage space helps in keeping your home organized
Lots of uses including storage, sitting, or a puppy step
Price is reasonable
Staples used in holding sideboards can get loose
2. Simpli Home Avalon Linen Bench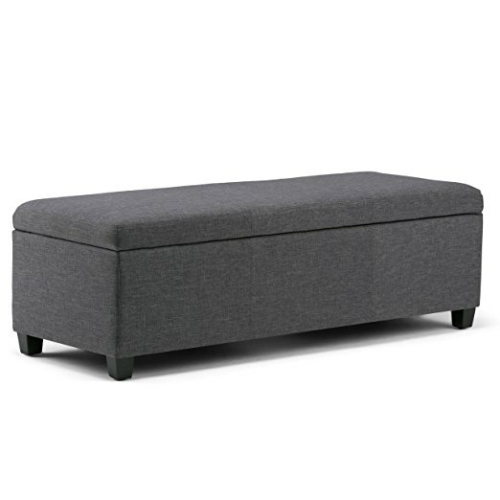 This ottoman bench is a great quality choice which carefully takes into consideration the safety of whoever will be using the bench. An example is that a lot of people usually make use of the storage space of this bench to store toys. And because of that, the bench comes equipped with a child safety hinge which prevents the lid from slamming shut. With the lid gently closing, you are sure that there is no possibility of your child sustaining any injury when using the bench.

Moving on, appeal is another area in this item's favor. Wherein it the colors available are up to six when combining both types and it includes a red, blue, brown, black, cream, slate grey, and fawn brown.

Additionally, you do not only get to decide which color you prefer, but you can likewise decide between a fabric style bench and a PU leather bench.

The bench manages its internal storage space (48 inches in width) in a subtle manner so it's not noticeable to unsuspecting guests and the process itself entails opening the top surface to access the space. The only downside to this method of opening is the need to clear the top before you access what you've stored in it.

Expand to see more
Features

Available in a fabric and PU leather style
Made from a solid pine and plywood material
It has a child safety hinge
Excellent storage space
Beautiful exterior stitching
Dimensions of 18.1 x 48 x 16.1 inches fit into any room

Price

This bench is on the high side and is not for anyone on a budget. Still, it is durable and safe for use around children so its functions and quality certainly try to equal the cost.

Conclusion

The bench uses high-quality materials in its design and also gives customers the option of buying a fabric style or PU leather style of the bench. This means that you will surely match your home décor when buying one of these.

Easy assembly with your only job being to screw the legs on
The entire top surface opens up at once
Aesthetically pleasing
Can choose from any of 5 colors of PU leather or 2 colors of fabric style
Need to clear the top before opening
3. Otto & Ben 30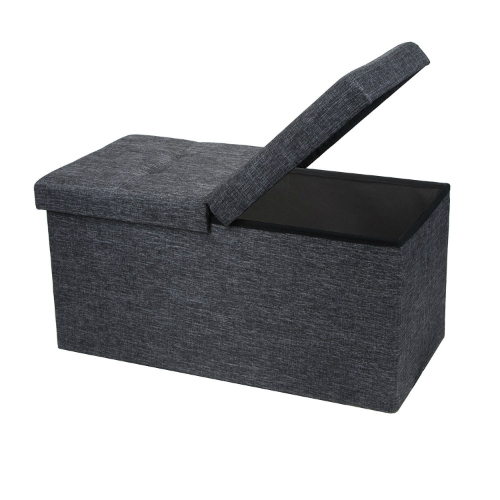 This ottoman bench saves a lot of stress in its use since the top has two halves which open individually. No need to worry about clearing the top of the bench before opening, simply move the items to one side and you can gain access to the storage space. Now, in-depth, the top opens up to 180 degrees so there is no need for you to hold up the lid, or anything related to that.

Assembly of the bench is easy and its storage is also convenient. We mean, the side boards are foldable and fit into the lids. Also, all you have to is unfold the product as a whole, put in the base, and you're good to go (set-up is extremely easy).

The material used for the bench is a Medium-Density fiberboard which is sturdy so as to let people sit on the surface.

Saving space is the key requirement when purchasing an ottoman bench and this product serves the purpose excellently well. It is available in two size options (30 inches and 45 inches) depending on where you need to set up the bench.

The bench is lightweight and is easy to move around at a weight of 14 pounds. Going back to the different sizes, the 30 inches length version also has a height of 15 inches and a width of the same measurement. Colour is also available in a variety of up to five with 3 pattern designs available to choose from as well.

Expand to see more
Features

Two size options
Interior storage space
Availability of multiple colors
Comfortable padded top
Split top with both sides opening
Medium-Density fiber material
Easy to fold and store and lightweight bench

Price

A reasonable bench which comes at a low price with no reduction in the quality of the design. Excellent for anyone on a tight budget looking to get multiple uses out of the bench.

Conclusion

Available in two sizes which makes it a nice option if you require a bigger size for a bigger space or you need two different sizes to fit in different locations. The price is also satisfactory and the quality is top-notch.

Folds easily and neatly for storage
It has a sturdy base
Assembly is fast and easy
Organize the room with the storage space while still sitting on the bench
Smell of chemical on the bench
4. ClosetMaid 1569 Cubeicals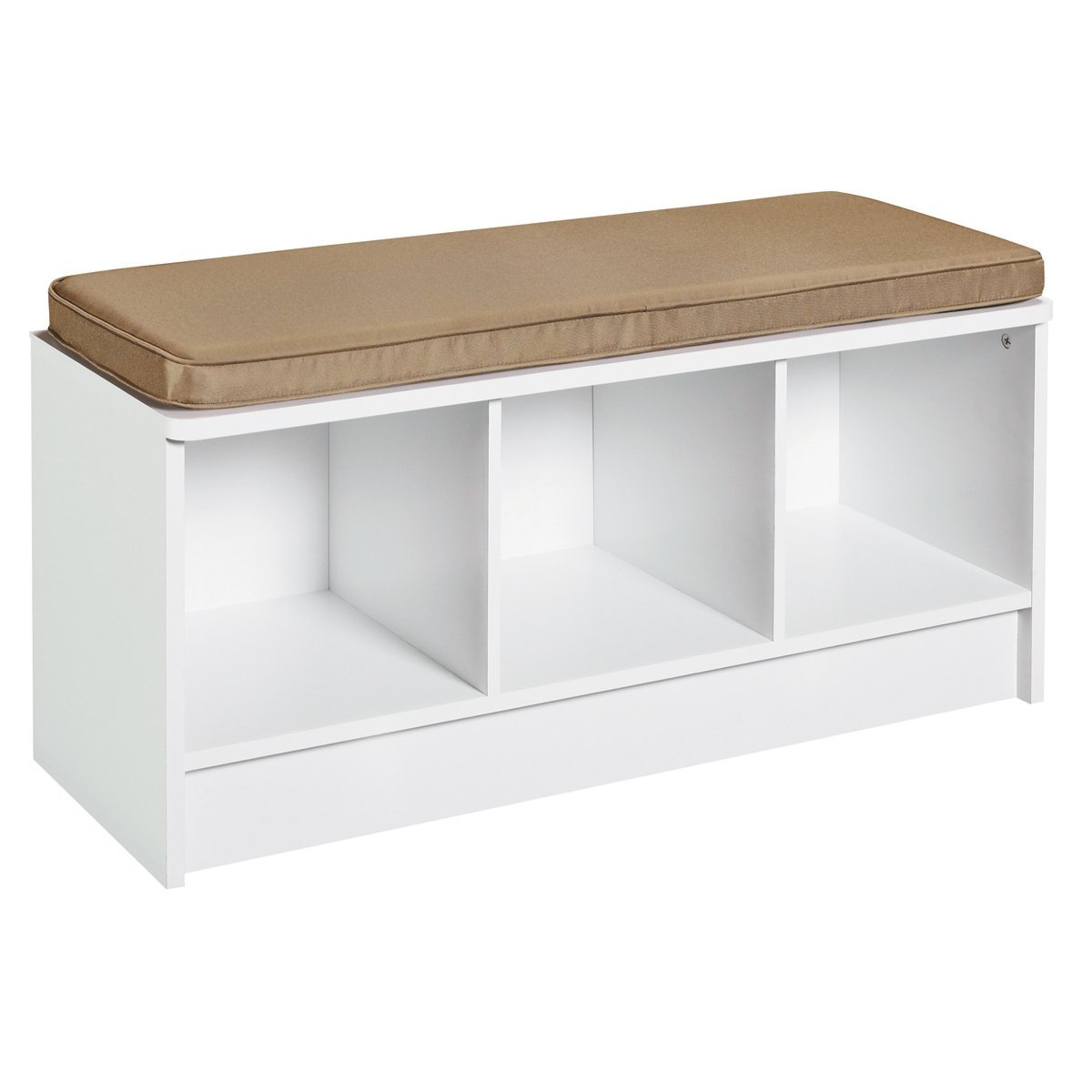 This bench has a unique design in comparison to other storage benches available. Its gets its design by combining the features of a bench and a cupboard into one product. It has three cube spaces for arranging items neatly while they remain visible or it can be fitted with drawers to give it a more appealing look. With a back panel, each space has proper protection so that items which you arrange do not fall out. This back panel is also responsible for preventing drawers from sliding out when placed in the cube. When looking to buy drawers, you can select from Cubeical Fabric drawers which give you 20 different colors to choose from.

That point made, the seating surface is a polyester cushion while the body of the bench uses a laminated wood material. Assembly of the storage bench is additionally quite easy and it comes with an installation guide which gives you the steps to follow. The only tools you need to assemble the bench are a hammer, Flathead screwdriver, and a Phillips screwdriver. The bench measures 35.27 inches in width, 18.5 inches in height, a depth of 14.01 inches. This consumes very little space and fits in any room.

You can get the bench in any of four colors which include a natural grey, white, espresso, and dark cherry. And with a weight of 33.5 pounds, it is relatively easy to move from one place to the other.

Expand to see more
Features

Back panel on the bench
3 cube spaces
Polyester cushion
Easy assembly
Weighs 33.5 pounds
Laminated wood material
Each cube measures 11.25-inch in height by 11.25-inch in width by 11.75-inch depth
CARB 93120 compliant

Price

While it is still quite cheap hovering around an average price of a bench, getting additional accessories may add to its price. We mean, accessories like drawers which you will need to purchase separately will lead to extra costs.

Conclusion

The design of this bench is different from the common ottoman bench which you find on the market. Also, you can improve the appeal of the bench with the option of purchasing cupboards of different colors to fit into the cubes or arrange your items neatly in the space available. Finally, before we ignore that point; the price of the bench is reasonable, despite the slight drawback.

Assembly is easy
Aesthetically appealing
Price is ok
Quality of the material is good, so longevity is ensured
There is no creaking when you sit on the bench
Drawers are sold separately
5. Otto & Ben 30 Ottoman & Memory Foam Seat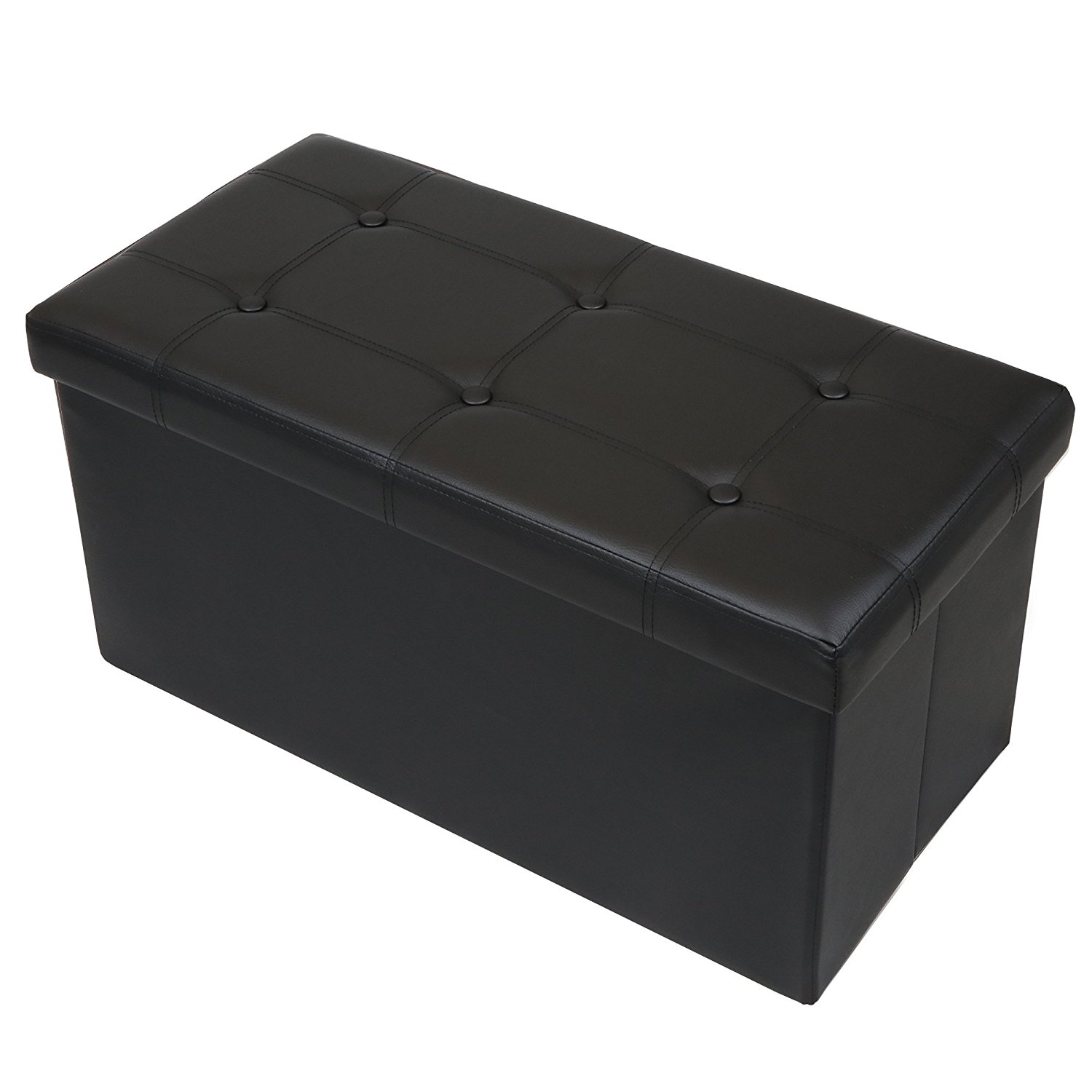 This ottoman seat is a 30 inches size but also comes in other sizes in case you need to fit a smaller or a bigger space. For the former, we have the option of a 15 inches size for smaller spaces while a 45 inches size offers better coverage for your larger home spaces.

The cushioned surface of the seat uses a memory foam material which is very comfortable. Though, you might not be too familiar with memory foam. Hence, we can say it is simply a foam which takes the shape of the depressing force but remembers its former form (hence the name) and thus, returns to its original shape after removing the force. The seat is a faux leather material which is waterproof and quite easy to wipe and clean.

Design of the surface of the seat is available in three different styles with two color options for each style. The styles available include a button style, line style, and a twirl style. Like the name implies, the button style uses buttons on the surface of the chair while the line design uses lines to beautify the top. Both of these styles come in a black and brown color option. For the twirl style, it is available in a black color with white twirls and a white color with black twirls. The twirl design is quite attractive and offers a unique look to the home.

Nevertheless, you certainly want a bench that'll last long and despite your choice, that's what you get with this product.

Expand to see more
Features

Foldable sideboards
Faux leather surface material
Available in three unique designs
Comes in two colors for each design
Waterproof surface
3 different sizes
Sturdily built
Comfortable Memory foam material seat
Interior storage space

Price

One of the more reasonably priced benches, you do not need to worry about paying a lot to purchase this particular one. So, you simply enjoy some worthwhile cool features at a budget price.

Conclusion

There are a lot of features to enjoy when you decide to get one of this bench. In addition to a sturdy build, you can also get one of the three sizes that fit the area you need to place the bench. It is also foldable for better storage and a faux leather surface means that cleaning is very simple.
Finally, price is loved, and the overall quality as evidenced above is not sacrificed.

The surface cleans with ease
Setting up the bench is also easy
Children can open without stress
Beautiful designs on offer
Storage bench is quite affordable
It is very portable with foldable sideboards
6. Homelegance 4730NF Lift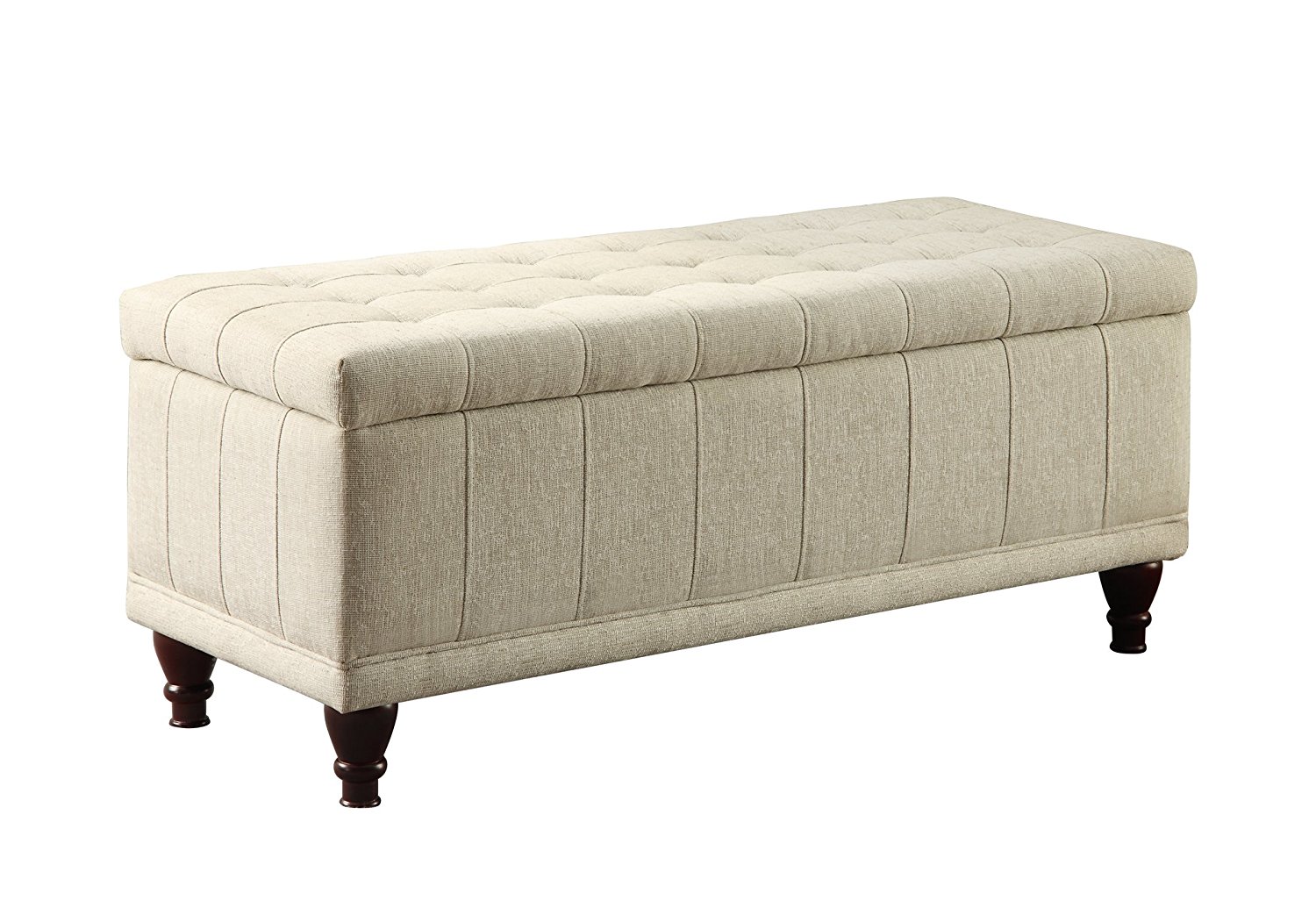 This bench has a modern traditional finish and is an excellent addition to the bedroom and other rooms in the home. The exterior of the bench measures 17.5 inches in width, 42 inches in length, and a 17.5 inches height. On the inside, which is the storage space of the bench, it has a depth of 8.5 inches, 14 inches wide, and a length of 39.5 inches.

It comes with a screw on the leg which is the only part which you need to attach when assembling the bench. The legs are turned and they have a dark espresso finish. Now, since the leg features a screw on design, the assembly of the bench does not require any tool and is very fast.

The bench also has a beige linen fabric and has faux leather designs. Wherein you can choose from the colors taupe, red, brown, and purple.

With its sturdy build, sitting on the bench is nice and comfortable—and the top of the bench additionally has a button tufting and opens to reveal the storage space. There is a spring hinge which keeps the lid in place when you open it and it also makes it close gently without it falling too fast. The hinge is quite durable so you need not worry about changing it anytime soon.

Expand to see more
Features
Easy to assemble
Screw on legs
Top surface opens upwards
Fabric and leather material options
Turned legs
Spring hinge for the lid
4 color options for the leather material
Assembly does not require any tool
The top is well padded
Interior storage space
Dark espresso leg finish
Lid opens to almost 90 degrees
Price
An expensive (literally) piece of furniture to improve and
organize
the home. It has a great design and fits perfectly in any background environment.
Conclusion
Add an excellent modern look to your home with this bench, which has a leather material and is available in four colors. Assembly is also easy thanks to the turned legs which screw on with ease, and the price is pocket-friendly as well.
Comfortable top for sitting and quite durable
Doesn't move around when placed on the floor
The storage space is reasonably large
Hinge prevents it from closing while you are picking items out of storage
May not be as large as pictured
7. Belleze 48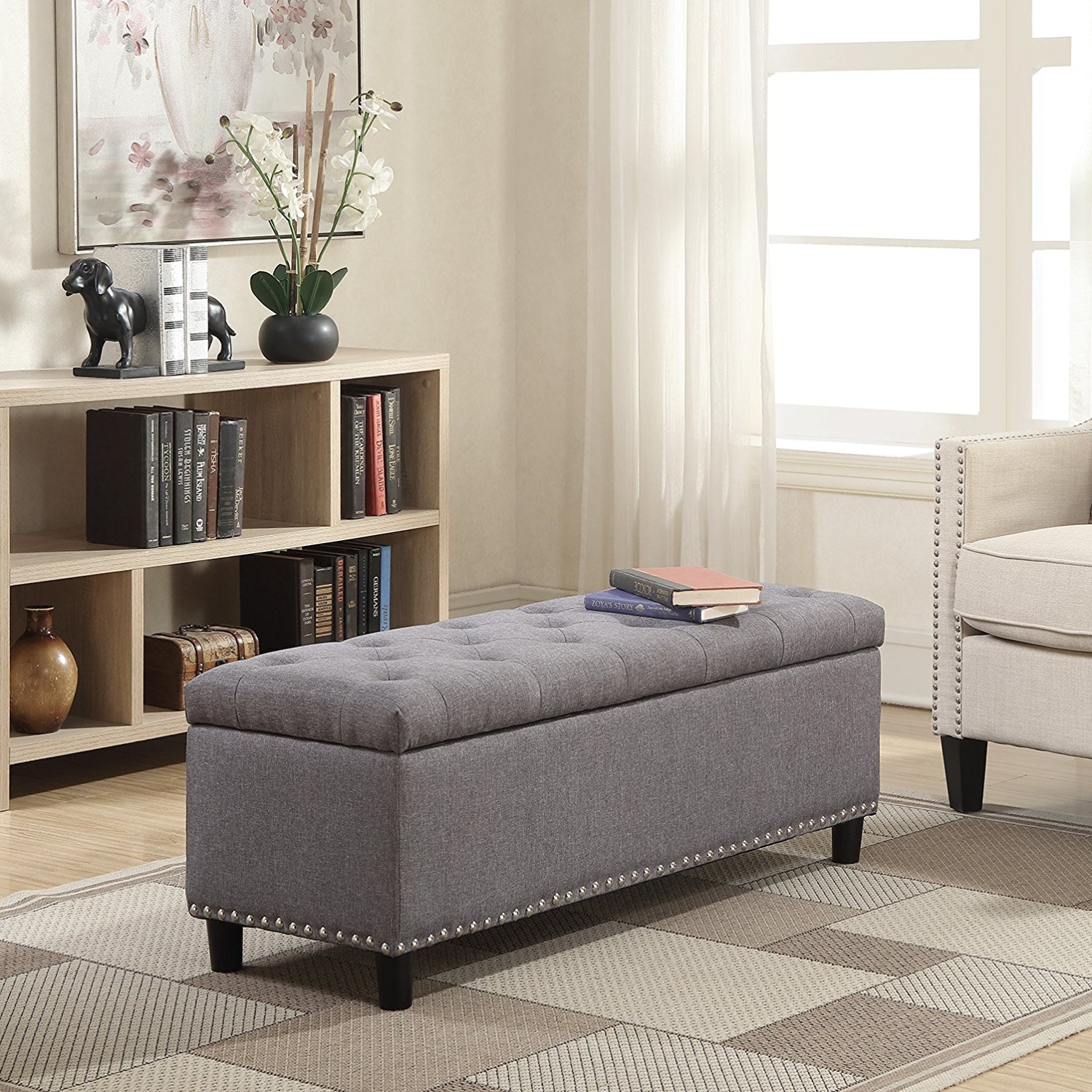 Versatility is the most important aspect of an ottoman bench. This bench offers multiple uses as a storage unit, footrest, and a typical bench. The contemporary design is also eye-catching (also has studs at the bottom), and this has the benefit of the ottoman bench being a good fit for any location in the home.

The top surface of the bench has a button finish with a faux leather material which is built to last. There are also different colors including a gray and brown scheme, that can boast of the same level of quality. The exterior also has stitching which improves the overall beauty of the bench.

The design of the top is a flip-to-open design so you should avoid placing too many items on the top to reduce the stress you go through when you need to access the storage space.

The bench fits in a lot of rooms and has multiple uses. In your bedroom, you can use it to sit while dressing and also use the storage space to keep clothes which you won't be needing for a while and bedspread that are not required. Also, place it in your living room to provide more sitting areas for guests while you can also stash your kid's toys without any difficulty.

Expand to see more
Features

Studs on the bottom
Flip top
Needs to be assembled
Contemporary style
Hinge to hold the lid
Tufting on the top
Stitching on the exterior
Acts as a footrest, storage, and bench
Bottoms with studs

Price

In terms of price, this bench is on another level, and depending on your preference, that might not be in a good way. Still, at 48 inches, it does certainly impress since you get a lot of storage space and also enough room to sit 3 individuals at once.

Conclusion

Getting quality benches is not an easy task but with Belleze, you are assured of quality and comfort. With a lot of experience in offering home decor, you are sure that you will get a lot of functionality from this bench.

Quick assembly
It is very sturdy
Design language is good
Hinge to hold the lid when accessing the storage
8. Convenience Concepts Garbo Storage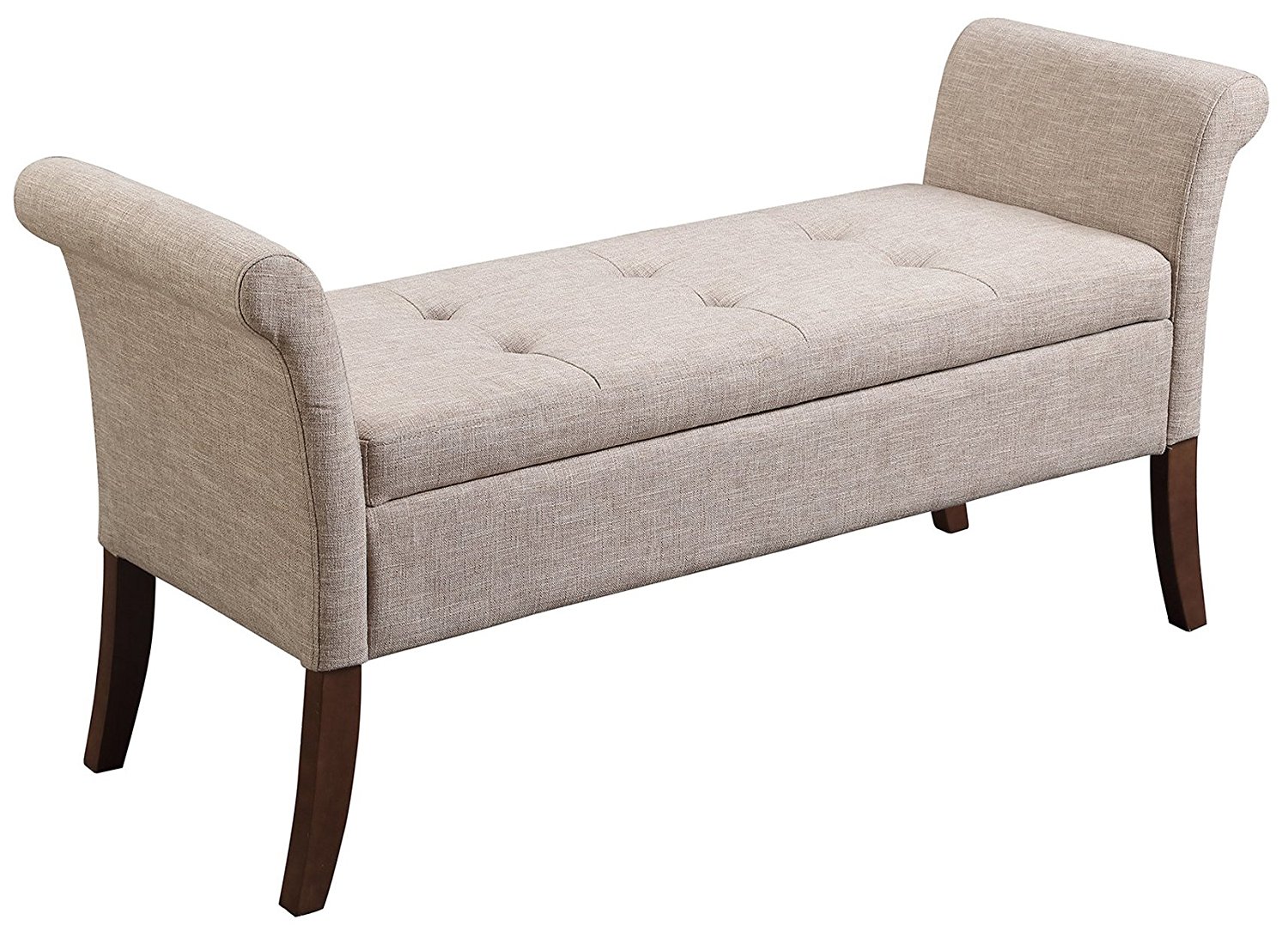 While it still retains its ottoman style, there is a unique twist to the design of this bench to make it quite comfortable when sitting. It comes with armrests on both sides which has a rolled arm design.

The bench has a solid wood construction with fabrics for covering and beatification. It has seven fabric options with a transitional style. In-depth, it comes in an espresso, tan, black, Moroccan, ribbon, blue, and botanical fabric. You can also get it in a leather option which is elegantly designed.

To access the storage of the bench, it has a flip top which opens with ease. The top lid has hinges which prevent it from closing too fast and also to easily hold it in place. There is also a lot of space between the floor and this bench which is unlike most benches. Though, we figure it's more or less to complement its design.
T
he storage bench will still store your items (no doubt about that) but you should know that the space on offer is much.

Expand to see more
Features

Feet are slightly flared
Weighs 33 pounds
Seven fabric options
Arms are rolled up
Made of solid wood
Hinges are available
Storage space

Price

An averagely priced bench, Convenience Concepts's Ottoman offers a lot more than just storage. Nonetheless, the space available is a little disappointing.

Conclusion

Having armrests is a nice addition to any ottoman bench to improve the appearance and also make it more comfortable. Moving on, the quality, price, aesthetic appeal, and usefulness make for a really attractive package.

Nice rolled arms for resting
Decide on the fabric finish option which suits your home perfectly
Easy to hide extra blankets and pillows out of sight
Price is reasonable
The legs aren't all that durable in some copies
9. Lift Top Storage Bench with Tufted Accents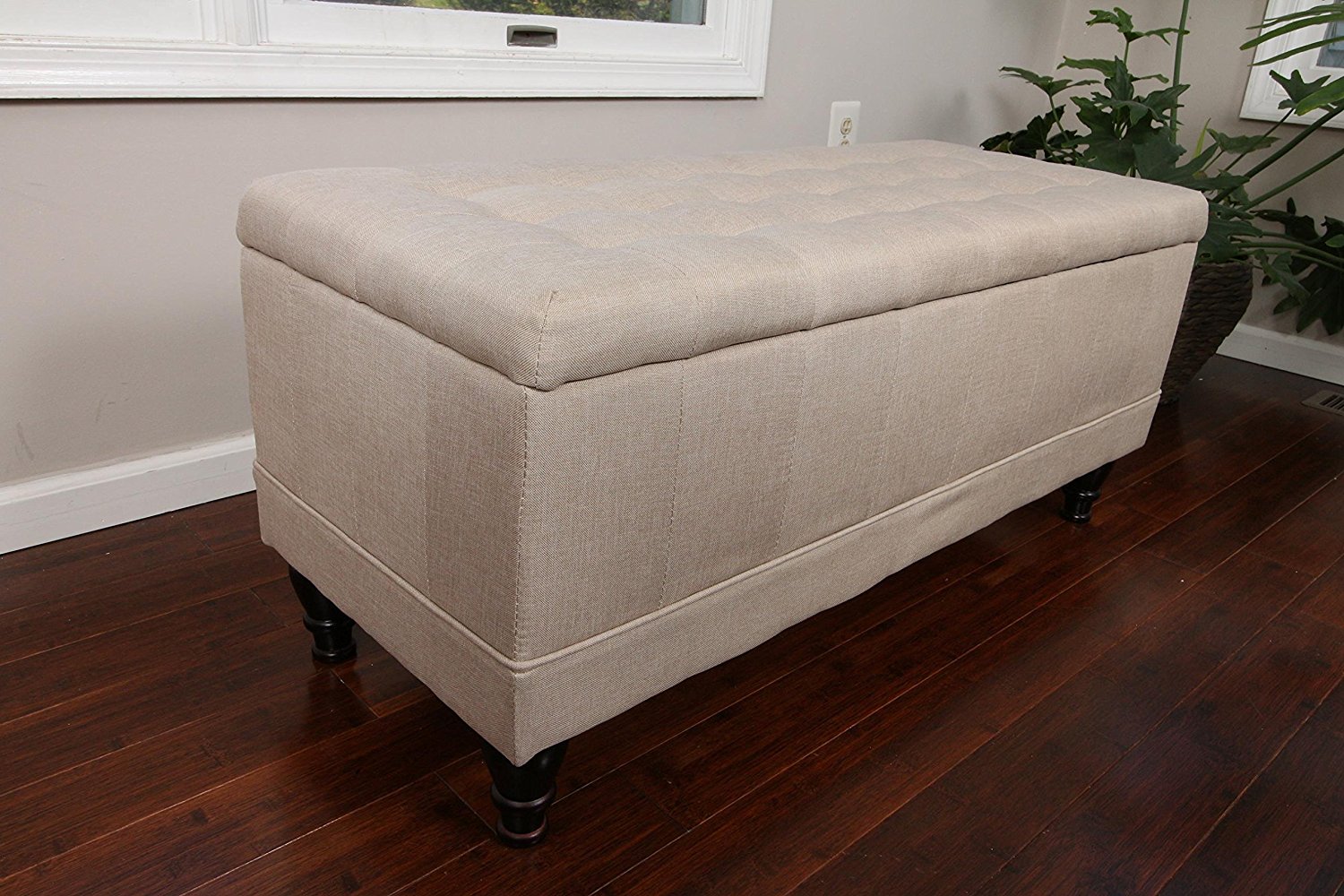 Compared to the other benches on this list, this one is heavier at a weight of 41.1 pounds. Nonetheless, it does have its benefits, since it is a sure sign of quality materials being used during
construction
. So, the bench is very sturdy and doesn't move around easily.
Point made, the bench is easy to assemble with the legs being the only part to be attached. It comes early with four legs with an espresso dark finish which is traditionally turned. And depending on how comfortable you are with the design, you can decide to ignore the legs and use the bench without them. If you choose that option, there's a benefit to it since the legs do not have any floor protection so using it without them can also be a good way to prevent damage.
It has a lift top which reveals the interior storage space and the top is held in place by hinges on both sides. The interior is black and can fit toys, shoes, pillows, blankets, and more—so, space is not an issue. On the part of design, the top has a button tufted finish which gives it an elegant look. Though, that look is only available in a beige color. No matter, this doesn't limit the use of the bench as the color matches most decors without any problem. The fabric linen finish is also quite durable and can withstand a lot of heavy use.
Expand to see more
Features

Detachable Legs
Hinges connecting the lid
Weighs 41.1 pounds
Dark espresso leg finish
Lift top
Traditionally turned legs
Button Tufted top finish
Fabric upholstery
Easy to assemble

Price

This product lingers around an average price. It is durable and sturdy so you can expect to use it for a long time.

Conclusion

A lot of benches usually has come light, in terms of weight, but with this bench, you get an heavier furniture but a more sturdy build. It also provides a large storage area big enough to be a fit for use in an hide and seek game (cute). Still, the quality of the fabric is a bit underwhelming and you may need to change the fabric sometimes.

This bench has a large storage compartment
Removable leg supports
The price is budget-friendly
Very sturdy thanks to the weight
The design language really speaks to the users
No floor protection on the legs
10. Espana Wheat Fabric Ottoman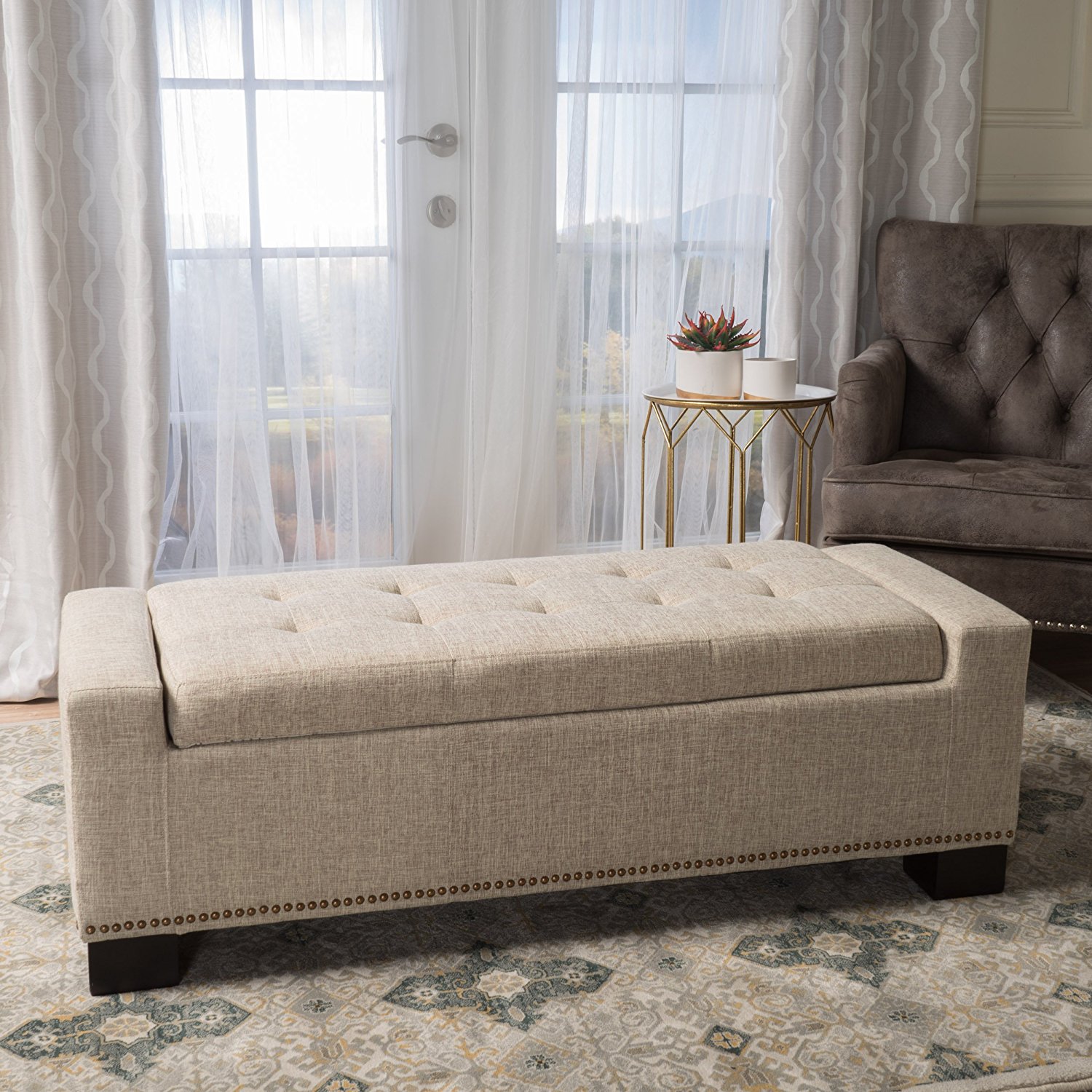 The design of this bench suits the decor of any room in the home and due to its relatively lightweight, it can be easily moved around. The legs of the bench use birch material and they have a dark brown finish which gives a unique design element.
What beautifies the bench more is the addition of
studs
to the bottom which makes it more noticeable to anyone entering the room. Another design feature is the pattern in form of a map on the inside of the bench. Though, that's most likely only for your eyes.
Moving on, no assembly is required to use the bench as it is set up for use out of the box. The storage area also has a lot of room and measures 9 inches deep, 41 inches in width, and 16 inches in length. Additionally, it has a maximum load specification of 130 pounds and the lid itself comes with hinges so you do not have to worry about it closing without warning.
The bench measures 50.8 inches in width, 19.50" in length, and 17 inches in height on the exterior—which, by the way, is made from polyester. The bench weighs about 39 pounds, giving it stability and hinders it from moving out of place in the case that kids are playing around.
Essentially, there's very little complaint about this bench is the manufacturer was extremely careful. Nonetheless, if you go for this item be sure the measurement is what you require and the color is able to match your decor.
Expand to see more
Features
Hinges on the lid
Interior storage area with map pattern
Studs on the bottom
Birch leg material
It measures 19.50"D x 50.8"W x 17.00"H
Tufted top design
Polyester material
Assembled out of the box
Price
Among the most expensive bench, you will get on the market, this is made for those who have a particular standard in mind.
Conclusion
Although it is not available in lots of
colors
, the quality of the bench cannot be underestimated. It is quite durable and also very sturdy. The storage space on the interior is also another part where it impresses since you have a lot to work with.
Map pattern on the interior makes it appealing
A very stable bench
The design language is good
Available space is sufficient enough
Does not require assembly
Things to Consider When Selecting A Bench
Even though storage benches are extremely functional, lots of individuals are not aware of the things to search for when selecting the best storage benches. The benches carry out numerous functions and one of the major ones is that it acts as a seat. In-depth, individuals can enjoy the inherent comfort that they offer (the best at least) while they read, relax, and watch TV (amongst others). They also act as footrests when one requires a location to stretch their legs. And asides from that, they can be utilized in storing shoes, books, tools, clothes, and magazines in this case.
So, based on what your needs are, the following should help tailor that in addition to your tastes, preferences, and thus choices.
Where is it going to be located?
The location you want to place the bench will determine the kind of bench you would purchase. A bench storage for hats or shoes is placed at the entrance of the door. An ideal bench for this should be stable to withstand rigorous usage. A bedroom storage bench, on the other hand, requires an ideal cushion top as they are frequently located at the foot of the bed so individuals can rest their feet. Patio and kitchen storage benches should be soft and string as they act as seats and tables.
The placement also has an impact on the kind of bench storage to buy in terms of size. For example, living room benches are not the same as closet storage benches which tend to be shorter and less durable.
Bench Material
Storage benches come in a host of materials. They come made from items such as metal, wood, plastic, wicker and many others. That point made, the location you wish to place the bench also has an impact on the kind of material you select. Plastic and wicker storage benches are ideal for outdoors and they are constructed to survive in tough weather conditions.
Benches which are constructed with finely finished wood, need settings like bedrooms, living rooms as well as guest rooms. Essentially, observing the material has an impact on how long you will utilize the bench. And another example is that metal benches are ideal for workshops while those made from leather are ideal for use indoors in areas like the sitting room.
Kind of Storage

The kind of item you want to store and how easy it is to retrieve it has an impact on the kind of storage bench you will purchase. The major kinds are the drawers and the flip tops. They are great for storing pillows, blankets, shoes among others. Flip tops either come with double or single lids to ensure easy access.
For books and other items that you access regularly, cubby storage benches work best.
Style
When deciding on the storage bench style, it's very important to take note of the personality and décor of your home. There are wooden styles that come alongside carved features like backs, arms as well as lids with hinges. They are durable and have a great appeal. Nonetheless, there are more modern, cottage industrial and contemporary styles to select from.
Although you might not require an industrial kind in your home, the recent models will help to give your home a more luxurious look. They merge high-end designs together with usefulness to bring out a style many individuals would find irresistible.
What is it for?
The major purpose of your storage bench is a factor to put into consideration before you make a purchase. A lot of individuals buy the storage benches in order to store various items which range from blankets to books. Some shoe benches require assisting fixtures to ensure they stay in place. That point made, depending on the amount or size of items you are looking to store, you can also consider the storage space you need.
If the storage bench will also act as a footrest, cushion or table, purchasing one with durable leather, stable feet, and appropriate cushioning would be best.
If you are uncertain about the features you want in a storage bench or the kind you want, any of the products reviewed above would be certain to meet your requirement.
Frequently Asked Questions
What do I use a storage bench for?
Basically, you use it to store different items/pieces in your home, regardless if it's in your living room, bedroom, etc.
Also, it does serve as a bench that you can sit on and the even used for relaxation purposes depending on the length.
What do I need to look for before picking one?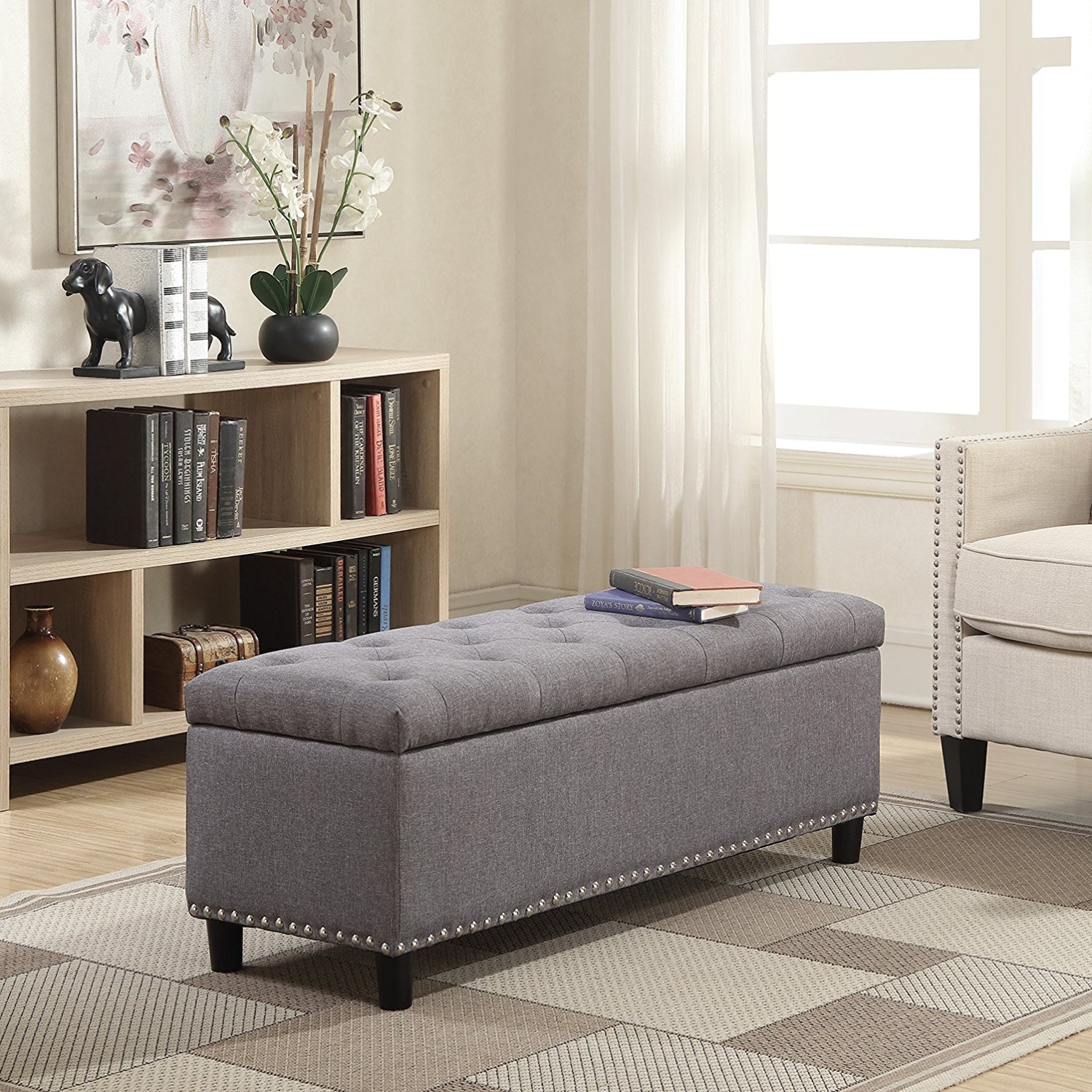 You should go to our "Things to Consider When Selecting Your Bench" section for more information on this. Also, do take into consideration your budget because if you prefer a big bench, you'll have to spend more, since obviously, price increases as size increases.
Where can I buy the storage benches above?
You should visit Amazon for the ones above since that's where you'll get the best prices for them.
Subscribe to our newsletter