Best Cell Phone Signal Boosters Reviewed & Compared
last updated:
May 10, 2018
We're all familiar with the frustration that follows the sullen realization that you can't make an important call to your colleagues, loved ones or the law enforcement authorities because you don't have network coverage. Poor cell phone signal reception adversely limits one's use of the cellular device, be it a cell phone, a table or just about any other device that relies on the nearest cell phone tower for effective communication. When the connection is lost or very weak, the user begins to experience missed calls, dropped calls, and slow internet speeds. If you have a cell phone signal booster though, you're spared the anxiety, frustration, and fear of missing out for those that can't access their social media accounts.
Our Top 3 Picks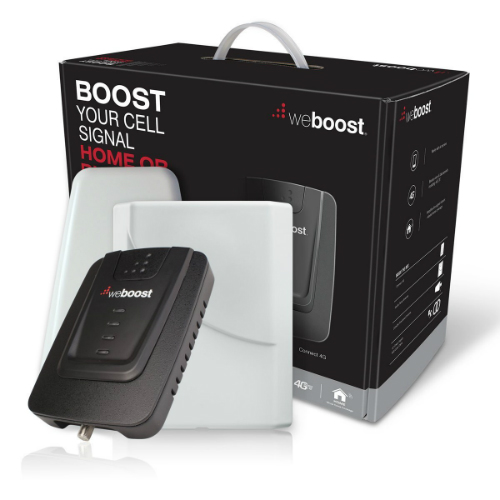 WeBoost

Our rating
Strong
Price:

See Here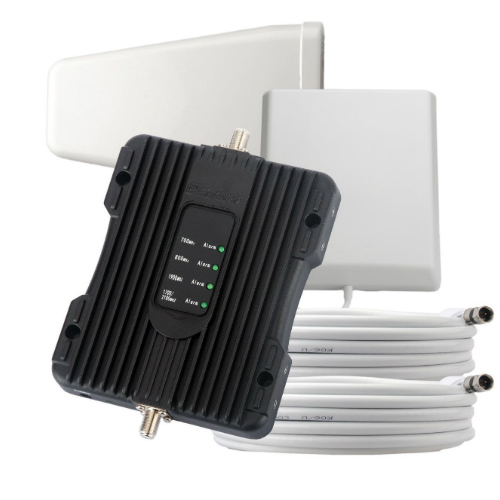 SolidRF

Our rating
Clear
Price:

See Here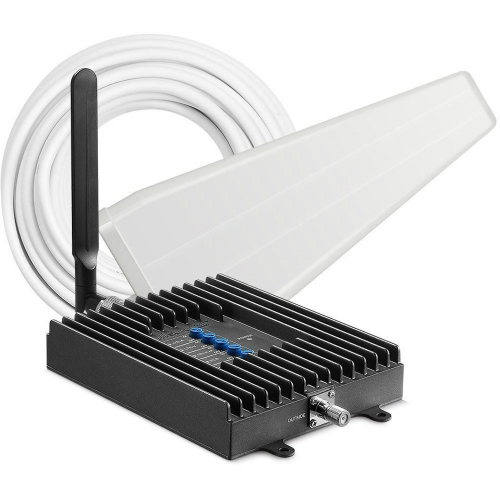 SureCall

Our rating
Durable
Price:

See Here


The cell phone signal boosters are particularly important to outdoor enthusiasts and travellers and those living in areas with poor network reception. The devices work by amplifying weak cellular signals thereby ensuring full bars on your cellular device to allow you make crystal clear voice calls and relish faster internet speeds for accessing your social media accounts, accessing important work documents on your email account or catching up on your favourite TV programs and movies. Given the significance of the cell phone signal boosters, it's important that you pick the best suitable one adequately meets the demands of your situation. There are different types, some meant for use at home, others for vast offices, while others are optimized for use in cars and trucks. Whatever your needs, we have you covered in our list of ten of the best cell phone signal boosters on the market currently.
10 Best Cell Phone Signal Boosters
1. weBoost Connect 4G 470103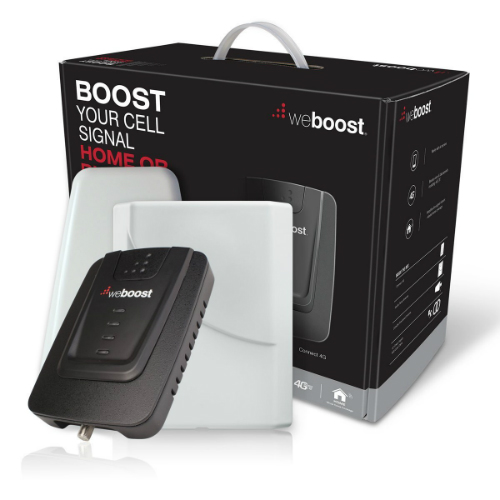 Cellular networks provide people with one of the most reliable and affordable ways of staying in connection with their friends, loved ones and even colleagues from anywhere around the world. The connection may not be as strong though, which compromises the quality of the connection and may result in a frustrating frequency of dropped calls and slow internet connections. The weBoost Connect 4G 470103 for Home and Office aims at solving this problem by enhancing the cellular signals in a bid to give you quick access to your emails and ensure uninterrupted calls.

Since it guarantees an extensive network coverage, it is an ideal choice for use in large homes and offices. The phone signal booster has an impressive range of 5000 square feet, a fete it easily manages by using a wall mounted panel antenna. Aside from the wide coverage, its other significant advantages are compatibility with almost all key carriers and mobile phone devices on the market. Another icing on the cake is that it allows for several connections at the same time. Now, let's delve into a detailed description of the features that make it stand out.

Expand to see more
Like we indicated above, it works flawlessly with all the majority carriers in and outside the United States, meaning that wherever your next business trip takes you, you can still keep in touch with your loved ones back at home. Because of the automatic gain feature, the phone signal booster incorporates, it is always adjusting for changes in the user's cellular environment, thereby providing them with the best, strongest and most reliable signal possible.

It comes with a powerful directional antenna to provide the user with the best experience every time they're downloading or uploading something to the Internet or making a phone call from anywhere within their room or office. You, however, have to invest some effort into getting it to aim correctly for optimal performance. Since it also increases separation, there is going to be minimal interference between the outdoor and indoor antennae, resulting in crystal-clear voice quality and fast connection speeds. Additionally, the kit comes with a convenient gain control for quickly and automatically customizing the frequency in accordance with the incoming signal, providing for high-speed connectives at all times. It also includes a long-lasting and high-quality coax cable which varies sharply with those included in cheaper and off-brand model kits on the market. Consequently, the difference in performance and durability is very considerable. In the case of this booster kit, you'll be using the cable for years on end without having to look for a replacement to get the best coverage.

Users who need trouble-free and smooth operation will love it for the ease of installing it. The model features an effort and time-saving plug-and-play functionality that welcomingly makes short and quick work of getting the whole system up and running. It's a simple DIY installation that does not necessitate seeking professional assistance or calling customer care representatives seeking directions with the installation process. You have everything you need to make a successful connection including the booster, the aforementioned high-quality cables, power supply and antennas.

Given its significance in connecting families, friends and colleagues from different corners of the globe, customer care representation is core to their existence. Users who are not technologically savvy will love the dedication, responsiveness, and speed of the customer care representatives in helping you resolve any difficulties you may be facing. They are vastly knowledgeable on matters of cellular connectively and do not overwhelm callers with unnecessary spiel as other brands would.

The 470103 is an all-time favourite for users around the world, and for several solid reasons. It features an amplifier that considerably enhances signals and provides for effortless connection of various cellular devices. It's also capable of broadcasting signals with at least a decibel gain of +70, enabling clear connections with laptops, mobile phones, and tablets, among others. For the best reliable connection, it comes highly recommended.

Provides clear and comprehensive guidelines on the installation procedure
Capable of boosting 3G, 4G, and LTE
Helps user converse their battery juice
Works efficiently with both US and Canada carriers
Allows for multiple connections
Has the reliable automatic gain feature
2. SolidRF BuildingForce 4G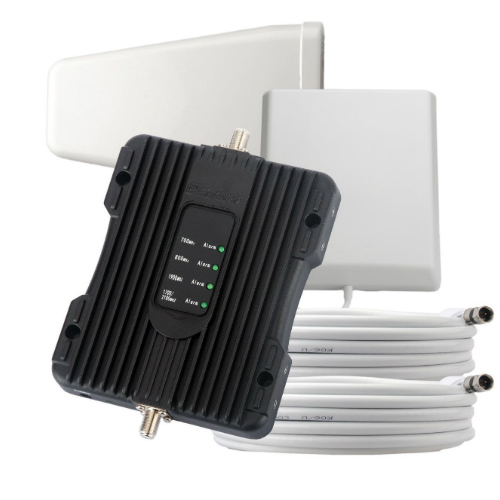 A second formidable force in the market niche that works exactly as advertised is the SolidRF BuildingForce 4G for office and home. If you're one of those people who waster several minutes or even hours each day walking frantically from one room of the house to the next in a desperate search for good signals, look no further than this booster. The unit is a life-saver. You won't have to reschedule calls or postpone calling your loved ones after failing to get a strong signal.

Moving forward, there will be no more dropped calls after you install the system in your office or house. It smoothly works by capturing and enhancing the available signals before rebroadcasting them to a particular area of the house. Consequently, there will be no more frustrations trying to access your emails through the internet or having to contend with slow internet speed when attempting to upload or download something. Even better, the system device guarantees that you'll never miss a call again or have to strain your ears when the voice quality is poor.

Expand to see more
Aside from fast internet speeds and crystal clear phone calls, it is also a versatile tool that's compatible with 2G and 3G networks. A major highlight of the device is its ability to connect up to 25 other mobile phones or users to the system, so communication is flawless between them and their friends, colleagues and family members. Given its construction and engineering, it is recommended for indoor use in various settings that includes offices and home. The device comes with gain control that does an impressive job ensuring all the house or office occupants have great coverage including when the incoming signals are doggedly intermittent.

In addition to ensuring the strongest and most reliable signals, so every member of the house or office has uninterrupted connectivity, the device goes a step by offering its users virus protection. It will also alert you when you're about to open a harmful website. You have the option of adjusting the coverage in accordance with your requirement or the vastness of your office.

The first option is it offers you coverage of +1500 sf area. The second option is the Medium Signal option that gives the 800 sf user coverage while the coverage of the last option will ensure optimal connectivity if you're within 200 sf. The multiple coverage options, therefore, make it a versatile tool for limiting coverage to a particular area or space of the house in accordance with your needs.

The package comes with all the accessories you need to set up the system and get it running on your own. You don't need any assistance at all. You get the receiver, the wires, and the booster, all in one place and ready to go once you complete the quick and easy installation process. And even though providers make a point of deploying towers in regions in which they provide coverage, other areas still have to contend with weaker and sometimes non-existent signals. Your productivity as an employee or social interactions may suffer significantly if your office or home are in places such as this. Lack of or poor quality internet and call connectivity can also be disastrous to a business. Avoid such frustrations by simply investing in it.

For users with no coverage and in need of amplifying signals on their house or a particular room in the house, it is a solid consideration. It works reliably, and the customer service representation is exceptional. However, because it is meant specifically for indoor use, it only packs sufficient power for averagely sized apartments. Nevertheless, it is a reliable and powerful device that will significantly boost the quality of your voice calls and speed of internet connectivity.

Accommodates G, 3G, 4G, and LTE
Supports at up to 25 cellular devices simultaneously
Boasts compatibility with all phone carriers in the United States and Canada
Setting up the hardware and getting it to work is both quick and effortless
Periodically experiences conflicting signals issues with other bands
3. SureCall Fusion4Home Yagi/Whip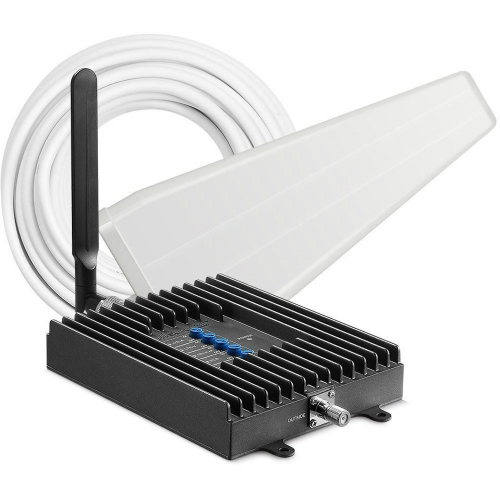 In all honesty, the performance of this Kit is no different from that of the previous product. The two are more like two sides of the same coin. However, this option has its unique advantages and downsides, different from those of its closest rivals. Its performance, for one, is very remarkable and it will hardly come as a surprise to anyone with a little familiarity with options that the product comes third on the list of the best cell phone signal boosters on the market. Like all other products featuring on this brief, the Kit has outstanding signal strength boosting capabilities and its professional engineering goes a long way in improving the quality of voice and speed of text messaging. Keep reading for a full in-depth review of the features of the product.

Its working is pretty much straightforward, and it comes with the usual accessories. The package has an outdoor directional Yagi antenna that very accurately grabs the signals, an indoor whip antenna that transmits the signal within the house, an RG-6 coax cable for connecting the system and lastly an AC power supply. Together, these components or rather accessories, work flawlessly and in coordination for the best performance. It collects signals outside through the Yagi antenna and transmits it to the Whip. The system works in reverse when you are sending a signal out. For a greenhorn or homeowner who just wants to boost their signal strength, these might be unnecessarily technical information. The bottom line is that when it comes to boosting your connectivity and ensuring you enjoy the highest quality voice calls, it never fails.

Expand to see more
With a fairly wide range of 3,000 square feet, it is an affordable alternative to the more expensive booster if you're planning on covering a medium-sized house or apartment or office. The consistency and clarity of its signal are astounding and all device compatiblde for up to 4G LTE. Additionally, it supports calling and texting on different providers such as Verizon, AT&T, Sprint, T-Mobile and several others in Canada and the United States. With it properly installed in your house or office, the next thing to do is kick back, relax and enjoy crystal clear calls, faster internet speeds or binge watch your favourite videos on Netflix without having to wait for them to buffer. And that's clearly not all.
To the above qualities add a resilient and durable
construction
. All the constituent parts or components are made using the highest quality materials in the industry. With proper use and gentle handling, they provide the user with several years of dependable and smooth service. Additionally, assembling the machine takes a matter of seconds. All you have to do is follow the provided instruction, and the device should be up and running efficiently and smoothly. The controls are modest and simple to use so that even the most clueless person can operate it. Seriously, you don't need to be a rocket scientist.
Unlike the previous boosters though, it only supports up to eight simultaneous users. The implication here is that for an average family, everyone should have a strong reception, and is similarly an ideal choice for use in an office setup. With everyone connected to the device, the days of incessant dropped and missed calls will be over. In addition to increasing signal strength, it also does an amazing job extending the battery life as the phone will constantly be searching for a stronger signal.
To this add the energy efficiency of the device. It uses 15 watts less power when it's functional, which, in turn, stops your electric bill from skyrocketing following continuous, everyday use. Lastly, it has a 36-month warranty to cover for malfunctions and defects resulting from the manufacturer's use of defective or low-quality materials or poor manufacturing process. However, considering the high-quality construction of the device, and its off-the-charts performance, we doubt if you'll ever need to use the warranty.
To sum up, it is an ideal choice for users whose voice and internet connectivity is problematic due to poor reception occasioned by living anywhere near the nearest tower or obstruction by topography. Whatever the reason, the booster is a handy option in such situations and will provide you with max boosting for the best highest quality voice calls and internet connectivity. Boasting an ability to increase signal strength over within a range of 3000 sf and accommodate up to 8 simultaneous users, the product is by far one of the best on the market. Plus, it is fairly and reasonably priced.
Capable of handling increasing cell phone signal for up to 4000 sq. Ft.
Works with all carriers Canada/US
Assists in reducing dropped and missed calls
Helps enhance clarity and quality of voice calls
Installation lasts a few minutes
Renowned for enhancing battery life on cellular devices
The price tag is a little too high
4. Cisco AT&T Tower Antenna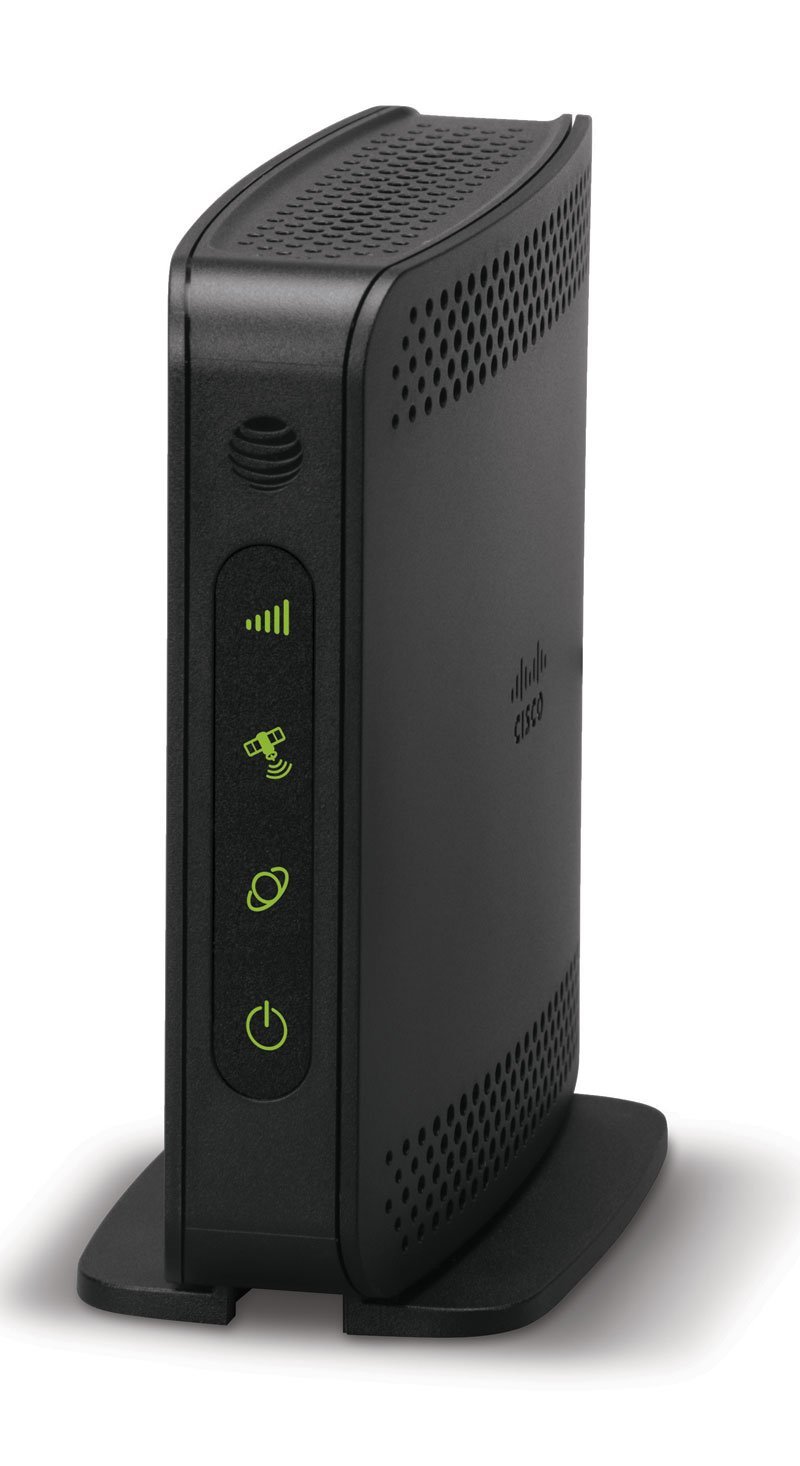 Cisco is a renowned networking industry giant, and any product the company puts on the market is unquestionably high-quality and smooth performing. Every nook and cranny of one of its flagship products, the booster reeks of sophistication and provides the user with several instrumental features and specs to make communication with other people through different devices a breeze. Evidently, the device is compact and lightweight, and the setup process is both quick and easy.

It essentially replicates the efficiency of a network tower, the only difference being that it is more compact and guarantee almost immediate results. Unlike the other alternatives on the market though, the device necessitates that the user subscribes to a plan. You get a bunch of useful feature in return though, like indicators to help you monitor cell signal, GPS signal, and network signal. Boosting signal strength has never been easier as it is with this option.

Expand to see more
In addition to the requisite subscription plan, it is specifically available to AT&T customers and needs a broadband internet connection to work efficiently and optimally. While others may perceive these requirements are involving and unnecessary bureaucracy to boosting weak cell signal, people on the side of the aisle see them as requirement for superior and more reliable service delivery. Whatever your perception, there is no denying the performance, durability, usability, and practicality of the booster is remarkable.

It aims to provide its users with the ultimate connection for their respective cellular devices. The product works smoothly and efficiently with different mobile phone operating systems including Blackberry, Blackberry, Android, and Windows, among others. A potential downside is that it only provides simultaneous connectivity to a maximum of four users. If you have a particularly large family or the more employees in your business or more colleagues at work, you'll have to leave some out.

Installing it at home or in your business premises should be a quick and hassle-free endeavour. The manufacturer provides its customers with a guide containing clear instructions and steps to follow to get the system up and running in under 10 minutes, or less if you are technologically inclined. However, keep in mind that there are caveats that you have to meet for a successful installation. For one, you have to have all the three main components: the internal and external antenna and the amplifier.

Secondly, the device is only compatible with AT&T customers, which means all other users from other major or minor carriers are automatically locked out. Thirdly, and lastly, you'll need to subscribe to the services and have a reliable connection to a broadband internet service. The procedure might sound complicated and demoralizing to would-be subscribers enamoured of its performance quality. But, all the steps are clearly explained in the quick guide book. Plus, you can always contact the customer care representatives who, with their deep knowledge and understanding of the working of the system, should help you resolve any problems you might be experiencing.

Its working is very much similar to those of other on the market. The primary function of the antenna is capturing the cellular signals from an adjacent tower before passing them on to the amplifier which, predictably, strengthens them before passing transmitting them for rebroadcasting within the room or area of your choice. The amplifier effectively brings to an end days when you suffered dropped or missed calls because weak signal strengths. It will be an introduction to a new era of high-quality and crystal clear voice calls and fast connection speeds.

For users in search of a viable solution to dropped cellular signals, the booster will more than suffice. It's capable of accommodating up to four simultaneous users and 2G, 3G and 4G AT&T networks. With a remarkable coverage of up to 2.500 square feet, every part of a medium-sized house will no longer be without a strong signal. Plus, the device is lightweight and compact, and the installation process lasts a paltry ten minutes or less. The only downside though is that it's limited to AT&T customers.

Boosts 3G, 4G, and LTE making it a versatile choice
Incorporates cellular and GPS status indicators
Allows four simultaneous connections
Perfect for domestic and commercial use
Only compatible with AT&T
5. SolidRF SOHO 850 MHz / 1900 MHz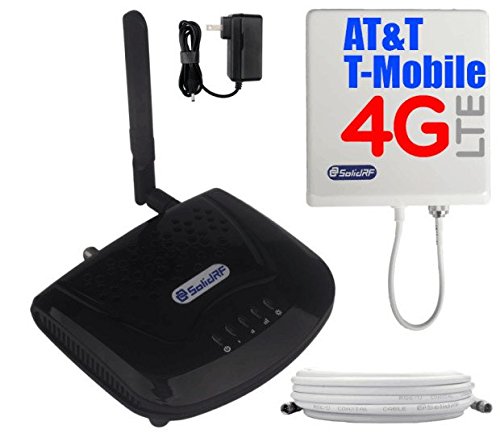 For users who are tired of crouching on the smallest space in the attic to get a few bars on their mobile phones to make a call, it's high time you invested in an affordable, easy to set up, and reliable option. One of the best options on the market currently yet another from the highly reputed SolidRF brand; the SolidRF SOHO 850 MHz/1900 MHz Dual Band Booster for Home and Office. Unlike the previous product, the booster is not limited to AT&T customers only. Any person within the United States and Canada with a cellular device are capable of receiving 4G LTE speeds from the booster.

While the device allows for multiple connections, the quality and strength of the signal suffer the more users it accommodates. Lastly, it provides its users with an impressive 1,200 square foot signal range, which it an ideal choice for use within a room or personal office.

Expand to see more
As indicated in the overview, it is capable of accommodating all the key cellular network providers in the United States and Canada whose frequencies fall between 850 and 1900 MHz. The device is as a result compatible with the following brands: AT&T, Metro PCS 3G/4G, US Cellular, Sprint, and T-Mobile 2G/3G, among others. If, on the other hand, your cellular device uses signal frequencies lying within a range of 700 to 21 MHz, you'll have to look further afield for an accommodative option.

It enters the scene when the user has to contend with low cellular signals on a frequent basis, which then minimizes the frequency or quality of calls and data speeds. It's very frustrating having to try severally to make that important business call with your partners when your call consistently drops. The same goes for when you have to put up with snail-slow data speeds when you an important work-related email you need to respond to. Low cellular signals will also force you to go for days or even months on end without talking to your friends and loved ones when you're away tucked away in a place with a distant cellular tower or topography obstructions.

The SolidRF is a highly reputed manufacturer of some of the strongest signal boosters in the United States and Canada. The booster will ensure you have full bars in your hotel room so you can enjoy crystal clear voice calls and the fastest internet speeds so that making a video call to your business partners or loved ones is a stress-free and effortless endeavour. It has a high-performance external antenna that does an amazing job capturing the weakest signals in the remotest parts of the country, quickly strengthening them before sending them to the internal antenna for broadcasting in the whole room or office space.

It is a robust option that's durably constructed to provide you with several years of service, enabling you to connect quickly with your colleagues and loved one from any corner of the country. The long-lasting and ventilated housing of the device, together with the nestling of the repeater within it ensures the product continues providing you with several years of faithful and dependable service, never letting you down even once when you need it the most.

With the installation in your office or living room, the days of dropped and missed calls are now behind you. It considerably extends signal range while simultaneously increasing data rates and the quality of voice calls, allowing you to stay connected at all times. It also allows multiple cellular devices to be connected at the same time. It will increase your battery life, amplify voice and data, and enable you to stream videos and audios on your devices from anywhere in the country. It's definitely a solid choice.

Provides for quick and hassle-free setup
Comes with a budget-friendly price tag
Helps user save battery life
Perfect for use indoors
Has a useful LED light indicator to help user monitor functioning status
Automatically resets in case for interference
Provides minimal coverage
6. zBoost ZB575-A Tri Band AT&T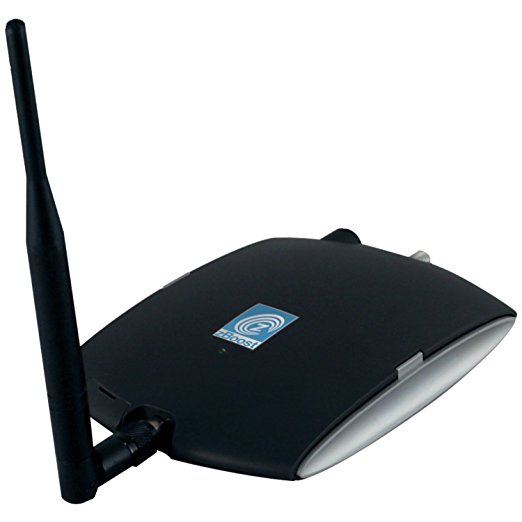 There is a wide array of cell phone signal boosters on the market an individual can choose from. However, only a bunch are worth considering that the rest are cheap, off-brand models that will be more frustrating to use and are just not worth the risk. The zBoost ZB575-A is a welcome exceptional. It is among a handful of boosters that can deliver smooth and effective performance, seeing as it guarantees at least 70 dB gain network reception.

The product is available in two variants; one for AT&T customers and the other for Verizon Wireless users. Also, depending on your needs, you have a choice of between coverage of up to 2,500 square feet and 5,500 square feet. Irrespective of your choice, the installation procedure is fairly quick and easy and, especially since the package includes everything you need including the external antenna and coaxial cable.

Expand to see more
The performance is quite exceptional, a fact which informs its popularity among business people and homeowners living or travelling to places experiencing low cellular signals. The variant with a coverage of up to 5,500 square feet is ideal for use in large spaces like office floor or multi-storey apartments. Irrespective of your choice, the variants offer the user at least 70 dB system gain, which effectively translates to some of the clearest voice calls in the country. Additionally, it makes for a fast internet connection allowing you to receive email updates the second they hit your inbox. The days of suffering dropped calls or missing calls or having to go for days on end without streaming audio or videos of your favourite shows effectively come to an end the moment you receive and set up the zBoost ZB575-A.

It does not matter how vast the office building or residential space is. Provided there is dependable signal outside the builder, or if the signal is one or two bars weak within the building, the performance will be more than exceptional. Also, the design of the booster allows for the connection of multiple users without any of experiencing the slightest drop in signal strength. Plus you can use different mobile phones from all kinds of manufacturers. Whether it's an iPhone, Samsung, Android, or BlackBerry, you and all the simultaneously connected users will enjoy the best coverage.

It is designed with the user in mind. The simplification of the installation process aims to make it easy for the user to get the system up and running on their own, without having to seek professional assistance. If the user is not technologically inclined, as would be expected of the senior members of the society, the brand has several standby customer care representatives to help with the process. They are friendly, knowledgeable, and very patient. Everything you need to assemble the system is in the delivery package. The package includes an amplifier base unit, an indoor antenna, power supply, two RG-6 cable measuring 35 and 15 feet in length, a window entry cable, a high-gain external antenna, as well as mounting hardware.

Novices can understandably feel overwhelmed getting all these components to connect to one another and help boost the cellular signals. But, there is a handy quick-start guide to walk you through the process diligently. Putting the system together should not take more than 10 minutes.

Users living or travelling to places with marginal but reliable cellular signals will find it to be an indispensable companion all throughout the year. The booster provides users with coverage of between 2,500 and 5,500 square feet, depending on the model you choose, and connectivity for multiple users. It is perfect for installation in locales where the outside connection is reliable. After installation, users will experience a significant drop in the number and frequency of dropped and missed calls in addition to enjoying faster and more reliable 4G data performance. Plus, it is affordable and compatible with a broad range of mobile phone models.

An energy-efficient choice that consumes just 7 watts
Has an omnidirectional antenna that ensures the best performance
Has a smart LED indicator to help user monitor operational status
Has an impressive signal coverage of 2,500 sq. ft.
Comes with a sufficient 12-month warranty on components and labour
The installation process is a little complex
7. weBoost Connect 4G-X 471104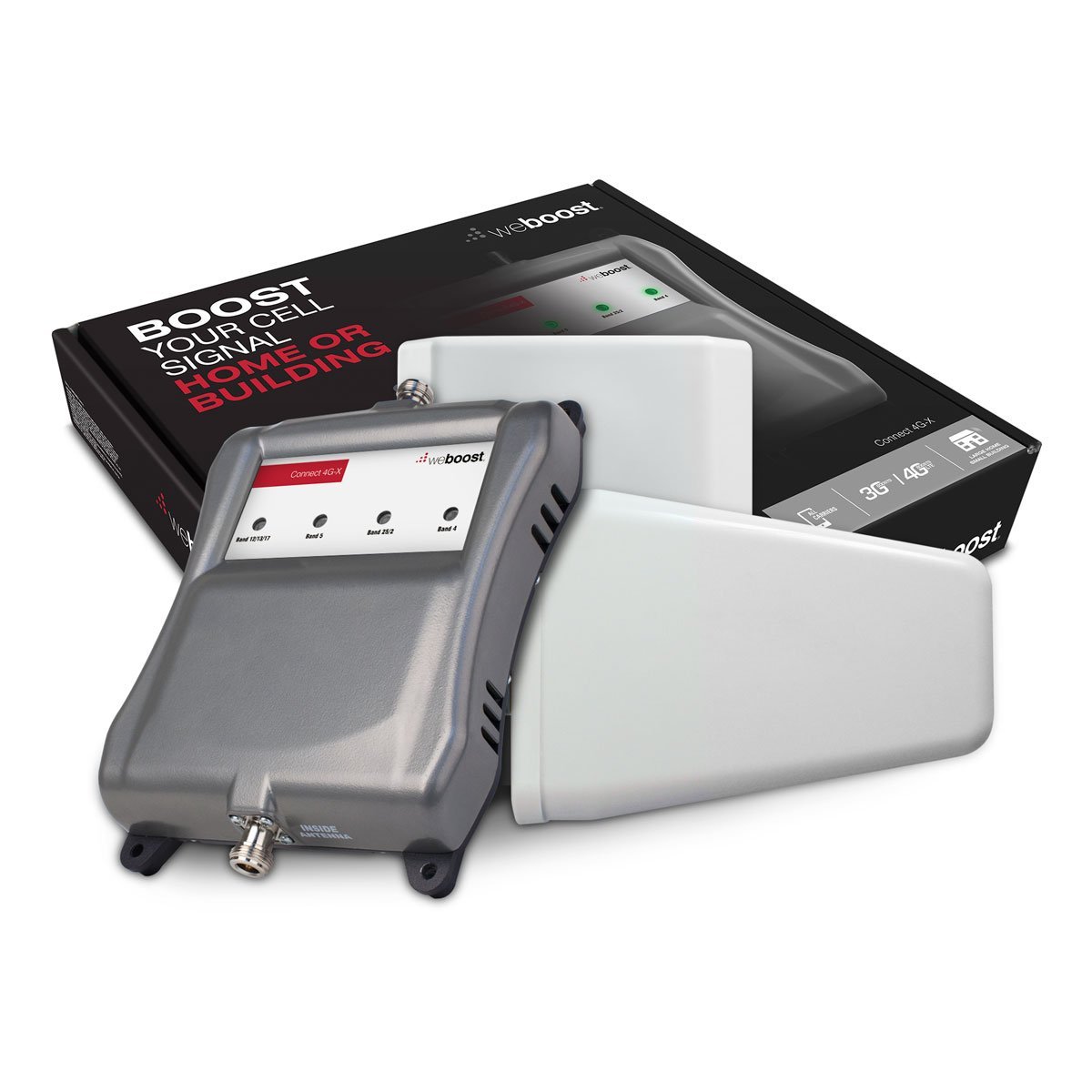 Another formidable option for boosting weak cellular signals is the durable and reliable weBoost Connect 4G-X 471104. However, a quick check on various seller sites on the Internet quickly reveals that the cell phone signal booster by no means a cheap model. It features a premium price tag which, in our opinion, is totally justified and reasonable considering its level of performance. The product packs all the features homeowners and travellers look for in a booster to stay in touch with colleagues back in the office and families at home. If it were not for the exorbitant price tag, it could have very easily come first on the list of best options on the market.

One of the features that justify its costly price is its exceedingly powerful performance in increasing the strength of the cellular phone signal. The machine is a workhorse that works effortlessly and reliably even when you place it the remotest location of the tallest multi-floor building in town. The external and internal antenna work in tandem. The work of the former is capturing and pulling in the cellular signals, amplifying it several times before transmitting it to the internal antenna for rebroadcasting within the house or office space. Consequently, it accords the user a generous coverage space of at least 7,500 square feet, which is more than twice the coverage some boosters will provide you. It is, therefore, an ideal choice for use in large houses, in the outdoor settings, and even personal office spaces.

Expand to see more
Aside from its prowess at amplifying the weakest signals and making them 32 times as strong, the weBoost Connect 4G-X 471104 is also capable of enhancing both 3G and 4G signals, thereby ensuring you're never left without network coverage at any time. Another unique selling point of the booster is its compatibility with all the key cellular providers in the United States as well as those in Canada including Verizon, AT&T, Sprint, T Mobile, US Cellular, and Straight Talk. Whether you'll be using it within the borders of the US or crossing over to the north, you'll still have coverage to ensure you have fast connection speeds for downloading and uploading thing to the internet and a crystal clear voice calls.

The other features that make it a worthy consideration is its incorporation of oscillation detection and automatic shutdown features. In addition to these features, the booster also comes with time and effort saving automatic gain control features. The latter feature provides for automatic self-optimization, ensuring that the performance of the device is always optimal, irrespective of the time of day or night. People lacking in technological inclination will love the fact the installation process is both straightforward and stress-free, unlike that of other boosters that are deliberately complex to lock out certain age groups. You won't need any special tools or have to call the company for assistance because it is a smooth sail all through.

Overall, the advantages are fairly obvious and far outweigh the main downside that's the premium price. As a result, it makes life a lot easier for individuals or families living in places with erratic cellular signal coverage by guaranteeing stronger cellular signals for seamless communication and internet connectivity. From now on, making voice calls will be an assured thing as there will be no more dropped calls, and neither will you have to miss calls because of poor coverage. Downloading and uploading speeds will likewise be much higher. The weBoost Connect 4G-X 471104 comes with a 24-month warranty, and another generous 30-day money back guarantee if its performance does not meet your expectations.

Boasts outstanding signal enhancing prowess that helps conserve battery life
Eliminates buffering when streaming video and audio clip
Works with both small and big carriers in the country
The reliable signal doesn't drop even with movement
Spots smart technology that optimizes the weakest signals
8. SureCall Flare Kit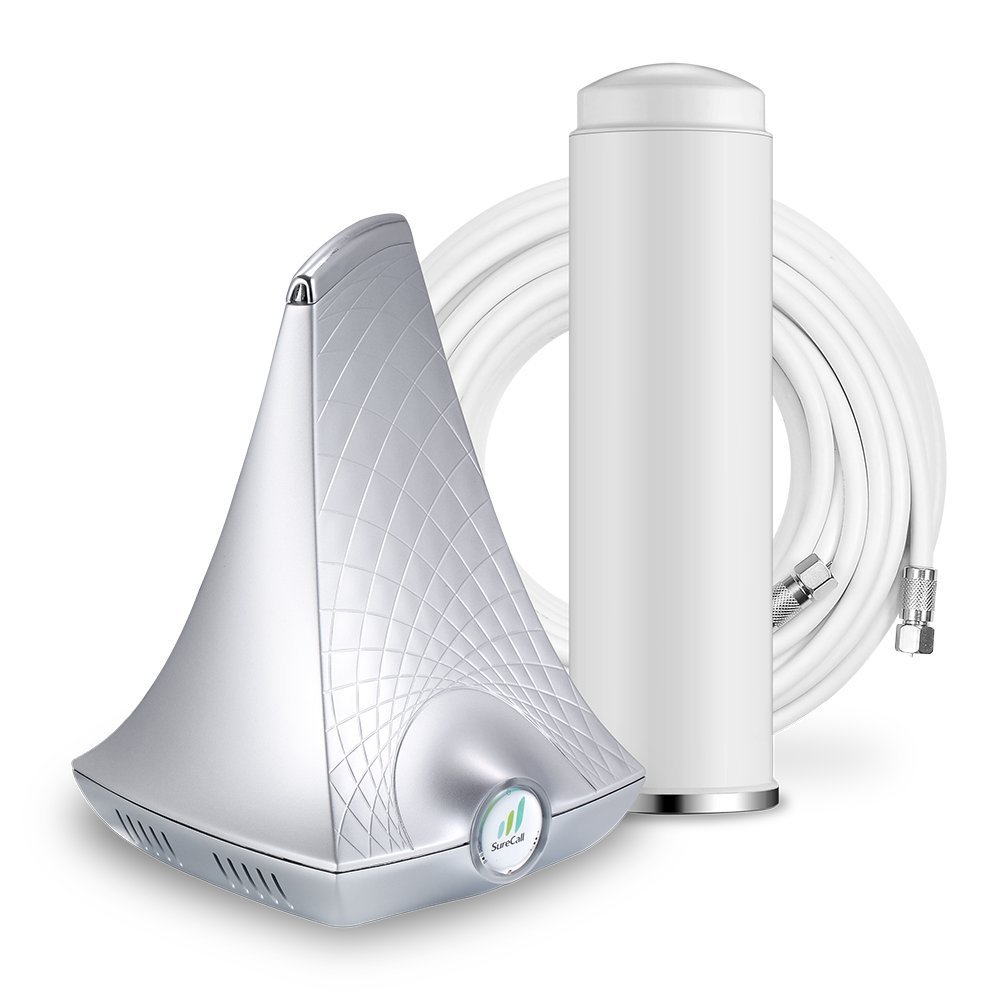 Before we get into the performance and reliability and durability aspects of our 8th option, the SureCall Flare Kit for All Carriers, let's take a moment to consider its physical attributes. Unlike the vast majority of boosters we've reviewed already, only this product has sleek, modern, and aesthetically appealing looks.
Consequently, wherever you put it within the house, say the living room, it perfectly blends with the
décor
and immediately becomes the focal point of that space, much to the chagrin of your latest electronics. To this add a slim and lightweight profile that allows for effortless and easy installation in various stations within the office or rooms within the house for optimal cellular signal strengthening. Having covered that, let's jump right into the features and specs that make this option stand out in an increasingly competitive field.
While it's a compact design, it does an amazing job bringing together the two most important features of a traditional whip antenna: functionality and reliability. It perfectly combines these two to provide the user with a long-lasting, stress-free and convenient connection experience. The device has a knack for boosting voice, text and 4G LTE signals for all the major cell carriers in the United States and Canada, some of which include AT&T, Verizon, Sprint, and T-Mobile, among others. The result is a drastic reduction in the frequency of dropped and missed calls while and a corresponding improvement in 4G LTE data speeds.
Expand to see more
Moving forward, you'll be amazed at the crystal clarity of your voice calls and the speed at which you'll be accessing your emails or uploading and downloading work-related documents. These improvements are of course most noticeable when you use it where cellular signal strength is less than ideal, either because it is far removed from the nearest tower or there are several obstructions between the tower and your position.

It has a coverage range of up to 2,500 square feet. That's enough to cover one to two rooms in a house or a personal office at your place of work. Provided you're within the stipulated range, the days of missed or dropped calls or snail-slow internet speeds are long gone. Like most other, the product comes with its own components, or accessories, that after being connected to each, allow for its efficient and optimal functioning. The components you get with the kit are the indoor booster, a coax cable, and an outdoor antenna. You can skip the next paragraph on how the whole system works if you don't have a thing for technical language or are not a nerd.

So, here is how it works. It all starts with the outdoor antenna that captures the signals from the nearest cell tower and sending them to the booster. The subsequent step involves the booster amplifying the cell signals before sending them to the interior antenna. For its part, the inside antenna's work rebroadcasting the signals within the building to all the available mobile phones. Lastly, the booster again amplifies the outgoing signal, so it quickly reaches the nearest cell tower.

While the manufacturer specifies a coverage space of up to 2,500 square feet, this largely depends on some factors, the most important being the strength of the outdoor signal. For optimal performance in case of a weak outdoor signal, it's highly recommended that the user switches to using an omnidirectional Yagi antenna, as is the case with the Fusion4Home Yagi/Panel.

The installation process is quite simple so that even greenhorns using it for the first time can get it up and running in no time. In addition to the already mentioned components, the others are the RG-6 coax cable, which measures a generous 50 feet, an AC power supply, and a quick setup guide that details the installation process for the not so technologically inclined. All these components, excluding the quick setup guide, of course, come with a 36-month manufacturer's warranty. That assurance should give the user peace of mind and the confidence that the system is manufactured to the highest possible quality standards.

To summarize, this kit is another affordable yet very practical and reliable booster that's compatible with national carriers in the United States and Canada. The device efficiently boosts the user's voice, text, and 4G LTE signals, thereby allowing for seamless connection with the adjacent cell tower. With a maximum coverage of 2,500 feet, it is a perfect choice for use domestic and commercial use. Plus, it supports up to eight simultaneous users.

Has a maximum coverage range of 2,000 sq. ft.
Package includes a sufficiently long 50-foot cable
Supports 3G, 4G, and LET
Installing indoor hardware is very easy
Allows the connection of multiple users
Mounting outdoor components requires some effort
9. weBoost Home 4G 470101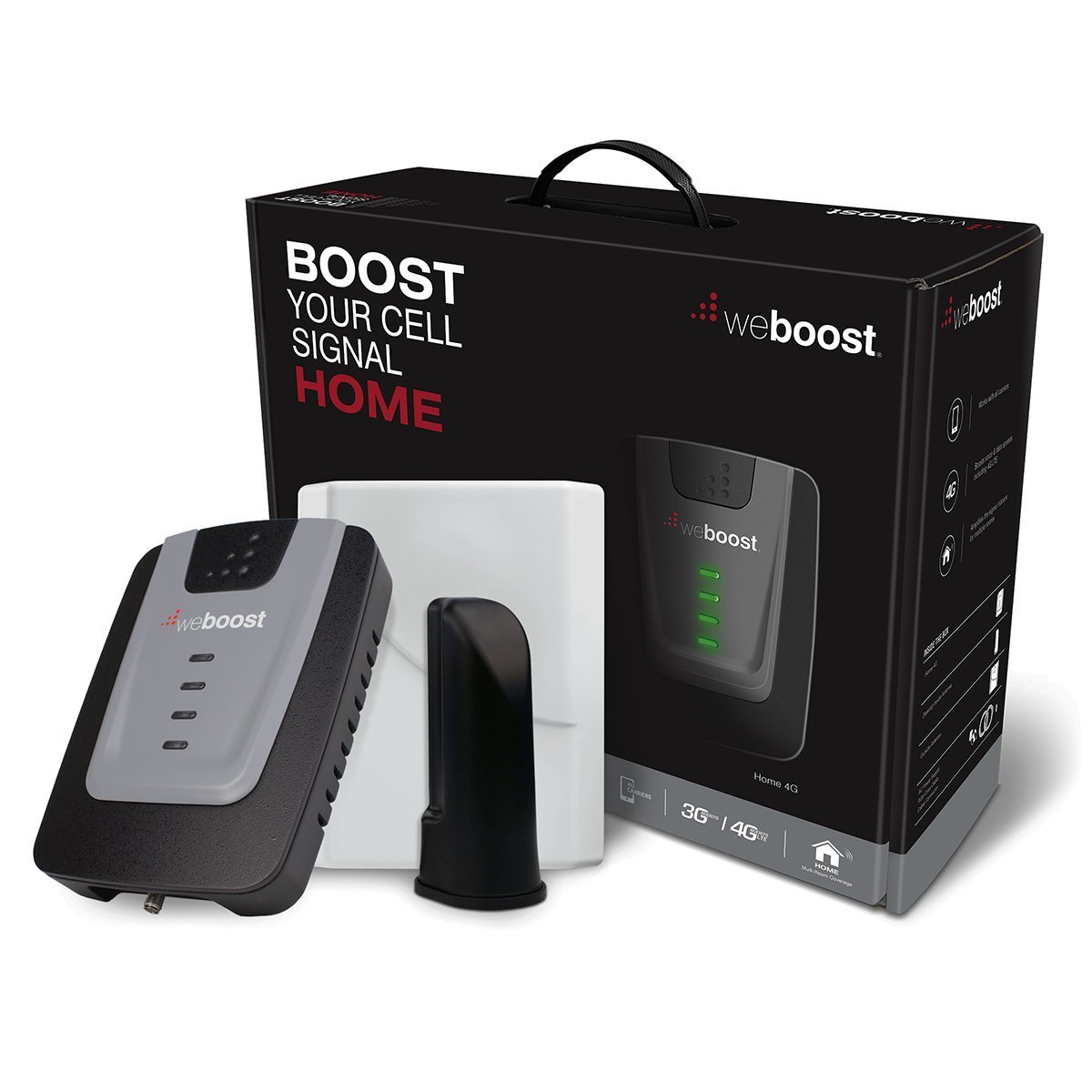 Another remarkable option on the market currently that boasts optimal performance and comes with a budget-friendly price tag is the weBoost Home 4G 470101 for Home and Office. Like all other boosters, its main responsibility is strengthening data stream to every corner of the house and office, and allowing for the simultaneous connection of several phones. The installation process is a quick and easy undertaking, especially because of the ease of positioning the indoor antenna. Moving forward, your room or office space will always be blanketed in a reliable and strong cellular signal reception, allowing you to stay in touch with your family members and colleagues from anywhere within the United States or Canada.

It gives you the peace of mind and confidence you need to make that important business call to your business partners, colleagues back at the headquarters or to stay in touch with your loved ones without the fear of the call dropping. Because it boosts the 4G LTE and 3G signals at home and anywhere else, it will help you keep in touch with office business even when you are away holidaying in the other part of the country. It offers the user a generous and sufficient signal boosting range of up to 1,500 square feet, which adequately covers between one and two rooms and therefore effectively brings to an end the days when you suffered missed calls because of poor or weak cellular signal reception. The device works by amplifying the existing weak signal thereby giving you a stronger connection for those elusive crystal-clear voice calls and incredibly fast data speeds.

Expand to see more
Since the connection will be up to 32 times stronger with it than without it, your business and social life will never be the same again. Fast internet connections mean fast internet connections which in turn translate to faster upload and download speeds and neither will you experience the slightest buffering when catching up on your favourite streaming TV shows and movies. You can even video call your loved ones from just about any part of the country. Plus, it is compatible with all cellular devices including smartphones, tablets, data cards, and even notebooks.
Additionally, it works with all the carriers in the United States. Unlike some other on this list, the product is not restricted to a particular carrier. Whether you're on Verizon, AT&T, Sprint, T-Mobile, Straight Talk, or U.S. Cellular among others, the device will seamlessly accommodate you. The connect goes through even when the user has subscribed to a plan with any of the aforementioned carriers. In addition to improving your connection, it also provides for the connection of multiple users. You can, therefore, bring it to work with you and connect your colleagues.
The next point will be particularly appealing to the members of the society who are, to some extent, averse to new technologies or simply put, not technologically inclined. While it's a general complex device that incorporates the latest technologies to ensure it works smoothly and flawlessly, setting it up and getting it to run smoothly is fairly easy. This boosster is a fairly simple DIY installation, and the package contains a quick set up guide to walk you through the entire process.
With a little motivation on your part, assuming you're a novice, you can get the device running correctly in just ten minutes! The package comes with all the accessories and components you need to make a connection. There's absolutely no reason you should spend any extra money for
professional assistance
. And even if you're than technologically averse, you can always enlist the help of your teenage kid or grandkids.
The performance will always be optimal, thanks to its incorporation of patented smart technology that accurately detects the presence or availability of cellular signals, which helps in electronically optimizing its performance. Boasting a signal gain of up to 60 decibels, the booster works hard all around the clock, always optimizing to ensure you enjoy the strongest signal and connection.
In all, the weBoost Home 4G 470101 comes with a host of auxiliary features that considerably raise its performance, effectively putting it on the same level with several other top-of-the-line boosters. For one, it is compatible with a wide array of carriers in the United States. Secondly, its performance is exceptional and very dependable, thanks to its automatic gain settings, easy and quick installation, and energy-efficiency. Plus, it is quite affordable and easy to use. On a negative note though, the device suffers dropped reception in poor weather. Aside from that, it is easily one of the best ever made.
Boasts wide compatibility with several carriers
Equipped with an automatic gain setting for reliable and consistent performance
Increases battery life, thanks to its reliable performance
The installation procedure is easy, lasting a few minutes
Ensures exceptional clarity of voice calls
Expectedly, adverse weather conditions affect performance
10. weBoost Drive 470107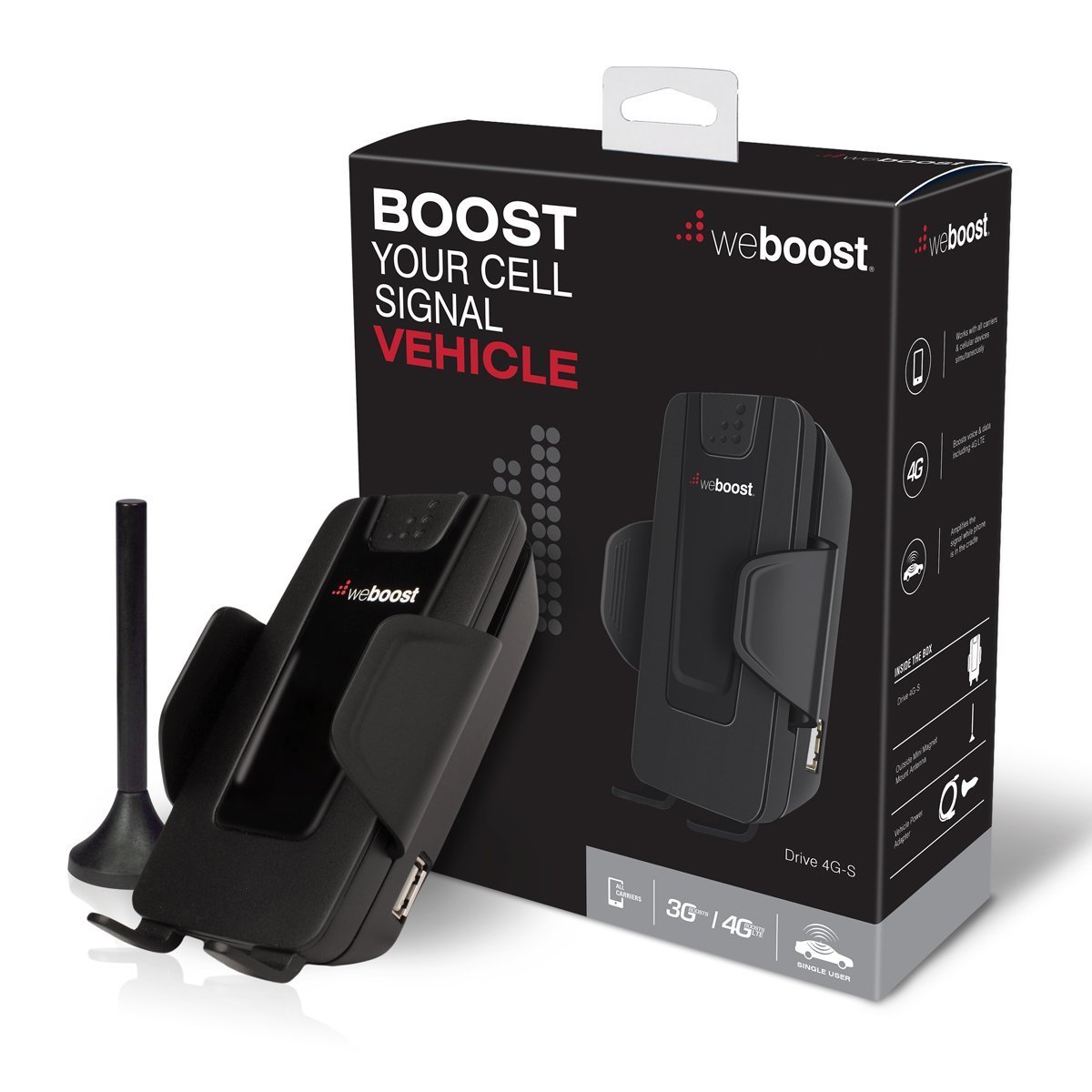 For the outdoor enthusiasts who spend most of their time on the road, sometimes to destinations with weak or poor cellular network coverage, a cell phone signal booster is a must-have tool. There are several options out there one could choose from, but only a few stand out, which is why the 10th best cell phone signal booster goes to the weBoost Drive booster for trucks and cars. Its performance is not any different from those of other boosters on this list, except for the fact that it's optimized for use in cars and trucks. Let's do an in-depth review to reveal exactly why the product ticks with car and truck drivers.

To begin with, setting up the weBoost Drive 4G-S 470107 and getting to run smoothly and seamlessly is a simple and straightforward DIY procedure. The package comes with all the components that once connected together, allow it to as advertised. These are the external antenna, a DC charger, and a USB cable. In case you were wondering, the external antenna comes with a magnetized base that easily and firmly attached to the roof of the vehicle so strongly that fast-moving winds won't be able to uproot it or interfere with its performance.

Expand to see more
After a successful installation, it wastes no time in starting to boost the weak signals in your locale. It is capable of boosting the 4G signal for a wide range of cellular providers, including Verizon, AT&T, Sprint, T-Mobile, U.S. Cellular, and Straight Talk, among others. Wherever you go within the United States, your booster has your back. The result is a drastic reduction in the number and frequency of missed and dropped calls and the start of a new era where you'll be relishing better voice quality, faster internet speeds and non-buffering video and audio streams.

It is similarly capable of boosting cell signals up to 32 times stronger, thereby enhancing 4G and 3G connectivity. Whether you'll be traversing mountains or hills to get to your business or holiday destination or not, you'll always have the ability to keep in touch with the people you leave behind. You can easily video chat your loved ones even when your hotel is far from the nearest cell tower or if there are numerous obstruction preventing your phone from receiving full bars. Unfortunately, though, it accommodates just one user at a time. So, unless you're alone on the trip or is comfortable sharing a communal phone, you can always consider looking for better alternatives on the market.

For the ardent traveller looking for a way to boost the signal strength on their cell phones, look no further than the sturdy, high-performance, reliable and affordable weBoost Drive 4G-S 470107. It's lightweight and compact characteristics, and simplicity of its design allow for quick and effortless installation of the external antenna on the roof of the car. The cell signal booster, once up and running, will efficiently boost cell signals up to 32 times, providing you with crystal-clear voice calls and faster upload and download speeds. Keeping in touch has never been easier, more reliable and affordable as it is with this option.

Quick and simple installation
Ensures voice calls are clear and internet speeds are fast
Helps conserve battery life
Works efficiently with 3G, 4G, and LTE
Has a generous 24-month warranty
Unfortunately, it accommodates just one user at a time
Criteria for Choosing the Best Cell Phone Signal Boosters
Performance and Quality of Antennas
The vast majority of cell phone signal boosters have both indoor and outdoor antennas. And the performance of your product rests, to a large extent, on the build and quality of these two. It goes without saying that the cheaper your product, less efficient its antennas will be at capturing and amplifying cellular signals to provide you with the highest quality voice calls and fastest internet speeds.
You are liberty to choose between an omnidirectional and directional antenna, with the former boasting the advantages of being easy to set up and requiring less effort in aiming it in an area with multiple cell towers. However, its performance is easily affected by other antennas in the area. Directional antennas, on the other hand, require some effort to set up but their performance is exceptional in an area where the signals are particularly weak.
Support for Several Users
A third but important consideration when deciding on the most suitable cell phone signal booster to purchase is the number of users it can simultaneously support at any given time. This is important because the vast majority of cell phone users typically live with other people, who have mobile phones, too. And even one lives alone, it's customary for one to host friends and families occasionally and the last thing they want is coming over to a place with no network coverage. Consequently, it would be advisable to buy a cell phone signal booster capable of simultaneously supporting several users without a reduction or drop in performance.
Compatibility with Available Carriers

Assuming all cell phone signal boosters are compatible with all the carriers operating in one's country would be a gross and expensive mistake. All the cellular carriers have their unique frequencies and networks, which makes all the more important that you get a product capable of handling the signals your preferred carrier is broadcasting. While some products are capable of boosting certain network carriers, it might not have the capacity to do so with others. Check with the brand or on the product label to ascertain whether your carrier is listed.
Customer Support
One last important consideration you don't want to overlook when shopping for your cell phone signal booster is the quality of their customer support. The significance of this consideration is informed by the technical nature of cell phone signal boosters. Depending on the ease of getting the product to run effectively, you might have to call the company for guidance on a few issues you might experience. Some areas you might clarification on are the carrier compatibility, signals on the nearest products, and services, among others.
You need to buy from a brand whose representatives are extensively knowledgeable on the subject matter, are quick to respond, and most importantly, helpful. If they lack all of these qualities, getting help with troubleshooting various aspects of your product is going to be a nightmare, literally. You someone who is patient enough to pay attention as you describe the problem, knowledgeable enough to understand what the problem is and ask pertinent follow-up questions, and who can walk you through the relevant steps to get the problem fixed.
Frequently Asked Questions
Q: How do cell phone signal boosters really work?
A: To clearly understand how the machines work, it's first prudent that you know the three main components that make up the whole system: the outside antenna, the inside antenna, and the amplifier. In the first stage, the outside antenna captures the existing signal from the nearest cell tower and sends it to the amplifier. On receiving the signal, the amplifier, well, amplifies or boosts the signal several times, sometimes up to 32 times, before sending or transmitting it to the interior antenna. On receiving the boosted signals, the indoor antenna simply rebroadcasts it to the surrounding space, allowing the cell phones to then connect to stronger and more reliable signals for seamless voice and text communication.
Q: Is there a specific cable that works best with cell phone signal boosters?

A: The vast majority of manufacturer provide cables with the product, saving the user the trouble of searching for one on the market. Out of your own volition, though, you may decide to use a different cable for optimal performance, in which case you have a choice between the commonly used coaxial cable and the ultra-low-loss cable. While the former may be of high quality and capable of lasting for a considerable amount of time, it lacks the latter's ability to maintain signal strength over a substantial distance. The choice is entirely yours.
Conclusion
Over the years, cell phones have steadily become part and parcel of human life, helping make life more enjoyable and convenient. Given this indispensability, it is only natural for users to carry the mobile devices wherever they go, helping them stay in touch with friends and family and colleagues and just about everyone else in their social and business circles. Unfortunately, not all places have the best cell service, which means that carrying a cell phone signal booster is sometimes the best option. These products are easy to install, energy efficient, compact and very portable, allowing you to travel with them to different destination around the country. Our list features the best of the best. They are affordable, display exceptional performance, and are very reliable. We hope the list helps you get the most suitable cell phone signal booster.
Subscribe to our newsletter