10 Best Garbage Disposals: Detailed Reviews and Ratings
last updated:
Aug 17, 2018
Food waste can be a menace. It can not only cause health problems, but food scraps end up stinking your home and attract pests as they sit in the trash can. Raccoons are some of the common pests you have to deal with if you leave food scraps around and they are a nuisance to deal with. Also, food waste is contributing to environmental degradation. Landfills in the USA are already overflowing and adding 34 million tons of garbage annually is just crazy. You can compost your food waste, but if that's not possible, we implore you to get a garbage disposal.
Our Top 3 Picks
[srpshortcode id="17023″][/srpshortcode][srpshortcode id="17024″][/srpshortcode][srpshortcode id="17025″][/srpshortcode]
Garbage disposers can grind food waste into extremely tiny pieces that can go down any drain. They can then end up in a waste treatment plant or your septic tank over the landfill where they only contribute to greenhouse gas emissions. They can pulverize most waste but don't expect them to grind fibrous waste such as corn husks or banana peels. We recommend you others means to deal with that waste. Even so, there is always the question of how do you ensure you are getting the best value for your money when making a purchase. If you need recommendations, below are our picks for the best garbage disposals.
Also, we recommend you follow the guide below if you decide to purchase a unit that's not listed below.
10 Best Garbage Disposals
1. InSinkErator Evolution Excel 1.0 HP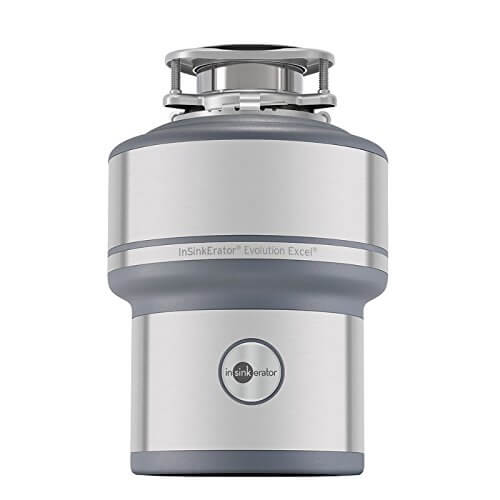 If you are in the market for a unit that will crush bones and grind hard vegetables, we recommend you purchase the Excel by InSinkErator. This is a unit that has achieved perfection if not excellence as it checks all the boxes that make a garbage disposal excel. First, it is affordable enough that people on a tight budget can afford it, it does its job exceptionally with the 1HP motor that can crush any amount of waste, and has durable components, that is stainless steel parts, that enhance its durability.

This attention to minor details is what makes InSinkErator gadgets some of the best in the market. However, what stood out for us was the powerful sound reduction technology and the multi-grind technology.

Sound Seal Technology – Over the last 75 years, InSinkErator has become a household name and their patented sound seal technology is one of the top reasons if not the top why it has such an outstanding reputation. The technology allows the unit to create virtually no noise, and can be used at any time without disturbing people in the house.

Multi-grind technology – If you deal with large amounts of waste, or you are looking for a unit that can grind rough waste, we implore you to get the Evolution Excel. The three-stage crushing technology can make quick work of anything from banana peels to bones or any hard vegetables and dramatically reduces the chances of your drain clogging.

The DuraDrive technology is another reason to get this unit. You will instantly tell the difference between the 1HP induction motor and other units. Also, you will appreciate the quick lock mechanism that makes installation a breeze.

Expand to see more
Product Features

1HP DuraDrive induction technology
Multi-grind technology with three grind stages
Sound seal technology
40 oz. grind chamber
Auto-reverse grind system
Weight: 25.6 pounds
Dimensions: 13 * 12 * 12 inches

Who is it for?

Given the incredible power on this disposer, we only recommend it for large amounts or rough waste.

The strong point of the Evolution Excel has to be the sound-seal technology; you can use it at virtually anytime without disturbing the occupants
Installation is seamless thanks to the quick lock technology
The 1HP motor will make quick work of any waste
Made of stainless steel that ensures the longevity of the item
Has a 7-year home limited warranty
The only concerns is that its wickedly expensive, and it lacks a power cord which you have to purchase separately
2. InSinkErator Evolution Compact 3/4 HP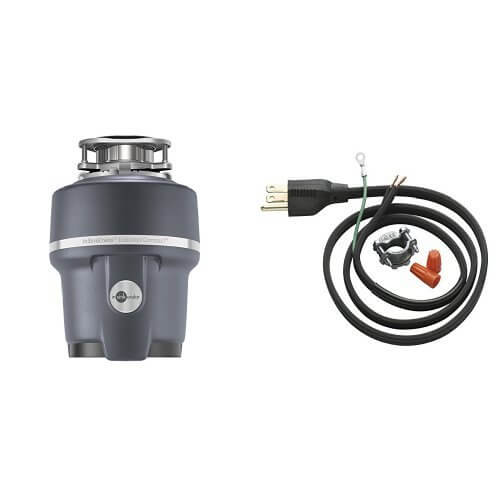 Another premium product from InSinkErator, the Evolution Compact offers unmatched performance at a not so premium price. If you are looking for bells and whistles in a disposer, we suggest you take a look at the Evolution Compact. First, it is made in the USA to ensure that the highest quality standards are met. Second, the grind parts are stainless steel which enhances their durability and longevity. Also, the 4-year in home warranty is another reason you should consider this unit. Nevertheless, what piqued our interest was the space saver design, and the sound seal technology.

Sound seal technology – The ability to keep noise at a bare minimum is InSinkErator trump card. The patented seal technology keeps the unit significantly quieter and also has anti-vibration features in the sink mount and an anti-vibration tailpipe.

Space saver design – Space saving features are crucial for a disposer to be a top contender. The Evolution Compact has a tiny footprint and will save you space freeing up the rest for other purposes.

Other remarkable features were the 3/4hp motor which is perfect for large families and to grind hard vegetables, the DuraDrive technology which is one of the most powerful for noncommercial disposers and the multi-grind technology. The Evolution Compact has two grinding chambers and can handle large amounts of waste.

Expand to see more
Product Features

3/4hp induction motor
Sound seal technology
Four years-in-home warranty
1725 RPM

Who is it for?

Given the large 34.6 ounce capacity, the Evolution Compact will be ideal for large families or if you entertain guests often. Also, if you are pressed for space, we suggest you get this unit.

A unit with speed, finesse and grind power to handle harsh waste
Has a space saver design and thus perfect for people with limited space
Has a large capacity at 34.6 oz.
Made of stainless steel parts that increase the longevity
The chief concern with this unit is the slow drainage of the sink owing to the rubber baffle
3. Waste King Legend Series 1/2 HP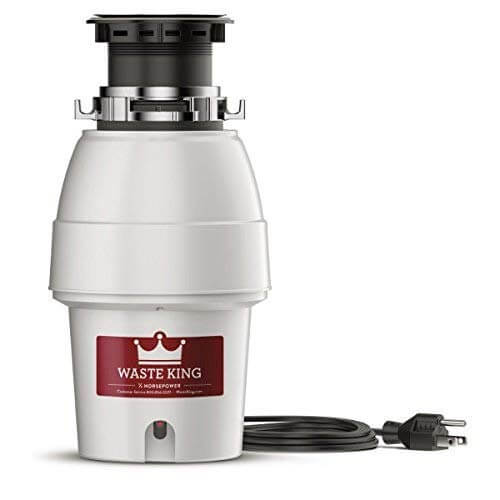 Part of le EZ legend series, the L-2600 is a unit you should consider if you are on a tight budget. Also, it should be an option if your space is limited, or you are only looking for a unit that can grind soft waste. With a ½ hp motor, we wouldn't recommend it for harsh residue. However, if you are tired of cleaning out clogs, trying to rescue your silverware, and tired of the awful noises that emanate from a drain, we implore you to get the L-2600. Other than the design, we also love the simple installation.
Design
– First, the L-2600 is has a
space saver
design. Therefore, it will function well for persons with limited cabinet space. Also, you will love the stainless steel grinders that promise longevity. Other parts are corrosion free too enhancing their durability. The unit to is designed to consume less energy than a 60-watt bulb (read energy efficient) and the 2600 RPM is quite impressive.
Simple installation
– Ease of installation is an ingredient for a disposer to be considered user-friendly. The EZ mount install makes installation seamless, and all the hardware you need is availed with the unit.
Another exciting feature of the Waste King L-2600 is that it's insulated. It thus makes for quieter operation and the power cord that's sold with the unit eases connectivity.
Expand to see more
Product Features

Space saver design
½ hp permanent magnet motor
2,600 RPM
Five year-in-home limited warranty
Continuous feed disposal

Who is it for?

The L-2600 isn't the least priced unit, but it offers value for a not so premium price. We recommend it for homeowners on a budget and have limited space.

Affordable
It is a continuous feed unit, and thus it can handle a continuous stream of waste
Made of stainless steel parts for longevity and durability
The EZ mount system makes installation a walk in the park even for first-time installers
Environmentally friendly with the unit consuming less power than a 60-watt bulb
The only shortcoming of the L-2600 is the plastic outer shell which isn't as durable as the stainless steel interior
4. InSinkErator Badger 5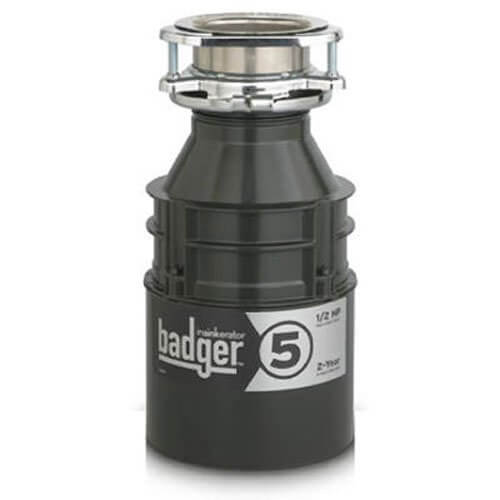 Yes, it's another InSinkErator disposer which is a show of the company's exceptional quality, and dedication to excellence. Despite the Badger 5 being more than ten years old, it is still one of the best selling models. The InSinkErator monitor helps increase the trust in consumers, but the simplicity, the appropriate motor strength, and the durable construction too are other reasons why it is a trusted unit. The unit features a ½ HP motor and Dura-Drive tech which increase the reliability of the unit.
Though the ½ HP motor isn't strong enough to grind bones, it is sufficient to handle all other waste. The Dura-Drive, on the other hand, increases the precision and durability of the unit. However, we appreciated the galvanized steel build and the Grind technology most.
Galvanized steel build
– The Badger 5 grind chamber is galvanized steel and not stainless steel. First, galvanized steel is cheaper and it's the only way to get the low price point, and it is more corrosion resistant in some instances.
InSinkErator Grind technology
– InSinkErator has been making waste disposers for more than 75 years now. In that time, they have created cutting edge tech that makes their units standout, and their grind technology is one such tech. The GrindShear ring turns tough foods into mincemeat and liquefied so that it smoothly flows.
Another fascinating feature is the quick
lock technology
that simplifies installation. By and large, it is a premium product, for a not so premium price.
Expand to see more
Product Features

½ Hp motor
26 oz. grind chamber
2-year in home limited warranty
Anti-vibration connection

Who is it for?

Given the power of this motor, we only recommend for small amounts of waste.

Easy to install
Will work with your septic tank or sewer
Durable thanks to the galvanized steel build
The two concerns with this unit are the average quietness and the plastic outer shell
5. Waste King Legend Series 1 HP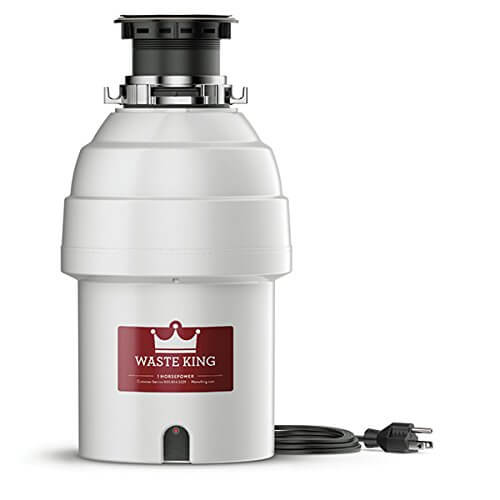 Other than InSinkErator, Waste King is a leading brand in the manufacturing of waste disposers. The Waste King moniker should be enough to tell you of the quality of an item seeing as their items are manufactured in the United States where they can exercise higher quality controls. However, other than the name, the L-8000 has a lot to brag about. It has a powerful motor with unmatched speeds, a lifetime warranty and stainless steel components, an attractive and streamlined frame for those concerned with the appeal and a jam free and mess free feed. The best features on this unit are:

Powerful motor – At 1 HP, the vortex permanent magnet motor is the strongest on this list. It gets the blades to a 2,800 RPM with more power per round than any other unit. This is enough to make mincemeat of any hard vegetables and bones. If you are looking for a disposer that can handle harsh waste, we recommend you get the L-8000.

Insulated stainless steel grinding chambers – In a waste disposal, you should always consider the noise the unit produces and the longevity. The grinding components are stainless steel for durability and are insulated. Also, the chamber is glass-filled nylon which is corrosion resistant.

Being a continuous feed disposer, it can accommodate a constant flow of waste, while the swivel impellers will reduce jamming. We also appreciated the simple to remove splash guard and the lifetime warranty.

Expand to see more
Product Features

1 HP motor
Lifetime limited warranty
2,800 RPM
Weight: 11.4 lbs
Product dimensions: 16 * 8.5 * 8.5 inches

Who is it for?

We would only recommend these for large households or people who want to grind rough waste. It is also affordable, so if you are on a budget, you can get this unit.

It is easy to clean thanks to the simple to remove splash guard
At 1 HP, it delivers the most power per round than other similar disposers
Has a lifetime warranty
The stainless steel components enhance the longevity
It is a quiet unit as Waste King has insulated all parts in the grinding chamber
Simple to install owing to the EZ mount install system
The splash guard makes putting in waste a bit awkward
First-time users will find it difficult to install
6. GE GFC525V .5 Horsepower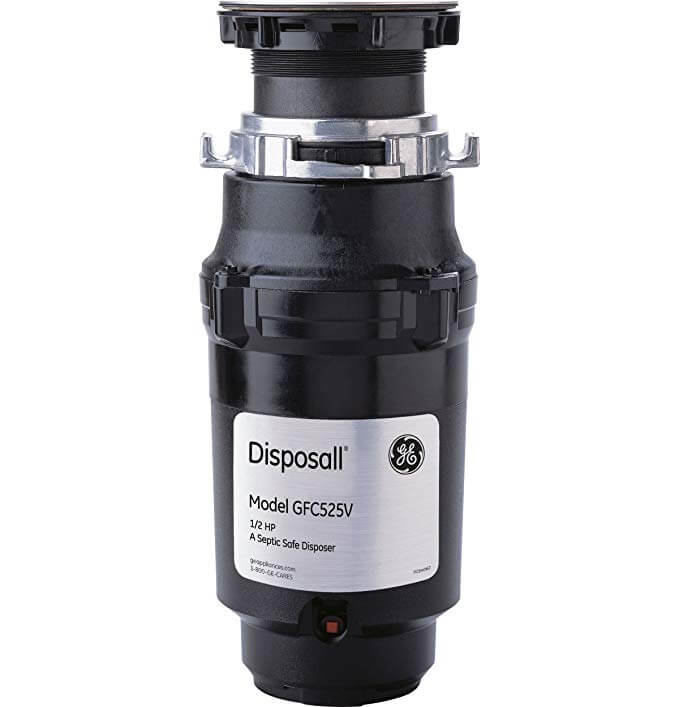 General Electric has a knack for creating items that are of good quality and are trusted by customers. The GFC525V is a testament of this prowess and will benefit any customer. With the quiet, durable, and efficient performance, this unit will make quick work of any waste. It boasts of a high RPM at 2,800 rotations per minute with higher torque and is less likely to clog compared to other units. It also has a longer lifespan, and as such you don't need to concern yourself with maintenance. Our best features are:

EZ Mount System – First, everything you will need for installation is included with the EZ mount system, and installation is seamless. However, you will also love the splash guard and the rubber stopper. If you are looking for a continuous feed unit that is safe to use around kids, we recommend you get this unit. The two features reduce the chances of small hands reaching into the item, or silverware being dropped down the drain.

Drain Boost Technology – This technology is exclusive to GE disposals, and it increases the life of your unit and your home's plumbing by forcing water to flow in one direction.

The ½ HP permanent magnet motor should be a consideration. For size, it happens to be the strongest on the market. Also, the stainless steel grind increases the longevity of the tool.

Expand to see more
Product Features

Weight: 9 pounds
Continuous feed disposer
Dimensions: 5.2 * 5.2 * 12.8 inches
Drain boost technology
Stainless steel grinding chamber

Who is it for?

We recommend the GFC525V for persons who have limited space as the unit is compact. Also if you are on a budget, you can get the GE GFC525V.

The drain boost technology helps reduce the chances of clogs by forcing water down the drain with the angled fin
The GFC525V is stainless steel which increases the longevity of the tool
It is easier to install with fewer steps
There are instances when the water may drain slowly, owing to the rubber stopper
7. Waste King 1.0 Horsepower Garbage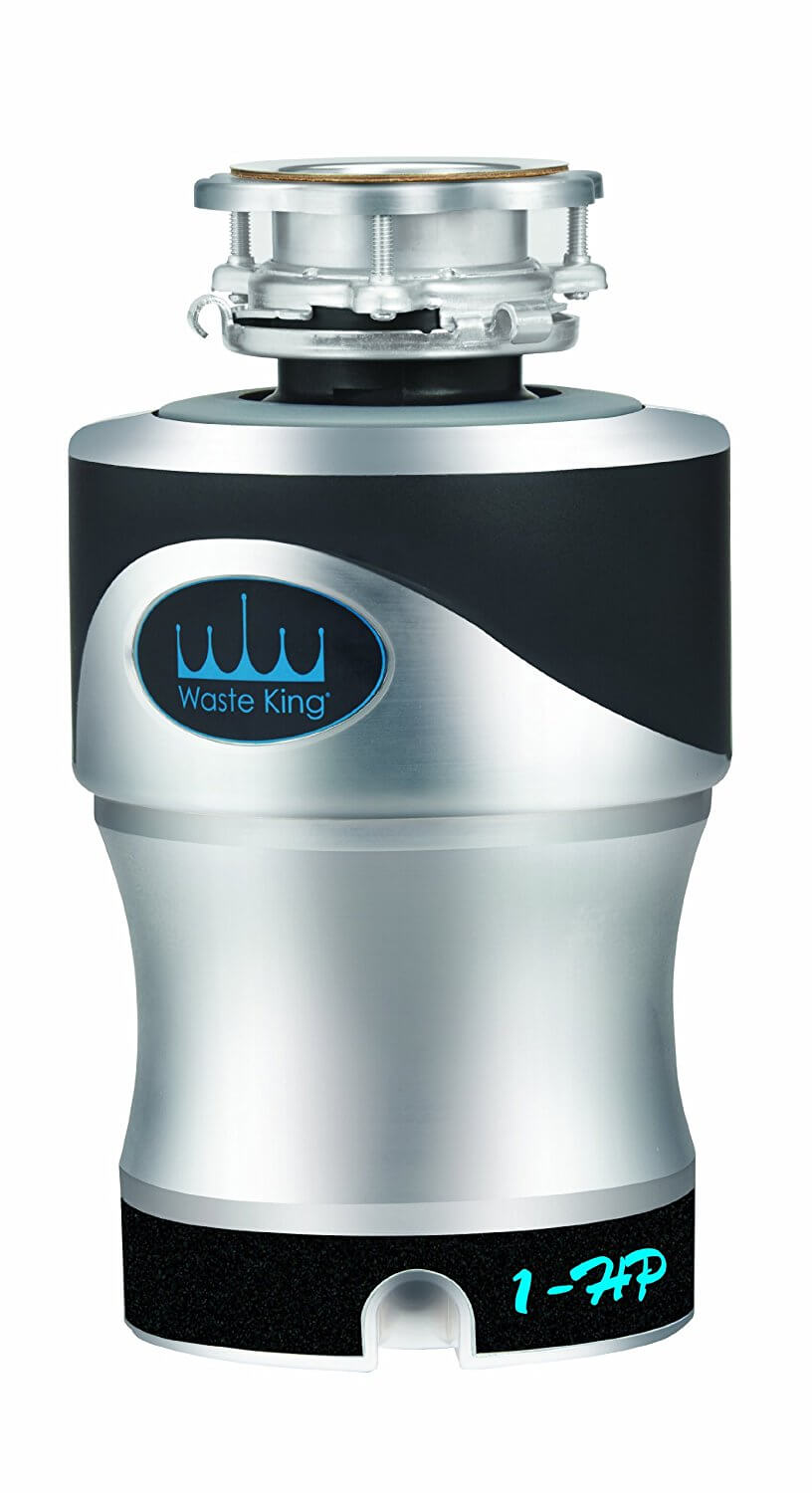 With its 1 HP motor, this unit will save you from any waste food dilemma you might find yourself in. The motor is strong enough to handle hard vegetables, and bones. Thus, if you have rough waste to deal with, we recommend you get this unit. The 1 HP motor is complemented by a 2,700 RPM and can thus liquefy any waste in a single pass. However, such functionality comes at a price, but for a homeowner who is capable and willing to spend the higher amounts, you will appreciate the quality. What we found fascinating with this unit were the silencer technology and the one pass tech.

One pass tech – Quality is at the core of the A1SPC Knight, and as such you don't need multiple chambers to grind the waste thoroughly. Thanks to the powerful motor, the high RPM, and the stainless steel swivel impellers, only one pass is required to liquefy waste.

Silencer technology – When investing in a waste disposer, we recommend you get a unit that's ultra-quiet. The A1SPC is in such item. The materials used to insulate this unit are the same as those used to insulate music studios, which results in ultra-quiet operation.

This Waste King is also easy to install with its snap and lock mounts. You can interchange this unit for any other.

Expand to see more
Product Features

Continuous feed
Weight: 16 pounds
Dimensions: 8.8 * 8.8 * 15 inches
Style: High-end
Material: Stainless steel
New snap and lock mount

Who is it for?

We only recommend the A1SPC for homeowners who have the extra money to spend. Also, it should be a consideration if you need the top performance.

If for nothing else, we implore you to get this unit for the lifetime warranty offered
The one pass technology reduces the need for multiple-chambers and allows this to be a compact unit
The swivel impellers are stainless steel which increases the longevity
Soundproof thanks to the unmatched insulation
It happens to be a bit pricey
The unit can be a bit difficult to clean
8. Kitchen Aid (84211643) KCDB250G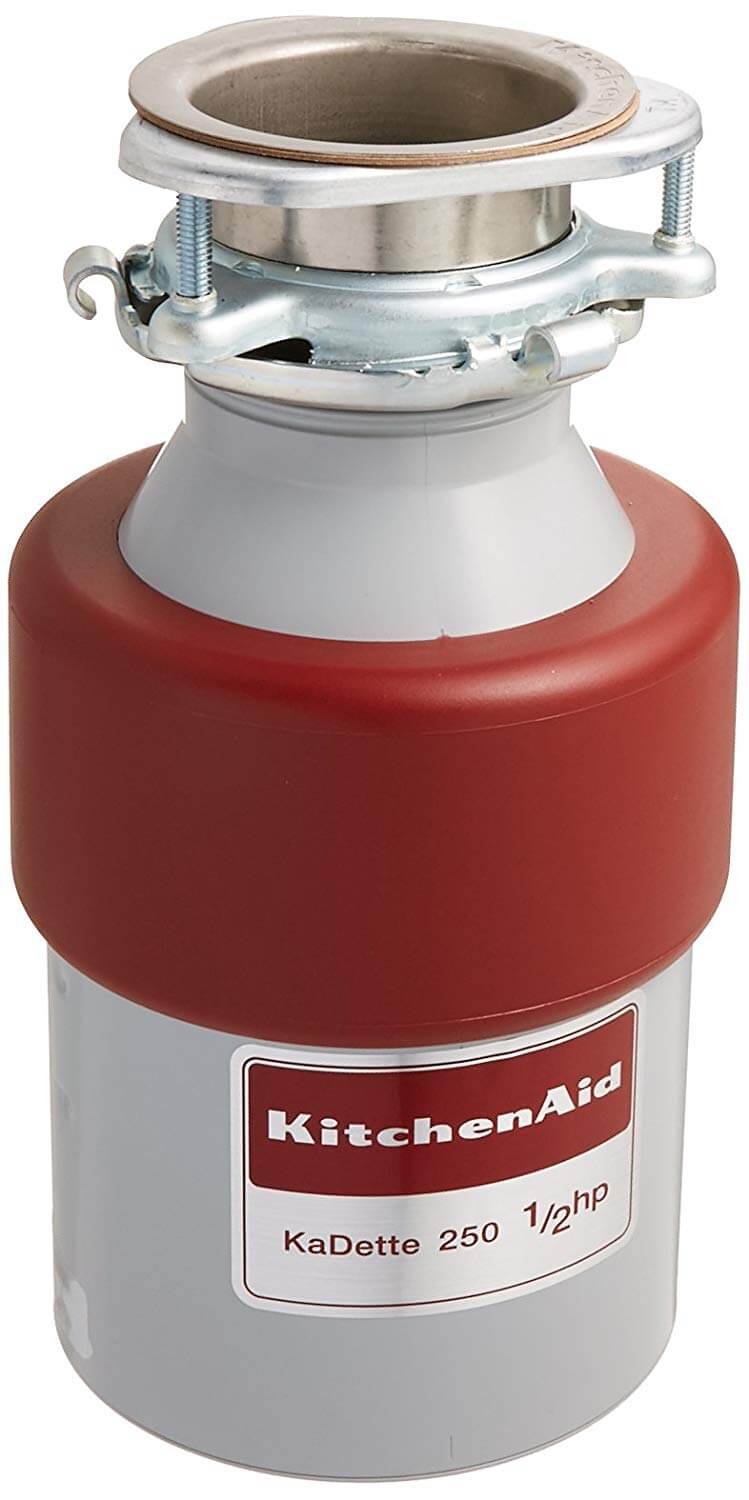 Kitchen Aid items are made in the United States, where unlike others that are made outside, the company can exercise more control over the quality of the devices. As a result, you can rest assured that what you are receiving is nothing short of the best. Also in a recent survey, 7 out of 10 plumbers said they would choose Kitchen Aid disposers over InSinkErator or Waste King and the KCDB250G is a testament of Kitchen Aids dedication to providing quality items.

What stands out with this unit is the efficient grinding, the ease of installation, the attractive design, the durability, and the unparalleled warranty.

Safety – Safety is paramount if you have kids or pets in the house. You don't want the young ones putting their hands in the unit, and you can't always be there to keep them safe. As a result, we recommend you get this unit. The generously sized splash guard, and the rubber safety cap help keep tiny hands and silverware out of the disposal.

Efficient motor – The ½ HP motor is enough to grind harsh waste and has a high 1725 RPM.

You will also appreciate that the grinding chamber and the blades are stainless steel which enhances the durability and is virtually corrosion free. Also, despite being a low-cost model, it has maintained its noise-free operation unlike other models that have to use inferior parts at this cost.

Expand to see more
Product Features

Continuous feed
½ HP motor
1725 RPM
Stainless steel blades and grinding chamber
Weight: 14.5 lbs
Dimensions: 14.6 * 7.5 * 7.4 inches

Who is it for?

Owing to the measures put in place (splash guard and the rubber cap), we recommend the KCDB250G for people with curious kids and pets.

Despite the short warranty, this unit lasts for years with the appropriate maintenance
It is surprisingly quiet for such a low-cost unit
It has an attractive red design and is sold with instructions that help with installation
It has a 1-year warranty which is too short for a unit that's supposed to serve you for at least a decade
9. Waste King 3/4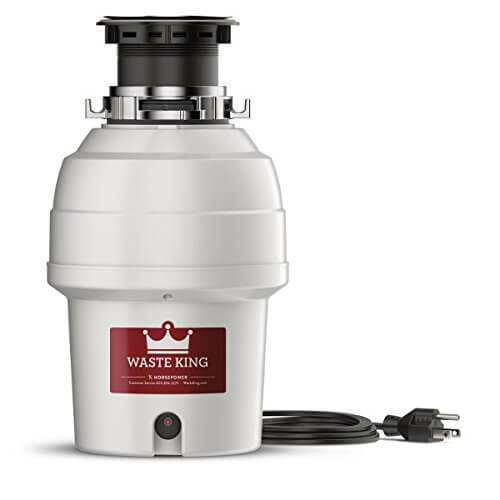 The newly redesigned Waste King L-3200 is a quality unit as most Waste King Disposals. It is an excellent addition to the Legend series and homes with 4 to 6 people stand to benefit the most from this unit. The ¾ HP motor can crush most waste, but we wouldn't advise you to try and grind bones with this disposer. Additionally, at 2,700 RPM it is one of the fastest and will make quick work of any waste. Finally, being a continuous feed unit, it can accommodate a constant flow of waste. Nevertheless, our best features were the power cable attachment and the ease of installation.

Ease of installation – The unit retails with simple instructions on how to install and also has illustrations for a more precise understanding plus all the components for a complete installation. The L-3200 fits in a standard 3-1/2 inch drain hole and has a dishwasher plug if you want to connect the disposal to a dishwasher.

Power cable attachment – Much like all other Waste King disposals, it retails with a power cable which is advantageous. Without a power cable, you will have to hard wire it, and there are tons of problems that can arise from hardwiring a unit.

Another fascinating feature about the L-3200 is the sound shell which is insulated with foam to keep noise at a minimum. Also, the L-3200 is similar to the 9940 other than the mount.

Expand to see more
Product Features

Continuous feed
¾ HP motor
2,700 RPM
Dimensions: 7.8 * 7.8 *13.8 inches
Weight: 8.6 lbs
Eight years limited warranty

Who is it for?

The L-3200 is lighter and more compact thus ideal for people with limited space. Also, given the power of the unit, it is ideal for households with about five people.

It has good sound insulation
It has a fast and powerful motor
It works with a dishwasher
The noise levels aren't low enough
10. InSinkErator Evolution Cover Control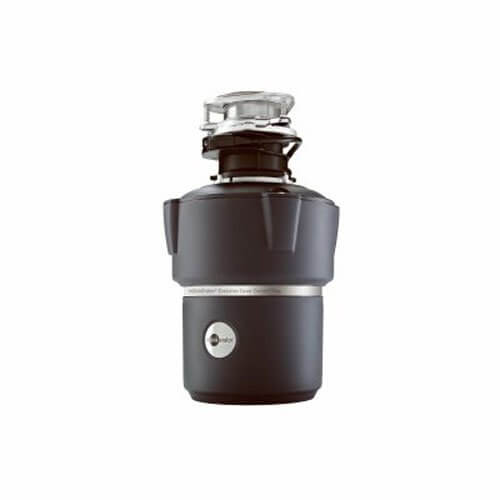 If you are in the market for a batch-feed unit, we will implore you to get the Evolution cover control. Batch feed disposers are far safer than continuous feed units, and thus perfect for homes with kids and
pets
. It will not turn on unless the cover is on, and unless you activate it, therefore, no more loss of jewelry and silverware. What we found fascinating with this were the magnetic cover start and the warranty.
Warranty
– We recommend this unit for the 7-year in home warranty. Your disposer will be repaired cost-free or replaced when there is no other option.
Magnetic cover start
–This revolutionary, safe operation is an inbuilt switch in the Cover Control that works with the magnetic stopper to turn on the unit when it's inserted and turned. You don't require a wall switch, and the stopper doesn't allow any items to fall in when the unit is operating.
Expand to see more
Product Features

¾ HP motor
Batch feed disposer
Seven year in home warranty
2- grind stages
40 oz. capacity
Weight: 22.1 pounds
Dimensions: 14 * 11 * 14 pounds

Who is it for?

If you want to exercise more power over your disposal and reduce the number of accidents, get this Evolution Cover Control.

Safer to operate
Quieter than most disposers
Amazing customer service
Things to Consider when Purchasing a Garbage Disposer
There are tons of garbage disposals on the market, and picking one unit that meets your needs can be challenging. Here are some of the few features to consider.
Noise
Often you want peace in your home, and the sound from some garbage disposals can be a pain. It is an underlying problem with these units, and you want to ensure that your disposer is insulated to get rid of the ambiguous sound. More significant disposals are generally quieter as they have more insulation and cannot be easily rattled.
However, it is wishful thinking if you expect to be free of noise. Issues such as the sink type can influence the noise owing to the vibrations.
Continuous feed versus batch feed
When choosing a design, it always boils down to the safety you are looking for. Yes, continuous feed units reduce the stench in the house, but they may pose a threat to a curious kid. Batch-feed units, on the other hand, can only grind waste once the disposer is full and are safer.
Grind stages
The grind stages on a unit will determine how smooth the waste will be and consequently how quickly it will pass down the drain. The more steps a disposer has, the smoother the waste will be. Other than how fine you want your residue, the type of waste you wish to grind will determine the grind stages too.

Warranty
When purchasing a waste disposer, you are looking for a unit that will serve you for at least 10 to 15 years. The manufacturer's warranty should also cover the disposal and the parts for an equal length of time. Nevertheless, how long a device will serve you depends on the care you give it.
Motor size
The size of your motor is measured in Horsepower (HP), and determines how powerful your disposal will be. If you are a bit rough with your disposals, say ones and tough vegetables, or you want finer waste, we recommend you get a device with a higher HP.
Space
Bigger can only be better to a certain extent. Yes, these garbage disposers have more horsepower, and yes they are quieter. However, they require more space in your cabinets. So before you get all excited about that disposer, ensure you have enough space to accommodate it. If not, get a compact unit.
Stainless steel grinding chambers
Remember we spoke of the longevity of an item. Well, if you genuinely want a garbage disposal to serve you for 10 to 15 years, we entreat you to get a stainless steel unit.
Auto-reverse function
Without a doubt, your unit will get clogged, and you need a feature to clear the waste. The auto-reverse function spins blades in reverse clearing any clogs.
FAQs
What can I and what can't I put in my disposer?
Most disposers can handle most waste, but it depends on how powerful your motor is. Mighty units can grind bones, and most can grind soft food particles, ice cubes, fruit peels, etc. However, we wouldn't recommend you to put fibrous waste into the unit as they can clog it or the drain. Some stringy residue includes banana peels and corn husks.
What can I do to get rid of the odor in my disposer?
It is recommended that you use biodegradable cleaning pellets to eliminate the odor. If it persists, pour a gallon of water and a cup of bleach into the unit while running the faucet and the disposal. The bleach will eliminate the odor causing germs.
Do I have to run water while the disposer is running?
You should always run a cold stream of water whenever you are using your disposer. It makes the operation efficiency, and the waste goes down the drainage much more efficiently. Also, run cold water through the unit for an extra 10 seconds after the operation to clean the disposal.
Conclusion
About 25% of all food prepared in America ends up in the trash and later in a landfill where it results in being the most significant contributor of greenhouse gases. To stop this, we recommend you get a disposer that will grind your waste which can later go down your drain into a septic tank or a sewage treatment center. However, picking the appropriate device can be daunting and thus we recommend you get one of the above units.
Subscribe to our newsletter