Best Electric Lawn Mowers Reviewed & Rated
last updated:
Dec 24, 2018
If we were to list all the benefits of electric lawn mowers, we'd run out of space. They are manifold. Besides the fact that they are lightweight and compact and therefore take up minimal storage space, they're also nearly as powerful as gas-powered models. Consequently, they take the time and hard work away from cleaning or maintaining a picturesque lawn. They are also convenient and easy to use, seeing as they are eco-friendly and don't use oils and gas.
Our Top 3 Picks
[srpshortcode id="20498″][/srpshortcode][srpshortcode id="20499″][/srpshortcode][srpshortcode id="20500″][/srpshortcode]
Finding the most suitable electric lawn mower can be difficult. However, if you're armed with all the relevant, up-to-date information, it can also be a breeze, which this analysis and buying guide aim to achieve. We begin by walking you through the most essential factors and features to look out for after which we present in-depth reviews of our top 10 picks. Pay attention.
10 Best Electric Lawn Mowers
1. EGO LM2102SP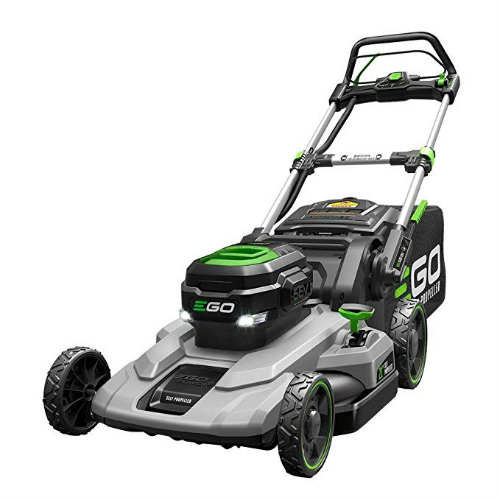 With an impressively wide 21-inch deck and a powerful 56 Volts (7.5 Ah) battery, the EGO LM2102SP is hands down one of the best electric lawn mower currently on the market. In addition to providing more than 60 minutes of continuous runtime, it's also a versatile machine capable of
mulching
, bagging, and side-discharging all at the same time. You can similarly choose one of 6 height adjustments for more uniform results. Further, it starts effortlessly and quickly and has a bright LED headlight for use when the sun sets.
In consideration of the above features, it's clear the EGO LM2102SP hits the sweet spot with regards to even weight distribution, runtime, performance, and durability. With a variable speed feature, you get to pick a mowing pace that you find most suitable within a range of between 1.8 MPH and 3.6 MPH. To further aid performance, it boasts an impressive wide 21-inch depth that covers considerably large swaths of land, significantly reducing the number of passes needed for griming even the most expansive lawns. As mentioned earlier, the cutting height is adjustable so that you can choose one of 5 different heights within a range of between 1-1/2-inches and 4 inches. The high customizability enables you to adjust the height to match your own requirements and the type of grass you're cutting.
Expand to see more
To the above features add a powerful, high-capacity 56-volt lithium-ion battery that's not only fast charging but also enables you to mow for 60 minutes straight with no interruptions. It weighs just 58 pounds and is therefore easy and quick to manoeuvre even in tight and awkward spaces. The handlebar collapses with ease to reduce its size or footprint when not in use, making it considerably easy to transport from one place to another or store away after you're done mowing.

If you need a powerful electric lawn mower whose performance closely rivals that of its gas-powered counterparts, look no further than this EGO LM2102SP. It's a cinch to use, cost-effective, and electric.

Long-lasting battery
Generous 5-year warranty
Customizable design
It's self-propelled for effortless maneuvrability
A tad heavy
No spare battery
2. Snapper XD SXDWM82K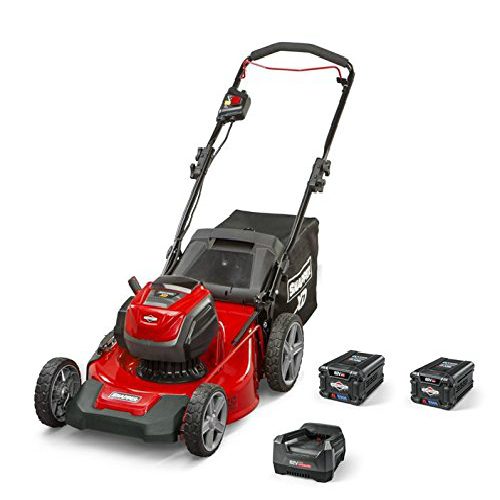 The Snapper XD SXDWM82K comes highly recommended for homeowners looking for a high-performance electric lawn mower for quickly, efficiently, and uniformly mowing their lawn. It is powered by the legendary Briggs & Stratton engine, a machine renowned for its durability, exceptional performance, and reliability. It has a 21-inch steel deck and works effortlessly and quietly. Further, the deck is height adjustable, easy to start, eco-friendly, and easy to keep away considering its vertical
storage
capabilities. By all indications, this electric lawn mower is indeed deserving of a spot on our list of 10 of the best options on the market.
It features a 3-in-1 design meaning that it's capable of mulching, bagging, and side-discharging grass clippings easily and quickly. The 21-inch steel deck is not only rugged but also wide enough so that it reduces the time and energy you'll expend on lawn mowing. Unlike other electric lawn mowers, the Snapper XD ups the ante by incorporating a smart and efficient load sensing technology for quickly adjusting the power to perfectly meet the requirements of the cutting blades. If the grass is thicker, taller, or tougher, it'll supply more power while the reverse will be true if the grass isn't any of those things. Another essential feature is the 7-position height adjustability of the cutting deck.
Expand to see more
The package comes with a Briggs & Stratton 82V lithium-ion 2.0 Ah battery that charges quickly and drains slowly over a 45-minute period, providing you with enough time to quickly and efficiently complete your mowing. It comes with an easy-to-access start button and a single lever for adjusting the deck height through 7 different positions for high customizability. The engine works smoothly and quietly and because of the vertical storage capability, the electric lawn mower easily fits into small storage spaces.

If you need an electric lawn mower that's powerful, durable, and reliable, look no further than the Snapper XD. Aside from weighing a hefty 90 pounds, it works like a charm.

Mulches exceptionally and effortlessly
Versatile performance
Powerful performance
Durable construction
3. Greenworks 20-Inch 40V Twin Force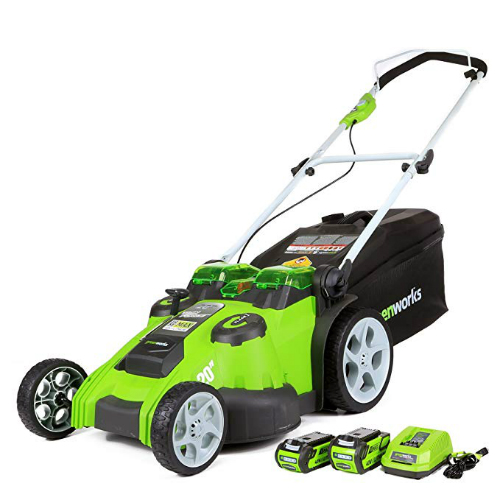 This option comes with all the essential features and specs you need to complete your mowing project effortlessly and in a fraction of the time it takes cheap, off-brand models. Top on the list is the ability to automatically switch to a backup battery when the first one runs out of juice. This eliminates the frustrating and time-consuming process of pausing the project to recharge or replace the battery. There are several other features that stand out. Continue reading for a comprehensive but brief review of this workhorse.

The efficiency and diligence with which it mows the lawn are attributable to the fact that it comes with a heavy-duty 20-inch wide cutting deck. The sheer width of the deck translates to considerably fewer passes for mowing a specific area, meaning that you won't spend the entire day traversing the lawn. Like other high-end models, it features a user-friendly design that allows you to choose one of 5 cutting heights. The customizability enables you to cut the grass to your specific preference, leaving it looking even and picturesque, just like you've always wanted it.

Expand to see more
With this device, the likelihood of running out of juice, forcing you to pause your mowing task, is minimal. This is because it comes with 2 rechargeable batteries that, combined, provide approximately 80 volts of commanding power for up to 60 minutes of continuous runtime. And the best part is that should one run out, it'll automatically switch to the next one.

Additional standout features include the long-lasting construction for remarkably easy maneuverability, a hassle-free push-button start, smart cut technology, and powerful dual blades. For those looking for an electric lawn mower for mowing mid to large lawns, consider going with this mower. It's easy to maneuvere and its battery lasts long enough.

Sleek and stylish design
Manoeuvres with ease
Lightweight and easy to push
Has two durable batteries
4. Greenworks PRO 80V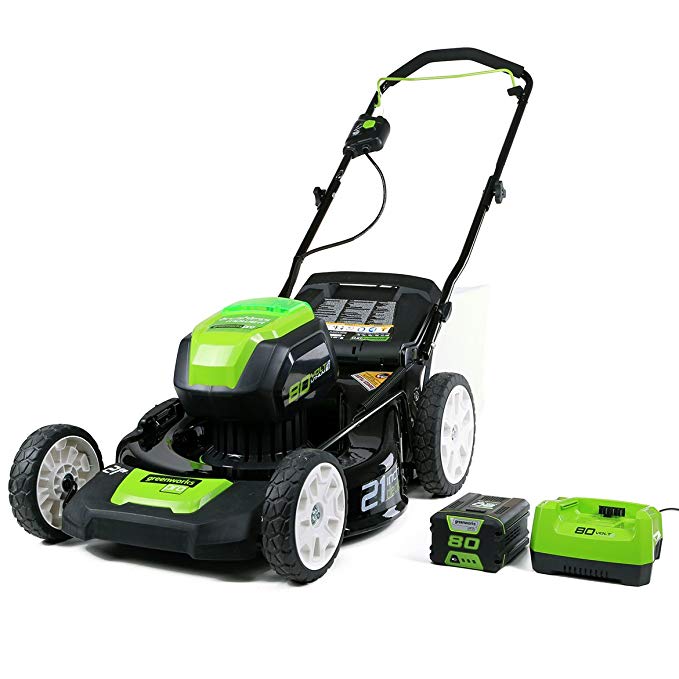 In spite of its overbearing resemblance to a race car, the Greenworks PRO, coming from an industry doyen, is remarkably easy to use. It' an ideal choice for working on mid to large-sized lawns, and considering that it comes with a backup battery, it'll allow you to work worry-free and efficiently for hours on end. Also, it maneuvres with ease and quickly and features an all-industrial-grade polymer construction, enabling it to not only withstand the test of time but also extreme use for the next several years.
The Greenworks PRO comes with a cutting deck that's 21 inches width featuring tough and sufficiently sharp blades capable of making short and quick work of the toughest, densest and thickest lawn
grass
. The width means you'll be making considerably fewer passes to get the job done. It also has a single-lever for adjusting the height of the deck, letting you select one of 7 cutting heights. Another highlight is its incorporation of an automatic power-adjusting system that intelligently detects and responds to power needs in accordance with the nature of the grass. Tougher grasses trigger the delivery of greater power than softer grass, allowing for the results to be even and efficient.
Expand to see more
As for power, it is at par with other high-end yet cost-effective electric lawn mowers. The package contains two 80-volt rechargeable batteries. Used together, you'll have up to 2 solid hours of continuous runtime, more than enough to perfectly mow your large-sized lawn without any interruptions. The battery also charges quickly so that in case you decide to use a single battery, you won't have to wait for long to resume mowing.

With its oversized 10-inch wheels, maneuverability is never an issue with the electric lawn mower, which is important considering the lack of a self-propulsion function. The wheels minimize the effort you'll need to push or pull it around. To help with effortless pushing, the machine has ergonomically designed and comfortable handle that minimizes hand fatigue and strain.

The Greenworks PRO is the closest you're ever going to get to perfection. At its price, it's quite a steal.

Long-lasting battery
Ideal for multiple terrains
Comes with a backup battery
High-quality polymer construction
Cost-effective
No self-propulsion mechanism
6. EGO Power+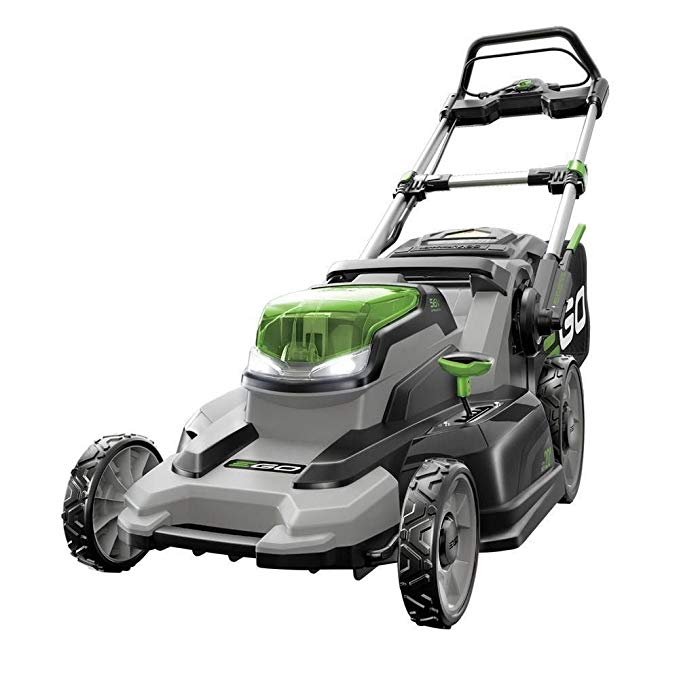 If our previous picks don't tickle your fancy, consider going with this EGO Power+. Like our first pick, it comes from the EGO brand, an industry doyen with a reputation for making some of the world's leading power tools. It comes with tough and highly durable blades that gladly scythe through a wide range of materials with remarkable ease and speed. Combined with its rugged, all-terrain wheels, the self-propelled option, and a powerful motor, it traverses banks and steep hills with remarkable ease and speed. Other outstanding features include the
large deck
, an ability to recharge in record time, and compared to its gas-powered cousins, it's easy to run and maintain.
Considering its endless list of specs and features, there's no denying the EGO Power+ is a workhorse. It rivals the performance of gas-powered models but without the attendant noises, fumes, and fuss of mixing gases and oils. It sports a sufficiently wide 20-inch deck that minimizes the number of passes you'll have to make to sufficiently cover a specific area. The 20-inch cutting capacity also considerably saves you lots of time and energy. A versatile choice, the electric lawn mower is able to mulch, bag, and discharge grass chippings through the side chute.
Expand to see more
Starting it is a breeze, thanks to the convenience of its push-button start that eliminates the need for pulling incessantly at cords. Like its bigger cousin, it's easy and quick to fold down for convenient storage and cleaning. Plus, compared to other models out there, it's surprisingly quieter, which is a blessing to those living in quiet neighbourhoods.
A
side from the impressive 20-inch cutting capacity, the other highlight is the durable, weather-resistant construction. And because of its powerful and advanced Arc-Lithium 4.0 Ah 56V battery and rapid charger, the electric lawn mower provides you with 45 minutes of continuous runtime and fully charges in just 30 minutes.
For superior mowing performance, we highly recommend going with it. It has all the features seasoned professionals look for in an electric lawn mower for the best performance, including a 5-year warranty and bright
LED headlights
.
Recharges fast
Wide cutting path
Rugged, all-terrain wheels
Push-button start
Self-propelled for easy and quick maneuvrability
7. Earthwise 60420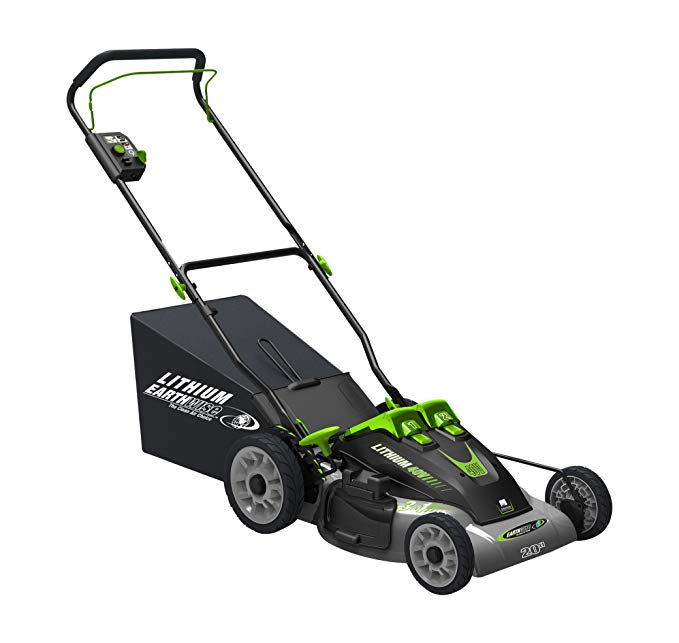 It seamlessly and perfectly combines several key features to provide you with an indelible mowing experience. As well as having a long-lasting 40-Volt lithium-ion battery, it also features 3-in-1 functionality, 7-position height adjustments, a lightweight and user-friendly design, and a remarkably easy and straightforward assembly. The wheels enhance maneuvrability while the ergonomic handle keeps fatigue and hand strain at bay. To these add the generous 24-month warranty. Next comes a holistic review of the electric lawn mower.
If you don't want to expose yourself and your loved ones to
dangerous fumes
and the thought of mixing gases with oil just don't sit well with you, then the Earthwise 60420 should be up your alley. Performance-wise, it's a force to reckon with. It boasts a 20-inch cutting capacity. While this is hardly head-turning, it nonetheless allows you to take on light- to heavy-duty lawn mowing projects both around the house and commercially. The fact that the user can choose up to 7 different cutting positions gives them superior control over the task. The height adjustments range from between 1.5 and 4 inches, which makes the electric lawn mower a solid choice for both smooth and rough terrains.
Expand to see more
The package comes with two 40V Li-Ion batteries that pack enough juice to enable you to mow the lawn to your heart's content. Together, they provide approximately 110 minutes of continuous runtime and about 2 hours to fully charge. Further, it is designed with the user in mind. The steel deck can withstand loads of wear and tear while the large, all-terrain wheels mean no part of the lawn is unreachable. The ergonomic foldable handle is comfortable and very intuitive, providing lots of traction for a firm, secure grip. Being lightweight, it doesn't come with self-propulsion feature though.

With the Earthwise 60420, the positives vastly outweigh the negatives, making it a safe bet for homeowners who want to restore or maintain the beauty of their lawns. You'll never regret your choice.

Lightweight and easily maneuvrable
Quick charging battery
Adjustable deck height
Powerful and effortless performance
Small cutting path
Rough handles
8. BLACK+DECKER MTE912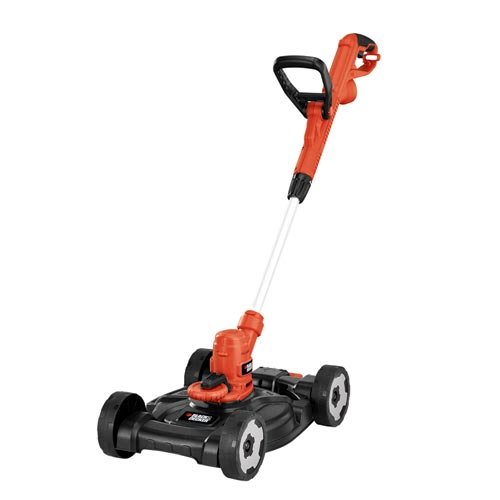 BLACK+DECKER MTE912 is not your average mower. It's nothing like our previous 7 choices or the next 2. It just stands out, even without trying. Besides the conventional 3-in-1 functionality of your typical electric mower, this model also doubles as a trimmer and edger. The best part though is that you don't have to break the bank to afford it. The machine costs less than 200 bucks in spite of its versatility. The construction quality is also remarkable and like most other electric lawn mowers, it's a cinch to use. Continue reading for an in-depth review.

As mentioned earlier, the distinguishing feature is its versatility. Because you can detach both the motor portion and single pole attachment, the machine easily transforms into an edger and string trimmer. The ingenuity of this design means you won't have to use as much space for storage. As an electric lawn mower, this tool features a high-performance 6.5-amp motor that effortlessly and smoothly provides the absolute best performance. With a 12-inch cutting swath, it is a perfect choice for mowing lawns up to 1,200 square feet in size. Considering its small footprint design, it gives you quick and easy access to tight spaces.

Expand to see more
Thanks to the inclusion of an easy-to-use foot pedal release, inserting and removing the motor and single pole attachment is a cinch, which enhances the ease of shifting from trimming to edging. Additionally, it comes with an AFS automatic feed system that eliminates the possibility of it bumping and or unnecessarily stopping in the middle of an operation. Compared to cheap, off-brand models, it won't struggle as it features a high-end gear drive transmission.

Apart from the need to use an extension cord, the BLACK+DECKER MTE912 works exactly as advertised. It packs several instrumental features in a lightweight and easy-to-use frame. You'll love it.

Astounding 13 pound weight
Incredible versatility and ease of use
High-end performance
Cost-effective
Has automatic feed system
9. Sun Joe iON16LM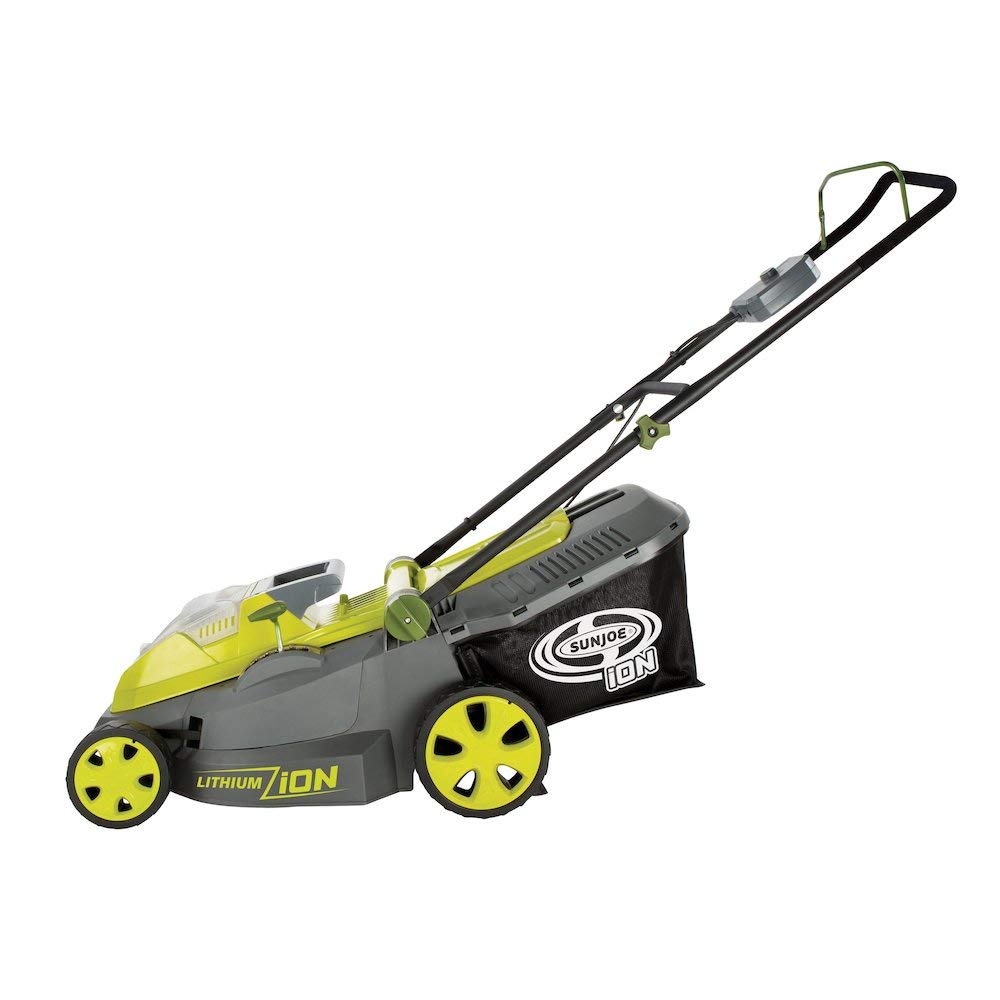 Like other electric options, the design of the Sun Joe iON16LM aims to provide the user with optimal convenience and performance. As well as packing a slew of features and specs to take the time and hard work from the otherwise arduous task of mowing lawns, the electric lawn mower is also cost-effective. The small footprint, ease of use, and practicality explain why it's one of the all-time favourites of homeowners all across the globe.

Only a handful of options can perfectly and seamlessly balance design, performance, affordability, and functionality like this Sun Joe iON16LM Cordless Lawn Mower does. Considering its slew of attributes, the electric lawn mower is surprisingly budget-friendly, making it a perfect choice for homeowners working on a budget. It utilizes the all-powerful, long-lasting, and rechargeable 40V Ecosharp battery that, with a full charge, provides you with up to 40 minutes of uninterrupted runtime. Other than being eco-friendly, the electric lawn mower also runs smoothly and quietly, so you won't be a nuisance to your neighbours.

Expand to see more
The power and attendant performance of the Sun Joe iON16LM are heart-stopping. The high-performance 600 Watt brushless motor significantly increases the efficiency of the battery while extending the lifespan of the motor by up to 2000 hours. To further aid the superior performance of the electric lawn mower, it features a heavy-duty, all-steel blade that cuts precisely and reliably season after season, taking the hard work and time away from maintaining your lawn. Couple the sufficiently wide 15-inch cutting capacity with the heavy-duty and sturdy front and rear wheels and you have yourself an electric lawn mower that gets the job done perfectly, effortlessly, and efficiently season after season.

Ease of use is yet another forte of this device. The easy push-start button eliminates any starting hassles while the comfortable handle will keep your hands comfortable all throughout the operation. You'll also relish the 6-position height adjustment lever for maximum flexibility while the 24-month warranty gives you the confidence and peace of mind to work to your full potential.

If you want to cover lots of ground without breaking a sweat, this is the option to buy. Thousands of users swear by it, and so do we.

Lightweight
Long-lasting battery
Recharges quickly
Works quietly and smoothly
Lacks self-propulsion
Doesn't mulch
10. Worx WG775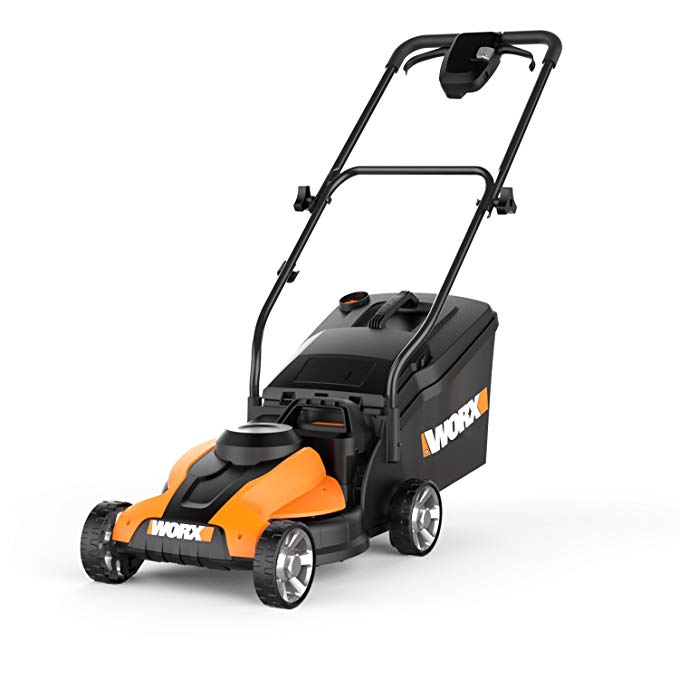 The Worx WG775 is a high-end yet cost-effective alternative to all the flimsy, humdrum options out there on the market. Worx's products are renowned for their convenience, ease of use, high performance, practicality, and durability. No Worx product best embodies and continues this tradition as this model does. It packs a punch and comes with manifold performance and convenience features. Some of these include an innovative 3-in-1 functionality, a high-capacity and powerful battery, easy and quick start, and a sufficient 14-inch cutting deck among others.

It boasts a volcanic performance, thanks to the powerful and efficient 24V battery. Together with the robust 14-inch cutting deck, you can roll up your sleeves and start mowing from one corner of your lawn to another without a stop or experiencing the slightest performance glitch. A single charge is enough to enable you to cover up to 6,000 square foot of the lawn. And since it weighs a paltry 32 pounds and has tough, all-terrain wheels, it maneuvres with speed and ease. The innovative design also gives the option of choosing among bagging, mulching, and rear-discharging depending on your lawn care needs.

Expand to see more
In all, the Worx WG775 ticks all the right boxes. It'll provide with the best performance season after season. Being electric, the electric lawn mower spares you the frustration of dealing with gases, oils, fumes, and all that fuss. It's also eco-friendly and poses no harm to your health, however long you decide to use it to mow your lawn.

For additional convenience and versatility, it provides you with the option of choosing among bagging, mulching, and rear-discharging grass clippings. Push button starting provides for a quick, easy start while the telescopic handle, in addition to providing comfort, enables you to easily store it without taking up too much storage space in your garage or the trunk of your car.

Versatile
Longer runtime
Easy to use
Easy and quick start
Outstanding 14-inch cutting deck
Not ideal for tall grasses
5. Ryobi 20 in.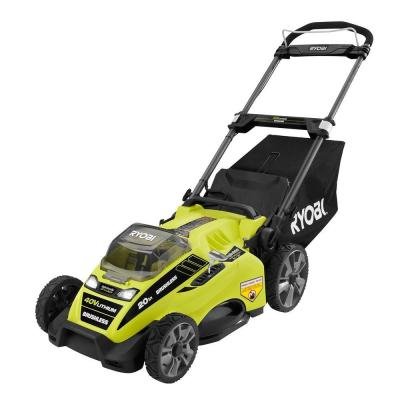 An industry leader, Ryobi is a reputable and highly venerated brand that's renowned for continuously pushing the innovation boundaries to stay ahead of the pack. Their flagship option is a clear demonstration of their unyielding commitment to the production of high-end, practical, and functional power machines. As well as being self-propelled, the electric lawn mower comes with a high-performance brushless motor that guarantees efficiency and a considerably longer runtime compared to its competitors. Further, it has a sufficiently wide 20-inch deck for easy and quick cutting. A unique selling point of the electric lawn mower though is the adjustable telescopic handle.

Despite a relatively budget-friendly price tag, its performance stacks up pretty well against other industry stalwarts. Its cutting deck has an impressive width of 20 inches and the tool boats a 2-in-1 design that mulches or bags grass clippings. The design provides for the quick and efficient completion of various mowing projects on mid- to large-sized lawns. With an intelligent brushless motor, it's not surprising that its performance closely rivals that of gas-powered options.

Expand to see more
The intelligent brushless motor uses a load sensing technology for detecting and delivering just the right amount of power required for maintaining an optimal cutting speed helping you conserve power and battery life. The ingenious design minimizes the likelihood of bogging down when tackling tough lawns and enhances battery life when tackling light-duty projects.

With a litany of convenience features, using this is akin to taking a walk in the park. The push start button provides for hassle-free starting while the 7-position single point height adjustment enables you to achieve the cuts you've always wanted. The handle is not only ergonomically design but is also easy-to-adjust and telescopic meaning that it provides utmost comfort and minimizes hand strain and fatigue. The handle also collapses easily for convenient vertical storage. Additional features include the bright LED headlights and a whisper quiet motor.

There's every benefit to going with this device. Apart from the high capacity battery, the powerful brushless motor, comfortable telescopic handles, and manageable weight, this electric lawn mower offers maximum power and efficiency.

High-capacity, long-lasting battery
Versatile multiple cutting positions
High-performance brushless motor
Quiet
20-inch deck cuts easily and quickly
Adjustable telescopic handle
Selection Criteria

Power Source
When shopping for an electric lawn mower, you can choose between a corded and cordless option. A corded electric mower has the advantage of affordability and peace of mind as you don't have to incessantly worry about the likelihood of running out of juice. Also, it's a perfect choice for small- to medium-sized lawns. A cordless electric lawn mower, on the other hand, comes with the advantage of portability.
Provided you have a fully charged battery and taken the precaution of bringing along a fully charged spare, you can mow as far away from a power outlet as you wish without dragging along a heavy power cord. It might not be ideal for thick, tough grass but a cordless electric lawn mower is indeed a solid choice for big lawns.
Performance
This pertains to the size of the deck and ease with which the electric mower can get the job done. As a rule of thumb, those with wide decks will need fewer passes to clear an area compared to those with smaller deck sizes. By implication, it also means you'll be finishing your mowing project in a fraction of the time it takes those with smaller deck sizes.
Note however that the larger the deck size, the harder it will be to maneuvre the electric lawn mower. If you prioritize performance, consider going for a model that combines a high-voltage battery, in the case of cordless models, a wide cutting path, and a height adjustability feature.
Ease of Use
The vast majority of options come with a plethora of features that make them considerably easy to use. One such feature is the already mentioned height adjustability that facilitates customizability, allowing you to achieve the exact look you have in mind. An electric lawn mower with self-propulsion feature and a lightweight design with comfortable, ergonomic handle is a lot easier to use and manoeuvre compared to that lacking in one or all of these features.
And to spare you the agony of pulling hard at rip-cords, look out for a push button start or electric ignition. You'll have to choose between an electric option that mulches or collects the grass clippings in accordance with your preferences.
Affordability
The cost of electric lawn mowers falls within the $100 to $500 range, depending on whether it's corded or cordless, the number of features, convenience, and ease of use, among others considerations. Generally, cordless electric lawn mowers are costlier than their corded counterparts owing to the convenience of portability. However, if you have a small property, a corded electric optionwould be ideal.
Frequently Asked Questions
Q: Which is better between mulching and collecting the grass clippings?
A: It all boils down to individual preference. Mulching re-introduces essential nutrients back to the soil while collecting grass clippings leaves your lawn looking neat and attractive.
Q: What are the advantages of a brushless motor over a brushless one?
A: Brushless motor comes with unmatched efficiency and longer useful life.
Conclusion
An electric lawn mower is a must-have for any homeowner keen on maintaining a picturesque lawn. Whether they're corded or not, they ooze convenience and ease of use and are eco-friendly.
Compared to their gas-powered brethren, they're also whisper-quiet, lightweight and easy to manoeuvre, especially the ones with a self-propelling mechanism. Our picks are high-end and work smoothly, effortlessly and quickly; exactly as advertised. Be keen to pick out one that best suits the size of your lawn though.
Subscribe to our newsletter