Best Jobsite Radios Reviewed and Rated
last updated:
Jan 30, 2018
There have been numerous studies done over the years regarding the effects that music has on the brain, and how these effects affect work performance and motivation. Those who listen to music have been proven to work faster on average and to have a higher level of satisfaction in their work. In fact, in a study published by the Society for Education, Music and Psychology Research titled The Effect of Music Listening on Work Performance, researchers found a stronger correlation between music, mood, and work productivity than anyone had ever imagined previously. So, regardless of whether you are tapping away on a computer or banging away with a hammer, work gets done just that much easier and faster when the tunes are playing.
Our Top 3 Picks
[srpshortcode id="2368″][/srpshortcode][srpshortcode id="2369″][/srpshortcode][srpshortcode id="2371″][/srpshortcode]
So it is proven that having something to listen to while on the job site not only helps the individual worker – it also benefits the management wishing to maximize the productivity of their team. This is the reason almost every major tool manufacturer now produces a powerful, durable and reliable worksite radio. The net productivity on a worksite from a bit of music can put to shame the benefits of even the best individual power tools.

Since every major tool company (and others) now make great worksite radios, in can be hard to sort through all the options to find the very best ones. That is the mission behind this article today. While I will spend some time going over frequently asked questions, and the parameters for what makes a good work radio towards the end of the article – the meat of this is going to be comparing and ranking the ten best worksite radios we can find.
Most of the brands will put out multiple radios with only minor technical differences (think a family of products), and effort was made to avoid ranking these near duplicates on the same list. For example if one ranked #1, it would stand to reason that all the other offerings from that same family would fall into, or near to, the #2 or #3 etc. positions. This is not an exact science, as some radio families seem to differ substantially in shape, price, and product even within that family of goods itself. Suffice to say, if a radio was overly similar to a related product from the same brand we tended to avoid near-repeat reviews.
One last note, the ranking for this list last was done in with a price/value ratio. Although some radios on this list may be significantly better than others, that doesn't mean they will automatically rank higher. If a slightly inferior radio costs much much less, it was deemed to be a better overall value – all the radios on this "Best of" list, however, are of course quality products well worth the purchase.
10 Best Jobsite Radios
1. Bosch PB360S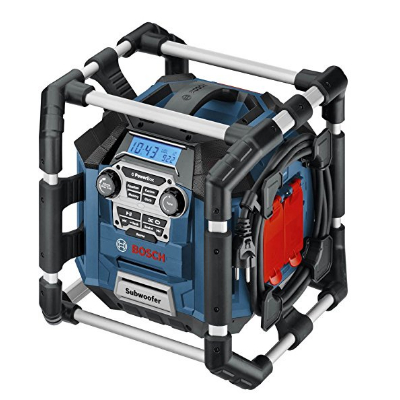 The Bosch PB360S "PowerBox" is a powerful device in more ways than one. It provides clear, loud, 360-degree sound. It is protected by a solid rubber roll cage and weather resistant engineering. It can charge your Bosch 14.4V to 18V Li-Ion batteries and offers four onboard outlets which you can plug your power tools into. It will run on your Bosch batteries or can be plugged in (necessary for charging and outlet functions). Its Bluetooth compatibility even stretches well over 100ft. It also has a media bay for safe storage of your devices.

These features all crammed into a mid-sized package make this not only the perfect jobsite radio, but it also makes it a great outdoor radio for everything from kickball games to weekends at the river.
Expand to see more
A Jobsite Hub

The ability for this radio to not only entertain but to charge batteries and power tools make it a fantastic centerpiece for the worksite - and the protective casing and design means you don't have to worry about it getting too close to the action. If your site runs off Bosch, you should heavily consider the little wonder. It will easily improve the waulity of life on your worksite.

Key Features:

Weight: 24.0lb
Power: Bosch Lithium-Ion batteries (18-14 v)
Built-in battery charger.
360-degree speakers and subwoofer.
Aluminum/rubber roll cage.
Four-way outlets.
USB charging port works when powered by a 120 V AC outlet or by a Bosch battery
Bluetooth® connectivity .
Weather- and dust-resistant design.
3-7 hours of runtime per battery (dependent on volume/use).

Price/Value:

If you already carry Bosch batteries, the value of this device is undoubted. If not, this is still a fantastic radio that can last in extreme conditions, power your tools, and withstand fairly harsh elements. You won't be wasting a dollar.

Who Should Buy This?:

Bosch powered worksites of course. This is simply a fantastic all-around outdoor radio for a whole plethora of activities. Beach days, BBQ's, Garage work, etc. This is the perfect choice when a standard radio will either succumb to the elements or is at risk of being smashed by a tool.

Very Durable
Clear, Loud Sound
Power hub for the worksite
The digital screen is ironically not great in direct sunlight
Radio tuner isn't the best
[srp_anchshortcode id="2368″][/srp_anchshortcode]
2. DEWALT DWST08810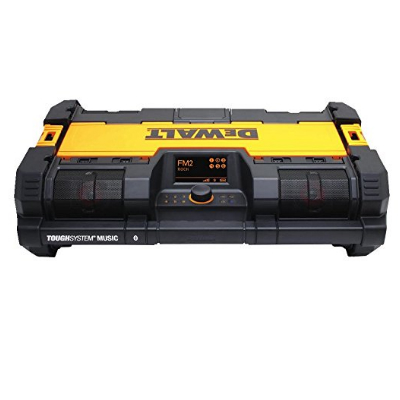 The ToughSystem family of products allows one to customize and perfect their loadout for any job with easy to stack and move storage and utility devices. This family of devices makes it easy to move from site to site and lets you rest easy knowing everything is protected from the weather, damage and theft (if you decide to lock it up). The Tough system radio fits snugly into this line of products.
Expand to see more
Outside of the Tough System family, this is still a robust and efficient worksite radio. Loud, tough and very portable. It also sports a very long battery life and charging capabilities for Dewalt products.

Key Features:

Weight: 15.95 LBS
Power: DEWALT® Li-ion battery or a wall outlet
Water and dust resistant.
Bluetooth-enabled up to 100 feet.
Very portable.
IP54 Rated for water and dust resistance.
Charging capability for DEWALT® batteries (12V/20V)

Price/Value:

It can be a bit on the expensive side for what it offers, but if you already have a series of ToughSystem products, then this is a reliable and valuable purchase. It is in tandem with these other products that it really shines.

Who Should Buy This?:

ToughSystem and/or Dewalt battery users - or those who need a low profile, easily portable worksite radio.
Stackable with other Dewalt ToughSystem® modules
Very Durable
Made for portability
Good sound and compatibility
5-speakers w/ 360-degree sound
Lacks some of the features of other worksite radios
No external antennae
[srp_anchshortcode id="2369″][/srp_anchshortcode]
3. Milwaukee M12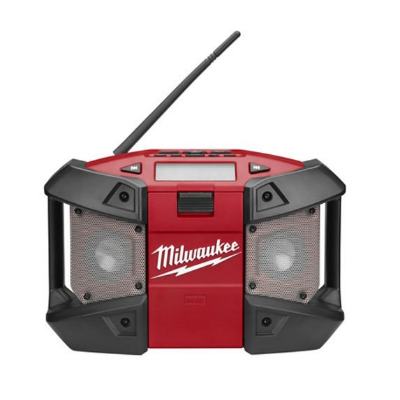 The Milwaukee M12 is a reliable compact radio, with all of the quality and craftsmanship of the Milwaukee M18 but in a device about half the size. The M12 series is known for delivering quality products in small portable devices.

All in all, this is an excellent quality worksite radio that is very resistant to rain and moderate bumps and bruising. It does not have all the bells and whistles of its larger cousin, but it gets the core job of a radio done nicely.
Expand to see more
Arguably the best of the small range worksite radios.

Key Features:

Weight: 3.5 - 5 lbs
Power: M12™ REDLITHIUM™ battery packs or AC adaptor.
Weatherproof aluminum speakers.
Weather sealed MP3 compartment.
Shock absorbing housing.
Ultraslim size.
Digital processor.

Price/Value:

The Milwaukee M12 Cordless Jobsite Radio is a great radio when that is all you are looking for. If you don't need the large central work hub devices that ranked higher on this last, but rather just a durable, quality sounding emitting device for a worksite- this is the way to go.

Who Should Buy This?:

As long as you don't have an extremely noisy worksite, this can be a great addition to your team. It works with the Milwaukee M12 batteries, so it makes sense as a purchase if you are already utilizing that tool suite.
Very compact for a worksite radio
Surprisingly tough for its size
Good sound quality and reception clarity
Not a whole lot of extra features
Not very loud
[srp_anchshortcode id="2371″][/srp_anchshortcode]
4. Makita XRM04B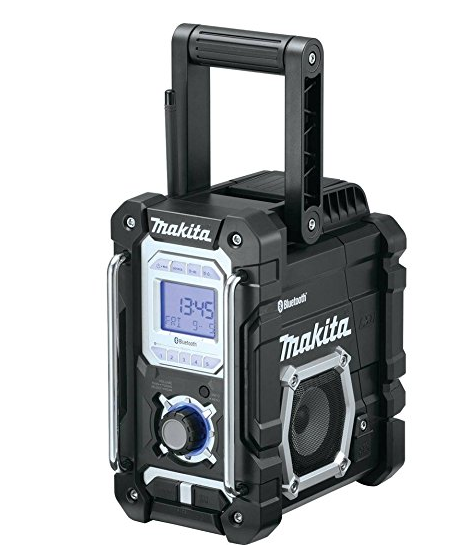 This Makita radio is part of the LXT lineup of cordless tools developed in 2005. This whole series is based around powerful cordless devices with long-lasting batteries. This radio fits into that description nicely. It's durable, portable and one of the best mid-range offers available.

Expand to see more
It is clear that Makita spent the time to make sure that this radio matched the same durability and quality their premier series of tools has become known for.

Key Features:

Weight: 10.4 lbs.
Power: Corded, or Compatible with Makita 7.2V - 18V slide-style and pod-style batteries
Equipped with Bluetooth.
Runs up to 20 hours with an 18V LXT Lithium-Ion 5.0Ah.
Protective bumper design.
One auxiliary port for MP3 compatibility and one USB port for charging your mobile device.
Two powerful 3.5" side-firing speakers

Price/Value:

This is possibly the most bang for your buck at the mid range price range. You get a quality radio with some good features and sound output but at less of a price than the central work hub style devices.

Who Should Buy This?:

Those who either enjoy that Makita set of tools or are looking for a more powerful radio, but not necessarily one that comes with all the possibly unnecessary bells and whistles.
Good value
Great Sound
Moderate durability
Lacks some features
Still large even with the lack of features
Price
DEWALT DCR015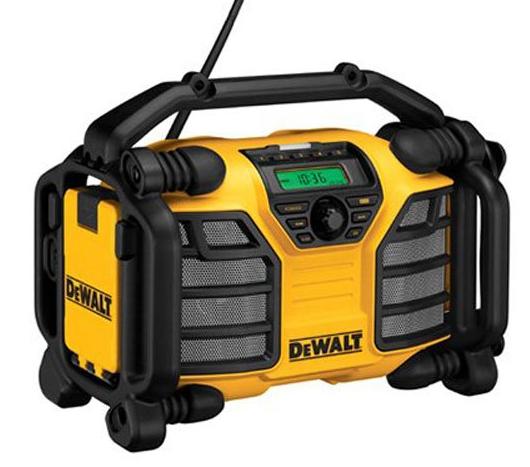 This Dewalt comes packed with all the features of the best radios. Tailored made for a job site - the battery charging capabilities, added outlets and a large number of possible hookups make this a fantastic portable hub that can accomplish a number of worksite needs - oh yeah, it's also a radio too.
Expand to see more
Strong, loud, portable, and packed with features - this Dewalt gives any of the other radios a run for their money. The only reason it is so low on the list is that it doesn't scratch any new itches from what we have already covered in our selection. Suffice to say this is perfect for the Dewalt Powered worksite and contains most, if not all, of the features you could possibly look for in a worksite radio.

Key Features:

Weight: 13 LBS
Power: 12V Max and 20V Max DEWALT® batteries
2 power outlets
USB port allows devices
Class D woofers, amplifier and tweeters.
Enabled connection to CD,Portable Satellite Receivers, MP3, and other devices.
Device storage compartment to keep electronics safe.

Price/Value:

This is a fantastic higher end radio that warrants its price tag. If you use Dewalt batteries, then this is probably a no-brainer unless you are already considering another Dewalt equivalent. This product generally comes in at a little less than some of the higher end radios - and may be a better deal than its peers even if you don't use Dewalt batteries.

Who Should Buy This?:

Dewalt powered worksites who need a power and entertainment hub for their work area. Safely store devices, power tools and charge batteries all from one easy to use and centralized hub.
Durable
Good quality sound
Capable of hosting a large number of Auxiliary devices
Can charge batteries and provide outlets on-site
Weak reception
Compartment is overly small
6. Bosch PB180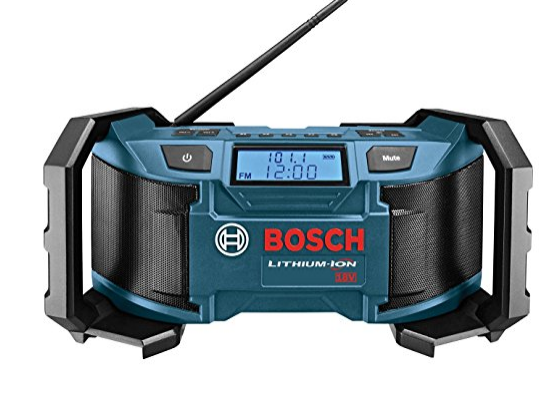 Just as the Milwaukee M12 was a minimized Milwaukee M18, the Bosch PB180 is a minimized Bosch PB360. This is another exceptionally high-quality compact worksite radio that has eliminated some features in order to maintain a compact size and a lower price point.

Expand to see more
Although it lacks the bells and whistles of larger worksite radios, it ensures it does its job stupendously. The has magnificent reception and is very loud for such a small frame. It also comes with wall mount compatibility allowing you to create a permanent space for it in your garage or worksite.

As long as you're not running it at full blast, the Bosch PB180 can have up to two days of runtime off of a 4.0Ah battery.

Key Features:

Weight: 4.1 lbs
Power: powered by AC adapter or Bosch 18V Lithium Ion batteries and chargers
External AUX port allowing connectivity to digital media players.
High strength shock-absorbing build.
Advanced digital signal processing.

Price/Value:

Like the Milwaukee M12, this is a radio that has been purposefully minimized to do only what needs doing. Its an extremely high quality radio at half the cost of its larger worksite cousins. If you need a fantastic smaller work radio, and/or already utilize Bosch batteries, this is a great buy.

Who Should Buy This?

Bosch users, those who want a great wall mounted radio for the garage or worksite - or somebody looking for a quality worksite radio at a great price.
Durable design
Lightweight
Easy Mounting
Limited features
May not be loud enough for exceptionally noisy worksites
7. Milwaukee M18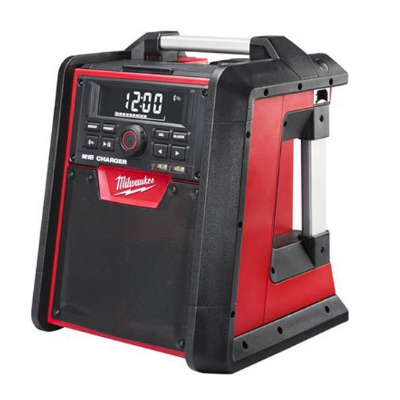 You can best sum this radio up as the Milwaukee version of the Bosch we just reviewed.

This Work Radio is durable, clear, and a boon to the worksite in more ways than one. It has a built-in battery charger for your Milwaukee REDLITHIUM™ batteries as will as an onboard protective area for phones and other small electronics. The Bluetooth signal works from over 90 ft. away. This Jobsite radio is also conditioned to take a beating with shock absorbing end caps, metal speaker grills, and a roll cage. It is well suited to handle mild inclement weather as well.
Expand to see more
The Milwaukee M18 is everything a jobsite radio should be. Clear sound, affordable, high durability, and a host of useful features that demonstrate its creators understand your needs.

If you already own a suite of Milwaukee tools, this is the perfect addition to your repertoire.

It even has a built-in bottle opener.

Key Features:

Weight: 10.34 lbs
Power: M18™ REDLITHIUM™ Batteries or A/C power
Shock absorbing end caps and metal speaker grills.
Digital AM/FM tuner with 10 station presets.
Bluetooth Compatible.
Weather sealed auxiliary compartment.
2.1A USB Charger for all portable electronic devices.
3.5mm Aux In Port for wired playback.
Up to 12hrs run time with an M18™ 5.0Ah battery.

Price/Value:

Though a bit more expensive, you could crash a forklift into this thing and expect it to keep going (In fact that has apparently happened before). If you are looking for a high-end addition to boost the quality of your job site, this is the radio for you.

Who Should Buy This?

The volume may be lacking for the noisiest of worksites, but outside of that, this is a great addition to the team, even if you don't generally use Milwaukee tools. If you do use Milwaukee tools, this is a hard product to pass up.
Excellent durability
Great Sound Quality
A host of useful features, like battery charging and long range bluetooth
Easy transport (handles)
More expensive than many of its competitors
May not be loud enough for the noisier worksites
8. ECOXGEAR SolJam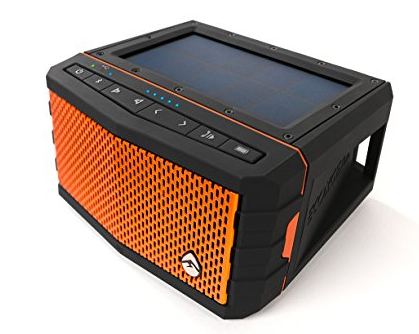 Rugged, waterproof, and solar powered. This radio falls more into a general party/outdoor radio category than an actual worksite radio - but it is definitely resilient and useful enough to make your life better on site. I wouldn't go so far as to call it "rugged" coming in at less than 5 lbs, but its small size, portability, and solar addition make it an excellent choice for a variety of scenarios. It is actually the most waterproof of all the radios on this list (it floats).
Expand to see more
Key Features:

Weight: 1.5 pounds
Power: Solar, 2 Lithium Polymer batteries.
USB charging port.
Floats /waterproof.
Drop resistant.
12 hour battery life outside of solar use.

Price/Value:

At a mid-range price, this is much more of a niche item than other radios on the list. If the specific benefits this radio delivers suit your needs, then it provides substantial value. Otherwise, you can argue it is a bit overpriced.

Who Should Buy This?

I tend to think this would have been a great gift for my dad back when he used to be out repairing the fences the horses or cattle had torn down. The solar panels and mobility would have suited that job well. This is more of a feature specific item - so it could work very a broad spectrum of particular people.
Light and very portable
Extremely water resistant
Not very loud relative to other options
Not durable enough for intense worksites
9. Hitachi UR18DSALP4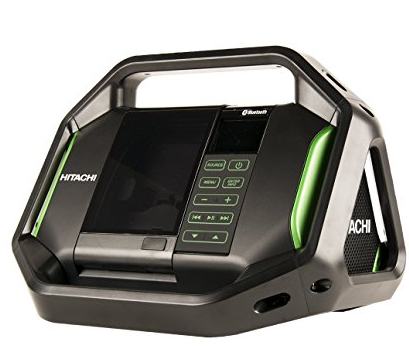 Well built and loud, this already hits the main criteria for a good worksite radio. On top of those obvious qualities, this relatively large radio comes with many features available only on the high-end radios, but at around half the cost. It would be underselling the device to say it is a discount version of the high-end job site radios - but it fits that criteria fairly well.
Expand to see more
This Hitachi can withstand light rains, has a Bluetooth hookup, safety port for electronic devices as well as a USB charger. If you already use Hitachi batteries, then you can already effectively
utilize this device for up to 12 hours.

Key Features:

Weight: 11.3 pounds
Power: 14.4V -18V Hitachi Lithium Ion slide-type battery or AC cable.
Two powerful side firing 7 watt speakers.
Bluetooth wireless technology.
Rated IPX4 water resistant for durability during light drizzle.
USB output socket.
Folding rubber antenna.
Up to 11hrs run time with a 3.0Ah battery

Price/Value:

If you don't expect to be smashing into your radio or needing it to be charging batteries or powering your tools, this may be the best option for you. It has plenty of the practical features - while leaving off some of the more heavy duty job site specific ones, and this seems to have lowered its costs quite a bit.

Who Should Buy This?:

If you work on a job site that isn't putting your radio at significant risk than the lowered cost will probably make this one a smarter buy than the high-end options.
Low cost
Good sound
Loaded with features for a low price
Not as durable as comparable sized radios
10. Sangean FB-100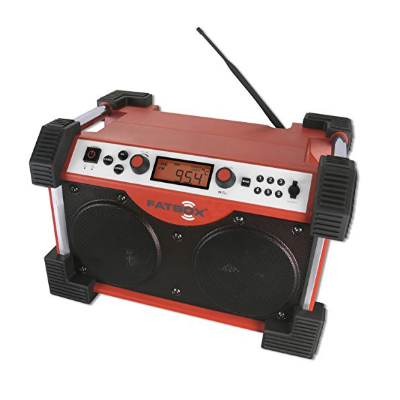 The Sangean FB-100 Fatbox radio is built tough enough for a war zone. It has a durable roll cage exterior made to withstand falls of up to 6 ft and 250 lbs of weight! It is sealed up in order to protect from dust and water damage (and has an internal port for safe storage of your phone). Unlike other radios on this list, the Fatbox doesn't focus primarily on auxiliary devices or digital inputs, although it has access to those things, it also boasts a powerful receiver and booster allowing it to receive traditional radio signals as well, if not better than, any other radio on this list.

Expand to see more
This is a dynamic worksite design as well, it can charge universal D-size Ni-MH batteries and is loud enough for even noisy worksites.

Key Features:

Weight: 18lbs
Power: 12 Volt DC-In Socket / D Size x 8
Roll Cage Protected.
Durable ABS Plastic Body.
Rain Resistant to JIS4 Standard.
Dust Resistant.
Shock Resistant.
"Dynamic Loudness".
2 Aux-In for MP3, CD Player or iPod/iPhone.

Price/Value:

This is a loud, durable and efficient job site radio for a reasonable price. The price is on par with many of the other good radios on this list, and if you are looking for that extra level of durability - this should be your choice.

Who Should Buy This?:

If you need a loud radio and still enjoy actual radio stations, then this is the choice for you. Perfect for outdoor use or in close proximity to heavy tools. This radio is a real soldier.
Incredibly durable
Provides a good, clear, loud sound
Great receiver
No treble/bass control
Lacking USB charging ability
Device port is too small to protect multiple devices at once
Criteria for Evaluation
How we decided which Worksite Radios were the Best
When compiling, organizing and eventually ranking this list, we had to dig through a mountain of competing (and somewhat similar) products. In order to organize this huge selection of radios, we had to create a criteria from which to judge and rank them. While typically a radio will simply be graded on the quality of its sound, we had to factor in a number of other elements such as durability, battery life, volume level, and a few other things including additional features. The price was also a major factor. A good point on cost that was made by the team was the idea that a typical worksite would actually benefit from the versatility of two or three decent radios -thus allowing different selections for different teams in different areas. This differs from using a rather than a more expensive, albeit better, radio that only provided a single music selection in a single geographical location. This really becomes pretty subjective at a certain point. Regardless, we have provided the logic behind our factors and judgments for you here:
Price
I just covered this a little bit, but I will elaborate. Value can be a pretty subjective thing given the situation or job you are working. I mean a Dewalt radio that uses the same batteries as your power tools may be immensely more valuable than a slightly better and/or cheaper radio that isn't compatible with anything else on the worksite. Having said that we tried to work price into a value/output ratio. If a radio is roughly 75% as effective (volume, durability, etc.) as another radio, but 50% the price – then it can roughly be said that the radio provides a better overall value.
Battery Life/Power Options
Some work site radios will utilize power cords, some have solar panels, while others are compatible with the same batteries you use on your tools. Which version is more useful for your site is up to you – but we gave deference to the more versatile products.
Auxiliary Hookups

Radio is a dying medium. The selection and quality out there is only a fraction of what it used to be. Because of that, it is crucial that a good worksite radio allows individuals to hook up phones or other tech and play podcasts or music from their selections. Some will also have Bluetooth options, and/or can charge phones that are plugged in. These are all extremely useful features in today's world.
Durability
This is why you buy a worksite radio and not some plastic thingy. You need a radio that can withstand a hazardous environment. Armored outer layers, waterproofing, dust and dirt proofing, etc. A work radio is only as good as the work it can withstand being around.
Sound Quality
This is fairly self-explanatory. The higher the volume, therefore reach, the better. The overall quality of the sound at high volumes is also imperative. These radios are made to work in noisy environments and they better sound like it. Products with added sub-woofers, for example, got a deference.
FAQs
Should I Buy the Same Brand Radio as My Power Tools?
Unlike staying brand loyal to companies that don't actually give you a reason to past clever commercials, many tool companies have invested in proprietary battery systems that also overlap with their worksite radios. This isn't the case for all of the brands or their radios – but if you have invested a lot of money into a particular series of batteries for your tools, then it makes sense that you would want a radio that can utilize those same products.
How Waterproof are Jobsite Radios?

While most Worksite radios will have some degree of water resistance, it's important to note that there is a difference between "water-resistant" and "waterproof". Due to the nature of electronics these days, there is typically always some way for water to negatively affect the product unless it utilizes extensive water protection. While the terms are sometimes used interchangeably, the typical rule is that something like a "waterproof" watch is made to go underwater for long periods of time without breaking down, while a "water resistant" phone or radio can be accidentally dropped in a puddle for a second or can accidentally take a spray from a hose with no side effects.
Long story short, a water resistant worksite radio can handle some accidental spraying or even light rain, but it shouldn't be left out during a storm or thrown into a swimming pool.
What Features of Worksite Radios Should I Most Care About?
This is entirely up to your needs. If you work outside with no overhead, then perhaps the solar powered device or one with good rain resistance is best. If you work with many individuals using a lot of power tools – then the battery charging aspects may be suited for you. Weigh your needs against what the radios offer.
Do I Need a Worksite Radio?
As was stated in the opening paragraph, studies have shown overall happiness and productivity increases when workers are able to listen to music. But do you need a worksite radio rather than a general stereo system? If you are working indoors painting, probably not. If you are outside with dirt, dust, heavy objects bouncing around and/or some inclement weather, yes. If you need a hardhat, your radio probably needs one too.
Making Your Decision

This list should hopefully have given you all the features, tips and info you need to go out and make a smart worksite radio purchase. We know making larger purchases of this sort can be a frustrating and confusing experience with so many different opinions and conflicting reviews, but we have done our best to ensure that you are presented with the best quality items with a thorough justification for their inclusion. No one ever fully agrees on what the best tools are, and the goes for working radios as well – so whether you agree or disagree with certain aspects or opinions presented here, the hope is that they have helped you form your own views on the subject and led to a successful purchase. Weigh our options and always see for yourself if a product fits the needs you are looking for or need. If you do that, it is unlikely you will come away from any purchase wholly dissatisfied.
So whether you are a site manager looking for the perfect moral boosting device, or a worker looking for something sturdy to plug his phone into, Good luck – and remember – build smart, build safe, and build big.
Subscribe to our newsletter