10 Best Socket Organizers Reviews in 2023
last updated:
Apr 06, 2021
To keep productivity up, proper storage of tools and accessories is a must. Also, it doesn't matter if you are in DIY vehicle repair or a professional; there are instances where you will find that you are dealing with tons of tools. The wrenches, screwdrivers and other substantial tools are easy to store, but the smaller ones, i.e., sockets can be difficult to store and locate when working. To increase productivity and reduce the possibility of you misplacing the sockets, we recommend you get a socket organizer.
Our Top 3 Picks
[srpshortcode id="16348″][/srpshortcode][srpshortcode id="16171″][/srpshortcode][srpshortcode id="16356″][/srpshortcode]
But what exactly is a socket organizer, and do you need one?
A socket organizer is a tool to organize your sockets. Yes, you can store your tools in a container, but a socket organizer will help get your sockets sorted that it will be easy to find them. The result is increased productivity.
10 Best Socket Organizers
1. Hansen Global 92000 SAE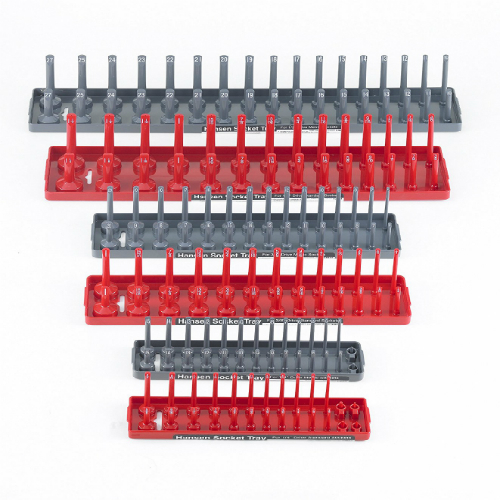 The 92000 socket storage tray by Hansen Global tops this list for its versatility. If you are in the market for a storage device that can accommodate most if not all sockets, this is the option for you. Though it misses a few sizes, you can store most of your sockets. Also, it features visible marking for appropriate storage. Also, the beefed-up bottoms will hold the tools securely, but you have to store them upside down.

Quality – The 92000 is made of ABS plastic which is hard but lightweight. Being a sturdy material, you are assured of longevity. Also, it is resistant to oil and gas, which reduces the wear and tear.

Versatility – There are instances you require a socket organizer that can handle all your sockets. This does that and thus reduces the number of storage equipment you need. Also, it can handle both SAE and metric sockets.

The Hansen Global trays are multi-sized with the most massive being 18-inches, the medium being 13-inches, and the small 9-inches.

Expand to see more
Product Features

Durable ABS plastic build
Multi-sized (18, 13, and 9 inches)
2.5-inches high
Gray and red for color coding

Who is it for?

We recommend the Hansen Global 92000 for persons looking for trays that can accommodate most sockets. Also, it's best for use in the garage as it will be difficult to store in a toolbox. Finally, ensure you have a cabinet that is at least 3-inches high.

Durable build that ensures longevity
Accommodates most socket sizes which customers are comfortable with
The beefed up bottom hold the sockets firmly
The posts are marked with the appropriate socket size.
It doesn't fit all sockets despite being marketed as one that does
2. Olsa Tools 3 Pc Set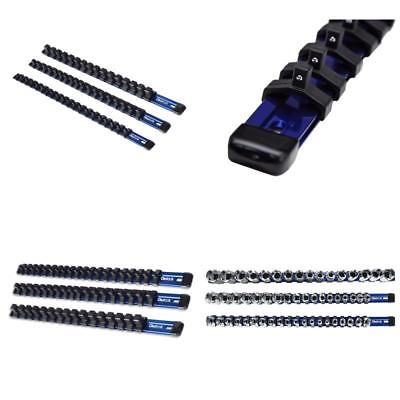 Next on our list is the Olsa 3-Piece aluminum kit. If you are looking for an organizer to mount on a wall or a central location, consider this holder. Also, the heavy duty material used for construction makes this the best for commercial spaces where they are exposed to wear and tear. The kit has three rails measuring 17 inches and can hold 16 1/2" sockets, 18 3/8" sockets, and 20 ¼ inch sockets. Each track can hold ¼, 3/8, or ½ inch sockets. Seeing as each rail is 1-inch wide and 1-inch tall, they can comfortably fit in a toolbox.

Secure – The top reason why we recommend this 3-piece Kit by Olsa is that it's spring-loaded with ball-bearings set in each clip to hold the sockets. What this does is prevent the shaking caused while moving which may result in you losing your sockets. It is therefore ideal for travel purposes.

Customizable – There are instances where you have an odd number of sockets, and you need extra clips. Extra clips can be added although they are sold separately.

Despite being durable, they are quite budget-friendly. By and large, you can use this while traveling, and they will still serve as an appropriate place to display and offer easy access to sockets.

Expand to see more
Product Features

Multi-drive – Accommodates ½, 3/8, and ½ inch sockets
Heavy-duty metal build
Spring loaded ball bearings to hold sockets in place

Who is it for?

We recommend the 3-piece Olsa kit to persons who frequently use ¼, 3/8, and ½ inch sockets. Also, if you are looking for a way to safely display and allow access to these, get this option. This 3-piece kit will mount on a wall or any central location in a garage.

The units are compact such that they are easy to store or carry in a toolbox
Easy to install on a wall or any surface
The heavy-duty metal ensures the longevity of the items
Budget-friendly
The ball bearings are not strong enough to hold heavy sockets
4. ARES 70235 | 30-Piece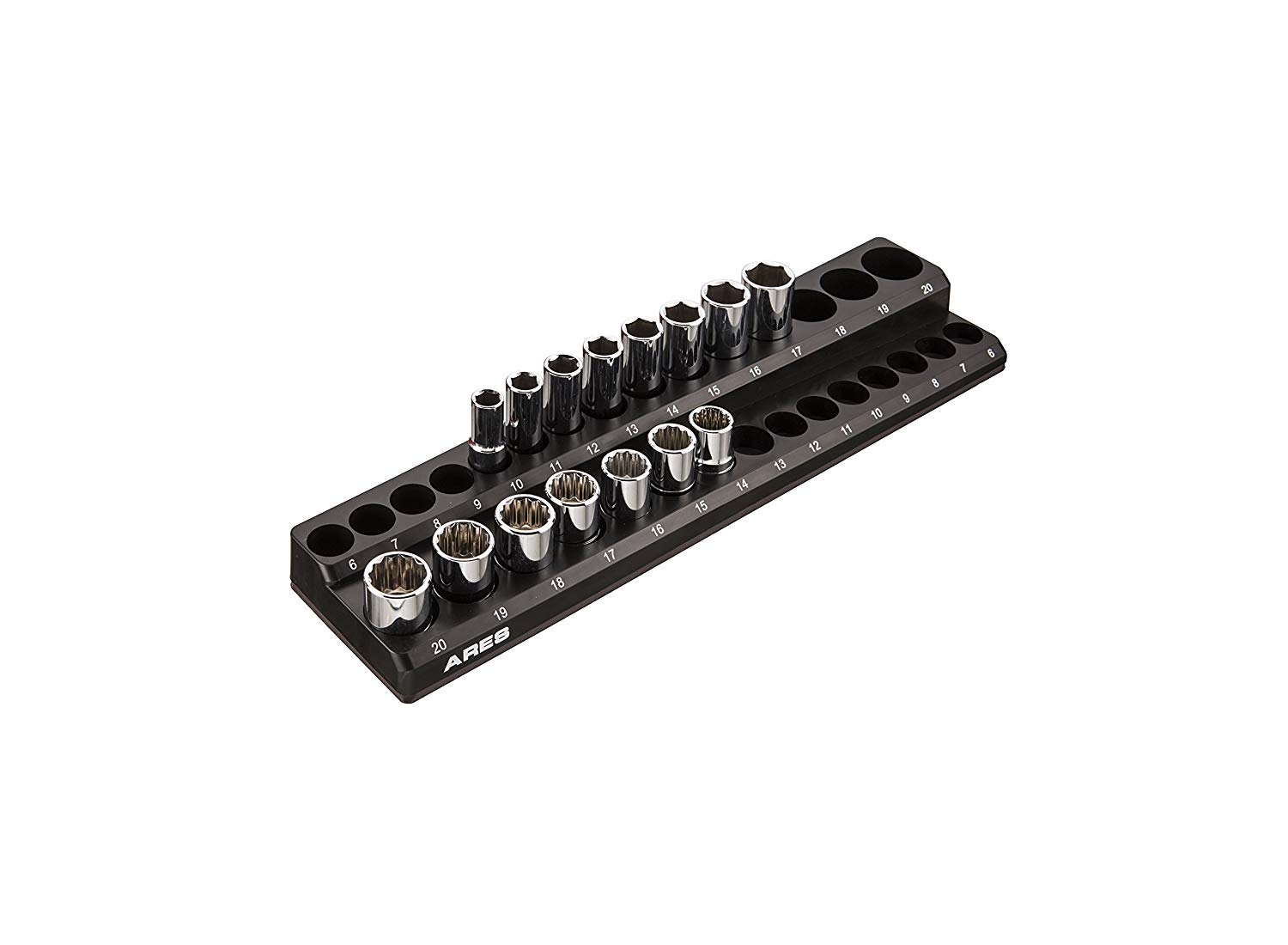 If you frequently use 3/8" sockets, you will love the Ares 70235. The 70235 is designed for 3/8" and can hold 30 pieces (15 shallow, and 15 deep metric sockets). It also features a different design from other units on this list with the shallow spots opposite the deep spots. Also, it can appropriately hold between 6mm and 20mm 3/8" sockets with each spot being appropriately marked. What fascinates us most about the 70235 is the build quality and the size of the holder.

Build quality – The 70235 is made of durable plastic for longevity. Despite being a premium product, it is well within the affordable range. The bottom of the item is magnetized for two purposes. First, it holds the sockets in place while also attaching to any metallic surface like a workbench. The bottom is also rubberized so that it doesn't damage another surface.

Compact build – The size of a socket holder should be a key concern when you are purchasing. The unit should fit in standard drawers so that it is easy to carry and store. With a 14" length, 4-inches wide, and slightly over 1" high, it is a great space saver and can even fit in the top drawer of your toolbox.

We would recommend the Ares 70235 as the company's performance assurance backs it, and they are part of the ASPCA Business Ambassador Program. By and large, this is a product to increase portability and organization of 3/8 sockets.

Expand to see more
Product Features

Dimensions: 14 * 4 * 1 inches
Weight: 1.63 pounds
Holds 30 pieces
For metric sockets only

Who is it for?

We recommend the 70235 for persons who rely on 3/8" sockets. Also, if you are looking for a way to safely display your 3/8", we recommend this holder. A great place would be a garage or any other commercial place where they can be a shared resource.

The rubberized bottoms ensure that the surface incurs no damage they are attached to
The dual-purpose magnetic bottom holds the magnets, while also attaching to any magnetic space
It is compact and can fit on the top drawer of a toolbox for portability
The principal complaint is of it being too tight for some sockets
3. TEKTON 1885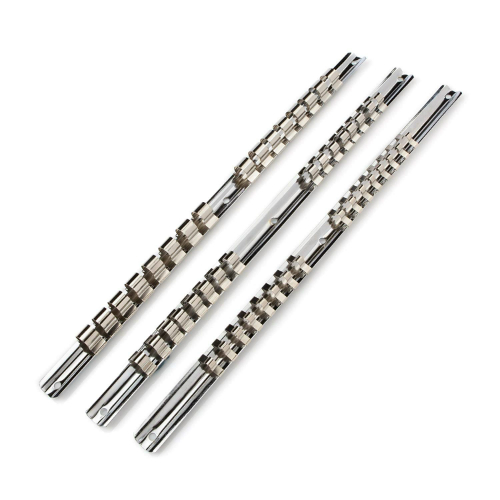 If you are on a budget, we recommend the 1885 Tekton trays. The set consists of three bins at a price that is lower than what other ask for one tray. Being the cheapest, it goes without saying that it is the most famous holder. The 1885 can accommodate 1/2, ¼, and 3/8 inch sockets. Therefore ensure that these are your sockets before making a purchase. What stood out for us though is the versatility and the rounded clips.
Versatility
– When getting a socket holder, you want to ensure that you get a tool that works well in various environments. The 1885 can fit in a toolbox thanks to its compact size, or you can hang it on the
wall
or install it on a workbench. It would primarily serve you well in a commercial space.
Rounded bulges
– To hold the sockets in place, the Tekton 1885 have some rounded bulges at the tips with quite a firm hold.
With the price point on this holder, one can question the build quality. However, you will enjoy the fact that these are nickel plated steel trays with unmatched quality.
Expand to see more
Product Features

Multi-drive (holds ½, ¼, and 3/8 inch sockets)
Each rail holds 16 sockets
Nickel-plated steel construction
Dimensions: 5.1 * 1 * 19.2 inches
Weight: 8.8 ounces

Who is it for?

We recommend the 1885 for persons who are on a budget. Also, only purchase them as addition or if you use 1/4, ½, and 3/8 inch sockets.

The entire set costs less than what other brands charge for a single tray
It's versatile, and you can carry it in your toolbox, or hang it on a wall or install it on your workbench
The rounded bulges on the tips provide a good hold
Being a low-cost product, don't expect much from it; the hold on the sockets is just good enough but doesn't keep the sockets from falling off
5. Ernst Manufacturing Socket Boss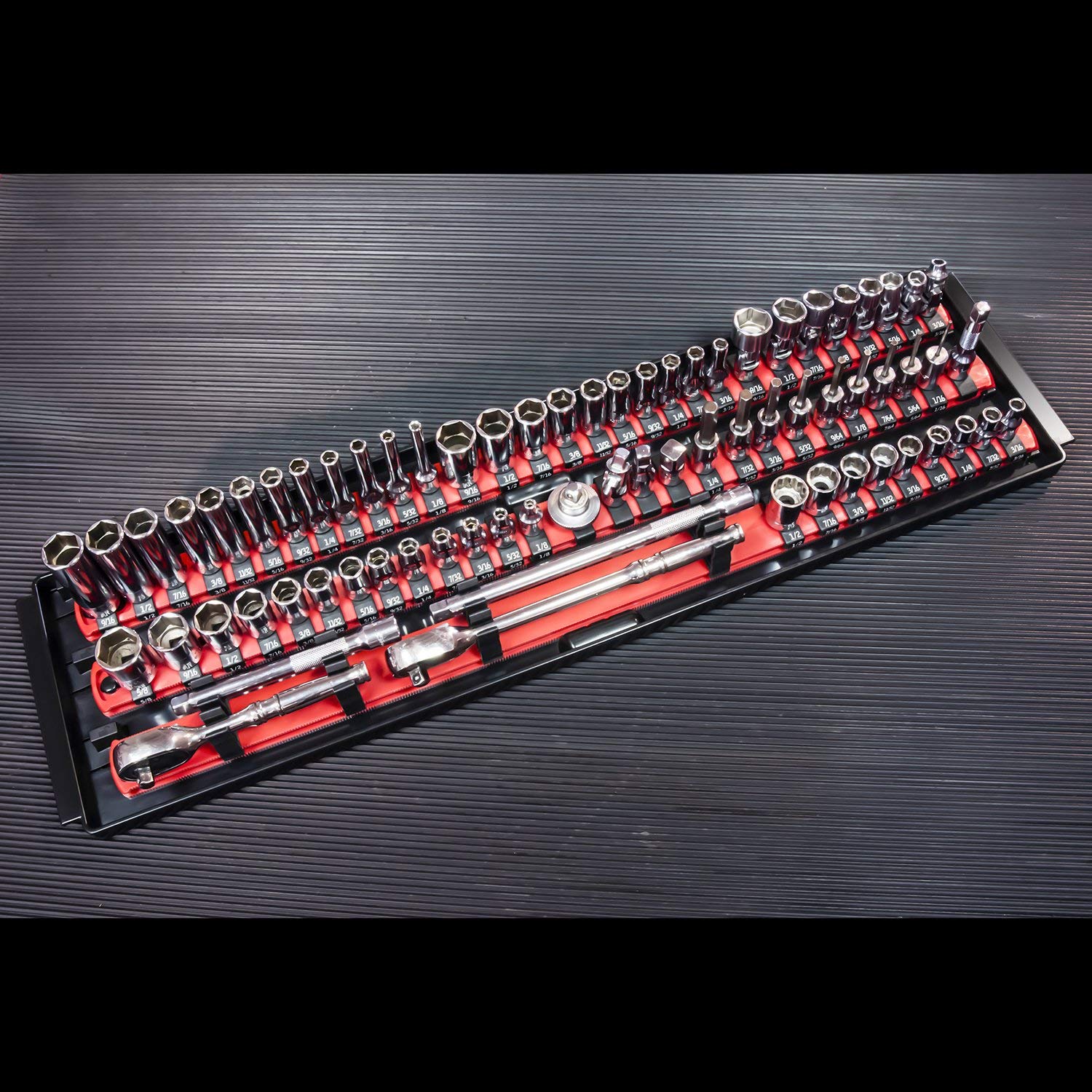 If you are in the market for a unit that you can customize, you should get the 8451 by Ernst Manufacturing. There are two models, the 19-inch model, and the 13-inch model. The boss tray has three rails with each dedicated either to the ½, ¼, or 3/8 inch rails. Each rail holds 15 sockets allowing it to accommodate a total of 45.
Customization
– The chief strongpoint of the 8451 is how customizable the unit is. You can remove the individual rails and use them separately or as one unit. You can adjust the clips so that you can fit more.
Also, the tool includes some
stickers
that you can use to label the rails. They help take the guesswork out of the entire process of organizing the rails.
Handles
– You will also love the handles on opposite sides of the unit. They make it easy to carry the item, take it from a drawer, or from a toolbox.
Another fascinating feature of the 8451 is the twist lock. These locks are on your clips and will secure your sockets even during transportation.
Expand to see more
Product Features

Holds 45 sockets
Twist lock clips
Dimensions: 19.75 * 5.3 * 1.35 inches

Who is it for?

If you plan to travel with your holder, we recommend you get the Ernst Manufacturing 8451. Also, if you want a customizable unit, say you have an uneven number of sockets, the 8451 will serve you best.


The customization is welcome, especially if you have an uneven number of sockets
The twist lock on each clip holds the clips in place even during transportation
The stickers included help in labeling the rails
It lacks the piece to lock the bottom of the clips; you have to purchase it separately
6. Neiko 03965A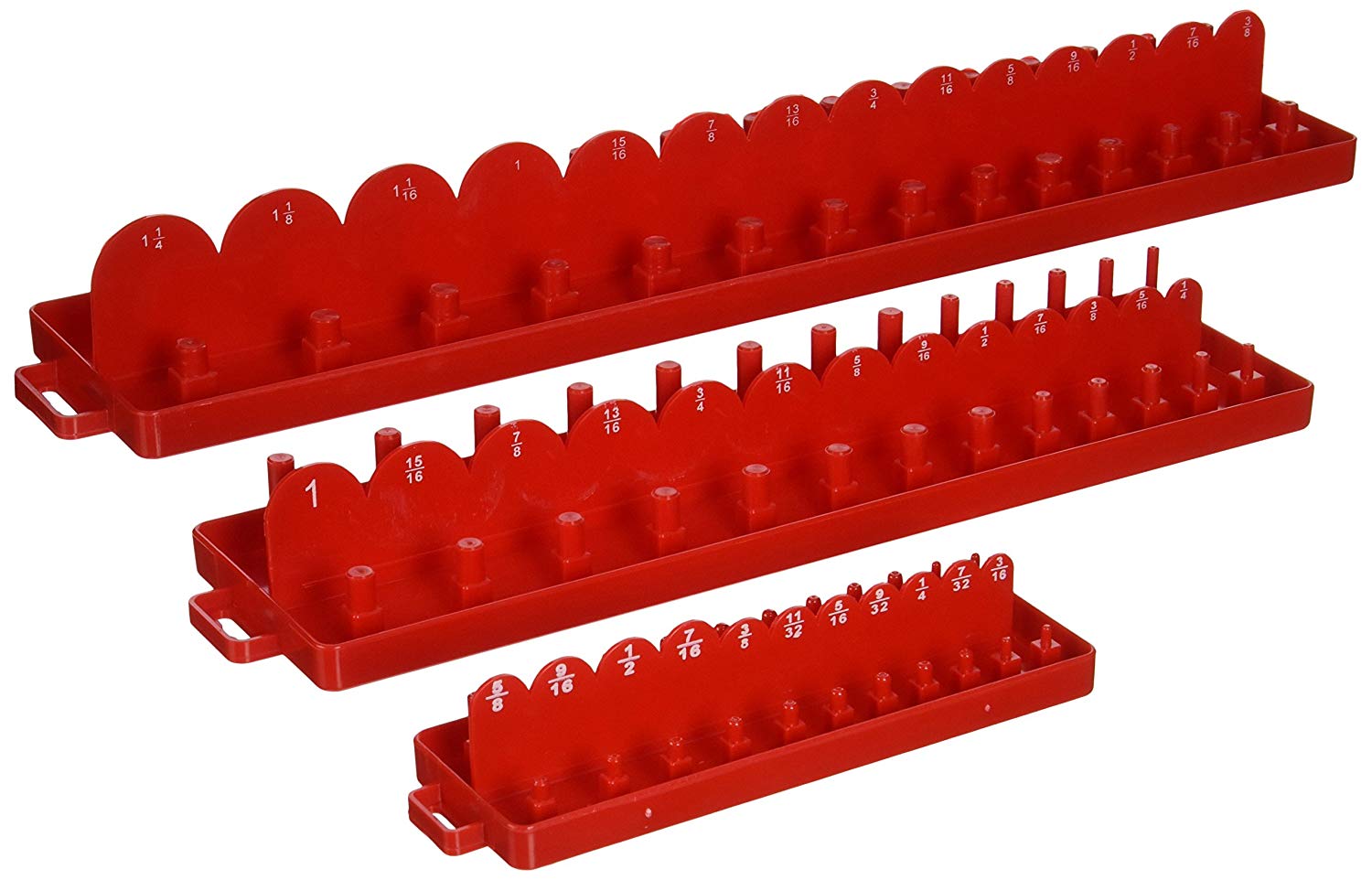 If you are in the market for a budget-friendly unit, the 03965A is a remarkable unit. Made of lightweight plastic, it is flexible but pleasantly durable. The set consists of three trays which hold the three primary socket sizes (1/2, ¼, and 3/8 inches). Each clip has appropriate labels the guesswork when storing sockets.

The Neiko 03965A is 20 inches long, 3" wide, and 4-7/10" high. The height is somewhat a hindrance as it cannot fit in a toolbox. Nevertheless, it is still ideal for setups that require a centralized holder.

Appeal – What stood out for us is the bright red plastic. Working in a garage, it is quite easy to lose units or tools in the junk. However, the aesthetics on this item makes it easy to spot. Also, the plastic is entirely red and thus will not lose the aesthetics from wear and tear.

Locking mechanism – Despite the low price point, this unit incorporates a locking mechanism. Securing your sockets is crucial lest you risk losing them as you travel. The beefed-up bottoms will holdem ensuring that they don't slide off, even when in transit.

Expand to see more
Product Features

Easy to read markings
Dimensions: 20 * 4-7/10 * 3 inches wide
Bright red plastic

Who is it for?

We recommend you use this only when on a budget. Being low cost, the quality is questionable and will not hold up well in the long run. Also, we recommend them for display rather than storage.

The red color stands out in any cluttered garage or space
Getting a locking mechanism at this price point is commendable
The rails cannot be laid on the side and still secure the sockets
The material is still a bit brittle
7. Ernst 8471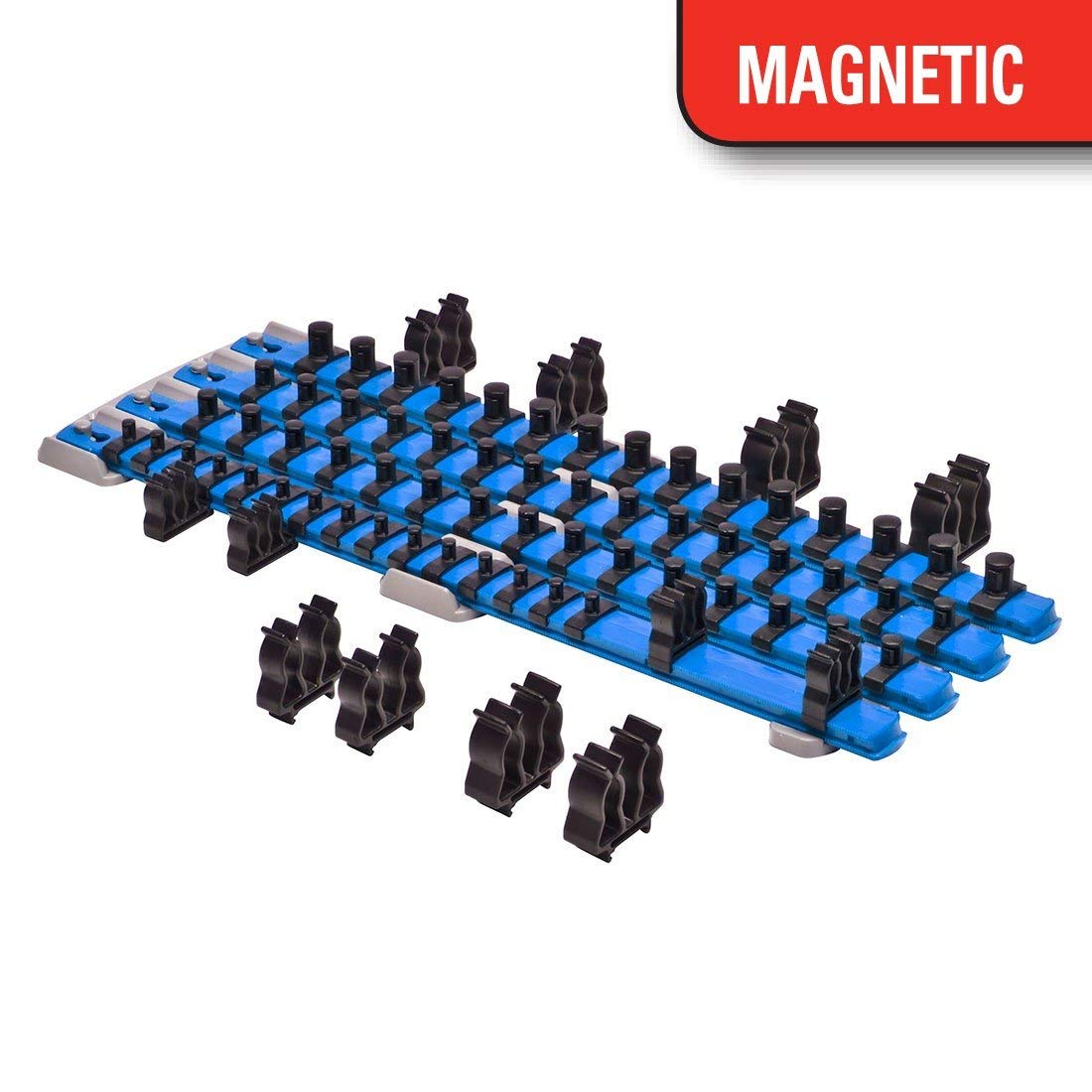 Most holders can only accommodate a single group of sockets, either SAE or Metric sockets. However, most people have both types. One, therefore, has to purchase at least two organizers to accommodate all sockets. The Ernst manufacturing 8471 is designed to solve this issue as you can store both on the same tray. This versatility plus the products longevity are the two reasons why you should invest in one. However, for such a quality product, be prepared to pay a hefty price.

Longevity – When investing in a unit, always check the quality. The 8471 from Ernst manufacturing has a lifetime guarantee, and you can direct any complaints to support team at Ernst for a replacement.

Versatility – Other than holding both metric and SAE sockets, it also carries your ratchets and extensions. In addition, it features a magnetic twist lock to keep your sockets in place.

Nevertheless, expect to hefty price given the features you get.

Expand to see more
Product Features

Weight: 1.5 pounds
Dimensions: 22 * 1 * 10 inches

Who is it for?

We recommend the Ernst Manufacturing 8471 for persons who don't mind the hefty fee and who are looking for one organizer to hold all types of sockets.

It can hold metric and SAE sockets plus your ratchets and extensions
The magnetic twist lock will hold your sockets even during transportation
The lifetime quality guarantee assures you of never having to go back to purchase a new holder
The only crucial concern is the magnets; they should be stronger to hold items in place
8. Lisle 40200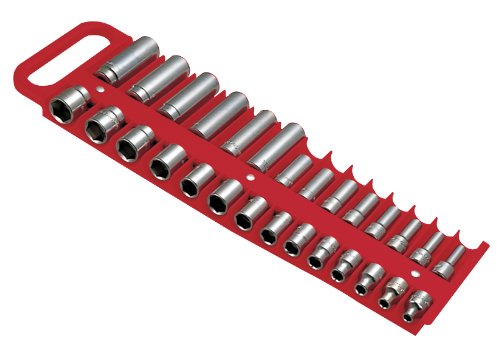 If you are in the market for a low profile socket holder, we implore you to get the Lisle 40200. However, it is meant for static use and thus don't consider it if you plan to move a lot. The 40200 is designed for 3/8" sockets, with around 28 compartments for standard and deep-sized sockets. What stood out for us is the build quality and storage.

Build quality – Lisle had valueand cost in mind when they made the 40200. The goal was to ensure that people get a top quality product at half the price, and they achieved this. The 40200 is made of ABS plastic which is durable and low-cost. You can, therefore, rest assured that the unit will serve you well for a couple of years. Also, the holder is fitted with magnets to hold the sockets. The magnets are relatively strong but not to the extent that it's troublesome to remove the sockets from the tray. Also, the magnets are used to hold the trays to a steel surface.

Another fascinating feature is the handles. Carrying the organizer around the garage or just taking it out of the drawer will be a walk in the park. Also, the red-colored plastic is easy to spot reducing the likelihood of losing it.

Finally, there is the height of the unit; at around 2" high, it comfortably fits in any drawer or toolbox.

Storage – The Lisle 40200 allows you to store the tools upside down for a more relaxed time removing the tools.

Expand to see more
Product Features

Weight: 2.08 pounds
For 3/8" fractional and metric sockets.
Dimensions: 16 * 5 * 2 inches.

Who is it for?

We recommend the Lisle 40200 for persons who need a way to display their sockets. A garage or any commercial space would benefit the most from this.

It is a compact unit and thus will be easy to store in a drawer or toolbox
The red ABS plastic makes the unit easy to spot
Has handles making it easy for the user to carry it around a commercial space
Affordable but durable
A key concern with the 40200 is that the magnets aren't strong enough to hold the sockets in place during transport
It is a low profile unit, and we would not suggest it for persons with many tools
9. Tooluxe 03966L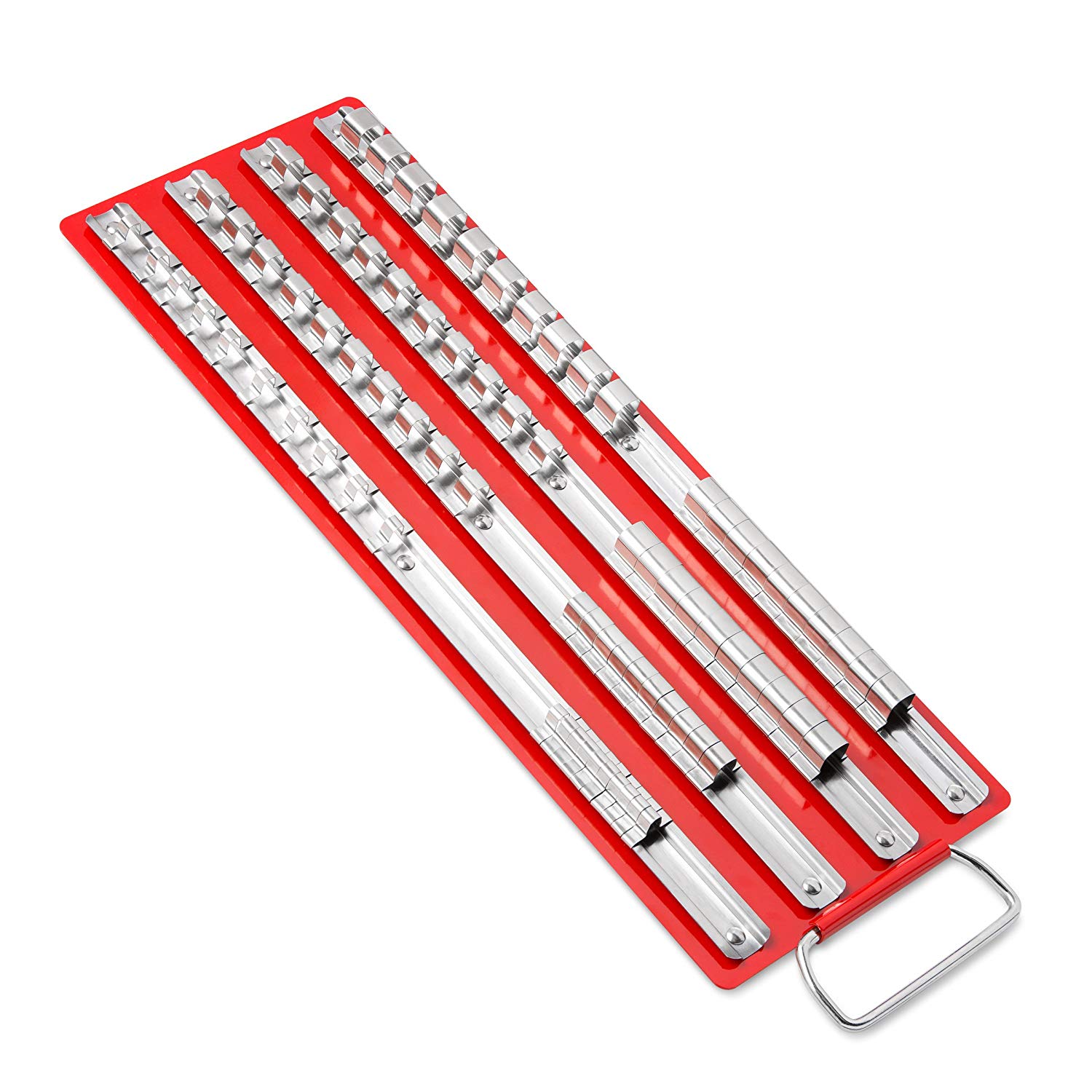 If you are in the market for a tool that can hold a good number of sockets, consider the 03966L. The unit is manufactured from nickel-plated steel which even though isn't the most durable material, is still better than other plastic organizers. Also, to increase the durability of the unit, the tray is powder coated to prevent wear and tear. Nevertheless, what stood out for us is the capacity and the clips.

Capacity – There are instances where you need a tool that can accommodate most if not all of your sockets. With an 80pc capacity, the Tooluxe 03966L is unrivaled. It is also a universal tray and can hold 20 ¼", 30 3/8", and 30 ½" sockets.

Multi-use – You can hang this item in a garage with the handle, or put it in a toolbox. The clips are specially designed and shaped with precise tensions to hold sockets. Mounting or removing the units is an effortless task.

Another exciting feature of thre03966L has to be the height of the item. At 0.8 inches, it will fit perfectly in any drawer or toolbox. Finally, it is reasonably priced for the capacity and quality.

Expand to see more
Product Features

Dimensions: 17.5 * 6 * 0.8 inches
Multiple drives
Nickel-plated steel clips

Who is it for?

We recommend the 03966L for commercial spaces. Their capacity is suitable in garages or areas where various sockets are required. Also, if you are on the go, you can get this unit as its locking mechanism will keep the sockets in place.

What you will appreciate most of this item is the capacity
It is a compact unit and can fit in a toolbox or a standard drawer
It is well within the affordable range
One concern with the 03966L is the clips; they often fall off the trays
10. MLTOOLS Twist Lock Rail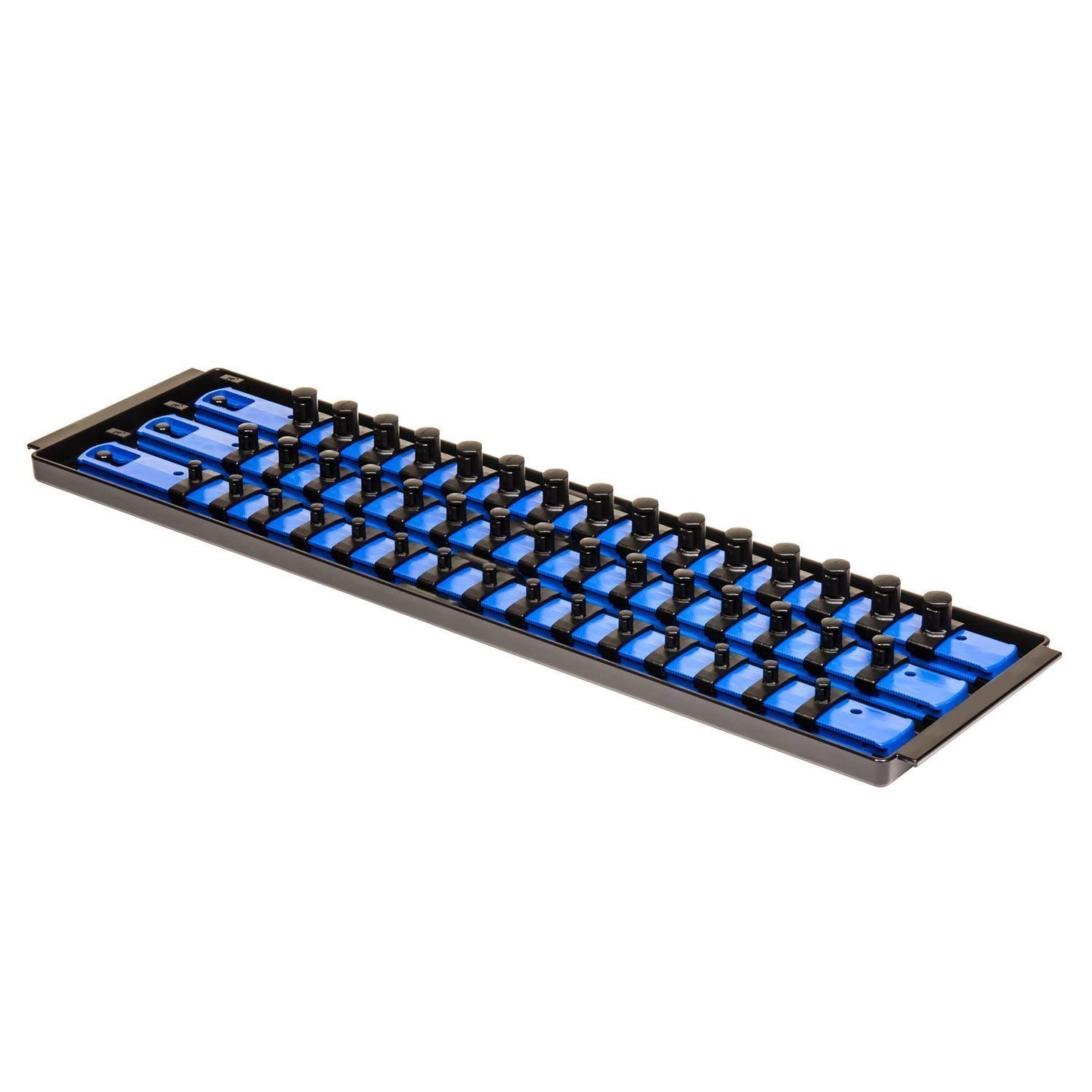 Another high capacity socket holder, the MLTools rail with a tray can hold up to 90 sockets in two trays. It is, therefore, the ideal unit for commercial spaces.

Each tray has three rails with a 15 socket capacity each. Also, the three rails can only accommodate one size sockets; 1/4 inches, ½ inch, and 3/8 inches. You will love the different color of the units too. Other than the primarily black, they are red and blue which helps them stand out in clusters of garage equipment. The remarkable features of this unit are the capacity and the twist locks.

Capacity – Again, with the ability to hold 90 sockets in two trays, the MLTools socket rails give you the versatility to store your units depending on the size and brand. You no longer have to worry about saving metric and SAE options together. Also, there is the labeling system and thus keeping your sockets will be straightforward.

Twist lock – To reduce the chances of losing your sockets while on the go, this rail has a twist-lock system which secures them. We would recommend this to any individual who is often on the go.

Another exciting aspect of this item is the height. At slightly above 1" it can comfortably fit in any toolbox or drawer. The accompanying tray is an excellent addition as it allows you to set the rails on a flat surface.

Expand to see more
Product Features

Dimensions – 19.8 * 5.3 * 1.4 inches
Weight: 1 pound
Holds 45 sockets per tray

Who is it for?

We recommend the MLTools rail for people who are often on the go, or individuals who prefer to separate their sockets by brand or size.

The blue and red colors make these units easy to spot
The twist locks hold the sockets in place
The capacity is unrivaled
The accompanying tray makes it easy to set the rails on a flat surface
The only concern is with the ¼ inch rails; they don't hold the sockets tightly enough
What to Consider Before Purchasing
However, before you purchase a socket organizer just because we said they are useful, it's best you know what to consider when buying one.
The number of sockets you have
Various socket organizers hold a different number of sockets. Depending on your situation, your preferred option should have the same amount of clips as your sockets or a little bit more. Otherwise, you will inconvenience yourself if it has fewer clips. However, if you have no specific number of clips, there are options that allow you to increase the number of clips.
Budget
Going by the quality and brand, the price is bound to vary. Consider your budget and then select an item that is well within your budget.
Quality
The quality of a socket organizer will determine the longevity and the amount you will spend. There is ever the incentive of saving money by purchasing a low-cost item, but cheaper items don't necessarily result in saving money. They require frequent replacements, and you end up spending more than you would have had you bought a quality tool. Check the materials used in construction and especially the clips as they break often rendering the organizer useless.
Where do you want to use the organizer
There are two purposes of the socket organizer, for use in the garage, or as you travel. The difference in the two is that you need an item that can hold sockets tightly as they are shaken in the travel organizer, but not so much in an organizer for garage use. The bottom-line is to ensure that your sockets are held so that you don't lose them. As a precaution avoid magnetic organizers for traveling as your sockets will often get loose.
Socket sizes
These will vary depending on the vehicles you own or work on. Also, the socket organizers too will have the sizes they can hold. Most hold a small range while there are some that cover the entire specter. The final decision though depends on you.
Additional Features
Consider your priorities before purchasing so that you can select the tool that works best for you. Other features to consider are magnetic build for secure storage, handles for portability, and socket organizers that can hold all socket sizes.
Space
Finally, consider the amount of space you have. Most people return items because they are too big for the cabinets. Avoid this by purchasing one that suits your particular needs.
Types of Socket Organizers
Pouch Organizers – These are portable and will protect your sockets. They are also available in a wide range of designs but don't offer the same organization as other organizers.
Magnetic Holders – If you are in the market for budget-friendly holders with a degree of organization, we recommend magnetic holders. Some are just a flat bar that is attached to a magnetic surface, while others have pre-drilled holes with magnets. These require some maintenance and can attract shavings.
Rail System –If you are okay with making a more substantial investment in a socket holder, we recommend the rail system. Also, you should be okay with installation. This unit features a socket drive with clips that slide on the side and hold the sockets. Despite being a bit expensive, they are easy to maintain.
Tray Container – These are considered the best for sockets. They cannot only fit in a toolbox or a drawer, but sockets are arranged efficiently and are easy to access. Also, they offer better organization as you can organize them by size or brand.
Drawer Inserts – If you are a pro, you might want an organizer with a large capacity. We recommend drawer inserts. They can be plastic, metal or padded foam, but are bulky to accommodate that many units.
Despite knowing what to look for in a socket organizer and the different types, selecting one can be challenging with the many brands in the market. We have created a buying guide with the best tools in the market. Hopefully, you find one that meets your requirements.
Also, if you feel there is something we have left out, be sure to let us know in the comments below.
FAQs
Which type of holder is best for me?
The final decision is yours to make. However, we advise you to consider the type of jobs you undertake, whether or not you are a pro, and whether or not you intend to use them on the go. If you are a professional, we recommend the drawer insert. Pouch organizers will do well for DIY enthusiasts, while rail system holders are for persons on the go.
Conclusion
A socket organizer is an essential tool in any garage or toolbox to increase productivity, and reduce the chances of you losing your sockets. Also, the item has come a long way since to include locking mechanisms and color coding. Magnetic locking systems especially have come a long way as they not only secure your sockets but allow you easy access to sockets.
Color coding is now more popular and makes it easy to identify different sockets. By and large, a socket organizer is a must-have. However, with the many options in the market, choosing one can be a hassle. Be sure to check the tips on this guide, and consider the items here too.
Subscribe to our newsletter