10 Best Hardwood Floor Cleaners Tested
last updated:
Jan 04, 2019
Carpets are lovely, and tiles are just exquisite, but we believe hardwood floors are the holy grail of flooring. The allure and versatility the wood provides are hardly equalled, and they happen to be durable that you can pass it on to your grandkids albeit with the appropriate care.
Our Top 3 Picks
[srpshortcode id="20620″][/srpshortcode][srpshortcode id="20621″][/srpshortcode][srpshortcode id="20622″][/srpshortcode]
However, there is a lot of debate on the best way to clean hardwood floors, and which would be the best cleaner. There are various ways to keep your hardwood floor shining, and we have also included some maintenance tips at the bottom. But first, let's look at what to consider and our top picks for the best hardwood floor cleaners.
10 Best Hardwood Floor Cleaners
Bona Hardwood Spray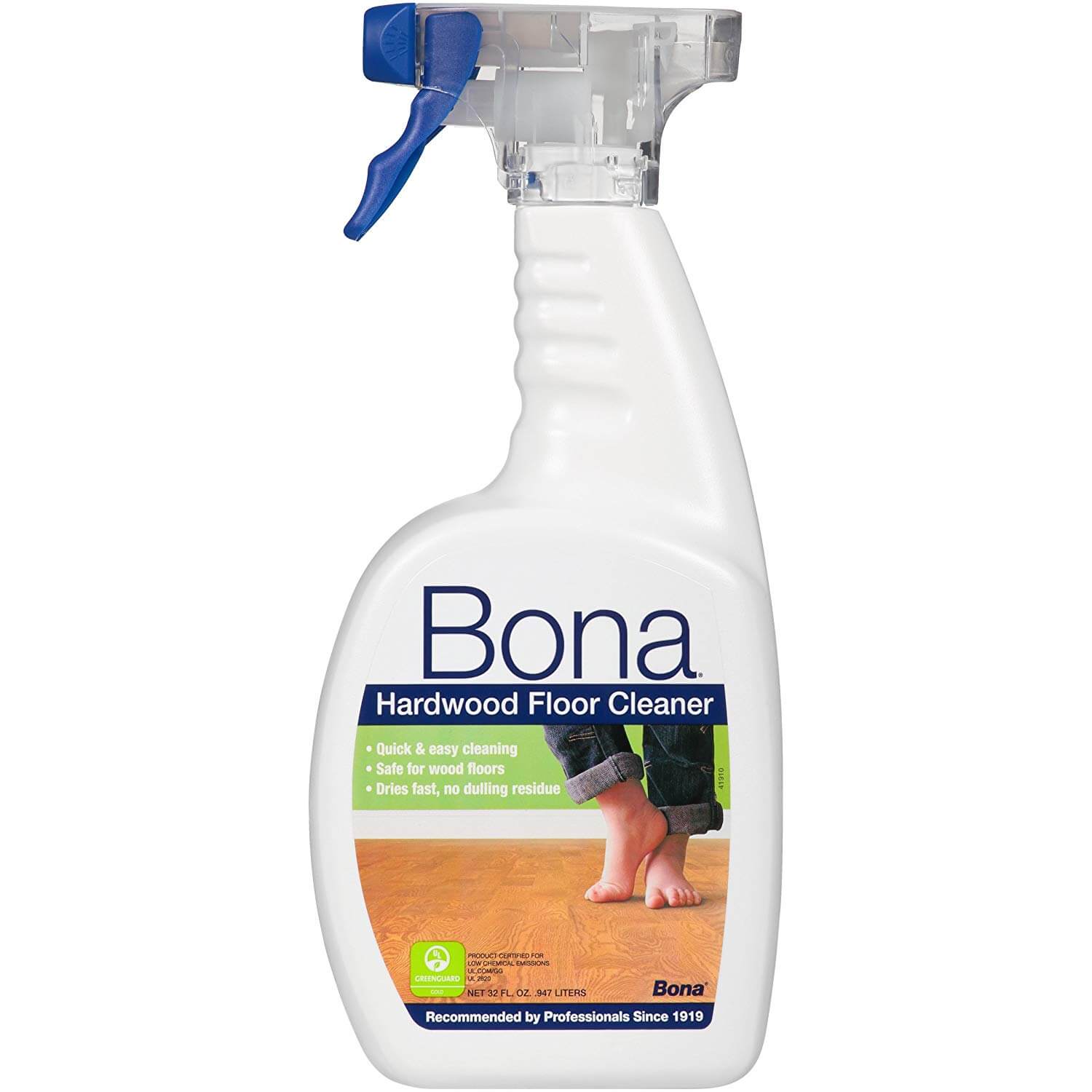 Even professionals agree that it is the go-to product for a glossy hardwood floor. First, this is a water-based formula, and it dries almost instantly when applied.

You can put it on a mop, or mist your floor and wipe. It leaves a shiny appearance having eradicated all soil and scuffs. The product though is for unwaxed polyurethane finished wood only.

One interesting feature though is the economy size refill that is ready to use, and its efficiency as it cuts through all sticky grime and scuffs. Our best features though were the Greenguard Gold Certification and the ease of use.

Ease of use – Thanks to the trigger spray dispensing the floor cleaner is a walk in the park. It reduces wastage and results in efficient delivery of the detergent. Moreover, the trigger spray makes the unit great for spot cleaning and getting into tight spots.

Greenguard Gold certification – Bona has been around for about 100 years now having been established in 1919. In that period, they have come to be renowned for the safety of their products and the Greenguard Gold certification is evidence of this. Nevertheless, keep out of reach of children.

Expand to see more
Product Features

Trigger spray with different settings
Ready to use
Dries fast

Who is it for?

The Bona hardwood cleaner is for homeowners with unwaxed wood only. However, we also suggest it for homes with curious kids and pets as it is safe to use around them.

Includes preservatives that help get rid of bacteria and fungi.
You can use it with any microfiber cloth and get the same excellent results.
The trigger spray increases the efficiency
It has no residue buildup
Great for spot cleaning
It is limited to unwaxed floors as it leaves a cloudy film on waxed wood; lso, it is a bit demanding for significant cleaning tasks
Parker and Bailey Cleaner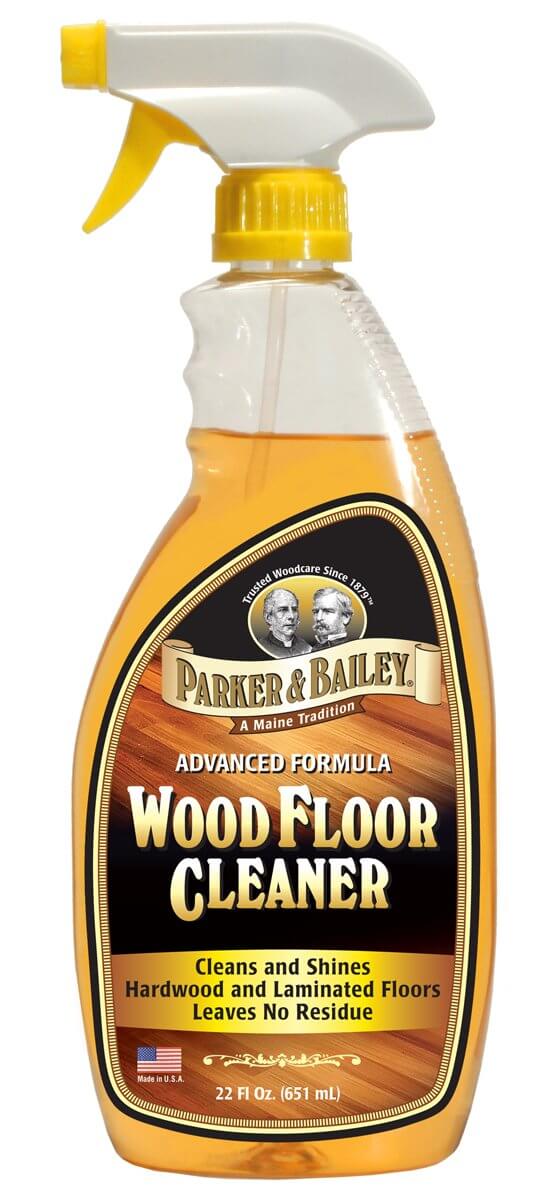 If you are on the hunt for a multipurpose cleaner, we recommend you get the Parker and Bailey cleaner. This product is also great for cleaning scuff marks and will shine any surface without residue. If you desire glossy hardwood floors, this is the detergent for you.
One fascinating feature of this product has to be the cleaning action. It gently lifts all grime and dirt off any surface without harming the finish. Moreover, you can use it to clean
laminate
and faux finished floors. Our top features though were the trigger spray and the advanced formula.
Trigger spray –
One fascinating feature of the trigger spray is the efficiency. The product will only give out the required amount, and thus you can use longer. Moreover, it is ideal for spot cleaning and use with mops.
Advanced formula –
Parker and Bailey hardwood floor cleaner uses a touch of vinegar and natural cleaning ingredients and thus is safe to use around children, and pets.
Expand to see more
Product Features

Multipurpose
Not for previously waxed floors
Advanced natural ingredients and vinegar formula

Who is it for?

Parker and Bailey hardwood cleaner is for homeowners looking for a multipurpose cleaner; a product that cleans more than hardwood floors.

It is perfect for getting rid of scuff marks
Leaves all surfaces shiny
Efficient trigger spray
The product has some flaws but not deal breakers; first, it doesn't work on previously waxed floors, it takes several passes to remove tough scuff marks, and it has average performance on sticky soil
Black Diamond Wood and Laminate Cleaner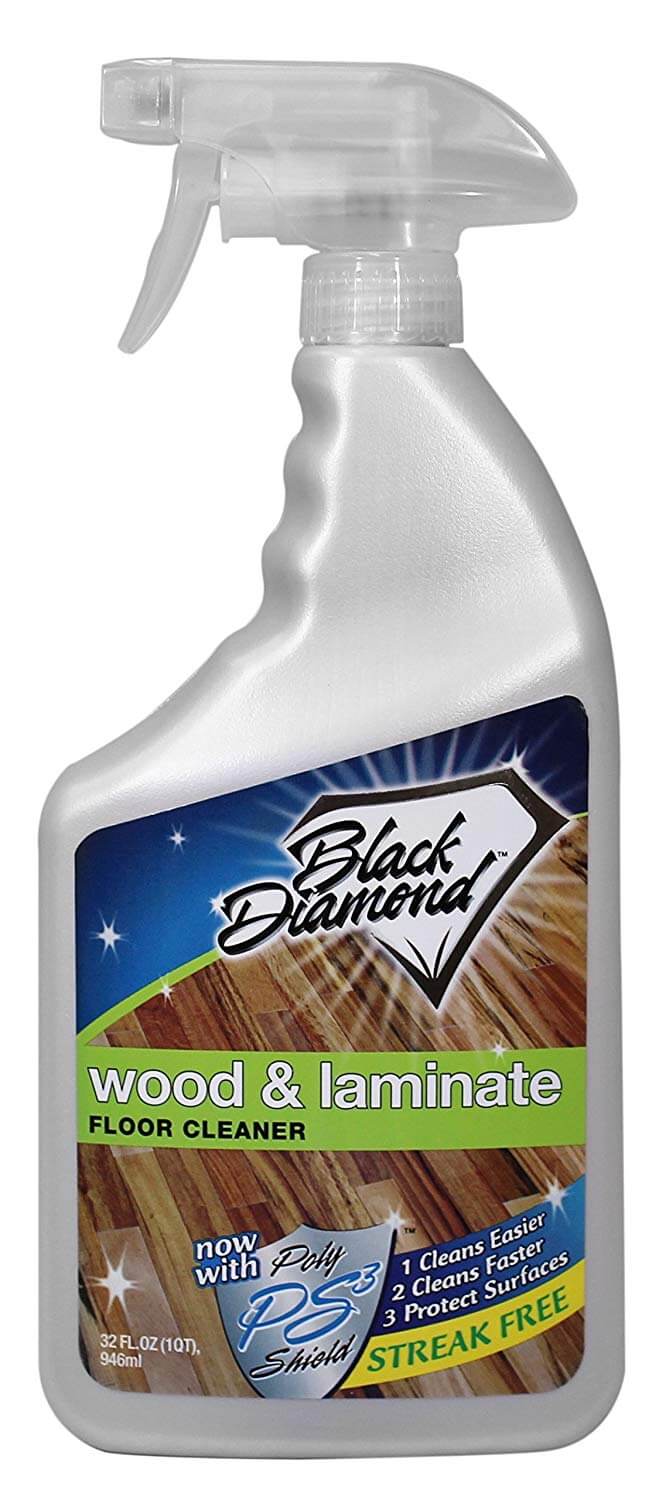 Another multipurpose cleaner, the Black Diamond is designed for all laminate floors, and all polyurethane finished wood. As a water-based cleaner, it is safe to use around pets and children and dries quickly after about 2 minutes. It is also eco-friendly for environmentally conscious folks. Furthermore, it has a pleasant added scent close to almond.

Another exciting feature of this unit is the trigger spray that increases the efficiency, and that you can use it with a cap for those demanding jobs. Our best features though were the PS3 shield and clear instructions.

Clear instructions – It is not until you use the Black Diamond cleaner that you appreciate the convenience of clear instructions. First, you will tell if you are getting the best product for you and the instructions allow you to get the most of it.

PS3 Shield – The triple action poly shield protects the surface from any soil or dirt buildup, and thus future cleaning will be a walk in the park.

Expand to see more
Product Features
PS3 shield
Great for polyurethane coated wood
No-rinse hypoallergenic formula
Who is it for?
The Black Diamond is for polyurethane finishedfloors. Avoid using it on previously waxed surfaces. Moreover, we recommend it for people with children
and pets
as it is safe to use around them.
The trigger spray allows a little amount to go a long way
It is excellent for getting rid of scuff marks
Eliminates all grime and leaves your surface feeling new
One shortcoming of this unit is the low-quality spray as it backwashes and drips; moreover, it dulls the wood after years of use
Zep Commercial Cleaner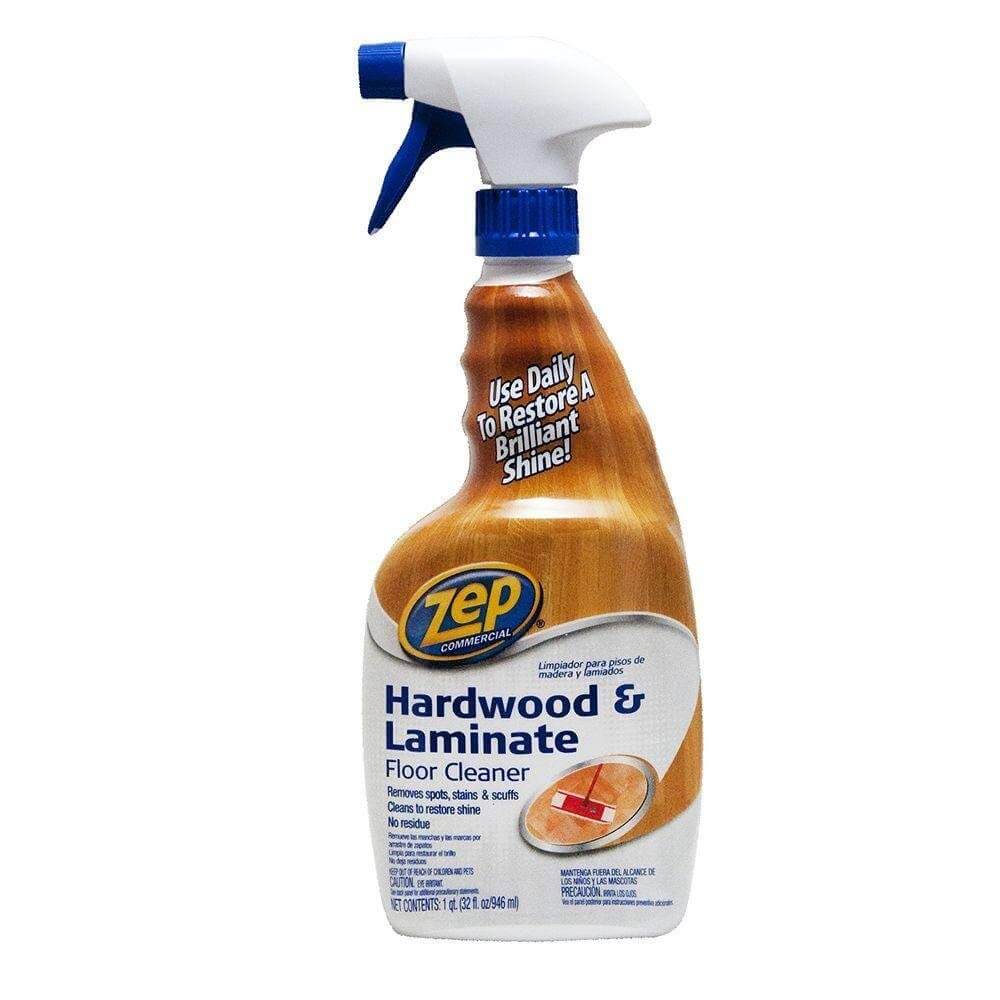 Zep stands trumps most hardwood cleaners in that it is a commercial product. It too happens to be a multipurpose unit and great for hardwood floors and laminate. It is a neutral and gentle cleaner and best for floors that are regularly cleaned. Getting rid of spots, stains, and scuffs, will be simple enough, but our best aspects were the ease of use and results.
Ease of use –
The Zep product includes a trigger spray that you can remove for bi cleaning tasks.
The spray
allows for efficient use of the product, and it aids in spot cleaning. Moreover, it enables you to get into any tight spots with ease.
Results –
The results after using it is exceptional. First, it leaves your floor glossy, and there is no residue or build up. Furthermore, it leaves no streaks and requires no rinsing.
Expand to see more
Product Features

No buildup
No rinse required

Who is it for?

Though it is a commercial product, we still recommend it for residential use. However, it is best for floors that are cleaned regularly for better results.

It is easy to dispense and makes quick work of any scuffs or stains
It is simple to use, and the results are pleasant
It doesn't compare to our top pick when cleaning sticky soil; takes several passes to be successful
Bruce Hardwood and Laminate Cleaners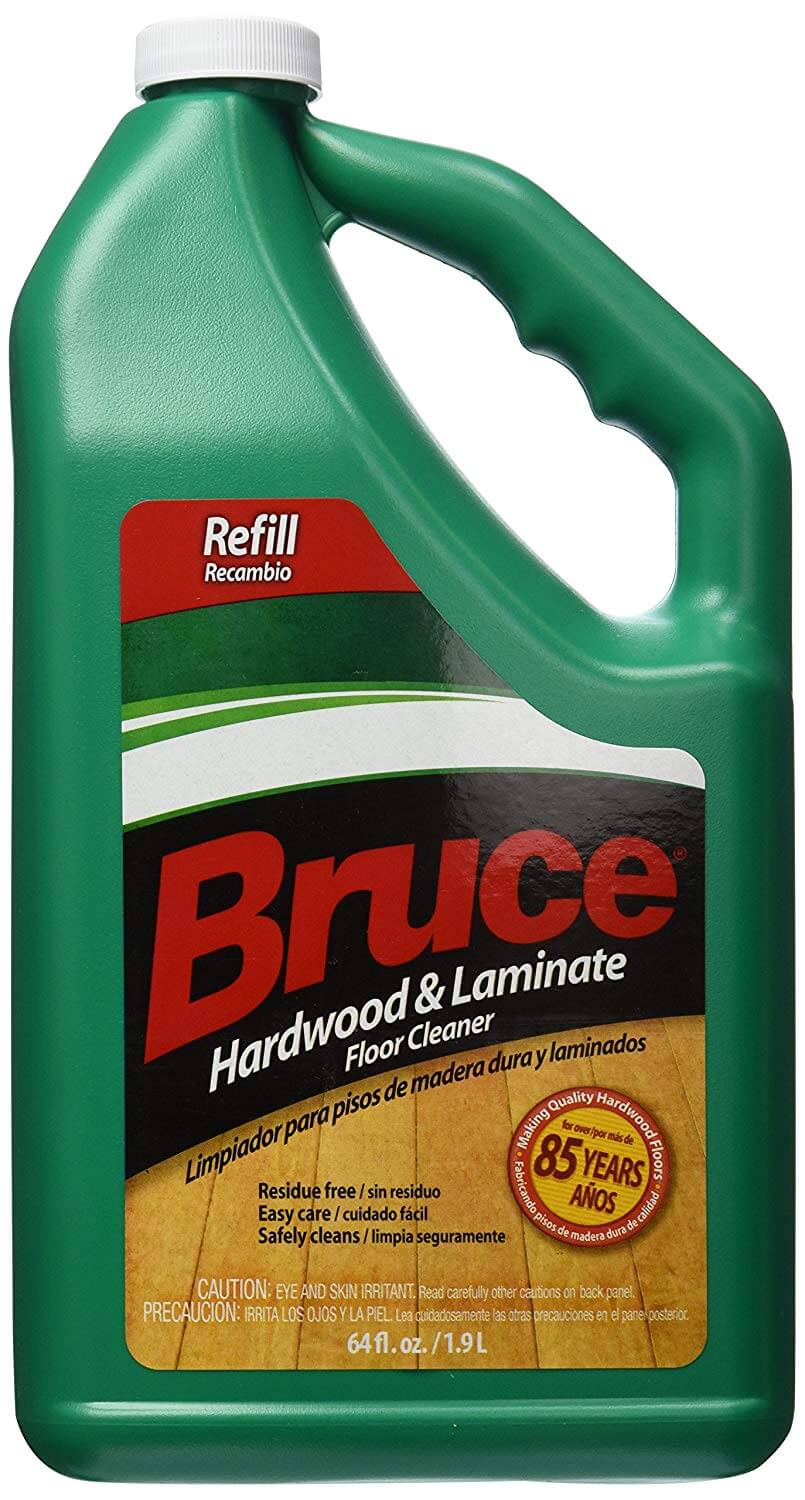 The Bruce cleaner is ideal for sticky messes and other tough jobs. It is a best seller with a 4.5-star rating from 400+ reviews; a sign that customers appreciate the product. First, it is for use on no-wax urethane finished floors. Otherwise, you can expect a cloudy film that will be difficult to get rid of. As a rule of thumb always use it on a test area first before applying it on other parts.

However, the product includes an easy to use trigger system that increases the efficiency, allows you to get into all tight spots and is great for spot cleaning. When using the trigger spray, we recommend you use it together with the Bruce mop as it swivels and withstands the test of time. Nevertheless, here are out top features:

Spot Cleaning – Speaking of spot cleaning, we will focus on dog drool. For those who have ever had a drooling dog, you know that the drool can dry into a glue attracting dirt and debris that is difficult to eradicate. Most cleaners can get rid of the grime but rarely the drool which keeps drawing dust. Well, the Bruce hardwood cleaner not only cleans but destroys the blasted spots and trails.

No residue build up – The product is residue free and leaves your floors just as they were when you first installed them but with a somewhat sparkly finish.

Expand to see more
Product Features

32oz with a 64oz refill
Trigger type

Who is it for?

It is best for people with dogs as it is effective on darned drool trails and spots. Moreover, it is only for use on urethane treated floors.


It has a rather light clean pleasing smell and one that only lingers a short while after use.
It dries quickly
Leaves your floors looking new
Streak-free performance
Cuts through the grime with ease
Affordable
It takes several passes to eliminate all scuff marks, and it is limited to urethane treated floors
Libman Hardwood Floor Cleaner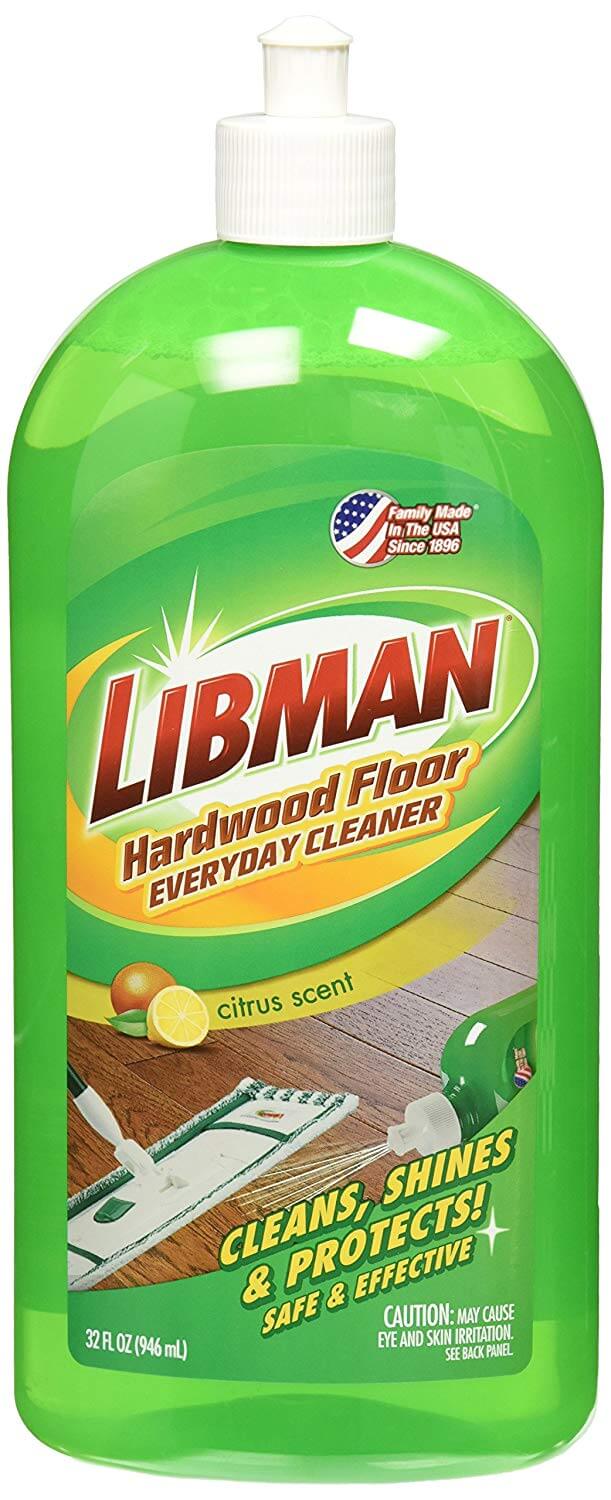 If you are searching for a cleaner with proven quality control, we recommend you get the Libman cleaner (more on this later). Like it's concentrated cousin, this product lives up to the expectations and it excels at eliminating any sticky messes and scuff marks. It happens to be our second pick, after the Bruce cleaner, for dog owners. Moreover, the squeeze design allows you to cover a large area with ease, unlike the trigger spray. However, this is limited when it comes to spot cleaning and not efficient.
Another fascinating feature of this product was the pleasant citrus scent. Moreover, it doesn't linger and vanishes almost immediately after cleaning. You will also appreciate that it dries quickly, and leaves no residue.
Quality control –
The Libman floor cleaner is a family owned business that operates in the USA. Therefore, the company inspects all the raw materials and product produced ensuring that the cleansing agent meets all quality and safety standards.
Renourishes the wood –
Wood floors withstand a lot of abuse, and they lose their lustre over time. However, the Libman will nourish the wood and eliminate most minor
scratches
.
You will also appreciate that the cleaner is packaged in recycled bottles and that the company is investing in sustainable production methods.
Expand to see more
Product Features

Squeeze design
Quantity: 32oz

Who is it for?

We recommend this product for everyday maintenance and especially for people who clean large spaces regularly. Moreover, environmentalists will appreciate the measures the company is taking to be sustainable. Finally, it only works on surface sealed floors

The Libman leaves your floor shining, and you don't have to concern yourself with any build up
Outstanding quality control
It reveals the grain
The squeeze design limits the efficiency
It is pricey
Orange Glo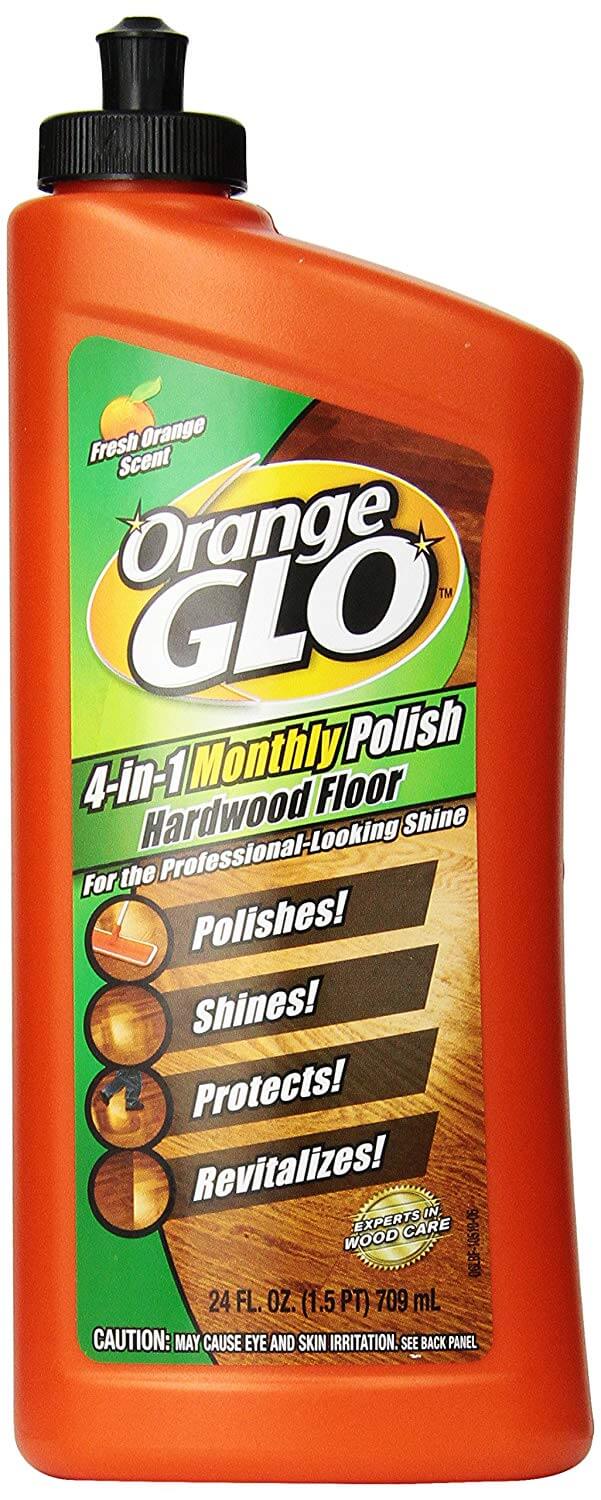 The Orange Glo is a monthly cleaner, and we recommend you follow the instructions to avoid build up. Using it more than once a month will result in a lot of buildup which can be challenging to deal with. Moreover, you will appreciate the versatility as the product not only cleans but it also protects, nourishes and shines all your wood surfaces.

Another positive feature is the pleasant smell that lingers after cleaning. Our best features though were the ease to dispense and that it is pet-friendly.

Pet-friendly – For those with dogs, you know the tendency to lick floors chasing after spills and the scratches they leave on your exquisite floors. The Orange Glo is safe to use around pets, and it fills up all scratches leaving your floor looking new.

Easy to dispense – Unlike most cleaners where you can only pick between a squeeze or trigger spray design, you can get both designs. The squeeze design makes it easy to clean large areas while the trigger spray allows you to get to tight spots, is great for spot cleaning, and increases efficiency.

Expand to see more
Product features

Type: squeeze and spray trigger
Quantity: 24oz to 64 Fl.oz

Who is it for?

The Orange Glo is designed to shine your floors and is designed for urethane treated floors.

It covers minor scratches
Works great to give your floors a shine
Pricey but worth every penny
One shortcoming is that it builds up rather quickly and you cannot use it frequently; moreover, it is not a great cleaner, and you have to mop the floor before using this product
Method Squirt Cleaner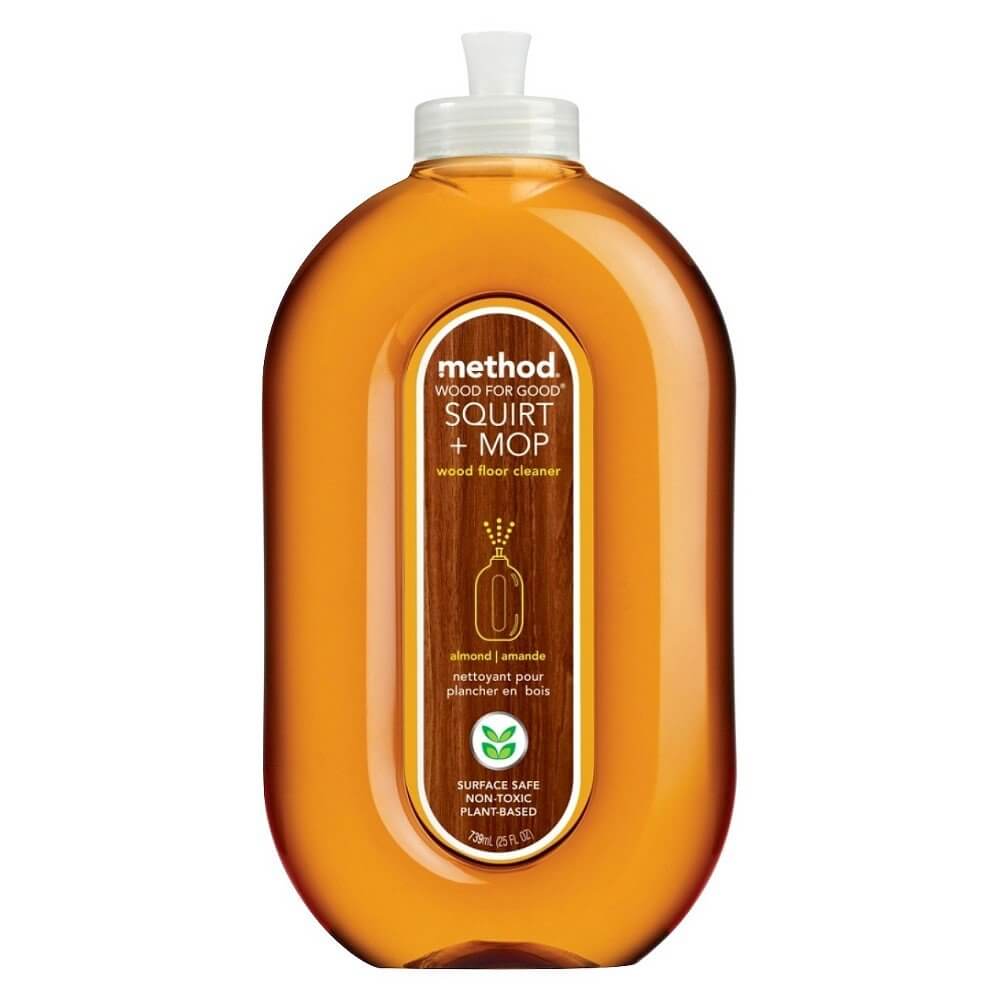 If you fancy the almond scent, we recommend you get the Method hardwood floor cleaner as it is heavenly. Moreover, the smell lingers for a while, unlike most products where it disappears immediately after use. The Method cleaner happens to be natural which is one of its selling points but more on that later.
Another exciting feature is that you don't have to rinse the floor, and the product dries up quickly after use (in about two minutes). Moreover, it is easy to dispense on large floors thanks to the shower nozzle which is the other strong point. You will also appreciate that it is multi-purpose and can be used on
furniture
and laminate flooring. Finally, it leaves no film; it is water-based and best for water-based lacquer.
Shower nozzle –
The trigger spray is best for spot cleaning and getting into those tight areas, but it is demanding when cleaning large areas. The squeeze nozzle, on the other hand, can result in puddles. However, the shower nozzle on the Method cleaner combines the best of both designs, covers your floor in fewer sweeps and prevents puddles.
Natural –
Chemical-based cleaners are detrimental to your health. The Method cleaner, on the other hand, is plant-based, biodegradable, surface safe and safe to use around pets and kids.
Expand to see more
Product Features

Type: shower nozzle
Quantity: 25 oz

Who is it for?

We recommend the Method Squirt for environmentalists as the product is all natural. Moreover, it is one of the few products we can recommend around kids and pets.

Non-toxic
Easy to use especially in large areas
Leaves no film and no rinse is required
Best for lacquered or shellacked floors
One of the Method's strengths happens to be its weakness; the cleaner is gentle and not enough to get rid of those sticky messes
Pallmann Cleaner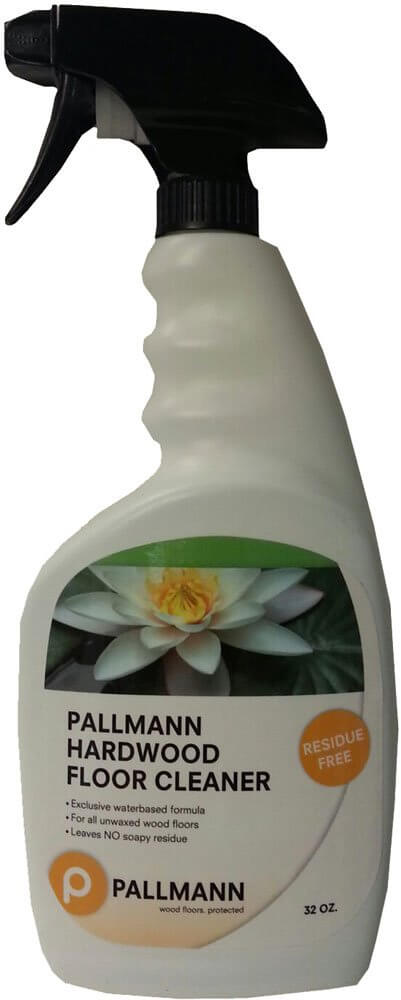 If you appreciate the lemon scent, then we recommend you get the Pallmann cleaner. This is a heavy-duty product and best for floors that receive high traffic, say a business or an office. Moreover, it is perfect for waterborne and solvent polyurethane finishes. The Pallmann cleaner also happens to be pH neutral and gentle on your surfaces. Remember alkaline or straight ammonia can dull your surfaces. Another remarkable feature is that it is residue free and thus you don't have to worry about recoating.
L
ike most cleaners here, it is streak free, leaves no film, and dries up fairly quickly. Our top features though were the trigger spray and bottle.

Ergonomic bottle – Though this is a lightweight product, an ergonomic bottle design goes a long way to ensure you are comfortable using it. The grip allows you to use the cleaner for more extended periods.

Trigger spray – Though this happens to be a standard feature on most hardwood floor cleaners the Pallmann cleaner is better than the rest in that it is a 3-position sprayer. It can stream for larger spaces, spray for spot cleaning, and includes the closed position.

Expand to see more
Product Features

PH neutral
Residential and commercial
Quantity: 32 ounce
Design: spray bottle

Who is it for?

It is best for unwaxed floor finishes. Moreover, it is the best alternative should your floor start dulling.

Unlike alkaline cleaners that stain your floors, the Pallmann is designed to make them look great again
It is designed with comfort in mind
Residue-free
Pleasant lemon scent
Some people have reported that it leaves a haze that you have to mop; we suggest you test it on an inconspicuous area before using it on your floors
Thomasville Cleaner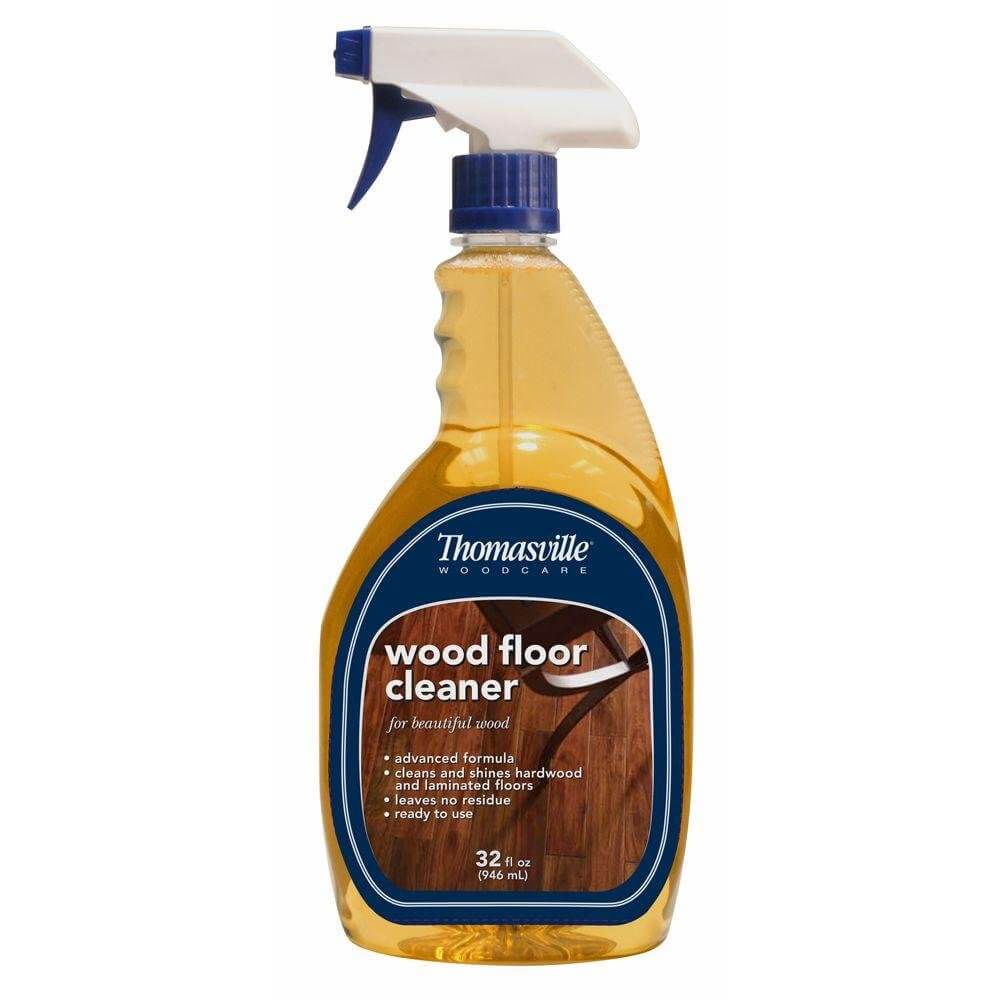 The final product on this best hardwood floor cleaner buying guide is the Thomasville. Thomasville is an affordable 32oz bottle with a spray trigger for efficient distribution of the detergent. It is derived from natural materials and thus safe to use around animals and pets. It also includes a touch of vinegar for better results.

Thomasville happens to be a gentle cleaner lifting the dirt off your surfaces without damaging the surfaces. However, you first have to vacuum the floors before you can use the product.

Easy to dispense – First we recommend this for spot cleaning thanks to the spray trigger. Moreover, it ensures efficient use thus lasting longer. You will also appreciate the ergonomic grip handle as it increases comfort.

Expand to see more
Product Features

Type: trigger
Quantity: 32oz

Who is it for?

The Thomasville is best for pre-finished hardwood floors. However, avoid previously waxed floors.


It is easy to dispense and great for spot cleaning
Gentle and thus preserves your hardwood
It takes several passes to get rid of scuff marks and sticky messes
Notes
Before you grab a mop and a detergent, first determine how your hardwood floor is sealed. The finish and not the wood type will govern how you can clean your floor.
Surface-sealed floors – if you recently installed a hardwood floor, the odds are that they are surface sealed. Moreover, you are in luck as these are the easiest to clean and a quick mop gets the job done. Surface-sealed floors are water and stain resistant and are sealed with polyacrylic, polyurethane, or urethane. Nevertheless, there are some dos and don'ts when dealing with such a floor.
First, avoid alkaline products, straight ammonia or any other abrasive cleaner as they can dull the finish. Avoid oils as they leave a residue, while furniture spray results in a slippery surface. Wax, on the other hand, is difficult to apply and makes re-coating a daunting task. Also, don't rely on vinegar as it will dull the wood faster than other products.
Moreover, it isn't as reliable as soapy water. We recommend you pick a cleaner that is endorsed by the floor finisher, or soapy water if the detergent is difficult to find. Avoid other cleansing agents as they might contain elements that violate your warranty.
Oil treated and penetrating seal treated hardwood floors – These floors should be pampered with paste and liquid wax as they tend to soak in the wood grain and harden. Liquid wax is simpler to apply than paste wax but provides less protection.
Use a stripper to eliminate wax buildup and preferably a product recommended by the manufacturer. A mineral spirit will do the trick as well. Finally, avoid acrylic waxes as they result in a cloudy floor, furniture waxes as they create a slick floor and one-step waxes as they are likely to trap dirt.
Untreated, lacquered or shellacked floors – Technically, varnish, lacquer, and shellac are surface finishes, they lack the moisture and stain resistance, associated with modern surface finishes. As such, use liquid wax.
If you are not aware of the finish used, you are fortunate as you can easily tell by rubbing your fingers on the floor. If no smudge develops, the floor is surface sealed or treated with penetrating oil if a blotch forms.
Hardwood Floor Maintenance Tips
The cleaners go a long way in ensuring that your hardwood floors are ever sparkly. However, we believe the best way to clean starts with preventive measures. First, it not only reduces the abuse the floor takes but also cuts the time spent cleaning the floors.
Mats – The first measure is to ensure there are floor mats outside and inside all exterior doors. These reduce the amount of dirt that people track into the house. Ensure the doormat is long as more people will rub grime and water off as they walk into the house.
Boot removal areas – During the rainy and snow seasons, ensure you have boot removal areas. Water ruins the finish and can penetrate deep into the wood and stain it. A boot removal area ensures no water, or de-icing agent is tracked into the house. Furthermore, keep a cleaning cloth close to the door to clean any puddles. Also, ensure that cleats and scratch-causing heels are checked at the door.
Floor protectors – Use floor protectors under furniture, and rugs in children play areas to avoid floor marks by furniture and children toys.
Finally, wipe up spills and dirt instantly. Dirt can be ground in, while liquids can damage the floor if left for long periods.
FAQS
How do I get the most out of my cleaner?
Though these are hardwood cleaners, you should first prepare your floor before you use them for the best results. First, clear the floor of any furniture that is easy to move. It's best you invest in furniture pads, so it is easier to move the furniture.
Nest mop or vacuum to get rid of loose particles and dirt. Remember to follow the grain and ensure your mop is only damp and not wet. Next buff the floor to lift any soapy residue off the surface. Finally, you can use one of the floor cleaners to eliminate scuff marks and any sticky messes and to shine your surfaces.
Can hardwood cleaners work with steam mops?
The short answer is yes, and the results are "fantabulous." Spray or spread the detergent on any hardwood surface, and then follow up with a steam mop. Moreover, you can use any microfiber mop for cleaning large areas, and it works exceptionally well with napkins for spot cleaning. Don't use with a buffer as the cleaner is more liquid than waxy.
Do hardwood detergents disinfect?
Most of the products here, including our top pick (Bona Floor Cleaner) currently don't disinfect. We recommend you speak to your manufacturer for the best disinfectant to use on your floor.
Why did the cleaner leave a film on my floor and how can I get it off?
All the cleaners listed above will result in a sparkly floor provided they are used appropriately. Most of the detergents are for surface sealed floors that are previously unwaxed or unoiled. If the opposite happens, it is likely due to a past product, or there could be a defect in your finish. We recommend you consult your manufacturer for information on how to eliminate the haziness.
Finally, ensure you test it in an inconspicuous place first before using it on your wood.
Why do manufacturers recommend I use my cleaner with a microfiber mop?
First, a microfiber mop will stretch the product, and a little will go a long way as they use 10 to 20 times less liquid. However, there is more to it as a microfiber mop enhances the cleaning power for better results. It gets into tight spots resulting in an even shine. They also weigh significantly less than conventional mops and thus may reduce the risk of injuries.
Conclusion
Different detergents have different uses. Therefore, ensure you get a product that suits you. For the best overall hardwood cleaner, we recommend the Bona, but we would suggest the Orange-Glo for the best smelling. Zep is the best heavy-duty, while Method is the best natural. Ensure you know what you are looking for and stick to your budget.
Finally, be sure to leave a comment below and share.
Subscribe to our newsletter