Best Robot Mops Rated by Our Editors
last updated:
Aug 22, 2018
Using the traditional bucket and mop to clean the house doesn't just give you the quick and easy reach to tight and hard-to-reach spots as you'd hope. Also, the endeavour is back-breaking, time- and effort consuming, considering that you'll have to go on all fours to clean below the coffee table. A cost-effective, more convenient, and more powerful alternative is the robot mop.
Our Top 3 Picks
[srpshortcode id="17123″][/srpshortcode][srpshortcode id="17124″][/srpshortcode][srpshortcode id="17125″][/srpshortcode]
Compared to the conventional mop and bucket method, robot mops are jam-packed with instrumental features to take the time and effort away from the onerous task. Some of these revolutionary features include auto charging, high-capacity batteries for continuous runtime, slim design for easy and quick access to hard-to-reach spots, and, in the case of some, mobile compatibility and Wi-Fi connectivity. Patently, robot mops overshadow traditional mops in every way.
Considering their ubiquity on the market, however, choosing the most suitable model for your home can be nerve-wreaking. To make it easy, we've put together a list of the features and factors to take into consideration while shopping and a thorough but brief review of ten of the best robot mops on the market currently. And the end of this buying guide, choosing a robot mop for your home should be a breeze.
10 Best Robot Mops
1. ilife V5s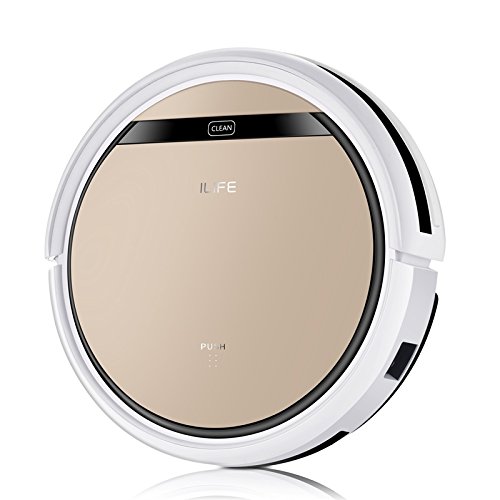 If you're looking for the absolute best performance, allow us to introduce you to the workhorse that's the ILIFE V5s. The construction, versatility, performance, and ease of use the machine provides is a far cry from those of the weak, flimsy devices on the market masquerading as robot mops. It comes with a slew of benefits and convenience features but none stand out like its affordability and exceptional dust control. In the next paragraphs, we'll be deconstructing the robot mop to reveal exactly why it stands out in a fiercely competitive field.

The versatility of this device is informed by its ability to work smoothly and effectively on various hard floor surfaces with minimal glitches. The machine diligently and thoroughly mops wood, tiles, and carpets and because it packs an interchangeable 0.3-litre water tank, it can easily and quickly clean an average-sized house with minimal disruptions. Dry cleaning is as simple as replacing the tank with the dust container and attaching the cleaning brush.

Expand to see more
And when it runs of battery after several minutes of mopping and vacuuming, you have the liberty of choosing between auto and manual charging. With a full charge, it should provide you with some 140 minutes of continuous cleaning, which is more than enough to roam freely all over the house cleaning the toughest stains and spills. Couple that with the large, heavy-duty road-over wheels and the self-rescue technology and you have a machine that goes cleans over smooth and rough floorings hassle-free.

It also features a conveniently slim and lightweight design and has smart sensors enabling it to cover every inch of the house, hunting down dirt, dust, and other debris right down to where they are hiding. Because the device is capable of vacuum sweeping and damp mopping, it'll be of great help in maintaining gleaming hard floors.

With its four versatile intelligent vacuuming modes and adjustable suction, keeping your floors free from dirt, dust, and other debris should be a breeze. And for thorough mopping, it has a high-capacity water tank and a long-lasting battery that will leave your house spotless.

Low profile design for cleaning all floor types
Auto charging feature
Impressive 140 minutes runtime
Works quietly
Occasionally clogs while cleaning
Only charges in dry cleaning mode
2. ILIFE V8s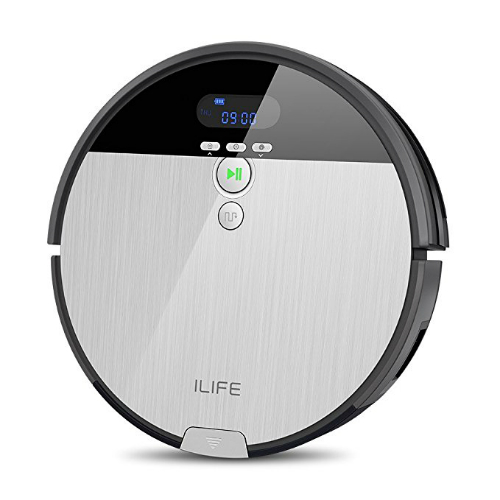 The ILIFE V8s may be bereft of mobile connectivity or voice controls feature but it's one of the high-performance and dependable robot mops on the market that guarantee smooth, flawless yet thorough floor vacuuming and mopping. The diligent performance of the unit is surprising considering it's a cost-effective choice commanding less than $500. And while it can't clean stains and spills, it packs several other instrumental features that make for quick and efficient mopping.

Of the litany of features it boasts, the most outstanding is its versatility. The machine comes with a high-capacity water tank and interchangeable dustbin that makes it ideal for both mopping and vacuuming. It has 6 different cleaning modes for exceptional versatility, enabling you to customize its performance to precisely match your cleaning requirements. The MAX mode, for instance, allows it to quickly pick up the tiniest pet hairs and furs, thanks to the enhanced suction strength and powerful adjusting suction port. Besides pet hairs, the robot mop is a perfect choice for cleaning dust, dirt, and debris.

Expand to see more
Another primary selling point is the ease of use. While it lacks mobile and voice control support, it makes up for the drawback by offering the user a user-friendly remote control to make it easy and quick to switch between the various cleaning modes. Another instrumental feature that makes it the go-to robot cleaner for the vast majority of homeowners is the multi-task programmable schedule system. With the feature, you can conveniently and easily operate the machine by scheduling cleaning times at any time of the day.

For additional convenience, it packs a large capacity 0.75-liter dustbin for holding more dirt. The result is far fewer disruptions as you'll be emptying the dustbins less frequently, which translates to a quicker completion time. It's compatible with most popular floor types including wood, tile, and carpet. And when it's running low on battery juice, it easily finds it charging dock without any difficulties. On a full charge, it provides up to 90 minutes of continuous runtime, much longer than most options on the market.

For the value-conscious user in search of a high-performance robot cleaner for mopping and vacuuming a wide range of floors, the ILIFE V8s is a perfect choice. It's a cost-effective workhorse that will always leave your floors spotlessly clean.

Cost-effective
Low profile design
Offers schedule cleaning
Has several cleaning modes
User can't create invisible boundaries
Doesn't support voice control
3. iRobot Braava 380t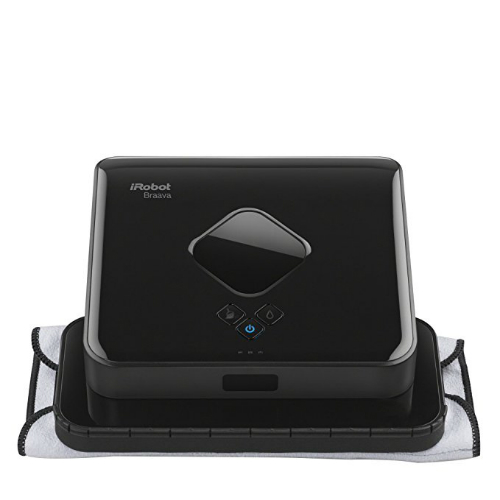 The iRobot Braava 380t is a high-end robot mop that employs a patented Northstar Navigation system for quickly, accurately, and intelligently recording and mapping cleanable area around your home. The machine uses first-rate technology to give your room a thorough and diligent cleaning irrespective of the surface characteristics. If today's hectic life leaves you no time to thoroughly clean your home, or reach those awkward and tight spots, its high time you invested in the robot mop that guarantees smooth, reliable, and quiet operation.

It is arguably one of the best robot mops on the market, designed to give every nook and cranny of your floor a thorough and proper cleaning. It has a high-capacity water tank that works smoothly and perfectly in tandem with a damp, reusable cloth to give your floor the thorough cleaning it deserves, leaving it daisy fresh and gleaming after just a few minutes.

You'll also love the fact that it is both slim and versatile. The former feature means that, unlike standard options, it can gain quick and easy access to tight and hard-to-reach spots like under coffee table and couches, giving them a thorough cleaning with little effort. And the best part is that it works just as flawlessly irrespective of the floor type.

Expand to see more
Another unique selling point of the robot mop is its quiet operation. Even when it's working in the quiet of the night, there is minimal chance of it waking the light sleeper in the adjacent room. And thanks to the ingenious Northstar Navigation system, it won't inadvertently and loudly bump into delicate objects in its path or clean the same spot twice. And don't worry about the robot mop running out of battery every other minute. It has a high-capacity battery that charges it under two hours and provides an uninterrupted runtime of roughly 70 minutes, depending on which of the two cleaning modes you choose.

The iRobot Braava 380t is without a doubt the best robot mop on the market right now. It runs quietly, smoothly, and reliably and is surprisingly cost-effective. The only downsides are the lack of vacuuming and scheduling options. Other than the two drawbacks, it works like a charm.

Cleans quietly
Reaches tight and hard-to-reach spots
Has navigation sensors
Powerful battery for long runtime
Lacks vacuuming and scheduling features
4. bObsweep PetHair Mop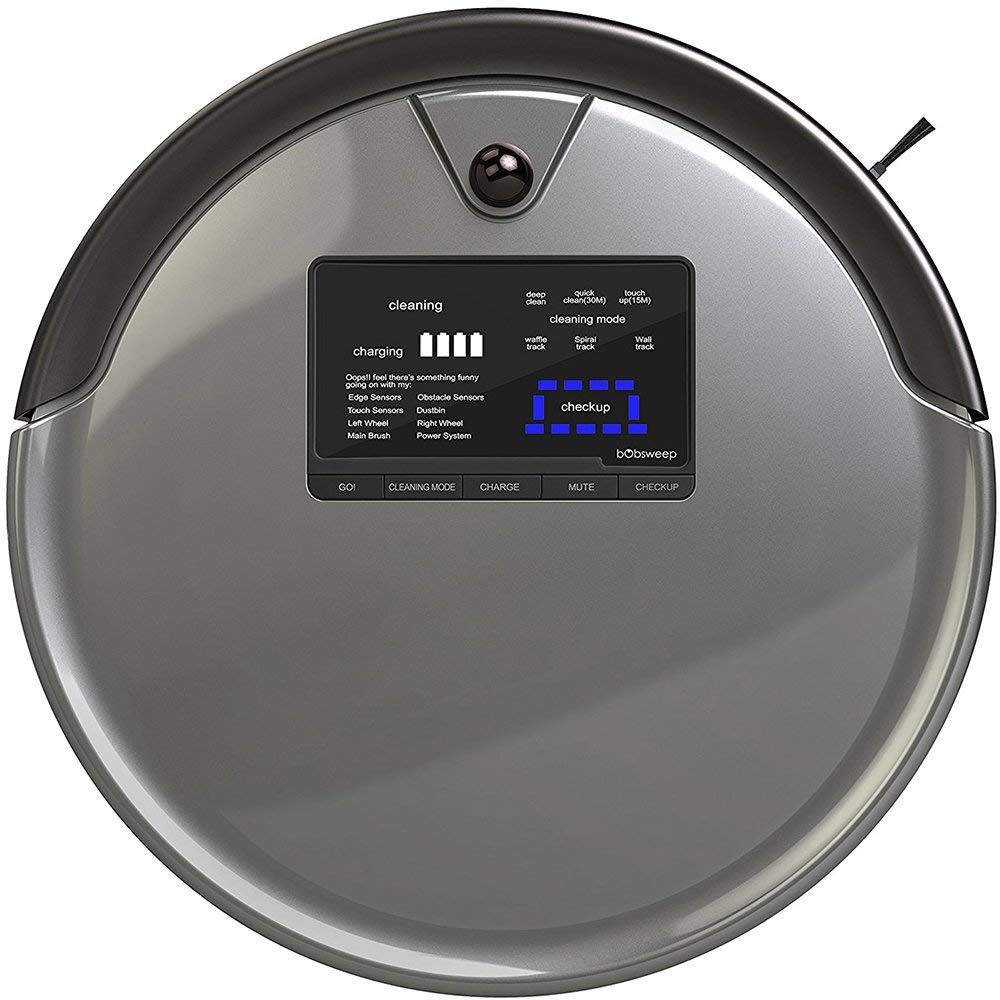 The bObsweep PetHair cleaner is yet another feature-packed robot mop to give your house a thorough cleaning at any time of the day or night. It's a solid versatile choice that also filtrates and sweeps in addition to mopping and vacuuming. It has a large 1100 mL dustbin for holding more pet hair, dust, dirt, and debris and works smoothly without the slightest hitches on hardwoods, tiles, and carpets. The icing on the cake though is the 7-day programmable cleaning schedule and the auto self-charging that make it a force to reckon with in the robot mop industry. A comprehensive review of the machine follows in the next paragraphs.

As far as versatility goes, it is the undisputed king of the playground. The machine perfectly brings together three functions – vacuuming, sweeping, and mopping – into one slim and lightweight package. The machine has a powerful TurboLift motor capable of mind-blowing speeds of up to 7500 rotations per minute, enabling it to efficiently cleans all the dust. Dirt, debris, and pet hair from the tightest and hard-to-reach spots all around the house.

Allergies triggered by dust and hair will be a thing of the past with this device in your home. It seamlessly marries the power of a rotating, full-contact brush with the squeegee-style dust sweeper enable it to the two triggers quickly.

Expand to see more
The machine sports a useful spring-actuated surface automator that makes it ideal for mopping and vacuuming on all surface terrains by maximizing its contact with the surface. To this add a powerful, long-lasting quad cell Li-ion battery that provides about 75 minutes of continuous runtime on a single charge. The high-capacity 1100 mL dustbin also makes for fewer interruptions, cutting the project duration considerably compared to cheap, off-brand alternatives on the market.

Another primary selling point is the handy remote control that allows you to adjust the different settings of the machine from the comfort of your couch or bed.

For the homeowner keen on keeping their house clean and conducive without putting in too much effort and time, the bObsweep PetHair cleaner and Mop is one of the best choices you can go with. The three cleaning modes make it very versatile and it comes with a generous 12-warranty to cater for deficiencies in material and craftsmanship.

Perfect for hard floors
Easy to use
Provides long runtime between charges
Works quietly
Gobbles up on small obstacles like wires
Not ideal for large areas
5. ECOVACS DEEBOT M80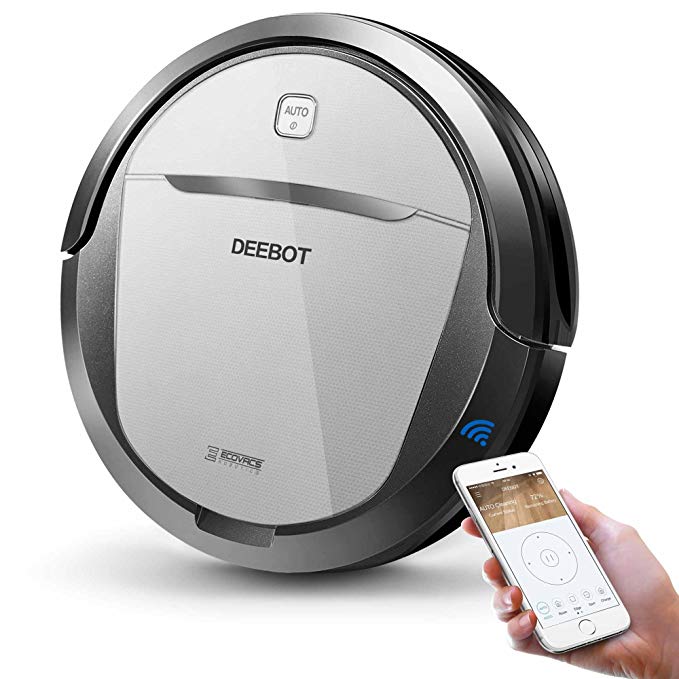 The ingenious and intuitive design of the ECOVACS DEEBOT M80 aims to take the time and effort away from keeping your floors clean and sparkling all through the year. Some of the outstanding features the robot mop boasts include a multi-stage cleaning mechanism and a detachable water tank. These two features make it an all-around cleaner with three specialized cleaning modes for a more customized cleaning experience.
If the first picks don't do it for you, the robot mop surely will. It is a highly versatile machine that provides a smooth and effective cleaning experience for all types of floor surfaces, ranging from
hardwood
, tiles to carpets. The multi-tasking prowess is entirely attributable to the high-capacity dustbin and water tank that together with the powerful and long-lasting battery ensure the most comprehensive of every inch of the floor.
Expand to see more
It comes with a 5-stage cleaning system that includes sweeping, lifting, vacuuming, mopping, and drying. Irrespective of the mode you choose, you're in for a quiet and smooth cleaning experience. The days of going on all fours with a traditional mop and bucket to clean under the coffee table or couch, straining your back and hands in the process, effectively come to an end with the robot mop, especially since using it is such a cinch.

It allows for quick, hands-free use through various platforms. You can control the various cleaning modes and other specs through Amazon's Alexa or through a smartphone app. That means you don't have to leave the comfort of your bed or couch to change the cleaning modes or get the robot mop started. Another great feature is the automatic scheduling. You can choose the most convenient cleaning time that fits your busy schedule. The robot mop has high-end sensors to help it quickly navigate its way around obstacles while the drop-off sensors ensure it does not stumble down the stairs.

While it's a cost-effective option, the ECOVACS DEEBOT M80 wears a lot of hats. It offers a thorough cleaning, ease of use, an intelligent navigation system, and an ability to clean various surfaces, soft and hard. We can't recommend it enough to the value-conscious user.

Versatile
Cleans multiple surfaces effectively
Long-battery life
Robust construction
Gets stuck in tight spots
Occasional problems with automatic timer
6. iRobot Braava Jet 240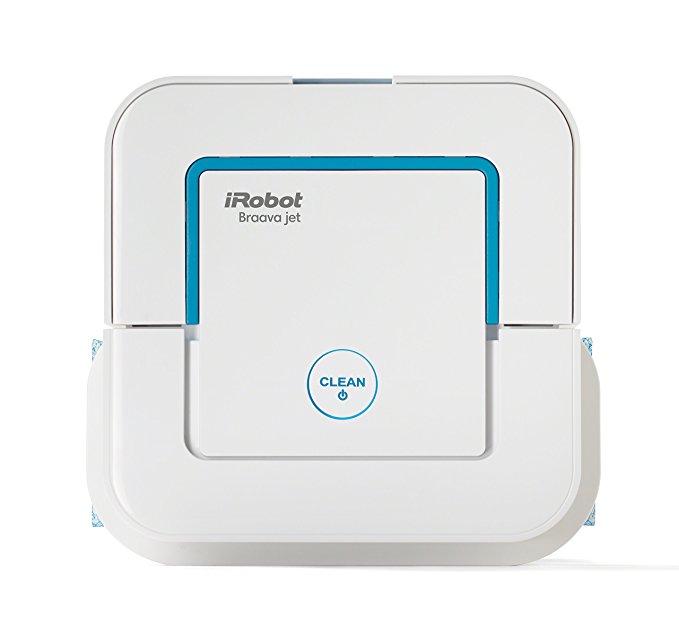 The slim design of the iRobot Braava Jet 240 means it can easily reach tight and hard-to-reach spots around your home. Reaching awkward and hard-to-reach spots such as under the
kitchen cabinet
, coffee table, and the areas adjacent to the toilet with a traditional mop and bucket can be onerous and back-breaking. It easily and effortlessly gives these areas a thorough sweep and mop as it automatically customizes the style of cleaning cycle to the type of pad the homeowner uses.
The ingenious design aims to accomplish one major task: eliminating the peskiest and toughest dirt, stains, and other debris, and in that endeavour it easily exceeds expectations. All you have to do is attach a Braava Jet Cleaning pad and it will automatically choose between three cleaning modes - wet mopping, damp sweeping, and dry sweeping – depending on the state of the floor. Unlike cheap, off-brand models out there, the robot mop is capable of cleaning a wide range of hard floors including hardwood, tile, and stone, among others.
Expand to see more
It takes advantage of its slim profile to easily reach hard-to-reach spots like around toilets, tight corners, and below cabinets, coffee table, and couches. The product's efficient and methodological cleaning pattern means it doesn't clean the same area twice and exercises a lot of caution so it does pump into delicate and abrasive objects in its path at high speeds. Additionally, its intuitive design allows for the creation of invisible boundaries with the help of the factory-installed Virtual Wall Mode, which enables you to keep it away from certain rooms, the rugs, or accidentally falling down the stairs.

And as indicated earlier, using it is a cinch. It chooses the best cleaning modes depending on the pad you use. Getting it started is as simple as attaching a cleaning pad of your choice and pressing the Clean button, then stand back and watch as your floor starts gleaming in no time at all and with minimal input from you.

The device is a perfect choice for cleaning expansive kitchens, bathrooms, and offices, among other places. It's inexpensive and works like a charm. And while it doesn't charge automatically, it's efficient and very versatile with its three cleaning modes.


Budget-friendly pricing
Cleans diligently an quietly
Superb battery life
Low profile for easy cleaning in tight spaces#
Not ideal for large rooms
7. iRobot Roomba 690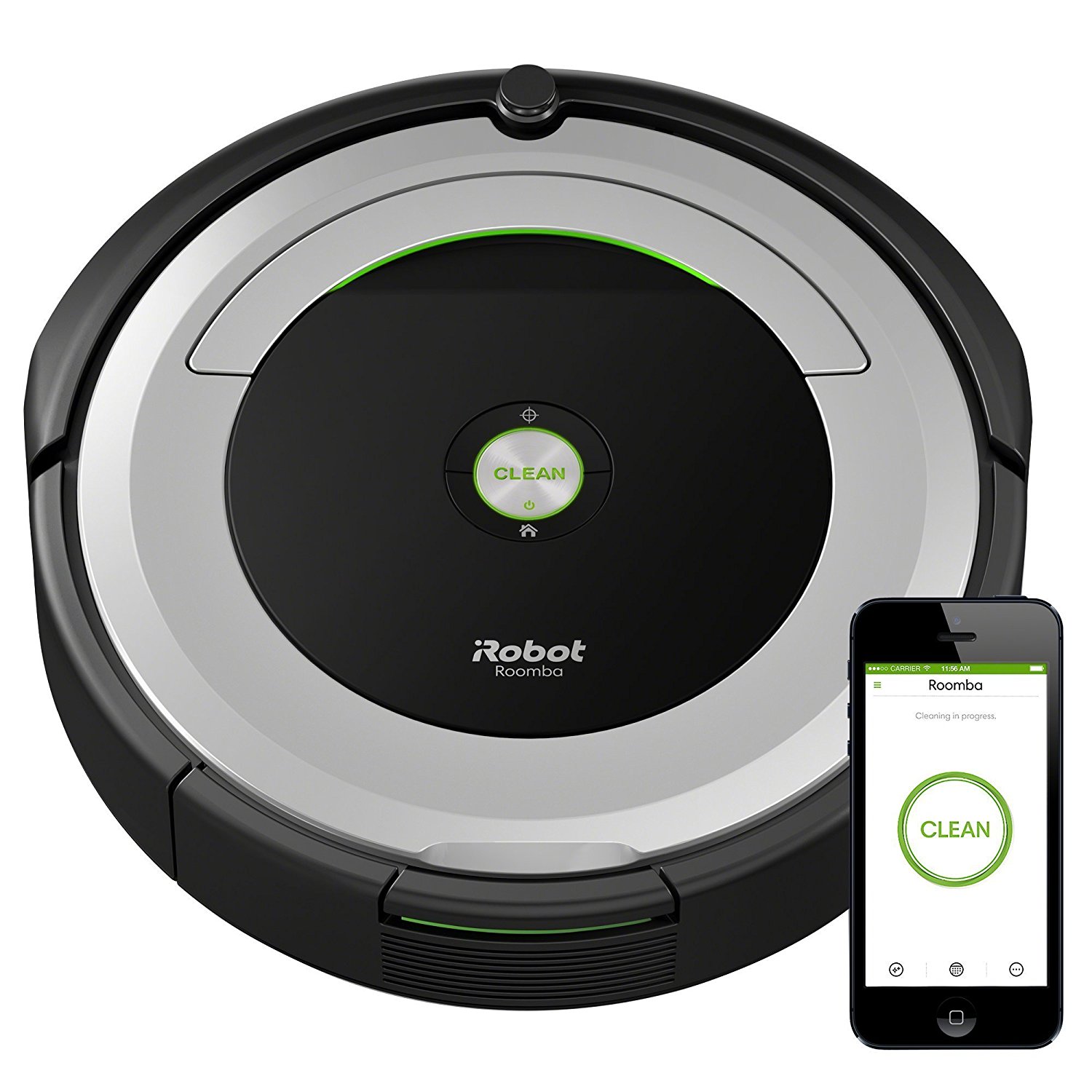 iRobot is a brand that's synonymous with high-quality, long-lasting, and cost-effective products, a tradition that the iRobot Roomba 690 gladly continues. Being one of the brand's leading exports, the machine provides a smooth and diligent cleaning experience and easily overshadows several equally competent options out there. The robot mop's Wi-Fi connectivity capabilities and compatibility with Alexa allow for convenient, hands-free use even when you're hundreds of miles from home. Let's now delve into a comprehensive review of the robot mop to help you make an informed decision.

The innovative design perfectly combines a patented 3-stage cleaning system, heavy-duty and durable brushes, and a vacuum suction to give your floor surfaces a thorough cleaning and mopping. Coupled with the high-capacity Li-ion battery, the robot mop's powerful cleaning system will quickly leave your floors fresh and clean and free of all the dirt, dust, and debris. The unit uses two heavy-duty cleaning brushes for quickly loosening and picking up all the dirt. And the best part is that the machine is not choosy. It employs an industry-first dirt detection technology to identify areas with the highest concentration of dirt and uses the auto-adjust cleaning head to maximize contact with the area, giving it a thorough and methodological cleaning.

Expand to see more
Another highlight is the built-in smart sensors that enable it to quickly adapt to your home. With the aid of the sensors, it asily memorizes every nook and cranny of it, including the objects in its path. Also, it comes with cliff detect sensors to it avoids pumping into stairs or falling off them. The icing on the cake is the product's smartphone compatibility and Wi-Fi connectivity features.
The two features give you unfettered access to all the cleaning settings from anywhere in the world, especially considering its compatibility with Amazon's Alexa and Google Assistant.

The market is awash with a wide range of robot mops but only a handful can hold a candle to iRobot Roomba 690's cleaning prowess. The machine has a knack for loosening, lifting and suctioning dust, dirt, pet hairs, debris, and everything in between. Also, it's easy to use and comes with a useful smartphone app and Wi-Fi connectivity for flawless use.

• Perfect for all types of floors
Offers scheduled cleaning
Has anti-drop and anti-collision sensors
Provides thorough cleaning
Lacks Wi-Fi compatibility
Cleans randomly
8. Coredy Robot Cleaner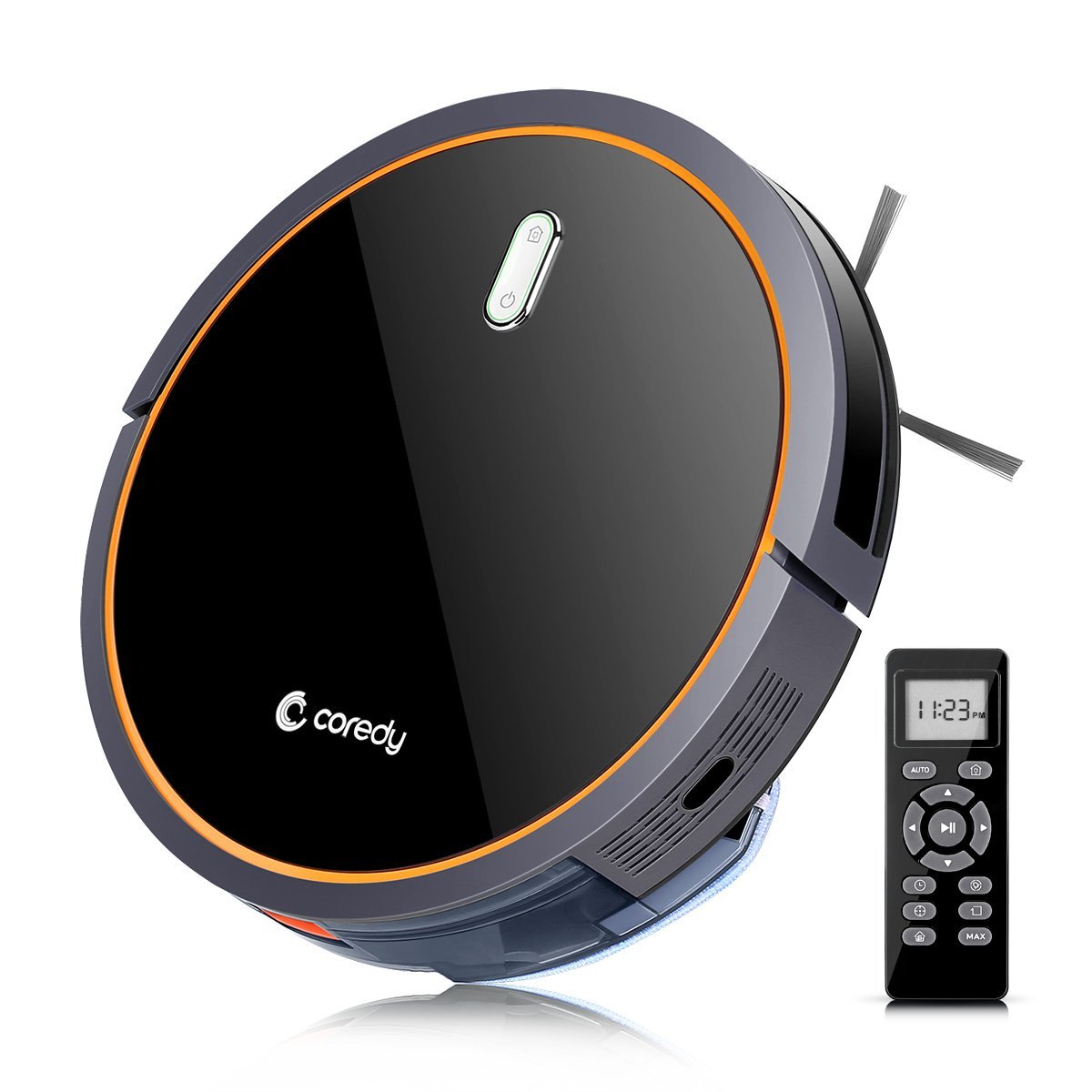 The Coredy Robot Vacuum Cleaner is not your typical robot mop. The machine is thorough and effective both in performance and ease of use. It's a workhorse that automatically charges for a longer runtime, ensuring it gives even awkward and hard-to-reach spots a powerful cleaning. With its myriad of obstacle avoidable sensors and scheduling feature, your home will also be relaxingly clean and fresh. If there's a time- and effort-saving feature you've always wanted in a robot cleaner, the robot mop is sure to have it. And that's just a tip of the iceberg. For a more detailed description of these features and more, continue reading.

Very few options can convincingly replicate robot mop's knack for intelligently navigating and cleaning expansive areas without any supervision at all. The machine can powerfully clean, sweep, vacuum, and wet/dry mop a wide range of floor surfaces. It sports an auto-lift cleaning head that automatically varies its height to ensure maximum contact between the brushes and the floor surface, providing for the seamless an effective cleaning of hardwood, stone, tile, and even carpet floors.

Expand to see more
Depending on your cleaning needs, it provides you with 5 cleaning modes. Irrespective of the mode you choose, the robot cleaner works intelligently and quietly but powerfully to rid of the peskiest debris, dirt, dust, and stains from various surfaces. The different modes allow you to clean the most dirt concentrated areas like along the walls, and even hard-to-reach spots such as below coffee tables, couches, and cabinets. Unless there's an obstacle in its path, the robot cleaner covers every inch of the floor. Thanks to its first-rate rubber roller brush and efficient filter, you'll be living in a clean and conducive home with no dust, mites, and allergens going forward.

Additional auxiliary features include the 12 infrared sensors that help it to navigate the home, slow down when cleaning around obstacles and find its way around the said obstacles. To these add a useful drop-sensor technology for avoiding falling down stairs and off of edges. Plus, you can schedule cleaning tasks for every day of the week, a fete that's possible because the machine is capable of auto charging by automatically returning to its charging dock without any assistance.

If you're looking for a moderately priced robot mop jam-packed with useful convenience an performance features, look no further than this option. Signature features include versatility, self-charging, daily schedule cleaning, and obstacle sensors. It'll be sold the second you try it out.

Offers thorough cleaning
Has an intelligent navigation system
Large capacity dustbin and water tank
Cost-effective
9. ECOVACS DEEBOT N78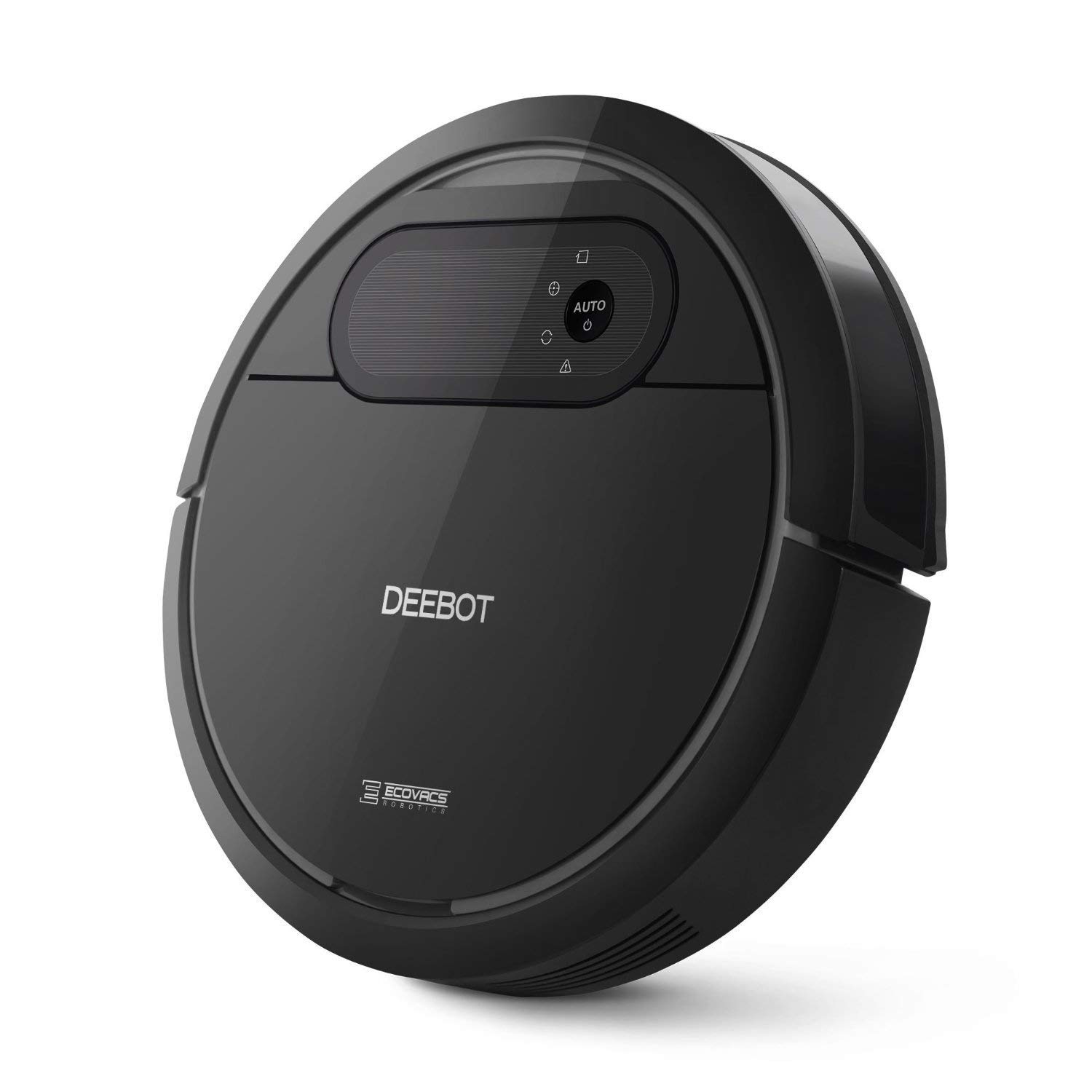 The ECOVACS brand harnesses more than two decades worth of experience and expertise in the industry to make one of the best robot mops on the market: the ECOVACS DEEBOT N78. The result is a user-friendly, powerfully cleaning, and cost-effective robot mop that offers three versatile cleaning modes to meet your every cleaning need. If you need that diligent, consistent, and reliable cleaning experience without the hassle of using the conventional mop and bucket method, we recommend you go with the robot mop.
It boasts one of the best cleaning performances the industry has to offer. It perfectly brings together long-lasting wide-reach sides brushes, direct suction vacuum design, and a highly efficient air filtration system to efficiently, smoothly, and effectively get rid of all types of dirt, dust, debris, and even pet hair and fur.
Kindly note that while the robot cleaner works efficiently on all types of floor surfaces, it is optimized for cleaning
hard surface floors
such as tiles, hardwoods, and stone. It will struggle to clean rugs and carpets, though.
Expand to see more
The device combines 3 cleaning modes – automated, spot, and edge cleaning modes – to give your home the thorough cleaning it deserves, leaving it smelling daisy fresh and welcoming. The spot mode is perfect for cleaning a small spot concentrate with dirt or dust while the edge cleaning mode takes care of corners and edges, these being some of the most neglected spots in a house.

Another highlight is its incorporation of anti-drop and anti-collision systems that work in tandem with the brand's smart motion navigation technology to ensure the robot mop quickly adapts to the layout of the floor, safely navigating and thoroughly cleaning it henceforth. Other outstanding features include the reliable, high-quality Li-ion battery that offers an impressive runtime of up to 110 minutes on a full charge. It's also capable of auto charging and has a daily schedule function for hands-free use. You can as well use the handy remote control for starting, pausing, programming, and managing its different settings. It never gets better than this, honestly.


Compatible with all floor types
A cinch to use and maintain
Charges automatically
Not perfect for removal of pesky stains
A little bulky
10. ILIFE V3s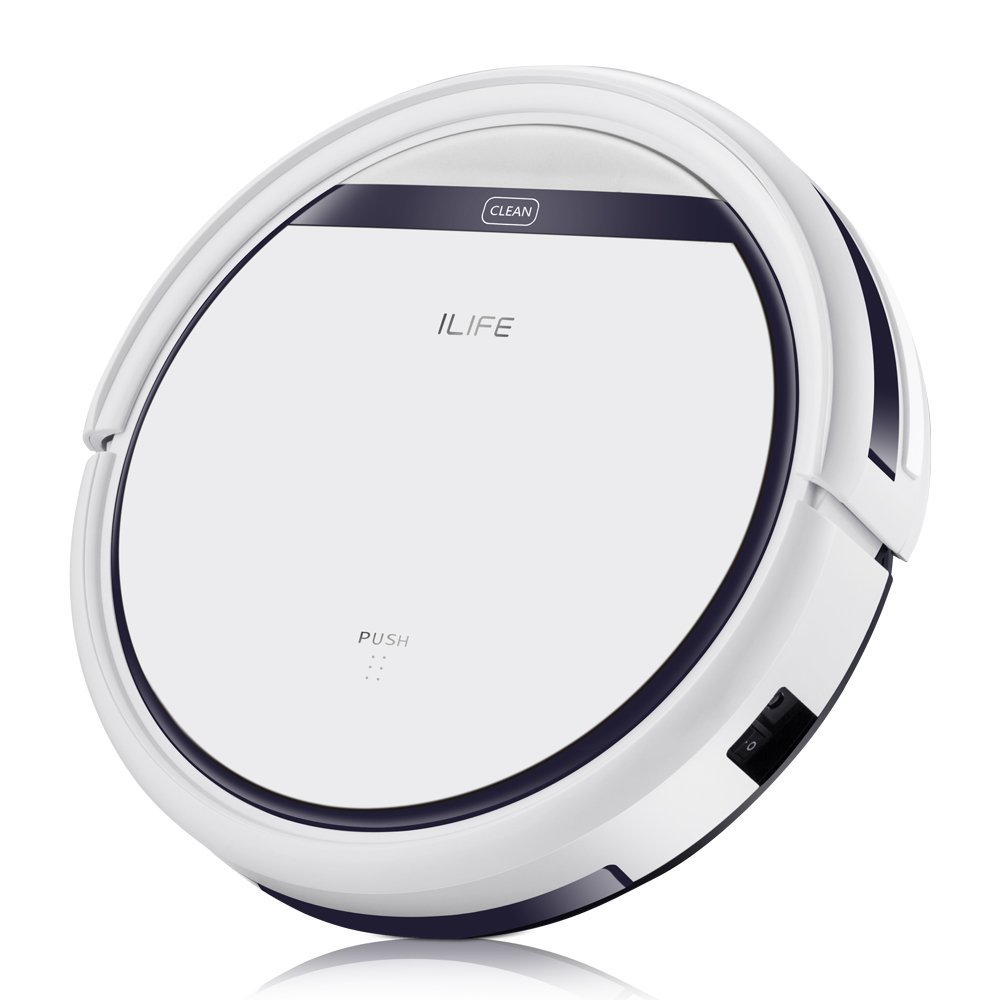 Our last pick, the ILIFE V3s, pulls all the stops to provide you and your loved ones a clean, healthy living environment by diligently getting rid of all the pet hairs an furs, dirt, dust, and debris. The model continues ILIFE's tradition of making high-end robot mops reeking of highly efficient performance and remarkable ease of use. The model boasts a litany of features including slim design, powerful suction capability, auto charge, daily schedule cleaning, and compatibility with a wide range of floor types.

Using the robot mop is as easy as selecting auto clean, clicking on the button manually or through the handy remote and stand aside and marvel in the cleaning prowess of the machine. The remote allows you to program and easily manage the device. You can start, stop, and schedule cleaning cycles without coming into contact with the robot mop. It also has several modes to choose from. The Edge Mode, for instance, concentrates the deep cleaning power of the machine on hard-to-reach spots like wall edges and corners. Also, the robot mop features a slim profile that easily accesses tight spaces like under coffee tables, couches, and cabinets.


Expand to see more
In addition to a powerful and long-lasting Li-ion battery that provides a longer runtime compared to standard batteries on the market, the robot mop also features the time-saving and convenient auto charging system. The implication is that you won't be wasting time by manually bringing it to the charging done, as is the case with some cheap, off-brand models on the market. The last unique selling feature is the convenient scheduling. The remote allows you to easily schedule the times the machine should run, whether you're at home or in the office. Consequently, you can wake up to a clean house or arrive from your outdoor adventures to one.

The ILIFE V3s is a perfect choice for homeowners with little time on their hands to thoroughly clean their homes. The robot cleaner is very diligent, easy-to-use, cost-effective, packs a long-lasting battery, and is capable of auto charging. We can't overstate the convenience these features will bring into your life.

Cleans all types of dirt, dust, and debris
Works on all floor types
Quiet
Long-lasting battery for longer runtime
No sensors
Small capacity dustbin
Occasional difficulty finding the charging dock
Criteria for Choosing the Best Robot Mops
Size
Robot mops are designed to give the entire floor a thorough and deep cleaning, and that also includes below the cabinets, couches and coffee tables, a fete that's impossible if your choice is bulky. Consequently, you need a model that's both lightweight and compact so you won't have to strain your hands carrying it from one floor to another or when it inadvertently gets stuck in a tight spot.
Battery Life
The vast majority of Li-ion battery that power robot mops provide a runtime of between 60 and 200 minutes, depending, of course, on its capacity and the vastness of one's home. A robot mop capable of running for at least would be ideal as it would mean less frequent trips to the charging dock and a quick completion time.
Some have a convenient battery indicator light to help you monitor charging status and the amount of juice remaining. Speaking of charging docks, consider whether you want a unit capable of auto charging or one that charges manually. The former can easily find its way back to the charging dock when the battery is running low while the latter will have to be carried there.
Ease of Use
Convenience encompasses several things so we'll begin with controllability. The vast majority of robot mops have built-in controls that are intuitive and user-friendly while other also come with remote controls and Wi-Fi connectivity and smartphone apps, allowing you to schedule and remotely monitor cleaning cycles from anywhere in the world. Others notify the user when they get stuck or when the water tank or dustbin needs to be refilled or emptied.
Lastly, as we mentioned earlier, modern robot mops come with a retinue of sensors to make cleaning a smooth and flawless exercise. Some come with drop-off sensors and others with navigation sensors for outlining the contours of your home for effortless and quick cleaning. Other models allow the user to create invisible boundaries to keep the robot cleaner from certain rooms. Still, some high-end models are capable of using advanced technology to visually map your home, thereby helping them give it a thorough, effective, and quick cleaning.
Frequently Asked Questions
Q: Can a root mop run without supervision?
A: Depends on the cleaning mode you're running. You'll need to supervise your model if it is damp and wet mopping as the water will require refilling at some point, depending on the cleaning area. If you're dry-mopping, you won't have to supervise it as much, though.
Q: Do robot mops require maintaining to work optimally?
A: Like all power tools, robot mops will require frequent maintaining for optimal performance. In addition to washing or replacing mop pads and filters, you'll also have to occasionally wash the water tank. Also, you'll have to ensure all the sensors are running smoothly.
Conclusion
Our list features ten of the most user-friendly, cost-effective, powerfully cleaning, and durable robot mops the market has to offer. Irrespective of your choice, you're in for one of the best cleaning experiences that's a far cry from the back-breaking and time-consuming alternative of using the traditional mop and bucket.
From here on, choosing a robot mop should be easy as you're armed to the teeth with the most up-to-date and pertinent information. Happy shopping!
Subscribe to our newsletter