Best Framing Nailers Reviewed & Rated
last updated:
Sep 18, 2018
If you have taken the time to watch a veteran woodworker, you will be shocked by the speed and strength of these individuals. Most can hammer 16d nails all the way into the wood with two swings of a hammer; a skill that will take you years to master. However, carpentry has come a long way and the days when we woodworking projects took a lot of muscle and time are far behind us thanks to nailers that can make a pro out of a rookie. Even veterans will find it hard to keep up.
Our Top 3 Picks
[srpshortcode id="17993″][/srpshortcode][srpshortcode id="17994″][/srpshortcode][srpshortcode id="17995″][/srpshortcode]
There are several nail guns, each with a particular range of projects. Finishing nail guns attach trim and molders, flooring nail guns are for flooring, while roofing guns help when applying roofing shingles. However, framing guns are the most popular as they can handle a large volume of projects.
The big question though is how you can get a reliable tool. With the many manufacturers and designs currently in the market, it's easy for you to be swindled. Below we have our best framing guns, and a guide that can help you break a tie between two nailers.
10 Best Framing Nailers
1. BOSTITCH F21PL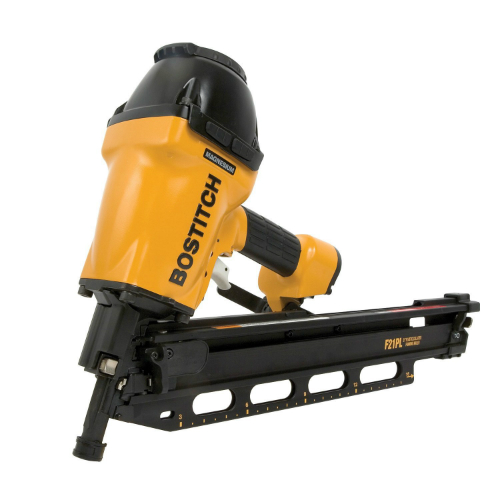 Bostitch F21Pl is a lightweight, powerful, versatile, and cost-friendly pneumatic framing nailer. It is packed with amazing features that will make any carpentry job a breeze. This resourcefulness and user-friendliness is what endears the F21PL to most people.

The Bostitch F21PL is best for large jobs owing to its power, but it doesn't require any specialization to work with it; both pros and beginners can use it with relative ease. It has the perfect power to weight ratio at 1,050in/pound. With such power, we implore you to get a compressor that is enough to support it.

Versatility – First, the F21PL can use both round-headed and hurriquake nails which is a plus as most building codes require you to use round-headed nails. You can also change the nail depth at the push of a button which is a feature most units lack. The ability to effortlessly change nail depth happens to be a time-saver, and increases your productivity as a result. Then there is the nosepiece that enables you to change from metal connected to plastic fasteners with ease.

User-friendly – Yes the Bostitch F21Pl is a professional tool, but it is friendly enough for a beginner to use. The tool connects to the air compressor at the bottom rather than the rear and thus fittings are not in your way, it has a great power to performance ratio but not extremely heavy as is often the case, and it is made of lightweight magnesium and thus can withstand daily challenges and occasional falls.

Expand to see more
Product Features

Loading type: strip
Max nail size: 3.5"
Min nail size: 1.5"
Gun type: pneumatic
Weight: 8.1 lbs

Who is it for?

The Bostitch is for both professionals and beginners. Nonetheless, ensure you have a large project, otherwise it will be overkill.

Nails are angled at 21 degrees for better delivery and to reduce the likelihood of the tool jamming; there is also an anti-jam mechanism should it fail
Very precise
Nice adjustable nail depth feature
Has the ability to shoot true 16 nails
Has a 7 year limited-warranty
You have to take the trigger out and replace with a different one if you want to change from single to bump fire and vice versa
2. Hitachi NR90AES1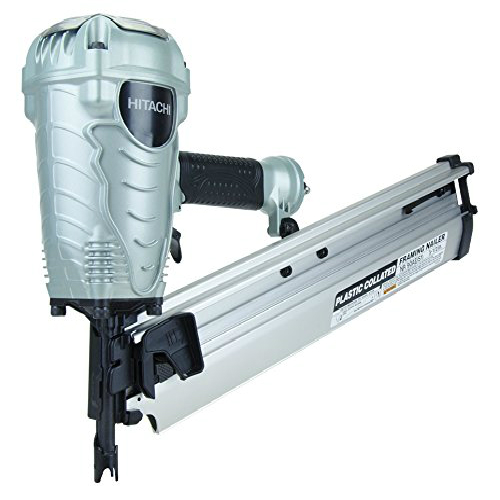 At 10 pounds, the NR90AES1 is a tad heavier than our top pick, the Bostitch F21PL. However, it happens to be as good as our top product, but a bit cheaper. It is a product of Hitachi which is a renowned brand for appliances and equipment.

Since it is a bit bulkier, it is less maneuverable and working with it for long periods of time leads to fatigue. It works with nails up to 3.5 inches long, and has an operating pressure between 70 and 120. In addition, very few units can top the 5 year warranty. Nevertheless, our best features were the magazine and the single stage mode.

Single stage mode – Having to change triggers to get from single to bump-fire happens to be quite infuriating. The single stage mode allows you to change modes at the flip of a switch.

Magazine – The NR90AES1 is metallic and thus provides crisp action unlike most plastic magazines. You can load it with two nails at a time easing the work and can accommodate up to 64 nails. Finally, it is easy to repair thanks to the two piece anodized build.

Expand to see more
Product Features

Weight: 10 pounds
Two step nail loading
Magazine capacity: 64 nails
PSI: 70-120
Max nail length: 3.5 inches

Who is it for?

The Hitachi NR90AES1 is for large scale projects. It would be overkill if you purchased one for a one-time project.

We appreciated the toenailing visibility which increases accuracy and quality of your work as you can see the nail
It is easy to maintain as it is made for quick disassembly
You can effortlessly adjust the nail depth
It is well balanced, and features a rubber grip for comfort and control
The NR90AES1 has some shortcomings in that it works only with plastic collated nails, and jams from intense heat
3. Paslode 902600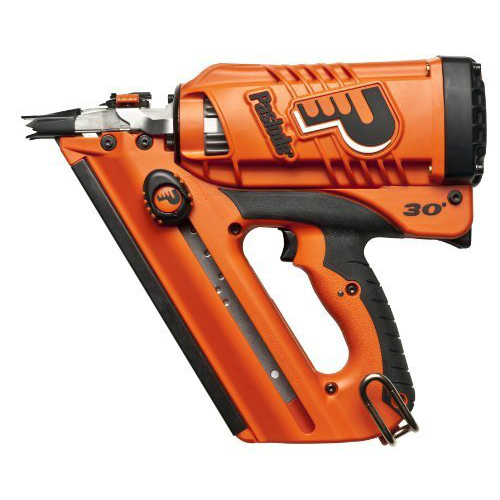 The Paslobe 902600 is renowned for its portability and versatility. It boasts some impressive features that will benefit both DIY enthusiasts, and professionals. This is a cordless framing nailer and has the power to fasten 6,000 nails on a full charge.
Other than being battery powered, it works with a fuel cell that can drive 1,200 nails. The 902600 utilizes an orange quick load cartridge which is 1.32 ounces of liquid hydrocarbon. The battery creates a spark which ignites the fuel cell to drive the nail into the wood. As for our best features, we appreciated the exhaust fan, and the portability.
Exhaust fan
– Operating a nailer results in
debris and particles
flying into the operator's face owing to the exhaust. To protect you, the Paslobe features a built-in fan that directs the exhaust away. The fan also acts as a cooling mechanism for internal components keeping them operational for longer.
Portability
- Being a cordless unit the 902600 allows for quick and easy work. You can use it in tight spaces where a hose cannot reach, and you don't have to concern yourself with towing a bulky air compressor. The unit can last about 5 hours on a single charge. It also features a standby mode to save charge and a quick 2-minute charge which is enough to drive 200 nails.
Expand to see more
Product Features

Battery life: 7.5 pounds
Capacity: 1 nail strip + 5 fasteners
Charge time: 2 minutes quick charge and 5 minutes to 1 hour after the initial charge.

Who is it for?

The Paslobe 902600 is for people who work in tight spots or who appreciate the portability.

At 7.5 pounds, it is a lightweight tool which increases the maneuverability
Seeing as it is a cordless tool, it is user friendly as you don't have to concern yourself with fittings and highly portable
It has a one year no questions asked warranty
The 902600 is expensive to operate as it requires a constant supply of fuel cells
Also, it is limiting as it uses Paslobe nails only
4. Freeman PFR2190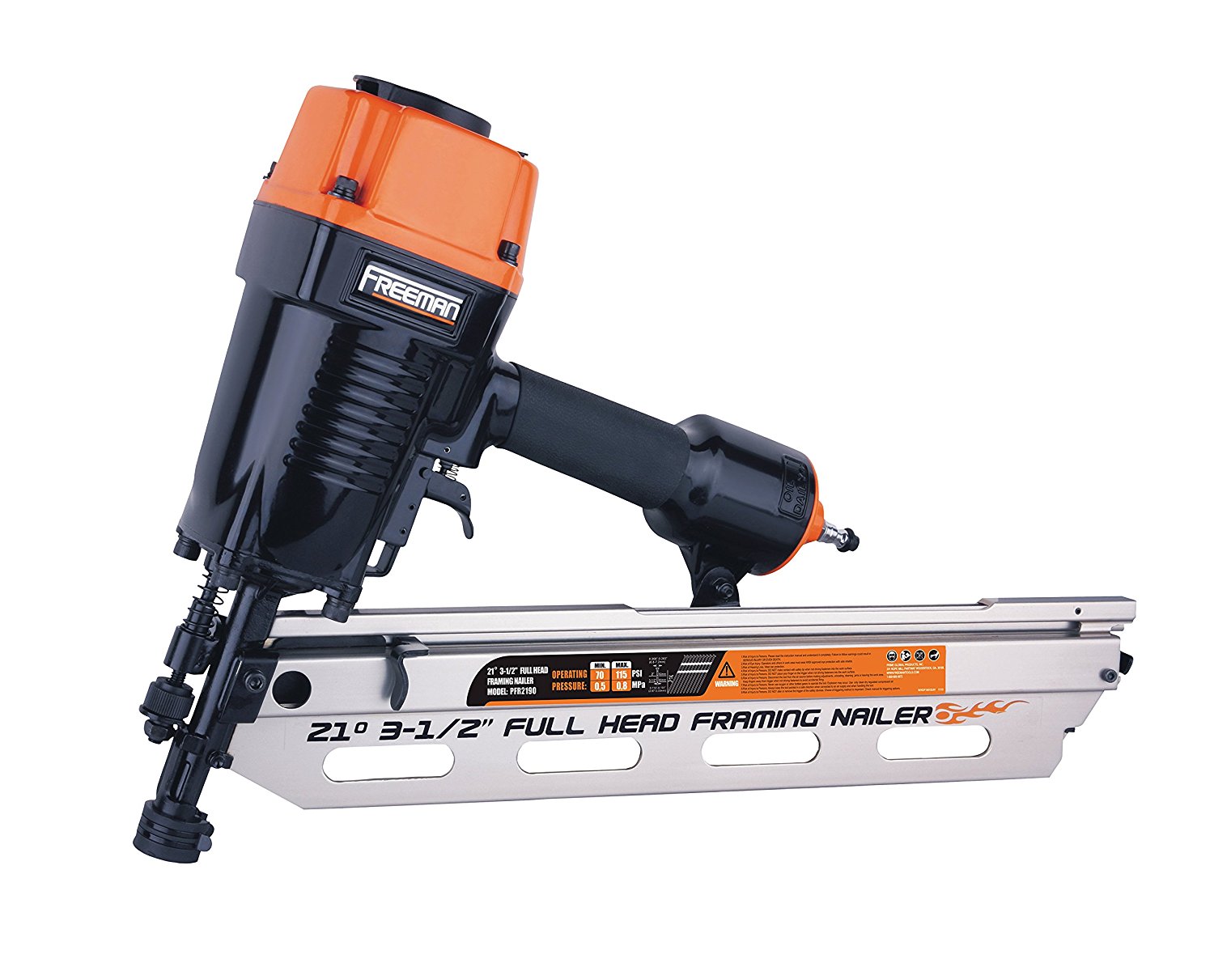 Following on our guide of the best framing nailers is the Freeman PFR2190. This tool is made particularly for 21-degree nails and can be used for various applications from wall sheathing to sub flooring and siding installations. It can handle nails from 2 to 3.5 inches, and has an anodized aluminum cylinder and magazine that are easy to repair.

The magnesium build is another reason to consider the PFR2190 as it keeps the tool light, while increasing the durability.

Expect it to handle any daily challenges, and withstand occasional falls. Our top features were the exhaust, and the one piece drive blade and rubber rings.

Exhaust – The Freeman PFR2190 has a 360-degree exhaust that allows you to keep the air away from your face. Other than the adjustable vent, it also has an air filter, and an anti-dust cap to prevent contamination in the air supply.

One piece-drive blade and rubber O-rings – Strip loading the device allows for faster usage, while the O-rings create less friction on the wood increasing the speed with which you work.
A
nother fascinating feature is the precision nailing thanks to the 21 degree full head nail, and no mar padding. The padding too protects your frame from damage during the process.

Expand to see more
Product Features

Weight: 8.5 pounds
Interchangeable triggers
PSI: 60 – 115
360 degree adjustable exhaust

Who is it for?

We recommend this tool for anyone who uses exclusively 21 degree round-plastic collated framing nails.

It is light and thus maneuverable; the magnesium body protects the unit and increases the longevity
Features interchangeable triggers that allow you to use both single and bump fire
Has adjustable nail depth
Affordable
Has an ergonomic group that increases the comfort and control
It is a bit limiting as it only uses plastic collated nails between 2 and 3.5 inches
5. NuMax SFR2190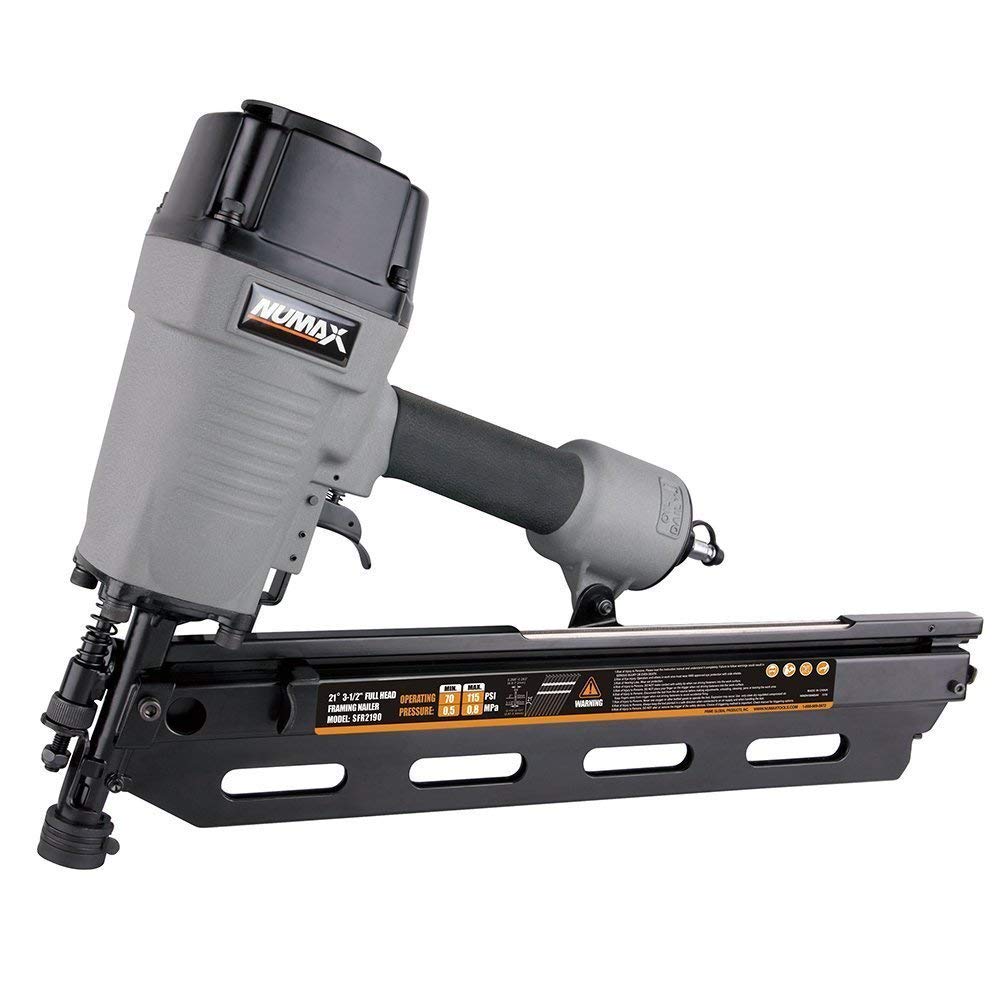 The SFR2190 is a magnesium nailer which is designed for the DIY enthusiast and not the professional. Though it handles well, it might not work for professionals. The tool has a dual-mode trigger and thus you can use single or contact/bump fire. There is also the durable drive blade as it is made of single piece hardened steel, and the 9.8 pounds weight.

At 9.8, the NuMax SFR2190 is a bit bulky and thus difficult to use in some positions. Also, you cannot work with it for extended periods of time owing to the fatigue. At the same time it is easier and more stable to use in a downward position. It uses full head and plastic collated nails between 2" and 3.5".

Another reason to consider it is the no-mar tip which protects the surface you are working on from dents and dints. However, it incorporates no-slip teeth that make it easier to grip the surface for secure firing.

Exhaust – What piqued our interest though is the 360 degree exhaust. The air vent is adjustable a full 360 degree that enable you to direct the air away from your face. By and large, it increases safety while operating the tool.

Anti-dry firing mechanism – To protect your driver blade from dry fire, this item incorporate an anti-dry firing system that will activate with 5 nails remaining in the magazine.

Expand to see more
Product Features

360 degree adjustable exhaust
Nail length: 2 to 3.5"
Weight: 9.8 pounds
A 21 degree framing nailer

Who is it for?

The NuMax SFR2190 is for DIY enthusiasts and hobbyists.


It features an ergonomic handle that is anti-slip and one that enables you to work for extended periods of time
Has nail depth adjustment
It features an air filter that keeps the internal components clean and increases their lifespan
It is a bit bulky and a bit limiting as it only works with plastic collated nails between 2 and 3.5 inches
We also did not appreciate that we had to interchange the triggers
6. DEWALT DCN692M1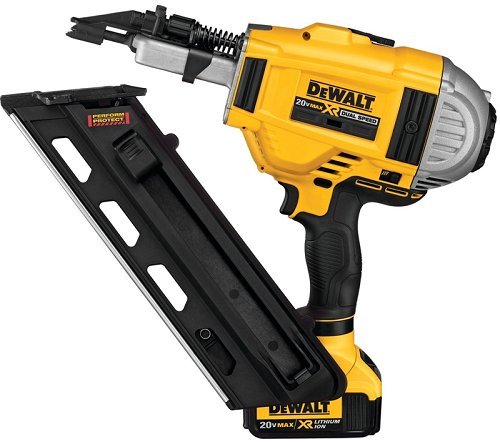 Dewalt is a renowned company for manufacturing quality tools. The DCN692M1 is a cordless option that you might want to consider for the portability and ease of use. You can get into tight spaces and you don't have to concern yourself with bulky air compressors. It is a dual speed unit, which is a rarity in cordless options, and uses a brushless motor. It works with 2 to 3.5 inch nails which is superb but even better is the nail depth adjustment.

The working depth can be adjusted with your thumb, and there are 11 clicking positions. The etched image helps you know if you are increasing or decreasing the depth of the tool.

Dual speed settings – The Dewalt DCN692M1 has a lower and a higher speed. The lower speed works well with 2" to 3" nails, while the higher is for 3.25 and 3.5 inch nails. You can use the higher speed for 2 to 3 inch nails but we recommend the lower setting to save on charge.

Versatility – This device can work with both clipped and round-head nails between 30 and 34 degrees irrespective of the brand. This resourcefulness is appreciated especially in areas where building codes require you to use round head nails.

Expand to see more
Product Features

Dual speed settings
Magazine capacity: 55 nails
Nail length: 2" to 3.5"
Nail collation angle range: 30-34 degrees

Who is it for?

We recommend this tool for people who are looking for the portability and convenience of a cordless tool.

It is effortless to change from single to contact fire with the switch on the side
It has an illuminator light that informs you incase the tool has stalled or jammed
It's easy to clear any jams as all you have to do is loosen the indicated 3 screws
It happens to be a bit limiting as it can only drive 700 nails on full charge; this is compared to the Paslobe 902600 which can drive 6,000 nails on a full charge
7. Hitachi NR90GR2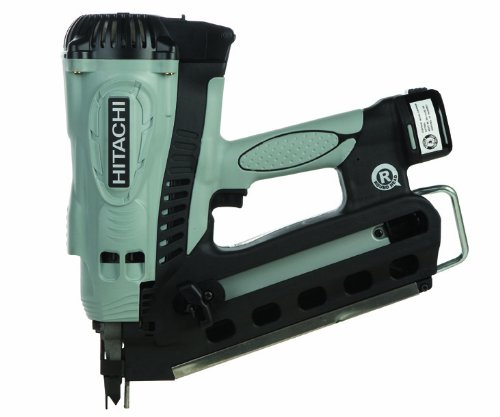 If you are in the market for a cordless option that can handle professional projects, we recommend you get the NR90GR2. It's endearing as it is portable but you will appreciate the nail diversity. There are two versions of the NR90GR2; one that works with clipped head and the other that works with round head nails. Therefore, identify the types of nails you will be using before making a purchase.

The tool can drive about 1,000 nails an hour, and drives about 4,000 nails on a single charge. These are enough nails for any project. The indicator light is also a welcome addition as it tells you of the status of your battery life and prevents unexpected down time. Our top features though were the portability, and the ergonomics.

Portability – At 7.9 pounds, the NR90GR2 is lightweight which increases the portability. You can work for extended periods of time without fatigue. It is equally well-balanced which increases the transportability. Also, seeing as you don't need an air compressor, you can get into tight spaces where an air hose can't reach.

Ergonomics – First, there is the collapsible hook that increases your convenience as you can hang the tool when not in use or if both your hands are required. Second, the handle is ergonomically designed and wrapped in elastomer to reduce vibrations.

Expand to see more
Product Features

Power: 1.4A, 7.2V
Nail length: up to 3.5"
Nails per fuel cell: 1,200
Nails per charge: 4000
Battery life: 4 hours

Who is it for?

The Hitachi NR90GR2 is for professionals who are searching for a nailer with better transportability.

The dry-fire lockout mechanism prevents damage to driver blade and helps keep it in good condition
Has an adjustable nail depth drive and thus you can drive the nails appropriately depending on the material
Loading the nails is a breeze thanks to the easy two-step procedure
The tool is expensive and the cost of operation is high as you have to purchase the cartridges
8. PORTER-CABLE FR350B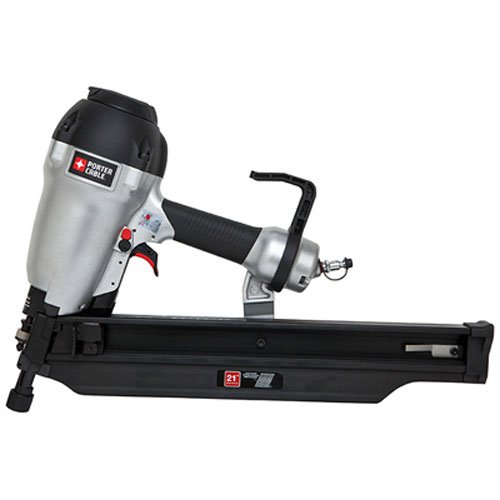 Most options don't work well with compressors. Often you have to purchase a compressor system together with the nailer, which is insanely expensive. The FR350B works with any compressor saving you a load of cash. It also packs some impressive features which increase its versatility.

First there is the adjustable depth that enables you to properly drive a nail depending on the material. The selectable trigger is another reason the FR350B stood out to us as it is easy to change from contact to selective fire. The unit uses only round-head nails, a plus as most building codes require homeowners to construct using round head nails. However, you need 22 degree plastic collated nails as this is a 22-degree unit.

Lubrication – Lubrication is required, if you are to keep your nailer in top condition. This is often an arduous task that involves disassembling the device and people prefer to take the tool to the shop. However, lubricating the FR350B is effortless with the "oil daily" tool. The air inlet also acts as the oiling tool. Ensure you place 4 or 5 drops before commencing work.

Lightweight – At 7.3 pounds, this is easy to maneuver and carry. You can work with it for several hours without exhaustion.

Expand to see more
Product Features

Magazine is at 22 degrees to the drive axis.
Works with nails between 2.5 and 3.5 inches.
Weight: 7.3 pounds
Has selectable triggers with a trigger lockout.

Who is it for?

Being a pricey unit, we would only suggest it for people on a generous budget. Also, as it drives nails between 70 and 120 PSI, it will work for both professionals and DIY enthusiasts.

Has a reversible rafter hook that makes storage easy; you can also use it to hang the tool whenever your hands are needed
It's ergonomically designed with an over-molded handle for better control and comfort. The handle also reduces the vibrations
Also has a low nail lockout that tells you when it is time to reload
Has an adjustable exhaust
This device is pricey and limiting as it only uses full round-head nails
9. BOSTITCH LPF21PL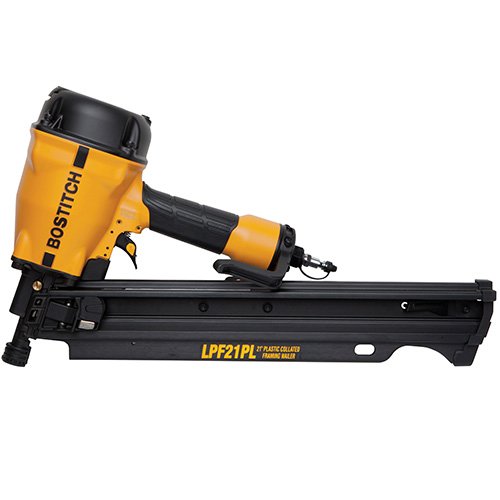 The LPF21Pl is a 21 degree option and as such you have to get 21-degree plastic collated guns. The gun is manufactured for small and medium projects and only has enough operating pressure (70 to 100PSI), to handle such tasks. It can comfortably drive between 2 and 3.25 inch nails but you need a more powerful unit to drive 3.5 inch fasteners.

The selectable trigger makes is easy to select between single and contact fire, while the depth adjustment wheel enables you to select the appropriate nail depth depending on the material. Our best features though were the low-profile design, and the internal air filter.

Low-profile – The LPF21PL is a small tool. Though the low-profile might put a damper on things on first sight, you will later come to appreciate the design. When working in tight spots, carpenters result to hammers which is time consuming and awkward. The LPF21PL allows you to get into tight spots with ease increasing your productivity.

Internal air filter – Most nailers rarely last long owing to contaminants that damage the engine. Bostitch has solved this with an internal air filter that cleans the air going into the engine. Though the unit is noisy, it is a worthwhile tradeoff.

Expand to see more
Product Features

7-year warranty
Nail range: 2" – 3.25"
Selectable trigger
Over-molded grip
Internal air filter

Who is it for?

Given the operating pressure, this is for small to medium jobs. You can also use this item to get into tight spots that bulky nail guns cannot.

It will fit into smaller spaces increasing your productivity by cutting the time you would have used with a hammer
Completely and so there are no jams from left-over nails
The nail adjustment is perfect as it enables you to sink fasteners appropriately
It is a bit pricey, and noisy owing to the air filter
10. Estwing EFR2190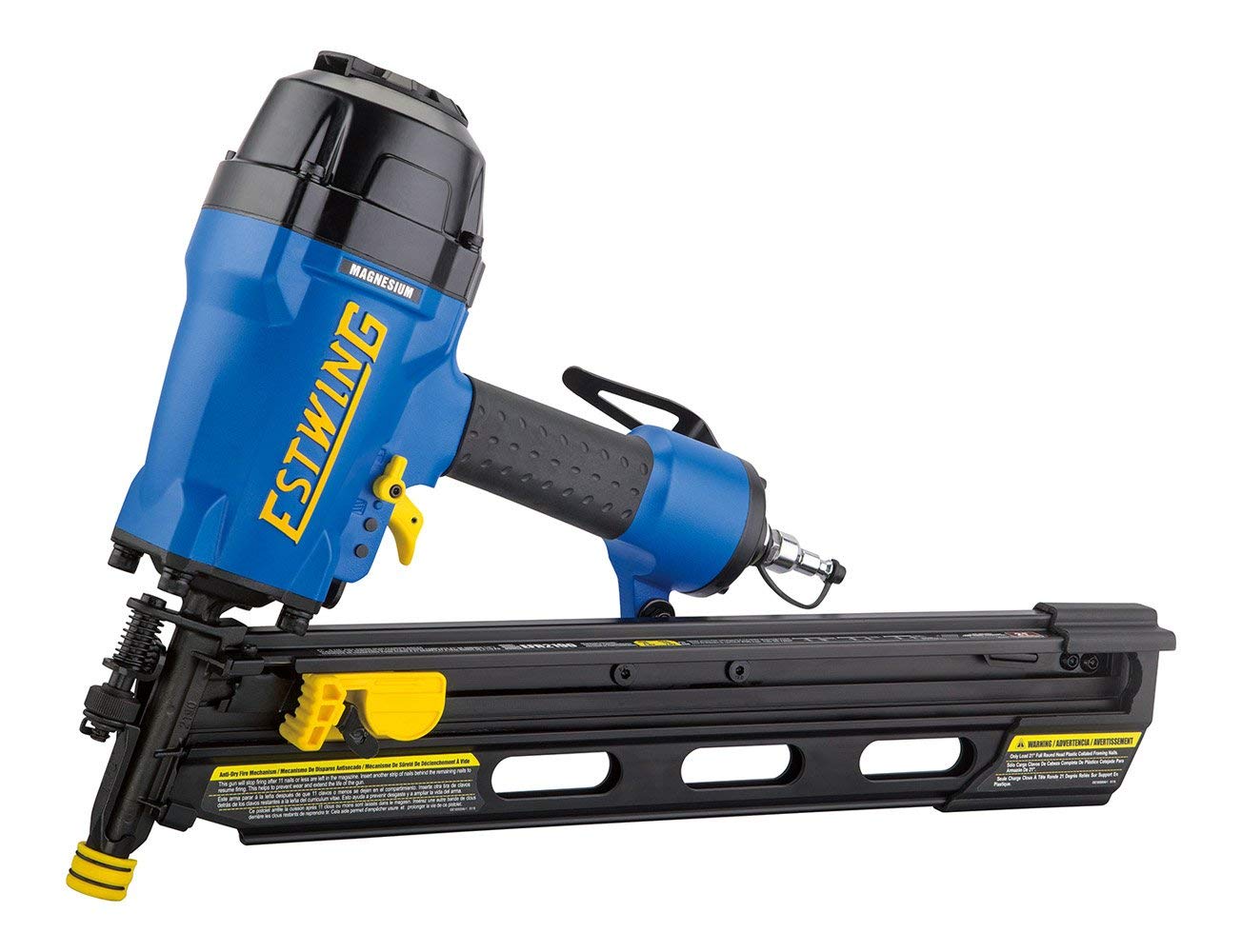 Estwing is a company renowned for the
quality hammers
they produce, but their framing nail guns aren't as famous. This is acceptable as they have only recently entered the market but their products are remarkable as always.
The Estwing EFR2190 is an outstanding nailer and holds its own against renowned brands. First, switching from single to contact fire is painless thanks to the mode change switch. Though this might seem a standard feature, there are some devices that require you to change the triggers. The depth adjustment setting is also unrivalled thanks to the adjustment wheel. Also, it packs quite a punch as it can drive nails between 2 and 3.5-inches, and it has solid recoil control.
Ergonomics
– What piqued our interest most is the tool design. It weighs 7.79 pounds which qualifies as extremely lightweight, and allows you to work longer hours with little fatigue. It also happens to be well balanced for those overhead applications and getting into tight spots will be a breeze with this unit as it is marginally smaller. Finally, the handle increases the control and comfort while reducing the vibration.
Toenailing
– You will appreciate the grip the Estwing EFR2190 offers when driving fasteners. Thanks to the 6 barbs that stick out on the nose, there is better bite for those awkward angled shots. There is also exceptional visibility increasing the accuracy.
Expand to see more
Product Features

Rafter hook for hanging the tool.
All metal magazine
Dry fire lockout that protects the driver blade

Who is it for?

The Estwing is a professional tool. We recommend it for large projects. However, we don't know what to expect of the life of the tool as it is still new. Only time will tell.

The magnesium construction increases the life of the tool
You can load this gun totally full unlike most units which accommodate only two clips
Has a strong hook that is built to last
Affordable
It has a bit more recoil than most units on this guide, and it is inconsistent on bump-fire mode
What to Look for
Type of nailer
Pneumatic nail guns need an air compressor for the nailer to work. If you already have a compressor, we recommend you get a pneumatic nailer.
It's also the preferable tool when working on a large project or if you intend to use it on a daily basis. Cordless units on the other hand are similar to pneumatic units but use canisters for disposable air. We recommend them for the portability and for use in areas where an air hose will not reach.
Type of work
Does the project you are embarking on require a heavy duty option or is it some light work where you don't need to invest in a premium option? It all boils down to you and the task, but remember a framing nailer can make or break your project.
Nail types
There are two main nail types; round headed and clip headed nails. You want to identify which nail type you gun works with. You might be tempted to purchase one that works with clip-headed nails as it stores more, but the local building code might not allow you.
Most building codes require you to use round headed nails and in such instances the advantage of clip-headed nails means little.
Triggers
Triggers can be single fire and bump. If you are looking for precision and control, we suggest you get the single fire. It entails placing its tip to the surface and pulling the trigger. However, it is time-consuming.
If you are looking for speed, get a tool with bump-fire trigger. However, you have to compromise control for speed. Our units though enable you to work with single and bump-fire.
Mode change
Most framing nailers allow carpenters to work with single and bump-fire. Nonetheless, for a tool to feature among the best, it has to enable effortless and tool free mode change. In the best case scenario, some have a switch to change while others have a two step process for safety reasons.
Then there are those that require you to change the trigger. We wouldn't recommend these.
Exhaust
As the tool fires, the exhaust has to go somewhere. We implore you to get one with an adjustable exhaust as you can turn the port away. As a result, you avoid that quick blast of air from blowing particles into your eyes. Get some safety glasses if your tool lacks an adjustable exhaust.
Magazine
We recommend you get a device with a metal magazine over plastic. It has crisp action unlike the sluggish performance of a plastic mag.
Dry fire lockout
To increase the life of your tool, we implore you to get a device with dry fire lockout to prevent damage to your driver blade. It also reminds you to add nails before you run an empty line.
FAQS
How do I maintain my nailer?
Regular servicing and maintenance is required if you want it to serve you longer. Most people prefer taking it to the shop for servicing, but you can service it for a fraction of the cost. First, check the screws and bolts and ensure they are tight enough to keep your tool from falling apart during use. Screws have been known to come loose during shipping and from vibrations, therefore, ensure you check them upon arrival, and every few months.
We also recommend you lubricate your air fitting regularly to keep it working effectively. Oil the air fitting using a light air tool oil, and use your finger to lubricate the O-rings. 4 or 5 drops of the air tool oil should suffice. Finally, clean the feed system. The feed system is known to attract dirt and debris which can jam the gun and keep it from firing appropriately. Keep it clean by using a compressed can of air
Which one is better; clipped head or round head?
Though this is a rather minor detail, it is one that has caused an uproar amongst carpenters. Yes, one of nailer has an advantage over the other, but not in terms of strength or holding power as we have been made to believe.
Lab tests have proven that the strength of a nail comes from the size and length of the shaft, and not the shape of the head. However, a clipped head one can hold about 30% more nails than a round head one because round head nails take up more space than clipped head nail.
What are the angle differences?
The framing angle is the degree with which the device fires fasteners into a work piece. There are four angles and each has its own advantages.
The 21 degree nailer is the most common and uses nails held together with plastic. It is a bit bulky and can't operate in tight spaces. Furthermore, seeing as nails are plastic collated, they are more spaced and the magazine can accommodate fewer nails. The 30 to 34 degree nailers, on the other hand, are light, can get into tight spaces, and accommodate more fasteners since it uses paper collated nails. However, it uses full head nails akin to the 21 degree nailers.
Similar to the 30 and 34 degree framing devices, the 28 degree unit too can fit into tight spots. However, it has a longer magazine as the fasteners are wire collated and thus more spaced out. Also, they happen to be quite pricey.
Conclusion
Of course there are some other great units in the market but those on this list offer the best value for money and have an edge over the rest. That notwithstanding if you have any suggestions, or comments, or if you feel there is something we missed, feel free to comment below.
Subscribe to our newsletter