10 Best Spindle Sanders Reviews & Ratings
last updated:
Oct 18, 2018
Creating exceptional woodwork requires a little finesse in the process. The creator must have the requisite skillset and knowledge to make it work. Also, they might need to use some tools. If you're trying to bring about a wooden piece that is either round or has a few curves here and there you might need to purchase a spindle sander. Ultimately being a sander, it can be used to bring about that smooth finish that you want in your woodwork.
The tool works by rotating the spindle, and in the case of oscillating spindle sanders, the spindle will continuously move up and down. The user attaches a cylindrical drum covered with sandpaper, and he can then get to work smoothing round edges on furniture or any other wooden creation.
Our Top 3 Picks
[srpshortcode id="18885″][/srpshortcode][srpshortcode id="18886″][/srpshortcode][srpshortcode id="18887″][/srpshortcode]
However, you don't just purchase the first spindle sander you see. You might end up disappointed. Instead, you should research and check out the options available. This way when you purchase a particular model you will be making an informed decision.
10 Best Spindle Sanders
1. WEN 6510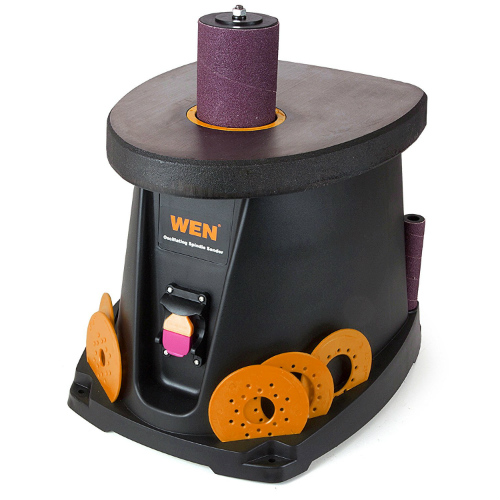 The WEN has received some overwhelmingly positive reviews from a large number of customers who have previously bought it. The package is a little smaller than most, and hence it can easily be carried from one point to another.

Nonetheless, if you don't need the mobility, you can always choose to mount it on a workbench using the predrilled holes. Also, you will find that the worktable is a reasonable size measuring 15 by 11.5 inches. Additionally, the cast iron tabletop is unlikely to take damage while you are using it on a project. By going through the list of features, you will likely find some remarkable features. Here are two of them.

Powerful motor – The ½ horsepower motor is more than enough for most usage scenarios. At its best, the motor produces 58 oscillations which is the up and down movement of the sanding sleeve and drum. Also, it generates a total of 2000 rotations each minute the tool is in use. Despite the power, you will find that the motor in the WEN doesn't make a lot of noise which may come as a welcome surprise to some.

A few different sanding sizes – Different sized sanding drums bring about the versatility of the tool. Depending on how big the workpiece is, you might need to switch it up from the relatively small sanding drum to a mid-sized one. Luckily the tool has a range of about six of them that you can switch up at will. The fact that the spindle sander features onboard storage may also come in handy. Everything you need is right there so you won't have to move from your workplace until you're done.

Sanding may tend to leave a messy workplace after the job is done. To prevent this, you can easily attach a dust extractor to the dust port. This will minimize the work you have to do after you finish working on your project.

Expand to see more
Product Features

1.5-inch dust port
Onboard storage for accessories
½ HP powerful motor
Six available sanding sleeves and drums (Different sizes)
Two-year warranty

Who is it for?

Some users have claimed it is almost as good as sanders from other manufacturers that have you to pay twice the money for. By that metric, it is a moderately priced unit that should be affordable for a vast population. All the same, this tool is better suited for beginners and DIYers rather than professionals in the woodwork field.

Dust collection feature works excellent
The device is reasonably quiet
Well built
Great value for money
If care is not taken the top may fall victim to rust
2. Triton TSPS450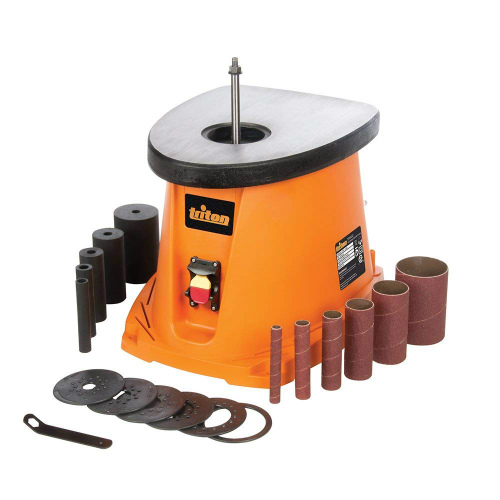 In second place comes this installation by Triton. The similarities between this tool and the WEN in the first position are very many, and it is, therefore, challenging to choose between the two on merit. It is possible to mount the TSPS450 on a bench before starting your work. You need a
few screws
that fit in the holes that are already there. Also, you can choose to ship it with a few extra sanding sleeves to save you trips to the store down the road. With impressive features all around the Triton TSPS450 caught our attention with the following.
Powerful motor
– Just like the WEN this Triton offering will rotate at a speed of about 2000 rotations in 60 seconds. Similarly, there are 58 oscillations within this period. The oscillations will reduce static friction, and as a result, there will be no scorch or band marks on the final workpiece.
Onboard storage
– There are quite a few accessories that come with this unit. The main ones are housed on the body of the tool making them more accessible whenever you need to adjust the configuration. This is inclusive of the table inserts, sanding sleeves as well as the sanding drums.
The oscillating pattern will ensure that each sanding sleeve lasts just a little longer. Another benefit presents itself in that each sleeve will wear out evenly when used. Once you have this tool in your workshop, it is good practice to attach a dust collection system to the dust port in the unit. After all, a clean workspace is a mark of a person who knows his trade.
Expand to see more
Product Features

Six sanding sleeves, drums, and table inserts
Storage space for all tool accessories
2000 rotations per minute brought about by a powerful motor
58 oscillations per minute
Three-year guarantee

Who is it for?

Although similar in a few ways to the WEN there is one key difference. The price for the TSPS450 is almost twice the price that of the WEN. Ultimately this is still a quality tool that you can buy for your needs if you are a DIYer who frequently has woodwork projects.

The TSPS450 is easy to use
Features a solid construction
The storage for the accessories is quite convenient
Small enough for easy storage
No storage for the washers that come with the tool
Space, where you put in your inserts, is a little too deep
3. Shop Fox W1831

In third place is the ½ horsepower sander by Shop Fox. You need a 120-volt power source so you can turn on the device. The table size totals 11.5 inches X 15 inches which is suitable for most small applications. If you factor in the weight of this tool, 30 pounds allows for the occasional movement of the sander to the more suitable location if the need arises. An impressive tool by most standards even though you will find that some of its features top the rest. Two of them are as follows.

Locking power switch – Children are known to be mischievous, and most people will find them lurking about in their workshops. Unfortunately, this playfulness can sometimes lead to disaster if they go about playing with the wrong things. The locking key ensures that no one can turn the tool on without it. This safeguards your children as well as other people in your workshop that may not know how the sander works.

58 oscillations in a minute – While a similar theme is present in a lot of spindle sanders this feature is somewhat necessary. Static friction has the potential to ruin your work project forcing you to start over.

Unless you want band marks on your wooden piece, it is essential you have this feature when you get to sanding. Inserts present serve the function of closing the gap between the drum and worktop to ensure a smooth working surface.

Expand to see more
Product Features

½ HP motor
A wide array of sanding drums as well as sanding sleeves
30-pound weight
11.5 X 15-inch table size
Locking power switch
1.5-inch dust port

Who is it for?

The target market for this tool is DIYers and serious hobbyists. Take up a woodwork project and see how well this tool works for you. The device is nonetheless highly priced for the target market. Professionals would be much more comfortable with the price range. All the same, if you have the money, there is no reason not to buy the W1831 Shop Fox.

Easy to set up in your workshop
Very light making it portable
The unit runs very smoothly
There is not enough storage for the washers
The oscillating distance is a bit small
4. POWERTEC OS1400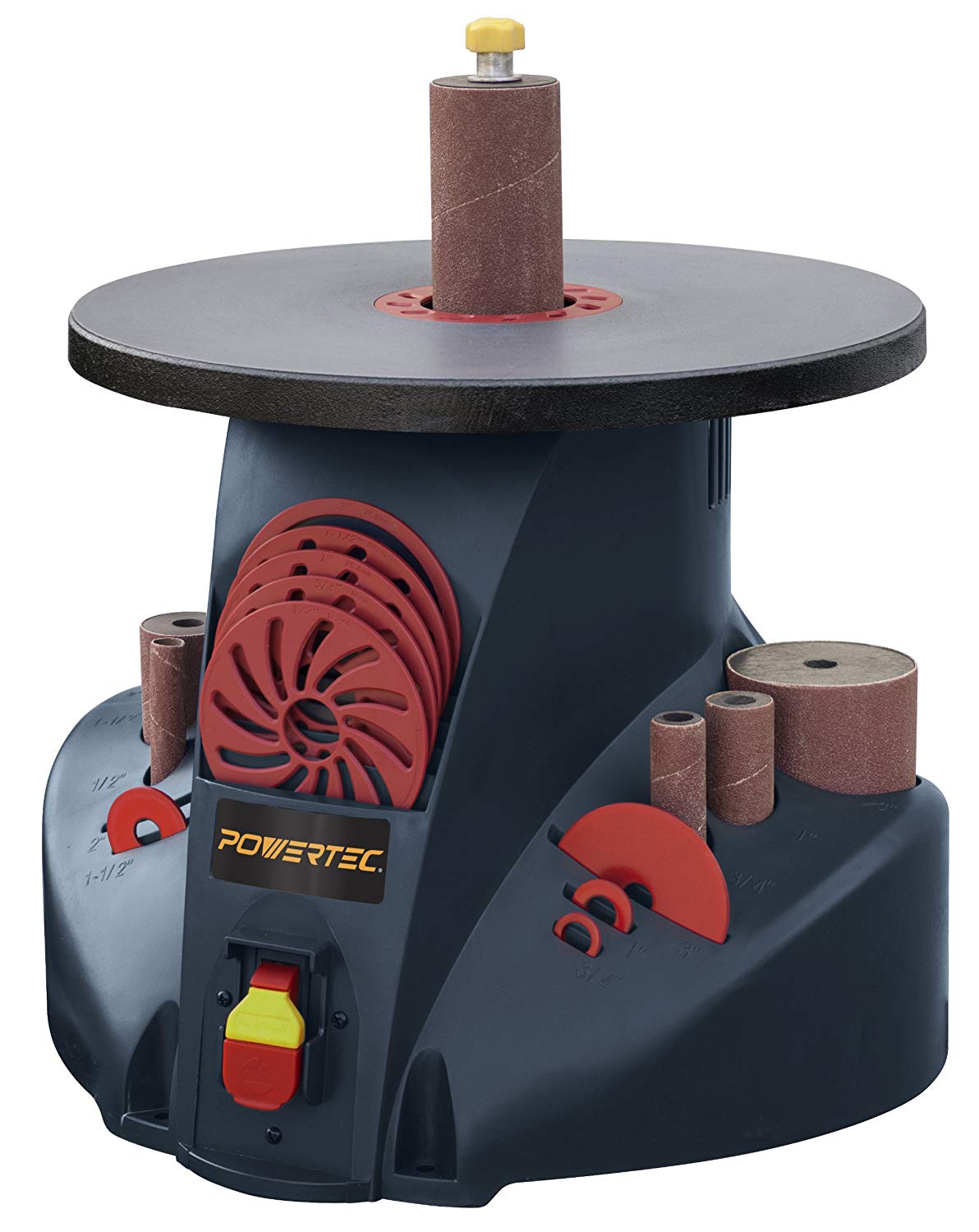 The next tool on our list is by Powertec, and it is the OSI400 model sander. It makes its debut on our list as being the first with an all-round table top with a diameter of 14 inches. The construction is still very similar with the others whereby the material used is cast iron. Cases where the worktop breaks or even dents are unlikely. You can use this tool to smooth curves as well as the insides of holes you put in your woodwork. The OSI400 was rather impressive as a whole but even more so with the inclusion of the following features.

1800 RPM – While these rotations are fewer than those of the models above it is still a reasonably high number. It is sure to smooth out all the curves and edges that you may desire. Also, the sanding drum and sleeve also oscillate up and down the spindle a few times in less than a minute. Sanding sleeves will wear out evenly over time as a result. The induction motor included in the design makes this possible.

Built-in dust port – No need to have a messy workspace when the tool already provides a way to clean up the area while simultaneously carries out its mandate. Attach the dust port to a dust collector, and after each work session, you won't have to clean out too much debris.

The primary tool comes with various slots where you can fit all the accessories. Whenever you sit down or settle to work with the OSI400, you do not need to get up till you're done since you can access all the tools you may need by stretching out your hands.

Expand to see more
Product Features

14-inch diameter cast iron work table
30 oscillations per minute
1800 RPM
2.6 amps induction motor

Who is it for?

The price is reasonably affordable, but this tool is a bit flimsy. It can only function under very light use. Consider buying this if you are new to the practice of woodwork or DIYing.

Easy to use
Very quiet operation
Accessories are easy to reach
The base is a little flimsy; Consider mounting to a benchtop before using
5. JET 708404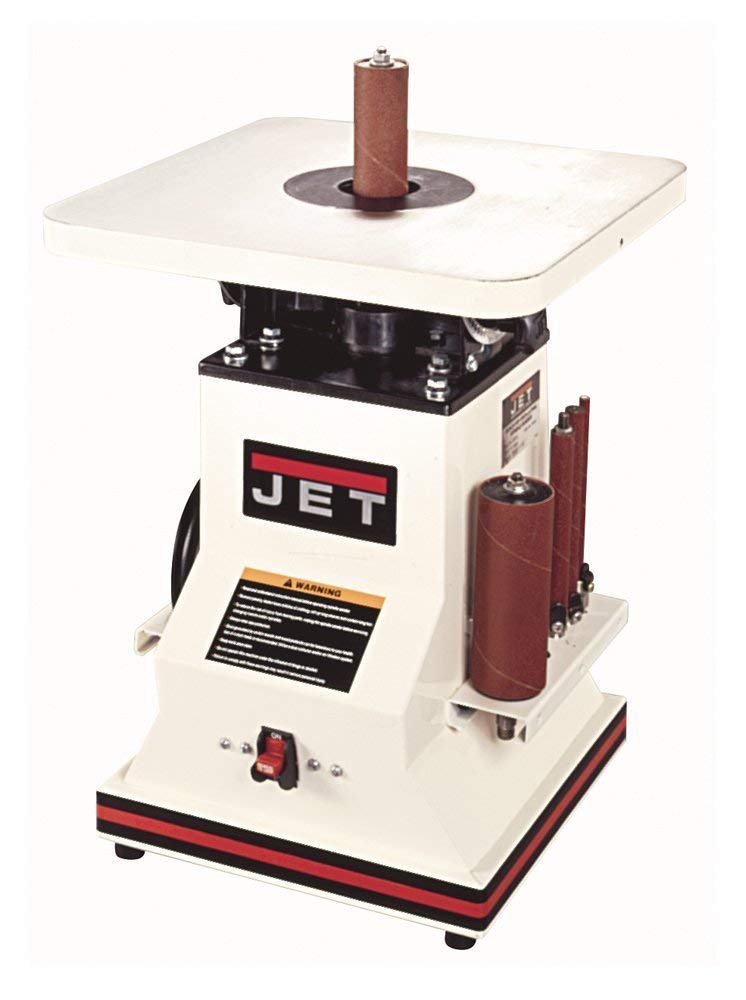 Coming in fifth is the jet 708404 model. Whether as a professional or a hobbyist this tool fits just about all needs. Although it is a bit taller than its predecessors on our list, you still have to mount it on a bench top.

Nonetheless, the non-skid rubber feet take the place of screw holes that you can use to attach it to a bench permanently. The aim is to provide more portability with this tool. Looking at the more exceptional details has exposed some features that are a bit more interesting than all the others. Here are the ones we feel are worth mentioning.

The table top tilts up to 45 degrees – We already know this tool is used for smoothing curves and arcs. However, sometimes we put in particular angles in those arcs that may also make it more complicated to smooth out. A table top that tilts 45 degrees takes care of that problem and ensures a smooth finish even on irregular angles. This tool is meant to be handled by someone who knows their woodwork.

Removable on/off switch – While not the same as a locking key it provides the same security. Your children may be playing in your workshop and being as naughty as they are they will probably try to turn this tool on so they can imitate you in your workspace. They don't realize that this tool has the potential to be dangerous and harmful to them. If you hid the on/off key somewhere else, then they would not be able to turn the 708404 sander on. This keeps them safe and prevents tIT from getting damaged.

Seemingly a recurring theme, the induction motor in this unit outputs ½ HP while you are working. This is a sufficient level for most sanding needs that you will encounter either as a professional or otherwise.

Expand to see more
Product Features

½ HP induction motor
45-degree tilting table
1725 RPM as well as 30 OPM
Nonskid rubber feet
Built-in storage compartments for table inserts

Who is it for?

The price is several times that of the models mentioned above. Being that pricey, it is still a quality tool and even includes a feature that other models don't have which is the tilting of the tabletop. Professional woodwork would benefit a lot from the versatility that this tool gives. Nevertheless, if you are a DIYer who has the money, nothing is stopping you from ordering the 708404 sander by Jet.

The unit is quiet and smooth in operation
The tilting table top is an interesting feature to have
The build quality is high end
Easy access to the changeable spindles
The machine is tall and therefore may prove difficult for a short person to use if they mount it on a bench
Some buyers have complained about the tool arriving with damage
6. WEN 6523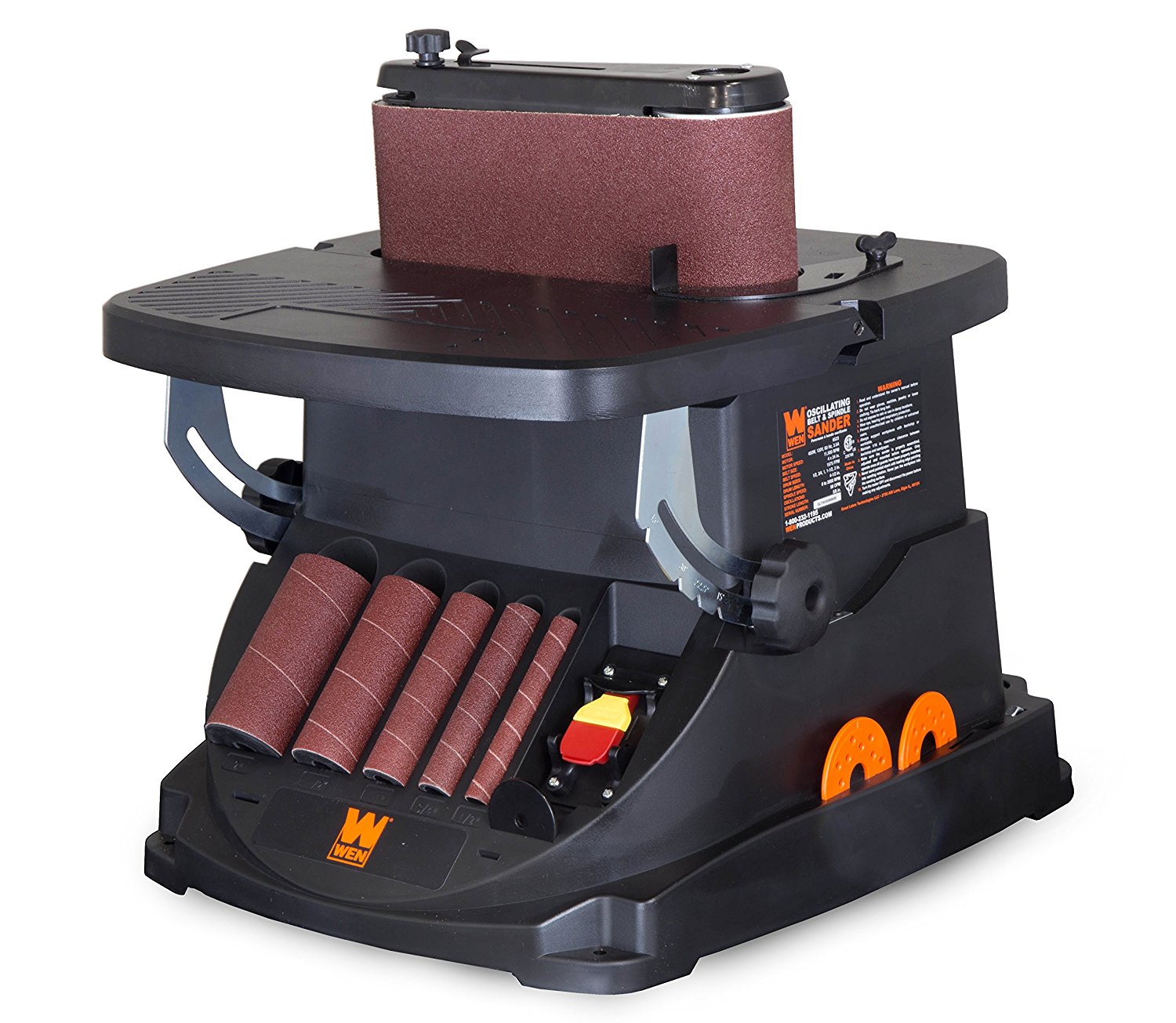 WEN makes it yet again on our list in 6th place with a combination tool between a belt and a spindle sander. It wouldn't too much of a stretch to say it is the most versatile tool yet. The quality is such as you would not expect in this price range. Characteristic of the manufacturer there are some features on this unit that should indicate why we ended up loving this tool so much. Here are the major ones.

45 degree adjustable tabletop – Similar to the table top on a JET 708404 unit this feature is ideal for beveling whenever you put in extra details in your work. It is also not a feature that you find in most other tools that come at this price.

Belt and spindle sander – Perhaps most interesting is how you can alternate between the belt sander and the spindle sander whenever you need any one of those. You won't be required to buy two tools while you can have the two-in-one. The belt operates at a speed of 1575 FPM while the spindle is much faster totaling at about 2000 rotations in under a minute.

The 6523 is driven by a 3.5 amp motor. Also, the oscillations are available on both the belt and spindle attachments. You can access all the accessories on the body of the machine as the manufacturers included onboard storage.

Expand to see more
Product Features

Belt + spindle sander
3.5 amp motor
45-degree beveling worktop
Onboard storage for most accessories
58 oscillations per minute for both the belt and spindle sander

Who is it for?

The price point is moderate, but if you consider that it also features a belt sander, then it's mostly a bargain. Affordable and can work in both professional settings as well as home settings for DIYers and hobbyists.

Very high-quality materials and build
Easy Fo use and convert between belt and spindle mode
Accessories remain close by in the onboard storage compartments
The extra spindles and washers may fall out and get lost as they are not fastened to the body
7. Grizzly G1071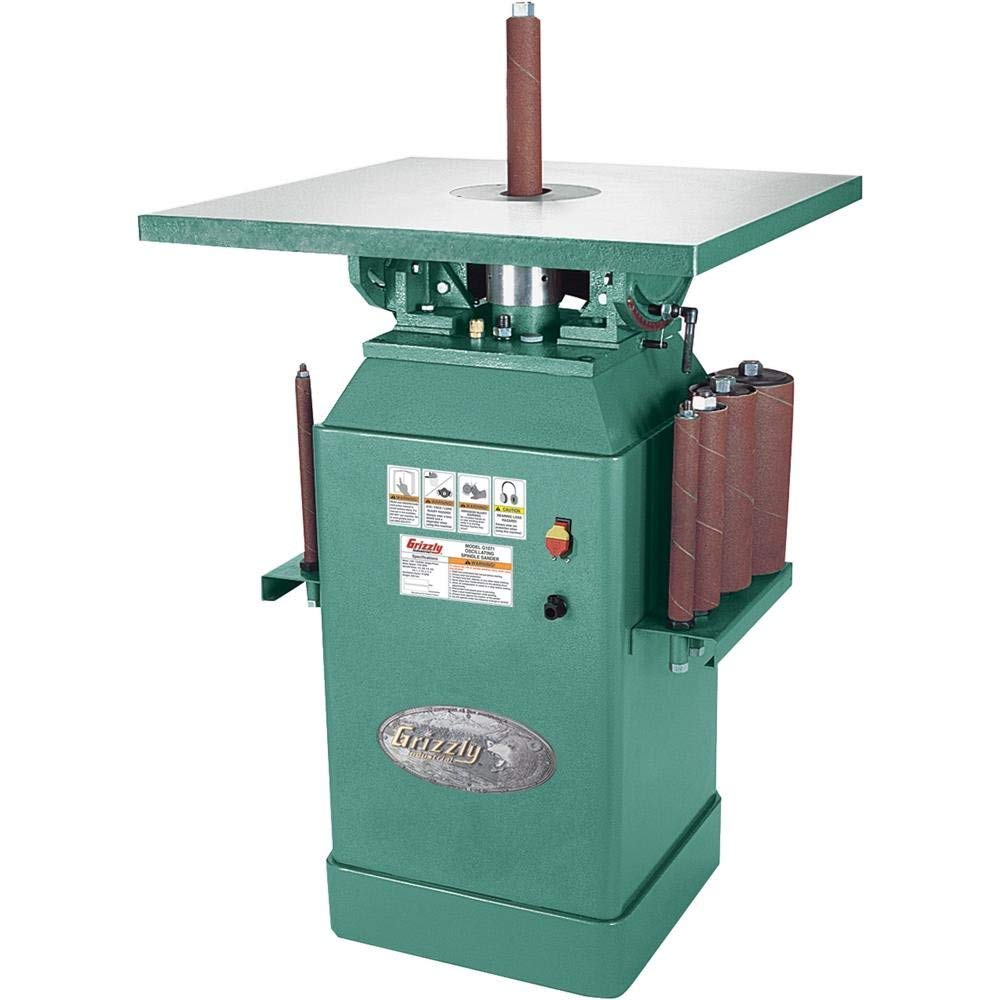 If you were in the market for a grizzly to use on big projects, this is the one for you. The construction is solid and the features included are directed at the professional market. The price is a bit high, but some of the features make it worth it. Examples of these are.

1 HP motor – This is a very powerful motor with regards to sanders. This will help any woodworker make light work on any piece they try to smooth out.

Tilting table – Made from cast iron, the 25" by 25" table top can tilt 45 degrees in one direction and another 15 degrees in the other. A few others have this feature but not at this price.

Interestingly you will find that this unit supports up to 10 spindle sizes which is a bit more than the standard six. Whether this difference is enough to make you purchase this tool is up to you.

Expand to see more
Product Features

1725 RPM and 72 OPM
Large 25" X 25" tilting table top
Ten available spindle sizes
1 HP motor
Floor to table height

Who is it for?

If you find that your pocket fits this slightly pricey tool, then you can go ahead and get it. It is worth every penny, and you should make more than regular use of it once you own it.

Sander runs smoothly on the 1 HP motor
Tilt and spindles are easy to change
Robust design
Wrenches provided for changing sanding drums seem low quality
8. POWERTEC OS1000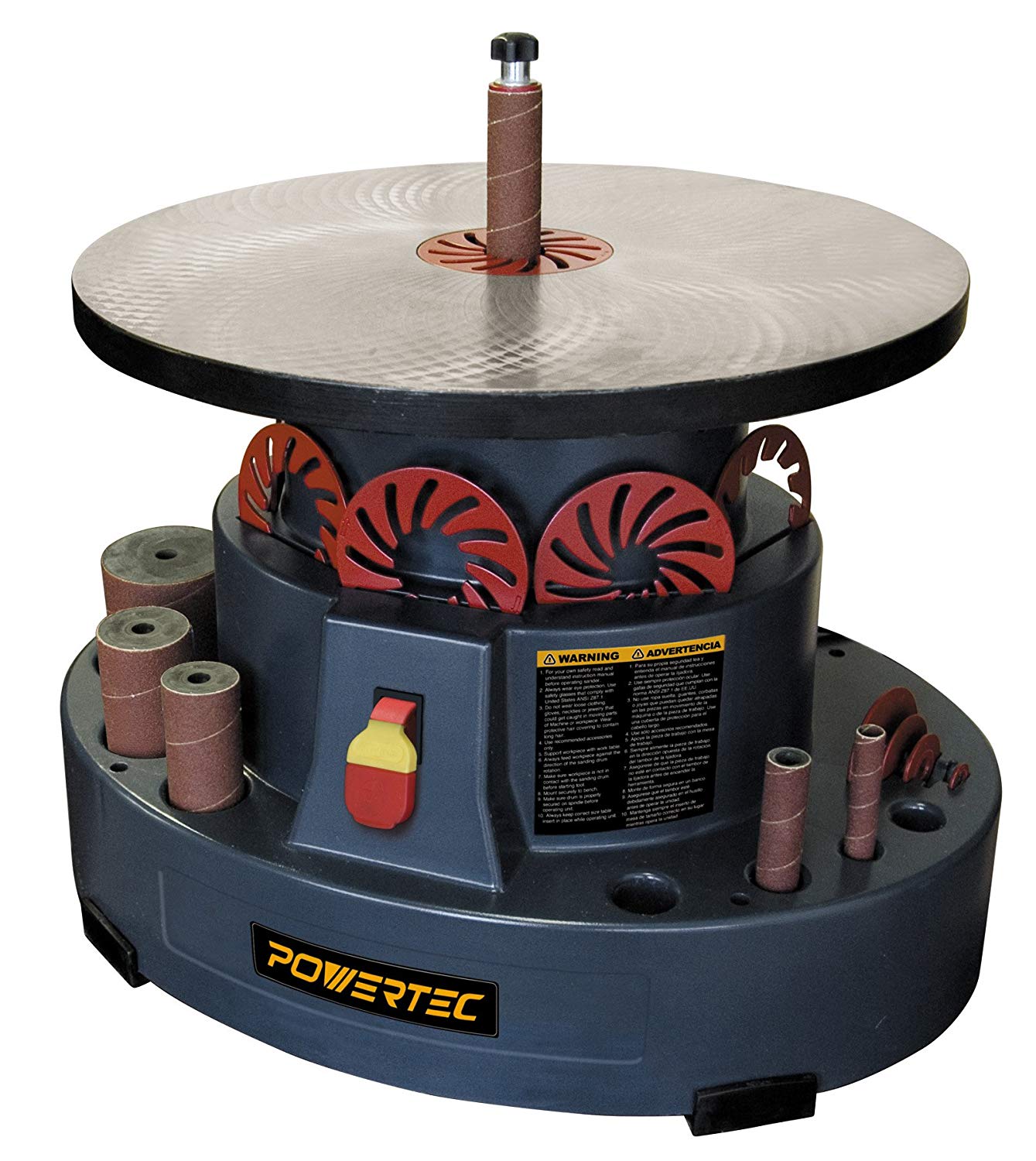 The OS1000 has a round table top just like the predecessor on this list by the same manufacturer. However, this one is slightly bigger by about 4 inches. You can, therefore, get away with placing much more significant pieces of woodwork on the top. Regarding eye-catching features the OS1000 spots the following.

Safety power switch lock – Just like the name suggests everyone is safer when this feature is put in with particular emphasis on safety for children. It also serves to give you peace of mind that no one will be tinkering with your device while you are away.

2/5 horsepower induction motor – This is significantly less than any other on the list so far. That said it is still sufficient for most use cases that one can think up if they do woodwork as a hobby.

Cast iron is the material used in the making of the worktop and is robust enough that it won't bend or break under pressure.

Expand to see more
Product Features

1725 rotations per minute
Onboard accessory storage
2/5 HP motor
18-inch diameter table top
Safety power switch lock

Who is it for?

The motor is the weakest so far so only purchase this for very light use. Also, the option for oscillation is not there so you might need to work to prevent band marks actively. Pricing is moderate, and your pockets won't hurt much if you decide this is the sander for you. All the same, you will find that this tool is competent for short projects by hobbyists.

The motor is not very powerful
9. Jet 723950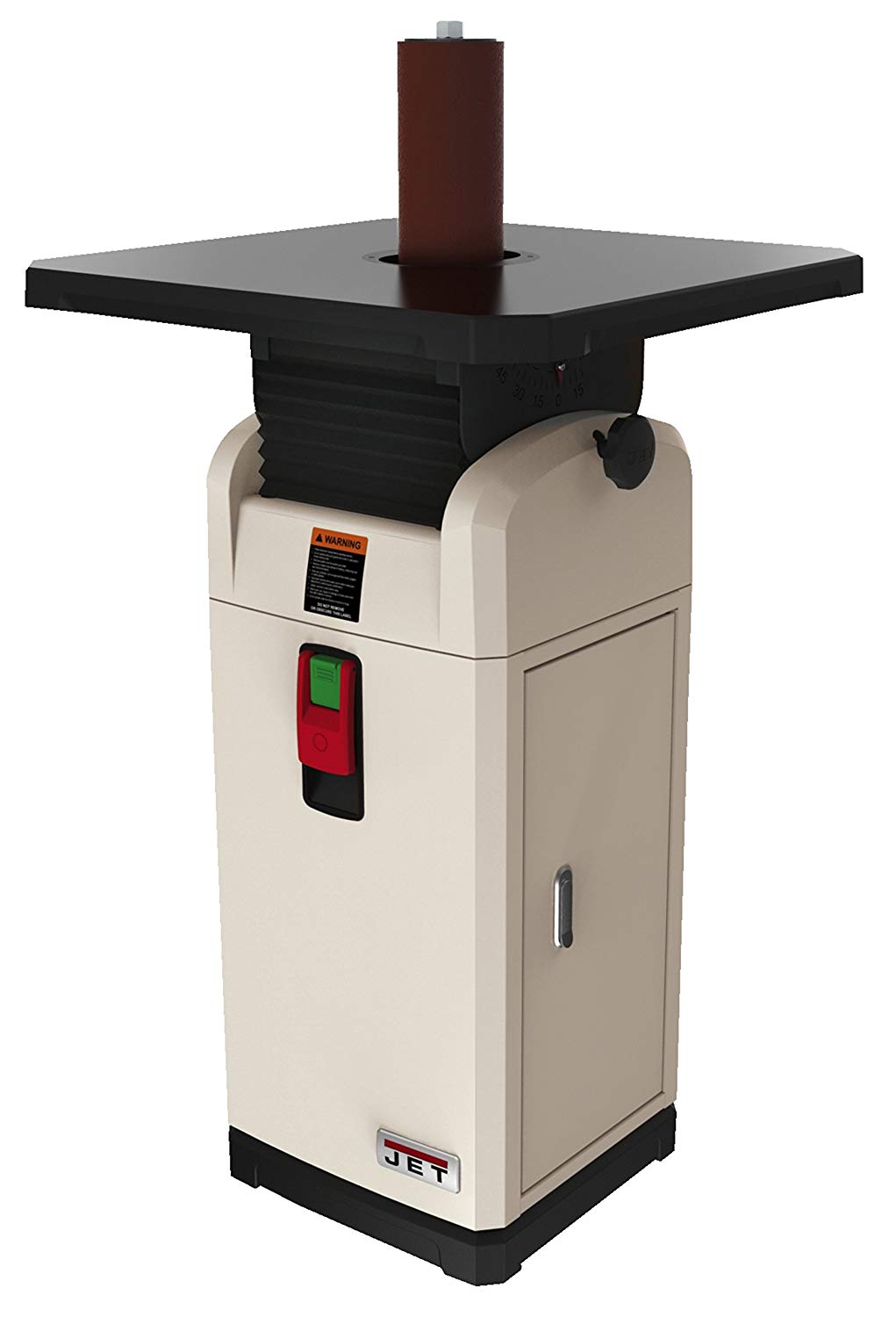 You can see clearly in the name of this sander that you don't need to mount it anywhere. You place it on the floor and get to work. The unit is tall enough that it allows for floor function. As expected there are some exciting features jam-packed in the long body of the gadget. The following two could be some of the unit's top selling points.

Improved dust collection – If you are worried about dust collection with this unit, then you shouldn't be. The 4" dust port comes in handy for this purpose. Nevertheless before that there is a chamber close to the top that makes it easier to empty out the debris as you are sanding.

Tabletop tilts 45 degrees front and 15 degrees back – This is a requirement for beveling your woodwork unless you want to do it by hand.
Accessories for the 723950 are stored in the body of the tool even though at first glance that may not seem like the case.

Expand to see more
Product Features

Spindle lock that allows for the changing of spindles easily
Chamber under the table that improves dust collection
Storage area with a sealed access door
Tilting table

Who is it for?

The unit is priced quite high, and only people with deep pockets can afford it. Our recommendation is to get this tool if you can get a return on investment. This makes it more suitable for use by professional carpenters.

Sufficient storage for all accessories
Easy to use
A reasonable working height for most people
The worktop is quite large and may, therefore, prove challenging to get around
Trying to get at the power buttons is made awkward by the table top
10. Grizzly G0739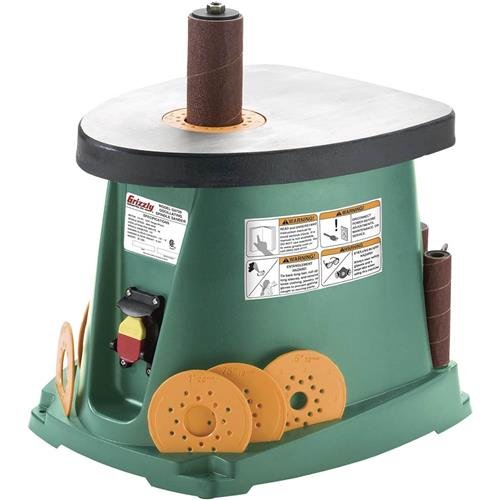 A simple tool but an efficient one at carrying out its mandate. You can get the Grizzly G0739 for an affordable price, and you will find that it is enough for most of the uses you can think of. Right of the bat the most exciting aspects of this tool are as follows.

½ HP motor – This tool stands in league with the best of them by including a powerful engine that can handle just about any task. It is also bound to last longer than weaker alternatives.

Onboard storage for all accessories – Your spindle washers, sanding sleeves, table inserts, and other accessories remain close the whole time you are working. Therefore changing them is also rather easy.

With a compact body, you may find yourself tempted to write off the G0739. However, as most people have come to realize it is a great tool that features terrific capabilities.

Expand to see more
Product Features

Onboard storage
½ HP motor
Five extra sanding drums as well as six sleeves
2000 RPM

Who is it for?

Affordable and does the job. Recommended for use by people who don't have a lot of money to spend. You however still get quality for your cash.

Small and easy to carry around
Easy to set up and put to use
Doesn't make a lot of noise
The table inserts sink a little too deep into the top; if wood gets caught in the resulting lip, it can result in over sanding
Eight Things to consider before buying a spindle sander
Durability
Are you a professional carpenter or a DIYer? Do you regularly have jobs that require the use of a spindle sander?
Of course, if you are a professional, you might find yourself having to use this tool regularly. You, therefore, need to ensure you buy the spindle sander that can take elongated periods of use without breakage. A DIYer can get away with using a tool that is not as durable.
Your workshop
How big or small is your workshop? Does it have enough space for the storage and use of an extra tool?
These devices come in a few different shapes and sizes. If your workshop is small and only has a little space, it would be impractical to buy a tool that takes up a lot of space. Show some foresight and account for that before purchasing the machine.
Noise
Some spindle sanders are very loud when in use. Consider other people in the vicinity of your workshop even if you don't necessarily mind the noise. They might be trying to get something done and we all know noise is distracting not to mention annoying at times.
The motor
These tools need motors to function. Different motors also have various If you are a professional, who has to use the device regularly over long periods of time you might need to pick out a stronger model.
Warranty
There are bound to be a few mistakes in the manufacture of tools. Also, the tools you get may not be up to the advertised standards. A warranty provides a means for a customer to get this type of situation resolved at no extra cost.
Customer feedback
The only people who can tell you how well a product works are people who have used it before. On online marketplaces, you will find their reviews under each product. A good practice is to look at these once you have narrowed down your options to a few. If overall most of the other customers are satisfied with the product, you are likely to be happy with it too.
However, if the general theme for the reviews is negative, you will probably have a similar opinion once you get down to using the tool. Also, you will know the negatives to expect even before you get the device you choose.
Accessories – Does your spindle sander come with a few extra accessories that you can interchange willingly? If not do you have to spend a lot of money acquiring them? Also how available are the accessories in your general vicinity? Those that come with their own set of accessories make it easier to use the tool right out of the box. It might also be a big plus for you if you can replace them easily.
Ease of use
The use of tools should not feel like rocket science. You need to be able to start it up and use it without any complicated steps. Being too difficult to use leads to strain which beats the whole point of using a sander in the first place. The general concept is that a tool should make it easier for the user to complete a task.
Once you have these considerations down, you can get to picking out a specific spindle sander. We have gone through some of them and brought you this list to help with that. Here are the 10 best spindle sanders in the market.
FAQs
What is the intended use for a spindle sander?
They are used to achieve smooth finishes on wooden pieces. However, it is most useful in wood pieces with intricate details and curved edges.
Is there a difference between an oscillating spindle sander and a regular one?
There is only one significant difference in this situation. With a regular sander, the range of motion is limited to rotations the spindle makes. On the other hand for an oscillating sander, there are rotations that the spindle makes and one additional type of motion. The movement up and down of the rotating axis. This is what is referred to as oscillation.
Conclusion
Buying tools is not easy, but we hope our list helps you even a little in the process. If it did, please leave a comment telling us how. The above list is however not comprehensive. There are various other options you can find if you do your research well. When you finally do get to purchasing a model we wish you happy sanding.
Subscribe to our newsletter