Best Frameless Shower Doors
last updated:
Oct 04, 2021
Watch a few home shows, and you'll see that the ideal modern bathroom is more like a spa, with a glass shower as the centerpiece. The shower offers relaxation and brings more light into the room while tub-shower combos are history; tubs in master bathrooms are separate if they are present at all.
For those without the space or resources to do a major transformation that adds an enlarged, sparkly glass shower cubical, frameless glass shower doors are replacing shower curtains on showers for a modern, open look. In a market flooded with appealing alternatives, how do you find the best shower doors? When you have an alcove shower or a tub-shower combination, how can you make it look brighter and more contemporary?
While the looks that result are a key consideration in choosing the best shower door, we'll point out other considerations when choosing the one to buy.
In a Hurry? The test winner after 4 hrs of research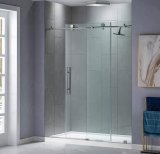 Woodbridge Frameless Sliding Door
Why is it better?
Frameless and reversible
Multiple sizes: 48" x 76", 60" x 62", 60" x 76", 60" x 72", 72" x 76" for showers; 48" x 58", 34" x 58" for bathtub conversion
Weighs over 159 lbs. in 48" x 72" to or over 180 lbs. in 72" x 76" size
Shatter retention glass
Ultralux glass coating for easy cleaning
Enduraclean hardware to prevent rust, chipping, or scratching
Hardware colors include brushed nickel, chrome, brushed gold, matte black
In a
Hurry? Editors choice: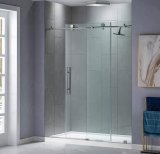 Test Winner: Woodbridge Frameless Sliding Door

Criteria Used for Evaluation
Style
Aluminum framed glass shower doors with frosted glass have been around for years, especially on stall showers. While these full-framed glass doors are now often seen with clear glass panels, what is new in the market is the frameless doors that roll along a track with minimal hardware. The glass is usually 3/8" to 5/16 thick so that it can support itself without a frame.
Some doors are promoted as semi-frameless, but this is not a standard term in the industry. Products with this label, such as the Delta Semi-Frameless Sliding Door considered in this review part, but not all of the traditional frame. The Delta, for example, has a frame that the glass slides into, although the door itself has no frame.
The doors can be single sliders with a stationary glass panel, dual sliding doors where both doors move, hinged or pivot doors that open outward, or both in out.
The minimal hardware and tracks on all doors are available in decorator colors such as brushed nickel, antique bronze, matte black, chrome, or brushed gold.
Size
The glass used for shower doors is tempered, which means it cannot be cut without destroying an important property: if it breaks, it will crumble into tiny pieces rather than large shards that could cut you. If you try to cut it anyway, it may shatter unless you anneal it first by heating it to 900F in a kiln. Since most homeowners do not have the equipment to do that, and the results may still remove the tempered quality, it is best to buy a shower door in the appropriate size.
While framed glass showers often use 1/8" glass, modern showers use glass at least 3/16". For companies that add a coating to the glass to make it more spot resistant, the glass is usually ¼" or more. The properties of the glass change the thicker it get, as this chart used by Kohler shows:
3/16" Tempered
1/4" Tempered, ClearCoat* technology
5/16" Tempered, ClearCoat technology, smoother glass, increased durability, great structural strength
3/8" Tempered, ClearCoat technology, smoother glass, increased durability, great structural strength, available in increased height options
*The name of the protective coated may differ by manufacturer.
The glass on frameless shower doors is often clear, but depending on the manufacturer, may be frosted, transitional with bands of frosted glass on a clear paned, tinted, rain glass, patterned, or gridded. The more opaque glasses offer more privacy.
The hardware and any support pieces on frameless or semi-frameless showers are corrosion-resistant aluminum or stainless steel and are often coated to enhance these properties.
Compatibility
Glass doors weigh from more than 50 pounds to nearly 200, and that is assuming that they have no additional backwalls or extensions to increase the weight. Anything as large and heavy as shower doors requires two people to carry them to the worksite and install them.
Installation is complicated and may require permits from the city. Some manufacturers recommend professional installation and may not honor the warranty if a contractor does not do the work. Others are more DIY-friendly for those who have medium to advanced skills.
Using a professional can add hundreds to the door but spending the extra may be worth it to get the job done right. If there is damage or other problems during installation, the burden will usually fall on the contractor.
Materials
Clean, sparkling glass is beautiful, but soap scum and mineral deposits are the natural enemies of glass shower doors. For a shower door that is easy to maintain, look for a quality tempered glass door coated at the factory to resist spotting.
Squeegeeing off the door after using the shower will keep and door looking clean, while deep cleaning with one of the many glass cleaning products on the market will help your glass overcome dirt, grime, hardwater, and more. Even a solution of water and vinegar applied with a non-abrasive cloth or springe and wiped with a microfiber cloth will do the job.
Value
Price
Installing a glass shower door can be price – from $300-$3,000 for materials and installation. The highest shower door prices are for custom frameless options, but a standard door might be $1,000 or more plus installation costs. Framed doors are more economical but give off a completely different vibe in the room.
Warranty
Most doors have a 1-year limited warranty, although this varies. More important concerns regard the availability of replacement parts and customer service. Based on reviews on Amazon and Home Depot, some manufacturers are particularly willing to troubleshoot problems and replace parts with minimal hassle.
Frequently Asked Questions
q:

Why choose a frameless door?

a:

Frameless doors have become more popular over the last few years as they open up the bathroom and bring more light into the shower – which allows easier reading of the tiny print on shampoo bottles. More open showers are elegant, make the room feel bigger, show off beautiful tile work, capitalize on views, bring in natural light, and impose a sense of calm.

Designers who plan bathroom remodels often suggest repositioning showers for the best light and the maximum space. Even with an alcove shower or tub-shower combo in place, you can still enjoy the modern touch of a frameless door.
q:

Are frameless shower doors dangerous? Will they explode?

a:

Glass shower doors can expectedly break if damaged is shipping or by the homeowner. A more serious concern is the reports that doors unexpectedly shatter during use or even during the night. When this started happening, manufacturers and contractors were skeptical about this occurrence, but the problem is widespread enough to be an industry concern.

While exploding glass happens in a very small percentage of cases, the occurrence is scary for homeowners. Fortunately, the number of serious injuries from this problem is very small as well.

The problem has been tied to tempered glass, which breaks into small pieces rather than large chards for safety. The tempering process alters the tensile strength and other properties of the glass so that it will not break if hit head-on but might shatter if the edge of the glass is bumped. This might happen if there are imperfections in the glass or if a roller loosens and the door drops a bit, or the door hits the sidetrack.

Properly maintaining doors and checking for damage is the best protection against this seemingly bizarre occurrence.
q:

Are glass doors a cleaning nightmare?

a:

Clear glass doors are subject to water spots and smudges, but modern cleaning products are up to the challenge. Routine squeegeeing will keep the door from a buildup of soap scum, while cleaning will remove fingerprints and smudges. Cleaning clear glass might be easier than cleaning frosted glass.
q:

Are frameless doors manageable for those with physical disabilities?

a:

A frameless door must be carefully selected for a user in a wheelchair or with mobility issues. The space the door allows when it is open is crucial, but a hinged or folding door might be more convenient than a slider. Glass doors are not built to bear bodyweight, and pulling on the door or bumping into it can cause structural issues.

This does not mean that someone with a disability cannot enjoy the beauty and other advantages of a frameless door. Companies with an understanding of physically challenged customers can provide excellent choices that meet ADA requirements.

Some approved shower doors are available at big box stores, but medical products companies that meet the needs of disabled customers can offer a selection of accommodating frameless and framed products.
q:

How can you overcome the lack of privacy with a frameless door?

a:

With a glass door, the openness puts you on display while showering. If this is offensive or bothersome to a buyer, frosted or transitional glass with a mix of clear and frosted glass that offer privacy might be a better option.
q:

Will frameless doors work if the walls are not level?

a:

Installing a frameless door when the walls are out-of-plumb can be challenging. Some doors are more forgiving than others, and manufacturers are upfront about tolerances for even walls. Sometimes, a contractor can level the wall or find a fix for the problem.
Subscribe to our newsletter