Best Work Shirts – 2023 Buyers Guide
last updated:
Jul 21, 2021
For many people who do not have to wear a uniform for work, the annoying question of "What should I wear?" is a daily query. Many workplaces specify a certain kind and color of work shirts or tees and pants, and the employee must find apparel that is appropriate, stylish, easy to care for, and affordable.
[srpshortcode id="22193″][/srpshortcode][srpshortcode id="22194″][/srpshortcode][srpshortcode id="22195″][/srpshortcode]
Companies like Starbucks often give employees a dress code manual that specifies the color palette and approved styles to wear with chain's green apron. (That's the reason you see no baristas in fuchsia tracksuits or red plaid work shirts and ripped jeans as these violate company norms!)  As our guide illustrates, many employees at shops, offices, restaurants, and retail establishments can find a selection of functional, fashionable choices that meet company guidelines and won't break the bank.
.
10 Best Work Shirts
1. Carhartt Men's Oakman Original Shirt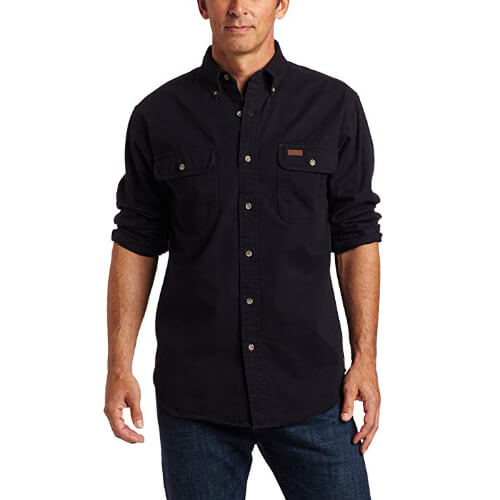 Expand to see more
Carhartt has been in the business of making work clothes for several decades. With its flagship work shirt, it expertly harnesses its several years of experience, expertise, and skill to make one of the best options on the market. It is both very soft and comfortable, and because it's made from industrial-grade materials, it's also as tough as nails. The ingenious blend of construction, design, and fit makes it a perfect choice for undertaking the toughest jobs and applications, and it performs exactly as advertised. With its laundry list of impressive features, this should be your to-go item when buying work shirts.

Fit and Comfort

Featuring a micro-sanded and pre-washed finish, it has the comfort and softness all workers need in a shirt. Its styling, with a button-down collar, flap chest pockets featuring button closures, and a back center box pleat, allow you to move around with ease. Its two-button adjustable cuffs with extended plackets so does not bind at the wrists when buttoned and not rolled up.

Construction

It's tough as nails because the brand carefully selects 8-ounce, pure industrial-grade cotton ring-spun sandstone twill that offers remarkable resilience, strength, and of course durability. Coupled with the fact that the high-use areas such as the seams are triple stitched, it's guaranteed to last you several years with proper use, care, and maintenance. Whatever rigorous activity you put it through, it'll invariably come out in the other end unscathed.

Ease of Care

If you love the construction quality and the attendant durability, its ease of care won't disappoint either The work shirt is also machine washable so feel free to throw it into the washer when it gets dirty.

Patently, this option is hands down one of the best work shirts currently on the market. It's tough, comfortable, and easy to use, and offers sufficiently large pockets with button closures for keeping a few valuables.

Affordability

Retailing for less than $30 on Amazon, this popular cottons shirt has several variations in different fabric blends. The prices may vary on these.

Industrial-grade construction
Remarkably resilient, strong and durable
Has chest pockets with button closures
Machine washable
Sizes run big
Sleeves run short according to some users
2. Dickies Men's Short Sleeve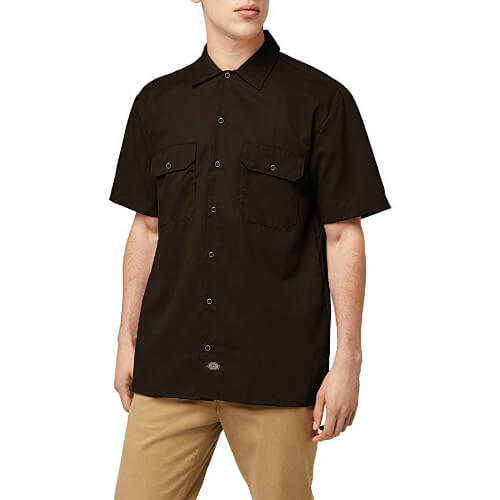 Expand to see more
This no-frills short-sleeved shirt is a tribute to Dickies expertise and experience with work shirts. As was the case with our first choice, it is also comfortable, soft, durable, breathable, and allows for easy movements around your workplace. It's also budget-friendly, so you don't have to worry about your wallet taking a hit should you prudently decide to reward yourself with one.

It is so popular in the short-sleeved and long-sleeved varieties that when teamed with 847 work pants from this company, the outsit is often called a "Dickies suit."

Fit and Comfort

The shirt has a generous cut through the shoulders and chest that allows you to move around freely and features twin button-flat chest pockets to safely secure work or personal valuables. the square tail design maintains its crisp, sleek look whether you tuck it or leave it hanging out.

Made from a high-quality, durable blend of 65 percent polyester and 35 percent cotton, the shirt has incredible moisture-wicking properties to keep you comfortable all day.

Construction

The sturdy construction will make this shirt last for years and withstand lots of abuse and several washing cycles without the slightest flagging in performance or durability.

Ease of Care

This all-around performer, popular with various professionals, from the mechanic, electrician, to the plumber, offers easy care. Made from an easy-care stain release wrinkle-resistant fabric, you can machine wash and tumble dry it and put it on without ironing.

Affordability

Available in sizes up to 5XL, the pricing on this shirt varies by size and starts at $25 for small and medium.
Comfortable and soft
Durable yet breathable
Budget-friendly
An all-around performer
Boasts incredible moisture-wicking properties
Comes with twin button-flap chest pockets
3. Carhartt Men's 'K87'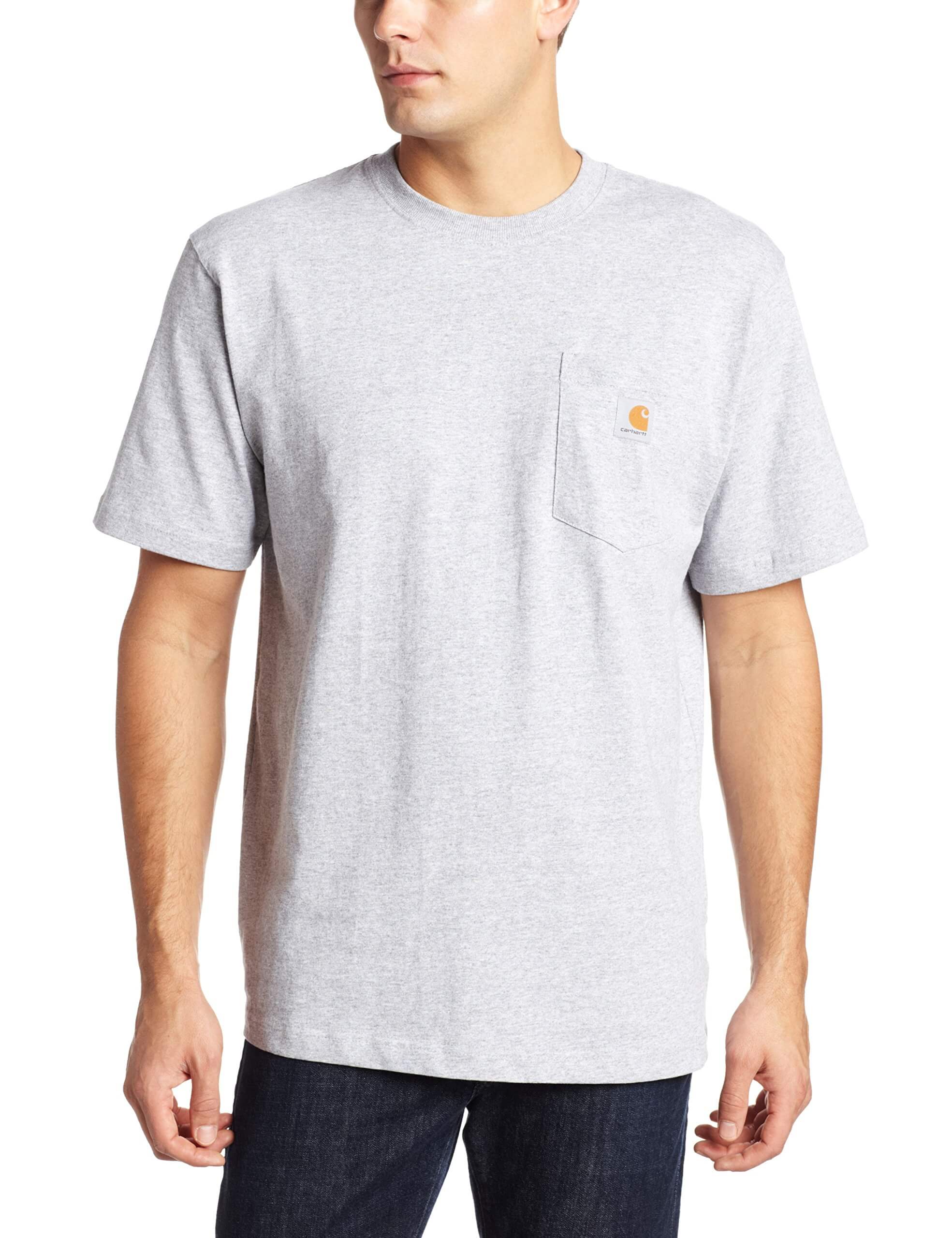 Expand to see more
One foolproof way to perform your best as a worker is to invest in heavy-duty, comfortable, and protective work gear. For mechanics, plumbers, electricians, woodworkers, gardeners, and industry workers, Carhartt Men's 'K87'provides you with just that. It's a multi-purpose work shirt ideal for work around the house, in a warehouse or workshop, and even in an industrial setting. You can layer it during winter as it's not designed to offer protection against the cold.

For workers that prioritize quality, comfort, and durability in a shirt, this Carhartt Men's 'K87' should be up your alley. It's cost-effective, breathable, and has a chest pocket on the left that makes it even more functional.

Comfort and Fit

This shirt fits snugly and has a tagless neck label that immensely contributes to its smooth, comfortable feeling. To minimize the likelihood of the work shirt stretching out of shape, it features an innovative rib-knit crewneck for holding its shape all through the day.

As with many work shirts, it runs large, so if you want close-to-the-body fit, size down.

Construction

Heavyweight and durable considering that it's made from a heather gray fiber content 6.75-ounce 100 percent cotton jersey knit. To this add the fact that it features side-seamed construction that aims to minimize twisting as you work. The construction quality makes it a perfect candidate for weathering the toughest and harshest working conditions your job can throw at you.

Compared to other brands, Carhartt doesn't restrict you to a single color. You get to choose between yellow, red, orange, black, blue, and navy. However, as the website description notes, the fabric content and county of manufacture vary by color. This also affects the fit.

Ease of Care

The shirt is machine washable and dryable for easy care. Depending on the fabric content, the shirt may shrink a bit after washing, but if easily be pulled back into shape for a perfect fit.

Affordability

Selling on Amazon for $17 to $28 depending on color and size, the shirt is a bargain.

It's an ideal choice for the hardworking employee in need of a work shirt that works just as hard and capable of lasting more than a lifetime of hard, extreme use.

Heavyweight and durable
Side-seamed construction minimizes twisting during work
Comes in several colours
Fits comfortably
Cost-effective
Sizes run big
Sizing varies by fabric content and where it's made
Some colors may run so wash separately at first
4. Red Kap Industrial 7 Button Long Sleeve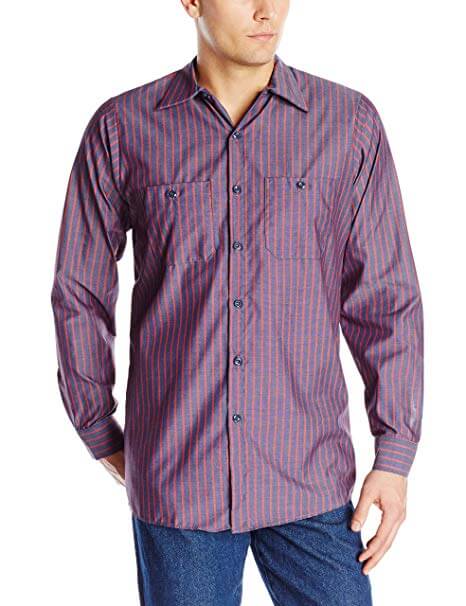 Expand to see more
Red Kap Men's Industrial Long Sleeve Work Shirt is yet another all-around work shirt to make an appearance on our list. It comes from a customer-trusted and highly reputed brand which also means the work shirt continues the brand's tradition of exceptional quality, durability, and convenience. A unique feature is the shirt's knack for resisting stains, dirt, and grease, keeping you looking sharp all day long.

Comfort and Fit

A perfect choice for manufacturers, contractors and builders, and mechanics, it allows for free movement and thwarts sweat accumulation; you'll remain dry all throughout the workday however hard you push yourself. Other professionals will find it a perfect choice for work, including service advisors, estimators, shop managers, front office workers, and service coordinators.

Construction

Red Kap further pulls all the stops to provide you with the best features. Its work shirt, for instance, delivers utmost comfort. The blend of poly and cotton allows it to stay lightweight and remain comfortable all day long, a quality that the lined 2-piece collar with sewn-in permanent stays only helps. If you plan on bringing a few work accessories or notes to the workplace, the button closure, button-thru hex style pockets with a pencil stall allow you to do so.

Ease of Care

This shirt features game-changing Touchtex Technology that makes it amazingly breathable and enables it to easily retain its strong color, wick moisture, and resist all types of stains. It's machine washable and because it quickly and easily releases the day's dirt and grease, you'll be coming to work looking sharp and fresh every day of the week.

Affordability

Depending on size and color, this shirt runs from less than $20 to $40 on Amazon.

Resists stains, dirt, and grease
Features Touchtex Technology for breathability
Wicks moisture and remains dry all day long
Machine washable
Lightweight and comfortable
Has button closure, button-thru hex style pockets
The neck is a tad tight when buttoned
5. Dickies Men's Long-Sleeve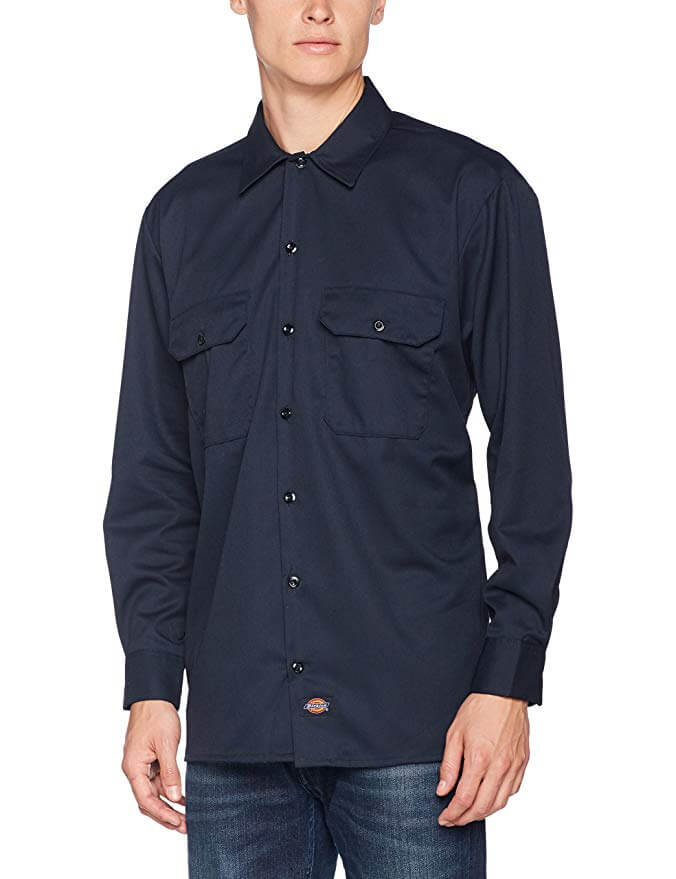 Expand to see more
Dickies is a brand synonymous with quality and comfort. For those who want a long-shelves shirt, this Dickies product is popular choice; worn with the company's 847 pants, it makes a nice matching uniform. It meets the desired combination of comfort, quality construction, and easy care.

Comfort and Fit

Although it is wide cut through the shoulders and chest for free, uninhibited movement, the fit is just right in the body. Boasting an extra-long shirttail and a straight hem, the work shirt will always look wrinkle-free and sharp whether you tuck it in or leave it out.

Construction

This work shirt is made from high-quality, heavy-duty fabric that will last for years. Compared to its cheap, off-brand counterparts masquerading as work shirts on the market, this model has details that matter. For convenience, there are two chest pockets secured with buttons two buttons on the cuff to deliver a snug, customized fit on the sleeve.

Appropriate for most workplaces, the shirt comes in a wide array of neutral colors, including black, white. tan, green, gray, and blue

Ease of Care

Resistant to wrinkles, so you keep looking sharp and fresh all through the day, but it is also stain resistant and machine washable. Whether you're a plumber, contractor, welder, mechanic or pizza delivery guy, you can rest easy knowing the work shirt will keep all unsightly stains, wrinkles, and smears at bay.

Affordability

Starting at $28 on Amazon, the asking price is pocket-friendly and totally commensurate with the product's quality. So, for the value-conscious workers out there in search of a heavy-duty, practical, durable, and comfortable work shirt, take a serious look at this one.

Durable construction using high-quality, heavy-duty fabric
It's resistant to wrinkles and stains for a sharp, clean look all through the day
Offers snug, customized fit
Has two chest pockets that are secured with buttons
The ingenious design allows for free movement
Sleeves run short – no length given in description
6. Carhartt Men's Workwear Pocket Long-Sleeve Henley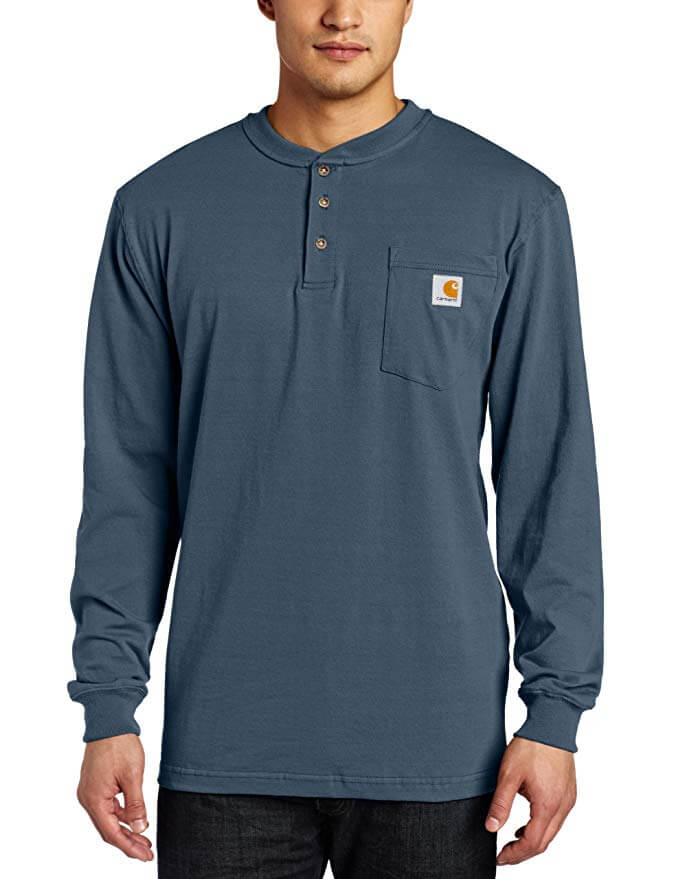 Expand to see more
For those who love the Henley style, this Carhartt long sleeve model is stylish, while offering amazing all-around performance. It will keep you sufficiently warm on cooler days of the year and will work just as great as a layering piece. If you are looking a casual shirt that doesn't scream "Uniform!" this one will easily transition to your casual wardrobe.

Comfort and Fit

With a flat ribbed crewneck and 3-button placket, this Henley fits close to the body while being roomy enough for comfort. Made from a breathable fabric and well-ventilated design, it will keep you cool and prevent sweat and heat accumulation no matter whether you are framing a house or creating a latte.

Construction

Made of 6.75 ounces of 100% cotton jersey, this popular shirt has side seam construction to prevent twisting. Its rather large pocket that comfortably accommodates a pen and notepad and is easy to get into. The rib-knit cuffs stop the sleeves from getting in the way of completing your projects.

Part of the Carhartt company gear collection, it comes in a variety of neutral colors, including blues, grays, tans, and black. A heavier long-sleeve model is available as it one in big and tall sizes, along with short-sleeved styles to make this shirt a winner all year long.

Ease of Care

Very easy to maintain, this shirt is machine washable and even after numerous washes still retains its shape and color. If you're looking for a work shirt to layer or wear on its own, this option is one of your best bets. It has all the impressive features we've come to expect from Carhartt. And of course, it will withstand the test of time.

Affordability

At just $20 on Amazon, this Henley belongs in your work wardrobe; its economical price invites purchasing multiples in several colors.


Heavy-duty, long-lasting construction
Doesn't twist
Comes with large pockets
Highly breathable
Machine washable
7. Red Kap Industrial Long Sleeve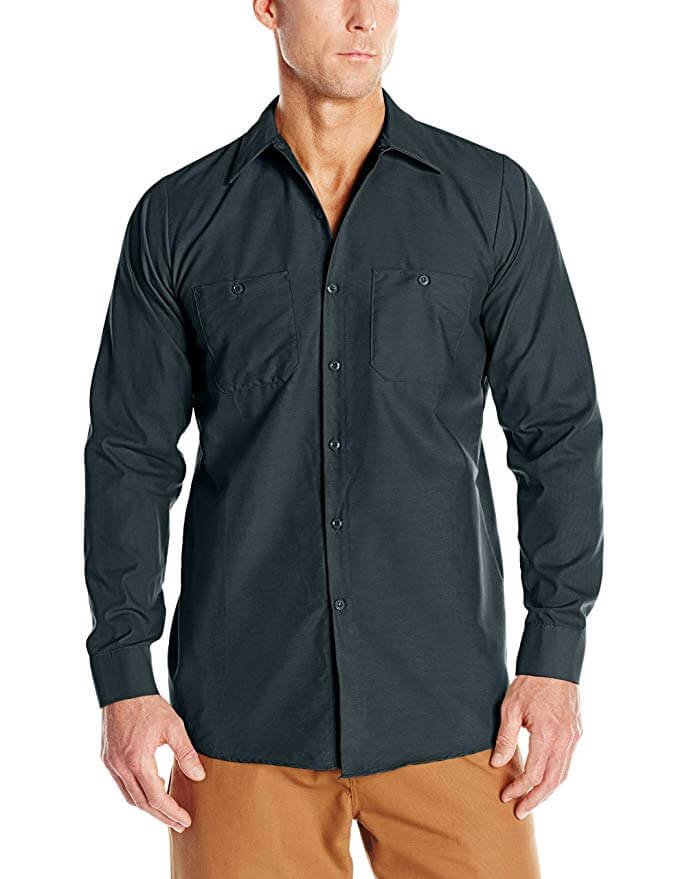 Expand to see more
The ingenious design and engineering of this shirt make it a solid and perfect choice for a wide range of professionals the world over. Whether you're in manufacturing, construction, automotive, plumbing, or other such industry, you'll find the shirt to be your go-to for work or play

It's a very comfortable, long-sleeve button-up work shirt that facilitates free movement and enhances user comfort through its lightweight fabric and highly customizable fit. However long your manager or supervisor decides to extend your shift, you'll invariably be comfortable and dry the entire time, thanks to the shirt's sweat-wicking capabilities. Further, it's lightweight and incorporates the time- and effort-saving stain-resistance feature.

Comfort and Fit

With Touchtex technology, the work shirt is breathable, effectively wicks moisture, retains color, and resistant various stain types. You'll be looking fresh and clean every time you report for work. Considering that it's made from pro-grade materials and boasts a plethora of superior features, it won't be fazed by various working conditions, especially the most rigorous.

Construction

Made from a durable blend of polyester and cotton, the Red Cap shirt features six buttons on the front running from the top to the very bottom. The two piece, lined collar with sewn-in stays looks great without binding, while the fit of the body is roomy. The two pockets on either side of the chest provide enough room for safely holding the tools, accessories, or documents you want within close and easy reach.

While it comes in the expected neutrals (grays, browns, blue, greens), it also comes in red, orange, and burgundy.

Ease of Care

Machine washable and ready to go without ironing, this shirt boasts the added feature of
"clean-ability," which means that that fabric releases dirt and grease which keeps the color vibrant. You will always feel fresh and ready to go with this shirt.

Affordability

Red Kap is a household name, and like its work shirts we reviewed earlier, this model is a high-end, high-quality choice. Yet, the prices on Amazon start at only $16.


Cost-effective
Comfortable, lightweight, and offers a customized fit
Touchtex technology enhances breathability
Resistant to various stain types
Fabric is thin
Size chart is off to many customers
Criteria for Choosing the Best Work Shirts
Choosing a work shirt is not as easy as walking into a store as picking out the first thing that strikes your fancy. For most workers, a work shirt is going to represent your company while you are on duty and be your companion all throughout your shift. This necessitates exercising an abundance of caution because no one, including you we hope, likes throwing money down the drain for something that is not comfortable to wear or that doesn't hold up through washings. So, if you're struggling with the dilemma of what to pick and what to leave in the store, carefully read through our buying guide for work shirts that meet our criteria for fit and comfort, quality construction, ease of care, and affordability.
Fit and Comfort
 There are several factors that come to mind but none is as essential as the fit of the dress. For those of us who frequently operate heavy-duty or fast-rotating machines, coming to work in a loose shirt is simply out of the question. You don't want to risk the shirt getting caught up in fast-moving machinery parts. Whether you decide to leave it hanging or tuck it in to look more presentable, the design of the work shirt should eliminate any and all likelihoods of the shirt getting between you and your work.
That's not to say that it should be so tight as to compromise your ease of movement around the workplace. If it's breathable, it won't accumulate sweat. Instead, you'll remain dry and comfortable all through the duration of the shirt's use.
Construction Quality
 Manufacturers have a wide array of construction materials to choose from when making work shirts. Of course, the choice of the material will determine the cost of one. Most work shirts are made using cotton, linen, lycra, polyester, silk, or a combination of these and several more materials. The aim is to ensure durability and informs the difference between low-quality and high-end options.
High-quality materials are capable of maintaining their structural integrity for years on end, effortlessly weathering the toughest working conditions and taking some serious beating along the way before anything gives. The same can't be said of their flimsy, no-frills counterparts that can't stand a few washing cycles. The materials should also be soft and comfortable against the skin if you decide not to wear anything under it.
Ease of Care
Life is messy, and this may be even truer at work when dirt from the job stains the shirt or you sweat when you are working hard. Machine washable shirts are a must for most people; the material should be stain resistant so they will look presentable after washing. In addition, they should ideally come out of the dryer wrinkle free so that ironing is not a part of your daily routine.
Affordability
Value-conscious users always want to get the best buck for their bang. This doesn't mean going for the first cheapest shirt you come across as it might not last. However, you don't have to go for one that will leave a huge hole in your pocket just to afford features really don't need. Prices can range from as low as $10 to as much as $500. If there's a correlation between the price and quality then, by all means, go for it.
Additional Features
Color can also play a vital role. Brightly colored options make you more conspicuous and this can deter accidents, while more neutral colors might fit better into your company culture. Having a pocket will allow you to carry a work document, your phone, or some tissue.
Frequently Asked Questions
Q: Are work shirts machine washable?
A: When, not if, they get dirty, feel free to toss yours into the washing machine. Most work shirts are machine washable but check the label for information.
Q: How heavy are these shirts?
A: Contrary to popular expectations, these shirts aren't any heavier than your normal shirts. Most are made from the same materials as your casual shirts and feature the same aggressive stitching for durability.
Conclusion
As you may have gleaned from our reviews, choosing a work shirt isn't very different from choosing your everyday shirt. However, with thousands of brands on the market, the attendant proliferation of work shirts understandably makes it difficult to decide on the best quality options.
The goal of this article has been make your selection process easier with these seven top-shelf options. Irrespective of your choice, you'll always look your best and be very productive at your place of work. That we can guarantee.
Subscribe to our newsletter