Best Scroll Saws Reviews & Ratings
last updated:
Apr 06, 2021
When it comes to mechanical saws, there's the chainsaw – used more commonly for cutting down trees (and the art of trunk sculpting), jigsaw or reciprocating saw (although not great for straight lines, comes in handy when you are cutting out shapes in plywood), table saw (for ripping, crosscutting and mitering), and the miter saw (used to cut angles), to name a few.
Our Top 3 Picks
[srpshortcode id="13814″][/srpshortcode][srpshortcode id="13815″][/srpshortcode][srpshortcode id="13816″][/srpshortcode]
When most people first hear the word saw, they probably immediately think about a manual handsaw. But there are so many other types of saws, both manual and machine. Manual saws, for example, come in all forms – the handsaw as mentioned, a hacksaw (used more for metal and plastic cutting), and coping saws (more popularly used by artists).
But what about the scroll saw? When you hear the term scroll saw, you might first be caught by the word scroll. And in fact, scroll saws derived their name due to being used for decorative scrollwork. A scroll saw is actually a slender bladed saw that is used primarily for intricately cut spiral shapes and patterns. It is typically either small, electric or pedal-operated, and is used not just with wood, but also with metal and other materials. Not to be mistaken with the other thin bladed jigsaw, a scroll saw can be similar to a jigsaw in that it can be used to manipulate edges, however, a scroll saw is more capable of creating curves.
Scroll saws are used with a variety of materials besides wood, such as some metals (with a specific scroll saw blade), cork, ivory, and plastic. Due to its use of creating fine lines, a scroll saw is used for such projects as lettered signs, dovetail joints, and wooden portraits. The size of the blade used in a scroll saw determines how intricate the design aspect can be. The downfall is that since all scroll saw blades are relatively small and thin for these projects, they are easier to bend and possibly break.
Important things to keep in mind when picking the right scroll saw – most importantly blade speed. Single speed scroll saws are not as easy to manipulate as per say a multi-speed machine. Blade choice is another thing to keep in mind. The type of blade you use coincides with the project material you are working with, be it metal, wood, ivory, etc. Another important thing to consider is the distance from the blade to the support arm, or throat size, as this can be very limiting.
10 Best Scroll Saws
1. DEWALT DW788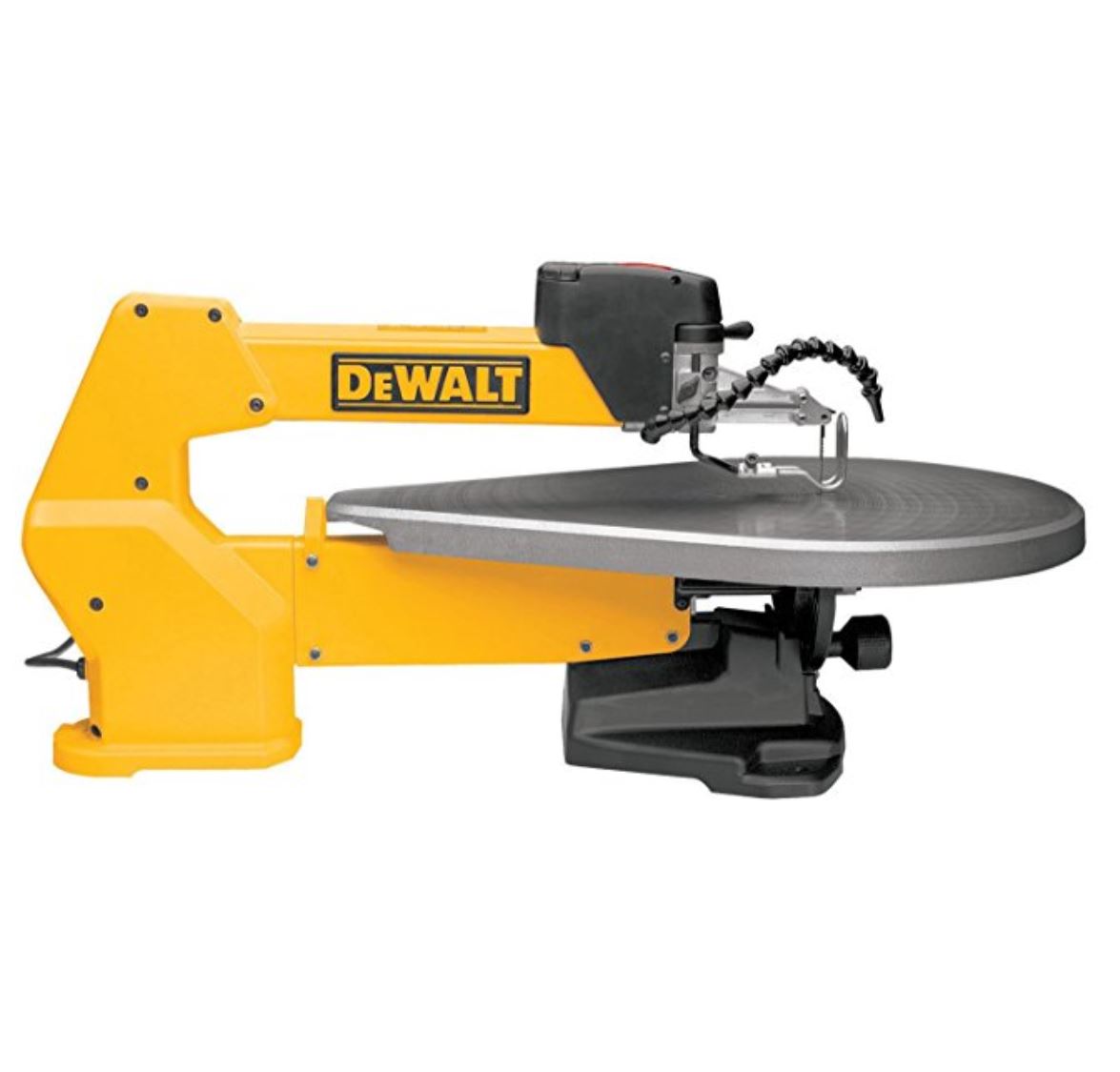 A widely popular and well-known brand, Dewalt is known for its strong presence in the tool industry. The quality and durability far outweigh the sometimes hefty prices attached to the dependable Dewalt name. The DEWALT DW788 is no exception. Although considered higher in the price range, the saw is highly liked by the majority of those who bought it. Like its competitors in a similar price/quality range, the DW788 comes priced at two options, one with a stand and work light, and one without.

Unlike other brands, it has reduced noise and vibration due to the design of the link arm incorporated by Dewalt. This also allows for very accurate and precise cuts made with ease and control. Looking to make intricate designs such as lettering and scenery? Then this is the product for you - its design allows the blade to pass easily anywhere with the blade remaining in a perpendicular position at all times.

Expand to see more
Ease of use is an important feature any scroll saw should have, and the DW788 does not disappoint in this area. It comes with an on/off switch and speed control (variable), with speeds ranging from 1750 to 500 strokes/min. It comes standard with a cast iron table for extra support, and while a stand is not automatically included although can be added as an option, there are stands by other manufacturers that are compatible with the scroll saw, and making one is also an option. Although the scroll saw looks heavy, weight in at roughly 56 pounds, it is easily moved around for more functional usage.

On the downside, although the DEWALT DW788 does include a warranty, it is a limited 3 year warranty which includes a 1-year contract which is free and a 90-day guarantee.

Dealing with Dewalt's customer service is also not very efficient and smooth which is unexpected considering their popularity as a brand.

Well known brand
Durability
On/Off Switch
Exclusive tool-free blade clamps
Electronic variable speed
Flexible dust blower
Includes built-in blade tensioning lever
Bevels 45 degrees to the left and right
Meets OSHA standards
CSA approved
L. listed
Comes with stand and worklight option
Pricey
Table alignment inaccurate and non-fixable
Very noisy and heavy vibration, despite advertisement for low noise/vibration
Excessive forward/backward blade movement
Original packaging frequently missing parts/manual
Poor customer service/product repairs
2. Delta Power Tools 40-694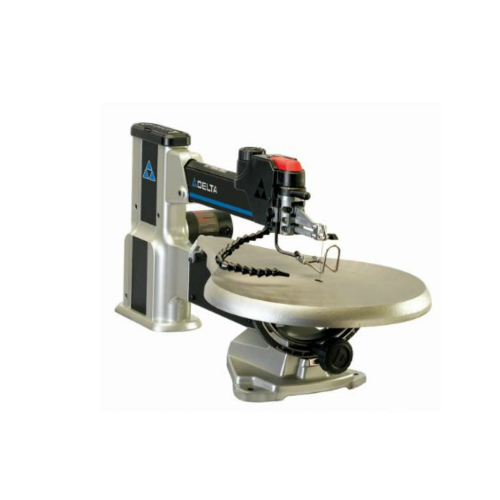 Well known for its woodworking products, Delta Power Equipment has designed all types of products aimed towards use by the professional woodworker. Although the Delta Power Equipment Products cannot be defined as inexpensive, their quality and reputation speak for themselves. Delta Power Tools 40-694 20 is no exception to this. It is sold in two packages, one with a coordinating light and stand, and one without.

The 40-694 comes equipped with a dual parallel link arm which reduces vibration and noise, which not only offers improved accuracy to the user but also delivers the high-quality cut that Delta products specialize in. The saw has electronic variable speeds that go from 400 to 1,750 SPM, allowing the user to have a wide choice of uses. The saw's upper arm has a lift/lock function that allows the arm to work in a raised position for fretwork (perfect for blade changes and adjusting blade position).

Expand to see more
Like many of its competitors, it comes standard with a tool-free blade clamp which offers easy and swift changing of blades in a matter of seconds, as well as on tool blade storage for easy organization. It has a cutting capacity at both a 90 degree 2 ⅛ inch and 45 degrees 1 ⅝ inch. Again, as with its competition, the scroll saw includes a solid cast steel tilt table which makes stabilizing the saw and working with it that much easier. It also comes with an adjustable dust control hose to keep the workstation tidy while working.

Like all of the Delta Power Equipment Products, the warranty on the Delta Power Tools 40-694 20 In. Variable Speed Scroll Saw is a limited five-year warranty on new machines with only two years on new accessories. At the discretion of Delta Power Equipment, they will either repair or replace the product while covered under warranty, however, all transportation costs are the responsibility of the owner of the saw. Similar to other companies that sell similar products, the warranty repair/return service is less than stellar and not always efficient.

Popular Brand
Offers options for purchasing with or without a light and stand
Low vibration/noise
Comes with dust blower and lamp
Easy blade change/storage
Easy blade tension adjustment
Variable electronic speeds
Easy assembly
Limited five year warranty
Poor customer service responses
Insufficient manual instructions
Shoddy plastic knob to control angling of table
3. Shop Fox W1713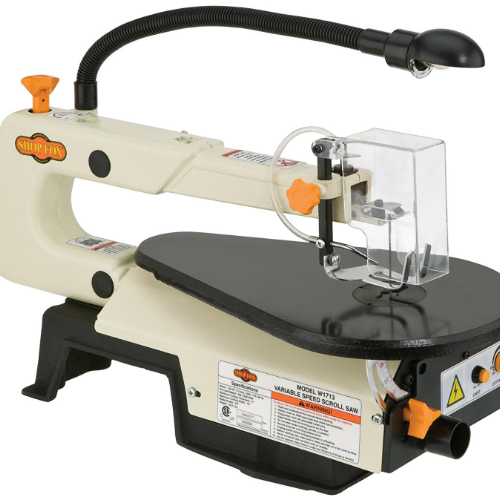 Looking for a product right in the middle of high end and low end? The Shop Fox W1713 is for you. The W1713 comes standard with variable speed control, and includes a gooseneck worklight built in as opposed to sold separately or as a separate option. If dust control is your feature of choice then look no further. The Shop Fox scroll saw comes with a two-way dust control feature, with dust blower and dust port. It can be attached to your shop vac in order to keep the wood debris from piling up under your workspace.

As with other brands, the saw boasts of easy blade changes while also accepting plain and pin end blades with adapters that are included as part of the package.
Expand to see more
The W1713 has a cast iron tilt base which allows the saw to cut at angles from 0 degrees to 45 degrees and combined with the table lock feature, allow for horizontal cuts.

Since Shop Fox is a subdivision of Woodstock International, Inc., the Shop Fox warranty falls under the same one advertised by Woodstock International, Inc. They offer a two-year limited warranty from the date of original purchase by the original owner (as long as it is purchased from an authorized dealer). The warranty does not apply to defects caused by misuse or neglect. If the W1713 is determined by Woodstock International, Inc. to not be a product defect under warranty, the owner of the product becomes responsible for the cost of shoring and returning the product.

Allows for use of both plain and pin end blades
Includes work light
Variable Speed Control
Two way dust control feature
Tilt lock cast iron table
Mounting can be difficult
High vibration
Work light not very bright
4. Dremel MS20-01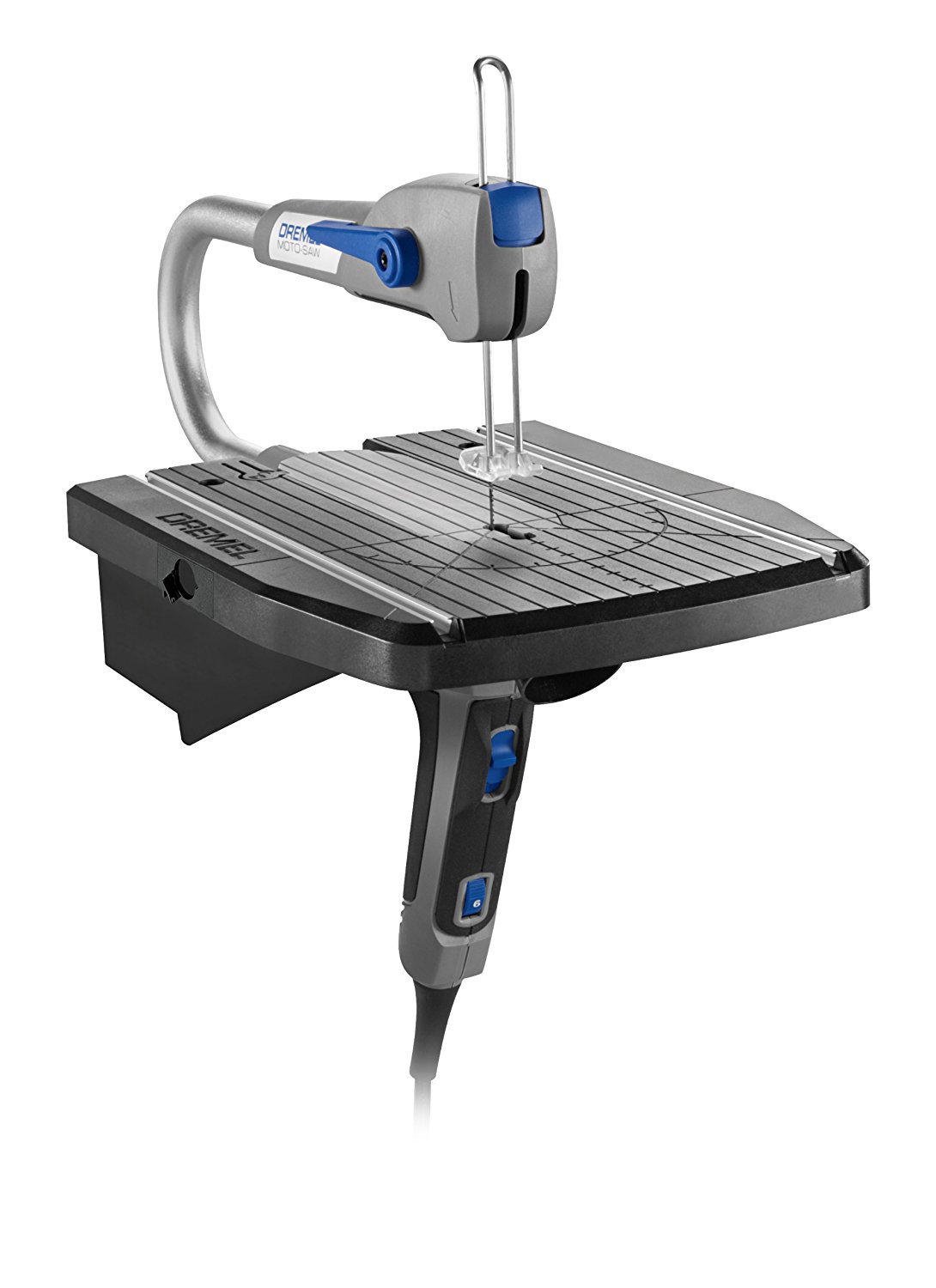 The Dremel MS20-01 is a cost-effective, compact, and portable saw that can be used in many varieties of materials, such as wood, plastic, metal, PVC, and many more. Its compact form allows the owner to have easy set-up with minimal storage. Like many other brands, the Dremel Moto-Saw includes a tool-free device for quick blade changes. Although in the stationary mode it is a scroll saw, the MS20-01 can be converted into a portable coping saw by removing its base.
Expand to see more
The scroll saw is great for beginners, featuring quiet use and ease of functionality, making this a fan favorite of customers who live in apartments and do not have dedicated work space. It includes a clamp base and quick auto-tensioning features. The kit comes with multiple blades for both wood and plastic cuts, as well as one for cutting metal. It comes with its own hard carrying case to promote portability, and also comes with a vacuum adapter.

Very lightweight, the kit comes in at roughly a whopping 9.5 pounds. Despite being a name that is familiar to many, Dremel offers only a limited warranty, and requires repairs to be made through the mail which can become inconvenient to the owner.

Inexpensive
Compact and portable
Perfect for small projects
Great beginner scroll saw
Ease of changing blades
Quiet with low vibration
Includes sturdy carrying case
Quick and easy setup
Pricey
Does not allow use of pin-less blades
Not good for long cuts
Easy to break blades
Limited to cutting thin material
5. SKIL 3335-07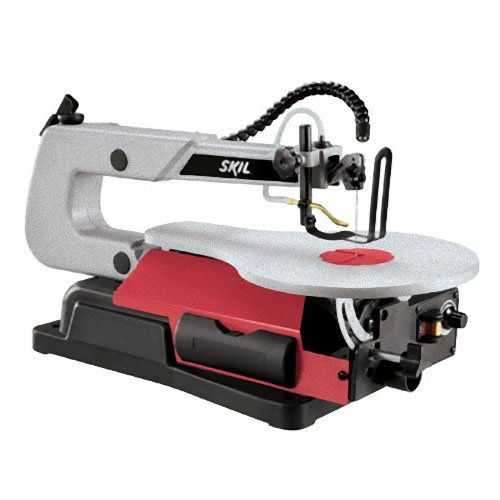 The first thing that comes to mind when you hear the brand SKIL Power Tools is probably the SKIL saw. However, SKIL Power Tools is actually a wider brand than just the well known SKIL saw. They are subdivision of Chevron LTD. and are known to excel in the power tool and accessories market, both for professionals and DIYers. This includes the SKIL 3335-07 saw with light.

The SKIL 3335-07 is a low budget, durable saw with many of the features included on some of the higher end competitors. For instance, it includes an integrated dust removal system. This comes in handy for sight line when cutting, keeping the area free of debris and dust. It also comes with a built in LED work light, and includes electronic variable speed control, allowing the user to cut various types of materials.

Expand to see more
The 3335-07 comes with a tiltable 16 inch by 10 inch work table, allowing a title in the range of 0 degrees to 45 degrees for more precision in projects, along with a 16-inch throat which allows for cutting of thicker pieces. Depending on your preference, the work table can be viewed as a downside as it is made out of aluminum, not the solid cast iron some of its competition promote.

As with many of the competition, it allows for integrated storage for keeping blades accessible while working. It also includes keyless blade change for more efficient blade changes mid-project.

It also comes with a limited three year warranty.
Competitive pricing
Includes LED worklight
Perfect for novices and pros alike
Aluminum tiltable table
Integrated dust removal system
Integrated blade storage
Keyless blade changes
Low noise/vibration
High vibration and noise
Pinless blades usable, but shaky
Bolt tabs not sturdy
Potential blade shifting
6. Craftsman 16"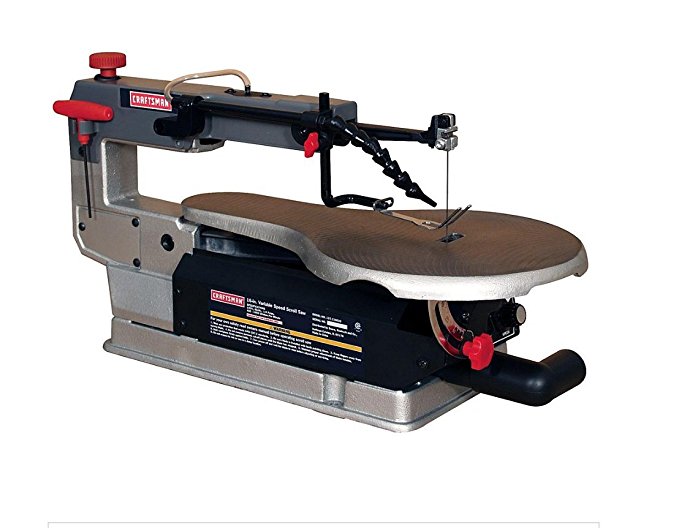 Popular, well-known brands are often times the main choice for choosing a tool or machine. Whether you are a novice or a pro, the Craftsman brand probably rings familiar to you. Widely known, this Sears subdivision is a popular choice when it comes to picking out a machine with well-known quality and durability to back it up. So it should come as no surprise that the Craftsman name carries a durable and price effective scroll saw in its collections of tools.

The Craftsman 00921602000P can be used for a variety of projects, whether starting from scratch or cleaning up an already begun project. The Craftsman scroll saw can be used for not only soft and hardwoods, but also for plastic and soft metals. It comes with a comparable variable speed rate of 400 to 1,600 strokes per minute. As with other companies offering a similar product, the Craftsman 16" Variable Speed Scroll Saw 00921602000P also comes standard with a cast iron work table which includes a 45-degree tilt, great for bevel cuts.
Expand to see more
It also comes with a multi-directional dust blower which allows the user to eliminate any dust and debris that piles up while working, easily connecting to your own personal shop vacuum.

While it does accept standard 5-inch pin and plain end blades, it is limited to a 2-inch maximum cutting thickness at 90 degrees, and 1-inch cutting thickness at 45 degrees. However, it does come with a throat of 16 inches. The Craftsman machine includes built-in storage for extra blades, and comes with 4 pin and blank end blades as well as a blade wrench.

The 00921602000P does require some assembly when first used, but the instruction manual is detailed and accurate. It comes with a standard Craftsman limited one year warranty on factory defects. Made out of heavy metal and limited plastic, it is unlikely you will need to activate that limited warranty in one-year time frame.

Priced to sell
Perfect for novices and pros alike
Easy assembly
Includes cutting of soft and hard wood, plastic, soft metals
Compact size
Cast iron tiltable table
Good customer service
High vibration and noise
Blade change can be awkward
Included allen wrench too short
Does not include a light
7. WEN 3920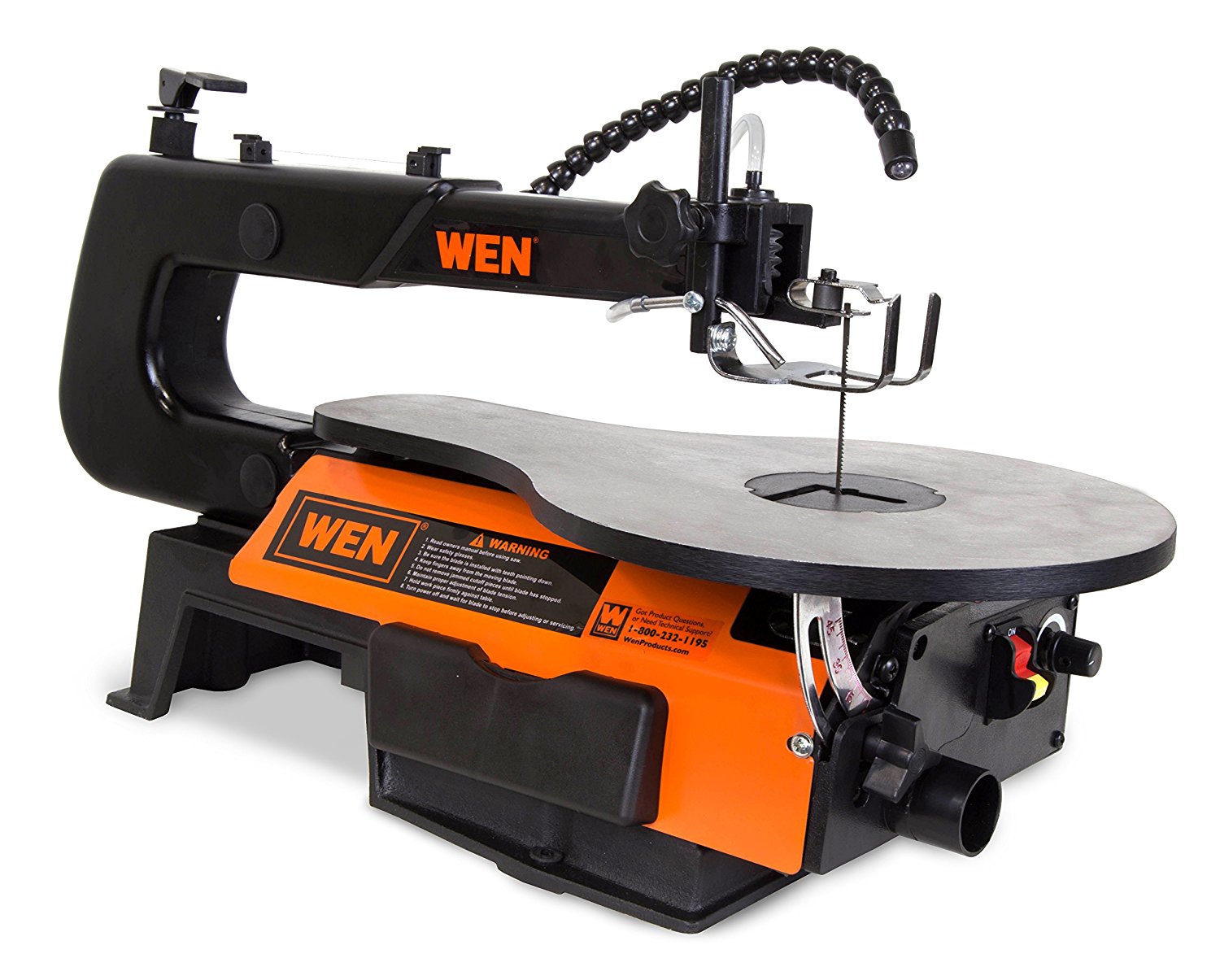 Priced to sell, this saw comes with not just the saw itself, but a cast iron base (to prevent vibration) with an LED Work Work light. It includes an air pump with a 1.5-inch dust port which comes in handy for maintaining a clear line of vision while working and keeping your work site clean. The saw comes with a total of three blades, one 5 inch pinless blade (held tight by the pinless blade holder which firmly grips the blades, keeping them secure so they do not come loose while in use), and two 5 inch traditional pinned blades along with onboard blade storage.

It allows the user of the saw to change the direction of their cut, and do not limit the user to only the 16-inch throat of the saw. The blades can be used in two directions – standard and 90 degrees.
Expand to see more
The saw comes with various speeds (400 to 1600 strokes per minute), which as previously mentioned, make project manipulation easier and are easily adjustable on the unit. It bevels up to 45 degrees to the left for angled cuts, and accepts wood up to 2 inches thick with its 16-inch throat depth. It comes with a standard two-year warranty.
Great pricing
Easy to manipulate
Quick blade change
Great for hobbyists
Cast iron base
Blade holder
LED Work Work light
Variable speeds
Considered "bouncy" if not secured when in use, especially in high speeds
Air pump not reliable
Neck is easily cracked
Blade holder not in ideal location
Blade slippage
8. PORTER-CABLE 18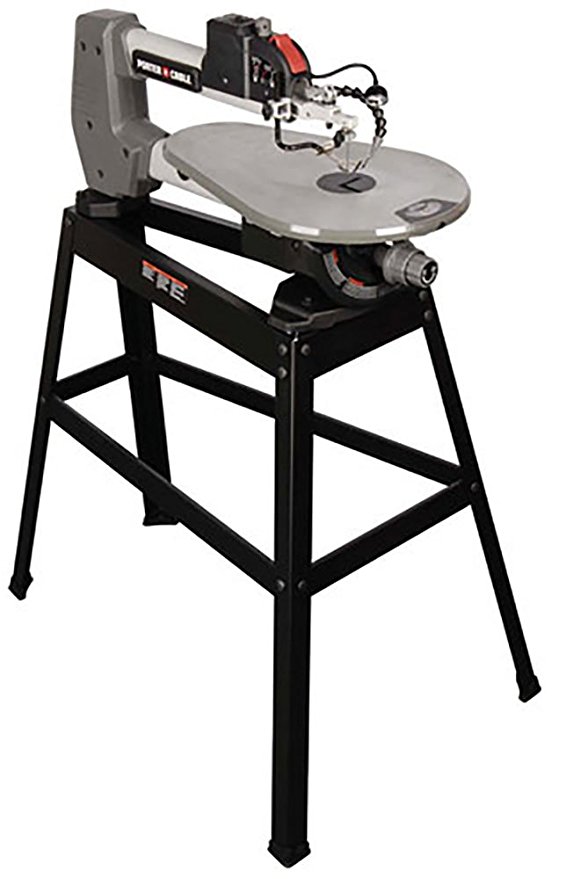 Although not as well known a brand, the PORTER-CABLE 18" scroll saw comes highly comparable to other similar scroll in this mid-level price range. Where others do not, this scroll saw comes standard with a sturdy, steel stand designed for convenience. It features a broad aluminum dual tilting table, for both 45 left degree ( 2 ¼ inches) and 15 right degree (1 ¼ inches) bevel cuts, giving the user the option for a range of various cutting angles, while still retaining a large cast iron base for vibration and noise reduction.

The saw includes a built in blade holder and adjustable LED light, along with a cam action blade tension adjustment feature. This enables users to efficiently change blades, both pin, and plain (5-inch maximum length).
Expand to see more
The variable speeds include a range between 500 to 1,500 SPM, with an on/off, switch to make speed control changes fast and easy. The PORTER-CABLE 18" Variable Speed Scroll Saw comes with a hex key to assist with blade changes and a thorough manual. The scroll saw also comes with a port built in that allows the user to connect a standard vacuum hose to the saw in order to keep debris and dust out of the project.

As with similar products, Porter-Cable offers a 3-year warranty with free service for up to 1 year year.
Great pricing
Quick blade change
Aluminum frame
Cast iron base
Integrated blade holder
Comes with stand
Variable speeds
Dust port for vacuum connection
Loose blade arm
Poor customer service
Unbalanced stand
Light is too short
9. ShopSeries RK7315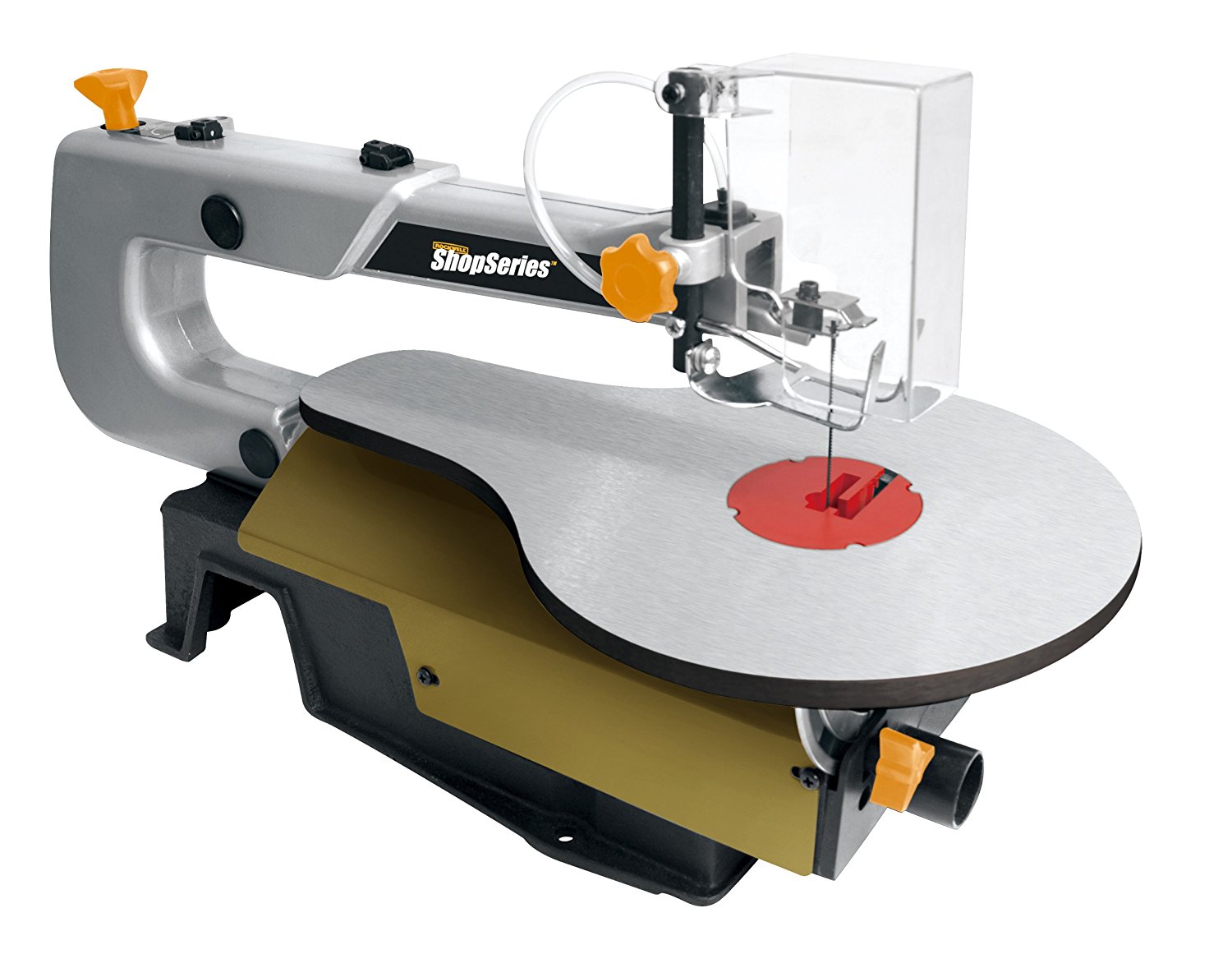 Rockwell is a known brand that carries many different types of woodworking tools. The ShopSeries RK7315 16" is just one of these examples. This lightweight scroll saw comes with an aluminum table which bevels from 0 degrees to 45 degrees for accurate cuts, curves, joints, etc.. It includes variable speed control and ¾ inch stroke to compliment the bevel option of the aluminum table.

Although it does not come with a stand, the saw comes with two 5 inch tungsten carbide blades, with a throat depth of 16 inches. This allows a cutting capacity of up to 2 inches at 90 degrees and 1 3/16 inches at 45 degrees.The ShopSeries scroll saw also comes with integrated storage, allowing the user to store the blades with the saw, and prevent them from getting lost or broken.
Expand to see more
The ShopSeries RK7315 is priced well and built for performance, and aimed towards personal DIY or at home use.

Rockwell advertises a manufacturer warranty of 2 years from the purchase date against defects in materials for the ShopSeries RK7315. The warranty can only be used if there is a dated proof of purchase sent with the tool via postage prepaid shipping to an approved service center with all contents of the original package. The warranty states if properly received, Rockwell will determine whether to replace or repair the tool.
Comparable pricing
Integrated storage
Additional blades included
Variable speeds
Long lasting and durable
Problems with table top inserts
Online ordering produces results in shipments
Uneven foot
Blades easily breakable
10. Rikon 10-600VS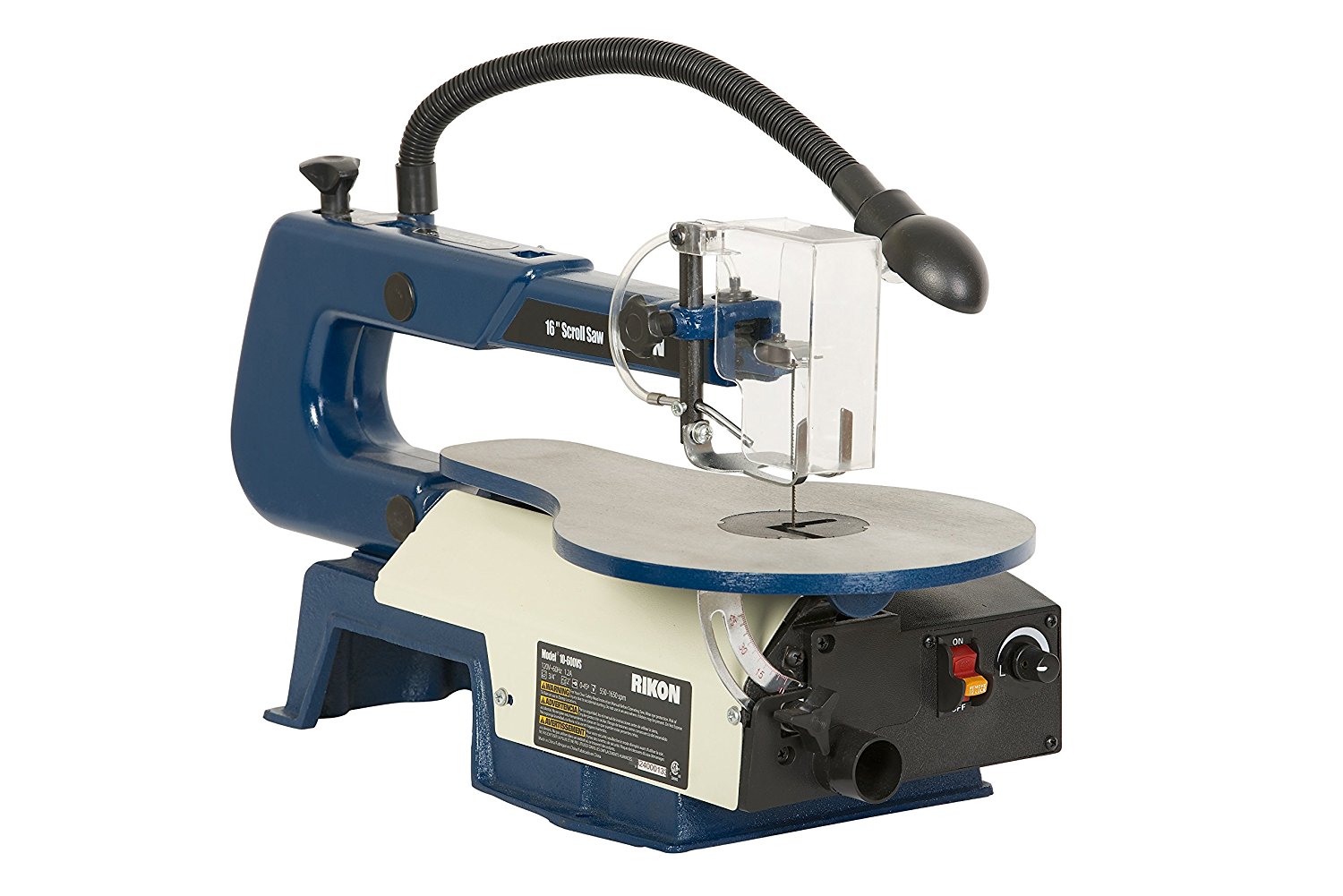 The Rikon 10-600VS matches many of its competitor brands by coming standard with a cast iron base with aluminum table, allowing for stability and limited noise and vibration. The beveling table includes variable speed functions, ranging from 550 to 1650 strokes per minute, as well as bevelling capability from 0 degrees to 45 degrees. It is priced to sell without making a huge dent in your wallet.

The 10-600VS includes a a built-in dust port, allowing for faster cleanup and sawdust removal. It uses both 5 inch pinned and plain end blades. Along with the dust port, the Rikon 10-600VS comes with a built in gooseneck work lamp, as well as a port for an optional high speed flex shaft for rotary cutting.

Expand to see more
The 10-600VS is great for use when designing intricate designs such as puzzles and scrollwork. It allows tight arc cutting, which many other similar saws do not allow. It has a 16 inch throat, and when combined with the aluminum table and cast iron base, allow for extra access for cutting of larger materials. It comes with a pair of pin-less blade holders, and one pin-less wood blade.

The also comes with a five-year limited warranty from the date of purchase, and only covers defects due to the manufacturer, not personal misuse. It does not cover accessories included with the tool, such as broken blades.
Affordable 
Additional blade and holders included
Variable speeds
Cast iron base and aluminum table for low noise and vibration
Easy blade replacement
Lightweight
Worklight bulb does not last and not easily replaceable
Poor build quality
Cutting guard faces down only
Criteria for Evaluation

Cost – Affordability almost always plays a key part in choosing a tool. While scroll saws can range anywhere from $70 to $500 and up, a higher cost doesn't always mean a better product. It's important to think about your budget, and then research the product in that price range.
Durability – Besides the cost of the saw, you want to make sure it is considered durable. Things to think about – is it made of high-quality material or cheap parts, will it last longer than a few uses, and will it hold up to the project at hand.
Performance – The speed of a scroll saw is key. Making sure your scroll saw has a good variable speed system is important when making some of those delicate and intricate cuts. Most scroll saws range between 500 and 1650 strokes per minute. Some extend even beyond this range. It is important to give this enough thought when making your final purchase.

Contents Included – Some scroll saws come with all sorts of bells and whistles. But do you need them all or can you get away with the bare minimum…something to consider while debating on which product to get. Extra blades, onboard storage, vacuum ports, stands and work lights are just a few items that sometimes are included with the scroll saws, such as the ones listed above. But not all are always included. Sometimes just one or two options. It is important to consider which ones are more going to be more useful to you.
Warranty – Sure, the old saying, you break it you bought it, negates the need for a warranty. But that doesn't mean the scroll saw you choose won't have a manufacturer's defect along the way that you discover. Research the warranty before you make your purchase – you are very rarely given a lifetime warranty, and in most cases, as with the ones referenced above, the warranty is very strict and limited.
FAQs
Does the scroll saw come with a stand?
Not necessarily. Most scroll saws do not come with a stand, although they may be purchased separately depending on the brand. Stands can also be built, and this may be a more affordable option.
Do accessories typically come standard with a scroll saw?
Not always. Some come with extra blades, tools for adjustment and cases, some come with nothing. Each scroll saw will list what comes in the package. And generally – attachments and accessories are not covered by warranty.
How thick of material can you cut?
This depends solely on the saw you choose. Each saw will have a maximum cut that it can handle, as well as the material you can cut (whether it is wood, metal, plastic, etc.).
Does a cast iron base make a difference?
Absolutely! A cast iron base helps with keeping the noise and vibration down. It also helps with durability and sturdiness.
Is an integrated work light important when choosing a scroll saw?

Not always. Most integrated work lights are not bright enough to be of much help, and integrated lights usually have bulbs that are hard to find to replace. Having a separate work light is recommended by most users.
Do I need a base that tilts?
Depending on your project, a tilting base comes in very handy for intricate and delicate cuts done on a bevel. While most scroll saws incorporate this feature into their product, a few do not.
Do all scroll saws allow you to use both pin and pinless blades?
Definitely not. All scroll saws are different, and usually, specify in their description what type of blade (and length) they will support. Some allow only pinned, others pinless, while even others support both. It all comes down to the scroll saw you are looking into purchasing.
Is a dust blower/catcher or dust port preferable in a scroll saw?
A dust blower or a dust catcher will not always collect all the sawdust and debris that piles up while working on a project. A dust port allows the user to hook up a shop vacuum to the scroll saw and collect any dust or debris that builds up, allowing for a cleaner workspace and better visibility. Although a scroll saw does not produce as much debris as a normal saw, such as a jigsaw, it still produces dust. The vacuum attachment has been known to be the preferred option when purchasing a scroll saw.
Will all scroll saws allow you to cut various types of materials, not just wood?
No. Although in theory, all scroll saws should allow you to cut more than just wood, such as plastic and various metals, not all scroll saws have the capacity to do this. If using the scroll saw for something other than cutting wood is a priority for you, then it is prudent you research exactly what materials each scroll saw will accept before you make a final purchase.
Conclusion
Depending whether you are a professional woodworker gearing towards making very delicate and intricate designs using a variety of materials such as a wood, metal or plastic, or you a home DIYer with a desire to learn how to make templates out of plywood for a project – the numerous scroll saws listed above can get the job done. But research is the key to finding the perfect fit for you.

From the precision of the Dewalt DW788 scroll saw to the affordable WEN 3920, each model is available in your price range and offers many options you may or may not be looking for. The important features to look for when doing your scouting report before opening your wallet are whether or not there are variable speeds, durability, vacuum features, workspace lighting, blade changeouts, product warranty, and the base/table configuration. By looking at both the pros and cons of each model, you should be able to narrow down the perfect fit for your needs.
Subscribe to our newsletter