Best Micrometers Reviewed & Rated
last updated:
Jan 16, 2019
For professionals in woodworking, engineering, construction, and medicine fields, and several others, a micrometer is an indispensable tool used for a wide range of projects. Compared to a Vernier caliper, a micrometer provides an effortless and accurate way of measuring the distance between one point and another, and the result, for the most part, is displayed through a digital readout.
Our Top 3 Picks
[srpshortcode id="21053″][/srpshortcode][srpshortcode id="21054″][/srpshortcode][srpshortcode id="21055″][/srpshortcode]
Most of them are quite versatile and enable the user to take the hard work, frustration and time away from measuring distance. We've carefully picked 10 of the best micrometers currently on the market to help you choose one that'll be most suitable for your tasks. But first, let's walk you through the factors to take into consideration as you shop around.
10 Best Micrometers
1. Mitutoyo 293-340-30 Digital Micrometer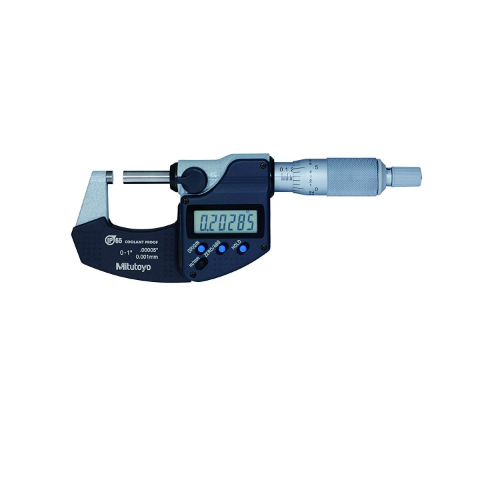 One of the leading names in the Industrial & Scientific industry is Mitutoyo. It's a highly reputed and revered brand renowned for exceptional performance and consistent quality of their products. Their flagship micrometer, the Mitutoyo 293-340-30, reliably continues this tradition. Among other things, it has an impressive resolution of 0.00005 inches, an accuracy of +/- 0.00005 inches and an ability to measurements of between 0 and 1 inch. Further, the instrument is crafted from high-quality materials to enable it to withstand extreme working conditions. And thanks to the reliability and consistency of its pressure, it's your best bet for taking accurate and reliable readings. Continue reading for a detailed review.

Every part is a reflection of the high manufacturing standards for which Japanese products are renowned. For instance, the brand uses high-quality plastic to make the various components and parts of the machine while measuring face is tipped with carbide. The result is a high-quality option that you will confidently use to take thousands of measurements over its considerably longer lifespan. Also, since the machine is resistant to both oil and dust and can withstand small spills, it's an ideal choice for use in rough settings.

Expand to see more
As for performance,it is accurate to an impressive +/- 0.00005 inches and boasts an outstanding resolution of 0.00005 inches. To this add the fact that it's carefully and professionally calibrated to take measurements of between 0 and 1-inch, making it an ideal choice for various projects around the house and on the job site. For ease of use, it has a sufficiently large LCD display that clearly displays measurements and can easily toggle between the imperial and metric system. The user-friend design also allows for quick, accurate repeat measurements.

Not many micrometers measure distances quickly and accurately as Mitutoyo 293-340-30 does. It features high-quality construction for wear and tear resistance and because of the attendant ease of use, it's an ideal selection for both professional and domestic applications.

Ideal for heavy-duty use
Durable, rugged construction
Exceptionally accurate
Easy-to-read measurements
Not water-proof
Heavy at 12.8 ounces
2. Neiko 01409A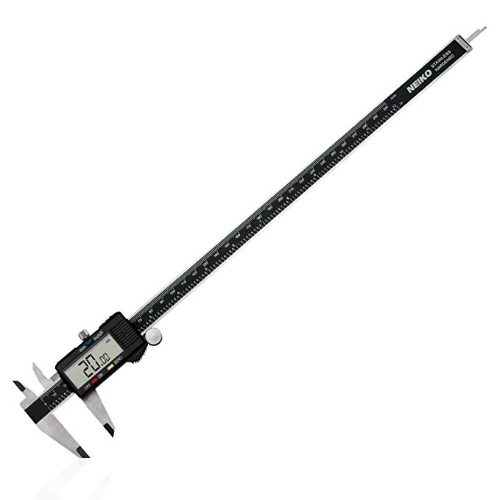 For professionals and extreme DIYers looking for military-grade accuracy in a ruggedly built but remarkably easy-to-use micrometre, Neiko 01409A is the product for you. Besides its heart-stopping accuracy, the micrometer comes with a large, easy-to-read digital screen and provides a wide range of measurement. Unlike our previous pick, this model easily converts the reading to a unit of your choice. You can quickly toggle between inch, fractions, and millimeter, in accordance to your preference. Expectedly, it's also durable and built to withstand loads of attrition.

There is everything to love about Neiko 01409A, right from its accuracy, construction quality, ease of use, and affordability. With an accuracy measurement range of 0.001 inches (0.02 millimeters), this device is the go-to tool for the vast majority of contractors, engineers, tradespeople, mechanics, and technicians who can't afford measurement errors. It's arguably one of the most versatile options you'll ever come across on the market. In addition to measuring outside diameter, it's also capable of measuring inside diameter and the depth of small objects that standard rulers can't measure. That's on top of the step function that also provides accurate measurements of step with the two sets of jaws and the probe.

Expand to see more
The Neiko 01409A is not all performance-oriented. It comes with a bunch of convenience features to enable the user to work quickly and easily. One such feature is the considerably large LCD screen that displays measurements clearly and in an easy-to-read format. Further, it features a sleek, contemporary looking stainless steel frame with a user-friendly knurled thumb roller and locking screw. These features enable you to smoothly slide the measuring piece for dead-on accurate readings. Thanks to the 3 measuring modes, toggling between inch, fraction, and millimeters readings is both fast and straightforward. And to top it all off, the machine comes with an additional high-capacity, long-lasting replacement battery.

With its slew of virtues, the Neiko 01409A Eprovides quick and accurate readings every time. It comes with all the features professionals and seasoned DIYers look for in a micrometer and lightweight and compact enough for ease of use.

Versatile and easy to use
Very precise
Long-lasting construction
Cost-effective
3. iGaging IP54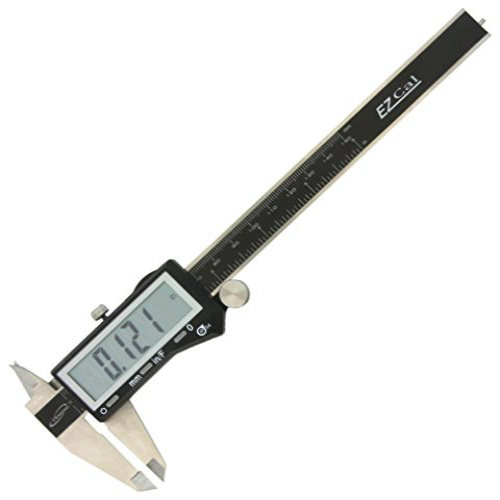 A contractor's toolbox is never complete until it has in it a heavy-duty, functional, practical, high-performance, durable, and accurate micrometre. One of the pro-grade micrometers that best meets that description is the iGaging IP54. It has a long laundry list of features, all of which deservedly earn it a spot on our list of 10 of the best options currently on the market. With a budget-friendly price tag, this device is a solid choice for professionals, seasoned hobbyists and everyone else in between working on a budget. That's not to say it skimps on essential features as you're about to find out.

To reiterate, the pocket-friendly price should not be construed as a sacrifice of quality, performance, or practicality. The first feature that debunks that misleading perception is the equipment's impressive measuring range of 0 to 6 inches, enough to comfortably accommodate a wide range of materials around the house and on the job site.

Expand to see more
Other performance features that will immediately win you over are the accuracy of 0.001 inches, repeatability of 0.0005 inches and a resolution of 0.0005 inches or 0.01 millimetres or in a fraction format, 1/128-inch. Patently, in spite of its laughable price, the IP54 can easily hold a candle to the more costly models on and out of this list. Very few micrometers offer 4-digit decimal measurements in SAE mode, leave alone 1/128-inch fractional display.

Seeing and reading the measurements it outputs should be a walk in the park. The extra large LCD display measuring 2-3/8 by 7/8 inches eliminates the need for squinting when recording readings. Also, considering the construction from commercial-grade hardened stainless steel, it is very durable while the precision lapping finish gives it an aesthetically appealing look. The IP54 construction rating means it offers superior resistance to splash water, oil, and dust, giving you the confidence to use it multiple settings with little worry.

The iGaging IP54 comes with all the bells and whistles that make for quick, accurate, and effort measuring of a wide range of objects. Clearly, it's a high-end and durable model that promises and invariably delivers the best performance.

Accurate with a wide measuring range
Resistant to dirt, oil and water
Versatile measurements
Has a large digital LCD readout
4. Mitutoyo 500-196-30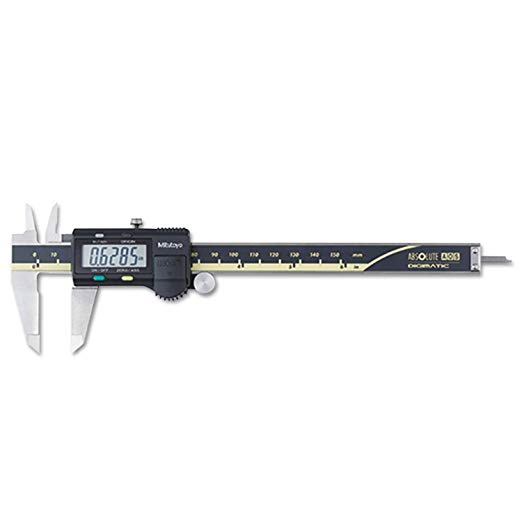 Like its bigger cousin we reviewed earlier, the Mitutoyo 500-196-30 is packed to the brim with a litany of nifty performance and convenience features. Together, they take the time and effort away from taking the
measurements
of various objects, making them a solid choice for light-duty to more challenging and demanding projects. Given the outstanding small increments, the product gives the most accurate readings and is able to measure up to 6 inches. Coming from an industry doyen, the micrometre features rugged and heavy-duty construction to withstand not only the test of time but also resist oil, water and dirt, allowing for flawless, prolonged use.
The first and only dedication of the Mitutoyo 500-196-30 is to enable the user to take accurate measurements, and in that endeavour it exceeds expectations. It provides dead-on accurate measurements within a wide range between 0 and 6 inches in increments of 0.0005 inches. And that's beside the fact that it's accurate to impressive +/- 0.001 inches and boasts a resolution of 0.00050 inches. Thanks to the time- and effort-saving absolute linear encoder technology, repeat measurements are guaranteed to be very accurate, fast, and effortless, making it an ideal choice for taking measurements in awkward or tight spots. Consequently, performance-wise, this micrometre has no equals within its price range.
Expand to see more
Coming from an industry giant, it is made for everyone. It has a large LCD that displays units in either metric or inch units and further provides for incremental readings. In light of its versatility, it's able to give accurate depth, step values, inside, outside. Additional features include resistance to dirt, oil, and water which, coupled with its durable stainless steel construction, allows you to use it for heavy-duty measuring applications in all manner of environments. The package comes with a powerful SR44 battery and a protective case.

For those who want to take measurements easily, quickly, and accurately, Mitutoyo 500-196-30 is the product for you. It'll never disappoint.

Perfect for absolute and incremental readings
Multi-purpose functionality
Highly accurate
Durable hardened steel construction
5. EAGems Caliper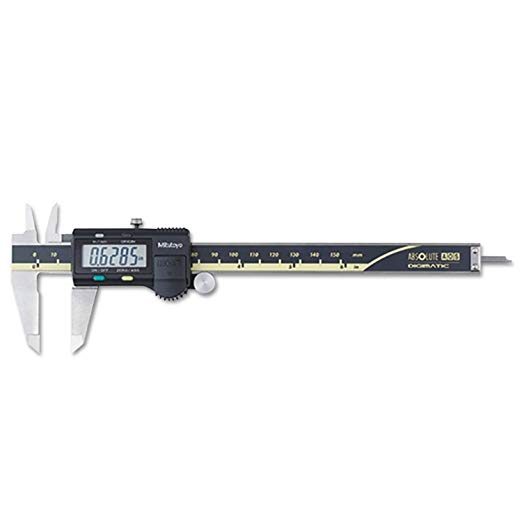 EAGems is yet another brand that pulls all the stops to leave their users with an indelible measuring experience. Its EAGems caliper has all the essential features that make measuring various objects and material a cinch. The main ones include a rugged, long-lasting all-stainless steel construction, an IP54 rating for exceptional water and dust resistance and a large, easy-to-read LCD screen. With regards to performance, it offers precise fractional measurements in either SAE or metric units with a spectacular measuring range of 6 inches or 150 millimeters. Basically, it is the custodian of the most essential features that allow for quick, effortless, and accurate measurement. Now, roll up your sleeves in readiness for a brief but in-depth review of this workhorse.

It is a multi-purpose machine that boasts an all-around performance. It's accurate to within 0.005 inches or 0.01 millimetres or in a fractional format, 1/64-inches. Engineers, technicians, contractors, and enthusiastic DIYers who can't afford the smallest mistakes will immediately be won over by this accuracy. And for versatility, switching from inches or millimeters or fraction to another unit is easy as it features an easy-to-reach button that presses with minimal effort. As well as offering the possibility of setting it to zero at any position for various differential measurements, the machine also gives you the ability to measure inside, outside, step, and depth values, just like other high-end models. Thanks to the position lock, you'll relish the ease with which it is to make repeat measurements.

Expand to see more
Compared to the difficulty users experience trying to read minute figures off traditional rulers and tape measures, the EAGems Digital Caliper has a large, easy-to-read LCD screen that eliminates the need to squint the eyes to see. Further, it has an automatic shut-off that conveniently kicks into play after 5 minutes of inactivity, helping you conserve your battery. An all-stainless steel construction and the IP54 rating ensure durability and everlasting protection from dust and liquids.

Cost-effective, accurate, easy to use, and durable, this device takes the hard work and guesswork away from taking various measurements. Hobbyists, DIY enthusiasts, and experienced professionals swear by it.

Long-lasting, fastidious construction
Easy-to-read digital readout
A cinch to use
Budget-friendly
6. Carrera Precision CP9806-TF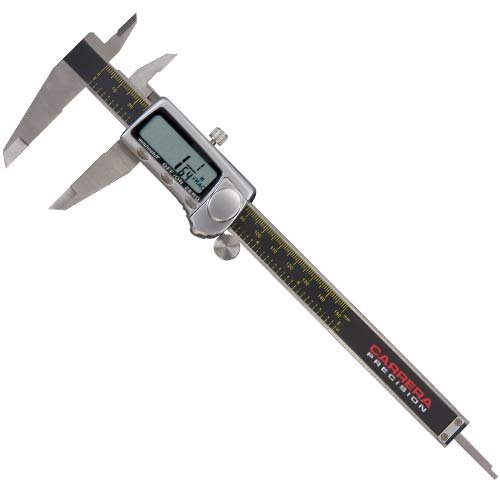 If none of the first 5 selections tickles your fancy, here is a 6th for your consideration. Obviously, Carrera Precision CP9806-TF is a feature-packed machine. It features heavy-duty construction of first-rate materials and costs a fraction of the price of high-end models even though the difference in performance is marginal at best. Aside from its flawless performance, the micrometer features a hardy, fastidiously construction to provide years of dependable service. And because of the ingenious design, you can easily and accurately measure inside, outside, step and depth diameters up to 6 inches. For a reasonable, justifiable prize, you get to relish features and specs that have, until now, been the preserve of high-end, expensive models.

With an outstanding accuracy to within +/- 1/1000th of an inch, it eliminates all possibilities of making errors. The accuracy of the vast majority of options pale into insignificance when compared to this model, which partly explains its preference among professionals and hobbyists alike. As mentioned earlier, it's a versatile choice for measuring inside, outside, step, and even depth. Further, it provides for the easy and quick conversion of measurements to metric units and has a zeroing button.

Expand to see more
And thanks to the hardened, long-lasting construction of the titanium alloy head, the Carrera Precision CP9806-TF will remain accurate even when it's approaching the tail end of its useful life. The same can't be said for most options. The stainless steel frame provides superior protection against attrition. Like most, the machine comes with an extra-large, easy-to-read LCD screen so you don't have to strain your eyes while the thumb wheel ensures that you can make adjustments with a single handle. Repeat measurements are made quick and effortless with the incorporation of a heavy-duty
screw
lock.
With a history of excellent craftsmanship and superior durability, Carrera Precision CP9806-TF expertly embodies what every professional wants in a micrometer. It comes highly recommended.
All-around performance
Accurate
High-quality construction
Very affordable
7. Anytime Tools Dial 6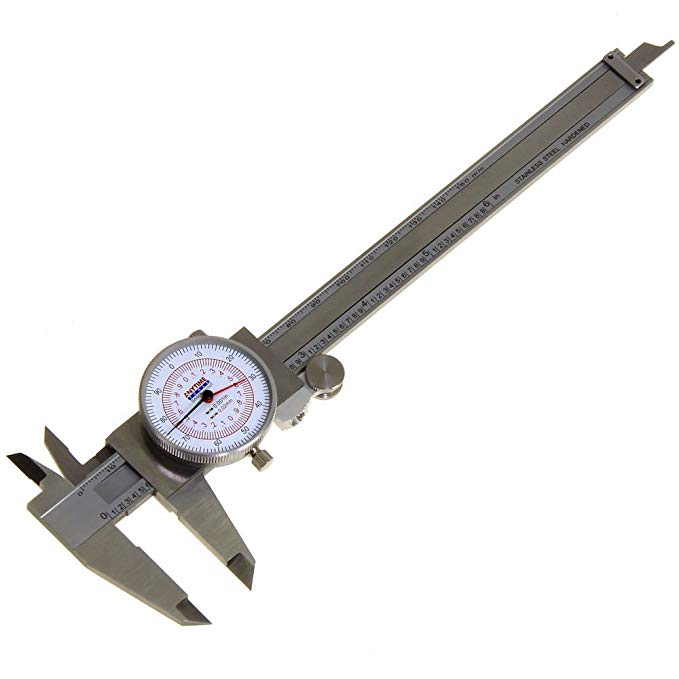 Aside from aesthetics, you'll also love how easy it is to operate the Anytime Tools caliper. It is built with the convenience of the user in mind and endeavours to provide the most accurate and reliable results every time. Crafted with high-quality materials, it'll provide several months if not years of flawless, trouble-free use for light-duty applications around the house or heavy-duty tasks on various commercial sites. It's not every day that you come across a cost-effective yet high-quality and accurate device.

It is not a slouch when it comes to performance. It offers a measurement range of between 0 and 6 inches (the equivalent of 150 millimetres) like most micrometers. It's one of the most versatile machine's you'll ever come across. Compared to other models with digital LCD screens, this model comes with the conventional analogue display. Don't fret because it's highly accurate and much larger than LCD screen, so you don't have to worry about squinting or straining your eyes to take a reading.

Expand to see more
Furthermore, it provides accurate measurements for inside, outside, step, and depth levels. A unique selling point is its dial face that features two handles for providing dual readings in both inch and metric units. This also means it doesn't come with any cumbersome buttons for toggling readings between the two units.

Considering the use of first-rate hardened stainless steel for the construction of the equipment, it has a commanding experience in the hand and provides superior resistance to attrition. The knurled thumb facilitates smooth and effortless one-hand operation. And because it has a raised sliding surface, the graduations won't wear off or deface any time soon.

In all, Anytime Tools Dial is a perfect choice for both professional and DIY projects. It may lack the bells and whistles of top-notch options but at its price range, it's quite a steal.

Provides the most accurate and reliable results
Crafted with high-quality materials
Perfect for heavy-duty tasks
Cost-effective
Accuracy has a break-in period
8. Starrett 1202F-6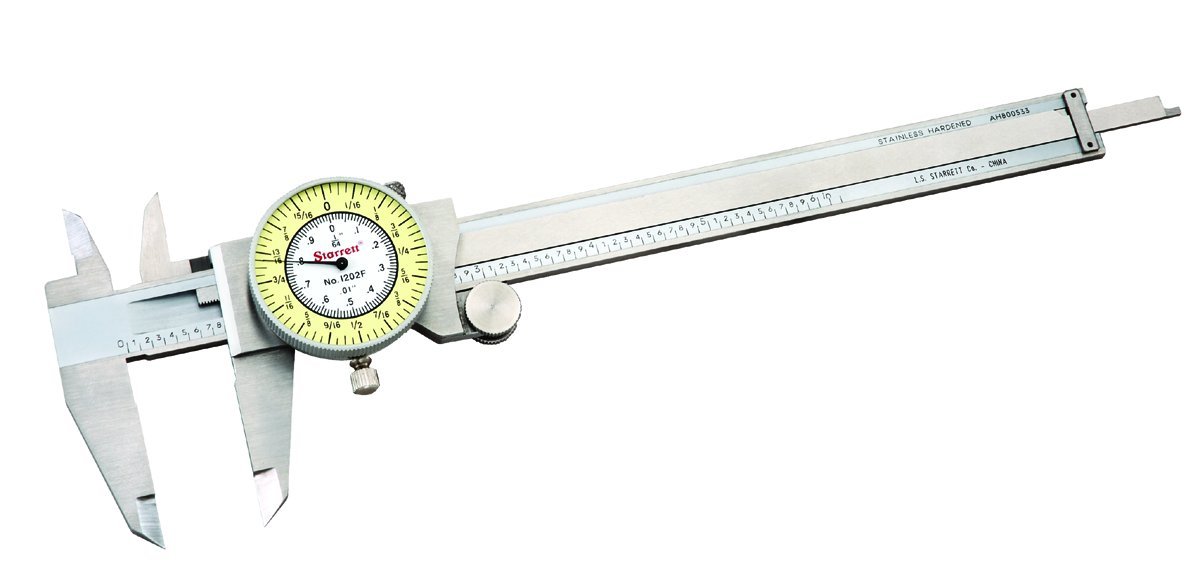 Starrett is one of those brands with a knack for seamlessly and perfectly balancing design, performance, durability, convenience, and affordability. And none of its product best embodies that virtue than the Starrett 1202F-6 does. It offers you the best of all worlds at an affordable and reasonable price. Unique features include the thumb roller, anti-backlash control, and a durable stainless steel construction. To find out how this product stacks up against the other industry stalwarts already reviewed, keep reading.

With a litany of nifty features, Starrett 1202F-6 does everything a micrometer is supposed to, only that it does it better. For one, it boasts a measurement range of between 0 and 6 inches. It is accurate to 0.001 inches and 1/64th of an inch, which makes it one of the best options to use for accurately and reliably measuring depth, inside, and outside levels. To eliminate any room for inaccuracy and errors, it comes with these sharp, black graduations on the clear and easy-to-read-through dial face. Thanks to its ingenious design, it displays readings as fractions as fractions on the yellow outer scale with graduations of 1/64th inch while the white inner scale with 1/100th-inch graduations is for showing decimals.

Expand to see more
There are several other features that engineers, technicians,
carpenters
, contractors and extreme DIY will find attractive. One such feature is the thumb-controlled fine adjustment rolls that conveniently provides for single hand use. Also, the lock screw does an impressive job holding the sliding jaw in a perfect position, ensuring consistency while the rack teeth prevent foreign debris from corrupting reading, further facilitating accuracy. Like several other micrometres on the market, Starrett 1202F-6 Dial Caliper is forged from industrial-grade stainless steel to ensure durability and enhance accuracy.
For decades now, professionals and DIYers still resort to Starrett 1202F-6 Dial Caliper because, compared to cheap, humdrum options out there, the device works quickly and accurately. It's versatile too and an ideal choice for measuring outside and inside diameter as well as depth.
Allows for one-hand operation
Very accurate
Durable
Measurements are easy to read
9. GlowGeek Caliper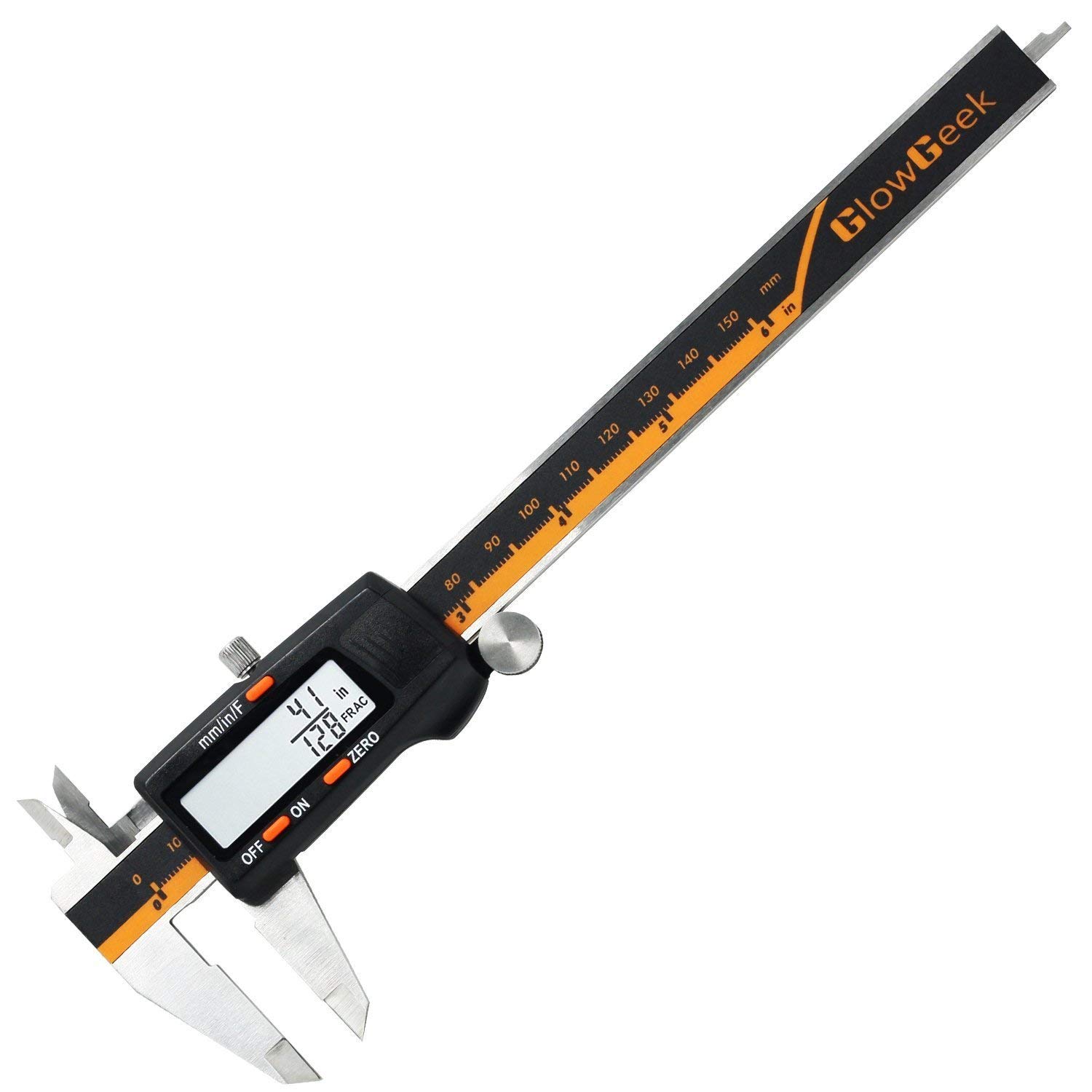 An all-around device, the GlowGeek is a solid choice for serious professionals and hobbyists who want a workhorse for effortlessly and quickly taking various measurements. The exceptional quality of the equipment, its dead-on accuracy, the largeness of its screen, and rugged design are all standout features that make it a worthwhile consideration. Further, it's a cinch to use and would be a perfect addition to the
toolbox
for measuring inside, outside, depth, and length. If you're anything like us, you'll love it the second you hold in your hands and sold the second after trying it out.
Every nook and cranny features high-end construction for durability. The frame is made from hardened stainless steel and so are the jaws and the blade. The top-notch rugged construction ensures that the machine can stand up to years of heavy-duty, extreme years before anything gives, which has a significant bearing on accuracy and its overall performance.
Expand to see more
The measurements on the extra-large display are very easy to read. Because it measures 1/2-inch by 1-1/2-inch and offers a superior contrast to other models, the measurements are not only large but also visible from several angles. Whatever the measurement, you can easily and quickly convert measurements to inch, metric or fraction with the simple press of a button, sparing you the agony of doing conversion calculations on a piece of paper. Like our previous pick, it comes with a range of between 0 and 6 inches and an accuracy of 0.001 inches while repeatability and resolution both stand at 0.0005 inches.

Built with the convenience of the user in mind, it has a precision fit slide that ensures your workpiece slides smoothly and accurately. An auto shut-off feature helps preserve your battery by switching off the caliper after more than 5 minutes of inactivity. A generous 12-month warranty, on the other hand, gives you cover against deficiencies in material and craftsmanship.

Budget-friendly and accurate, it is ideal for domestic and commercial projects. It's jam-packed with several nifty features for the best performance.

Dead-on accuracy
Rugged design
A cinch to use
Extra-large display
Generous 12-month warranty
10. LCD Digiwise Vernier Metric Digital Caliper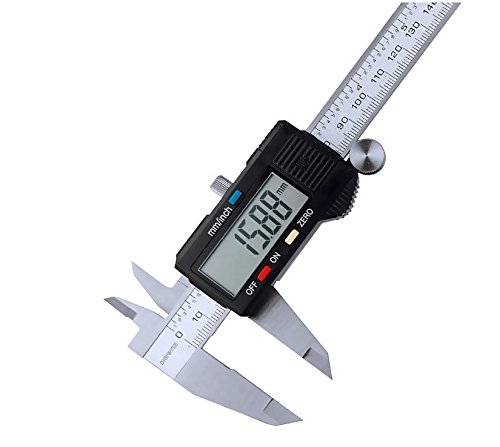 From the little known HXY brand comes yet another high-quality option, the LCD Digiwise caliper. The machine is full to the brim with an array of performance and convenience features, setting it apart from other flimsy, run-of-the-mill options out there. Some of the features that stand out are the wide digital display, a measurement range of 0-6 inches, and a stainless steel construction. They're not exactly mind-blowing but at the product's price, they're hard to overlook. If you're a value-conscious user looking for a top-quality option that measures without the slightest hiccups and is accurate to the dot, look no further than the LCD Digiwise Vernier Metric Digital Caliper.

With an all-top stainless steel construction, the device joins the league of a handful of top-notch options that are built to withstand the test of time. It can gracefully withstand the harshest environmental conditions for years on end. Further, you can lock the head and use the provided heavy-duty plastic box to store it in between uses and to facilitate hassle-free portability.

Expand to see more
It is accurate to within 0.001 inch/0.02 mm, boasts a resolution of 0.01 mm/0.0005 inches with a corresponding repeatability of 0.01 mm/0.0005 inch. The measurement range is of course 0-6 inches, allowing you to easily and quickly take measurements for inside, outside, depth, length, and width. The user-friendly interface has buttons for switching it on, toggling measurements between millimeter and inch while the third one is for zeroing. An extra-large 2-inch screen allows for the quick, error-free, and effortless reading of the results.
The package arrives with everything you need to get started right away.
Plus, you get an extra battery to minimize interruptions should the installed one run out of juice unexpectedly. Another highlight is the generous lifetime warranty that protects your purchase against defects and malfunctions resulting from the use of low-quality materials or poor craftsmanship.

For trouble- and error-free measurement of various distances, either around the house on the worksite, it comes highly recommended. It conveniently ticks all the right boxes. The high-quality and durable construction pairs incredibly with the wide digital display, the wide measurement range of between 0 and 6 inches, and the ease of use. If we love it, so will you.

Top premium quality
Large LCD screen
Accurate
Highly portable
Easy to use
Lifetime warranty
Criteria for Choosing the Best Micrometres
Performance
Professionals like doctors, engineers, and contractors don't have the luxury of making mistakes like the rest of us do, at least to some extent. Therefore, they need the best micrometers the industry can provide. It's not enough that they are accurate. They similarly need to minimize or ideally entirely eliminate the likelihood of errors.
A user-friendly thumb roller allows for easy and quick one-hand adjustments and together with the lock screw, ensure outstanding accuracy every time. The display, on the other hand, should be high contrast and large enough to enable you to see measurements without straining.
Construction Quality

Moist environments increase susceptibility to rust and corrosion while dust and oil can compromise the overall performance of a micrometer. Consequently, you need a micrometer forged from commercial-grade materials to provide for superior resistance to these elements as well as wear and tear. It's for this reason that the vast majority of our picks are made from first-rate stainless steel.
Affordability
The cost of a micrometer can be indicative of its overall performance and construction quality. The rule of thumb is that costly models offer superior accuracy and heart-stopping performance, though there are exceptions to this rule. Overall, micrometers are pretty affordable, rarely going for more 200 bucks.
For the value-conscious users out there who want the best bang for the buck, it's highly recommended you invest in a high-end model. They'll be expensive but they'll provide you with several years of flawless, smooth, quick, and dependable service, not to mention dead-on accurate measurements in light of their exceptional engineering.
Convenience
While convenience features help make quick and short work of otherwise onerous tasks, they have a way of inflating the price. Still, they're a welcome addition for those who want hassle-free, flawless performance. Among other things, the display should be large enough to allow you to read the results with ease and the jaws need to slide effortlessly.
The thumb roll needs to be user-friendly to provide for one-handed operation. Also, consider the physical attributes. A micrometer needs to be highly portable, lightweight and compact.
Frequently Asked Questions
Q: How do I accurately measure with a micrometer?
A: For greenhorns, practice makes perfect. Make a point of firmly holding the jaws to the object you want to measure. Position the jaws in such a way it's either square or perpendicular to the part. For the best results, ensure the jaws are free of rust, scratches, dirt, and other debris.
Q: What is the best way of storing it?

A: Other than ensuring they are super clean, apply a thin coat of oil to the jaws to stop rust and corrosion. It's also recommended you keep it in its original box.
Conclusion
So here we are. Our carefully curated list showcases the crème-de-la-crème of the micrometer market. Provided you choose in accordance with the tasks you want to undertake, you can never go wrong with any of our picks. They are the epitome of fine engineering, accuracy, portability, and convenience. They require minimal effort and don't cost nearly as much as expensive models. Happy shopping!
Subscribe to our newsletter