Best Furnace Humidifiers Reviews & Price Comparison
last updated:
Apr 06, 2021
During winter or cold months, homeowners turn on their furnaces to increase the temperature in their homes. However, furnaces have an unintended consequence of drying out air in the house. Without a humidifier, the humidity levels in a house can drop to below the 30% recommended by the Environmental Protection Agency (EPA). But what exactly is a furnace humidifier?
Our Top 3 Picks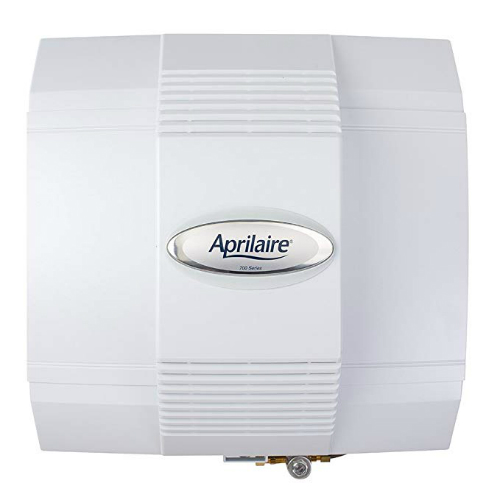 Aprilaire 700

Our rating
Digital
Price:

See Here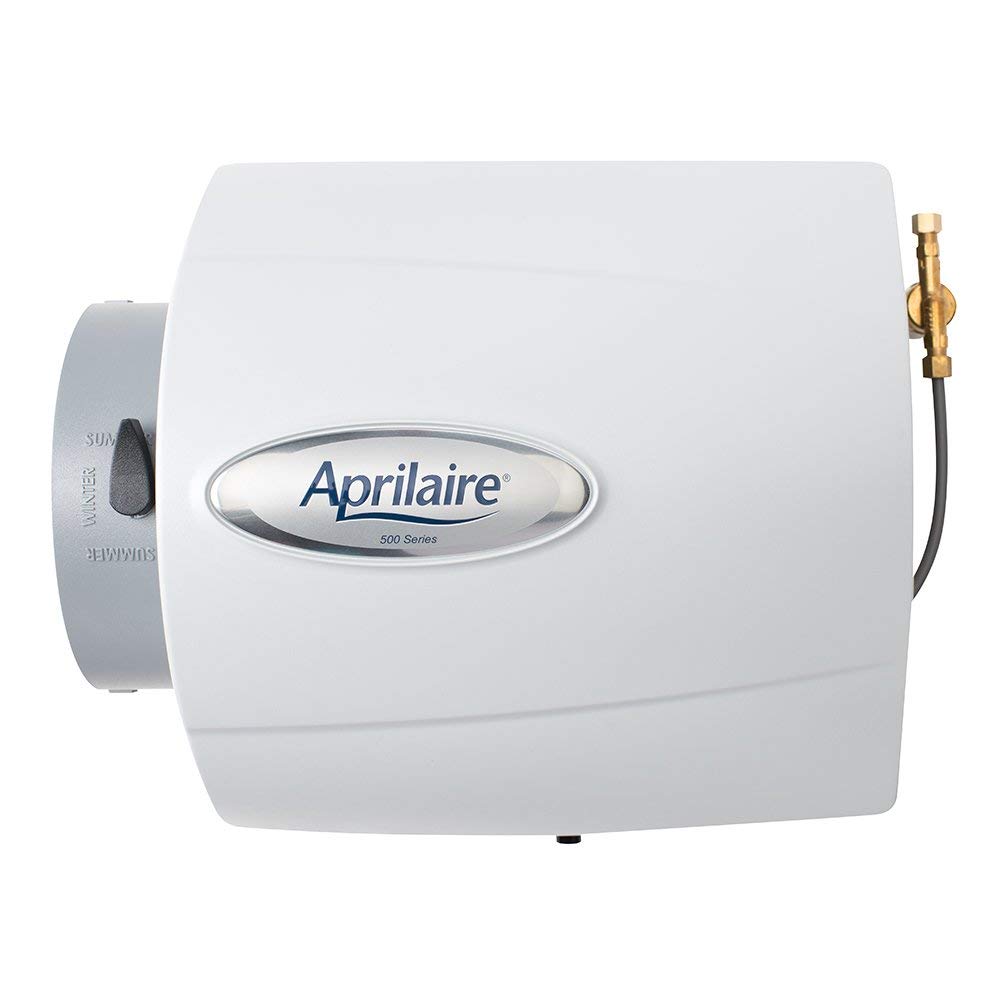 Aprilaire 500

Our rating
Easy
Price:

See Here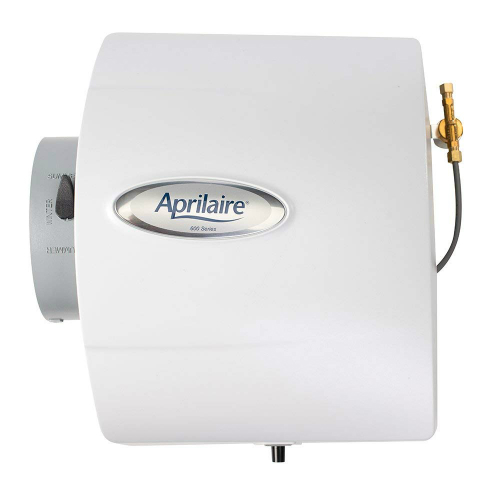 Aprilaire 600

Our rating
Automatic
Price:

See Here


Like other humidifiers, it increases the moisture in your home albeit with a few differences. First, it only works when the furnace is turned on and moisturizes your entire home. Also, it is part of your HVAC and is often installed on the ventilation ductwork.
10 Best Furnace Humidifiers
1. Aprilaire 700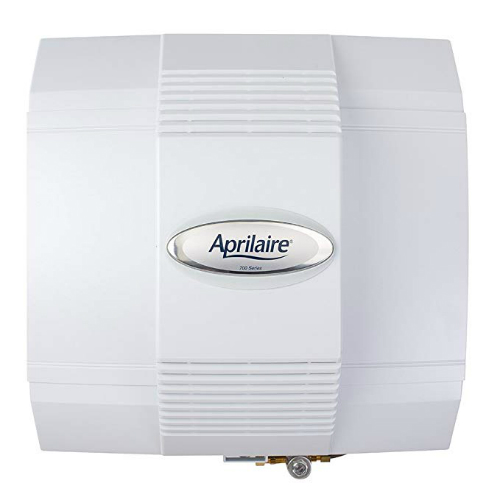 First, it is important to note that there are two Aprilaire 700 options in the market. One has manual controls while the other comes with both manual and automatic controls. The following review is of the latter. First, the Aprilaire 700 is an exceptional unit and is even recommended by doctors. With a rate of 0.75 gallons of moisture per hour which sums up to 18 gallons of water a day, it can cover up to 4,200 square feet. What we loved most about this unit is the set it and forget it function plus the design.

Design – The simplistic design of this unit is somewhat appealing and especially how lightweight it is. The Aprilaire 700 is designed to be installed on your warm air supply plenum. The general appearance is, therefore, nothing to write home about. However, seeing as it doesn't have a reservoir, it is much smaller in size and lighter weighing about 15 pounds.

Set it and forget it functions – Having to always adjust your humidity levels can be irritating. However, with the automatic digital control, and the exterior sensor control humidification. Simply insert your preferred levels on the control, and the sensor humidity will keep the humidity levels without any intervention.

You will also love the indicators on this unit. There is a call dealer for service light, an on and off indicator, humidity level, and change water panel indicator. Also, it has 7 dial settings from which you can select one depending on the humidity and temperature in your house. This unit is a rather noisy one when operating at its fastest speeds. However, it shouldn't be a bother at lower speeds and bearing in mind it is for substantial homes.

Expand to see more
Product Features

0.75 gallons per hour evaporation capacity
7 dial settings
Humidifies homes up to 4,200 square feet
Automatic with set and forget it functions
Weight: 15 pounds
Dimensions: 16 * 11 * 18 inches

Who is it for?

This is a unit for homeowners with upwards of 2,000 square feet.

It is digitally controlled which helps reduce the time and effort required to maintain hospitable humidity levels
It can work with any water which reduces your expenses
It requires little maintenance other than regular replacement of the water panel
The wiring is tricky and difficult for homeowners to install themselves
4. Aprilaire 500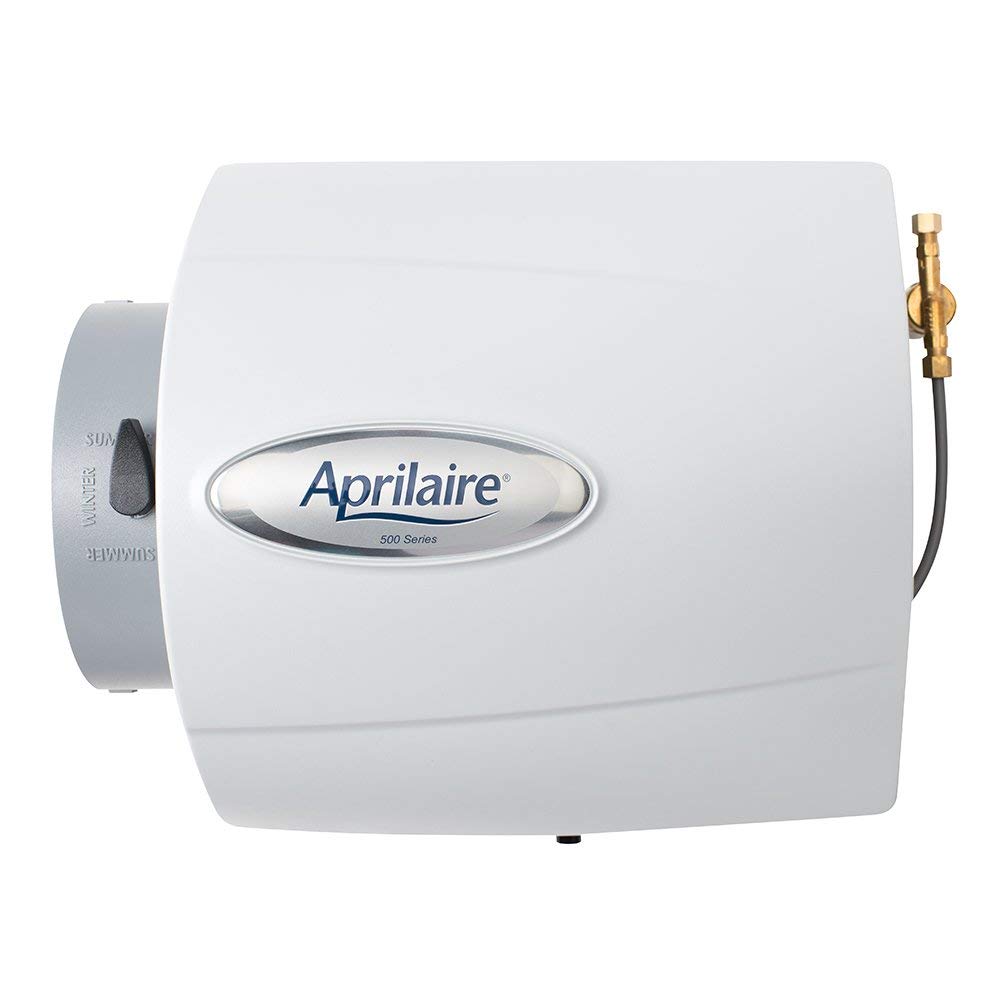 If you have a small to medium sized home, this is the ideal unit for you. It is a consolidation of the 500M and the 500A. It has both the digital and manual controls but resembles the 500A more. However, it doesn't include a second water panel nor does it have a DVD video. It is capable of evaporating 0.5 gallons of water a day which translates to 12 gallons per day. It is thus ideal for houses between 1,500 to 3,000 square feet.

It does not turn up heat - It's not always your furnace that makes the humidity levels in your house drop below recommended levels. Though it is the major culprit, there instances where you are forced to increase the moisture in your house. In such instances, the 500 allows you to turn the HVAC blower on to humidify your residence.

The bypass damper is also worth mentioning. Often changing from winter to summer settings is tasking. The 500 solves this with the bypass damper.

Another fascinating feature is the automatic digital control. The humidistat connects to the thermostat to sense the temperature of the air and adjust the humidity accordingly. Also, the unit is fitted with a drain to flush minerals and particles. Finally, it has indicator lights to let you know when the unit is on, when to change the water panels, and when to call the dealer for maintenance.

Expand to see more
Product Features

Has a capacity of 12 gallons per day
Can cover up to 3000 square feet
Voltage: 110V
Weight: 10 pounds
Dimensions: 16 * 10 * 13 inches

Who is it for?

The Aprilaire 500 is ideal for homes between 1,500 and 3000 square feet.

The price is just right
Requires very little maintenance
Enables you to turn down your thermostat a few degrees which reduce your electricity bill
Changing from winter to summer settings is a breeze thanks to the bypass damper
Installing the unit isn't DIY friendly; expect to spend up to 6 hours
3. Aprilaire 600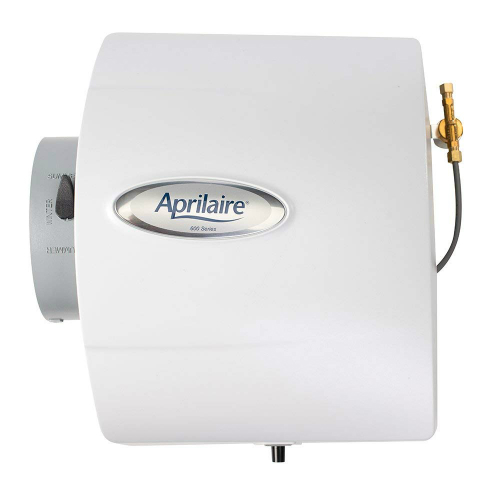 Again, if you want to humidify a medium-sized to large home, say up to 4,000 square feet, you can get the Aprilaire 600. With 17 gallons per day rate, it will keep you and your family comfortable. It is a bypass humidifier and connects to your HVAC ducts so that humidity can be placed into the airflow for even distribution. Ideally, mount it on your supply plenum and is equally easy to reverse for right and left-hand operations. Also, you don't have to worry about constantly refilling it as it connects to your water supply.

Aprilaire60 automatic humidistat – The first thing you will love with the Aprilaire 600 is the cutting edge tech on the humidistat. First, it has an outdoor sensor to transmit the temperature outside to the humidistat. Second, the humidistat connects to your HVAC, to appropriately measure the temperature of the air that is going into your home. Combining the temperatures outside with the temperature outside, allows the humidistat to determine the appropriate humidity level in your home.

Indicators – It includes three indicators to visually alert you if your system needs maintenance. Green indicates that the unit is working appropriately, while yellow is to let you know that the 35 Aprilaire water panel needs replacing. Finally, red indicator is to inform you that the unit isn't working.

You will also like the bypass damper as it enables you to change from winter and summer settings. It also lowers your power bills by using gravity to pull water through the water panel the air-flow in your ducts to evaporate the water.

Another fascinating feature of the 600 is the permanent memory. You don't have to concern yourself with reprogramming the unit after a power outage. The unit doesn't lose the date, time, and programming. The copy function is a plus too. Finally, it is a compact unit and can fit in tight spots.

Expand to see more
Product Features

Weight: 8.5 pounds
Dimensions: 15 * 10 * 16 inches
Includes an Aprilaire60 humidistat
Voltage: 110V
Capacity: 16 GPD

Who is it for?

This option is ideal for houses between 2,000 and 4,000 square feet.

Reduces your utility bills thanks to the bypass damper
Since it connects to your water supply, you don't have to concern yourself with constantly refilling your unit
It is a low maintenance unit
It is completely automatic
Aprilaire recommends that you hire a professional to install the unit; this increases the cost significantly
Water that doesn't evaporate and can collect in the unit
2. Honeywell HE360A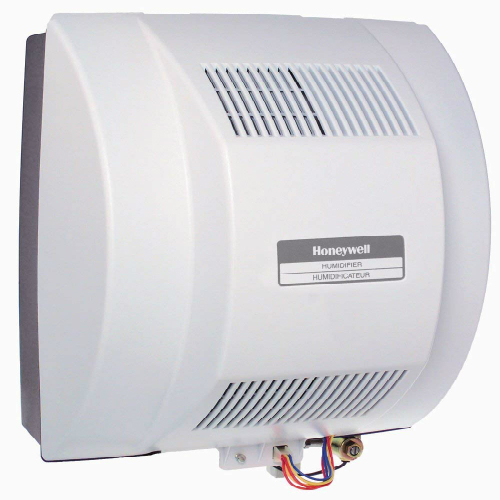 If you are in the market for a stripped-down humidifier that doesn't do much but regulate the moisture in your home, we advise you purchase the Honeywell HE360A. It is capable of supporting houses up to 4,500 square feet, but the recommended house size is around half that with 8ft ceilings. It is also easy to install seeing as it doesn't require a bypass duct.

Easy installation – What stands out most with the HE360A is how easy it is to install. Seeing as you don't need a bypass duct, all that's required is connecting it to a water supply, and a power source. The unit requires 120V.

Little water usage – You will also love how little water the unit uses and thus you will save on water.

The innovative technology on this unit is also worth considering, especially the PerfectFlo water distribution tray and powered flow through. The HE360 is mounted on the supply plenum, the air thus enters the humidifier and is forced by the fan through the pad. Also, if you are looking for a unit with low noise levels, this isn't the unit for you. However, it's often lower than the HVAC and so there shouldn't be much of a difference. Finally, this is a compact unit and can fit in tight spots.

Expand to see more
Product Features

15 GPD
A powered flow-through humidifier
Weight: 18 pounds
Dimensions: 21.2 * 17.5 *16.2 inches

Who is it for?

The HE360A is for homeowners with houses between 1,900 and 4,500 square feet.

Installation is DIY friendly
Uses very little water and will save you money on water bills
The humidistat is quite sensitive, a slight change leads to a massive increase or decrease in humidity
6. Honeywell Bypass Humidifier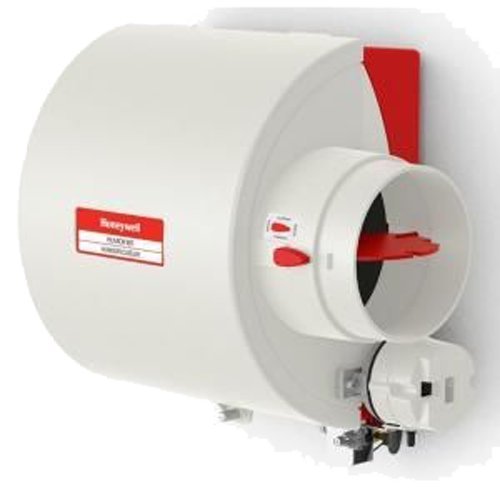 If you are in the market for an affordable and efficient unit, we recommend the HE280 by Honeywell. Other than the price, you will like how easy it is to mount, plus the efficiency.

Efficiency – Efficiency is an important aspect of any gadget. However, the HE280 does you one better. It has water saving tech that can save you up to 30% more water compared to other brands. This plus the PerfectFLO technology optimizes the efficiency. The result is reduced energy bills.

The HE280 is easy to install – You can mount it on either the return air duct or the warm air supply.

The flow-through design is another fascinating feature of the HE280. It keeps the unit clean reducing the need for any maintenance. Also, it's a rather large unit and fitting it in tight spots will be difficult.

Expand to see more
Product Features

Water saving technology
Weight: 19.1 pounds
Dimensions: 22.9 * 19.8 * 1.7 inches

Who is it for?

Like most other units on this list, the Honeywell 280 is for persons with substantial residences. However, it will serve those who are on a limited budget better.

It uses 30% less water compared to other units effectively lowering your utility bills
The HE280 is also an affordable unit
The flow-through design ensures that water doesn't collect reducing the need for maintenance
1-year warranty
It is made of cheap plastic which might become brittle in coming years and it doesn't include a gasket to prevent air leaks where you connect it to the furnace
The unit lacks insulation
7. Emerson HSP2000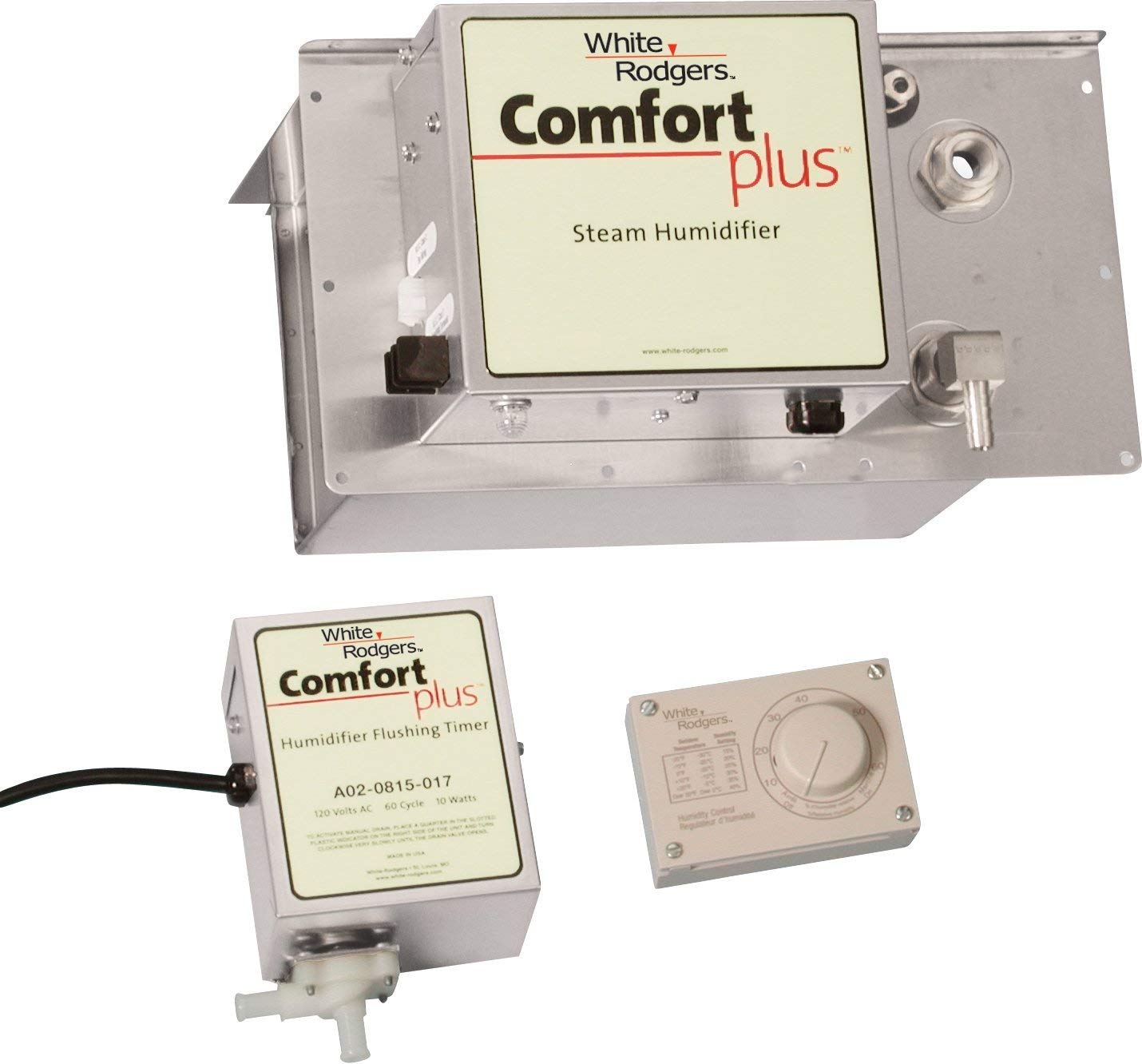 This option is ideal for houses around 1850 square feet. However, it can maintain a humidity level of around 42% in a 3,200 square foot building.

Thermal fan interlock – this interlock has to be the most fascinating feature of this device. There are instances where the humidity is low but you don't require the furnace heat. In such instances the thermal interlock fan allows the device to humidify the air without the heat.

Advanced features – The cutting-edge tech on this unit should be another reason why you invest in one. The safety cutoff switch will protect the unit in case of an overcharge, and the built-in overflow protection gives you peace of mind. The flushing timer is a plus as well since you can set it for the unit to flush excess water. The chlorine removal filter ensures that the moisture distributed through your home has no negative elements, while the pure air filter removes toxins and elements.

By and large, this element of White and Rodgers is the pinnacle of furnace humidifiers. It is quite pricey though which is the reason why it doesn't top the list.

Expand to see more
Product Features

Voltage: 120V
13 GPD

Who is it for?

If you are willing and able to spend a small fortune on a furnace humidifier, the Emerson HSP 2600 is the unit for you. Also, it is only ideal for houses above 1,400 square feet.

It works independent of the furnace in instances where humidity is required but heat isn't
It prevents mold thanks to the flushing timer that prevents water from collecting
It is built like a tank
Expensive
Installation isn't DIY friendly and engaging a professional increases the cost
5. GeneralAire 5137 1137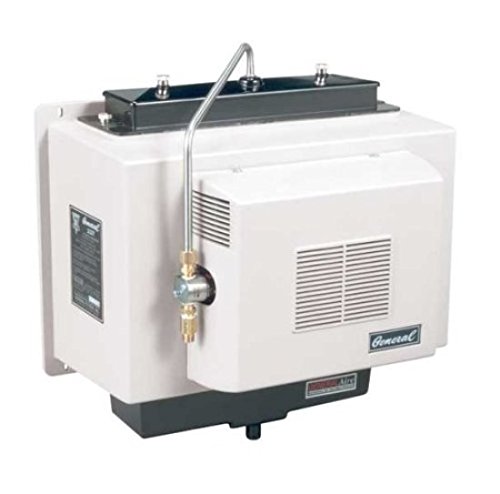 This next unit is for large residences up to 4,200 square feet. With a 21.3 gallons per day capacity, it would be overkill if you install it in smaller residences. It will also be wasteful as it will not perform optimally. Being a fan-powered humidifier, the unit connects to the warm air plenum, and warm air is partially passed through the water-soaked pad. The warm air vaporizes the water and distributes the moisture.

Digital control – You will love the automatic control on this unit. With the MXH3 humidistat, measures the humidity in your house and adjust the levels accordingly.

The patented trough is another reason why you should invest in this unit. It meters the water and disperses air through the pad appropriately.

Another fascinating feature of this device is that water that's not evaporated will drain out and prevents mineral build up. You will need an airflow microswitch to control the water such that it only runs during a heating cycle

Expand to see more
Product Features

Weight: 16.6 pounds
Has a 21.3 GPD capacity
A patented trough to meter the water

Who is it for?

The 1137 is for large residences, up to 4,200 square feet. Also, it's for persons who are willing and able to spend a small fortune as it isn't a cheap device.

It is maintenance free
It is a flow-through furnace humidifier so you need not worry about refilling it
It isn't a compact unit; you will need some extra space when mounting it
8. Honeywell HE300A1005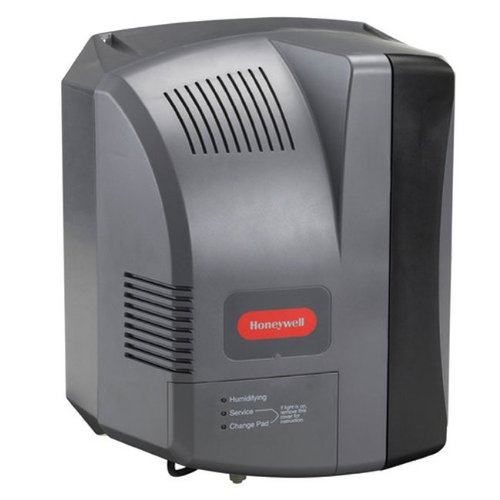 If you are in the market for an eco-friendly unit, the HE300a1005 is the unit for you. It can cover areas up to 3,000 square feet and has a capacity of 18 gallons per day.
TrueEase advanced technology
– It reduces your water bills by close to 50% by running water through the unit only when humidity is required in the house. Also, by eliminating the constant cycling of air in the house, it reduces your
energy charges
.
Easy to install
– Most of the units on this list require a professional; the HE3000a1005 doesn't. With the various snap into place configurations, mounting the unit is a breeze.
This unit can be mounted on the supply or return duct of your HVAC. Also, you can reverse it for left or right-hand operations. The humidPro humidistat makes controlling the humidity in your house fairly simple. Install it on your HVAC where it can read the temperature of the air, and adjust the humidity level accordingly.
Expand to see more
Product Features

Volume: 6 gallons
Weight: 16.2 pounds

Who is it for?

Honeywell True Ease is for large homes and people with the extra money to spend.

Easy to install
Energy efficient, and uses up to 50% less water
9. GeneralAire 1042-LH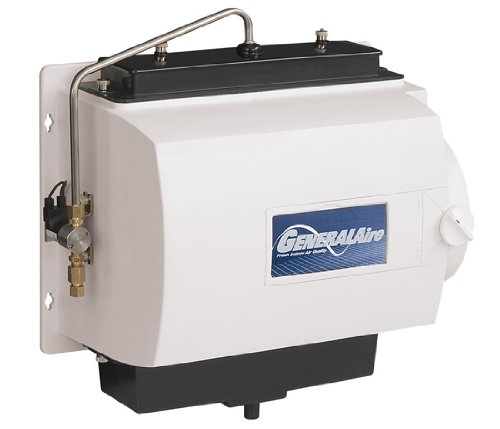 If you are in the market for an option that can cover between 1,000 and 2,800 square feet, we encourage you to get the 1042-LH by GeneralAire.

Vapor pad – The first thing we liked about the 1042 is the vapor pad. It is made of expandable aluminum base that's coated with a hydrophilic material that absorbs water. Warm air is passed through the pad and evaporates increasing the humidity in your home.

MXH3 humidistat – The digital control also allows this unit to be a breeze as well. Ensure it is mounted on your furnace so that it can read the temperature of the air and adjust the humidity appropriately.

Expand to see more
Product Features

A 19.2 gallons per day capacity
Weight: 25 pounds
Dimensions: 18 * 14 *14 inches

Who is it for?

The GeneralAire 1042-LH is for homeowners with houses up to 2,800 square feet.


It allows for DIY installation
It is affordable
Replacement parts are easy to find and affordable
The vapor pad requires constant replacement owing to the water deposits that build up
10. GeneralAire 1000A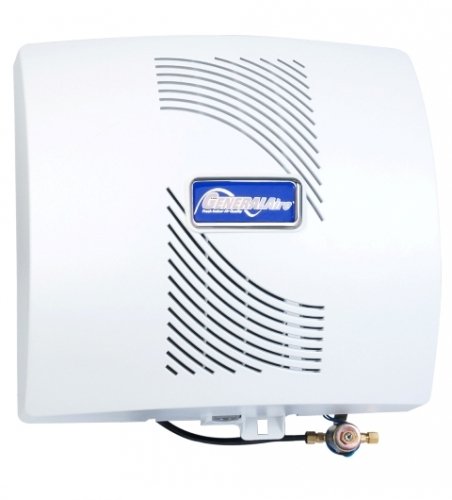 If you are moving into a larger house, say about 3,000 square feet, you will need a larger device, and we recommend the GeneralAire 1000A. The build quality of this unit is worth mentioning. Build from a sturdy ultra-violet stable plastic, you can be sure that this will serve you for well over 5 years. Other than the quality, we also loved the humidity control bypass damper and automatic control.
Humidity control bypass damper
– This is a temperature compensating control with a saddle valve and an outdoor sensor for temperature control. It helps calculate the dew point, which is helpful especially in areas where the temperature fluctuates a lot.
The digital humidistat
– You don't have to concern yourself with constantly adjusting your humidity levels. This set and forget it function allows you to insert your preferred humidity levels and the humidistat will always ensure it is within the set level.
Another fascinating feature of the 1000 is that it allows for manual control too. Being a fan-powered option, it will pull warm air through the humidifier and its evaporative pad, and the moistened air is delivered through the
duct system
.
Expand to see more
Product Features

A fan-powered flow through humidifier
18GPD
Weight: 15 pounds
Humidity control bypass damper
For home sizes up to 3,000 square feet.
Dimensions: 16-1/2 * 16 * 10 inches
10-year warranty

Who is it for?

The 1000 is a device for people with houses that are around 3,000 square feet.

The build quality ensures that the tool has a long life
GeneralAire has a generous 10-year warranty for this item
The humidity control bypass damper helps compensate for temperature
It requires effort and skill to install
What are Furnace Humidifiers For?
As pointed out, furnaces tend to dry out the air in your home and often to levels below the recommended 30%. Dry air creates an unconducive environment for pets, people, and plants. First, it irritates your lungs leading to respiratory infections, dry skin, chronic joint and muscle pain, sore eyes and low mental concentration. Also, people are likely to suffer from nosebleeds owing to the difference in humidity in their bodies and outside. To avoid, such issues, the humidity in your house should always be between 30 and 60%.
Pets too will become restless in such inhospitable conditions. Dogs especially are affected by the low humidity and will have a difficult time trying to cool down their bodies. Your indoor plants too will dehydrate if the moisture is low.
Low humidity levels will affect more than your pets and animals. Your wood products and electronics will be affected as well. Though wood used in construction is considered dry, it still contains a bit of moisture. Hardwood floors will crack, musical instruments and artwork will be ruined, and wooden doors will warp. Also, dry air is favorable to static electricity which causes problems to your electrical devices. The recommended humidity level should be above 35% to protect electronics.
By and large, a furnace humidifier will reduce your chances of catching an infection; it will protect your furniture and other wooden products. You will also enjoy having a device that can humidify an entire house. Other humidifiers are only capable of adding moisture in one room. You will need several such devices to cover your entire house.
Finally, you might want to reduce your utility bills. As humidity decreases, the air tends to feel cooler and thus you turn up your HVAC to increase the temperature. This is an endless cycle and only leads to higher heating bills. On the other hand, by reducing your thermostat by around three degrees, and increasing the humidity, you can lower your utility bills by about 5%.

What to Look for
Other than identifying the benefits of a furnace humidifier, you need to know what to look for when purchasing one. With the many brands in the market, making an educated choice on the best furnace humidifier can be challenging. And although, you don't pick one from this buying guide, ensure you follow the directives below.
Controls
Before purchasing a furnace humidifier, make a decision on whether you want automatic controls or you are okay with manually adjusting the humidity level. Modern options are retrofitted with humidistats. They are similar to thermostats in furnaces, just that they adjust the humidity in your home and not the temperature. The humidistats automatically send a signal which will raise or lower the moisture to the required levels.
Automatic units are expensive though. You can use thermo-hygrometers to get humidity readings, but you will have to manually adjust the device.
The size of your home and the device's capacity
Different units have specific output. The output is measured in GPD or gallons per day. A humidifier with a capacity between 1.5 and 2 GDP is appropriate for a 500 square feet space.
However, you will need a unit with a 10.0+GPD to sustain a 2000+ square foot house. A 3.0 to 3.5 GPD unit is ideal for a 700 to 800 square foot space while a 7.0 to 9.0 GPD unit will serve a 1000 to 2000 square foot house.
Installation requirements
These vary with the model. Some units will attach to the furnace while others will attach to the ductwork. Learn about the configuration of your HVAC and ventilation ductwork then purchase a humidifier that will work with your HVAC seamlessly or without extreme reworking.
Replacement parts
Your humidifier will require routine maintenance and there are some components that need to be replaced regularly for the unit to work effectively. Filters, evaporation pads, and screens are some of the parts that you will frequently replace. Check the cost and availability of these units before purchasing a furnace humidifier.
Consider the type
There are three chief humidifier types. The unit you purchase depends on your needs. First is the drum or bypass humidifiers. These connect to your water and store it in a reservoir. They then use your furnace blower to move the humidity through your home. The second humidifier type is they flow-through humidifier. They connect to your water but don't store it in a reservoir. Finally, there is the whole-home or steam humidifier. They are extremely heavy duty and are only ideal for large homes.
Additional features
Furnace humidifiers are not equal. There are some additional features that will make your life easier. First, be on the lookout for water cutoff function that turns off your unit when the water is low. Also, consider corrosion resistance as it will help maintain the quality of your unit. Finally, take units with a mounted frame, as they will make installation a breeze.
FAQs
Do I need a furnace humidifier?
Most people in the South side of the currently don't require one. However, those in the North do. To avoid skin irritation, nose bleeds, static electricity, etc, the humidity in your house should be between 30 and 60. However, the furnace can dry it out to 25% during winter and the cold months, and only a humidifier can bring it back up.
When investing in one, we insist you get a furnace humidifier. First, it is a whole house humidifier and it doesn't require constant refilling.
Why does it take long to get to the recommended humidity level?
If you have just installed a furnace humidifier, it will take a week or so, before you raise your humidity to the required level. The reason for this is because most of the items in your house, i.e., clothes, furniture, wooden artifacts, etc., will absorb most of the initial humidity. It is only after, that the humidity in your house will increase.
How do I maintain one?
If you have a cascade unit, always ensure that the water and humidistat are off during spring. As for drum-type humidifiers, watch out for sitting water as it can lead to scale buildup and bacterial growth. The water should be turned off during spring, the humidistat too, and the tray and sponge cleaned.
Conclusion
There are various types and brands of furnace humidifiers in the market. However, we deem those above to be the best. The final decision is yours but ensure you get one that meets your needs and fits your budget. Finally, if you feel there is something we missed, please let us know in the comments below.
Subscribe to our newsletter