Best Safety Vests Reviews & Ratings
last updated:
Jul 24, 2018
Also known as reflective vests, safety vests are supposed to enhance the reflectivity and visibility of personnel. Some working conditions such as construction, traffic control, security, fire department, etc., are dangerous. Therefore, some safety standards that have been put in place to ensure that workers are safe, and one such regulation is the safety vest. Though safety vests may seem cumbersome, in the construction heat, they are designed to be breathable and lightweight for max comfort.
Our Top 3 Picks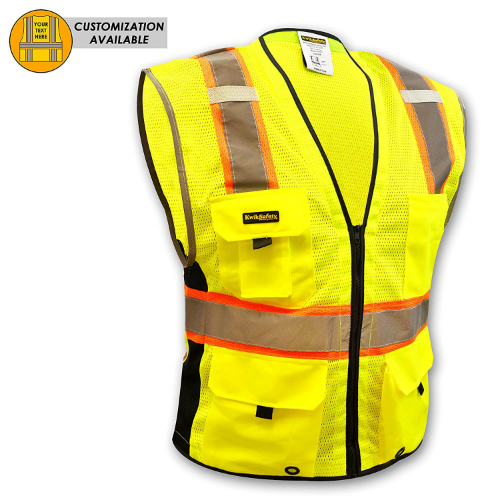 KwikSafety

Our rating
Versatile
Price:

See Here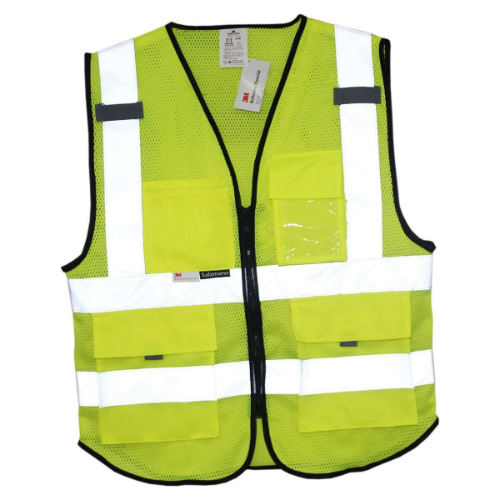 Salzmann

Our rating
Affordable
Price:

See Here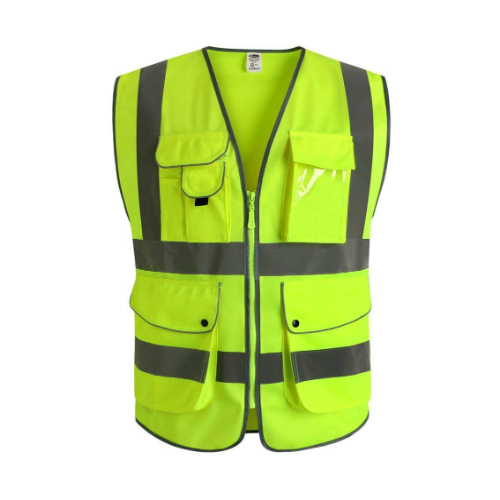 JKSafety

Our rating
Comfortable
Price:

See Here


Other than the reflectivity, there is more to reflective jackets. Yes, the visibility may seem the same for all garments, but there have been many improvements to make them more effective and comfortable for persons in different industries.
10 Best Safety Vests
1. KwikSafety BIG KAHUNA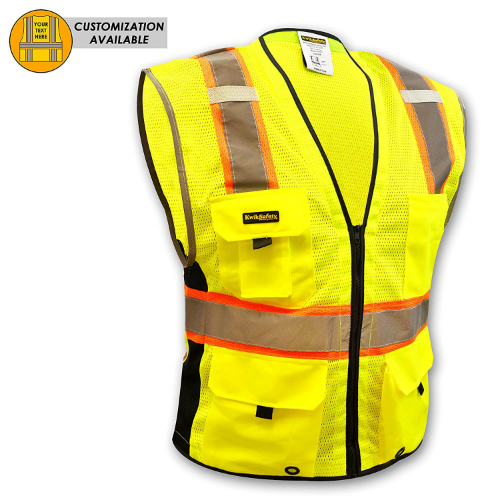 If pockets, style, and comfort are a huge concern for you, we advise you get the Big Kahuna safety vests by KwikSafety. First, they are designed to fit all persons and are accompanied by a size chart to ensure you get the right fit. To maximize accuracy, the measurements are in both centimeters and inches, and you are advised to use the measures on your t-shirt to get a good fit. Nevertheless, what we love most are the multiple pockets and the design.

Design – First, there are three different tones and are made of breathable polyester for comfort even in scorching conditions. There is also the silver reflective tape which increases visibility making this perfect for working at night, and the black trimming too gives a clean finish. By and large, it is where style meets functionality.

Multiple pockets – When working, there are tools and personal items that you need at hand. The Big Kahuna has two chest pockets to hold small equipment, two interior pockets for your wallet and phone, and two expandable cargo pockets with grommets for larger cargo.

You will also appreciate that this is a Class 2 vest, and is ANSI compliant. The polyester is also soft reducing irritation and injuries. Also, it includes two heavy-duty zippers which can withstand abuse. Finally, you can customize the vests to bear your name and logo.

Expand to see more
Product Features

100% polyester
Class 2 and ANSI compliant
Has six pockets
Comes in 3 different tones for various environments
Weight: 3.2 ounces

Who is it for?

First, being a class 2 vest, it can be used in high traffic areas with speeds of up to 25mph, e.g., road construction workers, and school crossing guards. Also, the silver reflective tape allows for use in areas with low visibility. Finally, the Orange or Yellow tones can be used by forest workers.

The different tones allow for usage in different contexts; it can be used in urban and rural settings while works flawlessly at night and during the day
It is comfortable thanks to the polyester material used
Has six different pockets dedicated to storing various items
Has two durable zippers for closure
It's customizable with your company name and logo
There are some concerns about the stitching
2. Salzmann 3M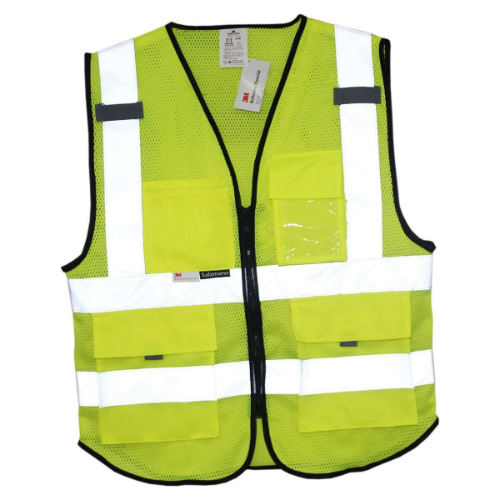 If you are in the market for another affordable and a reasonably simple safety vest, the Salzmann made with 3M tape is your best bet. It is breathable thanks to the mesh fabric and will keep personnel comfortable even in hot conditions. However, the fascinating aspects of the 3M by Salzmann are the pockets and the radio clips.

Radio clips – The Salzmann 3M has a pair of radio clips, one on each shoulder. Communication is vital in most construction projects and having to get the radio from your pocket frequently takes too long. The radio clips on this safety vest make communication more comfortable and faster.

Pockets – it has four pockets to keep small work equipment or cards, keys, etc.

You will also love the fact that this vest meets most ANSI requirements other that ANSI/ISEA 107-2015 section 10.5 that requires that it be fire retardant. There are also several variations, so you can be confident you will find one that is suitable for your environment. Finally, the reflective 3M tape allows you to use this item at night, or in areas with limited light.

Expand to see more
Product Features

Four pockets
Breathable fabric mesh
3M reflective tape

Who is it for?

With the 3M reflective tape, you can use the Salzmann to walk dogs in the evening or to work at night or areas with low visibility.


The radio clips on either shoulder make communicating a breeze
The 3M reflective tape keeps you safe when working at night
Affordable
There are some concerns about the size; ensure you use the updated size chart to get the right fit, or purchase one size larger
3. JKSafety 9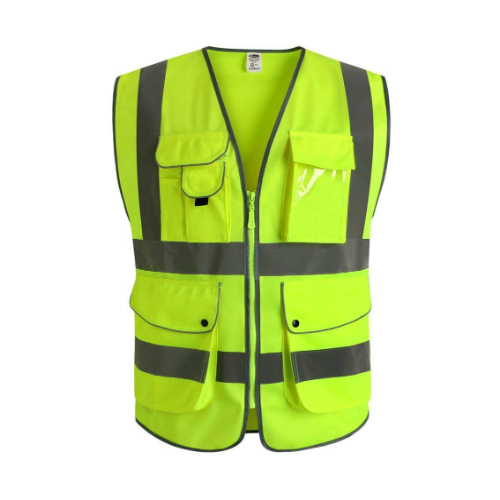 If you are looking for a remarkable class 2 safety vest, you might want to consider the J.K safety. It is 100% polyester, lightweight and quite breathable. Hence, working in any conditions will be a breeze. Also, it is unisex, so you don't have to concern yourself with getting vests for different genders. Nevertheless, the fascinating aspects of the J.K Safety vests are the nine pockets and the 360® reflectivity.
Multiple Pockets
– This safety vest has nine pockets with numerous ways of organizing tools. There is a pocket for your smartphone,
flashlight
, one for a pen, another for a notebook and even for business cards. Such organization increases the speed of accessing the tools increasing efficiency. Also, to protect your devices, the pockets have zippers and velcro clamshell closure.

360® reflectivity
– Other than the neon-yellow material which is highly visible, the J.K vest has 2-inch wide reflective strips on the chest, shoulders, waist, and back to ensure you are safe at all times, and from all direction. Working in low light conditions should not worry you with this vest.
Another fascinating aspect of this vest is that it is in total compliance with ANSI/ISEA class 2 requirements.
Expand to see more
Product Features

360® reflectivity
Nine versatile pockets
100% polyester
Weight: 4.8 ounces

Who is it for?

Being a class 2 safety vest, you can use it in multiple environments with speeds up to 25mph. Also, it's ideal for persons in construction, demolition, surveyors, baggage handling, sanitation, etc.
The design of the vest allows for both day and night operations
It is comfortable to use in hot conditions as it is lightweight and breathable
The multiple pockets increase personnel efficiency as all equipment is organized
There are some concerns with the quality as the stitching is a bit flimsy
5. GripGlo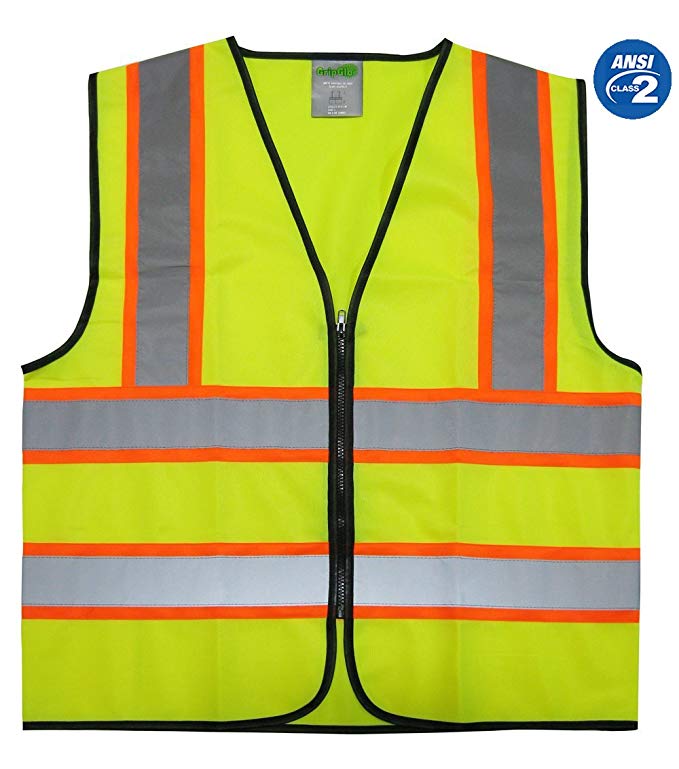 If you are working on a one time project, and one that doesn't require heavy-duty vests, get the TLS-145 by Griplo. First, it is lightweight giving you the comfort while working in warm conditions and is also low cost for one time projects or activities that will have low levels of wear and tear. However, what's most impressive with the TLS-145 other than the low cost is the 360® reflectivity, and the contrast-trimming.

Contrast trimming –To increase the visibility of workers, joggers, and other personnel working in hazardous environments, the TLS-145 has contrast trimming to increase visibility. They achieve this by using an orange trim against the Neon Lime which is the primary color of this vest.

360® reflectivity – Despite the visibility, reflectivity is essential when in low light conditions. The TLS-145 has a reflective tape over the shoulders, around the waist and chest, and on the back to ensure motorists can spot you.

The vest is also compliant with ANSI/ISEA class 2 level 2 requirements. Finally, the easy on zipper closure makes wearing this a breeze.

Expand to see more
Product Features

360® reflectivity
Contrast trimming for maximum visibility
Weight: 7.2 ounces

Who is it for?

We recommend the Griplo for class 1 environments. Despite being ANSI/ISEA Class 2 compliant, it lacks some other features (e.g., pockets) that are vital in these environments. But for jogging, riding, short-term construction projects or sanitation, it doesn't get better than the TLS-145 by Griplo.

Low-cost vest with premium features
The 360® reflectivity ensures you are visible in low-light conditions, and especially to motorists
The orange contrast trimming increases visibility
This isn't a professional vest
10. Safety Depot Class 3 ANSI ISEA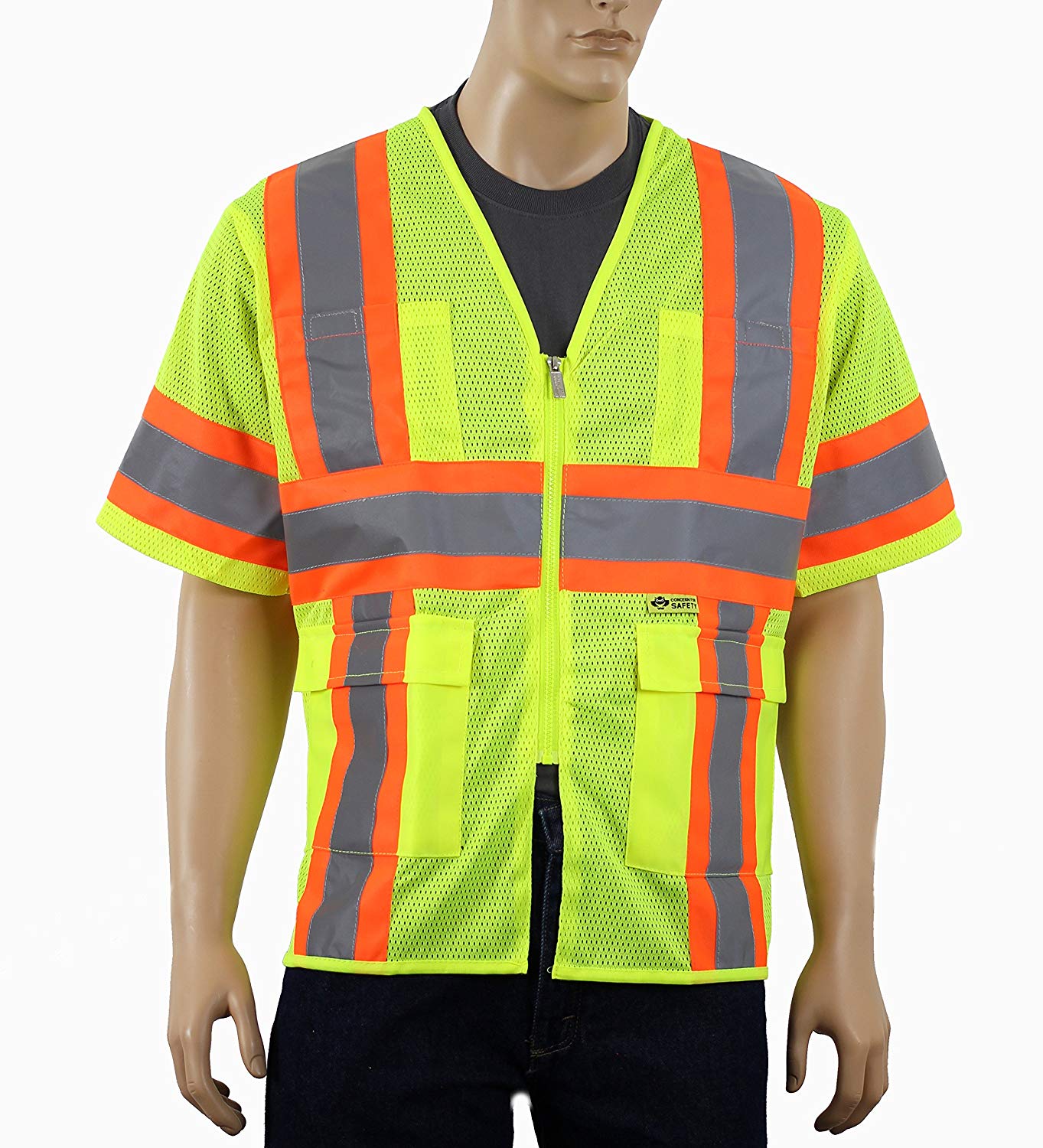 If you are in the market for class 3 vests, we recommend the Safety Depot as they are affordable. First, you can have these in either 100% polyester or breathable mesh. If you know your conditions are hot, we recommend you get the breathable mesh.
Also, you will enjoy the fact that this vest has sleeves and can withstand up to 25 washes in the washing machine.
Sleeves
– The reason why most safety vests don't have sleeves is that they hinder movement. That is not the case for this option. The arms are large enough that they don't impede movement when you are working.
Pockets
– This Safety Depot, has six pockets for different purposes. The two chest pockets are for pens, pencils,
voltage testers
, etc., with a dedicated radio pocket. There are two other lower with Velcro closures to secure your items.
This unit also includes a zipper for closure. Other remarkable features are the contrast trimming and the durability. The garment has eight stitchings per inch to ensure that it can withstand the abuse while working and washing. Also, it has an orange trimming against the primary neon-lime that increases the visibility. The reflective tape to ensures that you can work in the wee hours of the morning and late into the night.
Expand to see more
Product Features

Six pockets
Includes a zipper
Weight: 12.8 ounces

Who is it for?

This is a professional vest.

Despite being a class 3 vest, it is quite affordable
It is durable with eight stitching per inch and can withstand up to 25 washings
The arms are massive and will not limit movement when working
The contrasting trim increases the visibility and as a result the safety of your workers
It is available in either solid polyester or breathable mesh
30-day satisfaction and quality guarantee
It is not an exact DOT3 vest; DOT3 vest has breakaway panels that allow you to escape if you are caught in something
6. Neiko 53941A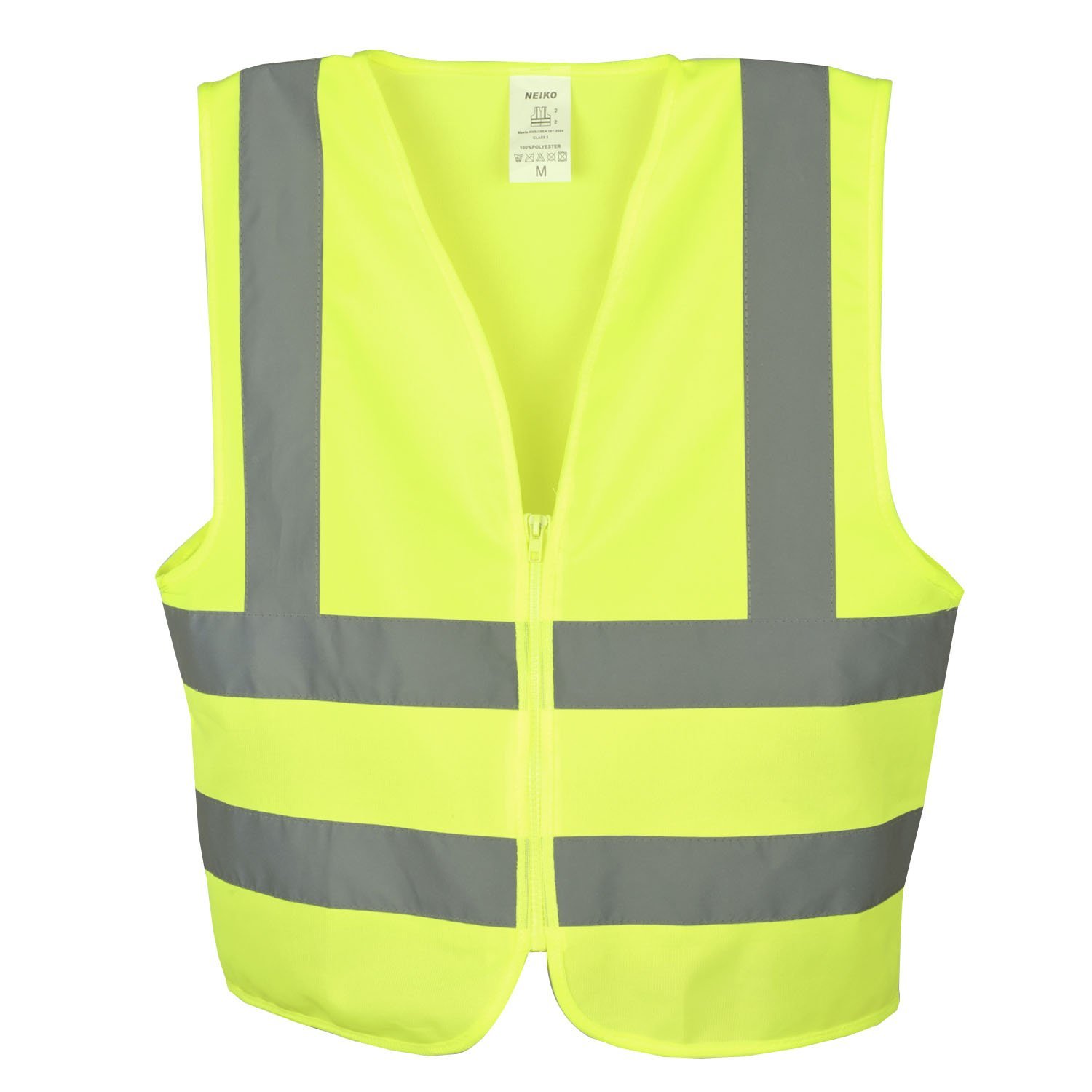 For low-cost but high-quality reflective vests consider the 53941A by Neiko. That is if you don't mind compromising on the other features available in premium garments. What stands out most with the 53941A has to be the reflectivity and the zipper.

Closure – This safety vest from Neiko has a zipper as its method of closure. The zipper is also durable.

Reflectivity – Reflective vests are meant to enhance the safety of workers in hazardous environments, and the best way to ensure the safety of personnel working at night and in low light condition is the reflective tapes. The reflective strips are 2 inches thick and are on the waist, chest, shoulders, and around the back.

You will also love that this is ANSI and ISEA compliant despite the low price point. The 100% polyester material is soft, and thus workers can use them for extended periods of time.

Expand to see more
Product Features

360® reflectivity
Weight: 1.6 ounces
Quick, easy zipper

Who is it for?

If you have a large workforce, and you are looking for safety vests without breaking your bank, consider the 53941A. Also, the workforce should not require technical tools as this doesn't have pockets.


Affordability has to be one of the top reasons why you should consider purchasing this item
High visibility makes it ideal to work late evenings and early mornings
100% polyester thus comfortable to use for long hours
The critical shortcoming of this is that professionals can't use it as it lacks pockets
7. DEWALT DSV521-L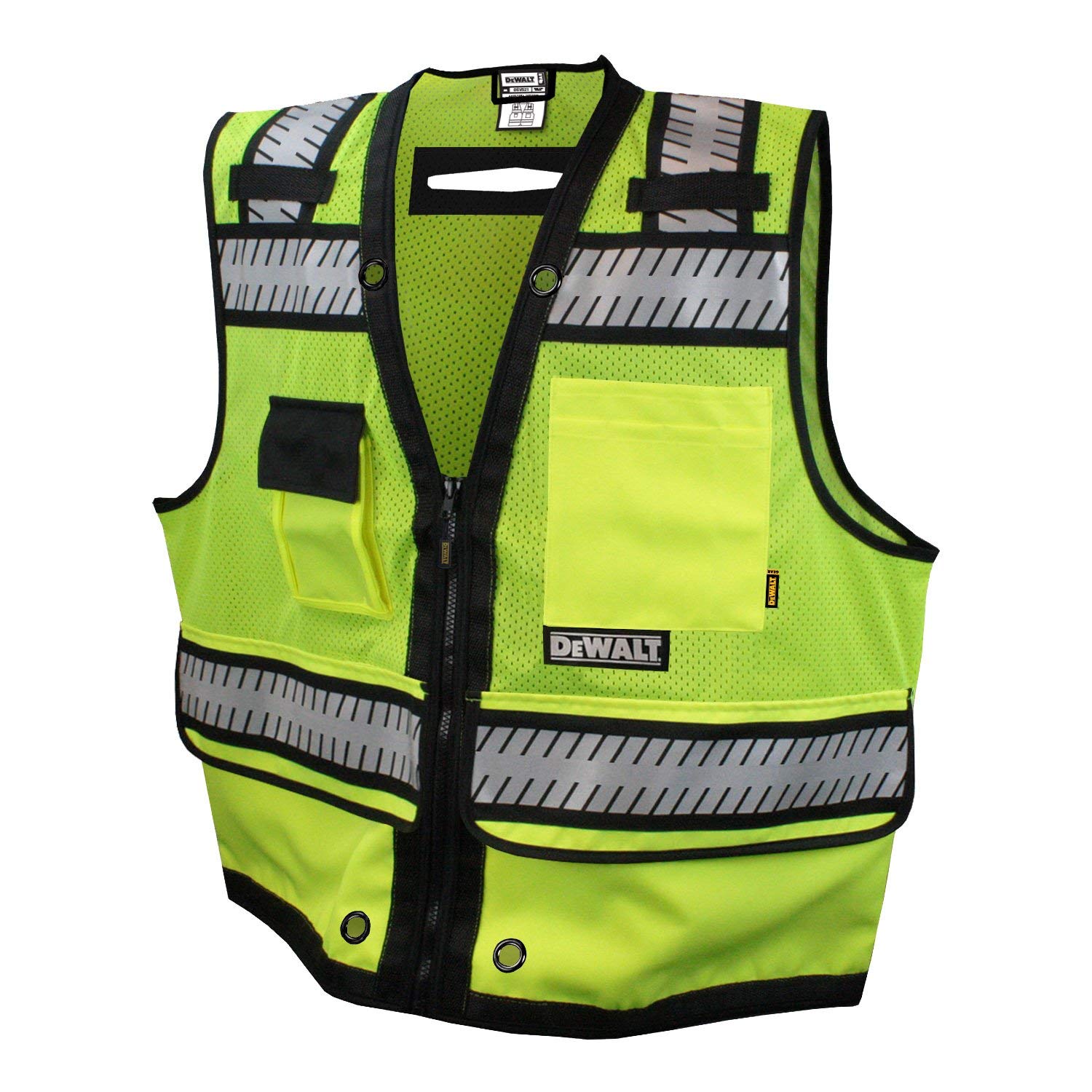 Dewalt products have always been durable, and the DSV521 isn't any different. It will withstand any abuse and is designed with heat transfer, contrast, and functionality in mind. The material used is 100% polyester mesh, so it is quite breathable.

Heat transfer reflective tape –The feature we loved the most on this Dewalt safety vest has to be the heat transfer. Unlike other vests, the reflective tape on the DSV521 is designed to enhance breathability while still being reflective.

Contrast trimming – The 3-inch contrast black trim will enhance visibility and the style of your safety vest.

The pockets on this gear are also fascinating. First, the back pocket can hold a lot of stuff and has zippers reducing the risk of losing anything. Also, Dewalt uses stitch reinforcement at various stress points reducing the likelihood of tear and use heavy webbing for guaranteed heavy protection.

Expand to see more
Product Features

Mic tabs on the shoulders
Zipper closure
3" contrasting trim
2" segmented reflective tape

Who is it for?

The DSV521 is ideal for persons working in sweltering conditions thanks to the heat transfer reflective tape. Yes, most of the vests are breathable, but this does one better with the heat transfer tape. Also, if you are looking for an item with large pockets, this is the unit for you.

The 3-inch contrasting black trim increases the visibility of the work personnel
The reflective tape to does more as it allows for heat transfer
The pockets on this vest make it easy to carry equipment
Has mic tabs on the shoulders making communication devices more accessible
A bit pricey
Some of the pockets are small, and stuff may fall out
8. ML Kishigo 1513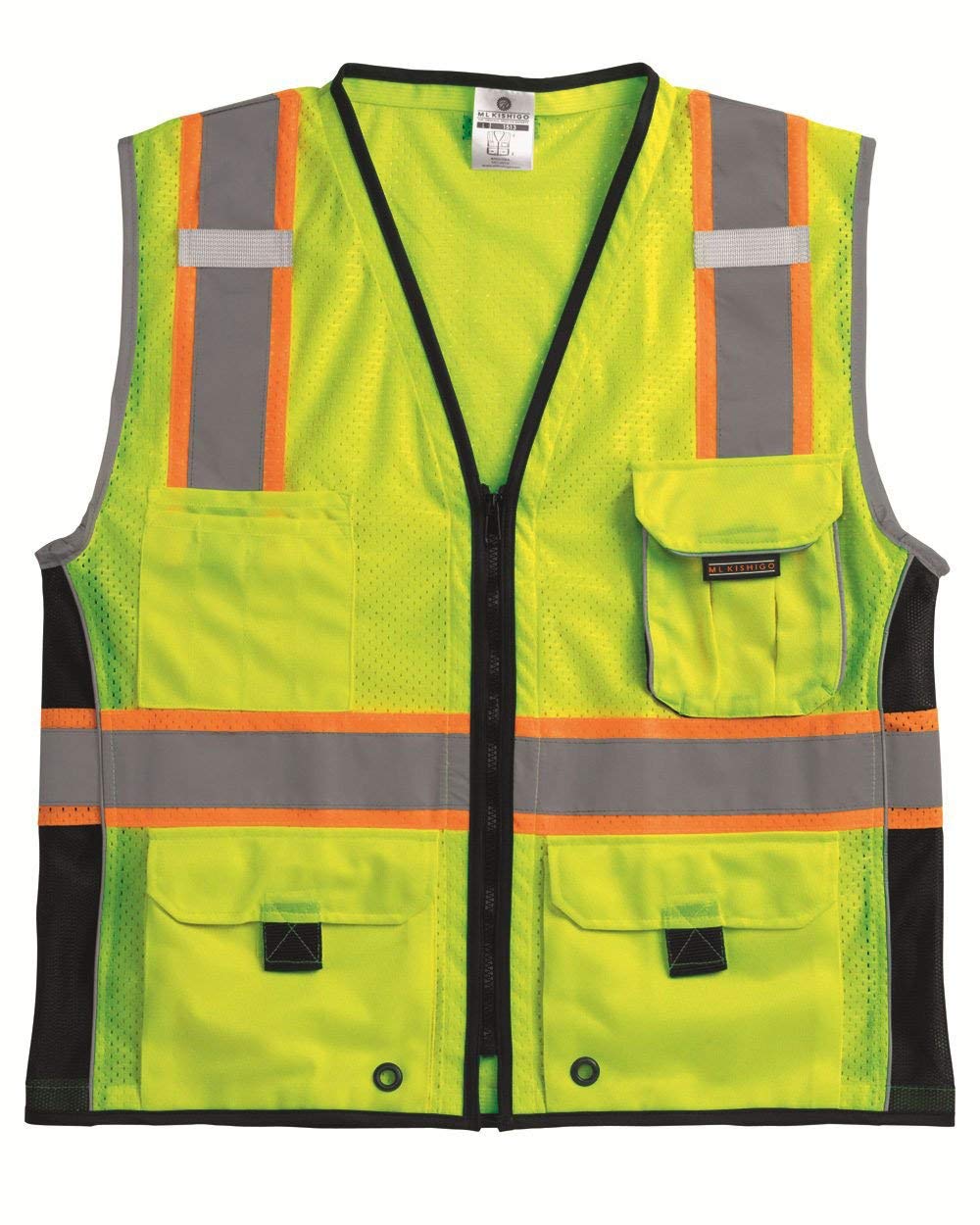 For a vest for a serious worker, we recommend the 1513 which is part of the black series by ML Kishigo. Being heavy-duty vests, they are not only durable but provide greater functionality, unmatched style, and improved visibility. The pockets on this vest stand out, and the sporty look is also quite pleasant.

Pockets – Pockets are not only an excellent addition but quite functional. They can keep your items in hand and increase effectiveness. What's fascinating about the pockets on the 1513 is that they have lower outside cargo pockets. The right chest has a lower 2-tier pencil pocket, while the left chest lower pocket is for gusseted radios.

Sporty look – Who says that safety vests have to be dull. The ML Kishigo adds a sporty look to its garments thanks to the black sides.

Other than the sporty look, and the pockets, you will also love the 100% polyester material. It is soft with no chance of irritation or injuries. The 2-inches reflective element is another reason why you should invest in the 1513. Working in low light condition and at night will be made easier and safer. Also, the vest is ANSI/ISEA Class 2 compliant and is made of durable webbing enforcement to withstand abuse.

Expand to see more
Product Features

Weight: 12 ounces
360® reflectivity
Zipper closure

Who is it for?

The 1513 vest by ML Kishigo is for the serious worker. It is designed to handle abuse, and as such it will suit engineers, surveyors, demolition, and construction workers.
• Durability – The top reason to For projects such as construction and demolition, this is the best for you
The multi-functional pockets increase organization of tools
The sizes are different too and are smaller than the indicated size
9. TR Industrial TR55-3M-L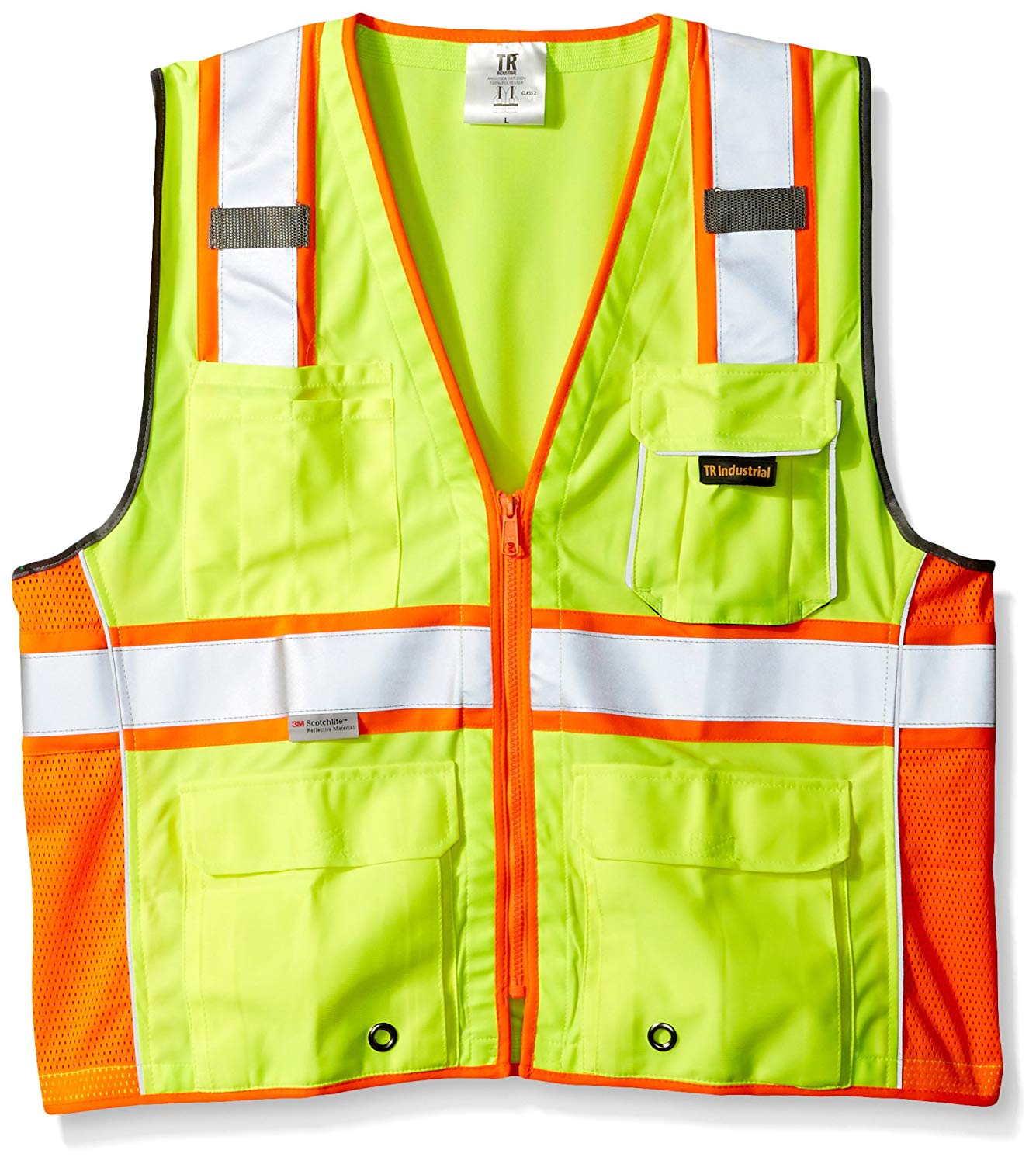 For a high-quality vest that combines functionality, comfort, and convenience, we recommend the TR55-3M. A class 2 ANSI/ISEA compliant vest, you can use it to work in hazardous areas with speeds of up to 25mph. It is 100% polyester and features breathable mesh sides for better circulation. You will also love the premium YKK zippers as they give secure closure. What stood out for us though is the design and the reflectivity.
Design
–The design of the TR55 is simple but quite convenient. It has shoulder straps to hold
radios
, plus multiple pockets for organizing your tools.
Reflectivity
– When working in low light conditions, you need an item that increases your visibility. The 3M Scotchlite tape reflects light ensuring that motorists can see you from afar.
Also, the TR55 is 100% polyester and quite comfortable. You can work for long hours without having to worry about this irritating or injuring you.
Expand to see more
Product Features

3M Scotchlite Reflective tape
100% polyester
ANSI/ISEA Class 2 compliant
Breathable mesh sides
Weight: 12 ounces
Six pockets
Two mic tabs

Who is it for?

The TR Industrial TR55 is for professional workers. It would be a waste to put in such a large sum of money only to use it for leisure activities. Construction workers, engineers, and surveyors will benefit a lot from these.

The reflectivity on this vest makes it safe to use even at night
The YKK zippers are the best in the market and will withstand strenuous activities
The convenience of the TR55 has to be its selling point
They are customizable as long as you reach out to the company
They are light and thus rip up quickly
4. Radians SV55-2ZGD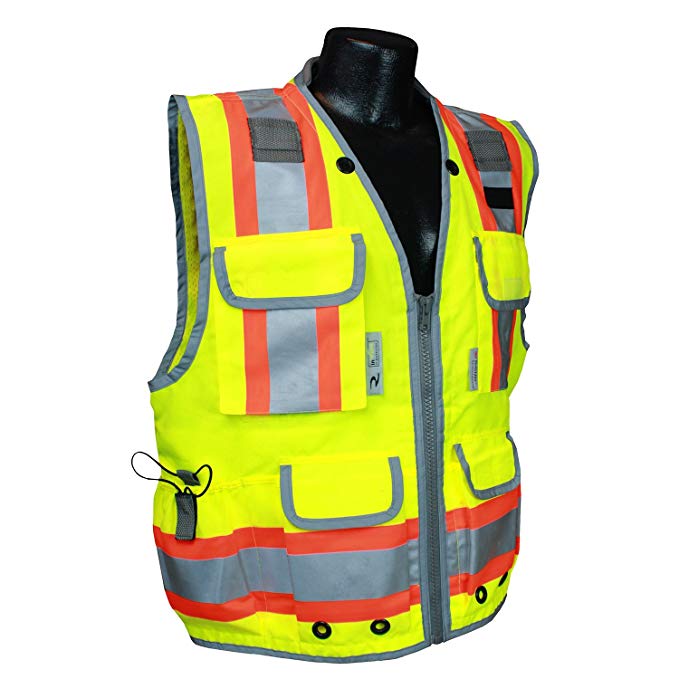 If you work on a construction site or an engineering project, you are likely to identify with the endless wear and tear of safety vests. Therefore, you should consider investing in a heavy-duty jacket, and the Radians SV55-2ZOD is one such vest. As for what stands out most with this vest, it is the two-tone design, and the pockets.

Two-tone design – Most safety vests, use one-tone design with a reflectivity. Though they are still good, they can't offer the same visibility as the two-tone design. The SV55-2ZOD has Orange as its primary color but accompanies it with a 1-inch Neon Yellow trimming between the vest and the reflective tape. This design increases the visibility and safety of work persons.

Multiple Pockets – The six pockets on the SV55 have their various uses. The chest pockets are designed to hold pens and flashlights, while the bottom pockets are for large items such as notebooks. However, the last two pockets are what's most exciting as they are designed to hold water bottles or paint cans.

The Radians SV55 is also lightweight at 8 ounces with a breathable polyester mesh on the back and is ANSI compliant.

Expand to see more
Product Features

Two-tone design with 1-inch contrast trimming
Heavy duty
360® reflectivity
• Weight: 8 ounces

Who is it for?

Seeing as this is a heavy duty vest, we recommend it for persons in construction, demolition or engineering projects where there is a higher likelihood of wear and tear. It can also work well for surveyors.

A vest that can stand the abuse, and this is one such vest
The 360® reflectivity will keep you safe even in low light conditions
One concern is that the upper front pockets aren't correctly configured to hold the items they are required to carry
What you Need to Know about Safety Vests
Classification
Depending on how dangerous your task is, your recommended safety vest may fall into one of three categories. Also, the type of garment may or may not be approved by the OSHA (Occupation Safety and Health Administration), and the American National Standards Institute (ANSI). For low traffic areas, class 1 safety vests are allowed. These are non-ANSI approved and are often Orange, Yellow, or Lime.
However, other colors are allowed for these. Class 2 vests have to be ANSI-approved, and the only permitted colors are Orange, Yellow, and Lime. They are used in higher traffic areas of up to 25 mph, and a great example are those used by police and crossing guards. The final class, class 3, is also ANSI-approved and has to use the same colors for daytime activities. However, you can use Silver and White for night work.
Materials
When purchasing a safety vest, there are three primary materials. The first, and most common is 100% polyester. However, if you are working in sweltering conditions, a mesh safety vest will do as it is visible. The last material is vinyl and should only be considered for the low cost.
Working at night
You also want to get the ideal jacket for working at night. You can use the silver and white class 3 vests or lighted jackets. The first light jacket has a light source that makes it glow increasing the visibility, and the second has an LED that lights up while you work.
Other than reflective jackets designed to keep personnel safe in hazardous conditions, there are others for different purposes. First, we have the water-related safety vest which is solely meant to provide high visibility during water activities and may include some life-saving capabilities. Construction safety vests are also worth looking into. They offer high visibility in areas where heavy machinery is used. For rainy days, purchase the rainwear vest. Visibility drops when it's raining, and you need a garment that can improve your reflectivity when riding on the highway. Finally, you can check out the safety harness vest that is used for air and sea operations.
Things to Consider when Purchasing Safety Vests
Now that you know the various, classes, materials, and the different reflective jackets for different purposes, here are other things to consider before making a purchase.
Purpose
First, you have to abide by the OSHA and ANSI regulations. However, you also have to answer questions as to whether you are buying the vest for women, flaggers, for night work, or for traffic purposes. If it's for flaggers, they are required to be visible from 1,000 feet away.
However, they are not limited as long as the material is retro-reflective. As for nighttime operations, the primary criterion is that the visibility at night is equal to that of traffic vests during the day.
You can achieve the primary criterion for night operations safety vests in one of three ways. By purchasing entirely reflective vests that only use reflective material. You can also accomplish this by using highly reflective elements on the stripes. The material can be mirror-like which shine when exposed to a light source. The last method is to use a lighted vest
Finally, ensure that your jackets are suitable for the different genders. Women need not feel uncomfortable in safety vests.
Pockets
Pockets are quite handy especially if you will be working. You might require them to keep a walkie-talkie or tools that you need at hand. Say a voltage tester.
Local Factors
Finally, you need to pick a color that will distinguish you workers from other items on the site. E.g., say the cones are yellow, and the machinery is green, workers should wear reflective vests that are Other than the items, consider the environment as well. Forests are Green, and therefore workers should wear garments that are Orange or Yellow. The opposite applies if you are working in towns. Wear green jackets as urban areas are full of Yellow and Orange items.
FAQs
How can I tell if a vest meets the ANSI/ISEA standards?
First, any vest that is compliant or meets the above standards has to have a performance class and type label. Also, you can ask for the declaration of conformity. This is a document that all manufacturers are required to complete showing that the material has been tested and meet the standards requirements. Also, the declaration of conformity shows that the materials have been tested to the industry standards.
When should I wear a safety vest and what other safety features are offered with safety vests?
As for when you should wear a safety vest, it's whenever you want to be seen and especially for persons working near or on moving equipment. The high visibility garments reduce the likelihood of fatal accidents. As for other safety features, most of these are designed to quickly tear off in case a person is in a dangerous situation. Also, some are flame resistant.
How can I tell if a garment is flame resistant?
Manufacturers can have the safety vests tested for flame resistance. The ANSI/ISEA standards state 2 NFPA and 4 ASTM standards as the methods to check for flame resistance. Also, the ANSI/ISEA label shows the flame resistance of the vest. If the ANSI label doesn't indicate flame resistance, check for a separate NFPA 1977 or 2112 label as these require an independent tag. Finally, both ASTM D6413 and MFPA 701 cannot be used as a standalone certification for flame resistance.
When should safety vests be replaced?
Quality reflective jackets are designed to serve you for a long time and go through several washings without wearing down. However, the garments should be replaced whenever they become less efficient, or the reflective bands loses its reflectivity.
Conclusion
High visibility vests, otherwise known as reflective jackets are a requirement in any industry where there is the need to be seen. From surveyors to engineering, to construction and demolition works, these will keep you and your workers safe. There are various classes of reflective gear to for multiple purposes so get one that suits your needs.
As for the buying guide, these are some of the best safety vests currently. We have covered all the bases from the basic garments to more durable surveyor vests. The manual should help you make a quick purchasing decision or break a tie between two garments. You can also check out the things to look out for when making a purchase. Finally, if you feel there is something we have missed, let us know in the comments below.
Subscribe to our newsletter