Best Solar Battery Chargers Reviews & Ratings
last updated:
Apr 06, 2021
Venturing outdoors is a great way of rejuvenating yourself in a world that's increasingly becoming more hectic. You just want to plug off and enjoy the great outdoors. While it takes you off the grid, you'll still need to bring with you a few electronic devices such as a GPS-enable smartphone to help with navigation or a camera for freezing the stunning sunset or sunrise to share later with friends and family. Powering these devices can be a real challenge seeing as there are no power outlets in the great doors.
Our Top 3 Picks
[srpshortcode id="16458″][/srpshortcode][srpshortcode id="16459″][/srpshortcode][srpshortcode id="16460″][/srpshortcode]
Here is where a portable solar charger enters the scene. They help you harness the power of the sun to recharge your devices for a couple of hours a day. Unlike portable generators, they are lightweight and compact and therefore highly portable and rely on the free, unlimited solar energy, which means they cost nothing to run. Considering the difficulty with which it is to choose a suitable portable solar charger from the market, considering their ubiquity, we put together a comprehensive but brief guide to impart on you the requisite knowledge to help you make an informed decision.
10 Best Solar Battery Chargers
1. Anker PowerPort Solar 2 Ports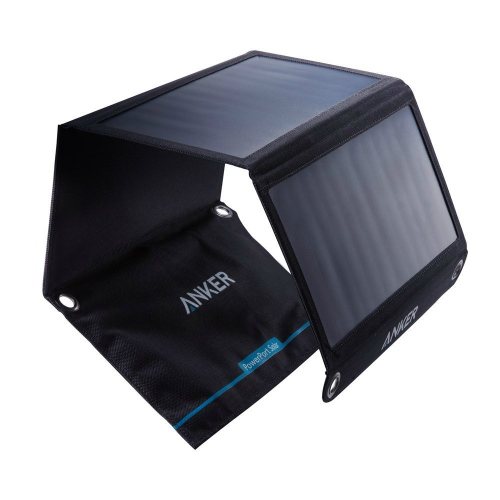 For the person in search of an industrial-grade and durable option, let's introduce you to the workhorse that's the Anker 21W. It's a high-performance unit that traps and harnesses the free, limitless power of the sun to keep your mobile device running with a full charge, allowing for trouble-free use until the wee hours of the morning before the sun starts rising again. The device also features an ideal design and is jam-packed with impressive technological features to give you the best outdoor experience. Read on to find out more.

The most outstanding features is its remarkable performance for a device that's both lightweight and compact. It comes with the innovative PowerIQ technology that works by detecting the speed at which your electronic devices charges the fastest. Consequently, it's capable of delivering a maximum of 2.4 amp for each of its two ports or 3 amps with direct exposure to the sun. And since it comes with dual ports, it can charge two devices simultaneously, the catch being only when the sun is shining – it doesn't store power for later use.

Expand to see more
It features rugged construction to enable it to withstand the harsh conditions of the great outdoors. The sawing of ultra-strong PET plastic faced solar panels into high-wear polyester canvas allows it to gracefully withstand all types of outdoor conditions. The polyester is water-resistant but is susceptible to moisture, which could spell doom for the internal electrical parts.

The portability and ease of installing it are yet other features that make it an ideal choice. The device is lightweight and compact and fits with ease in a daypack. It's also easy to attach to a backpack or a camping tent as it comes with durable stainless-steel eye-holes on all four corners. Installing should be snap, even to greenhorns.

In addition to packing novel and innovative features, the Anker charger also features high-quality construction and is rugged to withstand the rigors of the outdoor environment. It charges efficiently and is remarkably portable. A must have for the outdoor, technology-loving enthusiast.

Durable and weatherproof construction
Comes with a long USB cable for charging
Exceptional value for the money
Charges numerous USB devices
Not ideal for cloudy environments
Difficult reaching optimal performance
2. Solar Panel X-DRAGON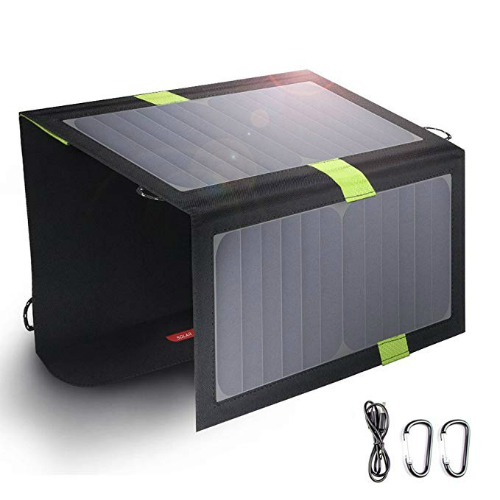 The Solar Panel X-Dragon charger has a deceptively small and lightweight profile, completely bellying its powerful and efficient energy conversation rate. Unlike the previous pick that will figuratively leave you in the dark when it's cloudy, this model still manages to harness the power of the sun even with clouds hovering above. The system is a cost-effective and eco-friendly way of staying off the grid without losing your connection to the world around you.

It has a litany of features aimed at delivering the best performance no matter where the user is. One such feature is the patented SolarIQ technology that comes with a factory-installed smart IC chip enabling it to automatically adjust the current and voltage to deliver optimal power. Under ideal conditions, the device delivers a current of up to 2-amps for each of its two ports or a combined output of 3-amps when directly exposed to the sun. Its outstanding performance means your devices will always have a fully charged battery during the day when you're out.

Expand to see more
Another distinct feature is its incorporation of the game-changing US SunPower solar cell that easily attains an efficiency of between 22 and 25 percent. Such energy efficiency enables it to be 50 percent more productive than the average models on the market whose efficiency standards at a it the portable solar charger has two USB ports so the user can simultaneously charge two devices.

To be truly portable, a solar charger has to withstand the harsh outdoor conditions and feature a lightweight and compact design. Luckily, the PET solar panels have a robust high-wear Oxford fabric that withstands all adverse weather conditions, including the torrid heat of the summer and the frigid temperature of the winter. And it's both lightweight and compact.

The Solar Panel X-DRAGON is a solid choice for users looking for a powerful, efficient and smoothly running portable solar charger. It's both cost-effective and eco-friendly and best of all, it's highly portable.

Powerful and efficient charging
Has a carabiner for easy installation
Very portable design
Works even partly cloudy environments
A little heavy
Ineffective when charging two devices simultaneously
3. Voltaic Systems Amp Rapid Charger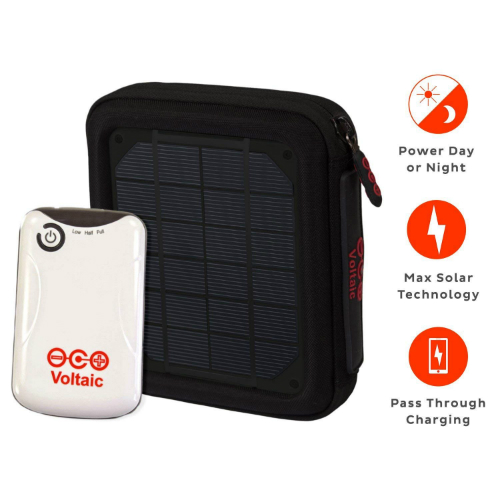 The Voltaic Systems charger is among a handful of options that perfectly combine portability and power, making it possible to stay off the grid for as long as it takes without losing connection to the world. Despite coming third on the list, it has the convenience of packing a battery pack for the quick and safe charging of your devices at any time during the day and night. The ingenious design of the system allows for the storage of solar energy during the day for powering your electronic devices when it gets cloudy or when the sun finally sets.

A second unique selling point is the hardy, fastidious construction quality. Outdoor enthusiasts will appreciate the fact that the device is built to last more than a lifetime with proper use and maintenance. Construction is done with robust and durable fabric and the solar panels are ultra-strong to easily weather the strongest outdoor conditions without the slightest drop in performance or durability. And to make the deal even more attractive, the manufacturer throws a generous 24-month warranty into the mix to give you cover against deficiencies in material and craftsmanship.

Expand to see more
It sports high-quality monocrystalline solar panels that provide for fast and efficient charging in a fraction of the time it takes cheap, off-brand models on the market. Directly exposed to the sun, the portable solar chargers take a paltry 3.5 hours to fully charge your smartphone, a far cry from the more than 5 hours it takes with run-of-the-mill models.

The ultra-light and compact design is yet another reason to consider it for purchase. With a weight of only 1.1 pounds and dimensions of 6.5 inches by 5.5 inches by 1.5 inches, it takes up minimal space and fits securely and with ease in virtually all bags. As a result, you can bring it anywhere with you. And best of all, it's compatible with a wide range of electronic devices besides smartphones.

It's ultra-light and compact, waterproof, and cost-effective and comes with a high-capacity power bank to keep your devices running even after the sun sets.

Highly portable
Waterproof design
Comes with backup battery
Built to last
Ineffective battery LED light monitor
4. Solar Charger RAVPower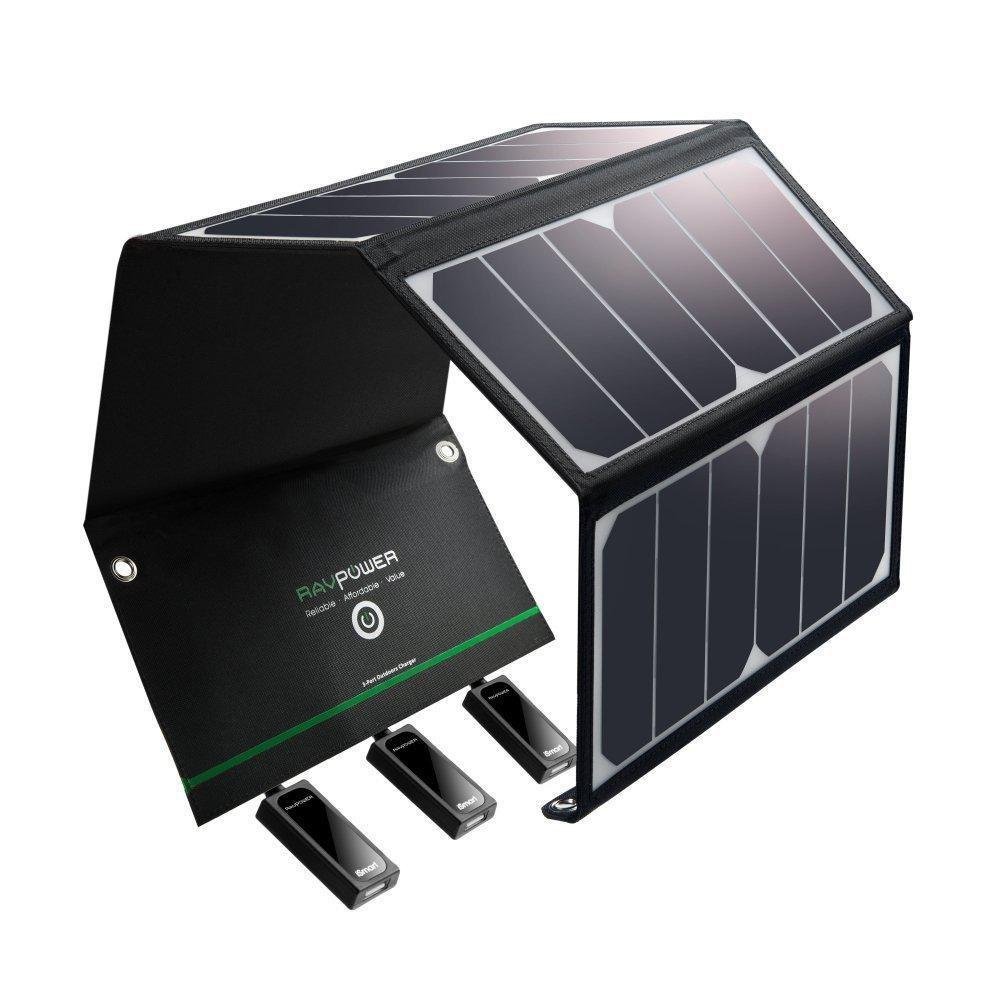 Thinking of going off the grid but can't afford to go a minute without your smartphone? Worry not because the RAVPower 24W Solar Panel has your back. It qualifies for outdoor use in light of its compact and lightweight design and the fact that it features a rugged and robust construction to withstand all the adverse conditions Mother Nature can throw at it. Now, let's deconstruct this device to reveal the features and specs that make it stand out.

For effective and flawless use in an outdoor setting, a portable solar charger has to feature a rugged and sturdy construction quality. This one comes with components made from hardy materials and is built to last, even with frequent use in the toughest environments. The high-quality construction makes it an ideal choice for all outdoor expeditions and will keep your devices powered throughout.

Expand to see more
As for performance, it combines its signature solar cells with an exclusive iSmart technology to keep your devices sufficiently powered. The technology makes the solar cells more efficient by up to between 21.5 and 23.5 percent compared to ordinary cells, meaning that it charges much quicker and for longer. The device also comes with three, instead of two, USB ports all of which feature the iSmart technology that works by automatically detecting and delivering maximum charging current. A single port delivers up to 2.4 amps while together they generate 4.8 amps with a direct exposure to the sunlight.

The Smart IC frequency technology also gets to benefit the user by detecting and uniformly distributing output current to all the three ports. As a result, all your three connected devices get to charge at a similar rate. Additional instrumental features include ease of installation on multiple surfaces and remarkable portability, considering that the machine is both lightweight and compact enough to fit easily into most backpacks.

The panel stands out for several reasons. Aside from being highly portable, the device is also cost-effective, easy to set up and disassemble after use. It packs several technological features to ensure your devices are charging smoothly and is waterproof. At its price, it's an unbeatable deal.

Has pockets for protecting your device
Has metal eyelets for easy and quick installation
Compact, foldable design
Best for outdoor activities
5. SOKOO 22W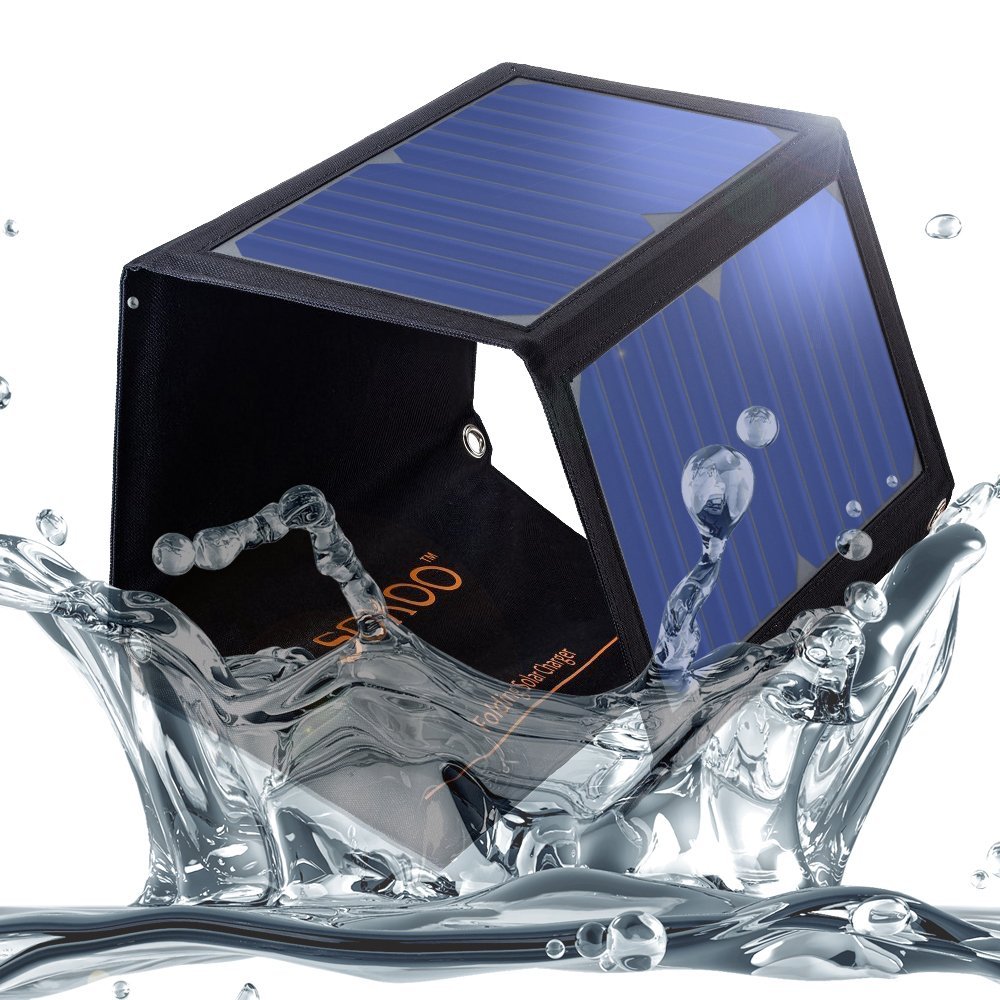 It's not every day that you come across budget-friendly, high-performance, and durable chargers, especially considering that the market is full to the brim with cheap, flimsy, and weak variants. The Sokoo 22W is exceptional and features an industry-best construction quality that'll last for several years in virtually all outdoor settings. Because it's waterproof and is made with rugged high-wear PVC fabric canvas, you can confidently take it with you on a wide range outdoor activities and not once will you experience any performance hitches. Besides water, the portable solar charger is built to weather the harshest environmental conditions, including but not limited to thunderstorms and high humidity.

The high conversion efficiency is yet another outstanding feature. With a solar energy conversion efficiency that more than twice that of cheap, humdrum models on the market, you'll be getting electronic devices fully charged in a fraction of the time it takes the said flimsy models. The device comes equipped with a useful smart IC chip accurately identifies the power needs of a connected device and automatically adjust power flow to optimal levels to speed up the charging process. The automatic continuous monitoring of sunlight levels and the subsequent automatic adjustment of charging speed brings to an end the days of overcharging and inadvertently overloading your device.

Expand to see more
For the person who doesn't want to be weighed down by too much weight, the portable solar charger is an ideal choice. The compactness and lightness of the machine make it highly portable. Aside from a foldable design, the charger also comes with four copper-ally eye-holes in all corners to make it easy to install on different surfaces and objects including but not limited to backpacks and trees.

In all, this is one of the best options out there offering the user a myriad of useful features and specs for trouble-free and efficient charging of different electronic devices. Going by the reviews, not once will you regret your purchase.

Works powerfully and flawlessly
Durable construction
Charges up to two devices simultaneously
Highly portable
Charges slowly when it's cloudy
6. Nekteck 21W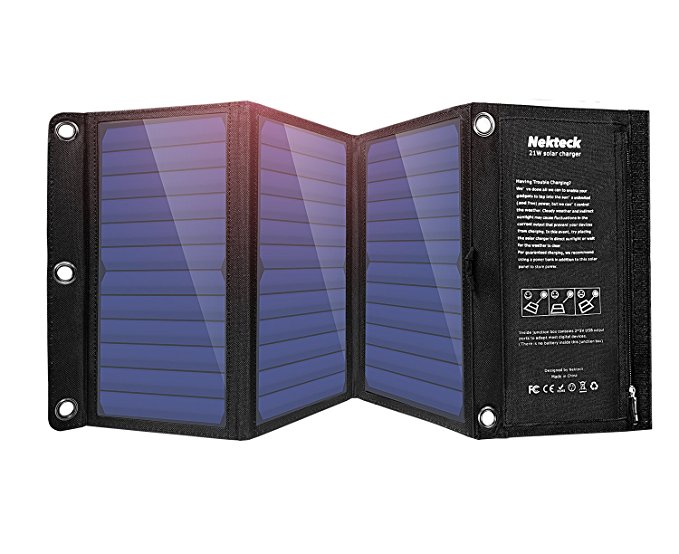 The Nekteck 21W features three exceptionally energy efficient monocrystalline panels that make short and quick work of charging different electronic devices. The three solar panels have a combined power output of 21 Watts and together achieve an impressive power conversion rate of between 21 and 24 percent. In light of the efficiency, the system supplies enough power for quickly and efficiently charging two devices simultaneously, which in turn helps to cut down the charging time for people with multiple devices.

The charger is yet another option that comes with a built-in IC chip for identifying the connected device and seeking to optimize the speed at which charges. A single port delivers up to 2-amps of power but together they provide 3-amps, enough to charge the vast majority of smart devices including smartphones and tablets.

Expand to see more
The outdoor environment is not a friendly one, albeit to electronic devices like portable solar chargers. This one features first-class construction to protect it against the vagaries of the outdoor setting, ensuring it lasts for several years on end. Its canvas, for instance, is ruggedly durable and hence capable of withstanding adverse weather conditions. Unlike cheap variants on the market masquerading as portable solar chargers, this one won't suffer any damages even with constant exposure to damp conditions.

If the above concrete reasons don't sway your purchasing decision, wait till you hear about the product's portability. It is very lightweight, weighing a paltry 18 ounces and boasts a compact design, with dimensions of 6.3 inches by 11.1 inches by 1.06 inches when fully folded. It fits easily into a backpack and other storage spaces and will be easy to store away at the end of the outdoor expedition.

The Nekteck 21W is a worthy investment for all intents and purposes. It's portable, boasts a high conversion rate and comes with an 18-month warranty. While it's lightweight and compact, it's sufficiently rugged to withstand the vagaries of the outdoor environment.

Lightweight and compact, hence portable
Very efficient performance
High-quality construction
Only 21 watts power rating
7. AUKEY 28W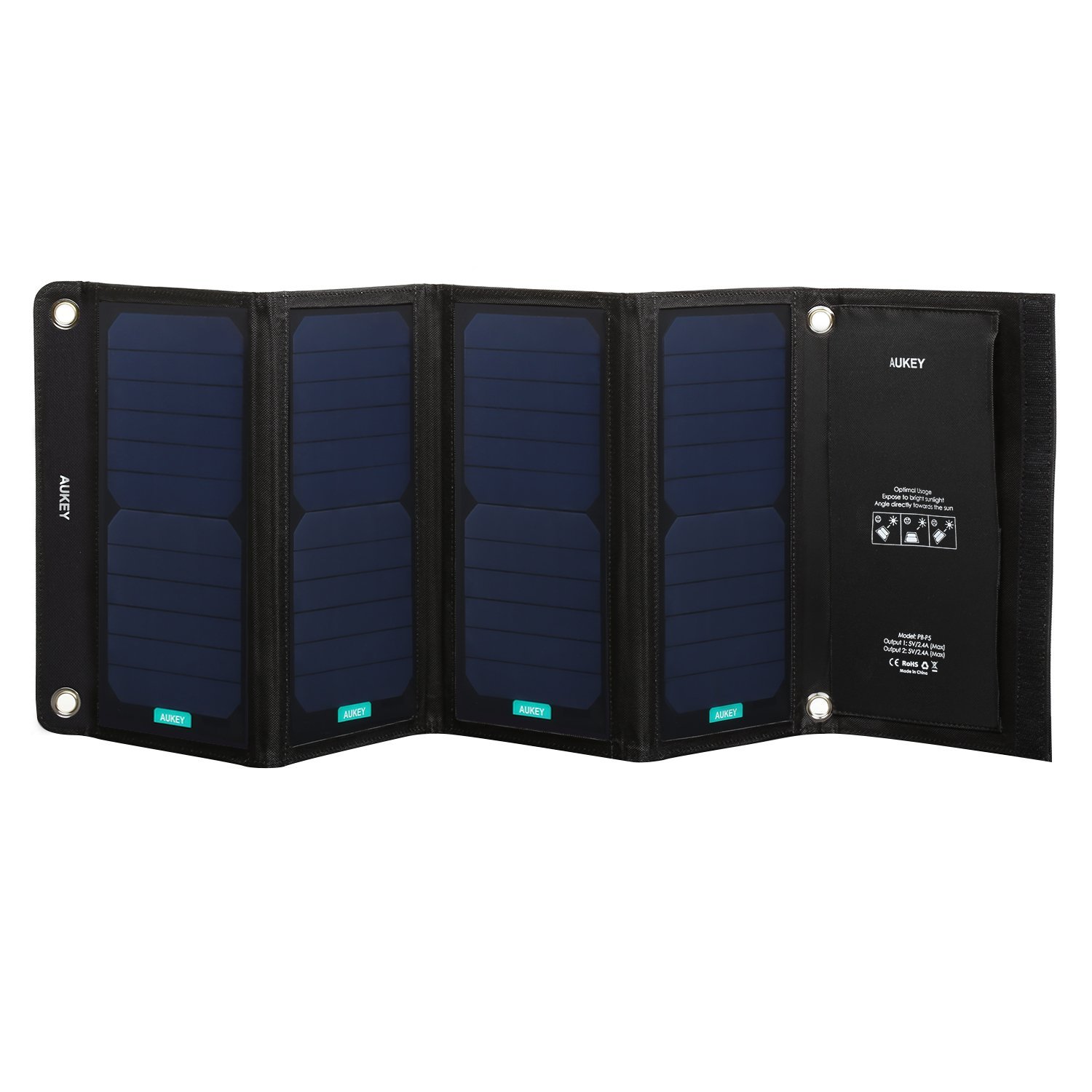 If you're looking for a durable option with a tough and rugged design and capable of weathering storms, thunderstorms, and extreme temperatures, look no further than the Aukey 28W charger. It is a product you can confidently take anywhere with you, and when the conditions get tough, it'll pull through without the slightest scratch or performance hitch. And it comes with filled to the brim with a slew of performance and convenience features to make your outdoor stay a success.

It is an economic and eco-friendly way of powering your devices when you're off the grid. Sun power is both free and unlimited and harnessing doesn't dent your pockets as much as other alternatives, like a portable generator, for instance, would. And it's quite easy to use. And it comes with two stands for keeping it perpendicular to the sunlight. Provided it's directly exposed to the sun, it'll start charging your devices immediately.

Expand to see more
The high energy conversion rate makes it a more efficient option. With an ability to convert up to 23.5 percent of solar energy into electric current, the portable solar charger easily overshadows weak and flimsy models on the market, providing a much faster charging time. The high conversion rate pairs nicely with the machine's dual USB charging. The two charging ports provide a combined power output of 4.8-amps, enough to charge two devices simultaneously in no time at all. Consequently, you don't have to worry about your battery running out.

As mentioned in the introductory paragraph, it features a durable and rugged build. The fact that it's waterproof, for instance, makes it the best companion on a number of occasions. It's also able to withstand adverse weather and environmental conditions in the roughest of environments. And did we mention that it's both lightweight and compact for hassle-free portability and transportation?

It is truly deserving of a spot on this list. It keeps your device powered all through the day for later use. Its foldable and lightweight design means you can take it places, friendly or tough.

Economical and cost-effective pricing
Remarkably efficient and durable
Provides dual USB charging
Easy to set up and use
8. Instapark Mercury 10M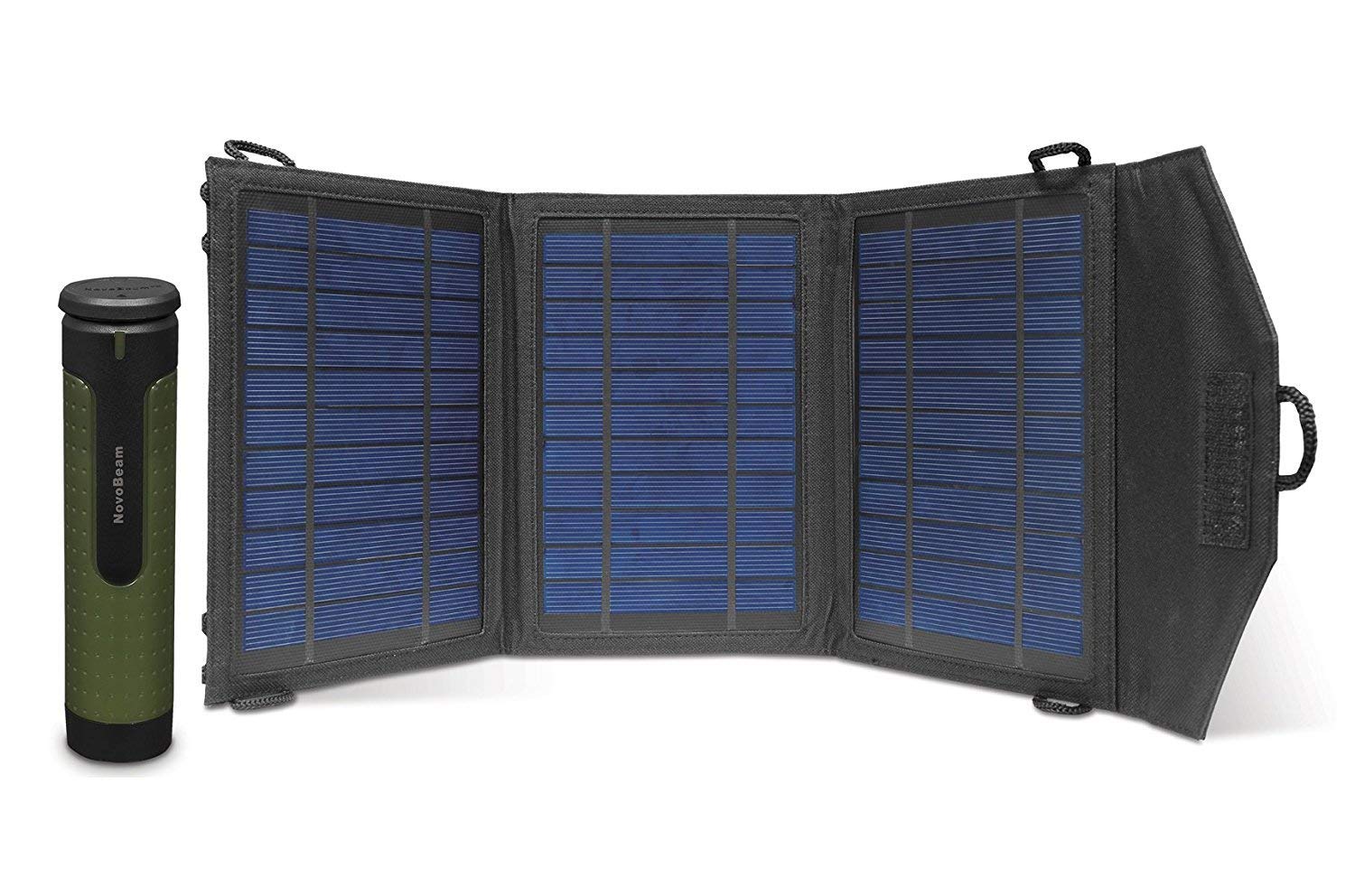 If you want to be able to charge your devices long after the sun goes down, then investing in the Instapark Mercury would be a prudent decision. It comes with a high-capacity 3000 mAh portable water-proof USB battery pack so that your devices never run out of juice while you're rejuvenating in the great outdoors. For a detailed review of this feature and several more, continue reading.

The charger comes with three high-quality and rugged solar panels that convert the unlimited power of the sun to useful energy that you can use to recharge several mobile devices when you go off the grid. Because the three solar panels total 10 watts, they're also ideal for powering the said devices when there is a power outage or if a disaster strikes. As you can glean from this, the portable solar charger is an all-around device that's not just ideal for the outdoors.

Expand to see more
It is one of the most portable products we've reviewed so far. The device weighs a paltry 16 ounces without the battery pack and when folded, it assumes dimensions of 9 inches by 6 inches by 2 inches. It's also compact and fits securely and easily into the vast majority of purses, messenger bags, and backpacks. Unfolded, the product measures 9 inches by 22 inches by 0.5 inches, boasting an incredible surface area for trapping more solar power. The thinness and lightness of the device's design allow you to transport it with remarkable ease from one outdoor activity to another.

Other chargers pale into insignificance when compared to this one. The device features a sophisticated design and engineering and incorporates dual-USB charging ports so you can directly charge your devices without fear of overcharging or overloading it. And by dual standard USB ports, the manufacturer means that you can simultaneously charge two devices.

This is a solid choice for the outdoor enthusiast keen on keeping their indispensable mobile devices running. The device is rugged and durable and with a combined 10 watts and dual USB ports, will easily and quickly charge the vast majority of mobile devices.

Budget-friendly pricing
Lightweight and compact
Fast and efficient charging
Capable of charging two devices simultaneously
A poor quality battery pack
10. Goal Zero Guide 10 Plus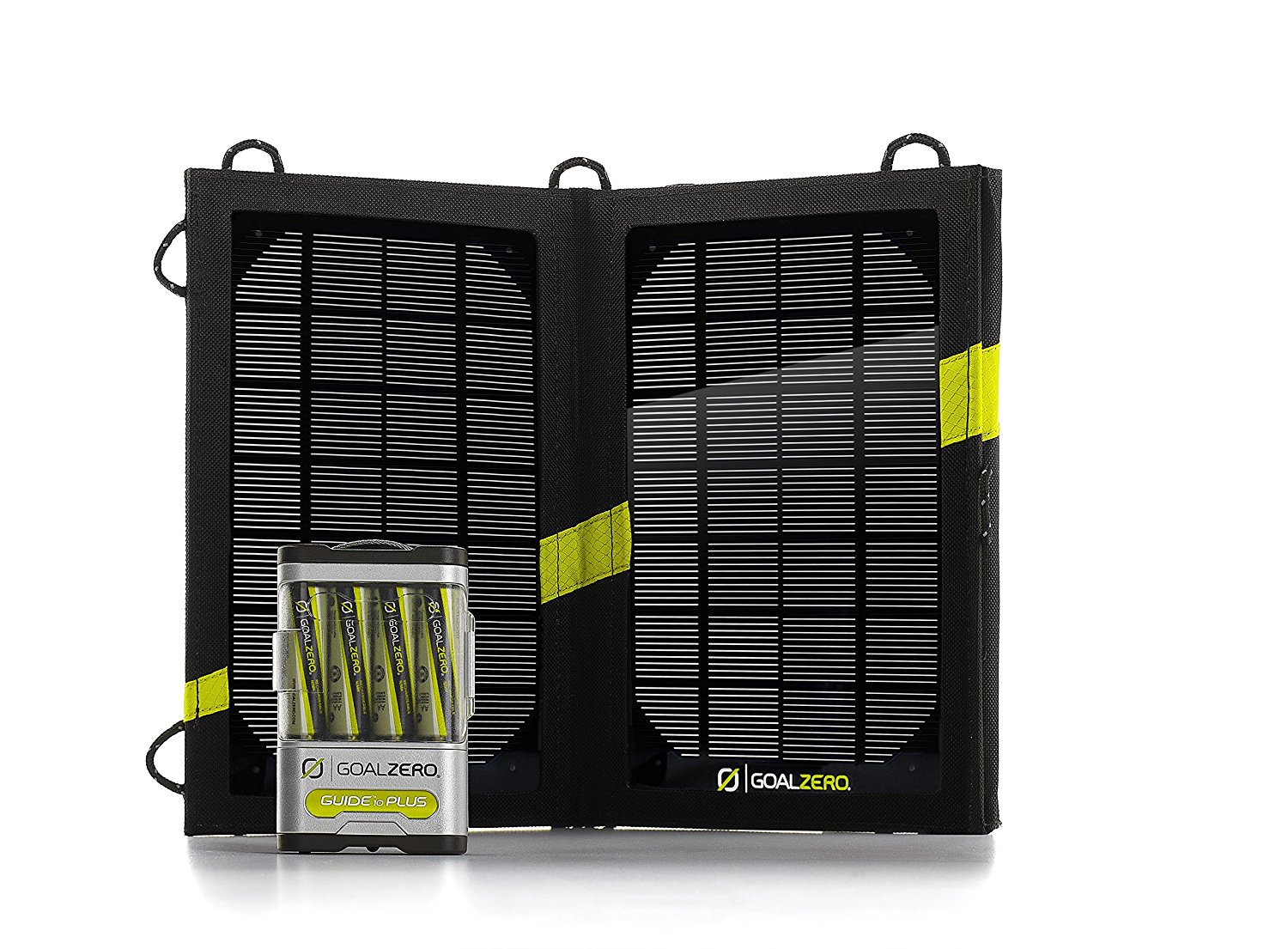 For a majority of portable solar chargers, the setting of the sun means you can no longer charge your mobile devices. The Goal Zero Guide 1kit is, however, a pleasant exception as it comes with a rechargeable battery pack that conveniently stores solar for later use. You'll still be able to charge your phone, camera, and GPS, among other electronics as the device boasts an impressive capacity of 2300mAh.

For an efficient charging experience, the kit also contains a Nomad 7 Plus Solar Panel that incorporates a game-changing technology allowing you to directly charge your device by connecting them to the USB port. The likelihood of overcharging or overloading your device is non-existent as the kit also comes with a smart junction box for preventing the two possibilities. You, therefore, don't have to come from a trip with a cooked battery that needs replacing. In addition to charging your mobile devices, you can similarly recharge your power banks during the day and use them later to recharge your mobile devices. It's this convenience and efficiency that makes the portable solar charger one of the best portable solar chargers on the market currently.

Expand to see more
The kit has a pretty decent user interface and two ports, USB and Mini solar, for recharging your batteries. It also comes with a small light to help you illuminate your surroundings when it becomes pitch dark and another
light indicator
for conveniently monitoring the power status. Red means power is low while green conversely means you have enough.
It is also built to withstand the rigors outdoor environment. It boasts a weather rating of IPX6 meaning that it's capable of withstanding rain, extreme temperatures, and other harsh environmental conditions. The rugged and durable construction makes it an ideal choice to bring to most outdoor activities. And for ease of use, you get a convenient removable pouch and kickstand for positioning it properly in the direction of the sun thus optimizing exposure. Plus, it has six copper-ally eye-holes spread evenly along its two lengths to allow for easy and quick installation.
There are more powerful and portable options out there but our tenth pick, but this one easily holds a candle to its competitors. It charges quickly and efficiently and is remarkably easy to use. Plus, it's cost-effective and economical to run.
Has a USB rechargeable power bank
LED light makes for easy use
Rugged and durable construction
Charges quickly and safely
9. Solar Paper + Pouch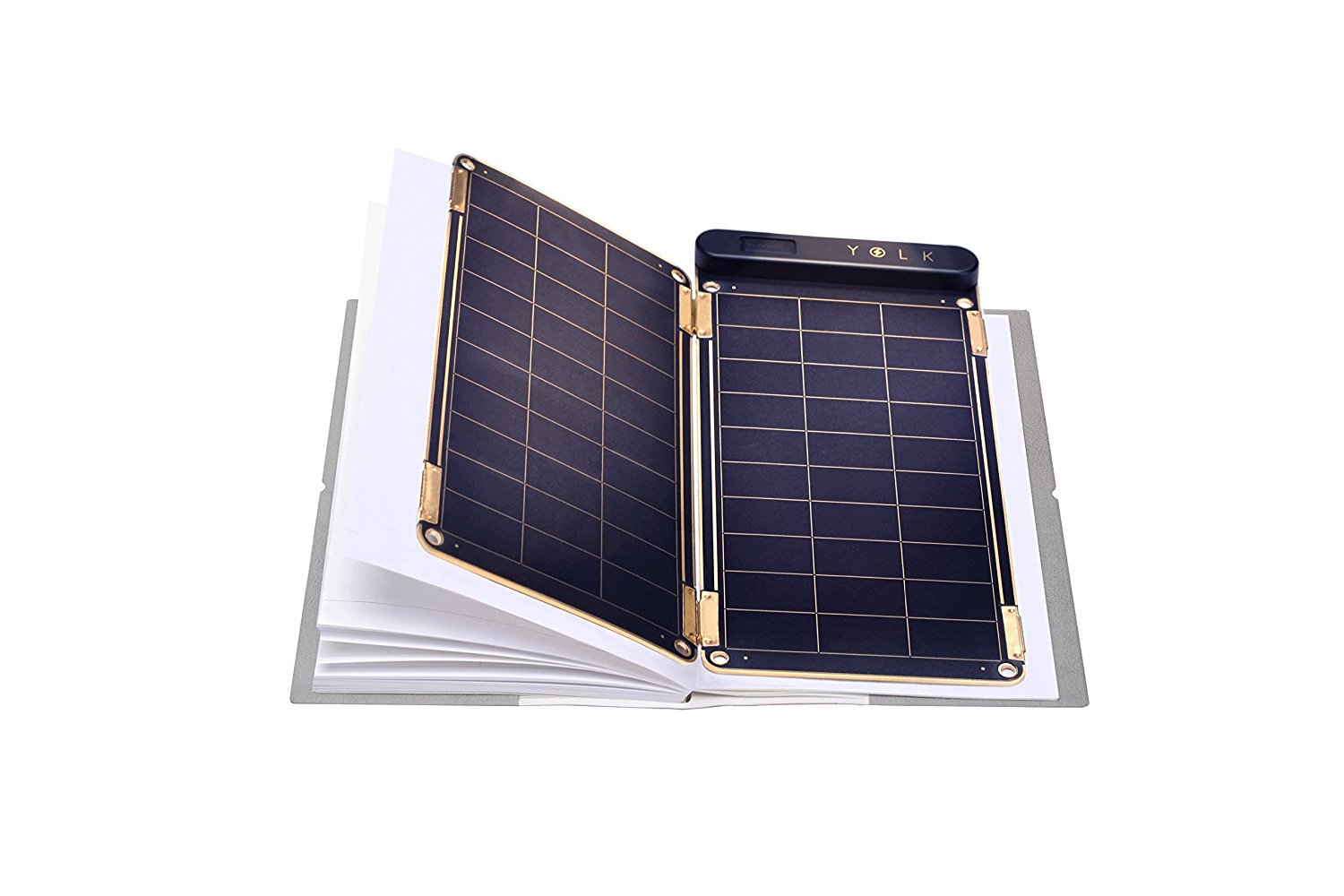 The device is not only lightweight and compact but also powerful as it features an ingenious magnet-secured,
modular design
that allows for the addition of extra solar panels to meet your off-grid energy demands. One highlight we'll quickly mention before delving into an in-depth review is the fact that the device comes with an auto-resume feature for when the sun is not shining optimally.
It features a head-turning charging technology that makes it one of the most efficient options in the industry. The device boasts a high energy conversion rate and is efficient to 23.7 percent. To this add the fact that the incorporation of magnets allows for the addition of more solar panels, thereby upping the total watts and power. The implication of the innovative design is that your devices will never run out of power as long as the sun is shining, and they'll be able to charge more efficiently and quickly.
Expand to see more
For a solar charger to prove as portable, it must be lightweight and compact, so transporting or moving around with it is a hassle-free endeavor. Luckily, the portable solar charger meets this criterion. Its physical dimensions stand at 7.5 inches by 3.5 inches by 0.4 inches and it weighs a paltry 4.5 ounces. Consequently, it takes up minimal space in a backpack or toolbox. The device is also resistant to water and dust, but be careful not to let the water come into contact with the USB-port as it could cause corrosion and rust.

Everything about it is outstanding. It's portable, attractive, cost-effective, provides a quick charge time, and best of all, you can add more power by connecting additional solar panels. No regrets here whatsoever.

High-end construction for a long lifespan
Allows for adding more solar panels for powerful performance
Easy to use
Charges quickly and efficiently
Magnets are a little weak
Criteria for Choosing the Best Solar Chargers
Performance
You want to invest in a unit that's both powerful and highly efficient at charging, which inevitably brings us to wattage. The higher the wattage the more powerful the portable solar charger. The vast majority of these devices have an efficiency range of between 20 and 27 percent, which is the solar energy conversion rate of the solar panels.
A higher percentage obviously means greater efficiency. For the best outdoor experience, you want nothing short of a model that is both efficient and powerful, and the best way of ascertaining these is by checking the chart that comes with the product, consulting a professional or better yet, calling the company. Also, make sure to check whether or not the charger is compatible with your devices.
Portability
The second most important consideration is the extent to which the model you're enamoured of is portable. Under portability, you'll need to consider how lightweight and compact the model is and the available carrying options. An ideal choice should not weigh you down as you walk around and should install easily on the back of a backpack so you can recharge your device while on the move. And for that to be a possibility, the device has to come with eye-holes or carabiners.
Construction Quality
The outdoor environment is a harsh one, which makes all the more important that your portable solar charger is equally rugged and durable. The device should be able to withstand great impact and scratches occasioned by an accidental drop. It should additionally be water or rainproof so that when the heaven abruptly open without warning, the device is not damaged in any way. Being an electronic device, the likelihood of overloading or fluctuations in wattage and voltage can easily spell doom to the internal electrical circuit. The portable solar charger should incorporate a way of protecting itself from these likely possibilities.
Frequently Asked Questions
Q: Can I connect my electronic device directly to a portable solar charger?
A: That will depend on the design of solar charger you're using and whether it has any safety features to prevent over-loading and over-charging. Modern models come with intelligent technologies such as a smart IC chip for automatically adjusting the current and voltage to deliver optimal power. The feature allows for a direct connection. Check with the company before trying this, though.
Q: How effective are solar panels on cloudy days?
A: For solar panels to work, even slightly, they need to be exposed to solar power. So when clouds get in the way of that, they essentially stop being effective. There's no way of circumventing this, though.
Conclusion
As this buying guide makes so absolutely clear, there isn't a solar charger that's the absolute best. And while picking out one from a market full to the brim with various models, types and sizes can be intimidating, ensure you match your choice to your unique off-grid power needs. As a rule of thumb, cheap models lack the durability, power, efficiency, and ease of use that comes with buying a high-end model. So, don't hold back; go all the way.
Subscribe to our newsletter