Best Welding Glasses Reviewed & Tested
last updated:
Jan 09, 2019
A pair of heavy-duty and high-performance welding glasses are an indispensable extension of any welder's safety arsenal. Left to their own devices, IR and UV light, and extremely bright arc light can do a lot of irreparable damage to the eyes. Other dangers include fast flying debris and particles. So unless you can weld when blind, you should make a point of religiously wearing highly protective welding glasses to prevent eye injuries.
Our Top 3 Picks
[srpshortcode id="20881″][/srpshortcode][srpshortcode id="20882″][/srpshortcode][srpshortcode id="20883″][/srpshortcode]
Welding glasses have shades ranging between 5 and 14. It's your responsibility to match the shade to the welding, cutting, or grinding project you intend to undertake. If you don't have the slightest clue, it's alright because we're here to make that easy for you. For the next few paragraphs, we'll diligently walk you through some of the best welding glasses the market has to offer and their various levels of protection to help you make the right choice.
10 Best Welding Glasses
1. Jackson Safety 3004761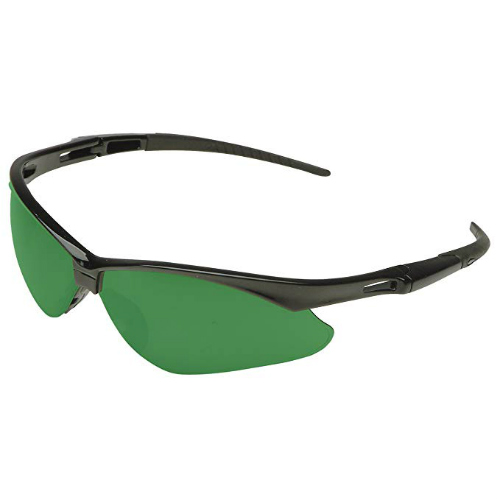 Constant exposure to bright lights can adversely and irreversibly affect the sensitivity of your eyes. With that in mind, Jackson Safety 3004761 are built to offer the eyes the best protection against harmful UV light. As well as boasting a CE certification, the welding glasses also meet ANSI Z87.1+ Impact Standard. Their performance doesn't come close to those of auto-darkening helmets and other high-end models on the market, but if you're working on a budget and need the best money can afford at this price range, these will suffice.

Few options try and succeed at balancing performance, design, and ease of use. Unless of course, that brand is Jackson. Being its flagship welding glasses, they are jam-packed with a litany of features to provide the user with the best protection from harmful UV rays. The single lens offers the user exceptional visibility and unobstructed peripheral vision. Easily exceeding industry and customer expectations, they effectively filter out up to 99.9 percent of harmful UV and IR rays, which translates to iron-clad protection for the eyes. You can therefore confidently and safely weld with these on for hours on end without worrying about any harmful repercussions to your eyes. Note however that because they have a shade rating of 5, they're not the best for MIG or TIG welding.

Expand to see more
To the single lens wrap-around protection add a sporty and sleek look that's guaranteed to appeal to those who prioritize aesthetics. The Jackson Safety 3004761 also feature a lightweight construction that's complemented by the soft-touch temples and the ease with which they fit securely over the eyes. They're even compatible with prescription glasses and the neck cord is comfortable and easy to adjust for a secure fit.

For welders looking for options for undertaking light- to medium-duty welding projects, these Jackson Safety 3004761 come highly recommended. Besides their unsuitability for heavy-duty dark welding, they work like a charm.

Comfortable templates
Lightweight
Commendable 99.9 protection
Compatible with prescription glasses
Not ideal for heavy-duty welding
2. Miller Electric Shade 5.0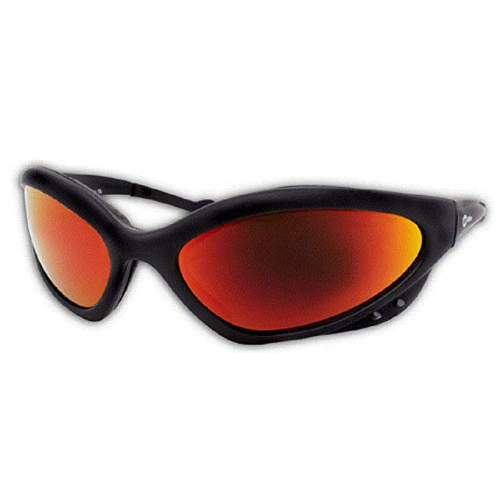 Our second choice has got to be these high-performance Miller Electric Shade 5.0. Like our first pick, they come with shade 5 lenses to provide your eyes with the protection they need from harmful UV rays. Similarly, they're cost-effective, meaning that your wallet won't take a hit and in light of their high-end construction, they'll provide you with several years of
exceptional protection
. After the break-in period, don't be surprised if you'll be finding yourself reaching for them without giving it a second thought. Continue reading for a brief but comprehensive review.
As mentioned earlier, they come with top-of-the-line construction. The mirrored safety glasses sport form-fitting frames with mirrored, shatterproof polycarbonate lenses. Because of the scratch-resistant coating of the lenses, you can use them worry-free to undertake heavy-duty welding projects around the house or in your workshop. While the lenses will be working hard to protect your eyes from the UV rays, the black frames of the welding glasses will be offering even superior protection from dust, debris, and perspiration. Together, these nifty features explain why the welding glasses meet ANSI Z87.1 standards and why the vast majority of welders from all around the world consider them a must-have.
Expand to see more
With a weight of just 2.08 ounces and dimensions of 9.5 by 3.1 by 2.5 ounces, the Miller glasses are one of the lightest and most compact. That doesn't mean they compromise of comfort. The weight and small footprint design considerably enhance portability; they'll take up minimal space in the toolbox and because of their mirrored colour, identifying them should be a breeze. They fit comfortably and securely, thanks to the aforementioned soft protective padding on the edges. They look stylish, too.

This option works reliably and safely, giving you the safety-assurance and confidence you need to reach your full potential as a welder. That's more than you can say for those other flimsy, humdrum alternatives mushrooming all over the place.

Comfortable
Attractive design
Durable polycarbonate construction
Meet ANSI Z87.1 standards
It's only a shade 5
Not ideal for use with prescription glasses
3. Insight Safety Welding Glasses (Shade 12)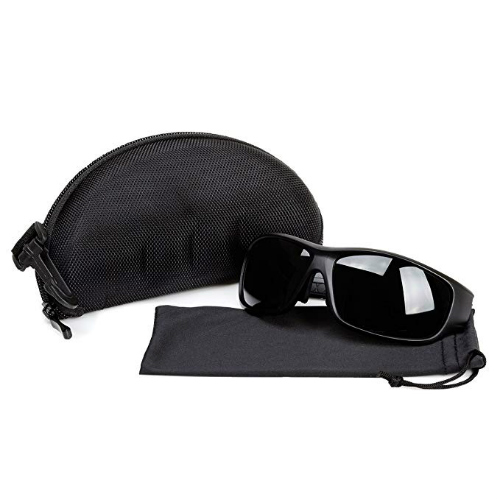 Our 3rd pick, the Insight Safety glasses, represent quite a significant jump in performance. Compared to our previous two picks that are both shade 5, this model boasts an impressive shade 12 protection. Their overall performance and construction quality will leave you with a smile on your face, seeing as your new-found confidence will encourage to complete more heavy-duty welding projects. Their ingenious construction makes them an ideal choice for several light- to heavy-duty welding projects both around the house and on the construction site. For greenhorns and seasoned welders in search of reliability, exceptional performance, and convenience, we can't recommend these Insight Safety Welding Glasses enough.

Shade 12 glasses are perfect for heavy-duty welding and so are these Insight Safety Welding Glasses. However bright the arc, the brightness will never get to your eye, meaning that you can use them for several hours on end welding several pieces without worrying about exposing your eyes to dangerously bright lights. The innovative curve design of the frame offers exceptional protection and significantly increases the user's field of view. So dark are the welding glasses that not even the brightest arc lights will reach your eye. Consequently, it's advised that you be mindful of your hands and the welding piece whenever you're welding.

Expand to see more
Considering their weight and dimensions, they fit securely and comfortably over the eyes. The likelihood of them falling off and inadvertently exposing your eyes to blinding brightness are minimal at best. You won't have to pause your welding project every now and then to adjust them. The construction quality is also top-notch. They will be able to withstand attrition for years on end even with heavy-duty use. Additional features that'll tickle your fancy include their affordability and portability considering their lightweight, compact design and the fact that they come with a heavy-duty carrying case and microfiber bag.

These glasses ticks all the right boxes. They are suitable for MIG and TIG welding considering their shade 12 lenses.

Impressive shade 12 protection
Provide peripheral view
Fit securely and comfortably
Construction quality is top-notch
Affordable
Come with a heavy-duty carrying case and microfiber bag
4. Pyramex OTS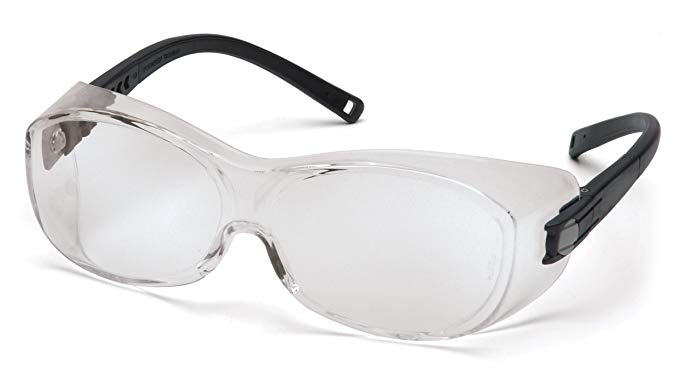 These high-quality Pyramex OTS Over Prescription glasses takes things up a notch. The welding glasses are a far cry from the flimsy, humdrum models you'll find on the market. It comes armed to the teeth with a slew of performance and convenience features you'll be hard pressed to find in cheaper models. Boasting up to 99 percent protection against UV rays, the heart-stopping performance of these welding glasses is all you need to be able to reach optimal performance. Needless to say, it also protects your eyes from debris and other materials. Now roll up your sleeves and let's get started.
A versatile choice, they provide the user with an all-around protection. They come with 5.0 IR filter lens that effortlessly and effectively filters out up to 99 percent of all UV rays. Their smooth performance also explains why they're mostly reserved for heavy-duty welding, gas welding, and heavy
plasma cutting
. Throw in the fact that the single lens covers the entire eye and you have yourself welding glasses you can use without the slightest worry. The polycarbonate lenses are also hard coated and scratch-resistant, meaning that they won't be fazed by sparkes, splashes, and debris. It doesn't stop here.
Expand to see more
In addition to keeping your eyes safe, they are designed to fit securely and safely over the eyes. They offer superior clarity and comfort and don't compromise peripheral vision, as is often the case with poorly-designed welding glasses. And the best part is that they're designed to be compatible with prescription eyewear. And for construction, the welding glasses are not only modern-looking and sleek but remarkably comfortable to wear. After a short while, you won't even realize you have them on.

Compatible with today's prescription eyewear, the Pyramex OTS a solid choice for the hard-working welder in need of the best welding glasses. The single lens protection is more than enough for keeping you safe during the entire duration of your welding project. Plus, they fit snugly and securely.

Compatible with prescription eyewear
Provide perfect eye protection
Comfortable and easy-to-adjust
Scratch resistant
5. Pyramex with Reader Lenses Option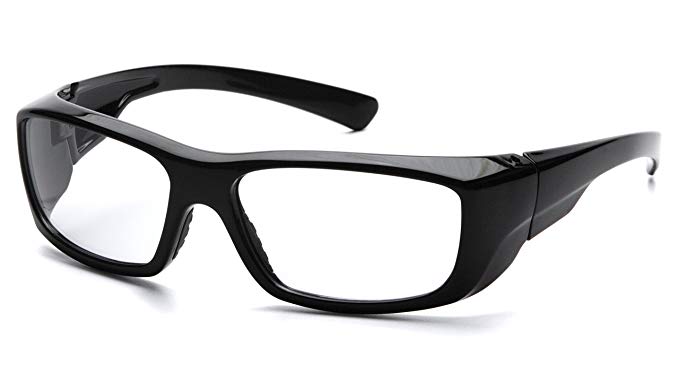 The 5th position deservedly goes to yet another industry giant, the Pyramex glasses. They pull no punches in providing the user with the best performance. A features few that will easily and quickly sway your purchasing decision include their versatility, budget-friendly price tag, 3.0 IR filter lens that ensure superior full eye protection, scratch-resistant lens, and a comfort and secure fit. Patently, these welding glasses are a force to reckon with.

Considering their list of auxiliary features, the level of protection they offer is on a whole new level. Unlike the vast majority of options, this welding eyewear features a black colour and boasts 3.0 IR filter lens. Add that to the fact they are dual-lens. The technology the welding glasses employ has, until now, been the preserve of products used for welding, cutting, and light brazing projects. That's to say that other welding glasses pale into insignificance when compared to their performance, durability, ease of use, and practicality.

Expand to see more
Designed with the user in mind, they are a cinch to use. They feature heavy-duty construction. The polycarbonate lens, for instance, is resistant to scratches and can easily stand up to extreme use. They sport a soft nose piece to make them immensely comfortable and therefore ideal for extended use. The temples also rest snugly on the eyes and because they are lightweight and ergonomically designed, they fit like a second layer of skin; soon enough you'll be forgetting that you have them on. To top it all off, they offer remarkable compatibility with a wide range of other wearables. They comfortably accommodate prescriptions lens, Plano lens, and even full-reader lens. How's that for versatility?

Lightweight, powerful performance, ease of use, and versatility are some of the advantages that come with these. Surprisingly though, they are quite affordable.

Versatile
Budget-friendly price tag
Superior full eye protection
Scratch-resistant lens
Comfort and secure fit
6. Hobart 770726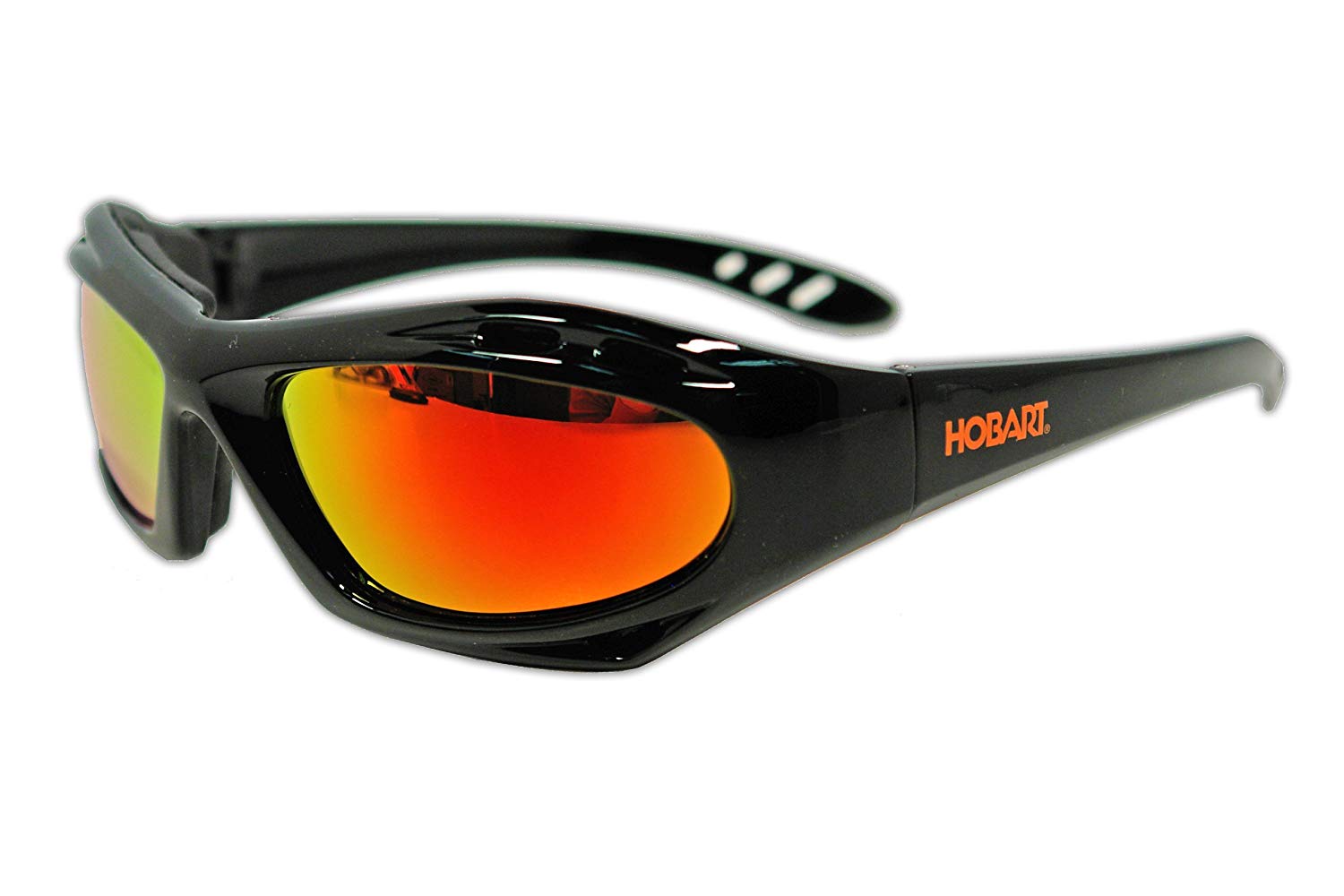 Hobart 770726 Shade is a continuation of the good work Hobart is doing producing high-quality, durable, and effective welding glasses for protecting the eyes. While they are only a shade 5, this option performs excellently for light-duty welding projects around the house. They are a perfect choice for enthusiastic DIYers and hands-on homeowners who like taking matters in their own hands, especially when it comes to minor repairs and renovations around the house.
The Hobart 770726 have
mirrored
shade 5 lenses expertly and carefully manufactured to meet or even exceed ANSI Z87.1 standards. The quality of construction is a far cry from that of cheap, off-brand models on the market. Among other things, the fact that the lenses are made from shatterproof polycarbonate is all the more reason to give them some serious consideration. In addition to protecting your eyes from very bright and harmful arc rays, they also effectively filter out equally dangerous UV light. With such a safety assurance, you don't have a reason to hold back. Confidently weld away.
Expand to see more
Besides protecting you from harmful UV rays, the anti-scratch lens also does an amazing job offering superior protection from dust, debris, and perspiration, thanks to the inclusion of a soft foam frame liner. And even though the frames are not adjustable, they still offer outstanding comfort and ease of use. The soft padding on the frames allows for prolonged use without leaving behind any ugly lines or marks. They're also firm fitting, offering you a considerably wider range of vision compared to other welding glasses in its class.

For professionals in search of an option to use on low-medium amperage welding, these Hobart 770726 come highly recommended. They may not be ideal for MIG or TIG welding but the comfort and ease of use they provide are second to none.


Attractive, stylish design
Exceptional protection
Scratch-resistant lenses
Cost-effective
Don't work well with prescription glasses
7. Servore Auto Shade Arc-513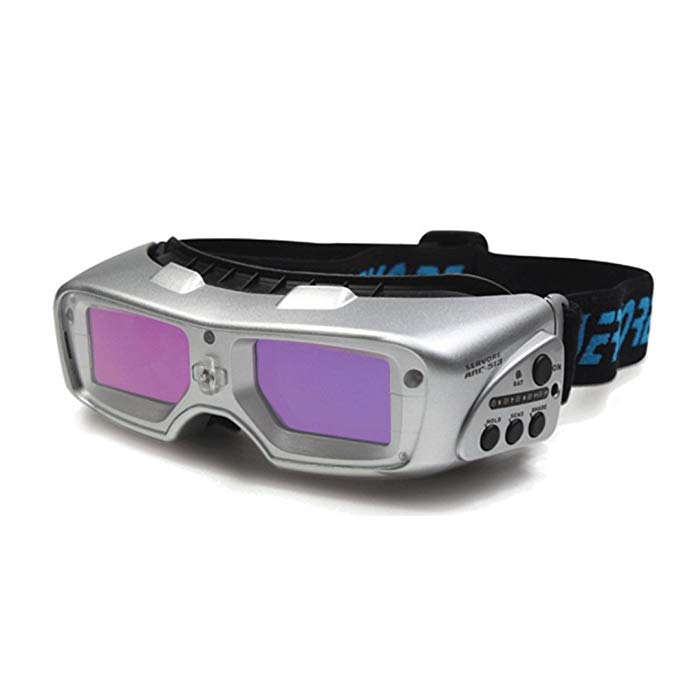 For the welders who want to go all the way, here is something for you. The Servore Auto Shade Darkening Welding Goggle, as Servore enthusiastically points out, is the world's first auto shade goggle safety glasses. They are nothing like the other no-frills options on the market. For instance, they are built to last while providing your eyes with the best protection while welding. A lightweight and ergonomic design offers lots of comfort and ease of use. They fit firmly and securely and like our previous choice, come with a wide peripheral vision.

Their versatility puts them on a whole new performance level. You easily and quickly adjust the shade within a range of between 5 and 13. The implication of this is that their ingenious design allow you to take on a wide range of welding projects. Moving forward you won't be shying away from heavy-duty welding engagements such as MIG and TIG. The Servore goggle ups the ante by providing additional protection to those who'll be grinding. The shade changes automatically in accordance with the brightness of the arc.

Expand to see more
The controls are easily and quickly accessible. Adjusting sensitivity or the shade is a snap. With a considerably wide field of vision, there isn't anything you can do with these bad boys. The response of the welding glasses to changes in light intensity is both quick and accurate, a feat cheap, run-of-the-mill models mushrooming all over the internet will struggle to replicate.

One notable downside is their incompatibility with prescription glasses. There's however a slot where you can fit your lens. As for construction quality, these welding glasses leave nothing to chance. The entire thing is capable of resisting shock and heat and is substantially resilient. As mentioned earlier, they are not only lightweight but also sport a slim profile to ensure a comfortable and secure fit. A vent system, on the other hand, guarantees maximum air circulation to prevent perspiration from accumulating and blocking your view.

In all, they are pro-grade and their price tag says just as much. Their functionality, practicality, durability, and ease of use, however, offset this. You can never go wrong with them.

Adjustable lens shade for versatility
Comfortable fit
Impact resistant
Breathable design
Not for use with prescription glasses
8. Bolle Safety Shade 5.0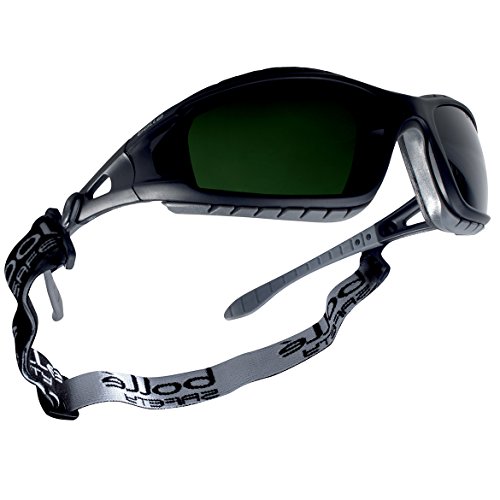 The Bolle Safety Shade are easily one of the best welding glasses currently on the market. Bursting at the seams with a litany of outstanding features, they effectively take the danger away from undertaking a wide range of welding projects both domestically and commercially. They feature shade 5 safety level. They are as sleek and stylish as they are durable and high-performance. While they can't hold a candle to our previous pick, when it comes to light-weight welding, their performance is exceptional. Because they are neither an overkill nor a compromise, Bolle Safety Shade 5.0 Welding Safety Glasses offer a middle-of-the-road performance, which is what enthusiastic DIYers and greenhorns should be aiming for.

Besides the attractive matte black finish, their effortless and efficient performance owill immediately win you over the second you try them on. The lenses are high-quality and forged from industrial-grade polycarbonate materials, a material renowned for its durability and resilience. As for performance, the lenses easily filter out up to 99.99 percent of dangerous UVB and UVA light rays, providing your eyes with the dependable protection they need day after day.

Boasting exceptional contour, superior optical quality, and a perfect 180-degree viewing, this option is all you need to reach your full potential as a welder while ensuring the best protection for your eyes.

Expand to see more
In spite of their construction from commercial-grade polycarbonate, they are considerably lightweight. Further, they are resistant to scratches and high impact, which means that with proper use, they ought to last more than a lifetime of heavy-duty use. Expectedly, they also meet ANSI standards, which also explains why they are the preferred choice of welding enthusiasts and professionals.
In closing, few options can match the superior performance of these. And if you're anything like us, you'll immediately fall for the sporty looks and
comfortable fit
.
Comfortable, secure temple tips
Superb protection against UVA and UB light
Heavy-duty, anti-fog construction
A tad expensive compared to other models
9. Safety Glasses Protective Glasses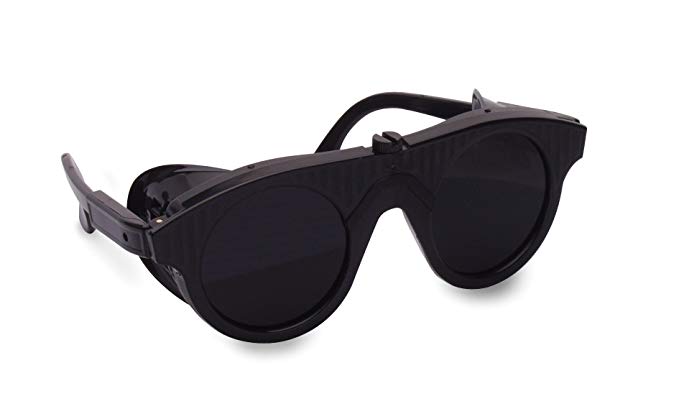 One of the biggest beneficiaries of technological advancement is these Safety Glasses Protective Glasses. There isn't anything particularly appealing about them or that set them apart. However, a shade 10 protection isn't something you'll want to pass up especially at this price. If you have some light- to medium-duty stick, MIG, or TIG welding to do, it'll be a lot safer to reach out for these than the flimsy options on the market masquerading as welding glasses. Still, they are also sleek and modern-looking and fit precisely and securely even when you have on your prescription lens.

The beauty of these is that they are neither too dark nor too light for welding. They fall somewhere in the middle of the spectrum which means they are ideal for a broad range of projects, including stick, TIG, and MIG. A second feature responsible for their popularity among novice and professional welders is the ease of use. Because they are neither too dark nor too light, they enable the user to see clearly, eliminating any room for making costly errors or mistakes. Further, their lenses sport an all-polycarbonate construction and can, therefore, withstand scratches resulting from rough use. Plus, you can easily replace the lenses on the off chance that you inadvertently damage them.

Expand to see more
Of course, there are several other reasons as to why they are a worthy consideration. They have several convenience features which couple with the above-mentioned performance features to provide you with the best bang for the bucks. You can adjust the earpieces and the lightweight and ergonomic design of the frame provide for a comfortable fit so you can easily weld for hours on end. Aside from their incompatibility with prescription glasses and the flimsy frame, these work great.

They will prove to be a worthwhile and prudent decision down the road when you won't have to depend on prescription glasses to make out the objects around you. We highly recommend them to every from the seasoned professional to the DIY enthusiast and everyone else in between.

Incredible optical quality
Optimal protection against IR and UV light
Anti-fog and scratch resistant
Snug
They don't work very well with prescription glasses
10. Bolle TRACWPCC5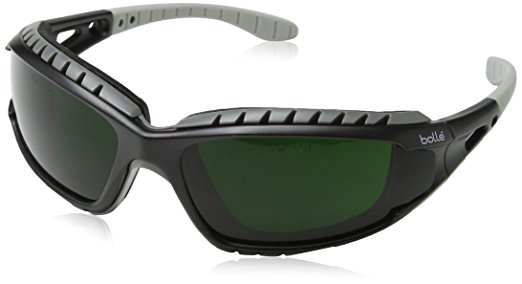 Just because Bolle TRACWPCC5 come last on the list shouldn't be construed as a reflection of poor quality or performance. If anything, only 9 of the options we've reviewed so far can hold a candle to them while rest pale into insignificance in comparison. They provide the eyes with superior protection against bright light and ultraviolet and infrared radiation. They also fit snugly and securely and conveniently prevents the accumulation of moisture and perspiration the longer you work. Also, the construction quality, predictably, is top-notch. A detailed review follows next.

The vast majority of welding sites are hotbeds for risks, some mechanical, others chemical, and others physical. For those particularly keen on protecting their eyes from the adverse consequences of bright arc light produced during any low- to high-energy welding task, a welding glasses comes highly recommended. The Bolle spectacles will not only protect your eyes from the dangerously bright light but also ensure liquid droplets, splashes, and metal chipping do not affect your eyesight. The shade 5 protection is also adequate for safely undertaking other projects such as gas cutting, which essentially makes the welding glasses a versatile choice.

Expand to see more
They are designed to protect your eyes from all angles and besides this, they are darn easy to use. They feature removable foam reinforcement with direct ventilation and side ventilation. This ensures the close proximity of your eyes to extreme heat doesn't interfere with your comfort. A removable adjustable strap ensures the welding glasses sit perfectly and comfortably on your heat. The other significant feature is the high-end construction. Because of the anti-scratch coating of the lenses, they are highly resistant and less susceptible to scratches. At its price, this is quite a steal.

These spectacles are excellent in every way. They offer superior protection, the lenses are scratch-resistant, while the direct and side ventilation prevent fog from obscuring your vision. Bottom line is, it's everything you need in a welding glasses at an affordable price.

Offer excellent eye protection
Comfortable
Adjustable head strap for a secure fit
Cost-effective
Not ideal for heavy-duty welding
Criteria for Choosing the Best Welding Glasses
Level of Protection
As mentioned earlier, you need to protect the eyes from extremely bright welding light or risk suffering severe eye damage. Welding glasses have shades ranging from a low of 5 to a high of 14. While 5 is ideal for low energy welding projects, shade 5 glasses are ideal for protecting the eyes from extremely bright arc light, like that emitted by MIG or TIG welding. Protection in this sense also extends to impact resistance.
Flying debris, sparks, and splashes can be just as harmful. For safety purposes, you need to be able to see the weld zone so you avoid making costly errors.
Convenience
Choose welding glasses that fit comfortably and securely with the remotest possibility of inadvertently falling off while welding. It's common for professional welders to wear their glasses for hours on end, which is why comfort has a significant bearing on performance. The areas that come into contact with your nose and ears need to be heavily but reasonably padded.
This goes a long way in making the welding glasses fit as snugly as possible, almost giving the impression that they are a second layer of skin. The weight needs to be manageable, too. If it's too heavy, you won't last a minute with them. And should you, the attendant pain on the shoulders and neck won't be worth the struggle.
Anti-Fog Design
The ability of the welding glasses to withstand fog can sound like a minor consider until work takes you to an area prone to condensations. Fogging can also be the result of sweating or working directly under the sun. The vast majority of high-end models have anti-fog properties while other feature side ventilation in an attempt at preventing them from fogging up. The danger of fogging is that it obscures your vision.
Affordability
There is little variation in the prices. The cheapest goes for about 5 bucks while the most expensive, for lack of a better word, cost some 20 bucks. High-end options can cost more than this ballpark figure. It all boils down to the features they incorporate.
However, consider your budget and scope of working before buying. It's pointless pouring money on you'll be using once or twice a year.
Frequently Asked Questions
Q: Which shade is ideal for heavy-duty welding?
A: Heavy-duty welding projects such as arc welding, plasma and torch cutting, MIG and TIG welding need welding glasses with at least shade 13. These are dark enough to protect your eyes from all the bright and harmful IR and UV light.
Q: Can I use my wglasses to view the solar eclipse?

A: In light of the excellence of their shade, you can. However, that applies for those with a shade 12 filter and above. It would be risky to use anything less.
Conclusion
For welders, the essence of using welding glasses can't be discounted. As long as you match the shade level to the scope of your work, you can go to work confidently and with peace of mind knowing the bright IR and UV light and all the dangerous flying debris, sparks, and splashes pose no risk at all to your eyes.
And this is the kind of performance and protection you get with our top 10 picks. Don't take chances with your eyesight when the vast majority of these welding glasses are cost-effective and easy to use.
Subscribe to our newsletter