Best Home Humidifiers Reviews & Ratings in 2023
last updated:
Apr 06, 2021
At different periods while you are trying to relax on your home or just watch a movie on your television, you may have suddenly realized that you have dry eyes, an itching scalp, and you are just too thirsty. This is an effect of the humidity level in your home.
Some of the major impacts of the level of humidity include rashes, dehydration, and dry skin. To provide a solution to the problems caused by that level of humidity, you will need a humidifier in the home. There are room humidifiers and then their whole-home ones available on the market.
Our Top 3 Picks
[srpshortcode id="12457″][/srpshortcode][srpshortcode id="12458″][/srpshortcode][srpshortcode id="12459″][/srpshortcode]
No matter, whole-home humidifiers are the focus today, because of their reach and functionality. In light of that, this article is simply to give you an idea of the best pick for your home which will fall within your budget while still offering the key features you desire.
10 Best Home Humidifiers
1. Aprilaire 500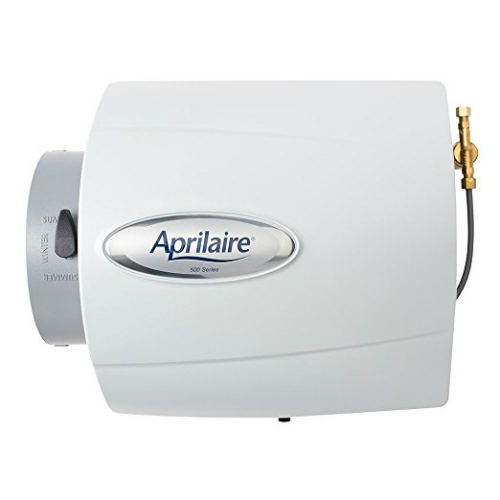 With the Aprilaire 500, what you get is a device weighing 7.3 pounds with a size of 16 inches by 10 inches by 13 inches. This is great since it will be quite easy to move it around when necessary and its small size also makes it easy to set it up in any location of your choice. Its small size is not an indication of lower power performance as it is excellent for houses with an area of around 3,000 square feet.

It also comes with an outdoor sensor, bypass damper, and digital controls. The controls make it possible to regulate the moisture in the home precisely without causing too much stress.

You also enjoy a waterfeed rate of 3GPH while there is a 0.5 evaporative rate. It also comes with a small water panel which regulates the moisture released into the air. The smaller panel indicates that a lower amount of moisture will be released into the air at intervals.

This whole-house option is one of the few which offer excellent energy saving capabilities to the customer. To show that you will be getting quality for your money, it comes with a 5-year warranty. Quite impressive from Aprilaire.

Expand to see more
Features

Can humidify up to 3,000 sq ft.
It comes with an outdoor sensor
Automatic digital control for easy use
A 3.0GPH waterfeed rate
A bypass damper in-built and a 110V to 24V transformer
An evaporative rate of 0.5 GPH

Price

With a price on the high end of the scale, this option luckily has some great features and also comes with a 5-year warranty so you can be sure it will be last a while. Regardless, individuals on a tight budget might like something else.

Conclusion

With a waterfeed rate of 3GPH, an outdoor sensor, coverage of up to 3,000 square feet, and more, you can be sure of lots of positive features when using this optiob. It is also easy to control using the digital control options.

The water feed rate of 3GPH makes it quite impressive
Energy saving
Small sized with excellent power
Works well in homes of up to 3,000 square feet in size
Sold with a 5-year warranty
Excellent whole house option
The installation of the device may be quite difficult
2. Vornado Evap40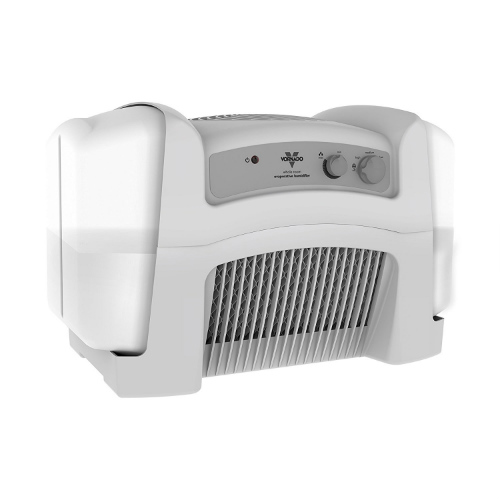 The Vornado Evap40 is one of the few options which come at a great price for excellent functions and quality. The vortex circulation which the humidifiers use makes it quite effective and it can cover an area of 1,000 square feet with ease.

There is an Airlock tank which comes with this device and the tank can be refilled rather easily. It is also leak-proof and spill-proof which helps put your mind at ease as you do not have to worry about any water damage which may occur while using it. The 4 gallon capacity of the tank is excellent for 24-hour usage and offers an unhindered operation.

Control is also another top quality feature of the device. It comes with a humidistat which can be adjusted for the most effective use of it. You can shuttle between three-speed settings using this automatic control. Choose any one of a low, medium, or high-speed settings when operating it.

The product also has a 5-year warranty—which in other terms, means you'll be squeezing out all advantages you can get whilst rest assured that you're covered.

Expand to see more
Features

It measures 13.5 inches in height, 19.5 inches in length, and 10.5 inches in width
There is a 5-year limited warranty
It has leak-free and spill-proof airlock water tanks
It uses a vortex circulation system
Easy to clean
Can cover 1,000 square feet effectively
There are 3-speed settings using an adjustable humidistat
A 4 gallon capacity for 24-hour operation

Price

An averagely priced option featuring some of the best qualities on the market. You can enjoy stress-free operation along with features to protect your home from water damage.

Conclusion

This product sells at a good price making it a real steal for the features available. A 5-year warranty also backs the product if you decide to purchase it for your home.

It cleans easily without stress
Rapidly eliminates dry air and replace with moist air
It has a 4-gallon capacity which serves a whole day
Humidification is even across all parts of the room
Easy to control over 3-speed settings
A 5-year warranty
Although you can get a discount, it is priced high
3. AirCare MA0800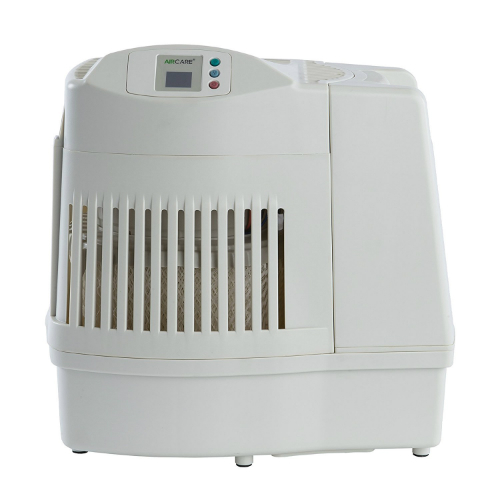 It comes with a smaller tank size of 2.5 gallons which means that you may need to refill while operating during the day. This will be necessary for anyone using it in a dry area. And on the topic of areas, it has a small coverage which often requires that consumers get an additional one if the area of operation is going to be large. You do not have to be worried about the cost of getting two as it is a budget-friendly product.

This option is energy-saving and also has protective features to ensure it lasts a long time. It prevents damage by automatically switching off anytime the water unit becomes empty. It also goes off when the humidity level required has been achieved. This is an energy saving feature.

Other features which make it a joy to use include the indicators which tell the user when the water in the tank has been used up. It also indicates when a filter needs to be changed. And it has a digital humidistat which records the moisture in the air and helps make an adjustment to the output when necessary. The product lastly has a fan which can be set to three different speed levels.

Expand to see more
Features

There are indicators to show when the water needs to be refilled and filter needs replacement
It shuts off automatically when it attains the preset humidity level
The water bottle is easy to refill
The speed of the motor can be adjusted over 3-speed settings
Shuts off when water unit is empty
It has an automatic humidistat
Setting for silent operation during the night
Comes with digital controls

Price

At a price lower than average, you can expect some areas that don't match up to the best humidifiers on the market but this one still holds its ground amongst most.

Conclusion

One of the limiting factors to the constant use of this device is the small capacity of the tank but once you are over this, it becomes a great product to use. With various speed settings, quiet operation, and digital controls, using option is very easy.

Refilling the tank is easy
Simple steps to assemble it
Three different speeds for the fan
Humidistat operates the device automatically
The tank is small and needs to be refilled more often
4. Honeywell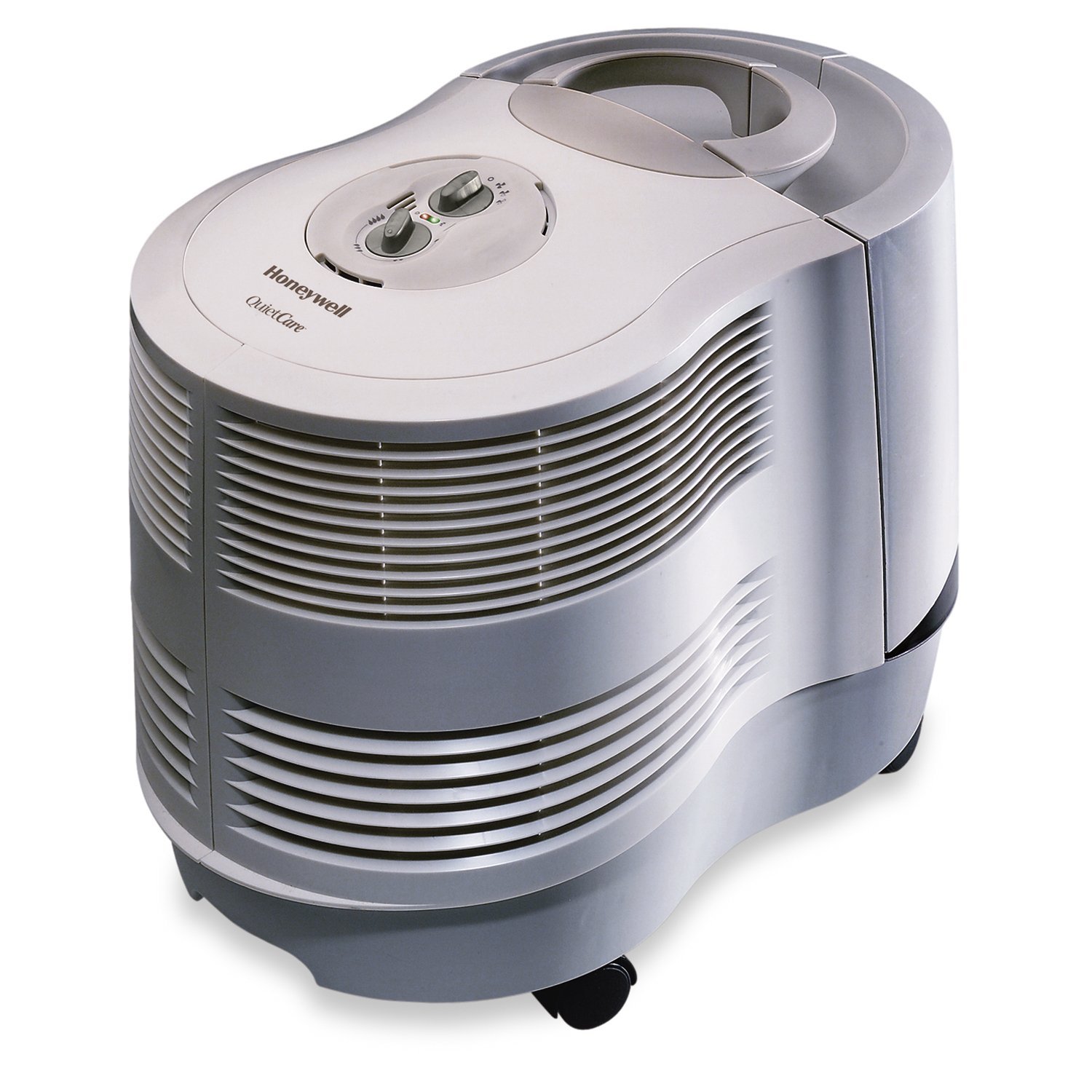 A very attractive feature is the ease of moving it from one location to another. The Honeywell HCM-6009 is designed to be portable and also comes with castor which can be used to easily move it around when necessary.

It uses a dual tank system with a size of 3 gallons. This makes it possible to run it for a day without refilling the tanks. There is a wick filter which works well in removing minerals which are often found in hard water. This is in addition to the elimination of the dust particles which are in the room.

Assembly of this product is very easy and it has a 3-speed control setting. It is a very powerful option which is effective when used in multiple rooms.

Expand to see more
Features

It has 3 settings for the speed control
Can operate for as long as 24 hours with it's 3-gallon tank
Easy product assembly
Wick filter for cleaning hard water
Can be used for more than one room
Humidity levels are regulated through the automatic turn-off feature
Improved evaporation rate
Portable and easy movability using castors
A dual tank system

Price

A budget-friendly option with some great qualities and features. It is also durable and long-lasting if proper steps are taken to maintain the product.

Conclusion

Finding an option which works well for multiple rooms can often be quite difficult but with this product, you get this feature. The castors available on the product also make it easy to move around when necessary between various rooms in the home.


The castors make it easy to move around
Control of the humidity level and fan speed are achieved using different dials
Easy to refill the tanks
Effective for multiple rooms
It does not occupy a lot of space
It does not work for a very long period
5. Essick Air AirCare MA1201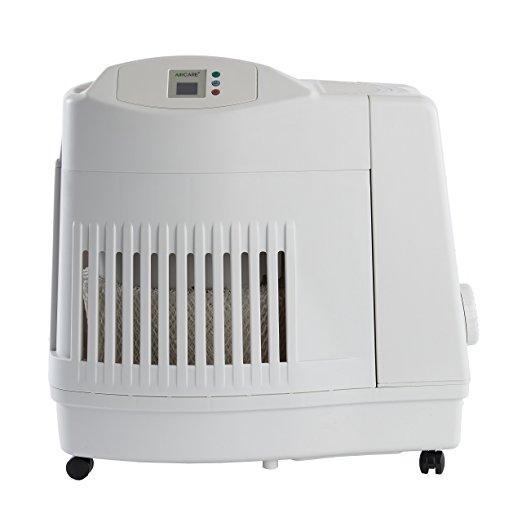 This whole-house option is a console-style standalone one, with a reasonably large water tank which allows it to operate for an adequate period of time before you need to refill. Continuing, refilling it isn't difficult since it comes with an indicator to tell you when it is time for the refill of the tank.

That said, with its 3.6-gallon water tank capacity, it is possible to run it for as long as 36 hours before you will have to refill the tank. That's provided of course, if you run it in a cool climate. For areas with a dry climate, refilling could most likely be every 24 hours.

There are different speed settings to which you can set it. With the speed of the fan set to low, this running time can be significantly increased.

There are lots of additional features which make it excellent for use in the home. It is portable and can cover an area of up to 3,600 square feet. It also has an automatic shut-off feature which ensures it protects itself from damage anytime the water tank is empty.

Expand to see more
Features

It has a digital humidistat for accurate humidity level regulation
Measures 20.5 x 21.5 x 14.5 inches for height, width, and length respectively after assembly
It has an evaporative wick to filter mineral deposits and is also easy to clean
Whole house option which covers up to 3600 square feet
This option is a console-style, standalone design
Anytime the water unit is empty or the set humidity level has been achieved, it shuts off
A 3.6-gallon water tank

Price

Coming at an average price, it features some excellent qualities. You also get additional savings while operating with some of the features of the product.

Conclusion

There are lots of factors which easily puts this option as our #1 pick for the fifth position. The durability, price, easy assembly, tank size, and coverage are a few factors which make it an excellent choice. Like every other product, there are a few downsides but the benefits of the product overturn this scale.


You can adjust the humidity settings
Portable
It comes with a large water tank
Can be run for a long time
It covers a large area
There is a need to change the filter frequently
6. URPOWER MH501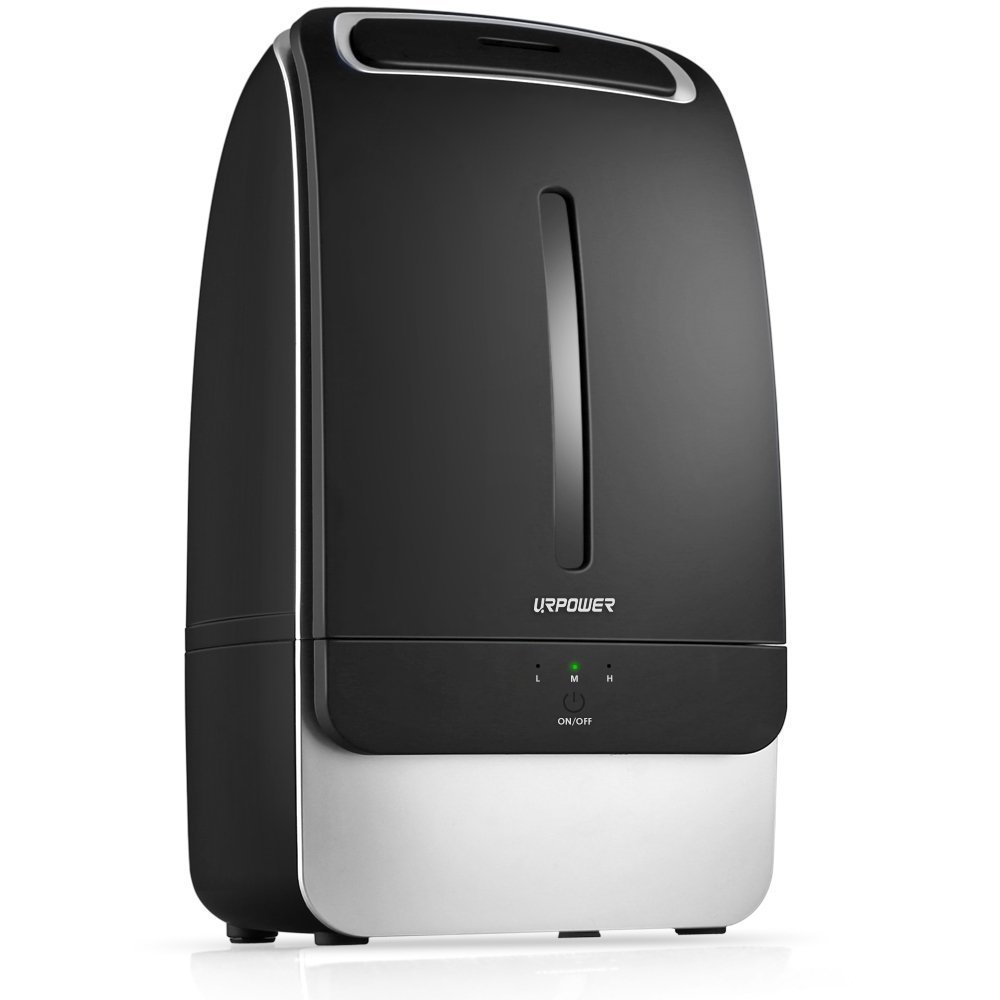 The URPOWER MH501 is designed to be an excellent fit for your home. The matte black finish ensures that it doesn't seem out of place in any position you decide to set it up. And another great quality in its possession is that it comes with an aromatic part. This releases drops of aromatic oil to give the room a sweet scent which you'll definitely appreciate (we know we did).

It comes with a 5-liter water tank which makes it possible to run it for hours without having to refill the tank. The tanks come in a round shape which complements the matte black finish. To make sure the aromatic air freshener lasts, it will not be released into the air if there is no water in the tank. It also stops functioning anytime the water tank is separated from the base.

Control is easy and straightforward as there is just a single button to control the different functions. The power button turns it on and off while it also controls the level of the mist output and also puts it in sleep mode. With this option, you can enjoy the silence while it operates so you still have a good night rest.

Expand to see more
Features

Excellent for beautification purposes with its matte black finish
Automatic shut off for protection when there is no water
Low, middle, or high output selection
A large 5 liters water tank capacity
Simple control with just one button to power it on
Short press power button for mist output level selection
Long press power button for sleep mode

Price

It is priced above average but does not fall short in any area. This is simply a clear indication that you can get lots of great features at a slightly pocket-friendly price.

Conclusion

One of the most attractive features of this option is its design and its matte black finish. This makes it a great addition to the décor of any room. It's one button control also make it quite easy to use.

The tank is wide, large, and easy to refill
It is a durable option with safety features
Comes with a 5-liter tank
System shuts off automatically for protection
Great modern design of the body
Heavier than most othe options
7. Venta LW15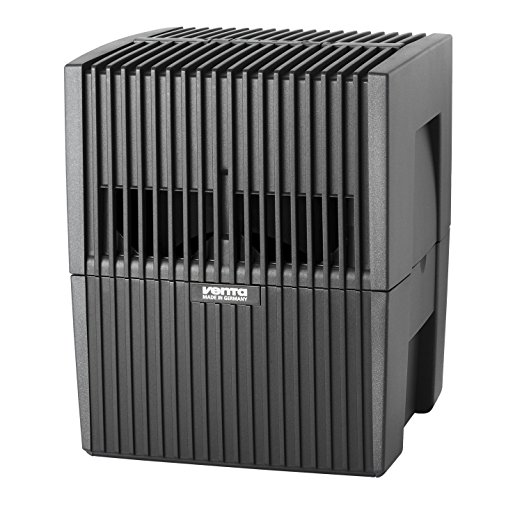 The Venta LW15 is a 2 in 1 combination. While it humidifies the air, you also enjoy its air filtration functions. It filters the air using internal disks which are capable of trapping the harmful particles in the air using water. Pet dander, pollen, as well as dust, are some of the particles which can be removed through the filtration process. The only downside to this air cleaner is that it is non-HEPA.

With a 1.2 gallon tank, you can run it for a day with refilling of the tank limited to just once. It is also quite small which makes it a great choice for anyone with limited space. The only limiting factor during the installation is the process through which air intake is done. The intake on this option is done through all parts around it which makes it impossible to install on a wall.

It comes with an indicator to show when it has run out of water. This makes it an easy indicator as to when you need to refill it. There is also a feature to automatically turn off the air washer when there is no water to run the machine. You also cannot use the humidifying alone without making use of the air cleaner at the same time.

Expand to see more
Features

It has a capacity of 1.2 gallons
There is no need for a filter
A 10-year warranty on the product
Works efficiently over a 200 square feet area
It purifies the air while it humidifies it at the same time
It does not produce white dust during its operation
It has an indicator to show when water needs to be refilled
An auto shut-off function
It has a compact design

Price

This is one of the more expensive options which we have chosen to add to the list. And although the functions are exceptional, it might still not be an option for people who prefer something lighter on their funds.

Conclusion

Although it may not be the best choice for anyone with asthma or allergies, the air washing functionality still makes it an excellent choice for any home. As a 2 in 1 device, having a 10-year warranty to back it up is all you need.


It does not require a filter which needs to be continuously replaced
10-year warranty from the manufacturer
energy efficient
Designed small to fit any spot of your choice
8. Essick Air EP9 800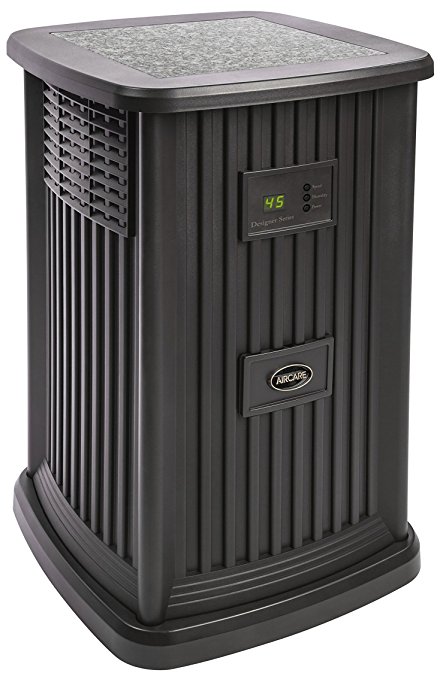 There is a unique feature of this which makes it comfortable to operate. This is the 9 fan speed selection option. This different levels of selections help you get the most effective setting for the home conditions. The speed selection is also automatic and it is determined by it as it detects the conditions of the room.

As a pedestal style unit, you get to conserve more space with this particular unit. While it conserves space, the tank capacity is still large enough to reduce refill times while running it.

The product has a digital display and control. The display indicates the humidity as well as the temperature of the home at any given time. If you run out of water in the tank, it will automatically shut itself down to prevent any damage to its internal components.

Expand to see more
Features

It has 9 fan speeds which it automatically adjusts depending on the environmental conditions
A digital display to indicate humidity and temperature as well as fan speed and required humidity
It is a whole house option which serves an area of 2,400 square feet
Dimensions of 18 inches x 18 inches x 27.25 inches and a weight of 27 pounds
A base of 12 inches by 12 inches which is equivalent to most standard tile size
Pedestal style
If you run out of water, it has an automatic shut off feature
Humidistat to adjust and maintain the humidity in the room

Price

Although it is not the most expensive on the market today, it does not come cheap either. You may have to spend a little above the average price if you want to enjoy the benefits this option provides.

Conclusion

With function specifications and a good design, the Essick Air EP9 800 is a good performer. Still, it does come with a few shortcomings, but the price slightly makes up for that.

Lots of automatic features to keep it running
Operation is easy and so is the cleaning of the tank
Portable
The capacity of the tank is large
It can be used for 2,400 square feet
There are indicators to show its working conditions
High evaporation rate
Information from the humidistat is not accurate
9. AUKEY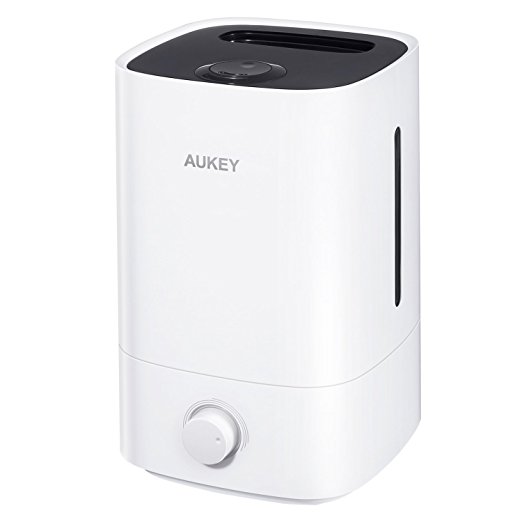 The Aukey is an easy-to-use option with simple controls. Adding water to the tank is quite easy and there is a transparent gauge which serves as an indicator while you pour the water.

It utilizes an analog dial to control the humidity level. You also have a nozzle for the mist output which lets you direct mist to any position of your choice. If you will love to improve the scent of the home, simply adding a few drops of pure essential oil can give you the scent you require. There is an aroma diffusion pad which you can place these oil drops in it.

Like most modern options, this one also has an auto shut-off feature which activates any time the tank is empty. The control dials also have a soft glow which guides you when you need to adjust the settings during the night.

Other features are the ultrasonic diffusion which works efficiently without the production of heat and its silent operation. It also helps to eliminate static shocks and remove bacteria in the air.

And there is also a 24-month warranty which you enjoy with this device which indicates the quality of the product you will be getting.

Expand to see more
Features

A 3.5 liters capacity
It comes with a 24-month warranty as well as a 45-day money back guarantee
Automatic shut-off to protect the device when the water tank is empty
15 hours of non-stop operation means that you can use overnight without any issues
A maximum of 35dBA noise level lets you enjoy a quiet operation
Covers an area of up to 30 square meters
Offers a solution to dry skin, bacteria in the air and also helps maintain wooden furniture

Price

It is one of the more affordable options on this list, hence, this is a great choice if you are shopping on a budget. Contrary to what you might think, this one still comes with most of the features which you find in high-end products.

Conclusion

A great water tank capacity to keep this device running for a while makes it a great choice. You also get an aroma diffusion pad for you to sweet scent the room while enjoying a noiseless operation.

Excellent for use in a baby room since it is noiseless
Does not cause water to collect on the floor
The mist released is fine and smooth
Complaints that it is not very durable
10. Pure Enrichment HumeXL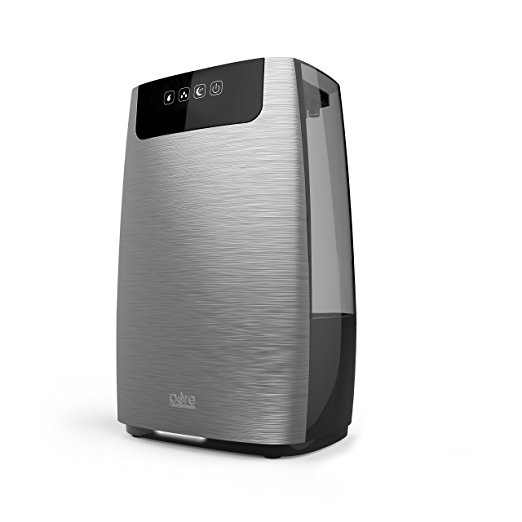 The HumeXL is one of the few which offers an option for a warm mist or a cool mist as the situation requires. It offers energy-saving functions and also comes with a 5-liter tank which saves you the energy spent on refilling frequently.

Some excellent features which you can enjoy include the digital display which makes it easy to operate it and get accurate humidity levels. You can also choose to control it with the remote keep watch. This lets you adjust settings from a distance.

Running it at night is also satisfactory as you get to enjoy a silent operation. This, in turn, makes it suitable for nurseries and offices. There is also a night mode setting — which is activated with the night mode icon and it dims the LED light on it. You can also activate the night light which makes you feel relaxed with a glow at the base of the product.

A two-way mist that comes with two nozzles is used to cover a wide area and you can direct them opposite directions. It comes with a safety automatic shut-off feature which is activated when the water tank is dislodged from the base or it is empty.

Expand to see more
Features

Comes with touch controls for easy use
A 5-liter water tank which cleans with ease
High and low mist output settings which can run for 16 hours and 50 hours respectively on a full tank
Remote control option
It has 2 nozzles for enhanced coverage
There is a dedicated night-mode setting
Quiet operation
Shuts off automatically when the tank is empty
Cool night light
Warm and cool mist option

Price

It may not come as the cheapest on the market but it is certainly among the more affordable options available.

Conclusion

Giving you the option of a warm or cool mist, this option sure offers a lot of quality for the price at which you will be making the purchase.

Versatile enough for cool mist or warm mist in the room
The two nozzles make it work excellently in a fairly large room
It runs without disturbing at night
Possible to operate it remotely
Problems with water leaking out
How We Picked/Criteria for Selection
There are different factors which have been considered when deciding on the best one for your home. A lot of time has been spent using the products and making comparisons of the results from each analysis.
Some of the factors which have been looked at include the cost, output, ease of installation, automatic control settings, and so on. Below are some of the other important factors in making a choice on the best humidifier.
Cool Mist
There are various options available and the cool mist option is one. These come in various types, and they include ultrasonic and evaporative ones.
Ultrasonic Humidifiers
This type of cool mistoption works using a metal diaphragm. The diaphragm is small and it vibrates inside it to turn the water into vapor by atomization. The ones which are ultrasonic do not require filters in their operation but this may cause residues of white powder. The white powder does not have any adverse effect and it is a residue of hard water. The advantages which ultrasonic humidifiers have include a noiseless operation and reduction in the cost of energy. On the downside, there may be a release of some bacteria as the humidifiers operate.
Evaporative Humidifiers
Unlike the ultrasonic ones, these operate using a fan. The fan pushes the dry air to pass through a filter which is wet. This filter is made from a paper-based material. The advantage of this filter is the elimination of bacteria in the air but there is a need to change this filter quite often.
Control features

The control types of different humidifiers include an automatic and a manual control. These are the most popular types. The type is often determined by the price while the preference of a consumer may also be a factor when making a selection. It is necessary to understand the pros and cons of each when you decide to purchase one.
Warm Mist
In contrast to the cool mist options, a warm mist one combines steam with the air it releases after raising the water to its boiling temperature. You can expect to find absorption units instead of a filter on humidifiers of this type. The water can be very hot so they should not be used close to a baby.
Dimensions
Dimension is an important factor that should be compared to the size of the room in which it will be installed.
Room size
The size of the room plays an important role in determining the option which will be purchased. The bigger the room, the bigger the humidifier, and vice versa. Also, a device which is too big will be a waste for a small room. For one to work efficiently, it is necessary it is placed in a room with an enclosure.
The design of most options does not account for any humid air which will leak out of the room through an opening. This is why a door is necessary to seal up any room where it will be used. To summarize all of this, we selected options that can cover a lot of room since it's needed for such a list.
Maintenance
Before you will buy one, it is also good to consider how often you need to humidify the air. It depends on the area where you live if it is more a seasonal or an annual matter. It is also appropriate to think about power consumption for everyday operation. Energy saving devices are equipped with an automatic timer, saving mode or a shut-off mode. Another beneficial function is the effective self-regulation of steam production.
Some products can verify the humidity of environment or even have special programs through which you can set up the ideal humidity for you or for the people staying in the room. The last, but definitely not least point is the volume of the water tank and the humidity intensity, so you do not have to refill the water tank several times during the day or in worse cases during the night. Even smaller ones might have larger tanks or can have saving modes or special mist level programs, through which you can set it up and not waste water.
Evaporation rate

The determining factor of how fast you can get humid air in the home while using it is the evaporation rate. This is especially important during the selection of whole-house humidifiers for purchase. The higher the evaporation rate, the faster you get moist air in the home.
Automatic humidistat
Automatic humidistats are a common feature of many of the more recent options on the market. If you are familiar with a thermostat, then you won't have a problem understanding the humidistat as they have the same function. The function of the humidistat includes adjusting the moisture level of the house and selecting the mode of humidity which is most preferable.
There are also a lot of savings which a customer can benefit from the use of the humidistat. It helps to reduce the energy consumed since it regulates the period during which it runs on high power.
Frequently Asked Questions
What are the benefits of humidifiers?
They are great for increasing the moisture level of an area and the benefits of such include alleviation of cold and cough, soothing of dry skin, prevention of airborne viruses and snoring, and providing relief when experiencing symptoms of allergy.
Where can I get one?
Walking into your local store, you should find one—though, you might not find the ones listed above if you're particularly interested in them. To fix that, Amazon is an easy solution that offers all of the above and more (extensive user reviews, guarantees, discounts, etc).
What is the best one that I can invest in?

The options above are the best that you can buy and the fact that they span different budget ranges is a plus. The only thing you have to do now is to consider the pros and cons, and then pick anyone that best appeals to you.
Are they good for the skin?
Yes, they are. The moisture level of the human skin must always be maintained. If it isn't, it might irritate your skin while also leaving it dry and rough. In regards to that, humidifiers are excellent devices that increase the moisture content of the skin.
Are they good for flu?
Running nose, sinus congestion, and cough are the symptoms of the common flu and humidifiers are good for that. It will moisturize your throat, nasal, and throat passages in order to ease discomfort, if ever you catch the flu.
Subscribe to our newsletter