Best Torches Reviews & Editorial Ratings
last updated:
Apr 06, 2021
Torches are pretty handy tools whether it is in the construction or manufacturing industries, or be it around the house. They are best for getting high temperatures with ease and for soldering, welding or cutting with precision. As such, they should be a part of any handyman's arsenal or a DIY enthusiast.
Our Top 3 Picks
[srpshortcode id="19417″][/srpshortcode][srpshortcode id="19418″][/srpshortcode][srpshortcode id="19419″][/srpshortcode]
However, knowing of the importance of a torch is easy, but picking the best torch can be a bit challenging as they are for varying applications. You might be purchasing a torch (be it a propane or butane torch) for a particular task, but another need for the appliance might arise. So, how do you get the most value for your money?
10 Best Torches
1. Bernzomatic TS8000 - High Intensity Trigger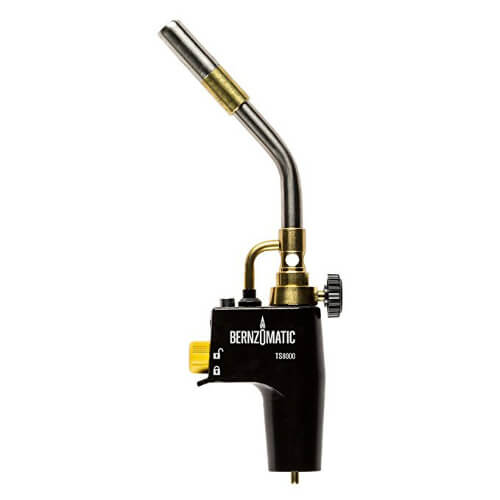 First on this best torches buying guide is the Bernzomatic TS8000. If you aren't familiar with Bernzomatic, the company has been around since 1876 and has consistently produced high-quality tools for the handyman, and the TS8000 is not an exception.

The TS8000 is designed to be easy to use, and thanks to the aluminum cast build it is a durable unit. Couple the durability with a lifetime limited warranty and you have a gadget that will serve you for close to a decade. It happens to be larger than the traditional torch and a bit bulkier, but it is a worthwhile tradeoff given the benefits of the torch.

The Bernzomatic is for more tasking jobs, that is, brazing, large diameter soldering, light welding, and heat treating. Moreover, it works exceptionally well in extreme weather. If you have ever worked with blowtorches, you know how difficult they are to light during winter. Nevertheless, the Bernzomatic lights in one try. Our best features though were the swirl nozzle and the trigger.

Swirl nozzle – A swirl nozzle results in max output for light welding, large diameter soldering, brazing, and heat treating. Owing to the better output, you will handle jobs promptly.

Trigger mechanism – Another fascinating feature of the TS8000 is that it doesn't require a striker. With the auto start/stop ignition, you will be up and running with the push of a button. There is also an on lock if you want the torch to light up without having to press the button.

Expand to see more
Product Features

Weight: 1.6 pounds
Auto start and stop ignition
Material: Cast aluminum
Swirl type nozzle

Who is it for?

Owing to the high BTU, we recommend the TS8000 for heavy duty operation around the house, e.g., large diameter soldering.

The Bernzomatic TS8000 is pressure regulated for consistent performance even when inverted or tilted
It is a sturdy unit and can handle abuse on the job site
It performs even in extreme weather
It is a powerful unit with a 3,000®F flame
It's affordable
It is relatively heavier than traditional torches, and can only be hooked up to smaller tanks
2. Worthington 308638 WT2201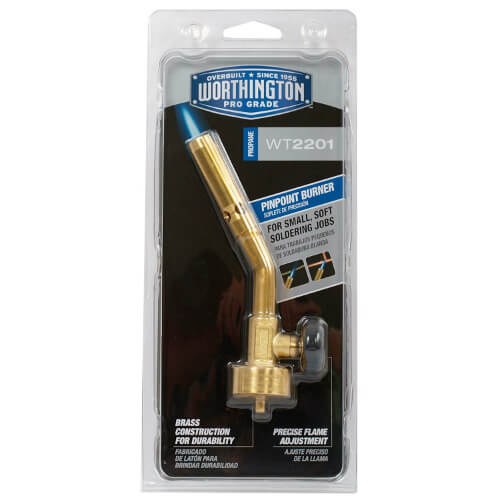 If you are in the market for a more traditional unit, we recommend you get the Worthington WT2201. Unlike our top pick, it is smaller which is a strong point. However, it should only be at the top of your list owing to the affordability. TheWT2201 will not break your bank, as it is almost a quarter the cost of other units on this list.

You will also appreciate the brass construction as is durable to withstand cruelty around the house. It is also a straightforward unit to use, and you will need a striker to light it. Our best features though were the consistency and how lightweight it is.

Lightweight – When working with a torch or a torch or any other handheld device, it's best you get a lightweight unit. The WT2201 weighs 4.8 ounces, unlike the Bernzomatic TS8000 which weighs 1.6 pounds. Thus, you can use it for long periods of time with little to no fatigue.

Regulating valve – Different tasks require different PSI. The regulating valve on the WT2201 allows you to get a precise flame for the application.

Expand to see more
Product Features

Material: brass
Weight: 4.8 ounces

Who is it for?

The WT2201 lacks the power, and thus we recommend it for light tasks around the house. Moreover, it is perfect for people on a budget and for small soft soldering jobs.

Affordable
It is lightweight, and thus you can use it for long hours
It has a regulating valve to control the flame
Durable
It lacks the power, i.e., BTU you get on the TS8000
3. Red Dragon VT 2-23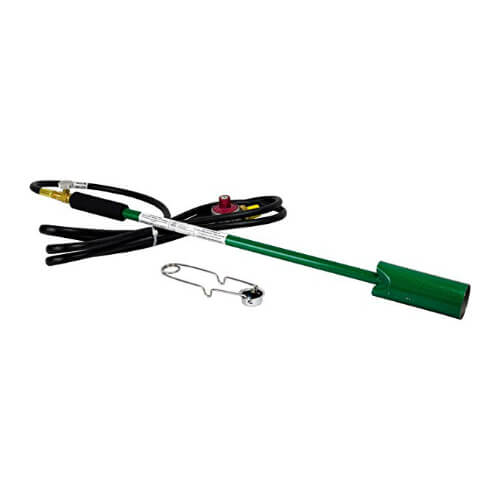 If you are in the market for the best weed killer, we would recommend you get the Red Dragon VT 2-23C. Wee burners are better to take care of weeds as they protect you from harmful chemicals and you don't suffer from back pains associated with uprooting. Moreover, it is a fast way to destroy weeds as you only need a second.

Flamers destroy unwanted weeds by rapturing the cells. The sudden high temperature kills the cells of the plant, and the plant cannot manufacture foot anymore. Don't expect instant results as it takes about a day for the plant to droop and die. We recommend you leave the weeds to decompose.

The VT 2-23C has 100,000BTU and can get to 2,000®F which is enough to kill any weeds. However, our best features were the versatility and the ergonomics.

Ergonomics – Unlike other Red Dragons, the VT 2-23C retails completely pre-assembled and thus all that's required of you is to hook it up to a propane tank. Moreover, for a weed burner, it is lightweight at 3.7 pounds allowing you to work for more extended hours without fatigue. The 10-foot gas hose also increases your flexibility as you don't have to wheel a propane tank that often. Finally, the 23-inch is handle makes the VT 2-23C a safe unit, and the 2-inch wide flamer will destroy the weeds without harming the flowers.

Versatility – The Red Dragon VT 2-23C can be used for more than burning weeds. It is ideal for burning stumps, starting charcoal or a campfire, and even starting a back fire. Moreover, they are perfect for thawing frozen water pipes, heating asphalt, or sterilizing wires of an animal cage. Finally, you can use it to remove paint, grease, or any other residue on any nonflammable object.

Expand to see more
Product Features

Weight: 3.7 pounds
Operating pressure range: 5 to 25 psi
Fuel inlet: ¼" NPT
23" handle
2" torch bell diameter
Max Capacity: 100,000 BTU/hr
National Home Gardening Club Member Tested Seal-of-Approval recipient

Who is it for?

The VT 2-23C is best for outdoor tasks. We recommend you get it for those camping trips, for weed removal, or any outdoor jobs.

It is affordable
It hooks up to a regular gas grill propane tank
It is easy to light, easy to adjust the flame, and a breeze to use
Durable
This unit has mid-level heat generation, but it is only a flaw and not a deal breaker as it still works like a charm
4. Hot Max 500G


The Hot Max 500G resembles the Red Dragon VT 2-23C with one slight difference in that this unit is more robust at 500,000BTU.
The 500G is a weed killer and works by rapturing the cells in weeds. It is a much better means of weed control in that you are safe from harmful chemicals and you don't have to worry about back pains from stooping over. Moreover, it is fast killing weeds in less than a second. However, if
your lawn
is overgrown, we recommend you take a second or two before moving to the next patch.
Our best features though were the ergonomics and the resourcefulness of the 500G.
Resourcefulness
– Unlike the Red Dragon VT 2-23C the Hot Max 500G is more powerful and thus faster when it comes to destroying weeds. However, it will also make quick work of any task from melting tar and asphalt, sterilizing wire animal cages, to removing any residue, e.g., grease and paint from parking lots or other nonflammable surfaces. You will also appreciate that it can melt snow and ice, thaw frozen pipes, and heat any metal or branding irons.
Ergonomics
– First, the Hot Max 500G is the only flamer with a molded hale. Thus if you are looking for comfort and control, we suggest you get the 500G. Moreover, the handle is 36" long making it the best for tall people, and has a 10-foot hose for flexibility.
Expand to see more
Product Features

Weight: 4.8 pounds
Handle length: 36"
10-foot hose
Max capacity: 500,000BTU
2-year limited warranty
Uses standard LP gas tanks

Who is it for?

The 500G is best for outdoor activities that require extra power.

It is comfortable to hold and control thanks to the molded handle
Has an idle boost/fuel saver valve which enables you to turn the flame down but will allow full flow whenever the handle is depressed
It is fully assembled and ready to use
It is heavy at 4.8 pounds which can lead to fatigue
5. Greenwood Durable Steel Nozzle Propane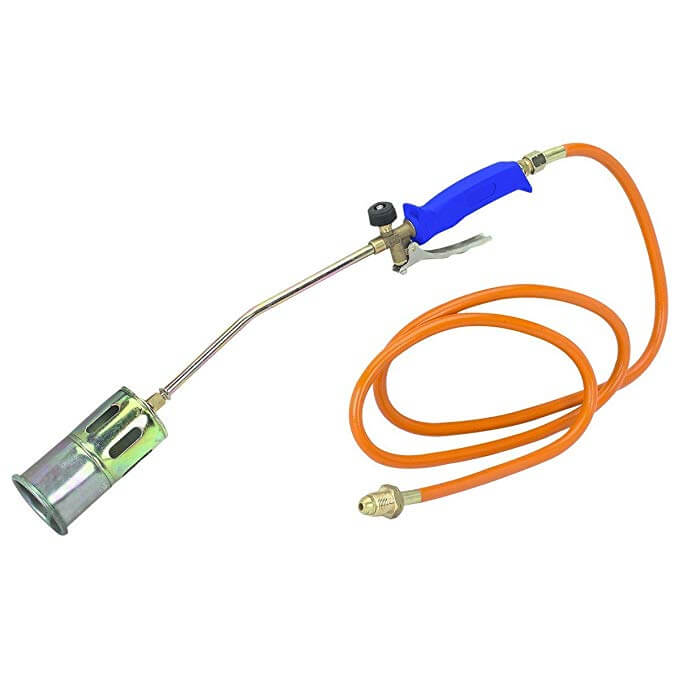 Another representative of the multiuse options, the Greenwood 91033 is an affordable unit and our recommendation for anyone who is looking for a low-cost weed burner. However, it does more than burn weeds. You will appreciate that this can be used to burn
stumps
and prevent regrowth. You can use it to thaw frozen pipes or other outdoor activities such as lighting a campfire, or burning charcoal or sterilizing animal wire cages. However, we appreciated how efficient the 91033 is when it comes to removing residues, say paint and grease off a driveway or other non-flammable surface.
O
ther than the versatility, there is also the aspect of safety when eradicating weeds as there are no chemicals involved. It's also a fast process, and the unit works with any 20-pound propane tank. Moreover, it is ergonomically designed. At 3 pounds, the gadget is lightweight and best if you are in the market for a torch that you can use for long periods of time. Moreover, it has an ergonomic grip for control and comfort. Our best features though were the heat and the wide nozzle.
Powerful
– Though the Greenwood 91033 is built to be affordable, there is nothing low-cost about the unit. It has a max capacity of 3,000®F which is higher than some premium units. Thus, torching weed or any other tasks will be a walk in the park.
Nozzle
– First, the apparatus features a steel nozzle increasing the durability. Moreover, it is a broad head and thus best for instances where you need to cover a wide area.
Expand to see more
Product Features

Max heat capacity: 3,000®F
Weight: 3 pounds
Steel nozzle
6-1/2 foot hose

Who is it for?

The Greenwood 91033 is best for people on a budget or homeowners who want to torch a wider area faster.

It is a durable unit thanks to the steelhead
It is comfortable to use
Easy to use thanks to the turbo blast trigger which ass a burst of extra heat
The broadhead is a bit risky to uses as you have a larger flame
10. ARKSEN Oxy Acetylene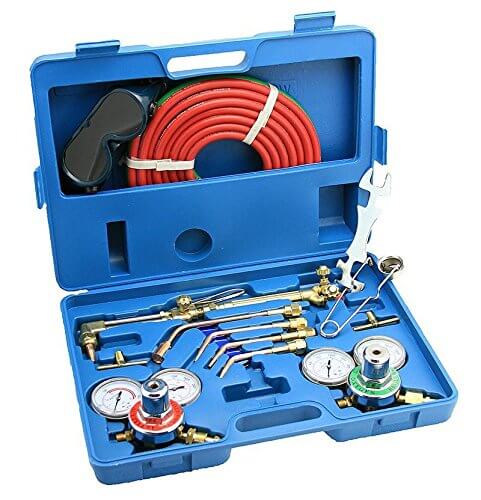 The Arksen kit allows you to handle a broad range of welding, cutting and heating applications as it includes all the necessary tools. It is perfect for a professional or any weekend warrior who is looking for the versatility this kit offers.
First, there is a 15-foot hose that increases your flexibility. The unit to retails with a flint striker and shade no. 5 goggles to
keep your eyes safe
. The tip cleaning tools are a nice touch. Moreover, you can cut up to 1/2-inches with the UL-listed cutting torch and rosebud size no.6 tip, and weld up to 3/16" metals with the 3 welding nozzles included (no. 0, no. 2, and no. 4). The kit also has single stage regulators with reverse flow check valves. Our best features though were the quality and the storage case.
Case
– The case will not only keep your tools safe but organized too increasing productivity. You will also appreciate how durable it is and thus you can expect it to serve you well.
Durability
– The entire kit is stainless steel and brass. The torch handle and check valves all all-brass construction, the torch attachment is brass and steel, and the welding/heating tips are all brass and copper. The steel and brass construction increase the durability and ensure that the tools can handle abuse.
Expand to see more
Product Features

Hose Length: 15 ft.
Cutting capacity:1/2 –inches
Welding capacity: 3/16-inches

Who is it for?

The Arksen kit is best for weekend warriors who are searching for tools for welding and cutting.

It's a medium gauge kit but can handle fine tasks
It is versatile
It is affordable
The welding nozzles don't give a small flame for those delicate jobs; the regulators too don't fit in the case well, and you could damage them if you force them in
7. Bernzomatic 19425 JT850 Self-Igniting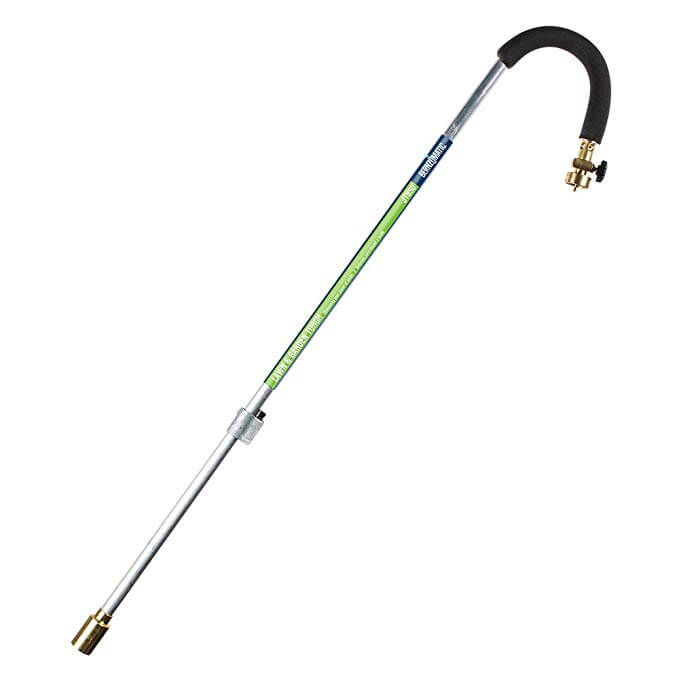 Most of the multiuse options require a 20-pound propane tank, and though it lasts long, it limits your mobility. If you are looking for an outdoor option but one that is easily portable, we recommend you get the Bernzomatic 19425. Also, it will make your weeding easier. With a 20,000BTU, destroying weeds will be a walk in the park. The flame control valve allows you to control the size of the flame and extinguish it when you are done.

However, you can use the 19425 for more than torching weeds. It is especially useful for starting barbecues or thawing frozen pipes. It also happens to be a durable unit thanks to the solid brass tip. Our best features though were the ergonomics and quick ignition.

Ergonomics – First, the Bernzomatic uses a small gas canister that is easy to carry around a job site. Moreover, it has a padded handle that increases the comfort and makes it slip resistant. Also, the unit is 36" long, and thus there is no need to bend over when eradicating weeds. Finally, the device weighs 2.8 pounds and therefore easy to use.

Quick ignition – Thanks to the integrated Piezo ignition getting a fire going is a simple affair.


Expand to see more
Product Features

20,000 BTU
Length: 36-inches
Weight: 2.8 pounds
3-year limited warranty

Who is it for?

The Bernzomatic 19425 is strictly for outdoor activities. It is a great weed killer and perfect if you want to strip paint, grease, or another residue off of a nonflammable surface.

It's comfortable and easy to use
Storage of the 19425 is a breeze
Has a 3-year limited warranted that guarantees that the product is free of defects
Seeing as it uses a small canister, you can only work with it for a few hours
It is also pricey
8. Blazer GT8000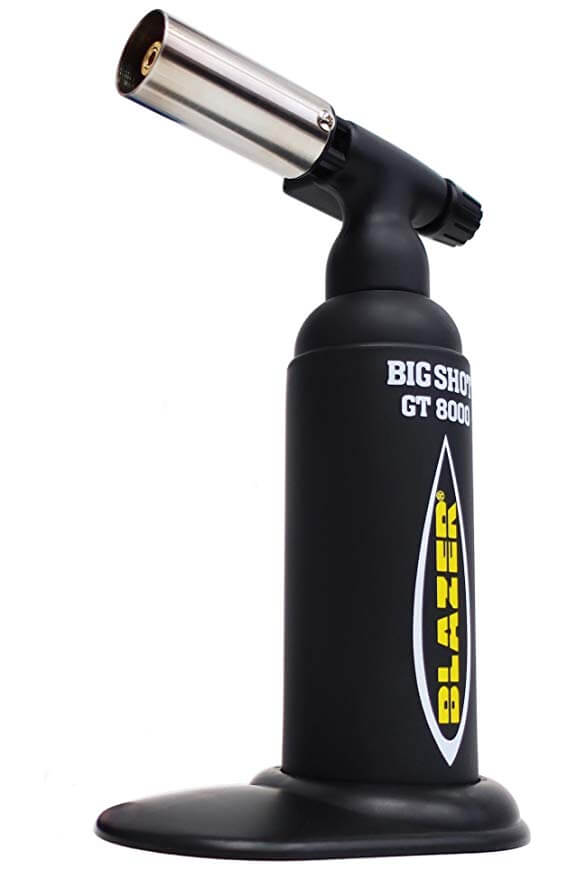 If you are a DIY enthusiast, you owe it to yourself to have a reliable butane torch in your arsenal. We would recommend the Blazer GT8000 as it heats surfaces efficiently using the least fuel possible, and in the lowest time.

The Blazer GT8000 is an expensive option, but we would recommend you spend on it as it will be cheaper in the long run. You don't have to buy a new device every 3 or 4 months. Furthermore, it is a solid unit, and it can handle abuse. Other than the quality, you will love how easy it is to refuel the gadget, and how flawlessly it functions, and unlike other torches that need an adapter to refill, it works with the standard tip on a butane can. The runtime is 35 minutes on max, and it can hold 35 grams of butane gas.

Another fascinating feature of the apparatus is the stand that allows you to work hands-free. A manual ignition feature is added for safety, and there is a gas adjustment dial for better control over the flame. Our top features though were the piezoelectric ignition, and flame control feature.

Piezoelectric control – Lighting the Blazer GT8000 is a breeze, and there is no need for external ignition. Turn the open dial until you hear the fuel hissing out and then click the tactile ignition triangle.

Flame Control – When using it, it is necessary to be able to control the flame from the torch. A brass flame nozzle is included in the GT8000 to provide a precision flame tip.

Expand to see more
Product Features

Max temp: 2,500®F
Volume: 35 grams
Weight: 12 ounces
Warranty: 1 year

Who is it for?

The Blazer GT8000 is best for people dabbing in delicate tasks such as jewelry making. Also, if you are looking for a unit to use on your bench, we recommend this gadget.

It is a durable unit
Reaches a high temperature of 2,500®F very quickly
The ignition is reliable
It is pricey
Two hands are needed to light the torch
9. Blazer GB2001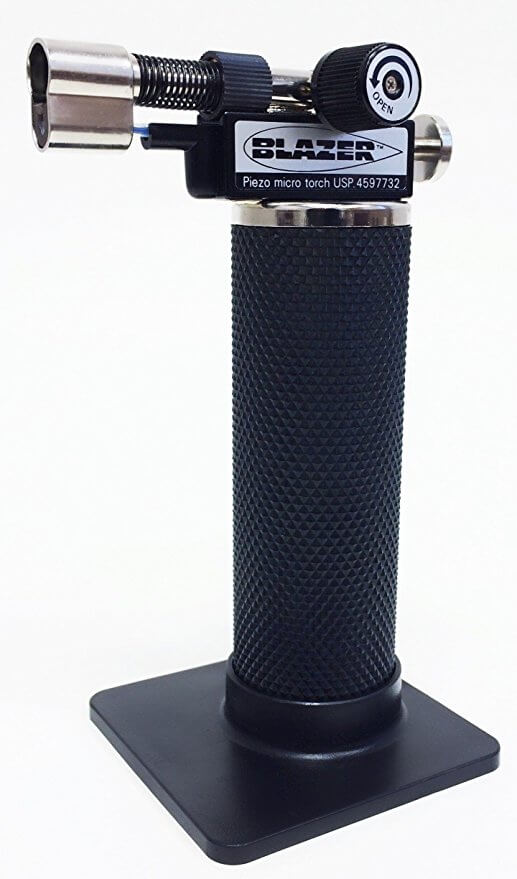 The GT2001 is a small butane option with a lengthy runtime between 1.5 to 2 hours. This superb performance is what endears it to professionals and for use around the home. The Blazer GT2001 is perfect for culinary, soldering, jewelry making, and can be used in the automotive industry.
The Blazer GT2001 has a 26-gram capacity which is enough for most small tasks. Moreover, it is easy to light thanks to the piezoelectric switch that doesn't need an electric connection. Just turn the dial and then click the switch once. The switch will release
the hammer
which strikes a crystal producing a spark that results in the flame. Another fascinating feature is the attachable tabletop stand that allows you to use the device hands-free. Moreover, there is a manual lock of the ignition that increases safety when using the unit. Our best features though were the ergonomics and flame control.
Ergonomics
– First, the GT2001 weight 6.8 ounces and thus you can use it for long periods without fatigue. Also, the nozzle is at a
right angle
for ease when working on a bench. However, we appreciated the secure comfortable grip most. The unit has a textured rubber pattern grip over the gas tank that provides a better non-slip grip on your torch.
Flame control
– You can get the preferred flame strength and type by adjusting the air flow dial on the stem of the torch.
Expand to see more
Product Features

1.5 to 2 hours runtime
26-gram capacity
Flame: 2,500®F
Weight:6.8 ounces
Attachable tabletop stand

Who is it for?

We recommend the GT2001 for DIY enthusiasts and chefs. It is especially handy when working on the bench thanks to the tabletop stand.

Has an incredibly long runtime.
Has a good grip which enables you to use it for long periods
You can use it hands-free thanks to the tabletop stand
It is a pricey unit, it not as strong as the GT8000, and there are few instances where the igniter failed
6. Worthington 336737 WT2301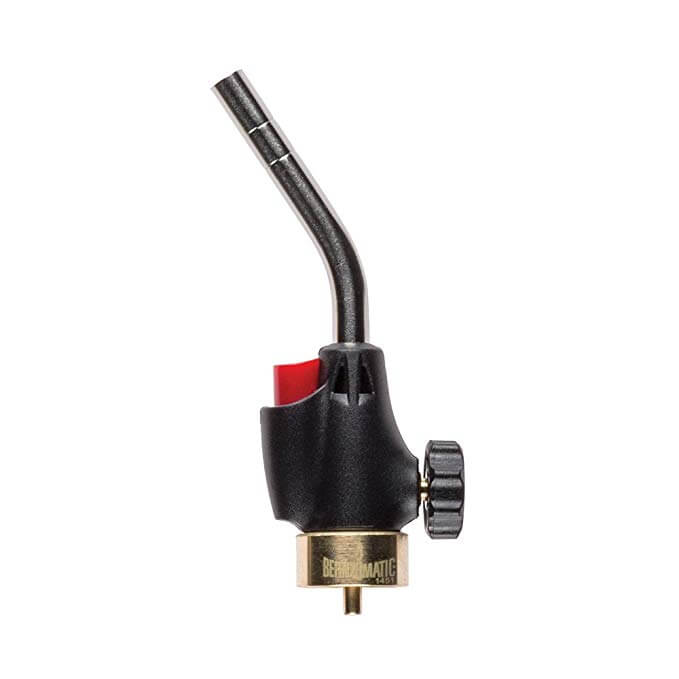 The Worthington Trigger Start (WT2301) resembles our top pick, the Bernzomatic TS8000, only that it is much cheaper. Being a trigger start unit, it doesn't require a striker to get it going. It is easy to ignite while the small valve will control the flow of the gas.

Moreover, the webbed flame is enough to complete a variety of household projects from thawing to melting and heat application and small diameter soldering. However, our best features were how lightweight the unit is, and the quality.

Quality – The WT2301 is a premium product at a not so premium price so don't let the price fool you. The unit is made of steel increasing the durability.

Lightweight – Unlike the Bernzomatic TS8000, the WT2301 only weight 0.3 pounds. Being lightweight, you can use it for long periods without fatigue.

Expand to see more
Product Features

•Weight: 2.24 pounds
3-year limited warranty

Who is it for?

The WT2301 is best for homeowners looking for a small diameter soldering tool, but they are on a budget.

It is affordable
It is lightweight
It is easy to use
It is easily portable thanks to the small size
Other than the trigger start, this is a basic design; moreover, their igniter fails often and you might be forced to rely on a traditional striker
Best Torch: Criteria for Selection

Application
The first thing you should consider when purchasing a torch is where you want to use it. There are hundreds of uses from burning dry grass or leaves, and twigs on driveways to removing paint oil and grease or plastic from parking lots and driveways, to burning charcoal quickly without using any harmful chemical that can cause grave damaged if misused.
Torches are also helpful for thawing frozen pipes for better water flow sterilizing pet cages from rust and other toxic substances to cooking. Know what you want, and then pick an appropriate torch.
Types of torches

Other than the application, you will have to decide between propane and butane torches. Each has its benefits, but the final decision is yours. The first difference is in the design.
A propane torch has a small sized torch that curves inwardly to create a concentrated flame emission, while a butane torch has a straight open end for full flame emission. Furthermore, there is heat difference in that butane torches can only get to 2,400®F while propane torches have a max temperature limit of about 3,600®F. As for the typical use, a butane torch is best for applications where a low flame is required, e.g., searing or cooking meat, while a propane unit is best for applications that need precision, accuracy, or the high temperatures.
Each unit has its unique uses too. A chef will prefer a butane torch owing to the portability while a DIY enthusiast will prefer a propane torch thanks to the high temperatures. We recommend you pick a butane torch if you are in the market for equipment that burns cleaner. It produces less carbon monoxide than a propane torch and thus an ideal pick for the eco-friendly homeowner. Also, they are safer as they don't burn as hot as the propane
Propane torches, on the other hand, burn hotter but are much dirtier. If you are looking for a blowtorch to use in extreme weather, a propane torch will do much better than a butane torch. Finding refills is effortless, and propane torches are more accurate which is excellent for delicate tasks.
Area
This is only a consideration when picking propane torches for paint or weed removal. We recommend you select a heavy-duty torch kit if you have a wide area to cover and small equipment for lighter tasks. All torches will be useful when eradicating weed or removing paint; it is more a question of how much flame you need to be effective.
Torch Diameter
The diameter of the torch affects the size of the flame. For tasks that require accuracy and precision, we recommend you get a small diameter option. However, for jobs where you need a large flame, say when torching leaves, paint or weeds, we suggest you get a torch with a large diameter.
FAQs
Why does my torch go out when tipped?
If you are using a non-regulated welding or cutting torch, the liquid propane in the torch will work its way down to through the torch to the tip and extinguish the flame. Use a pressure-regulated gadget for any task that needs temporary inversion of it.
Why doesn't it light up well in cold weather?
This is only a problem in units that are not pressure-regulated. The flame varies with the pressure in the cylinder or tank, and often the pressure is lower when it is cold.
How do I inspect for potential gas leaks?

First, ensure you are in a well-ventilated and spark free area. Attach the torch and then open the valve without lighting it. Apply soapy water to every connection to see if bubbles appear. If bubbles form, then there is a leak, and the torch should be replaced.
Why is it safe to use propane and not gasoline?
This can be interpreted as a rather odd position, seeing as both are flammable, but gasoline is a problem due to leaks. Unlike gasoline, propane torches work under pressure, and all fuel quickly escapes into the atmosphere in case of a leak. Liquid propane, on the other hand, can spray out all over the place in the event of a leak creating a dangerous situation.
Conclusion
Picking the right option for household use can be tasking. However, we recommend you have an idea of where you might use the tool. For outdoor activities, we suggest you pick one of our multiuse units. For soldering, cutting, and welding, the Arksen and the Bernzomatic TS8000 are perfect picks. However, the final decision is yours.
Finally, tell us what you thought of the guide in the comments below and more so if you feel there is something we missed.
Subscribe to our newsletter