Best Tool Belts Reviews & Price Comparison
last updated:
Oct 14, 2018
The proliferation of various power and hand tools on the market makes a tool belt a must-have tool, especially for the DIYer, the occasional handyman, carpenter and even a seasoned constructor. It helps with keeping all most, if not all, of the essential tools with easy and quick reach and neatly organized around the waist so identification is never a problem. A practical and functional tool belt helps drastically cut the effort and time you'd otherwise use moving to and from the tool chest and enables you to concentrate on the job at hand. Plus, the vast majority of them are relatively cost-effective, easy to strap on, encourage easy movement, and are remarkably long-lasting.
Our Top 3 Picks
[srpshortcode id="18506″][/srpshortcode][srpshortcode id="18508″][/srpshortcode][srpshortcode id="18509″][/srpshortcode]
If you're having difficulties picking out one that best meets your needs, don't fret because we're here to help with the process. So sit back, relax and let us walk you through ten of our best picks with a view to helping you make an informed choice. Before then though, let's take a look at the various factors you need to take into consideration before committing your money.
10 Best Tool Belts
1. Occidental Leather 9855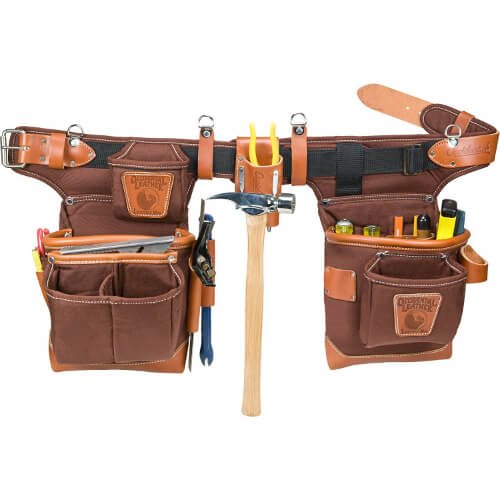 The Occidental Leather 9855 set is a perfect choice for professionals and novices in search of a heavy-duty tool belt for use in various settings. The belt features an innovative Fat Lip Bag design and boasts plenty of space and a plethora of other useful features to help you effortlessly carry your favourite tools.

Aside from carpenters, the belt is similarly a perfect fit for mechanics and even contractors. It sets itself apart from other options on the market on the strength of its longevity, seeing as all the pouches come with leather-reinforced bottoms and corners to provide consistent protection against wear and tear.

It may be a little more expensivebut then again, you get what you pay for. The product features heavy-duty construction using industrial-grade leather to enable it to withstand the test of time, providing you several years of reliable service.

Expand to see more
The Fat Lip design of the product couples nicely with its 10-inch deep industrial nylon bags whose bottoms and corners are reinforced with leather. The result is a heavy-duty option that's rugged and excellent for heavy-duty applications.

And the belt is incredibly easy to use. In addition to providing you with several tool holders as well as a 2-in-1 tool and hammer holder, the product is similarly lightweight and compact, and weigh you down. Because of its construction from canvas fabric, you can wear it for several hours on end. Using a suspender with it is also incredibly easy as it comes with pre-installed D-Rings and irrespective of your waist size, it will fit. The waist adjusts with a range of between 32 and 44 inches, which is sure to accommodate just about anybody.

The only notable drawbacks are the weight and bulkiness. Also, it's slightly more expensive than other tool belts out there, as we mentioned earlier. If you can turn a blind eye to these seemingly minor downsides, you'll be getting one of the best the industry has to offer.

Easy to adjust and use
Spacious
Heavy-duty construction
Several, deep holders
Not ideal for large waists
2. DeWalt DG5650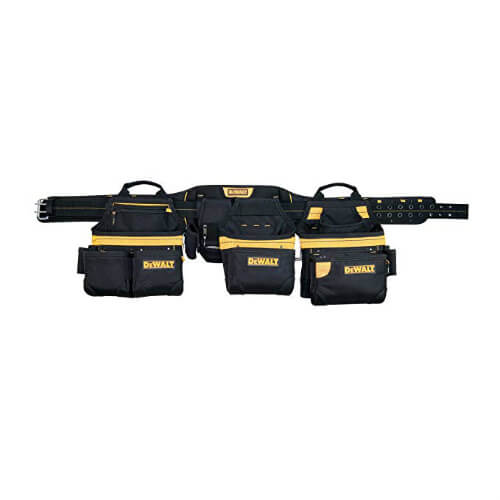 DeWalt is a brand renowned for making some of the world's leading hand and power tools. It easily exports that reputation and tradition to tool belts, providing you with several models to choose from. The brand's flagship option, however, is the DeWalt DG5650 31-Pocket Apron Tool Belt.

The unit offers the user a litany of nifty features that include but not limited to generous carrying space, convenience, comfort, security and lots of space for your tools. Consequently, it's an ideal choice for not only carpenters but also construction tradesmen, maintenance and repair technicians, general laborers, and even extreme DIYers out there.

The belt provides you with lots of space for keeping all the tools, accessories and relevant hardware you need to complete a project efficiently and quickly. There are 11 main pockets with 24 smaller pockets as well as sleeves and loops for safely and securely keeping nails, parts, tools, nail sets, and pencils.
Expand to see more
In light of the large, gusset-style construction of the pockets, there's plenty of room for several more hardware including two hammer holders and a useful built-in utility k
nife pocket
. The spaciousness and ingenious design of the tool belt saves you the time and trouble of moving endlessly between your main tool chest and the project.
There is always the risk of burdening oneself with too many tools, a possibility that can make strapping the belt around your waist extremely difficult and uncomfortable. Should that happen, the tool belt boasts an incredible 6-inch heavy-duty padding and has a Dri-Lex liner to protect your waist against any discomforts.
Additionally, the double-roller buckle provides additional comfort and helps ensure stability as you go about your business. Adjusting the belt is also made easy with the incorporation of a patented pouch handle. Additional features include the easy one-hand carrying and the convenient on-hook storage.
For tradesmen in search of a heavy-duty and long-lasting option with zippered pockets for securing their treasured tools and other valuables, the DeWalt DG5650 comes highly recommended. And just to reiterate, the other appealing features are convenience, comfort, and a high carrying capacity.
Several, large capacity pockets
Comfortable to use
Portable
Zippered pouches
Long-lasting build
Not ideal for smaller waists
3. CLC Custom Leathercraft 1614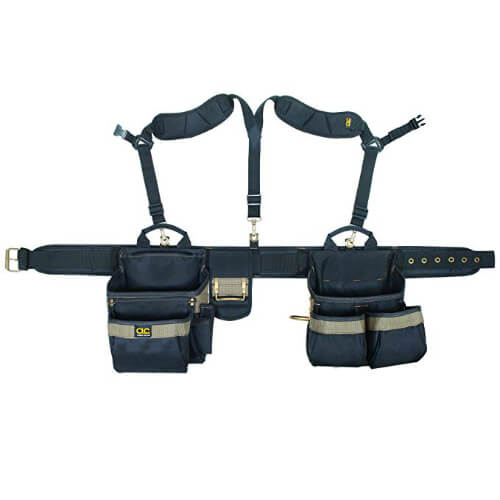 If you're a sucker for perfection, you'll immediately love the CLC Custom Leathercraft 1614 System. It's one of a handful of options to seamlessly blend durability, performance, ease of use, cost-effectiveness and design in a lightweight and compact package. The product ticks all the right boxes, providing you with all the features you need to enable you to reach your full potential as a professional tradesperson or a budding one. If you're looking for an option that effortlessly and gracefully epitomizes functionality, durability, versatility, an exceptional quality, you've found it.

This is an all-around tool best that suit DIY enthusiasts, professional and budding carpenters, mechanics, electricians and even plumbers alike. It comes with plenty of space for storing all your favorite and commonly used tools and accessories. There are 6 large pockets and an extra 13 sleeves and pockets that will help you save time and effort by eliminating the need of moving to and fro the toolbox when tackling a project.
Expand to see more
The fabric the manufacturer uses to make the tool belt – a double layer of 600D polyester – gives it the strength and support necessary for carrying various tools without sagging or tearing.

All the 20 pockets feature a tapered sta-open design that gives you quick and easy access to all the tools you need, thus conveniently taking the time and effort away from retrieving them. Other outstanding features include the 3-inch padding of the belt and its compatibility with adjustable padded suspenders.

The suspenders ensure even weight distribution thereby minimizing the likelihood of straining your lower back and hips.

For professionals in need of a heavy-duty option that's easy to use, comfortable, gives easy and quick access to tools of various sizes and shapes, and is budget-friendly, take another look at the CLC Custom Leathercraft 1614. And before we forget, it safely and securely fits waists ranging between sizes 29 and 46 inches.

Durable construction
Portable design
Has suspenders for stability
Perfect for small and large waists
Provides lots of space
Weak suspenders
Not padded for comfort
4. MagnoGrip 203-017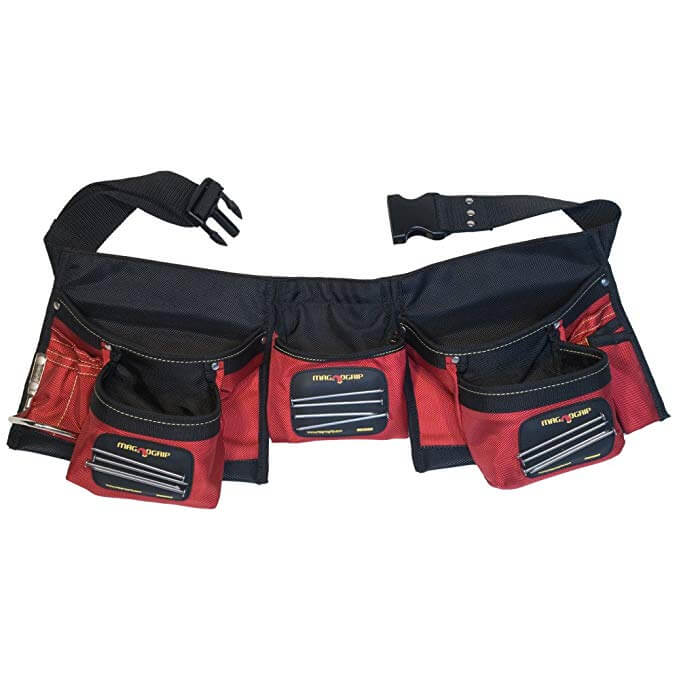 The two most outstanding features the MagnoGrip 203-017 belt offers you are an impeccable build quality and affordability.

Besides these, the product seamlessly introduces ease of use, spaciousness, and versatility. It also features an innovative design to make working with smaller items like nails and screws hassle-free. It's one of a handful of options that are guaranteed to keep your tools and accessories safe and secure all through the duration of your projects, with remote chances of sagging or tearing even with heavy-duty, everyday use around the house or on the job site.

Its construction from double-layered 1680D ballistic polyester gives it the requisite strength and durability to gracefully stand up to the rigors of housing heavy and rugged tools for extended periods.
Expand to see more
To this add the fact that all the stress points are reinforced using heavy-duty rivets to guard against tearing and because all the pockets feature hammer loops, they won't be sagging any time soon.

As for space, you get a total of 12 spacious pockets for holding all manner of tools and accessories conveniently. The pockets are strategically placed so you can reach them quickly and easily and because of their wide-mouth design, they stay open for as long as you need. Additionally, thebelt is equipped with magnetized nail pockets that conveniently store small tools such as nails and screws while stopping them from spilling. The creative design of the tool belt that allows for easy and quick access to various tools and its spaciousness makes it an ideal choice for not only carpenters but also several other tradesmen around the world.

There are however a few downsides here and there. For one, the magnets are likely to attract metal shaving. Secondly, the belt comes in a single size that may not securely, firmly, and safely fit small- or large-bodied people. Other than the two minor downsides, the MagnoGrip 203-017 is worth every penny, offering you exceptional value.

Several pockets with anti-spill patches
Value for money
Long-lasting, robust construction
Comes with convenient magnetic nail holder
Insufficient warranty
One size fits all design
5. TradeGear LARGE 36-40''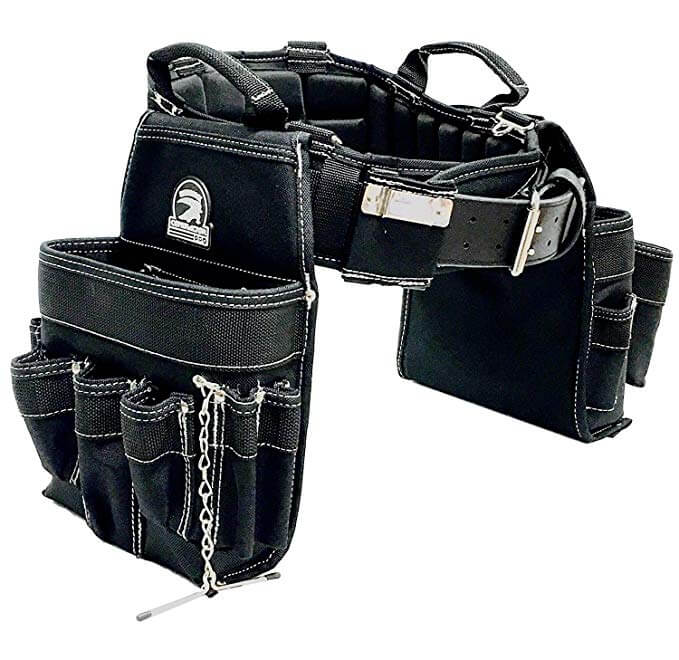 If you're an electrician in search of a practical option, the TradeGear LARGE 36-40" combo might just be up your alley. And for several good reasons.

Aside from the professional, heavy-duty construction, it also provides the user with maximum comfort, plenty of space for keeping tools of various sizes and shapes, and convenience. Only a handful of products can seamlessly blend these features and qualities together and still feature a pocket-friendly price tag. The use of industrial-grade materials for construction means it can take heavy and rough handling for several years. And to top it all off, it offers maximum comfort, thanks to the incorporation of a breathable padding.

It features high-quality construction using equally high-quality, rugged, and durable 1250 DuraTek nylon. Considering that the material is both tough and sturdy, yet lightweight, it's remarkably resistant to abrasion and the most adverse weather conditions.
Expand to see more
The product is guaranteed to provide you with several years of flawless and trouble-free service, thanks in part to its bar-tak stitching and heavy-duty reinforcement with metal rivets.
The busy electrician out there will immensely appreciate the immense space the belt provides for keeping all types of tools and accessories. You get up to 27 pockets and 2 pouches that significantly augment ease and convenience of carrying your commonly used tools. There is plenty of space for such tools as wire strippers, wrenches, torpedo levers, vise grips, screwdrivers, and
cable cutters
, among a wide assortment of other tools.
Irrespective of its simplistic, humdrum appearance, it is remarkably comfortable and easy to use. It comes with an easy-carry handle for effortless portability in case it becomes too heavy to tie around the waist.
The TradeGear belt is an ideal choice for professional builders, carpenters and electricians in search of a pro-grade tool bag. It offers utmost comfort and plenty of space, thanks to the excellence and convenience of its design. It's also durable. If you haven't clicked on Add to Cart link yet we honestly don't know what's stopping you.
Large capacity pockets
Heavy-duty construction
Very comfortable to wear
Has handles for greater portability
6. Rack-A-Tiers 43242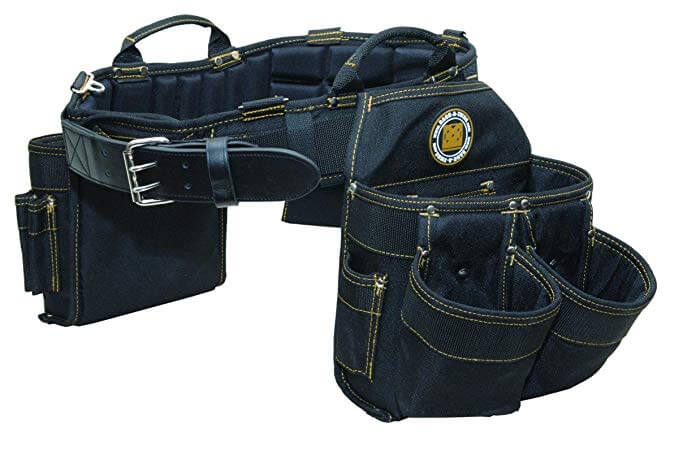 The Rack-A-Tiers 43242 is a powerhouse that comes from a relatively unknown brand, the Rack-A-Tiers. It may not enjoy the same reputation as other industry doyens but when it comes to performance and ease of use, its flagship product easily stands out. Its heavy-duty construction qualifies it for hardy and heavy use in the busiest environments.

The pockets, as numerous and spacious as they are, provide the user with an abundance of space to enable them to work with utmost convenience and ease. For professional and amateur electricians and carpenters out there, now is the time to pay close attention.

While the belt might not look like much in the way of durability or performance, a little scratch under the surface if you will, reveals a slew of instrumental features for taking the time and effort away from any project.
Expand to see more
The construction quality is top-notch. The use of first-rate 250 Denier DuraTek fabric for construction translates to strength, durability, and sturdiness. On top of that, the stitching and reinforcement of the major stress points with bar-tac and commercial-grade metal rivets respectively mean the product will easily stand the test of time, providing you with more a lifetime of stress-free use.

The model is suitable for people with a waist length of between 32 and 35 inches. The brand provides several other sizes for different sized people to ensure the belt fits perfectly and securely around the waist even when the pockets are full to the brim with tools and other whatnots.

The pocket openings all come with a nylon webbing to keep them either closed or open for as long as needed and to give you quick and easy access to the tools therein. And should it get heavy, it has a convenient double padded inside so it doesn't wreak your back. And there's an option for attaching a shoulder strap.

As far as performance and durability go, the Rack-A-Tiers 43242 is hard to beat. It's also affordable, lightweight, and easy to use. It definitely earns a thumb up from us.

Padded for comfort
Cost-effective
Reinforced with tough rivets for durability
Usable with suspenders
7. Task Tools T77265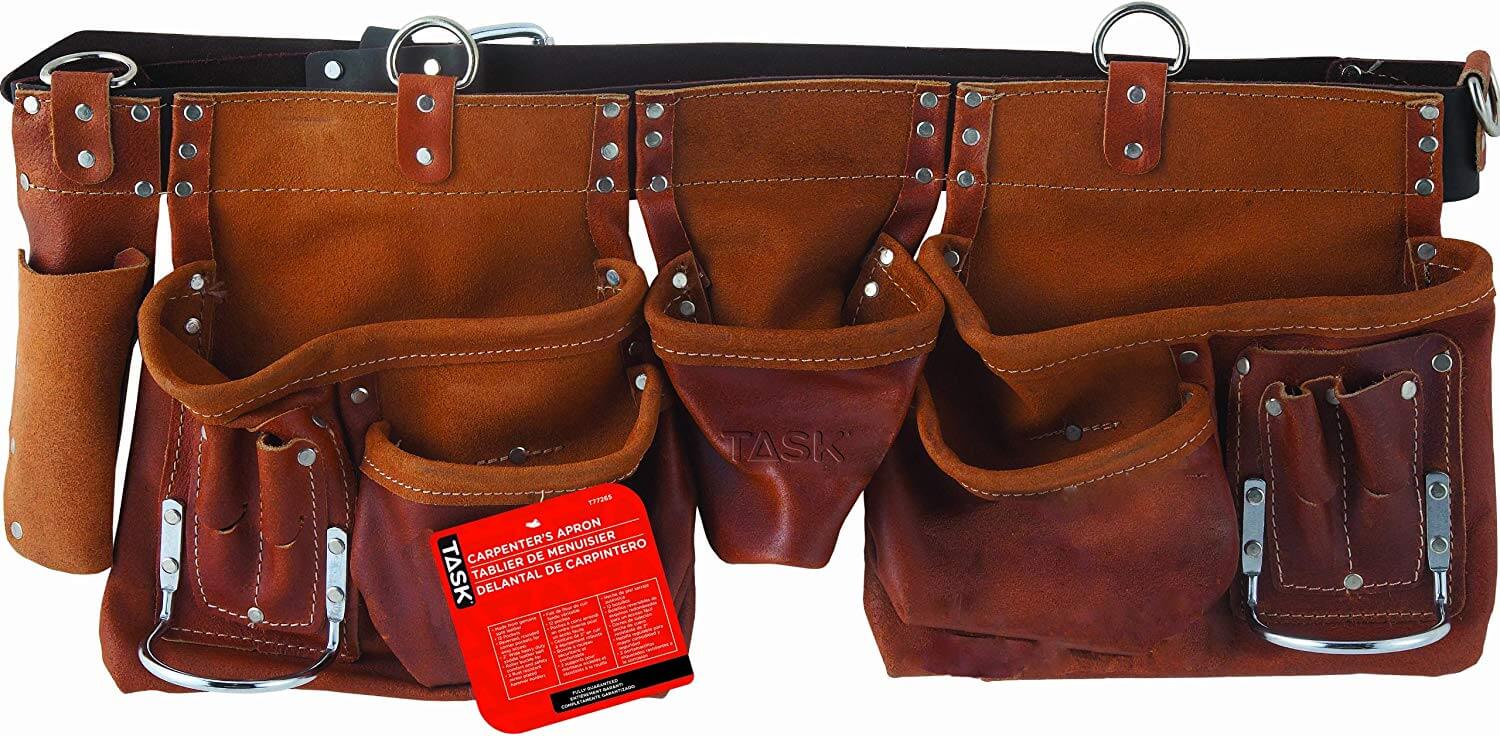 For the carpenter searching for a heavy-duty, spacious, and cost-effective belt for holding a wide range of tools, the Task Tools T77265 comes highly recommended. Besides that, it is deserving of the 7th position on the strength of its craftsmanship and innovative design, which essentially means it brings together the most essential features and specs a professional carpenter would look for in a tool belt. The product is also not rough on the eyes, seeing as it comes in an attractive and stylish oil-tanned color.

It professionally crafted from some of the best materials available to the industry so it provides you with more than a lifetime of dependable and stress-free use. The decision to construct the product from long-lasting oil-tanned split leather is a prudent one, qualifying it for use in sorts of friendly and rough environments. The result is a 2-inch-wide, heavy-duty saddle leather belt capable of standing up to the rigorous task of holding heavy, sharp, and even pointed tools without them piercing or tearing it apart.

Expand to see more
With it around your waist, you'll never lack for space and it'll bring to an end the days of having to juggle some tools on your shoulders and head as you rush to complete a project. It boasts 12 various-sized pockets and 2 rust-resistant nickel-plated
hammer
holders. The fact that the corner pockets are reversed and rounded aims at providing you with effortless and unhindered access to the tools.
On top of these features, it comes with a roller buckle to ensure you remain comfortable and safe all through the duration of your project.
The spaciousness, affordability, and comfort the Task Tools T77265 provides make it one of the best tool belts on the market.
It's an instrumental choice in helping you carry your favorite tools safely and securely.
User-friendly design
Cost-effective
Comfortable and a cinch to use
Large capacity pockets
A little on the heavy side
8. CLC Custom Leathercraft 1608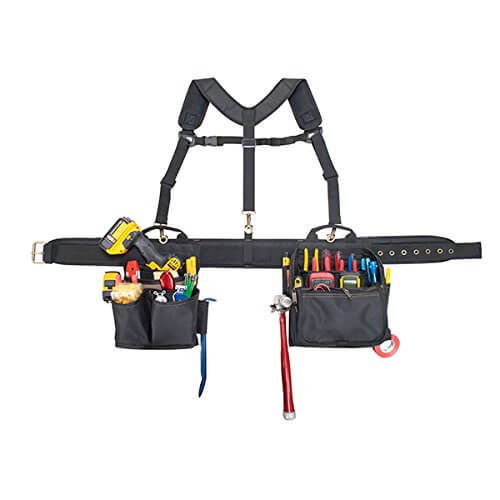 The CLC Custom Leathercraft 1608 is not your everyday tool belt. It's a versatile choice that's ideal for various professionals including but not limited
electricians
, carpenters, and framers. And it's also expensive, but there is a strong correlation between the price tag and the quality, performance, and convenience it seamlessly offers. Plus, it comes in a pack of two, which will prove to be economical and a prudent investment in the long run.
The Custom LeatherCraft brand is easily considered a household name in the woodworking, construction, and automotive industry seeing as it has assiduously built a strong reputation on account of its first-rate products. The tool belt easily and dependably continues that tradition. The tool belt is an embodiment of the brand's competence and skillful craftsmanship built over several decades. It incorporates cordless drill pockets that further feature a zippered top flap pouch for keeping your tools safe and secure as you undertake your project.
Expand to see more
The product has 29 pockets and several loops and sleeves that, filled to the brim, can put a lot of weight and burden on your waist and hamper your movements. To prevent that possibility, it conveniently comes with heavily padded suspenders to minimize the chances of it putting too much strain on your back and hips. The belt is itself also padded to keep it securely and comfortably in place. You'll, therefore, be able to move around without much hindrance.

To make sure it last for several generations even when subjected to every day, heavy use, it's thoughtfully crafted from rugged leather. Its longevity and structural integrity are therefore not in question. Further, all the stress points are riveted using steel washers and the weight is evenly distributed to make it easy to carry around.

The bottom line is that the CLC Custom Leathercraft 1608, in spite of its position, packs all the auxiliary features to enable it to stack pretty well against more established industry giants while providing you with the best service. It'll leave you in awe.

Durable, high-quality construction
Adjustable waist
Well balanced for comfort and ease of use
Large capacity pockets
Slippage-resistant zippered pockets
Poor quality stitching
A little too big
9. Bucket Boss 85035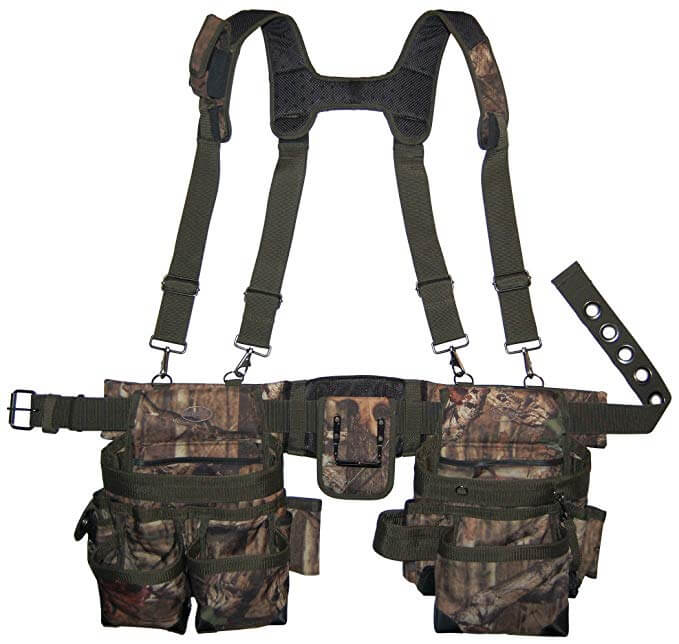 The ingenious design of the Bucket Boss 85035 helps you keep your commonly used tools and accessories with quick and easy reach. As a result, it helps take the time and effort away from completing the simplest to the toughest projects without breaking a sweat.

Like the vast majority of belts featuring on this list, the product sports heavy-duty construction, has plenty of space for keeping various tools and is designed to be comfortable to use for prolonged periods by people with waist sizes up to 52 inches. Unlike our previous pick, it is surprisingly cost-effective in spite of its plethora of nifty features and heavy-duty construction.

The exceptional performance and innovative design are hard to turn a blind eye to. the manufacturer resorts to the use of high-quality 1680D 2-ply polyester material that gives the tool belt the strength and longevity to weather heavy and hardy use. It'll be several years before it starts approaching the tail end of its useful life. Even then, there won't be any significant drop in performance or durability.

Expand to see more
It comes with large capacity pouches for comfortably holding several tools of various sizes and shapes as you work. The pockets feature a speed-square design to enable you to access the tools therein quickly and with ease. To ensure it fits comfortably and securely around the waist, it incorporates a heavy-duty steel buckle belt with monster grommets.

In addition to that, the belt is designed for waist sizes up to 52 inches, which means it ropes in the vast majority of tradespeople. And should it get too heavy, there is a load bear stretch suspension for additional comfort. And you get a generous 12-month warranty to cover you against deficiencies in material and craftsmanship.

The Bucket Boss 85035 may not be the best on the market but it's very practical with large, heavy-duty pockets and boasts a cost-effective price tag. The product is worth every penny you pay for it.

Budget-friendly pricing
Spacious pockets
Adjustable waist size
Long-lasting construction
10. Gatorback B145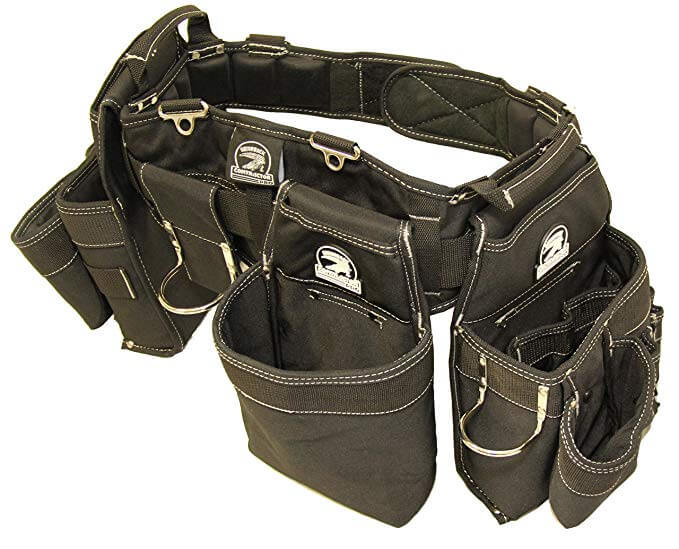 We didn't save the best for last but as far as space, comfort and support go, the Gatorback B145 combo offers the best bang for the buck. It's an ideal choice for the value-conscious carpenter looking to get the most out of their investment over the long run. And while it's not made from leather like most tool bests on this list, it's neither flimsy nor weak and won't sag as quickly as others, thanks to the fact that all the pockets come with a useful plastic lining. Another one of its strengths is the pocket-friendly pricing; you don't have to contemplate selling one of your kidneys to afford it.

The ingenious design aims at providing you with sufficient space so that you can bring all your commonly used tools to the job. It has a total of 9 deep-seated pockets all of which features a box shape to prevent sagging and tearing even with daily, heavy use.

Also, keeping various tools in the pouches and retrieving them is both quick and easy as the box design enhances accessibility and keeps them open for as long as needed.

Expand to see more
And, because of the use of industrial-grade 1250 DuraTek nylon for the construction of the pouches and the fact that they are plastic lined, they won't be tearing any time soon. Coupled with the tacking and riveting of all the stress points on the pockets and the belt itself, you'll be getting a product that, with proper care, should easily last more than a lifetime.

Another useful feature is the easy adjustability of the product's waist size between 26 and 55 inches. And in spite of its heavy-duty construction from the already mentioned 1250 DuraTek nylon, the product is remarkably and surprisingly lightweight and compact. Additionally, the tool belt is comfortable and sports a ventilated padding to help reduce sweating.

In all, the Gatorback B145 is one of the best options you can get on the market. It's spacious, user-friendly, cost-effective and comes with a generous 12-month warranty to cater for deficiencies in material and craftsmanship.

Cost-effective
Durable construction
Ventilated and comfortable
Sturdy and spacious pockets
Criteria for Choosing the Best Tool Belts
Comfort
In addition to meeting your unique needs, you need a tool belt that perfectly or near-perfectly fits the size of your body. To this end, consider whether you want a thick or thin belt and whether it should be lightweight and compact or not.
Bulky ones with several pockets are bound to be heavy, especially when holding all kinds and sizes of tools and accessories. One that's lightweight, on the other hand, may lack the heft for carrying heavy tools. Lastly, consider whether you want a model with an adjustable closure or not. The ability to adjust the size of the belt allows for a more comfortable fit than their snap counterparts. And if it comes with a padding on the inside it'll definitely be more comfortable than those that don't.
Construction Quality

Manufacturers use several types of materials to make tool belts some of which include nylon, polyester, leather, and sometimes canvas. Obviously, no two materials offer the same durability, and each comes with its fair share of pros and cons, which should form the basis on which you make your purchasing decision.
While leather is long-lasting and ideal for making deep pockets for accommodating bulky and heavy tools, it's nonetheless expensive and has a long break-in period. Nylon has the advantages of flexibility, ease of cleaning, and similar durability to leather. However, the material is devoid of leather's structural integrity.
Conversely, canvas comes with flexibility, lightweight design, and is perfect for woodworking projects. On the flipside, it's susceptible to stains and lacks the durability of leather.
Pockets
The amount of space a tool belt offers the user is perhaps the most important consideration before one commits their money. If you have large or considerably bulky tools, consider going with deep pockets. If, on the other hand, you mostly handle several smaller tools such as nails, screws, wrenches, and the like, then you need several small pockets.
Also, consider whether you need removable or fixed pockets as this has a huge impact on practicality. Lastly, make a point of checking where the pockets are placed and how this might impact on your productivity as a left- or right-handed individual.
Frequently Asked Questions
Q: How do rivets contribute to tool belt longevity?
A: Virtually all options have stress points that are highly susceptible to tearing with frequent exposure to heavy tools. Reinforcing these stress points with rivets helps maintain the structural integrity of the pockets and prevents sagging
Q: How do I clean small stains and marks from the pockets?
A: The cleaning method is dependent on the material from which the unit is made. However, for most materials, you can easily use a toothbrush, soap, and water to get rid of the stains by scrubbing lightly.
Conclusion
Owning the best or most suitable tool belt is arguably the first step to realizing your full potential as a professional or greenhorn carpenter, electrician, plumber or enthusiastic DIYer.
The product cuts down on the time and effort you'd otherwise spend going to and fro your tool chest to fetch the right tool, helping you fully focus on your project instead. After tens of hours scouring the internet, we present you with ten of the best options the market can offer. Provided you match your needs to your choice, you're bound to get the most out of it.
Subscribe to our newsletter