Best Infrared Heaters: Reviews & Editorial Ratings
last updated:
Dec 24, 2018
For homeowners, office employees, and other professionals looking for a safe, efficient, reliable, and cost-effective way of keeping themselves warm, an infrared heater would be an ideal choice. The vast majority of high-end models are renowned for their smooth, effortless operation and even distribution of comfortable, toasty warmth. Compared to other conventional systems, their heat has a more natural feeling to it and because they're energy-efficient, they're considerably cheap to run. Plus, they feature a small footprint and are lighter than other heating systems. As a result, they take up minimal space on the floor or wall and install in a snap.
Our Top 3 Picks
[srpshortcode id="20383″][/srpshortcode][srpshortcode id="20384″][/srpshortcode][srpshortcode id="20385″][/srpshortcode]
Because you're reading this, we can tell you're experiencing difficulties choosing your next infrared heater. That's understandable considering the sheer number of models of different shapes, styles, and sizes available to choose from. Here, we review 10 of the best infrared heaters the market has to offer to give you useful insight and help you make an independent, informed decision.
10 Best Infrared Heaters
1. Dr Infrared Heater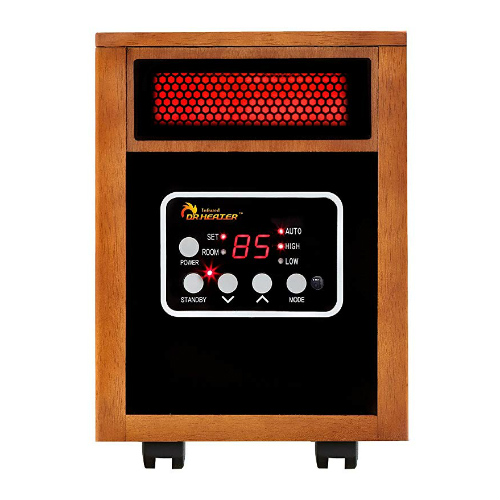 With an abundance of positive attributes, Dr. Infrared Heater easily trounces over other infrared heaters to take the first position. It's a high-performance option that guarantees to keep your room sufficiently warm, comfortable, and cosy as the frigid temperature of the winter takes its toll. It's highly portable, a cinch to use, and has a slew of safety features to keep you and your family members safe and sound. Compared to other brands, Dr. Infrared comes with a generous 36-month warranty that gives you cover against deficiencies in material and craftsmanship. A comprehensive review of the infrared heater follows next.

Among its laundry list of features are exceptional energy efficiency, superior heating capabilities, safety, and whisper quiet operation. By bringing together a high-end PTC and Quartz Infrared Element, the machine will keep your entire family warm and cosy without increasing your electric bill. It works fast, smoothly distributing and transferring heat to every corner of the house without leaving cold spots. It's also an energy-efficient option that only heats up the objects in the house, eliminating uncomfortable drafts while retaining moisture.

Expand to see more
Safety is a paramount consideration for all homeowners looking for an infrared heater. Luckily, this option comes with loads of safety features to eliminate any ugly surprises. First on this list is the cool-to-the-touch design that stops the surface from heating up to the extent of burning you, your furry friends, or your children should they come into contact with it. A tip-over protection feature, on the other hand, means it won't tip over should anyone brush against it. Also, you'll have peace of mind knowing the auto shut-off overheat protection will immediately kick in should operating temperature exceed normal levels.

If you are looking for a reason to purchase it, you now have several. The automatic shut-off timer, IR remote control, quiet operation, electronic thermostat, and heavy-duty caster wheels are all reasons to give it some serious consideration.

Durable construction
Cost-effective
Portable
Safe and a cinch to use
A little rough on the eyes
2. LifeSmart LS-1000X-6W-IN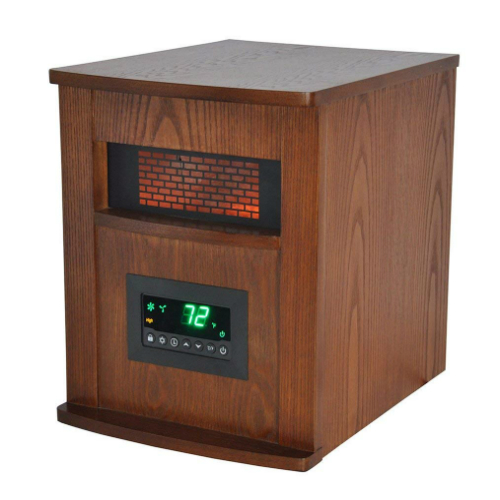 If our first choice doesn't tickle your fancy, consider investing in this equally high-quality option. Like our previous pick, the LifeSmart LS-1000X-6W-IN is filled to the brim with a litany of impressive features to keep you and your loved ones, including the pets, of course, safe, comfortable, and warmth all through the winter. Some of its outstanding features include a versatile choice of 3 heat settings with an EXO mode, easy-to-use digital controls, an on/off 12-hour timer, and a convenient remote control.

Boasting up to 5100 British Thermal Units, the LifeSmart LS-1000X-6W-IN is an ideal choice for users with rooms up to 1400 cubic feet in size. It features 6 superior wrapped infrared heating elements that quickly, smoothly, and efficiently provide soft, comfortable infrared heat. The heat is then evenly distributed to all corners of the room or house so that the entire family doesn't have to crouch in front of the infrared heater as the winter cold reaches a crescendo. The 3 heat settings including the ECO mode provide you with lots of control and enhance customizability. You can choose an ideal heat setting in accordance with the prevailing weather conditions.

Expand to see more
Designed with the convenience of the user in mind, it has a slew of features that make it remarkably easy to use. One such feature is the remote control. You can conveniently turn it on or off, adjust the heat and several other settings right from the comfort of your couch or bed. At 24 pounds and with dimensions of 16.2 by 13 by 17.5 inches, the infrared heater is both lightweight and compact.

Consequently, it takes up minimal space in the living room or beside your bed and because it has high-quality caster wheels, portability is never an issue.

Its construction with premium quality oak enables it to last for years on end even with every day, continuous use. The infrared heater is also energy-efficient and comes with a washable air filter and works quietly even at high heat settings.

Besides being a powerful, efficient, and reliable alternative, the LifeSmart heater also features a sleek, modern design that'll easily complement the décor of your room or house. And of course, it works like a charm.

Quick, efficient performance
Energy-efficient with excellent performance
Affordable
Portable
4. Duraflame Electric Infrared Quartz Fireplace Stove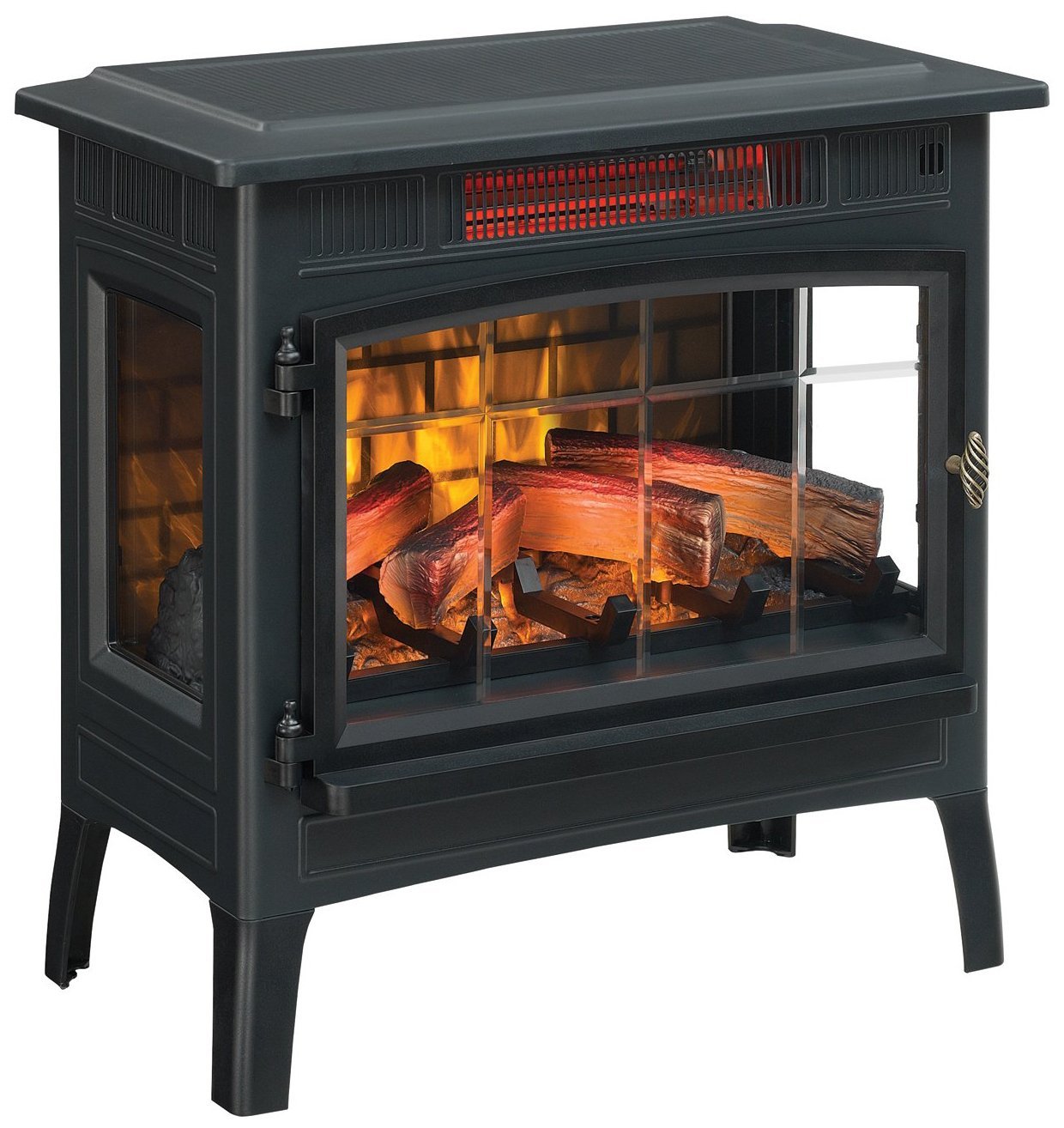 It comes with all the bells and whistles you won't find in an average infrared heater, and that's not to say it's overly expensive. With up to 5200 BTUs, the device is capable of warming up any room up to 1,000 square feet, meaning that it's an ideal choice for small rooms. With its sleek, attractive looks, it doesn't stand out or become the focal point of the room. Rather, it complements the room and evenly distributes heat to only those spaces or areas you want to keep warm. Additional features that make it hard to pass up include effortless portability, cool to touch design that's safe for children and pets, and a convenient remote control.

With a wattage of 1500 and up to 5200 British Thermal Units, this is a perfect choice for keeping rooms up to 1000 square feet warm, cosy, and comfortable for you, your children, and furry friends. It works more than the sun, warming you up comfortably and almost instantly while still evenly distributing infrared heat to all corners of the room. Its gentle heat doesn't interfere with the natural humidity in the air thereby eliminating the possibility of drying out the skins and airways of your loved ones.

Expand to see more
Aside from performance, the infrared heater is also designed to be easy to use. It incorporates a safety plug that's designed for preventing fires by guarding against overheating by closing monitoring plug temperature with the factory-installed thermometer. It'll automatically shut off if normal operating temperatures are exceeded. Compared to the central air system, it only heats those areas that you needed heated, saving you lots of money in electricity costs.

To top it all off, the ingenious design allows the users to turn on the patented 3D flame effect technology that allows for 270 degrees of viewing. The all-metal construction allows it to stand the test of time while the provided remote control and the accompanying thermometer range of 68 to 82 degrees Fahrenheit make it one of the most versatile heating solutions out there.

Offers the best bang for the buck
Safe to use
Offers effortless controllability
Generous warranty
5. EdenPURE A5095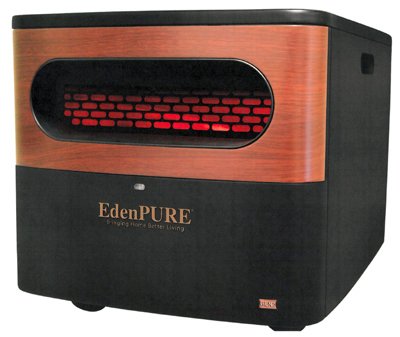 EdenPURE A5095 has all the hallmark features of a high-end option. It evenly and efficiently distributes warm infrared heat over up to 1,000 square feet of space, thanks to its pro-grade electric heater. A large digital readout enhances ease of use with its automatic on/off setting. You don't have to worry about space and portability as its both lightweight and features a space-saving design. The fan runs quietly irrespective of the heat setting and, like the vast majority of infrared heaters, it comes with a remote control to give the user superior control over functionality.

As indicated above, EdenPURE A5095 has several instrumental features. The small and lightweight design makes it highly portable, so you easily carry it from one room to another without straining your hands or risking throwing your back out. It takes up minimal space. Consequently, you won't have to move things around or upset the arrangement of your room to fit it somewhere. It's aesthetically pleasing and will blend in perfectly with the décor and design of your room.

Expand to see more
Packed to the brim with several impressive features, it takes the time and effort away from keeping your room conducive, comfortable, and warm. A remote control enables you to change the various heat settings right from the couch while the ingenious heat on/off feature intelligently keeps the fan running to ensure even air circulation all through the room. An automatic on/off feature, on the other hand, guarantees you and your loved ones a comfortable and warm stay. You can set it to start warming up your home you get there, meaning that you'll be entering a cosy and warm home when you come from the office.

Additional features include the touch-safe exterior, tip-over sensor, and pet-friendly design. You have the option of purchasing an installing an additional air purification kit to cleanse the air in your room.

In all, EdenPURE A5095 has several endearing features. The space-saving bookshelf design, ease of use, convenient remote control, and cost-effectiveness are all reasons to consider investing in it.

Attractive bookshelf design
Comes with remote control an timer
Safe to use
Very portable
Expensive
No caster wheels
6. Homegear 1500W with Remote Control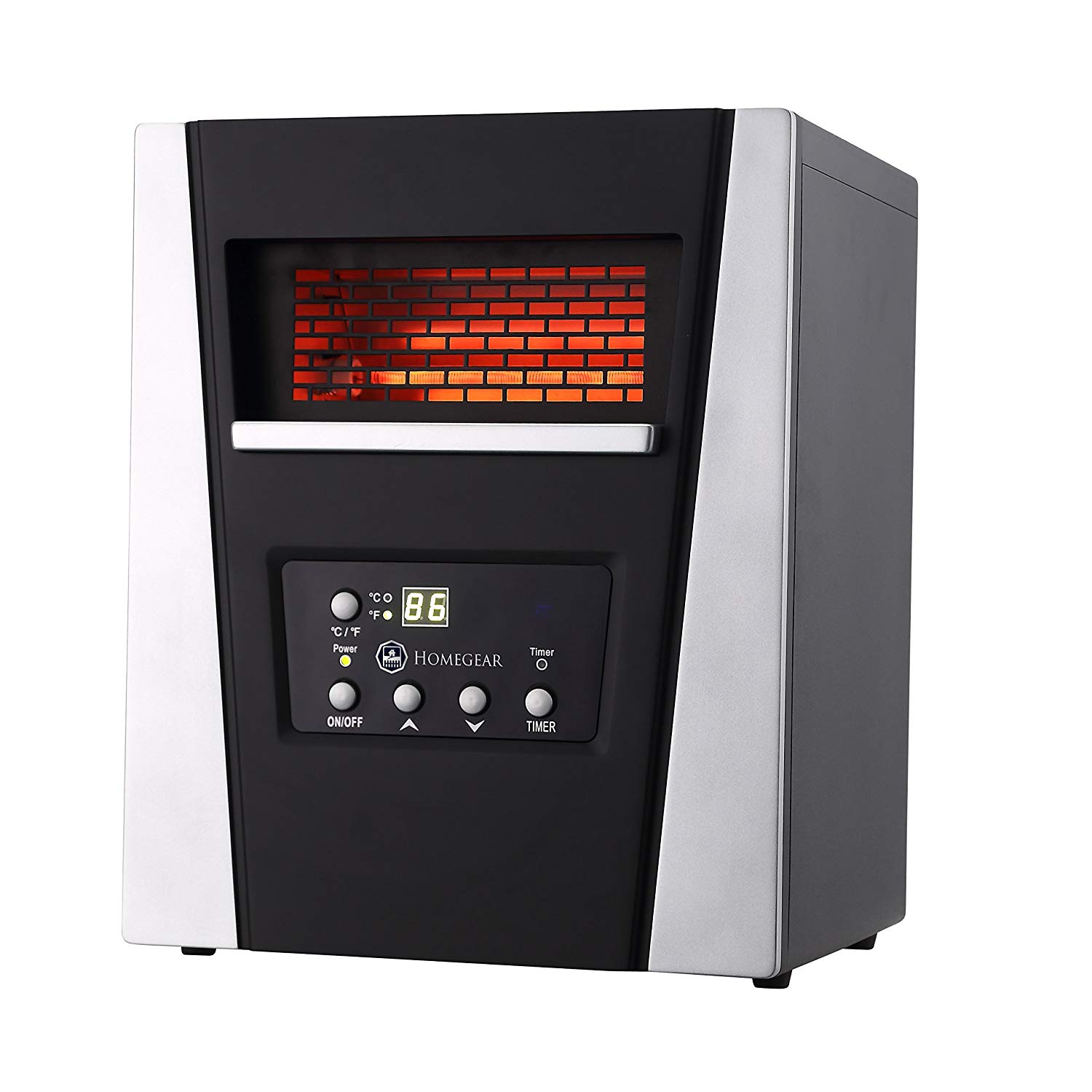 If you're looking to invest in an option that quickly and efficiently heats up to 1500 square feet of space, take a look at this Homegear device. It's cost-effective, so you don't have to start making arrangements to sell one of your kidneys. And, it's ultra-quiet, easy to use, highly portable, and built to provide you and your family members with the best heating experience this cold winter season. Aesthetically pleasing, it easily enhances
the décor
of any room you decide to use it in without being the focal point.
Capable of a heart-stopping performance, the Homegear 1500W features an innovative dual heating system that brings together Mica and Quartz infrared heating tubes. The result is up to 5100 British Thermal Units of raw heating power, making it an ideal choice for homeowners looking to keep up to 1500 square feet of space warm, cosy and comfortable when the temperatures suddenly and unexpectedly dip. The infrared heater ups the ante by featuring a powerful, heavy-duty yet remarkably quiet fan that efficiently and evenly distributes heat throughout the entire room. The easy-to-set digital thermostat guarantees that the heat will never exceed or fall short of the set level, allowing you to enjoy a nice, maintained heat level.
Expand to see more
At 11.5 pounds and dimensions of 12 by 13 by 17 inches, it is both lightweight and compact. As a result, it takes up a fraction of the storage space of its bulkier, heavier counterparts and can therefore easily go in the living room, the bedroom, garage, shed, or even workshop. Further, it has a handy remote control to give you superior control and has a safety-assuring ETL certification. An overheat protection feature, on the other hand, will automatically shut it off if the temperatures exceed normal levels.

For the homeowners who prioritize safety, reliability, and exceptionality in an infrared heater, this high-end yet cost-effective device may just be the right product for you.

Budget-friendly
Sleek and stylish
Comes with remove and large LCD for convenience
Safe and energy efficient
7. Comfort Zone Ceiling Mount Quartz Heater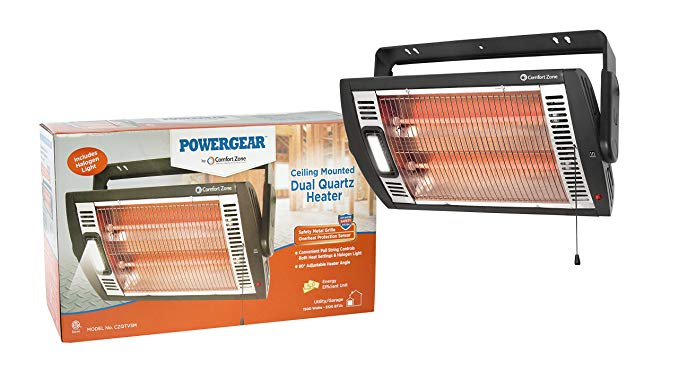 Hands down one of the most portable and easy-to-use options you can find on the market, the Comfort Zone heater is a perfect choice for those with smaller spaces. Don't let the simplistic, humdrum appearance fool you because, in spite of its small footprint, this option easily trounces other infrared heaters on the market with regards to performance. It installs in a snap. Boasting an impressive 12.5-amps at 120V, it features two heat settings for versatility and is more than capable of keeping your family warm, safe, and comfortable. Before turning up your nose at it entirely, at least read through the following brief review.

The heater is a cinch to use. It features a single pull string which easily toggles between various settings. In addition to heating up your place, it also comes with a sufficiently bright halogen light which you can decide to switch off whenever you're using it. The little known Comfort Zone brand pulls all the stops to provide its users with a safe heating solution. Their product comes with an overheat protection sensor and a safety metal grille all working towards minimizing or entirely eliminating fire hazards. A three-prong grounded plug further helps eliminate electrical dangers.


Expand to see more
As mentioned earlier, it is a
ceiling mounted
option, making it a far safer option compared to wall or floor mounted alternatives. This installation option minimizes the likelihood of the infrared heater falling on other household items or tripping house occupants. A ceiling installation, among other things, conserves space, enhances security and safety and generally lacks the attendant risks that characterize using a floor- or wall-mounted infrared heater.
A unique selling point of the Comfort Zone Ceiling Mount Quartz Heater is its ability to efficiently spread warmth infrared heat over a 90-degree range. It doesn't confine you to one spot as other cheap, run-of-the-mill options do. The halogen light is also adjustable and in light of its durable construction, it's bound to provide you with several years of service.
The heater brings you the best of all worlds. It boasts a powerful heating experience, has an abundance of safety features, and mounts quickly and easily on the ceiling. Plus, it's very versatile.
Versatile and easy to use
Easy and quick installation
Cost-effective
Effective heating performance
Lacks thermostat and timer
8. Dr. Infrared Heater DR998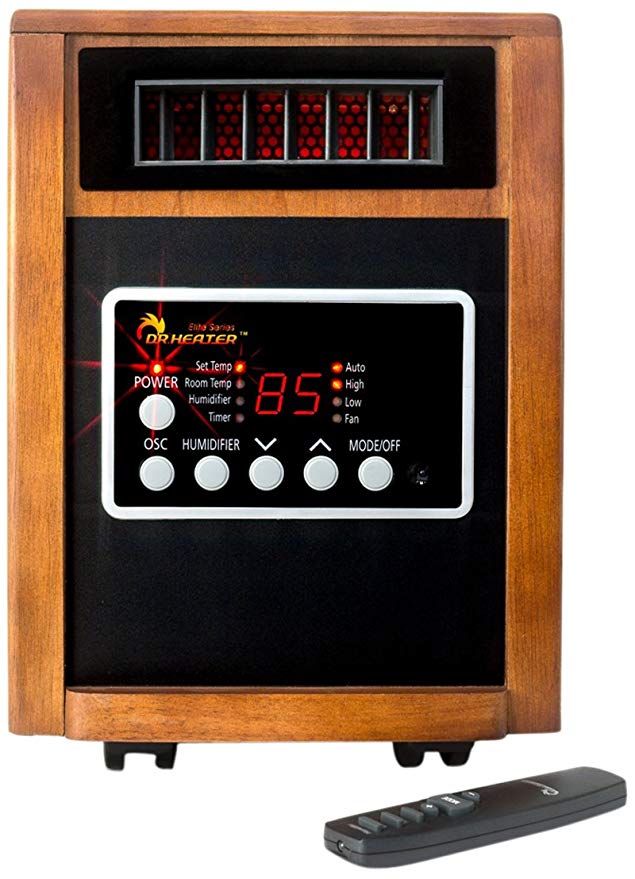 Virtually all Dr. Infrared products are synonymous with exceptional craftsmanship, versatility, efficiency, and dependability. And Dr. Infrared Heater DR998 is no different. It effortlessly continues this tradition seeing as it comes with a sea of head-turning features to give the homeowner their money's worth. Featuring an oscillation feature, the product evenly, quickly, and easily distributes warm infrared heat to all corners of the room, and doesn't leave any cold spots. Aside from heating up your space, it goes a step further and
humidifies
the air, making it even more comfortable, conducive, and welcoming. If your heart is set on acquiring a multi-purpose infrared heater you can comfortably and confidently use for the next several winter seasons, we recommend going with this option.
It's not every day that you come across a cost-effective option that doubles up as a humidifier and air purifier, so let's start with that. The two features work independently of the heater. Keep them running for a few minutes and your living space will soon be free of dust, pollen, and other allergy-triggering micro-particles. With additional moisture in the air, sinuses, sore throats, and cracking skin will be a thing of the past.
Expand to see more
As for its space heating prowess, the infrared heater combines a Quartz tube and PTC to generate sufficient heat for heating up to 1000 square feet of space. It comes with 3 heating settings: Auto, High, and Low while the temperature ranges between 50 and 86 degrees Fahrenheit. The 12-hour programmable heater and humidifier stand out and sets it apart from its competitors on and outside of this list. The toasty heat is quickly and evenly distributed throughout the room by the oscillation function, so that everyone, irrespective of their preferred sitting place gets to benefit from the heat.

Overall, the DR998 is an all-around infrared heater which, in addition to heating up your room to toasty, comfortable temperatures, also gets rid of micro-particles while increasing moisture. You'll never be more at home and comfortable.

Distributes heat evenly and quickly
Comes with a humidifier
Provides sufficient heat
Versatile performance
Safe to use
9. iLIVING Space Heater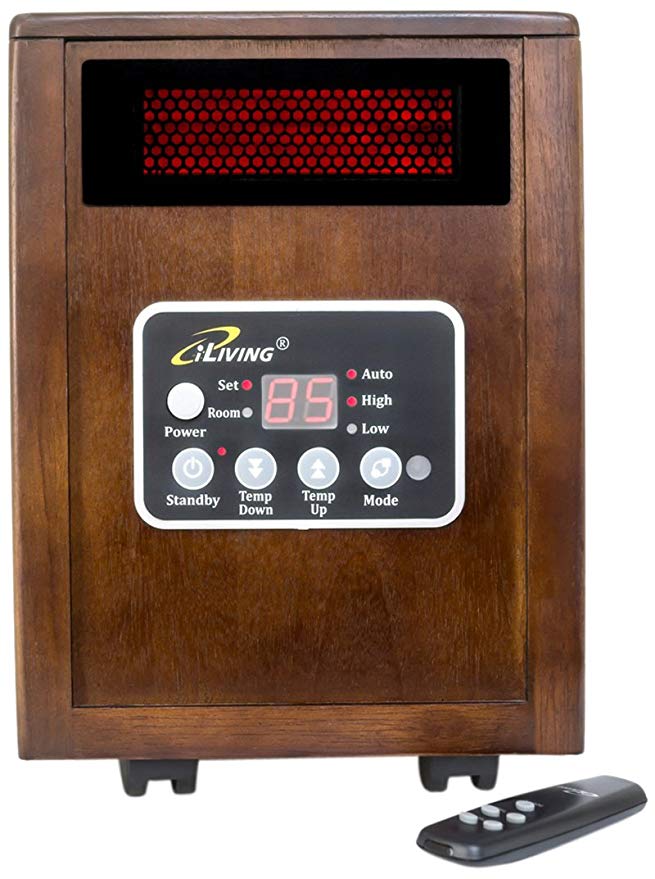 The iLIVING device is intelligently and expertly designed. Among other things, it's lightweight, highly portable, cost-effective, and easy-to-use. To these add several other quintessential features you'd find in an infrared machine. A dual heating system will keep you safe and comfortable through frigid winter temperatures and because it's lightweight and compact, the infrared heater is highly portable. It has a remote control to ensure ease of use and it comes in a dark walnut
wooden cabinet
that's not only good to look at but is also designed to save space and enhance security while keeping everyone toasty and comfortable.
Like other industry greats, iLiving pulls all the stops to provide its customers with nothing short of exceptional performance. Its dual heating system brings harnesses the heating power of an infrared quartz tube and PTC technologies to efficiently and quickly raise the temperatures of indoor spaces up to 1000 square feet to comfortable and conducive levels. The dual heating system gives you a choice between a Low and High setting. Also, there is an Auto Energy Saving Mode that'll save you lots of money over the long run. Further, note that the infrared heater incorporates an electronic thermostat with a temperature range of between 50 and 86 degrees, giving you plenty of room for customizability.
Expand to see more
The device is not all performance-oriented. It's also built with the user in mind. A 12-hour automatic shut-off timer, for instance, drastically increases its customizability and ease of use. You can program it so you come back to a cosy, warm, and welcoming space. The control panel is a cinch to use and thanks to the ingenuity of its design, it's whisper quiet at just 39 decibels. That's quieter than a normal conversation between two people. At 12 pounds and with 4 heavy-duty caster wheels, this is arguably one of the most portable infrared heaters you'll ever come across.

Considering its plethora of impressive performance and convenience features and its budget-friendly price tag, you'll need a concrete reason to pass up on it. Good luck coming up with just one.

Efficient performance
Very safe to use
Quiet
Highly portable
Energy-efficient
10. Mr. Heater F232025 MH9BX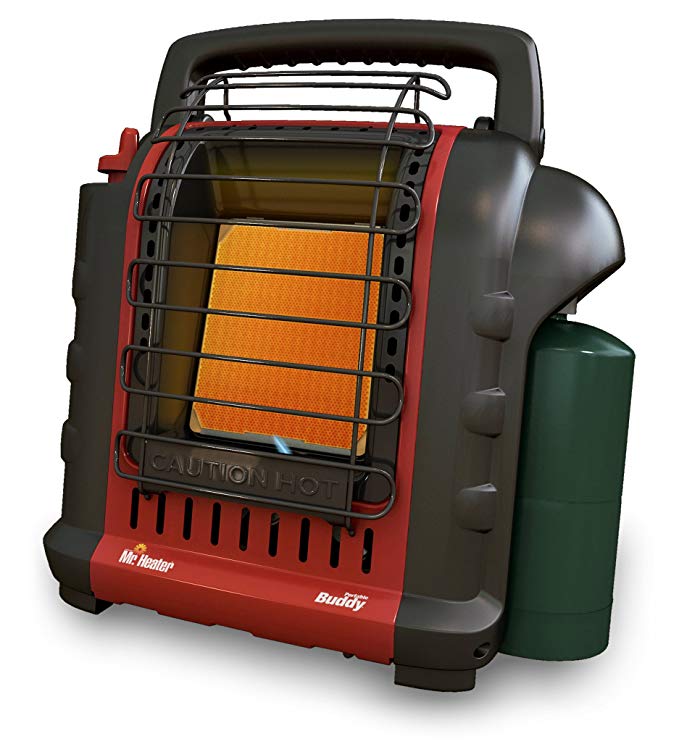 Mr Heater is one of those brands that are considered a household name. It enjoys a solid reputation among value-conscious users looking for the best value for their products. As our 10th pick, it can't hold a candle to the crème-de-la-crème of the industry but it comes pretty close considering that it's an entry-level product with an outstanding richness of features. If you want a workhorse that performs reliably with minimal hiccups season after season, we highly encourage to read on.

Unlike the vast majority of options on this list, the Mr. Heater F232025 is propane-powered, which, depending on your perspective can either be advantageous or disadvantageous. Beginning with the positives, a propane-powered machine doesn't rely on electricity which means it'll continue heating up your space even during a power outage. Neither do you have to contend with long power cords. On the flipside, though, dealing with propane can be a little messy and cumbersome as you have to hook up the infrared heater with a one-pound propane tank. Enough with the nit-picking.

Expand to see more
A porcelain heating surface generates and evenly distributes between 4000 and 9000 British Thermal Units, depending on the user's preferred heat setting. That performance makes it ideal for heating up indoor spaces up to 225 square feet in size. To keep you and your loved ones safe, including your furry friends, the infrared heater features a high-temperature wire guard at the front and will automatically switch itself off the second it's tipped over.

Further, it's built with first-grade materials to last more than a lifetime. The handles are not only ergonomic but also easy to fold thereby considerably saving on storage space and to facilitate easy transportation.

Overall, Mr. Heater F232025 heralds a new era in indoor space heating. Only a handful of infrared heaters can successfully imitate its portability, ease of use, and dependable performance. Unfortunately, they're all expensive.

Portable
Evenly distributes heat
Durable construction
Easy to install and safe to use
Propane tank and hose sold separately
3. LifeSmart Medium Room Heater with Remote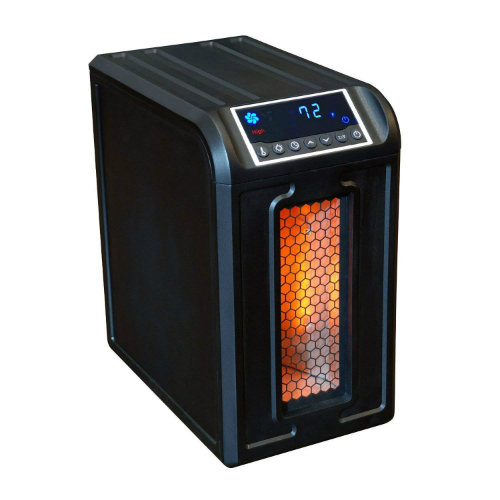 Compared to the hot blaring air of cheap, humdrum options, this is a high-end model that generates safe and comfortable heat. It's an energy-efficient and perfect choice for medium size rooms and works hard all around the clock to ensure you don't freeze during the winter. As well as featuring 3 metal wrapped quartz infrared elements, the infrared heater also comes with a washable air filter, is lightweight and energy-efficient at 500 watts, and highly portable. You also get to use the convenient remote control and a dual timer settings for programming it 12 hours ahead.

In spite of its lightweight and small footprint profile, its performance easily overshadows that of high-end, costlier models on the market. It brings together a digital thermometer with a grave quiet scroll fan, a 12-hour start and a stop timer, and 3 heat settings. The result is infrared warmth to all corners of a medium sized room. Coupled with the fact that it has a quietly working scroll fan for circulating heat, you won't have to lift a finger to keep your room comfortable, welcoming, and conducive all through the winter.

Expand to see more
It weighs a paltry 11.5 pounds, making it one of the lightest and highly portable infrared heaters on this list. It has dimensions of 12.5 by 7.5 by 13.5 inches and will take up minimal floor space in the living and bedroom. You don't need much upper body strength to move it from one room to another, as is the case with its heavy, bulky counterparts. With a large and easy-to-read digital display and remote control, using the infrared heater doesn't require any skills at all to use. To these features add a stylish black fireproof cabinet exterior adds to its character.

Overall, it is a perfect choice for homeowners who want a comfortable heating option that's also energy efficient. It's cost-effective and very easy to use.

Lightweight and portable
Compact
Versatile settings for powerful performance
Budget-friendly and energy efficient
Selection Criteria

Power Source
This type of heaters operate on either electricity or gas, and the difference between the two in terms of performance is negligible. However, electric infrared heaters cost less than their gas-powered counterparts and because a typical house is dotted with several power outlets in virtually every room, you can use an electric infrared heater in a room of your choice.
The same can't be said for gas-based infrared heaters that have a fixed hose for connection. They are both quiet and easy to use but the fact that you need propane to operate a gas-powered infrared heater raises safety concerns for most homeowners.
Energy Efficiency
Compared to conventional central heating systems, infrared heaters are considerably cheaper and easy to run. Energy consumption for the vast majority of them lies between 1000 and 1500 watts, and this figure, of course, varies depending on your usage patterns and type. It also goes without saying that the more powerful the infrared heater, the higher will be your electricity bill. It'd be prudent to first consider the electricity consumption of the model you intend to purchase and weigh this against the benefit of owning one.
Safety Features
The only feature that can supersede safety is maybe performance. The Internet is awash with stories of infrared heaters overheating and bursting into flames. If you're keen to not join the statistics, ensure your infrared heater comes with as many safety features as possible. A tip-over safety switch, for instance, instantly switches off the machine the second it tips over.
A cool-touch exterior means none of your loved ones, including your furry friends won't get a singed surprise. Also, with an adjustable thermostat, the infrared heater will automatically switch off when a pre-set heat level is reached. This prevents overheating and helps you save on electricity.
Additional Features
Your chosen infrared heater should be easy to install, even without the assistance of a professional or a second pair of hands. To achieve that, the process should be streamlined and it should be both lightweight and compact, which in turn facilitates portability.
Additionally, a warranty gives you a quality assurance and peace of mind by protecting you from deficiencies in material and craftsmanship. And of course, it should be affordable, so that you don't pay for premium features you don't necessarily need.
Frequently Asked Questions
Q: Does the weight and size of an infrared heater have any significance?
A: The physical dimensions determine, to a great extent, the portability of the heater. If it's lightweight and compact, it'll take up minimal space and easy to move from one room to another.
Q: Are they expensive to run?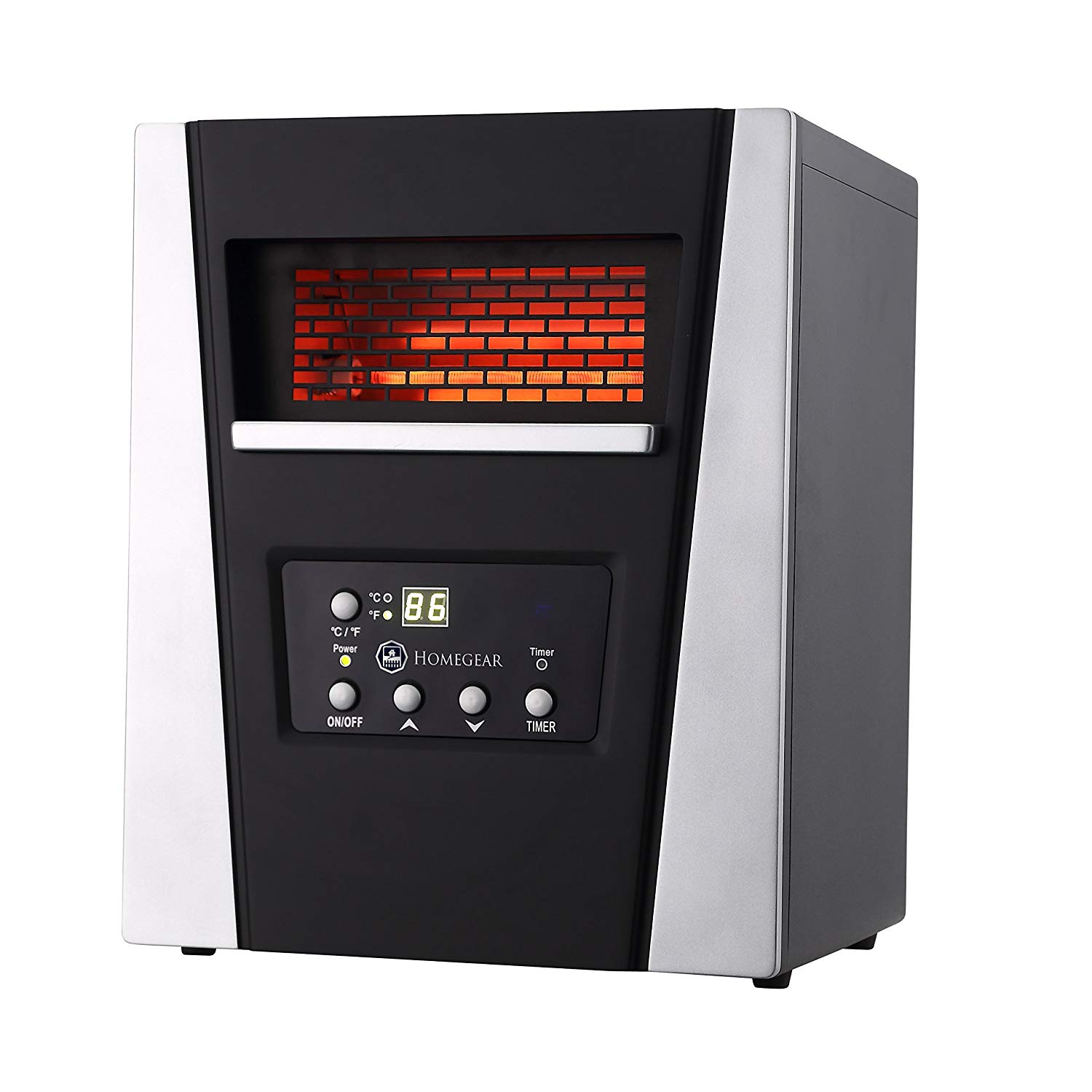 A: Most options are energy-efficient and therefore cheap to run. Because they directly heat up the objects near them, and not the air, the results are almost instant and efficient.
Conclusion
The fact that infrared heaters are safe, efficient, and cost-effective is undisputable. They are a perfect choice for the homeowner or office employee in need of natural feeling, comfortable, and toasty heat. And because of their litany of safety features, you can confidently leave them running the entire night.
Our list features the pro-grade options. As long you match its performance to the size of your room, you'll never have to contend with the frigid winter ever again.
Subscribe to our newsletter