Best Laser Measure Devices Reviews & Comparison
last updated:
Mar 23, 2018
As far as taking measurements is concerned, efficiency and convenience are what DIYers and professionals look for in their tools. For a long time, those working in the construction and survey fields were stuck with the less reliable tape measure when determining distances and dimension of objects or surfaces while undertaking various projects. Currently, there seems to be a shift since the technologically oriented laser measures hit the market. Calculating multiple parameters has become rather easy with these recent devices.
Our Top 3 Picks
[srpshortcode id="11969″][/srpshortcode][srpshortcode id="11970″][/srpshortcode][srpshortcode id="11971″][/srpshortcode]
Well, the beauty of technology in power tools is that it makes work easier and yields better results. Such is the case of laser measures now that they offer better coverage, precision, and are equally easy to work as compared to the long-used tape measure. While laser measuring devices are better by design and mode of operation, no particular model from the hundreds of alternatives available in the market comes with one-fit features for all manner of projects. Therefore, in the search for the most suitable version for your type of job it is important to have various factors in mind to arrive at the best model. To help you with the selection we have listed some considerations below.
10 Best Laser Measure Devices

1. Leica DISTO D2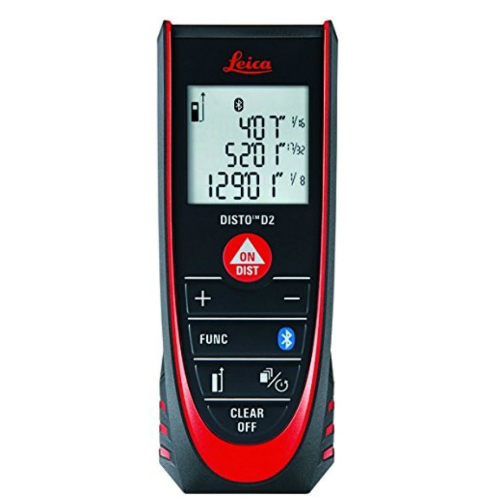 If you have been looking for the most suitable way to speed up the process of taking measurements at the work site, the Leica Disto D2 laser measure is that dream tool you have been missing. Manufactured for the avid
architects
among other construction professionals, this tool is more than a perfect replacement for the traditional tape measure. It comes with the best balance and combination of features that would enable you to enjoy increased efficiency in taking measurements.
To begin with, this model has a range 330 feet (100m) and remains accurate to within 1/16 inches (1.5 mm). The distance is nothing close to what most gadgets of the kind can achieve. That makes it an excellent tool for any type of project since it can precisely get you all the dimensions without the slightest delays.
Expand to see more
The Leica Disto D2 boasts of a Bluetooth technology that permits transfer of measurement data taken straight to a mobile device for further analysis and use. The option brings a whole new level of convenience since the user does not have to record the details by hand like it is with the conventional tape measure. Using this you will be able to save time, effort, and also erase the possibility of making mistakes. Otherwise, this model is equipped with a memory that can store up to ten sets of calculations so you can refer later without necessarily having to save them in a secondary device.

On another positive front, you will find this laser measure very versatile. It has multiple measurement modes which it can execute quite efficiently. These include distance, length, area, volume, continuous measurement, single indirect, stake out, and maximum/minimum. The ability to run several calculations in a single unit can be handy, for instance, when getting into advanced details of the job such as getting cost estimates. It utilizes the Pythagoras function to calculate dimensions such as the width or height indirectly. When switched to volume or area modes, you can add or subtract values from the readings. Moreover, with the Disto D2, no region is too tricky to reach because it features an automatic end piece that flips out and extends into the most isolated areas.

When it comes to taking the readings, this model comes with an instinctive LCD backlit display enhances the ability to view the measurements and computations. The illumination helps the user to read the data without straining especially under low light conditions. Apart from the user-friendly screen, you will also get a lot of comfort from the overall design of the Disto D2 model. The tool is a product of best quality materials epitomized by a soft touch coating that makes it so ergonomic. And since it is a small enough package that can fit in standard pockets, keeping it safe while working will be no problem.

While some people may find this a fairly complicated gadget, it only takes a little learning and practice, and you can ride on its full potential for better productivity. The Leica Disto D2 is nonetheless an excellent choice if you want to avoid the demands of the ordinary tape measure. At its price, it's highly recommended.

Has one of the most extended measurement range
High-level precision
It is dust-proof for durability and hassle-free use
Ergonomic design
Features bright and clear display
Offers multiple measuring modes
Comes with a 3-year warranty
Has Bluetooth technology for data transfer
May not be ideal for use outside under strong daylight
2. Bosch GLM 35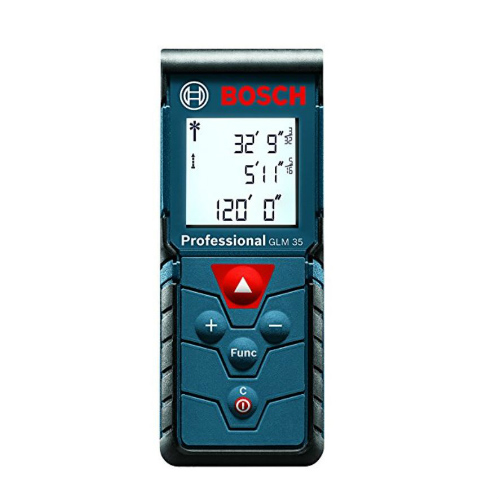 The Bosch GLM35 is all about consistency and value. A fantastic pick for DIYers and experts alike, this model's ability in making the quick and accurate measurement is not open to contradiction. If anything, the Bosch brand is known for producing quality tools, and this model is not any different. With this laser measure, you will be able to enjoy a flawless measuring experience for a wide array of projects. Even though one may be mistaken to underrate its functionality because of its comparably diminutive size, its performance is incredible. It's a real deal as far as superior laser meter devices are concerned. Despite the small size and lightweight nature, very few models come close to its level competency.

Just like most high-end models, the Bosch GLM35 allows measurements to be taken in multiple modes. With this gadget, you can calculate distance, area, length, and volume of objects or surfaces without any help. Once switched on it will continue recording the dimensions in continuous mode besides allowing you to add or subtract values as it may be necessary in line with the project. The features become very useful when you need to get estimates quickly as most jobs will occasionally demand.

Expand to see more
The Bosch GLM35 has a range of up to 120 feet or 35 meters which should be sufficient for small and medium-size projects. Over the span, the accuracy stands with 1/16 inches. The level of precision gives confidence to the user since with every measurement taken reflects the parameters as they are so the final result will equally be quality. In reality, you can never achieve that with the conventional tape measure.

As for operation, you will be happy to realize working this laser measure requires no particular skill or learning curve. It boasts of a smooth process that is made possible by an efficient one-touch button. It takes a simple tap to get going and a similar action to stop the function. Changing measurements from metric to imperial units and vice versa is also very swift and easy.

Coming with dimensions of 1.8 by 5.2 by 8 inches and weighing only 4 ounces, the Bosch GLM35 is certainly a pocket size device. Carrying it around the workplace won't present any serious challenge. So you can always tag it along whether you are scaling a ladder or just strolling across floors because it can fit in your pocket or your hands quite comfortably.

Another huge selling point you should note about this device concerns the screen and visibility. Thanks to the three line display and integrated backlight system, viewing the readings pose no challenge even when working in dark areas. And as a class II laser product with a 1mW power out the performance will remain outstanding at all times.

If you are thinking of buying a laser measure that offers precise calculations and is very affordable, the GLM35 model is that tool. Compact and sturdy, this model is no doubt a good choice for mid-range projects and will fit most typical measuring situations.

Small and compact
Comes with a beautiful backlit display to enhance visibility
Boasts of high accuracy
Provides for multiple measurement modes
IP5 certified with dust and water resistance
Features a practical and comfortable operation
Comes with a two-year warranty
May not be ideal in sunny weather
Doesn't have an internal memory
3. DEWALT DW03050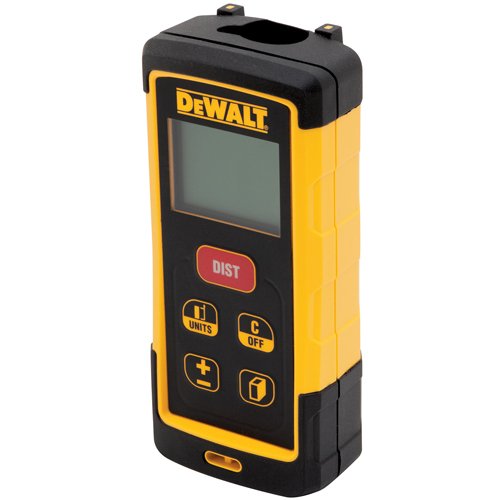 For those whose daily routine revolves around power tools, it's without a doubt that the name Dewalt always features prominently at the mention of reputable manufacturers. When it comes to laser measures, the script is as beautiful as ever. Through the DW03050 model, the brand puts forward a dependable device can facilitate measurements of just about any object or surface you may need. By all standards, this is a professional-grade working companion that ticks all the right boxes for architects among other experts in the construction field.

The model functions on several modes such as area, distance, length, volume, continuous measurement, and single indirect measurements (Pythagoras method). It can calculate the area and figure out the bulk of objects under consideration automatically telling of the excellent functionality it brings to your work environment. With this tool, you can save crucial minutes and effort required to collect vital data on various parameters of your projects. For instance, the indirect measurement mode comes in handy when some surfaces or points can't be accessed the ordinary way. The variety of functioning modes is very useful when you want to get quick estimate.

Expand to see more
As opposed to the traditional measuring devices, the Dewalt DW03050 distance measurer boasts of unprecedented precision. With a range of 165 feet (50 meters), its accuracy stands at 1/16 inches (1.5 millimeters) although this may vary slightly from 131 feet. In fact, between 131 feet and 165 feet, you may have to bring a target place into the whole scheme of things to maintain the high degree of accuracy. Nevertheless, it still stands as a dependable laser measurer given the coverage and exactness.

As expected of any technological device, this model redefines convenience in a way that many users will be hooked. Apart from the possibility of making direct summations, it can save the last five measurements so you do not have to record elsewhere every set of data taken before you can proceed to the next. To allow you enjoy a stress-free view of reading this device comes with a 2-line backlit display screen. As such, you can take notice of your measurements whether there is limited or too much light.

It boasts of undisputable durability and high resilience to various pressures you can find of tools of its class. Coming with IP65 certification, it is dust and water resistance, and its structure or functionality cannot be compromised even when it falls from 2 meters (6 feet). Its over-molded housing which further enhances its ability to endure drops. So if you would like to invest in a gadget that lasts to serve under any circumstances of use, this makes the cut.

The Dewalt 03050 is one unique device that brings quality performance to the job site. It takes a very picky user to find fault with this model considering the pricing is nothing but value. The innovative techniques of the Dewalt brand once again come alive in this tool and it will for sure match up to expectations.

High accuracy
Small, compact and lightweight
Rugged construction
Drop-resistant
Sufficient functional range
Vision friendly display
Flawless and precise performance
Great for both outdoor and indoor use
Fantastic warranty package
Requires target plate as accuracy diminishes as the distance increases
Cannot be mounted on a tripod
4. Bosch DLR130K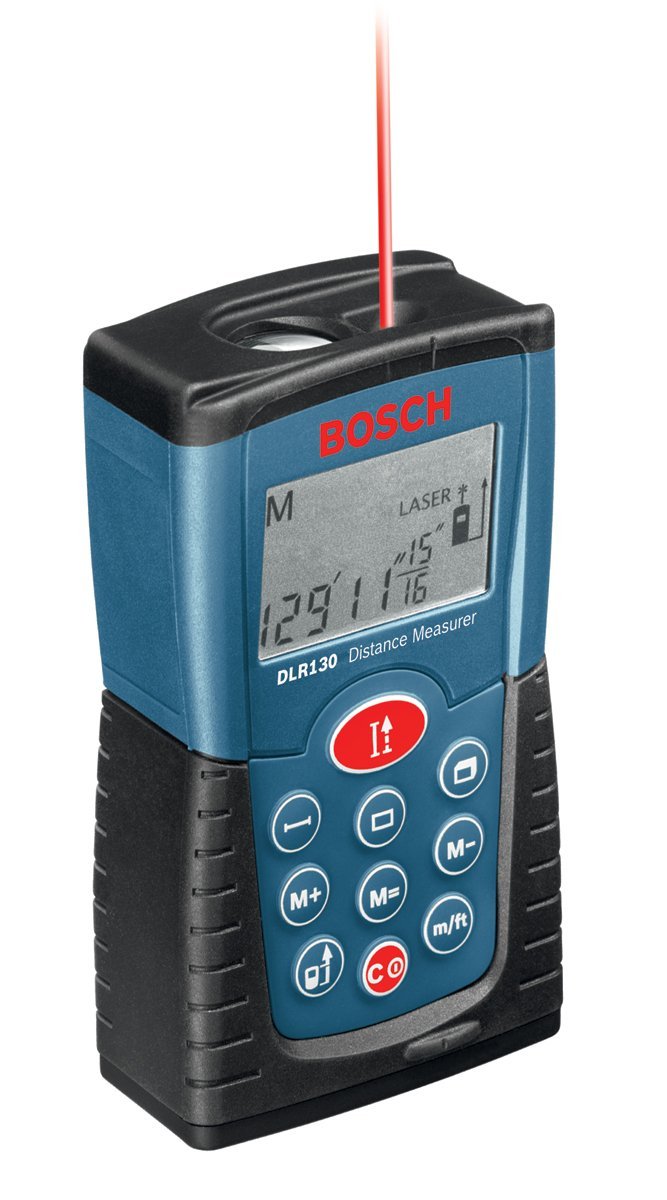 In most cases, the type of tool limits the size of a project you can take on but with the Bosch DLR130K that is never the case. A versatile tool that maximizes on features that it comes with, this gadget is geared to perform in a wide range of construction and survey work. Although recommended for non-professional use in most quarters, it is one of the very few that enables convenient and near effortless measuring in both outdoor and indoor environments. Whether you are a homeowner or just a typical handyman who likes to take on light or medium-sized projects the DLR130K is good enough for your course.

This product from Bosch has a range of about 131 feet and maintains an accuracy level of 1/16 inches (1.5 millimeters) over that distance. The range is good enough for most measurement jobs. And considering the precision there is no doubt that with this tool you will produce correct and consistent surveys under any circumstances.

Expand to see more
Talking about versatility, this model is as good as it goes. It features several working modes including area, volume, continuous measurements, and length. The dimensions can be taken in four units including inches, feet, decimal feet, and meters So you can make conversions as may be required by the project. Regardless of the metric system in consideration, you can always be at par with the requirements. The versatile range of measurements can be summed or subtracted and stored in the device's integral memory. The diverse abilities coming from a single tool is appreciable especially in large-scale contractual construction work where much needs to be done within a short time.

Subject to weather conditions, it takes approximately 0.5 to 4 seconds for this model to record measurements of target objects and surfaces. Since it functions continuously once switched on, the execution will be swift enough hence fast tracking the completion of projects. And there is more on matters speed. As it finishes every round of measurement, the gadget will beep and vibrate giving a clear indication of a done job so that you can move on. The audible and tactile feedback mechanism ensures no distraction will keep you from the realities of this tool.

If you value comfort and durability, the Bosch DLR130K leaves nothing to chance. It comes with an ergonomic and soft rubberized grip which affords a comfy feel while in the hands. Its lightweight nature makes it easy to for the user to clasp it firmly in hand to avoid slipping out. When pocketed, the weight is barely noticeable.

And as far as endurance goes, this model features a top-quality drop resistant construction. It means in the event it accidentally drops off your hand the operation cannot be jeopardized in a big way. It comes with IP54 certification so working in dusty or extremely humid conditions is not problematic. However, despite the resilience exercising a little caution to avoid falls or exposure to potentially damaging influences will go a long way in maintaining accuracy level over its lifetime.

The DLR130K operates on 4 AAA batteries where one charge can last up to 5 hours of sustained laser use. That translates to about 30 000 rounds of single measurements. To ensure optimal power use the laser beam does shut off in about 20 seconds if left idle. The device stays on under the circumstances although it will eventually go off after 15 minutes if no action is taken.

The Bosch DLR130K is an excellent choice if you need to get going on various construction projects without any hindrance. It is a perfectly fits the definition of a reliable and robust product. Although you will have to pay slightly more, you are guaranteed quality performance over its lifetime.

Can be mounted on a tripod stand
Can be utilized outdoor at temperatures ranging between +14­°F and +122°F
Comfortable grip for smooth hold
Compact and long lasting
Accurate
Extremely durable
Has good range
Versatile with four measurement modes
Comes packaged in a grand pouch for better storage
The display is not backlit
Considerably expensive
5. Bosch GLM50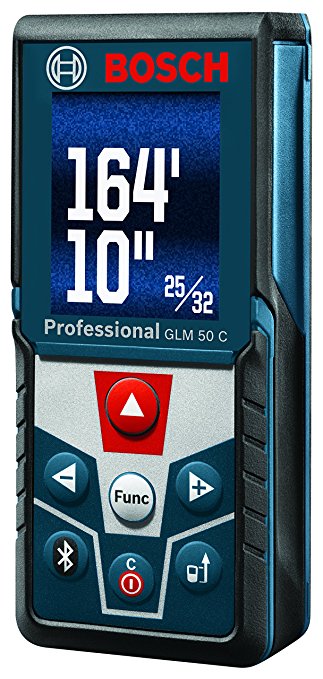 Talking about a laser measure that combines speed, accuracy, and versatility when it comes to taking measurements then the Bosch GLM50 fits that description. This high-performance model packs all the dependable features most users desire to have in their tools. Innovatively designed to bypass the typical metric standards of the traditional tape measures or rulers, this product takes the calculation of distances and dimensions to another level.

As a mid-range tool, the Bosch GLM50 has a range of 165 feet (50 meters). It is ideal for the needs medium sized survey projects. Of course, you can make use of it either in the interior or outdoor spaces, but it is more likely to thrive in the former than the latter. Under ideal situations nonetheless, this model has an accuracy of about 1/16 inches (1.5 mm). It is, therefore, an excellent pick for those who have slightly serious business to accomplish as opposed to being acquired for hobbyist endeavors.

Expand to see more
Apart from the reasonable range and precision measuring technology, the GLM50 features five measurement styles namely volume, intervals, area, continuous, and indirect length. Furthermore, the calculations can be displayed with four alternative units that include feet, inches, meters or centimeters. The modes and metric options tell of its versatility in application. Equipped with seven buttons and an impressively intuitive menu, switching from one mode to another is very seamless. So you can take advantage of the functions for example, adding or subtracting values to skip or include specifics.

The GLM50 model comes with three measurement reference points. Two standard ones sit pretty at the front and the rear of the gadget. The additional position is located at the center and is by design set for use with a tripod. Interestingly, when carrying out the real-time and continuous measurements, this model will always show how the distances keep changing in relation to the target object or point. The functionality of this tool is further enhanced with an integral inclinometer which facilitates angular, min or max distance tracing, double indirect, and stake out measurements.

As far as visibility of the readings is concerned, this model scores a lot of points with a unique color display, big screen spectacle, and autorotation function. Regardless of the orientation of the device when taking measurements, the display with adjust automatically to the ideal reading position. Ideally, it alternates between digital spirit and incline mode both which work when the device is placed by its back and by the left side respectively. The innovative backlit display not only enhances readability in any working environment but also tells if the working mode has changed through alternating colors. Note that the color and backlight display works immediately the device is switched on and goes off when left idle for 20 seconds even though the device remains on for another 5 minutes.

Another positive feature that highlights the abilities of the Bosch GLM50 is the Bluetooth technology makes it compatible with Bosch apps. The functionality allows data to be transferred from the gadget to the application for future use or efficient distribution. Also from the App, you have the option to link up the device and take remote measurements from your phone when the laser measure is a distance away.

Considering the perfect combination of the features and functionality, there is no doubt concerning the ability of this device to handle the bulk of typical measuring concerns. Amateurs and professionals alike will find prompt and quality results from the Bosch GLM50. Above all, the pricing reflects the overall value you will get so you should consider it.

Comes with one of the best storage capacities taking up to 30 measurements
Water and debris resistant
Runs on dependable batteries lasting 2.5 hours producing close to 10000 continuous calculations per charge
Provides multiple measuring styles for every parameter desired
Has beautiful and responsive backlit display for convenient viewing
Accurate
Has small laser dot which may be hard to spot over a long distance
Linking the device with App may be problematic sometimes
6. Fluke 414D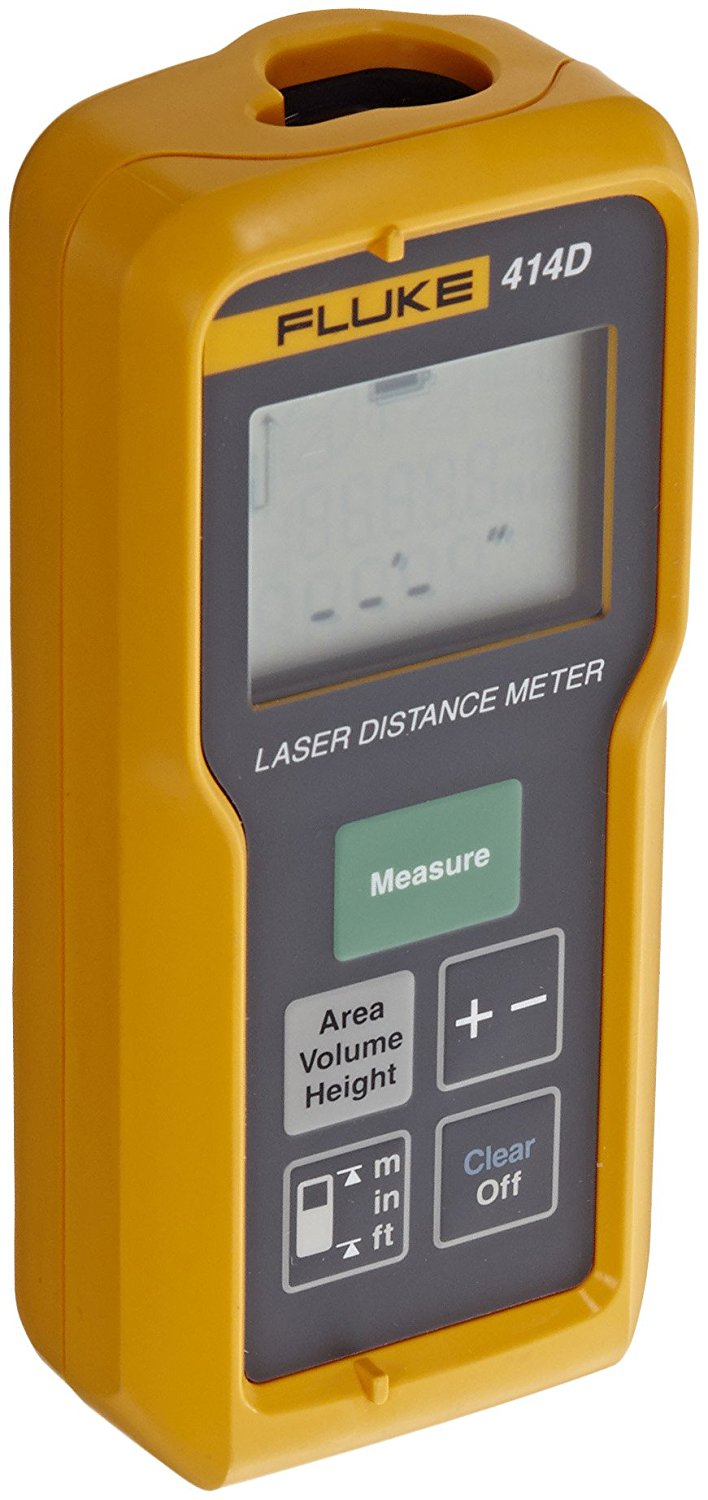 The fluke 414 is one model that will live up to expectation regardless of the scale of a project you throw its way. Ideal for professional use, this device is designed to help users leverage on technology in their works. The overall appearance tells of a tool put together to optimize the quality measures in general building and construction jobs. Choosing the Fluke 414D as your preferred tool will significantly elevate your productivity to a level that conventional non-laser measure devices can ever come close to providing.

As Class II laser with an output of less than one mW, this model can compute distance up to 165 feet (50 meters). At the same time, it maintains accuracy to within 2mm. The automatic, fast, and precise measurements are made possible by a highly noticeable laser dot. So as much as the point you are pursuing may be inaccessible either because of the distance or due to the available space, the laser can always maneuver and show the target point and consequently facilitate prompt computations.

Expand to see more
The operation of Fluke 414 laser distance meter is very straightforward the more reason it may appeal to those who have never used tools of the kind. Equipped with one button that dictates how it runs, taking measurements between any two points of a surface or object cannot be any easier now that it requires a simple press on the button to start or stop the function. The best part of utilizing this tool stems from the audible button feedback mechanism that indicates every action.

Beyond the trouble-free use and quick execution, this model provides for various measurement styles. It comes with built-in Pythagoras function that allows indirect calculations of distances once two other relevant dimensions get recorded. It can compute the volume and area of an object or surface under consideration with limited intervention on the part of the operator saving valuable effort and time. The Fluke 414D also comes equipped with an internal compass that indicates the degrees of incline while taking measurements.

Another highlight of this laser meter is the LCD screen that aids visibility when looking at the readings. The screen resolution optimizes the viewing experience such that in a single glance you can take note of the values on display.

The Fluke 414 laser measure is another fantastic pick for individual looking for a budget option without sacrificing too much quality. While spending less in most cases translates to compromising on some vital specifications this model strikes a balance either way.

Easy to operate with one-button function
Utilizes one of the most innovative techniques
Reliable and accurate
Has visible laser dot
Does multiple computations
Three-year warranty
Comes with a storage pouch
Batteries are not included
The construction may is not very sturdy
7. Bosch GLR825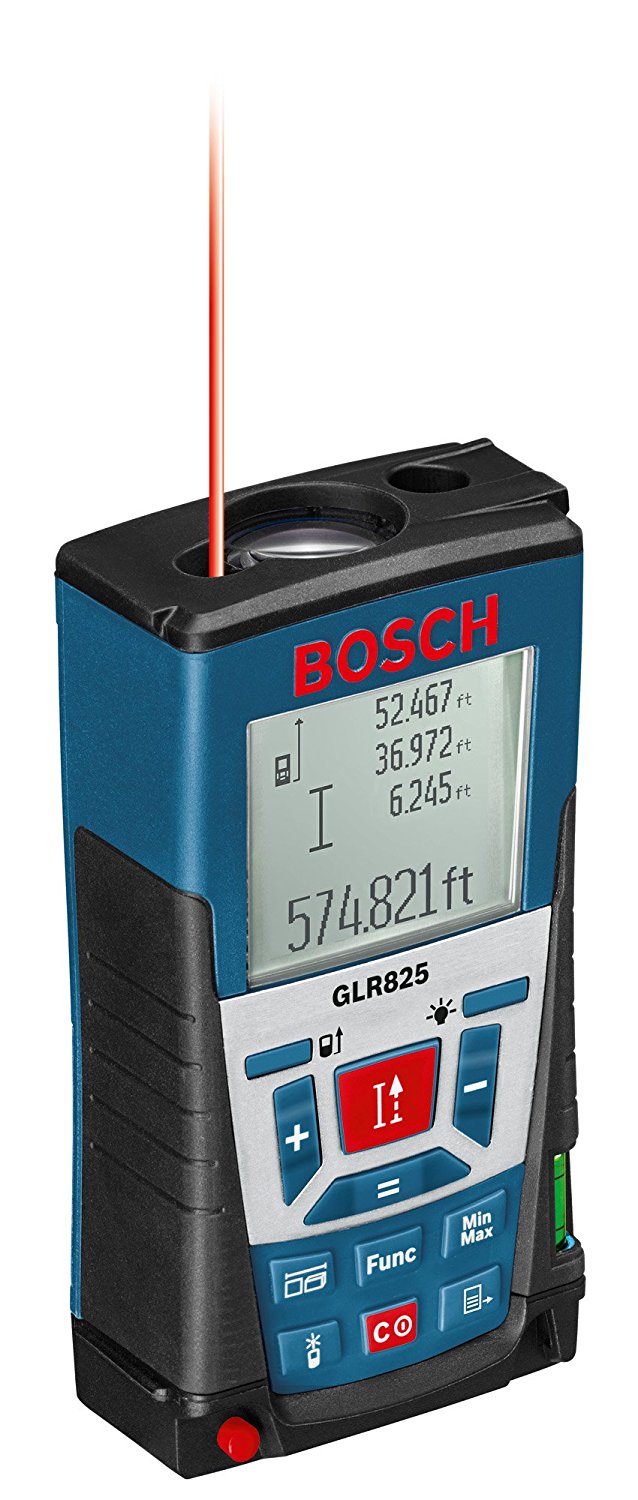 The Bosch GLR825 is best described as the ultimate long-range view finder for professional measuring works. Manufactured by a favorite brand otherwise regarded as a pacesetter when it comes to producing robust tools, this specific model is packaged with features needed to take on professional-grade projects to perfection. Its traits blend well with every component to allow smooth execution of projects with very limited room for error.

The GLR825 outshines its rivals with regards to range and accuracy. With a range of 825 feet and exactness of 1/25 inches, it provides one of the most lengthy and precise measuring distance combinations you can find at the moment. Considering the above features, it is needless to mention that this tool is ideal for outdoor professional use. The excellent rating to a great extent rules out any chances that anyone might need this model for occasional DIY or indoor activities.
Expand to see more
Another huge selling point of this tool lies on its top-of-the-class view finder with a 1.6 magnification rating. The feature allows precise and accurate determination of the position of targets points or objects as you measure one area to another. The viewfinder is mainly responsible for the one of a kind accuracy afforded by the GLR825 model.

A professional grade tool of this magnitude never makes the cut without features designed to render it versatile. True to the assertion, the model can function on eleven distinctive modes. With the GLR825 you can perform a wide range of functions continuously and consistently over the course of the project. For instance, you will benefit from a multi-surface area mode that can compute the span of multiple distinct planes that have common length, width, or height. Again, calculation of parameters such as volume or area among many more is just as easy as you can imagine. Depending on your needs you can play around with the functionality to get every desirable set of data.

Talk about user convenience, and you will immediately notice the manufacturer took that into account on this tool. When it comes to display, Bosch sufficiently endowed this model. The screen is not only big enough to allow clarity of the reading, but the digits are also prominent enough. The memory is sufficient to accommodate up to thirty sets of measurements for later reference. And as standard Class II laser device with about one mW power output, it stands dependable.

The Bosch GLR825 is an ideal option for those working on large-scale projects. It is especially suitable if you have been a using a model with a smaller range and you wish to get an upgrade.

Provides adequate measurement range
Unparalleled accuracy
Has magnified viewfinder for better precision
Clear display
Impressive multi-function modes
Comes with soft ergonomic grip
The screen has no backlit
8. Suaoki S9 200ft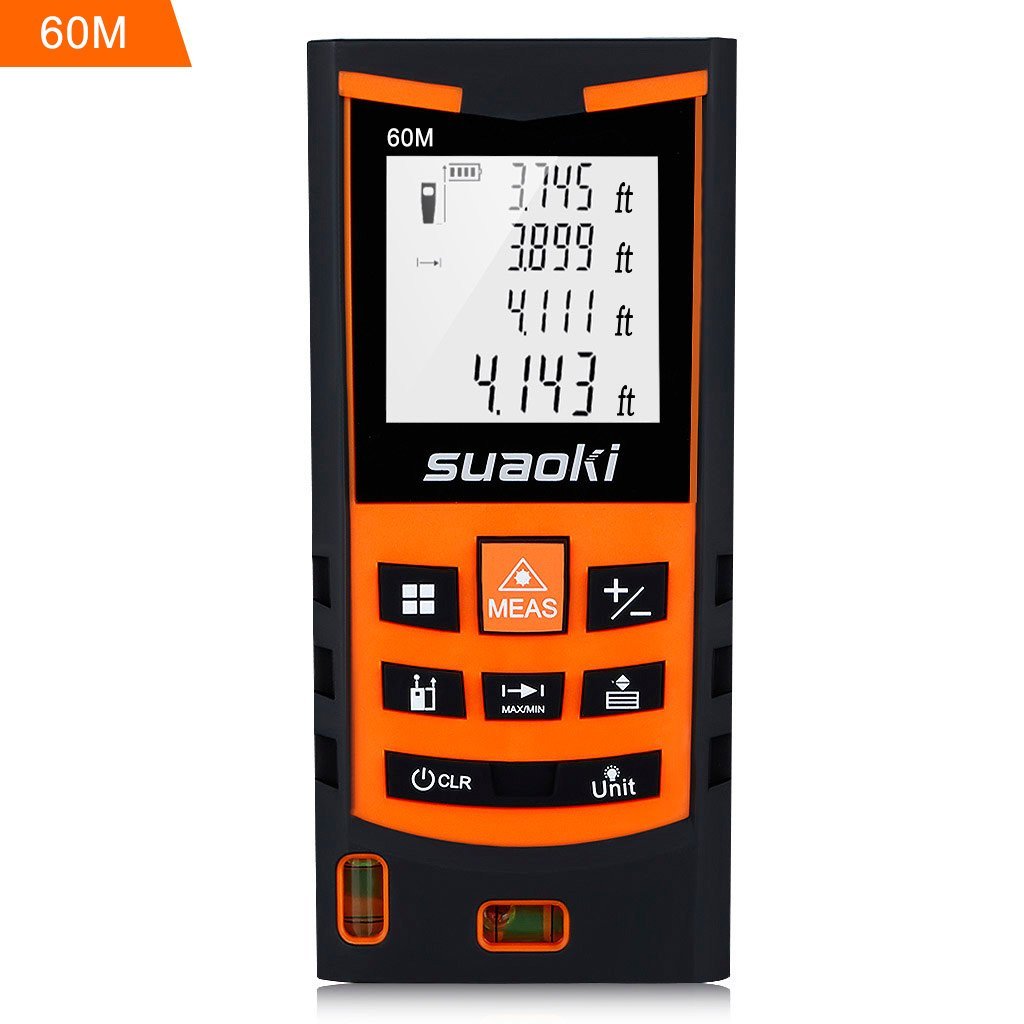 A perfect laser measure is one characterized by superior versatility, precision, and comes with multiple work-efficient features. The Suaoki S9 model meets these grading criteria. A high performing tool ideal for nearly any measurement job, the model suits the requirements of a variety of freestyle and professional projects. Its ability to deliver exceptional computations either for regular home maintenance or typical construction work is evident from the onset.

To begin with, this product ranks among the best because of its exactness in calculations and reasonable range. It is designed to provide perfect measures starting from 0.05 all the way to 198 feet. The values of dimensions and distances it gives have an accuracy of about 1/16 inches. The level of precision is maintained regardless of which of the three metric units (feet, inches, meters) is used to compute the values. Unlike some models of its class, it does not have extremely serious problems getting data as the range increases.

Expand to see more
Also, while it comes with built-in levels that permit switching between imperial and metric units, it always defaults to metric scale when turned off. However, changing from one scale to another for example, from inches to feet is quite a piece of cake. So you don't have to bother yourself with paper calculations converting to the values to the required form.

Thanks to an innovative screen, taking the readings from the Suaoki S9 is possible without the slightest hindrance. The viewing area not only displays the numbers in four lines but also has an LCD backlit feature that allows clear broadcasting of the measurements both under ordinary lighting and in dim conditions.

The Suaoki S9 offers various computation modes including single and continuous distances (max/min), volume, area, and Pythagoras for triangular dimensions. You can also add or minus values with the device without involving any other gadget.

When it gets to measuring hard-to-reach areas, the model permits the changing of reference points. The flexible referencing spots alternate with options of the back and front of the device for typical surfaces and objects while the plastic end piece does the trick for the tight corners.

Users will love to realize the S9 model from Suaoki has enough memory to hold up to 20 measurements at any given time. The seemingly reasonable storage capacity is quite handy when you want to carry out several measures at the same time for later analysis without pausing to record values elsewhere. If you think of it, that translates to huge savings both in time and energy in the long run.

At only 4.3 ounces, this tool has a durable construction as is visible in the external components. It boasts a water-resistant rubber casing that prevents any damaging effects from interfering with the internal engineering in case it gets exposed to rain. The robust housing also keeps any dust penetration and absorbs the impact that may cause breakage when it drops accidentally. So the laser measure will always remain in perfect working shape delivering consistent results in every step of the project.

The Suaoki S9 is one laser meter that construction contractors or electricians and the likes should grab to replace inefficient measuring tools. Although DIY builders can also use it in their works, it is optimized for professional use. At its price you are likely to get more value for your money if you get it for regular use.

Has buttons for easy operation
Weather-proof construction
Lightweight and sleek design
Clear display for proper visibility
Reliable accuracy and range
Comes with a carrier pouch
Has sufficient reasonable storage capacity
It takes some learning to master every operation
9. Leica Disto E7400X 265FT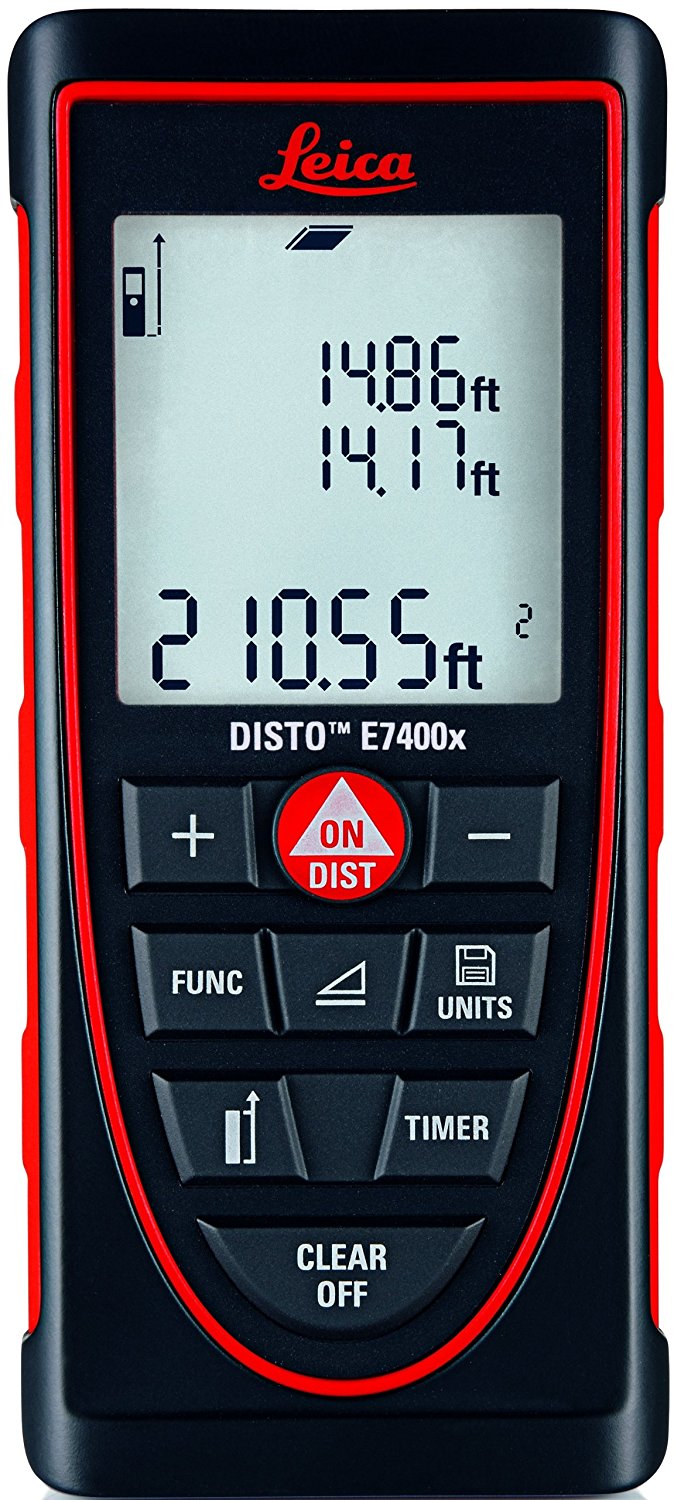 If you want to invest in a laser measure that not only offers quality performance but also looks good, then you need to check out the Leica Disto E7400X model. Leica as a tool producer has been a favorite brand for many professionals over time because gadgets from their manufacturing line have proven to give nothing but dependable performance. This one also follows the laudable trend.

One outstanding aspect you will love about this gadget is the fact that it comes with a Class II laser classification and one mW high-power output. That means it can detect surfaces and objects being measured without the slightest delays. In essence, the features determine how reliable this model will be at all points of application. By standards, the rating goes to show the quality of performance you will enjoy while on the job.

Expand to see more
Again, the Leica Disto E7400X IP65 certification tells of its resilient and durable nature. The construction of this laser measure can endure drops from two meters without interfering with measuring performance or accuracy. The ruggedized design guarantees protection from water or dust. With limited maintenance and cleaning efforts it will provide reliable performance for many years.

As a powerful measuring tool, it has a range of 265 feet which is sufficient for a wide range of typical survey projects. Over the distance, it maintains an accuracy of 1/16 inches or 1.5 millimeters. So with this, you can cover longer distance promptly and also record the most exact and consistent data throughout the project.

On matters versatility, this model also ticks many boxes. It features multiple functions such as Pythagoras, minimum/maximum, smart horizontal, and height tracking modes just to mention. Moreover, it comes with an automatic attachable end piece that enables the user to take measures of tight corners and spaces that are difficult to access by their very nature. This model has a storage capacity that can hold up to twenty sets of measurement data. So with a single device, you can execute several calculations quite efficiently without requiring an extra hand to help out.

The Leica Disto E7400x offers an impressive combination of accuracy and consistency expected from a quality laser measure. While it remains a fantastic pick for interior use, most professional in construction and survey works will find the exactness of functionality offered by this device matching their needs. Talk of performance-oriented features, and it has more than what you need to get the job done quickly and flawlessly. The pricing very much mirrors the value you get so it's worth every cent you may have to give away for it.

Provides for multiple measurement modes
Has durable build that is water and dust resistant
Features easy-to-read for line display
Lightweight and compact
Has sufficient measuring range
High accuracy level
Reliable quality device
The tool may not be ideal for outdoor use especially because it is less noticeable under strong daylight
Has no point finder displays
10. Bosch GLM 15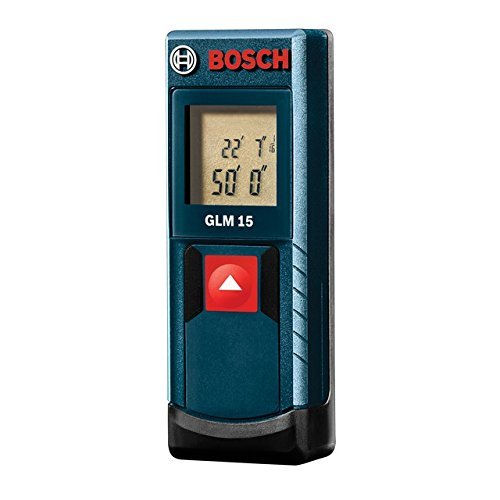 The Bosch GLM15 is an ideal pick for those looking for a laser measure for occasional DIY jobs among other short-range contractual work. The model is manufactured to help
handymen
take lots of calculations throughout the day. While it is a small and compact device, it offers reliable functionality at the job site. You will be able to carry it around without any problem because the shape and size are standardized to fit ordinary pockets. Again, the small size is quite handy when working with fairly large materials since you can hold it with one hand while the other remains free to manage something else.
Although the Bosch GLM15 can only measure up to 50ft, it boasts of high precision calculations. Over that distance, it has an accuracy to within 1/8 inches which by most standards is good enough for DIY projects around the home and beyond. As opposed to other alternatives that have several working modes, this gadget performs only one function that is measuring distances. The advantage is that you don't have to take like forever learning all the operation tricks while you are only interested in the dimensions. The model is well designed to guarantee efficient and a smooth measuring experience.
Expand to see more
It makes use of a single button that only take a simple push, and it will keep measuring in continuous mode. Once switched on, it automatically updates the range measured until that time when you tap the button again to halt operation. The same button also allows the user to alternate between standard and metric measurements as may be required from time to time.

This laser measure is all about simplicity. At a time when technology is all about undertaking various projects with minimal effort on the part of workers, its features are geared to facilitate smooth execution. A fantastic replacement for the currently less appealing tape measure, this gadget brings nothing but a precise functionality for small-scale distance calculation works. While it may not have the sophistication like you will find in other devices of the kind in our list or elsewhere, this model is nonetheless a good investment. It gets better if you are on a tight budget because it is one the cheapest gadgets you are likely to find with such quality performance.

Offers high and consistent accuracy over its measuring distance
Features a one-button operation hence easy to work with
Has an efficient continuous measurement mode
Lightweight and compact therefore easy to carry around
Comes as a complete with batteries for immediate operation
Very affordable
Has no backlight display to aid visibility in dark areas
Criteria for Choosing the Best Laser Measure
Accuracy
When using a laser measure the level of precision guaranteed by a model significantly determines the quality of the overall results. Of course, you have higher chances of maintaining a higher level of exactness with these gadgets than with traditional measuring tools, but different models offer varying degrees of precision over the distances being computed. Therefore, depending on the requirements of the work to be undertaken, one should always find a tool that gets the job done with little or no room for error. It will be a waste of time if the data collected by your device are too exaggerated and misleading simply because the computations have a significant positive or negative deviation from the real values.
Range

Apart from speed the next thing that should define your selection is the maximum distance a model can measure. Depending on the magnitude of your project you should make evaluations and match the range accordingly. The reason for this is because it can be limiting to make use of a short or mid-range device for a large scale project. The same way it is unreasonable to buy a gadget that comes with a very long range if you will only need it for occasional DIY measurements around the home. Balancing your needs and a model's power in this regard is essential.
Speed
Who does not like completing tasks as fast as possible? Technology is all about efficiency which loosely translates to quick execution in the best way possible. We all know how saving a minute here and there in the process of working on a job can go a long way in making everything flow according to plan. There is no need of owning a tool that is slow in execution and will make you move from one point to another. As such, endeavor to find a device that will give result within seconds of tapping the switch on button.
Convenience and Versatility
A good laser measure should take measurements most conveniently. Several features contribute to this. Unlike the tape measure which may require an extra hand to hold end as you pull towards the target, you should be able to use a laser device without any assistance or complementary gadgets.
Again, a complete tool should provide for several measurement modes and alternative metric units so that you can collect a wide range of ready data at once without the need for further conversions and computations after that. The ability to handle more detailed calculations such as volume, area, angled measurements among other multi-function geometries such as Pythagoras mode facilitate efficient and quick execution. Look out for a small and compact model that will be easy to carry around besides being able to display readings clearly under all circumstances. Other features you should figure in a model include storage memory, Bluetooth technology for data transfer, easy-to-operate buttons, and reliable power output.
Frequently Asked Questions
Q: What are the advantages of a laser measure over the traditional tape measure?
A: A Laser measure can take measurements quickly with more accuracy over longer distances. Unlike the tape, it can compute other parameters such as volume or area among many more and store sets of data for later reference. The beauty of it all is that the user doesn't have to move about or require a helper. In short, laser devices offer multiple features and functionality you won't find in their counterparts.
Q: What features should I look for when buying the ideal laser measure?
A: First, when going through the selection process, it is important to note that there is never one fit for all. So your choice should rely entirely on the job requirements or your work context. That said, by matching your needs to the range, precision level, battery life, working modes, ease of operation, durability, and functionality features such as memory or screen display a model provides you can narrow down to the best.
Conclusion
Laser measures are superior alternatives to their traditional counterparts. With these devices taking various measurements has become quick, efficient and less stressful. User not only benefit from more extended range and higher precision but easy one-man operation. You don't have to waste your time scaling a ladder and moving from point to point with a tape measure because you have reliable alternatives that will help you accomplish your project the convenient way.
Subscribe to our newsletter