10 of the Best Smart Light Bulbs Reviewed & Rated
last updated:
Apr 06, 2021
Not so long ago, the clapper was the most high-tech way to turn lights on in your home. Well, not anymore as we have more advanced options that have us clapping for different reasons. Smart light bulbs are currently flooding homes thanks in part to their eco-friendly and budget-friendly aspects. Nevertheless, there are other interesting features of smart light bulbs.
Our Top 3 Picks
[srpshortcode id="14879″][/srpshortcode][srpshortcode id="14880″][/srpshortcode][srpshortcode id="14881″][/srpshortcode]
Why Smart Light Bulbs?
They are convenient and fun – Let's be honest, it's never fun having to get up to hit a light switch. With their remote control features, you can comfortably switch off lights from anywhere in the house. Also, in case of any emergencies, you can turn on several lights at once.
Adjust the mood of your home – Smart light bulbs that change color are even better as you can adjust the light to suit any mood. If you want to ease your way into the morning, you can select a soft and warm light. For dinner, you can select green or blue for a relaxing mood. They can also dim without the need for a dimmer. With a dimmable smart light bulb, you can adjust the light in the room to fit the occasion. Another feature of smart light bulbs that you can use to set the mood is the fact that some can play music. How great is it not to have bulbs in every room in the house? Some can even change colors and pulsate to match the mood of the music.
Home decor – If smart light bulbs are set in strategic positions, they can greatly improve your home.
Cost saving – It may take a while for the cost saving to kick in, but with the smart bulb scheduling and remote control features, you can reduce your energy consumption.
Integration – Smart light bulbs can also be incorporated with other, smart home features. From smart home hubs to switches, cameras, etc.
Bottom line, smart light bulbs are an incredible addition in any home. However, it is not such a simple feat to pick out the best light bulbs on the market.
Now that you know what to look for, here is our list of the best smart light bulbs.
10 Best Smart Light Bulbs
1. Philips Hue White and Color Ambiance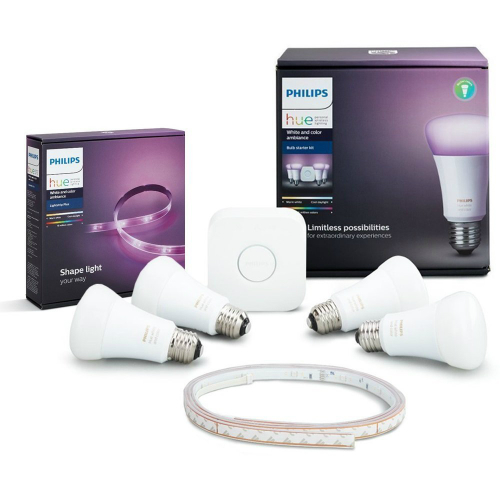 First on our list of top smart light bulbs is the Philips Hue Starter kit. Philips set the standards in smart lighting and set them high with the first Hue connected bulb. Now in their third generation, they are still the market leaders and show no sign of slowing down. Nevertheless, the white and color ambience kit is more about refinement than it is about innovation. The 3rd gen now has enhanced brightness, a longer lifespan estimated at 22 years unlike the original which was 15, a better app experience, and enhanced brightness. The kits most impressive aspects though are the Hue Bridge and the richer gamut.

Hue Bridge – The original hue bridge was only designed to work with the lights. However, the current device has a more advanced processor and better memory which enable the system to connect with the apple home kit and your home system.

Richer Gamut – The range of color on this device is impressive with light pastels and vivid hues. You can easily transform any room you wish into a deep space thanks to the darker shades of green. You can also get an undersea paradise with the aurora scene which has shades of seafoam, mint, sky blue, etc. Also, true to Philips word, the blue and green shades are brighter.

Something else you might be interested in is the increased brightness of the bulbs from 600 lumens to 800 lumens. The brightness is also adjustable. Setting up the units is a breeze as they are designed to work like normal light bulbs. You don't have to worry about retrofitting your home. Just plug the bulbs into any lamp, connect the Hue Bridge into the wall plug it to the Wi-Fi modem, download the Hue app and follow the directions. The step by step process is easy to follow even when connecting to Siri.

The Hue app is also worth pointing out. Unlike the previous version, it is now more streamlined, and there are fewer menus to access the features which reduce the likelihood of you fumbling with it. Also, you can recreate the lighting from your photos. What we loved most though has to do with the grouping of lights enhancing control. In earlier versions, you had to drag bulbs to recreate a room. Changing the lights based on the room was a rather cumbersome process. However, you can now group lights into rooms, and adjust the brightness and color accordingly.

Expand to see more
Product Features

4 A19 bulbs
One Hue bridge
One Philips Hue Light strip

Who is it for?

First, this is a fancy device, but not necessary. Also, it might cost you a tiny fortune for a bulb. Therefore, it's ideal for homeowners who don't mind the cost and want a different lighting experience.

Highly customizable. It features a wider range of colors, and you can get any level of brightness you require
The 3rd generation has a longer lifespan of about 22 years
The app experience is more streamlined and intuitive
Allows third-party integrations such as Amazon Siri
It's expensive and the setting routines on the app could be easier
2. LIFX A19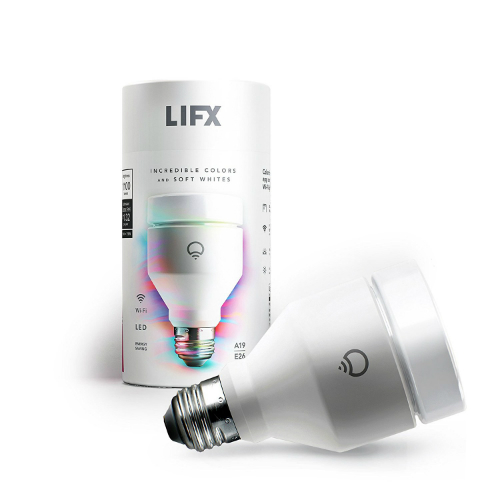 A worthy competitor to the Philips Hue smart bulb, next on our list of top smart light bulbs is the Lifx A19. Considering the physical appearance, there isn't much of a difference between the first Lift generation and the A19. It still weighs 0.46 pounds with the same odd cylindrical design. It still has the same problems as the previous versions in that light emits upwards or downwards instead of to the sides when put in a ceiling can. However, they responded to this by increasing the Lumens to 1,100 making it the brightest smart light bulb. Nevertheless, some of this device more interesting features are home compatibility, and Lifx app.

Home compatibility – The 19 is easy to setup, after which you can control it through the Lifx App or the HomeKit. If you decide to use the HomeKit, the bulbs will appear on the iOS app with features such as dimming and tuning color within reach. You also don't have to worry about the controls as you can use voice commands such as Google Home.

Lifx App – Despite the home compatibility, the Lifx app will get you a richer experience. It has been revamped with the user being the key focus, and thus it's simpler to use and more powerful. First, you have separate panels to adjust the color and the temperatures. You also don't have to concern yourself too much with trying to achieve a certain theme as the app has inbuilt themes. You can pair these with the eight modes available for an extra feel of the bulb.

Another interesting point concerning the A19 is the Day & Dusk system. You can automate the lights to match the time of day. You can get that energizing light in the morning and a warm but slowly fading light in the evening.

Expand to see more
Product Features

16 million colors
1,100 lumens
75 Watts
22.8 years LED lifespan

Who is it for?

Ideal for persons looking for more vivid colors and love the brightness it offers.

The Lifx bulb trumps all other smart light bulbs with 1,100 lumens
Lifx bulbs don't require a bulky hub and connect to the Wi-Fi individually
The Lifx app has to be its key strongpoint with its themes and modes which make it super easy to use
Despite connecting individually to the Wi-Fi, they are less stable
3. Nanoleaf Aurora Rhythm Smarter Kit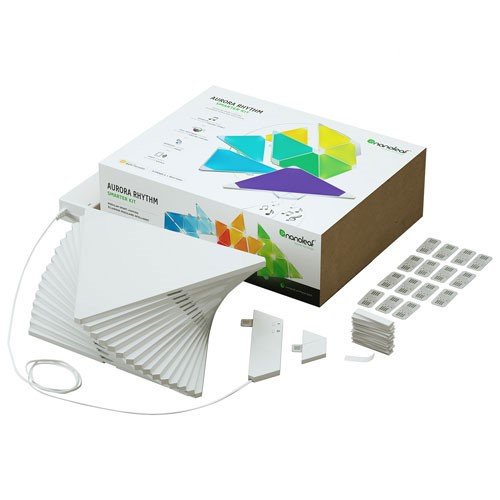 If you have already invested in Aurora, then it is a no-brainer for you to upgrade to their Rhythm edition. Though it is somewhat a niche novelty, it offers some nifty tricks that you will like. Unlike other smart light bulbs, the Nanoleaf Aurora offers physical control which only increased its appeal. We also loved the latency as it was nice and low. Nevertheless, the most interesting aspects of the Rhythm edition are:

In-built microphones – With the microphones, the aurora will synchronize its light show to the beat of anything it hears.

Nanoleaf app – We also love the intuitive Nanoleaf app, and especially since it allows third parties to create presets which they later upload to their library. With the presets, you can use different colors and animations.

Setting up the Rhythm edition is also straightforward and particularly if you have the Aurora panels. All you require will be the Rhythm edition which you can plug into any open connector. Also, you can trigger the presets using voice commands with Alexa, Siri, and the likes. The kit has 9 equilateral triangular panels, though you can connect up to 30 using expansion packs. As for the setup, the panels are pasted on a wall using adhesive pads, and connected to each other using a rectangular circuitry. By and large, the Aurora Rhythm kit is more a science and art installation.

Expand to see more
Product Features

Responsive microphone
Weight: 9.3 pounds
Wattage: 0.7 watts
100 Lumens
Dimensions: 12.4 *10.2 *6.1 inches

Who is it for?

If you already own an Aurora kit, it only makes sense you upgrade to the rhythm edition. Otherwise, this is a gadget for persons interested in pulsating light. As for the price, it is cheaper to upgrade but be prepared to pay a fortune if you are a new user.

The microphone is quite responsive, and results pleasant
The revamped app gives you a better experience and is easy to navigate
Allows third parties to create presets resulting in an ever-expanding
You can create various designs with the panels as they can be connected on any side
The Rhythm has its shortcomings too. First, it looks plasticky when off. Also, creating presets could be more advanced
It's very basic allowing you to choose a palette and a single animation
6. Element Classic by Sengled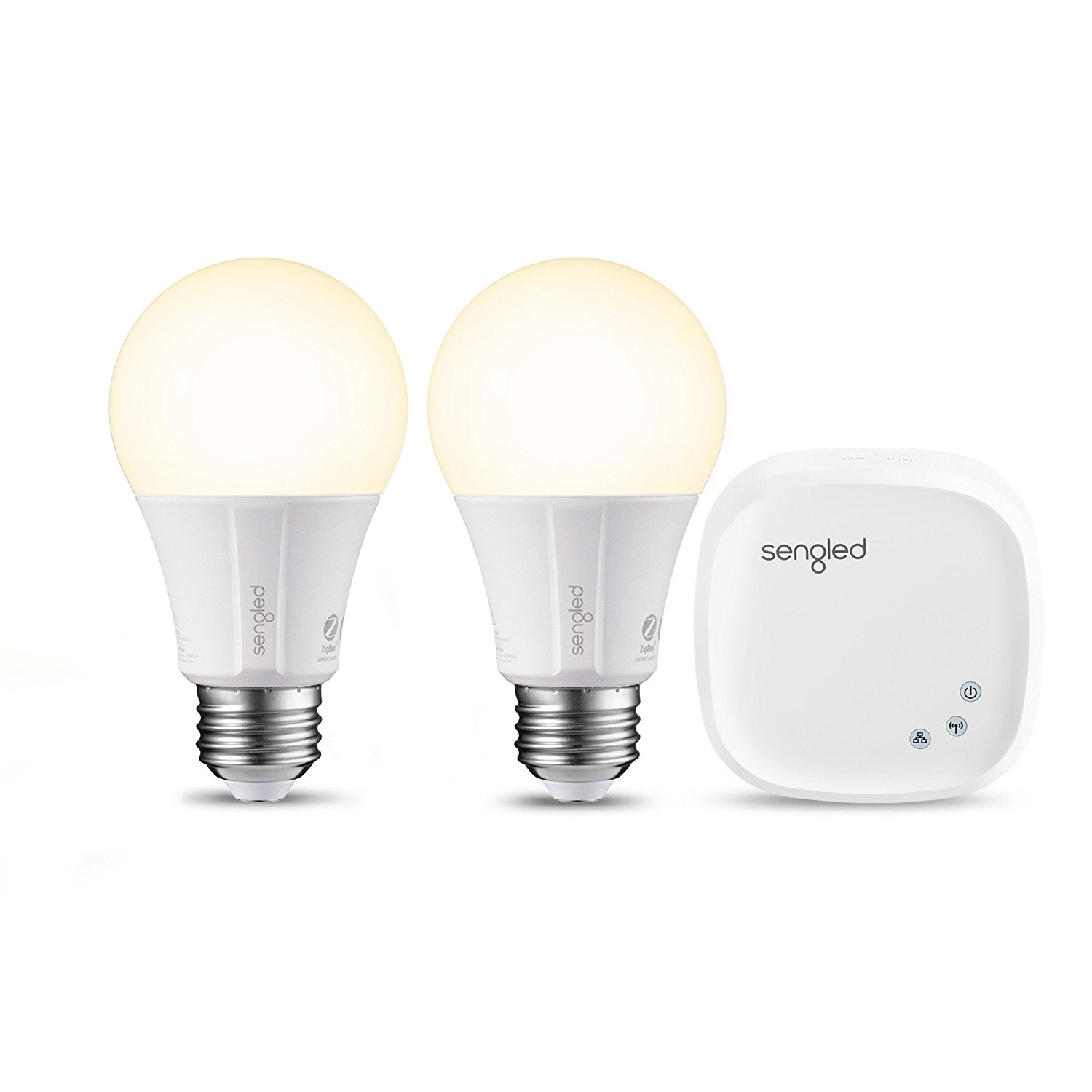 If you are looking for a cheap Philips Hue or Lifx substitute, you might want to consider the Sengled element color plus starter kit. Philips Hue and Lifx can be limiting owing to the price, but the Sengled aims at lowering the entry barrier. What we loved most with the Sengled Element is its eco-friendly nature and the IFTT channel.

Eco-friendly – Sengled promises to plant a tree for every light installed. You even have the option of selecting on which continent you want the trees planted with the goal being to get to one million trees.

Sengled channel – The company added an IFTTT service channel which enables integration with third-party devices.

Looking at the numbers, the Sengled element has a brightness of 800 lumens. However, what's interesting is that this is only from 9 watts of power. It is thus a nice and efficient way to reduce your utility bill. At the default setting, the color temp is 2,619k. However, with the range of white light, the color temperature can drop to 1,993K which is a dull orange or get the color temp up to 6,059K.

However, these lights don't hold a candlelight to the Philips Hue or Lifx. First, they are pretty dim at extreme white light tones. They can make for good nightlights but not as a primary light source. The colors are even dimmer with the brightest being 150 lumens and some being as dim as 11 lumens.

Expand to see more
Product Features

Voice control
16 million colors
Control from anywhere
Luminous flux: 800 lumens
Wattage: 9 watts
Product dimensions: 2.3 * 2.3 * 2.4 inches

Who is it for?

The Sengled element is for homeowners who want to ease their way into the smart light bulb life.

Extra bulbs are quite affordable
Painless to set up
If you are looking for more vivid colors, you might want to consider other options
5. Philips Hue Go White and Color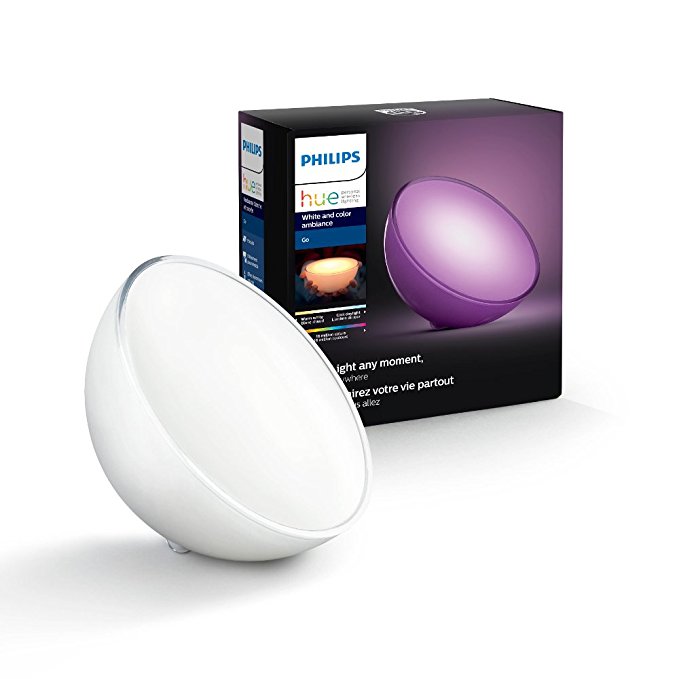 Philips is the market leader when it comes to smart light bulbs. It should therefore not come as a surprise that more than one of their bulbs made it onto this list of top smart lighting fixtures.

The Philips Hue Go is somewhat of a niche novelty. It is for persons who want the perks of a smart bulb while on the move. It is a portable lamp that you can take wherever you wish; put in on your desk, in your car, or take it with you into the woods.

Design – What we loved most about the Philips Hue is the minimalist design. Other than the bowl and the bulb, it features one button and a small protrusion on the back to prop it.

Pretty lights – we also loved the lights emanating from such a simple device. First, there is the Philips Hue bulb that gives 16 million colors, but the device to has 7 preset colors. You can toggle between 5 dynamic lights and 2 white lights. You can get any preset by double pressing and hold the button until you get your preferred presets.

Another interesting point about the Philips Go is that you don't have to connect you to your smartphone or a hub. However, you might look into these options if you want to unlock advanced features such as lighting scenes or setting an alarm. Once you connect the Hue to a hub, you can control it much like any other bulb. Also, the Go is IP20 rated meaning it can withstand humidity. Nevertheless, it's not watertight.

Expand to see more
Product Features

Weight: 2.3 pounds
Dimensions: 2.8 * 4.7 * 4.7 inches
20,000 hours of light.

Who is it for?

The Philips Hue Go is a bit pricey. Therefore, only get it if you have the extra money to spare, or if you need to take that smart light effect with you.

Thanks to the lithium-ion battery, you can get 3 hours of light when unplugged
You also don't need a phone or hub to go get the smart light effect. You can toggle with the button to get your desired light
Philips Hue Go would be more appealing if it maintained the same brightness when unplugged
4. C by GE A19 C-Life and C-Sleep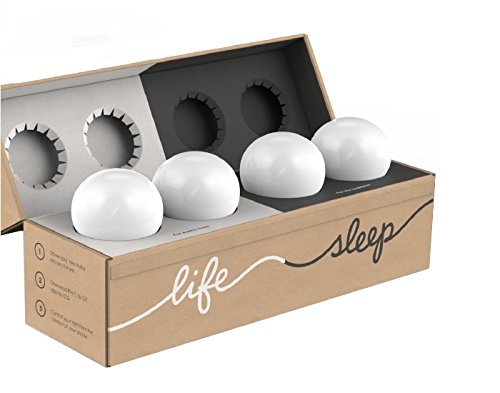 Next on our list of top smart light bulbs is the C by GE. These are the ideal beginners' bundle for people who are new to smart bulbs. They are affordable and are to use as they don't require a hub. The bundle consists of two C-sleep bulbs for bedrooms and two C-life bulbs which are meant for the kitchen or living room. You can connect to them via Bluetooth which is a shortcoming as you cannot control them away from home.

Simplicity – The appealing aspect of the C by GE is its simplicity. Most smart light bulbs require you to get a Hub or have the basic understanding of what a ZigBee is. GE wanted to lower the requirements and allow people to slowly make the transition into smart lighting fixtures.

C by GE app – Another attractive feature is the GE app. Though the bundle doesn't do much, it still has some nifty tricks. You can without difficulty create groups and scenes. Scenes appear at the top followed by the groups and then the app navigation.

You might also like the longevity of the bulbs. GE expects the bulbs to last about 22.8 years with 3 hours of daily usage. As for the brightness, you will get about 800 lumens which is the equivalent of a 60W bulb. The color temp at this brightness is fixed at 2,700K. However, you can adjust it between a warm 2000K and a bright but cold 7,000K. The C-sleep bulbs are color tunable unlike the C-life. If you want better control, you can purchase the C-life kit which has a bridge that connects to your Wi-Fi.

Expand to see more
Product Features

Dimensions: 4.5 inches long and 2.46-inches diameter.
Brightness: 800 lumens
Weight: 1.88 pounds

Who is it for?

One thing is for sure, the C by GE isn't for enthusiasts. It is best suited for people who want to ease their way into smart bulbs. The price is also friendly for homeowners who want the smart bulb experience without having to pay a fortune.

Bluetooth setup – This allows you to connect your bulbs to your phone without the need for a hub
Decently priced
You can get an optional hub for better integration
Despite the Bluetooth integration being a key selling point of the GE life, it's also a shortcoming as it cannot work when you are away from home
7. Minger Bluetooth Smart Led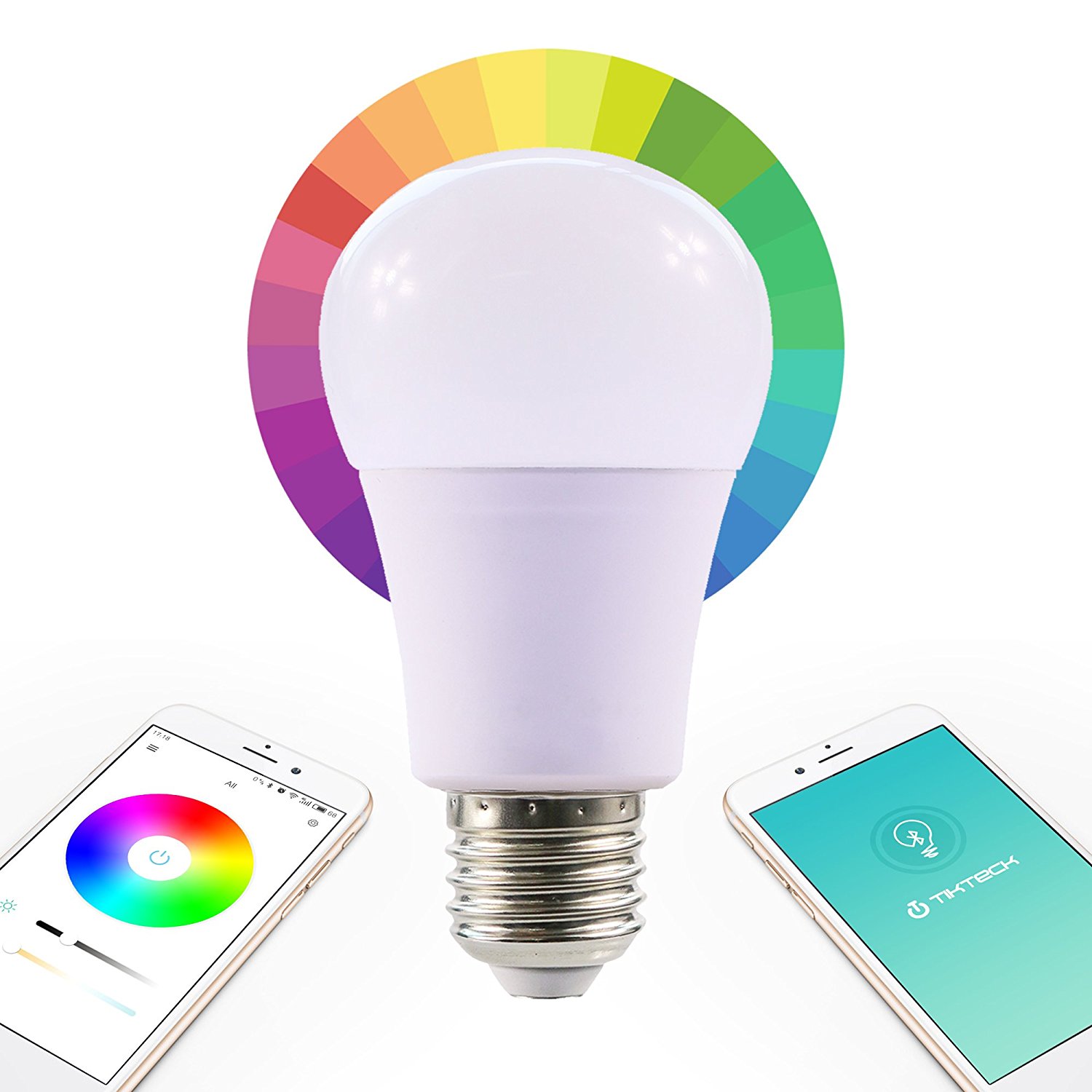 If price is the one thing keeping you from having a smart light bulb experience, then you are in luck as the Minger has all other devices beat in terms of price. It's a color changing bulb that you control with your phone without the need for a hub or a bridge. You will need a good Bluetooth connection though. The bulb is 4.17" long and 2.36" in diameter. Its luminous flux is 600 lumens which though isn't the highest in the market, has most of the competition beat. Expect the bulb to last about 20 years based on 3 hours of usage. The top half of the bulb is a translucent plastic dome which enables appropriate light dispersion. Nevertheless, the strong point for the Minger is its simplicity.

Simplicity – No flourishes, no bells, and whistles, just a device to get the job done. Other than the price, you don't have to worry about installing bridges or connecting it to a hub. Screw the bulb into any outlet and connect via Bluetooth.

As for the color temperature, expect between 2,700K and 6,500K.

Expand to see more
Product Features

Luminous flux: 600 lms
Color temperature: 2,700K to 6,500K
Dimensions: 4.17 * 2.36 inches

Who is it for?

A device for first-time users who are discouraged by astronomical prices of smart light bulbs.

There isn't a single smart light bulb in the market that can beat the TikTeck in terms of price
Despite being in Bluetooth range, the bulbs constantly disconnected and you had to turn the bulbs or the app off to reconnect again
8. Mipow Rainbow Bluetooth Smart LED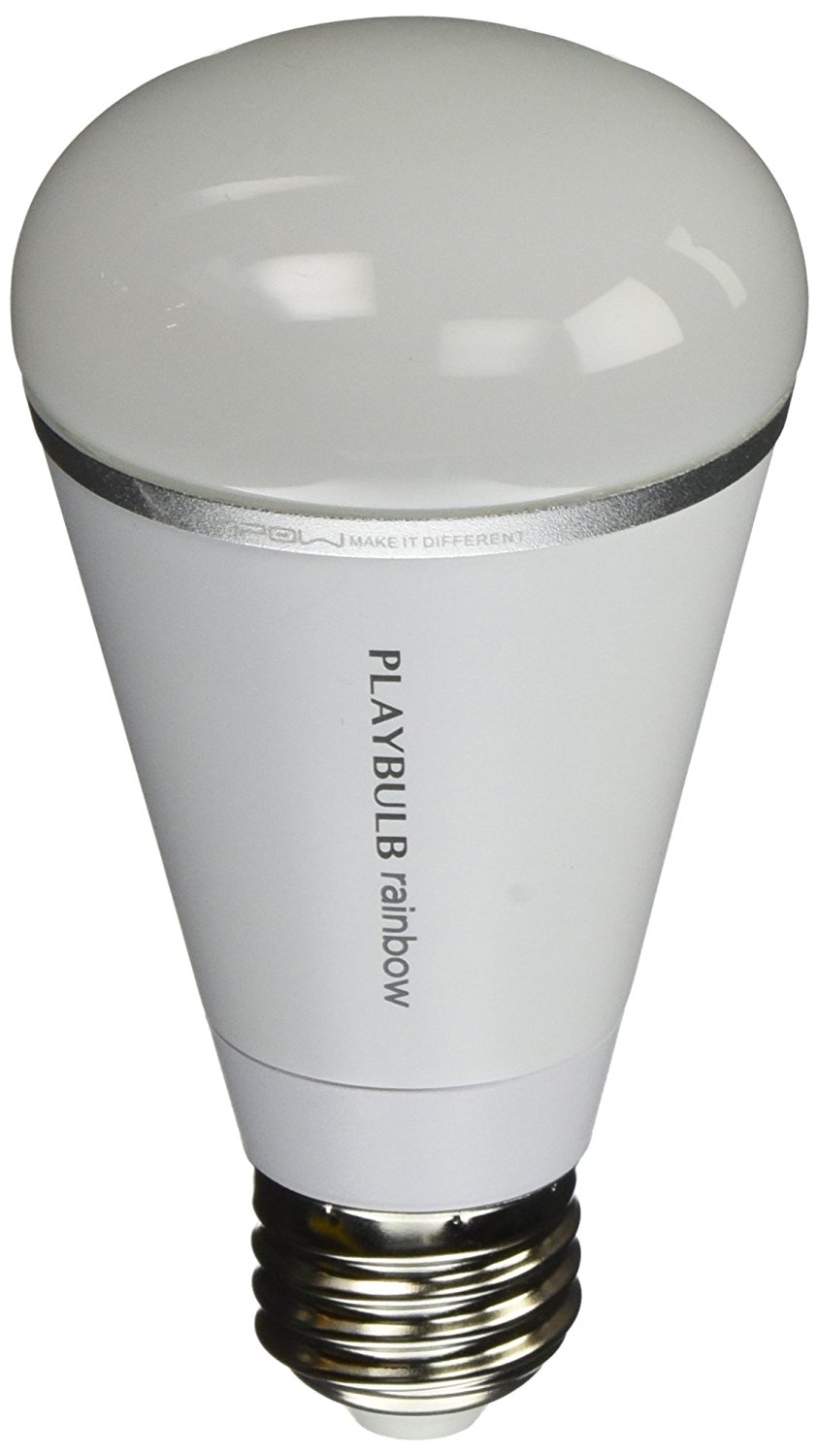 If you are in the market for a smart light and speaker hybrid, the Playbulb Rainbow is your best option. The previous Mipow Playbulbs were a novelty item owing to their dim light and tinny sound. However, the Rainbow version has some improvements as it is brighter. The bulb weight 8.5 ounces and you can put a lampshade on it. While using an adapter, you can fit the bulb into an E40 or B22 bulb but it is designed to fit into an E26 fixture.

The Mipow Playbulb is gives more light as the white matte material covers more real estate. Nevertheless, the Mipow is suitable for atmospheric lighting but not ideal for lighting an entire room. To light up an entire room, you will need more than one bulb. As for the luminous flux, expect about 700 lumens and a color temperature of 3,000K. To connect to the bulbs, you will need to download the app and connect via Bluetooth.

Expand to see more
Product Features

Playbulb X app for android and IOS
Fits any E26 and E27 socket
Weight: 0.48 ounces

Who is it for?

The Playbulb Rainbow is for first time users who might enjoy a light and speaker hybrid.

It doesn't require a hub to connect
Affordable
One key shortcoming of the Mipow Playbulb Rainbow is the Bluetooth connectivity. First, you cannot control the lights when you are out of range, but also because of the weak connectivity
9. Kasa Smart Wi-Fi LED Bulb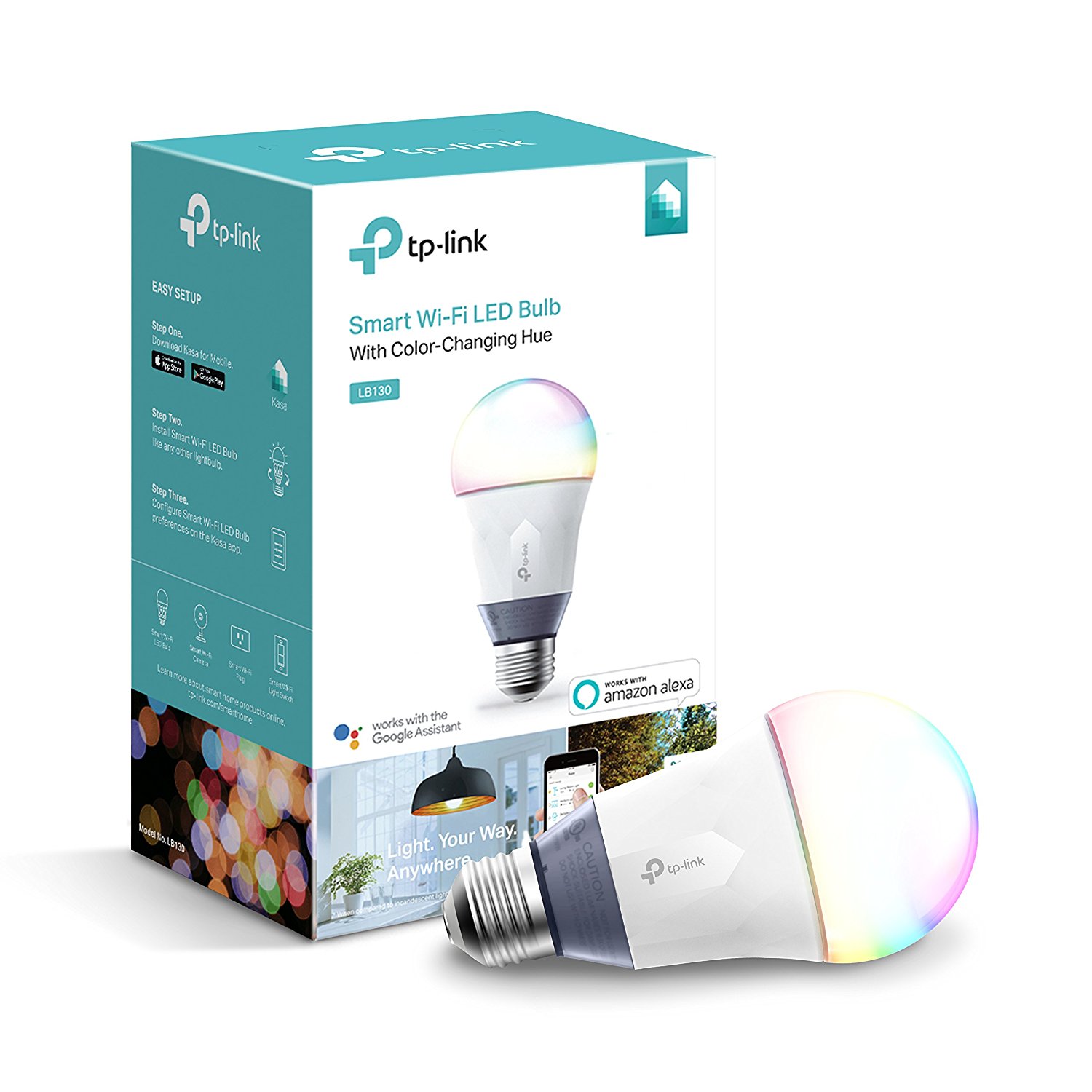 There are two chief types of smart light bulbs; those that connect to a hub and those that you connect to via Bluetooth. With the former, you have to contend with a higher initial cost and connectivity issues when working with the latter. The TP-link combines the strong aspect of both and is thus a standalone bulb, with an integrated wireless networking which is one of its appealing aspects.
Integrated wireless networking
– Unlike other Wi-Fi smart light bulbs that require a hub to connect to a router, this wireless networking enables the TP-link to connect directly to your router reducing the initial cost.
Bright and efficient
– The LB130 will give you a brightness of 800 lumens alongside color and color temperature ranging between 2500K and 6500K only using 11 Watts. When using traditional bulbs, you would need a 60-watt bulb to get the same 800 lumens brightness.
As for setting up, all you have to do is
screw
it in, turn it on, and sync with the "Kasa" app. First, you have to connect to the bulbs Wi-Fi signal and then jump back into the app and as TP-link tethers the bulb to your network. You can also pair it with Alexa which you can use to turn the bulb on and off or dim it down. However, there are too many compromises with the LB130. It only screws on to an E27 fitting.
Also, it isn't as well connected to third parties as the more expensive Philips Hue or Lifx bulbs. Despite connecting to Alexa, you cannot use the service to change the color. Other outside services such as IFTTT don't work well with the bulb either. It is also a few ounces heavier since it features a built-in Wi-Fi.
Expand to see more
Product Features

Luminous Flux: 800lm
Voice control: works with Alexa, Microsoft Cortana, and Google Assistant
Color changing
Weight: 7 ounces

Who is it for?

The LB130 is for users who want a few smart light bulbs plus the perks of Wi-Fi connection without the cost of having to invest in a kit.

Affordable – If you are in the market for a few smart light bulbs, you might want to look into the LB130. You get the perks of Wi-Fi connectivity, without having to invest in an expensive hub
Though in a limited capacity, it works with Alexa and Google Assistant
One chief shortcoming of the TP-Link LB130 is that it limits the number of bulbs you can instal
10. Hive Active Light Starter Kit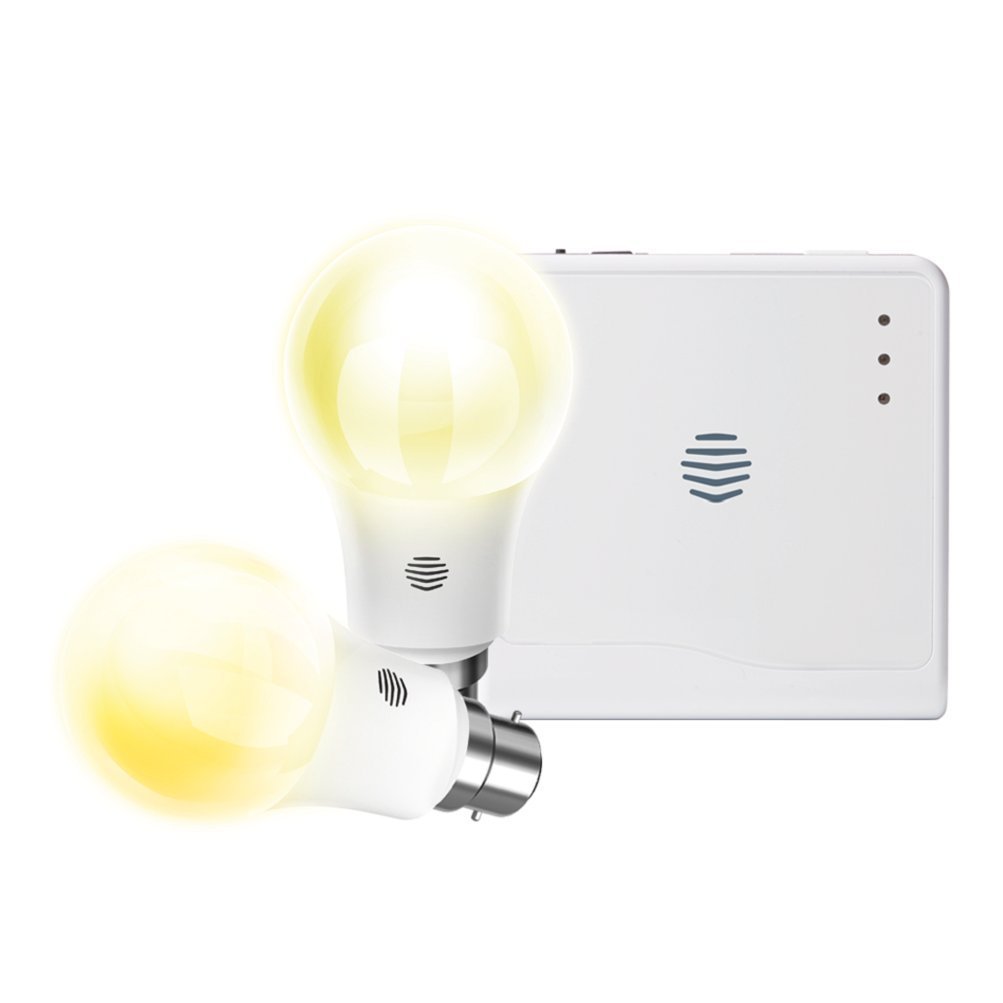 It may have started as a smart thermostat, but Hive Active has since evolved in to the smart light bulb market. The intelligence is integrated with the bulb which lowers the initial outlay cost.
However, the bulb will be heavier but not to a standard of requiring special fittings. It will work with any standard fitting but watch out for dimmers as it isn't compatible. With the Hive Active Light, you have three bulb options.
First, you have the 806 lumens dimmable Hive Active light which is the cheapest. It has a constant color temperature of 2700K but uses only 9 Watts. Next is the cool to warm white which has the same luminous flux as the dimmable light, but offers color temperature control between 2,700K and 6,500K. Finally, we have the color changing bulb which is the most expensive. It offers the same light and color temperature options but you can get any RGB color you want.
Efficiency
– One benefit of these bulbs is the power
efficiency
. They will give a brightness of 806 lumens which is equivalent to that of a traditional 60 Watts bulb while using only 9W.
Versatility
– The Hive Active light is quite versatile because it works with other Hive components. If you have a Hive heating system, then your cost of installing smart lights is lowered as you don't have to invest in another hub. This versatility (wide range) of Hive products makes it cheaper to upgrade to a smart home.
All other features from dimming the lights to adjusting the color are done through the app. Hive have recently updated it making it far neater to make adjustments unlike in the previous version. It also has automatic control as you can schedule when the lights turn on and when they turn off. Scheduling is a neat trick to keep burglars away.
Expand to see more
Product Features

Luminous flux: 806 lumens
Power usage: 9.5 W
Color changing bulbs

Who is it for?

The Hive Active light is for homeowners who are already using Hive devices as it will be simpler and cheaper to upgrade. Also if you want more than smart light bulbs, Hive Active lights would be a nice place to start.

You can integrate your Philips Hue bulbs with the Hive Bridge which allows you to control your Hue bulbs from the Hive app
Has an IFTTT channel. Though it's for basic functions, it's still a nifty addition
Voice control is enabled
The Hive app is a bit clunky and the bulbs lack dedicated switches
Things to Consider when Purchasing a Smart Light
How do you want to control your lights – You can use different wireless communications standards to control your bulbs. If you decide to use Bluetooth to control your light bulb, your range will be limited. You will not be in a position to turn off the lights should you make the mistake of leaving them on as you will be out of range. Also, you are limited to adjusting the brightness of the lights and turning them on and off. Wi-Fi on the other hand might increase your application and your range but the speed might be affected depending on the number of devices using your Wi-Fi. Your bandwidth is affected by the number of devices using it.
Integration – Many smart light bulbs can be mixed and matched in a system while some can't. Therefore, when making a purchase, have in mind what you want. Are you looking for devices that can work with smart home hubs and different switches or are you okay with one specific technology?
Issues and Concerns
Smart light bulbs aren't without their issues. First, most of these bulbs are expensive. The cheapest is twice the amount you pay for a standard bulb. Color changing bulbs can go upwards of $50 with starter kits costing as much as $200. Therefore, bear in mind that you are not purchasing these exclusively for the light but for features such as adjustability and smart-home integration.
You might also want to consider the various methods of communication. Some bulbs will limit you to their technology while others allow for third-party integration. There are even option to mix and match different bulbs and technologies. There is also an issue with the response of smart light bulbs as their response isn't as instant as traditional bulbs.
You might also argue that smart outlets are a better option than smart light bulbs. First, they last longer and don't restrict you to a specific bulb. However, most renters aren't allowed to change the switches, and it will be difficult to change the fixtures if you don't have access to the circuit breaker.
FAQS
How many colors will I get?
Most smart light bulbs can emit up to 16 million colors. However, some are only dimmable while you can only adjust the color temperature on others. We advise you get the colored bulbs as they are more fun.
Which extra features do the bulbs have?
Some of these fittings have non-lighting capabilities which you might enjoy. Some are equipped with security cameras, others Bluetooth speakers, and some have microphones that sync the pulsating lights with the rhythm of any music.
How is the compatibility of the bulbs?

With some of the bulbs, you will be stuck with their technology and brand as they limit the compatibility with third-party devices. We advise you to get fixtures that can work with smart systems such as Zigbee and voice control devices such as Alexa.
Can the bulbs be installed in an enclosed lighting fixture?
Well, as long as there is Wi-Fi/Bluetooth connection and the bulb doesn't heat up, there is nothing to prevent you from installing them in an enclosed fixture.
What socket and bulb size do the bulbs fit in?
Most smart light bulbs will fit into standard E26 and E27 bases. However, please confirm before you make a purchase.
Conclusion

Smart light bulbs happen to be one of the easiest ways to improve your home décor. Also, if you want to upgrade your home into a smart home, these light bulbs are a nice place to start. If you are looking for the best quality, we recommend the Philips Hue or Lifx but if you want an entry product, get the TikTeck bulb. Nevertheless, most of these are fun but aren't necessary devices.
Subscribe to our newsletter