Best Husqvarna Chainsaws Reviewed & Rated
last updated:
Apr 06, 2021
A highly reputed and revered industry doyen, Husqvarna has mastered the art of making some of the best chainsaws to ever hit the market. The brand harnesses several decades of experience and expertise to showcase its mettle, leading to the production of high-end, high-performance, and very dependable chainsaws. Its chainsaws, irrespective of price range and target market, continue to surpass market expectations and sets the benchmarks against which quality and performance are measured.
Our Top 3 Picks
[srpshortcode id="21089″][/srpshortcode][srpshortcode id="21088″][/srpshortcode][srpshortcode id="21087″][/srpshortcode]
They work flawlessly, powerfully, reliably, and are surprisingly cost-effective, making them an ideal and solid choice for the value-conscious homeowners, landscapers, carpenters, and even DIY enthusiasts. Whether it is post-storm clearing, pruning or just cutting, they'll invariably get the job done. Before delving into detailed reviews of our top 10 picks, let's take a look at the essential factors to consider before purchasing a Husqvarna chainsaw.
The Best Husqvarna Chainsaws
1. Husqvarna 460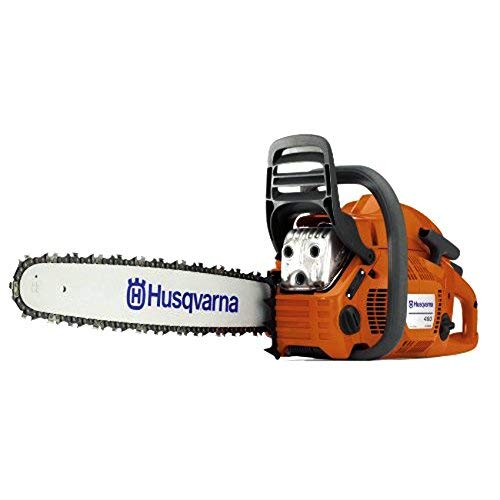 The Husqvarna 460 Rancher is one of Husqvarna's leading chainsaws. It's an all-around chainsaw that packs an incredible amount of power and comes with a bunch of convenience features for easily tackling the toughest and most demanding projects. For instance, it has a high-performance X-Torq engine that effortlessly and quickly generates high torque and impressive speeds. Additionally, the user-friendly design provides for easy and stress-free handling and control of its immense cutting power. Other outstanding features include Smart Start, Air Injection, LowVIb feature and a combined choke/stop control. A comprehensive review of the chainsaw follows next.

To reiterate, the Husqvarna 460 is a high-end tool built specifically for tackling tough and demanding applications, and that also reflects in its performance specs. It comes with a high-performance and powerful 3.6 Horsepower motor that outputs impressive speeds for easily and efficiently tackling various projects. It cuts through hardwood the same way a hot knife goes through a piece of cake. Further, it has is fuel-efficient and because init's conforms to the most stringent environmental regulations, it's an eco-friendly choice.

Expand to see more
As for ease of use, it sports a bunch of convenience features. It's ergonomically designed and comes with a vibration dampening LowVib feature that spares your hands, arms, joints and entire body the negative impacts of vibrations. It's also lightweight and compact and the anti-slip handle minimizes slippage while working in moist environments. To these features add the combined choke/stop control and Smart Start features that make starting the Husqvarna chainsaw a cinch and choking a thing of the past.
And thanks to the air injection, the air filter will always be free of large dust and debris particles, thereby enhancing performance while the adjustable oil pump allows you to dictate oil flow depending on the nature of the project and the prevailing weather conditions.

For those looking for an all-around, easy-to-use, versatile, and heavy-duty tool for tackling the toughest projects, look no further than the Husqvarna 460.

Minimal vibrations
Efficient and powerful performance
Fuel efficient
Stress-free starting
2. Husqvarna 450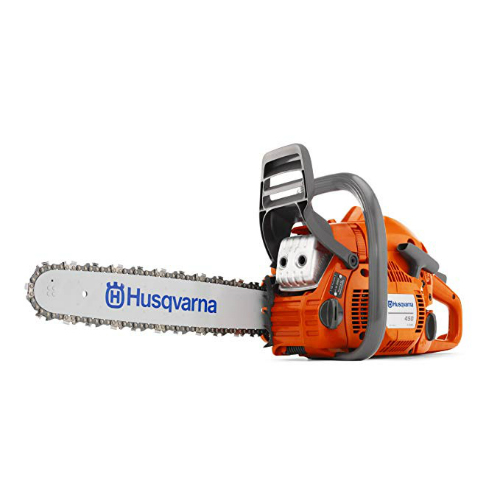 For landowners and rancher in need of a heavy-duty, reliable, sturdy, and easy-to-use chainsaw for clearing large bushes, managing firewood, or cutting the toughest logs and pieces of wood, take a look at Husqvarna 450. Whatever task you put the chainsaw to, it accomplishes it diligently, effortlessly, and in a fraction of the time it would take standard models on the market. For this reason, and the fact that it's ergonomically designed and outstandingly easy to use, it's an all-time favourite of homeowners from all around the globe. It's also lightweight and well put together to spare the user hand fatigue and strain.

Compared to our first pick, this product's bar and chain measure 18 inches in length. Because it's shorter, it offers superior controllability and manoeuvrability. It comes with a powerful 50.2cc engine capable of generating sufficient power for quickly and efficiently tackling a wide array of cutting projects around the house. It is built for light- to medium-duty and the occasional hard-use work but that is not its forte. The X-Torq engine is also eco-friendly and fuel-efficient and is fastidiously built to withstand years of extreme use.

Expand to see more
Husqvarna 450 is both lightweight and compact with a weight of just 11.33 pounds and dimensions of 18 by 9 by 11 inches. It comes with the brand's LowVib anti-vibration dampeners that do an amazing job absorbing most of the vibrations, sparing your arms, hands and joints unnecessary fatigue and strain. The result is a smooth, flawless, and comfortable operation for hours on end. The incorporation of the soft rubberized rear handle, ergonomic trigger, and asymmetrical main handle aim to achieve the same objective.

Starting the engine is a snap with the included combined choke/stop control. Also, you'll benefit from the snap-lock cylinder cover that makes it quick to change the spark plugs. And to adjust tension or assemble the bar, you won't need any special tools while replacing the air filter will be quick as it comes with a quick-release feature.

It is one of the best chainsaws on the market. It's capable of speeds of up to 9600 RPM, thanks to a powerful and reliable 3.2 HP motor. It's also easy to use and comes with a generous 24-month limited warranty.

Eco-friendly
A cinch to use
Comfortable with anti-vibration feature
Oils automatically
Chain sometimes comes loose
Not ideal for heavy-duty use
3. Husqvarna 455 Rancher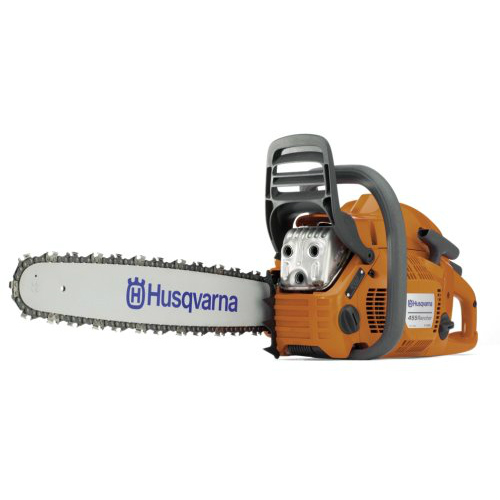 Husqvarna 455 Rancher is yet another embodiment of the excellent craftsmanship, versatility, dependability, and functionality of Husqvarna's products. It is robust and sturdy and can easily withstand to of attrition for years on end before anything gives. Further, it's high-powered, heavy-duty, and has a reputation for responsiveness that the value-conscious can put to good use to ensure a quick and effortless completion of various cutting projects around the farm. It also packs one of Husqvarna staple features; convenience. The latter virtue explains why it ticks with greenhorns.

Boasting a powerful 55cc 2-Cycle, gas-powered engine, it packs what industry insiders wax lyrically describe as volcanic power. It has a heavy-duty, commercial-grade 20-inch bar and chain which, coupled with the 3.5 HP motor, makes short and quick work of the toughest tasks. It's a professional, all-around product that clears thick bushes, trims down trees, and cuts thick branches without the slightest hesitation. It boasts maximum speeds of 9000 rotations per minute, which translates to a quick and easy cutting experience under various conditions.

Expand to see more
Unlike some cheap, off-brand machines masquerading as chainsaws on the market, it has a very gentle learning curve. It's packed to the brim with a slew of instrumental features to take time, effort, and frustration away from cutting tough and thick materials. Running smoothly like a scalded kitty, the tool doesn't break a sweat, struggle, or choke while cutting and slicing hardwoods, thick, branches, and chunks of knotted logs. For one, you don't need any special tools to increase tension or assemble the bar. Secondly, the user will experience minimal vibration and consequently less fatigue and hand strain. It starts easily, quickly, and reliably every time and because of the ergonomic design, it offers exceptional kickback resistance.

Whether you're looking for something for professional or occasional use around the house, the Husqvarna 455 is a sure bet. It makes it easy to remove and trim trees, and that's all that matters.

Exceptional reliability and fuel-efficient
Abundantly powerful
Provides quick, precise, and smooth performance
Starting it is a breeze
7. Husqvarna 440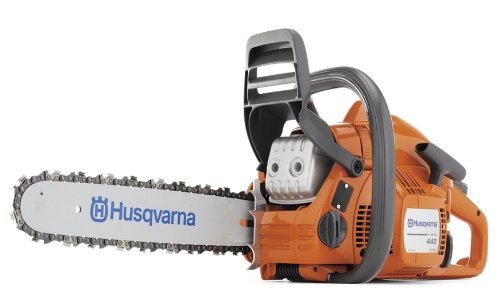 Husqvarna 440 is yet another top-notch chainsaw for landowners, homeowners, enthusiastic DIYers, and tradespeople in search of a second generation, lightweight, efficient, all-around saw. Because it's both lightweight and compact and comes with a quick smart feature, it is also easy to manoeuvre. It gives you quick and easy access to hard-to-reach spots and works like a charm. Other features that earn the chainsaw a spot on the list of 10 of the best chainsaws on the market is its fuel-efficient X-Torq engine, flip-up tank caps, fuel pump, as well as the Auto return stop. Additionally, adjusting the tension on it doesn't require the use of any tools.

Those who relish smooth, easy, trouble-free performance will easily fall for this option. The product is ultra-light at just 9.78 pounds. Further, the ergonomic design of its handle and the fact that it features a soft, rubberized handle means it'll invariably be a cinch and comfortable to use for hours on end with minimal risk of suffering hand fatigue or straining. Additionally, the inclusion of an inertia activated chain brake substantially minimizes exhausting and risky kickbacks, allowing for a smooth and incident-free cutting.

Expand to see more
As well as featuring a long-lasting 3-piece crankshaft, it is crafted with high-end materials for a longer lifespan. It will stand the test of time even with frequent exposure to heavy loads. As for performance, this gas-powered toolw has a powerful 40.9cc, 2-Stroke X-Torq engine that reliably supplies plenty of power for handling several light- to heavy-duty cutting, pruning, and limb clearing tasks. As mentioned earlier, you'll relish the manoeuvrability that comes with its lightweight and compact design and the speed at which its 16-inch bar and chain are able to cut. Other impressive features include the smart start, quick-release air filter, and air injection.
From being an affordable, lightweight and highly manoeuvrable, powerful, and easy-to-use option to the fact that it's durable, you'll need an excuse to not buy it.

Quick, effortless, tool-less chain tensioning
Has anti-vibration feature
Runs smoothly and powerfully
Starts easily
Susceptible to oil leakage
5. Husqvarna 120i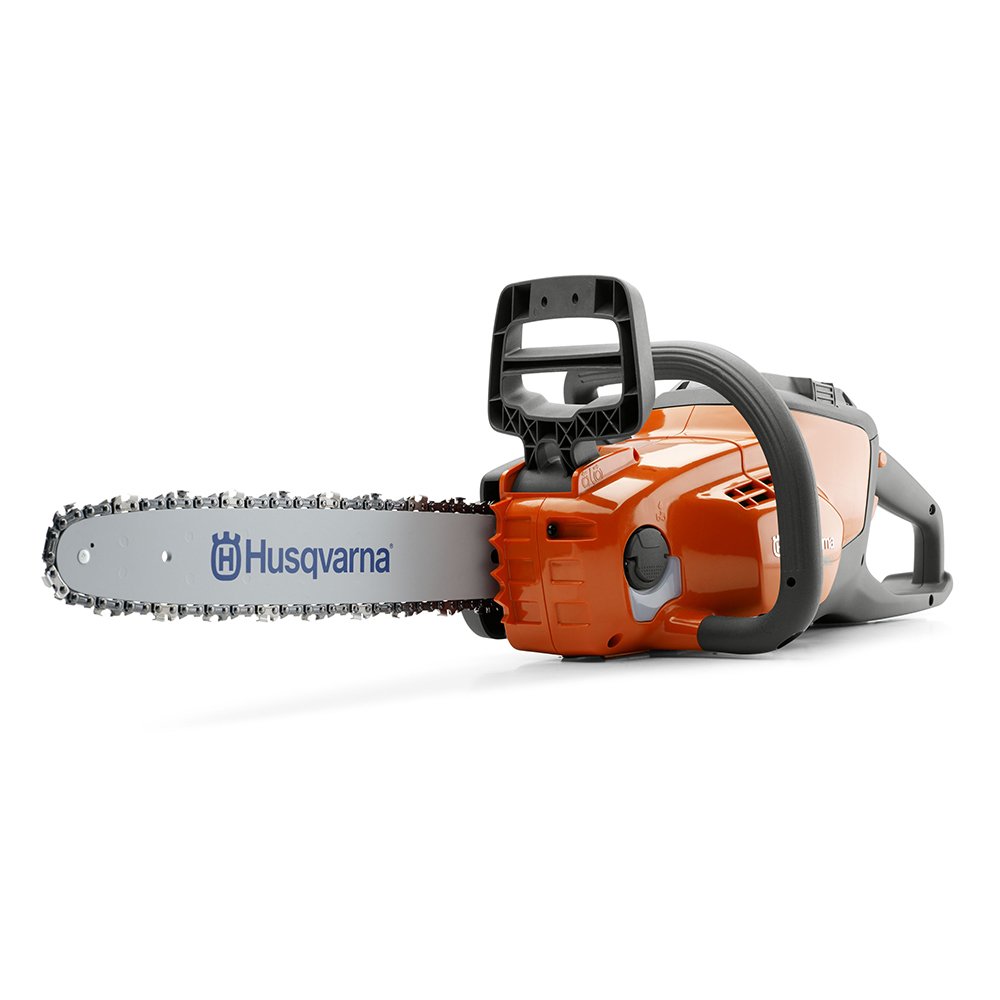 If you know zilch about chainsaws and are beginning your interaction with them, it would be prudent to start off with an entry level one. Your first one should be lightweight, a cinch to use, reasonably powerful, and an all-around tool perfect for tackling a wide range of cutting tasks. None of the chainsaws best suits that description than Husqvarna 120i. It packs just enough power for felling small trees and pruning or cutting small branches. It starts safely and conveniently and works smoothly during the entire operation. The one feature that sets it apart from its cousins is its brushless motor. We'll be discussing this and several other features in great detail in the next paragraph.

A brushless motor offers multiple benefits. As well as featuring a highly innovative design for delivering high efficiency, it also boasts a knack for maximizing runtime and prolonging the lifespan of a machine. The Husqvarna 120i, therefore, gets to provide you with several years of flawless, trouble-free and dependable service, which is more than you can say for most of the cheap, off-brand models on the market. Also, because the brushless motor incorporates a patented Save mode, the gets to perform optimally, generating great torque and speeds for quickly, effortlessly, and accurately cutting, pruning, and trimming.

Expand to see more
The small 14-inch bar and chain of the tool completely belie its spectacular performance. The bar is optimized for a wide range of
cutting tasks
, meaning that only a handful of thick and tough objects can put up a decent fight. The Husqvarna chainsaw has an intuitive and user-friendly keypad for easy control and the handle features a soft rubberized grip that's both comfortable and slip-resistant. With dimensions of 33 by 9.25 by 9.45 inches and a paltry weight of 10.8 pounds, the Husqvarna chainsaw qualifies as both lightweight and compact and thereby easy to use for hours on end with minimal risk of hand exhaustion or straining.
Despite its small bar and chain, Husqvarna 120iprunes, cuts, and fells trees with remarkable ease and speed. It's a solid choice for both greenhorns and the seasoned alike. It's powered by a high-capacity 40-Volts battery and runs efficiently, thanks to its brushless motor. You'll never look back.
Superbly efficient brushless motor
Chain tension adjusts easily and quickly
Lightweight and comfortable
Very quiet
Not built for heavy-duty projects
6. Husqvarna 460 Rancher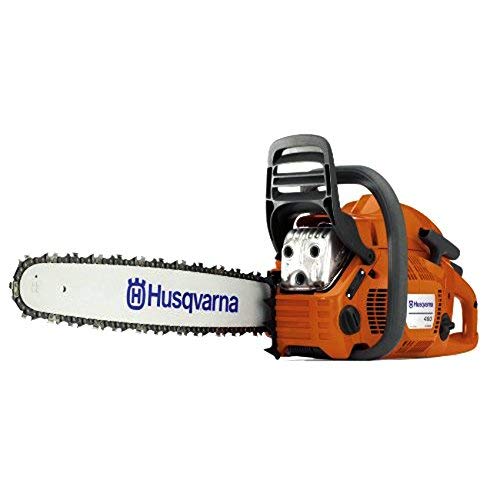 Versatile, sturdy, all-around, and fastidiously built for tough cutting tasks is how we'd describe the Husqvarna 460. It has all the features you want in a chainsaw. As well as being powerful, the chainsaw comes with a sufficiently long 20-inch bar and chain and an equally high-performance and reliable X-Torq engine that delivers nothing short of the ultimate performance. The speed range is also sufficiently wide for customizability and because of the user-friendly design, controlling its immense power takes little effort. Additional features, of course, include a Smart Start, Air Injection, LowVib, and combined choke/stop control. Together, these features are responsible for the sublime performance of the saw.
Compared to its bigger cousins, Husqvarna 460 Rancher has a slightly more powerful 3.62 HP, 60.33cc engine that supplies all the requisite juice for tackling all task the user throws in its path. Its bar and chain measure an easy-to-manage 20-inch in length. Together, these features see to it that the chainsaw makes short and quick work of not only
hardwood
but also solid oak. You won't experience the slightest glitch in performance while going through other tough and thick logs.
Expand to see more
Another feature that makes the tool immensely appealing is the ease of using it. It weighs just 12.79 pounds and comes with all the staple features for which chainsaws are renowned. A smart start feature provides for an effortless and quick start while an air injection feature ensures large dust and debris don't reach the air filter, thereby minimizing the frequency of cleaning and replacing it. This, in turn, improves engine life. Other performance features include the adjustable oil pump and quick-release air filter.

For comfort and convenience, it has an inertia brake chain for preventing kickback and an ergonomic handle grip to ensure you work comfortably and safely. The side-mounted air tensioner makes the task a cinch. And of course, it's CARB compliant.

The Rancher is an industrial-grade chainsaw that offers incredible pro-grade performance. While it's a little expensive, you get every penny's worth.
Offers outstanding reliability
Safe and easy to use
Versatile and effortless performance
Superb construction
4. Husqvarna 240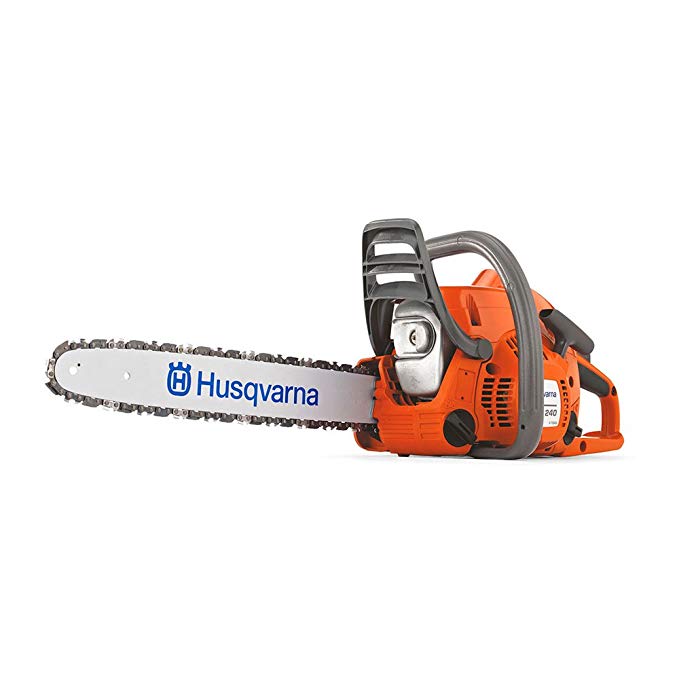 That the Husqvarna 240 is a cost-effective, entry-level tool does not mean it offers middle-of-the-road performance, as would be the expectation. Instead, it offers reliability, versatility, and unparalleled practicality for a product in its price range. For the homeowner or enthusiastic DIY looking for a solid chainsaw to use for light- to medium-duty trimming, pruning and cutting jobs, this should be up your alley.

Not a brand to sacrifice quality or convenience, Husqvarna 240 pulls all the stops to provide its customers working on a budget with the best performance possible. It has a relatively powerful 38cc, 2 HP engine that generates enough power for operating its 16-inch bar and chain. Provided it's used for performing less demanding or strenuous cutting applications, the tool works cleanly, smoothly, efficiently, and accurately. It's powerful enough to easily and quickly trim small limbs, bring down small trees, prune, and clear small bushes. If these are your reasons for buying a chainsaw, then Husqvarna 240 should do great.

Expand to see more
Unlike high-end models with premium features, you won't have to consider selling one of your kidneys or break the bank to afford one of them. This no-frills choice is cost-effective and comes with a fuel-efficient engine that produces substantially fewer exhaust emissions to the environment, a feature guaranteed to tick with those keen on preserving the environment. Additionally, it has a LowVib feature that works by absorbing or dissipating the attendant vibrations thereby minimizing hand exhaustion and strain, enabling you to work comfortably for hours on end.

The tool also comes with a centrifugal air cleaning system that gets rid of large dust and debris particle before reaching and affecting the performance of the air filter. There is also the combined choke/stop control for instant engine starts. Essentially, it has all the features professionals would look out for when shopping for a chainsaw.

Husqvarna 240 is a cost-effective chainsaw that's perfect for greenhorns and experienced homeowners looking for a quick, efficient, and reliable means of pruning, limb trimming, and brush clearing.

Powerful performance
Easy to adjust the tension
Cost-effective
Perfect for heavy-duty use
Not ideal for heavy-duty tasks
8. Husqvarna 967166101 450 2-Cycle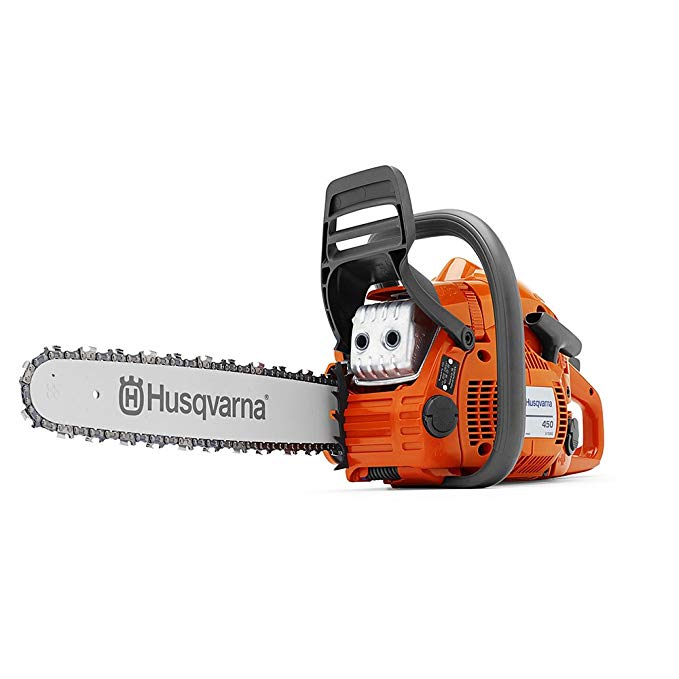 Another well-rounded option that offers the user great value for their money is this Husqvarna 967166101. Its remarkable build, versatility, affordability, powerful performance, and ease of use informs its popularity among landowners and homeowners and even greenhorns. It's a significant upgrade from the standard chainsaws on the market considering its impressive slew of virtues and specs.

Starting us off is the fact that it houses a long-lasting, reliable, and powerful 50cc, 2-Cycle engine which, coupled with its 20-inch bar and chain takes the time and effort away from finishing the toughest and most demanding applications around your property. From felling trees, pruning limbs and branches, to clearing thick and dense bushes, the chainsaw is a workhorse that will get the job done quickly and with minimal effort every time.

Expand to see more
The 20-inch bar and chain, the even weight distribution, lightweight construction, and the fact that the Husqvarna chainsaw has a user-friendly handle grip set it apart from the hundreds or thousands of flimsy, low-quality options on the market. All these features translate to incredible ease of use and make it immensely endearing to the landowners and homeowners who don't consider themselves tech-savvy. Other features that provide smooth operation are the air purge system, combined choke/stop control, and a generous 48-month warranty. If anything goes wrong within this period, resulting from normal, everyday use, it'll be replaced or repaired for free.

To the above features add a convenient side-mounted chain tensioning system and visible fuel level that helps you easily monitor the amount of juice remaining to eliminate any surprises. As you would expect, this model also starts without the slightest hiccups as it comes with a Smart Start feature and fuel pump.

Sturdy, durable, cost-effective, and with plenty of power, Husqvarna 967166101 has it all. Plus, you know you can never go wrong with a Husqvarna chainsaw. Compared to the off-brand, simplistic models on the market, they house the features that matter.

Minimal kickback and vibrations
Starts easily and smoothly
Boasts lots of power
High-performance
A little difficult to use
9. Husqvarna 445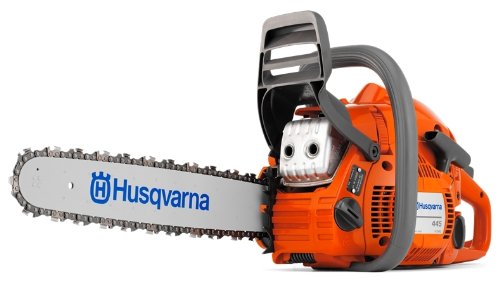 You need a heavy-duty, powerful, reliable, and practical option to tackle the tough and demanding tasks around your home. And we can't think of a more suitable choice than this one. The all-around performance of the machine you can confidently take on light- to heavy-duty cutting, pruning, and bush clearing projects both domestically and commercially. As is the case with virtually all chainsaws, this Husqvarna comes with the brand's X-Torq engine that has a solid reputation for being fuel efficient and helping with environmental conservation. It starts in a snap and is very easy to use, thanks to the endless list of impressive features it comes with.

It has several performance and convenience features but the highlight is its high-performance 45.7cc, 2 HP engine that generates enviable torque and speeds to allow for the quick and easy completion of a broad range of cutting projects around the house. Any project you can possibly think of, this Husqvarna chainsaw has the power to handle without breaking a sweat.

Expand to see more
The construction quality also stands out. Unlike cheap, off-brand models out there, this product is constructed using a first-rate material for a heart-stopping performance. Every nook and cranny of it oozes durability and utmost ruggedness, meaning that tough and thick materials won't faze. Its ability to withstand loads of wear and tear and the fact that it comes with a generous, extendable 24-month warranty should give you the confidence to reward yourself with one.

Because it has a smart start feature, the engine easily and quickly roars to life irrespective of the prevailing climatic or weather conditions. It also weighs just 10.8 pounds, which, for all intents and purposes, is ultra-light, enabling you to cut away all day without the slightest bout of fatigue. The anti-vibration feature spares your hands and joints inimical repercussions while the anti-slip handle ensures your grip is always secure and firm.

In all, Husqvarna 445 is a dependable and easy-to-use chainsaw. It excels at all pruning and cutting jobs and because of its aggressive performance, helps you save on time and energy.

Comfortable and easy to use
Fuel-efficient
Starts in a snap
Compatible with 20-inch bar
Cost-effective
10. Husqvarna T435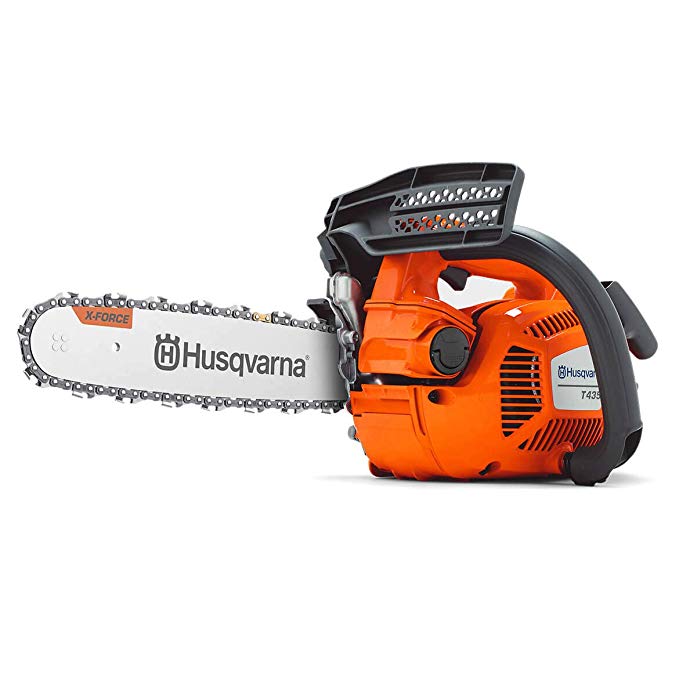 Our last pick is the multi-functional Husqvarna T435 Gas Powered saw. It's a perfect choice for everyday use around
the yard
, park, and garden for pruning trees, felling others, and general maintenance, which makes it an ideal choice for not only land and homeowners but also professional landscapers. It's a versatile choice that's compatible with bars within the 12 and 14-inch range, which means it's a solid choice for serious cutting business. Besides being powerful, this option is lightweight and superbly balanced for remarkable control and manoeuvrability. Continue reading for an in-depth review.
It comes with a 35.2cc X-Torq engine and you know what that means. It means it has plenty of power for seamlessly, quickly, and effortlessly going through the toughest and densest logs without struggling, choking, or experiencing the slightest performance glitch. While its 12-inch bar and chain is half the size of some of its cousins, it more than suffices for domestic use. In fact, you'll be hard pressed to find a piece the Husqvarna T435 can't go through.
Expand to see more
If you're vertically challenged or just can't reach the furthest branches or limbs, fret not because it has a robust pole extension that eliminates the need for using a ladder. The LowVib feature also protects you from the devastating consequences of vibrations and coupled with the user-friendly, ergonomically designed top handle, enables you to work stress-free for several hours. Like other option, adjusting the tension is made quick and easy with the side mounted tensioner and thanks to the air purge system, the Husqvarna chainsaw will be able to provide you with more than a lifetime of trouble-free, smooth performance.

That the Husqvarna T435 is a cost-effective, reliable, high-performance, versatile, and versatile choice is not debatable. Its powerful engine makes it remarkably easy and quick to fell or remove trees, clear the yard after a storm, prune, and even trim. We can't recommend it enough.

Perfect choice for light-duty applications
Lightweight with comfortable handles
A cinch to control and manoeuvre
Works quickly and efficiently
Occasional problems starting up
Criteria for Choosing the Best Husqvarna Chainsaws
Size of Bar
The length the bar has a significant bearing on the performance capabilities of a Husqvarna chainsaw. If you intend to prune ornamental trees and shrubs and not undertake any heavy-duty tasks, a model with a bar length of between 14 and 16 inches should suffice.
For medium-duty applications that also include felling small trees and branch/limb removal, focus on acquiring one with a bar length of between 16 and 18 inches. Those with bars of between 18 and 20 inches are suitable for heavy-duty tasks while anything beyond 20 inches is preserved for those preparing for after-storm cleanup. They are perfect for more demanding applications like pruning, cutting firewood, and felling trees.
Construction Quality
This refers to the ability of the chainsaw to stand up to the task for which it was built. A value-conscious user always aims to get the best and most out of their tool. Luckily for you, Husqvarna is not a brand that skimps on quality to keep prices down; it goes all the way.
Its chainsaws, irrespective of the price range, feature rugged, durable construction quality so they are able to withstand attrition and heavy, extreme use for years on end. All the parts and components that make up a Husqvarna chainsaw are forged from pro-grade materials to ensure longevity.
Performance
Besides their versatility and durable construction, Husqvarna chainsaws are also renowned for their eye-popping performance, and this is reflected across the board. One of the most significant aspects of performance is the size of the engine.
It goes without saying that bigger the engine – in terms of capacity, that is – the more powerful it is. A big engine is capable of handling hard-use applications that smaller engines would struggle with. However, keep in mind a powerful engine would be an overkill for light-duty tasks.
Convenience
Husqvarna chainsaws also come with a litany of features that aim to take the time and effort away from accomplishing all cutting tasks. They feature a lightweight design with ergonomically shaped handles to ensure comfort and prolonged use. Also, the LowVib feature minimizes vibrations while a side-mounted chain tensioner provides for quick and easy tension adjustment.
Additional features include an air injection for preventing dust and debris from reaching the air filter and a chain brake for promptly stopping the chain in case it gets stuck.
Frequently Asked Questions
Q: Are Husqvarna chainsaws susceptible to rust?
A: Like all things metal, yes. It's against this background that you're advised to choose a dust-free, dry, and sufficiently ventilated place for safekeeping.
Q: How do I know when the chain is getting dull?
A: Smoke is the surest way of knowing, that is, after eliminating other possibilities such as incorrect chain tension and faulty lubrication system.
Conclusion
Husqvarna chainsaws are built for high-performance, durability, and convenience. They're your best for confidently tackling the toughest and most demanding cutting applications considering their ability to withstand extreme use. Our list features something for everyone.
Whether you're looking for an industrial-grade or consumer-grade Husqvarna chainsaw, we have your back. So long as you choose one that best meets your needs, you'll never look back. That we can guarantee.
Subscribe to our newsletter