10 Best Screw Extractors We Tested & Rated
last updated:
Aug 23, 2018
DIYers and professional handymen will often encounter scenarios where they have to extract screws from various installations so they could take them apart. Unfortunately, sometimes these screws are damaged and will, therefore, present a much bigger problem coming out than they did getting in. The thread and the head might be worn out making it impossible to use regular tools to take them out.
Our Top 3 Picks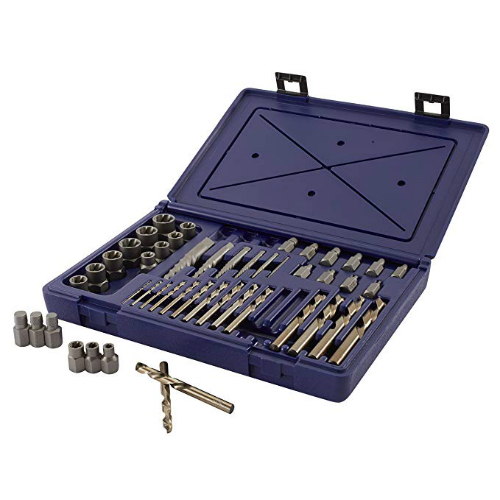 Irwin

Our rating
Quality
Price:

See Here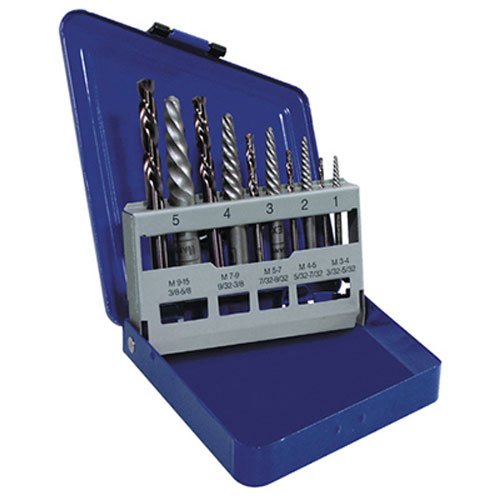 Irwin

Our rating
Useful
Price:

See Here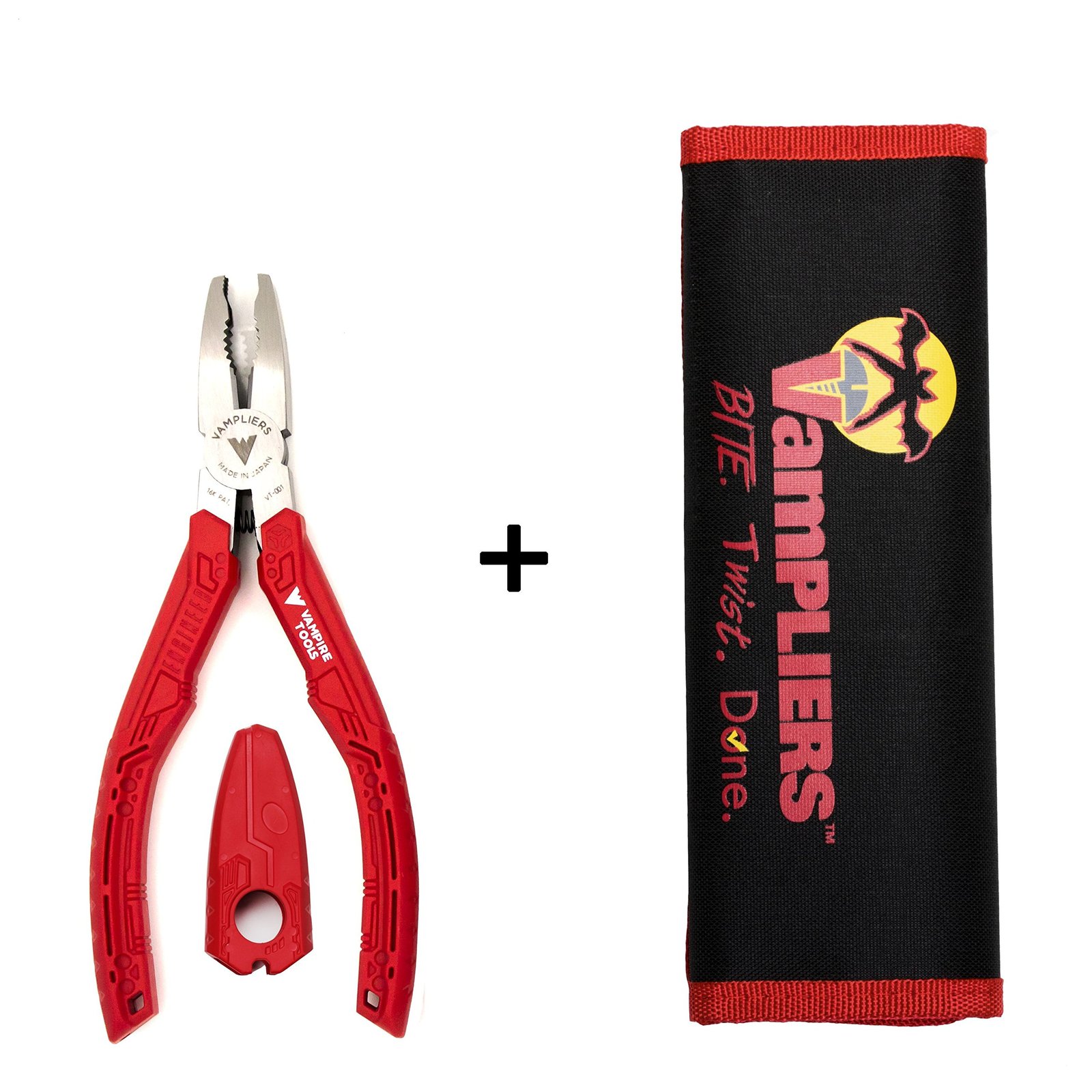 Vampire Professional Tools VT-001

Our rating
Easy
Price:

See Here


There are however some specialized tools made for just this purpose. The right screw extractor or set of them will take on just about any screw and pry it from wherever it is lodged. At the same time, users might need to pick out a screw extractor that is specific to their needs as purchasing any other will amount to a waste of resources.
10 Best Screw Extractors
1. IRWIN HANSON Master Extraction Set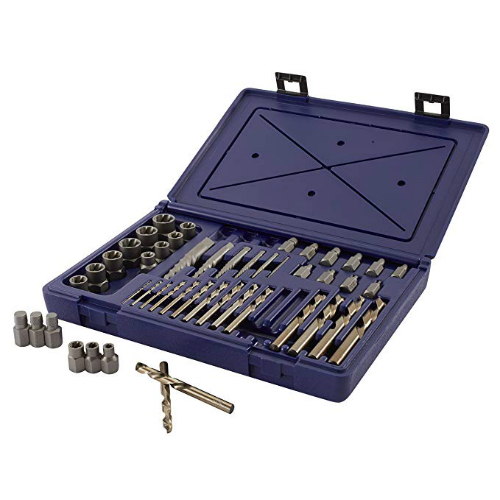 Our first pick goes to this edition by Irwin Tools. However, we did not come to this decision lightly. Despite only a hand full of people purchasing the product, we do believe that it is one of the best in its class. For one it ensures that the owner will never have to buy another screw extractor as the set features anything you would ever need for that purpose. One might even go as far as saying that the number of tools in this set is more than enough either for professional or home use.

The gripping power that has been enhanced in all four types of extractors will solve just about any extracting problem there is. Some features of the Irwin Hanson master extraction set are even more outstanding than others, and they are outlined below.

Left-hand cobalt drill bits – Sometimes a fastener may prove too much for usual extraction methods. Often this will lead to extreme measures being taken which in turn might lead to the damage of the workpiece. To stop this from happening Irwin Tools have included drill bits that can be used to drill into the fastener itself. Afterward, the fastener will probably be much easier to pluck out.

Easy out spiral flute extractors – The low torque on these extractors will remove just about any conventional fastener without issue. This will save time and energy on each particular project.

With 48 extractors in total, this Irwin set was assembled to tackle just about any fastener extraction project out there. The high-quality tools, of course, necessitate that the price is quite high. That said it is worth every penny.

Expand to see more
Product features

Spiral flute extractors
Multi-spline extractors
Bolt extractors
Cobalt drill bits

Who is it for?

Irwin Tools have outdone themselves by creating this set. While the price might scare people away, it could be just right for a professional handyman who encounters all sorts of problem fasteners in the course of the job. It is bound to give a return on investment over time. Also if a DIYer has that extra change to spare, he could get it and see how well it works for him.

This extractor set is costly
2. IRWIN Tools Hanson Spiral Extractor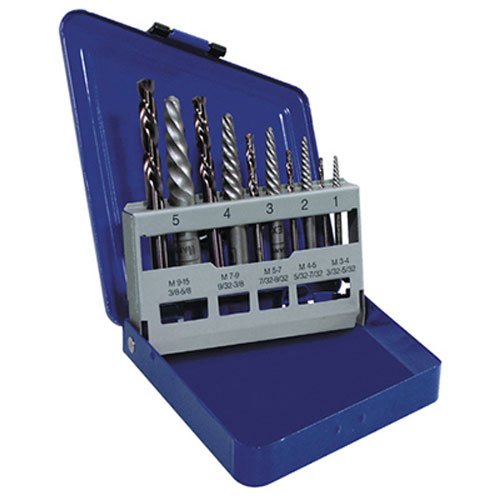 Irwin Tools has made it yet again onto our list with a less comprehensive toolset. Like the 48 piece extraction set this also comes with a case for storage although we admit it is not as nice. However, this is much more popular with the masses, and this may be brought on by a couple of reasons. Before delving into those there are some features of this drill bit set that deserves highlighting, and here they are:

Drill bits with spiral flutes – Each time one of these is in use it will burrow deeper into metal as the drilling process is going on. As a result, the grip on the fastener should increase making sure that even if resistance occurs the bolt will eventually be pulled out.

Sizes etched on to each tool – Most professionals can tell the size of a fastener by just looking at it. They will have just as easy a time identifying which size extractor is best for that particular fastener. However, novices and anyone new to the practice will have a much harder time figuring these things out. Rather than have them get the best extractor through trial and error the sizes etched on the tools will help identify which would be best for a particular job.

The fact that Irwin Tools is still here a century after it was first opened should tell you that they are doing something right. Their tools have been known to be quality and to withstand the test of time. This toolset is no different and goes to show how well their products are made.

Expand to see more
Product features

Left-hand spiral design
Extra gripping power
Easy out spiral flutes

Who is it for?

The difference in pricing between this set and the 48 piece in really large with this falling on the cheaper end. That said there are some cheaper alternatives. However, this toolset has quite some good reviews from past customers, and it should hold up pretty well against bolts and screws. The quality of the drill bits has nonetheless been a subject of debate, but everybody seems to be satisfied with the extractors.

Very useful in removing broken fasteners
The set does not come with instructions which can be confusing for first-timers
10. Vampire Professional Tools International VT-001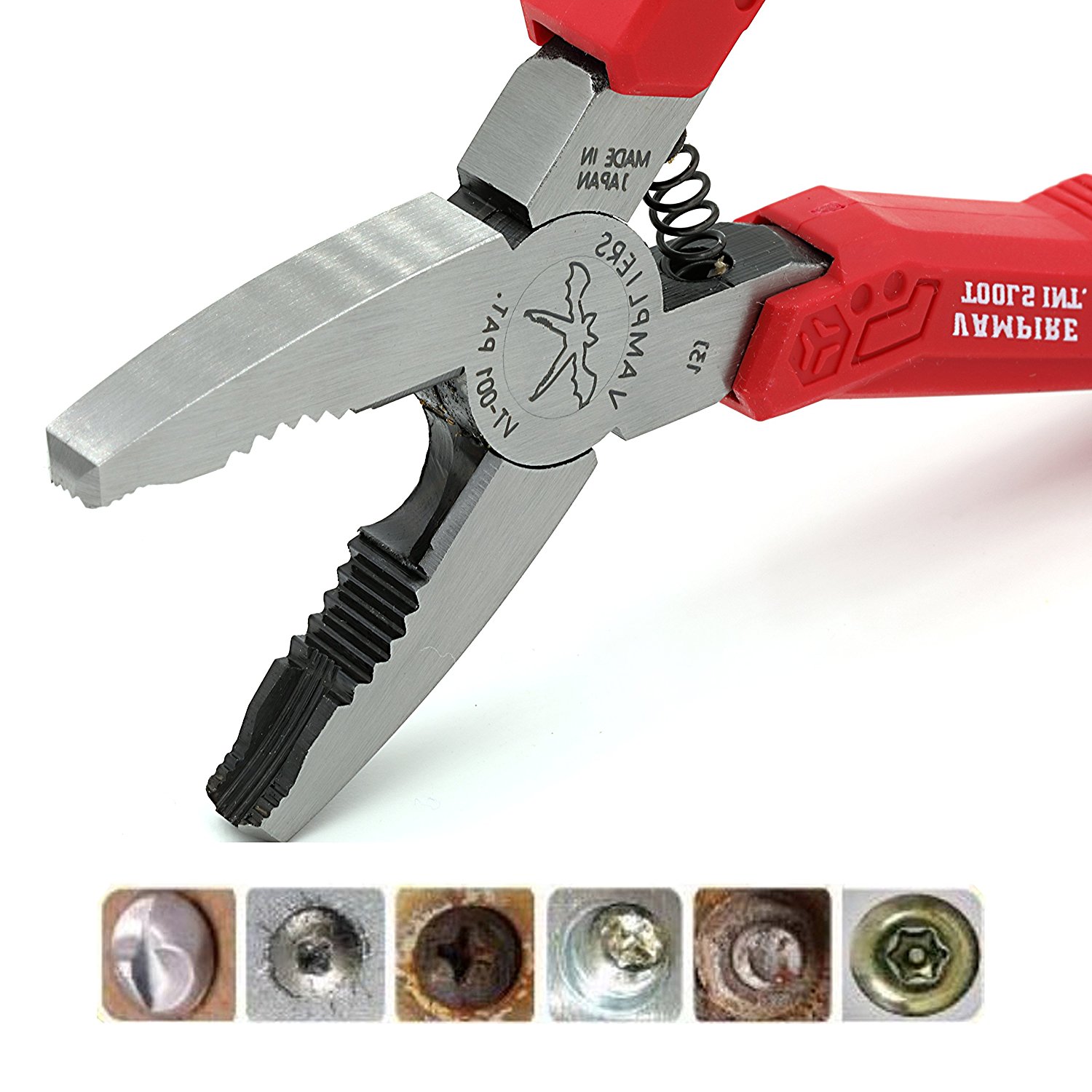 These work best with screws that still have their heads on. However, you could always try them on one with the head snapped off to see how well they hold. The manufacturer even added environmentally friendly ergonomic grips since this is a hand use tool. Some of its more impressive offerings are as follows:

Uniquely designed jaws – The jaws have both horizontal and vertical serrations on the inside part of the jaws. Add on to that the fact that these jaws are concave shows that the tool is meant for gripping a screw and only letting go when the job is done. Even nuts and bolts will find it difficult to resist this tool.

Carbon steel construction – It is paramount that the tool does not break while you are using them. The carbon steel alloy construction will ensure that and also ensure that you have these for a long time once you have purchased them.

While they are indeed targeted at the screw extraction market, they are still pliers, and they could find other possible uses in the home or workshop. You mainly get a very versatile tool when you buy the Vampliers.

Expand to see more
Product features.

Jaws with vertical and horizontal serrations
Carbon steel construction
Smooth varnished finish
Ergonomic environmentally friendly handles

Who is it for?

They are ideal if you have a screw head that can be gripped by the pliers' jaws. If at all the head has broken off and the rest of the screw has burrowed more in-depth into the work-piece the Vampliers might prove to be utterly useless. They are still a worthy purchase.

Excellent grip
Easy to use
Durable
4. Ontel SpeedOut Damaged Screw Extractor

Here is yet another four-piece set only by a different manufacturer. This set is quite similar to the one above by Aisxle. One can expect just about as much functionality from this one also. A relatively big difference, however, is the warranty with the Aisxle having set a very high bar in that regard. Also, the plastic case will make for convenient storage space for the tools. It doesn't even need to be wrapped if it is to be gifted to someone else. All the same, it is a robust set that will perform very well in the field. Here are some of its impressive qualities.

Carbon steel construction – Carbon alloyed with steel has never been a disappointing mixture. It is sturdy and very long lasting making sure that every tool infused with it lasts just a little longer than others. The extractors are quite durable and will live through whatever tasks they encounter without breakage or damage.

Easy to use – Using any of the extractors requires a two-step process, and the problematic fastener will be out of the way. Users will drill out the damaged or stripped head of the screw turn to the extractor side and remove the screw. This process should take at most a few minutes.

This tool is useful even if the head of the screw has been broken off completely. Of course, it can only be used with the aid of a drill.

Expand to see more
Product features

100% carbon steel construction
4-piece set

Who is it for?

It comes in at the same price range as the Aisxle making it one of the more affordable extractor sets on offer. One would have a hard time picking between the two. Overall any DIYer will benefit from having this in their garage since the need to extract a bolt, or a rusted screw will come by sooner or later.

Comes with easy to follow instructions
Very efficient in removing screws
Isn't deterred by the rust in old screws
The opening latch on the case is so small it makes it difficult to open the case
5. Tacklife 18PCS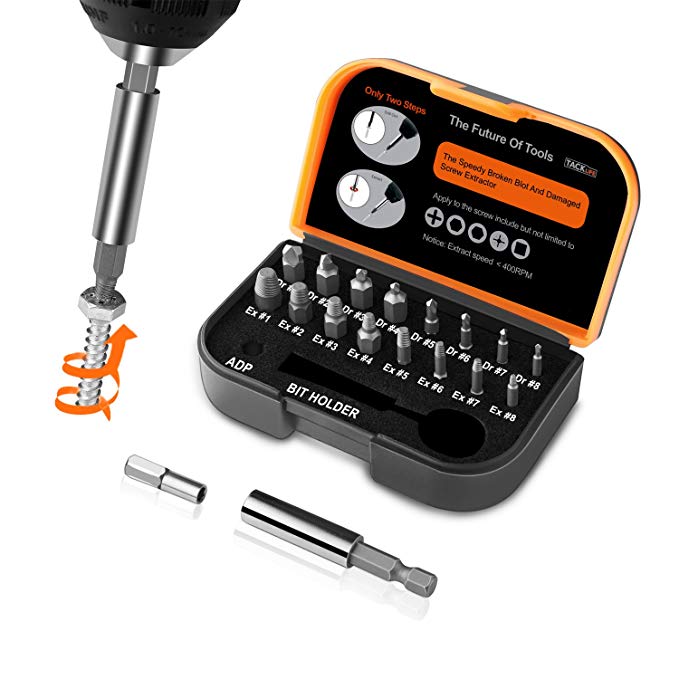 The Tacklife 18 piece set can be considered commercial grade due to the number of tools available in the kit. The pieces have been carefully designed and selected to extract all types of screws and all sizes of bolts. While typical use cases will require the use of a drill,
the wrench
adapter that comes with the set can be used for extraction by hand. The collection has been guarded against rust from regular exposure to moisture, but that shouldn't be an excuse not to take care of it. It is also made with hardened steel therefore significantly reducing chances of breakage. What impressed us most about this set are the following features.
Self-centering drill tips
– Some of the screws and fasteners users are likely to encounter, might have damaged heads. This might present a problem since the user needs to drill through the center of the screw to extract it. With this set, users won't have to worry about drilling off center due to the self-centering feature.
Magnetic holder
– Some of us have experienced situations whereby we are just done extracting a screw only for it to fall back into the hole we removed it from. This can be a tad bit frustrating but thanks to Tacklife we never have to deal with this again. The magnetic holder will keep both the drill bits and the screws they extract from dropping.
The adapters present will make sure all the tools in this set can be used alongside any drill available. The collection also comes with a chart allowing one to tell which tool to apply for a particular sized screw or bolt. The box has designated and marked spots where each tool should be stored. Also, each tool has an engraving on the side which indicates where it should be placed on the box for easy organization.
Expand to see more
Product features

Shock-resisting S2 steel construction
Socket adapter for use with drills
Magnetic bit holder
Self-centering drill tips

Who is it for?

The toolset is quite cheap as compared to others but it stands above most others regarding quality and functionality. It can prove useful to both DIYers and professionals who deal with a wide variety of damaged screws in the course of their work. Definitely a quality product and a worthy purchase.

Easy to use
The packaging is well thought out
There is a wide array of tools to use for screws of all sizes
The set doesn't come with all the instructions the user needs for optimum use
6. Moody Tools 58-0670 6-Piece Slot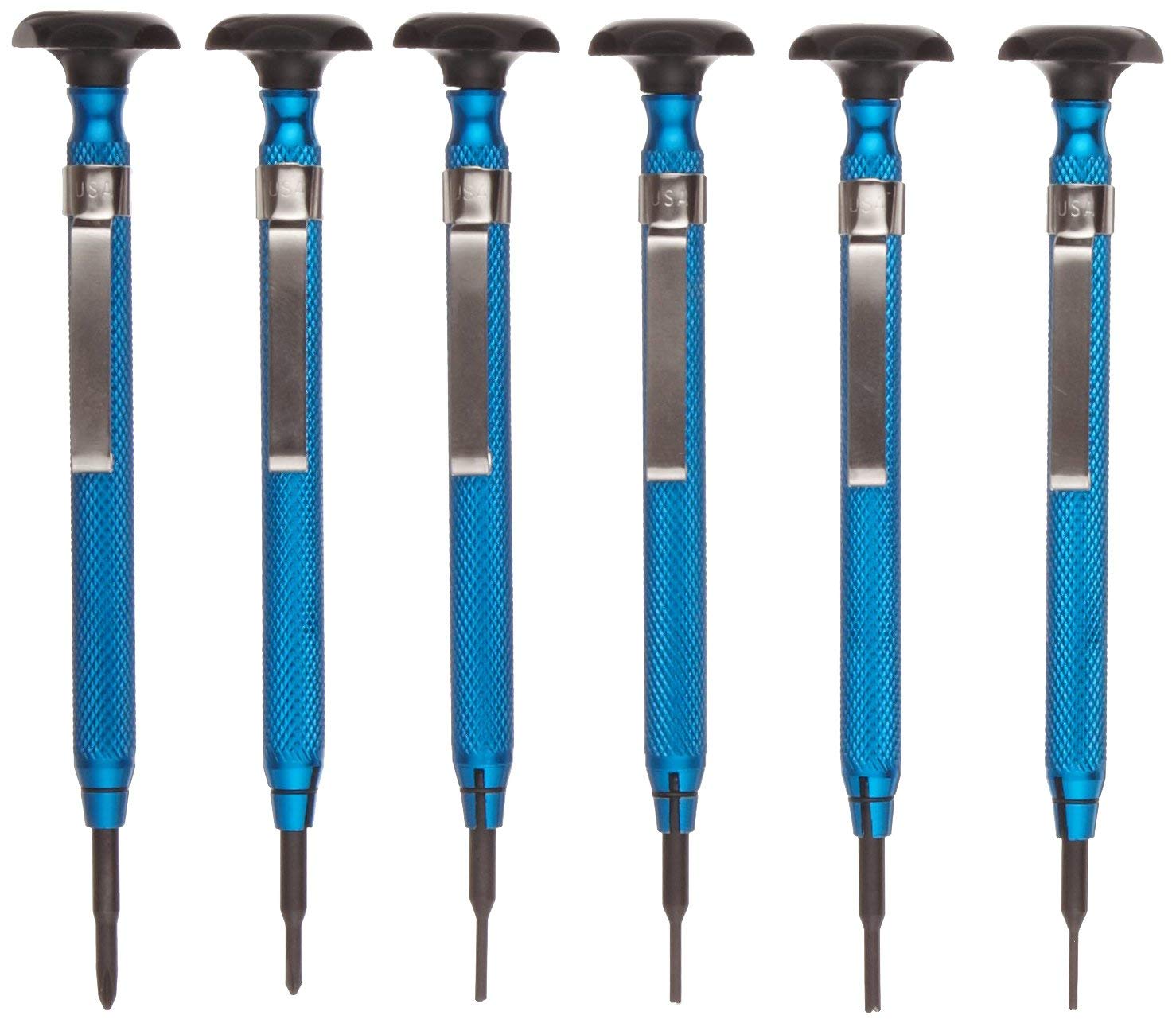 While all the above extractors required the use of a drill, Moody Tools have given us our first hand-use set of screw extractors. Whether your drill uses batteries or electricity, there might come a time when none of these are available. If at that point and time you need to remove a fastener or screw you might have to wait till your drill is usable.

However, if you have this set lying around, then you can get to screw removal right away. Admittedly your hands are not going to be as strong as a drill, but they might get the job done. Some qualities that are worth outlining about this Moody Tools set are:

Lifetime warranty – This means that no matter how many times you use the extractors the manufacturer guarantees that they won't sustain damage. Even if on the off chance one of the tools cracks under pressure then you can repair it or replace it without having to dig back into your pocket.

Knurled grip – As mentioned before these are handheld tools. As such, they can be strenuous to use. The knurled grip helps control the extractors with your fingertips. The hex swivel top will also reduce rolling giving you control over the whole process of extraction.

The six pieces total is ideal for small, broken or stripped screws. The aluminum handles are very durable and hence won't be subject to wear and tear even after long periods of use. Even more durable are the steel blades. Their construction is such so that they don't break even when extracting a stripped or broken screw. It is however not a guarantee that these extractors will be able to remove all the screws that they encounter.

Expand to see more
Product features

Hardened steel blade tools
Aluminum handles
Knurled grips for finger control
Double ended blades
Vinyl pouch for storage

Who is it for?

The price is notably higher than most of the other screw extractors on this list. That said it is still very affordable. While most of the other extractors will work best with various metal and wooden installations this set will work better on computers, consoles, and electronics that are held together using tiny screws. It might not be all that useful in the case of rusted bolts or if you are working on a big project.

Works well with tiny screws
Easy to grip
The construction of the tools is strong and durable
Works well with tiny screws
Easy to grip
The construction of the tools is strong and durable
7. Dr.meter Screw Extractor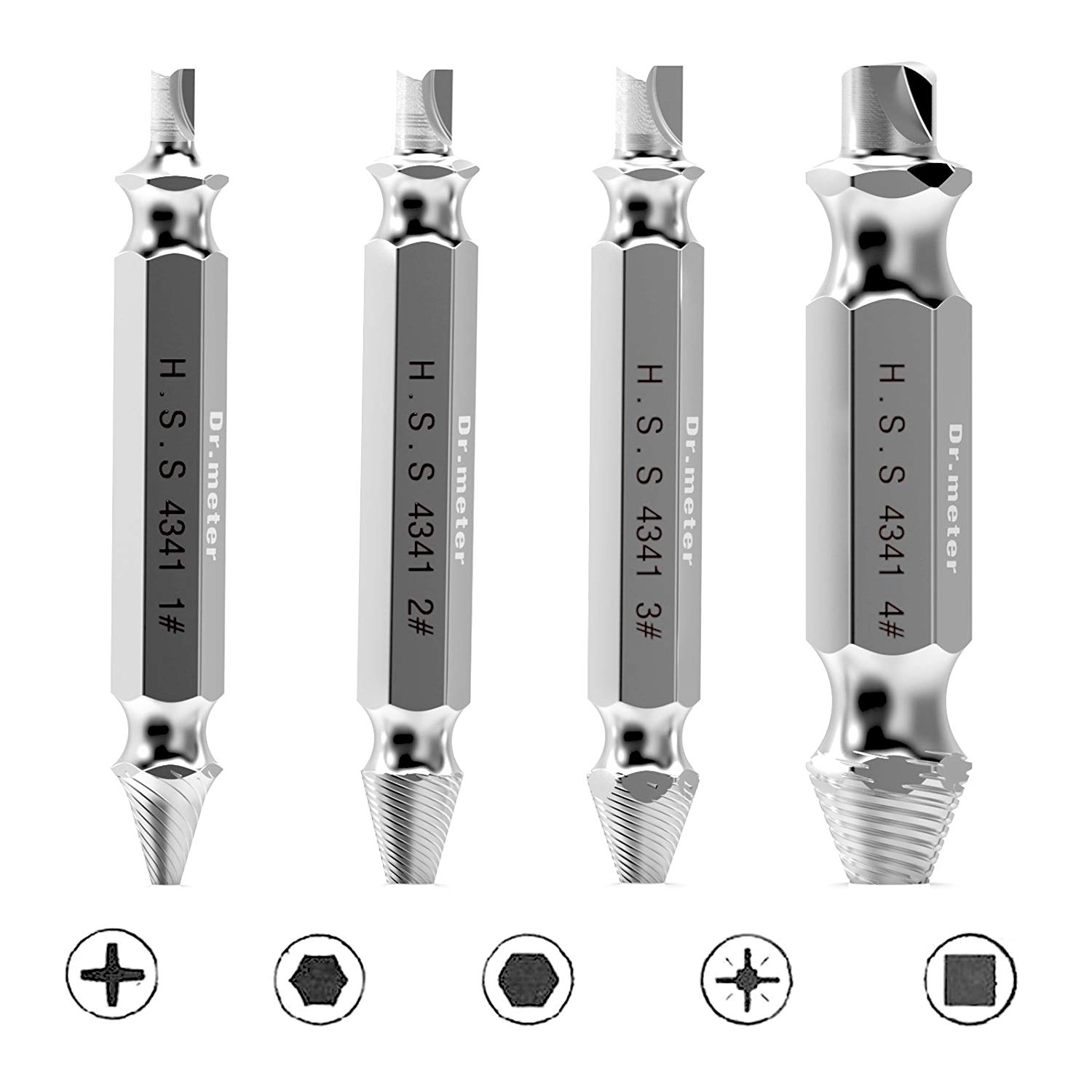 Dr. Meter has outdone themselves with this four in one edition. This will require that the set is coupled with a drill for easy usage. They integrate with most commercial drills available so users will not need to buy another drill if they already have one in their garage. The four pieces in the set will be able to extract most size screws as they have been carefully selected for that purpose. The process of use is quite simple, and it might not even require reading some instructions to figure out. The following features are worth highlighting before we get into all this product has to offer.

Galvanized steel construction – It is paramount that these tools do not break while they are in use. If they do, they could lead to more problems and end up costing more than it took to purchase the extractor set in the first place. Galvanized steel will be able to endure the harshest conditions and deliver quality service in the end.

Engraved sizes – Having to use trial and error as a method of picking out which of the four tools to apply for a particular job might turn out to be frustrating. One wrong move and you end up damaging the screw or fastener even more. To curb this Dr. Meter have engraved sizes on the sides of the tools so that you can pick them out quickly.

These screw extractors are set to produce quality results even in extreme temperatures due to the material used in their construction. The manufacturer advises that these tools should be cleaned after every use case as this can often lead to an increase in their lifespan. Users are also at liberty to contact the manufacturer should the extractors present unforeseen issues.

Expand to see more
Product features

4-piece set
Steel construction
Universal drill compatibility

Who is it for?

The seller states that this set is not for commercial use. That should imply that it would most benefit a DIYer who loves to get their hands dirty handling installations and the like in the home setting. The price is low enough that most people won't find it hard to afford. Even if you cannot think of a use case for such tools, you would show a little bit of foresight by having them in your garage anyway.

Easy to use
Work well under pressure
Durable
The package does not come with instructions
8. Bastex Damaged Screw Extractor Set

This set by Bastex has been proven time and time again to be a useful tool in extracting screws from wood, plastic and even metal. The four pieces of the set have been fitted to cater for a wide array of sizes. Whether damaged or stripped the Bastex extractor set can be relied on to remove them from the workpiece in a matter of minutes. As such it has some very pleasing features, but we are only going to highlight two.

Hardened steel composition – Since they are going to be used on screws of various densities and sizes, it's only right that they are guarded against breakage and damage. Their hardened steel construction is there to make sure that this tool set lasts more than a few years.

Great warranty terms – This set is one of the few with a comprehensive warranty covering the eventualities that might occur in the course of usage. There is a 30-day money back guarantee if the user does not find the product suitable for his needs in the first month. Users will still get their money back if they are not satisfied with the overall quality of the set. There is also a 12 month replacement warranty that covers any breakages that may occur within the first year.

The remover bits in the set are to be used with a standard drill or a screwdriver for maximum effectiveness. These tools get shipped in a carrying case made of hard plastic. If the carrying case is used in the right way, the risk of misplacing or losing any one of the four components will be minimal.

Expand to see more
Product features
4-piece set
Hard plastic carrying case
Hardened steel construction
30-day money back guarantee
12-month replacement warranty
Who is it for?
This set is a very affordable option, and the tools are well made even for professional standards. You can use this for
professional woodwork
, metalwork and also for some DIY projects in your garage.
Easy to use
Drill bits are sturdy and well made
Well packaged
The instructions should be a little clearer to guide users effectively
9. Neiko 01925A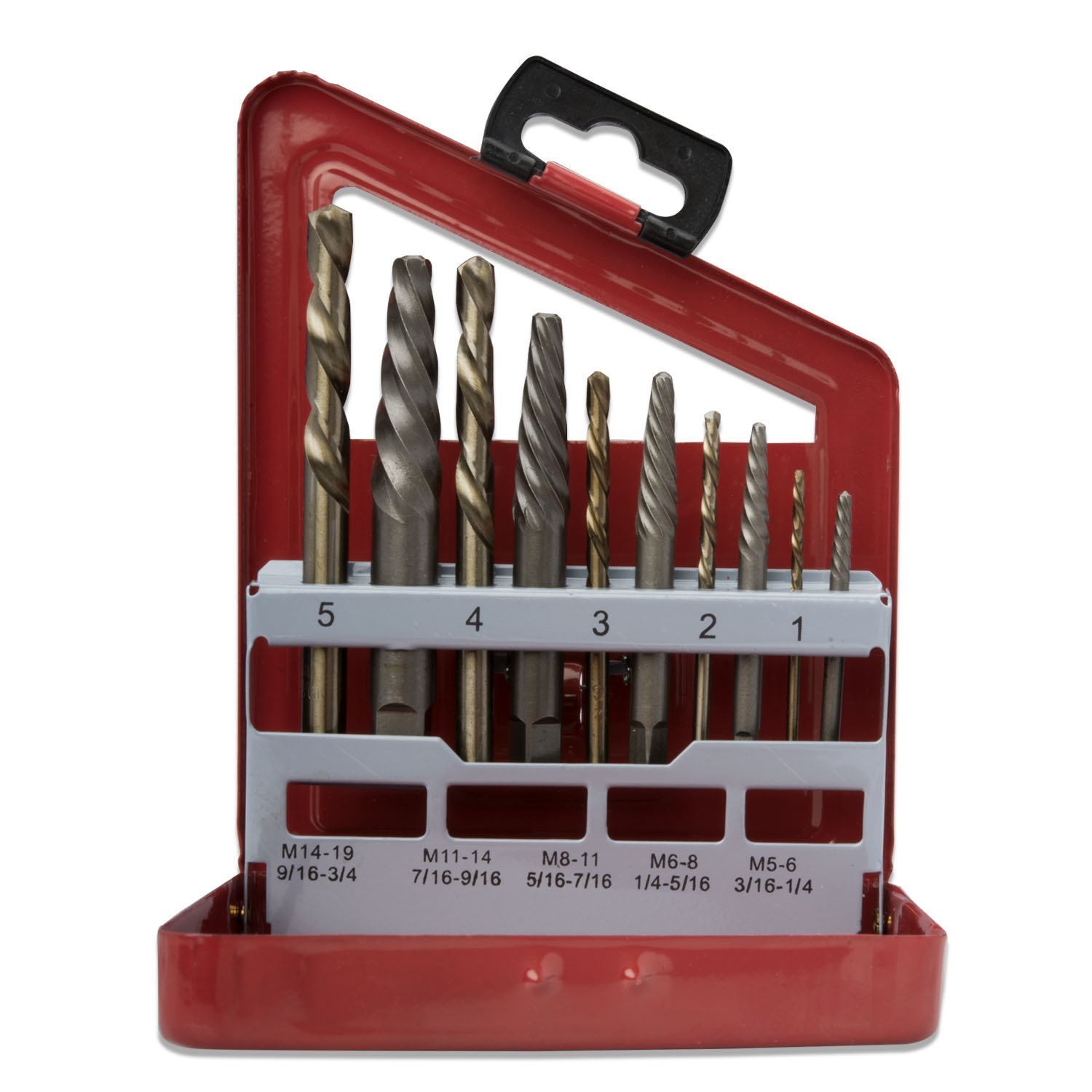 The Neiko 10 piece set comes in a metal case which is a distinct advantage for it as most others come in
plastic cases
. It is a favorite purchase and has been known to be very durable and useful in the extraction process. Unfortunately, the warranty terms have not been defined, but from multiple customer reviews, these tools have been known to last. The set, of course, has some top qualities that we have the opportunity to highlight and here they are.
Cobalt steel construction
– The extractors in this set are meant for use alongside
a drill
. Drills have been known to spin fast and hard and as a result, if the extractor is not fortified correctly, then it will give in and break. The cobalt alloyed steel can handle high speeds and a lot of pressure in the course of working a stripped or broken screw. Consequently, users never have to worry about the longevity of their tools if they purchase the Neiko.
Spiral flutes on the extractors
– These will burrow more in-depth into the screw when torque is applied. Once this is done, and the user can now begin removing the screw the spiral flutes will be able to grip the screw tightly making sure that it is extracted.
Neiko has made a name for themselves in screw extraction and has numerous other sets for the same purpose. We feel this is one of the best as it is a best seller item stemming from the fact that it has received numerous positive reviews.
Expand to see more
Product features

Cobalt high-speed steel construction
Durable metal case
Left-hand drill bits
Spiral flutes with increased grip

Who is it for?

The 10 piece by Neiko seems like it would be an expensive set. However, it is priced at below 15 dollars which is an amount that most of us can afford. Whether you are a handyman, a carpenter or a DIYer having this set will come in handy when that screw doesn't budge.

Durable tools
Storage case is compact and slim
Easy to use
The tools don't make it easy to find the center on a stripped screw
3. Aisxle Set

In last place comes this four-piece edition by Aisxle. Each of the four screw extractors can be used with just about any drill you can find. While the number of tools is limited the manufacturer assures that they cover all sizes in that range. Whether or not more tools could come in handy will be a decision you have to make after experiencing what this set can do. Some impressive features are:

Steel construction – For the extractors to work they need to be quite hard otherwise, they could break off and end up being of no use. High strength steel has been used to make this extraction set, and it has been tempered at least two times to make sure it can handle any screw that comes your way.

Money back guarantee – This has to be one of the strongest warranties out there of any product. The manufacturer insists that if a client is not happy with the product they can ship it back and get a refund. Also if any of the four pieces breaks then the client can ship it back and get a replacement. Lastly, the warranty even covers losing the product. If the set gets lost the manufacturer will send out another utterly free of charge.

The components of this set are relatively simple to use given that there only four options to choose from. You drill out the damaged part of the screw with the cutting end of the extractor. This will result in an indention in the screw. After flipping the extractor around, you get the extracting end that will mostly make it a breeze to remove the screw.

Expand to see more
Product features

High strength steel
3-tier guarantee
4-piece extractor set

Who is it for?

The price of this set is pretty inviting. Even with it being that affordable you would think the tools are flimsy, but they are not. For a DIYer and also a professional strapped for cash, this would make quite a good set to invest in.

The product is very well made
Does the job of removing damaged screws quite well
If not used correctly it tends to break screw heads
Things to consider before purchasing one
Quality
The best screw extractor will last as long as decades. If an extractor is too flimsy to last more than one year, then it will probably end up costing you more in later purchases. You are better off spending a substantial amount the first time around and then never having to worry about getting another extractor. Also if an extractor were to break mid-extraction, it could potentially cause injury to the user.
Ease of use
You probably want a screw extractor to make your work easier, not harder. If it doesn't make pulling out those screws a walk in the park, then it probably isn't worth buying in the first place.
Size of screws
Some sets of extractors will handle just about any job that comes their way. Others will only work when faced with a certain screw size. You should check every tool in the set to see if it is in line with the screws presenting a problem.

Also if you get a comprehensive set, you are less likely to go to the hardware store to get a new extractor when you encounter a different size of screws.
Warranty
A rule of thumb should be to get extractors that have extended warranties. They show that the manufacturer has faith in their products and that if on the off chance these tools were to get damaged their repair and replacement would be covered.
Past reviews
A product description by the manufacturer and the sellers may promise to solve all your problems. However, the information therein may not be precisely accurate or correct. They are trying to make a profit from the item so they may end up heaping unnecessary praise on an extractor. Nonetheless, people who have purchased and used the product will have real-life experience of how it performs in the field. Checking various reviews about products should influence the final decision you make.
Once you have considered all the afore-mentioned factors, you can go ahead and start comparing the various options available.
FAQs
How do I use it?
This depends mostly on the model and make of the screw extractor. An example is that you will encounter pliers designed for screw extraction and you will also encounter drill bits. They are both used differently and might require you to read the manual. However, it is a common theme that some of these don't ship with instructions.
You can nonetheless contact the manufacturer for this information or watch YouTube videos that show exactly how to do it.
WikiHow also has a 12 step instruction process on the same.
Do screw extractors have warranties?
Again this also depends on the make and model. Some companies have warranties for all their extractors while others don't. If it is that important that you have a warranty for your screw extractor, there are some options that you can choose from. Some of them are highlighted above.
Conclusion
For a person to claim to have a complete toolkit, they have to have a screw extractor. While a lot of times these tools are not needed some situations come up that require their use. It would be a shame if a professional or even a DIYer were to encounter a job that required the use of a screw extractor and they couldn't find one. To save themselves the embarrassment they should get a set beforehand.
The options above are more than enough to choose from and if you feel that we missed out on a set or two do let us know in the comments section.
Subscribe to our newsletter