7 Best Screw Extractors We Tested & Rated
last updated:
Sep 07, 2021
Removing an old screw should be simple enough, but as most DIYers, handypersons, and tradespeople know, extracting screws from various installations can be a major hassle. When the screw is damaged or rusted, simply unscrewing them is not enough if the head is worn, stripped, or rusted as drastic measures are necessary.
Our Top 3 Picks
[srpshortcode id="17188″][/srpshortcode][srpshortcode id="17189″][/srpshortcode][srpshortcode id="17190″][/srpshortcode]
Fortunately, specialized tools made just to remove stubborn fasteners are readily available. The right screw extractor or set of them will take on just about any screw and pry it from wherever it is lodged. At the same time, users might need to pick out a screw extractor specific to their needs, as purchasing any other will amount to a waste of resources.
Our buying guide has selected the best screw extractors on the market, both manual and drill-assisted.
7 Best Screw Extractors
1. Irwin Hanson Master Extraction Set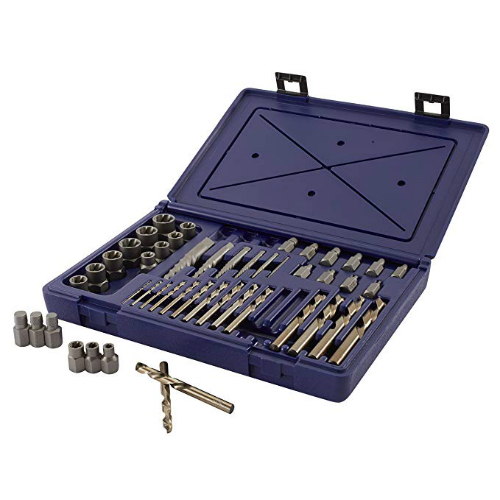 Irwin Hanson Tools tops our list with a comprehensive toolset essential to the professional user. For over a century, their tools have been known to be quality and withstand the test of time. This toolset is no different and goes to show how well their products are made. The set has a wide array of spiral flute extractors (6), multi-spline extractors (13), bolt extractors (13), and left-hand cobalt drill bits (16). There is no fastener above, below, or flush with the work surface that this set of tools will not aggressively pursue.

Each type of bit has its own function.

• 6 Spiral Flute Extractors are for use on common fasteners where lower torque is adequate
• 13 Multi-Spline Extractors are for use when higher torque or a lower profile tool is needed
• 13 Bolt Extractors are for use when part of the fastener is exposed
• 16 Left-Hand Cobalt Drill Bits are to drill out the interior of the fastener and extract the fastener

After the head of the stuck screw is removed, the spiral flute extractors burrow deeper into the metal of an impacted screw to aid in pulling it out. This type of extractor is useful when you are mainly extracting screws; however, the spiral fluted extractor can also remove studs.

The multi-spline extractors have a hex head instead of a square head and are so compact they are useful in constrained spaces where a spiral flute would not fit or where high torque is required.

What Stands Out

Irwin screw extractors make use of a left-handed spiral design to increase gripping power. They spin in the opposite direction to standard drill bits as the bit drills into the fastener itself to ease it out.

Most professionals can tell the size of a fastener by just looking at it, but inexperienced users and busy pro can make sure that they have the right tool as the size is etched onto each tool.

Expand to see more

Product features

• Contain spiral-fluted, multi-spline, and bolt extractor plus, drill bits
• Left-hand spiral design
• Extra gripping power
• Easy-out spiral flutes
• Full array of popular sizes

Who is it for?

Running between $300-450, the Irwin Master Extraction kit is costly. A first-time user or occasional user might opt for a less extensive set, but the variety of bits included in this set will be very convenient for someone who may deal with impacted screws daily.

This extractor set is costly, especially for a casual user
2. Irwin Hanson Tools Spiral Extractor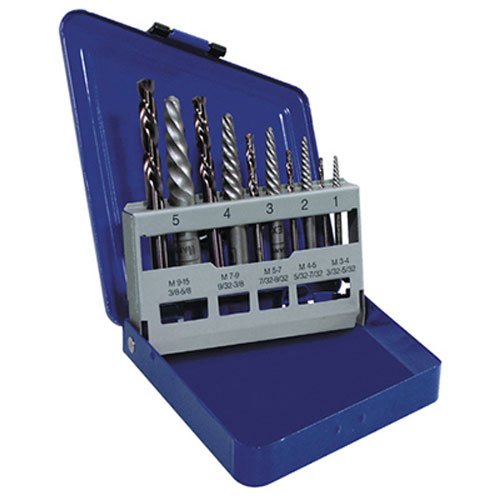 For tough screws, the first line of defense is the Irwin Hanson Spiral Extractor and Drill Bit Set. The set includes 10 pieces, with five spiral flute extractors (EX1-EX5) and five drill bits (5/64", 7/64", 5/32", 1/4", and 19/64") in a metal index case. Using the spiral flute extractors, you can turn the drill fitted with the tool to increase resistance as it frees the screw. This type of extract is sometimes used with a nut to complete the job.

Irwin Hanson offers straight flute extractors for purchase on the same product page. Straight flute extractors are excellent for removing studs, screws, and bolts embedded in thinner surfaces or softer materials without locking screws in place. Power users might choose to pick up both the straight and spiral flutes or even go for the massive IRWIN 48 Piece Master Extractor Kit with Cobalt Left Hand Bits - HA3101010, which in addition to these two types of extractors also include multi-spline extractors and bolt extractors for special uses.

What Stands Out

The extractor bits have a left-hand spiral design to increase gripping power, which means that when inserted into a drill, they spin in the opposite direction to standard drill bits. The bit drills into the fastener itself to ease the worn screw out.

The low torque on these spiral flute extractors will remove just about any conventional fastener without issue. This will save time and energy on each particular project.

Expand to see more

Product features

• Designed to remove broken studs, bolts, socket screws, and fittings
• Bites into materials with increasing torque as flute embed deeper with each turn
• Aggressive left-hand spiral design for extra gripping power
• Easy out style spiral flutes embed themselves to increase grip as resistance increases
• Extractor size and recommended drill bit size are etched on each tool
• Set includes spiral flute screw extractors sizes EX-1, EX-2, EX-3, EX-4, EX-5; drill bit sizes 5/64", 7/64", 5/32", 1/4", 19/64", and a metal index case

Who is it for?

Anyone who works on cars or projects involving sheet metal would be wise to have this on hand. Unfortunately, jerry-rigging solutions to remove fasteners can send them in deeper into the material they are to be extricated from. Having this Irwin Hanson set in the box will make short work of stubborn screws. The key to success is patience.

Very useful in removing broken fasteners
Left-hand spiral design is very effective – just run your drill in reverse
The set does not come with instructions which can be confusing for first-timers
Some complaints that parts break
3. Vampire Professional Tools International VT-001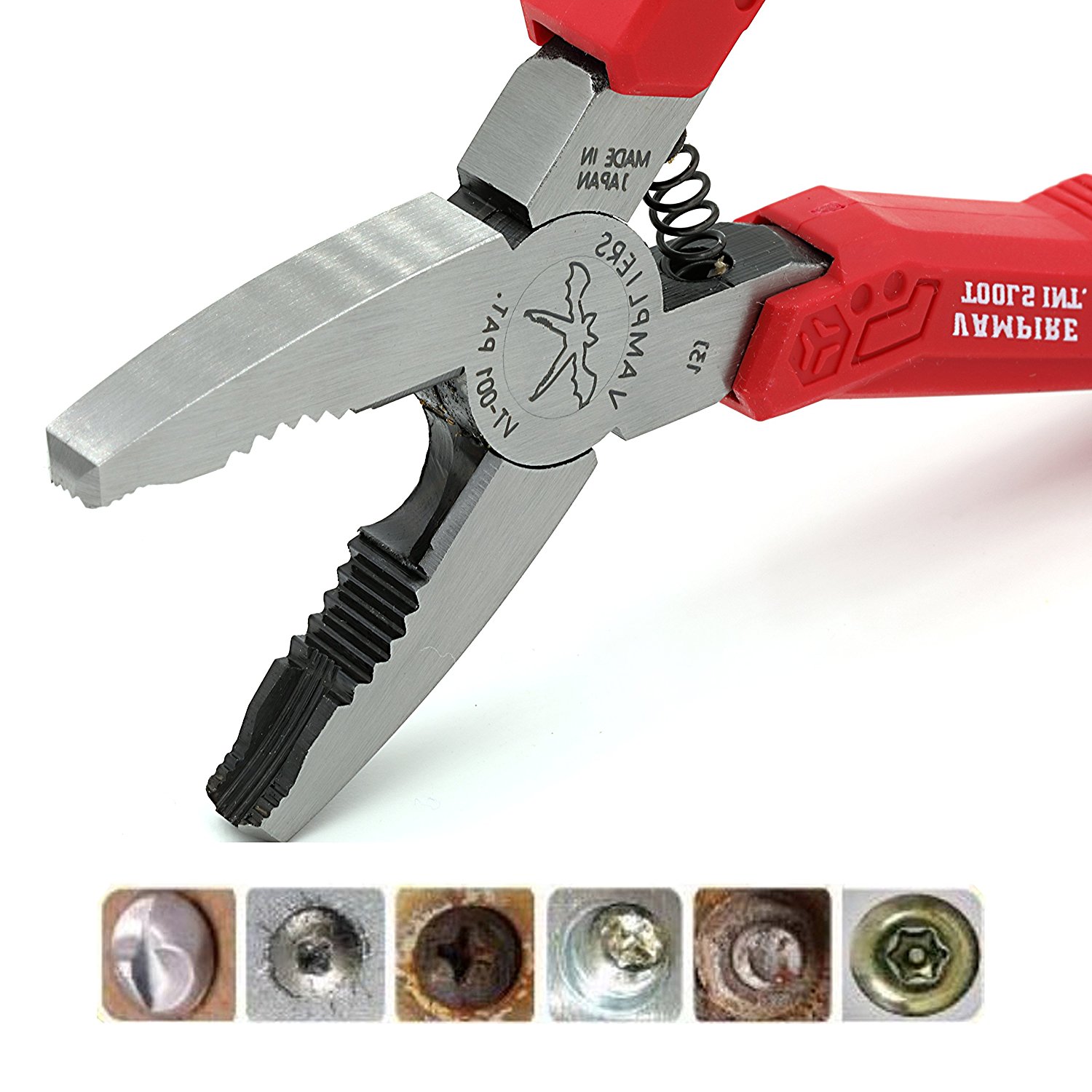 Not every situation involving frozen fasteners is best approached with a power tool. The Vampire Professional Tools International VT-001 is the perfect solution for screws with their heads on and even ones that are more deteriorated. Its ergonomic grip makes it easy to handle the task by land.

The product looks like a pair of pliers and can function as such. They are known as Vampliers, a play on the company name and their functionality. While they are indeed targeted at the screw extraction market, they are still pliers, and they could find other possible uses in the home or workshop. You mainly get a very versatile tool when you buy the Vampliers.

What Stands Out

The uniquely designed jaws have both horizontal and vertical serrations on the inside part of the jaws. Their concave design allows them to grip a screw and only let go when the job is done. Even nuts and bolts will find it difficult to resist this tool.

It is paramount that the tool does not break while you are using them. Its construction from Kobe carbon steel alloy produced in Japan ensures great performance today and also ensures that you have these for a long time after purchase.

Expand to see more

Product features.

• Jaws with vertical and horizontal serrations
• Carbon steel construction
• Smooth varnished finish
• Ergonomic, environmentally friendly handles

Who is it for?

They are ideal if you have a screw head that the pliers' jaws can grip. If all the head has broken off and the rest of the screw has burrowed more in-depth into the workpiece, the Vampliers might prove to be utterly useless. However, users report that if you can get a bite on a thread or two, they will still work. They are still a worthy purchase for times when too much power from the drill-powered bit might be too much.

Excellent grip
Easy to use
Durable
Veratile
4. Tacklife 18PCS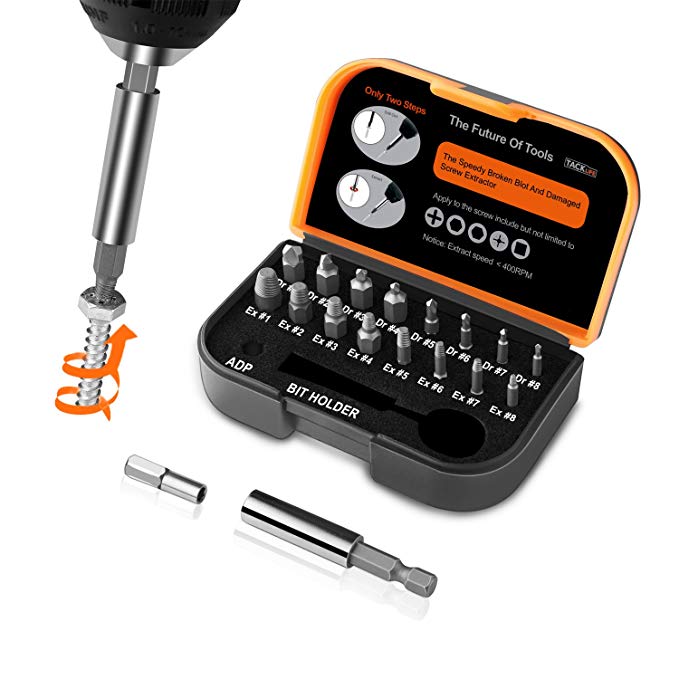 The Tacklife 18 piece set presents itself as a unit for professionals as it contains so many extractor bits and is especially effective at pulling out extremely damaged screws. The pieces have been carefully designed and selected to extract all types of screws and all sizes of bolts. The serrations on the extractor result in greater torque for hard-to-remove bolts. While typical use cases will require the use of a drill, the wrench adapter that comes with the set can be used for extraction by hand.

The adapters included in the set make the extractors usable in any drill. The collection also comes with a chart that shows which tool to use for a particular-sized screw or bolt. The box has designated and marked spots where each tool should be stored. Also, each tool has an engraving on the side, indicating where it should be placed on the box for easy organization.

What Stands Out

The reason the Tacklife is such a good set lies in its self-centering system that makes drilling off-center a thing of the past. Screws with damaged heads required drilling through the center of the fastener, but this can be tricky with extractors that lack this feature. With this set, users won't have to worry about drilling off-center due to the self-centering feature.

The Tacklife also has a magnetic holder that solves another common problem. Sometimes after extraction, the screw falls back into the hole, but with the Tacklife, this doesn't happen.

The set is made of S2 material (hot work die steel) with excellent rust and corrosion protection and strength, flexibility, and durability.

Expand to see more

Product features

• Shock-resisting S2 steel construction
• Socket adapter for use with drills
• Magnetic bit holder
• Self-centering drill tips

Who is it for?

The toolset is quite cheap as compared to others, but it stands above most others regarding quality and functionality. It can prove useful to both DIYers and professionals who deal with a wide variety of damaged screws in the course of their work. This quality product is worth buying.
Easy to use
The packaging is well thought out
There is a wide array of tools to use for screws of all sizes
The set doesn't come with all the instructions the user needs for optimum use
5. Moody Tools 58-0670 6-Piece Slot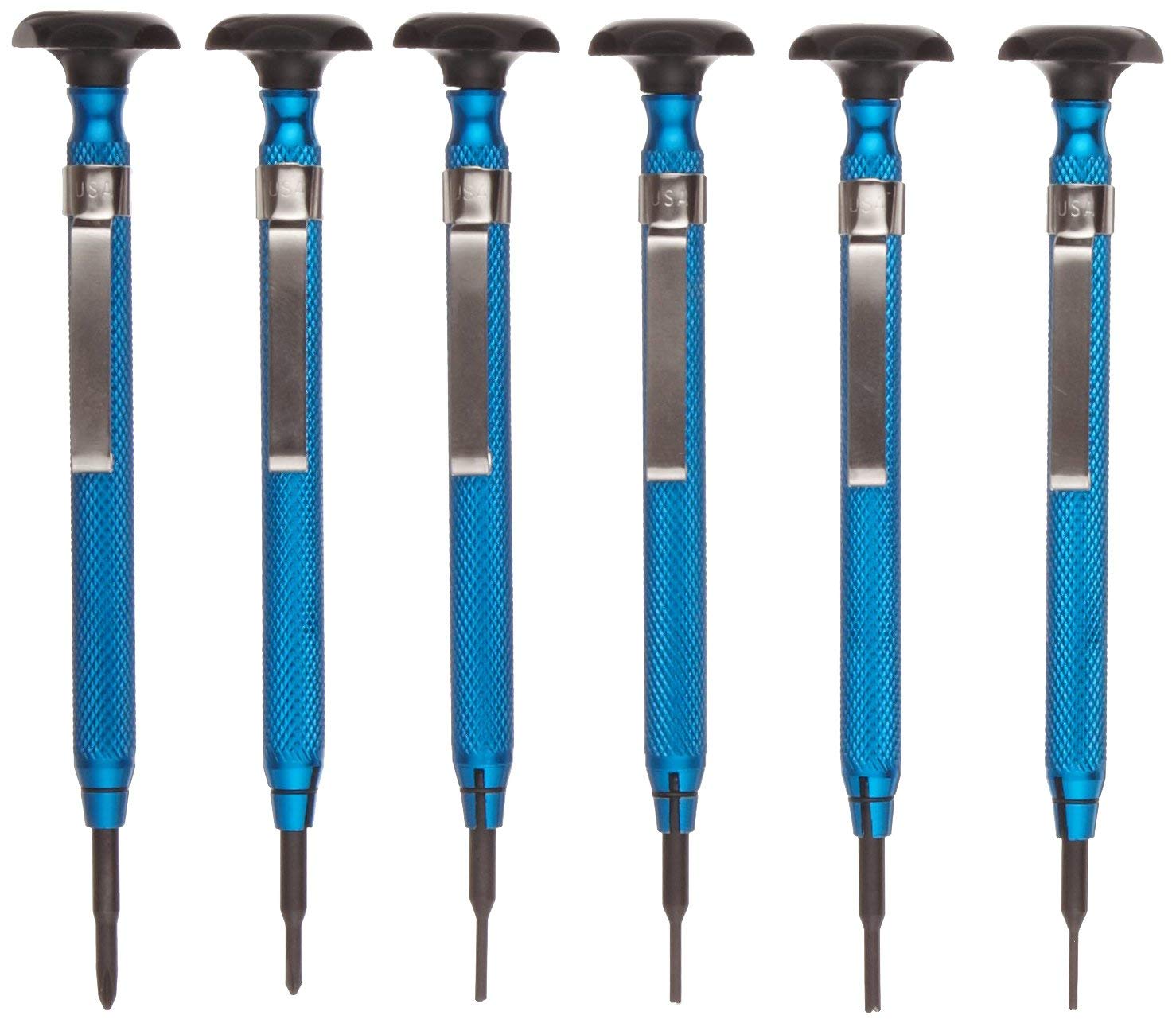 While many extractors require the use of a drill, Moody Tools offers a manual set of screw extractors for repairing small components and removing broken or stripped screws. The set includes six interchangeable anodized aluminum handles with six reversible strong, wear-resistant, hardened steel tool blades. (Two blades are screwdriver blades, while four are screw extractor blades.) As each blade is double-ended, there are a total of 12 different styles and sizes. Each blade has a pocket clip for easy storage, a knurled grip for fingertip control, and a hex-shaped swivel top to reduce rolling.

This array of tools can help with a range of applications, including repairing small electronic devices or eyeglasses and removing small broken or stripped screws. As the manufacturer notes, the item is not guaranteed to remove every broken or stripped screw and is best used when other methods have failed. Its small size makes it worth try when the work area is small.

What Stands Out

As these are handheld tools, they can be strenuous to use. The knurled grip helps control the extractors with your fingertips. The hex swivel top will also reduce rolling to give you control over the whole process.

The set comes with Moody Tool's lifetime warranty, which replaces any defective tool as long as it has been used for the correct application. Even if on the off chance one of the tools cracks under pressure, the manufacturer will repair it or replace it without charge to you.

Expand to see more
Product features

• Hardened steel blade tools
• Aluminum handles
• Knurled grips for finger control
• Double ended blades
• Vinyl pouch for storage

Who is it for?

The price is notably higher than most of the other screw extractors on this list, but it is well worth it for its precision. While most of the other extractors will work best with various metal and wooden installations, this set will work better on computers, consoles, and electronics that are held together using tiny screws. It might not be all that useful in the case of rusted bolts or if you are working on a big project.

Works well with tiny screws
Easy to grip
The construction of the tools is strong and durable
May not work on all screws
Manual, no power
6. Dr. Meter Screw Extractor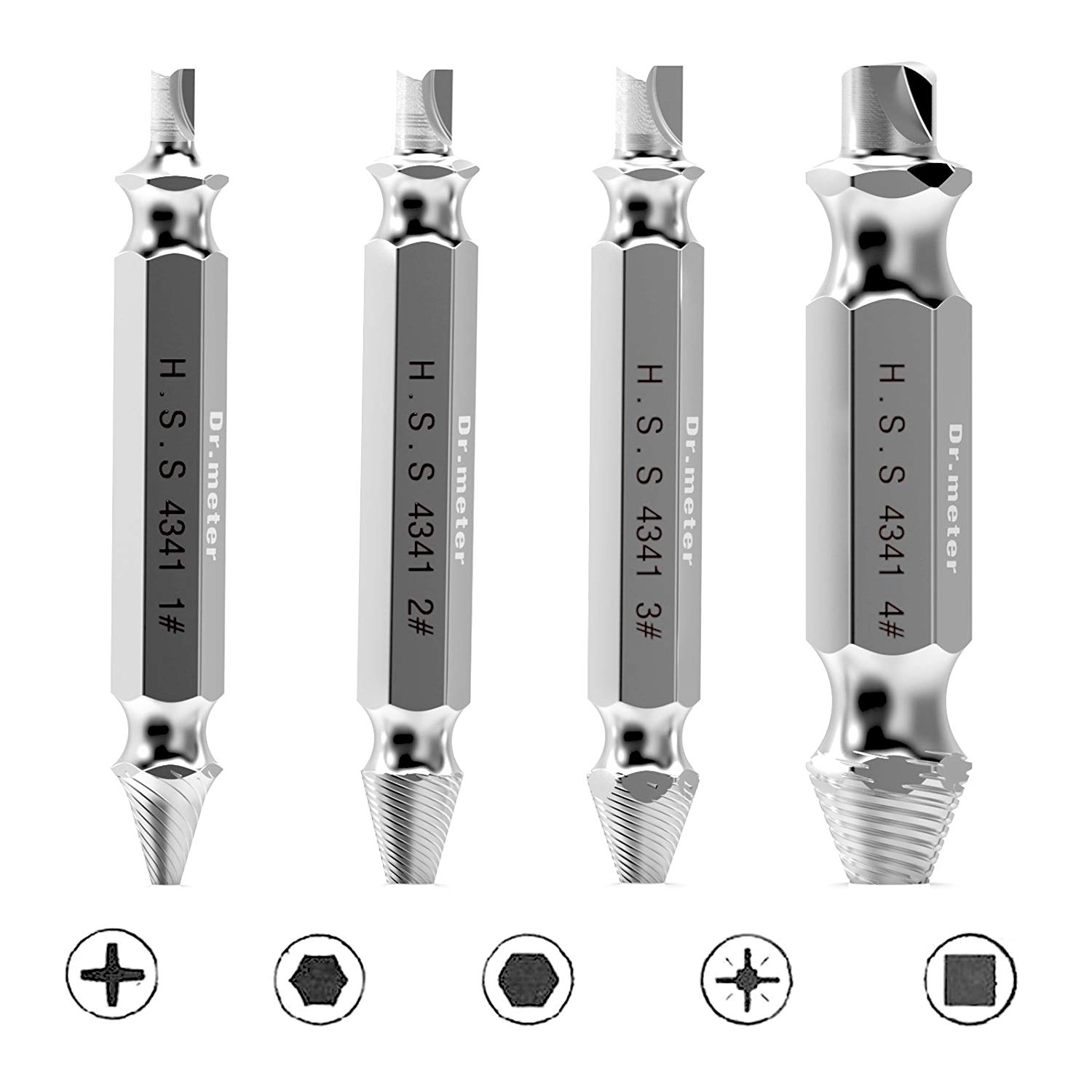 The Dr. Meter set of four extractor blades works with a drill to extract most size screws that are broken, rusted, worn down, damaged, or painted over. The bits work for screws 3-5mm, 4-8mm, 5-10mm, and 6-12mm.

The blades are two-sided; one side is a drill bit to create a hole in the screw, while the other is the extractor.

The manufacturer advises that these tools should be cleaned after every use case as this can often lead to an increase in their lifespan. The seller states that this set is not for commercial use.

What Stands Out

Although this set is very economical, the extractors are made of galvanized steel will endure the harsh conditions without breaking and deliver quality service. This double-tempered material will hold up even under high temperatures.

Having to use trial and error as a method of picking out which of the four tools to apply for a particular job might turn out to be frustrating. Dr. Meter has laser engraved the sizes on the sides of the tools so that you can pick them out quickly.

Expand to see more

Product features

• 4-piece set
• Steel construction
• Universal drill compatibility

Who is it for?

This set is great for DIYers who might occasionally need to extractor old stuck screws. The price is low enough that most people won't find it hard to afford or keep on hand for when you need it.

The advertising for this product often contains a green meter. This is apparently a mistake as the set just contains the steel extractors that attach to a drill.

Easy to use
Work well under pressure
Durable
The package does not come with instructions
Drill bit side may be ineffective
8
7. Neiko 01925A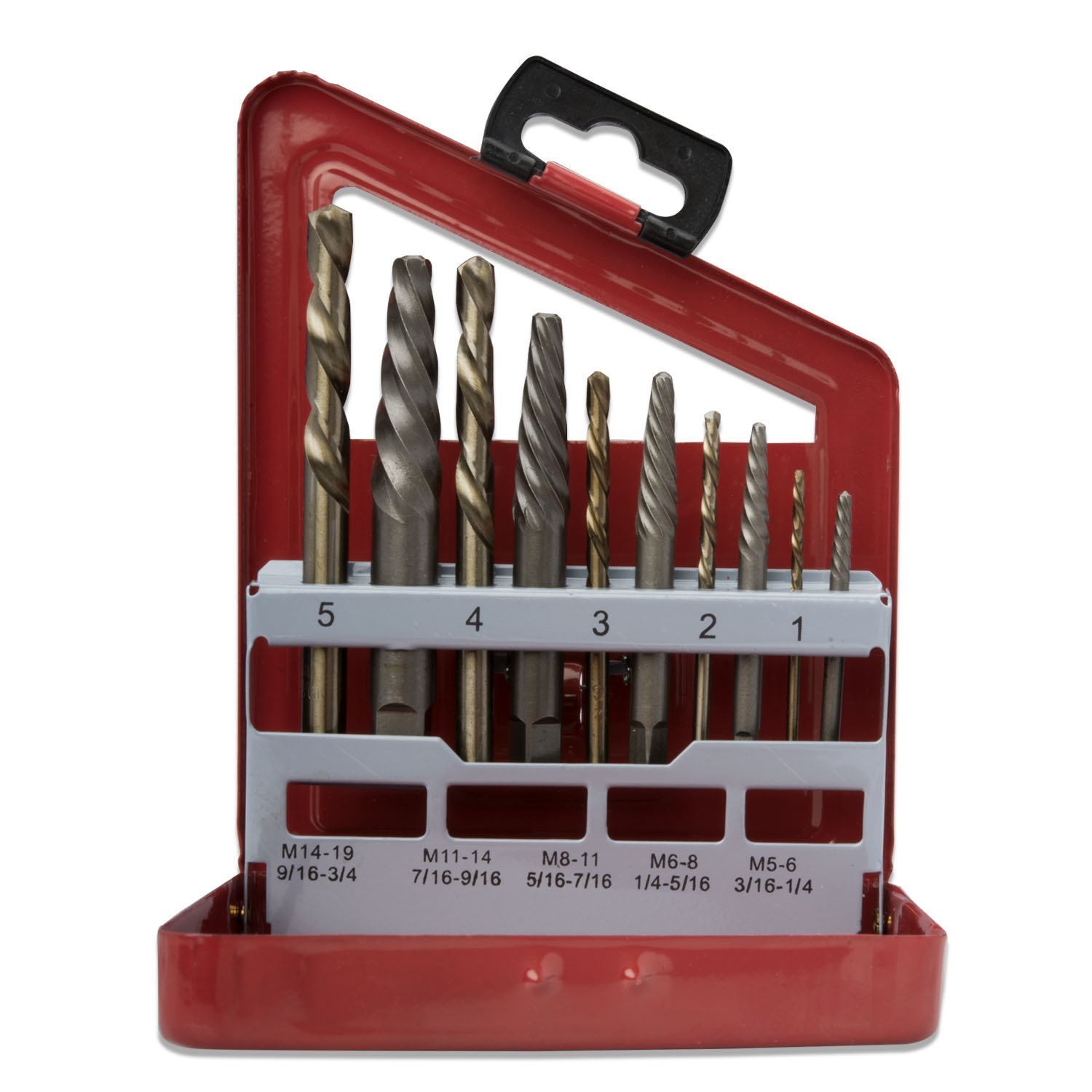 The Neiko 10-piece set of screw extractors is a favorite purchase for many buyers as it is a reasonably priced, durable, user-friendly set of tools that easily removes broken screws, studs, bolts, and other fittings effectively. The product is nicely packaged in a metal case which is a distinct advantage for it as many others come in plastic cases; the location for each extractor and its matching drill bits is labeled for easy access and replacement.

The includes the common sizes of drill bits and extractors: 5/64", 7/64", 5/32", 1/4", 19/64" and Matching Alloy Extractors - #1, #2, #3, #4, #5.

What Stands Out

Made of cobalt-alloyed steel, the pieces of this set can handle high speeds and the pressure exerted whtn working a stripped or broken screw. As compared to a product such as the Irwin Hanson Tools Spiral Extractor that cost $68, the Neiko 01925A runs $14. While higher-priced sets are often 100% carbon steel, both products use cobalt alloys, with 8% in this Irwin Hanson model 11119; the percentage in the Neiko is unknown, but users attest that the extractors are a machined alloy and the drills are coated with cobalt as are the big name brand. They may not last as long as the Irwin Hanson, but the price is attractive, especially for occasional users. Many users claim that the drill bits and extractors break in us, but the same complaints are found in reviews for the top brands; the issue may be that fighting with stuck and damaged screws is inherently challenging.

These spiral extractors are intended for left-handed reverse drill action. Spiral extractors burrow deeply into the screw when torque is applied and drip it so the user can pull out the damaged screw.

Expand to see more

Product features

• Cobalt high-speed steel construction
• Durable metal case
• Left-hand drill bits
• Spiral flutes with increased grip

Who is it for?

Whether you are a handyman, a carpenter, or a DIYer having this set will come in handy when that screw doesn't budge, though people in the trades will most likely opt for a more expensive set.


Durable tools
Storage case is compact and slim
Easy to use
The tools don't make it easy to find the center on a stripped screw
Many users claim the drill bits and extractors break easily
Things To Consider Before Purchasing The Best Screw Extractor
Quality
The best screw extractor will last decades. Users who frequently need extractors should invest in good brands made of quality materials. The best and strongest ones are made of carbon steel, which can easily pierce hard objects such as screws. Lower-cost tools made with cobalt can be durable, while those with aluminum or other soft metals are not.
If you work with damaged, rusty, or painted-over screws, you should look for products that are made specifically for this kind of extraction.
Gripping Power
Many screw extractors bite the screw or catch a thread to provide increased gripping power. Tools made of high-grade steel have a better grip and do the job without breaking.
Size of Screws
As screws come in different sizes, the screw extractors that will remove worn or stripped screws vary too. Extractors that drill into the screw must be smaller than the screw so as not to destroy it,
Some sets of extractors will handle just about any job that comes their way. Others will only work when faced with a certain screw size. You should check every tool in the set to see if it is in line with the size of screws you are likely to deal with.
Ease of Use
Most screw extractors laser etching that tells the size. Picking one with this convenience will take the guesswork out of use.
Screw extractors that work with drills are the most effective for many purposes. Screws used in computers and other electronics may be too small to be extracted with powered straight or spiral fluted devices and may have to be extracted by hand or with a tiny drill bit.
In many cases, the easiest screw extractor to use is the spiral flute extractors with drill-out ends as the drill bit in on one end and the perfect extractor is on the other.

If you get a comprehensive set, you are less likely to go to the hardware store to get a new extractor when you encounter a different size of screws.
Warranty
A rule of thumb should be to get extractors that have extended warranties. They show that the manufacturer has faith in their products and that if on the off chance these tools were to get damaged their repair and replacement would be covered. Most warranties are limited warranties that state that the products are free from defects in material and workmanship for its reasonable useful life. Tracking down the company that manufactured some extractor products can be challenging though.
FAQs
1. How do I use a screw extractor?
Most tool extractors fit into a drill, like drill bits, and are powered by the drill, while some are manual tools like pliers or screwdrivers.
Many screw extractors come without directions, but there are plenty of YouTube videos that show exactly how to use one. WikiHow also has a 12 step instruction process on the same.
2. How do you remove a stripped screw?
Screws that are stripped are a lot of trouble to remove. When the slots of the screw are worn out due to overtightening, rust, or past removal attempts, how do you get them out? If the screw head protrudes a bit, you can try to grab the sides with pliers or try a different screwdriver. To create more traction, you can put a rubber band over the screwhead and try to remove it with a screwdriver. Most often you will need a manual or power screw extractor.
3. What kinds of power screw extractors are available?
There are three main types of screw extractors: the straight flute extractor, the spiral flute extractor, and the spiral flute extractor with a drill-out end.
The straight flute extractor is used to remove screws, studs, and bolts in softer materials or thin surfaces. A special nut is attached to its end and turned with a wrench to remove the screw without looking it in place as other types of extractors might do.
The spiral screw extractor removes screws and other fasteners by fitting into a pre-drilled hole in the fastener. After it fits into the hole, you rotate it counter-clockwise to remove the screw. It is ideal for extracting socket screws, broken studs, and bolts. The unique spiral design contributes to its extra gripping power.
The spiral flute extractor with drill-out end allows you to use both ends as the drill-out end is used to create a hole for the extractor to penetrate through, then you put the extractor in a drill or a wrench and remove the screw.
4. Do screw extractors have warranties?
This also depends on the make and model. Some companies have warranties for all their extractors while others don't. I
5. How can you decide on the best screw extractors?
A product description by the manufacturer and the sellers may promise to solve all your problems, but users may find that not to be true. Reading reviews from verified users on Amazon or other sites can give you insights into what to buy.
Conclusion
Anyone with a toolkit should have a screw extractor which becomes invaluable when you need it. The prices on these sets start low, while the quality increases with the cost.
Our buying guide has presented some of the best screw extractors at all price points
Subscribe to our newsletter