Best Cordless Vacuum Cleaners Reviews & Price Range
last updated:
Aug 28, 2018
Cleaning is a pain, but it's something that has to be done. Though in the past corded vacuums were a much-needed home accessory, one can't help but get irritated by being tethered to a short cord that limits ones reach. They also happen to be bulky and cannot enter into the tight spots. As a result, cordless vacuums have become more popular as people look for ways to make cleaning as painless as possible.
The first notable difference is that you aren't tethered to an outlet, and your reach isn't limited. Nevertheless, they are lighter than traditional vacuums, and thus you can use them for extended periods with minimal fatigue. They are also light and easy to maneuver and reach ceilings and tight corners. Though most cordless units can't match the suction power of traditional vacuums, technological advancements have allowed some to rival them. Also, to tidy up messes and for quick cleaning, a cordless vacuum will serve you best.
Our Top 3 Picks
[srpshortcode id="17407″][/srpshortcode][srpshortcode id="17409″][/srpshortcode][srpshortcode id="17408″][/srpshortcode]
But most newcomers to cordless vacuums no little about these nifty devices and often buy cheap items. If you are looking for recommendations, we implore you to purchase one of the units below. Otherwise, follow the steps below to ensure you get the best vacuum.
10 Best Cordless Vacuum Cleaners
1. Dyson V7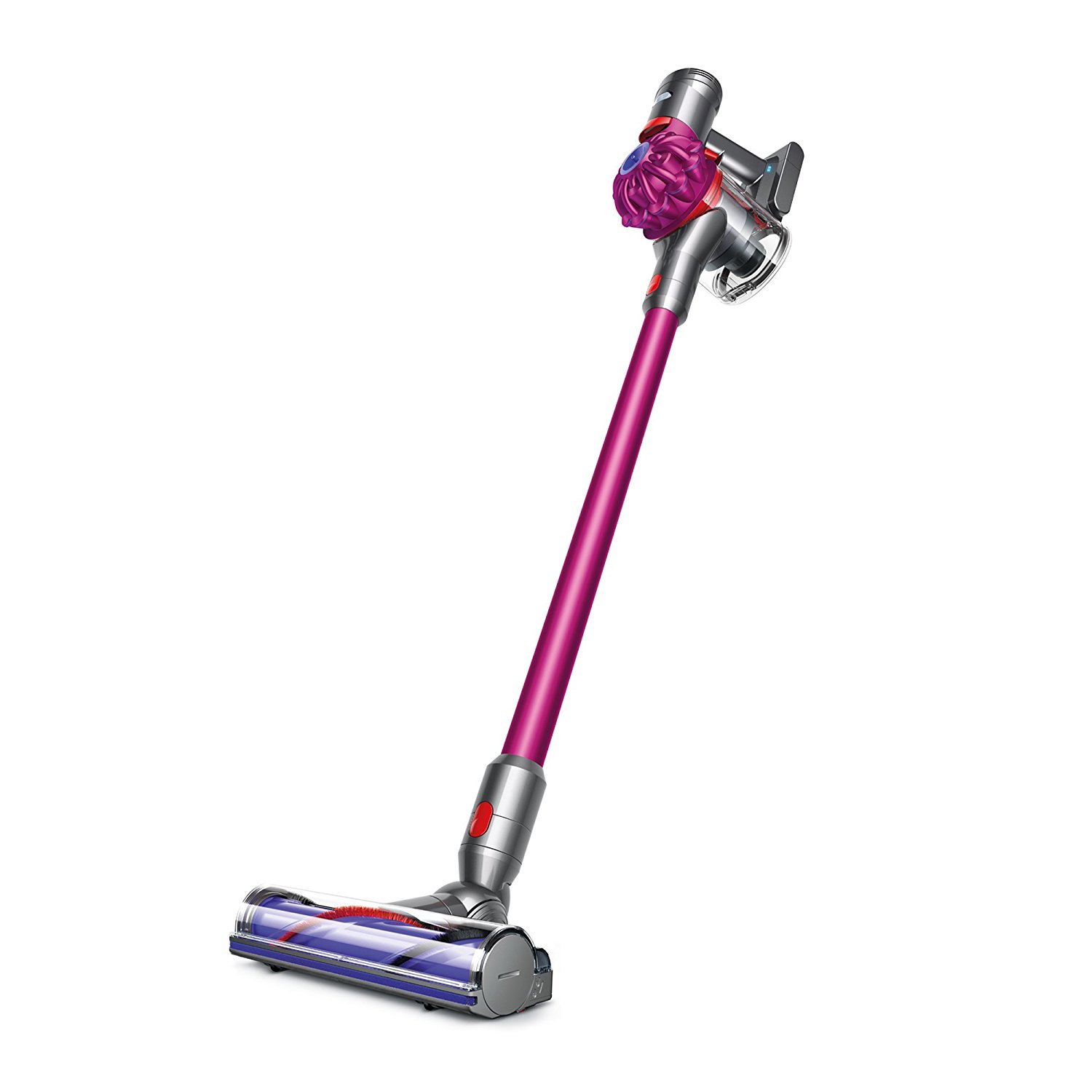 Dyson has made it its mission to manufacture the best cordless vacuums and the V7, though not their flagship model is a testament of this. Our top pick would have been the Dyson V8 or V10, but they are too pricey for our liking.

The V7, on the other hand, is equally strong, quiet, smooth, and pleasant to use as the other two models but not as expensive. If you are in the market for a quick cleaning vacuum, this will be overkill, but it is ideal if you want something that can rival your bulky plug-in. Its quiet operation is one its most appealing aspects as it is easy on the ears.

At 70 to 74 decibels depending on the mode, there is a noticeable difference between the Dyson units and the closest competitor. Our best features though were the easy to empty bin, and how pleasant it is to use.

Pleasant to use – The V7 weighs only 5 pounds and is one of the lightest. Also, the head swivels and owing to the narrow profile, it can get into any tight spots under the furniture.

Dustbin – There is indeed nothing like the Dyson V7 dustbin. You can empty it without soiling your hands. It's especially helpful for allergic people.

This appliance converts into a handheld vacuum for overhead cleaning too. Very few gadgets match its performance and pick up most dirt on carpets, on dirty floors and even crevices in one pass.

Expand to see more
Product Features

28-minute run-time
Hygienic bin-emptying
0.14 gallons bin volume
3.5 hours charge time
6 minutes runtime in max mode
Weight: 5 pounds

Who is it for?

Again, this will be overkill if you are in the market for a device to handle small tasks. However, for a unit that can take the place of a bulky plug-in, we suggest you get the V7. Also, if you have a home that's about 2,000 square feet, these will do.

The V7 has a 28-minute runtime which is more than most units on this list
It takes less time to clean using the V7 owing to the power and that it can pick most if not all dirt in one pass
It's a quality unit as the belt can last a lifetime and the filter is reusable
Easy to unclog as it comes apart in so many places
Despite being cheaper than the V8 or the V10, it is still a pricey vacuum
3. Shark IONFlex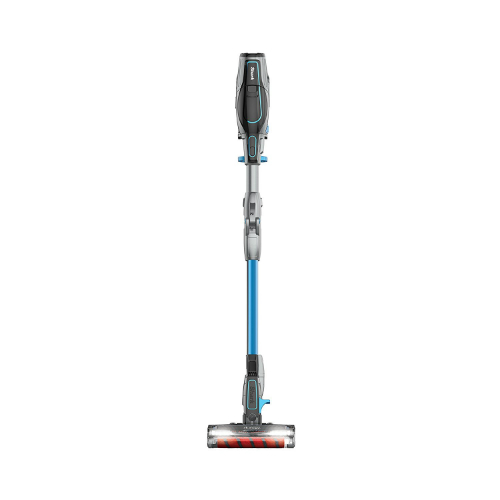 The IonFlex is another vacuum that could contend for the top spot. However, it's a lot bulkier than the Dyson V7 and is louder too. Nonetheless, it has more attachments which increase the versatility. First, there is the combined dusting and crevice tool.

The unit can get rid of all dirt in tight spots thanks to this attachment. There is also a motorized upholstery tool for cleaning furniture. Correspondingly, the cleaning power on this rivals that of the V8 and will pick up most debris in one pass. You will also appreciate that this unit can stand on its own with the folding joint back plus how easy it comes apart to clean or clear any clogs. Nevertheless, we appreciated the external battery pack and the cleaning head on this unit most.

External battery pack – The Shark IonFlex is one of the cordless vacuums that use an external battery pack that allows you to extend the runtime by having two or more batteries. The company also offers a two-year warranty on the battery, and it is cheaper to replace the battery once it loses its ability to hold power than to replace the device.

Cleaning head – This unit has a somewhat uncommon design in that it has two counter-rotating brush rolls. The front brush roll is soft and collects large debris while the back brush roll is a regular bristled one to agitate dust on carpets. Therefore, it can handle any debris.

You will also appreciate the 5-year warranty on parts, and Shark is renowned for honoring their warranty.

Expand to see more
Product Features

Weight: 8.7 pounds
Freestanding and thus you can park it anywhere
Removable power pack
15 minutes battery runtime

Who is it for?

We recommend this unit for persons with large homes as you can extend the runtime with two or more battery packs.

The quality is unprecedented with reusable filters and a lifetime belt
The two brush rolls make it easy to clean any surface and pick up any debris
Has multiple attachments that increase its versatility
5-year warranty
You can bend the wand to access tight spots
It is much louder at 75 to 79 decibels depending on the mode
It is harder to empty, and you are likely to soil your hands
2. Dyson V8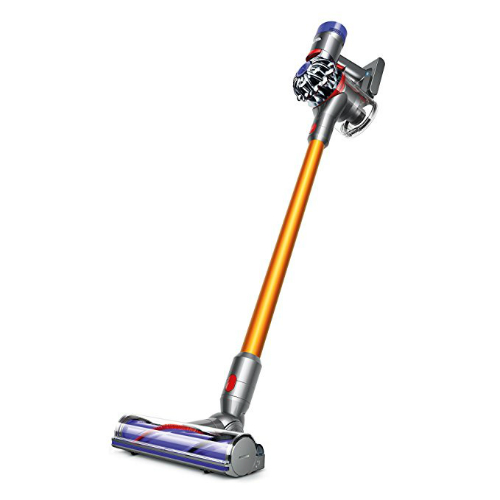 The Dyson V8 is a bit better than the V7 but it is obscenely expensive and thus not our top pick. The only difference with the V7 is that it has more attachments, slightly stronger suction, and longer battery life. It has the same incredible handling and fantastic dustbin as the V7. It is a bit heavier thanks to the larger battery, but it's nothing you can't handle. You will appreciate the extra attachments as they make cleaning a breeze.

First, there is the extra cleaning head with a soft-fiber brush. This can pick up large debris instead of snowplowing it. Also, the unit features an upholstery tool for cleaning furniture. Nevertheless what fascinated us were the increased suction and the better battery.

Runtime – The V8 absolute battery can run for 34 minutes which is 6 minutes longer than the V7 motorhead. Though this might not seem significant, it makes the difference between cleaning a 2,000 and a 2,400 square foot space on a single charge.

Better suction power – In boosted-power max mode, the V8 absolute lasts for 8 minutes and has a 115 air watts suction unlike the100 air watts suction on the V7. This is enough to pull fine dust out of a carpet.

The unit is equally as quiet as the V7 which is another reason to consider it.

Expand to see more
Product Features

34 minutes runtime
4 hour charge time
Fade-free use
Weight: 5.75 pounds
HEPA filtration to capture allergens

Who is it for?

We only recommend this for homeowners who don't mind the steep price or people who are looking for better performance or persons with bigger homes.

Incredible runtime at 34 minutes
Better suction power
More attachments which improve your cleaning experience
Hygienic dirt ejector
Even the cheaper variant is expensive
Requires 4 hours charge time which is 30 minutes longer than our unit and the battery isn't removable and thus you can't extend the runtime
4. Bissell 1984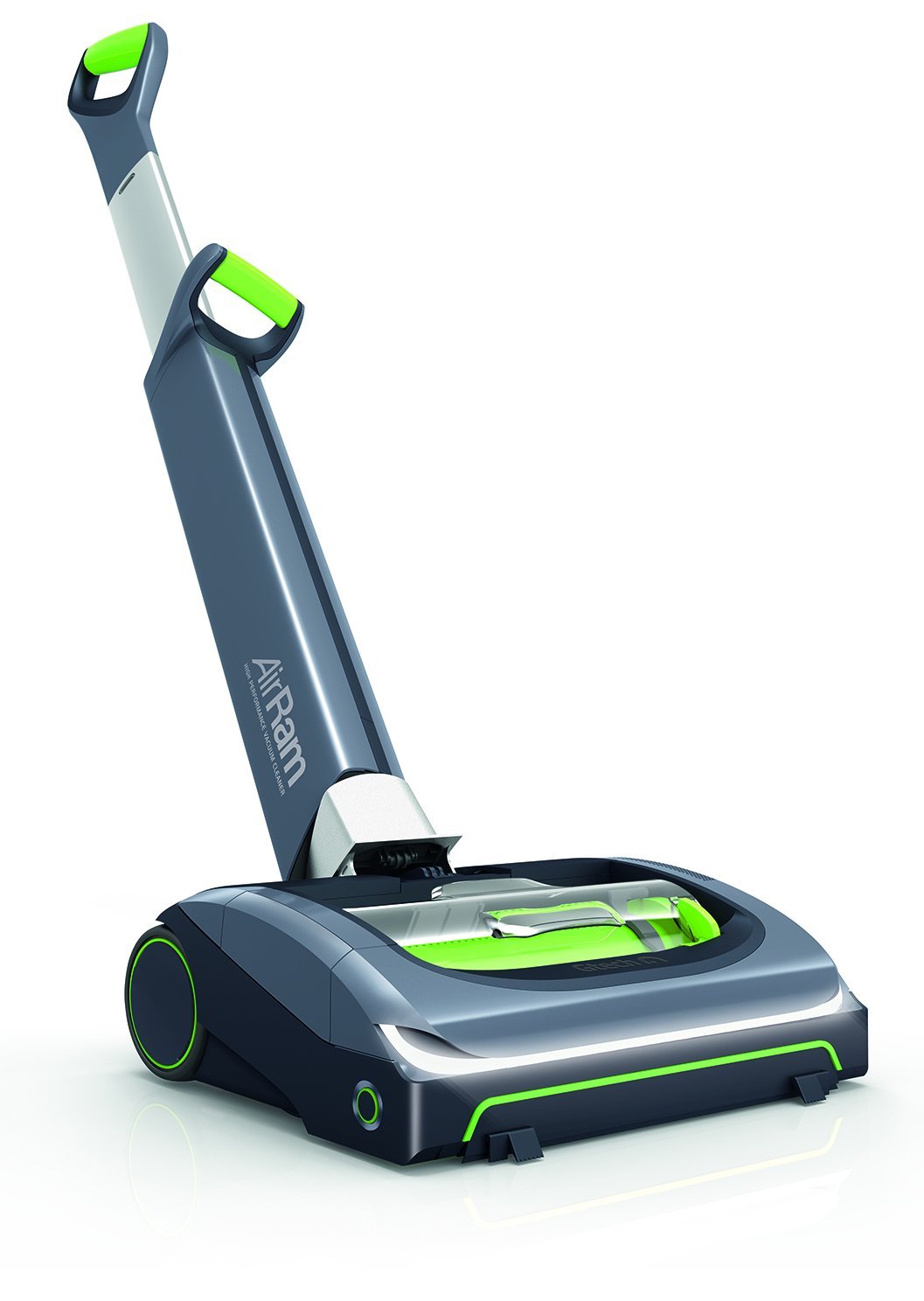 This is more of a GTech clone, but seeing as GTech is no longer available in the country, we can't help but think that they bought the rights to this design. At 7.75 pounds it is lighter than the Shark IonFlex but nowhere near the Dyson V7. It still has the same swivel and fold-flat feature that endeared it to thousands. It can't rival the power of a Dyson V8 or V7, but it happens to be a lot cheaper.

You will especially love the easy to empty dustbin. Often dirt is statically charged and clings to the walls of the canister. With other models, you have to use your fingers to empty the bin, but the AirRam has a lever that you can use to push the dirt out.

Nevertheless, our best features were the LED lights and swivel steering.

LED lights – The AirRam 1984 has LED lights at the front which help illuminate low-lighted areas. It reduces the chances of you leaving some dirt behind.

Swivel steering – The swivel steering has endeared this product to elderly people as it can get into tight spaces. What caught our eye though was the fold-flat feature that allows the product to lay near flat and reach deep under beds.

Another fascinating feature of the AirRam 1984 is the "suction squeegee" that gives you superior edge cleaning.

Expand to see more
Product Features

22-volt lithium-ion battery
30-minute runtime
4 hour charge time
0.6-liter bin
LED highlights
2-year warranty

Who is it for?

We recommend this unit for small and medium-sized homes. Also, it is best for high traffic areas or regular cleaning in a house with kids and pets.

It uses a removable battery pack, and thus you can extend the run time with 2 or more battery packs
It has a generous 30-minute runtime thanks to the 22-volt lithium-ion battery
Features a multi-surface brush roll that can clean on a variety of surfaces
There is a minimum loss of power as the battery is in the head
The 0.6L capacity of the dirt bin is limiting
Not as powerful as a Shark or a Dyson
Lacks above the floor cleaning
5. Hoover Linx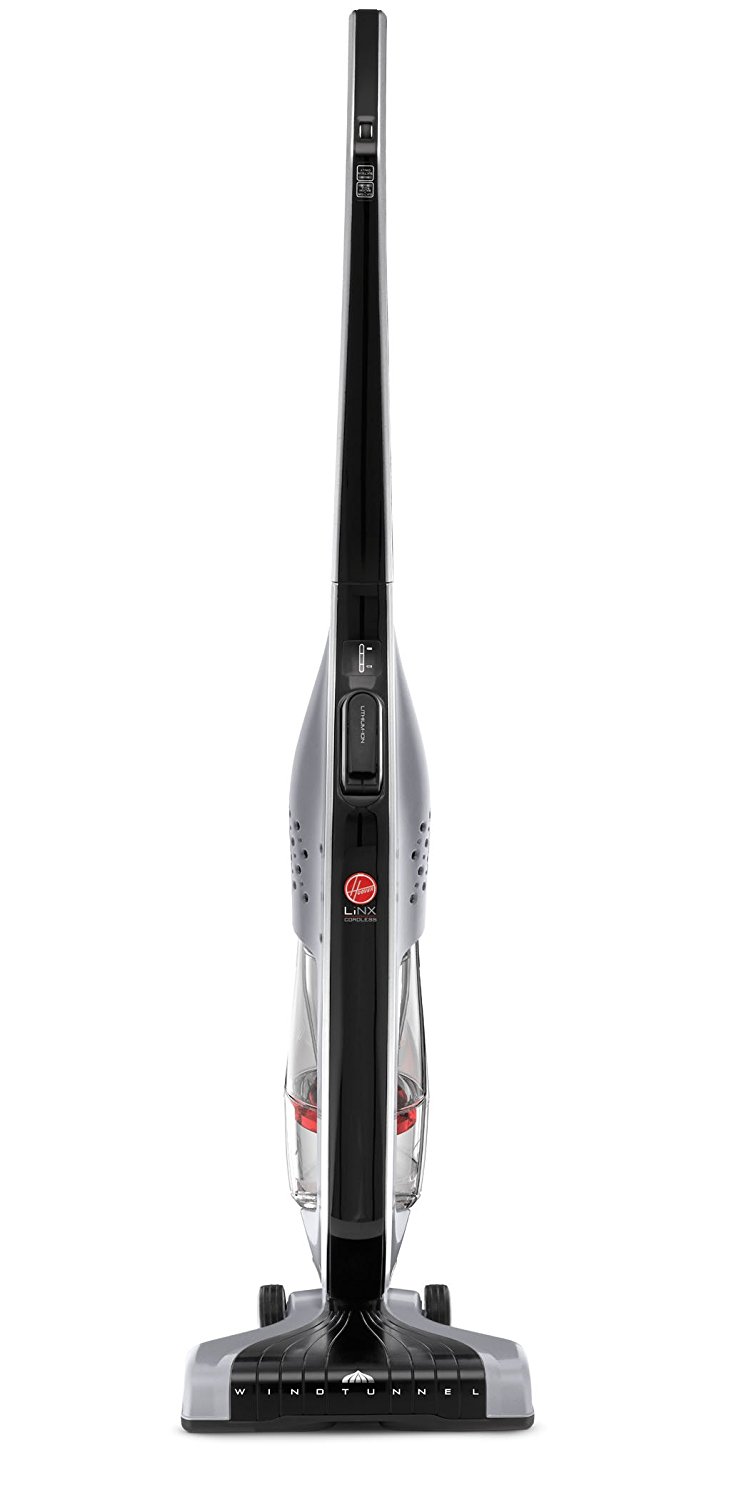 Hoover has been in the business of making vacuums for well over a century now, and they are a household name. We would recommend the Linx for people with a small home, and are looking for an affordable gadget and don't mind sacrificing the bells and whistles. Despite being affordable, it still has some nifty features.

First, there is the large dirt cup that allows you to clean several rooms without having to empty it. The 18V lithium-ion battery will last for 15 minutes and only takes 3 hours to charge. However, we appreciated the fade free use most. You will also enjoy the patented wind tunnel technology, and the easy to access power switch. What stood out for us though is the bare floor performance and the brush roll.

Bare floor performance – From tests, we noticed that the Hoover Linx would pick most debris in one back and forth pass. It can collect anything from fine powder to medium-sized debris such as cat food. That coupled with the 11-inch cleaning path that allows you to cover more ground will make cleaning a breeze. You will also appreciate the edge cleaning brushes that eliminate the need for a handheld vacuum.

Brush roll – The motorized brush roll makes this vacuum the best for picking up pet hair. Longer hairs or carpet strands will wrap on the baffle tube, and you will be required to clean it regularly.

Expand to see more
Product Features

2-year limited warranty
Weight: 10 pounds
18-volt lithium-ion battery
Powered brush roll with wind tunnel technology

Who is it for?

We recommend the Hoover Linx for apartments or small homes. Also, if you want a premium vacuum without having to pay a premium price, we recommend this unit.

The best part is the price as it is affordable
Give you the ability to monitor battery status
The dirt cup is transparent letting you know when it's time to empty
The 11" cleaning path enables you to cover a lot of ground
Doesn't work well on stairs
The base can't swivel limiting its mobility
6. Numatic Henry UK Version Cleaner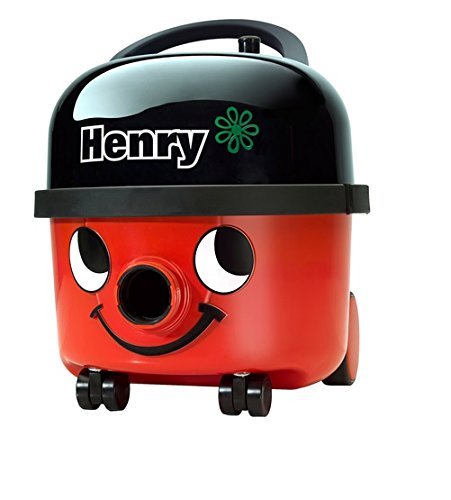 These are the staple units in most UK homes, offices, and schools and although it isn't popular in the USA, we would implore you to get it if you don't mind the steep price. First, the grinning face will endear you to it, but there is more. It's built to last; it is easy to maintain and repair, and will probably serve you well until your kids have moved out. Also, the fact that it's cordless is fascinating enough as it is rare in cylinder vacuum cleaners. What piqued our interest were the performance and the attachments.
Performance
– Whether you have a pet or not, you can benefit from a unit with powerful suction. This unit can remove the deepest dirt in your
carpets and flooring
.
Attachments
– The HVB160 is has a crevice tool that enables you to get to those difficult to access areas and an upholstery tool for your vehicle and furniture. There is also onboard storage so you can take it anywhere with you.
The unit also features a HEPA filter to capture all allergens, and the flexible 2.3M hose can get into those hard-to-get-to places.
Expand to see more
Product Features

HEPA bags and filter
Has a crevice and upholstery tool
A cylinder vacuum cleaner
Runtime: 30 on low settings and 20 on high
Charge time – 3 hours

Who is it for?

Given the capacity of this unit, we recommend it for people with large homes. Also, they can work with Asthmatic people thanks to the HEPA bags and HEPA filter. Finally, they are quite pricey, and you should be in a position to pay the premium price it commands.

The capacity is unmatched, and you rarely have to empty it
It is a lot quieter than the Henry Hoover or other vacuums
The unit has three extra bags which is unheard of
Though it is a small vac, it packs some punch
Pricey and it will take up storage space
7. Dyson V6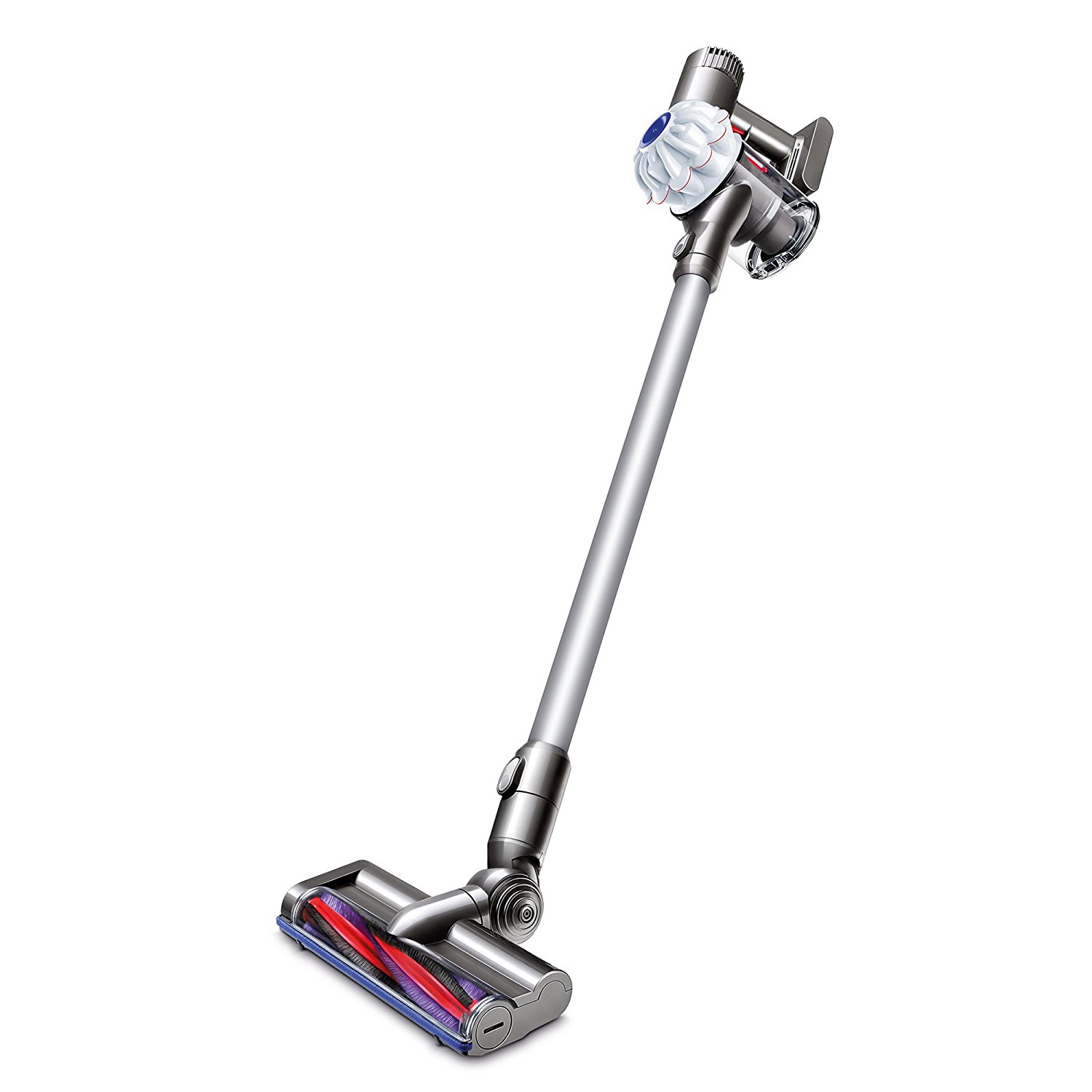 The Dyson V6 was a forerunner in the battery-powered vacuums category and still holds its own against better brands. It is small and portable which gives it an edge over traditional vacuums when it comes to quick cleanups.

The 20 minute run time might seem standard, but it performs exceptionally well thanks to the power trigger. Also, there is a great first impression and isn't an ugly vacuum that you want out of sight. The long arm means you can get to hard to reach areas while the attachments increase the versatility. It also converts into a handheld device for car interiors and tabletop cleaning. Our other best feature other than the power trigger was the docking station.

Power trigger – Other than having a traditional on and off button, the V6 features a trigger that you have to hold down when cleaning. It results in increased functionality of the battery as you will not leave it running when not in use. Despite being a 20-minute battery, it can hold its own against cells with a 30-minute runtime.

Docking station – The Dyson V6 wall-mounted docking station not only charges the system but also serves as storage. It also holds two attachments to reduce the amount of space required to store your unit.

You will also appreciate the crevice tool as it gets into those tight spots.

Expand to see more
Product Features

Runtime: 20 minutes
Charge time: 3 hours
Weight: 4.5 pounds
Motorized cleaner head

Who is it for?

Given the runtime and the 0.4-liter bin capacity of this unit, we only recommend it for small households.

The power trigger saves energy
The V6 is light and easy to use
The nimble design enables you to get into some tight spots
The motorized cleaning head helps to eradicate even the deepest dirt
The 0.4-liter bin capacity limits the space you can vacuum before it requires emptying
8. BLACK+DECKER BDH1200FVAV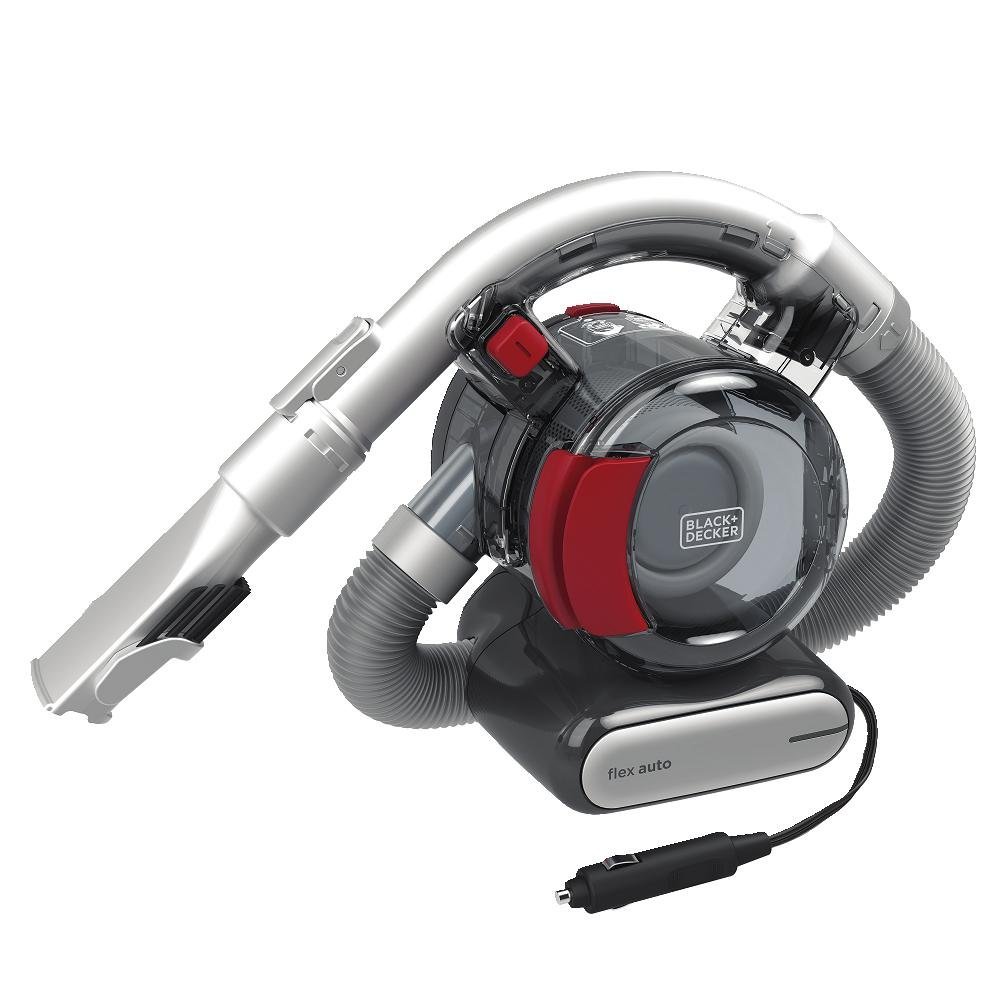 Black & Decker rarely make a boring machine, and the Flexi vac is a testament to this. It is an excellent piece of equipment especially for those hard to get to places.

The first thing you will notice with this tool is that it is a two-handed operation but other than that, we would advocate it for those fine cleaning tasks. It is lightweight and comfortable to use eliminating the need to drag your massive vacuum upstairs for small messes. You will also love how easy and fast it is to attach attachments to the item. Nonetheless, our best features were the three-stage filtration and the 4-foot flexible hose.

Hose – At 4 feet, it can get into any space and gives you enough room to wiggle your way into tight spots. It is also flexible allowing you to maneuver it around obstacles.

3-stage filtration – This stops any captured dust from escaping, and has a cyclonic action that keeps the filter in top condition.

You will also appreciate the hygienic disposal function which is the only one that rivals the Dyson or Bissell AirRam 1984. The disposal is operated with the help of a button reducing the likelihood that you will soil your hands.

Expand to see more
Product Features
4-foot hose
Patented "motor in the filter tech."
Weight: 4.25 lbs
7 to 12 minutes runtime
Who is it for?
We recommend this for those subtle cleaning tasks; s
ay ceilings
, nocks, and cars.
It has an eco-function that will switch the charger off once the battery is full
It is lightweight which allows for above the floor operations while enabling you to work for extended hours with minimal fatigue
It comes with a variety of tools that allow you to clean multiple aspects of your home and vehicle. It's also quite affordable
The flexible hose enables you to maneuver obstacles and get into tight spots
Hygienic waste disposal ideal for allergic people
Simple storage as the hose folds onto the unit
Two-handed operation
The filter has been known to fail, and it's irreplaceable
9. Hoover Vacuum Cleaner Air Lift 20 Volt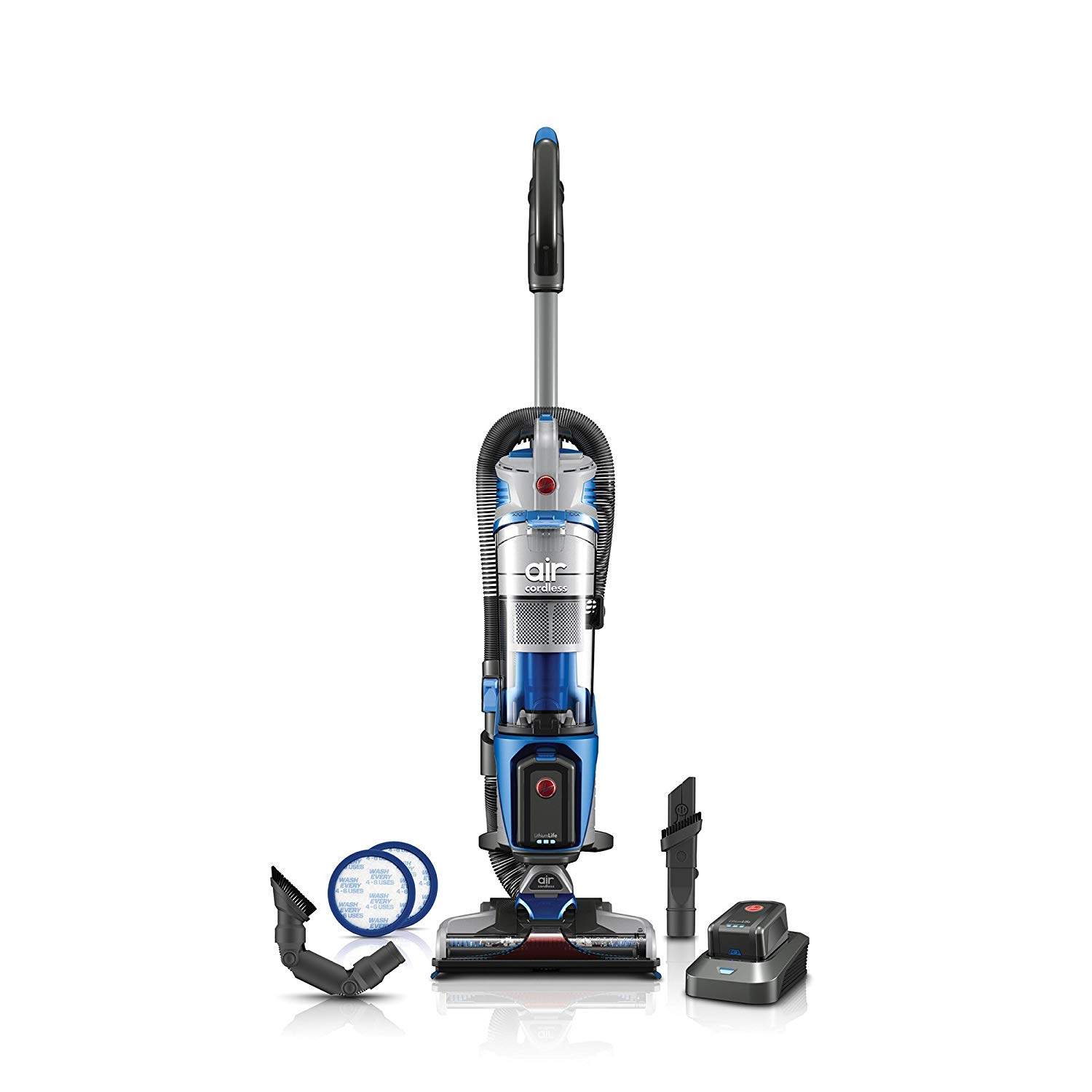 The Hoover Air Lift resembles the Shark Lift-Away, just that it is cordless which increases the maneuverability and convenience. Other than the Lift feature you will love the 50-minute runtime which is enough for houses slightly over 2,400 square feet. You will appreciate the 1.08-liter capacity bin as it enables you to work for extended hours without the need to empty it.
As for the head, it features side brushes that increase the reach to the edges and has ample space at the center where substantial debris can enter eliminating the snowplow effect. Nevertheless, our best features were the lift and two batteries.
Batteries
– The Hoover Air Lift has two lithium-ion batteries with a combined runtime of 50 minutes. Most other units on this list retail with one battery which limits the runtime. There will be little downtime with the Air Lift, and you can clean well over 2,400 square feet.

Lift
– The lift feature enables you to separate the canister and the upright which allows for above the floor cleaning.
The unit to has other nifty features such as the stretchable hose, the pivot
brush tool
, the wand and crevice tool that gets in those tight spots. However, if for nothing else we implore you to get this for the 5-year warranty.
Expand to see more
Product Features

Has a swiveling head
Runtime: 50 minutes
3 hours charge time for each battery
Brush roll on and off feature
5-year warranty

Who is it for?

The Hoover Air Lift is for homeowners looking for an on and off the floor tool.

A 50-minute runtime thanks to the two lithium-ion batteries
Has a substantial bin capacity
Has a substantial cleaning path at 11 inches
Has LED lights that will enable you to spot dirt in low-lighted areas while it has indicators to show power level
It's not entirely useful off the floor, and the runtime is shorter compared to other vacuums on this list
10. Gtech Pro Hygienic Bagged Cordless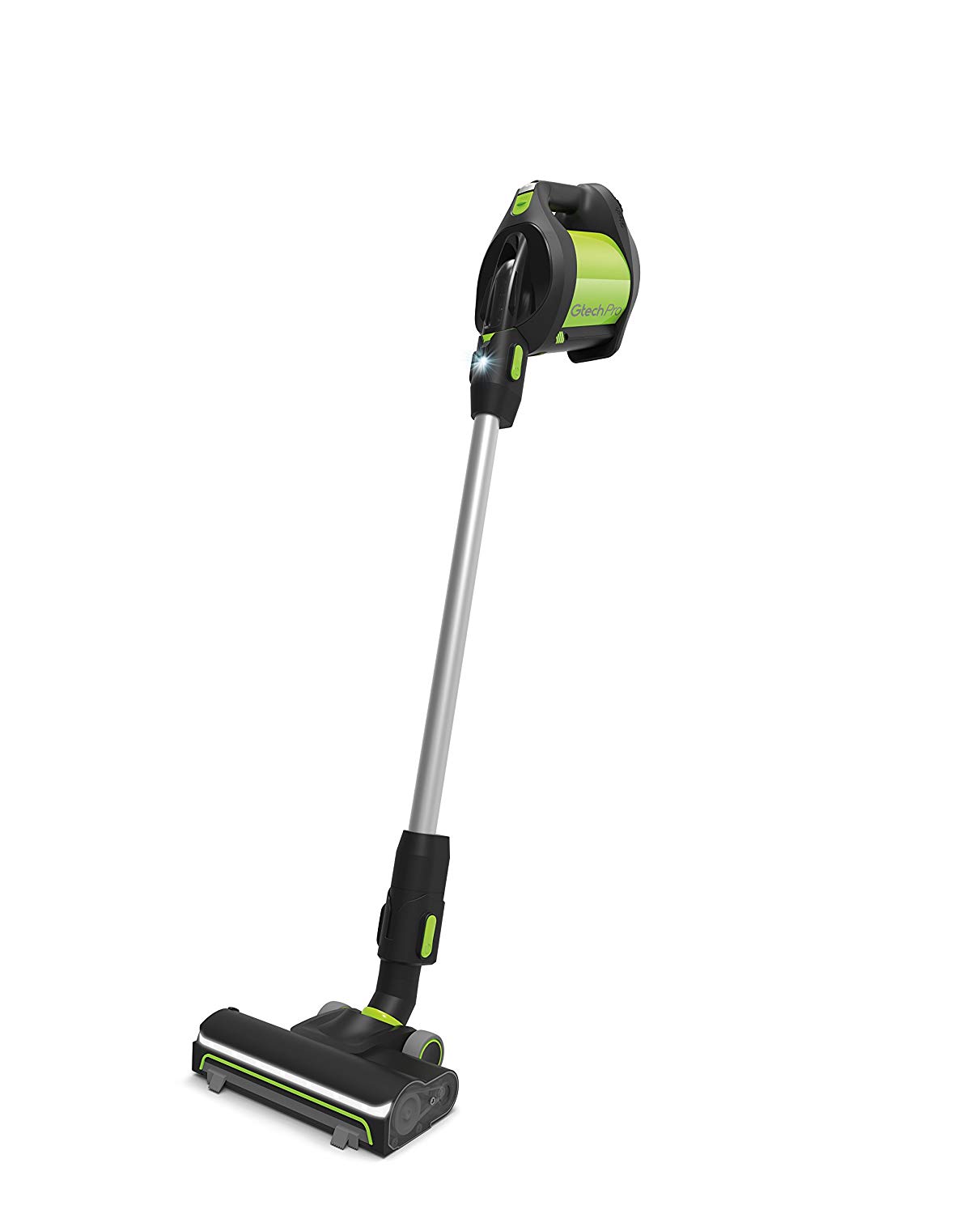 The GTech Pro is the only unit that could rival the Dyson V7 from quiet operation to being lightweight and is also equally powerful. However, it was too expensive for our liking.
Other than the steep price, you will appreciate how lightweight this unit is at 5.29 pounds. The
headlights
on the machine will light low-lighted areas helping you see all the dirt. It might seem like a flourish, but it's quite a nifty addition. As for the performance, it is strong enough to rival the V7 or V8 by Dyson. The vacuum will pick up anything from powder dust to small rocks and even cables.
The unit has a 20-minute runtime, but you can boost this to 40 minutes by switching to eco-mode. The charge time is 4 hours which is pretty decent. Our best features are the two heads and the fact that it has a bad.
Bagged vacuum
– The GTech pro has bucked the bagless vacuum model and preferred the traditional bagged vacuum. First, most people find this appealing as it reduces the likelihood of making a mess when emptying. Second, it is low maintenance and more hygienic in particular for allergic people. Also, the bags have a generous 1.5-liter capacity.

2-heads
– The GTech pro has a power floor head for flooring use and one that can surface mode without the need for a button, and a second smaller power brush for fabrics and vehicle interiors.
Expand to see more
Product Features

Uses a 22 lithium-ion battery
20 to 40 minutes runtime
4 hour charge time
Weight: 5.29 pounds
1.5-liter capacity bag.

Who is it for?

If you are looking for better superior performance or tidying up an ample space, we suggest you get the GTech.

The bags have a large capacity and reduce the possibility of making a mess when emptying the canister
The lightweight nature allows for extended use with little fatigue
There are seven different combinations you can create with the attachments provided
Happens to be quite pricey
Things to Consider in a Cordless Vacuum
Battery Life
This is the run time of the unit and is often between 15 to 40 minutes. However, the life depends on the type of battery.
NiCd (nickel cadmium) batteries have the lowest run-time but are equally cheaper. Lithium-ion and nickel metal hydride have longer run-time but are pricey and result in the higher price of a unit. The battery life can also refer to the number of years an apparatus will serve you before it loses the ability to hold a charge. The life of most batteries is two to three years after which you can replace the battery or purchase a new vacuum. We propose you buy a gadget with a lithium-ion battery as it allows for fade free use.
Charging station and charge time
Some of these units can take more than 8 hours to get to a full charge. We recommend you get a vacuum that charges in four hours or less. As for the charging stations, you can connect some machines directly to an outlet while others have a wall-mounted docking station that saves floor space.
Waste disposal
Take your time to consider the capacity of the waste canister as it will determine how long you can go before you have to empty it. The volume is often between 0.6L and 1.2L. The 1.2L bin is enough for 5 to 6 rooms, and we will recommend it over the 0.6L unit.
Attachments
Most hand vacuums have accessories for specialized tasks. The three necessary attachments we advocate for are the crevice tool as it is perfect for getting into tight spots, the upholstery tool for cleaning furniture, and one for cleaning pet hair.
Cleaning path
You want a unit with a substantial head or a large width where all the dirt passes through. A considerable cleaning path allows you to clean faster as you will require fewer passes.
Power
We suggest you get a cordless vacuum with a voltage of 18V or higher as these perform better. You will collect most if not all dirt in one pass.
Cordless vacuums are yet to outmatch traditional units, but the gap is closing quickly. Though they cannot entirely replace full-sized vacuums, they are ideal for routine cleaning especially in homes with kids and pets. Below are our recommendations.
FAQs
Are bagless vacuum cleaners better?
Well, there are no clear winners here. Each vacuum cleaner has its own set of pros and cons and the question we believe should be which is best for you. First, bagged vacuum cleaners have a plastic bag to store dirt which they later throw away.
Conversely, bagless vacuums have a dust tank which is then emptied. If you want to use a bagged vacuum, you will incur the recurring cost of buying bags. However, it is more hygienic as it reduces the likelihood of making a mess when emptying. Conversely, there are no expenses with a bagless unit, but the chances of making a mess are quite high.
How do you clean a vacuum?
After several uses vacuum cleaners tend to reek and it can be for a couple of reasons from a dirty hose, dirty attachments, dirty filters, etc. If it's a dirty bag, all you got to do is replace the pack with a clean one or clean the dust cup with a microfiber cloth if you have a bagless vacuum.
You can clean or replace the filters if they are the cause of the putrid smell and move on to the attachments. Some can be cleaned with a thin brush while others can be dipped in soapy water. However, the HEPA filter is not washable. Water ruins the HEPA medium and we suggest you replace the HEPA filter semi-annually.
Conclusion
There are some other cordless vacuums that are equally as good as our top ten picks, but they couldn't make the cut. One such gadget is the Dyson V7 absolute which has the battery life of the V7 and the accessories and attachments of the V8. You can also check out the Dirt Devil Reach Max for a budget pick. The Deik EV660 is also ideal with a 72-minute runtime, but the power is not at par with the vacuums her.
Cordless vacs are a long way off from replacing the bulky plug-ins. However, the advancements so far are impressive. The units above are the best, but the final decision is yours to make. Finally, don't hesitate to let us know what you think in the comments below.
Subscribe to our newsletter