10 Best Stick Vacuums Rated in 2023
last updated:
Apr 06, 2021
Keeping a house clean is no small undertaking especially if you have kids, pets, and other mess makers. However, having the right cleaning tools helps ease the burden and keep things in order. One of the most useful cleaning tools is the stick vacuum. Over the years, it has become the fastest growing product in floor care, and for a good reason. First, it is lightweight and thus best suited to clean up small messes quickly. Also, most are cordless and therefore more portable, and easy to store. The smaller size too makes these (stick vacuums) the best for stairs, and underneath furniture. With technological advancements, the power on these is growing to rival that of upright vacuums and are competitively priced. They are not yet ready to be the only vacuum in the house, but they are the best for the routine cleaning required in homes with pets and children.
Our Top 3 Picks
[srpshortcode id="17082″][/srpshortcode][srpshortcode id="17083″][/srpshortcode][srpshortcode id="17084″][/srpshortcode]
There is always the question of which is the best stick vacuum one should get. As a homeowner, you want to get the best value for money. Below, we have a run-down of the best stick vacuums for this year.
10 Best Stick Vacuums
1. Dyson V7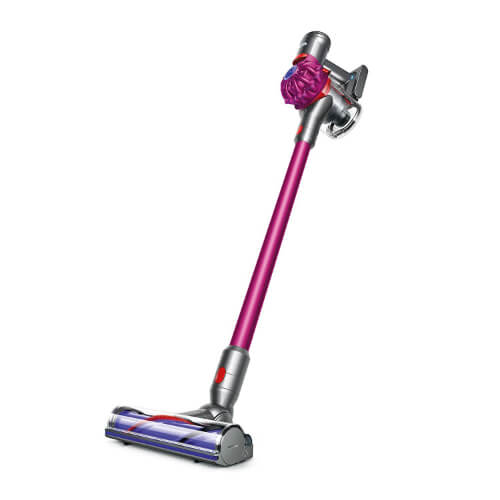 If you are looking for a stick vacuum that can rival or even take the place of a bulky plug-in, we suggest you get the Dyson V7. No other (except the Dyson V8), can beat its performance; let alone how pleasant it is to use. It happens to be the strongest, quietest, and the smoothest unit we reviewed. It works perfectly on carpets and bare floors with effortless handling. Something we loved with the V7 was the garbage canister. The design ensures that you will never get your hands dirty, unlike most other units. However, what stood out was the performance and how pleasant it is to use.

Performance – If you are in the market for a unit to handle small tasks, this is most likely overkill. However, if you want something that can replace an upright vacuum, the V7 will do. It can pick up debris on a plush-rug in one back and forth pass, a feat that no other cordless unit can manage. Also, it picks most fine debris on smooth surfaces including between cracks. In high power setting, it can make any rug look visibly new.

Pleasant to use – First, no other stick vacuum is as quiet as the V7. At 70dbs, it is quieter than other units with the same suction power. Also, it only weighs about 5 pounds and is one of the lightest and smooth to handle too. It also happens to be narrow and nimble to get into tight spaces and swivel joint turns as tight as any other unit.

You will also appreciate how easy it is to unclog and untangle this unit as it comes apart in so many places. What's more, the unit doesn't take up too much space and can snugly fit into a closet.

Finally, it has enough battery life which lasts about 28 minutes and can clean 2,000 square feet home.

Expand to see more
Product features

Cordless
Weight: 5 pounds
28 minutes runtime
3-1/2 hours charge time

Who is it for?

The Dyson V7 packs quite a punch. Therefore, we recommend it for homeowners who are looking for a unit that can replace the bulky upright vacuum.

It comes with a reusable filter and a belt that can last a lifetime
It happens to be a silent unit; at max performance, it only produces 74dbs with its closest competitor being at 79dbs which is a significant difference
2. Shark Rocket Collection Duo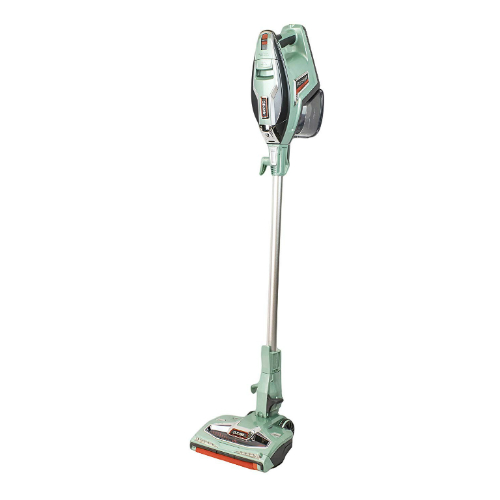 If you are in the market for something that's a hybrid between a stick and an upright unit, we suggest you get the HV380 duo-cleaner. Also, seeing as cordless vacuums have a short run time, we recommend you get this unit as it is the best plug-in stick vacuum.
Some essential features that will fascinate you are the filtration and the bin capacity. The Bin on the HV380 has a 0.25-gallon capacity which is enough to clean 5 to 6 rooms. Also, this unit has two filters. One pre and another post motor and both can be and should be cleaned regularly. However, what we found most interesting about this unit were the performance and the versatility.
Versatility
– You can clean any surface with this unit which is what got us excited. It functions well on hardwood floors,
roof fans
, window ledges, curtains, mattresses, vents, etc. Additionally, the quick-release foot pedal converts the vacuum from floor to vertical cleaning instantly.
Performance
–The reason why this unit has such astonishing cleaning power boils down to the DuoClean technology. This is the dual-brush roll with a bristle brush and a soft brush and is responsible for the triple particle cleaning. The unit sucks large debris, granular dust, and stuck on particles owing to the combined power of the brushes and suction. The soft brush has a pull effect while the bristles agitate the dirt sending it into the airflow.
The Shark Rocket is a bit on the bulkier end weighing 9.9 pounds.
Expand to see more
Product Features

Powerful LED lights on hands and nozzles
Triple particle cleaning
Weight: 9.9lbs

Who is it for?

If you don't mind sacrificing the portability and maneuverability of a cordless unit for limitless runtime, then get the HV380. Also if you are looking for a stick vacuum that is versatile enough to clean multiple surfaces, this will suffice.

Versatility
The HV380 is a hybrid between an upright and a stick option
The cord on this DuoClean is 30ft long which translates into an ideal cleaning radius
A bit bulky; at 9.9lbs it is more cumbersome than most units on this list
4. Shark IONFlex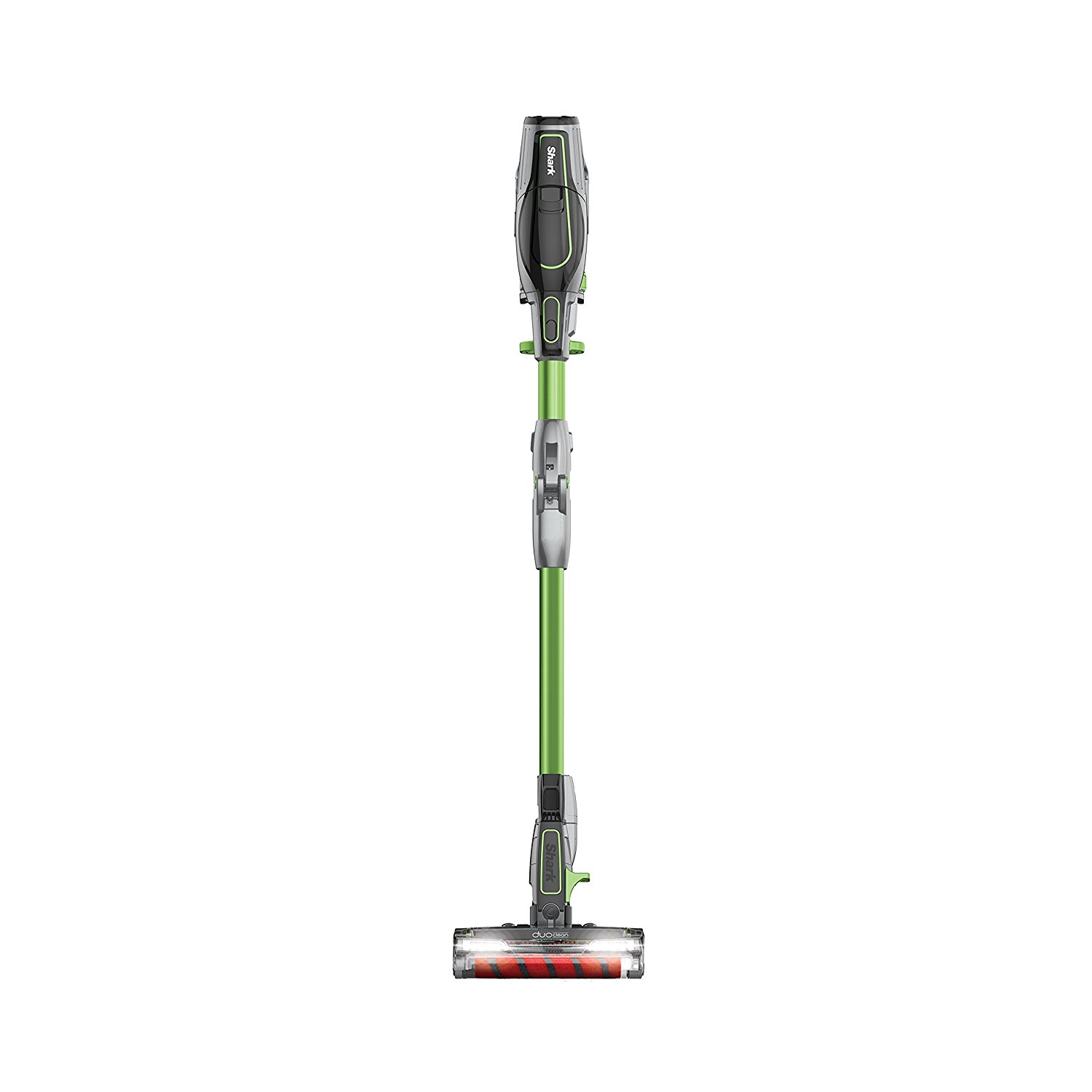 This is the cordless version of the Shark Rocket, as it has almost the same features. If you are looking for a unit with the same power as the Dyson V7, but you are comfortable sacrificing other aspects, we recommend you get the IonFlex. It will get the same amount of bread crumbs and dust off the floor as the Dyson V7, but it is much louder and unwieldy. Also, it isn't as pleasant to handle as other units and has shorter battery life. However, these are issues you can compromise for a lower price, but what piqued our interest with this unit were the separate battery pack and the Duo Clean head.

Duo Clean Head – Much like the Shark Rocket, the IonFlex head has two brushes that improve the performance of the unit. The smaller brush helps pull more significant debris which would otherwise be snow mowed into the suction while the bristle brush is meant to agitate dirt particles on a carpet. The suction to works well to get rid of the stuck-on particles.

Separate Battery Pack – The IonFlex is one of the few stick vacuums that feature an unattached battery pack which is a nifty addition. You don't have to worry about power as you can always have a separate battery. Also, you can purchase the IonFlex 2X which features two battery packs. This feature allows you to use the unit as one of the batteries powers up.

You will also appreciate that this is backed by a 5-year warranty on parts which exceeds anything from competitors. Also, Shark customer service is exceptional. If for nothing else, we recommend this unit for the after-sales services.

Expand to see more
Product features

Removable Ion power pack
MultiFlex technology that allows you to reach tight spots
Weight: 8.7 pounds
Floor to ceiling reach thanks to the attachments

Who is it for?

Though the runtime of the IonFlex is a lot shorter, we still recommend it for persons with large houses as you can have multiple batteries.

Exceptional customer service from the Shark team
The separate battery pack is replaceable once the battery life is over unlike other units where you have to purchase a new vacuum
Unit features Duo Clean brushes that increase the efficiency
This device can stand up on its own by folding the joint back
It's a lot bulkier
It's not entirely pleasant to use, and it's a lot louder at 75 to 79 decibels
9. BLACK+DECKER HSVJ520JMBF61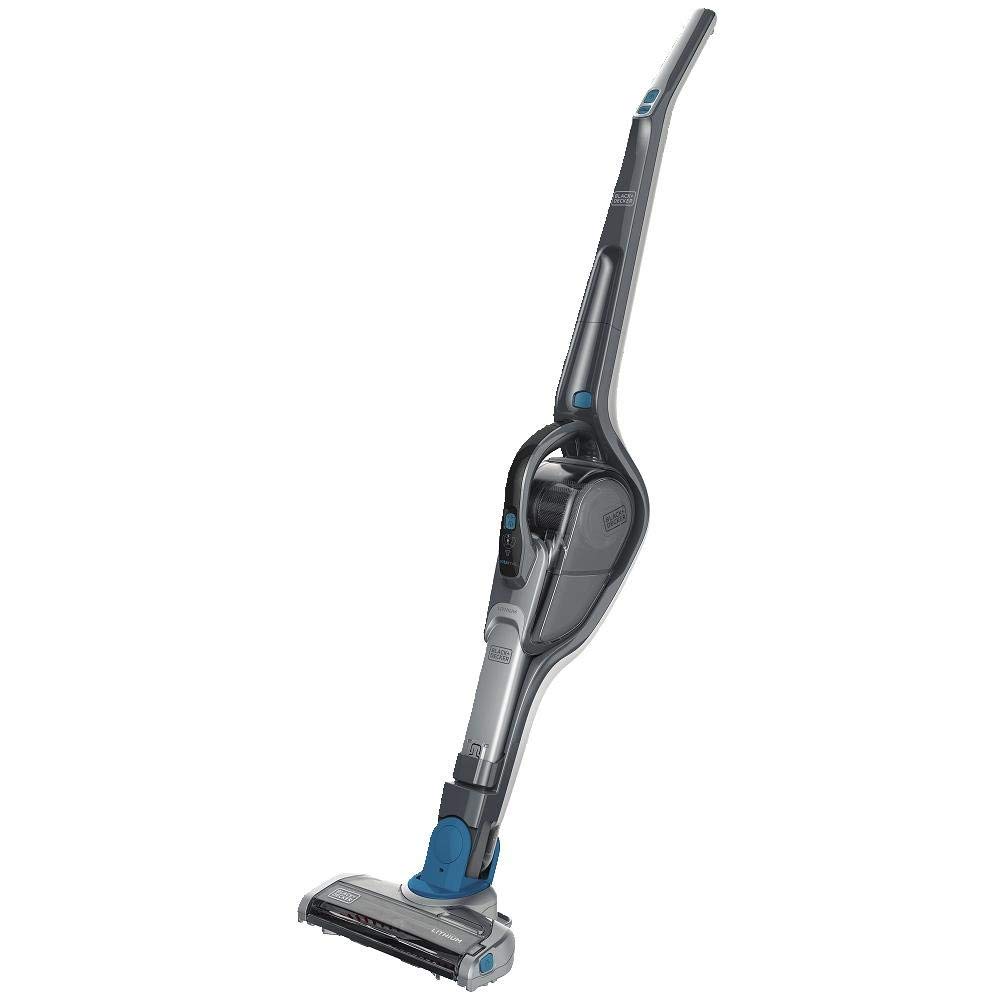 Another cordless stick vacuum, the Black and Decker is a nifty unit. This is one of the few
smart-tech stick vacuums
on this guide, and you will appreciate the ingenious additions. Also, it is versatile thanks to the attachments such as the extendable crevice tool and the brush attachment. You will also enjoy the pleated-pre filter and the swivel steering that gets you around the furniture and any other obstacles. Nevertheless, the Smart-tech TM sensing technology and the power beater bar are what stood out for us.
Power beater bar
– When cleaning carpets you need a means to remove the dirt that's deep down. This unit works wonders thanks to the power beater bar that agitates the dust and the debris.
Smart-tech TM sensing technology
– This Black and Decker has three sensors. The battery sensor which indicates the charge level using three LED lights, the filter sense which informs owners to clean the filter and improve the performance, and what we loved most, the auto-sense. The auto-sense helps the units adjust the power and suction when you change from a hard floor to carpet and vice versa. If it can take away the guessing game out of managing suction and power based on the flooring material, then it is a welcome addition.
Expand to see more
Product Features

Smart-tech TM sensing technology
Extendable crevice tool
Pleated-pre filter
Weight: 9lbs
2 in 1 design: To vacuum floors and small messes.

Who is it for?

According to Black & Decker, this vacuum can clean 2,500 square feet in a single charge. We, therefore, recommend it for people who have recently bought houses as this is the average size of a new home.

Affordable
Has an extension tool that helps you get into tight spots
The autosense feature manages power and suction based on flooring type
The only concern with this unit is that it is difficult to empty
5. Hoover Linx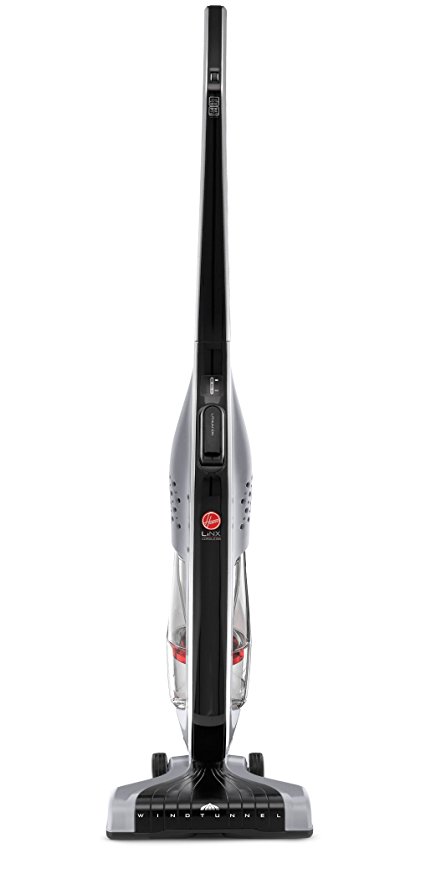 If you are in the market for a budget unit, other than the Dirt Devil, the Hoover Linx BH50010 which is slightly expensive is the next best pick. The BH50010 can't compete with the Dyson V8 or V7, but the value it offers at such a low price is tough to ignore. It happens to be way cheaper than other comparable performers. However, at 7.3 pounds, it is more substantial than the Dyson V7, and thus not ideal for persons with chronic back pains.

Separate battery pack – Though they are more of the exception, stick vacuums with unconnected battery packs are more versatile than those with inbuilt batteries. The reason being you can have two or more cells increasing the run-time of the vacuum. With multiple Hoover Linx batteries, you can clean anywhere from a 1,000 to a 3,000 square foot space as one cell has an average run time of 20 minutes.

Versatility – First, the BH50010 has a low-profile swiveling head which can slide under counters and furniture. Second, the power brush roll features a wind tunnel which provides suction and brushing. The head of this unit to is large enough that you can clean space without having to go back and forth too many times. Finally, it operates fade-free for about 90% of the cycle after which it slowly dies down.

Some other exciting features are that it's perfect for pet hair and exceptional on edges.

Expand to see more
Product Features

Separate battery pack
WindTunnel technology
Fade-free lithium ion Linx battery
Weight: 7.3 pounds
Has edge cleaning bristles

Who is it for?

Given the runtime, we recommend this unit for apartments and condos. However, if you can get two or more batteries, it will work for larger homes.

Good suction power, which is ideal for pet hair
It can stand up on its own
Has a washable foam filter
The garbage canister is easy to empty
Affordable
Despite the low profile head, cleaning under furniture isn't a breeze owing to the diameter of the dirt cup
6. Bissell 1984 Air Ram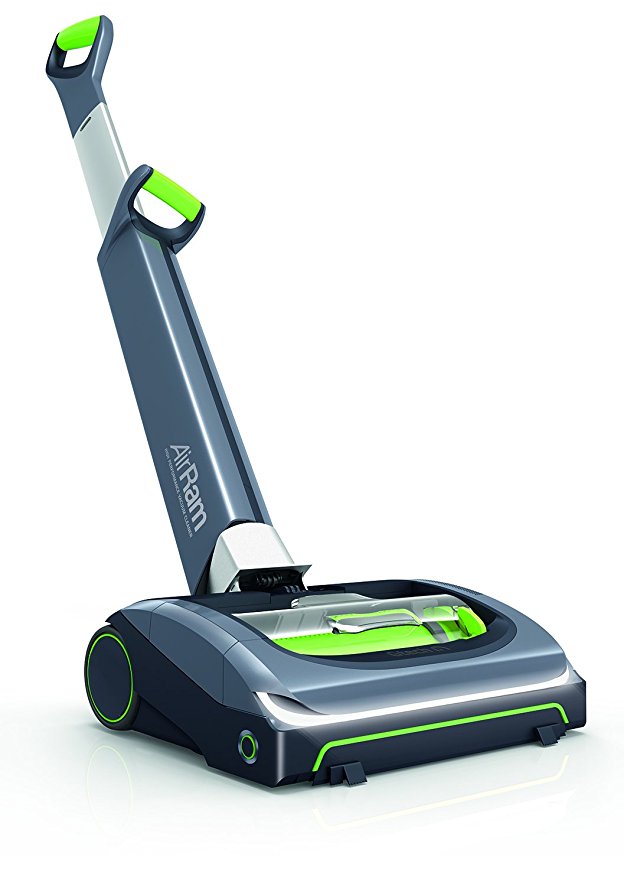 Another competitor for the top spot, the Bissell Air Ram can rival the Dyson V7 for almost a third of the price. Therefore, if you want a unit that's as good as the Dyson, with a removable battery pack, and at a not so premium price, we recommend the Bissell Air Ram. However, it resembles the GTech Air Ram that is no longer available for sale in the USA which makes us think that GTech sold the rights to this unit. The removable battery is one of the reasons why you should consider this vacuum as it is easy to replace should it fail. Also, it is easy to empty. The 600ml has a lever that you push down to push dirt out of the bin; quite natty. However, we loved the swivel and fold-flat feature plus the minimal loss of power.
Swivel and fold-flat feature
– Getting around
furniture
and other obstacles is a chief ingredient for any stick vacuum to be considered a top contender, and the Air ram has an unequaled swivel. The fold-flat feature allows the unit to lay almost flat, and reach deep under beds.
Minimal loss of power
– Instead of placing the motor in the body, the engine is on the head, closer to the brush reducing the distance between the motor and brush and subsequently the loss of power.
Other notable features on this unit are the "suction squeegee" that gives you superior edge cleaning and changes direction as you clean smaller and larger debris. The LED headlights too are worth pointing out as they help spot dust in low light conditions.
Expand to see more
Product Features
22-volt lithium ion battery
0.6L capacity bin
Four hr charge time
LED
headlights
2-year warranty
Who is it for?
We recommend this unit for people with small to medium houses.
The Air Ram Has 30 minutes of fade-free performance
The fold-flat feature allows you to clean deep under beds and other furniture
Can swivel to clean around obstacles
The capacity of the bin is limiting
Lacks above the floor cleaning capabilities
7. Dyson V8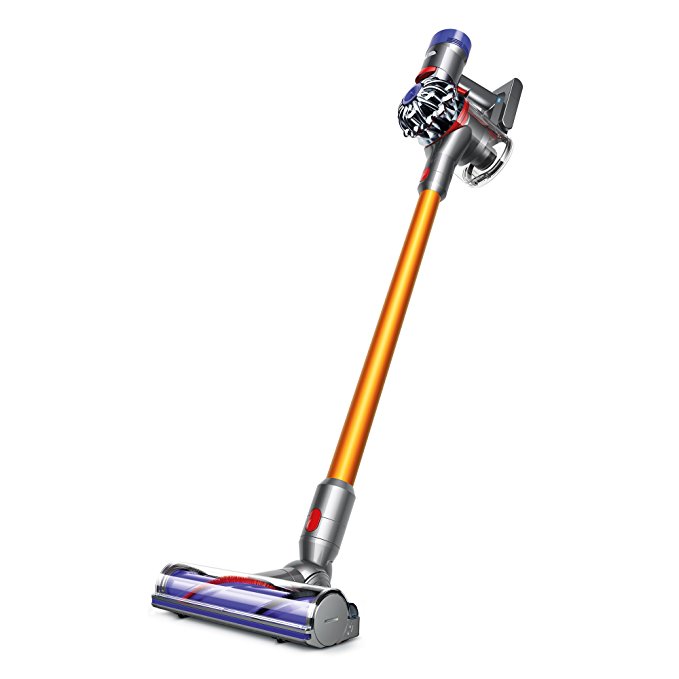 The Dyson V8 is the absolute best, but given its high price point, we couldn't have it as our main pick. However, it is the most powerful, with the most attachments, and longer battery life than all other picks. There isn't much difference between the V8 and the V7, but the unit happens to be heavier owing to the larger battery, and thus we wouldn't recommend it for persons with chronic back pains.

Longer run time – What fascinated us about this stick vacuum was the 34 minute run time. This is 6 minutes longer than the V7 which increases the space you can clean on a single charge from 2,000 to 2,400 square feet. That is the average size of a new home.

More attachments – Unlike the V7 the Dyson V8 has more accessories which increases the versatility. One that we found remarkable was the extra cleaning head with soft-fiber brushes. Cleaning large debris is better with this head. Also, it features a mini-motorized tool which you can use to clean upholstery.

The increased suction in the boosted-power max mode too can clean carpets like an upright traditional vacuum. By and large, if you want to upgrade from the V7, we implore you to get this unit.

Expand to see more
Product Features

Cordless
Run Time: 34 minutes, unlike the indicated 40 minutes.
Hygienic bin emptying
4 hours minimum charge time
Weight: 5.75lbs

Who is it for?

If you have a relatively large house, say 2,000 to 2,500 square feet, or you want better cleaning performance, then get the Dyson V8.

It has is the most powerful and has a longer run time than any other unit on this list
The extra attachments increase the versatility of the unit
Owing to the larger battery, the V8 happens to be more massive than the V7
Also, the battery is built in, and you have to wait for close to 4 hours for the unit to power up
8. Dyson V6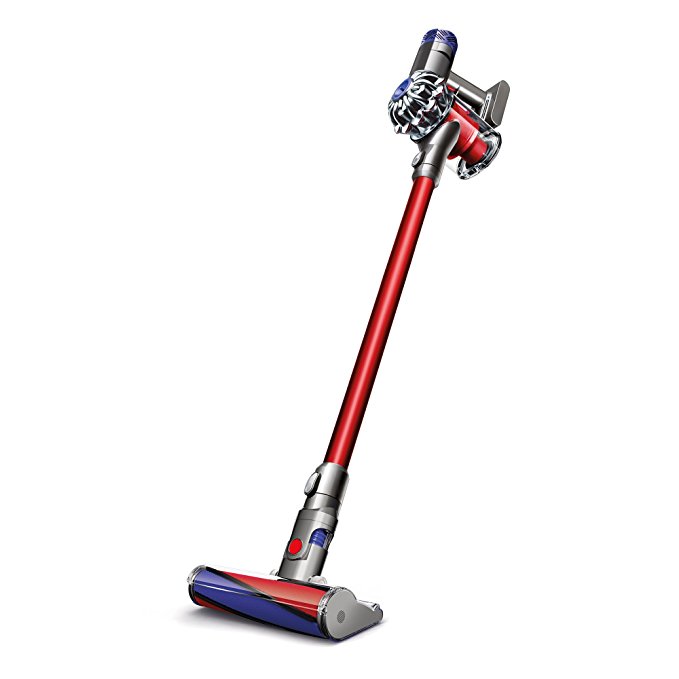 Dyson has done an incredible job with the cinetic-series, and the V6 is no exception. It might not be as powerful as the V7 or the V8, but it is still a solid unit and the 4 out of 5 star rating is evidence enough. The V6 is the predecessor of the V7 and the Dyson V8, and if you want to get performance that's close to what the two provide without spending the obscenely high amounts associated with buying the units, we recommend the V6. What stood out for us with the absolute were the sizeable motorized head, the
hard-floor tool
, the smaller tool and the maneuverability of the device.
Versatility
– The Dyson V6 is challenging traditional upright vacuums, and we agree that it is a reliable unit. With two separate heads, you can suction both fine dust and debris from hard floors with the roller and still clean carpets with the second direct-drive head cleaner that can reach into carpet bristles. You can even convert the unit into a powerful-handheld unit to clean the difficult to reach areas.
Maneuverability
– The battery of the V6 plus the trash canister are located in your hand. This allows the head to swivel easily. Also, seeing as it has a low-profile head, it can get into tight spots under furniture and counters.
You will also appreciate the push button emptying and the docking station that charges and holds attachments.
Expand to see more
Product Features

20 continuous minutes of suction
Cord-free
Two cleaner heads
Weight: 5.1 pounds

strong>Who is it for?

Given that this vacuum only has a run time of 20 minutes, we recommend it for apartments and condos.

With the many attachments, you can use this to clean all surfaces
The maneuverability of the unit is unmatched and can even get into tight spaces
Has enough leverage to go up and down stairs rather quickly
Features an inbuilt battery which limits the time you can use it
3. Dirt Devil Reach Max Plus 3-in-1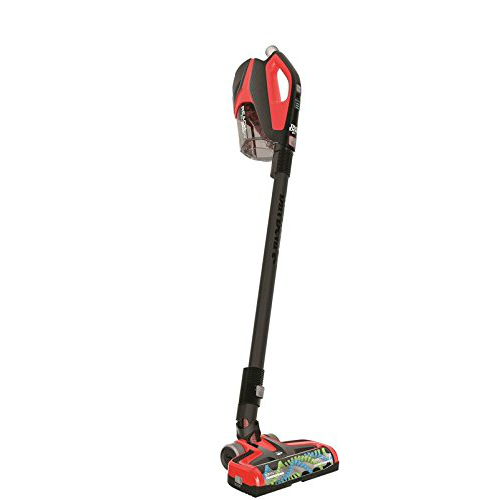 If you are looking for an option without spending the obscene amounts associated with getting a Dyson or Shark stick vacuum, we recommend the Dirt Devil. However, we only recommend it for hardwood floors. Before you get your hopes up, the Dirt Devil is only third on this guide owing to the low price point and the features available for such cost. Keep in mind it isn't anywhere close to the Dyson 7 or the Shark Rocket, or other units here. Still, for such a low-cost unit, we loved the handling and the versatility.

Handling – At 6.4 pounds, the reach Max is slightly heavy, and most of the weight is concentrated at your hand. However, you will barely notice it, and the cleaning head swivels smoothly making cleaning a pleasant activity.

Versatility – The Reach Max has the best attachments for any vacuum at this price point. First, you can use it as a handheld vacuum by disconnecting the extension wand. Also, it can work as a motorized stair tool and has a crevice tool as well.

Another remarkable feature of the Reach Max is the 22 minutes run-time. This is 2 minutes longer than the 20 minutes indicated on the device and is enough for most apartments and condos.

Expand to see more
Product Features
Weight: 6.4 lbs
24V Lithium battery
Spin4Pro Premium Brushroll
Who is it for?
Given the runtime, we recommend these for people with apartments or
condos
. Also, they are best for people on a budget and if you don't care so much about picking fine dust and pet hair.
The crevice tool, upholstery tool, and the carpet nozzle increase the versatility of this vacuum
Easy to handle
There are far better brands than the Dirt Devil; tther than being a budget pick, it is only ideal for keeping your space tidy but not clean
10. VonHaus 2 in 1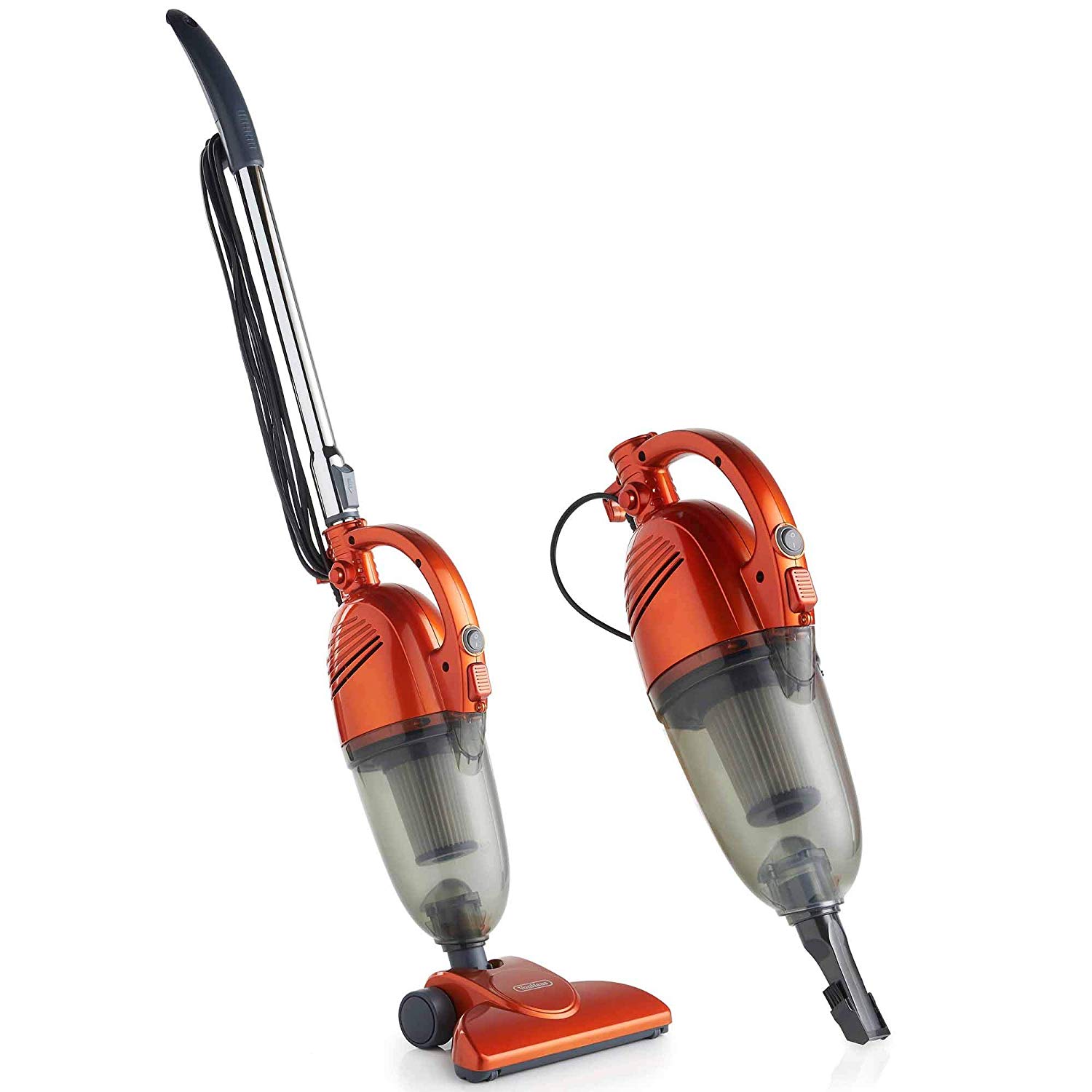 If you are willing to compromise on portability and a certain level of maneuverability that comes with cordless units for limitless runtime, we recommend you get this unit. What stood out for us with the VonHaus was the affordability, the HEPA filtration, and how pleasant it is to use.

Pleasant to use – There are other units on this guide which are much more pleasant to use but at an insanely high price. Therefore, the value this unit offers at such a low price point couldn't go unnoticed. The motor of this unit is located in the head which makes it the lightest vacuum on the list. Also, its 1.2L dust bin capacity you will not have to frequently empty it. Also, the removable hand vacuum sits pretty low on the device and doesn't add much weight.

HEPA filtration – This unit filters most if not all the dust it picks up. It's therefore perfect if you live with allergic individuals.

However, this is only a budget pick. It is the least expensive unit but there are a lot of compromises, and we recommend it for people who are on an extremely tight budget.

Expand to see more
Product Features

HEPA and sponge filtration
Corded
Weight: 5.6 pounds
Effortlessly transforms into a handheld vacuum.

Who is it for?

We can only recommend this unit for homeowners on a tight budget.

Lightweight
Affordable
Corded and thus has limitless run
Has a large capacity bin
Not good at picking pet hair
Lacks range of motion
Lacks suction both on carpets and hard floors
Things to Consider before Purchasing a Stick Vacuum
Corded or Battery Powered
This is the first noticeable difference of stick vacuums and will influence the amount and features on your device. If you are looking for a lightweight stick vacuum, and one with an unlimited runtime, we think you should get a corded stick vacuum. They lack the weight associated with the battery, and seeing as they are attached to an outlet; their runtime is close to unlimited. However, the cord does restrict where and when they can be used.
As for battery-powered stick vacuums, traditionally, they were bulky owing to the batteries. However, recent battery improvement has led to lighter cells which have reduced the weight of these vacuums.
Nevertheless, there is more to consider before making a purchase. First, check the voltage of the unit and ensure it is 18V or more as these tend to perform better. Also, check the price of the vacuum. Often the battery determines the rate with Nickel-Cadmium being the least expensive. Nonetheless, they need to be replaced more often which can turn out to be costly in the long-run. Lithium-ion and Nickel-metal hydride last longer and hold a charge better but are more expensive.
We recommend you also consider the charging/docking station. You can plug some units into an outlet, but others feature a charging station. To save floor space and increase the ease of access, we recommend you get a wall mounted docking station. Also, check the charging time, as some can take close to 8 hours. The runtime of the unit to is worth considering. For smaller tasks, 15 to 20 minutes runtime is allowed. However, if you want more versatility, we suggest vacuums with a 30 to 40-minute runtime over one with a 20 minute runtime.
Finally, consider the battery life. The battery is the most expensive component, and most can last for 2 to 3 years after which you have to buy a new unit or replace the battery.
Accessing Filters
The filters of a stick vacuum should be easy to access, remove, clean, and replace. Also, if you reside with allergy sufferers, or you have pets, we recommend you get HEPA units that remove most allergens.
Waste Disposal
Most options use a bagless canister to store the dust and other dirt before disposal. Ensure that the canisters are easy to remove and dispose of. You can also check for one-handed features like the one-button release for added convenience.
Brush and Suction
Stick vacuums can either have a brush or be brushless with each being specially designed for a particular purpose. Brushless units only use suction and are thus only suitable for smooth surfaces. Also, they need to have a voltage of about 18V or higher to be effective. If you are looking for a unit that can work on carpets, we suggest you get the brush and suction vacuums. Also, ensure that you can shut-off the brush if you intend to use it on a smooth surface, say a hardwood floor, so it doesn't do any damage.
FAQs
What's the run-time on battery-powered stick vacuums?
Most of these batteries can operate between 15 minutes and 40 minutes depending on the type of cell. Li-ion and NiMH batteries have a run-time of up to 40 minutes but are more expensive, while NiCd batteries have a run-time of 15 minutes. Also, the max-power mode will consumes more power, as will vacuums with a power boost. With time, the run-time of the battery will reduce, and you might have to replace it or purchase a new unit.
What features work on furniture, in cars, and on stairs?
The first suggestion would be to look for a 2 in 1 unit. The removable handheld vacuum is perfect for stairs and cars. Consequently, you can purchase a unit with several attachments; a crevice tool to reach into tight corners, and an upholstery tool for drapes and furniture. Finally, you can but a unit with a small head that can work on any furniture and in cars.
Conclusion
Without a doubt, the stick vacuum is a natty device. For quick or regular cleaning it sure does the job with some units rivaling the power of upright vacuums. However, they are still not as powerful as traditional units and should only be considered as additions and not replacements.
The options above are our absolute best. However, you have to compromise one feature for another to ensure you get the perfect balance of elements before making a purchase. Also, if there is something you would like to add, a question you would like to ask, or if you feel we have left something out, let us know in the comments.
Subscribe to our newsletter