10 Best Cheap Carpet Cleaners Reviewed & Rated
last updated:
Apr 06, 2021
When it comes to keeping your carpets and home clean, vacuum cleaners might not be enough. As such it is best to invest in an application-specific appliance such as the carpet cleaner if you want your rugs in the best conditions always.
You don't need a carpet cleaner as one wash per year is enough for most homeowners. Therefore, you can hire a professional especially for the delicate rugs or hire a carpet cleaner from the supermarket. Also, vacuuming at least once a week will be enough to keep your mats clean. Nevertheless, a vacuum cannot deliver the same results a carpet cleaner can. The latter will freshen up the dull look that builds up on carpets over time and is excellent for getting rid of significant stains.
Our Top 3 Picks
[srpshortcode id="21433″][/srpshortcode][srpshortcode id="21434″][/srpshortcode][srpshortcode id="21435″][/srpshortcode]
All in all, a carpet cleaner trumps any other method of keeping your rugs in top condition. Think about whether you need to own one of these appliances before you invest; and should choose to purchase one, check out the recommendations below. Furthermore, seeing as it is a challenge for most people and especially newbies to get a high-quality item, we have provided a buying guide so you can make an informed decision.
10 Best Carpet Cleaners
1. Hoover Power Scrub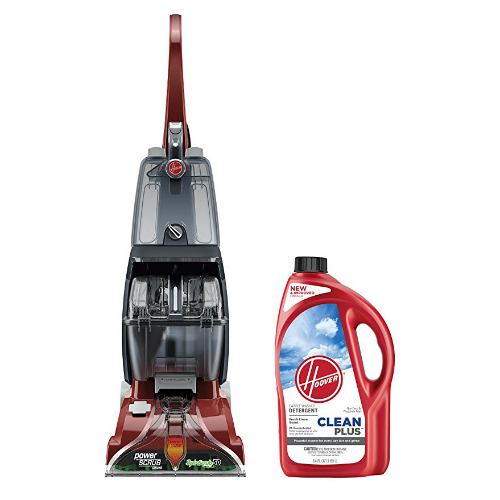 The device is well built and has features for nearly any cleaning job, but there is also the affordability. It is an affordable unit and thus appealing for most homeowners.

One feature that will pique your interest is the dual tank design. The unit has 2-1 gallon tanks; one for clean water and the other for dirty water reducing wasted water as you will only spill dirty water. Moreover, emptying it will be a breeze, thanks to the quick pour spout. Another exciting feature is that you will rarely run out of water thanks to the water indicator that lets you know when you are running low.

The FH50150 is 100% biodegradable and non-toxic for the environmentalists. It is also easier to haul thanks to the many handles. As for the performance, it includes a spinscrub (more on this later) resulting in excellent results. You will also appreciate the automatic detergent mixing that ensures you use only the required water and detergent.

Finally, there is the dualV-tech that provides suction for cleaning stains, the 8-feet long upholstery tool for hard to reach spots, and the crevice tool for tight spaces.

Spinscrub – Unlike most carpet cleaners the FH50150 has five counter-rotating brushes that agitate the dirt for the best results. It cleans a larger area and makes quick work off any tough stains.

Rinse technology – This allows you to clean spaces with soap, but then you can select the rinse only option to get rid of the soap residue.

Expand to see more
Product Features

Weight: 18.1 pounds
2-tank system
Includes a stair tool, upholstery tool, and a crevice tool

Who is it for?

The Hoover FH50150 is best for environmentalists seeing as it is biodegradable. It is also ideal for senior citizens, and minors as it is lightweight.

It is easy to assemble
It is pretty affordable, and you are getting more than you paid for
Filling and emptying the tanks is simple enough
Maneuverability is a walk in the park
The brush is non-stainless steel metal, and thus it will rust as soon as it comes in contact with water
2. BISSELL PowerLifter PowerBrush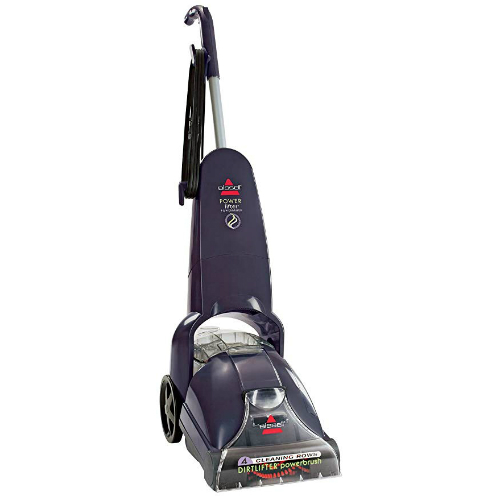 Bissell 1622 is a simple carpet cleaner, but one that excels at what it does. It is designed solely for cleaning carpets, and thus you should not get it with the intention of cleaning stairs and upholstery. However, thanks to the 4-row dual rotating brushes, it can clean stains whether on a low profile or thick carpet. Moreover, the rotating brushes do more than clean but also pick up the dirt.

Another fascinating feature of the 1622 had to be the clip on handle that holds your power cord when cleaning. Therefore, you don't have to worry about running over it. You will also appreciate that it has a 20' cord which is enough to cover most rooms. However, our top features were the lint screen and compact design.

Compact and lightweight – The 1622 is light compared to other units weighing 16.4 pounds. Thus you can carry it around with relative ease. Moreover, the 2-in-1 tank system allows the unit to be compact and easy to use.

Lint screen – This is designed to keep lint from blocking the inside water bladder, and from clogging the cleaning nozzles.

Expand to see more
Product Features

Tank size: ¾-gal
Weight: 16.4 pounds
Cord length: 20-feet
Power Rating: 6.25-Amps

Who is it for?

We recommend the Bissell 1622 for people with small houses or who reside in apartments owing to the low tank capacity, and lack of attachment tools.

It is affordable
It is easy to maneuver, given the lightweight design
Cleaning thanks to the link screen and removable nozzle is easy
It is easy to assemble
The unit is rather simplistic and only ideal for cleaning carpets
3. Bissell 3624 SpotClean Professional Portable Cleaner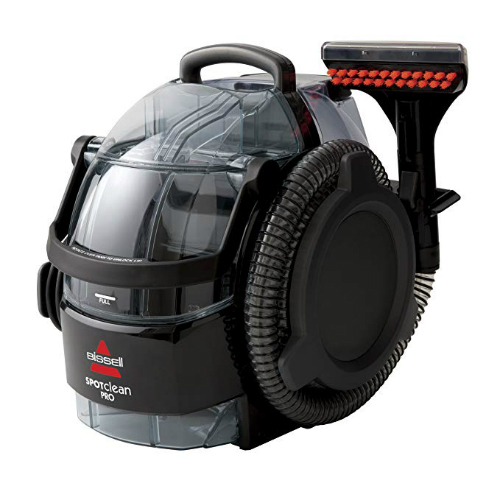 Unlike most carpet cleaners, the Bissell 3624 is for spot cleaning. If you have exacting wine and coffee stains on your carpets and rugs, we recommend you get this unit. First, it includes a 6" stair tool, and a 3" tough stain tool. The power cord is 22-feet long increasing reach, and the hose is 4-feet long. The length of the tubing is a bit limiting if you are cleaning a large area or sofa, but it suffices for stains.

You will also appreciate the power as the unit has a 5.7-amp rating. The versatility to is noteworthy as it tackles any stain from tea, coffee, to mud, blood, and urine. As for the capacity, it is up there with the big boys at ¾ gallons which is enough for any quick tasks. The dirty tank is a bit challenging to use, but more on this later. However, our top features were the portability and the ease of use.

Portability – The 3624 is transportable, unlike most upright carpet cleaners. At 13.2-pounds, it is light and includes a smoothly contoured handle that is centrally located. It also has pegs on either side to hold the hose and the power cable, so it is easier to store and transport. Furthermore, the tube has a rotating clip to keep the wand in place, while the plug has a molded cable clip.

Ease of Use – The 3624 is easy to use. The 6-inch stair tool is has a large width so cleaning will be a breeze. Applying the cleaning solution is also simple enough with a squeeze of the trigger. The brush bristles are tough to agitate dirt, while the suction in front of the cleaning tools will absorb most dirt.

Expand to see more
Product Features

Rating: 5.7 amps
Weight: 13.2 pounds
Power cord: 22' long
Hose: 4' long
2-year warranty

Who is it for?

The Bissell 3624 is best for professionals. It is unwise to invest in a unit that you will use occasionally. However, if you are on the hunt for an upholstery cleaning tool, this is our top recommendation.

It is durable
The included Bissell cleaning fluid is exceptional
The spray comes out under pressure so it can get deep into your carpets
There are complaints of the hose breaking where it connects with the tool
4. Hoover Carpet Cleaner SteamVac with Clean Surge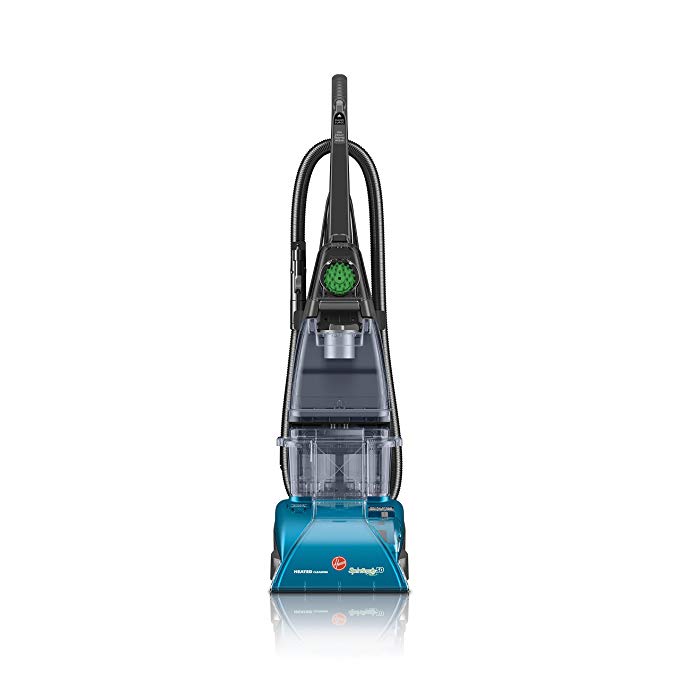 Hoover is one of the leading manufacturers in the carpet cleaner industry, and the F5914900 is evidence of this. This unit is for quick spills and large cleaning jobs (more on this later). The F5914900 has a 20-feet cord and thus maneuverable, and incorporates an 8-foot hose increasing the reach.

Another fascinating feature of this device has to be the 2-tank system. It reduces the possibility of contaminating the clean water, and they are easier to fill and empty. Furthermore, the spinscrub technology gently loosens dirt for cleaning avoiding the likelihood of damaging any heirlooms.

You will also appreciate the heat activated drying that allows your rugs to dry in 2 hours instead of five. Furthermore, the device has a 3-speed brush roll control; off for picking spills, low for gentle cleaning, and high for regular cleaning. However, our best features were the clean surge control, and hand tool.

Clean Surge Control – A high traffic area requires more to clean than regions that are less frequented. Thus the clean surge control allows you to add extra detergent for stains and these highly trafficked areas. It is also easy to control with your finger.

Hand tool – What makes the F5914900 hand tool standout is that it includes the spinscrub technology and thus will clean upholstery with ease.

Expand to see more
Product Features

Power cord: 20' long
Hose: 8' long
Power: 12 amp motor
3-speed brush roll
1-year warranty

Who is it for?

The Hoover F5914900 is for people with large houses and hard to reach areas.

It is easy to assemble
It is reasonably priced
It works like a charm (it is robust)
It is lightweight and easy to maneuver
You have to empty the dirty water a couple of times when cleaning
Some components are low quality, compromising the performance and life of the unit
5. Rug Doctor DeepCleaner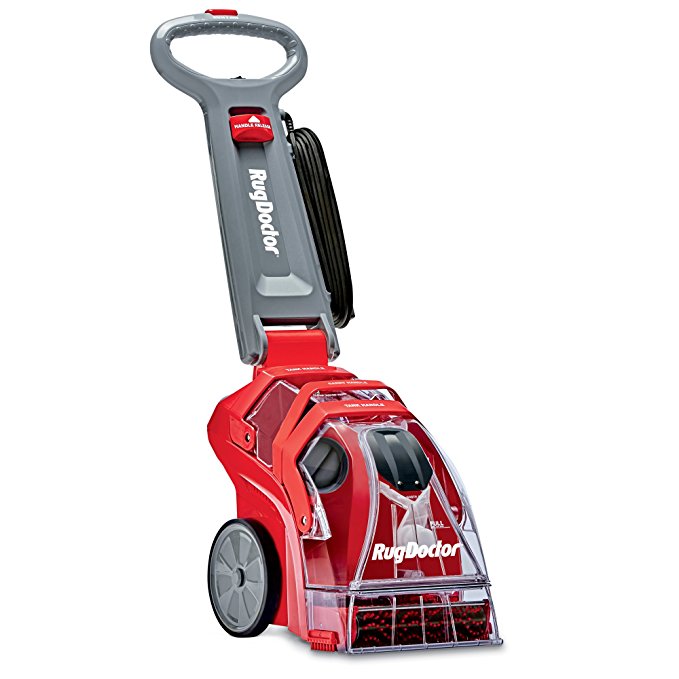 The Rug Doctor is a commercial cleaner packed into an affordable domestic unit. The gadget has been rated gold by the Carpet and Rug Institute which speaks of the quality of the device. First, it incorporates a one pass system so cleaning will be faster. Couple this with the dual cross-section brushes and the entire process will be a walk in the park.

The unit uses two tanks with the clean water tank having a 0.8-gallon capacity. The dirt tank is larger than the fresh water tank, but its full mark is only a third of the appliance. The hose attachment and a large float switch occupy the rest of the space. Furthermore, the tanks are on top of the floor head which cuts the weight in your hands while keeping the vacuum pressed on the floor.

You will also appreciate the large wheels as it will be easier to roll on carpets. However, our best features were the super boost and the brushes.

Super Boost – Not all carpets need the same level of cleaning. Hey, traffic areas need more solution as do stained areas. The super boost allows you to apply the detergent to these areas with relative ease. It is behind the unit, and thus it is easier to aim.

Dual cross-action brushes – The Rug Doctor has two brushes, a brush bar, and an oscillating brush. The oscillating brush is on a floating chassis, so it adjusts depending on the depth of your carpet. The brush bar, on the other hand, moves back and forth agitating the dirt. Finally, there are external brushes for cleaning the edges.

Expand to see more
Product Features

Wattage: 1,300W
Tank capacity: 0.84 gallons
Weight: 37.4 pounds

Who is it for?

The Rug Doctor cleaner is for tough jobs if your home has frequent visitors, this unit is for you.

The handle is large, so it is easy to maneuver
The handle folds down, so it is easy to store
The gadget is easy to carry thanks to the centrally place handle
Includes the Rug Doctor Solution which adds a stain block finish
It is bulky and thus transporting it is difficult
It is a bit pricey
6. Bissell ProHeat 2X Revolution Pet Pro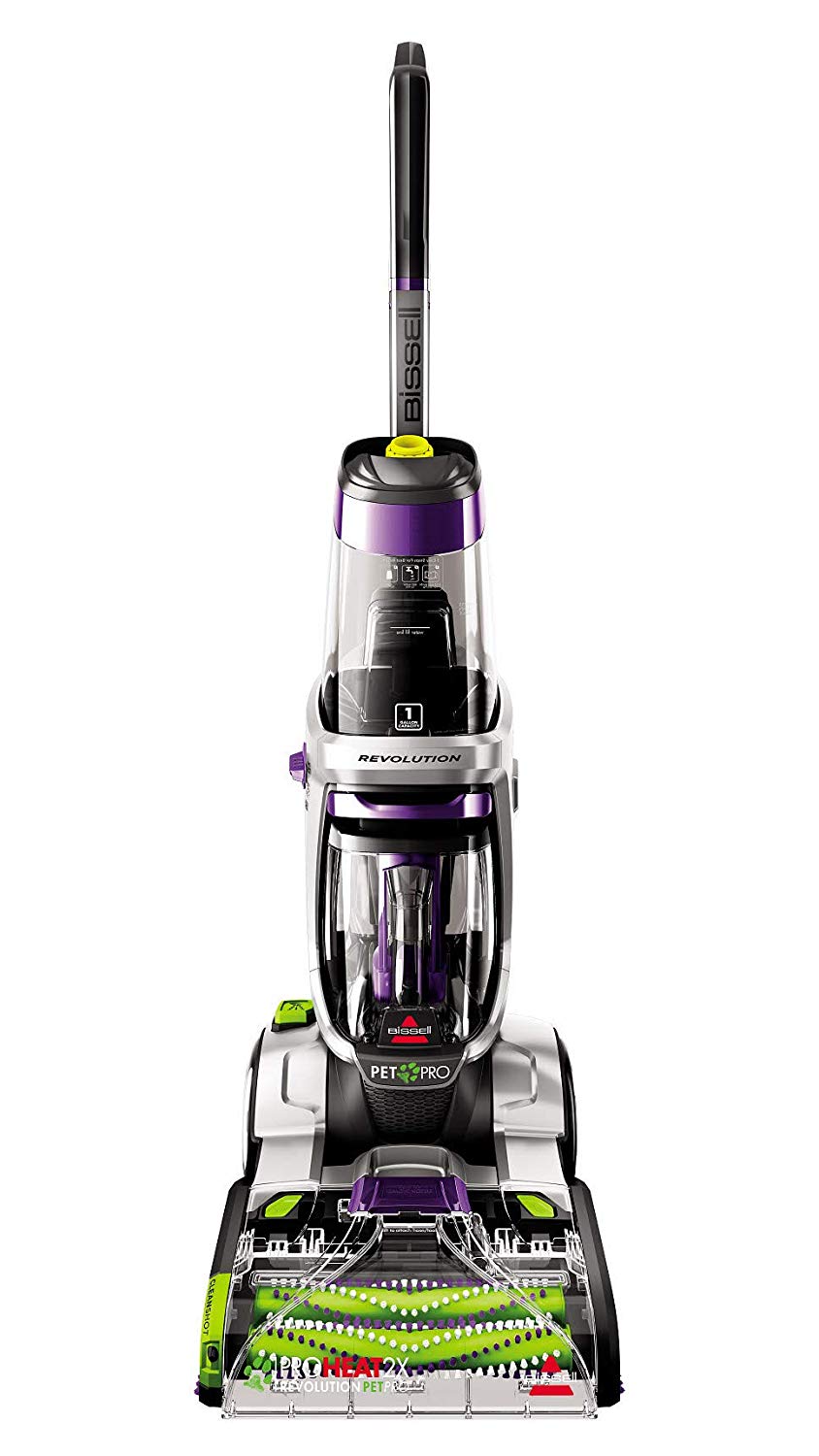 The Pet Pro is the best Bissell unit for cleaning pet messes. Anything from urine stains, to hair, or even dirt and grime they might have dragged into the house. Our best features were the performance, and the 2-in-1 upholstery tool (more on these later).

First, you will appreciate the cleanshot pretreater. This is a foot-activated feature that sprays the solution on stains and spots and penetrating deeper than deep cleaning. The 25-foot power cord gives you enough maneuverability as does the 8-foot hose that allows you to reach hard to get to areas. The unit also happens to be robust at 6.8 amps.

Another remarkable feature is the express mode that cleans the carpet and allows it to dry in about an hour. Finally, the brush cover is easy to remove giving you access to the brushes for cleaning and maintenance.

Performance – With 12 alternating rows of brushes, the Pet Pro 1986 will make quick work of any stain or dirty carpet. Furthermore, it has an 11-inch cleaning path; though this is the standard width of most cleaners, you will appreciate that this unit requires very few passes.

2-in-1 upholstery tool – The upholstery tool will get rid of dirt, pet hair, and stains on furniture and cars. However, you will appreciate the dry mode more as it gets rid of any visible hair and dirt.

Expand to see more
Product Features

Rating: 6.8 amps
Power Cord: 25-feet
8-feet hose
2-in-1 upholstery tool

Who is it for?

The Bissell Pet Pro 1986 is best for people with pets. It is designed to clean pet hair and pet stains.

It is affordable
It is easy to use
It is heavy duty but easy to work with
The name is a bit deceiving; you expect the unit to have an in-built heater seeing as it called proheat
7. Hoover PowerDash Pet Carpet Cleaner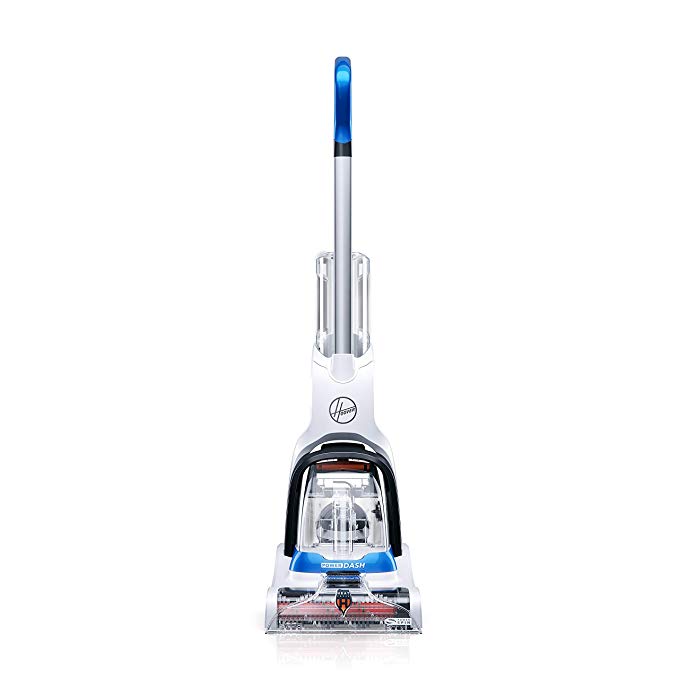 Considering the price of the FH50700, one would be forgiven for expecting it to be a low-quality carpet cleaner.The PowerDash works and works great. The device is designed for convenient grabs and cleaning small areas.

First, the unit has excellent rollers so it will be easier to move on deep pile carpets. Furthermore, it is easy to assemble as all that is needed is to attach the handle. Disassembling is also straightforward although this may take a while.
However, it makes it easy to clean parts that could be clogged such as the brushes.

Another fantastic feature of this unit is the dual tanks. The design reduces the likelihood of contaminating the clean water, and they are simple to fill, empty and clean, thanks to the large openings. However, our best features were that it is compact, and the brush roll.

Compact – Weighing about 13 pounds, and about 43.5 inches tall, the PowerDash FH50700 is a rather compact unit. It is easy to store and carry to any area that needs cleaning. It saves you the hassle of having to deal with a bulky carpet cleaner and saves space.

Brush roll – First the brushes deliver 2X more power than your standard lightweight carpet cleaner. Furthermore, it will clean with anti-microbial protection in the event of pet messes.

Expand to see more
Product Features

Weight: 13 pounds
Length: 43.5-inches
2X more power

Who is it for?

The PoweDash FH50700 is for quick cleanups. It works well as a secondary cleaning unit for the quick spills or small messes as it is easier to carry and stack away. Finally, it is great for apartment dwellers

It is a mighty unit and can clean highly trafficked areas
Has a low profile foot allowing it to reach deep stains
The dual tank system ensures the clean water is never contaminated
Well, it cannot be used for large, cleanups; it can only act as a secondary unit
Louder than most vacuums
8. BISSELL DeepClean Lift-Off Deluxe Upright Pet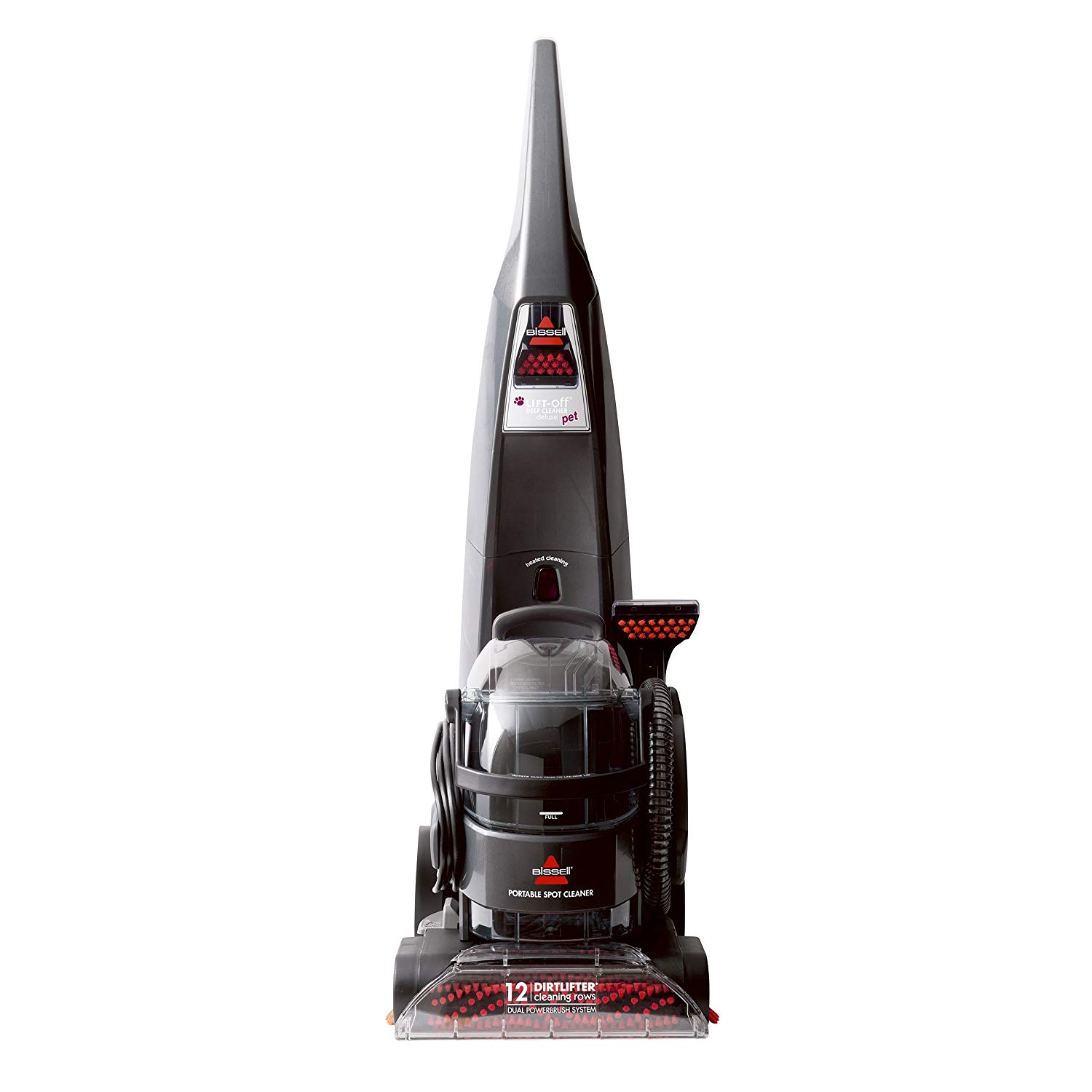 If you are on the hunt for a powerful option, and one that is capable of handling pet stains and hair, we recommend you 24A4. The unit is solidly built and includes a Portable spot cleaner which sets it apart from the rest of the gadgets.

The Spot Cleaner increases the versatility of the unit in that you can use it to clean large areas, but still, use it for the small messes. Also, it has different hose tools including a crevice tool, a 3-inch tool, and a 6-inch tool. The latter isn't different only that there is a difference in the cleaning path, but the former can help when cleaning hard to reach areas.

Another remarkable feature of this unit is the wheels that pass relatively easily over any bumps or thresholds. Thus working with the device will be a breeze as it is easy-rolling.

Powerful – One feature that will pique your interest in this unit will be the power. The Pet 24A4 will make short work of any carpet thanks to the dirt lifter power brushes. These will scrub deep into any carpet and remove all embedded stains. Furthermore, it has a powerful suction, that removes all stains.

Heatwave Technology – Unlike most cleaners on this list that you have to fill with warm water, the 24A4 has heatwave tech that keeps the water hot when cleaning. However, you have to give the unit at least a minute to get going.

Expand to see more
Product Features

Weight: 32-pounds
6.7 amps power rating

Who is it for?

The 24A4 is for people looking for a versatile cleaner. One that is portable, but one that can also handle large tasks. One that cleans tight spaces with as much ease as it cleans open spaces.

Back portion goes far down, and thus you can be able to clean under tables with ease
The heat function ensures the water is ever warm for best results
It is versatile thanks to the detachable spot cleaner
One shortcoming of the 24A4 is that it is bulky affecting its portability
9. Bissell Multi-Purpose Portable Carpet & Upholstery Cleaner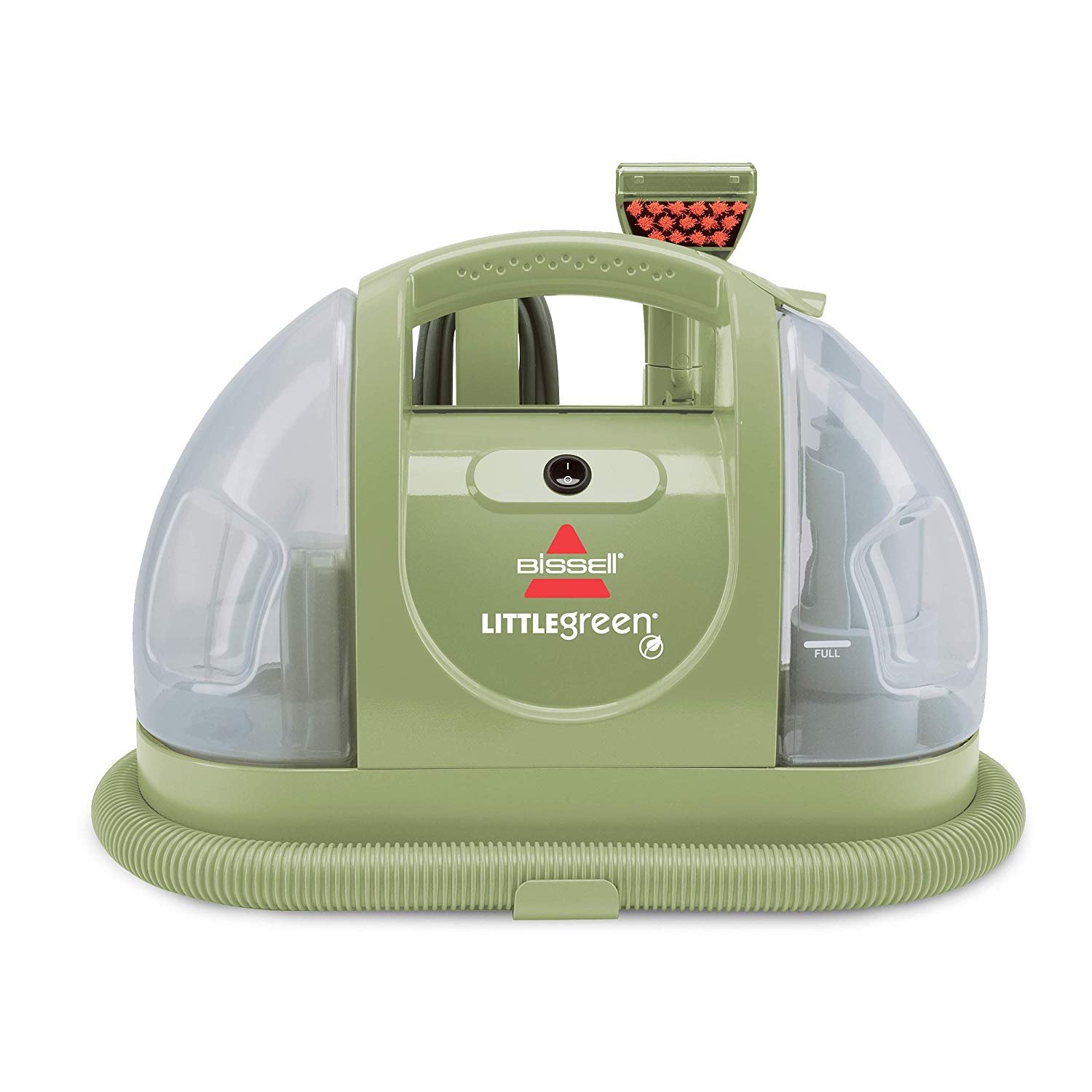 If you are on the hunt for a portable yet capable optionr but one that is affordable, we recommend the Bissell Little Green. The appliance is designed for spot cleaning and is powerful enough to get rid of deeply embedded stains. It is also great for people with pets provided the pets are not notorious for shedding fur.

One fascinating aspect of the Little Green is that it is light. Weighing 9.65 pounds, you can carry it around for quick cleaning tasks. You will also appreciate the tanks as they are easy to fill and empty. Cleaning them also happens to be a breeze. Another remarkable feature is that it sprays the solution and suctions in one step. However, our top features were that it is environmentally friendly and compact.

Compact – If you are on the hunt for a carpet cleaner that is easy to store, carry, and use, get the Bissell Little Green. And just as the name implies, it is a small unit; it can fit inside any closet or cabinet, and it will be easy to take out for quick cleaning. Moreover, it has a 3-inch cleaning head which can get into any tight spots.

Environmentally Friendly – Just as the name suggests, the Little Green is an eco-friendly carpet cleaner. It is made of not less than 50% recyclable plastic, and the tank and hose are PVC free. It also happens to be energy efficient compared to an upright carpet cleaner, and the Bissell detergent it retails with is dye and phosphate-free.

Expand to see more
Product Features

1-year limited warranty
Power rating: 3 Amps
Weight: 9.65 pounds
3-inch nozzle

Who is it for?

The Little Green is for spot cleaning, and we recommend it as a secondary carpet cleaner. It is also ideal for environmentally conscious people.

It is light and thus easily portable
It is powerful and will clean even deeply embedded stains
It includes fill lines
The machine retails fully assembled
It is small and easy to store
There are complaints of the unit leaking from the base plate seams
10. Bissell 47A23


The 47A43 is an upright option and one that will compete with the best only that it has a price advantage. It is a low-cost unit, but there is nothing cheap about this unit. First, you will appreciate the capacity of the tank. At 1.25 gallons, it has the highest volume, and it sits on the base exerting more pressure for better cleaning. Moreover, the containers are well marked especially the dirty water tank, so you know when it is full.
You will also appreciate the dual rotating Bissell brushes with ten rows of bristles as it can get into thick profile carpets. Furthermore, it includes edge brushes to clean baseboards and the tools path. You will also appreciate the 22-foot power cord as it allows mobility, while the 9-foot hose enables you to clean those hard to reach areas. The appliance also happens to have a 12-inch cleaning path, and thus you can clean large areas with few passes. However, our best features were the heatwave tech and the surround suction.
Surround Suction
– This tool will leave your carpet dry thanks to the full-width suction. It is packed with power and reaches all areas. Thus your rugs will dry in fewer hours.
Heatwave technology
– The heatwave tech provides constant heat to maintain water temperature when cleaning. However, you have to fill the tanks with warm/hot water.
Finally, you can also c
lean bare floor
and tile using the bare floor tool.
Expand to see more
Product Features

12-inch cleaning path
1.25 gal tank
Weight: 24 pounds
Power rating: 6 amps

Who is it for?

Given that the Bissell doesn't include necessary tools such as a crevice tool or a pet tool, we reckon it is only for carpet cleaning.

Easy to unpack and assemble
It is powerful and will get rid of most of the dirt
It is convenient to use as it has one tank to carry to the sink, empty and refill
It is a heavy unit and hauling it up or down a flight of stairs will be a challenge; also, it lacks a flow indicator to alert you when the clean water tank is running low
Carpet Cleaners Selection Criteria

Cleaning Performance
Performance of a rug cleaner is one if not the most important feature to consider. You are looking for a unit that can remove all stains, dirt, and soil in one or two passes without smearing residue. Furthermore, you should get a piece of equipment with strong suction to get rid of the excess moisture allowing the carpet to dry in record time and without soap residue.
Maneuverability
When investing in a cleaner, ensure that it is easy to control and move around. Ideally, you should get a unit that you can haul up the stairs only holding the handle. Nonetheless, this will be difficult to find, especially with a full tank. Nevertheless, do get a carpet cleaner that is easy to push over bumps and any threshold.
Ease of Use
Operating one should be a walk in the park. First, the tanks should be easy to fill and clean out. Moreover, it should support a quick clean, and full clean and thus it should have at least two fill lines: one for a full detergent, and the other for a tiny amount.
Moreover, the dirt tank should include a removable lid and have a wide opening that you can fit your hand and clean. Finally, the containers should be flat-bottomed, so you can place them on any flat surface (floor or counter) when filling them.
Cord Length
Most of the cleaners included below have a cord-length above 20-feet, which is enough for most cleaning tasks.
Solution Tank Capacity
You should also mull over the size of the solution tank as it might affect your performance. Most tanks are between ¾ and 1.25 gallons. A smaller tank runs out of solution rather fast, and you have to refill constantly, while the larger ones are challenging to haul especially up or down a flight of stairs. We recommend you get one machine with a one-gallon.
Heated Drying
As far as we know, this is a feature that is only available on Hoover carpet cleaners, but it goes a long way in ensuring you can walk on your carpet in one or two hours, The technology blows hot air on your carpets, eliminating most of the moisture, and thus it dries quicker.
Children and Pets
Pets are bound to leave stains and hair on your rugs, and thus you should invest in a unit that can effectively get rid of both. As for kids, accidents are bound to happen and you should have a portable unit. You can easily take it out and clean up the mess before it can stain the rugs.
Other Features
Get a device that includes a clip-on handle as it will save you the energy of having to hold the power cord, so you don't run over it. Furthermore, get a unit with a power button on the handle, so it is easy to turn on and off. Finally, the hose tool should attach easily and quickly.
FAQs
How do I maintain my carpet cleaner?
First, familiarize yourself with the maintenance section of the tools manual. All carpet cleaners differ, and thus you should be able to take apart and put your unit back together with ease. Also, ensure you vacuum your carpets and rugs and clean your upholstery at least once a week. Dirt accumulates quickly, and it might strain your carpet cleaner.
Furthermore, you should empty the tanks after every use. This might sound like an inconvenience, and you might end up wasting solution, but it is ideal to avoid mineral buildup and leakages. Finally, clean the accessories, the main water tank, the suction gate, and the dust trap. Finally, ensure you comb the brushes after every cleaning task.
Are carpet cleaner detergents safe?

Most carpet cleaners retail with the manufacturers detergent. However, seeing as these are under fragranced products manufacturers do not have to disclose the ingredients. Thus we recommend you take their advertising with a pinch of salt. First, ensure your house is well-ventilated whenever you are cleaning, and that you pour the solution down the toilet or a sewer connected drain.
Why do brown spots appear after my carpet cleaning?
If brown spots that weren't there appear after cleaning your carpets, it could be due to wicking or browning. Wicking is where spills that have been lying dormant underneath the carpet are pulled back up on the surface. Browning is a result of high alkalinity in the rug, and can only be resolved by lowering the alkalinity.
Wrapping Up
If you are looking for a great machine, we recommend you invest in the Hoover FH50150. The tool has stood the test of time, and the 11,000+ reviews speak of the quality. However, you should also consider why you are investing in a carpet cleaner and the size of your house. A spot cleaning machine is different from one that is for large areas, and you need a smaller device if you live in an apartment. You should also consider whether you need versatility, i.e., a carpet cleaner that can clean other areas such as the Bissell 47A23.
Finally, if there is something we missed, please let us know in the comments below.
Subscribe to our newsletter