Best Magnetic Sweepers Reviewed & Tested
last updated:
Oct 04, 2021
Our Top 3 Picks
[srpshortcode id="21592″][/srpshortcode][srpshortcode id="21593″][/srpshortcode][srpshortcode id="21594″][/srpshortcode]
A magnetic cleaner can also reclaim reusable materials. Nails, screws, and clips are easily recycled and stored separately from other debris, lowering the cost of future projects. Moreover, this device makes the job of cleaning much more productive and less time-consuming while preventing property damage and reducing the risk of injury.
5 Best Magnetic Sweepers
1. Neiko 53418A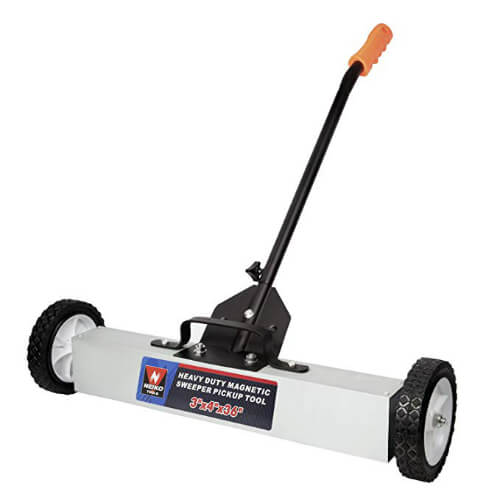 The Neiko 53418A is a 36" magnetic cleaner designed to pick up ferrous material from various surfaces such as grass, concrete, and asphalt. Its large cleaning path saves on cleaning time, but if you are in the market for a more compact unit, we recommend you check out the 24-inch 53416A. The Neiko's magnet is also noteworthy as it is strong and can hold up to 30-pounds of weight. It also includes a quick-release but more on that later.

Another fabulous feature is the telescoping handle. The 53418A handle is spring-loaded and can extend from 29-inches to 42-inches. The extendable handle allows people of different heights to use the tool. A tall individual can use it as comfortably as a person of shorter stature. The handle has an ergonomic rubber grip for comfort and stability. Nevertheless, our top features were the tires and the quick-release system.

The Quick-release System is designed to make the work of removing the pieces a breeze. The quick-release system includes a handle on the base that one pulls, and the 53418A lets go of the debris.

The sweeper has a 7-inch wheel with a rubberized grip so the unit can work on any surface provided it is flat. Moreover, the rubberized grip allows you to work on wet grass with ease. Finally, the wheels can be varied with a lock nut for any terrain.

Expand to see more
Product Features
Load Capacity: 30 pounds


Handle: Extends from 29 to 42 inches


7-inch wheels


Weight: 20.8 pounds
Who is it for?
We recommend the Neiko 53418A for people with flat surfaces. Though the height is adjustable, it is still a low profile magnetic sweeper.
It is adjustable allowing you to work on various surfaces including grass
It is comfortable to use
It is reasonably priced
Quick-release handle
It is large and thus difficult to store
No instructions, and thus people don't realize you can adjust the tires for better results on grass
Handle adjusting knob could be better
Plastic wheels
2. Husky 18 in. Magnetic Pickup Tool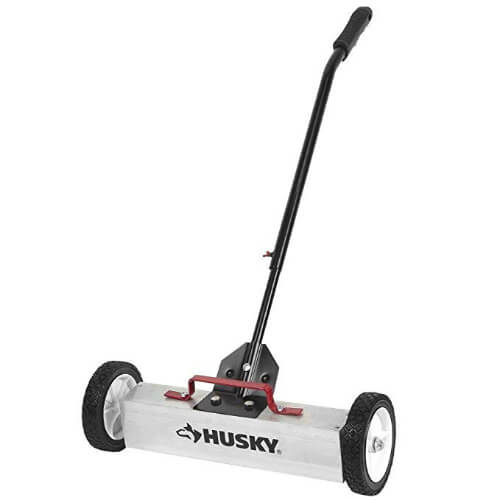 Compared to our top pick, the Neiko 53418A, the Husky 18 is a friendlier unit with an 18-inch cleaning path that fits anywhere. Yes, this means cleanup will be more time-consuming, but it has an upside in that it is easy to store, can get into tight spaces, and is more maneuverable. Furthermore, you will appreciate the quick-release. To save you from the work and the risk of having to remove the pieces by hand, the 18 includes a lever on the base that one pulls on to dump the waste. Also, this is where one appreciates that the magnet is not so strong it will hold on to the waste.

The handle, which is equipped with rubber grips for secure holds, extends from 30" to 40" to accommodate people of all statures. The top features were the lightweight build and the wheels., which are made of soft rubber and thus can be used inside without damaging the floors or outdoors on concrete and asphalt. The unit is easy to push, even over a large area for a long time.

The lightweight design allows one to clean large areas and for longer periods without fatigue.

Expand to see more
Product Features
Weight: 8 pounds


Handle extends from 30 to 40-inches


Rubber wheels


Quick-release handle
Who is it for?
The Husky 18 is for people who want to clear debris indoors thanks to the soft rubber wheels. Also, it is for flat and soft surfaces.
It is light, and thus you can use it for lengthier period
It is durable, and you can expect it to last for long
It is maneuverable and can get into most tight spots
The small cleaning path makes clean-up more time-consuming
The low magnetic power means you have to make 2 or several passes for the best results
3. go2buy Heavy Duty Magnetic Sweeper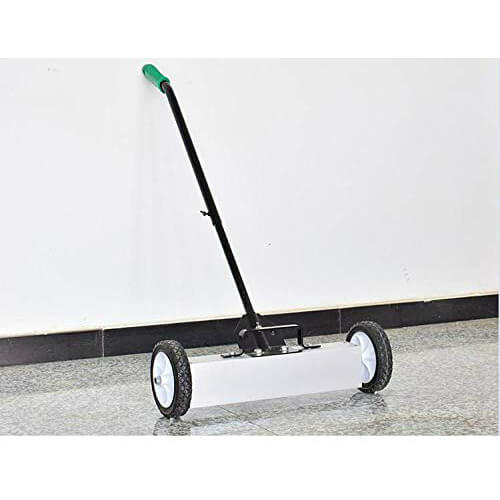 The device is made for workshops, contractors, and large offices and can handle these heavy duty jobs. Also, it is well built, and you can be sure that it will be around for quite a while.

The piece of equipment is made of durable plastic, aluminum, iron, and a magnet. The design allows it to be robust and lightweight. The go2buy Heavy Duty Magnetic Sweeper is 36" wide and made to handle serious cleanups in metallurgy shops, workshops, construction sites, large offices, and more. Its 7" rubber wheels allow it to roll smoothly on carpet, grass, concrete, floors, driveways, earth, and gravel to pick up debris. Even on rough terrain, the wheels have plenty of clearance.

The piece of equipment is made of durable plastic, aluminum, rubber, iron, and magnet. The design is both robust and lightweight. Moreover, it is coated with a silver powder to protect it from rust and corrosion while giving it a classy look. Only 17.9 pounds, it does heavyweight work, so you can still use it for long hours without fatigue, and it is so well-built, it will be around for quite a while.

Made to be comfortable for people of different heights, the telescopic handle extends from 29 to 40" and includes a rubber grip to make it comfortable to hold. There is also a quick-release system that is handy when dumping up 40pounds of debris. The 36" width is great for large areas but may be hard to maneuver in small areas.


Expand to see more
Key Features
Capacity: 40 pounds


Handle 29" and extends to 40"


Quick-release handle


Weight: 17.9 pounds


Cleaning path/size – 36-inches


6.9" rubber wheels


Rolls smoothly on carpet, grass, concrete, floor, driveways, earth, and gravel
Who is it for?
The $130 go2buywill easily manage cleanup for professionals and people with large workshops and garages. Picking up metal debris can save tires and allow the reuse of many recaptured parts.
The unit is fairly priced given the quality
The magnet is strong meaning you need few passes to collect all the debris
Has a broad cleaning path and thus saves time
Challenging to store given the size
Quick-release can be hard to activate
4. Master Magnetic Heavy Duty Push-Type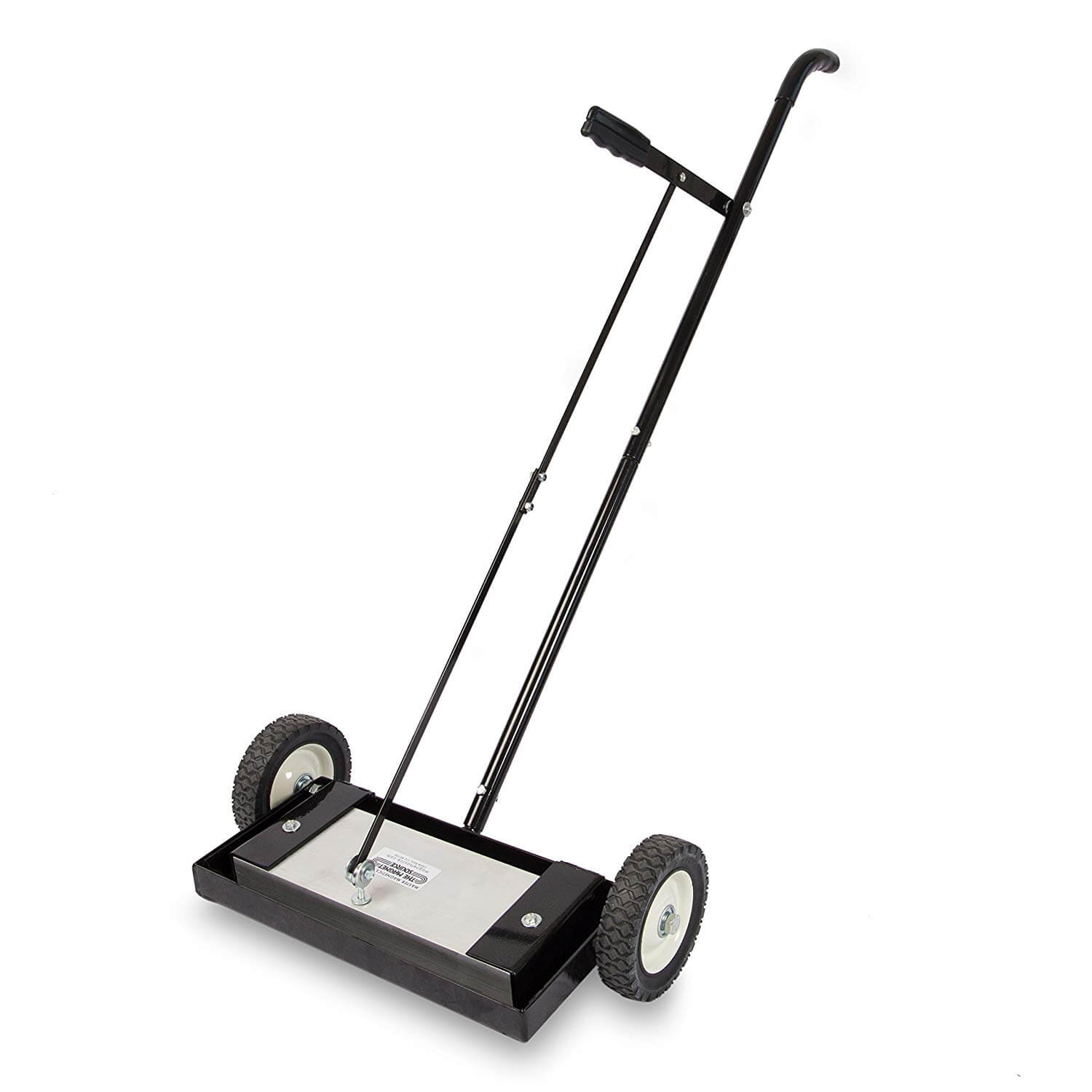 Selected as an Amazon's Choice product, the 14" Master Magnetic heavy-duty sweeper is ideal for maneuvering small spaces as well as large ones. It has a 48" long padded handle that is easy to push without hunching over.

Very few push-type magnetic brooms can match the ability of this Master Magnetic unit. With a 233-pounds pull, you can clear large spaces without ever needing to empty the bin. This capacity makes up for the smaller width as you can collect three pounds of debris in one run and then dump it in your recycling bin with its load-release handle.

The unit weighs 40.8 pounds and has 6" wheels with rubber tread and steel rims. It can easily sweep around and under furniture and machinery or navigate uneven terrain and pick up metal debris with its strong magnet.

Expand to see more
Product Features
6" rubber wheels


Weight: 40.8 pounds


48" handle


Capacity: 3 pounds


233 pounds ofpull


Sweeping path: 14"


Quick-release handle
Who is it for?
This $100 professional tool is a must for contractors who need to clean up work sites. It is also great for anyone on the hunt for a sweeper that works in
compact spaces
. T
It is robust and durable
It has a high carrying capacity
The quick release is rather easy to use despite the strong magnet
5. XtremepowerUS 24''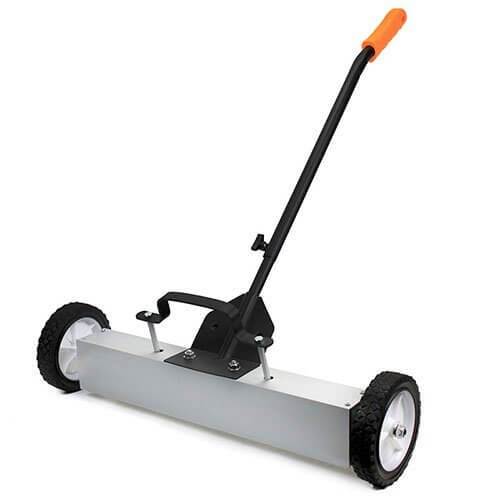 The Xtremepower device is a heavy-duty multiple-use sweeper for retrieving nails, screws, and all ferrous metal objects up to 30-pounds to keep your tires and foot traffic safe from sharp metals. Its 4.7-star rating is a testimony to the overall customer satisfaction with this unit.

At 24", it is designed to clear spaces faster with a large cleaning path, but it can also get into small areas with ease. The magnetic sweeper has a 30-pound capacity, so you can clean large areas without having to remove the debris. It has a telescoping handle that goes from 31" to 45" to accommodate users of any height. It is padded to absorb any vibrations and provide a comfortable, secure grip while working. At 17 pounds, it is easy to push and rolls easily so that you can work for long hours without fatigue.

When the job is done, the Xtremepowe expels the debris it has picked up with a pull of quick-release handle. It is easy to store and transport.

Finally, this broom will be gentle on any delicate surface but still suffice for more demanding areas such as grass. Our top features though were the handle and quick release system.

Expand to see more
Product Features
Multiple Use Sweeper - Retrieve nails, screws and all ferrous metals objects up to 30-pounds, and keep your tires and foot traffic safe from sharp metals


Easy Pull Lever t0quickly releases the swept objects with a simple pull of the release lever


Telescoping handle allows users to adjust the height of the handle


Finger grooved handle for a comfortable grip while reducing any hand fatigue


Durable wheels to easily maneuver over multiple surfaces


Product Type: Magnetic Sweeper


Capacity: 30 Pounds


Wheel Diameter: 7"


Quick Release Handle
Who is it for?
The $60 Xtremepower US 24-inch is designed to work on various surfaces, including concrete, carpet, and grass. For best results, ensure the areas are flat, the carpet is low profile, and that the grass is short.
It works on soft surfaces with ease
It is easy rolling and thus pleasing to use
It is easy to store
It makes short work of picking any debris
It is not ideal for use on long grass, and uneven surfaces
A bit pricey
Best Magnetic Sweepers Selection Criteria

Type
There are four types of magnetic brooms: hand-held, push, forklift, and trailer sweepers. The essential characteristics are the same, only that the application is different.
Hand-held – This magnetic broom is ideal for small spaces. It is a giant magnet in a steel case with a handle for carrying over ferromagnetic materials.
Push magnetic sweepers – These are the most common, as they allow you to cover large areas with minimum effort. Also, they don't require a massive investment like the forklift and the trailer pull.
Forklift broom – This unit has some attachments to work with the forklift's fork tines. The forklift sweeper is best for large cleanups.
Trailer pull sweeper – The trailer broom has a pair of wheels and a coupling head so that it can be towed.
Width
Select the width/size that fits you well. For extensive cleanups, we suggest you get a piece of equipment with a large cleaning path as it makes work more comfortable and less time-consuming. However, you have to contend with the fact that the unit will be heavier and pricier.
Additionally, if you are working in tight spots, invest in a device that can get into such spaces and maneuver appropriately. That means a magnetic sweeper with a small cleaning path. Nonetheless, the size of the appliance doesn't influence the pickup strength.
Pickup Power
Not every job or cleanup needs a sweeper with the most power. A stronger, longer magnetic broom may do a better job but is less portable and less capable of getting around equipment, into corners, or near walls. Using hand-held and push magnetic sweepers might be challenging but your best option, so it is important to shop for the best balance between application-specific features and power.
Terrain
When purchasing a magnetic sweeper, consider the ground you will be working on. The surface greatly determines the manger-power needed, and you should get a terrain-specific magnet for the best results.
All-terrain – An all-terrain magnetic broom is for both flat and rough surfaces. However, they can be specifically designed to work on certain surfaces such as rocky surfaces and grass. They include great features such as the wrap-around to prevent debris from falling. When collecting ferromagnetic materials from the lawn, they are repeatedly pushed back by grass and weeds in what is otherwise known as wipe-off. The debris falls behind the unit after it has been forced out of the magnetic field. The wrap-around keeps the waste in place.
Flat terrain – This unit is for asphalt or concrete surfaces. They have application specific features such as a stronger frame but are not ideal for working in jagged areas
FAQS
1. How fast can I work with a magnetic sweeper?
How fast you can make passes and still pick up ferrous material depends on several things. First, you have to consider the items you are lifting. Pins will be easier to pick than lugs and nails, and thus you can travel faster.
Moreover, heavy debris means you have to remove the waste often, and therefore your speed will be affected. You also have to consider how low the magnet is set as the difference influences the strength. Lower set magnets are more effective, and thus you can work faster and still pick up waste.
Finally, you have to consider the strength of the magnet as a robust unit allows you to work faster while still picking up debris.
2. Why won't my sweeper work on certain surfaces?
Buying a sweeper that is right for your terrain will ensure that materials are properly collected,. However, steel surfaces are magnetic, and if the floor is steel, the magnetic floor and sweeper create a closed magnetic circuit, and any ferrous material is attracted to the closest magnet, which may be the floor.
3. What can I do to ensure my magnet stays charged?
Magnets don't lose their power that easily, but they still need care. First, if you have a ceramic magnet, ensure they are not subjected to high temperatures as they lose their strength at temperatures above 450-degrees Celsius. Store in a cool area as they lose their power at 0.2% per degree above room temperature.
4. How do you clean a magnetic sweeper?
The simplest way to clean a magnetic sweeper is to simply wipe or "drag" the accumulated metal to the end with a towel, gloved hand, or shop rag for easy removal of the waste material Some sweepers are available with a load release that will allow the gathered material to be cleared from the magnet without coming in contact with it. This option might increase the price a bit but might be worth it for small ferrous metal pieces, shavings, and nails.
5. How do I maintain my sweeper?
First, do not expose it to temperatures above 450-degrees Celsius as the magnets lose their strength above this temperature. Also, they degrade by about 0.2% per degree above room temperature and thus should be stored in cold areas.
You should also ensure that the cleaning area is clean and always clean the magnetic poles with a flat oilstone. You should also consider regrinding the magnet if there are large nicks. Finally, check the housing and repair any damaged components.
Conclusion
Magnetic sweepers are available in various designs, and seeing as there are several manufacturers in the market, finding the right one might be a challenge. Armed with the knowledge of whether you need a light one or a heavy one, our buying guide can direct you to the best magnetic sweepers.
Subscribe to our newsletter