10 Best Handheld Vacuums Reviewed & Rated
last updated:
Dec 10, 2018
Handheld vacuums are the more compact cousins of cordless vacuums and are more versatile for jobs where bigger devices will be limited as they can't reach into these tight spots. They are especially useful when cleaning the interior of a car, or areas that aren't the floor such as curtains and countertops, or areas on the floor where a stick vacuum or bigger vacuums cannot get to such as edges.
Our Top 3 Picks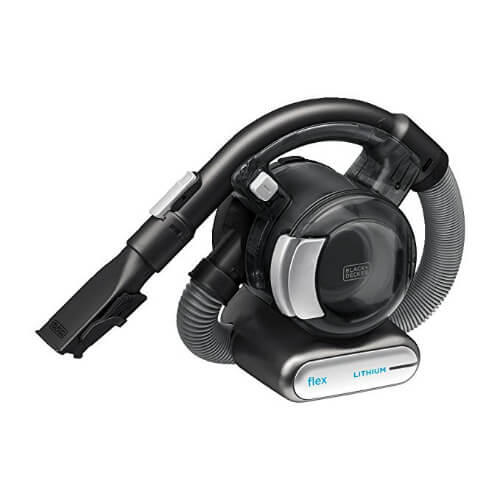 Black&Decker

Our rating
Versatile
Price:

See Here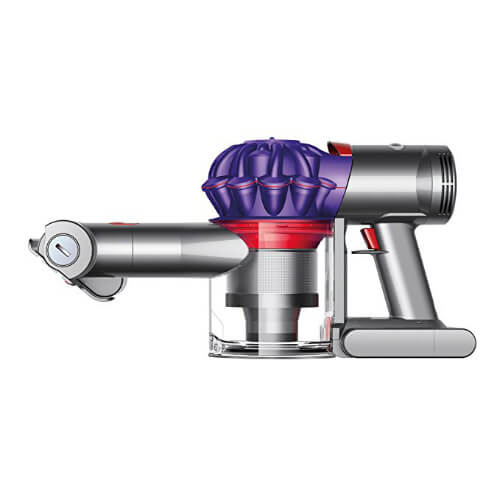 Dyson

Our rating
Powerfull
Price:

See Here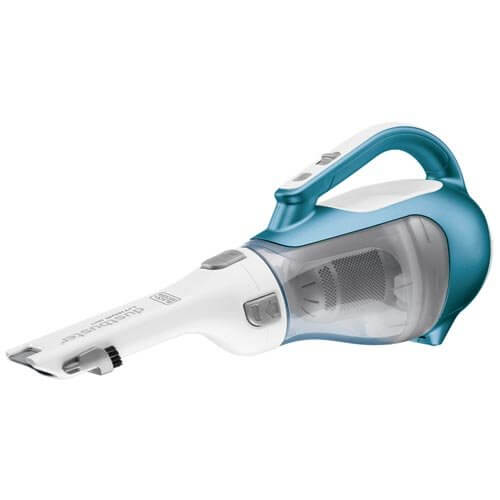 Black&Decker

Our rating
Durable
Price:

See Here


Another reason you should get a handheld vacuum is that they are quite convenient. First, they can sit on a shelf owing to their compact size and thus best for cleaning up small messes. Also, seeing as most are battery powered, they are perfect for a quick cleanup. Matter of fact you will pick up dirt with a handheld vacuum at the same time it would have taken you to dig out your main unit, and unwrap the cord. Finally, you don't have to worry about a power source.
Moreover, most stick vacuums pull double-duty as handheld vacuums, and it should be something to consider before making a purchase. But how do you warrant that you are purchasing a top-quality product given the many designs in the market? Well, we have included our top recommendations for you to consider.
10 Best Handheld Vacuums
1. BLACK+DECKER BDH2020FL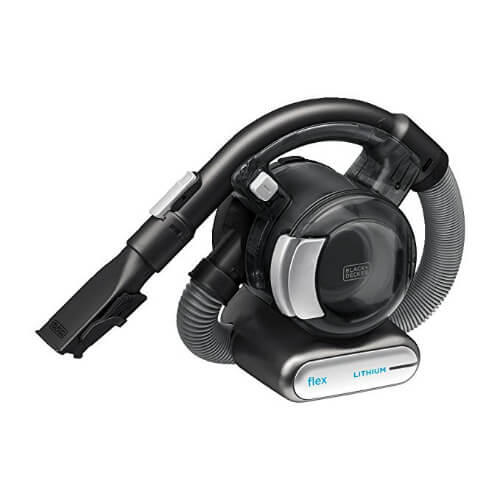 The Black & Decker BDH2020FL looks less like a handheld option, and more like a small canister with a hose. This happens to be its major selling point as it increases the versatility. The apparatus has a 4-foot hose and clip-on attachments but more on that later. The hose allows you to reach awkward spots and high places that you couldn't get to with a standard vacuum. Moreover, you can get to these spots at awkward angles resulting in a better cleaning experience.

The BDH20202FL uses a lithium-ion battery, and you can expect a 16-minute no fade runtime. This is enough to clean a car with some few minutes to spare, or a three-row van. Moreover, it only takes 4 hours to charge. You will also appreciate the suction power of this unit. At 21 air watts, the BDH2020FL can handle most debris from pet hair to more massive debris. As for the dust canister, it is pretty easy to empty and clean. The filter to is reusable and a breeze to clean. But seeing as it is paper, it is best to shake or knock off the debris.

Comfort – What we loved most with the BDH2020Fl was how comfortable the unit is. Seeing as it is designed for two-handed operation, one on the hose and the other on the main body, it is comfortable when working for more than a few minutes. Moreover, you can use it with one hand provided you have a place to set the main body.

Accessories – The BDH2020FL has clip-on accessories, and thus you don't have to worry about losing them. First, there is a combo with bristles that grabs clingy particles, and there is the crevice tool that can get into tight spots. The crevice tool also happens to be a bit stronger as it focuses on the Max Flex vacuums' airflow. You also get a pet hair brush that is better at picking up the corral fuzz.

Expand to see more
Product Features

Battery: 20v lithium-ion battery
Charger: charging base
4 hour charging time
16-minute runtime
Dirt capacity: 17 ounces
Weight (shipping): 6.9 pounds

Who is it for?

This gadget would be great for people with back issues, or individuals looking for a light unit that can get into the tight spots.

It is lightweight and easy to carry around
Quite versatile owing to the attachments
2 year limited warranty
The BDH2020FL Has a powerful suction at 24 air watt
A major flaw is that this unit is quite pricey
It has a small dirt capacity and hair or other statically charged dirt sticks on the inside of the canister
2. Dyson V7 Car+Boat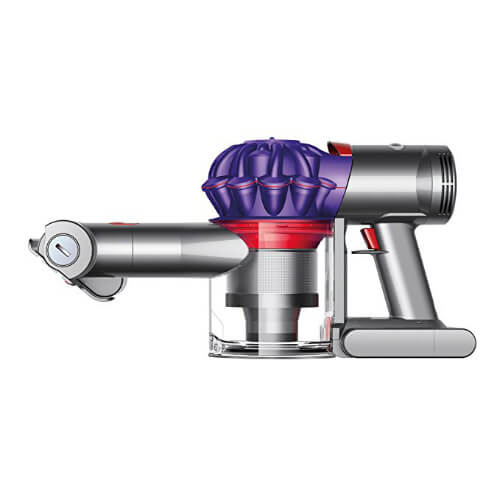 If you are willing to pay the higher price for the all-powerful Dyson V7 Car + Boat vacuum, you will appreciate the strength of the unit and the speed with which it cleans up. The apparatus has a 30-minute runtime which is longer than other gadgets. This extra time is quite useful especially when cleaning large vehicles or boats.

The Dyson has two cleaning setting; the powerful suction setting which delivers 26 air watts and the max mode which can get up to 100 air watts. You will also appreciate the dirt canister on the Dyson V7 as it is easier to empty. One-click and the debris flies out. It is especially great for allergic people who should come into contact with allergens. The unit happens to be louder at 84 decibels, but that is to be expected with the Dyson V7 digital motor. Our best features though were the trigger and accessories.

Trigger – You have to hold down the trigger of the Dyson V7 when using the vacuum. The result is that you save power that you can use for other tasks. You don't waste charge during those few minutes between completing work and turning the device off.

Accessories – We haven't met a task that the Dyson V7 couldn't handle. First, there is the quick release extension hose that gives you a longer reach. The mini soft dusting brush is also handy as it lifts dust from any surface while the crevice tool performs exceptionally on the edges and narrow gaps. Another fascinating feature is the car charger as it allows you to recharge the battery should the need arise. The mini motorized tool agitates dirt with the 3290 bristles while the dirt brush dislodges dirt.

Expand to see more
Product Features

Suction power: 26 air watts
Weight: 3.77 pounds
Battery life: 30 minutes
2-year warranty

Who is it for?

If the price isn't that much of a concern, get the Dyson V7 Car+Boat, as it is the most robust handheld unit.

Powerful, portable, and great for crevices
Has a low 3,5 hour charge time
It is light at 3.77 pounds
Quite pricey, and louder than the standard option
3. BLACK+DECKER CHV1410L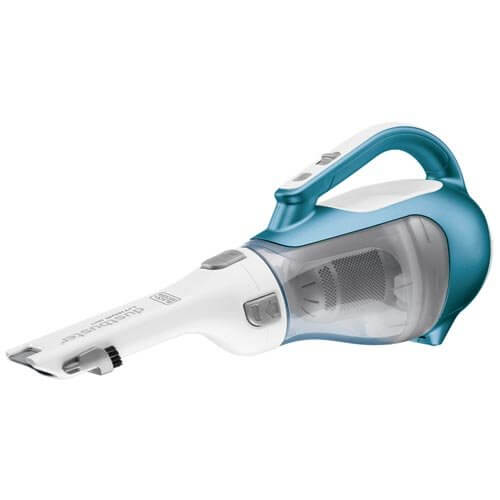 Black & Decker has made it their mission to manufacture some of the best handheld vacuums in the industry. The Dustbuster range of vacuums, which has been in production for the past 20 years happens to be the most successful, but the CH1410L vacuum stands head and shoulders above all other units.

First, it is a lightweight unit and is highly portable. It also packs quite a punch with a 23 air watt suction which is 3AW lower than the pricey Dyson V7 Car + Boat. Couple that power with the wide mouth design and the appliance can pick up most debris including large dirt. However, don't expect it to pick ground-in dirt as lacks the accessories to agitate dirt.

You will also appreciate the brush tool, especially when picking pet hair, and the slide-out crevice tool that enables you to reach tight spots. You have to completely pull out the crevice tool for it to lock into place. The translucent dirt container is another reason you should get this. It is easy to empty and clean and so is the filter. However, our top features were the battery and cyclonic action tech.

Cyclonic action tech - Thanks to this piece of tech, the CHV1410L maintain a constant suction as the dirt and debris spins away from the filter.

Battery – Unlike previous units, the CHV1410L uses a Lithium-Ion battery, with longer run time between 15 and 30 minutes. Also, the battery can hold power for 18 months (according to Black& Decker), with no memory loss. The unit also uses up to 50% less energy which can lower your utility bills.

Expand to see more
Product Features

Voltage: 16V
Cordless
Air Watts: 16AW
Runtime: 15 – 30 minutes
Dirt capacity: 0.6 liters
Weight: 3.8 pounds

Who is it for?

The CHV1410L is the best choice for most homes. It is an affordable top-quality unit.

Has a long nozzle with a crevice tool and thus it is easier to get into tight spots
It's versatile and easy to clean
The CHV1410L is quite powerful and has a long runtime
The bright blue LED is a nuisance; flashes when charging, and stays on when working
4. Bissell Pet Hair Eraser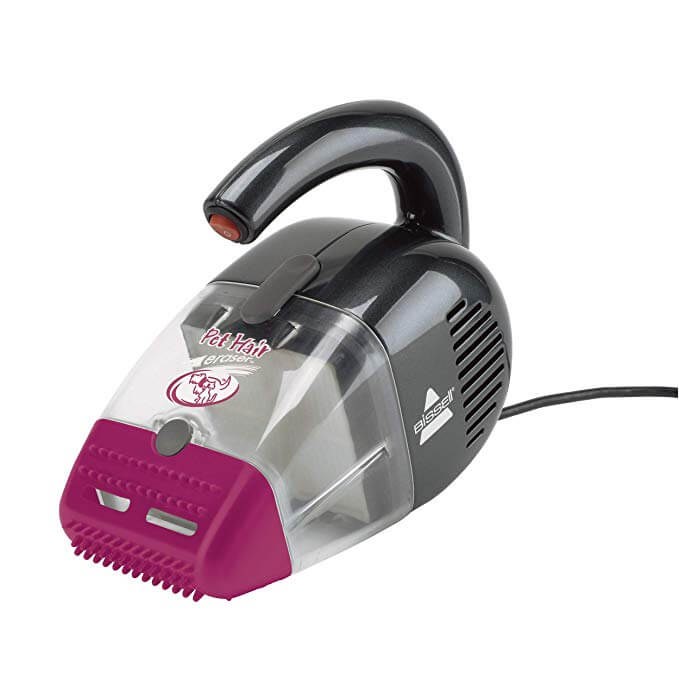 Pets, especially dogs and cats are adorable, but they leave a trail of fur around the house especially on upholstery which can be difficult to clean. The Bissell 33A1 is for such tasks and the performance on pet hair is stellar (more on this later).
The Bissell Pet Hair Eraser is a corded unit with a 16-foot cord. For a handheld device, the length is generous unless you are working on a long flight of stair. It also reduces the weight and the cost of the unit. You will also appreciate the 0.78-liter dirt capacity as it is larger than most other devices on this list. Moreover, the dirt canister is easy to empty and clean.
Another fascinating feature is the cyclonic action that spins dirt away from the filter so that the suction isn't affected. The power of the unit is also a key reason you should purchase the unit as it can lift 16 ounces using the flat nozzle. For the accessories, they are quite limited as you only get the hard nozzle and the flexible rubber nozzle.
Flexible rubber nozzle
– Cleaning pet hair off the
upholstery
, i.e., sofas and chairs, and from the stairs is tasking. Most vacuums cannot adjust to the curves of the furniture and thus aren't useful. However, the rubber nozzle on the 33A1 adjusts to the various curves increasing the effectiveness.
HEPA filtration
– The air passes through a fine mesh that traps allergens and other harmful particles. Best for use in a house with allergic persons.
Expand to see more
Product Features

16-foot cord
1-year warranty
4 amp motor
0.78-liter dirt capacity

Who is it for?

The Bissell 33A1 is best for pet owners.

It is lightweight at 5 pounds
Quite affordable
Has an ergonomic handle
Has strong suction
The side vents are erroneously placed as they blow dirt away making cleaning a daunting task
5. Eureka 71C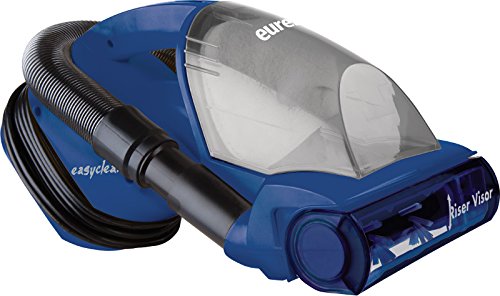 If you are looking for a vacuum that is perfect for pet hairs, but one that is also great when working on carpets and other flat surfaces, we recommend you get the Eureka Easy Clean. First, this is a corded unit, and thus you have a continuous flow of power. The power cord is 20ft which should be enough for any surface. Moreover, the unit features an ergonomic design that increases comfort when working with the unit.

Another fascinating feature of the Eureka Easy Clean was the 18" hose. It enables you to get into tight spots and can stretch up to 3 times its length. Couple this with the crevice tool and you have a very resourceful handheld vacuum.

The Easy Clean has a dual motor for efficiency. One engine will drive the rotating brush while the other is for suction. It is also quite powerful at 5.5 amp. It is great for fine and medium-sized dirt thanks to the wide mouth design which enables it to pick larger sized debris. The maneuverability is unsurpassed and thus great for cars and upholstery.

However, our best features were the usability and the riser visor.

Usability – The Easy Clean is a pleasure to use as it only has one button to toggle between on for hardwoods, off, on for carpet, and dust release cup.

Riser Visor – Cleaning back seats and stairs is often a challenge to upright vacuums and even handheld appliances. The Riser Visor helps with this as it pivots allowing to clean both vertical and horizontal surfaces.

Finally, there is the HEPA filter that will trap any particulate dirt and the 81db noise level which though high is acceptable for the quality.
Expand to see more
Product Features

20-foot power cord
18" hose
Strong 5.5 amp motor
Weight: 4.6 pounds

Who is it for?

The Eureka Easy clean is great for people with a heavy shedding dog or any furry friend.
It is lightweight and maneuverable
Great for cleaning upholstery and other vertical surfaces
It is averagely priced
It is a bit messy to clean up and struggles on contoured surfaces
6. Dyson V6 Trigger - Cordless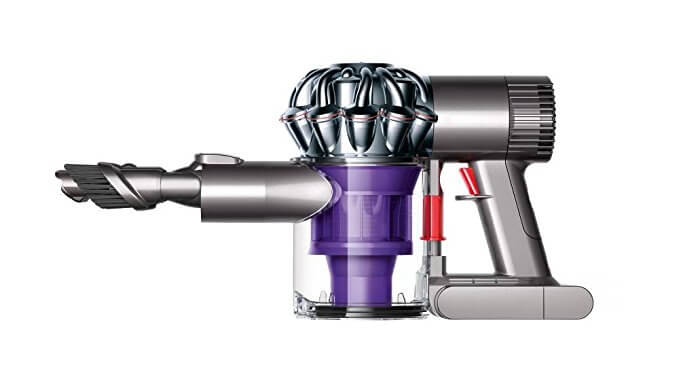 If you cost isn't your top concern, we recommend you get the Dyson V6. It is three times as powerful as the closest competitor and has the best performance. First, it is a cordless unit and thus quite maneuverable. The appliance has a 20-minute runtime on the standard setting but a 6-minute runtime on max mode. Moreover, it takes 3.5-hours to charge which is notably lower than other gadgets.
Another fascinating feature is that it only weighs 3.4 pounds and thus best when moving around the house. It also has a fantastic appeal as it is the only V6 model with the gunmetal and a royal purple finish. The Dyson V6 has an 8.5-inch crevice tool that allows you to get into tight spots and a combination toolkit. It is also appropriately weighted as most of the mass is in the middle increasing stability. Finally, there is the Dyson Bin that is a breeze to empty. With just a push of a button, the bottom of opens up and emptied.
Performance
– The V6 trigger is exceptional. It can pick up most dirt on a surface with one pass. Of cereal, sugar, kitty litter, and salt, only cereals were problematic as they
clogged
the system. The unit is also exceptional on low and high profile carpet too making it a worthwhile buy.
2-tier radical cyclones
– To increase the efficiency of the apparatus, Dyson engineers decided to work on 2-tier radical cyclone systems to separate even more microscopic dust from the air. The 2-tier cyclones are reduced in size to increase the airflow and catch even the finest dust.
Expand to see more
Product Features

Charge time: 3.5 hours
Runtime: 20 minutes
Weight: 3.4 pounds

Who is it for?

The Dyson V6 trigger is best for people who don't mind spending extra for a powerful unit.

Quite robust and will pick up more dirt than most handheld options
The V6 has an LED that alerts you when you are running out of charge
Pricey, and it is a bit difficult to hold
10. Shark Pet-Perfect Cordless&Bagless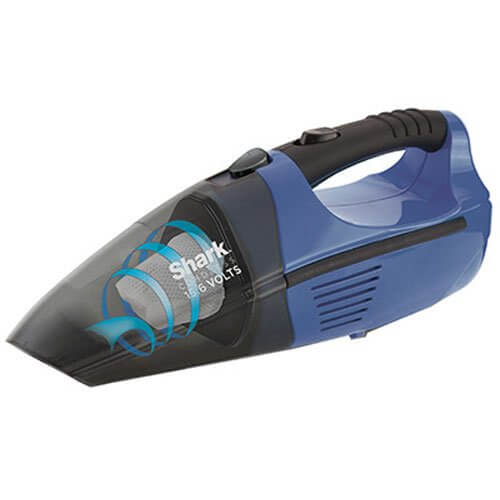 As much as we love our
furry friends
, i.e., dogs, and cats, they leave a lot of fur behind, and cleaning can be tasking especially on upholstery and carpets. Couple this with the high cost of handheld vacuums that can handle such tasks and you have a nightmare. However, the Shark Pet Perfect is designed to make the job of cleaning upholstery and carpets a breeze without breaking your back.
The apparatus uses a Nickel Cadmium battery with a 15-minute battery runtime. This is enough to clean a car or do quick rounds around the house. The performance of the unit on bare floor is also excellent thanks to the powerful suction. However, it can only pick fine debris on carpets and will struggle with large debris. Our best features though were the accessories and low noise levels.
Low noise levels
– If you value quiet operations, we recommend the Shark Pet Perfect as it has the lowest noise levels.
Accessories
– Though these are commonplace, they are unheard of at this price point. First, you get a motorized brush and thus the perfect way to clean pet hair. The Brush tool helps pick dust off hard surfaces, while the crevice tool enables you to reach into tight spots.
Expand to see more
Product Features

15-minute runtime
16-hour charge time
Weight: 3.6 pounds
Bin capacity: 1.8 quart

Who is it for?

The Shark Pet Perfect is for pet owners or people who need a motorized brush to agitate dirt.

It is affordable
The suction is powerful
Perfect for cleaning upholstery and stairs
It takes too long to charge for a 15-minute runtime; the first charge is 24 hours, while all other subsequent charges are 16 hours
8. Holife 6KPA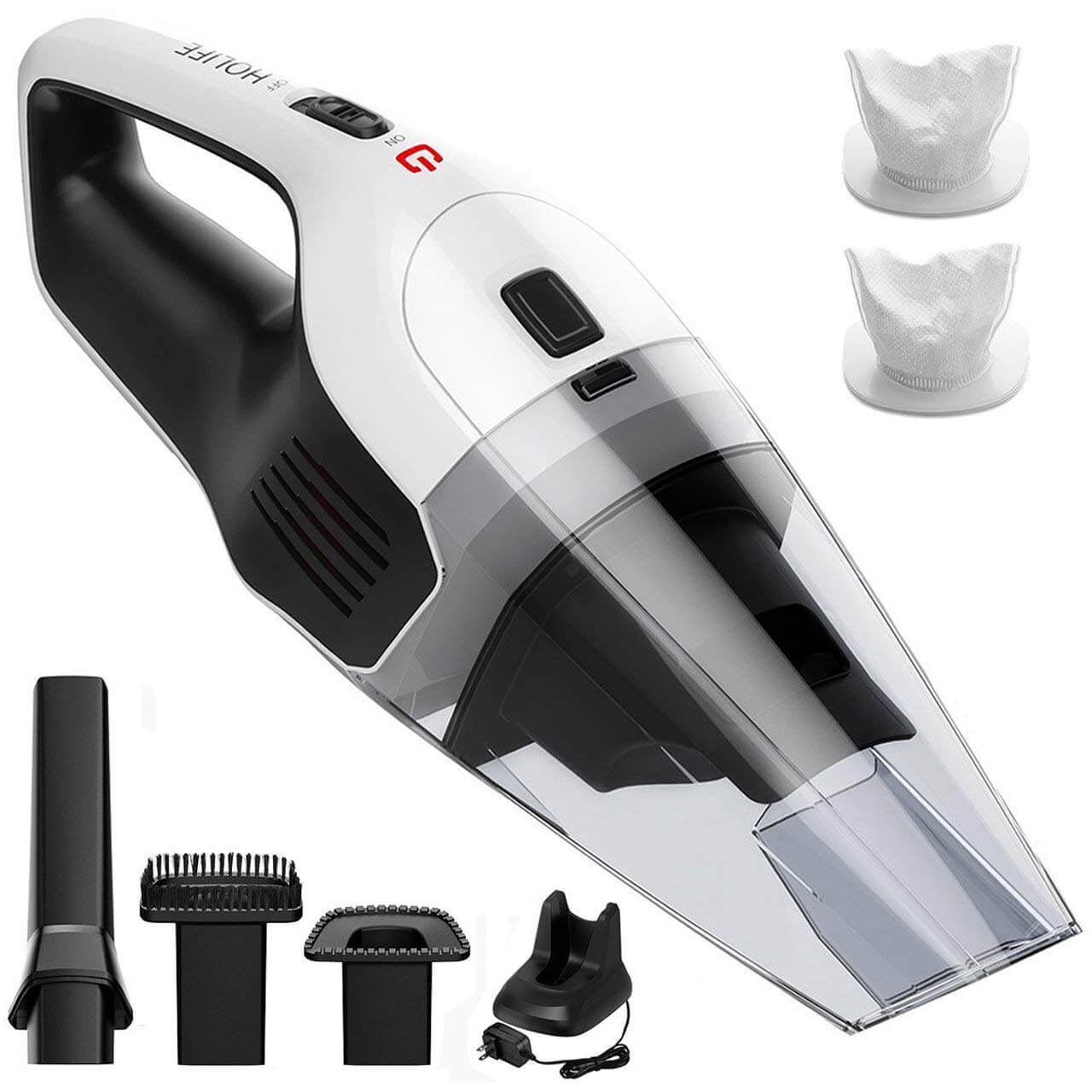 If you are in the market for an affordable unit but one that is almost as powerful as our top picks, we recommend you get the HotLife Portable. First, you will love the ergonomic design. At only 3.27 pounds, you can escape the fatigue associated with bulky units. It is also cordless, and thus you will have a hassle-free experience.

Another fascinating feature was the unobtrusive motor which increases cleaning experience by producing the least noise. You will also appreciate how easy it is to empty and clean the dirt canister. The Moreover, the two filters are removable and washable.

All things considered though the most crucial aspect of any cordless option is the battery. The HotLife battery has a 30-minute runtime rivaling the pricey Dyson and a 3 to 4 hour charge time. You will also appreciate that the lithium battery is non-toxic and has no memory effect. Nonetheless, our best features were the power of the unit and the versatility.

Versatility – The HotLife Portable has 3 attachments that increase the resourcefulness of the unit. First, there is the crevice tool which enables you to get into tight spots. Then there is the dusting brush for cleaning pet hairs and dust on delicate surfaces where the vacuum could only glide over. Finally, there is the liquid nozzle for cleaning liquid spills up to 100ml.

Power – The 90 – 100W high-performance motor provides a 6KPA cyclonic suction which is enough to pick coins. Thus you can expect the best cleaning results.

Expand to see more
Product Features

30-minute runtime
3-4 hour charge time
Cordless
Weight: 3.27 pounds

Who is it for?

The HotLife portable is best for people who want longer runtime and power but at an affordable price.

It is affordable
It's lightweight allowing you to work with minimum fatigue
Has a long runtime
The design could use some work, and you should leave it on the charging base for long periods as it might ruin the batteries
9. BISSELL Lightweight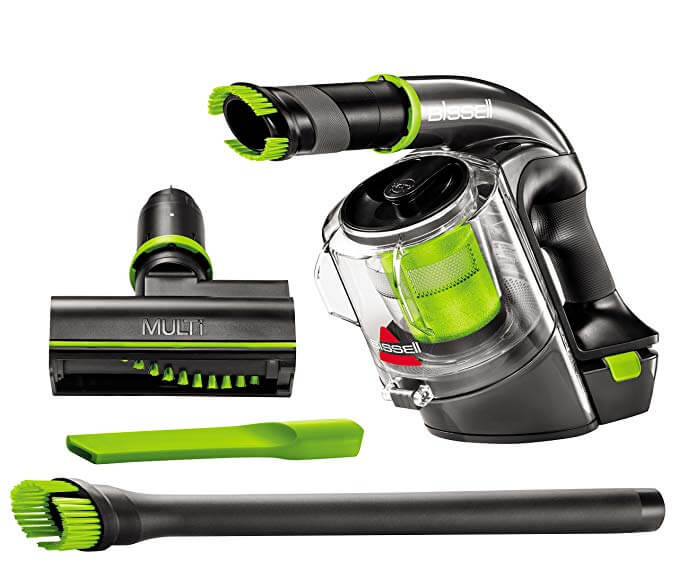 Bissell 1985 resembles the GTech multi only that it is cheaper than the GTech. It is not as affordable as the HotLife Portable, but its price is considerably lower compared, and it is a solid unit. First, it is a cordless unit and thus saves you the trouble of dealing with cords. The ergonomic design should be another reason why you get the Bissell 1985. It only weighs 3.9 pounds which is slightly short of 2kgs. Working with it will thus be a pleasant experience. Moreover, you have a 2-year warranty should anything go wrong. However, our best features were the accessories and battery.

Battery – Unlike the rest, this features a removable 22V lithium-ion battery increasing the flexibility. You can purchase two or more units to avoid any downtime when charging. The battery itself has a 15-minute runtime which is enough to clean any vehicle or truck.

Accessories – The attachments on the Bissell 1985 have to be the most appealing aspect. First, there is an extendable hose which allows you to reach those tight spots. The motorized brush roll is quite handy when cleaning pet hair from upholstery or carpeted floors. There is also the brush that sweeps dust and debris to be picked up.

Expand to see more
Product Features

15-minute runtime
22V battery
Weight: 3.9 pounds

Who is it for?

The Bissell 1985 is for people looking for a versatile handheld vacuum. It is also especially great for cleaning pet hair.

It is quite versatile thanks to the attachments; you can get into tight spaces and hard to reach places
The removable battery increases flexibility
Has a light on which is very useful
It is not clear how long the plastic build will last, and it lacks suction power
7. Dirt Devil Plus - Quick Flip Pro Cordless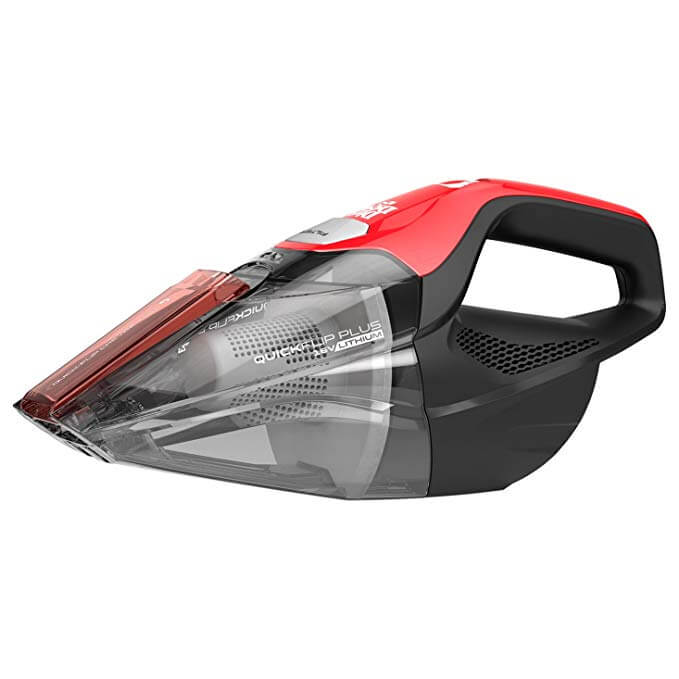 If you are in the market for an affordable unit, we recommend you get the BD30025B 20025B for the elderly and kids as it weighs 2.2 pounds (probably the lightest option on the market).

Another exciting feature is the 16V lithium-ion battery. You get a 13-minute runtime which though not long, is enough to clean up a car, truck, or small messes around the house. You will also charge the charge time which is 4.5 hours. This vacuum is designed for dry debris only, and you shouldn't try and use it to collect wet debris.

Finally, it is has a 0.5-liter bin capacity which is effortless to empty and clean. However, our top features were the ergonomic design and accessories.

Ergonomic design – Weighing only 2.2 pounds, the BD30025B is lightweight, and you can use it for long periods without fatigue. Also, the COG is below the handle increasing comfort and stability.

Accessories – Another reason you should get the Dirt Devil is the quick flip crevice tool and the upholstery tool. The crevice tool will get into any tight spots while the upholstery tool which has a brush tool to clean any debris.

Expand to see more
Product Features

13-minute runtime
4.5 hour charge time
Weight: 2.2 pounds

Who is it for?

The Dirt Devil BDH30025B is best for the elderly and kids as it is lightweight.

It is lightweight and easy to use with the quick flip crevice tool
It is affordable
It performs well when cleaning hardwood or carpets
The Dirt Devil Quick Flip isn't that helpful in cleaning car seats
Handheld Vacuums – Selection Criteria

Corded vs. cordless
The first decision you have to make is picking between a corded and cordless unit. Each has its pros and cons, and thus none is better than the other. First, if you intend to use the vacuum in a specific area, say the kitchen, we recommend you get a corded unit since you will have continuous cleaning power without having to worry about a battery running out. Moreover, consider corded handheld vacuums if you are on a budget.
Finally, ensure the cord is long enough for mobility. Cordless units, on the other hand, offer more convenience as they are portable and a power cord doesn't limit you. They are great if you want to use them around the house or take them outside. Pay attention to the battery life, and how long it takes to recharge.
Suction power
Comparing the suction power on cordless and corded handheld vacuums can be challenging as it is measured differently on both units. It is measured in amps on corded and measured in volts on battery-powered. However, some offer a CFM or air watts, where this information is provided, pick the one with a larger CFM as it has more suction power.
With a corded unit, expect the suction power to be between 2 and 10 amps, with the minimum acceptable amperage being between 4 and 6 amps. When getting a cordless unit, ensure the voltage is at least 16 volts.
Battery
When purchasing a cordless handheld vacuum, pick one with a lithium or lithium-ion battery. These batteries will maintain a study suction and can stay for months between uses and not lose their charge. However, they are expensive thus be ready to pay more.
Dirt capacity
Handheld options have a smaller dirt capacity than upright units and need to be emptied Therefore, consider a gadget with a considerable volume, and more so if you have tons of dirt, you want to clean. Usually, the bin capacity is between 0.5 and 1 liter and is directly proportional to the size of the unit. If you want one that is smaller, then be prepared to settle for a smaller bin capacity.
Weight and size
If possible, test the unit in the store to ensure that it feels comfortable. Make sure it reaches those tight spots, and that you can handle the weight.
Accessories
We also recommend you check the accessories the unit retails with. Often it includes a brush for dusting and a crevice tool for cleaning tight spots. If you have a furry friend, we suggest you buy a specialized pet hair model as they have a specialized pet upholstery tool for grabbing pet hair. You can also pick a unit with a hose. Though it will be bulkier, it is better as you can reach those high places.
FAQs
When should I replace my filter?
It depends on the filter in the apparatus. HEPA filters can last a long time with proper maintenance, and thus homeowners forget to replace them. There are no cut and dry rules for when you should replace your HEPA filter, here are some few recommendations.
If you are using it in a residential setting, you can use it for two or three years and then change it.
In a commercial setting, where the vacuum is used heavily, ensure you check the filter every 6 months and replace it if it is heavily soiled. Otherwise, swapping it once a year is acceptable.
If a musty odor emanates from the unit whenever it is used, be sure to replace it.
If you are using other filters, check the manufacturer's handbook for the change intervals.
How do I maintain my batteries?
Battery maintenance depends a lot on the batteries your system uses, and we recommend you only use one that uses lithium-ion batteries. If you are using a lithium-ion battery, ensure you always use the recommended charger. Any other charger other than the brand or a high-quality charger can lead to premature battery failure, shorter runtimes, or a battery explosion. Avoid overcharging so as not to overheat the battery. Also, ensure the battery contacts don't touch metal surfaces as they might short circuit it. Don't use Lithium-ion batteries in high or low-temperature environments as it will affect the battery use time and cycles.
Something else to keep in mind is not to go for long periods without recharging it. Though Lithium-ion batteries can last for long periods, we recommend you recharge every 3 months and keep it between 30% and 70%.
If you are working with Nickel Cadmium batteries, be sure to discharge them deeply, but never short circuit to drain. Also, don't store them for long periods without using the batteries as they can form dendrites.
Conclusion
When it comes to the best handheld vacuums, there are various option to pick from. You can choose the cheaper corded vacuums, or the more expensive battery-powered units thanks to their flexibility. However, ensure you get a quality unit.
The buying guide and recommendations above are meant to help you do just that. Newbies will benefit most as they get to understand handheld vacuums while professionals or more advanced users can use it to break a tie.
Finally, if there is something we missed, be sure to let us know in the comments below.
Subscribe to our newsletter