Best Privacy Window Films For Your Home
last updated:
Jan 04, 2021
Windows are a crucial part of your home, but how much do you like people looking ate what you're doing inside your own home? This is even more of a real issue for those homes that sit right along a street or close to a sidewalk, where people stroll along throughout the day. There are a couple of options you can go with here. You can replace all of your front facing windows with expensive privacy glass. Or, you can apply privacy film on specific windows for a fraction of the price it would cost for full window replacements.
We know what you're thinking… You don't want to put tacky looking stickers over your window that might ruin your home's appearance. We recommend you take a good look at the current options, then you will see for yourself that many of the products these days look pretty good when applied. So for that reason, we went through the available options and put together our own list of the best privacy window films we could find. Take a look and see for yourself!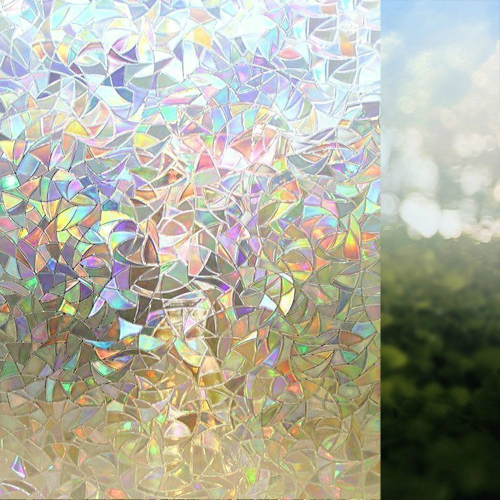 Rabibitgoo

Our rating
No Glue
Price:

See Here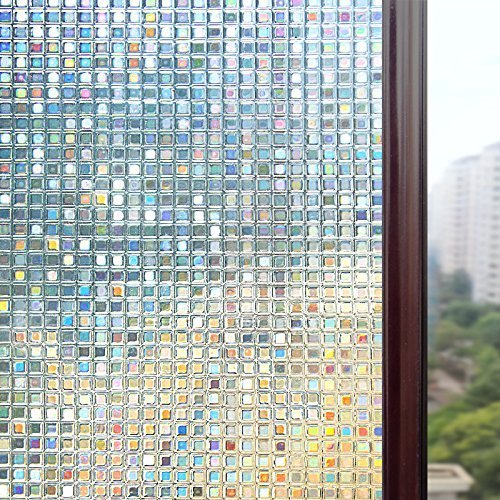 Rabbitgoo 3D

Our rating
Good Design
Price:

See Here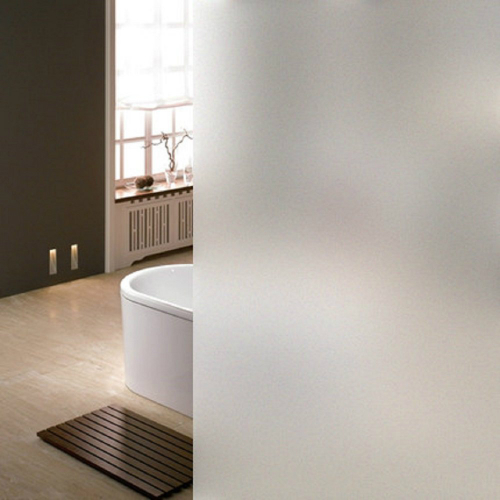 Coavas

Our rating
Durable
Price:

See Here


A privacy window film is a material which is multi-layered, thin, and made of polyester. It consists of various layers that aid in controlling UV light, glare, heat as well as privacy. Also, it comes in various prices, and with different shades, designs, and levels of performance.
Nonetheless, getting the best in the criteria above might be an issue, since there are literally multitudes of products available. In this article we'll be taking a look at 10 of the best privacy window film available on the market today.
10 Best Privacy Window Films
1. Rabbitgoo 3D No Glue Decorative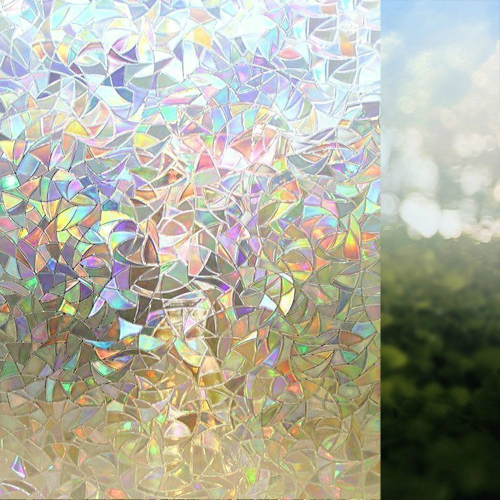 The design of this film produces a unique rainbow-like effect with different patterns every time the sun hits it. Simply put, you have to experience it yourself to understand the level of depth it has. The film is great for both winter and summer applications, as it can reduce the heat in the summer and also increase the heat in the winter.

To eliminate chemical pollution and release of residue, gum and other adhesives are not present in the product. In turn, the film is perfect for the environment and even you.

The window film uses a static cling which positions it firmly on the glass without any hassle. Also, you can easily remove and reapply as you go.

There is a protective backing which should be pulled off before placing the film on any surface. To make this a lot easier, a scotch tape can be put on the corner of the smooth side and then the backing removes by carefully pulling the tape.

This film offers privacy in a way, that it prevents prying eyes but still gives room for the entry of sunlight into your home. On that note, it is capable of blocking the entry of up to 96% of UV rays. This is an excellent way of reducing risks to your health and also the aging of your furniture.

Expand to see more
Features

Available in different patterns
Allows light to enter
It is easy to remove
There is no glue
Reusable film
Absence of chemicals
Offers privacy to a room
It is heat resistant

Price

In addition to helping curb aging of furniture/to reduce fading, this window film comes at a price with minimal impact on your wallet. Combining these excellent qualities, each buyer saves money when purchasing the film and also on the cost of furniture maintenance when using the film.

Conclusion

The rainbow lighting effect which this window film produces is quite an attractive beautification which most homeowners will love to add to their homes. There is also no damage to the windows or residue when using this films due to the static cling.

After removing from a window, it does not leave any residue
Capable of reducing the UV rays entering a room up to 96%
It sticks to the windows without the use of glue to reduce chemical pollution
It's not suitable for use in bathrooms as privacy level is heavily balanced
2. RABBITGOO 3D Static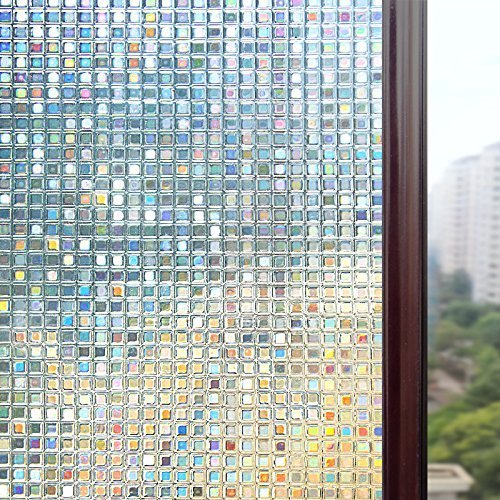 RABBITGOO is quite popular for their craftsmanship when it comes to producing the best window film. So, it comes as no surprise that there is another one of their product on our list when they're that good.

This particular film offers a stained glass finish with a repeated squares pattern. Each square offers a unique color when sunlight passes through it to give the room a more colorful lighting. It also has an excellent energy saving feature which helps to retain heat in the winter period and reject most of the heat during the summertime.

The film does not give full privacy and is only a semi-private option which prevents its use in bathrooms. It finds excellent use in office windows, and sliding doors, though use at home is very much welcomed too. The film is an eco-friendly product which can be reused and does not cause any stain or residue on the surface where it's applied.

Nonetheless, though it is only semi-private, it has an improved privacy feature. This is unlike the common window films which only offer privacy during the daytime due to their designs. This piece gives privacy both during the day and at night. A lot of people find this very useful especially those looking to avoid the use of curtains in certain places.

Expand to see more
Features

Excellent for use on smooth glass surfaces
96% UV protection
Firm static cling
Reusable window film
Other patterns available
Stained glass pattern
Heat retention and dispersion capability

Price

Excellent quality items at a very affordable price have become one of the main selling points of RABBITGOO privacy films. This is another reasonably priced privacy film selling at a price below average.

Conclusion

The absence of toxic materials and chemicals from gum is one excellent quality which makes this window film a suitable selection for a nursery or children room while still reducing the amount of sunlight entering the room. Also, its design language permits use in literally any environment.

No chemical or toxic substance making it safe for use around children
Design is exceptional aesthetic-wise
Gives privacy both during the day and at night
Price is reasonable
The edges that do not stick properly to the window make it easy to notice the privacy window film
3. Coavas Non Adhesive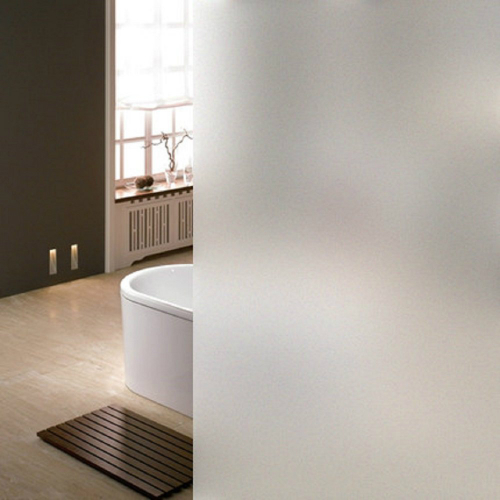 This film provides a beautiful frosted finish to your window with an additional privacy feature. The privacy it offers increases with the distance and at a distance of one meter, the level of privacy the film offers is more than 95%. This capability is nice and unless someone comes very close to peek through the window (obvious by the way), it is difficult to discern what is happening inside.

The film has a static cling, which implies that all it needs to stick firmly is water, applied to the surface. In-depth, we mean once the surface is wet with enough water, apply the film on the surface and if need be, use a dry cloth to force out air bubbles and water which are on the backing of the film to smoothen out the result. Also, the window film comes with a protective backing which should be removed before application and should likewise be placed on the front before smoothening the surface. This prevents scratches which may result from the use of the cloth.

Points made, extreme weather conditions have no adverse effect on the film. This, in turn, means that changes temperature level do not cause the film to shrink which makes it an excellent choice both in summer and winter. The film can additionally preserve heat in winter periods and offer insulation from heat during the summer.


Expand to see more
Features

Vinyl colored film
Static cling
17.7 x 78.7 inches in dimension
No chemical adhesive required just water
Leaves no residue behind
More than 95% privacy at a one-meter distance
Energy conservation feature
Does not shrink due to a difference in temperature

Price

One of the cheaply priced window films, this is a really affordable film for anyone looking for a great privacy window film as it offers up to 95% privacy.

Conclusion

Using it gives a welcomed privacy which is actually necessary for different places and scenarios. It has a beautiful vinyl color with excellent qualities (durability is one) which make it usable in extreme conditions in various regions.

The film is recyclable and environmentally friendly
Can withstand adverse weather conditions
Price is good
Has good durability
Easy to peel the film off any surface
It does not work with processed glass, cut glass, or frosted glass
4. RABBITGOO Matte White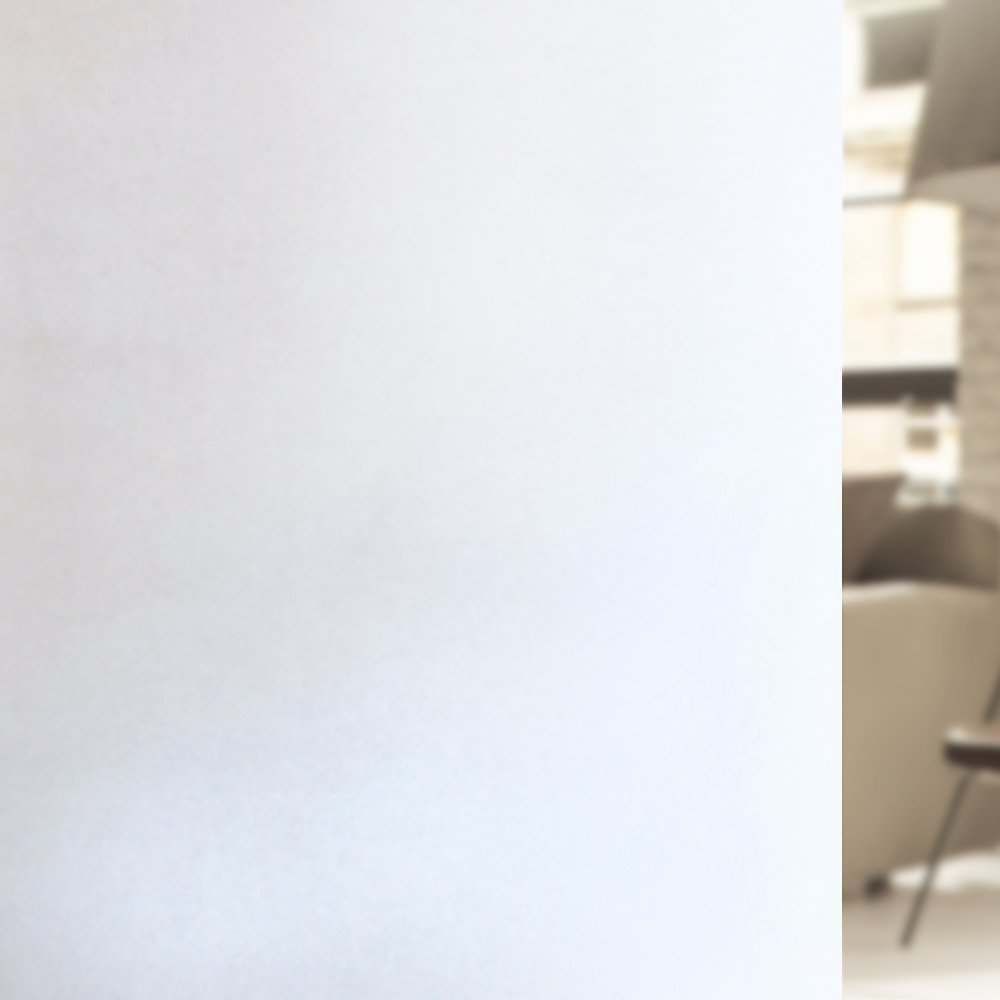 For those that have seen window film products from RABBITGOO, the stained glass patterns seem to be more common. Unlike those, this particular window film gives a frosted window finish when it's put in place. With a size of 17.7 x 78.7 inches, it is suitable for use on sliding glass, windows, and other glass surfaces. It is easy to trim the film to any size and more than one film can be used for larger glass surfaces.

The matte white color gives the room a great appearance and its durability is also helpful in resisting wear. Good for summer application, the film is capable of withstanding heat up to 176 degrees. It also provides good heat rejection feature which is necessary for summer conditions while the heat retention feature is excellent in the winter period.

Installing it may prove difficult for most first timers, but once you get the basics, it becomes a breeze. There is no need to worry about getting an expert to install the film as you can simply try doing it yourself. It has a reusable feature which gives the opportunity to remove if fixed wrongly and do it over again.

Expand to see more
Features

Matte white film
It is heat resistant up to 176 degrees
17.7 x 78.7 inches size
Can be used over and over
Frosted glass finish
Static cling and no residue
Does not require glue

Price

This film is amongst the cheapest available on the market and is excellent for buyers on a strict budget. It comes from a well-known manufacturer so there is an assurance of great quality with this purchase.

Conclusion

A frosted finish is always an excellent choice for bathrooms since they offer the best privacy features while still allowing light to penetrate into the room. Hence, if it could work for such a sensitive area, using it in other rooms is easy.

Protective backing prevents damage from use and can protect it from scratches when using a squeegee on the front surface
Durability is welcomed
The price is pocket-friendly
Available in different patterns and colors
If not done properly, it is easy to notice the air bubbles in the film
5. Solar Film Heat

This tint window film provides the best privacy window for daytime applications. During the day, the film blocks visibility but gives those on the inside the ability to monitor everything going on outside.

The strength of this solar film should not be underestimated as it is strong enough to hold shattered glass together until it is changed. This is likely due to the high-quality adhesive which the film uses in sticking to windows. To apply, simply put a little soapy water on the glass surface and place the film on it.

During summer periods, the film reflects sun rays to reduce the heat in the room while it retains heat during the summer to keep the occupants of the room warm. The UV ray which enters the room is also reduced by up to 98% while infrared rejection of the film is at 57%. These rejection qualities help prevent health risks, and also reduce fading to increase the lifespan of furniture and other materials in the room.

Trimming the film to size is easy but it is better to do so before placing it on any surface. The trimming process becomes a lot more difficult once the film is on any surface. To make it easier, measure the surface in consideration and cut the film to the size.

Expand to see more
Features

It uses adhesive
Tint design
Solar film
Strong enough to hold glass together
Excellent heat control feature
57% infrared rejection and 98% UV rejection
Comes with a backing film
23.6" x 78.7" dimensions

Price

At a price a little below average, this window film may not be as affordable as most but is also not as expensive as others which offer a lot of similar features and quality.

Conclusion

This is one of the few options which cover a wider surface. It comes at a width of 23.6 inches in contrast to the 17.7 inches size common among regular window films. Also, the durability is top-notch and it additionally looks cool.

It protects furniture from fading quickly
Easy to trim to the size of any window or surface it is to be placed on
Privacy in itself is superb
Durable and long lasting
Completely see through during the nights when lights are on inside the building
6. Window Film Anti UV

Other than the effective thermal
insulation
supported by the film, it provides an anti-glare, mirror effect during daytime. In other words, anyone on the outside will only see themselves. So, privacy is pretty much covered by the product. Nonetheless, at night, it loses these qualities due to there being a light source on the inside.
The window film has a static cling feature which makes it stick firmly to most surfaces. And with a non-adhesive design, there is no residue after removing the film. On that note, the longevity of the product is impressive, as it only comes off when you want it to.
Durability is also good, and it will easily resist scratches to stay in excellent form. This is a good feature if it will be put on a window in a nursery or children room, though, it can be used at home too. It's just a matter of management depending on the light available.
Expand to see more
Features

Mirror-like effect
0.15mm thickness
Anti-glare in daytime and non-adhesive
High thermal insulation
Anti-scratch and easily removable
Static cling
Blocks out UV rays

Price

At a price closer to average, this is not really a budget window film but it is also quite affordable when you compare to others more expensive offering the same great qualities.

Conclusion

Window tint films are an excellent way to reduce the energy loss in the home and also reduce cooling costs which is common with bare windows. The film also gives privacy so you can go about your business without worrying about the neighbors.

Excellent for use as a house window tint for privacy during the day
Effectively reduce the cost of running your home cooling system
Application is very easy
Durable and this helps longevity
Leaves no residue when removed from windows
Not ideal during the night
7. Window Whirl Frosted Film

Like most of the best window films available on the market, this particular one also uses the static cling method to stick firmly to any glass surface. This eliminates the use of other adhesives and gum which can cause chemical pollution or release of toxic substances that are hazardous to the environment.

Shipping the film is also carefully carried out as it has a cardboard core which prevents creasing during transportation. Crease on the film is seen clearly when it is put on any glass surface and it makes it easy for the film to remove at an early stage.

It measures 17.5 x 80 inches which are a few inches longer than most of the films on the market. This gives the opportunity for buyers to trim it as they see fit.

Other features which make this a good option include the durability, UV protection, heat control features for both summer and winter periods as well as the frosted finish which it gives to all glass surfaces.

Expand to see more
Features

Static cling
Easy to install
Cardboard core packaging to prevent crease
UV protection and o residue
Heat rejection and heat retention
17.5 x 80 inches in size

Price

This is an affordable window film which has some outstanding features at a price below average. It is also quite durable with the manufacturer providing excellent customer service.

Conclusion

Window Whirl is one of the few manufacturers known for always providing the best customer services. When you purchase their film, be sure that if the durability, its capabilities in providing privacy, and the ease of application do not impress you, they themselves are available to make provisions to suit your needs.

Available in different sizes
It gives a frosted glass finish
There is an instruction sheet which is easy to understand
Price is good
Doesn't leave any residue after removal from surface
Gives an excellent level of privacy
Not for users who wish to see a little of the outside from time to time
8. Beautyhero

The pure frosted design of this window film makes it an excellent addition to sliding doors, windows, and best of all to a
bathroom
. Most window films still offer visibility from the outside when used in bathrooms but the frosted design on this particular piece gives a blurry image to ensure your privacy is always secured.
It is made from environmentally friendly materials with a size of 17.7 x 78.7 inches. This means it will fit almost any window size although it may need a bit of trimming. A protective film ensures that the window film effectively sticks on the glass surface when it is set up. Wherein, the static cling prevents the use of glue which eliminates chemicals and residues from this product.
All that is needed is to apply water to the surface before putting the film over it.
The UV protection from this film prevents up to 90% of UV rays from penetrating through the window. To get the best result when installing the film, a dry towel should be used in pushing out excess air bubbles and water from the film backing. Lastly, longevity is not an issue.
Expand to see more
Features

17.7 x 78.7 inches size
Static cling and also waterproof
90% UV protection
Pure frosted
Excellent for bathrooms
No residue after use

Price

Giving a pure frosted finish and great for use in bathrooms, this privacy film can be purchased at a very affordable price. And with it being waterproof like most others of this quality, we can say it has a lot of areas covered sufficiently.

Conclusion

When you need a high-quality window film to prevent anyone from seeing into a room both during the day and at nighttime, then this is the perfect option. The frosted design helps improve privacy at night even when the interior lights are on.

Excellent for covering gaps left by window shades at night
Price is good enough
Durable with good longevity
The level of privacy offered is top-notch
It still lets light in while offering privacy
Not everyone finds it easy to install the product
9. WPCTEV Daytime Privacy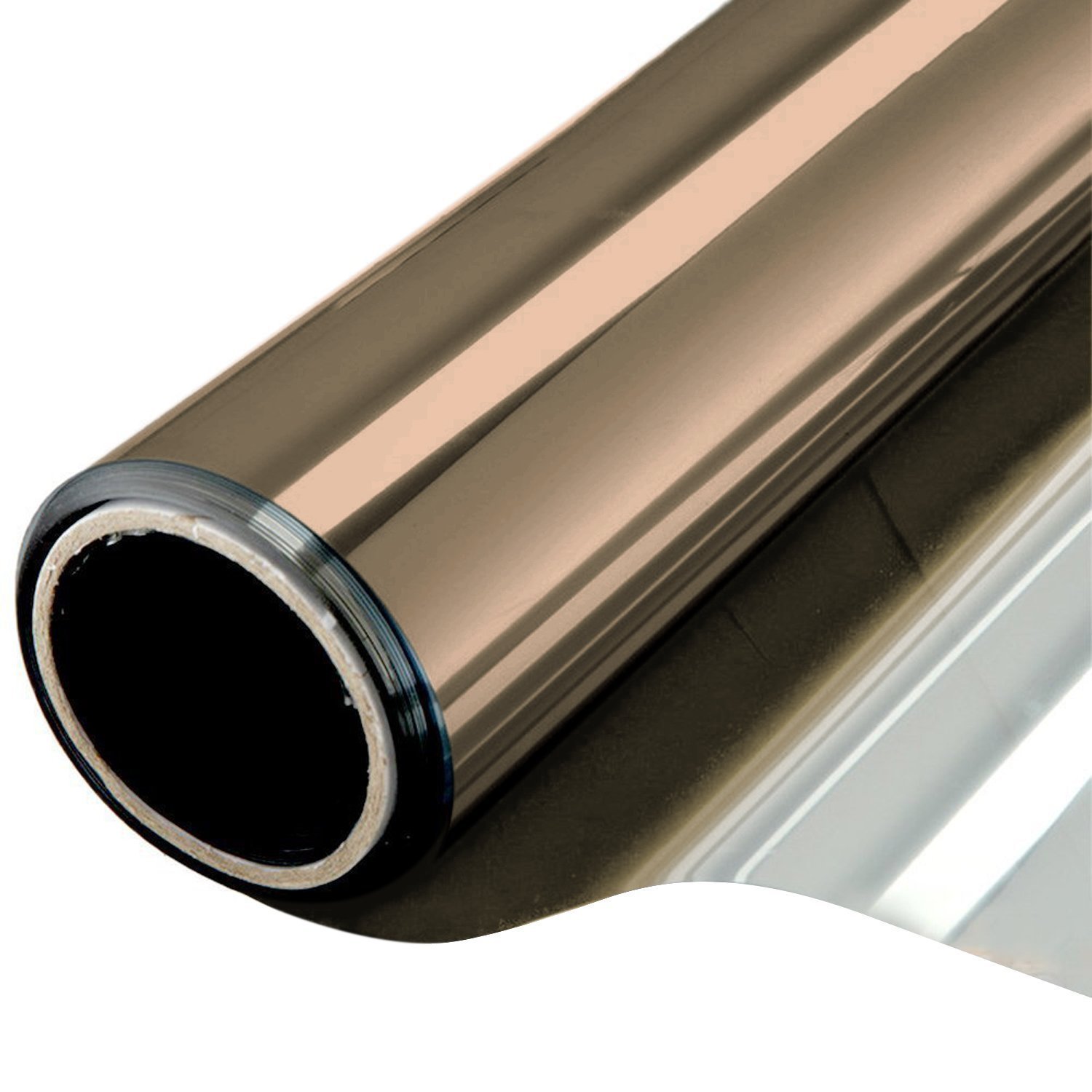 The WPCTEV window film is a static cling film with a thickness of 0.15mm. The former means there's no need for glue on the film surface so it is easy to
clean
and leaves no residue on any surface it is placed on. On the other hand, the latter helps with durability.
Installing this one-way mirror window film is quite easy as long as you follow the process correctly. The first thing that you need to do is to trim to the required size since it may come wider or longer than any window you need to fit the film. Soapy water should be used to wet the glass surface while the protective backing on the film can then be removed. Once this is done, the solar film can be wet and then placed on the surface.
Point made, there are other of features that the film offers. The anti-glare feature is one, while the UV protection and single plane fluoroscopy are others.
Taking them one by one, fluoroscopy is the feature which makes it impossible to see through the window film from the outside, which is the product's main function. The other one being the UV shield, which is useful due to the protection it offers.
Expand to see more
Features

30-days return policy
Static cling
Single plane fluoroscopy and protective backing
Anti-glare feature
PVC material
Does not use glue
UV protection up to 90%
0.15mm thickness
Easy to remove

Price

This is one of the few window films which come at a really high price. So, this product is not for shoppers on a tight-budget. Nonetheless, it still offers some excellent qualities which make it a great choice.

Conclusion

The WPCTEV is built to reduce visibility from the exterior of the window. And complementing that fact is the easy removal which helps if you want to apply the film somewhere else. Also, you get to enjoy UV protection (more than 90%) in any room where the film is used.

The sunlight blocking feature helps darken the home a bit
Longevity is not an issue
Easy application and removal
Provides quality privacy
The film scratches very easily
10. HIDBEA One Way Film

This film has multiple functions which all improve the living conditions of the home. In addition to providing privacy, they also save up on power consumption costs as they are energy saving devices. They retain heat during winter and resist heat during the summer to keep the room comfortable.

Although this film has an excellent daytime privacy feature, it is not a great option during the nighttime. So, it is necessary that a curtain is put up during the night since the light indoors will expose activities.

Installing the film is very easy, but if you need instructions to ease the process, you can download the installation manual and user guide.

Expand to see more
Features

6 mil thick film
Made from vinyl
Daytime privacy feature
One way window film
Mirror effect
Waterproof
Fade resistant
97% UV rejection

Price

Considering features like waterproof capabilities, nice durability and thus good longevity, and privacy, the HIDBEA Window Film is a good choice in terms of budget.

Conclusion

The availability of different sizes of this film makes it an excellent option. Especially for buyers who will love to avoid the process of trimming the film before using it in their homes. Couple this with the great price and longevity and this is one option you have to consider.

A good way to avoid having curtains drawn at every instance in the home
Durable and will last a long time
Price is ok
Enjoy an excellent view of your surroundings while still having privacy in the home
There is a need to use a curtain over the windows for privacy at nighttime
Benefits of Privacy Window Films
Below are some of the benefits you get from using a privacy window film. They include:
It minimizes glare
Having direct sunlight is invaluable and it also provides a great feel while minimizing the requirement to utilize artificial lights. But excessive sunlight can sometimes result in uncomfortable heat and glare which can make it tedious to sleep, work, or relax without closing the blinds or drawing curtains. This is the case, especially during the summer.
With the aid of a black and white privacy window film, you can eradicate excess sunlight and protect your eyes from harsh exposure to the sun.
It offers privacy

The thin layer of a privacy window film ensures the area is private without letting go of light. Doors and windows that have clear glass and are facing the street are great places to place your privacy window films. It prevents people from having a look at your home from the door or window.
It protects against UV rays
UV rays have been seen as a critical issue for numerous years because of the skin issues it causes like cancer. It's normal putting on a sunblock when heading out but it might be tedious using it in your home. With a privacy window film, you can easily minimize the detrimental UV rays of the sun in your home.
It enhances appearance
Privacy window film aids in adding to your home's decorative element while hiding the interior. Some window films even have the capacity to mimic the looks of more expensive windows, just at a lower price.
Criteria for Selection/ Factors to consider
There are a host of situations and criteria to consider when selecting a window film. A simple example is where you live. Some houses get small amount of sun while some get more. So, you have to consider this, and even more, before you make your decision.
Below are a number of factors we put into consideration before selecting the 10 best products. These factors should also aid you in making your final choice on the privacy window film to purchase.
They include:
What is it for?
This is one of the major factors to consider. You need to have an understanding of what you need to accomplish by purchasing a privacy window film. Do you need additional privacy or you just want to minimize glare? There are numerous kinds of privacy films depending on your objective.
Performance
There are numerous standards of performance quality. Some window tints are more energy efficient than some others. A window tint that has an enhanced VLT works more for energy efficiency in comparison to others. So determine the performance level before making a choice.
Look and feel

You would want to go with a window film that tallies with the feel and looks of your home. Ensure you pick one that does not contradict your home look. Also, the feel includes the durability and how long the film will potentially use on your window.
Is it an insulating film?
The film should aid in reflecting the heat of the sun thereby aiding in cooling the insides of your home. It will ensure your home is more comfortable while reducing energy costs.
Additionally, it will aid in safeguarding your furniture since excessive heat wears down the fabric in your furniture as time goes on. Ensure you go with a privacy window that has this capability.
Is it glare reducing?
This minimizes glare and ensures you can easily see your television and computer screens. This has the added benefit of reducing the strain in your eyes by ensuring it is more convenient to look at electronic devices like the ones above.
Privacy film
The main function of a privacy window film is to prevent unwanted intrusion and safeguard your activities.
So, picking a window film that'll allow you to monitor your environment but won't let people monitor your ongoings is particularly helpful. It provides a deep sense of security and comfortability in different scenarios.
Frequently Asked Questions
What should I look for in a window film tailored to privacy?
Take into consideration its level of privacy by using user reviews, its ability to save up on energy costs, how well it prevents glare, its looks and how it feels plus longevity when applied.
All if this has been answered in-depth by our "Criteria for Selection" section.
What is a UV-resistant privacy window film used for?

One that prevents UV also help prevent health risk for your person and wear on the part of your furniture and other home devices and necessities.
How to apply a window film?
All you need is water (soapy or otherwise), a dry towel, and some patience. The water will be sprayed on the window, and you simply apply the film on it. After this, you use the dry towel to push out any air bubble present after application. Alternatively, the window film may have a strong adhesive, which is straightforward as all you need to do is just use the towel (now slightly wet) to clean the surface and then you apply the film.
Subscribe to our newsletter