Best Privacy Window Film – 2023 Buying Guide
last updated:
Jul 23, 2021
Privacy window film is a budget-friendly, DIY option for any home or office. Unlike curtains or blinds, a window film is a peel-and-stick product that comes in multiple styles and can fit any budget.
Multi-layered, thin, and typically made of polyester, privacy window film is a material that consists of various layers that aid in controlling UV light, glare, heat, and visibility.
We've put together a thorough review of the best window film options, taking care to note various prices, shades, designs, tints, and levels of performance. You'll find options that are translucent, decorative, artscapes, frosted, opaque, private, semi-private, one-way mirrored, two-way privacy, shatterproof, UV blocking, and even heat control window film.
[srpshortcode id="13705″][/srpshortcode][srpshortcode id="13706″][/srpshortcode][srpshortcode id="13707″][/srpshortcode]
6 Best Privacy Window Films
1. Rabbitgoo 3D No Glue Decorative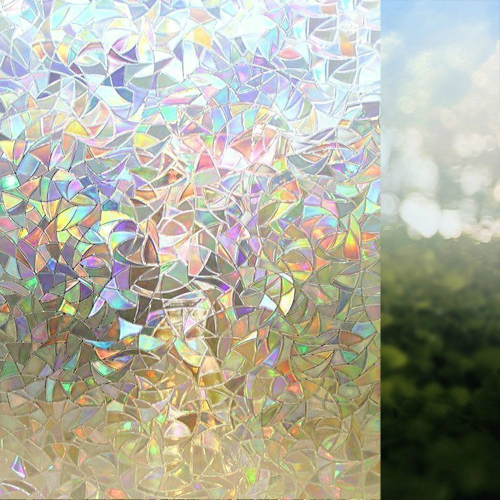 Rabbitgoo 3 D decorative 3D window film produces a unique rainbow-like effect with different patterns every time the sun hits it even though it has no color without the sun. Great for both winter and summer applications, it can reduce the heat in the summer and also increase the heat in the winter.

The window film uses a static cling which positions it firmly on the glass without any hassle, which means you can remove and reapply it. Perfect for the environment and even your health, it sticks without glue and eliminates chemical pollution as it releases no residue, gum, and other chemicals as you work with it.

There is a protective backing which should be pulled off before placing the film on any surface. To make this a lot easier, a scotch tape can be put on the corner of the smooth side and then the backing removes by carefully pulling the tape.

This film prevents prying eyes, but still allows sunlight into your home. It blocks 96% of UV rays, which reduces risks to your health and prevents premature aging of your furniture. The patterns include the abstract design shown, as well as stained glass, florals, and other designs.
Expand to see more
Price: As low as $9.98 for 17.5 x 78.7 inches

Conclusion

The rainbow lighting effect which this window film produces is quite an attractive beautification that most homeowners will love to add to their homes. There is also no damage to the windows or residue when using these films due to the static cling.

Available in different patterns
Allows light to enter yet blocks 96% of glare
No glue so easy to remove and reuse without chemicals
Offers privacy to a room
Heat resistant
Does not offer enough privacy for bathrooms
2. Coavas Non -Adhesive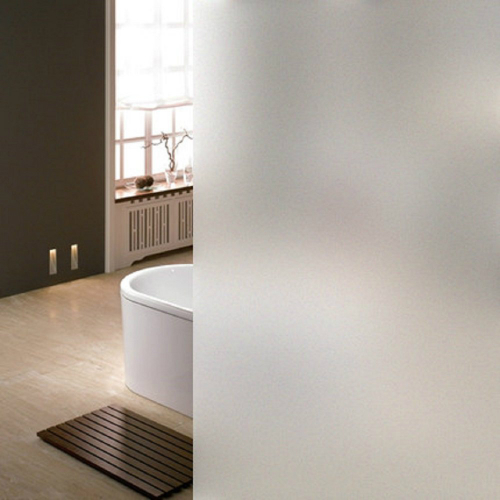 Coavas Non-Adhesive film provides a beautiful frosted finish to your window that adds additional privacy. Increasing with the distance up to one meter, the level of privacy the film offers is more than 95%. Unless someone comes very close to peek through the window, it is difficult to discern what is happening inside.

Attached with static cling, all this film needs to stick firmly is water-applied to the surface. Once the surface is sufficiently wet, affix the film on the surface and force out air bubbles and water with a dry cloth to smooth out the product. The window film comes with a protective backing which should be removed before application and be placed on the front before smoothening the surface to prevents scratches which may result from the use of the cloth.

Extreme weather conditions have no adverse effect on the film; changes to temperature level do not cause the film to shrink which makes it an excellent choice both in summer and winter. The film can additionally preserve heat in winter and offers insulation from heat during the summer, as it blocks strong sunlight and 96% of UV rays
.
Expand to see more
Price: As low as $7.99 for 11.8 x 78.1 inches.

Conclusion

A privacy window film that offers up to 95% privacy, it can be a good selection for bathrooms and other first floor room. This whitish fill has excellent qualities (durability is one) which make it usable in extreme conditions in various regions.

No chemical adhesive required just water
Leaves no residue behind
More than 95% privacy at a one-meter distance
Does not shrink due to a difference in temperature
Requires flat glass for placement – not for processed glass, cut glass, or frosted glass
May be hard to get flat without bubbling
3. Rabbitgoo Opaque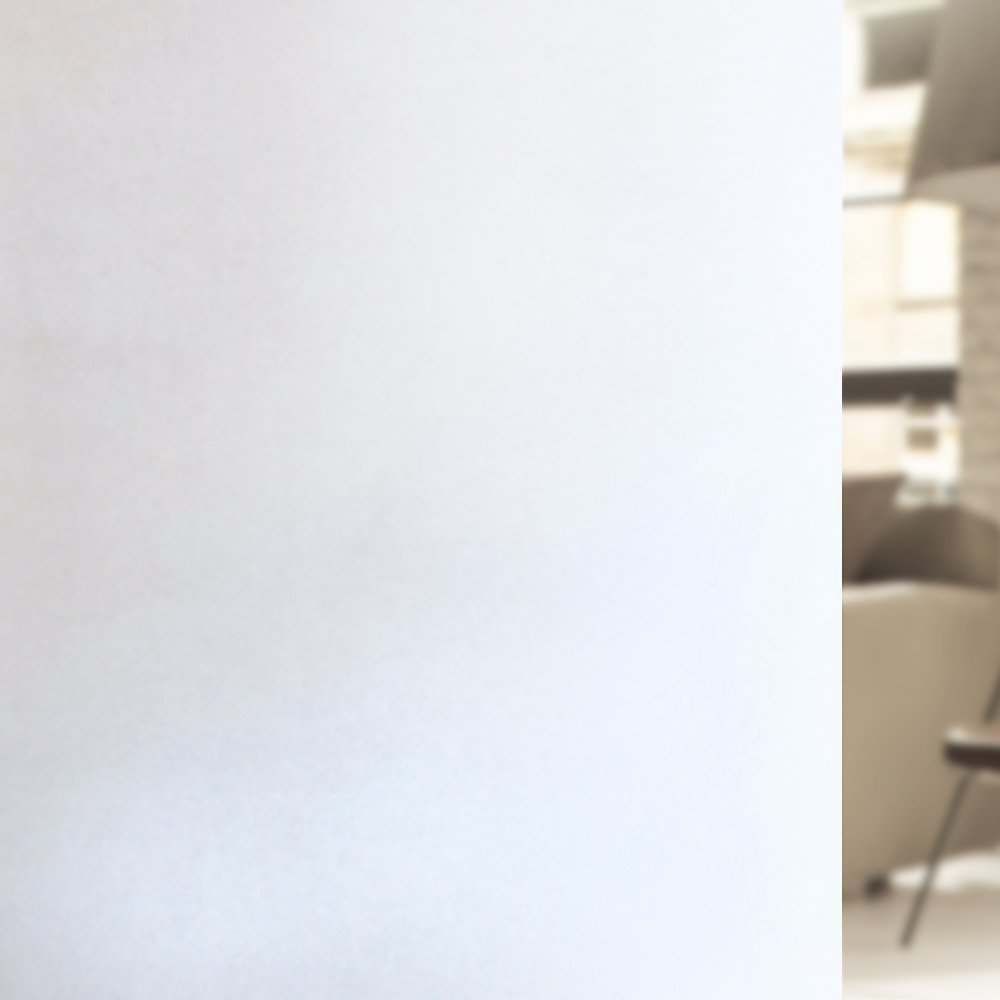 Though Rabbitgoo is known for its stained glass and patterned window designs, this particular window film gives a frosted window finish when it's put in place. With sizes as large as 35.4" x 157", it is suitable for use on sliding glass, windows, and other large glass surfaces. It is easy to trim the film to any size, and for larger glass surfaces, multiple pieces of film can be used.

The opaque matte color gives the room a great appearance; natural light flows in, yet the film provides top-level privacy from prying eyes. The film does not permit seeing the view outside, which may be a disadvantage in some cases when the whole window is covered. However, pet owners report that their dogs do not bark at squirrels or random strangers. The film can be used on part of a window for privacy.

Good for summer application, the film is capable of withstanding heat up to 176 degrees. It also provides a good heat rejection feature which is necessary for summer conditions while the heat retention feature is excellent in the winter period.

Installing it may prove difficult for most first timers, but once you get the basics, it becomes a breeze. There is no need to worry about getting an expert to install the film as you can simply try doing it yourself. It has a reusable feature which gives the opportunity to remove if fixed wrongly and do it over again.
Expand to see more
Price: As low as $8.95 for 17.5 x 78.7".

Conclusion

A frosted finish is always an excellent choice for bathrooms since they offer the best privacy features while still allowing light to penetrate into the room. Hence, if it could work for such a sensitive area, using it in other rooms is easy.

Frosted opaque glass finish for privacy yet natural light flows in
Protective backing prevents damage from use and can protect it from scratches when using a squeegee on the front surface
Blocks 84% of UVA rays and 99% of UVB rays to prevent glare and furniture damage
Heat resistant up to 176 degrees
Removable and reusable
Static cling and no glue residue
Available in white or colors
Hard to take backing off
May be hard to apply without bubbles
4. WPCTEV One Way Mirror Film for Daytime Privacy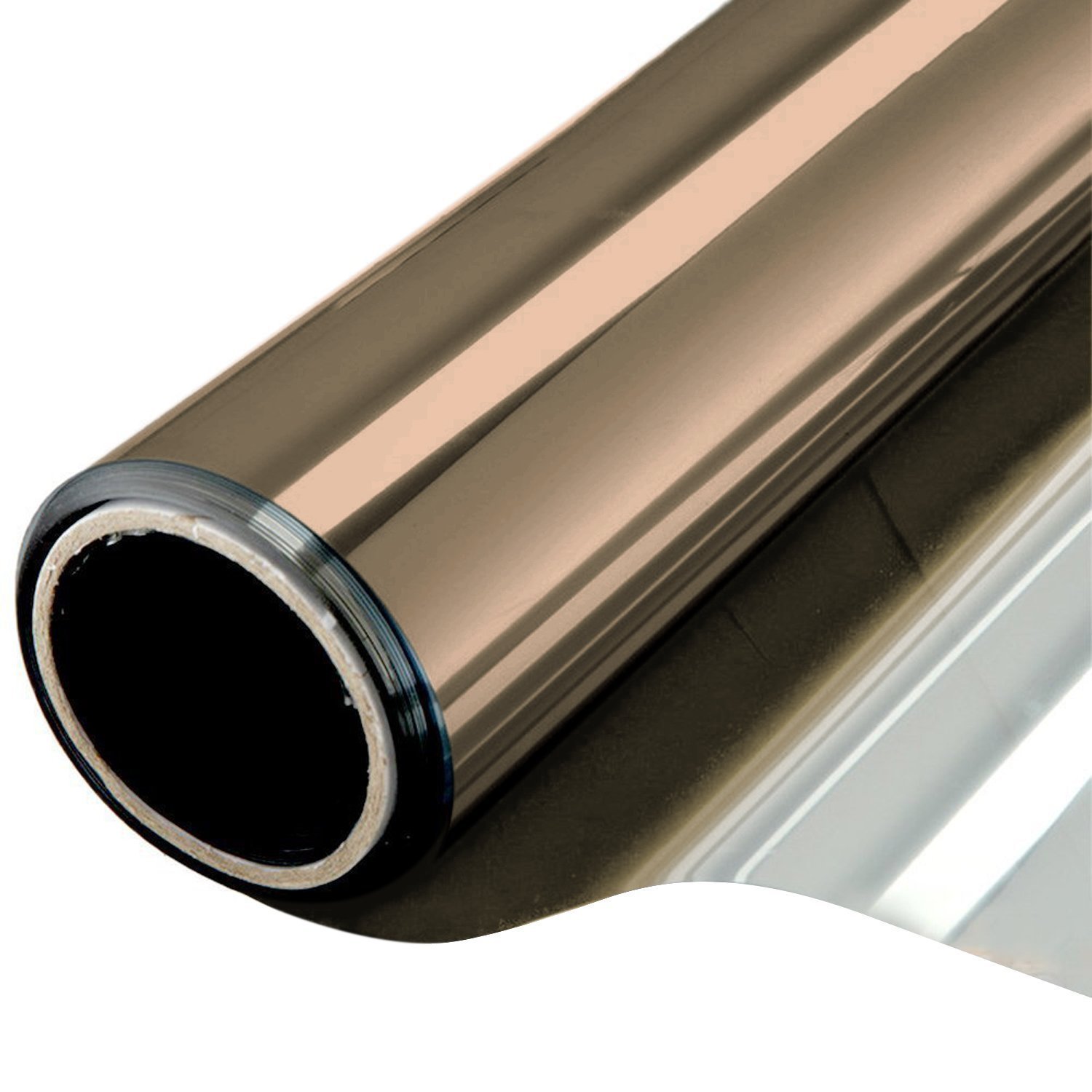 WPCTEV One Way Mirror Window Film offers daytime privacy as it offers a slight reflective effect, along with energy saving features and shatter resistance. Relying on the principle of single plane fluoroscopy the amount of privacy it offers depends the amount and angle of light, so during the day the outside glass will have a mirror which is lost when it is dark outside and lights inside are turned on.

The product blocks 85% of infrared rays and 97% of UV rays which protects furnishings from sun damage. The film has heat control properties that retain heat in the winter and keep it out in the summer, so the use of the film should impact heating and cooling costs. With 10% VLT, the film also reduces glare. Meanwhile, windows look great.

Affixed to the window by static cling, this PVC product uses no glue on the film surface so it is easy to clean and leaves no residue on any surface it is placed on. The product comes with a protective layer and the side peeled off from the film is attached to the glass. It is removable, reusable, and resistant to friction, fade, blistering, and scratching. In the event that the window is broken from impact, the film prevents the glass from shattering.

Installing this is quite easy as long as you follow the process correctly. The first thing that you need to do is to trim to the required size since it may come wider or longer than any window you need to fit the film. Soapy water should be used to wet the glass surface while the protective backing on the film can then be removed. Once this is done, the solar film can be wet and then placed on the surface.

The product comes in black silver, blue silver, brown silver, and silver while variations with some similar properties come in patterns.

Expand to see more
Price: As low as $10.99 for 17.7" x 6.5'.

Conclusion

More than 72% of over 11,000 reviewers on Amazon attest that this product does what it says and give it 4 or 5 star ratings; the rest had problems with the application or felt it did not solve the problem they had. The effectiveness of this product depends on available light and the angle at which the light hits the window. Considering that rolls of this film start at $11, buying a roll to try it out might be a worthwhile venture before making a big investment.
Offers daytime privacy with reflective effect
Blocks 85% infrared rays, 97% UV rays, with 19% VLT for energy efficiency.
Static cling application with no chemical release from adhesives
Shatterproof properties in case of impact
Nighttime privacy reduced with inside light
The film scratches very easily
5. VELIMAX Static Cling Total Blackout Window Film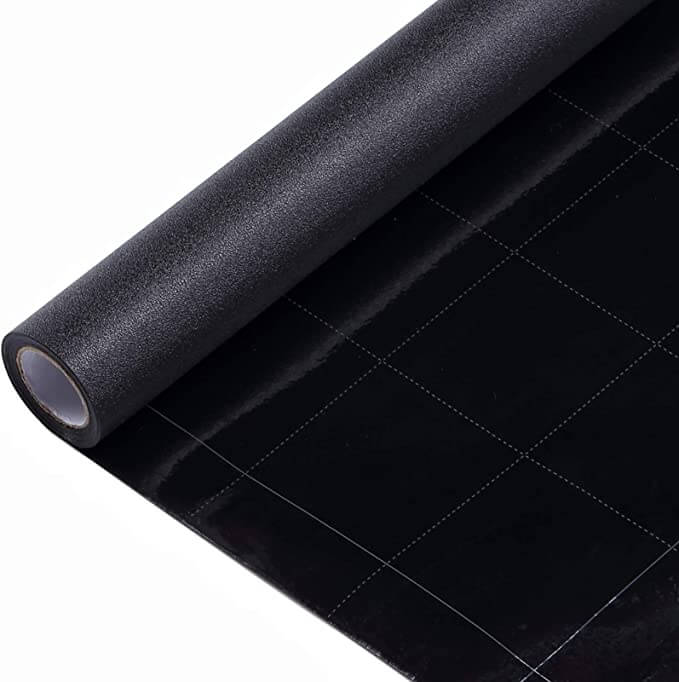 For those who work third shift or who have trouble sleeping unless the room it totally dark, blackout film provides the needed privacy and darkness. Those with non-traditional sleep schedules may find their Circadian rhythms out of whack when they do not get enough sleep. The body has an internal clock that responds to light and darkness; even if it is time to sleep, the body might not cooperate if it is light outside.

Though Rabbitgoo and other companies offer this type of film, Velimac is Amazon's most popular choice with over 12,000 reviews, with 65% offering 5 stars and 15% offering 4 stars. Some of the negative reviews mention that windows exposed to heavy sunlight can crack if the window absorbs too much sun. As the film absorbs the heat, the film gets very hot. This may not be of interest to someone sleeping but might be a concern if others, especially children, came into the room. Some users noted an unpleasant odor when the product heated up. Some competitor's products have a white side that faces out which seems to absorb some heat.

While the product is removable and reusable, taking a big window covering off and on is not convenient to do every day. For a room where you might want regular light flowing in most of the time, blackout curtains are a better option.
Expand to see more
Price: As low as $10.99 for 17.7" x 6.5'.

Conclusion

To make a room dark as night even in the daylight, this total blackout film is a solution worth considering that also offers heat and sun glare protection. It might be a great solution for a day sleeper.
Control excess heat and glare
99% UV protection from clear and black and silver versions
Uses no adhesive for application
Reusable
Not recommended for doubled pane or toughed or tempered glass
Windows that get lots of direct sunlight can absorb too much light and crack
May emit an odor and get very hot when sun hits the window/li>
6. BDF S4MC Window Film Security and Safety Clear
Some films such as the BDF S4MC offer UV rejection but their most valued property is that it makes windows shatterproof. Whether your property is under assault from a raging storm or vandals, this 4mm film holds glass together if is broken. The film can't always prevent breakage, but it can form a barrier from unwanted intruders while holding broken glass together to make clean-up easier and safer. An 8 mm version is even bulletproof.

The clear versions offer 99% UV protection for your family and furnishing, while black and silver variations offer more sun protection, heat control, and privacy properties. Depend on their degree of VLT or Visible Light Transmittance, the black and silver products cut 24%-70% of total solar energy in addition to the UV protection and offer privacy during the day although at night, once lights are on, people can see in. The silver finish is a one-way mirror.

Unlike the other products featured in our guide, the shatterproof films employ a self-adhesive rather than being attached by static cling alone. While not as environment-friendly as products with no adhesive, the glue adds to the strength of the film, which lasts for many years.

Despite the high-end protection, these shatter-proof films can be easily installed by DIYer using the free tools and installation guide. As long as the window is clean, a home installer should be able to do the job although some Amazon customers complained about the process. If you have not installed this type of film before, the thinner mm films might be easier to work with.
Expand to see more
Price: $25.99 for 24" x 14' clear film.

Conclusion.

Security film that is shatterproof is a must in climates subject to hurricanes, tornadoes, and other windstorms. Especially for ground-floor windows, this film offer extra protection from accidental and deliberate intrusions that might range from a wayward baseball to vandals and robbers. The extra cost of the film if offset by reduced property damage or at least cleanup costs. To get the privacy and sun protection features offered by other films, this product offers silver and several version of black that do the job.
Absorbs impact to hold shattered glass together
99% UV protection from clear and black and silver versions
Dark and silver versions also cut solar emergency and increase privacy
Various VLT levels on black and silver
Pricier than other films
Some customers find product hard to install
Lacks gridlines to aid with installation
Privacy features are daytime only
Criteria for Selection/ Factors to Consider
There are a host of criteria to consider when selecting a window film, such as the amount of sun your home gets. For doors and windows with clear glass that expose you to the world and excessive sun, a thin layer of a privacy window film ensures the area is private while allowing light to flood in.
Here are some things to consider when selecting a window film. Many films offer multiple properties, such as:
Privacy
For doors and windows with clear glass that expose you to the world, a thin layer of a privacy window film ensures the area is private while emitting light. Films offer different levels of protection:
Clear, frosted, or opaque: Some types offer a decorative or protective element to a window and obscure the view for those who might see in, but not offer enough blockage for a bathroom, while others are opaque.
Day or night privacy: Some films with highly reflective coatings offer daytime privacy but show inside when the lights are on at night. You can even get the films with a mirror-like reflective property that blocks visibility to that outside while allowing you to see out.
One-way privacy or total blocking: Some films allow you to look while blocking the view from the outside, while others let light in but block the view from both sides.

Temperature Control
Direct sunlight provides health benefits and feels great on the skin while minimizing the requirement to utilize artificial lights. Excessive sunlight, however, can sometimes result in uncomfortable heat and glare which can make it tedious to sleep, work, or relax without closing the blinds or drawing curtains, especially during the summer. Too much sunlight can even destroy or discolor your furniture.
UV rays can cause skin issues such as cancer, which is why you should apply sunblock when heading out. This might be tedious to do at home, especially when privacy window film can easily minimize the detrimental UV rays of the sun in your home.
The film should aid in reflecting the heat of the sun thereby aiding in cooling the inside of your home. It will ensure your home is more comfortable while reducing energy costs.
Security
Not only does this type of film offer decorative privacy, but it can increase shatter resistance if the window is broken.
Other Things to Consider
Static cling application: While some films rely on adhesive, others just cling to the window after proper preparation. Glue-free types emit no harmful chemicals, a plus for the environment.
Removable/ Reusable: Especially those that cling to the window can be removed, repositioned, or reused.
Decorative properties: Films with patterns can add a pleasing decorative element to your home while hiding the interior, whether used on exterior windows, doors, patio doors, shower doors, and more. The design of the film can complement the style of a home or office in a way that is neutral, professional, or whimsical. Some patterns emulate the look of stained, etched, frosted, or textured glass or have other motives such as florals or geometrics.

FAQs
What should I look for in a window film tailored to privacy?
The main function of a privacy window film is to prevent unwanted intrusion and safeguard your activities. A good window film offers the privacy you need while letting in light, blocks heat and sun glare, saves energy, looks good, and is easy to apply without adhesives. If you want special security features, look for one that prevents the broken glass from shattering or that is mirrored or deeply tinted.
One that prevents UV also helps prevent health risks for humans while prolonging the life of furniture, art, and other home accessories that can discolor from too much sun.
Can you see through the privacy window film?
Window films offer varying levels of visibility, with some offering one-way visibility so you can see out and others offer total blockage for that inside as well as onlookers. For those who need to sleep during the day, there are even total blackout options.
Is there a privacy window film you can see out but not in?
Yes, there are some semi-private and one-way mirror window film options available. Be sure to check the product/packaging information before making a purchase.
How do you apply a window film?
For static cling films. all you need is water (soapy or otherwise), a dry towel, and some patience. Make sure to cut the film bigger than the window and trim it after installation. After spraying water on the window, you simply apply the film to it as directed. Then, use the dry towel to push out any air bubbles present after application. If the window film may have a strong self-adhesive,  all you need to do is just use the towel (now slightly wet) to clean the surface before applying the film. All films come with extensive directions that smart buyers follow closely.
What are the energy benefits of window film?
Some window tints are more energy-efficient than some others. Most films block UV rays but may have other climate-control benefits. By some estimates, the best ones can reduce heat by as much as 66% and cut energy costs by as much as 40%. Window film labels and product information disclose the energy properties to expect.
How much light is blocked by window film?
To indicate how much light is blocked, tints have a metric called VLT or visible light transmission through the glass when the sun shines at right angles to the surface of the glass; The lower the VLT percentage of the film quality, the more light it blocks. A percentage of 30%, for example, indicates the amount of light transmitted while 70% is blocked, while 10% would block 90%,
Does privacy window film work at night?
Not all window film is created equal. Some privacy window film works at night, but you'll want to check the packaging or online product information before making your purchase.
What is the average cost of privacy window film?
Based on our testing and reviews, the best privacy window film options range between $8 and $25 per roll. Note that each brand or product will offer different roll sizes.
Subscribe to our newsletter